---
We independently research, test, and recommend the best products; you can learn more about our review process here.
Kayaks allow you to access places that a boat might not, they have great maneuverability, and overall they're the best choice if you do most of your fishing alone.
But I might be a little biased since I own two fishing kayaks and zero fishing boats…
The best fishing kayak gives anglers stability, maneuverability, and fishing-related features that a recreational kayak does not.
I realize there is no such thing as a one-size-fits-all solution to every angler's needs, which is why I've broken this article into so many categories.
You can quickly find which one fits your preferences and needs the best, so you're headed in the right direction
Whether you want a sit-on-top, sit-in, inflatable, or even a pontoon-style, they're all here. In this guide, I'm breaking down the best fishing yaks so you can buy the one that works best for you!
My Top 3 Fishing Kayaks On The Market
Below, you'll find the three best kayaks for fishing based on my testing and experience.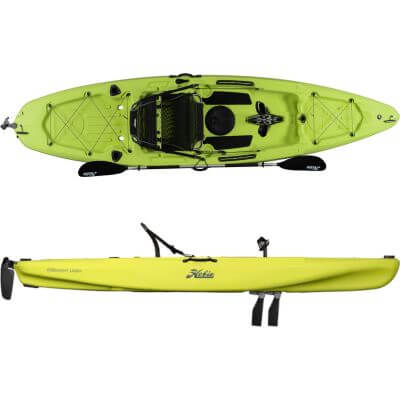 Hobie Mirage Passport 12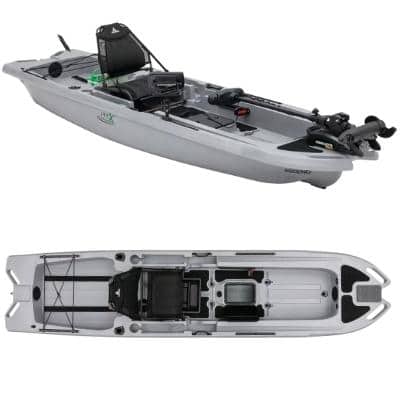 Ascend 133X Tournament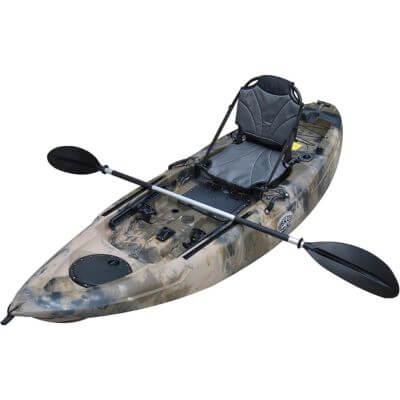 BKC FK285
---
Best Kayak For Fishing In Overall
When looking for the best of the best kayaks, you'll end up choosing Hobie a majority of the time, but be prepared for the high price tag. This is the brand of choice for many professional kayak anglers.
After rigorously testing many kayaks, I found the Hobie Mirage Compass to be the best fishing kayak on the market because it's maneuverable, stable, and designed for fishing by a trusted brand.
Best Beginner Fishing Kayak
As a beginner, you probably don't want to spend a ton of money on an activity you may or may not like, yet you want to give it a fair try.
The Brooklyn Kayak Company FK285 is consistently one of the best fishing kayaks for beginners because it's not ridiculously priced, it is stable, and loaded with many fishing features.
Best Fishing Kayaks For The Money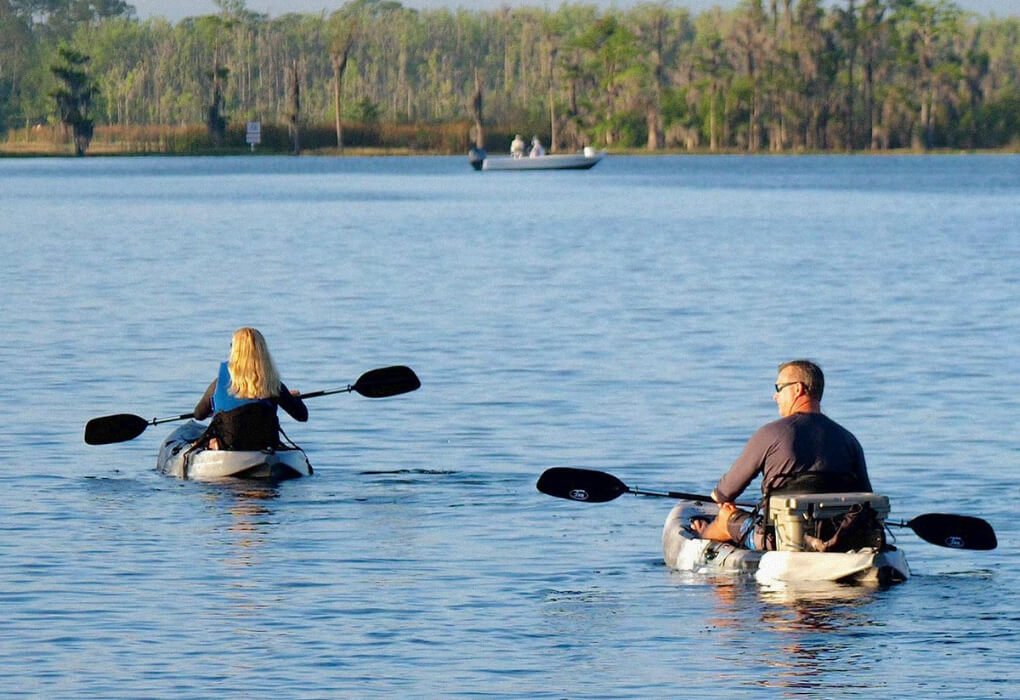 Fishing kayaks get really expensive really fast. So being able to spot a deal when you find one is critical.
The BKC FK285 is also the best kayak for the money, but the Perception Outlaw 11.5 gives it a strong run for the money because of its crazy comfortable seat and unique features for a yak in this price range.
Best Fishing Kayak Under 1000
It's tough to find a quality fishing kayak for under $1000. However, I managed to find a few kayaks in this price range that are well worth it.
Whether you're looking for the best saltwater fishing kayak under $1,000, the Best sit-on-top fishing kayak under $1,000, or the best pedal fishing kayak under $1,000, the article in the link above will get you tracking in the right direction.
Best Fishing Kayak Under 800
As your budget is condensed, so is the number of fishing kayaks. The Ascend 12T is just barely under $800 before tax but regularly ranks as one of the best kayaks I've tested.
Best Fishing Kayak Under 500
While kayak fishing is much more accessible to most anglers than purchasing a fishing boat, it's still pretty expensive as there are not many options for fishing kayaks under $500.
The Lifetime Tamarack Angler 100 will be your best bet in this price range.
Best Fishing Kayak Under 300
The truth is, you should just save up your money if you're looking for the best fishing kayak under $300, as there are no quality fishing kayaks in this price range.
They are recreational inflatable kayaks, which you can fish out of, but they won't have the features that make fishing from a kayak so enjoyable.
If I had to choose, the Intex Excursion Pro Kayak Series would be my top choice in this price range because it has rod holders and a mounting rail for a fish finder.
Best Cheap Kayak For Fishing
If you're just itching to get on the water and don't have much mula to spare, the Pelican Catch will get you on the water with a decent kayak at the cheapest price. Just remember you're sacrificing durability or comfortability to save money.
Fishing Kayak For Big Guys
When searching for the best fishing kayak for big guys, the two most important considerations are weight capacity and stability. Once you have those two criteria met, comfort and fishability begin to matter.
Best Sit-On-Top Fishing Kayak
Most fishing kayaks are sit-on-top kayaks because they make rigging, casting, and fighting a fish so much easier. A sit-on kayak must be stable, maneuverable, fishable, and comfortable.
While no kayak has all the pros without any of the cons, the best sit-on-top fishing kayak checks a majority of the pros column without checking too many of the cons.
Best Stand-Up Fishing Kayak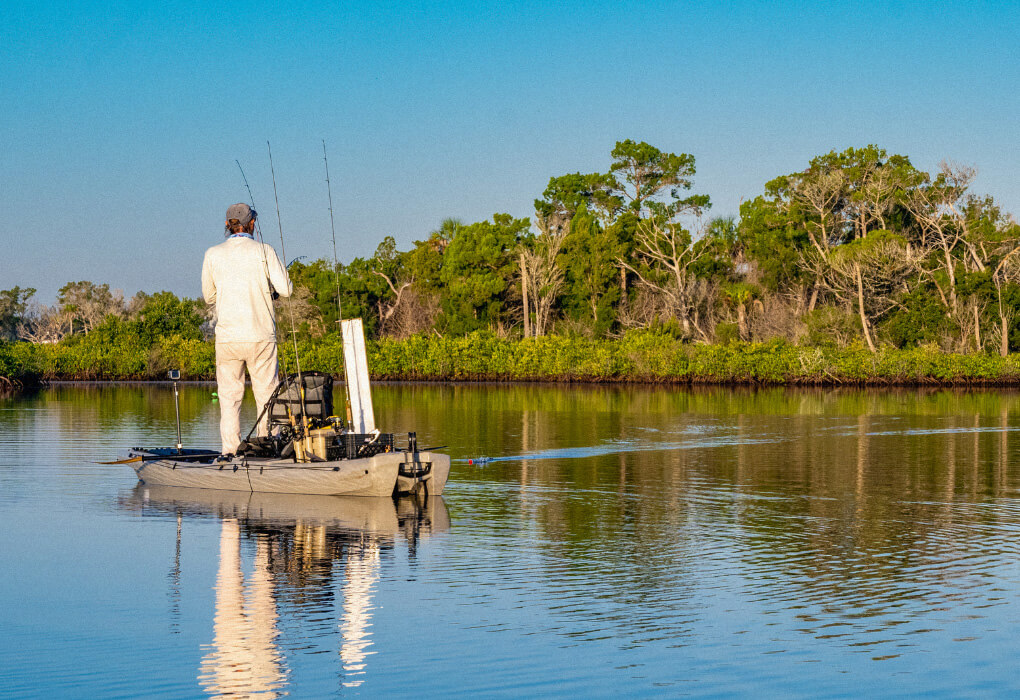 Having the ability to stand and fish from a kayak allows you to see things that you would have otherwise missed. The best stand-up fishing kayak has to be stable and make it easy to stand up with a comfortable seat height.
Some stand-up kayaks have straps or handles that help you stand, while others have EVA foam padding to ease the pain in your knees and feet.
Most Stable Fishing Kayak
Whether you're worried about tipping or you simply don't have the balance of a gymnast; you'll enjoy fishing from the most stable fishing kayak because you'll have an added piece of mind.
Stable kayaks are wide and have a unique hull design. Most fishing kayaks are reasonably stable, but there are some that are head and shoulders above the rest.
Best River Fishing Kayak
When fishing rivers and creeks, your kayak must be maneuverable yet stable. These two characteristics are often at odds with each other, so there's a delicate balance to be had when choosing the best river fishing kayak.
Most Comfortable Fishing Kayak
I always put a big emphasis on being comfortable while kayak fishing because if you're not, you'll cut the fishing trip short, and you won't want to continue fishing from a yak.
The most comfortable fishing kayak sits at a restful height and has a cozy seat, EVA foam padding, and footrests. 
I find it nearly impossible to beat the Nucanoe 360 Fusion seat.
Best Inflatable Fishing Kayak
I must admit, I used to be very skeptical of inflatable kayaks. However, after testing out the best inflatable fishing kayak, I've become convinced of their usefulness because it's durable, lightweight, stable, and comfortable.
Best Fishing Kayak For Saltwater
Saltwater is tough on gear. It makes metals corrode much faster than freshwater.
Since most kayaks are made out of polyethylene plastic, you don't have to worry about corrosion as much when buying the best ocean fishing kayak.
However, I still recommend choosing a larger kayak to deal with the variety of conditions you'll face while fishing in saltwater.
Best Bass Fishing Kayak
I use my kayak for all kinds of fishing, but bass are the main species I target. The best bass fishing kayak is ultra customizable because we bass anglers don't fish the same way or use the same gear. 
Best Fly Fishing Kayak
I was amazed the first time I watched someone fly fish out of a kayak.
I'm just not talented enough for that, but if I was, I would need the best fly-fishing kayak because it's stable, maneuverable, and has a spacious open deck to make casting easier.
Best 2-Person Fishing Kayak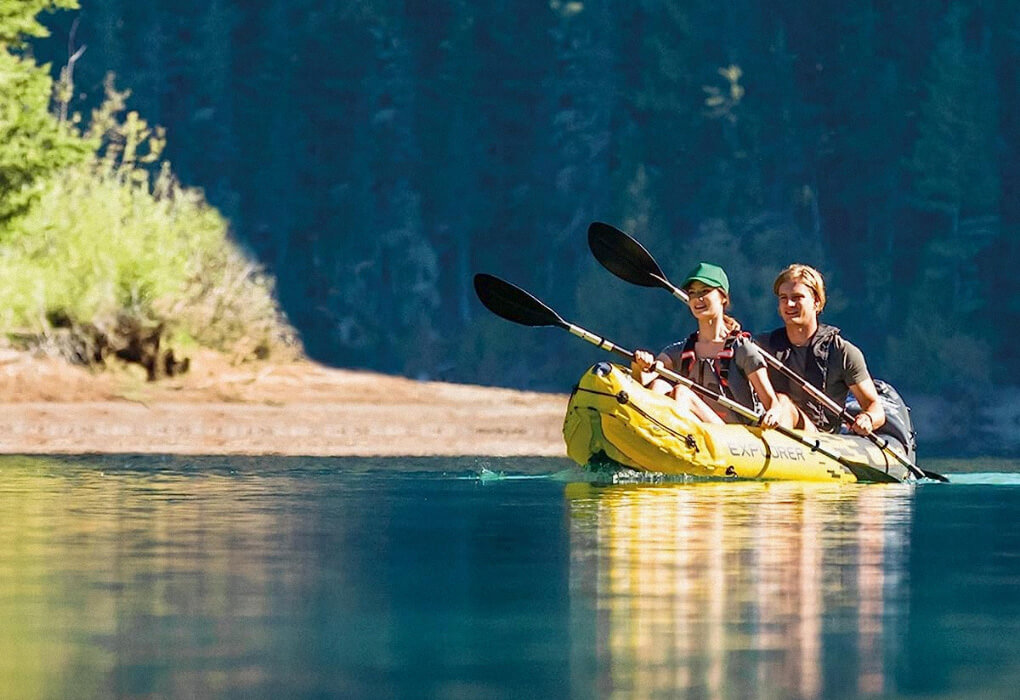 Kayak fishing is more fun with a partner, but buying multiple kayaks gets expensive and makes it even more difficult to transport them.
Instead, you could try the best tandem fishing kayak, the BKC TK122. It has two comfortable seats, is stable, and makes fishing more enjoyable.
You can bring along an extra paddler while you fish if you play your cards right!
Best Tandem Ocean Fishing Kayak
For the anglers on the coast, I like the Aquaglide Blackfoot Angler 160 as the best tandem ocean fishing kayak because it's durable, huge, and super stable, yet very transportable.
Best Tandem Fishing Kayak With Trolling Motor
What's better than one person fishing? Two people fishing! So what's better than one kayak trolling motor?
That's right, two!
The Brooklyn Kayak Company PK14 with trolling motors gives you the extra power you need to cruise with two people in your yak.
Plus, it's stable enough to stand and fish from, has plenty of storage areas, and is designed for fishing.
Best 2-Person Pedal Kayak for Fishing
The BKC PK14 also comes in a pedal model that's an excellent option for a tandem pedal kayak.
However, if you want the best tandem pedal fishing kayak, it's the Hobie Mirage Compass Duo because it's designed for fishing, has comfortable seats, and has the best pedal system.
Best Pedal Fishing Kayak
If I didn't own a trolling motor for my kayak, I would purchase a pedal yak because of how much better they make angling. I can control the kayak and fish at the same time when I'm in a pedal kayak.
While the Old Town Sportsman Big Water PDL gave the Hobie Mirage Compass a run for its money.
The Mirage Compass is the best pedal kayak, in my opinion, because it has a comfortable seat, a high-end pedal drive system, and is designed for anglers.
Top Fishing Kayak Brands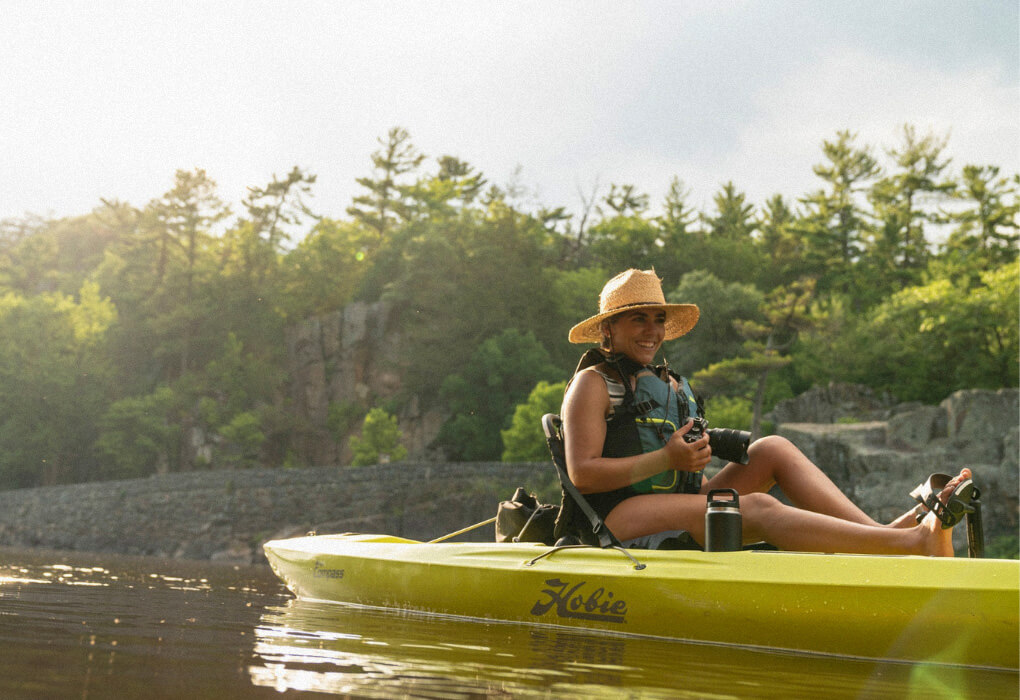 Choosing to purchase from the best fishing kayak brands often saves you heartache in the end, even though they're more expensive. This is because these brands have built a solid reputation for crafting quality products.
Old Town
After using my parents on multiple outings, I've decided Old Town kayaks are some of the best on the market. I love how comfortable they are, plus they're always trying to be innovative, like with the new ePDL+.
Hobie
While Hobie kayaks are some of the most expensive on the market, they're also some of the best.
They have unique features like the MirageDrive 360, which no other kayaks have, plus many of their models are designed by anglers for anglers.
Ascend
Ascend kayaks are the Bass Pro and Cabela's in-house brand of kayaks. I was surprised at how much I liked these kayaks, considering they're a "generic" brand. Ascend kayaks offer great features at reasonable prices.
Testing Procedures
As I mentioned earlier, I'm primarily a freshwater kayak angler. I value a super stable kayak that is maneuverable, easy to transport, very fishable, and reasonably priced.
The problem is I have yet to find a kayak that is perfectly all of these things.
So each of my selections is a compromise in one direction or the other. However, that's not to say they're not great kayaks. I have and would fish out of many of the fishing yaks listed above because they meet my stringent standards.
Stability: Stability is important for two reasons; the first is safety. A more stable kayak is safer. The second reason is that it makes fishing easier.

Whether you want to stand and fish or you're leaning over to net a biggun' a stable kayak is best. I tested the stability by standing and rocking the yaks to see how easily they would flip.
Maneuverability: Getting into the right spot is the most important part of fishing, yes, even more than choosing the right lure. So I want a kayak that handles well, whether I'm paddling, pedaling, or using a trolling motor (my favorite).

However, maneuverability often suffers when we increase the stability. It's similar to a motorcycle vs. a trike. A motorcycle is more agile and maneuverable, while a trike is much more stable.
Fishability: This is a made-up word which means how easy is it to fish out of. Does the kayak have features that are intended to make anglers' lives easier, or is it just a recreational kayak?

Is the seat comfortable, or do you want to get out of the yak after sitting for five minutes? How customizable is it? There's a lot that goes into the fishability of a kayak, so each one has differing levels.
Transportability: I think this is the most overlooked part of fishing kayaks. I use a trailer to transport my 12' kayak because it's bulky and heavy.

However, I understand that not everyone wants to use a kayak trailer, which is why I put some thought into the weight and size of the kayaks listed above.
Brand: I have a bias towards brands I've had a good experience with in the past. I tend to stick with brands that have been in the watercraft market for decades because they have the know-how and experience to make high-quality products.

That doesn't mean I'm unwilling to give the newcomer a chance, though!
Price: Fishing kayaks are expensive. So while the best fishing kayaks are often the most expensive, there are many great yaks at decent prices, so you won't have to sacrifice everything above to get a quality fishing kayak.
BEST FISHING KAYAK OVERALL
Hobie Mirage Compass
Specs
Length: 12'
Width: 34"
Weight: 68 lbs
Maximum Weight Capacity: 400 lbs
Why We Chose It
The Hobie Mirage Compass is the best fishing kayak because it offers anglers great maneuverability, stability, and comfort.
I loved testing the Hobie Mirage Compass; if it weren't for the price, I would own one. The pedaling was super smooth, and I never felt like I was going to tip when standing or leaning over the edge.
Hobie nailed it out of the park with the seat height for pedaling, and even though I have short legs, the pedals adjusted with the push of a button so I could comfortably reach them. A win for short people everywhere!
I really like pedal kayaks over paddle kayaks for fishing when I'm not using a trolling motor because it's much easier to fish while staying in a good position.
Plus, I can pedal so much faster than I can paddle while exerting the same amount of energy.
Turning the kayak was also easy with the rudder system. I quickly adjusted the direction one-handed and got back to fishing. And when I needed to track straight, it was very intuitive and didn't take much effort on my part.
While I didn't haul this kayak on my trailer, I did pick it up, and it was SOOO much lighter than my 12-footer, like 30 lbs lighter, which would make transporting it a lot easier.
As much as I loved testing this kayak, there are a few reasons why I don't have one taking up space in my garage.
The first I've already touched on, and that's the price. Like the Jackson Kayak Knarr, which is a similar kayak in many ways, including being a pedal kayak, it's a bit out of my price range at nearly $3,000.
The next con is that it doesn't give anglers the option to really make it their own due to the lack of gear tracks. However, the gear tracks that are on it have plenty of room for extra rod holders and a kayak fish finder.
The last downside I could find was the lack of instant reverse with the mirage drive. IDK how many times I've needed to quickly get out of an area, and instant reverse (which the Jackson Kayak Knarr has) is often the best way to do that.
Well, with the Hobie Mirage Compass, I had to pull tabs to switch between forward and reverse, and I struggled to get the hang of it at first.
However, even with its cons, very few yak anglers would be able to successfully argue that the Hobie Mirage Compass isn't the best fishing kayak because it's very stable, maneuverable even in shallow water, fishable, and comfortable.
MOST STABLE FISHING KAYAK
Ascend 133X Tournament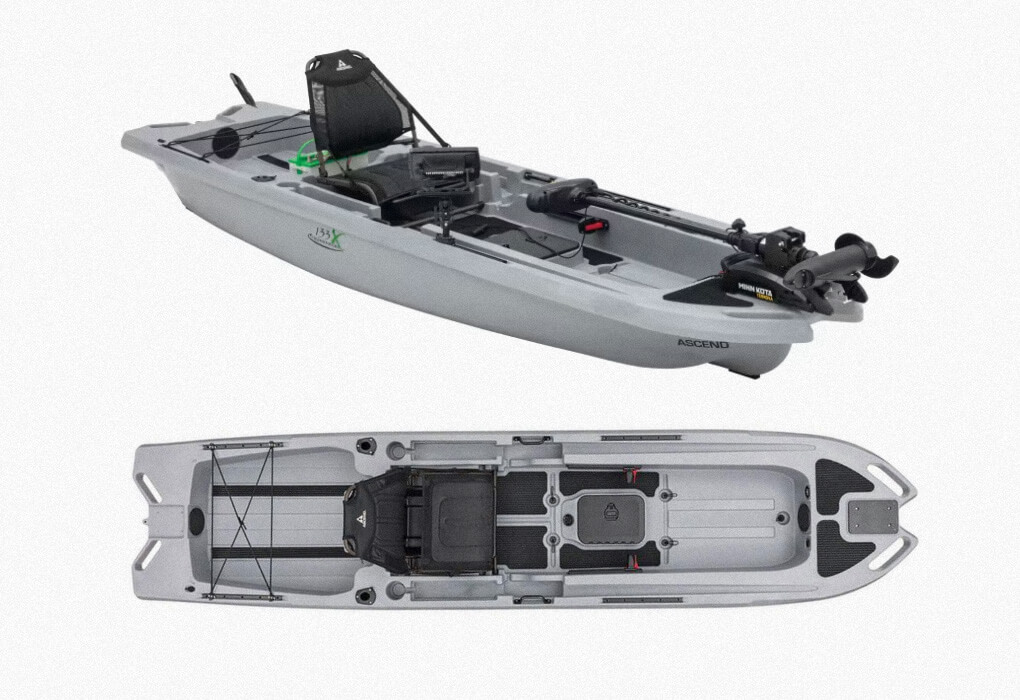 Specs
Length: 13'
Width: 36"
Weight: 125 lbs
Maximum Weight Capacity: 550 lbs
Why We Chose It
The Ascend 133X Tournament is the most stable kayak I've ever stepped foot in, thanks to the catamaran-style hull and the 36" width. You'll have a hard time capsizing this yak, even when you stand on the edge.
Despite its width, I found it maneuvered well, though it took a lot of effort to get going and stop because it was so heavy.
Sinking never crossed my mind with the 550-pound weight limit and the scupper holes that instantly drained the water out of the bottom of the kayak.
This yaks greatest asset is how customizable it is. You can mount a trolling motor at the bow (front) and Power Pole Micro at the stern (back), add more rod holders, and still have room leftover for a fish finder on the gear tracks.
The best part of all of that is that you won't have to drill a hole because it's already rigged with Yak Power, and you can purchase most of this with the Ascend 133X Tournament Ultimate Fishing Package.
The Old Town Sportsman AutoPilot 120 is a similar concept but at over twice the price.
I liked that the adjustable seat and adjustable foot braces ensured I stayed comfortable while paddling and fishing, even though I'm short and using a giant kayak.
The worst part about this kayak is how stinking heavy it is. 125 pounds is ridiculous, so be prepared to get a good workout every time you go kayak fishing.
The solid carrying handles made transporting it easier, but I still wish I would have eaten my Wheaties while testing this kayak out.
Even though the Ascend 133X Tournament is heavy, you're not going to find a more stable fishing kayak at this price; it's stupidly low for the quality of kayak your getting. High-end yaks, beware!
BEST INFLATABLE FISHING KAYAK
NRS Pike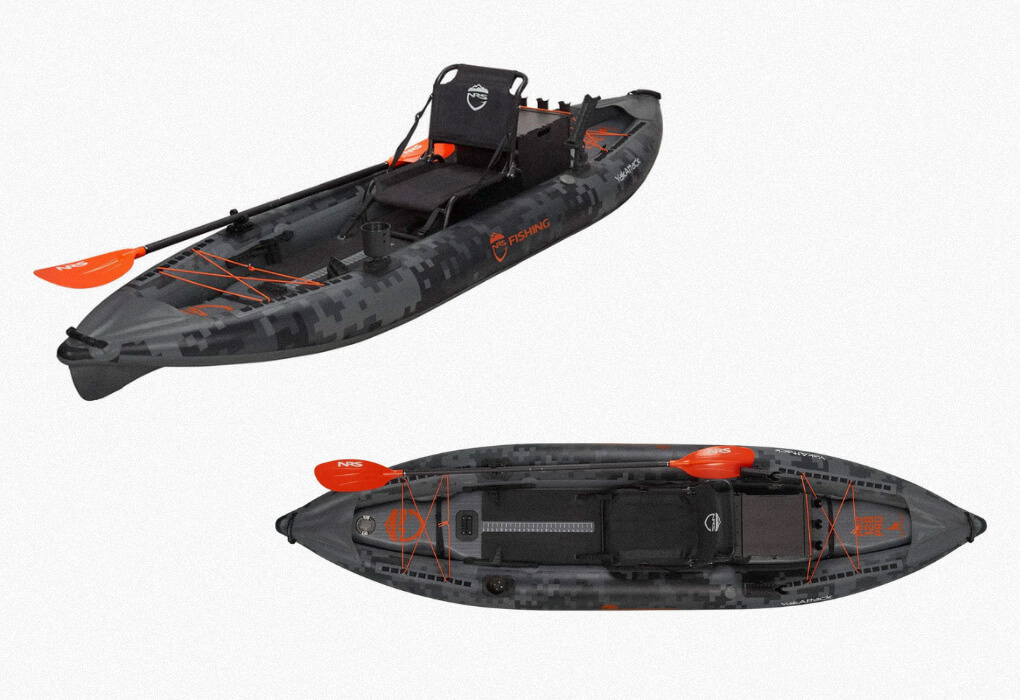 Specs
Length: 12' 8"
Width: 38"
Weight: 48 lbs
Maximum Weight Capacity: 375 lbs
Why We Chose It
There is no arguing the NRS Pike is the best inflatable kayak on the market. I'm not an inflatable kayak fan, and I seriously considered buying this kayak after seeing what it's capable of on the water.
I loved how lightweight yet durable it was. I can confidently say it's capable of handling rivers, lakes, and ponds worry-free. Though it takes some time to inflate and deflate it, it's easily transportable in any vehicle.
NRS makes all sorts of watercraft gear, so it's no surprise they produce a high-quality inflatable fishing kayak.
It's $400 less than the Aquaglide Blackfoot Angler 130, which is another high-end inflatable kayak, but I think it's much more comfortable because you sit up higher in the NRS Pike.
The adjustable footrests also help you stay in a more comfortable paddling position, and it's rare to see on other inflatable yaks.
I like how much storage space there is, so you'll have room for all of your fishing gear. However, that brings me to my first con, there's no dry storage.
This isn't a huge deal as long as you bring along a dry box or dry bag, but that is something extra you'll need to purchase.
The other downside is that this is an inflatable kayak. Duh! Why is that a con? In general, inflatable kayaks are not as customizable with accessories rails, except for the Advanced Elements StraitEdge Angler PRO.
You can still add a fish finder and rod holders to the NRS Pike, but it's just not as fishing-friendly as some hard plastic kayaks. Though I have seen an electric motor on an NRS Pike before.
Despite the setbacks, the NRS Pike is the best inflatable fishing kayak I've ever used. It positively changed my perspective on inflatable kayaks and will change yours too.
BEST SIT-INSIDE FISHING KAYAK
Old Town Loon 126 Angler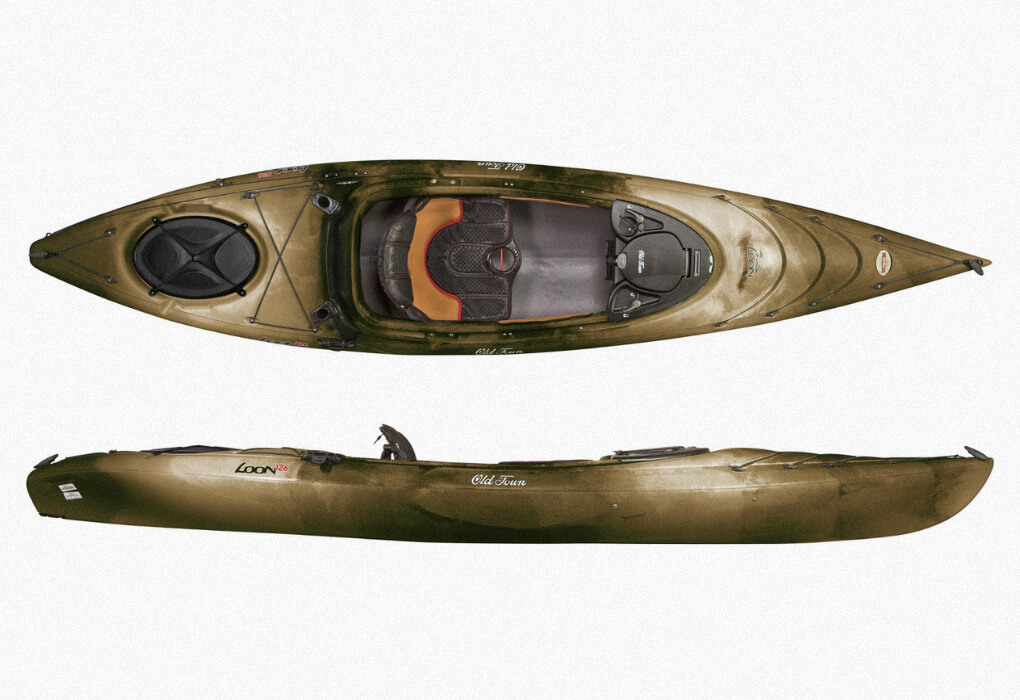 Specs
Length: 12' 6"
Width: 31"
Weight: 59 lbs
Maximum Weight Capacity: 450 lbs
Why We Chose It
The Old Town Loon Angler 126 is the best sit-in fishing kayak you'll find. Most others are just recreational kayaks pretending to be fishing kayaks.
The quickest way to tell this kayak was designed for fishing is how much more stable it is than a recreational sit-in kayak, though it's not as stable as a sit-on-top fishing kayak like the Ascend 133X Tournament.
At less than 60 pounds, when empty, this kayak is much easier to transport than the 125-pound Ascend 133X.
You could leave most of your fishing gear loaded in the kayak and still be lighter than the Ascend 133X! So if you'll be car-topping your yak, this is the one I'd go with.
I like longer kayaks because they have more storage space and track a little better, well 12' 8" is pretty long, so the Loon Angler 126 passes that test.
It also offers dry storage and a feature I haven't seen on any other sit-in kayaks, a built-in USB port, and battery storage.
I'd be remiss if I didn't remind you that Old Town is one of the greatest watercraft brands on the market today.
Old Town produces some of my favorite kayaks, including the BigWater PDL, which is great for saltwater anglers looking for an ocean kayak.
While the Active Comfort System 2.0 seat is a padded, adjustable, ventilated, and supportive seating system, it still sits on the kayak's floor, which is an uncomfortable position to sit in for a long time.
And I like to spend a lot of time on the water to get everything I can out of my fishing experiences, but that's tough to do when I'm uncomfortable.
The low seat height also makes casting, reeling, and paddling a little tougher; that's why I prefer sit-on-top fishing kayaks.
Another con is the lack of gear tracks. It's not as customizable as the Ascend FS10 Sit-In Angler Kayak, which is less expensive and has gear tracks.
However, the Old Town Loon Angler 126 is still the best sit-in fishing kayak because it's more stable, very lightweight, and designed with several fishing features.
BEST BUDGET-FRIENDLY FISHING KAYAK
Brooklyn Kayak Company FK285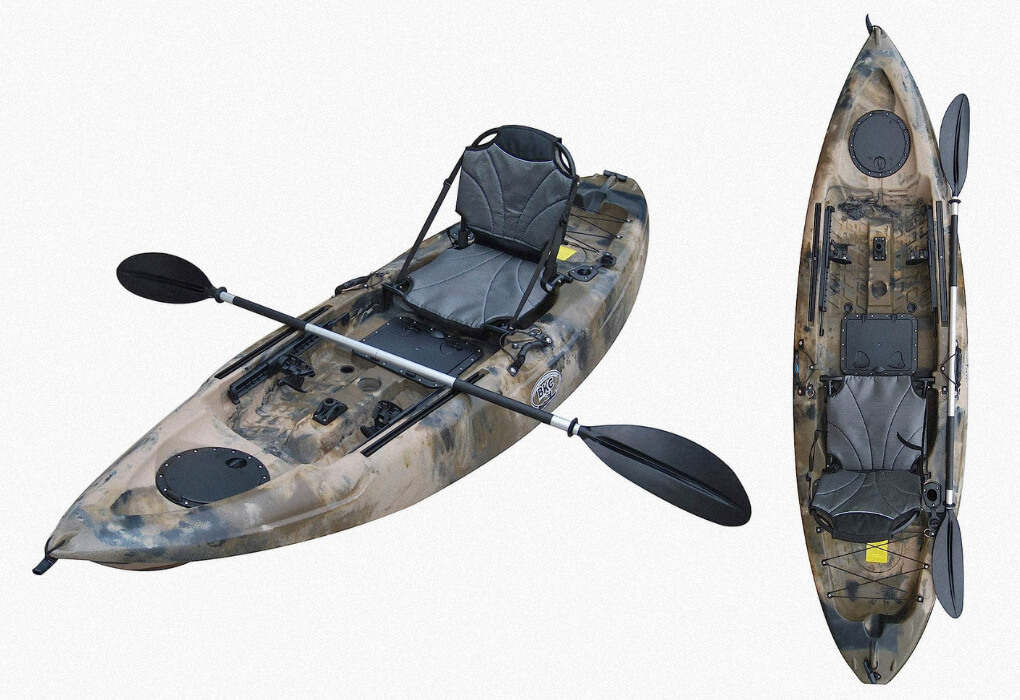 Specs
Length: 9' 2"
Width: 32"
Weight: 50 lbs
Maximum Weight Capacity: 350 lbs
Why We Chose It
The BKC FK285 is the best kayak under $1000 because it's easy to transport, customizable, reasonably stable, and designed for fishing.
Brooklyn Kayak Company mainly sells their kayaks on Amazon, and compared to other Amazon kayaks, the BKC FK285 kicks butt.
It's stable enough to stand and fish if you've got good balance because it's 32" wide. But that increase in width doesn't affect the overall weight since it's one of the lightest kayaks on this list.
That means it's easier to car-top, and you'll have more opportunity to add a fish finder, rod & paddle holders, or transducer mount to the gear tracks.
Even though it doesn't have as much storage space as the Pelican Catch Mode 110 because it's a foot shorter, it still has plenty of room to bring your fishing tackle, and it has dry storage, which the Catch Mode 110 does not.
The biggest drawbacks to the BKC FK285 are the low seat height and the poor carrying handles.
The low seat height gets uncomfortable pretty quickly, but the adjustable foot braces allow you to rest your feet and legs in a more comfortable position. Though, I would still prefer the seat height of the Perception Outlaw 11.5.
Lastly, the rope carrying handles make it harder to carry the kayak; good thing it's lightweight!
Overall, you'll be hard-pressed to find a better fishing kayak than the BKC FK285 in this price range because it's stable, designed for fishing, and customizable.
Kayak Fishing Accessories You Must Add To Your Kayak
Over the years, I've collected many kayak fishing accessories. Some of them were worth buying, and others were a waste of my money. Below you'll find only the ones that I would purchase again.
Best Kayak Fishing PFD
I never leave shore without my life jacket. It's not worth the risk, especially when wearing the best kayak fishing PFD since it's so comfortable.
Best Kayak Fish Finders
As I began getting serious about kayak fishing, I realized how much a kayak fish finder could help. So I've tested several and found the best kayak fish finder for all anglers.
Best Kayak Outriggers
The reason so many people don't like kayaks is because they buy unstable yaks, so they are constantly scared of tipping. Installing kayak outriggers will instantly improve the stability of any kayak.
Best Fishing Kayak Paddle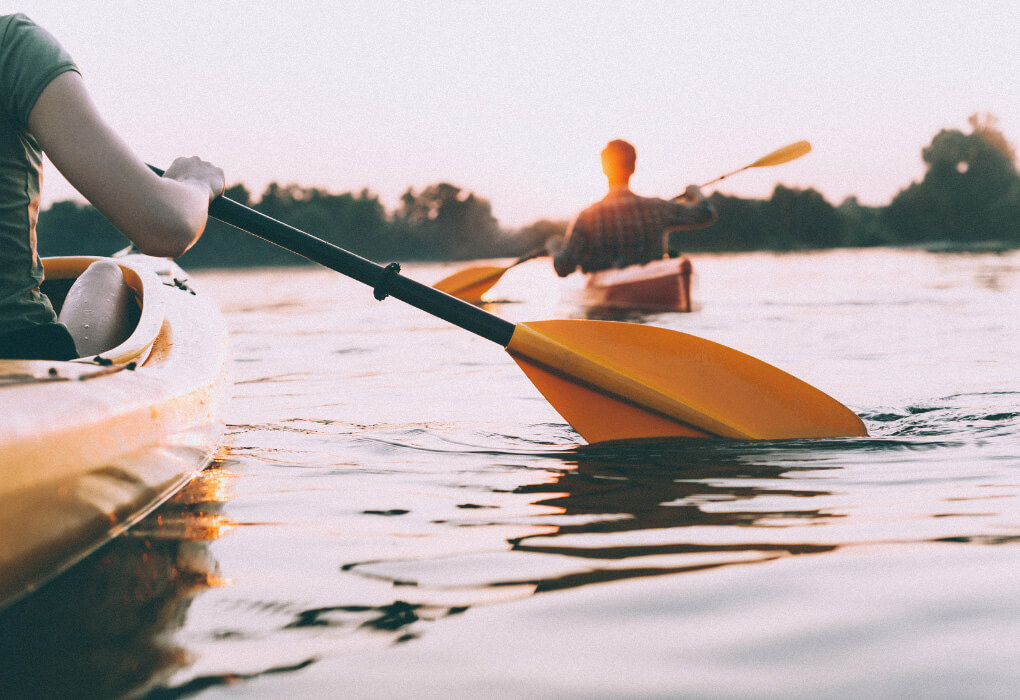 As a newbie, I thought all kayak paddles were the same. That's just not the case. The best fishing kayak paddle is lighter, easy to use, and has features that help anglers while on the water.
Best Kayak Fishing Rod
It's true; you can use any fishing pole while on a kayak. However, when you use a kayak fishing rod that's been designed with yak anglers in mind, it makes fishing so much easier in a cramped space.
Best Kayak Tackle Box
I started out kayak fishing with a giant tackle box. That only lasted one trip because I didn't have any room to store it. Now I own several kayak tackle boxes, which has made my tackle storage system so much better.
Best Kayak Crate
I bought a kayak crate to go right along with my tackle boxes. Using the best kayak crate has made a world of difference when loading and unloading my gear from my kayak.
Best Kayak Trolling Motors
Some anglers are stuck on paddling or pedaling, which is fine, but I've been using a trolling motor in most instances since I first started kayak fishing, and I love it. I bought the best kayak trolling motor last year and haven't had any major issues.
Best Kayak Trolling Motor Battery
If you get the best trolling motor, you'll need the best kayak battery to power it. I recommend lithium-ion batteries because they're so much lighter for the same amount of power, but they're also more expensive.
Best Kayak Fishing Net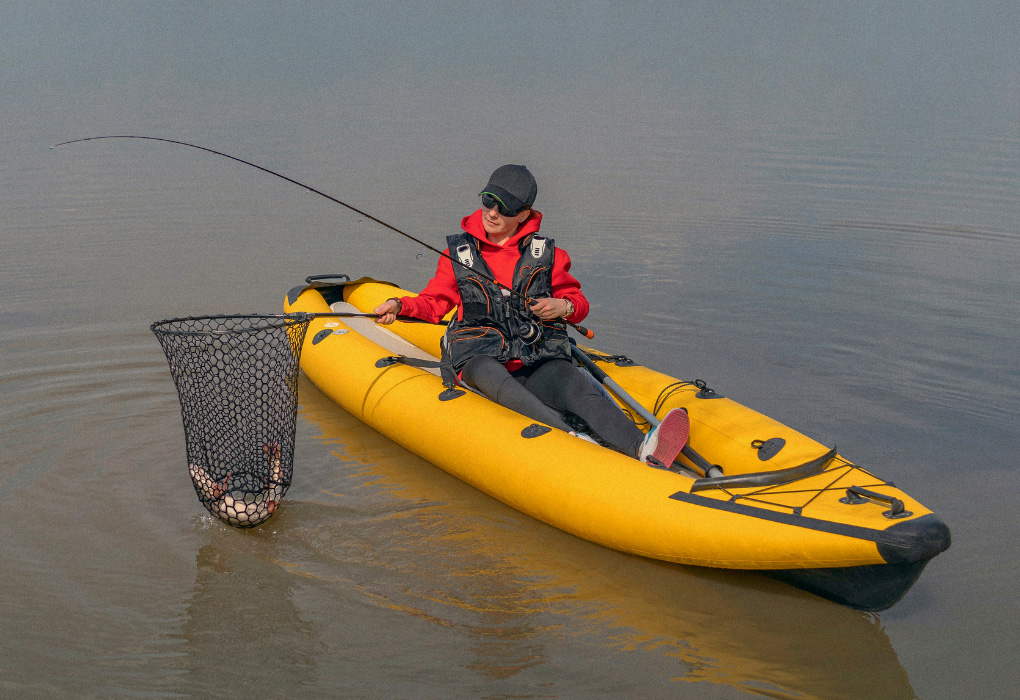 I've lost too many fish at the edge of my yak to not use a net anymore. At first, I bought a cheap kayak net that worked very well, but once I upgraded to the best kayak fishing net, I discovered what I'd been missing.
Frequently Asked Questions
Below you'll find some of the most commonly asked questions we receive at Anglers.com about fishing kayaks:
Is it worth buying a kayak for fishing?
Yes, it is worth buying a kayak for fishing if you love to fish and don't have a boat.
Is it OK to fish in a kayak?
Yes, it is OK to fish in a kayak. There are many kayaks designed for fishing.
Are fishing kayaks stable?
Yes, fishing kayaks are stable.
How big of a kayak do I need for fishing?
You need a 10' kayak for fishing. This is big enough to carry your gear and still not be cramped while fishing.
Last Cast
The last thing I have to say about the best fishing kayak is to enjoy it! I know all of the options I recommended above are some of the best you can buy online.
They all offer everything you'll need as an angler; it's just about choosing the right one for you.
Don't forget, if you have any questions about kayak fishing, be sure to leave 'em in the comment section.