---
We independently research, test, and recommend the best products; you can learn more about our review process here.
An often overlooked and underutilized tool in the bass fishing arsenal is the kayak. Kayaks allow you to access places that a boat might not, they have great maneuverability, and overall they're a great choice if you do most of your fishing alone.
The best fishing kayak is not easy to find, though, there are hundreds of different options. Each kayak comes with different features regarding stability, speed, size, and fishing capabilities.
I realize there is no such thing as a one-size-fits-all solution to any angler's needs, so that's why I've provided a large assortment of kayak options for you to choose from.
Whether you want a sit on top, sit in, inflatable, or even a pontoon-style; they're all here. In this guide, I'm breaking down the best fishing kayaks so you can make the best choice!
Comparison Table – The Best Fishing Kayaks
---
---
Our Reviews Of The Best Fishing Kayaks
Advanced Elements Advancedframe Convertible Kayak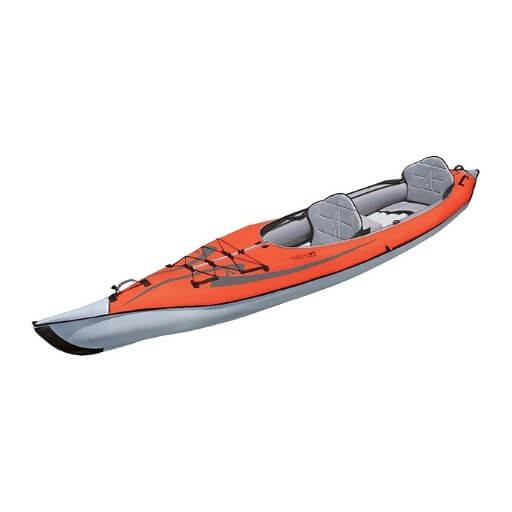 BEST OVERALL
Specs
Size: 15' L x 32" W
Weight: 52lbs
Max Weight: 550lbs
Seats: 2
FEATURED SPEC
This kayak comes with aluminum ribs that help improve tracking and navigation in tight areas
EXTRA FEATURES
Each seat comes with three different positions which allow you to use this two-person kayak solo
MY FAVORITE FEATURE
My favorite thing about this kayak is the conversion deck that provides you with many options. You can set it for two people, one right in the middle, or completely open for more space to store your gear.
Pros
High, adjustable, comfortable backrests
Conversion deck
Comes with three layers of puncture-resistant material
Cons
15' is a bit long so you might have a hard time maneuvering in small ponds
If you're looking for the best saltwater fishing kayak, you've found it. Fishing in open water with this one is a treat because of its size, flexibility, and durability. I love the adjustable deck because it frees up a lot of space inside that would normally be covered. When you're fishing, you need access to your gear. Some kayaks barely provide you with enough room to sit.
Pelican Sit-on-Top Sentinal One Person Kayak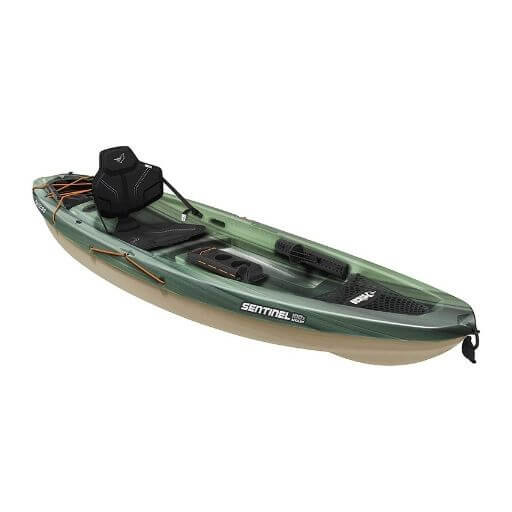 BEST SIT ON TOP FISHING KAYAK
Specs
Size: 9.5'
Weight: 44lbs
Max Weight: 275lbs
Seats:1
FEATURED SPEC
Uses a multi-chine flat bottom hull to help keep the kayak stable when you're battling a fish
EXTRA FEATURES
This kayak is small which is great for working your way in between grass and stumps on the water
MY FAVORITE FEATURE
I love the fact that this kayak is clearly made specifically for fishing. Many kayaks claim to be "fishing kayaks," but they're multi-purpose; this one is not. It provides extra stability, and it has a storage compartment hooked up to the well.
Pros
Extra stability
Sit on top kayaks provide more space
Plenty of storage
Small enough for tight waterways
Cons
Doesn't come with a paddle
Perception Sound Sit Inside Kayak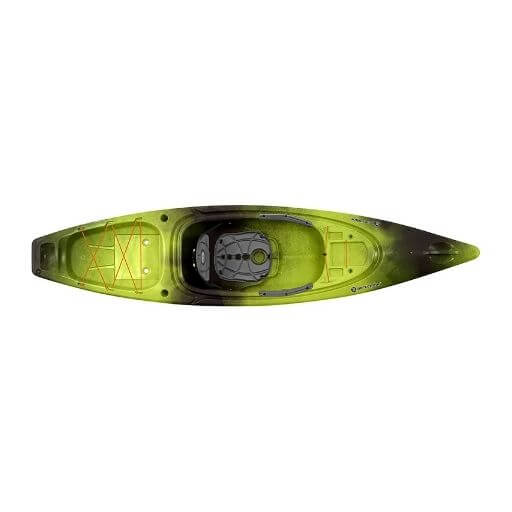 BEST SIT-IN FISHING KAYAK
Specs
Size: 10.6'
Weight: 46lbs
Max Weight: 335lbs
Seats: 1
FEATURED SPEC
This kayak is highly adjustable because you can easily adjust the seat and foot braces to accommodate people of different sizes
EXTRA FEATURES
This kayak is highly adjustable because you can easily adjust the seat and foot braces to accommodate people of different sizes
MY FAVORITE FEATURE
I like this kayak because it features a ton of storage. You can keep everything you need right away on the front dash and the rest of your gear in the back. Your lures, line, and hooks are right at chest level, so you don't have to reach down and grab everything.
Pros
Comfortable seating system
Convenient storage
Easy to transport
Small and lightweight
Cons
Doesn't come with a paddle holder
Old Town Predator MX Angler Fishing Kayak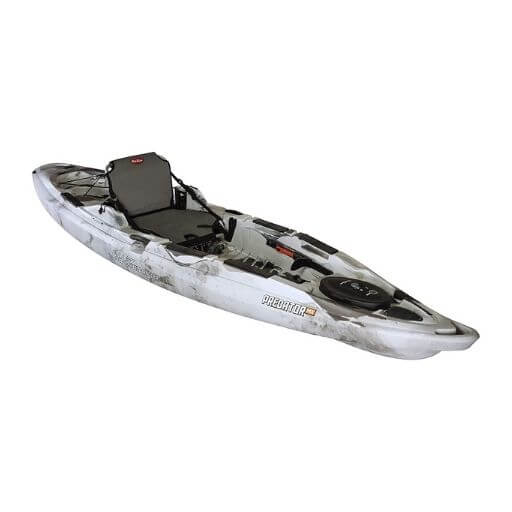 MOST COMFORTABLE FISHING KAYAK
Specs
Size: 12' L x 34" W
Weight: 82lbs
Max Weight: 400lbs
Seats: 1
FEATURED SPEC
EXTRA FEATURES
Slip-resistant exo-ridge deck and tank well with rod tip holders and bungees to keep everything in place
MY FAVORITE FEATURE
My favorite thing about this kayak is the seating. The chair on this kayak is incredibly comfortable, and it even lounges out with a footrest. The only problem is, if I fall asleep, I won't be able to catch anything!
Pros
Comfortable seating
Great style
Plenty of storage
Made specifically for fishing
Cons
A bit large for small ponds and rivers
Here we have a stylish fishing kayak. The first thing that stood out to me is how great it looks with the different camo designs. It's functional too. The kayak comes with tons of storage on all four sides with easily accessible hatches.
I think one of the best features of this kayak is the stability control that allows you to stand up without fear of tipping.
Intex Excursion Pro Kayak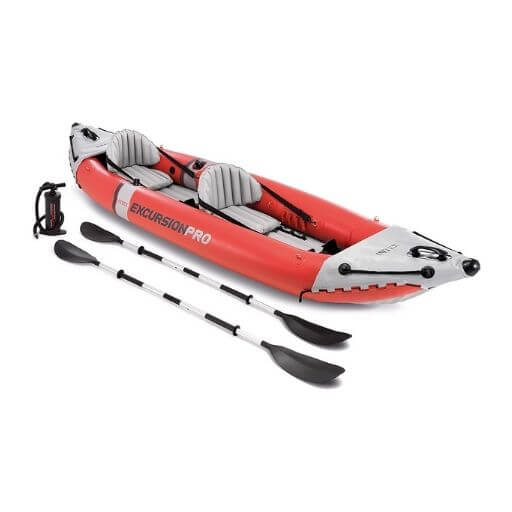 BEST INFLATABLE KAYAK
Specs
Size: 12.7' L x 3.1' W
Weight: 39lbs
Max Weight: 400lbs
Seats: 2
FEATURED SPEC
Three-ply high impact and abrasion-resistant material to prevent punctures and tears
EXTRA FEATURES
Comes with both a directional and shallow water skeg which makes maneuvering incredibly easy
MY FAVORITE FEATURE
The company really hooks you up with this inflatable kayak. You get two paddles, a high-output pump, carrying bag, and even a pressure gauge to tell you when you've reached the ideal fill level.
Pros
Comes with a ton of accessories
Two seats
Lightweight and easy to fill up
Cons
There are always risks associated with inflatable kayaks
This kayak is the Rolls Royce of its kind. If there's a feature you want, it most likely has it. You have plenty of storage, mounting brackets for your accessories, adjustable eating, stability and wide flooring for standing, and everything you need to go along with it.
I've never been a huge fan of inflatable kayaks because I always saw them as flimsy, but this is certainly one of the best inflatable fishing kayaks on the market.
Intex Challenger Kayak Series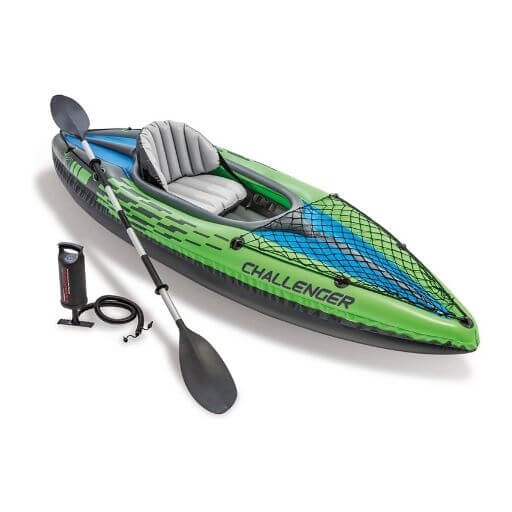 BUDGET-FRIENDLY KAYAK
Specs
Size: 9' L x 2.6' W
Weight: 27.2lbs
Max Weight: 220lbs
Seats: 1
FEATURED SPEC
Cargo net on the front to help with storage
EXTRA FEATURES
Comes with a variety of accessories including a paddle, high-output pump, and a carrying bag for everything
MY FAVORITE FEATURE
My favorite thing about this kayak is the fact that you can get one for under $100 that isn't going to break or damage. It's extremely affordable and reliable as well.
Pros
Budget-friendly
Small and lightweight
Easy to inflate
Cons
Lacking storage
Not the greatest choice for fishing
When money is on your mind, and you want to dabble with kayak fishing, you might not want to go out and spend $500 on a kayak. If that sounds like you, give this one a try and see how you like it. It's durable, easy to inflate, and gets the job done when you're fishing alone.
I wouldn't suggest this kayak as a long-term solution because you'll end up fishing your gear out of the water most of the time because there's nowhere to put anything.
Intex Explorer K2 2-Person Inflatable Kayak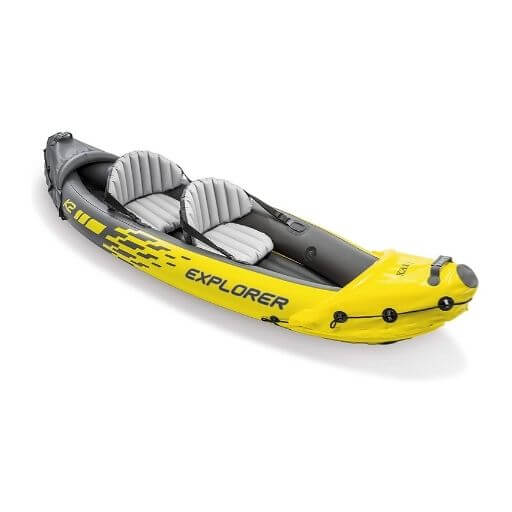 BEST TWO-PERSON INFLATABLE KAYAK
Specs
Size: 10'
Weight: 30lbs
Max Weight: 400lbs
Seats: 2
FEATURED SPEC
Comes with heavy-duty puncture-resistant vinyl to prevent tears and holes
EXTRA FEATURES
Includes a variety of accessories like two paddles, a high-output pump, and a carrying bag
MY FAVORITE FEATURE
The best feature of this kayak is the fact that you get to share it with someone else. The downside to that is the fact that a 400lb capacity isn't all that much when you have two people.
Pros
Two-seater inflatable kayak
Easy to fill and transport
Comes with all the accessories you need
Cons
400lb capacity is a bit lacking
Could use more storage
It's not easy trying to find a two-person inflatable kayak that doesn't bust the first time you use it! This one is incredibly durable and long-lasting, but there are some issues here. First, what you make up for in another person, you lose in storage.
The good news is, you could use this kayak by yourself because the front seat goes back far enough to put you right in the middle.
Classic Accessories Colorado XT Inflatable Pontoon Boat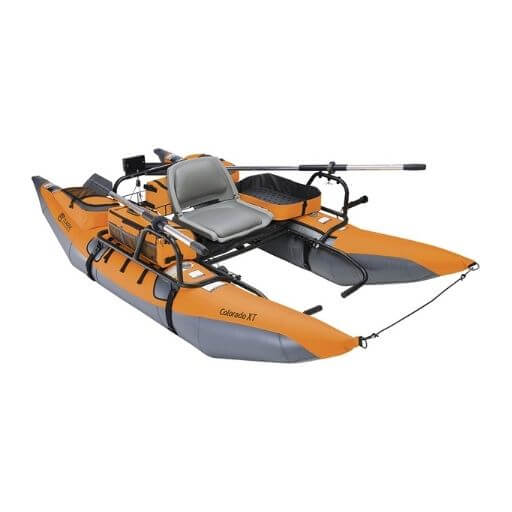 BEST PONTOON
Specs
Size: 9' L x 4.5' W
Weight: 68lbs
Max Weight: 400lbs
Seats: 1
FEATURED SPEC
The pontoon boat comes with customizable storage including many pockets to store fishing gear and personal items
EXTRA FEATURES
Has a flush mount rod holder and two paddle holders on each side to keep everything well contained
MY FAVORITE FEATURE
I love how functional this little boat is. You get all the storage you'll need, a transport wheel to make it easy for one person to launch it, and a gear bag to carry everything.
Pros
Two-year warranty
Plenty of storage
Comes with an anchor system
Cons
Not the most durable material so you won't want to play around near dense cover
If you're looking to switch things up, I'll throw a curveball for you. Here's a pontoon-style boat that uses a lot of the same materials as a kayak but in a different manner.
I think these are really cool for open water, but you don't want to take your chances of getting hung up on a stump or rock because you'll have a heck of a time breaking loose.
Types of Fishing Kayaks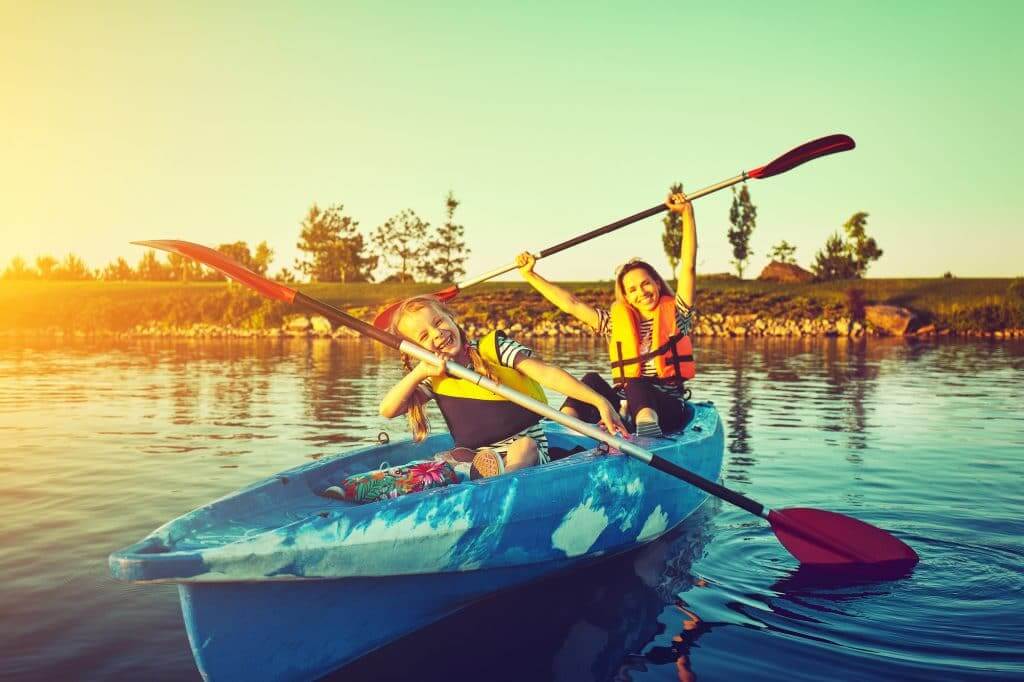 Let's first talk about the many types of kayaks and how you can use each one. We've reviewed a few of each of these above so you can tie the information you learn here into your buying decision above.
Sit-On-Top Kayak
A sit-on-top (SOT) kayak is exactly what it sounds like. It's one that doesn't require you to crawl into a hole to sit comfortably. The chair sticks out from the top of the kayak, which makes it much easier to get in and out of. These are most popular for touring, and recreational kayaking, but many people use them for fishing as well.
Many sit-on-top kayaks have fishing wells and storage areas because these provide you with a lot of extra space. Another great feature of SOT kayaks is stability. They're generally much wider than sit-in kayaks so you can get out of your seat to grab something.
One bonus that many people overlook when purchasing a kayak is temperature control when it's really hot. If you're fishing in 80+ degree temperatures in a closed kayak, the inside will get hot with the sun beating down on it. In no time, your legs will be drenched in sweat, and you're not going to be a happy camper.
For that reason, SOT kayaks are also useful because you can feel the breeze against your entire body since you're fully exposed rather than only your upper body.
Pros of SOT Kayaks:
More room
Easier to get in and out
Better for hot days
More stable
Cons of SOT Kayaks:
Slower to move
Easier to get wet
Sit-In Kayaks
Sit-in kayaks (SIK) have an enclosed top with a cockpit where you'll sit. When you're in the cockpit, most of your body is covered depending on your size and how small the hole is. If you're fishing still water as you would in small backwater ponds, you aren't likely to enjoy fishing with a SIK kayak because they're cramped and don't often provide a lot of space.
One positive I see with SIK kayaks is that any storage provided is easily accessible because you don't have to reach down and risk the stability of the kayak. Some of the options reviewed above were like this. They provided plenty of storage, plus, you weren't sitting in a cockpit, and it was an open-top. That's the more traditional fishing kayak style.
The main advantages of the SIK kayak come when it's time to get moving. You have a lower center of gravity, so it makes navigation much easier, which is ideal if you're fishing in rivers or trying to cut through sections of vegetation. You have a lot more control over where your kayak goes.
These are also great ocean fishing kayaks because they're more stable. If you're taking a fishing trip with other kayakers you'll have the more stable kayak.
That said, these are tough to get in and out of because of the cockpit. If you find yourself moving around a lot and you don't like being cramped up in a hole all day, you might want to choose a different style of kayak.
Pros of SIK Kayaks:
Increased navigation and stability
You won't get wet
Storage can be more convenient (with the right kayak)
Cons of SIK Kayaks:
Tough to get in and out
Hot and stuffy
Not designed for standing up
Can't use for stand up fishing
Inflatable Kayaks
We looked at quite a few inflatable kayaks above, and that's because they're really popular for fishing. This factor is especially true if you're a recreational angler. If you go out fishing on the weekends or a couple of times per month, inflatable kayaks are the way to go.
They're easy to transport, most are simple to fill, and they're pretty comfortable as well. With each of those positives come a few negatives, though. While they might be easier to transport, you are going to have to spend the time inflating and deflating them before and after each use. That's why I said that they're best for the recreational angler. The more you use them, the faster they'll wear down.
Another issue with inflatable kayaks is the fact that you have to let them dry completely before deflating; otherwise, you'll have to deal with premature corrosion of the material. So, while they're easier to move, there is an involved process of getting them on and off the water just like any other kayak.
One significant advantage that I see with inflatables is price. I've found that they're much more affordable than their counterparts, and I don't believe they're any less durable. The big fear that most people have is that they'll pop it or hook it and cause a hole.
All the inflatable kayaks I recommended use a multi-level material system that ensures it will take a look more than a fishing hook to pop your kayak.
I'm also a fan of these because I prefer a smaller sized kayak when I'm angling in ponds. I like to be able to get in the places that no one else can access with their boat. Many inflatable kayaks are flat and wide on the bottom so you can glide across the water and locate all of the best bass fishing spots.
Pros of Inflatable Kayaks:
Easy to transport
Durable
Lightweight
Small enough to reach places boats cant
Affordable
Cons of Inflatable Kayaks:
Requires you to inflate and deflate
Needs to be completely dry before deflating
Tandem Kayaks
The best tandem fishing kayak will come with two paddles and two seats so you can have a buddy join in the fun. While this sounds great, it's not always the best option for fishing. Tandem kayaking is a lot more challenging than it looks. It's important to learn how to paddle together.
That said, if you're more interested in a relaxing afternoon on the water with a little fishing to go along with it, then a tandem kayak might be a good option for you.
You can find tandem kayaks in both inflatable and standard options. The material you choose is entirely up to you but just beware of one factor—weight capacity.
I noticed that many inflatable tandem kayaks have a 400lb weight limit, which might be fine when there's only one person, but that can add up quickly when you throw another person and their gear into the mix.
Pros of Tandem Kayaks:
Bring along a friend
Great way to introduce children to fishing
Cons of Tandem Kayaks:
Not always the best option for fishing
Difficult to learn how to paddle together
Less space for gear
Be careful of weight limits
How to Choose the Best Fishing Kayak?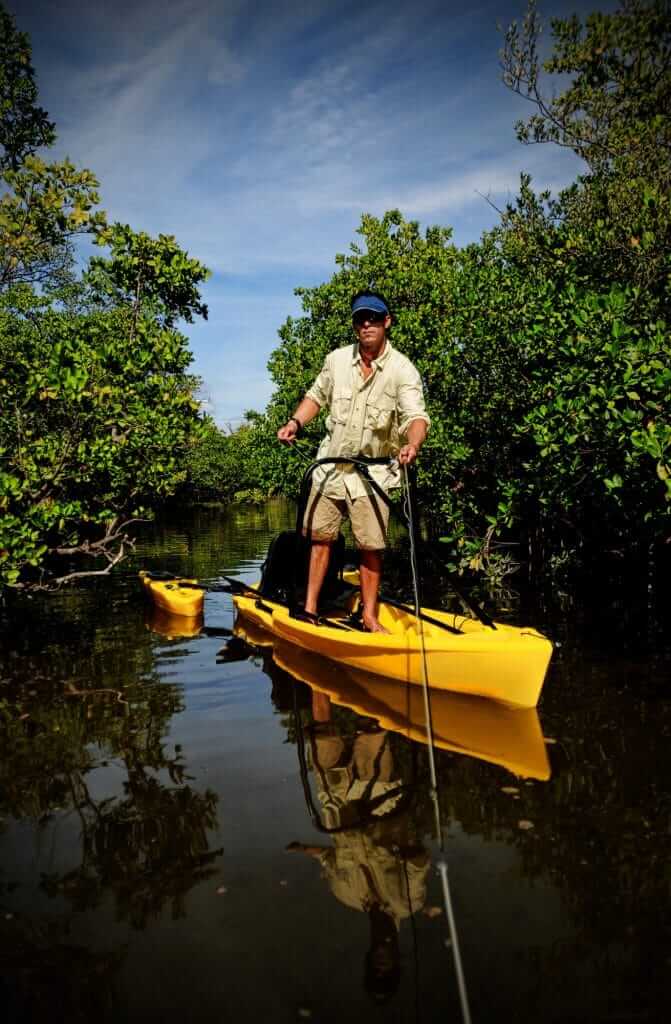 Now that you understand the types of kayaks, how can you choose one? If you've decided which style is right for you, let's cover some of the features, components, and accessories you'll want to look for before making your choice.
Storage Space
One of the first and most important features you'll think about is storage and accessibility. You need room for your gear including kayak fishing PFD, rods, reels, bait, tackle, paddles, and whatever other personal belongings you need to have with you. You need a safe place to store these items, and many kayaks won't provide that for you.
The fishing kayak you choose must offer front and back storage as well as side compartments that are easily accessible in case you need to reach for something quick. Many dedicated kayaks made for fishing even come with special pouches and containment areas where you can store lures and flies. Many even feature cup holders.
Stability
Many people who are unfamiliar with kayak fishing never understand how someone can stand up on a kayak and reel in a four-pound bass at the same time. If you choose the right kayak, you can do that as well. Personally, I don't care much about standing up when I fish, but I can't sit in one place for too long, and that's why SIK kayaks don't work for me.
Some of the kayaks we recommended come with features (such as a kayak outrigger) that will help improve the overall stability of the ship, so if you do need to stand up or even reach over the edge with a net, you can do that.
Size
The size of your kayak is important based on where fish and what you're looking to accomplish. If you're a seasoned angler who is looking to dive into kayak bass fishing for the first time, you'll want to think about this. For me personally, I'm a huge fan of backwater fishing on an empty pond I found out about from a family member. You can leave me there all day, and I'll be as happy as could be.
If that sounds like you, then you'll want to get a smaller kayak that allows you to navigate through dense cover, in between rocks, and around stumps without fear. The larger the kayak you choose, the more difficult it will be for you to control.
The last thing you need is to try and work your way through a cramped area and damage the kayak on a protruding stump.
With size, also comes speed, so keep that in mind. While this is unimportant for most anglers, if you plan on using your kayak as a multi-purpose tool for recreational enjoyment, you might want to find a healthy middle ground between size and speed.
Weight
The weight of your kayak has an obvious application here. If your kayak is super heavy, you'll have a hard time getting it in and out of the water. A heavy kayak might require a wheel cart or even a trailer which defeats the whole purpose of having a kayak in the first place. They're made to be easy to transport, so if the kayak of your choice can't fulfill that, then you might want to move onto a different option.
Comfort
Many factors can impact the comfort of your kayak. I find that SOT kayaks are more comfortable because you can feel the breeze blowing, you usually get more storage with these, and everything is more accessible. If you're the kind of person that needs to get up and stretch your legs every now and again, you'll want to get a SOT kayak too.
That's my opinion on the situation, and it may not apply to you. Just make sure you have a list of expectations and don't compromise on comfort. The more comfortable you are, the more success you'll have on the water.
Fishing Specific Features
Since many kayaks aren't made with fishing as the top priority, they don't come with necessary features. Make sure you look out for fishing rod holders, lure holders, side pouches, and compartments for things like flies or extra line.
Some kayaks even come with a livewell. If you can, choose a kayak that has a fishing design because they'll come with the most features that an angler would want to have. I've even seen people put trolling motors, pedal systems, and paddlers on their Hobie kayaks.
I didn't talk about them much but if you decide to go with a pedal drive system kayak, just be sure to understand how much effort you'll have to put in before you buy one. Instead of using a fishing kayak paddle, you'll use pedals to move it. The pedal kayak is driven by your feet but you'll still navigate using paddles.
Final Thoughts
The last thing I have to say is to have fun. Don't worry too much about choosing the perfect kayak because all of the options I recommended above are some of the best you can buy online. These choices all offer everything you'll need; it's just about choosing the right one for you. Good luck out there!