---
We independently research, test, and recommend the best products; you can learn more about our review process here.
I grew up floating a river in a small inflatable boat until it was punctured during afloat. My parents then upgraded the family to fiberglass and plastic canoes and kayaks. So while I prefer the fishing kayak I now own, I will forever fondly think back on the great times I had in an inflatable kayak.
During those adventures on the river, I learned what features were needed for a kayak to be crowned the best inflatable fishing kayak. The Aquaglide Blackfoot Angler 130 checked all my boxes for the best overall.
However, if you like to fish with a partner, the Aquaglide Chinook 120 has plenty of room to paddle and fish tandem.
If neither of these kayaks strikes your fancy, don't worry; several others made the top six, and one is sure to meet your kayak fishing needs!
Comparison Table – Best Inflatable Kayak For Fishing
Image
Features
Rating
Price

Best Overall

Aquaglide Blackfoot Angler 130

Length- 13 ft
Width- 38 in
Weight- 41 lbs
Max capacity- 650 lbs

REI

Best Two Person

Length- 12 feet
Width- 37 inches
Weight- 29 pounds
Max capacity- 550 pounds

REIAmazon

Best One Person

Advanced Elements StraitEdge Angler PRO

Length- 10' 6"
Width- 38.5"
Weight- 45 lbs
Max capacity- 400 lbs

REIAmazon

Best For Ocean Fishing

Length- 12' 8"
Width- 38"
Weight- 48 lbs
Max capacity- 375 lbs

BackcountryAmazon

Best Sit On Top

Length- 12ft 6in
Width- 38in
Weight- 52 pounds
Max capacity- 300 pounds

BackcountryAmazon

Most Budget-Friendly

Length- 10 feet
Width- 36 inches
Weight- 36 pounds
Max capacity- 220 pounds

Amazon
---
Reviews Of Each Blow Up Fishing Kayak
Aquaglide Blackfoot Angler 130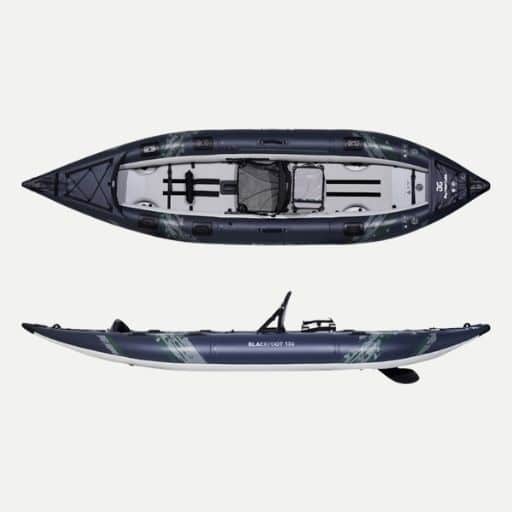 BEST INFLATABLE KAYAK FOR FISHING
Specs
Length- 13 ft
Width- 38 in
Weight- 41 lbs
Max capacity- 650 lbs
Pros
Padded foam seat
Lightweight
Lots of storage
Backpack carry bag
High-pressure drop-stitch floor
Cons
Paddle not included
Expensive
Air pumps not included
Why We Chose It
Aquaglide is known for making quality inflatable kayaks. The Blackfoot Angler 130 provides enough storage space and stability for any kayak angler.
The main reason this kayak stands out is the seat. It's an adjustable foam seat that slightly raises you off the kayak floor so you stay comfortable while fishing. Though this kayak is stable enough, it might be challenging to stand because of the low seat height.
For as expensive as the Blackfoot Angler 130 is, it doesn't come with an air pump or a paddle, which is very inconvenient and frustrating because you'll have to add those items to the overall cost.
However, it's expensive because it's durable. The high-pressure drop stitch floor and Duratex-reinforced PVC will hold up to nearly all fishing environments for years when it's properly maintained.
The Aquaglide Blackfoot Angler 130 is the best inflatable fishing kayak because of its comfortable seat, size, and storage capacity. It is expensive but don't worry; there are budget-friendly options below.
Aquaglide Chinook 120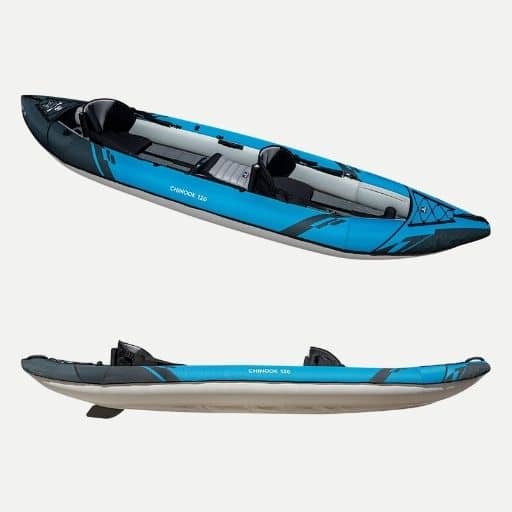 BEST 2 PERSON INFLATABLE FISHING KAYAK
Specs
Length- 12 feet
Width- 37 inches
Weight- 29 pounds
Max capacity- 550 pounds
Pros
Lightweight
Two or three people
Multiple air chambers
Puncture-resistant HexShell 600-denier ripstop polyester
Quick-release weedless fin improves tracking.
Cons
The third person has to be a child; there's not enough room for a third adult.
Paddle not included
Air pump not included
Why We Chose It
Aquaglide came in clutch with a two-person inflatable fishing kayak. The Chinook 120 has room for two adults and a small child or four-legged family member.
Even though it's a two-person kayak, it's lightweight, so one person can easily carry the Chinook 120. It can be paddled solo, which is great if you're not always going to have a paddling partner. I like the removable fin because it will help you paddle in a straight line instead of zig-zagging, especially when paddling alone.
You shouldn't have to worry about getting a hole in this kayak, but if you do, it won't wholly deflate because of the multiple air chambers. These chambers might make inflation and deflation slow, but you'll be thankful for them if you ever have to patch a hole because they will keep you afloat until you reach the shore.
The Aquaglide Chinook 120 is an excellent investment in quality outdoor family time. It's large enough for two paddlers to fish from but handles well enough for one person to use.
Advanced Elements StraitEdge Angler PRO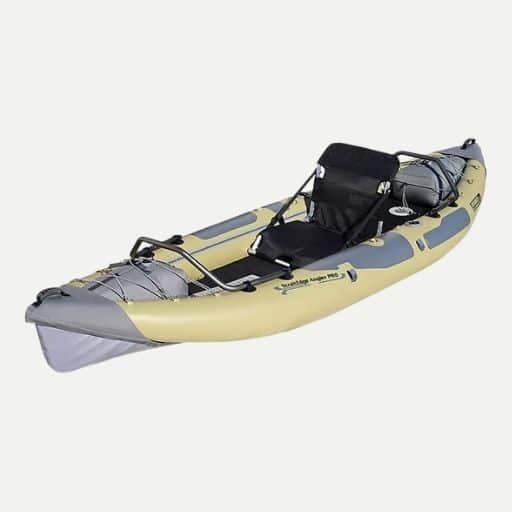 BEST INFLATABLE 1 PERSON KAYAK
Specs
Length- 10′ 6″
Width- 38.5″
Weight- 45 lbs
Max capacity- 400 lbs
Pros
Stable enough to stand
Accessory frame system
AirFrame Pro seat
Duffle bag included
Removable deep fin
Cons
No air pump or paddle included
Low seat height
Why We Chose It
The Advanced Elements StraitEdge Angler PRO is perfect for one person. It's designed with the angler in mind, with several beneficial features. A carrying case and removable fin are included; however, a couple of essential items are missing.
This kayak is very stable. You can stand and fish, but getting to a standing position will be challenging because of the low seat height. You might be able to use the accessory frame system to help you stand but don't solely rely on it.
The accessory frame system is designed for mounting a fish finder or rod holders onto, which comes in handy while fishing.
The Airframe seat will keep you comfortable all day long. The removable fin will keep you paddling straight, or you can replace it with a Current Drives ElectraFin (sold separately), which is like an electric trolling motor, so you won't have to paddle!
Advanced Elements doesn't include a paddle or air pump with this kayak, so leave room in your budget for both of those items.
The Advanced Elements StraitEdge Angler PRO was designed to mimic the shape of hardshell kayaks to track better, which means you spend less time paddling and more time fishing.
Star Pike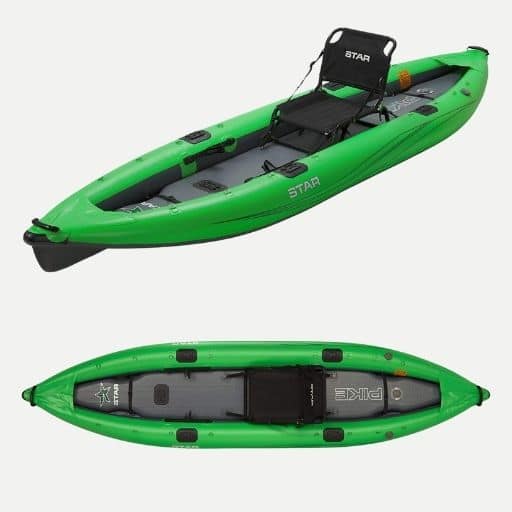 BEST INFLATABLE OCEAN KAYAK
Specs
Length- 12′ 8″
Width- 38″
Weight- 48 lbs
Max capacity- 375 lbs
Pros
Comfortable seat
Adjustable footrests
Self-bailing floor
Welded seams
D-rings and mount bases for fishing rod holders
Cons
Paddle not included
Primarily for flatwater paddling
Why We Chose It
The Star Pike was designed for hard-to-reach remote backwaters. However, many of these features lend themselves perfectly for saltwater fishing. Check out my other article if you're searching for the best ocean fishing kayak.
The Star Pike has an adjustable seat and footrests, so you will always find a comfortable position to rest in between catching fish. You will inevitably have water get into your fishing boat, so the self-bailing floors will come in handy to help keep everything as dry as possible.
If you properly maintain this kayak, you won't have to worry about its durability because of the heavy-duty welded seams and Advanced Formula PVC construction. The stainless steel D-rings and mount bases allow you to secure all your fishing gear to the kayak so you won't lose it if your kayak flips.
The Star Pike is the best inflatable kayak for ocean fishing because of its length, stability, versatility, and self-bailing floor. Don't forget you will need to purchase a paddle before you hit the water!
Star Rival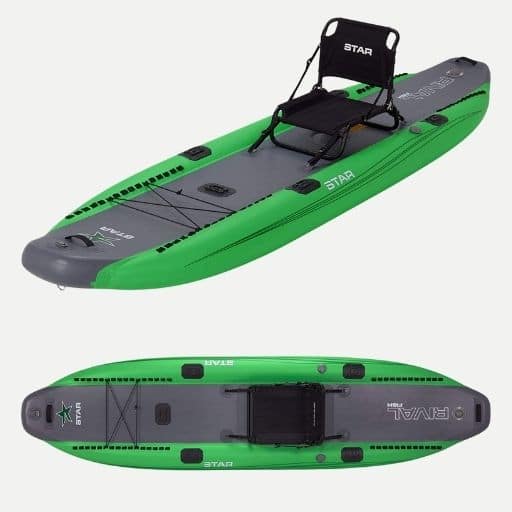 BEST SIT ON TOP KAYAK INFLATABLE
Specs
Length- 12ft 6in
Width- 38in
Weight- 52 pounds
Max capacity- 300 pounds
Pros
Stable
Durable PVC
Bungee storage
Comfortable seat
Two interchangeable skegs
Cons
No secure storage
Heavy for an inflatable kayak
Only 300lbs maximum load
Why We Chose It
The Star Rival is a proper inflatable sit-on-top kayak. It resembles a stand-up paddleboard with a seat on top. This means it lacks some storage and max weight capacity, but it makes up for it in other areas.
This kayak is durable. It's constructed from PVC-coated 1000D polyester, which means it's tough but heavy. The size of the kayak also increases the weight, but it contributes to the stability and tracking performance, as do the interchangeable skegs.
Despite its size, there is limited storage on the Star Rival. There is a bungee storage area at the front and back, but I wouldn't trust it to hold anything valuable that doesn't float. I like the seat. It sits high and is secured to the kayak by stainless steel D-rings, but most importantly, it adjusts for maximum comfort.
The Star Rival is an excellent kayak for any type of water, and despite the lack of storage options, the open design lends itself to kayak fishing.
Intex Excursion Pro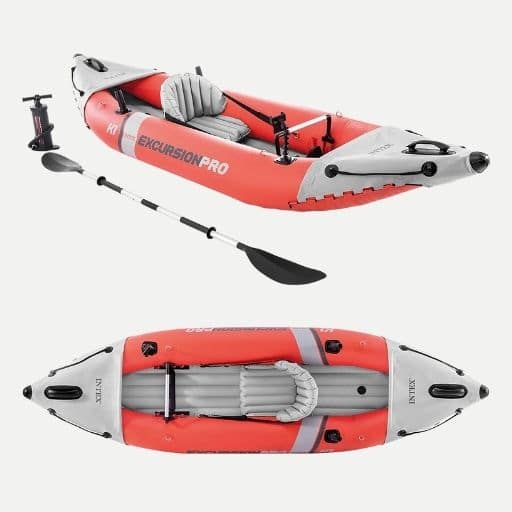 Most Budget-Friendly Inflatable Kayak
Specs
Length- 10 feet
Width- 36 inches
Weight- 36 pounds
Max capacity- 220 pounds
Pros
Abrasion-resistant
Includes everything you'll need to get on the water
Inexpensive
Designed for kayak fishing
Cons
Low weight capacity
Low seat height
Why We Chose It
The Intex Excursion Pro is much cheaper than most inflatable fishing kayaks. Unlike all the other kayaks on this list, It comes with everything you'll need to get on the water, so it is an excellent option if you're on a tight budget.
I like that it's designed with kayak anglers in mind. It has removable rod holders and an adjustable mounting bracket for sonar or other fishing accessories you might need on your fishing trip. There's also a little storage at the front and back of the kayak, but no way to secure your gear to the kayak if you encounter rough waters.
Some anglers might find the low seat height and floor-mounted footrests uncomfortable. The seat and backrest are inflatable, so they should be reasonably comfortable, except they may make you sweat more than a mesh or foam seat.
The Intex Excursion Pro K1 is constructed of abrasion-resistant material, so though it's our budget-friendly option, it should handle nearly every kayak fishing situation.
Buyer's Guide: Factors To Consider Before Buying A Blowup Fishing Kayak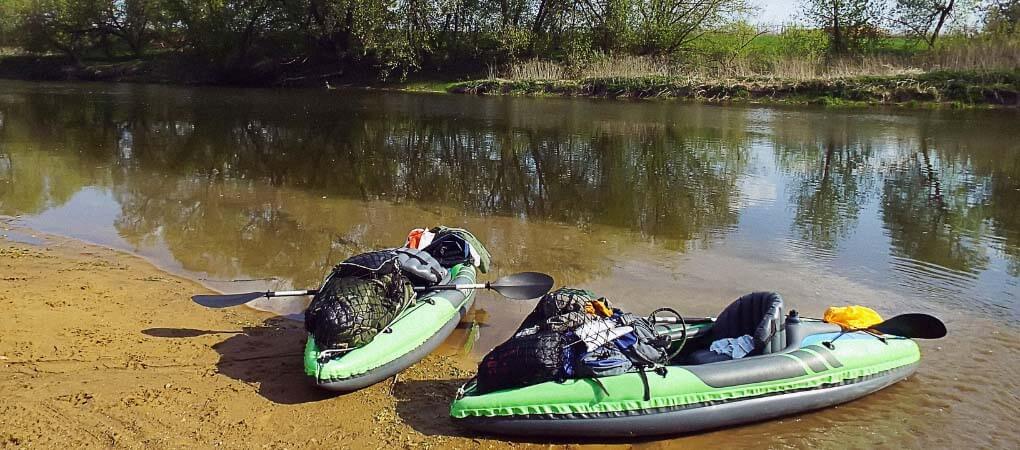 Inflatable kayaks have unique advantages and disadvantages. This means you'll need to keep a few considerations in mind when purchasing an inflatable boat, especially when you plan on using it for angling.
Seat
The seat is one of the most critical features of any kayak, especially inflatable fishing kayaks. Since you'll be spending most of the day seated, you will need a comfortable seat. The most comfortable seats are adjustable mesh seats with a high backrest.
They are more comfortable, making paddling, fishing, and standing easier because you're sitting higher. The added comfort often comes at a higher price.
Maneuverability
Maneuverability is vitally important in any kayak, especially in a fishing kayak. You need to be able to position yourself perfectly to make the best cast possible. The wind is often the biggest adversary to kayak anglers. This is even more true for inflatable kayaks because of their lightweight nature.
Kayaks with fins or skegs maneuver much better than kayaks with flat bottoms. The fins allow you to track a straight path instead of zig-zagging your way to your fishing spot. The problem with fins is when you fish shallow water, you will often catch it on the bottom, so you'll need to pay close attention to your depth.
Stability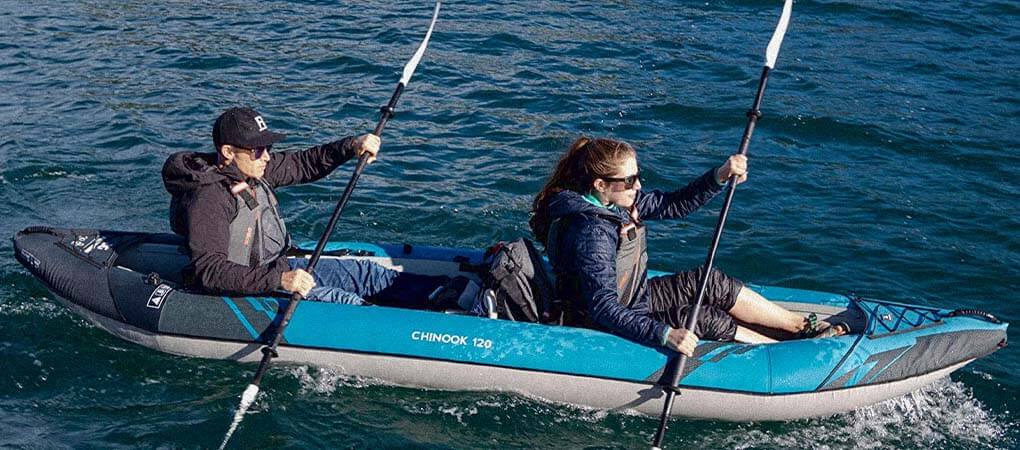 The most significant safety factor is the stability of the kayak. I highly recommend getting as stable of a kayak as you can afford. With that said, most inflatable kayaks are very stable because most of the buoyancy comes from the inflated sides. The closer you get to the weight capacity, the less stable the kayak becomes.
If you buy a stable kayak, it also means you can fish while standing, which is great to stretch your legs, and it gives you an advantage while sight fishing.
Durability
You don't want to buy a kayak and only get to use it a handful of times before it gets a hole in it. I don't want you to waste your money on junk, so I want you to purchase the most durable inflatable kayak you can afford.
The durability is determined by the materials used and if the company decides to add abrasion pads to the kayak. Kayaks are intended to be used in shallow water situations. This means you're likely to run into sticks and rocks that could potentially pop a hole in your kayak.
That's why you should purchase a kayak constructed out of heavy-duty PVC.
Maximum Weight Capacity
As I mentioned earlier, the closer you get to the maximum weight capacity, the less stable the kayak becomes. If you want to haul a lot of gear, I suggest purchasing a high weight capacity.
Most inflatable kayaks have a relatively high weight capacity, especially if they're tandem kayaks. A good rule of thumb to stick to is the smaller the kayak, the lower the weight capacity. While this isn't always true, typically, a bigger kayak will haul more.
Are Inflatable Kayaks Good For Fishing?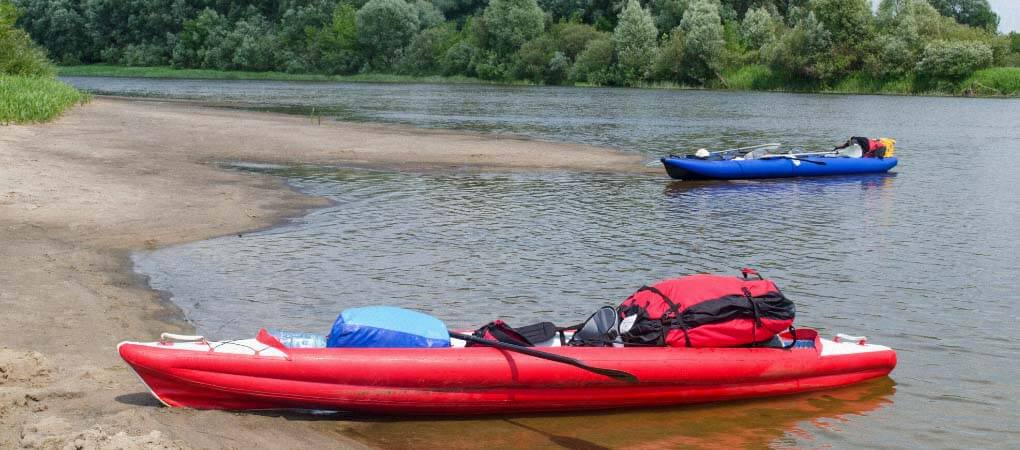 Yes, inflatable kayaks are good for fishing because they're stable, haul a lot of fishing gear, and are easy to transport. Many inflatable kayaks are designed with anglers in mind, which means they have features that greatly benefit the average angler.
However, they are not the best fishing kayaks, in my opinion. I believe hardshell kayaks offer more benefits than blow-up kayaks as long as you have a way to transport a hardshell kayak.
You'll Also Need
After purchasing your kayak, you'll realize several other items you need and others that would make kayak fishing less complicated. Below, I listed several things that you can't leave the shore without, and I made a few recommendations of gear that will increase your chances of catching more fish from your inflatable kayak.
Kayak Fishing PFD
In my kayak fishing tips article, always wear your life jacket. I know they are uncomfortable at times and make you sweat more than you want to, but none of that would matter if an emergency were to happen.
If you want the best kayak fishing PFD, I highly recommend the NRS Chinook. It's designed to be worn while kayak fishing, so it's comfortable and won't make you sweat profusely.
A PFD will only save your life if you wear it, so don't just have it lying in the boat.
Air Pump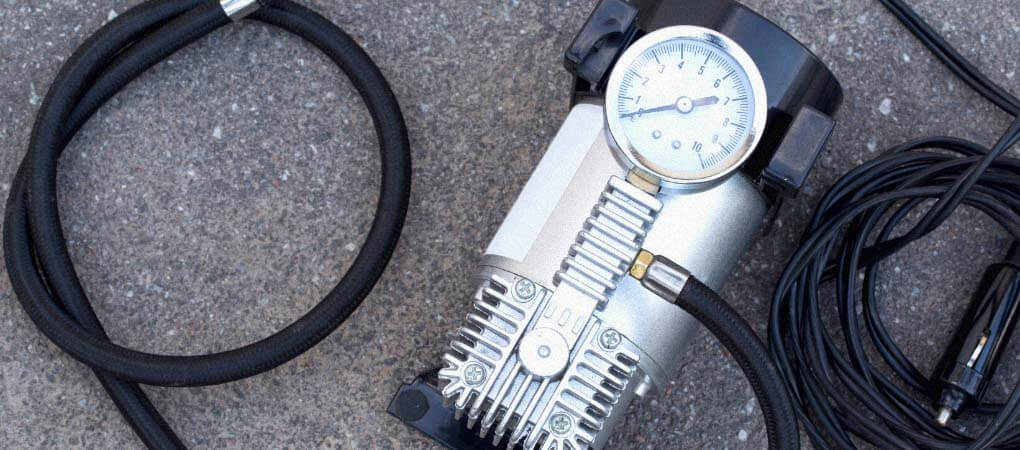 I'm surprised that many inflatable kayaks don't come with at least a hand pump. Which means you will need to purchase one separately. Most companies recommend using a 12-volt electric air pump and then topping it off with a hand pump so you can control how much air your kayak holds.
It's never a bad idea to have a backup hand pump on the kayak if you need to adjust the air pressure while on the water.
Paddle
When I bought my first kayak, I was surprised at how many kayaks didn't come with a paddle, but I quickly learned that's pretty common even when purchasing a hardshell fishing kayak. To buy the best fishing kayak paddle, you should keep these three things in mind:
Your height
Kayak width
Seat height
These three are the most significant factors in determining the paddle length you need. There are paddles on the market designed for kayak fishing, and they help, but they're not necessary.
Repair Kit
Most inflatable kayaks come with at least one repair kit, but it's wise to have multiple kits if you misplace one or have numerous punctures. Buying a repair kit is cheaper than purchasing a new kayak, so I'd instead buy several kits to have on hand.
Eventually, you will need to purchase a new kayak instead of fixing it. If you have more patches than the original material, it's probably to buy another one.
Kayak Fishing Rod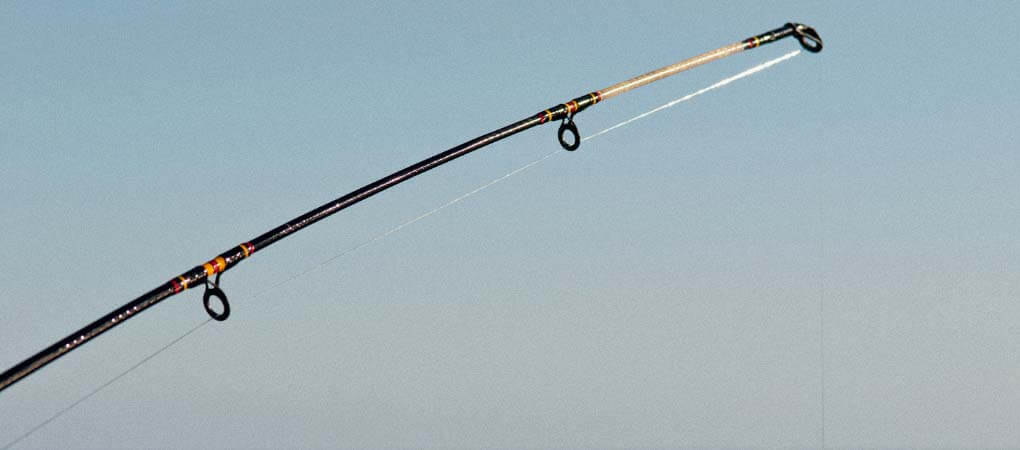 Unless you plan on catching fish by hand, you'll need a fishing pole. Lucky for you, I reviewed the best kayak fishing rods, so you won't have to guess which one will work best for you. You can use any rod to use while fishing from a kayak; however, specific rods work best in the confined space of a kayak.
When buying a fishing pole, keep the species you'll be targeting the most in mind. If you're fishing for smaller fish, the heavy-duty gear won't help you much, and the opposite is true. Light tackle isn't going to help you when battling a large fish.
Rod Holders
Rod holders are a tremendous help for keeping your kayak organized. If you plan to take multiple rods, I believe they're a must. Thankfully, most inflatable fishing kayaks come with rod holders and the option to add more.
Many different brands make kayak fishing rod holders, so you shouldn't have a problem finding one to fit your kayak. Just be sure that the brackets on your kayak will work with the rod holder you buy.
Tackle Box
A tackle box is the best way to keep all your lures organized. Suppose you're on a small budget. Any tackle box will do, but the best kayak fishing tackle box is compact and holds enough lures for your entire fishing trip.
I have a kayak tackle management system. This means I have several tackle boxes full of lures and tackle that I leave in a tote in my truck while I'm on the water. I only bring a couple of compact boxes with all the lures I think I'll need for the day. This way, I don't overload my kayak with the gear I never use.
Kayak Fish Finder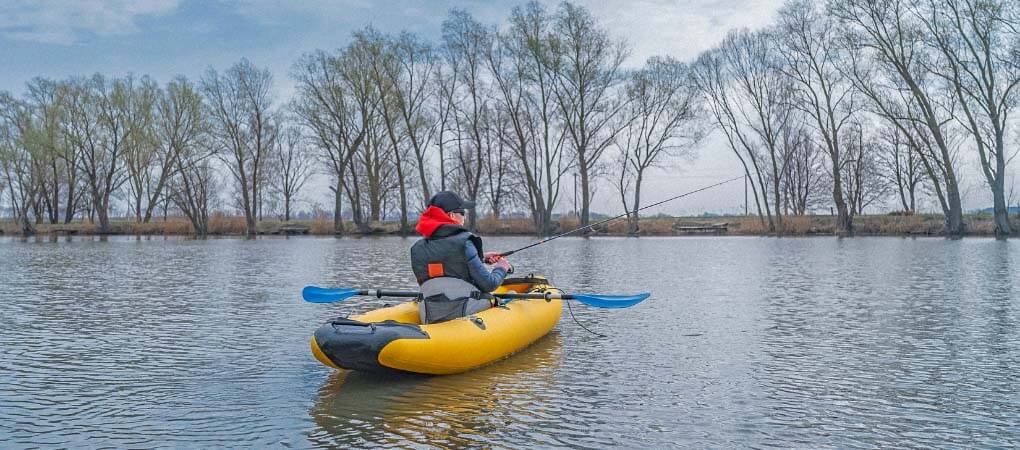 Adding a fish finder to your kayak will give you more clues to catch fish. The most basic fish finder will tell you the depth and contour of the bottom, while the best kayak fish finders allow you to see brush and fish within the brush piles, plus the water temperature, density of the bottom, and what's to the side of your boat underwater.
Kayak Battery
If you decide to add a fish finder or trolling motor to your inflatable kayak, you'll need a battery. The best batteries are Lithium-Ion because they are lighter, more powerful, and more efficient than Lead-Acid batteries. If you want the best kayak trolling motor battery, check out my article.
One More Cast
While inflatable kayaks are not my favorite, they have characteristics that make them beneficial to many people. If you're one of the people who love inflatable kayaks, don't worry, I won't hold it against you!
The best inflatable fishing kayak is the Aquaglide Blackfoot Angler 130 because it has a comfortable seat, lots of storage, and durable materials.
If you're on a tight budget, the Intex Excursion Pro will cover all the basics you need to get on the water kayak fishing.
Let me know in the comments if you prefer an inflatable kayak or a hardshell kayak!