Last Updated on June 15, 2022
We independently research, test, and recommend the best products; you can learn more about our review process here.
Having the ability to stand and fish from a kayak is an advantage many people seek. Not only do you get to stretch your legs, but you also can see fish that others can't from a seated position.
However, some kayaks are not stable enough to stand and fish.
Enter the best kayak outriggers.
Kayak stabilizers will make your kayak much more stable if they're installed correctly. Today you'll learn why the YakGear Kayak and Canoe Outriggers are the best kayak outriggers on the market and why the others don't match up.
Comparison Table: Best Kayak Outriggers on the Market
---
Reviews Of Our Favorite Kayak Outriggers
YakGear Kayak & Canoe Outriggers (Gen 2)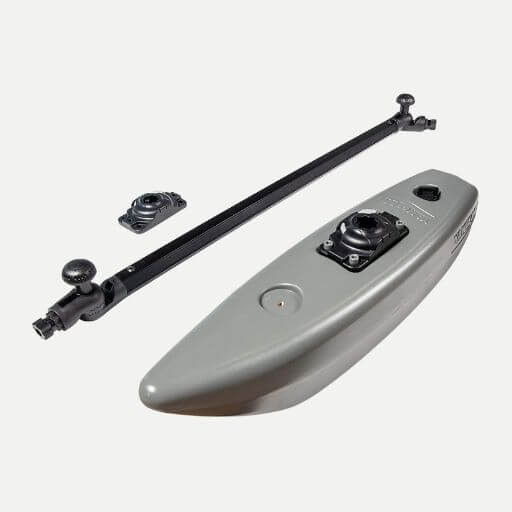 BEST KAYAK OUTRIGGERS OVERALL
Specs
Two outrigger floats
Outrigger arms are 30 inches long
Aluminum and plastic construction
Stainless-steel hardware
Pros
Adjustable
Easy to remove for transport
Great for kids and beginners
Cons
Expensive
Have to drill holes in your kayak
Why We Chose It
YakGear is a trusted brand within the kayaking industry. They're known for manufacturing good quality affordable kayak accessories.
The YakGear Kayak & Canoe Outriggers Generation 2 are easy to install, so you won't have to take your kayak to a specialist to have them mounted. I don't like that you will have to drill holes in your kayak, so it is a good idea to buy a small tube of silicone to seal the holes.
These outriggers provide enough stability for kids and adults with less than ideal balance to comfortably enjoy paddling without the worry of tipping. If you're comfortable, they will allow you to stand up and fish in your kayak.
I love that the YakGear Kayak & Canoe Outriggers are easy to remove, making transporting your kayak much more manageable. I would recommend these to anyone who needs to stabilize their kayak and can afford to spend a decent amount of money on high-quality products.
Bold Ivy Hydrodynamic Kayak Stabilizer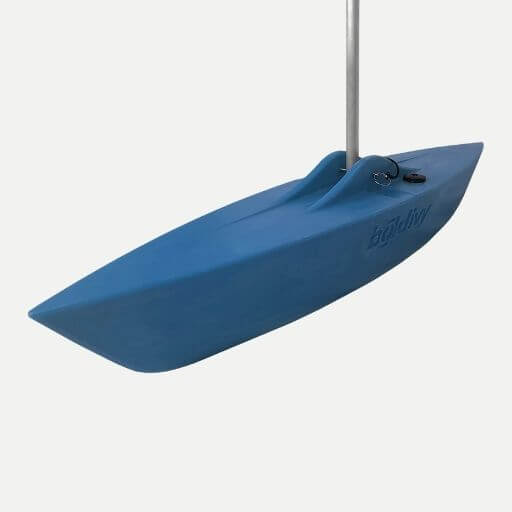 MOST HEAVY-DUTY KAYAK PONTOONS
Specs
22″ of extension in each direction
It comes in five colors
Multiple sizes to ensure it fits your kayak
Polyethylene plastic and anodized aluminum
Pros
Designed to glide effortlessly through the water
Fits most kayaks
High-quality kayak adapter clamps
Telescoping arms
Cons
Expensive
Bulky looking
Must get out of the kayak to adjust
Why We Chose It
The Bold Ivy Hydrodynamic Kayak Stabilizer looks well built. The aluminum extension arms are rugged enough to handle the demanding nature of kayaking. The Hydrodynamic design of the polyethylene floats means you will barely notice they're there while you're paddling.
Many kayakers have a significant concern about adding an outrigger to their kayak, making it more challenging to paddle. While some brands will inevitably make it more difficult to paddle, the Bold Ivy Hydrodynamic pontoon will not because it will cut through the water due to its shape.
Boldy Ivy offers multiple sizes, so you need to measure your kayak to ensure you order the correct size. While I like that they will fit nearly any kayak, this is another step in the process that other brands don't require. You can adjust the width, how far out the pontoon is from your kayak and each float's depth with simple nobs.
I love the high-quality design of the Bold Ivy Hydrodynamic Kayak Stabilizer and believe it's most beneficial to those with recreational kayaks. If you own a fishing kayak, I think other options are better.
Brocraft Kayak Outrigger System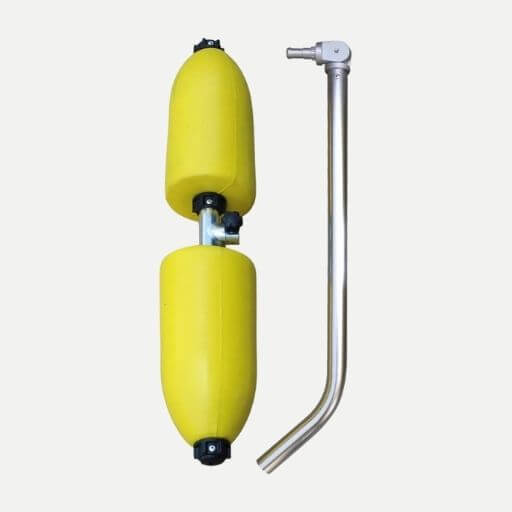 BEST KAYAK PONTOONS FOR SALTWATER
Specs
32″ outrigger arms
Aluminum and molded PVC construction
Stainless steel mounting hardware
Brocraft Two years limited warranty
Pros
Multiple ways to mount to your kayak
Adjustable
Easily removable
Cons
Expensive
Only one color, bright yellow
Coarse adjustments, no fine-tuning
Why We Chose It
I didn't choose it because of the cool company name, Brocraft, though it might have helped! I like that they offer a two-year warranty but, more importantly, two ways to mount the outriggers to your kayak.
The first mounting system requires you to drill holes, which I don't particularly appreciate, but the outriggers are still removable, and it's still an easy installation. The second way of mounting utilizes the mounting tracks commonly found on most fishing kayaks.
Using this system makes installing and removing the outriggers quick and easy, which is excellent for transporting your kayak.
There were several complaints about the adjustability of the outriggers because they adjust in too large of increments. This isn't a deal-breaker for me, especially if you can set them to the depth you want, but it is something to consider.
As long as you don't mind having bright yellow pontoons, or you can always paint them. The Brocraft kayak outrigger system is an excellent option for kayak anglers that don't like to drill holes in their kayak.
Scotty Kayak Stabilizer System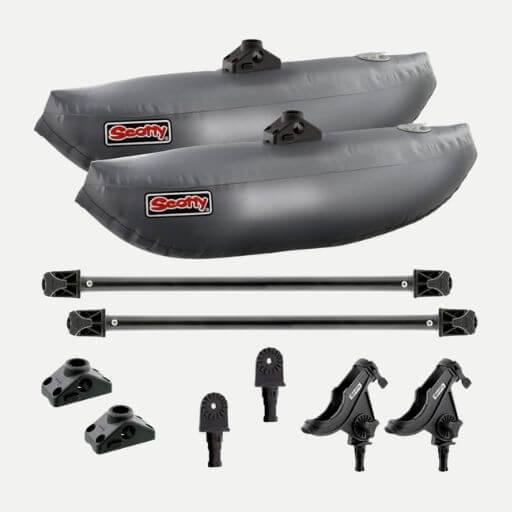 BEST INFLATABLE KAYAK STABILIZER SYSTEM
Specs
30lbs of extra buoyancy
Anodized aluminum arms
Rugged PVC inflatable floats
Pros
It comes with everything you need plus extras
Adjustable
Removable
Cons
Very Expensive
Must drill holes in your kayak
Why We Chose It
The Scotty brand makes all kinds of kayaking accessories and mounts, so it's no surprise to see they make a kayak stabilizer system.
This system is well thought as their other products. However, there are a lot of plastic pieces considering the price, including the deck mounts.This system comes with everything you need, so you don't have to worry about forgetting to order a vital part. It also comes with extra fishing rod holders.
You can never have too many rod holders! Just another excuse to buy a new rod and reel.
As with most other kayak stabilizers, you must drill holes into your kayak to mount it securely. This reason, plus the price, makes it difficult to justify purchasing. However, it is easy to store and transport, so it might be your best option if you're limited on space.
The Scotty Kayak Stabilizer System is ideal for those who don't have a lot of storage space. Inflatable pontoons drastically reduce how much space you need to store and transport them. It also cuts down on the weight, so paddling is easier.
LYNICESHOP Inflatable PVC Kayak Outrigger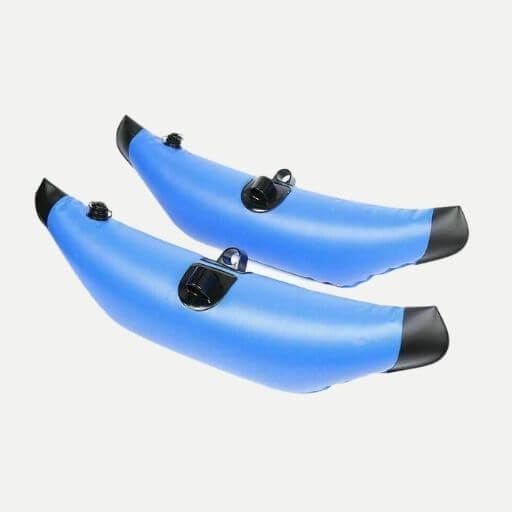 MOST BUDGET-FRIENDLY KAYAK STABILIZER
Specs
PVC pontoon
Aluminum alloy outrigger arm
Inflatable pontoon
Pros
Inexpensive
Fits most kayaks
Removable
Cons
Non-adjustable
You must drill holes in your kayak to mount
Why We Chose It
The LYNICESHOP Inflatable Kayak Outrigger is a great entry-level stabilizer to see if these products will help solve your problem. This is the most budget-friendly product on the list, so it doesn't offer the same features as the higher-end stabilizers.
Even though it's the budget option, you can still easily remove it for transport. I like that the pontoons are inflatable, making transportation even more manageable. The floats inflate quickly, so you won't have to worry about getting light-headed from inflating the pontoons.
I'm not too fond of the lack of adjustability offered by these stabilizers. Once you've drilled your holes, that's where the stabilizers will set, and there is no depth adjustment so that they might sit too high or too deep in the water. With that said, the mounting process is straightforward and shouldn't take much time to install.
I recommend saving up your money and buying a higher-quality kayak stabilizer. However, if you must have one immediately, the LYNICESHOP Inflatable PVC Kayak Outrigger is the best budget-friendly option I could find.
Factors To Consider Before Buying Kayak Outriggers and Stabilizers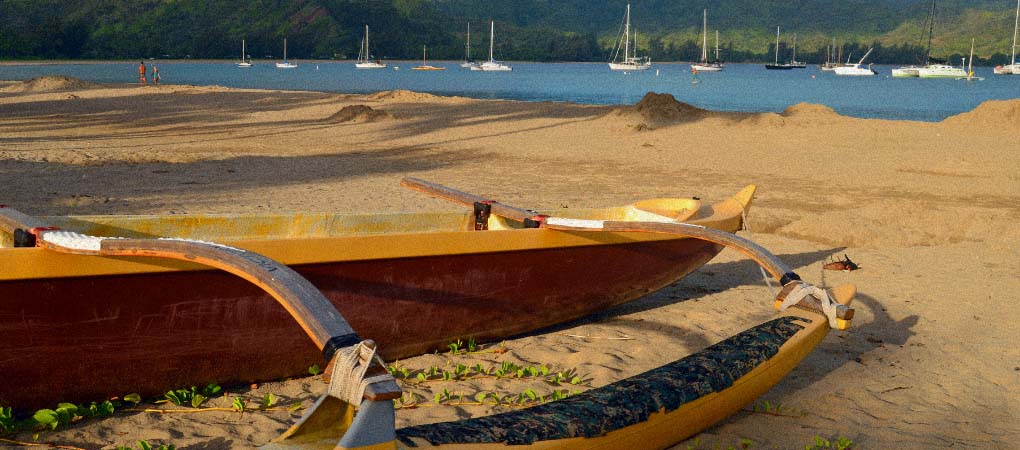 Deciding that you need stabilizers for your kayak can be pretty straightforward. Is it too unstable to use as you intend to use it? Then chances are you could benefit from a kayak stabilizer system.
They are excellent editions for kids learning how to kayak, adding more stability to a fishing kayak so you can stand and fish, and for kayaks that are naturally unstable in rough water conditions.
Even the most experienced kayaker can use a little extra stability from time to time. But what exactly should you look for when purchasing kayak outriggers?
Thankfully, the answer is pretty simple:
Transportability
Weight
Hydrodynamics
Materials
And, of course, How much stability it adds.
Let's break these down a little further, so you know exactly what I mean.
Transportability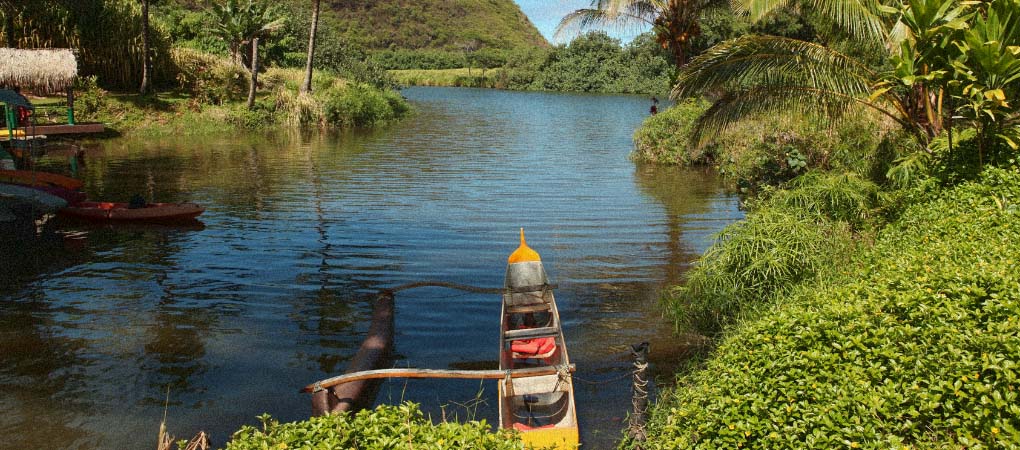 Kayaks are not easy to transport; they require a trailer, truck, or SUV to load them onto and transport. So adding more weight and awkwardness is less than ideal. That's why I focused on kayak stabilizer systems that were easily removable, making transporting so much easier.
If you're limited on space during transport, inflatable pontoons will help you maximize the little space you have available. However, you will still need space for the outrigger arms and how long some of the arms are; that could be interesting!
Weight
Kayaks are already limited on weight, so adding unnecessary weight seems silly. What's nice about stabilizers is that they will increase your total capacity much more than they weigh. So if you add a kayak stabilizer system that weights five to ten pounds, then you'll add about 60lbs of buoyancy.
You will still have to paddle the extra weight, so it will be more challenging to paddle even though you might have increased buoyancy. That's where hydrodynamics comes into play.
Hydrodynamics
How well does the pontoon cut through the water? I've seen homemade kayak stabilizers that cause a lot of drag which makes paddling even more difficult than it should be. This is why it's important to keep the shape of the pontoon in mind.
No, it doesn't have to be fine-tuned like a Nascar racecar, but it shouldn't create so much drag it causes you to struggle while paddling.
Hydrodynamics are similar to aerodynamics, so any pontoon that's shaped similarly to your kayak will be much better than a pontoon that has a blunt nose.
Materials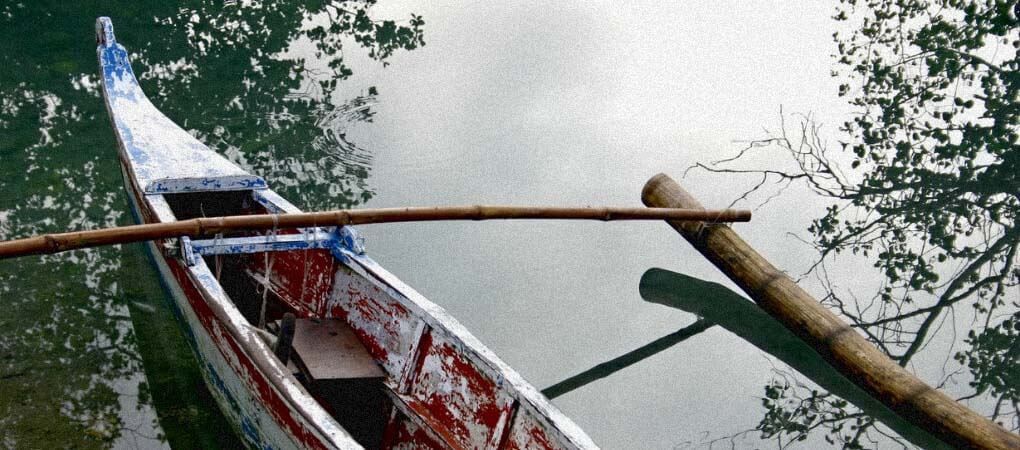 Most kayak outriggers are constructed of similar materials, aluminum, PVC, stainless-steel hardware, and polyethylene/plastic. The quality of these materials will vary from company to company, that's why I recommend staying with well-known companies.
The sun is notorious for breaking down plastic and making it brittle, so never store your kayak or outriggers in direct sunlight.
How Much Stability It Adds
The reason you're buying a kayak stabilizer kit is to add stability to your kayak. If it doesn't do a good job of this, then you waste your money. I don't want you to waste your money. That's why I researched all of these kayak stabilizer systems.
I hand-picked these five because I believe they will add enough stability to your kayak to stand and fish or make it safe to paddle.
For the most stability, you need both pontoons to rest on the surface of the water. If either is too high, you will still experience some wobble.
You'll Also Need
To complete your kayak angling experience, you will need a few other items. Some of them you probably already have, while others you might not have thought were possible to add to a kayak. They are:
Paddle
Kayak
Trolling motor
Trolling motor battery
Fish finder
Kayak fishing PFD.
Some of these items are nice to have, while others are items you shouldn't leave the shore without!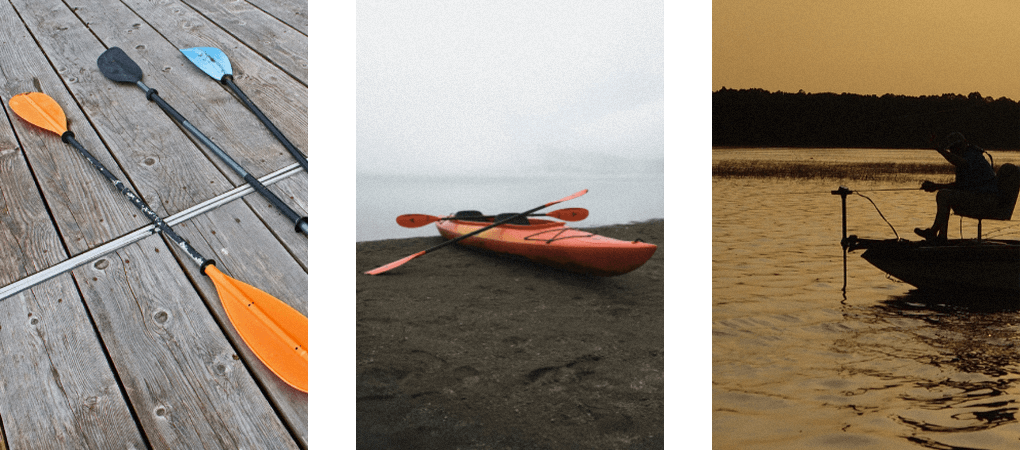 Paddle
Even when I have one of my motors on my kayak, I always carry a paddle when kayak fishing. I never know when I might need it, and it has saved my butt on several occasions. Choosing the correct paddle is the difference between struggling to paddle and comfortably paddling all day.
The length of your paddle depends on your height and the height and width of your kayak.
Always carry a paddle with you!
Kayak
You should already have a kayak, but if you don't, there are many fishing kayaks that you can stand up and fish from without using kayak stabilizers. They often come at a premium price, but they are worth every penny if you fish a lot.
If you already have your kayak and it's unstable, no worries, that's why kayak outriggers were invented!
Kayak Trolling Motor
One Item that changed my fishing was the trolling motor. Not only can I get to my favorite fishing spots quicker, but I'm also not exhausted from paddling when I get there so that I can enjoy fishing even more!
The trolling motor also gives me more control while I'm fishing. Instead of struggling to paddle with one hand, I can turn the motor on, point it in the right direction, and go. Having the best kayak trolling motor on your kayak is a game-changer.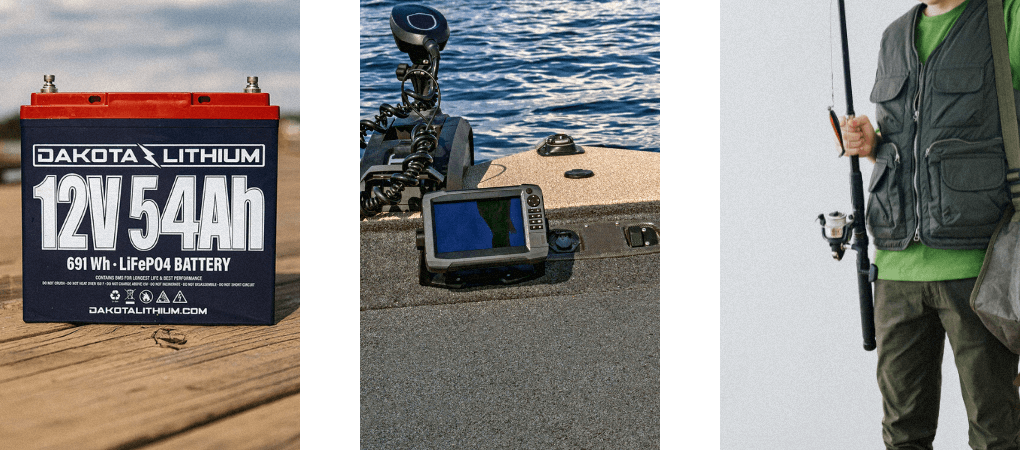 Kayak Battery
If you add a trolling motor, lights, or fish finder to your kayak, you're going to need a battery. In my best kayak trolling motor battery review, I list several batteries that are ideal for running all of your kayaking electronics.
In my opinion, you can't beat Lithium-Ion batteries. They are more expensive, but they are more powerful and efficient than Lead-Acid batteries.
Kayak Fish Finder
Adding a fish finder to your kayak is another gamechanger. It doesn't have to be a giant TV-sized fish finder, so here's a list of some of the best kayak fish finders on the market. This list will help you choose which one is best for your situation.
Instead of just guessing if the fish are there, you will now see that the fish are there.
Kayaking PFD
Your PFD is something you should always wear while on the water. Accidents happen much quicker than you can put your life jacket on. If your life vest is uncomfortable, I suggest buying a kayak fishing PFD.
So often, we are by ourselves while fishing which makes it even more vital that we wear our personal flotation device to stay as safe as possible. Control the factors you can control and always wear your life jacket.
One More Cast
Adding outriggers to your kayak can drastically increase the stability of your kayak, enough so that you will be able to stand and fish in your kayak. The best kayak outriggers are the YakGear Generation 2 Kayak and Canoe Outriggers. They provide the stability you need at a reasonable price, and they're not difficult to install.
If you're on a strict budget, then the LYNICESHOP Inflatable PVC Kayak Outriggers will be your best option, even though I recommend saving up a little more and getting some that are more adjustable.
You can always DIY kayak outriggers if you've created your own we'd love to hear about it in the comments below!
About Post Author