---
We independently research, test, and recommend the best products; you can learn more about our review process here.
I had no idea how much getting the best kayak crate would improve my kayak fishing experience until I finally pulled the trigger and bought the YakAttack BlackPak Pro. 
I love it because it's lightweight, customizable, and keeps all my tackle secured to my fishing kayak.
I didn't think it was possible, but using a yak crate has made kayak fishing even more enjoyable.
So keep reading if you want to find out how the YakAttack BlackPak Pro and several other kayak crates can improve your kayak fishing setup. 
Our Top 3 Picks for Best Kayak Crate
After testing several of the top kayak crates, you'll find my top picks below.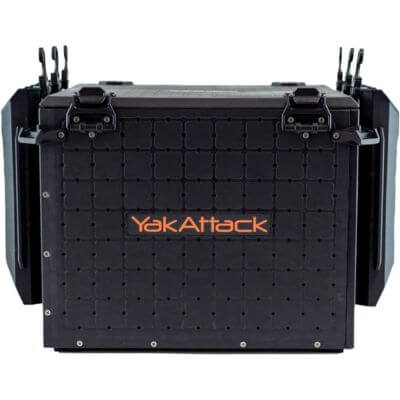 YakAttack BlackPak Pro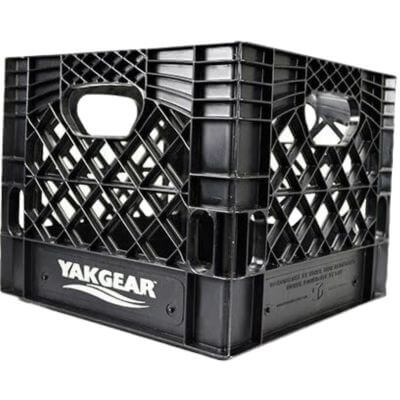 Yak Gear Anglers Crate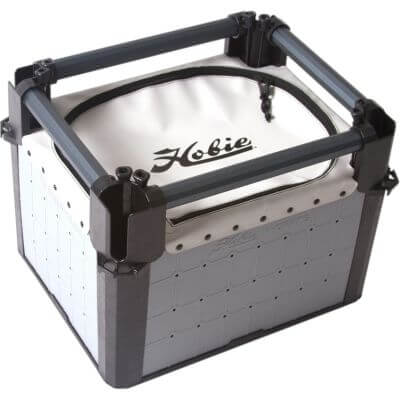 Hobie H-Crate
---
Testing Procedures
A kayak crate is a fairly simple contraption, so one might think there's little difference from crate to crate.
However, during my tests, I quickly noticed differences and picked up on the features that stood out to me as most helpful to my kayak fishing.
Security: While fishing kayaks are stable, a rogue wave can still knock gear out of your kayak. So having a way to secure the crate and your gear inside the crate is critical.
Compactness: How compact the kayak box needs to be is up to your kayak. If you have a small kayak, you will need a more compact crate than someone with a larger yak.

I recommend getting as big of a crate as you can fit in your kayak so it can hold all your gear for the day without interfering with your paddling and fishing.
Lightweight: The more weight you add to your kayak, the more difficult it is to paddle. I try to keep everything as lightweight as possible while still using high-quality, durable materials.

Most crates are lightweight, but not all use materials that will last you for years of kayak fishing.
Customizability: As a yak angler, I have a unique fishing style, and I want my gear to adapt to that style instead of me adapting to my gear. Most yak crates are customizable, but few are made to be.
Price: I understand budget is a factor for everyone, myself included. So I didn't add any crates to the list made of gold.

However, you tend to get what you pay for in terms of the quality of materials used, so I prefer the higher-end kayak crates.
BEST KAYAK FISHING CRATE OVERALL
YakAttack BlackPak Pro Kayak Fishing Crate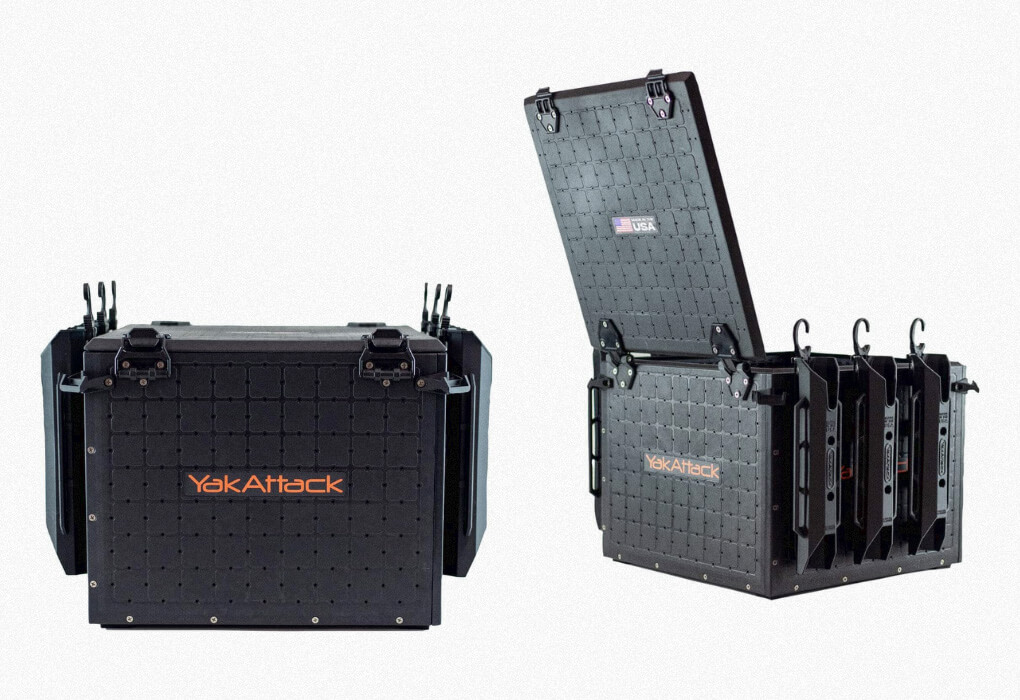 Specs
Material: Injection molded plastic
Dimensions: 13" x 13", 13" x 16", or  16" x 16″ 
Rod holders: Yes
Lid: Yes
Why We Chose It
The YakAttack BlackPak Pro is the Mac Pro of kayak fishing crates. It checks all of the most important boxes for yak anglers.
It's durable, lightweight, secures your kayak fishing accessories, and comes in a couple of different sizes to fit most kayaks, which is why it's the best kayak crate, period.
YakAttack specifically designs their American made products for kayak anglers, such as their kayak cart.
After using their products for years, I've concluded that they're well-designed and can handle the challenging situations we kayak anglers encounter.
The BlackPak Pro is a serious upgrade to the original YakAttack BlackPak design, which was about as basic as you could get.
The BlackPak Pro was made for the dedicated kayak angler who needs to keep their expensive fishing gear in the yak and off the bottom of the lake.
The TetherTube rod holders can be secured all over the BlackPak Pro with screws, and they have a built-in rod leash to secure your favorite fishing rods.
I really like the hinged lid because getting my tackle out is quiet and easy, plus it secures with latches so my tackle boxes won't fall out if my kayak tips.
It's also super easy to carry with the carrying handles. I can quickly move it to my kayak from the back of my truck, and their low-profile design doesn't get in the way while I'm fishing.
I bought the largest size available because I had room in my kayak, but there are a few different sizes, and at least one should fit in nearly all fishing kayaks.
It's also super customizable with different color choices and places to mount the rod holders, or you can easily strip it down to a clean kayak crate.
I've been blown away by the quality of the materials; I can sit or stand on this kayak box without any fear of crushing it. Yet, the empty box is very lightweight. Great job, YakAttack!
As much as I love my BlackPak Pro, there are a few cons that I must bring up to keep my review honest. You should know it's not waterproof and it's pretty expensive.
The hard plastic sheds water but does not have a watertight seal, so there is a chance of getting water inside the BlackPak Pro.
I like that the rubber feet raise it off of the kayak floor to help keep your gear as dry as possible, but if you flip, water will get into the box.
If you need a yak box that's waterproof, check out the Wilderness Systems Kayak Crate. It's similarly priced but doesn't have the customizability of the BlackPak Pro.
The other downside is that the Yak Attack BlackPak Pro is a top-of-the-line kayak crate with a price tag to match. Be prepared to pay a hefty price tag for all the excellent features you get from this crate.
If you're not looking to spend quite that much, the Flambeau Outdoors Tuff Krate is less expensive and offers similar features, like a lid, lots of storage space in a compact area, and customizable.
However, the YakAttack BlackPak Pro will be the best choice for most yak anglers because it's durable, lightweight, secures all your fishing gear, and is crazily customizable.
BEST KAYAK CRATE FOR BEGINNERS
YakGear Anglers Crate Starter Kit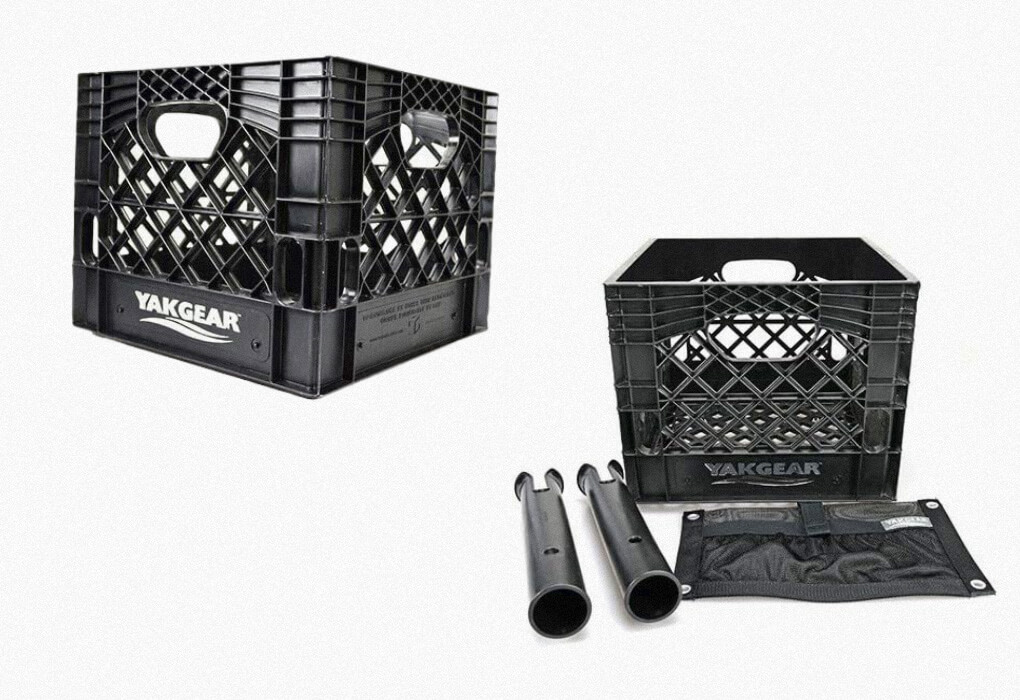 Specs
Material: Plastic
Dimensions: 13″ x 13″
Rod holders: Yes
Lid: No
Why We Chose It
The YakGear Anglers Crate Starter Kit is ideal for beginners because it's inexpensive but immediately helps you get your kayak fishing accessories organized.
I like that YakGear makes affordable kayaking accessories. From my experience, their products are well-designed and durable.
My parents bought a couple of these kits to use on their kayaks a couple of years ago and still regularly use them.
Compared to the BlackPak Pro, this yak crate is ridiculously inexpensive. You could buy several of these and still have money left over for more fishing tackle.
The crate is large enough to hold their daily tackle boxes and compact enough to fit in the tank well of their 10' kayaks.
I really like that YakGear keeps it as a DIY kit; that way, you can customize it to your fishing style and needs. My parents kept theirs pretty basic but added fishing rod holders.
However, as good as this milk crate is, I don't think it's for every yak angler because it has a few downfalls.
Since it doesn't have a lid, my parents have to strap everything to the crate or their kayaks in case they tip.
Along the same line, you'll also need a rope or strap to keep the crate in place; otherwise, it will slide around in your kayak as you go over waves. 
It also won't keep your gear dry, which isn't a huge deal because it's holding fishing stuff that should be able to get wet, but you will need to have separate dry storage to bring items that can't get wet.
To compensate for these cons, you can buy the Pelican Exocrate fishing bag, which is a saltwater-resistant cover for the milk crate that has a zipper lid, carrying strap, and pockets on the outside for some of your gear.
Even after buying both products, you're still in for less than the high-end kayak crates.
Despite the cons, the YakGear Anglers Crate is an excellent kayak milk crate to start kayak fishing because it's durable, inexpensive, and customizable.
BEST FOR HOBIE KAYAKS
Hobie H-Crate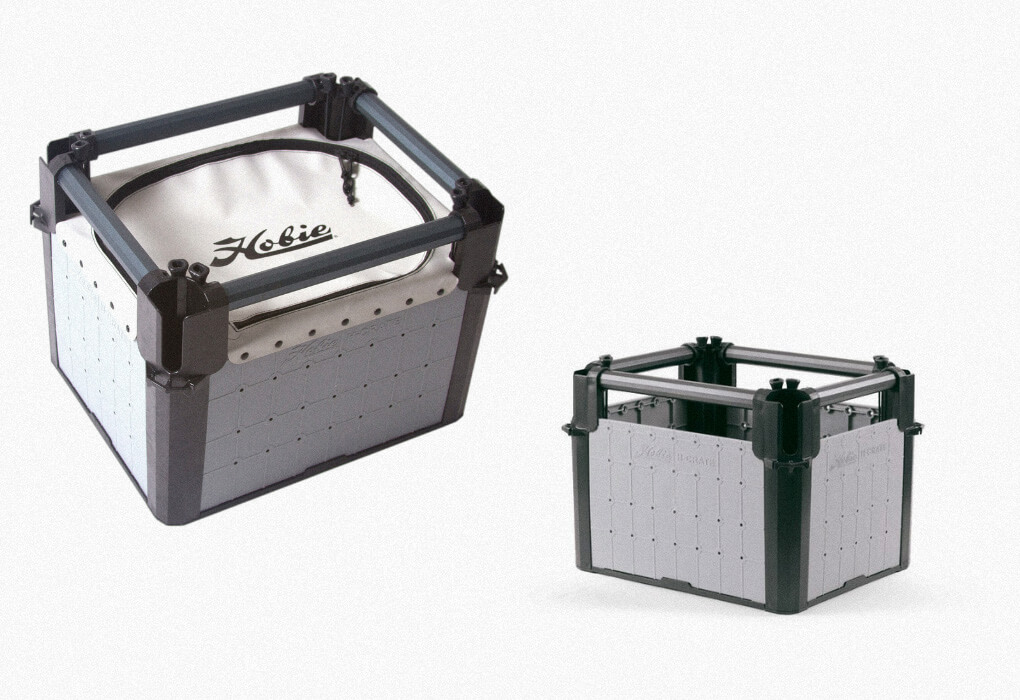 Specs
Material: Molded plastic
Dimensions: 17.4″ x 14.1″
Rod holders: Yes
Lid: Yes* must purchase separately
Why We Chose It
The Hobie H-Crate is great for Hobie and non-Hobie kayak owners because it's modeled based on the dimensions of a large milk crate, so it fits in most kayaks yet it holds all the fishing gear you'll need for the day.
Hobie is known as the top kayak and watersports manufacturer. Their products are high-quality but also come at a steep price.
One of my favorite features is its ability to fold flat when not in use. So it won't be taking up unnecessary space when you're not using it. Though I prefer to keep my kayak crate loaded and ready to go for the next trip!
I really appreciate the heavy-duty carry handles because they are sturdy and double as an H-Rail, which is Hobie's accessory mounting system. So you can add more rod holders, cup holders, and really make this crate your own.
Another way to customize this yak box is the side panels which are a grid system, so you can add other accessories onto them if you don't want to use the H-Rail system.
The built-in rod holders also secure your rods using a bungee; I love this feature because it prevents you from losing your rod if you flip the yak or hook a rod while casting, as I've done before…and nearly lost a rod to the river.
The last pro I'll mention is that it comes with adjustable straps so it and your gear won't sink to the bottom if you flip. I'm a big fan of the straps because they are easy to remove when it's time to transport the crate.
While Hobie designed this for kayak anglers and thought of nearly everything, it still has a few downsides that might keep you from wanting to purchase it.
The one that bothers me the most is the H-Crate has a lid that you have to purchase separately, which I think is a little ridiculous. If you're spending over $150 on a crate, it should come with the lid/cover.
The H-Crate is also one of the most expensive crates on the market, which is expected from Hobie, but if you're on a tight budget, this definitely isn't the yak gear box you're looking for. 
The Plano Kayak V-Crate Tackle Box, on the other hand is less than half the price, comes with four 3750 Plano boxes, and has a waterproof storage compartment.
However, it does not have rod holders, but you can purchase them separately if you need some. I like the V-Crate because it has a unique shape, which allows it to hold a lot of gear and not take up too much space.
I understand the Hobie H-Crate isn't perfect, but it's still an incredibly well designed storage crate, perfect for Hobie kayak owners, or yakers looking for a high-end kayak crate to stuff all their gear inside.
BEST SOFT-SIDED KAYAK MILK CRATE ALTERNATIVE
Plano Kayak Soft Crate Tackle System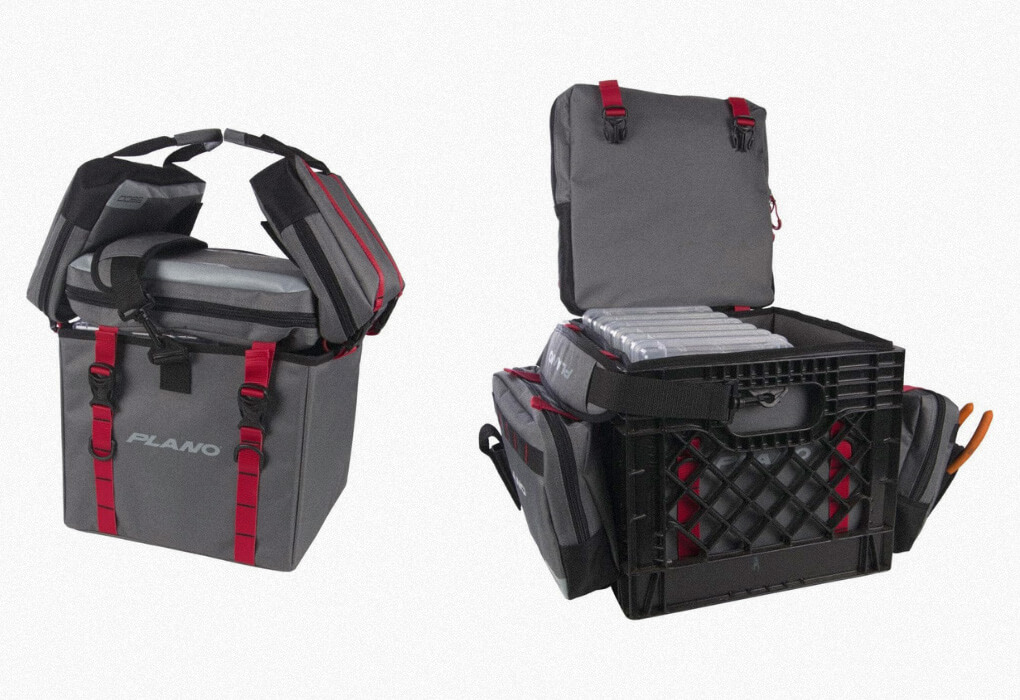 Specs
Material: Water-resistant fabric
Dimensions: 12″ x 17-1/2″ x 12-1/2″
Rod holders: No
Lid: Yes
Why We Chose It
The Plano Kayak Soft Crate was expertly designed for kayak anglers with limited space. It's compact yet holds all the gear you'll need on the average kayak fishing trip. 
Plano is the leader in producing fishing tackle boxes and bags. They've been making tackle boxes for many decades and are constantly pioneering new ideas in the industry.
I have used many of their products throughout my lifetime and haven't had many complaints.
The Soft Crate is a good step up from a milk crate because it has lots of storage pockets for tackle boxes, pliers, rods, and anything else you might need while fishing. 
I appreciate that you can still use a milk crate if you need the extra stability or use the Soft Crate as a stand-alone tackle bag.
It's also nice that the water-resistant material keeps your tackle boxes from getting wet from splashing.
Still, if you have water sitting in the bottom of your kayak, it will eventually soak through the material, so don't forget to thoroughly dry it after using it. 
I like the zipper lids and pouches because they're easy to access, and they keep your tackle boxes secure in the bag if your kayak tips.
There are several D-rings to tie-down your bag to your kayak or tie your pliers and other fishing gear to the bag so you don't lose them.
Prepare to lose it if you don't leash it!
I thought the bag was easy to carry using the side handles or the shoulder strap, so it's great for taking in and out of your kayak or vehicle.
It will hold a lot of tackle, and it comes with two boxes, so you will have a jump start on your tackle collection.
While there's alot to love about this storage solution, I also found a couple of drawbacks.
The first is that the milk crate is not included, so you'll have to add that onto the price, similarly to the Pelican Exocrate.
The other con was that this is only water-resistant, not waterproof. So don't be surprised if your gear gets wet from the rain or because water is sitting in the bottom of your yak.
Even with the cons, I recommend the Plano Kayak Soft Crate to beginner and intermediate kayak anglers because it's not expensive, and it's a good step up from just using a kayak crate storage system.
BEST SPLASH PROOF KAYAK STORAGE BOX
Perception Splash Kayak Crate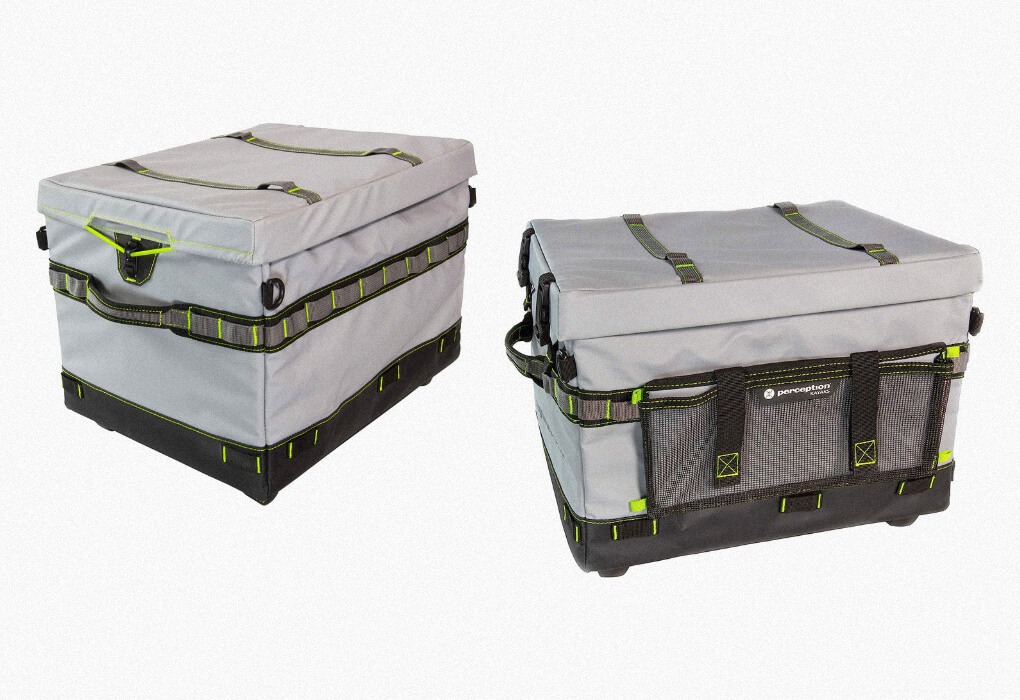 Specs
Material: Plastic and waterproof material
Dimensions: 17″ x 13″ x 12.5″ Tall
Rod holders: Yes* Sold separately
Lid: Yes
Why We Chose It
The Perception Splash Kayak Crate is made from water-resistant materials and has plastic feet to raise it off the floor of your kayak when it gets wet. I'm glad someone finally thought of this!
Perception Kayaks makes quality kayaks for recreational and fishing purposes. It only makes sense that they added a kayak crate to their lineup.
I like that the heavy-duty material is snag-resistant, so you'll be less likely to get your hooks tangled up in the fabric.
The handles sewn onto the sides make it easy to move from your vehicle to your kayak and vice versa, even when it's loaded with fishing gear.
When storing it at home, it folds to take up less space because it's made of fabric and not rigid plastic.
The generic dimensions mean this tackle storage crate will fit in most fishing kayaks. It's very customizable because you can add fishing rod holders and a pocket organizer, but you must purchase them separately.
Though there are several pros to this tackle storage solution, there are also a couple of cons, such as the need to purchase the rod holders and accessory pouches separately and the misconception of waterproof vs. water-resistance.
I'm not a fan of companies creating products and not providing everything that's needed in the initial purchase. However, you can purchase it all together on Amazon but it nearly doubles the price.
The material is water-resistant, not waterproof. So if water is sitting in your kayak, the water will eventually soak through. But the material will protect against water splashing onto the crate and your gear inside.
The Perception Splash Kayak Crate is an excellent addition to any kayak, especially if you tend to get a lot of water splashing into your kayak and on your fishing gear.
Buying Guide: For a Kayak Storage Box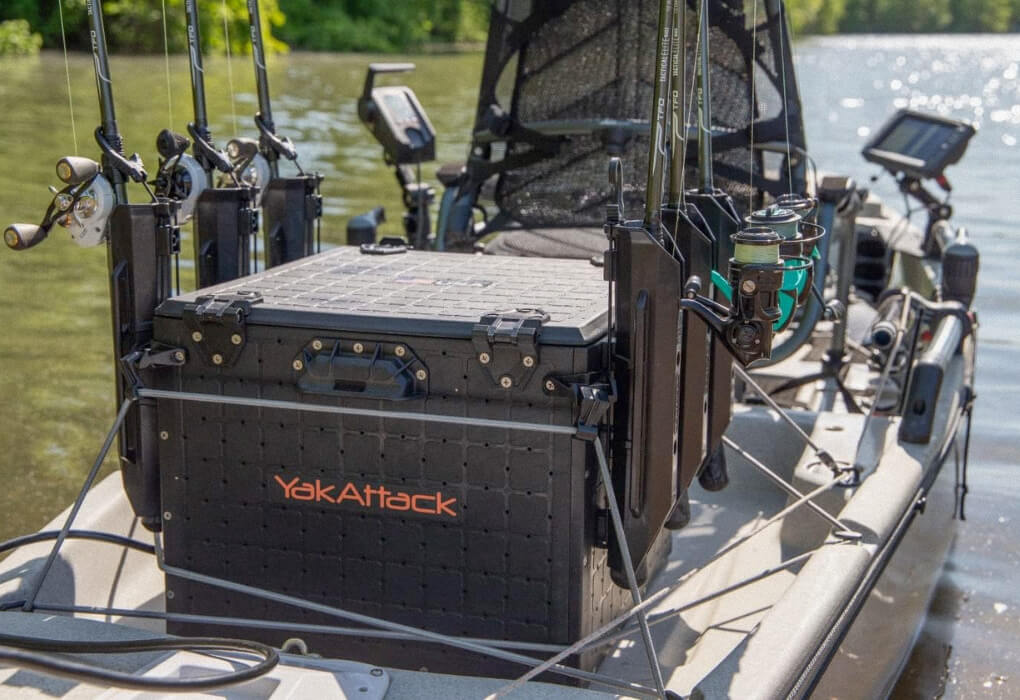 The following are a few considerations to keep in mind when purchasing a kayak fishing crate.
Waterproof or Water-Resistant
Even though I put it at the top, the waterproofness of the crate isn't a significant factor, simply because the fishing gear was designed to be used in and around water.
However, keeping your gear as dry as possible helps prevent rust and prolongs the life of your equipment.
So having a waterproof or water-resistant crate will pay off in the long run.
Size
The size of your crate is crucial.
Measure the area you plan to keep the crate before purchasing so you know what size to buy. Most milk crates will be 13″ x 13″ and vary in height.
This is because most fishing kayaks are designed with an area this size or larger to hold a kayak crate. Typically it's in the back of the kayak, but you can use it wherever it fits in your kayak.
Transportability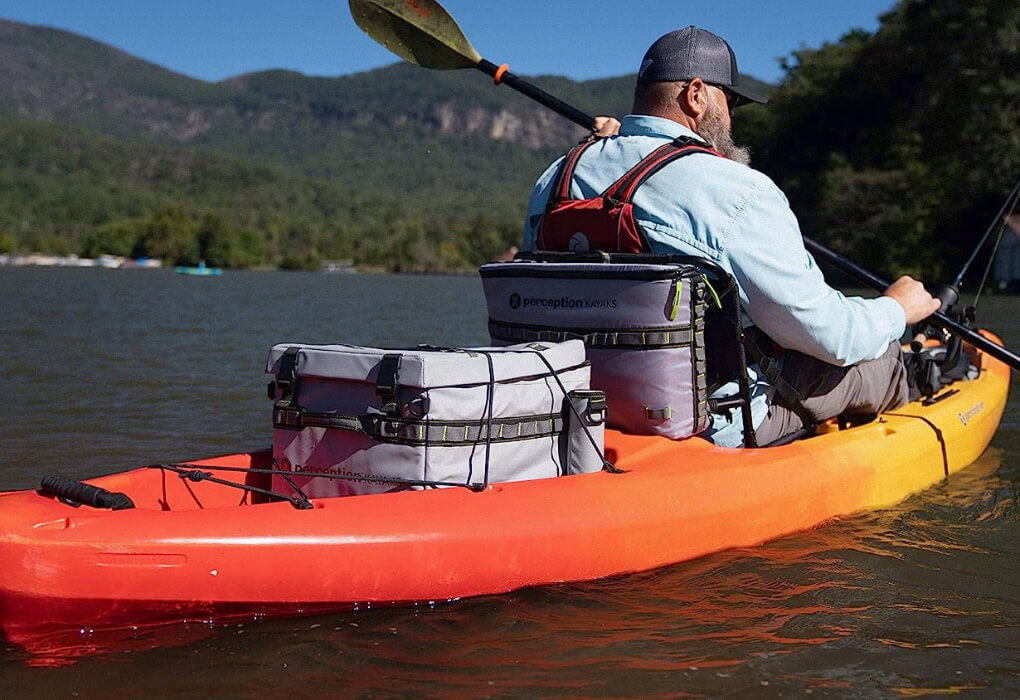 I simply mean, how easy is it to carry.
Some kayak crates are bulky and difficult to carry, and others don't have handles.
I really like the Hobie H-Crate for this reason. It's easy to carry with sturdy handles, and it packs flat when you don't need it.
Weight will factor into this some, but most kayak crates are designed to be light, rarely weighing more than 10 pounds.
Durability
If you're anything like me, you're hard on gear.
That's why I recommend purchasing products that will withstand the rough conditions of kayak fishing.
I don't like spending money on gear for it to break in one or two trips out on the water; that's why I tend to stick with American-made products.
All of these crates are made of plastic or fabric; however, there are different grades of each, so some crates will be more durable than others.
I've found milk crates after sitting in the lake for years, and they were still usable, so durability shouldn't be an issue for most.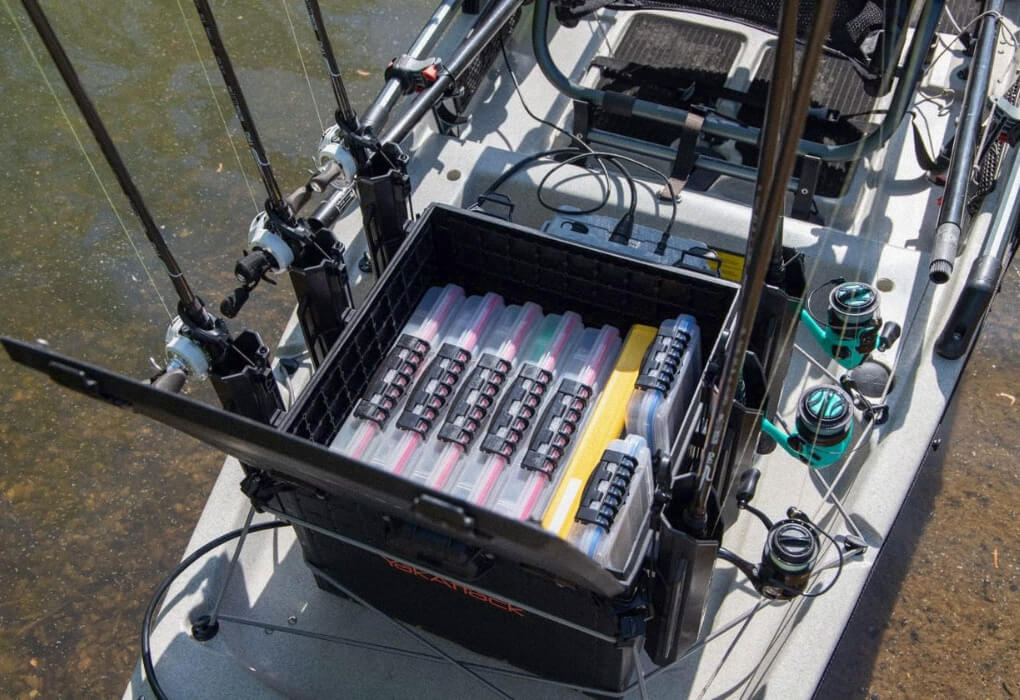 Security
How well does the crate secure your tackle, and how easy is it to secure to the kayak?
A lid with latches or a zipper is best, but a bungee is better than nothing. That way, your gear will have a chance of getting caught on the bungee instead of bouncing or falling out.
Even if the crate has a lid, it won't do much good if the entire container goes overboard and sinks to the bottom; that's why strapping it to your kayak is critical.
Most crates have loopholes or attachment points for straps so you can secure them to your kayak.
You'll Also Need
Before heading out to your local waterway, you need a few more items to make your fishing trip safe and successful.
Tackle Box
Even if the kayak crate you've chosen comes with tackle boxes, you'll likely need more if you fish for multiple species or dive deeper into fishing.
The best kayak fishing tackle box is compact but holds everything you'll need for the trip.
I've made the mistake of bringing a tackle box that was too large, and it made changing lures extremely difficult.
Kayak Fishing Rod
You can use any fishing rod from a kayak.
As a matter of fact, I use the same rods I use to fish from the bank or a boat.
However, there are a few companies that make kayak-specific rods.
They have a shorter handle which helps keep the rod from tangling in your PFD.
Kayak Paddle
Choosing the wrong paddle will make paddling more complicated than it needs to be; you'll have to lean farther over the side to get a full stroke.
Leaning over too far could cause you to fall into the water. Let's not do that; instead, buy the best kayak fishing paddle.
It's for your safety and comfort.
Lifejacket
One item I refuse to leave the shore without is my PFD.
Any lifevest is better than no lifevest, but kayak fishing PFDs are going to make fishing from your kayak more enjoyable.
No matter which one you choose, it won't do anything for you unless you wear it!
Frequently Asked Questions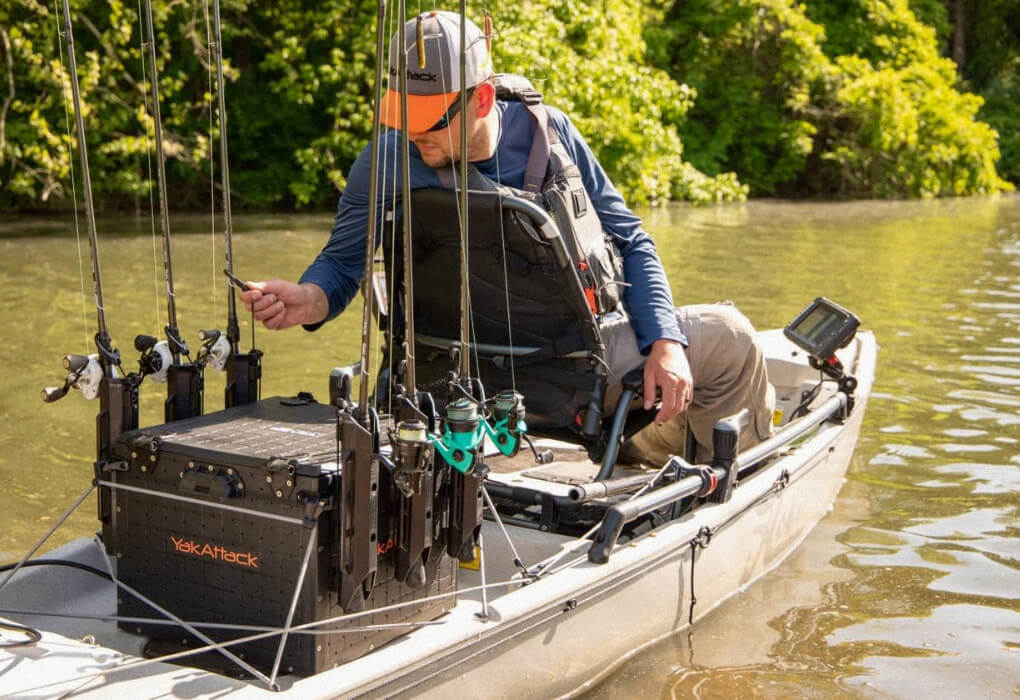 Below you'll find some of the most commonly asked questions we receive about kayak crates:
What is a kayak crate used for?
A kayak crate is used for keeping your tackle boxes and fishing gear organized while in your kayak.
How do you secure a milk crate to a kayak?
To secure a milk crate to a kayak use a strap or bungee cord.
What is the best kayak crate?
How much does a kayak crate cost?
A kayak crate will cost $30 to $200 depending on the quality and features you want and need.
How long does it take to assemble a kayak crate?
It takes an hour or less to assemble a kayak crate, depending on the brand and exact yak crate you buy.
Last Cast
When purchasing a kayak crate, the two things that matter most are whether it fits in your kayak and whether it will securely hold all your gear. All other features are nice but not necessary.
That's why I chose the Yak Attack BlackPak Pro as the best kayak crate overall. It fits in most kayaks, and it secures a lot of gear.
For beginners or those on a budget, the YakGear Anglers Crate Starter Kit will be the best option because it's inexpensive but holds a lot of fishing equipment.
Be sure to ask any kayak storage options questions in the comment section!