---
We independently research, test, and recommend the best products; you can learn more about our review process here.
You need a place to safely and securely store your tackle, fishing line, bait, hooks, and other gear.
The best tackle box will provide you with plenty of room for everything, water resistance, and it'll be organized, so you don't have to fish around looking for things.
The fishing tackle boxes our grandparents used, and even some of the ones I grew up with are far different than the ones I see today.
You used to come home from work on a Friday afternoon, take your lunch scraps out of your lunch box, throw in your lures, and be on your way to the lake!
Today you've got all kinds of soft tackle boxes, hard tackle boxes, organizers, and much more. In this guide, I'm breaking down 12 of the best tackle boxes, and I'll even help you choose one towards the end. Stick around!
Our Top 3 Picks for Best Bass Fishing Tackle Boxes
Below you'll see the top three choices for bass fishing tackle boxes, based on research, testing, and our years of bass fishing experience.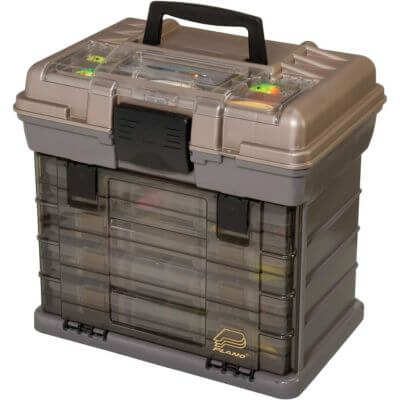 Plano Guide Series 4-By Rack -1374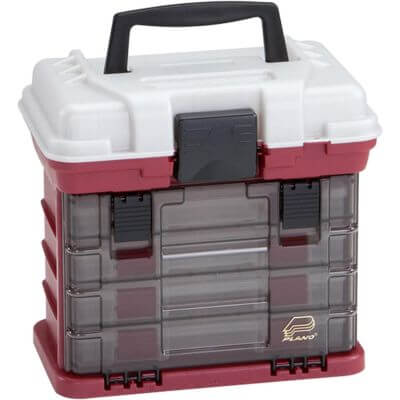 Plano By-Rack Tackle System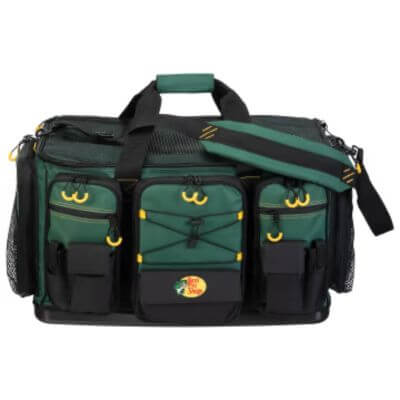 Bass Pro Shops Advanced Anglers II Super Magnum
---
BEST FISHING TACKLE BOX OVERALL
Plano Guide Series 4-By Rack -1374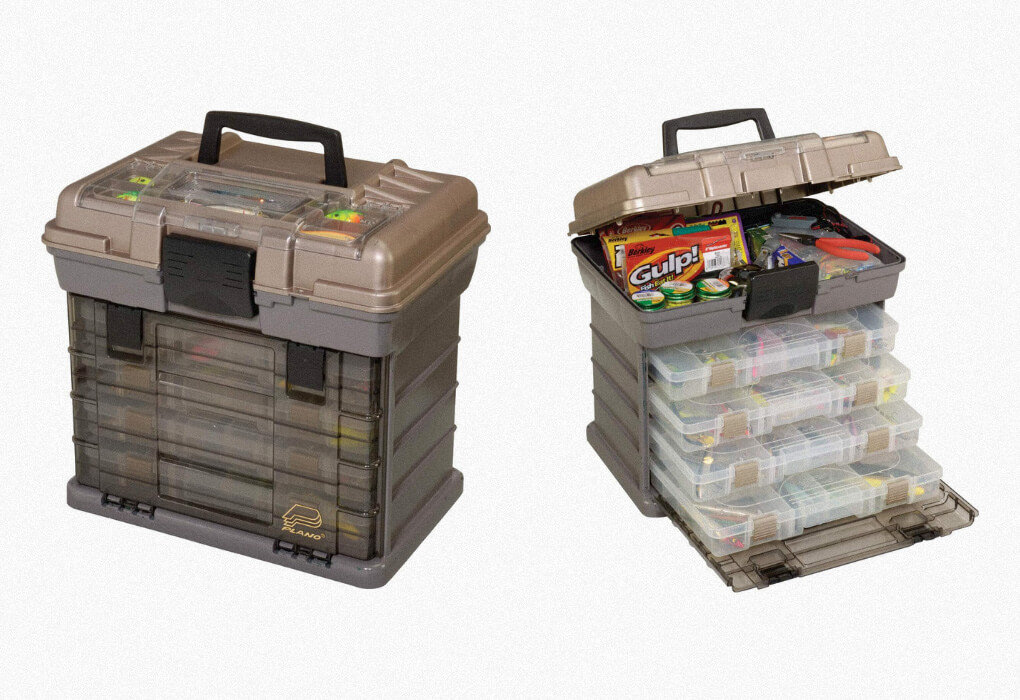 Specs
Size: 16.5" x 12" x 16"
Utility Boxes: 4
Color: Graphite/Sandstone
Why We Chose It
I chose this as the best tackle box overall because I consider it the "every man's" tackle box. It offers everything you could want in your big tackle box in terms of storage, functionality, size, and use.
The Plano box comes with four utility trays with various slots of different sizes to accommodate all your lures. 
My favorite part about the best fishing box is the depth of the utility storage on the top.
I use a lot of soft plastics, and as you probably know, they don't fit in utility trays, so I often find myself removing the trays to make room for my plastics.
You won't have to do that with this one. You'll be able to fit all your worms and powerbait on the top while leaving the trays for your jigs, spinners, and spoons.
BUDGET-FRIENDLY TACKLE BOX
Plano By-Rack Tackle System – 1354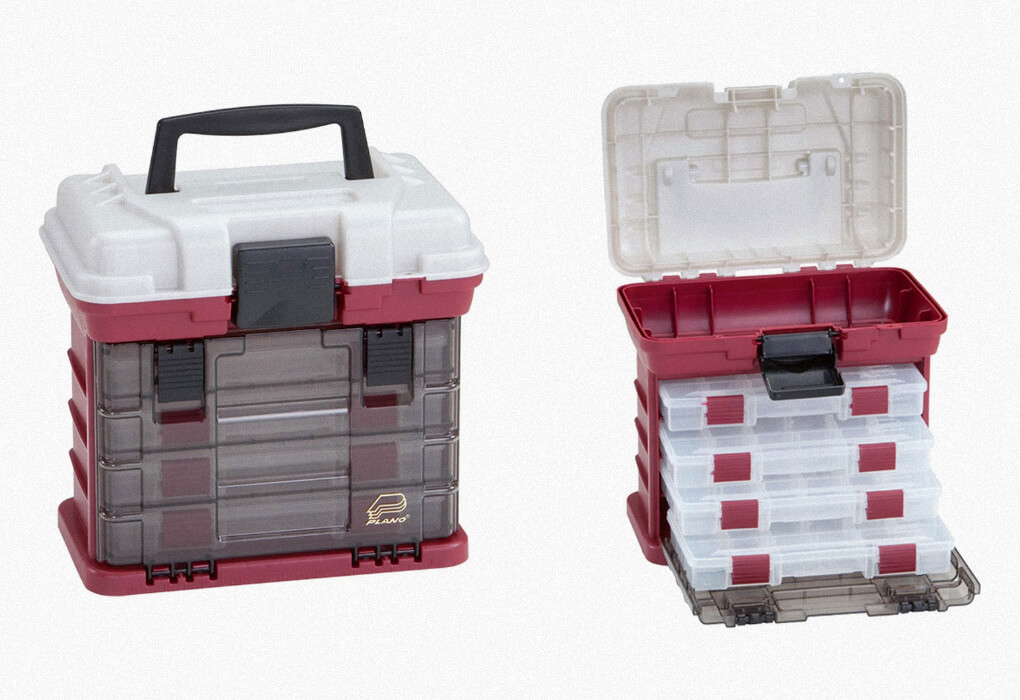 Specs
Size: 11" x 7.25" x 10"
Utility Boxes: 4
Color: Red/Silver
Why We Chose It
Consider this a step down from the previous Plano 1374. It's a smaller version with pretty much all of the same components.
You'll get it for nearly half the price of the larger box as well, so if you're on a budget or you don't fish that much, this might be the better choice.
Overall, it still offers a nice amount of deep bulk storage on top for your tools and soft plastics.
I also like the clear cover on the front so it allows you to see which utility box you're looking for so you can find things quicker.
BEST TACKLE BOX FOR BOAT
Bass Pro Shops Advanced Anglers II Super Magnum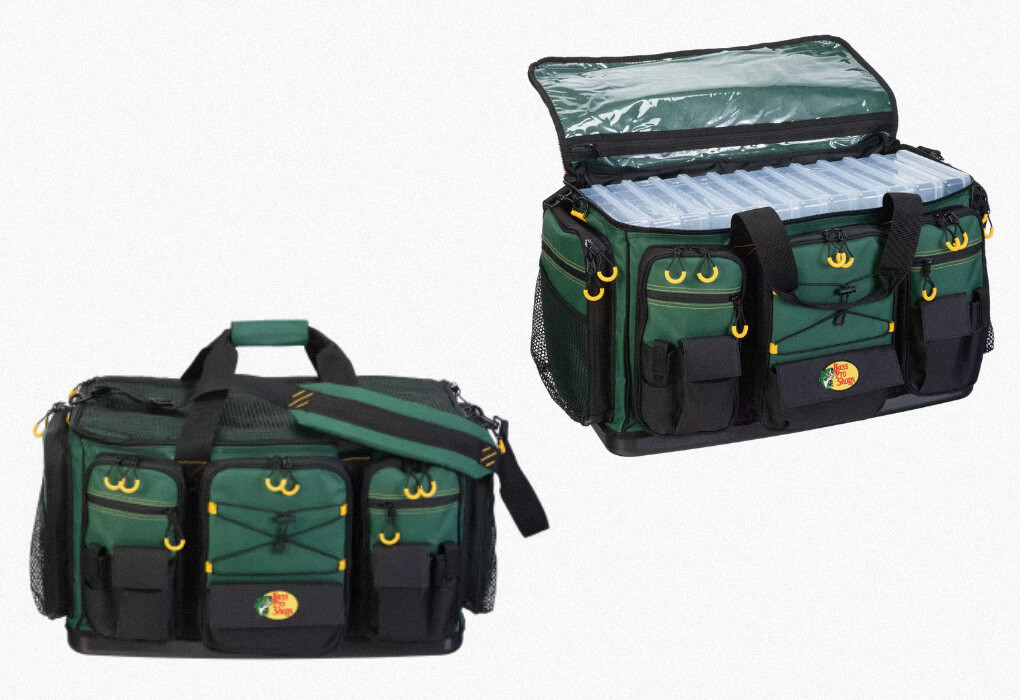 Specs
Size: 27" x 12" x 14"
Utility Boxes: 12
Color: Green/Black
Why We Chose It
This is my favorite tackle storage system and one that I've used for a number of years. It holds up, the zippers are functional, and I love all the extra pockets.
The Super Magnum is a bit bulky, so if you have a lot of tackle or you're the kind of person that likes to bring everything each time you go out on the water, this is what you want to have. 
Everything is positioned strategically, so you have side pockets for your tools, powerbait, and soft plastics. The main compartment is where you'll put the utility boxes for your jigs, weights, spoons, and small cranks.
BEST TACKLE BAG
Wild River Tackle Tek Frontier Bag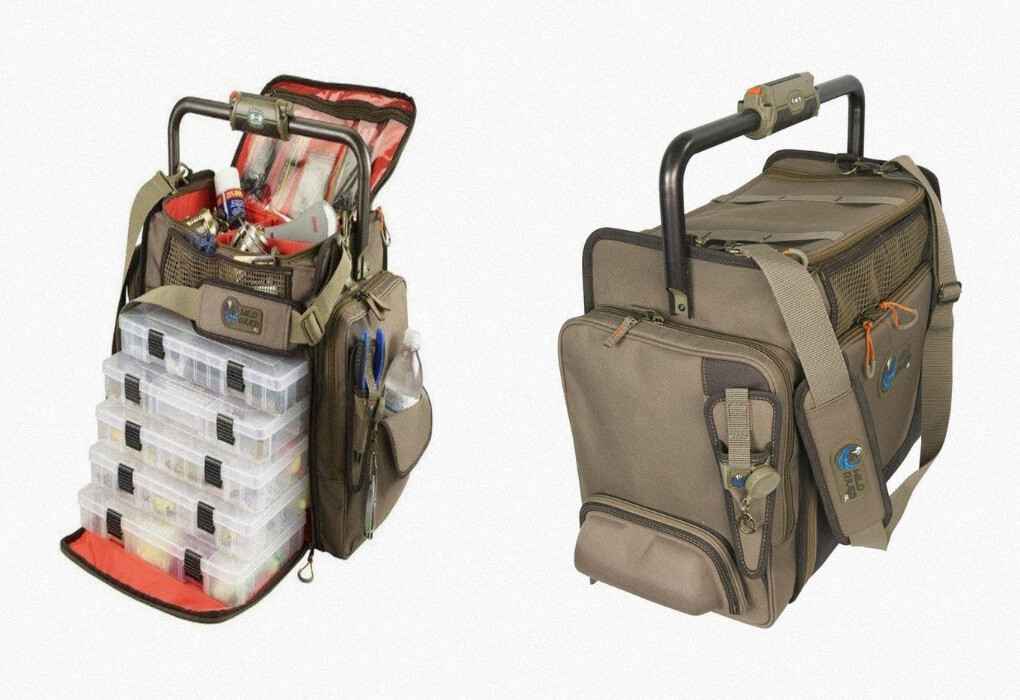 Specs
Size: 20.25" x 15.25" x 11"
Utility Boxes: 5
Color: Khaki
Why We Chose It
The world of tackle storage is really starting to lean in the direction of tackle bags over boxes.
The old tackle boxes would chip and crack because they were all made of plastic, so more and more people are leaning towards tackle bags like this one.
When you see it, you can understand why. It comes with a ton of compartments for pretty much anything, LED lights on the inside, retractable and removable pockets, and base pads to help it sit flat.
The bag also comes with five trays that fit in the main compartment in the front. I'm a fan of the carrying handle as well. It's durable and doesn't feel flimsy in any way.
Overall, a great premium choice if you're looking to drop some money on a high-quality bag.
BEST SOFT PLASTIC BOX
Plano EDGE Soft Plastics and Utility Box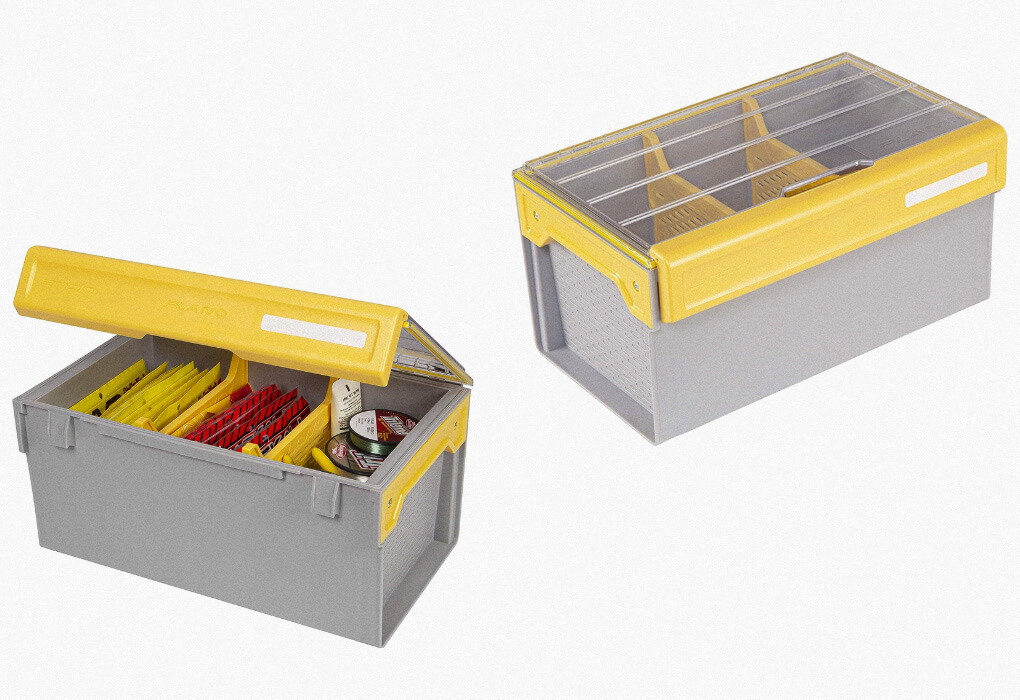 Specs
Size: 14" x 9" x 7.25"
Utility Boxes: N/A
Color: Gray/Yellow
Why We Chose It
Plano Edge is the latest and greatest in tackle storage solutions, so I had to make sure to include at least one in the review.
The goal of the Edge products is to allow you to basically build your own fishing tackle box with various "lure-specific" storage solutions.
In this case, we're talking specifically about soft plastics.
This is a large tackle box, don't get confused by that. It's something that you'll have to carry on its own, in a bag, or insert directly into the tackle storage on your boat if you have one.
Besides that, it's the best option for your soft plastics. You can insert all the bags directly into the compartments and easily see what's what and pull it out when you want it.
BEST SALTWATER TACKLE BOX
Plano Z-Series Tackle Bag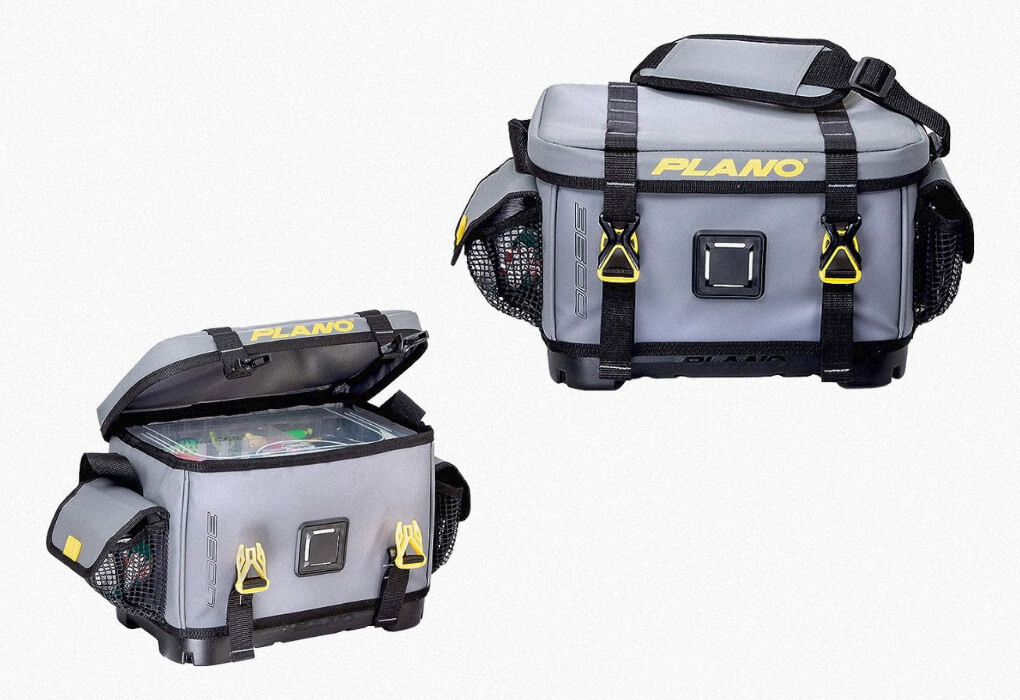 Specs
Size: 16" x 10.4" x 8.5"
Utility Boxes: 2
Color: Gray
Why We Chose It
When it comes to saltwater fishing, you want a saltwater tackle box that's waterproof, durable, and large enough to accommodate some of the larger lures you might use if you're fishing offshore.
This bag doesn't come with any zippers which makes it incredibly durable since those are always the first things to go.
It also comes with a hard bottom and non-slip grips so if you hit a rough patch of water, the fishing box won't be sliding all over the boat.
BEST TACKLE BOX FOR JIGS AND BLADES
Plano Edge Jigs and Blade Box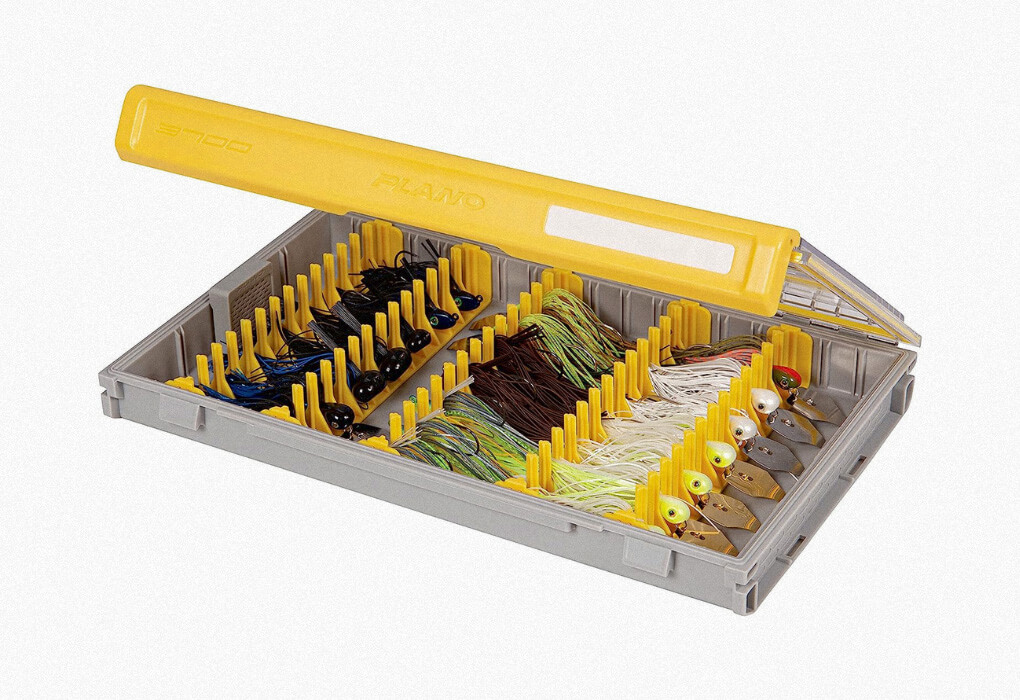 Specs
Size: 14" x 9" x 1.88"
Utility Boxes: N/A
Color: Gray/Yellow
Why We Chose It
Back again with another Plano Edge product as promised.
This one is pretty cool because it's a bass fishing tackle box that has specific compartmentalized rows to allow you to insert your jig heads, and there is room for the trailers behind.
As for the case itself, it's durable, watertight, and closes nicely.
The overall intention of this brand is for you to purchase multiple trays that are designed specifically for each type of lure.
When you do that, you'll complete the set. It can get pretty expensive to do that, though, as each fishing lure box is not exactly budget-friendly.
BEST WATERPROOF TACKLE BOX
Bass Pro Shops Watertight Utility Boxes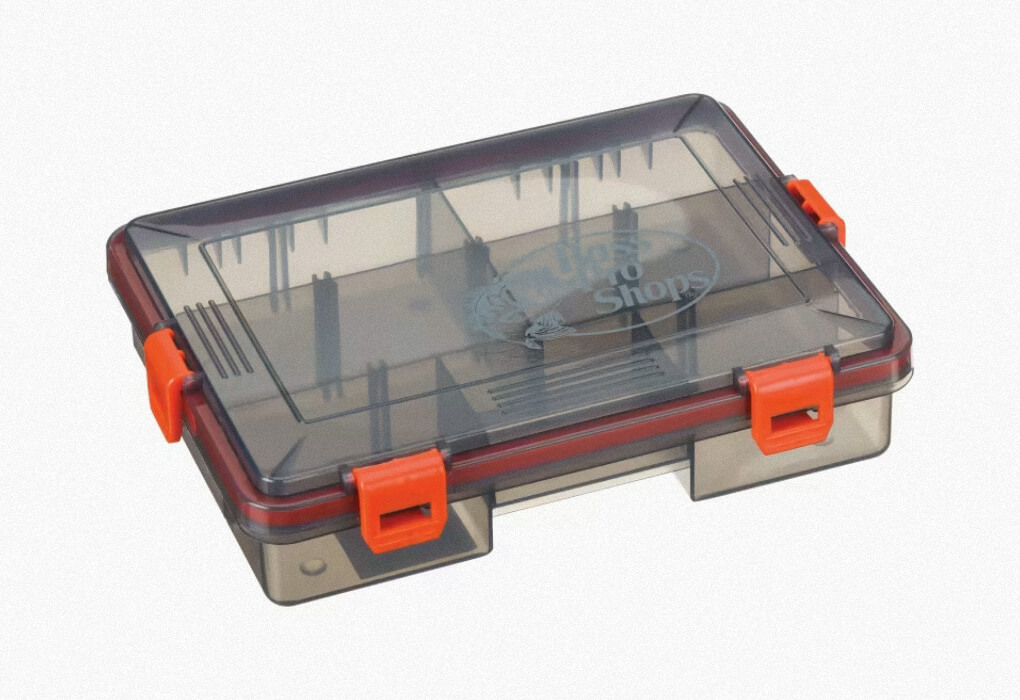 Specs
Size: 9" x 7" x 2"
Utility Boxes: N/A
Color: Orange/Smoke
Why We Chose It
If you're in the market for some waterproof trays, these are the best of the best.
One thing we don't think about a lot is when we leave our trays sitting in the hot sun all day.
That actually has an impact on the finish which can affect our overall presentation if we're not careful.
The smoke tint on the lid actually protects the finish and the integrity of the lure.
I also like the fact that all the compartments are customizable, so you can make them as big or as small as you like depending on what type of lures you use.
Overall, a great option if you don't carry a lot of lures or you simply want a lightweight but watertight sealed utility tray.
BEST FOR FLIES
White River Swingleaf Fly Box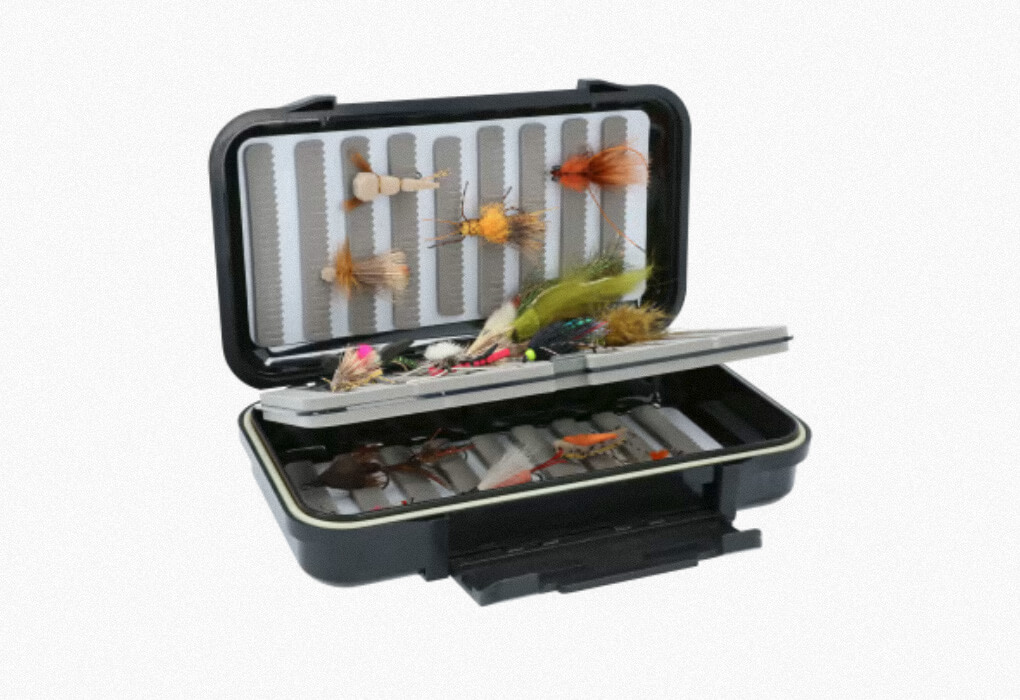 Specs
Size: 8" x 4.25" x 1.75"
Utility Boxes: N/A
Color: Black
Why We Chose It
When you're looking for a fly box, you're looking for a few important features.
First, you need something large enough to carry all your flies. You also need a box that helps keep everything in place and organized, even if you're moving around a lot.
Lastly, you need waterproof protection to keep your flies dry, so the paint/finish doesn't get ruined, and they don't get rusty.
You'll get all of that here bundled up in an incredibly affordable fly box.
They also did a nice job of accommodating a lot of flies without having to make the box overly large.
At eight inches, it's not too cumbersome and should be able to fit inside your vest when you're out in the river.
BEST KAYAK TACKLE BOX
Flambeau Tuff Krate Tackle Storage System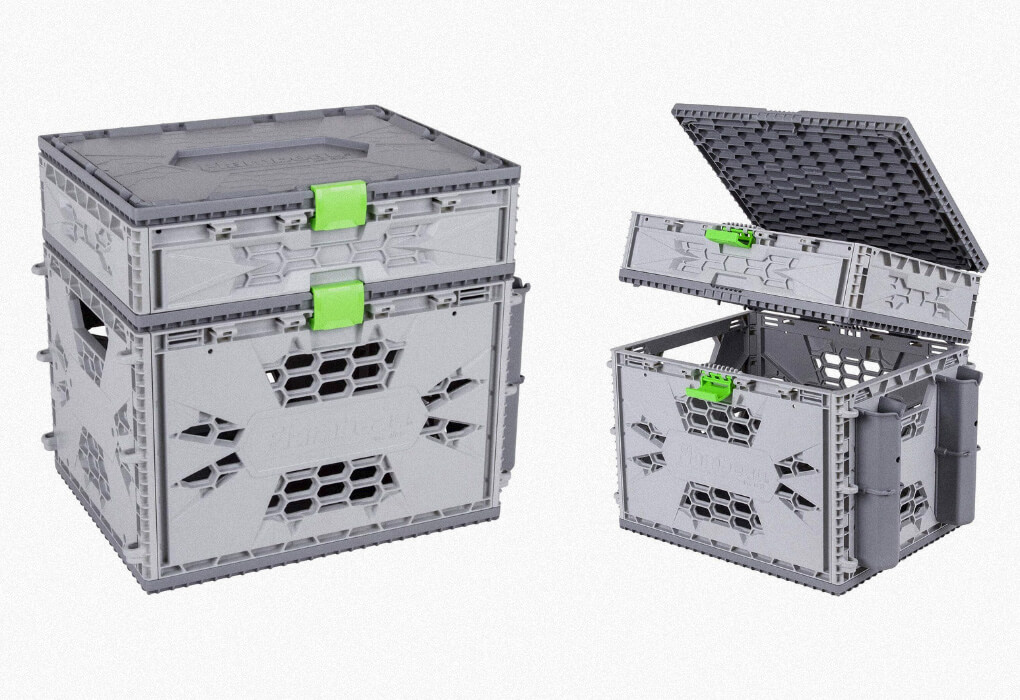 Specs
Size: 16.75" x 12.875" x 15.25"
Utility Boxes: 8, 4000 or 6, 5000 (not included)
Color: Gray
Why We Chose It
Having a lot of gear and tackle laying around the yak is never something you want. This is a complete fishing storage solution that goes far above and beyond just being a tackle box.
It's durable, functional, and easy to carry around.
The Tuff Krate comes with plenty of secure storage with a large compartment in the bottom and a section at the top for you to put your baits and lures.
It features multiple tie-down rings so you can safely secure it to your kayak and the two built-in rod holders only add to the many things that this box offers.
I had mentioned some design flaws in the cons, and the one I want to point out is that the lid opens all the way, so it actually flops back against the box when you open it.
This really juggles your lures around and can move them into different compartments.
It's also difficult to reach over and pull the lid back up to put it on when you're in a yak.
One thrifty angler recommends using a piece of string or small rope to tie the lid to the base, so it only opens to around 90 degrees rather than all the way.
If you're a yak angler, this is the number one choice pick for you.
Not a fan and want to see more options? Then check out my article on the best kayak tackle box.
BEST BASIC TACKLE BOX
Plano 3-Tray Tackle Box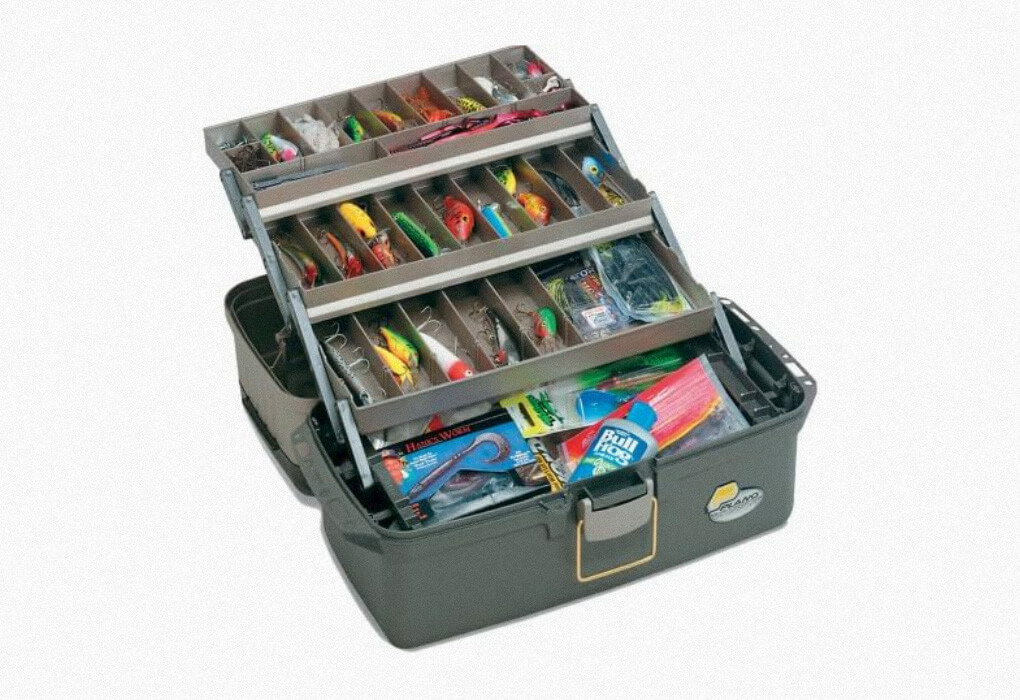 Specs
Size: 16.25" x 9.13" x 8.5"
Utility Boxes: 3
Color: Green/Beige
Why We Chose It
This is a simple tackle box that comes with three cantilever trays totaling 22-34 compartments based on how you set it up.
The trays offer nice customization and adjustability based on what lures you fish and how you want your box to look.
It's a simple but functional tackle box that gets the job done without being too advanced or expensive.
BEST KIDS TACKLE BOX
Plano Ready-Set-Fish 1-Tray Kids Tackle Box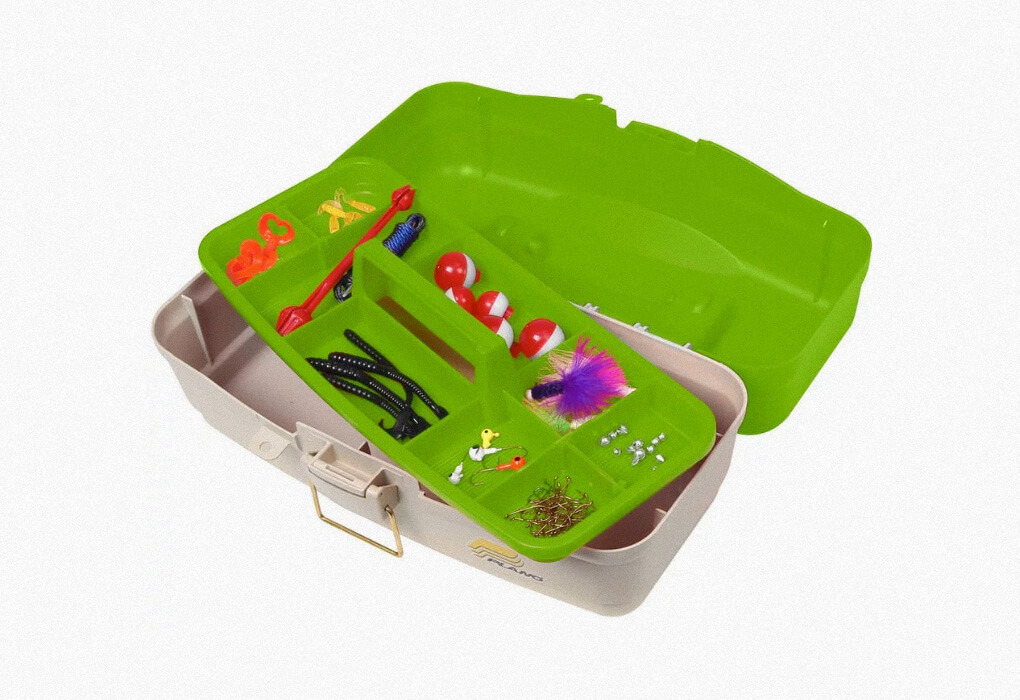 Specs
Size: 13.5" x 7" x 6"
Utility Boxes: 1
Color: Lime Green
Why We Chose It
I wish I could remember my first tackle box, but I'm pretty sure it was some cheapo from Walmart or something like that. Anyway, this is a great option for kids who are getting started with fishing.
Having their own small tackle box really makes them feel like a big kid, and when they open it and see all their lures and tackle inside, I get butterflies thinking about it!
I know what it's like to take my kids fishing and see their excitement every time they get a bite.
The one tray in the tackle box is just enough for your kids, and it's removable so they can carry it around from spot to spot up and down the shoreline.
It's the perfect choice for kids who are new to the sport.
Wesley Littlefield of Anglers.com tested several of the tackle boxes previously listed, and his thoughts are in the video above.
Testing Procedures
I've fished with a ton of different tackle boxes over the years, including many of the ones listed above, and I always come back to a couple different ones because of a few features.
Compactness, tackle protection, organization, and price are what tend to matter most to me.
Compactness: I don't have unlimited space to store my gear, so I look for a tackle box that is compact OR one that makes good use of the space it takes up.

Bulky tackle boxes are great, if you have room for them or don't mind lugging them from spot to spot.
Protection: This is critical to my ranking decisions when testing tackle boxes. It must protect my lures from the sun, corrosion, and all the other abuses I put my gear through while fishing.

I want to use my lures for a long time after buying them, so I need a tackle box that can stand up to tough conditions.
Organization: I'm not a naturally organized person, so any help that I can get from my tackle box is much appreciated. I like a tackle box that has a little customization, so I can organize my lures how I want.
Price: We're all on a budget, some of us have a larger budget than others so we can afford the fancy features of high-end tackle boxes.

Others of us, don't need nor do we want all those features so we don't have to spend as much on a tackle box.
Types of Tackle Boxes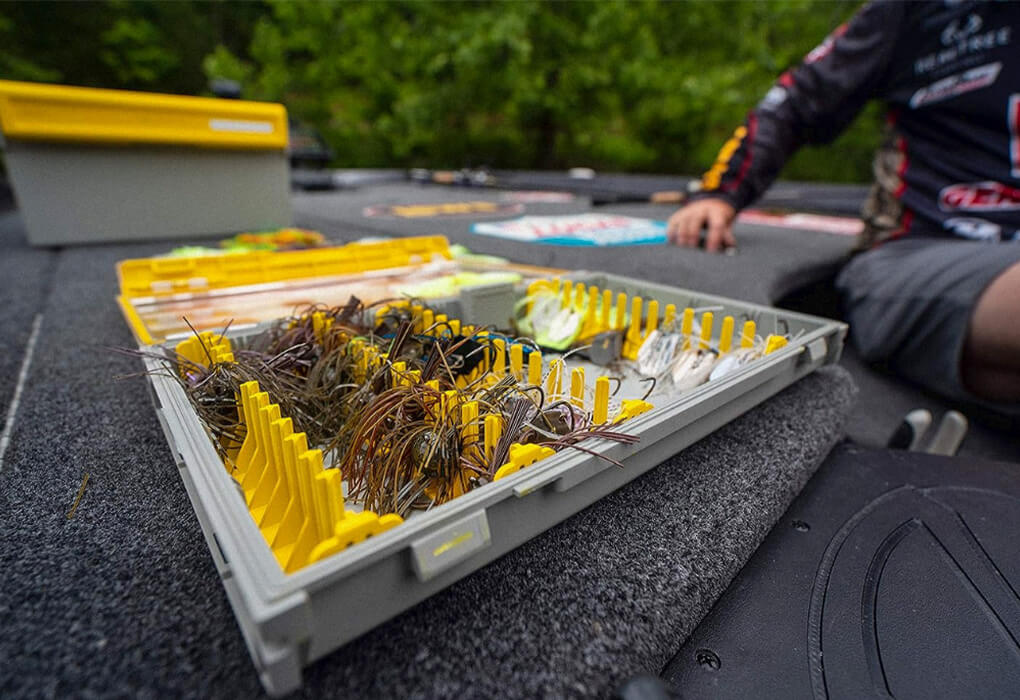 There are a few different types of boxes to choose from, and they each come with their own features. Let's take a look at the various tackle storage solutions.
Hard
A hard box is your standard option that usually comes with cantilever trays on the inside. These are traditional options with a hard body and a solid handle on the top.
Many people go with hard boxes because they offer the most durability and water resistance as long as they have a strong, rust-proof latch on the front.
The problem with these is they can crack and damage if you drop them or bang them around too much.
Another issue that many anglers have with hard body boxes is that they are a bit bulky and usually heavier than their soft fishing tackle bag counterparts.
Soft
A soft tackle bag is a great alternative to the hardstyle because they're usually lighter, and in some cases, these can fit more gear.
They come with removable compartment trays on the inside, so you can take them out and see what lures you have without having to remove all the small boxes from the fishing tackle organizer.
The bottom of the bag is usually waterproof or resistant, and as long as you get a durable bag, you shouldn't have to worry about tearing or damage.
I would use a soft bag because it's easier to carry and usually comes with a shoulder strap.
Overall, I see more and more people turning to this type of tackle storage because it's more efficient and easier to move around.
Rollable
Rollable tackle bags can come in both the hard and soft varieties. They're essentially the same as most soft tackle bags, but they have wheels and a handle that extends so you can roll them around like a suitcase.
If you've decided you want to go with this type, I recommend that you get one that you can carry.
No matter where you fish, you won't be able to roll everywhere, and there will be plenty of times when you need to lift the bag, and if there isn't a shoulder strap, you'll be wishing you made a different choice.
How To Choose The Best Tackle Box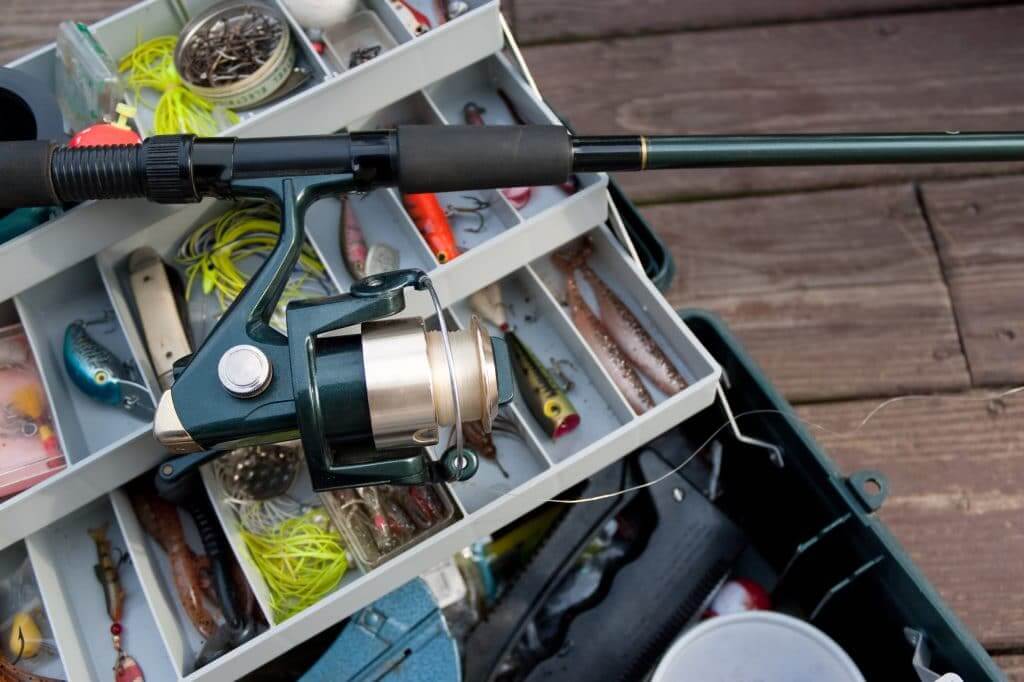 I think you've seen from the reviews above that there are many types of tackle boxes for fishing, each with their own unique features. Make sure to feel some of the following factors in mind before choosing the right one for you.
Size
Size is the clearest factor to keep in mind because you need to make sure you have enough space to store your jigs, crankbaits, soft plastics, topwaters, and the rest of your largemouth bass fishing lures.
On the flip side, you don't want something so enormous that you can't even get it into the boat or to the right spot along the shore.
I think most people reading this will do just fine with a tackle box capable of holding three or four-compartment boxes, so you shouldn't need anything too crazy.
That said, if you fish many different species, you might need to have a large assortment of tackle for each trip. If that sounds like you, then you'll want to have an extra large tackle box so you can keep everything on-hand at one time.
The last thing you want to worry about is having to leave something in the car right when you realize it would be the perfect opportunity for it.
Another thing you should think about relating to size is where you fish and how you get there.
Personally, I have a pretty substantial walk to get to some of the places I fish, so I don't want to drag a giant tackle box with me, and I can't always wheel one, either.
I'm a fan of having a big tackle system for my car and then a smaller box I bring down to the water with me.
Storage
Going hand in hand with space is the amount of storage you have inside your tackle box for fishing.
It sounds silly, but you can have a large tackle box that doesn't have as much storage as a smaller one.
Your biggest tackle box should provide plenty of ways to organize everything separately so it all looks neat and you can spot everything quickly.
The more lures you carry, the more space and organizational features you'll need.
If you frequently fish for many different species, you'll likely want to have more storage because you'll have more lures to bring. Some of you might even need a place to keep live bait like shad and minnows.
Many of the hard boxes you'll find use a cantilever system, which I like because you can see everything, and it's incredibly neat, but these can be clunky and heavy when they're full.
Plus, a lot of these hard containers don't come with any anti-rust technology, so moisture builds up on the inside if you have wet lures and causes them all to rust out.
Make sure to keep that factor in mind as well.
Some soft bags come with separate compartments with mesh where you can keep wet gear, so it gets some air. This feature is especially important if you're switching lures frequently and drowning a lot of different tackle.
Durability
You should get many years out of your box and not have to stretch out the last few with duct tape and glue. Hard boxes are the most durable because few things can happen to them, and they're more waterproof.
When you're choosing a hard box, make sure it's constructed using molded plastic if possible because it's less likely to crack or damage due to weather. If you're fishing in the rain a lot, you'll want to pay extra attention to this.
Also, long-term exposure to hot sun will start to wear down the plastic, so if you can keep it in the shade, it should help to extend the life of the box.
What Kind of Tackle Can I Keep in the Box?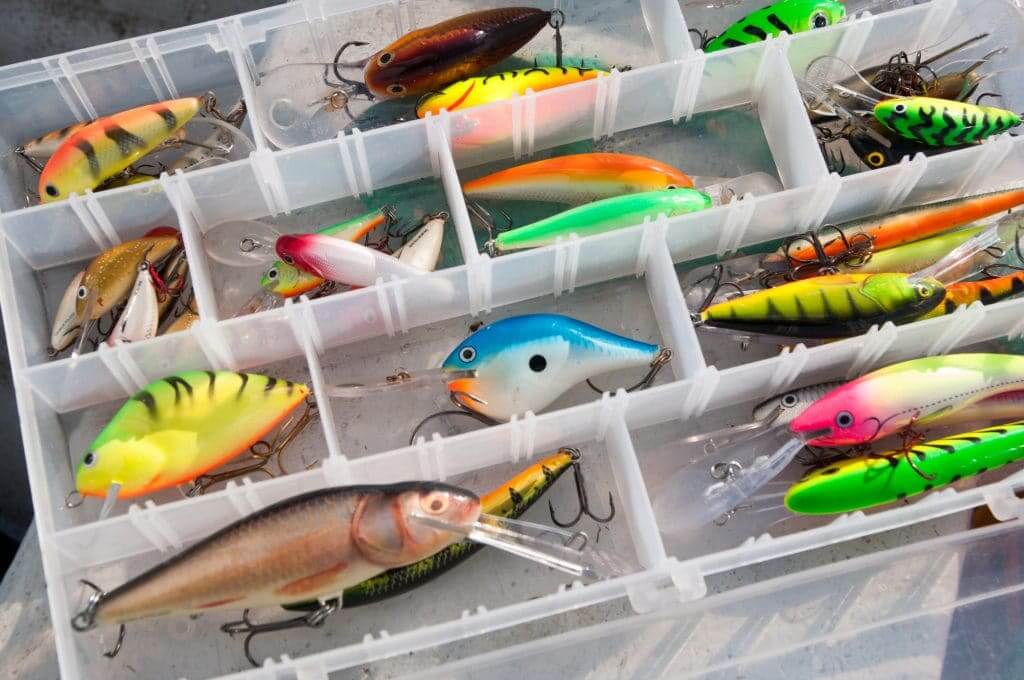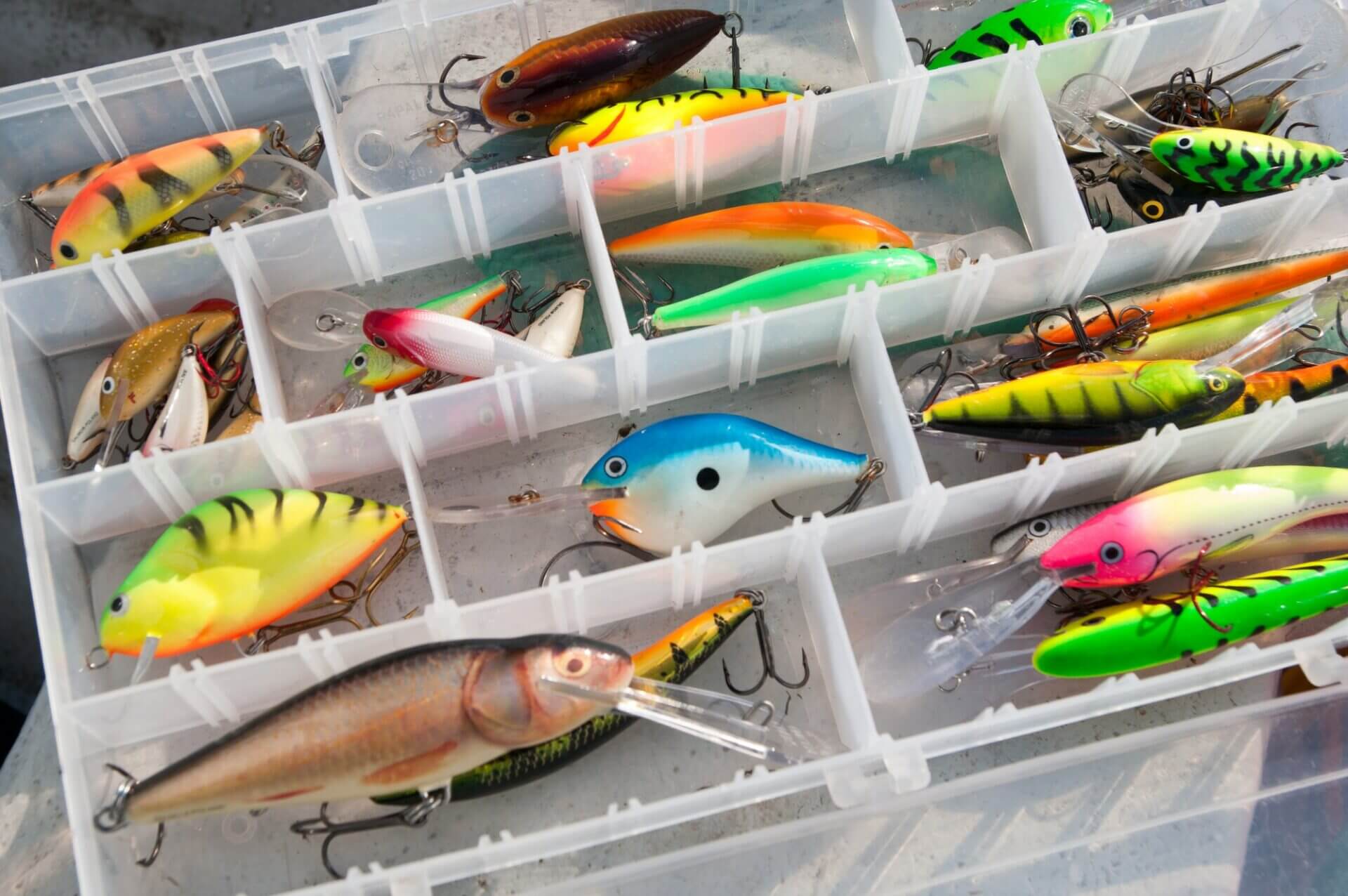 If you're totally new to fishing and you're wondering what kind of gear you can keep in your box, this list will break it down for you. There aren't really any limits to the kind of lures you can store in a tackle box.
Jigs
Jig heads
Weedless lures
Crawfish
Sinkers
Soft baits
Plastics
Worms
Frequently Asked Questions
How to organize a tackle box?
What should I buy? Tackle box or tackle backpack?
You should buy what you prefer! A fishing backpack might be easier to carry around, but you might not get as much space, and I find that carrying the lures this way is a sure-fire way to make them shuffle and move around more than I'd like. 
Which is better? Pull out compartments or removable ones?
I think the removable containers are better if you're keeping everything well organized. If you're disorganized, it doesn't matter because everything is out of place anyway.
Are there any bass lures you can't put in a tackle box?
You can put pretty much any lure in a tackle box unless you're fishing for 10lb+ fish.
Would you recommend a bass tackle box kit?
Sure! Here's the TOPFORT 187 piece Accessory Kit. Tackle box kits are nice if you're getting started fishing for the first time or diving back into the sport after being out for a few years.
Final Thoughts
A tackle box might seem like a simple purchase, but it's something you'll use for many years, so you don't want to take it too lightly.
Keep in mind the different style boxes and how they'll impact your storage and organization.
The most important buying factor is plenty of organizational features, and all of the boxes recommended above have more than enough for the average angler.
Give them all a second look, and be sure to leave us a comment if you have any questions about any of the gear in this article. Thanks for reading, and good luck out there!