---
We independently research, test, and recommend the best products; you can learn more about our review process here.
Whether you want to keep things simple or load every piece of fishing tackle you have into your kayak, there's a kayak tackle box to fit your style.
I've tested many tackle boxes in my years of kayak fishing and found the best kayak tackle boxes to all have a few things in common.
They're compact yet hold all the gear you need and are water-resistant or at least have a rust preventative.
The Plano Edge Flex Series Utility Box checks all these boxes and more, which is why this is the best kayak tackle box on the market, and I use a couple of Plano Edge boxes.
Don't worry if these tackle trays aren't what you're looking for; I've used several others below, and at least one is sure to be perfect for you.
Top 3 Kayak Tackle Boxes on the Market
For the kayak anglers in a hurry to get on the water, you'll find my top three picks after rigorously testing kayak tackle boxes over the last few years.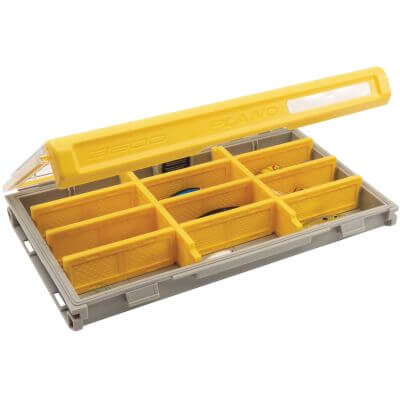 Best Overall Kayak Tackle Box
Plano Edge Flex Series Utility Box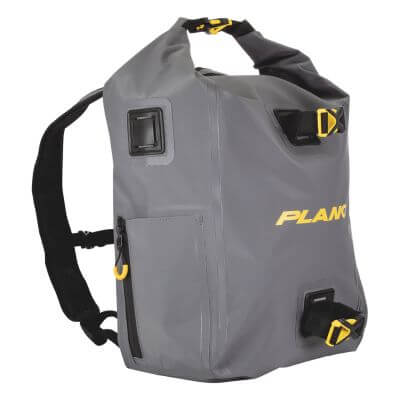 Best Kayak Tackle Backpack
Plano Z-Series Waterproof Backpack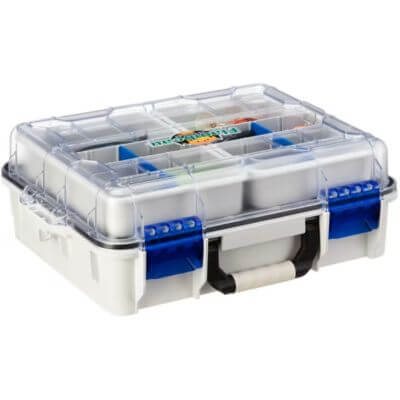 Best Waterproof Kayak Tackle Box
Flambeau Waterproof Satchel
---
Testing Procedures
While testing these tackle boxes, I looked for several key features to help the best stand out from the rest. They were:
Compactness: Space is very limited in a kayak, so I need a tackle box that won't take up too much room.

I've tried using large tackle boxes, and they were just so bulky they made fishing difficult, or I was worried about dumping some of my gear overboard while handling it.
Capacity: Even though these are small tackle boxes, I want to maximize the space they're tacking up.

Double-sided boxes often have the best capacity in relation to their size, but some single-sided trays are more compact while storing just as many lures. It's a delicate balance to walk.
Waterproofness: Your gear is going to get wet in a kayak. Whether it's from a rogue wave crashing over the side of the yak, water splashing in from paddling, or coming up through the scupper holes, water will find its way into your kayak, so I highly recommend having a waterproof box or covering.
Rust-Resistance: Brands like Flambeau and Plano have infused some of their plastic with rust inhibitors or use a special water-wicking device to prevent rust from forming on your hooks, even when you put them away wet.

I want my gear to last as long as possible so I'm willing to pay a little extra for this feature.
BEST KAYAK TACKLE BOX OVERALL
Plano Edge Flex Series Utility Box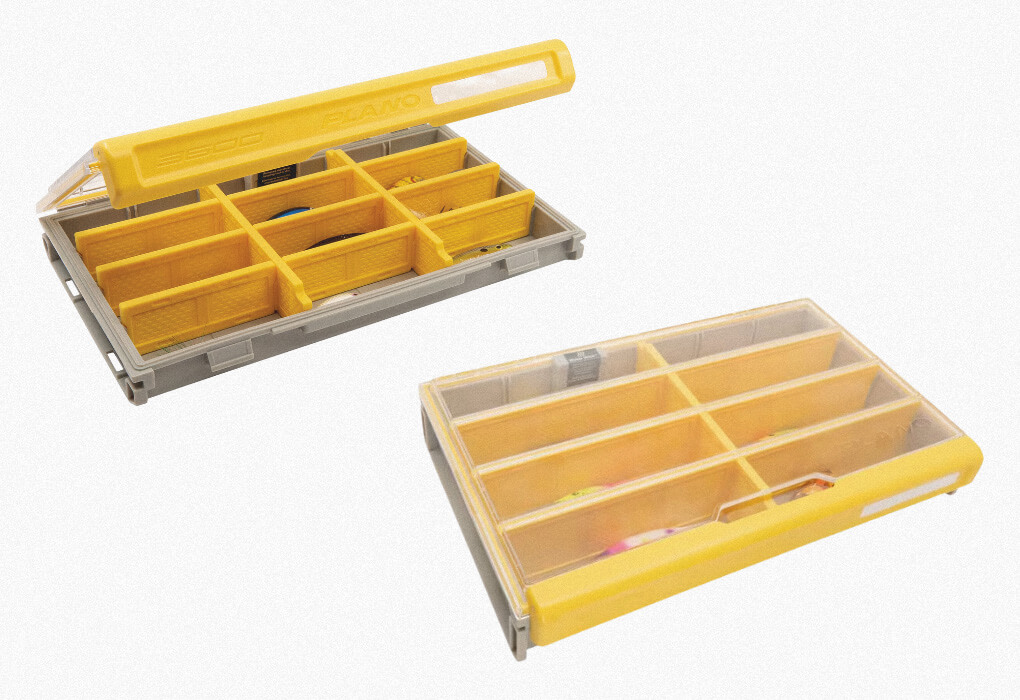 Specs
Dimensions: 14" x 9" x 2 ⅝"
Style: 3700 tackle tray
Waterproof: Yes
Why We Chose It
The Plano Edge Flex Series Utility Box is the Rolls Royce of kayak tackle boxes. I love this tackle tray because it checks all the boxes I need it to check while fishing from my kayak.
It's compact, holds plenty of lures, is waterproof, and is rust-resistant.
Plano is the leader in the tackle box realm. So it's no surprise that they dominated the top kayak fishing box list.
There are so many things to love about these boxes because they were expertly designed with anglers in mind. I love how easy it is to open and close with one hand.
I can hold onto my fishing rod and quickly open the Plano Edge Series boxes.
The feature I love the most regarding kayak fishing is that it's no larger than it needs to be. For the number of lures this box holds, it's ridiculously compact.
It easily slides under my seat or fits in my YakAttack Blackpak Pro with a ton of room to spare.
Since it's waterproof, with a rubber gasket, I don't worry about the box getting a little wet while I'm on the water because I know my lures will stay dry.
I also have a bad habit of putting lures away immediately so they're still wet.
Idk how many rusted hooks I've caused from doing this, but I no longer worry about it with the Plano Edge Series because it comes with a rust inhibitor like Flambeau Zerust tackle boxes, which has worked like a charm so far.
Even though I recommend these tackle boxes to every kayak angler I meet, there is one major downside that I must make clear.
The Plano Edge Series tackle boxes are EXPENSIVE. If you're on a tight budget, these aren't your kayak fishing tackle storage solutions. I've bought multiple cheap tackle boxes for the price of one of these.
However, after using the Plano Edge Series tackle box for the last several months, I'm sticking with it and plan on buying more because of all the benefits I've gained while fishing with it in my kayak.
If you want the best kayak fishing tackle box, don't hesitate to purchase the Plano Edge Flex Series Utility Box!
BEST KAYAK FISHING BAG
Plano Z-Series Waterproof Backpack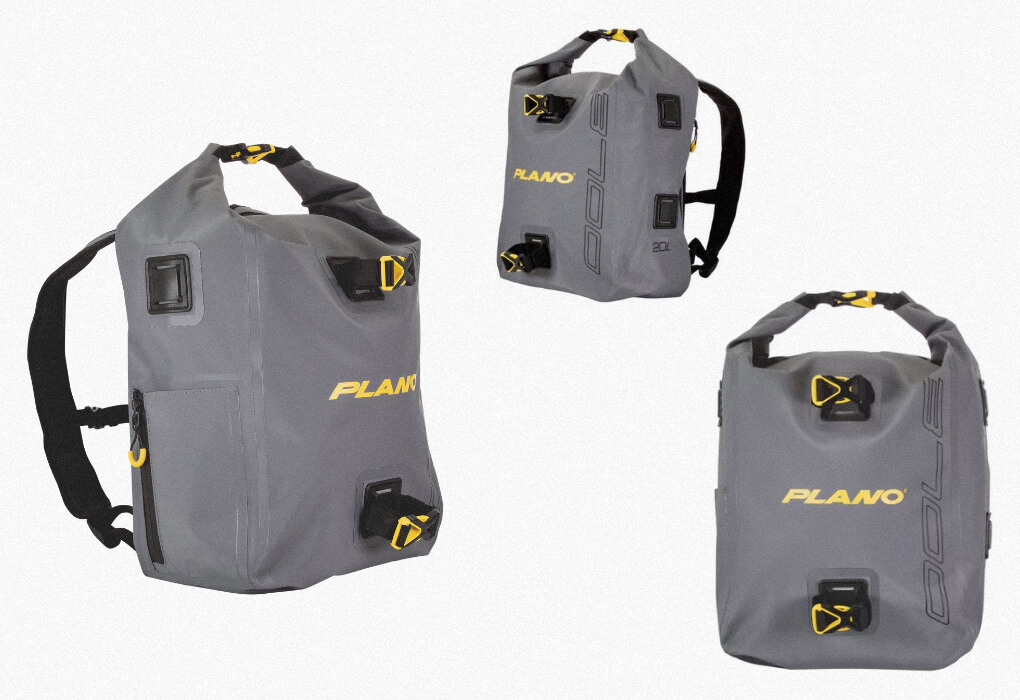 Specs
Dimensions: 23″ x 11 ½" x 7″
Style: Backpack with two 3750 boxes
Waterproof: Yes
Material: 500-denier PVC with welded seams
Why We Chose It
The Z-Series Waterproof Backpack is the best kayak fishing storage bag because it's waterproof, easy to carry, holds multiple tackle trays, and easily attaches to your kayak, so you'll never lose it.
Plano is at the leading edge of innovation for tackle management as usual.
I'm a massive fan of waterproof bags, especially backpacks.
As I mentioned earlier, everything in a kayak is bound to get wet, so protecting your tackle from the water is essential, especially if you're fishing in saltwater, which is much more corrosive than freshwater.
Yes, I know fishing tackle is designed to be used in the water, but getting water in your tackle box causes your hooks to rust.
Trust me; I've ruined more hooks than I like to admit because my tackle box got water in it, and I didn't dry it properly.
I found this fishing tackle bag super easy to carry and comfortable with the padded straps when I was walking the bank and fishing.
The multiple attachment points allowed me to carry other gear, but I also used them to secure the backpack to my kayak, so I didn't worry about losing it if I tipped or encountered rough water.
I also liked that this bag came with a couple of tackle trays, but there's also room for the ones you're currently using.
The biggest downfall is how bulky tackle backpacks are, especially in kayaks. I'm not a fan of storing my boxes in a bag because it ends up getting in the way.
This doesn't matter too much if you're in a fishing kayak because they have plenty of storage space.
I've bought other waterproof backpacks in the past, so seeing the price of this one wasn't shocking, but it's still expensive, so that's another negative about this tackle bag.
Even though it's a tad bulky and expensive, the Plano Z-Series Waterproof Backpack is the best kayak fishing backpack because it's waterproof and holds enough tackle for an entire fishing trip.
BEST MILK CRATE TACKLE BOX FOR BEGINNERS
YakGear Anglers Crate Starter Kit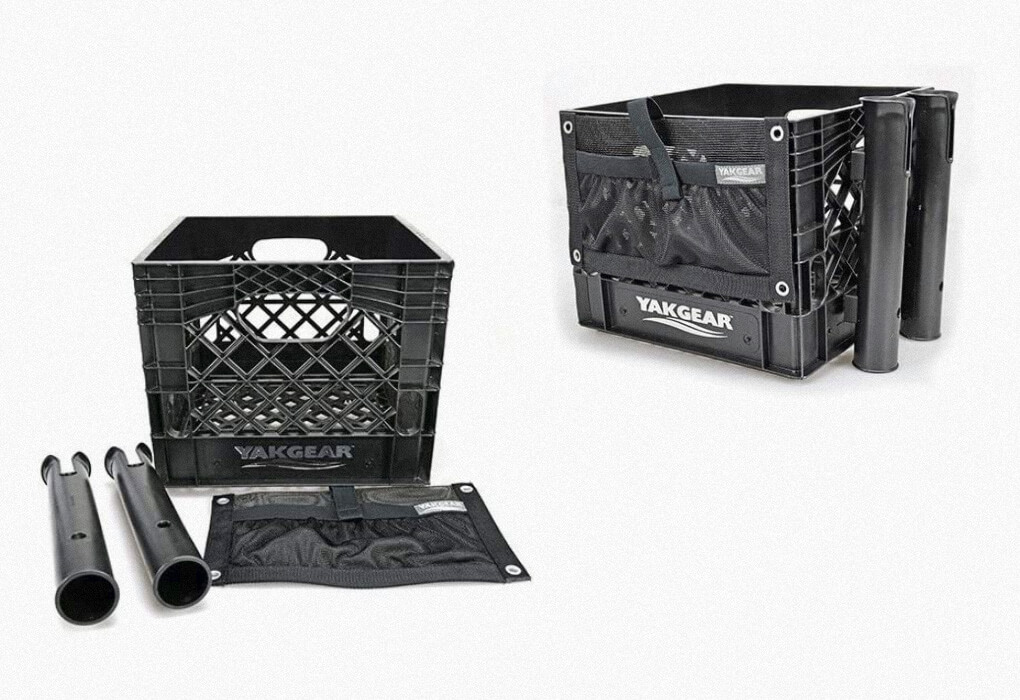 Specs
Dimensions: 13″ x 13″
Style: Milkcrate
Waterproof: No
Why We Chose It
The YakGear Anglers Crate is the best milk crate tackle storage for beginners because it's inexpensive, keeps your tackle trays organized, comes with rod holders, and fits most fishing kayaks.
YakGear manufactures kayaking accessories that make kayak fishing even more enjoyable. The simplicity of the Anglers Crate Starter Kit keeps your kayak tackle management frustration-free.
My parents bought two of these to hold most of their tackle and keep it in one place.
I really like that it makes loading the kayak much quicker because you just grab the crate, which already has all of their tackle boxes, and set it in the back (tank well) of their kayak.
When testing the YakGear Anglers Crate, I liked how simple the rod holders were to install and the fact that I could now take two more fishing rods.
I also like that it fits in most fishing kayaks, and you can customize it to fit your fishing style instead of you adjusting to it.
The thing my mom loves most is how cheap they were compared to other kayak fishing crates, like the Wilderness Systems Kayak Crate on Amazon, which is six times the price.
However, since it's so cheap, the YakGear Anglers Crate does not have all the features of high-end kayak crates like the Flambeau Tuff Krate, Hobie H-Crate, Wilderness Systems Kayak Crate, or my favorite, the YakAttack Blackpak Pro.
You will also need to find a way to secure the crate to your kayak. This isn't difficult to accomplish, my parents did it with the bungees already secured to their Old Town Sportsman kayaks, but it might take some creativity and a tie-down, depending on your kayak.
The YakGear Anglers Crate Starter Kit is the best milk crate tackle box for beginners, so we shouldn't expect it to have all the features and benefits of the high-end kayak crates at this price.
You can read our breakdown of the best kayak crates.
BUDGET-FRIENDLY KAYAK TACKLE BOX
Plano 1715 Satchel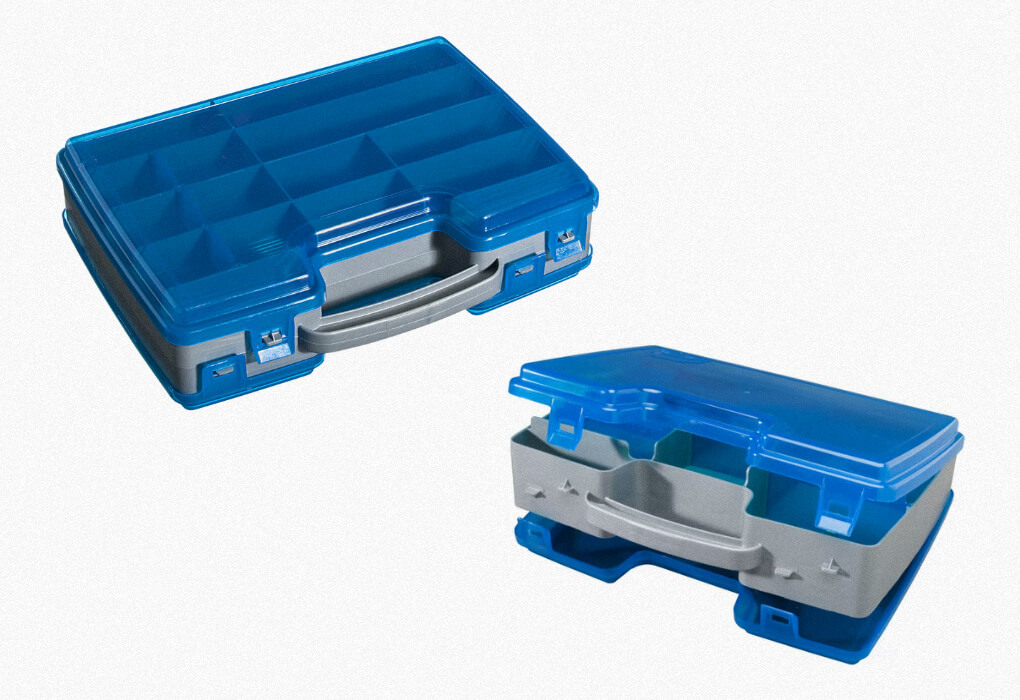 Specs
Dimensions: 11-1/4″ x 8-1/4″ x 3″
Style: Satchel
Waterproof: No
Why We Chose It
The Plano 1715 Satchel offers an inexpensive compact double-sided hard tackle box for kayak anglers. So your fishing accessories won't constantly be in the way, and you can bring more during your kayak fishing trips.
Plano leads the industry in innovation, but they also know not everyone is interested in spending a fortune on tackle boxes. So they make storage solutions for every budget!
I'm a big fan of double-sided satchel-style tackle boxes for kayak fishing because they're compact and hold a lot of lures.
I don't have to worry about my crankbaits getting tangled up with each other while traveling or paddling because they're in separate compartments.
I really like the removable dividers because I can customize my storage box to fit my favorite lures depending on the time of year I'm fishing. I'm not stuck with a set pattern that doesn't work for all my lures.
Because the 1715 Satchel is very inexpensive, it doesn't have heavy-duty latches, which might break after many uses. Another con, as you already know, is that I would prefer it to be waterproof, but that's asking a lot at this price.
Even though it lacks a few benefits that more expensive models offer, the Plano 1715 Satchel is the best tackle box for anyone on a tight budget as long as you don't dunk it in the water, this compact tackle box will keep your lures secure.
BEST WATERPROOF KAYAK TACKLE BOX
Flambeau Waterproof Satchel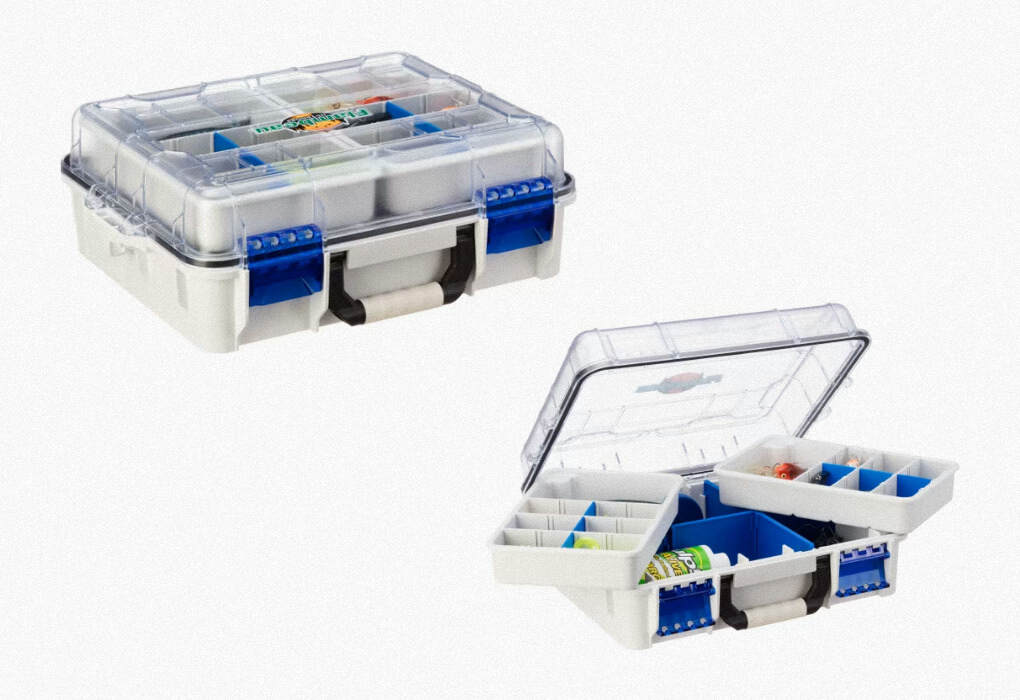 Specs
Dimensions: 14-7/8″ x 11-5/8″ x 5-1/4″
Style: Satchel
Waterproof: Yes
Why We Chose It
There's a lot to love about the Flambeau Waterproof Satchel as a kayak angler. It's a compact waterproof storage area at a reasonable price.
Flambeau manufactures affordable outdoor gear for the average outdoor enthusiast. You'll be hard-pressed to find a better water-resistant tackle box at this price.
The lid is a fantastic feature for two reasons; first, it's clear, so you can easily spot your go-to lure. Second, the lid is recessed for a workspace on your lap to tie on jigs or bass fishing rigs.
I love that the top trays rotate so you can quickly access the main compartment. This means all of your fishing tackle is easy to access, no matter which compartment you store it in.
The Zerust dividers feature a cooked-in polymer that inhibits rust, so your hooks won't be as likely to rust if you put them away wet.
This means you'll ruin fewer lures and won't have to buy as many hooks, saving you money in the long run.
After all my tests, I have not found any rust on my hooks in any of my Flambeau Zerust tackle boxes.
Despite all the great things about this waterproof satchel, this isn't my go-to tackle box for kayak fishing for a couple of reasons.
The biggest downside is when you purchase the largest size. It has fixed dividers, so you can't customize it to fit your lures. I do not like fixed dividers in any tackle box, especially my kayak tackle boxes.
The other is the price. However, the price is still better than most tackle trays, considering you'd have to buy two Plano Edge Series boxes to hold all the gear this one will. So, in the end, I think the price is more than justified.
Besides a couple of small drawbacks, the Flambeau Waterproof Satchel is a kayak angler's dream kayak tackle storage system because it's compact and will hold plenty of gear for a long day of fishing.
Kayak Tackle Storage: What to Look For
I'm not here to make purchasing a kayak tackle box more complicated. In fact, I believe it should be relatively simple, especially if you keep these factors in mind:
Size
Storage location
Hard Vs. Soft
Let's dive a little deeper and understand why these factors are the most important to consider when developing your kayak tackle storage system.
Size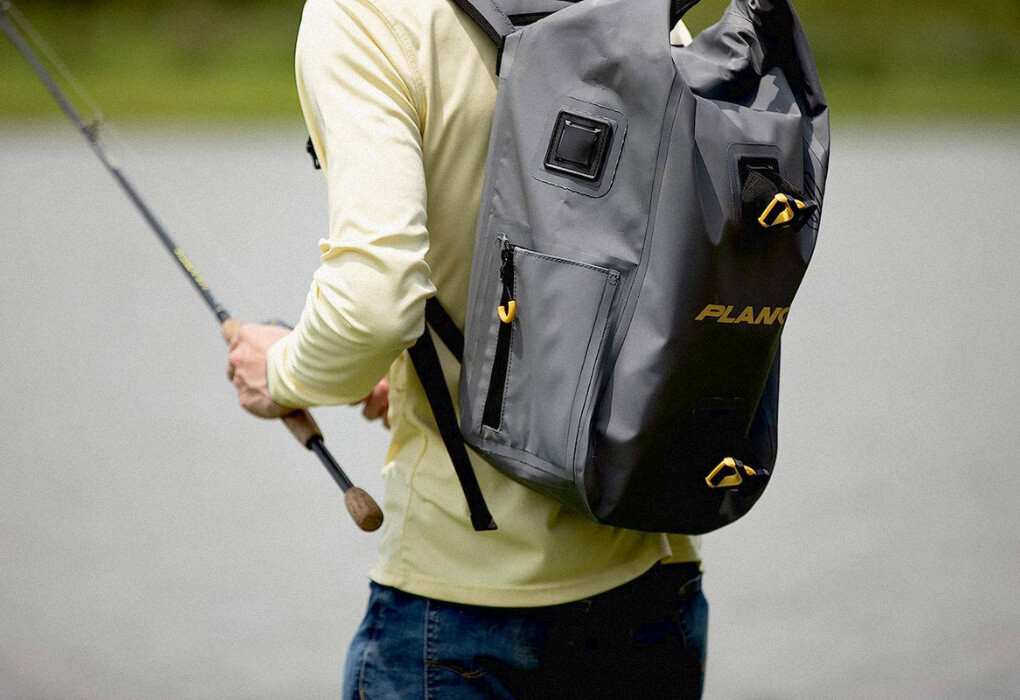 With the limited space on a kayak, we can't bring any tackle box on board like a bass boat. I prefer compact tackle boxes to maintain as much open room on my deck as possible.
However, the downfall to using compact tackle boxes is that you are forced to carry fewer lures, and some large crankbaits or Alabama Rigs won't fit.
The size also determines where you'll store your tackle box in and out of the kayak.
Where You'll Store The Tackle Box
There are typically lots of storage compartments in a bass boat to hold all of your fishing gear.
We don't have that luxury as kayak anglers, so you'll need to determine where you'll keep your tackle boxes and bags.
That can be in a kayak fishing crate, under your seat, or in a specially designed storage compartment on your fishing kayak.
These locations require a compact tackle box like a stowaway or Guide Series Plano box.
You should also think about where you're going to store your tackle box while you're not angling.
They end up in the shed most of the time, which isn't the worst place for them, but there are better options.
Hard Storage Options vs. Soft Tackle Boxes
I believe each option has its place, but I prefer hard storage over soft storage for a couple of reasons.
The first is because hard tackle boxes protect your tackle better. The second is that I always get hooks stuck in soft tackle boxes.
I would recommend using both, especially if both are waterproof.
Using a waterproof tackle bag with a waterproof stowaway and utility boxes will keep your gear even more protected, and hooks are less likely to get stuck in waterproof material like 500-denier PVC.
However, using both in a kayak is cumbersome at times.
You'll Also Need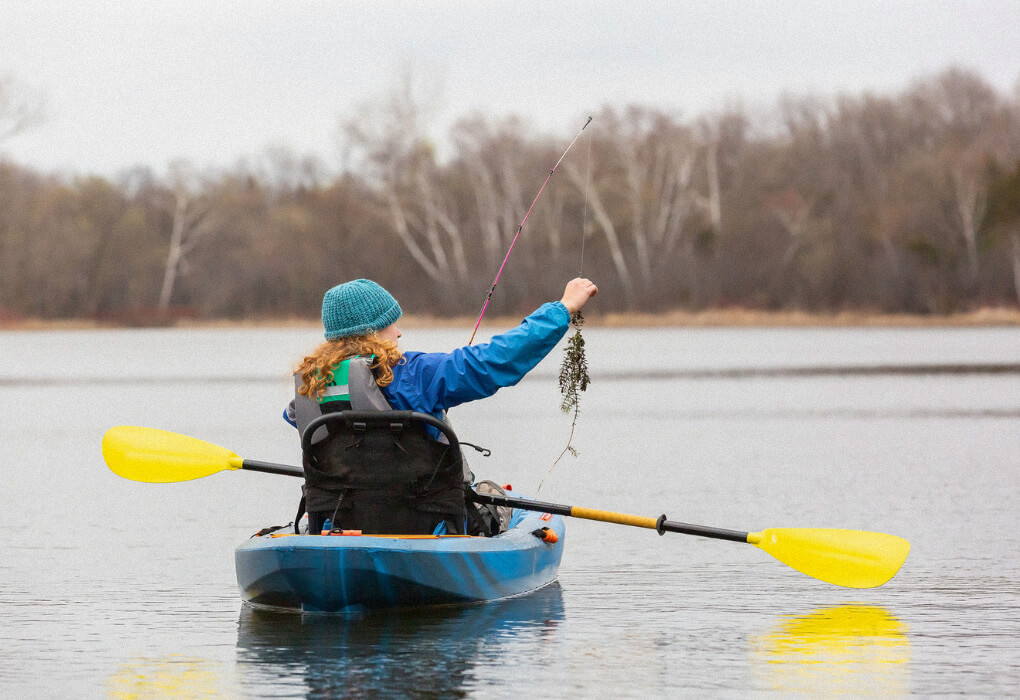 If you're like me, you like collecting, especially kayak fishing gear. What's surprising is that I don't particularly appreciate bringing it all with me while I'm on my kayak.
However, I like the feeling I get knowing that I can grab it anytime I'd like!
The following gear will make kayak fishing possible and more enjoyable altogether. Some of the items are must-haves, while others are luxuries.
Kayak Fishing PFD
A kayak fishing PFD is a must-have. I never leave the bank without mine on and buckled. I know some lifejackets can be uncomfortable and make fishing or paddling difficult.
Still, the best kayak fishing PFD was designed for fishing from a kayak, so it has storage pockets for pliers and small utility boxes.
Best of all, it doesn't interfere with paddling or fishing!
If you already have a lifejacket, please wear it. No matter how strong a swimmer you are, a PFD can save your life.
Kayak Fishing Paddle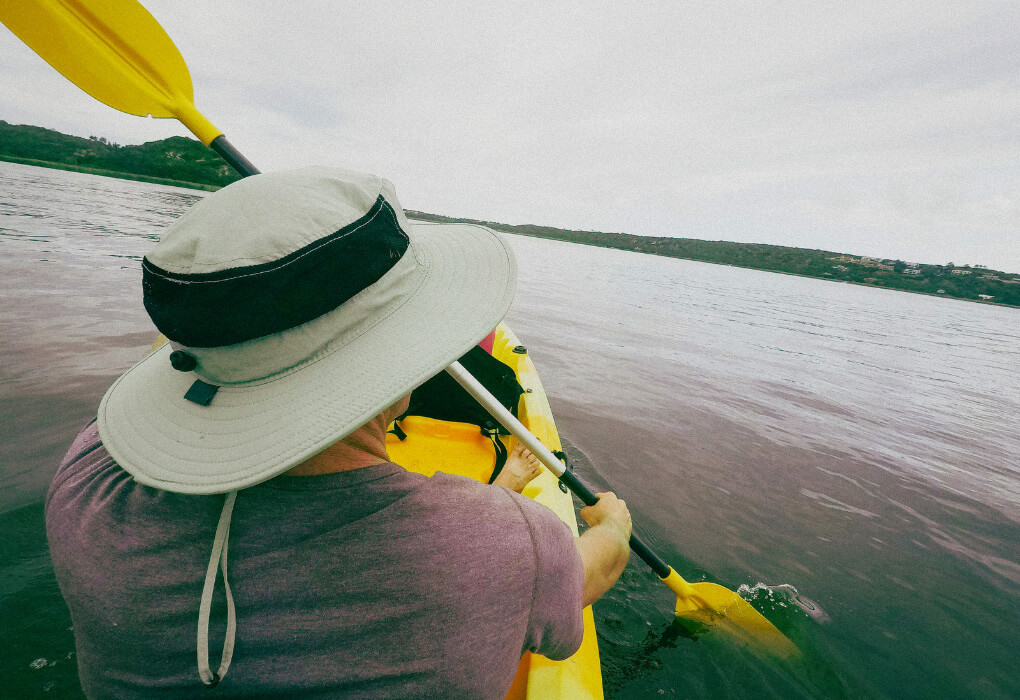 A kayak paddle is a kayak paddle, right? Actually, there are paddles designed for kayak fishing. While they are not essential, they come in handy while on the water.
I highly recommend purchasing a paddle that is the correct length for your height and the width of your kayak.
Using a short paddle will cause you to work harder than you need to while paddling.
Kayak Fishing Rod And Reel
Using the correct rod and reel can be the difference between landing the fish of a lifetime and telling another story about the one that got away.
Companies are beginning to design fishing rods explicitly for kayak fishing. These rods have a slightly shorter handle, making casting and fighting fish easier.
However, don't feel like you must go out and purchase another rod and reel. I use the same ones in my kayak as I do for bank and bass boat fishing.
Once one breaks, I upgrade to a kayak-specific rod and reel setup.
Kayak Fish Finder
One item that has helped my fishing game is a fish finder.
When I installed my inexpensive kayak fish finder, it gave me the depth, water temp, and contour of the bottom—three vital pieces of information for any angler.
Of course, you can install the best kayak fish finder on your kayak for better results, but you also need to know how to read sonar and, more importantly, learn to think like a fish so you're not dependent upon sonar to catch fish.
Kayak Trolling Motor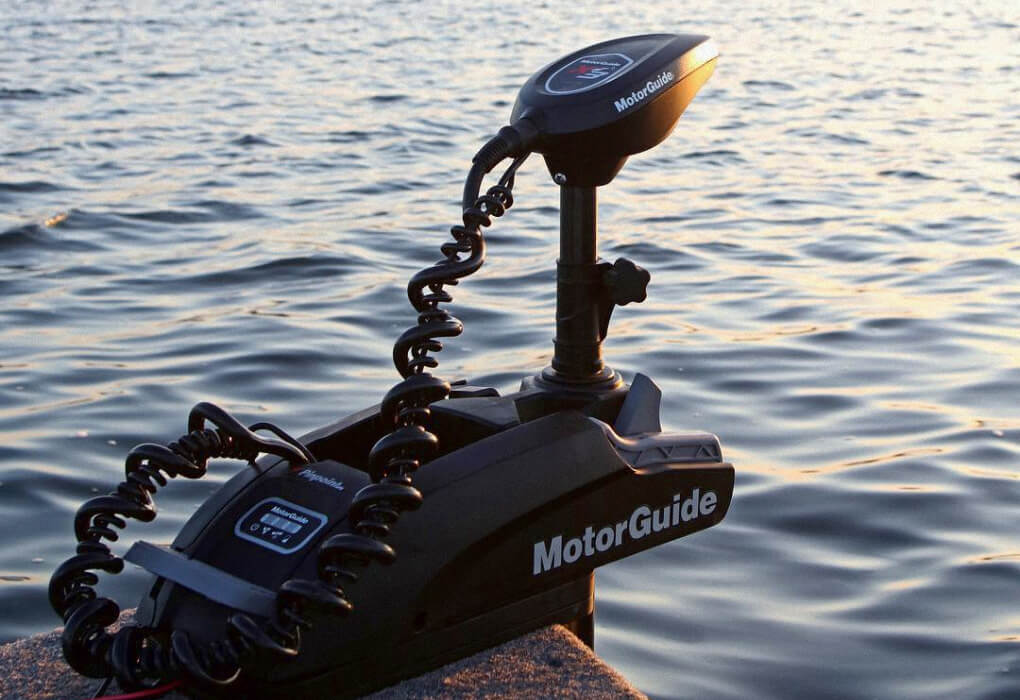 When I installed my fish finder, I also installed a kayak trolling motor. I can now go further faster without becoming exhausted from paddling.
It also gives me better control of my kayak, especially on windy days.
As always, there are different price levels of kayak trolling motors, and you can learn about the best kayak trolling motor in my article.
Using the best equipment will give you the best chance of having a successful day. Keep in mind if you're on the water, you're having a successful day!
Kayak Trolling Motor Battery
If you're running electronics like a fish finder and trolling motor, you're going to need a power source.
The best kayak trolling motor battery is a Lithium-Ion battery. It is more lightweight, longer-lasting, and more powerful than a Lead-Acid battery.
You'll see many kayak anglers run their sonar off of a different battery than their trolling motor.
This is smart because they won't drain their trolling motor battery as quickly. However, it adds weight to their kayak.
Most fishing kayaks can handle the extra weight, but it's always wise to keep the weight limit in mind; as the closer you get to the weight limit, your kayak will become less stable.
Bass Fishing Lures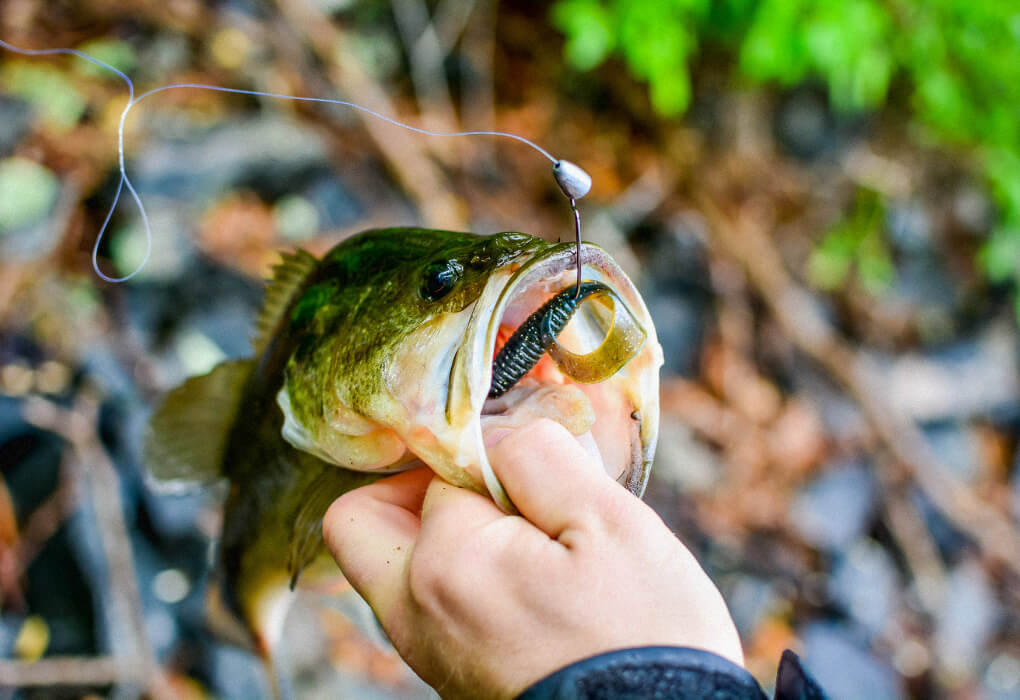 Now that you have the best tackle box, it's time to fill it up with the best bass fishing lures. Choosing the best bait is based on the time of year, water clarity, and location, amongst others.
These three factors will help you catch more fish from your kayak.
Frequently Asked Questions
What tackle to use kayak fishing?
Use the same tackle for kayak fishing as you do for bank or boat fishing.
The main differences are I prefer rods with shorter handles and higher-speed reels, all my lures are the same, and I use the same tackle boxes for each scenario.
Why use a kayak crate?
Use a kayak crate to keep all your tackle boxes organized, and less likely to end up going overboard. 
Do fishing kayaks tip easily?
No, fishing kayaks don't tip easily. They're wider than recreational kayaks, so they are more stable, and you should be able to stand in a good fishing kayak without tipping.
How do you pack a kayak for fishing?
To pack a kayak for fishing, I load all my tackle boxes into my kayak crate, then my rods into the rod holders.
Everyone has their own way of packing a kayak, so test several ways to find what works best for you.
What is the best kayak tackle box?
One More Cast
There's no need to overcomplicate purchasing the best kayak tackle box. Many kayak storage options are on the market, so you're certain to find one that fits your needs.
If you're asking me, the Plano Edge Flex Series Utility Box is the best tackle box for kayak fishing because it's compact, waterproof, rust-resistant, and it holds plenty of gear for a day of kayak angling.
Tell me your favorite style of tackle box in the comments below!