---
We independently research, test, and recommend the best products; you can learn more about our review process here.
Shoes aren't always something you think about when you're putting together a list of essential fishing gear to go bass fishing.
The thing is, you need a high-quality pair of fishing footwear, and the best fishing shoes will come with features to keep your feet dry, airy, and comfortable.
If you typically fish from the shore, you'll understand how important it is to have a comfortable and durable pair of shoes as well.
The last thing you want to worry about is a broken sole or a broken ankle because your shoes don't offer the necessary support.
The goal of this article is to make it easy for you to understand some of the different types of fishing shoes and the reasons why you would choose one over the other.
These are not a cheap investment, so be sure to look into all the features as well as the pros and cons.
Let's break it down for you!
Our Top 3 Picks for Best Fishing Shoes
Here are the top three fishing shoes based on our research and years of fishing experience.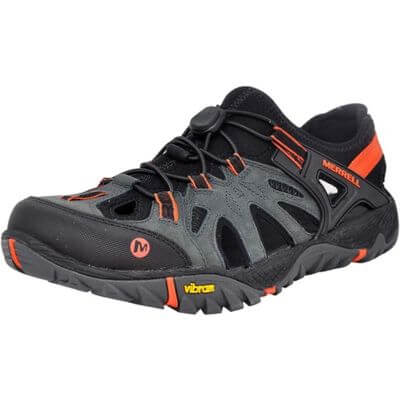 Merrell Men's All Out Water Shoes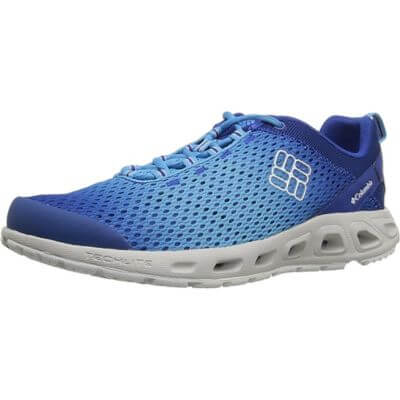 Columbia Men's Drainmaker III Shoes
Aleader Men's Mesh Slip Ons
---
BEST FISHING SHOES OVERALL
Merrell Men's All Out Water Shoes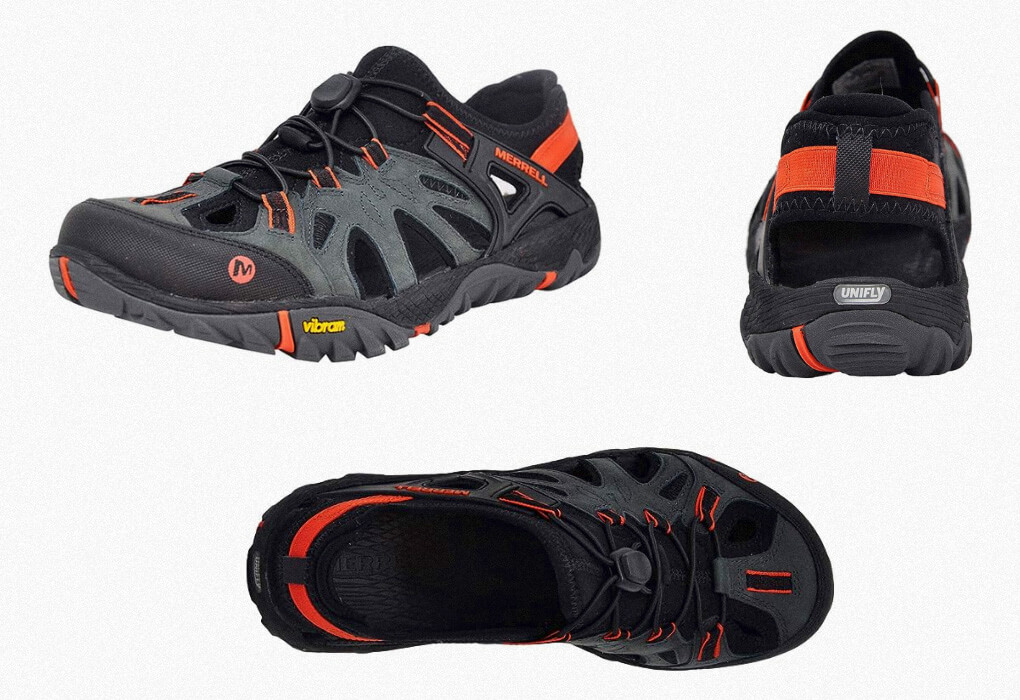 STANDOUT FEATURE
These shoes come with a great water drainage feature that allows you to make your way across rivers and through small bodies of water.
EXTRA FEATURES
It comes with breathable material with plenty of open sections to allow air access after you've dunked your feet in the water.
BUYING ADVICE
These lightweight shoes are a great choice if you need to walk long distances to get to the fishing location.
Why We Chose It
I chose these as the top pick for a few reasons. They offer great breathability, and that's especially helpful if you step in water or have to walk through low running water.
Within minutes your feet will dry so you won't have to deal with cold, wet feet for the rest of your trip.
BEST BASS FISHING SHOES
Columbia Men's Drainmaker III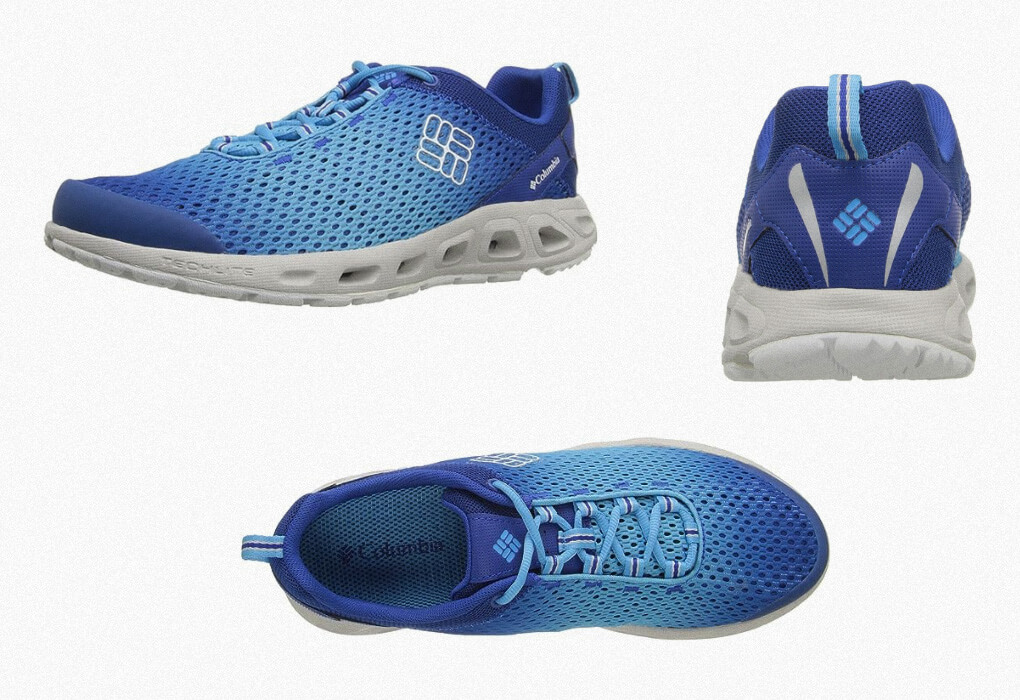 STANDOUT FEATURE
These come with an open mesh rubber that helps improve airflow and reduce odor.
EXTRA FEATURES
While they don't have steel toes, they do offer a toe bumper on the front to help limit the damage.
BUYING ADVICE
The name Drainmaker is what attracted me to these at first, and the name definitely backs up the goal here.
Why We Chose It
I've had some Columbia shoes in the past that we're borderline garbage with laces so I might be a little biased, but I will say, these turned me.
These are great rock fishing shoes if you're fishing along the shore because they grip well onto wet surfaces, and the toe protector ensures that nothing will fall on your toes.
BEST BUDGET-FRIENDLY FISIHING SHOES
Aleader Men's Mesh Slip Ons
STANDOUT FEATURE
Extremely lightweight and stitched for a secure and snug fit.
EXTRA FEATURES
You have a wide assortment of colors to choose from.
BUYING ADVICE
These bass water shoes are a bit different from some of the previous options because they're built like a traditional water shoe.
Why We Chose It
If you're looking for a dedicated water shoe, then these are a great choice. They're affordable, they breathe well, and they're as light as it gets.
The problem is, you might look a little funny walking out in public with them, and they don't offer as much support as some of the other "hybrid" style shoes.
BEST BREATHABLE SHOE
Shimano EVAIR Marine Fishing Shoes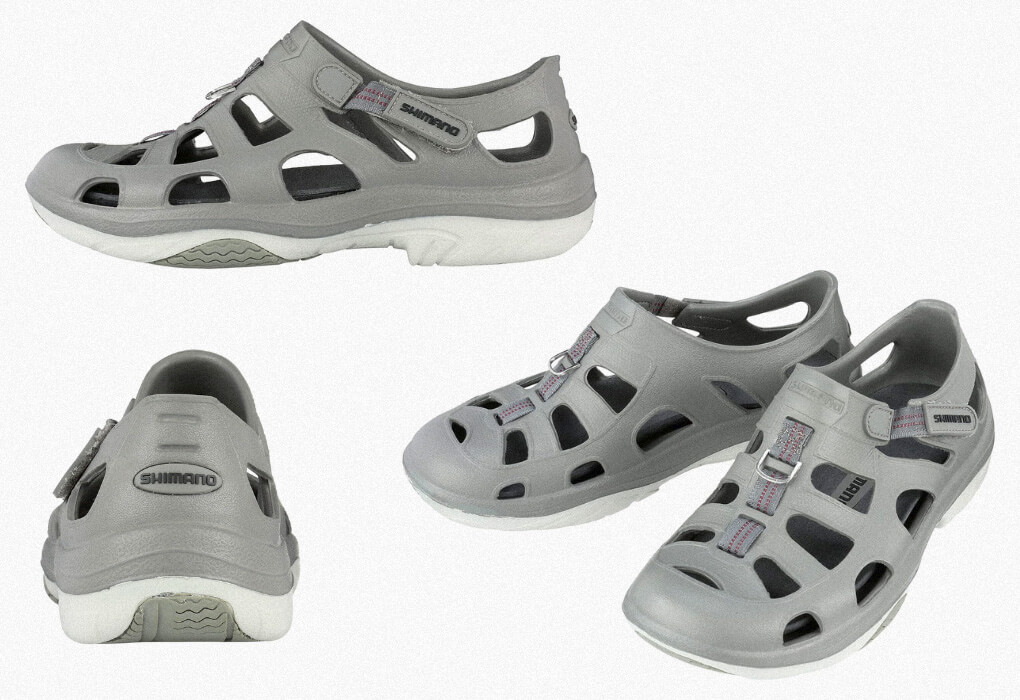 STANDOUT FEATURE
Versatile shoes you can use for fishing, boating, kayaking, and more.
EXTRA FEATURES
Breathable sandal design
BUYING ADVICE
These are made using a one-piece mold, so the sizes are pretty tight. I would suggest going up a half size from your normal.
Why We Chose It
If you were planning on wearing your white socks to the lake, you might want to pass this time. These shoes from Shimano expose your piggies to the elements because they're more of a sandal than a shoe.
On the plus side, you get all the airflow you need, and they're pretty darn comfortable.
BEST STYLE AND DESIGN
Sperry Men's Sea Kite Sport Boat Shoe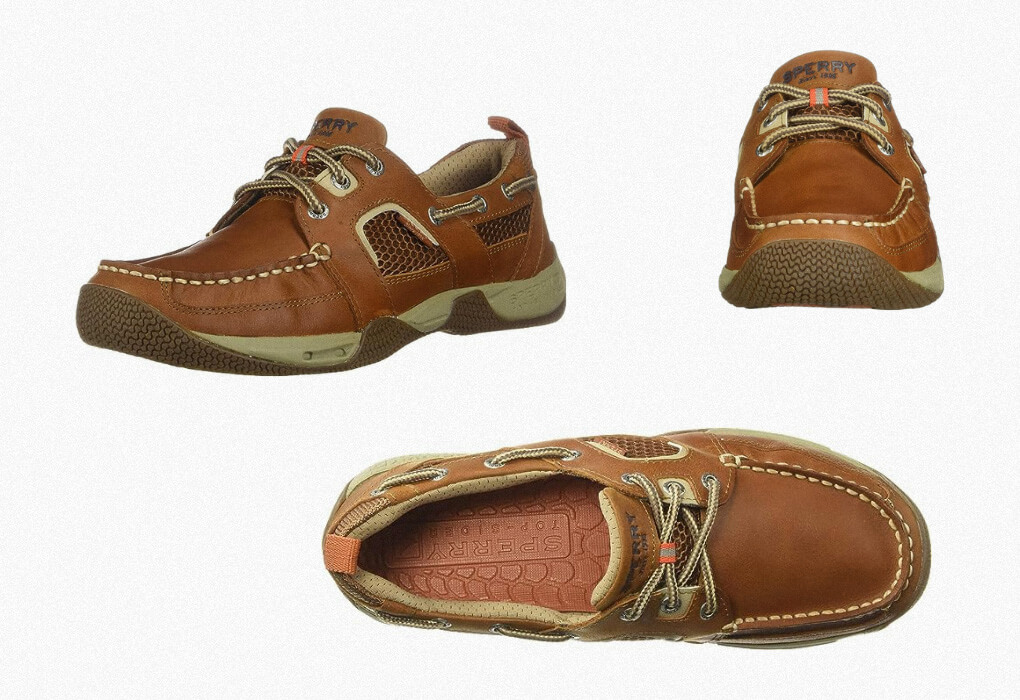 STANDOUT FEATURE
Crafted with 100% leather, so there is little chance of water getting in.
EXTRA FEATURES
Still comes with mesh upper panels to let water out and promote breathability and odor protection.
BUYING ADVICE
These shoes slip on and off, but they don't even look like a fishing water shoe, so you can wear them out after your trip.
Why We Chose It
If you're trying to keep your style in mind, then these are the best waterproof shoes for bass fishing. All jokes aside, they're a high-quality shoe made of 100% leather, which prevents water from breaking through the barrier.
I would have thought these shoes would be heavy, but they're actually one of the lightest on our list as well.
BEST WADING SHOES FOR FISHING
Hodgman Neoprene Wade Shoe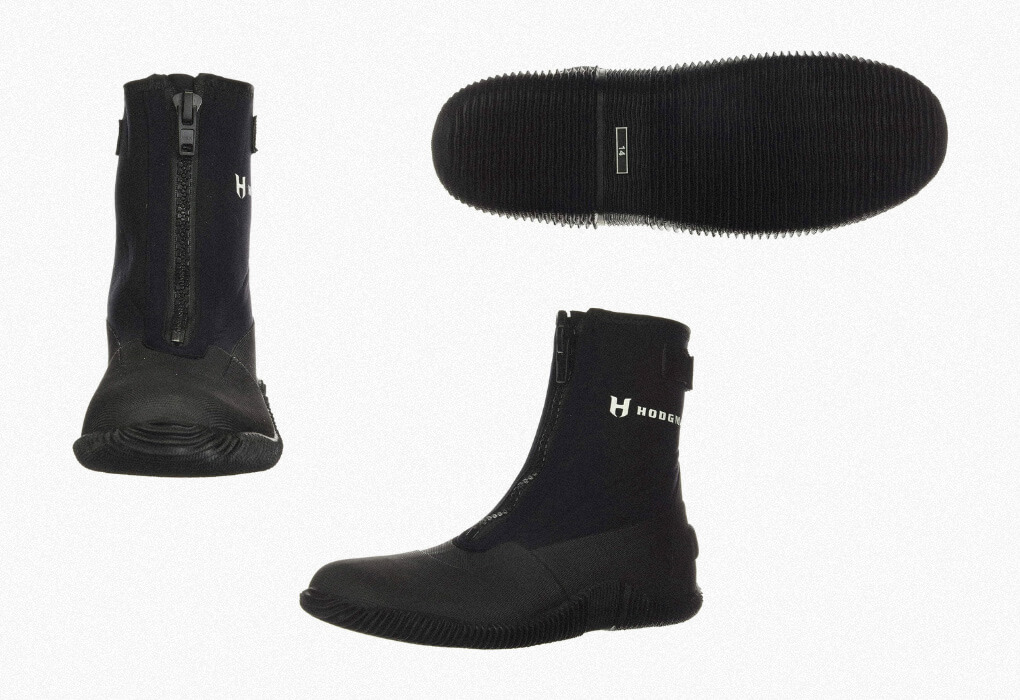 STANDOUT FEATURE
Neoprene upper construction prevents water from getting in, even at higher depths.
EXTRA FEATURES
Adjustable ankle cuffs allow you to decide how much air you let in (or keep out).
BUYING ADVICE
If you're wading through slow rivers and streams, you'll want to go for these instead of water shoes. They offer more support, and they'll keep your feet dry.
Why We Chose It
If you're out there regularly braving the water, you won't want to have even the best bass fishing shoe; instead – you'll need a pair of high-quality waders like these.
They offer plenty of features and durable construction, so there's not much else you could ask for! Just be careful about the size, some said you need to go down a size.
BEST BAREFOOT STYLE
Seekway Barefoot Quick-Dry Aqua Socks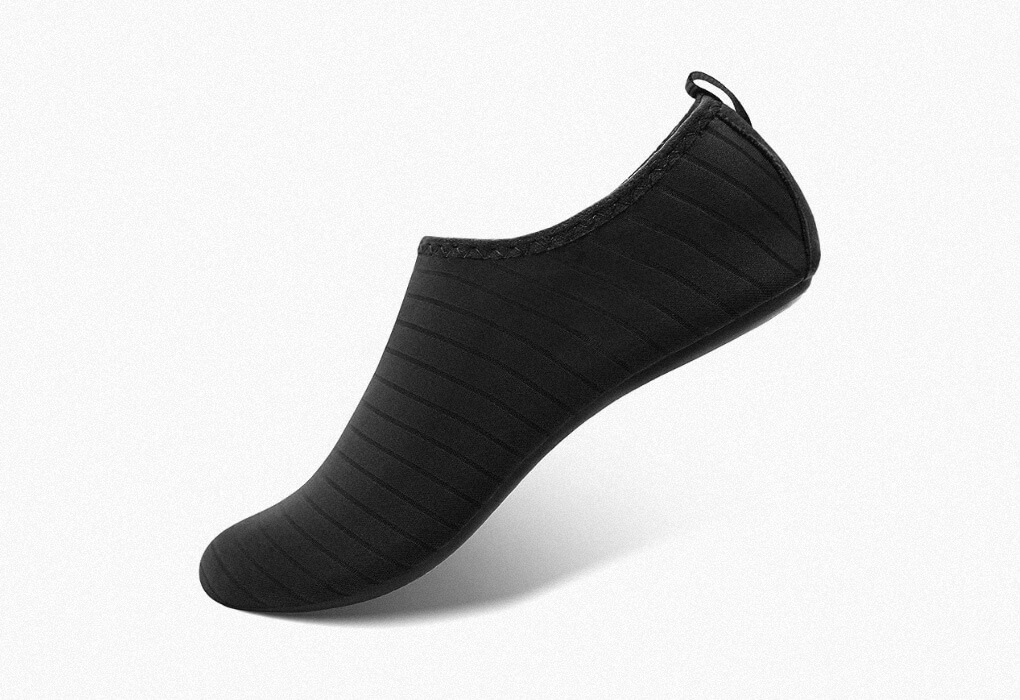 STANDOUT FEATURE
These highly affordable water shoes are a great option for multi-purpose trips where you might have to walk on land and dive into the water.
EXTRA FEATURES
Made with 92% polyester, they offer rubber soles to protect you from sharp objects while still offering versatility for swimming.
BUYING ADVICE
I would take these out on a boat in the event that I might swim in the water as well.
Why We Chose It
If you're a recreational bass angler and you're not looking to spend $50+ on a pair of shoes, you might want to take a look at these.
They allow you to see the more "laid back" side of the fishing trip. Wear them if you're fishing from the boat and then dive right into the water with them on as well.
BEST OFFSHORE FISHING SHOES
Body Glove Barefoot Max Water Shoe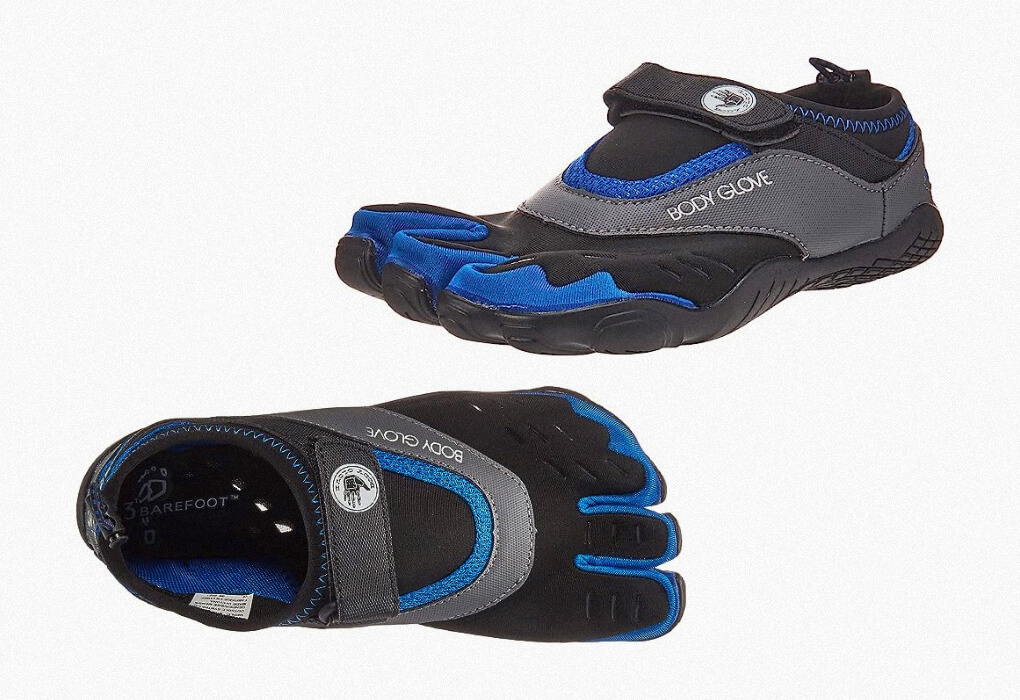 STANDOUT FEATURE
Comes with an easy to fit three toe design that is made to match your feet perfectly.
EXTRA FEATURES
A great multi-purpose shoe with reduced sole heights that creates a more balanced feel making these a great barefoot shoe for both land and water.
BUYING ADVICE
I find that these are useful for almost all applications, but especially when you're fishing offshore, and you might need to get in and out of the boat a few times.
Why We Chose It
These feel fantastic on your feet, and they offer exceptional support if you have to wear them for a long time.
While I wouldn't wear these for a typical day out on the water, if you're combining all elements of the great outdoors, these will help you with hiking, fishing, and swimming all in one.
BEST FISHING BOOTS
Huk Rubber Waterproof Wave Boots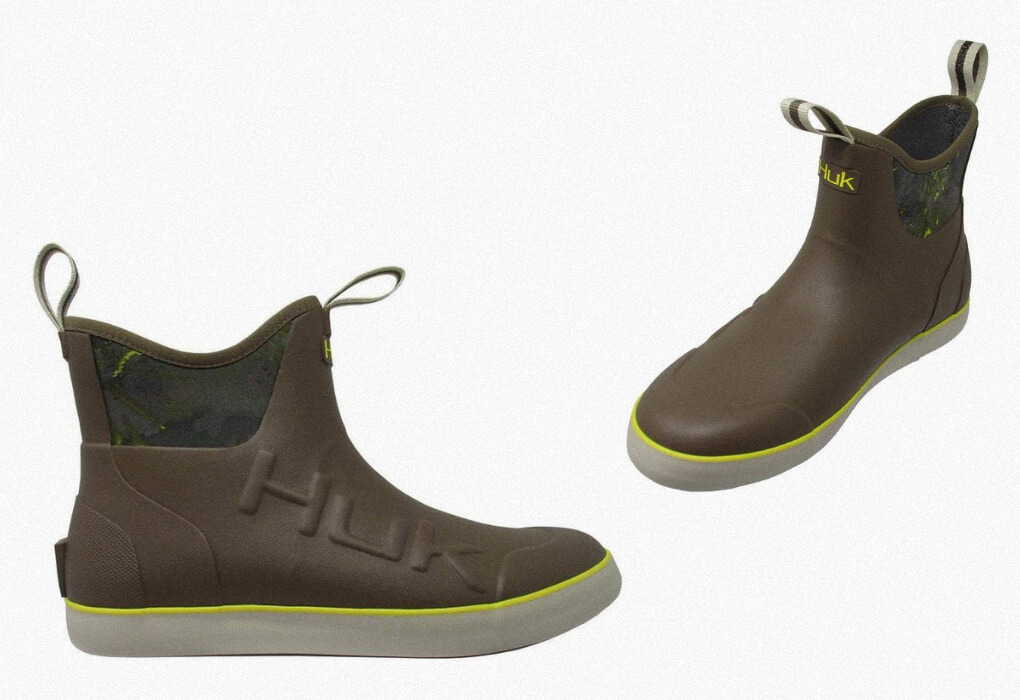 Stylish design, look good, feel good, fish good
Comfortable for all-day use
Durable and long-lasting, so you won't be buying another pair in a few months
Cons
Not as high as I would like, I'd prefer a boot that comes up to the top of my calves, not the bottom
Sizes are off, so you'll likely need to think about ordering a size larger
STANDOUT FEATURE
Made with commercial-grade webbing pull-straps.
EXTRA FEATURES
The insole of the shoe comes with molded footbeds, which makes these boots incredibly comfortable on your feet.
BUYING ADVICE
These are a bit smaller than some boots I would usually wear, but they're lightweight and highly breathable.
Why We Chose It
As with most of the water shoes we've looked at so far, the sizing options are off on these. For fishing boots, they aren't as high as you would like them to run either.
They sit less than a foot up from the sole, so you won't get a ton of protection in high water, but for typical land walking in wet conditions, these are a great option!
BEST DEEP SEA FISHING SHOE
Speedo Water Shoe Surfwalker Pro 3.0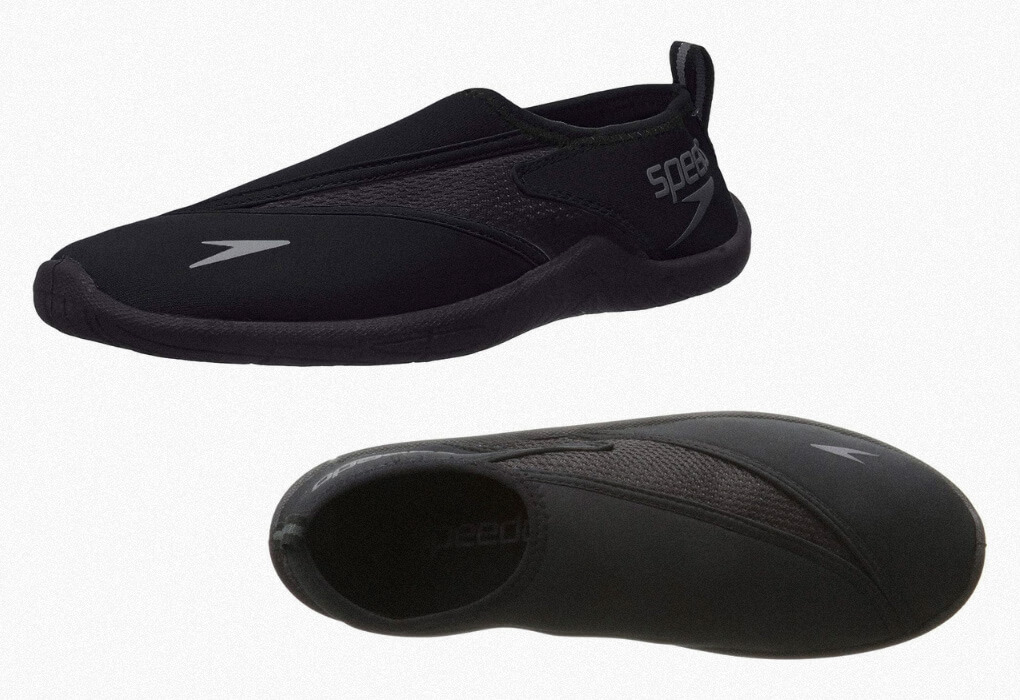 STANDOUT FEATURE
Easy to get on and off with the upper stretch portion of the shoe.
EXTRA FEATURES
Built for lightweight and maximum breathability.
BUYING ADVICE
I recommend these for deep sea fishing because they're light and easy to throw on. You'll want to keep a different pair of shoes with you for when the trip is over, but these are a good choice while you're on the boat.
Why We Chose It
These water shoes are the ideal choice for deep sea fishing when you are on a boat for a long period of time getting wet.
You'll want to have a different pair of shoes for the ride to and from the boat, but once you're there, throw these on, and you'll have all-day comfort that's easy to slip on and off as you need.
Testing Procedure
While testing the best bass fishing shoes, I look for a few different features that can be summed up in comfort, traction, and budget.
Comfort: First of all, if the shoes aren't comfortable, I won't be wearing them for long. I've had water shoes that were very uncomfortable and it made for a miserable day.

I check to see if the shoes have adequate padding in the sole and fit my feet well, boating shoes tend to be the most comfortable.
Traction: While fishing you're going to encounter slippery surfaces, so you'll need shoes with excellent traction, especially when they're wet. This is why fishing sandals don't top my list.
Price: We're all on a budget, and I sure don't want to spend a fortune on shoes I'll expose to the water time and time again.

So I look for reasonably priced fishing shoes. Sometimes that means an old pair of tennis shoes will work great.
How to Choose Bass Fishing Shoes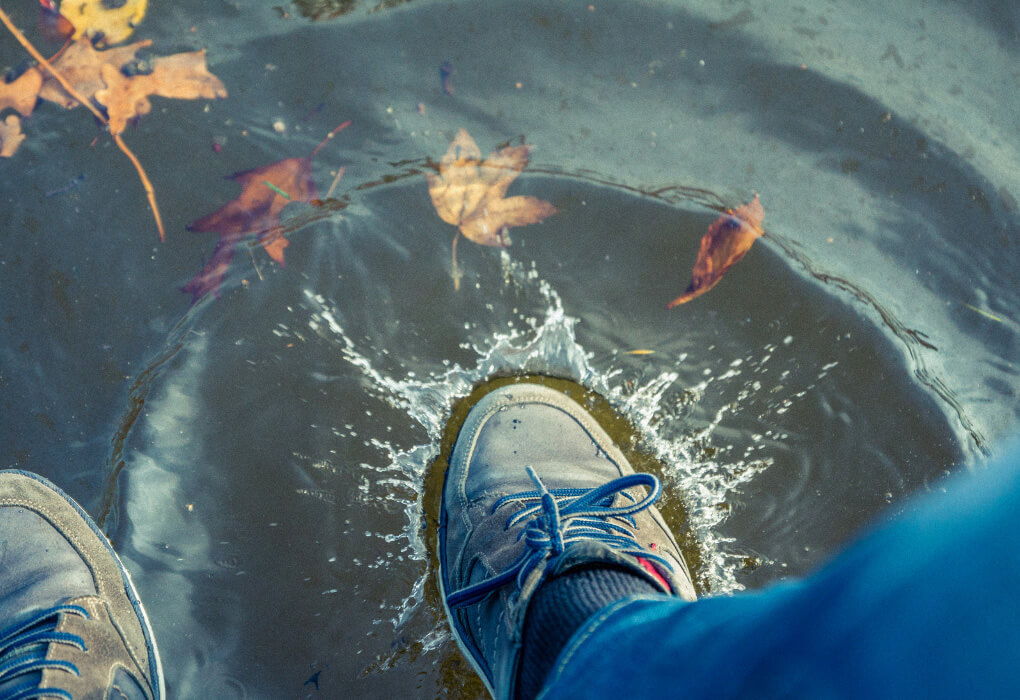 Now that you've seen some great examples of the best fishing shoes, it's time to break down what makes one desirable. You might think, "they're just shoes, who cares?"
They're almost as important as your fishing hat. I always say that shoes are the most important part of everything we wear because I can handle a t-shirt that I don't like, but I'd hate to walk around all day in an uncomfortable pair of shoes.
Material
The first thing you'll look at is the material of the shoes.
Some shoes are made using polyester, while others are leather. The type of material will not only play into the durability of the shoe, but it will weigh heavily on how comfortable and waterproof it is.
If you're shopping for bass shoes, chances are you're looking for something that isn't afraid to get wet. They also need to dry quickly so you're not walking around for hours with wet and heavy shoes.
I see a lot of popular companies using neoprene and synthetic rubber to make shoes. These ingredients are often used in waders because you need to ensure not a drop of water makes it through the material.
Grip and Support
Grip is a funny subject with these shoes because some come with incredible non-slip grips like a hiking boot while others have nothing at all.
I think it's important to pay attention to the application that you plan to use for the shoes. It doesn't hurt to keep more than one pair on you.
For example, if you have to walk a long distance to reach your fishing spot, you'll want to have a shoe that offers great traction as well as arch support so your feet aren't sore after a long day of walking.
One of the essential bass fishing basics is to remember that safety is always important, so make sure your shoes offer the right amount of support.
Comfort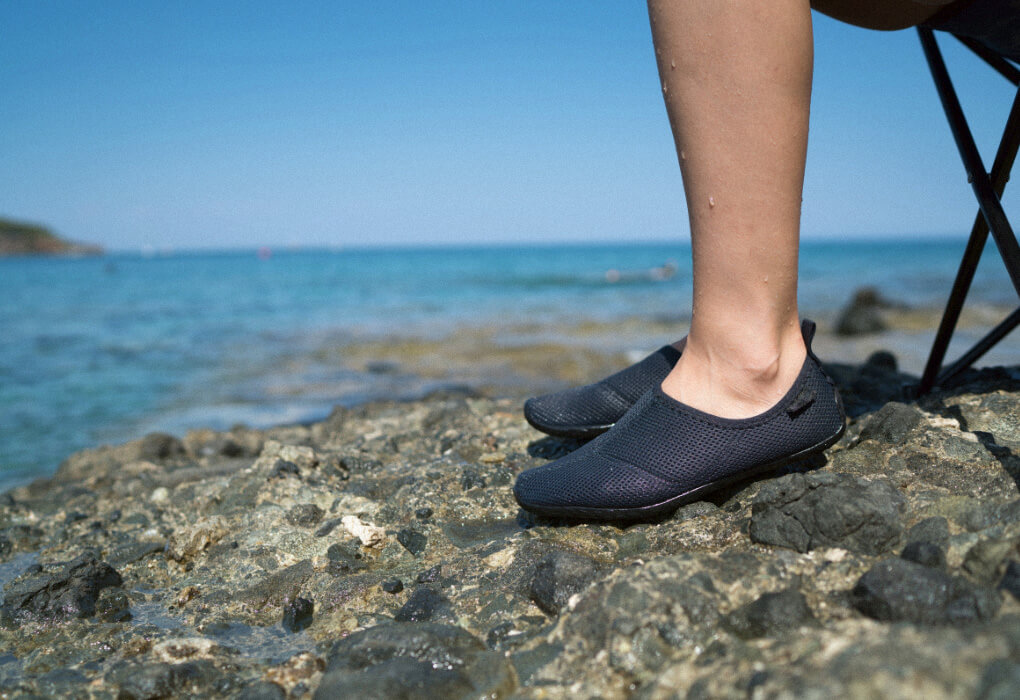 Coming in right in line with grip and support is the comfort of the shoes. Who wants to walk around all day in a shoe that hurts their feet or causes them discomfort.
Unfortunately, when you're shopping on Amazon, you don't have the luxury of trying the shoes on – but does a shoe ever feel good when you wear it for the first time?
You want to look for features like breathability, water draining, and how they fit most feet. It's always helpful to read reviews when shopping for something that requires a size.
Each body is different, and your feet might be a bit wider than someone else's.
Personally, I've always thought I had wide feet so someone might tell me they loved a certain shoe, I'd buy the same one and couldn't stand it. Whereas, if they bought the shoe I liked, they'd be swimming in it.
All of the fishing water shoes I reviewed above come with extensive water draining and airflow features, so you shouldn't have to worry about these problems.
Versatility
If there's one thing I learned from this review, it's that there is a shoe for everything. Years ago, a water shoe was a nylon mesh type material that you'd wear in the ocean or at the public pool, so you didn't get an infection!
Today, a water shoe is made with all different materials, and not only can you get them wet, but you can go rock climbing after wading across a river because they dried out in five minutes.
Many are incredibly versatile, so you don't need to put them on only when you're ready to get wet.
The best shoes for kayak fishing are also the same shoes you can wear to your sister's baby shower. (okay, maybe not)
Durability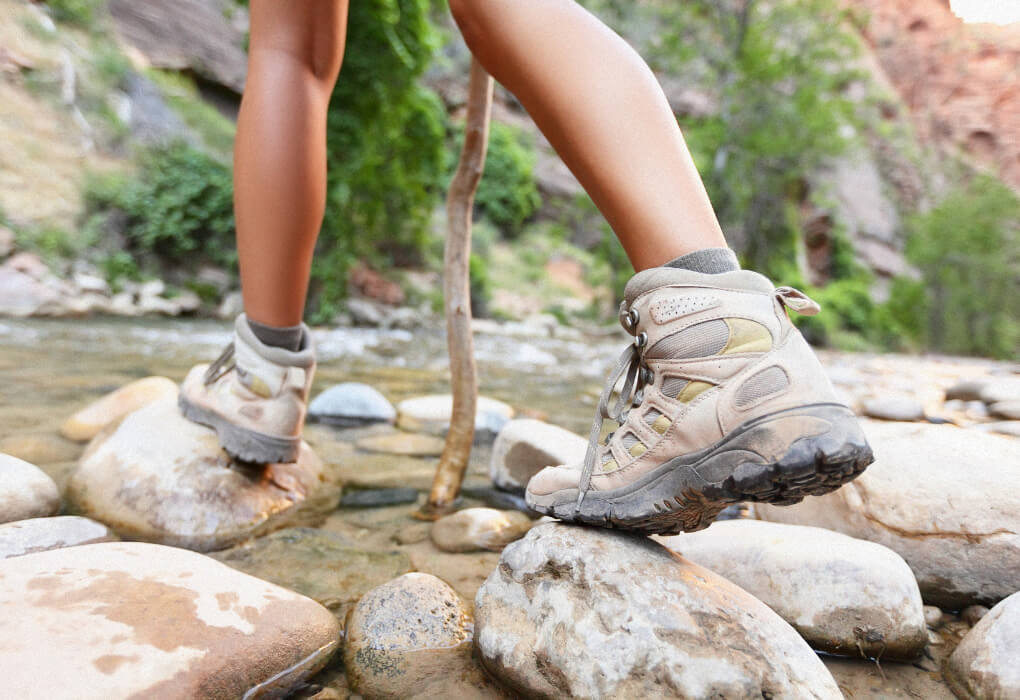 I'll be honest here; these shoes are not cheap by any means, so you want to make sure you're buying the shoes that will last and give you your money's worth.
You wouldn't want to go out and spend $80 on a pair of shoes that break down in a few months.
Keep in mind that you're exposing these to harsh elements and water for long periods of time, so even the most expensive shoes with the best materials will not last forever.
I'm a big believer in going with the best name brands in the industry because of their reputation. I've found that in the outdoor space, you should always choose the company whose name you remember.
That said, there are a few things to look for. The most durable pairs will have stitched soles, and the tongue will be securely installed to the side of the shoe, which will ensure debris doesn't get inside.
You don't want the shoe to have a lot of open areas. You'll notice that many don't come with a fancy appearance, and they don't have a lot of nooks and crannies.
Although they've come a long way, these are working shoes, so they don't need to look fancy. The simpler, the better but always shop by brand reputation if you can.
Weight
The lighter the shoes, the more comfortable they are. When you consider weight in conjunction with durability, material, comfort, and traction, you find yourself with the perfect shoe.
Anglers never know where the fishing trip will take them, and sometimes that means you have to walk a long distance with your rods and reels.
The last thing you want to do is walk that distance with wet, heavy shoes that got soaked with water. As you can see by now, all of the qualities of the best shoe come full circle.
If you lack any one of these features, you'll probably have an uncomfortable shoe. Luckily, all the options I recommended above are lightweight, comfortable, breathable, and durable.
Different Types of Fishing Shoes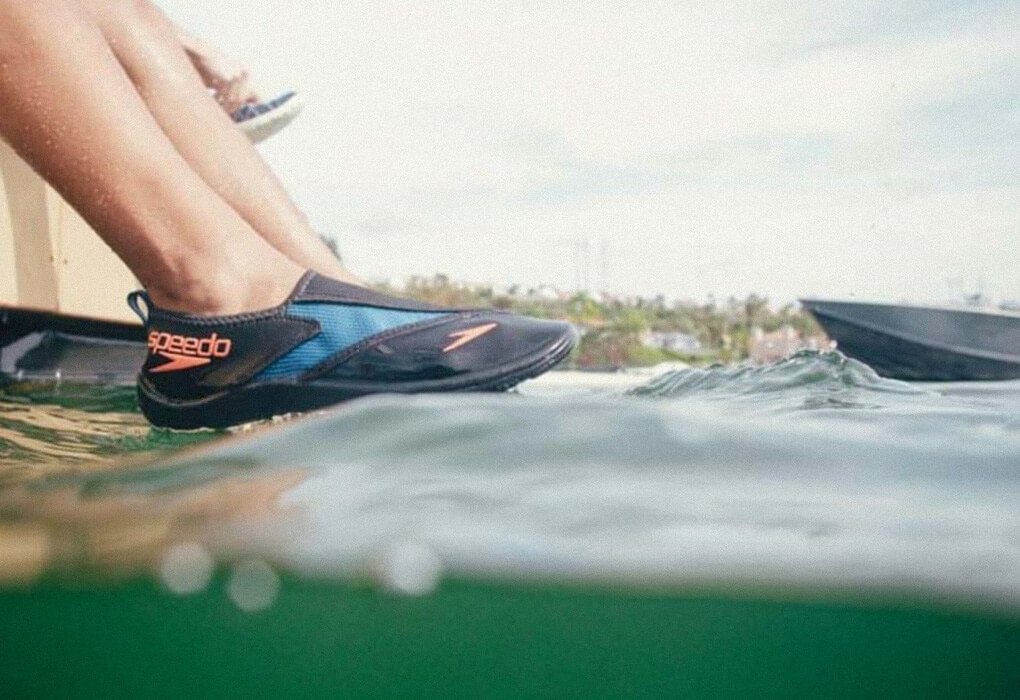 It's great to know what to look for in the best shoes, but you might not even realize that there are a few different types. When shopping around, make sure to look out for the following and keep each of these points in mind.
Waders
Waders have a few different purposes, and some are different than others. In the review portion of the article, we looked at wader boots. These aren't the same as the waders that come up to your chest with suspenders.
Wader boots usually run-up to the thigh, and they're made of a rubber or neoprene material that prevents any water from penetrating them.
They have the important job of keeping your clothes dry when you're wading through high river water or standing out in the water doing some fly fishing.
I commonly see these used the most with bootless fishing waders because you need to have a backcast so you can't fly fish from the shore.
Mesh Shoes
Most of the shoes reviewed above come with some form of mesh. The mesh helps the shoe breathe, but it also contains a drainage system that lets the water escape when it comes in.
Mesh fishing shoes are different from your traditional mesh shoe in that regard.
Standard shoes will take on water, but they won't have a way for it to drain, and they won't dry as quickly as fishing shoes. The reason I prefer this style is because they're multi-purpose.
You can wear these on the way to the lake and for a quick bite to eat afterward – you often can't tell.
Deck Shoes
Deck shoes are sometimes called boat shoes. We looked at one of these styles above, but the way you can usually tell a deck shoe is it looks a lot like a loafer.
They're made with mostly leather and have oil on the outside to help keep the water out.
I wouldn't typically recommend these shoes for most fishing situations because the whole process usually requires a bit of leg work.
These shoes can easily slip off your feet, and they don't provide a lot of traction and support if you're stepping over rocks and through the mud.
These will be a good choice if you're headed out on a fishing charter for some deep-sea fishing. They come with non-slip grips to help prevent falling on slippery decks.
Clogs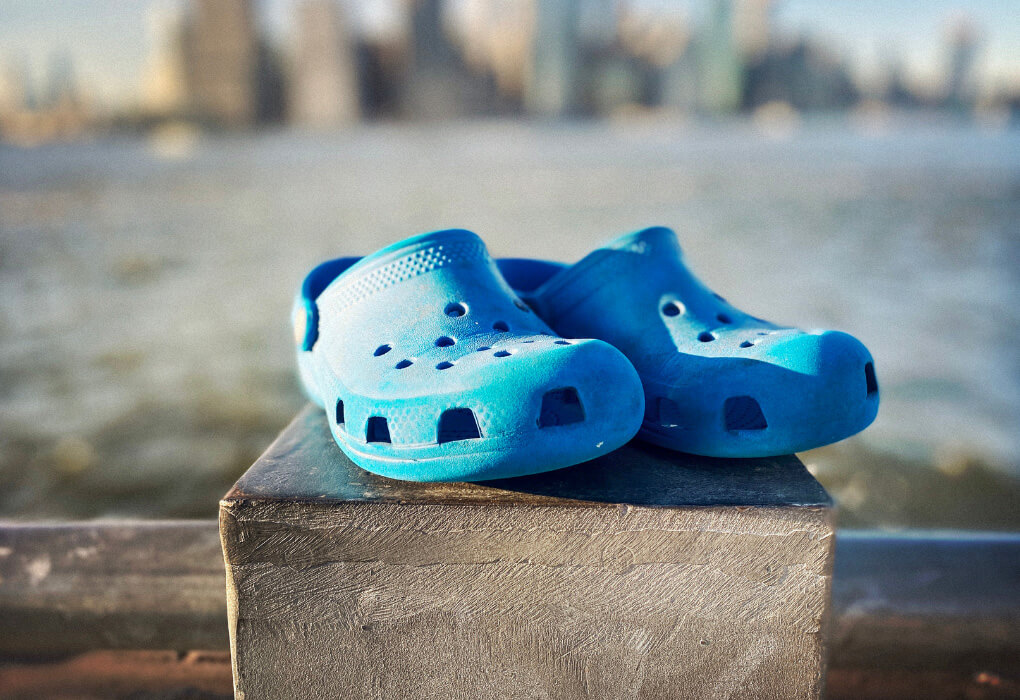 The term clogs has evolved quite a bit over the years. At one time, a clog was a highly uncomfortable wooden shoe used for dancing. Today, we have rubber clogs that we wear to go fishing. The world is a crazy place, huh?
Anyway, you've heard of Crocs, and that's a rubber clog. These usually have spaces to purposely let air and water onto your feet for breathability and ease of use.
The advantage with these is, they're super comfortable, and if you get mud on your feet, you can rinse them off in the water, and you're good to go.
Water Shoes
There are many different types of water shoes, but the traditional ones consist of a tight-fitting mesh with rubber soles. They don't usually have lacing, and you need to pull them over your feet to get them to fit.
I've also seen some interesting ones where you insert your toes into form-fitting sleeves, which allows you to move them independently.
I would imagine the plus is increased mobility and control, which would help if you have to walk a long distance or when launching your boat.
The standard water shoes are popular with water sports because you can completely submerge them in water and they don't fall off easily.
Frequently Asked Questions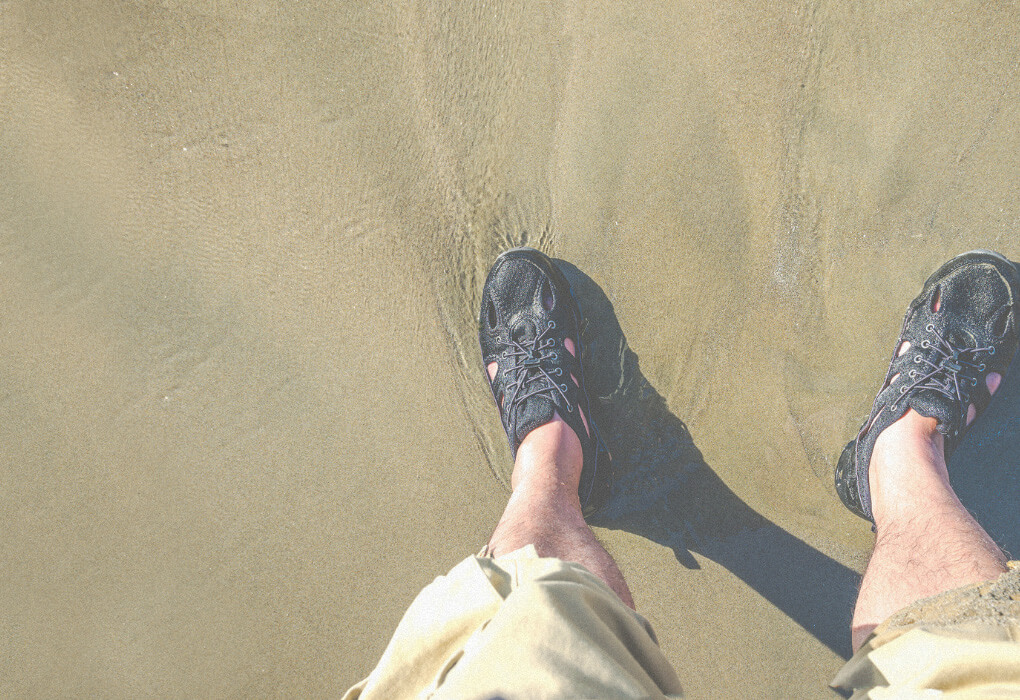 Do I really need fishing shoes?
Have you ever worn flip flops on a fishing boat? Try it out and see how it goes. I've made that mistake a few times.
They are not essential, but safety and comfort is an important part of fishing.
They don't cost much more than a typical sneaker that you would buy at the store, so it's worth grabbing yourself a pair so you can stay comfortable, dry, and safe.
What type of fishing shoe should I buy?
Whatever type you want! Take a look at everything above and make that determination for yourself.
If you don't find yourself walking far to your fishing spots, you might be fine with deck shoes or basic water shoes.
Perhaps you do a ton of walking, and you never even knew thigh waders existed. You could get yourself a pair of those instead.
It's all about understanding your needs and making a purchase based on that.
What should the outsole of fishing shoes be made of?
A: I don't think there is a right or wrong answer to this question because it depends. Each type of shoe is different, so it comes with a different material on the outside.
If you have a wader, you need to make sure that not a single drop of water makes it through because you're not only going to wet your feet but also your pants.
On the other side, if you're wearing mesh fishing shoes, you're expecting to get a little wet, but they dry quickly, so it's okay.
It's not about which material is the best; it's about which material is right for you.
Can I wear fishing shoes outside of fishing and boating?
A: Absolutely, that's why I was saying I like some of the new mesh fishing shoes because they look like a standard shoe.
Take the Columbia Men's Drainmaker III, for example.
These don't appear all that different from a regular shoe you would buy from the store so as long as you're not covered in mud from head to toe, you could likely go out and do whatever it is you have to do after a fishing trip, and no one would notice.
What are the best shoes for kayak fishing?
Kayak fishing almost always requires your feet to get wet when you first launch the boat, but then you're pretty much dry for the rest of the time.
I would suggest using mesh fishing shoes for this because you'll want something lightweight and comfortable.
These will also dry quickly, so once you're in the kayak, you'll be able to dry up.
Final Thoughts
It's time to wrap this one up! By this point, you should have a strong understanding of the best fishing shoes for bass. Make sure to keep in mind what a typical fishing trip looks like for you.
If you do a lot of walking or hiking, you'll want to go for a lightweight mesh shoe or waders as long as they're not too heavy.
If you spend most of your time on the boat or you do a lot of saltwater offshore fishing, you would prefer a deck shoe because they prevent slipping on water, but they're not the best choice for stepping over rocks or moving through weeds when fishing the slop along the shoreline.
Regardless of the choice you make, keep all these points in mind before making a purchase. Your feet, your money, so choose wisely! Thanks for reading, and good luck out there!