If you're fishing from the shore, a kayak, or a rented boat, you too can have a fish finder. But, it can't be one that requires a $200 hardware trip to Home Depot.
It needs to be easy to install, lightweight, and accurate.
After hours of research, discussion, and note-taking, I've narrowed it down to these eight options. These are the eight best portable fish finders on the market today.
Let's get after it!
Comparison Table – The Best Portable Fish Finders
---
Best Portable Fish Finder Reviews
Garmin Striker 4 with Portable Kit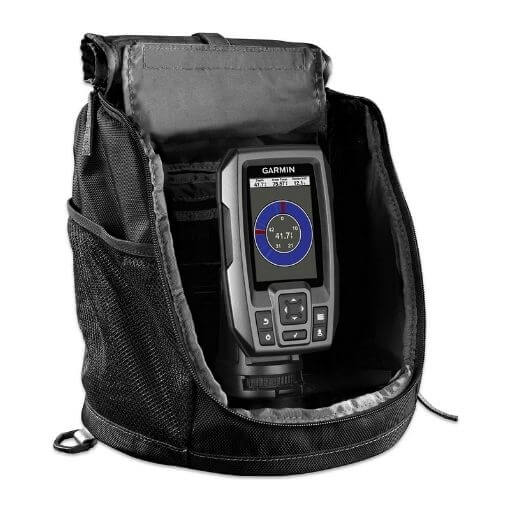 BEST OVERALL
Specs
Brand: Garmin
Weight: 8.1 ounces
Display: 3.5 inches
GPS? Yes
FEATURED SPECS
This fish finder offers a waypoint map so you can mark specific locations and fishing spots you might want to revisit.
EXTRA FEATURES
It comes with chirp sonar that sends continuous frequencies into the water. It creates a better image with improved target separation.
BUYING ADVICE
The Strike 4 Bundle comes with a portable carrying kit which makes it an ideal choice for kayak, canoe, and ice fishing.
Pros
Comes with a carrying case
Functional chirp sonar
Great for small boats and kayaks
Cons
Ice fishing is improved with a better transducer
I chose this as my top portable depth finder/fish finder for a few reasons. First, the word "portable" makes you feel like you'll have to sacrifice something in exchange for portability. That's not the case here.
This is the same high-quality Garmin Striker 4 we're used to. It just comes with a carrying case and a small display but it still features high-quality chirp sonar, sensitive GPS, and chart plotting.
If you'd like to learn more about it, give my complete Garmin Striker 4 review a read.
Venterior VT-FF001 with Sonar Sensor Transducer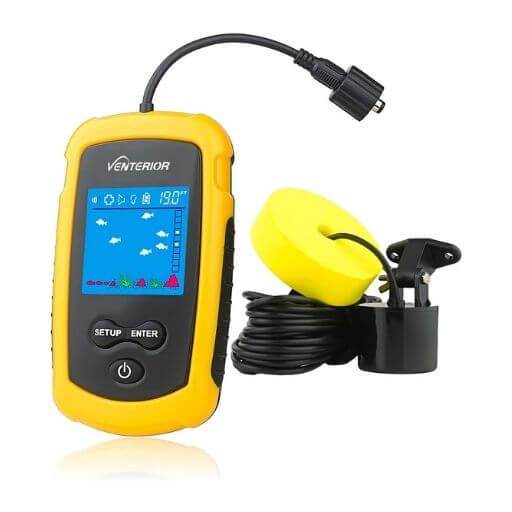 BEST VALUE
Specs
Brand: Venterior
Weight: 1.09 pounds
Display: 2.5 inches
GPS? No
FEATURED SPECS
This simple to use fish water displays water depth, fish location, structure, weeds, and rocks. It's an affordable and highly portable choice.
EXTRA FEATURES
The fish finder comes with a neck strap that you can put around your neck to wear anywhere while you're fishing.
BUYING ADVICE
This one doesn't work with fast-moving boats you need to make sure you're moving less than five miles per hour.
Pros
Highly portable
Affordable
200 kHz sonar with 4 AAA batteries
Easy to use
Cons
Sometimes simplicity is the way to go and all the fancy features are all "smoke and mirrors." This fish finder gets the job done, it's lightweight, portable, and cheap enough for all budgets. According to our research too, it appears accurate and precise with its readings as well.
If you're looking for something portable and simple to use, this might be the one.
Deeper Pro+ Smart Sonar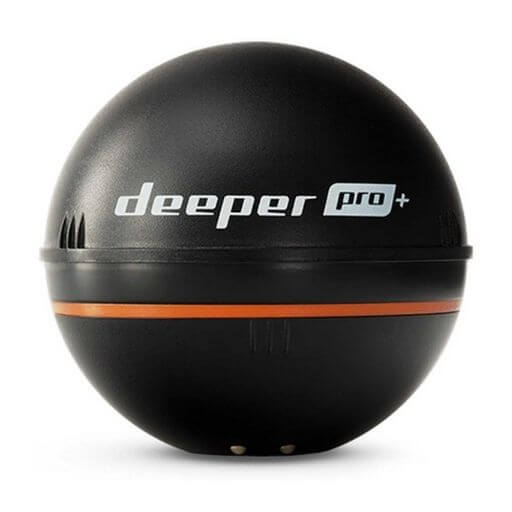 BEST CASTABLE
Specs
Brand: Deeper
Weight: 3.5 ounces
Display: N/A
GPS? Yes
FEATURED SPECS
This castable fish finder syncs with your smartphone and even comes with bathymetric map capabilities so you can create waypoints.
EXTRA FEATURES
It has a range of 330 feet and scans down as deep as 260 feet. The white scanning beam performs at 90 kHz while the narrow one is 290 kHz.
BUYING ADVICE
This is a premium casting fish finder that works for all fishing applications. It's highly recommended for shore fishing.
Pros
Easy to transport
Wifi connectivity
Dual-beam sonar
Works in saltwater and freshwater
Cons
Portability can't get much better than a castable fish finder. All you have is a small ball that you'll cast out and everything that's happening in the water will display live on your Android or iOS device.
Best of all this one features GPS compatibility so you can build maps and plot points of your best fishing locations.
I wrote a complete Deeper Pro+ review here if you'd like to learn more about it!
Humminbird Fishin' Buddy MAX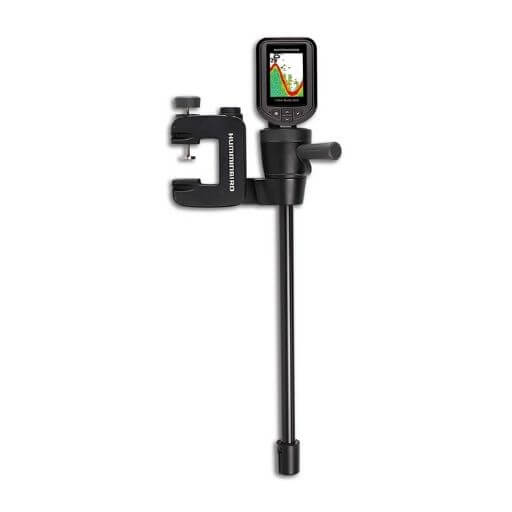 Specs
Brand: Humminbird
Weight: 2.2 pounds
Display: 3.5 inches
GPS?
FEATURED SPECS
This mountable fish finder makes it easy to set up and fish anywhere. It offers 320 feet of down imaging with wide range sonar.
EXTRA FEATURES
The Humminbird Fishin' Buddy comes with a water temperature reader so you can get an idea of the temp to help determine what kinds of lures to use.
BUYING ADVICE
It comes with a portable clamp so there's no transducer which makes it easy to mount and remove.
Pros
Easy to mount
Wide range sonar
Water temperature reader
Cons
If you're thinking that wiring and installing some of these fish finders is too complicated, then a wireless fish finder is the right choice. This one comes with a mount and pole that sticks down into the water. You'll clamp the fish finder onto the side of your boat and it runs on AA batteries so there are no cables.
Humminbird PiranhaMAX 4 PT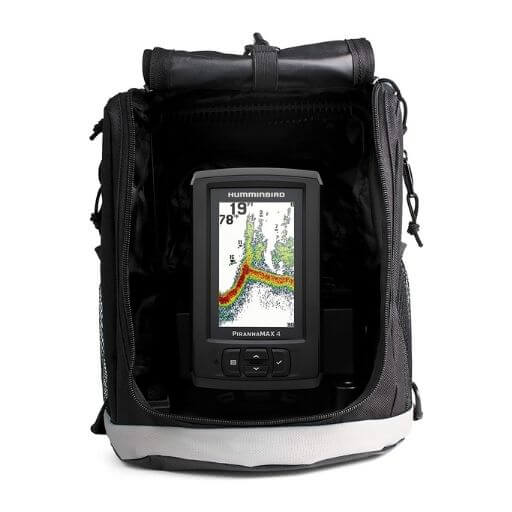 BEST PORTABLE DEPTH FINDER
Specs
Brand: Humminbird
Weight: 9 pounds
Display: 4.3 inches
GPS? No
FEATURED SPECS
This fish finder comes with a 4.3 inch LCD display color screen, easy to use interface, Fish ID technology, suction cup mount, and depth alarms.
EXTRA FEATURES
It also features a carrying bag that makes it easy to transport and better protected from water damage.
BUYING ADVICE
It's recommended that you take the plastic covering off the screen before taking it out on the boat for the first time. The plastic will melt and ruin the screen.
Pros
Simple to use
Carrying bag is ideal for transport
Suction cup mount is easy to install
Cons
This is a simple downscan fish finder at an affordable price point. Fish alert is a nice feature as well so you don't have to sit there and stare at the screen all day. Overall, it does a nice job of displaying structure and helps with finding fish.
If you still aren't sold and would like to dive deeper into this model, take a look at my Humminbird Piranhamax 4 review!
IBobber RealSonar Bluetooth/Wi-Fi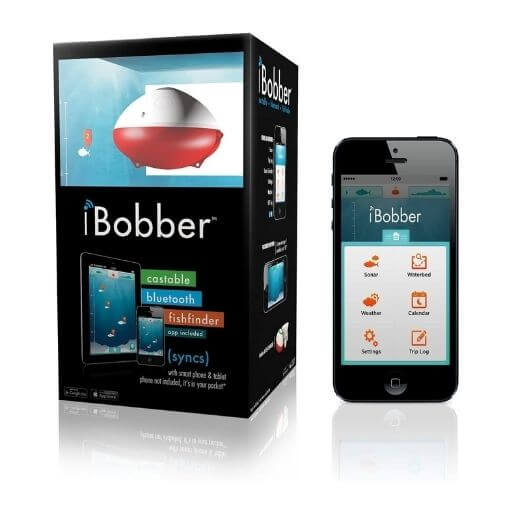 BEST WIRELESS FISH FINDER
Specs
Brand: ReelSonar
Weight: N/A
Display: Bluetooth on iOS and Android
GPS? Yes
FEATURED SPECS
Here we have another castable fish finder that comes with a ten-hour battery life, accurate sonar to 135 feet, and GPS spot tagging and mapping.
EXTRA FEATURES
The Bluetooth Smart Sync works up to 100 feet away from the boat or shore.
BUYING ADVICE
If you're looking for something similar to the Deeper Pro but don't want to pay the premium price, this will get the job done. It doesn't have as many features though.
Pros
Affordable
Easy to use
100-foot range
Accurate readings
Cons
I'm pushing this castable fish finder as a solid alternative to the more expensive Deeper Smart Sonar Pro. That said, with it being about half the price, you get half the quality and half the features. Many anglers are disappointed with how touchy it is as well. Sometimes it works, sometimes it doesn't.
Overall, the consensus is positive and most people seem to have no issues with it though. Plus, you get features like underwater mapping and a fish alarm which are nice for something in this price range.
If you'd like to know more about the iBobber, click here to read my full review!
HawkEye Fishtrax 1C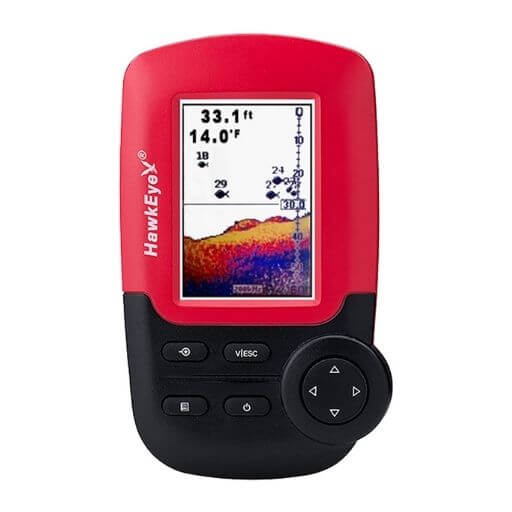 BEST MOBILE FISH FINDER
Specs
Brand: Hawkeye
Weight: 1 pound
Display: 3.5 inches
GPS? No
FEATURED SPECS
This battery-powered fish finder uses FishID technology to offer fish arcs which keep things simple and allow you to create separation between the fish and structure.
EXTRA FEATURES
The intelligent sonar delivers accurate depth readings as deep as 240 feet on the LED HD color display.
BUYING ADVICE
This one is small enough to fit in the palm of your hand and it comes with an easy to use transducer and mounting.
Pros
Affordable
Easy to use
Simplistic for beginners
Cons
Small screen
Lacking advanced features
As I've said, less is more. When a company specializes in doing something simple over and over again, they usually produce the best product. That happens to be the case with this Hawkeye fish finder. It doesn't have a lot of bells and whistles but it simply gets the job done.
The fish finder delivers consistently accurate readings, it's portable, easy to use, and an affordable choice for all anglers.
Humminbird 5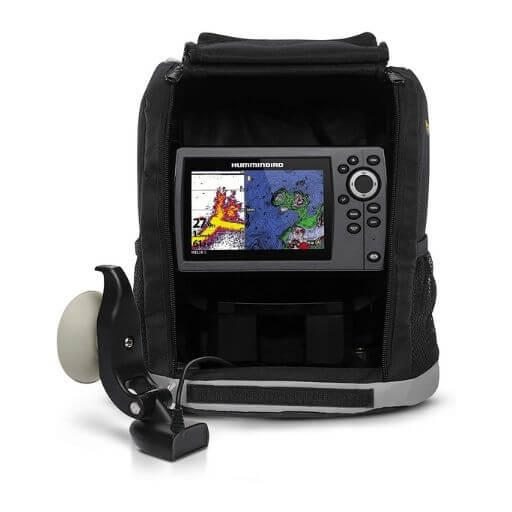 BEST FISH FINDER FOR FLOAT TUBE
Specs
Brand: Humminbird
Weight: 9 pounds
Display: 5 inches
GPS? Yes
FEATURED SPECS
This Humminbird comes with SwitchFire sonar that allows you to display as much or as little as you like. Max Mode will show you structure and vegetation where Clear Mode will focus on the fish.
EXTRA FEATURES
The Dual Frequency Beam and Digital Chirp sonar offers both a wide and narrow beam so you can customize your view and see more fish.
BUYING ADVICE
Since this one comes with a cover and mounting components it makes it easy to mount to float tubes.
Pros
Loaded with every feature you can think of
Dual imaging
Built-in base map
Comes with cover and mounting
Cons
I love the Humminbird Helix 5. I think it's a great fish finder because it comes with every feature you could want. You get dual sonar for image customization, down scanning, side-scanning, mapping and GPS, a cover, and mounting. The price isn't too bad either.
How to Choose the Best Portable Fish Finder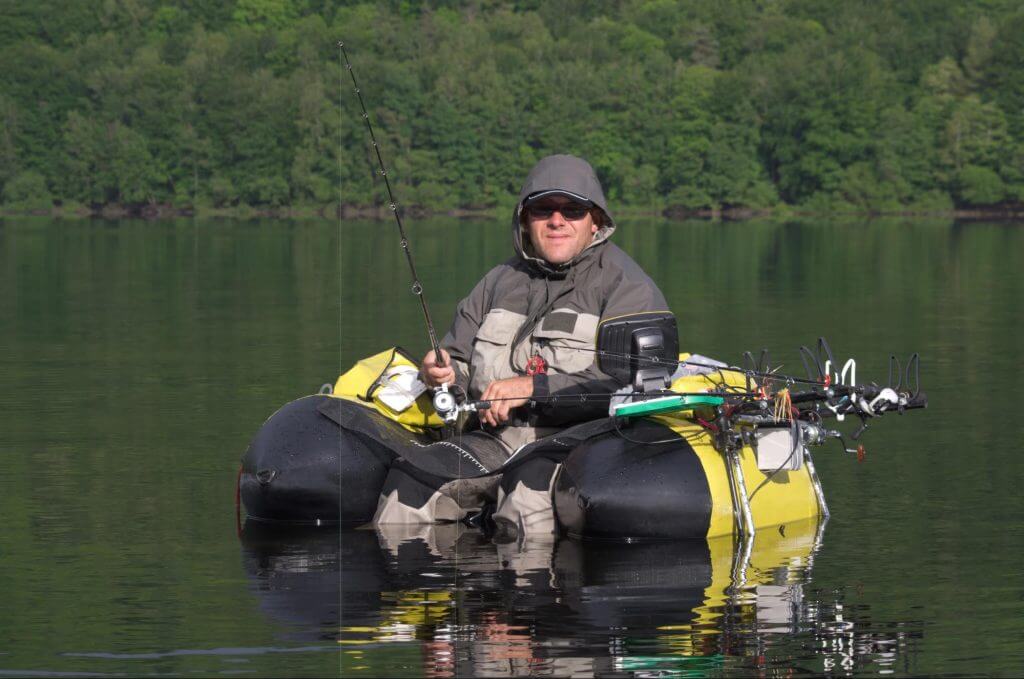 When you're trying to settle on a portable depth finder or fish finder, there are a few factors you're looking for. You obviously want something that isn't too bulky. But, you likely want a fish finder that is easy to mount as well.
Here are some of the factors I considered when choosing my top picks for this list.
Transducer and Mounting
First and foremost, you need to pay attention to the transducer, how you use it, and how well it works. This is the part you're going to either mount on the boat, throw in the water, or float on top. The kind of transducer you choose will determine how easy it is for you to get on the water and actually fish with it.
For example, a lot of premium fish finder GPS combos require you to install the transducer to the transom portion of the boat. This can require tools and hardware which doesn't make the fish finder that "portable."
Most of the devices in this review aren't that complicated to mount. Many of them simply require you to throw the transducer into the water and there isn't any mounting required at all.
If a portable fish finder is what you're looking for, that's likely the type of transducer you'll want. Just keep in mind that those tend to be less accurate and less feature-rich.
Power Source
Many premium fish finders are wired to the boat's electrical system. That's not very portable. The fish finder you want should come with rechargeable batteries so you can take the fish finder anywhere and it doesn't have to stay glued to your boat.
This is important if you're a shore fisherman as well. You might want to use the device from the shore so you can't have it hard-wired to the boat.
Display
Most of these fish finders won't have advanced dual-screen displays with a ton of indicators, some of them are simpler. That said, you can choose what you're willing to sacrifice in exchange for portability.
Some of these devices have nice HD color screens but they're bigger in size, require mounting, and aren't as portable. Simple is sometimes better and I find that some of the best performing and most reliable fish finders are the ones that come without the bells and whistles.
Size/Weight
The overall size and weight of your device should be an important factor. Some fit right in the palm of your hand while others require a special carrying bag. This is something you'll learn with experience and time but if you're going to be pulling the fish finder in and out of the boat all the time, go with something lightweight and portable. You'll thank me later.
How a Portable Fish Finder Works vs. Mountable
The main difference between these two is the fact that a portable fish finder comes with a non-mounted transducer and display. So, most anglers will carry it in their hand or they'll have some type of portable mount that they can remove after each trip.
Mountable fish finders require you to install the transducer to the underside of the boat, wire the power to the motor, and mount the display somewhere in the boat. These are more permanent and are not usually designed to be removed.
So, why would someone choose a portable fish finder?
If you don't have your own boat you'll want one. This way, you can use it to fish from the shore and you can also use it if you rent a boat. You can throw it in a fishing backpack and bring it with you all the time.
I also think fishing from a kayak or canoe is another reason. You can't always mount a fish finder to your kayak so having a portable one is the only way to go. Plus, you might not only use the kayak for fishing so you don't want it on there all the time.
Lastly, I think budget is also a factor for many people. Portable fish finders are budget-friendly because they're not typically loaded with as many features.
That doesn't mean they aren't built for performance though. As I've mentioned, I'm a pretty simple man. I like keeping things simple and focusing on what works.
Most portable devices offer more than enough for you to get on the water and catch some fish. That's all we're trying to do here. Unless you're a professional or trying to clean out the lake, these should all do the trick.
Situations to Use a Portable Fish Finder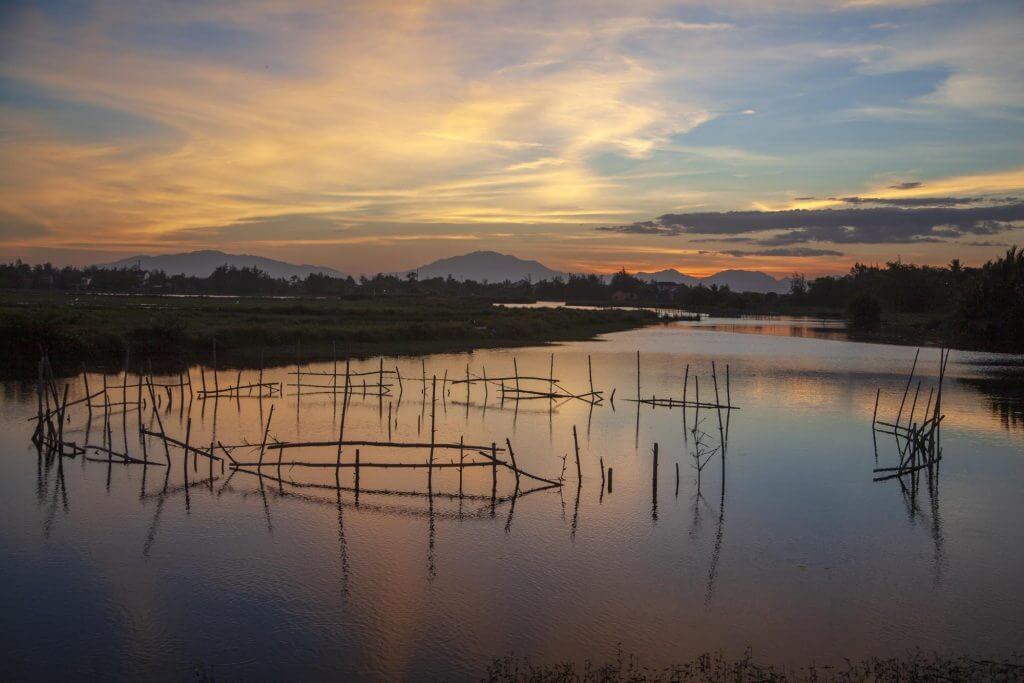 There are a few fishing scenarios where a portable unit will benefit you.
You're fishing from the shore
You don't own a boat
You don't have a good place to store your boat
You fish with a kayak or canoe
If any of these apply, you'll benefit from portable sonar technology. Let's break each of these down into more detail.
Shore Fishing
Clearly, you can't mount a fish finder and power it to anything from the shore. Plus, you may walk a decent distance to get to the spot so you need something lightweight with a portable charger or batteries.
You're Boatless
The same applies here. If your fishing trip consists of renting a boat your fish-finding tool will have to go with you when the fishing experience is over. The good news is, bringing a fish finder with you will help you find more fish and you'll likely enjoy yourself more.
You Can't Store It
If you don't have a decent place to put your boat, you won't want to install a fish finder because you'll have to leave it in the elements or remove it after every trip which isn't logical. Most mounted options come with flashers, backlights, and other components that will easily get damaged outside.
Kayak Fishing
If you're kayak fishing in shallow waters, you need a fish finder that you can bring and take with you when the trip is over. A lot of people don't use their kayaks just for fishing so you wouldn't want to leave it on there all the time. Plus, many kayaks don't provide a way to permanently mount them.
FAQs
Final Thoughts
By this point, you should have a firm understanding of why anglers use portable fish finders and what their intended purpose is. Now don't be one of those people who buys one and doesn't understand that it's not going to pick up weeds at 185 feet!
If you think you're ready to take a dive on a fish finder, this is a great place to start because they're affordable and easy to use. Grab one for yourself and good luck out there!
About Post Author