---
We independently research, test, and recommend the best products; you can learn more about our review process here.
I've been in your shoes multiple times before.
Confused by all the kayak trolling motor options and not knowing which to get.
They all claim to be the best, but which one is best for you?
In this article, I take my years of experience kayak fishing with a trolling motor and honestly review what I believe to be the top 10 best trolling motors for kayaks available on the market today.
If you're in a hurry on your lunch break, then trust me when I say the overall best kayak trolling motor is the Motorguide Xi3. Pick this up and you won't regret it.
If you've got some time, stick around and keep reading to discover who I rated highly and why others barely make the cut!
Top 3 Best Trolling Motors for Kayaks
It doesn't take much to get a kayak to truly fly across the water. Its not like they weigh very much so it doesn't take 120 lbs of thrust to get you where you want to go.
When it comes to kayak trolling motors, the focus is heavier on features like durability, capability, features, and where they mount.
These small, electric engines we've put together will transform your kayak into a motor boat, with fater maneuverability and high-performance in mind.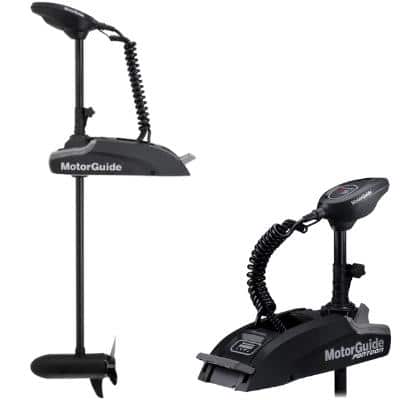 Best Overall Trolling Motor for Kayak
Motorguide Xi3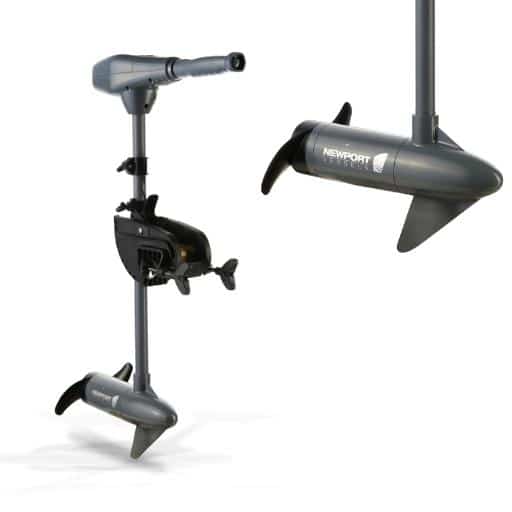 Best Saltwater Trolling Motor for Kayak
Newport Vessels Kayak Series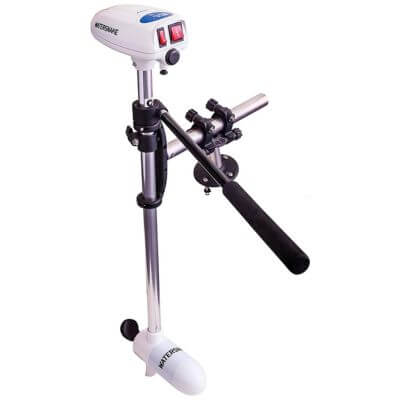 Best Budget Trolling Motor for Kayak
Watersnake T18 ASP
---
How We Selected Our Favorites
I listed my personal criteria for choosing a kayak trolling motor above, but its definitely more specific than that.
We're dealing with kayaks here, so weight is a huge factor. Shaft lengths come into play as well. You would have to jump on a paddleboard to get a shorter distance between your craft and the water.
I have a more in-depth buyer's guide listed below but suffice it to say, you don't need an immense amount of thrust—more thrust equals a bigger battery and, remember, we're dealing with as light a weight as possible.
Power options are limited to 12v and maxed out at 24v, for obvious reasons.
Weight: Every kayak has its own weight limit and none of them are capable of hauling what a bass boat or even a little Jon boat can.

I stuck with lightweight trolling motors because you also need leftover capacity for your fishing gear, battery, and electronic equipment (such as fish finders).
Shaft length: As I mentioned above, shaft length doesn't need to be that long, which helps narrow the focus a lot. There's not much distance to the water when you're in a kayak.
Durability: Kayaks have a large number of variables in their design, including saltwater kayaks and hulls designed for more stringent use, such as whitewater rafting.

Regardless of your kayak's capabilities, your trolling motor choice needs to match those capabilities with design materials that stand up to the elements.
Longevity: This involves a careful understanding of the brand and the materials that went into the craftsmanship.

Trolling motors are expensive and even the lower-tier, basic models are relatively costly. You want something that will last to justify the expense.
Features: I always put features at the bottom because, in my mind, what does it matter if your trolling motor has built-in everything if it doesn't last longer than 6 months?

Once durability is determined, then I dig into GPS, sonar, spot-lock, anchor-lock, and other automated, wireless features.
Thrust: With kayaks, I put this one on the bottom of the list as well, mostly because you don't need a ton of it. Not unless you want to turn your bow to the sky in the middle of a lake.
I think listing the process in that order is a fairly reasonable way of looking at it. That's not to say that the nifty features found in some of the higher end trolling motors and the thrust they offer are not important.
I think they are very important—but dependability and reliability comes first.
BEST OVERALL TROLLING MOTOR FOR KAYAK
Motorguide Xi3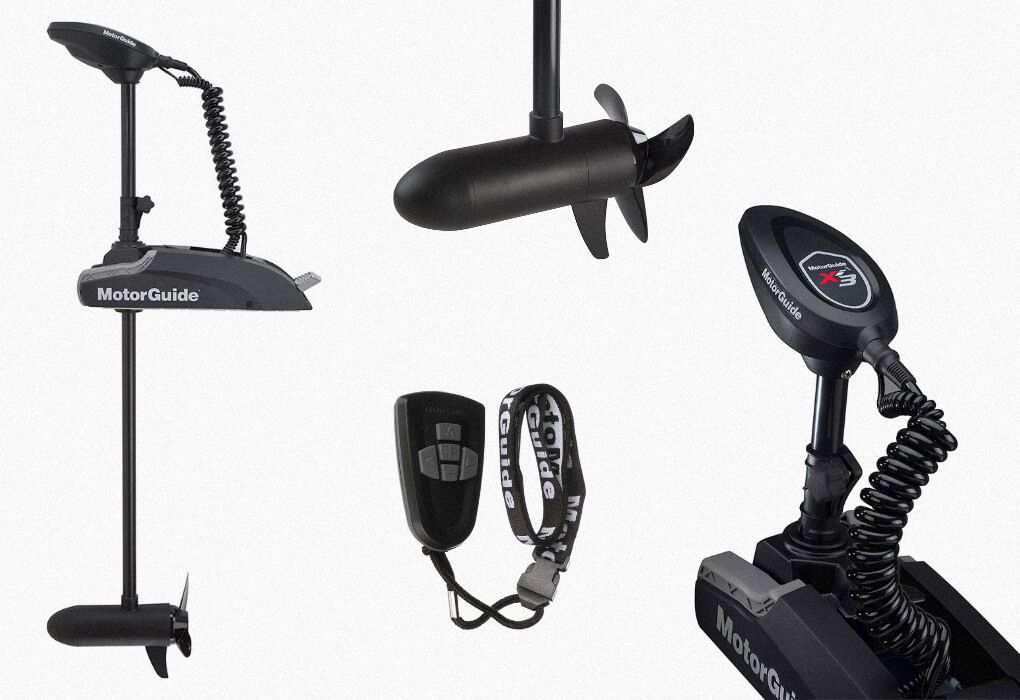 Key Features
55lb thrust
36″ shaft
Bow Mount
12 volt
Why We Chose It
The Motorguide Xi3 is the top-of-the-line standard for bow mount kayak trolling motors. That's why I rated it a 9/10.
The Xi3 is what I want on the front of my fishing kayak because of the anchor mode, short shaft, and wireless remote.
Even though it only runs off of a 12-volt battery, it's still powerful enough to propel a kayak faster than anyone can paddle for an extended time. Yet, it's quiet enough to move and GPS anchor at a spot without spooking fish.
The Xi3 has a saltwater option; however, it does not have the short 36″ shaft designed for kayaks. The shortest shaft available for the Motorguide Xi3 saltwater trolling motor is 48″.
Other than the longer shaft, the saltwater version of the xi3 has all the same features as the freshwater version.
The most significant drawbacks to the Xi3 are the lack of versatility (only a bow mount), and it's not a brushless motor.
The xi3 was introduced well before brushless motors were used for trolling motors, so it's about time for Motorguide to update the Xi3 with a brushless motor for better performance and further reduce the noise.
I recommend the Motorguide Xi3 to any serious kayak angler. It's not the trolling motor I began kayak angling with. However, it's the one I now trust on the front of my fishing kayak.
Upgrade your kayak, navigate effortlessly, and embrace the freedom to explore like never before. Grab a Motorguide Xi3 and elevate your kayak angling experience to an entirely new level.
Read our full review here: Motorguide Trolling Motor review.
BEST SALTWATER TROLLING MOTOR FOR KAYAK
Newport Vessels Kayak Series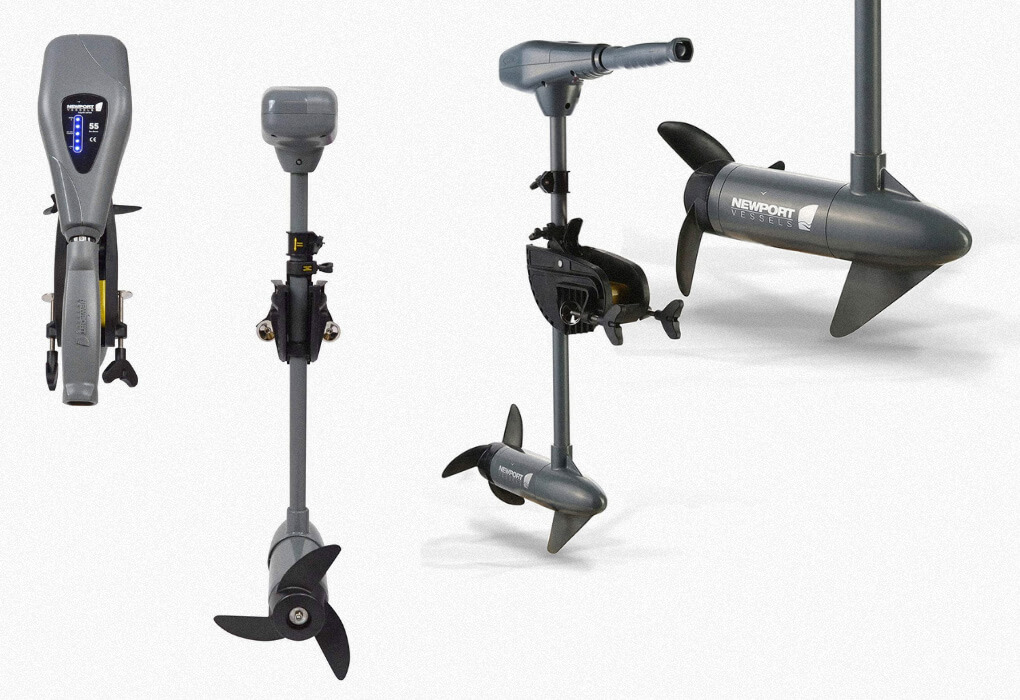 Key Features
Powerful 24″ fiberglass composite shaft
6" telescoping tiller handle for improved maneuverability
36lb or 55lb thrust with 12-volts
Five forward / three reverse speeds
Why We Chose It
Newport Vessels designed the kayak series to have a shorter shaft and be used in saltwater or freshwater.
The MSRP is only $249, and the quality of the Kayak Series is why I rated this trolling motor 8/10. The lack of GPS anchoring is the biggest downside to this trolling motor.
However, I wouldn't hesitate to put this trolling motor on the transom of my kayak if I was looking for a saltwater trolling motor.
The extendable handle and multiple mounting options mean you can find the location of operation that's most comfortable for you.
The wide range of speeds is great because, as anglers, we need to have the speed to get to our spot quickly and then slow down once we arrive.
As I mentioned earlier, the lack of GPS anchoring is the biggest drawback because you will have to constantly adjust the direction and speed of the motor while fighting the wind and current.
The fact that you can use the trolling motor in saltwater or freshwater and mount it in different locations on your kayak means this saltwater trolling motor is exceptionally versatile.
I recommend the Newport Kayak Series trolling motor to anyone looking for an inexpensive saltwater electric trolling motor for their kayak.
Don't miss out on the perfect saltwater electric trolling motor for your kayak! Get the Newport Kayak Series today and experience affordable excellence on the water.
Read our full review here: Newport Vessels Trolling Motor review.
BEST BUDGET TROLLING MOTOR FOR KAYAK
Watersnake T18 ASP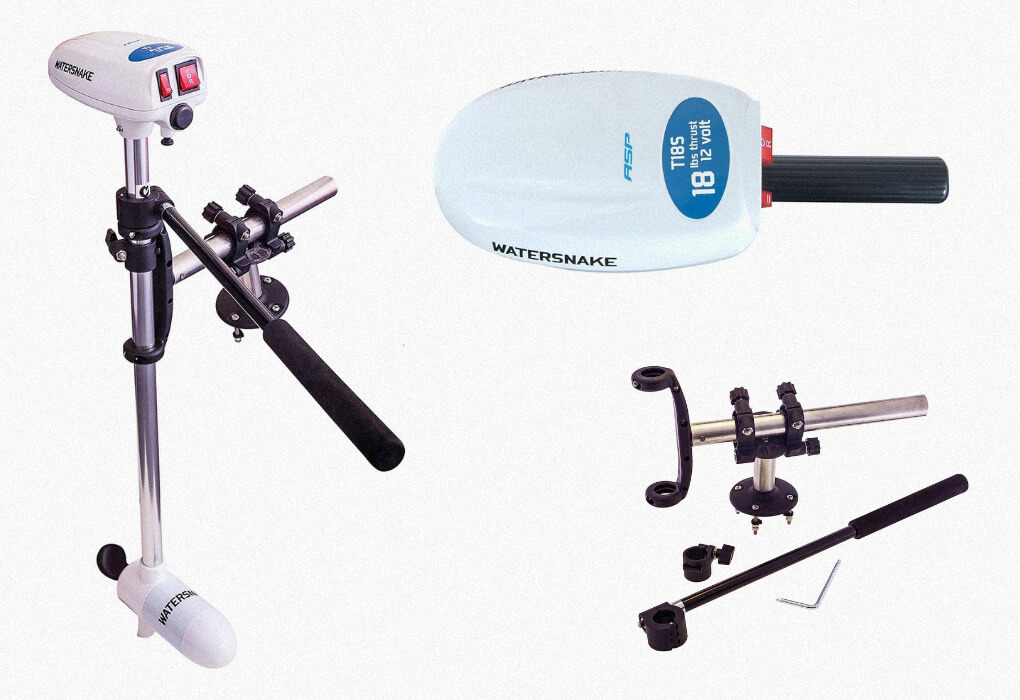 Key Features
12-volt
18lb or 24lb thrust
24″ stainless steel shaft that's corrosion-resistant
Why We Chose It
The Watersnake T18 ASP is a cheap kayak trolling motor, yet it's not low quality. It was designed for kayak anglers looking to keep their setup lightweight and straightforward without breaking the bank.
I rated it a 7/10 because it lacks helpful features, such as the conveniences of remote steering and sonar compatibility offered by the Motorguide Xi3.
The low price means there are not many features of which to speak. There's a switch for forward and reverse and a high and low-speed button.
The handle extends so you can find a comfortable position for operation. However, the bracket the trolling motor mounts to has problems coming loose while on the water, which is highly frustrating.
I recommend the Watersnake T18 ASP to any beginner kayak angler not interested in spending a large sum of money on a small kayak trolling motor.
Don't compromise quality for affordability! Grab the Watersnake T18 ASP today and achieve the perfect balance.
Designed for kayak anglers who crave simplicity and lightweight performance, this budget-friendly trolling motor delivers.
Torqeedo Ultralight 1103 AC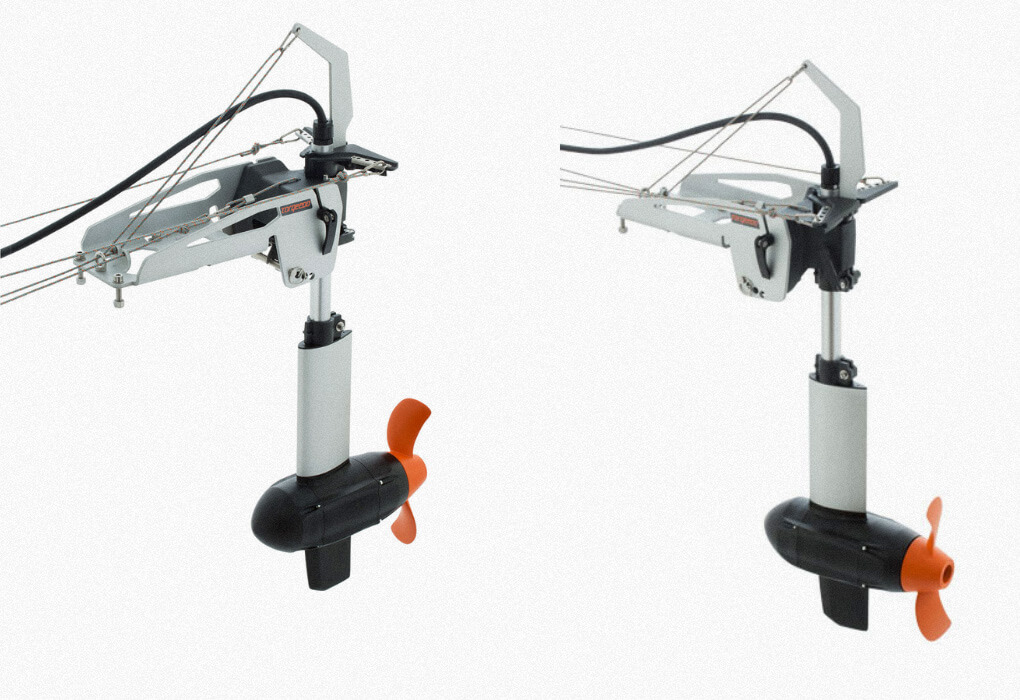 Key Features
20″ shaft length
Integrated kayak steering
Stepless forward and reverse
Why We Chose It
The Torqeedo Ultralight 1103 AC is fast. If you need to be the first kayak angler at your fishing spot, this electric kayak motor is your best option.
However, it is costly (that's why I gave it an 8/10), but the $2,899 MSRP includes a bundle of everything you need to get on the water.
Such as the battery, battery charger, remote throttle, onboard computer, GPS-based range calculation, and emergency magnetic kill switch.
The Ultralight 1103 AC was designed to mount on the transom of most fishing kayaks.
Even though the shaft is short, there's still a chance of running into submerged objects, and that's where the quality of materials and impact protection keeps the angler from destroying the trolling motor at full throttle.
While the 1103 AC has GPS tracking, it does not offer GPS anchoring. Since it has its own battery, you won't have to worry about running your sonar battery down while on the water.
You can also separately purchase a solar panel charger for the 1103 AC.
I recommend the Torqeedo Ultralight 1103 AC for the speed demon kayak anglers. The 1103 AC has a top speed of over 6.5 MPH so that you can beat every other kayak angler to your best spots.
Ready to leave your competition in the wake? Take your kayak angling to the next level with the Torqeedo Ultralight 1103 AC.
With a top speed of over 6.5 MPH, you'll be the fastest angler on the water, securing the best spots before anyone else
Minn Kota Endura C2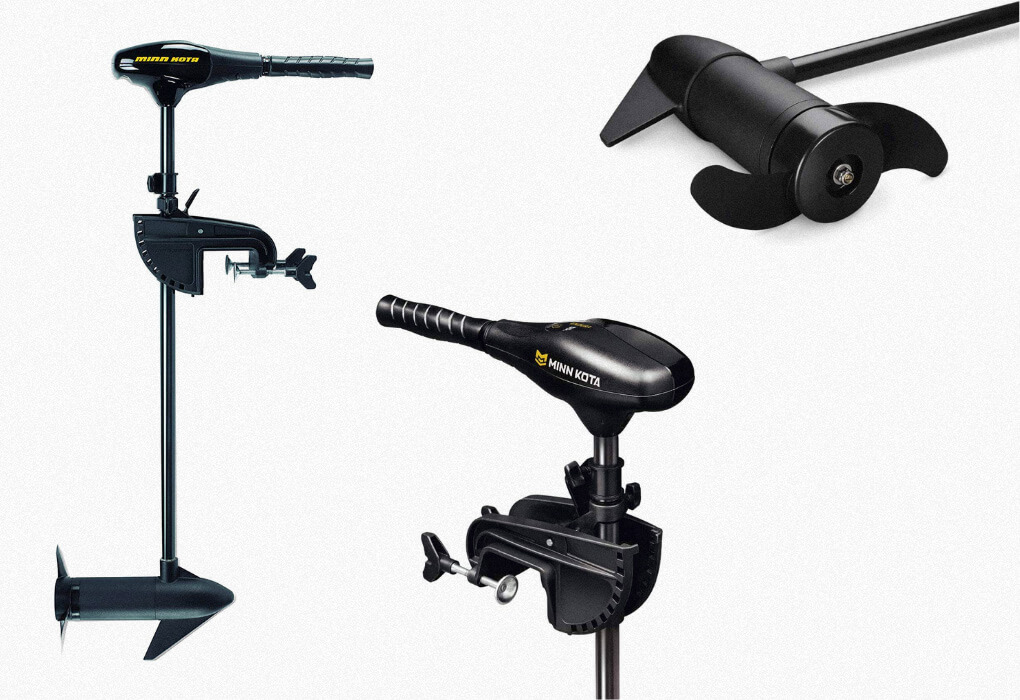 Key Features
12-volts
Transom mount
45, 50, and 55 lb thrust options
36″ and 42″ shaft lengths
Why We Chose It
Minn Kota has been a staple in the trolling motor arena for decades, and the Endura series is partly to thank.
The Endura C2 will mount onto most fishing kayaks via the lever lock bracket. With multiple shaft lengths and thrust options, you are sure to find an excellent match for your kayak.
It does what it promises, but it's a little more expensive than other electric trolling motors on the list, so I rated it a 7/10.
You can adjust the tilt and depth of the trolling motor quickly, so if you run into something or it gets shallow on you, you can soon get back to fishing.
The shorter 36″ shaft is helpful to keep the motor out of the way, and the bracket makes removing the motor quick and easy for transportation.
I recommend the Minn Kota Endura C2 to the dedicated kayak angler looking to upgrade from a Watersnake or Haswing but not quite willing to spend big money on a GPS trolling motor.
Upgrade your kayak angling game without breaking the bank! The Minn Kota Endura C2 is the perfect choice for dedicated anglers seeking an affordable upgrade from Watersnake or Haswing motors.
Newport Vessels Kayak Motor NK180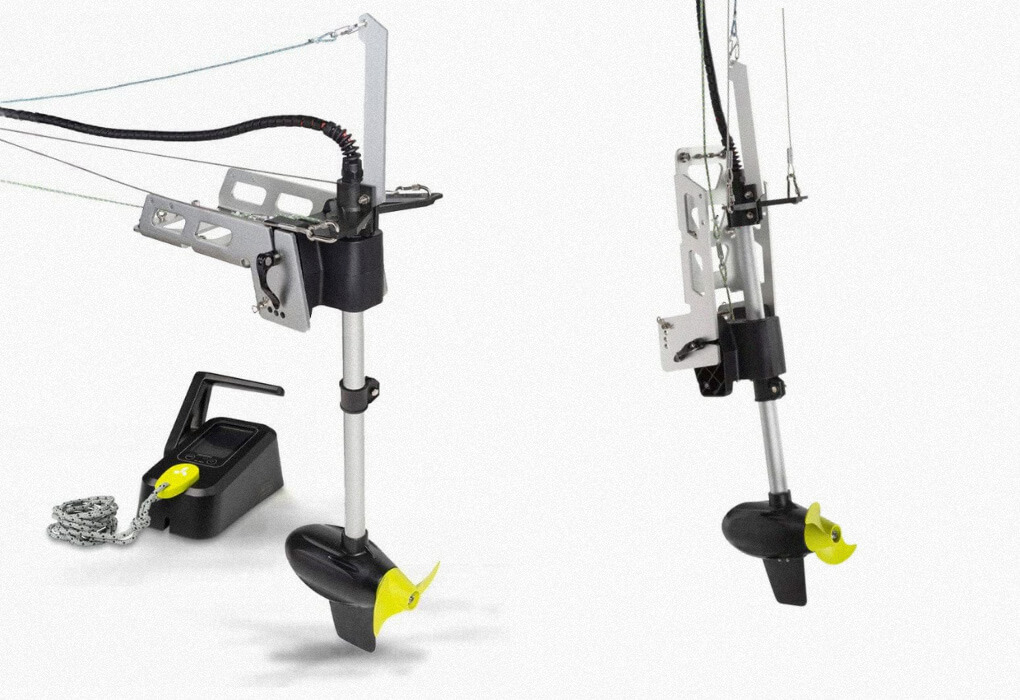 Key Features
24-volts
1.8 HP equivalent of an outboard motor
19.7″ shaft length
Transom mount
Rudder steering
Why We Chose It
Newport Vessels truly delivered a 7/10 with the Kayak Motor NK180! They are competing with the Torqeedo 1103 AC for high-quality kayak electric motors.
While it's not as fast, only a mile an hour slower, it's half the price. However, it doesn't come with a battery or battery charger, but it doesn't need a particular battery to operate correctly.
The larger or extra battery needed for the 24-volts adds a lot of weight to your kayak and takes up more space, which is already limited in a kayak.
The kit comes with everything you need to get moving other than the 24-volt battery.
It has forward and reverse with a step-less speed selector. You can steer it with the rudder or motor to steer using the provided cables.
With multiple steering setup options, you can pick the one that works best for you.
I recommend the NK180 kayak electric trolling motor to anyone considering spending twice as much on a Torqeedo only to get one more mile per hour.
Don't spend more for just one extra mile per hour! Choose the NK180 kayak electric trolling motor and save your hard-earned money. Experience high-performance without breaking the bank.
Read our full review here: Newport Vessels Trolling Motor review.
Watersnake Tracer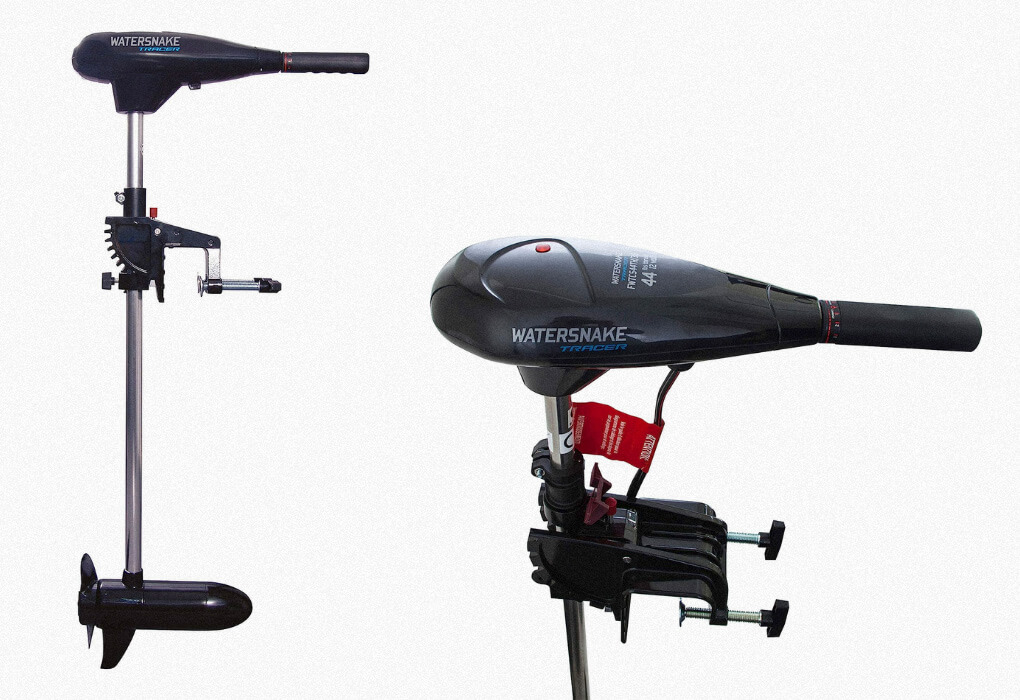 Key Features
30 lb, 44 lb, and 54 lb thrust options
30″, 36″, and 42″ shaft lengths
12-volts
Tiller handle for convenient maneuvering
Its a transom mount trolling motor
Why We Chose It
The Watersnake Tracer is inexpensive and gives kayak anglers a few options for shaft length and the amount of power they want.
While the Tracer has a decent price point, many reviews said they wish they would have gone with a Minn Kota; that's why I rated it a 5/10.
With that said, there were many other reviews happy with their purchase because of the excellent customer service and the fact that the trolling motor performed up to the standards it says it will perform.
I would recommend the Watersnake Tracer to a kayak angler who doesn't get to get on the water as much as they'd like and doesn't want to spend the extra money that a Minn Kota will cost.
Choose the Watersnake Tracer for an affordable and reliable option. Perfect for kayak anglers who crave more time on the water without the hefty price tag of a Minn Kota.
Minn Kota Traxxis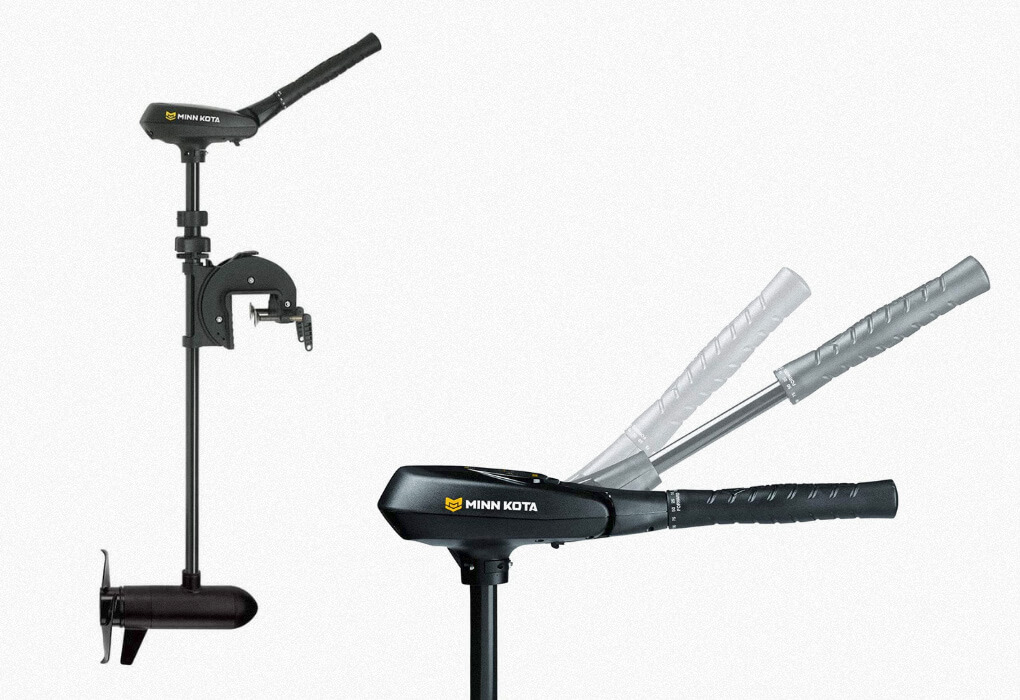 Key Features
12-volts
36″ shaft
55 lbs of thrust
Tiller handle/ transom mount
Why We Chose It
The Minn Kota Traxxis offers kayak anglers the needed versatility to make operating a kayak trolling motor comfortable and efficient with a handle that extends and tilts.
The bracket securely mounts to the transom of most fishing kayaks. Some reviewers complained of poor customer service and receiving a broken product, while others said they loved the Traxxis.
The mixed reviews are why I only rated the Traxxis a 7/10.
It is a little more expensive than some transom mount trolling motors; however, it has a couple of features they do not have, so it's an understandable price increase.
Step up your game with the Minn Kota Traxxis! While it may be slightly pricier than other transom mount trolling motors, its unique features make it worth every penny.
Don't hesitate if you're skeptical of new brands—Minn Kota is a trusted name in the industry.
In the YouTube video above, Anglers.com writer Wesley Littlefield compares his two kayak trolling motors, the Minn Kota Endura and the Motorguide Xi3.
Buying Guide: Factors to Consider Before Purchasing A Kayak Trolling Motor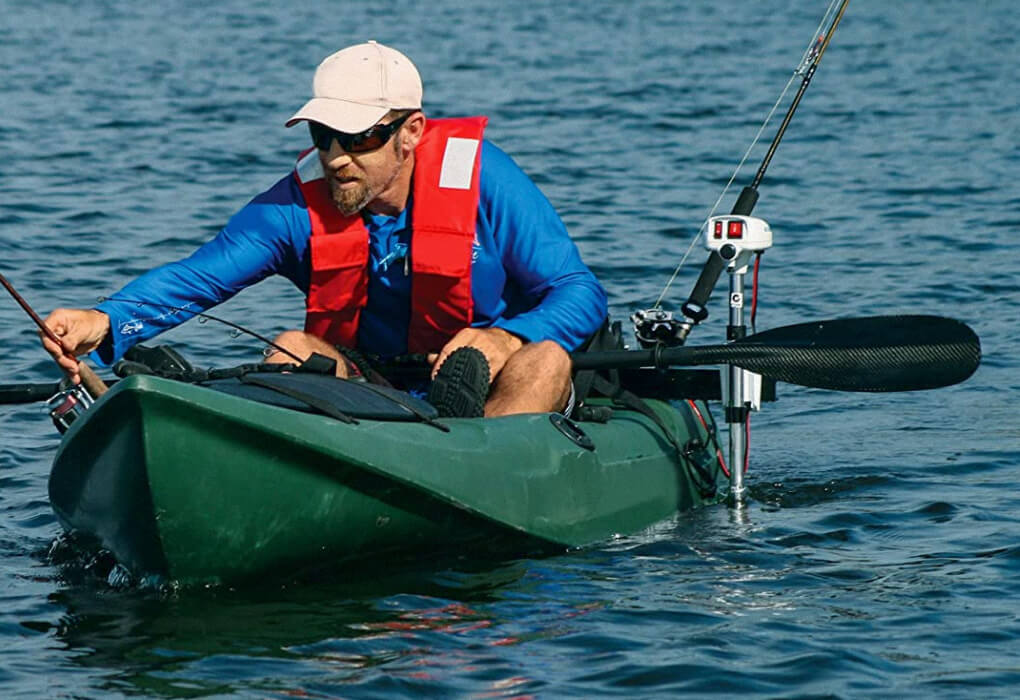 After kayak fishing with a trolling motor for several years, these are the elements that I look for when I go to purchase a new kayak trolling motor:
Weight
Thrust
Length of shaft
Power options
and standard features.
Weight
Watching the weight is extremely important in a kayak since each kayak has a different weight capacity. Most fishing kayaks can handle several hundred pounds of weight.
However, they become less stable as they reach the weight limit.
The more weight you add to the kayak, the harder it is to paddle (yes, you still need to paddle at times), and the harder the trolling motor has to work, which drains your batteries quicker.
Thrust
I always look for the highest thrust I can get using 12-volts, usually around 55lbs. However, there isn't a standard used across the industry to measure thrust, so just know the number on the box is only getting you in the ballpark in prime conditions.
The more thrust you have, the faster the trolling motor will propel your kayak. The downside is it will also drain your battery quicker, so finding a happy medium is a must.
Shaft Length
Kayaks are much closer to the water than bass boats or other fishing boats. Therefore, they don't need trolling motors with long shafts.
A long shaft will only get in the way of your cast, hookset, or retrieve, OR it will be more prone to hit bottom and submerged structures like rocks and stumps.
Stick with short shafts for kayak trolling motors, ideally 24″ – 36″.
Power Options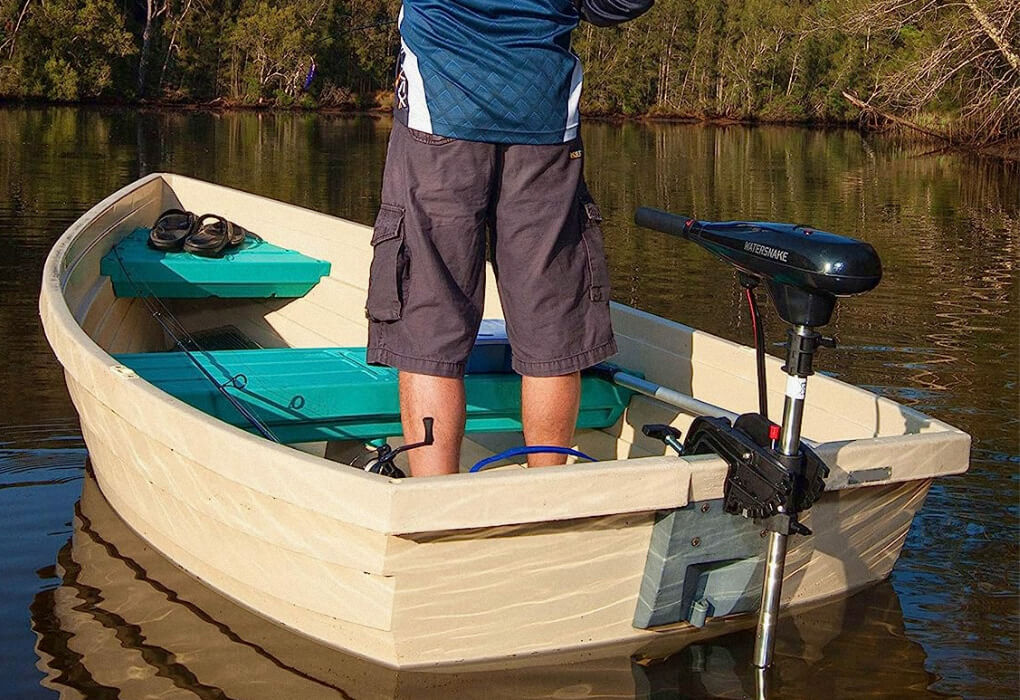 While a trolling motor capable of handling 24-volts will have more thrust, it will also add more weight. That's why I stick with 12-volt trolling motors for my kayak.
Yes, I'm limited to about 55lbs of thrust, but that's plenty to push a large fishing kayak across the lake, even in windy conditions.
If you choose a 24-volt trolling motor, you will need to purchase multiple 12-volt batteries or the larger 24-volt battery, which is heavier and both will take up more of the precious space on your kayak.
Standard Trolling Motor Features
Kayak trolling motors don't have all the bells and whistles that the big boat trolling motors have, but they still offer very beneficial features to anglers.
I've used the most basic trolling motors, and it's made me appreciate fishing with trolling motors that have GPS anchoring, integrated sonar, and remote-control steering.
Don't forget, more features mean a higher price. I hope to see all the features offered by the high-end trolling motors like the Lowrance Ghost or the Garmin Force in a kayak trolling motor soon!
Check out our Lowrance Ghost review to see the incredible features it offers!
For mind-blowing futuristic features, don't miss the Garmin Force review!
What Size Trolling Motor is Best for a Kayak?
The best size trolling motor for a kayak is going to have a 24-36 inch shaft with 55lbs of thrust on a 12v battery. At least that's my personal opinion.
The answer will vary slightly depending on the length, weight, and height of your kayak.
If you own a small 10′ kayak, you can go with less thrust and a shorter shaft than someone who owns a larger 12′ fishing kayak.
You'll Also Need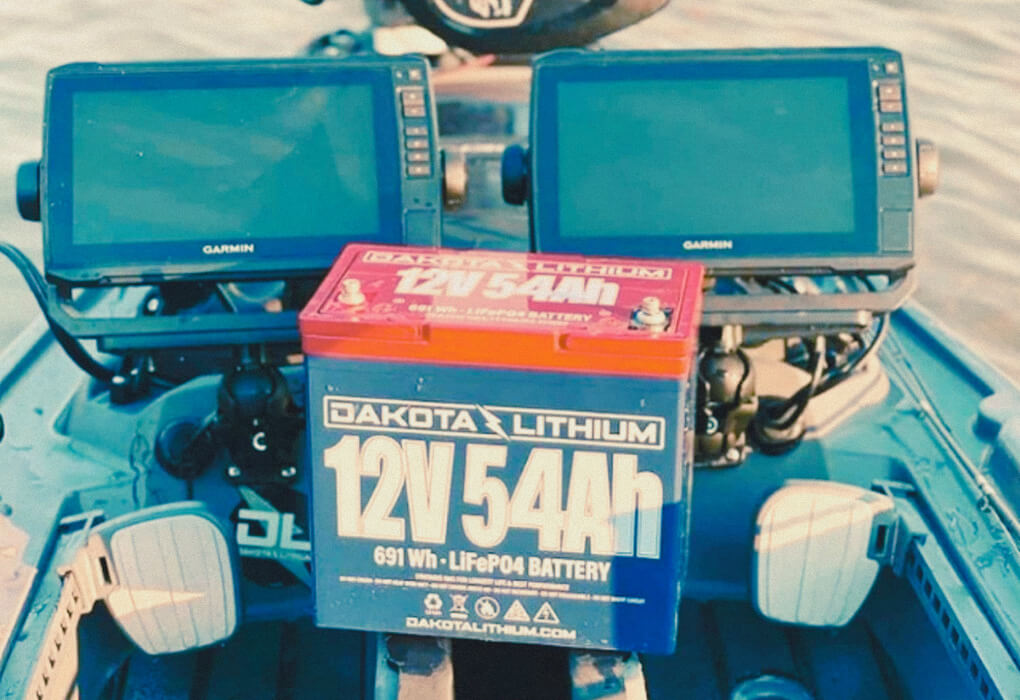 Not only do you need to buy a trolling motor, but some accessories are necessary or significantly increase your comfort level. The following list is several items I use with my kayak trolling motor.
Deep cycle trolling Motor Battery
Tiller Handle extension
GPS compatible sonar (if the trolling motor is GPS compatible)
Heavy-duty wires (Depending on where you place your battery, you might need to extend the cables)
You can find a list of kayak fishing essentials in our Kayak Fishing Tips and Tricks article!
Final Thoughts
Adding a trolling motor to your kayak will make your kayak fishing experience more enjoyable.
From the precision of the MotorGuide Xi3 to the reliability of the Newport Vessels Kayak Series, these are the perfect options for every angler.
Looking for affordability? Don't miss the Watersnake T18 ASP and Newport Vessels Kayak Motor NK180.
Need unparalleled speed? The Torqeedo Ultralight 1103 AC has you covered. Upgrade your setup with the Minn Kota Endura C2 and Minn Kota Traxxis for enhanced performance.
Ready to explore new horizons? Try the Watersnake Tracer.
The choice is yours. Take action now and experience the difference these top-notch trolling motors can make in your kayak adventures!
If I missed your favorite motor, let me know your top 10 best trolling motors for kayaks in the comment below!