Last Updated on August 5, 2022
We independently research, test, and recommend the best products; you can learn more about our review process here.
Whether fishing is a weekend hobby or serious business, the best fish finder GPS combo will ensure that you not only find more fish but catch more as well.
Best of all, the GPS capabilities allow you to track your location, chart waypoints, and create maps of all the lakes you frequent. It's like showing up to the water with a treasure map.
So, start your trolling motor, set her nice and low, and get ready to see some of the most impressive GPS fish finders on the market.
Comparison Table – The Best Fish Finder GPS Combos
Image
Product
Rating
Price

Best Overall

Brand: Humminbird
Type: Wide Dual Beam Sonar
Screen Size: 5-inch display

Bass ProCabela's

Best Mapping Technology

Brand: Lowrance
Type: Tripleshot with FishReveal
Screen Size: 5-9-inches

Bass ProCabela's

Best Live Imaging

Brand: Lowrance
Type: Active Imaging 3-in-1 transducer
Screen Size: 7-16-inches

Bass ProCabela's

Best GPS Combo Under $500

Brand: Garmin
Type: ClearVu, SideVu, Chirp
Screen Size: 4-9-inches

Bass ProCabela's

Best Chartplotting And Mapping

Brand: Humminbird
Type: Mega+ Down, Side Imaging, and Active 360
Screen Size: 10-inches

Bass ProCabela's

Best For Offshore Fishing

Brand: Garmin
Type: ClearVu and SideVu
Screen Size: 4.3-9-inches

Bass ProCabela's

Best Portable Fish Finder GPS Combo

Brand: Garmin
Type: CHIRP and Scanning Sonar
Screen Size: 3.5-inch display

Bass ProCabela's
---
Our Reviews of the Fish Finders with GPS
Humminbird Helix 5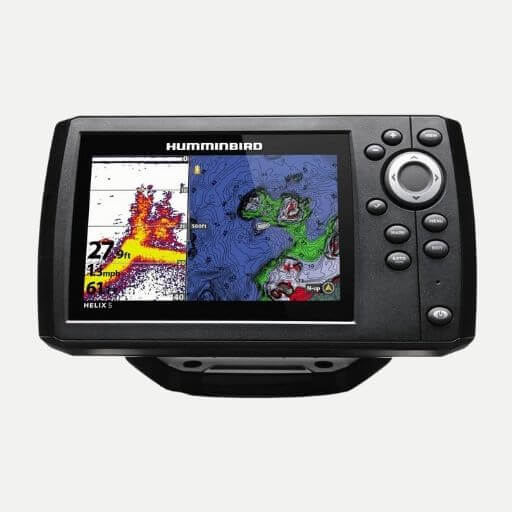 BEST OVERALL
Specs
Brand: Humminbird
Type: Wide Dual Beam Sonar
Screen Size: 5-inch display
Pros
DualBeam PLUS sonar
Built-in GPS and navigation
Large number of optional upgrades
Cons
You might grow out of a 5-inch screen
Why We Chose It
Screen size doesn't always have to be a determining factor when choosing a fish finder. Personally, I believe that the smaller screen is a bonus for those who are fishing on smaller boats and kayaks. It's easier to mount, simpler to operate, and less fragile than some of these giant pieces of equipment with 12-inch screens.
You can choose between a wide variety of options in terms of sonar, GPS, and navigation which is part of the reason why I think it's the best option. The DualBeam sonar is a great feature for those looking for down and side imaging. This will offer you the most amount of versatility on the water.
As for the GPS feature itself, it offers 2,500 waypoints and 45 routes with capabilities to integrate with AutoChart and Live Navionics. Keep in mind that these are almost always premium upgrades that will cost you more.
I personally love the Lakemaster feature which is similar to the structure scan which you find in a lot of Lowrance fish finders. This helps you identify pockets of vegetation where fish might be hanging out.
Overall, for the price and brand, you get a lot for your money with the Humminbird Helix 5. You don't have to go out and spend $1,000 to get a great GPS fish finder.
Lowrance Hook Reveal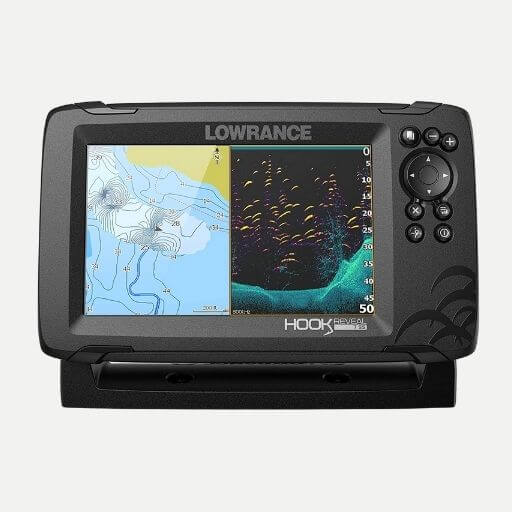 BEST MAPPING TECHNOLOGY
Specs
Brand: Lowrance
Type: Tripleshot with FishReveal
Screen Size: 5-9-inches
Pros
Top of the line FishReveal technology
Max depth of 1,000 feet
Charting with C-Map and Genesis Live
Cons
Lowrance has poor tech support
Why We Chose It
The Lowrance Hook Reveal offers three models being the Reveal 5, Reveal 7, and Reveal 9. Like most fish finders, the only difference between the models is the screen size. It does bring some amazing features to the table though. First, starting with the GPS tech.
Genesis Live mapping is some of the best in the business. It offers C-Map contours with high-resolution detail and one-foot contours of more than 5,000 lakes across the country. If you're fishing up North, it also has 9,400 Canadian lakes as well. However, you'll have to purchase the optional SD card to access that information.
You can create your own maps and contours as well. As you create travel paths you'll essentially be able to develop a plan each time you trek out to fish a specific lake. You'll have data about your previous visit so you can plan around that.
One of the best features of the Hook Reveal is the FishReveal technology. Now you can see both fish arches and structures at the same time. This is becoming more of a standard feature in many fish finders but it still impresses me.
With the array of sonar options, top-notch mapping, and charting, and high-quality GPS technology, you're getting a great fish finder at an affordable price.
Lowrance HDS Live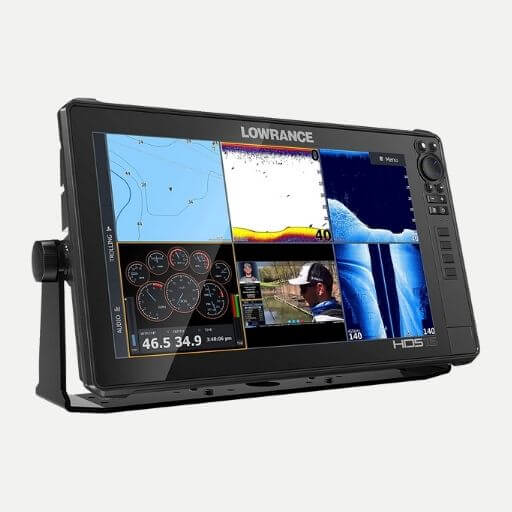 BEST LIVE IMAGING
Specs
Brand: Lowrance
Type: Active Imaging 3-in-1 transducer
Screen Size: 7-16-inches
Pros
SolarMAX HD
Bluetooth compatibility
LiveSight real-time sonar
C-Map with Navionics
Cons
Why We Chose It
If you're looking for the fish finder that really has it all, the Lowrance HDS Live is it. This piece of equipment is fully-loaded with every feature you could ever think of. Let's start from the top.
The SolarMAX HD touchscreen offers six different panels in some of the larger-sized screen models. It's the most impressive screen on the market right now and it adjusts based on the outside conditions.
It comes with Active Imaging and a 3-in-1 transducer which means you get higher quality images at deeper depths plus all the sonar you can think of. Side imaging, down imaging, structurescan, and best of all – you can see it all at one time because of the 6-fold splitscreen.
But, this is a review about GPS so let's talk about it. It comes with network compatibility which means you get live radar, camera features, Bluetooth, smartphone connectivity, chartplotting, live maps, and more. You can do all of this from the fish finder.
The HDS also features C-Map Genesis Live which allows you to download exclusive maps that aren't even available on the Navionics app.
Folks, this is the kind of fish finder you get when you're really looking to make a statement. You'll have a hard time finding a better one.
Garmin Striker Vivid 5CV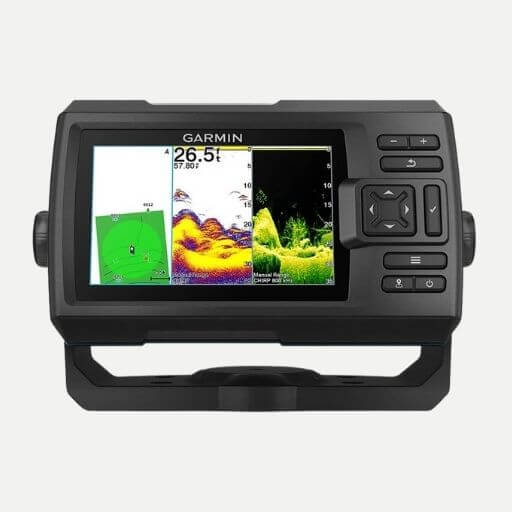 BEST GPS COMBO UNDER $500
Specs
Brand: Garmin
Type: ClearVu, SideVu, Chirp
Screen Size: 4-9-inches
Pros
Quickdraw contouring
Vivid color for enhanced visuals
Built-in ClearVU sonar
Cons
No MicroSD which means no map load outs
Why We Chose It
Let me start by addressing the elephant in the room. So, this fish finder does have GPS and it does have mapping but it doesn't have a MicroSD slot. This means that you're left with whatever comes with the fish finder unit and you can't download or purchase any additional mapping from Garmin.
It's not the end of the world for most recreational anglers but if you're the kind of person who travels to fish a lot, you might not be happy.
Now for the good news. It comes with SideVu and ClearVu which offers versatility in terms of the types of views you can get of everything going on under the surface. These views are Garmin's side and down imaging, that's just what they call it.
All in all, it's a budget model. It's essentially a stripped-down option of the more premium Garmin fish finders for those on a budget. Overall, still a great choice for the weekend warrior looking to get into fish tech.
Humminbird Helix 10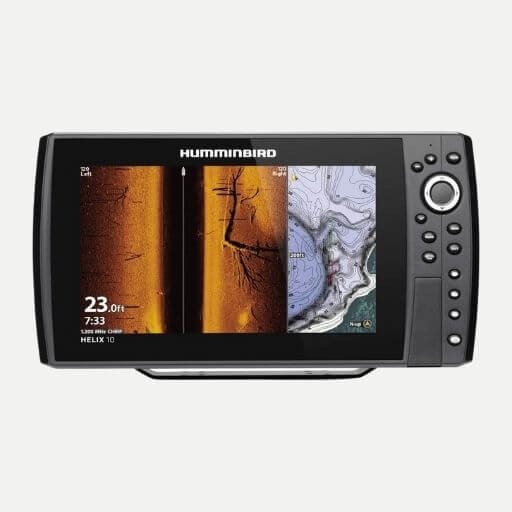 BEST CHARTPLOTTING AND MAPPING
Specs
Brand: Humminbird
Type: Mega+ Down, Side Imaging, and Active 360
Screen Size: 10-inches
Pros
The epitome of imaging versatility
High-resolution 10-inch screen
GPS, chartplotting, and contour mapping
Cons
Many of the features are premium upgrades
Why We Chose It
Before I even get started I must say, so many of the features of this fish finder are premium upgrades that you might as well pull out your calculator and keep it ready. The bare-bones models contain nothing more than a run-of-the-mill fish finder and you'd better off with a cheaper model if you're not going to upgrade to premium features.
With that out of the way, let's talk about it. You name it, you can get it. The Helix 10 offers GPS, Autochart, Chartplotting, and contour mapping. It even offers one feature you may not have heard of. It's called SmartStrike and it's one of the coolest features on the market.
This feature allows you to input variables about the species you're targeting, what time of year it is, what the weather is like, and if it's windy or not. The fish finder will then use algorithms based on its own memory of the specific lake you're fishing and it will present a map to you of where it thinks you should fish and what spots you should check out. Pretty cool right?
You also get access to Mega+ down and side imaging. This is a fancy way of saying you get more depth than most other fish finders. The sonar feature that really impresses me is the 360-degree imaging. The unit provides you with not just a down or side view, but a 360-degree view as far as 125 feet away from the boat.
You'll see everything happening around you and be able to decide where to cast based on that.
All of this is a bit overwhelming but the good news is, you can pick and choose which features you want because they all have a dollar sign attached to them. I should open a store called "Build a Fish Finder."
Garmin Echomap UHD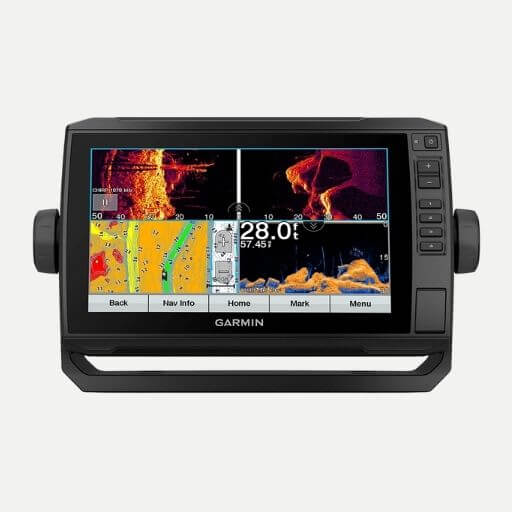 BEST FOR OFFSHORE FISHING
Specs
Brand: Garmin
Type: ClearVu and SideVu
Screen Size: 4.3-9-inches
Pros
Impressive array of mapping technology
Bluechart offshore mapping
Great choice for charters
Cons
Tough to say… It's pricey but it's worth it
Why We Chose It
It's not often that I can't up with anything negative to say about a fish finder but if you're really looking for the best mapping and GPS in a fish finder, this is the one. A lot of fish finders do many things great such as offer top-notch sonar or an incredible screen. The Garmin Echomap UHD is a mapping fish finder, plain and simple.
To start, you get Worldwide Basemap which is Garmin's standard offering. It uses the same technology as their land GPS. You'll have access to ocean maps, river maps, and even streams as small as 100 feet in length. You even get access to land data like airports, urban areas, and territorial boundaries.
Taking it up a notch you can look at the Lakevu G3 feature. This boasts 18,000 lakes with one-foot contours. It comes with Navionics and Panoptix data. The fish finder will tell you the max depth clearance in high-resolution color palettes.
Bluechart G3 is the reason we're here though. If you fish saltwater you'll want this fish finder. It features preloaded charts of all coastal waters on the east and west coast, the Gulf of Mexico, and the Great Lakes. It boasts one-foot contours, high-res relief shading, depth ranges, and shallow water shading.
You even get access to various canal information throughout states like Florida.
I could go on for days about the Garmin Echomap UHD. This is a top-of-the-line mapping fish finder for people who need expert-level navigation.
Garmin Striker 4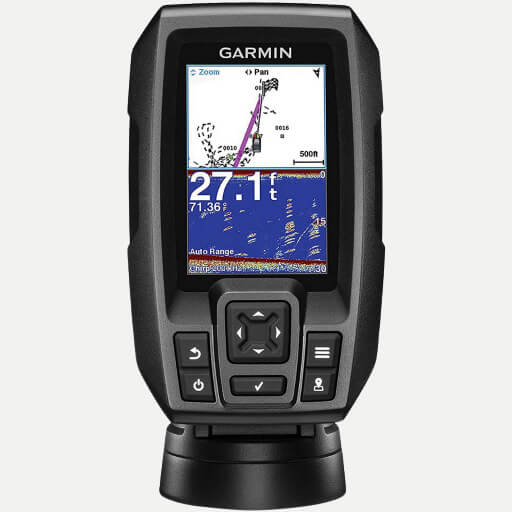 BEST PORTABLE FISH FINDER GPS COMBO
Specs
Brand: Garmin
Type: CHIRP and Scanning Sonar
Screen Size: 3.5-inch display
FEATURED SPECS
Comes with ClearVü scanning sonar which is Garmin's proprietary technology. It's accurate and provides quality images of fish and structure.
EXTRA FEATURES
It also features a high-sensitivity GPS waypoint map that allows you to check your speed, create waypoints, and track everything along the way.
BUYING ADVICE
This one is a bit smaller than some of the other options so I would suggest this fish finder for kayaks or close quarters.
Pros
High-performance sonar with 200 khz
Mapping and waypoint marking
Water-resistant
Portable
Cons
Requires you to buy mounting brackets separately
Why We Chose It
This is a great fish finder that provides you with high-frequency sonar so you get a great representation of what's going on beneath the surface.
It also uses an easy-to-operate touchpad which is easier than some of the touchscreen models. The waypoint and GPS mapping is also a nice added feature when this is already at an affordable price range.
If you'd like to learn more about it, give my complete Garmin Striker 4 review a read.
If YouTube videos are more your speed, Yourbassguy.com content creator Wesley Littlefield breaks down four of the GPS fish finders on this list!
How to Choose the Best Fish Finder GPS Combo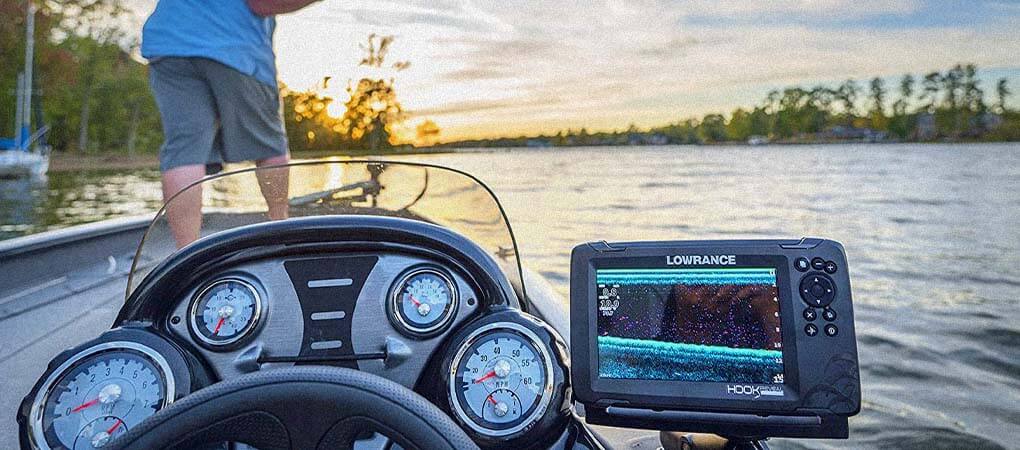 You've seen the top options available for purchase on Amazon, now it's time to determine how we'll pick one. There are a few different factors and any of these fish finders recommended in this article have advanced technology that you won't find in some other models. Jump aboard as we dive into each of these buying factors.
Type of Sonar
The first and most important thing you should understand is the different types of sonar. Having a high-quality fish finder has nothing to do with what brand it is, what size screen you have, where you mount it, or what color it is.
It has everything to do with the sonar.
There are four primary types of sonar. Some fish finders only have one of them while others have all four.
Standard Sonar
The traditional types of fish finders are called conventional sonar. This means that the sonar waves run down into the water until they bounce off something. When they bounce, you know you've found something.
The problem with this type of sonar is at one time, they couldn't tell you what they were bouncing off. So, you could have the catch of a lifetime or a patch of weeds in the water. You didn't know the difference.
Chirp Sonar
Chirp sonar functions a lot like standard sonar but in quick bursts instead. So, as opposed to sending a constant flow of sonar it'll send out frequent chirps that will help reset and pick up new movement as you're moving along. This isn't necessarily more accurate but it provides a clearer picture so it's easier for the angler to understand.
The reason is, if you notice that a certain object on the screen moves and another doesn't even time the screen resets, you'll know that the moving thing is a fish and the other arch isn't.
Down Imaging
Down image fish finders are the most common and instead of sending sonar down into the water to bounce, they use a cone that covers a certain amount of space beneath the water.
For example, if you're trying to figure out an area to toss a jig, you might want to know how deep the fish are under the boat. A down imaging fish finder would be ideal here. These are also the ideal choice for ice fishing.
Side Imaging
Side imaging or sidevü fish finders are the best of the best and they usually come at a price tag to reflect that. If you want to see what's going on all around the boat rather than just beneath it, this is the way to go.
For example, if there's a column of weeds but you want to know if there are any fish on the other side to toss a topwater frog, the side imaging fish finder will send sonar horizontally towards that direction.
In some cases, you'll hear words like TripleShot, Dual Beam, and others. These refer to combinations of imaging. TripleShot fish finders are the top choice because they offer Chirp, down imaging, and side imaging all in one.
Cone Angle
The angle of your cone is another important factor. The wider the cone the more area you can cover beneath the boat. But, keep in mind that larger isn't always better. If you have a wider cone radius, it also means you have a less accurate signal.
What you want to pay attention to is the depth of your cone. Some fish finders have cone depths between 75-150 feet. That means that you'll start to lose accuracy as you get close to those depths.
The deeper the cone will reach, the better you'll perform in deep water. But, it will also increase your cost. Dual-beam signals cover more area and many fish finders will allow you to control the width of your cone so you can zero in on fish or widen it out if you're not seeing anything.
GPS Capabilities
The whole article is about depth finder GPS combos so GPS capabilities are obviously important. What you're looking for are simplicity and accuracy. You don't need anything too fancy because it'll end up being a useful feature that you'll never touch.
As long as the GPS can accurately depict your location, you're good to go. It's also nice to have one that has Bluetooth connectivity so you can sync it with your phone. That's a nice added feature.
Mapping and Plotting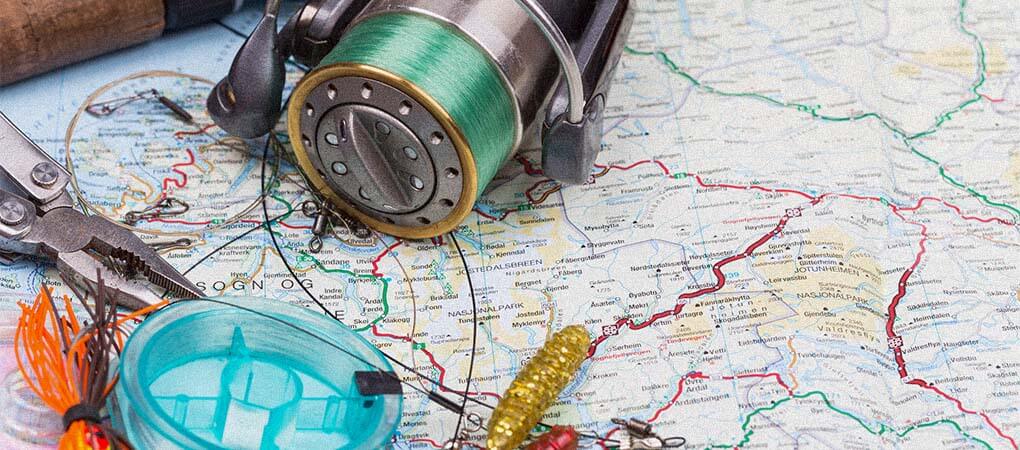 Plotting waypoints is great because you can mark down locations you caught something or areas that you want to revisit for whatever reason. Most fish finders with internal GPS come with this feature as well and all of the options available here do.
Many of these fish finders also come with preloaded maps with lakes from all over the country already mapped for you. This is a great feature for fishing spots you've never been to before and tracking hot spots around the water.
Display Quality
The display is important because you're paying a lot of money for something and you want to make sure you can see and read it. Make sure that the device you choose is easy to navigate, accurate, and simple to set up.
If you're not tech-savvy, this will be even more important because some of these devices can get complicated.
Consider the type of screen you want as well. Most fish finders offer a color display because it's easier to see contours that way. If they have a backlight or glare adjustment, that's an added bonus too. Look for an LCD split-screen display with a high pixel whenever possible.
Mounting
If you're shopping around for a kayak fish finder, mounting will be an important factor. Make sure that when you shop, you get all the components you need to mount the device before you wake up to go fishing. The worst thing is waking up and realizing that you're missing something.
Many fish finders will require you to purchase additional parts and it can seem misleading based on the advertising. When you receive the device, check the parts and mount it as soon as possible.
Also, factor in the location of the transducer. Most of them are transom mount transducers which means they mount to the back of the boat to limit the amount of water they take.
In-hull mounted fish finders are the easiest and safest because you don't need to put them outside the boat but many people think they're not as accurate. Keep in mind how saltwater may corrode the unit faster than freshwater as well.
Durability
Durability is always a factor you should think about because some fish finders are more waterproof than others. Make sure you understand that water-resistant doesn't mean waterproof and most fish finders can't get wet so you'll want to mount them properly.
Some are also more portable than others. Some can get removed and stored in a fishing backpack or even a tackle box.
Power
Transducer power is calculated in RMS which is "root mean squared." Most fish finders are around 500 RMS and that's generally where you want to be. Anything less than that won't provide a clear image. The more power they have, the better they'll work in deeper water as well.
Your frequency is an important factor that goes along with power. The higher the frequency, the less depth, and power you have. The lower the frequency, the more power, and depth. Keep these in mind as you choose.
When shopping based on durability, it helps to go with recommended brands. Garmin, Humminbird, Raymarine, Dragonfly, EchoMap, these are all popular brand names.
Final Thoughts
The best fish finder GPS combo should consist of a high-quality transducer with a wide-angle cone that provides clear and concise images.
It should also offer a substantial GPS system with mapping capabilities so you can navigate the water and create waypoints.
It's a tall order but all the fish finders in this review will do just that, and quite well I might add. If you've decided that you're ready to work smarter and not harder, these devices will help you do just that.
About Post Author