---
We independently research, test, and recommend the best products; you can learn more about our review process here.
I've certainly missed my fair share of fishing opportunities in my life because I didn't have a fishing pole.
Whether it was because I was traveling in a compact car or flying, taking a full-sized rod along was out of the question.
I soon learned that there are tons of fishing rods that are catered to folks who travel a lot and believe me, I've experienced them all.
Beach vacations, East Coast, West Coast, mountain trips; they all presented me with fantastic opportunities to fish and I am glad that I was able to bring along the best travel fishing rod for each situation!
I've taken that experience, combined with my years of knowledge dealing as an industry insider, to come up with what are the best travel rods on the market today!
Top 3 Travel Rods on the Market
If you're in a hurry you can take a look at my top three choices for the best trout rods.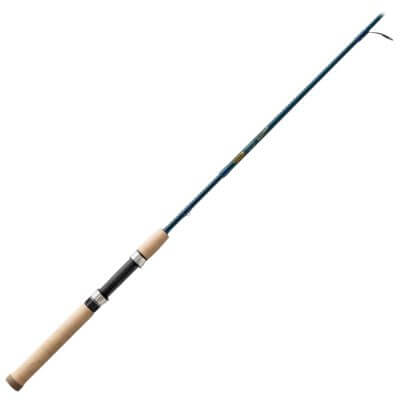 St. Croix Triumph Travel Spinning Rod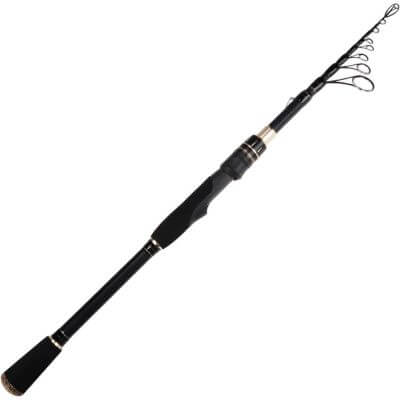 KastKing Blackhawk ll Telescopic Rod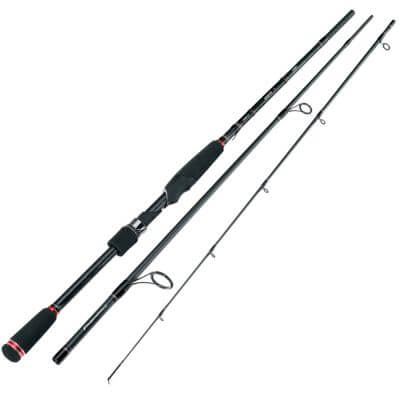 Daiwa Ardito Travel Rod
---
Methodology
It's taken much trial and error over my fishing career to be able to know what to look for in a solid travel rod.
I'll take you on a walk through the years of my experiences and also conduct a hands-on test of all the best travel rods on the market today.
Here are some parameters that we used to come up with our guide to choosing the best travel rod:
Packability: How well a rod "folds down" is probably the most important feature to look at. A well collapsed rod with a perfectly matched case is priceless when it comes to selecting a travel fishing rod.
Overall Performance: There are a lot of travel rods on the market that focus on designing a rod that travels well. But they forget that the rod needs to perform well too!

Rod material, sensitivity, and strength are all important factors after the trip is over and it's time to catch fish! 
Durability: Let's face it, travel rods need to be tough. They come in contact with a variety of different things while being transported so it's important that the rods can stand up to contact with other hard surfaces.
Best Overall Travel Rod
St. Croix Triumph Travel Spinning Rod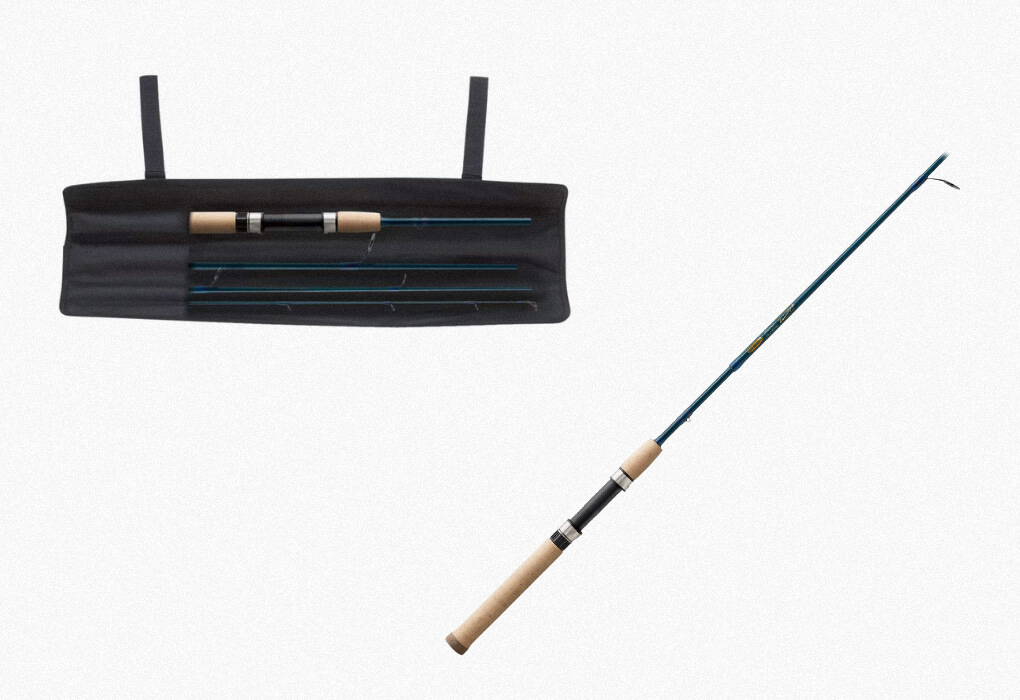 Specs
Packability: Length – 2'
Length: 5.6, 6, 6.6
Rod Material: Carbon Fiber
Type: Spinning
Power/Action: Medium/Fast
Pieces: 4
Why We Chose It
The St. Croix Triumph Travel Spinning Rod is a 4-piece rod that measures 7 feet long.
It comes with a padded nylon carrying case which is 2 feet long so it packs away easily and can fit into compact places including under the seat in a car.
This is by far my favorite rod to travel with because of its packability and how easy it is put together.
The blank is made of SCII Mid-modulus graphite which is a higher quality strand of graphite.
Rods that can bend a mile have always been a staple of St. Croix and it's great to see that they haven't skimped on this rod just because it's a travel class.
I found this travel rod comparable with the Fenwick HMG Travel Rod however the Triumph is made of a higher quality graphite
Even though this rod has great backbone, the tip is soft enough to finesse fish it. The tip of the rod (the top 12") is very flexible and then the backbone kicks in!
The handle is made of high quality cork which is soft, but firm. I can use this rod all day without my hand aching (which seems to be more of a concern the older I get).
The guides are Sea Guide Atlas Performance SS304 stainless steel guides which are ultra smooth and high quality guides which leads to smoother casts and less line-whip.
I could really tell on this rod that there was a big difference in the Sea Guides when compared to the ones made of cheaper material.
St. Croix even puts their money where their mouth is with a 5-year warranty!
The St. Croix Triumph Travel Spinning Rod is my go-to rod when traveling. It's compact, strong, and very versatile.
I highly recommend getting this rod if you're in need of a travel rod that covers all the bases. Get this rod and don't look back!
Best Budget Travel Rod
Daiwa Ardito Travel Rod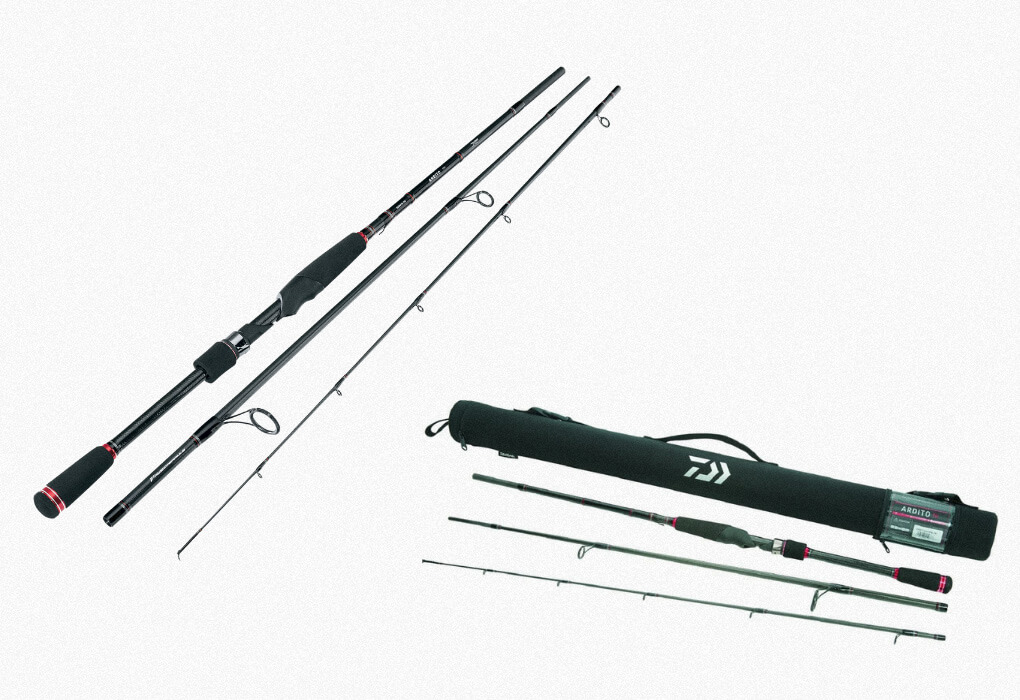 Specs
Packability: Length – 40.5"'
Rod Length: 7'
Rod Material: Graphite
Type: Casting
Power/Action: Med Heavy/ Fast
Pieces: 3
Why We Chose It
The Daiwa Ardito Travel Rod is a 3-piece rod that measures 7 feet long.
The rod is made of high-modulus graphite which Daiwa calls HVF (High Volume Fiber) but its strength is found in its X45 Bias graphite strands that are wrapped around the pre-existing vertical and horizontal wrapping at a 45-degree angle.
It's so nice to see the effort that Daiwa has put into this travel rod because believe me, I've seen a ton of travel rods where the manufacturer cuts corners. Daiwa looks like they were all-in on this travel rod.
Another added feature that goes above and beyond are the V-Flex ferrules that don't require you to jam the rod pieces all the way together like most travel rods.
All that's needed is a gentle push and they lock together.
The rod is really light as well. I used this rod when visiting Florida and was able to catch six bass in a golf course pond that I shot a 118 the day before proving that I am a better fisherman than golfer!
The only concern I have is problems with the tip. Being a graphite rod there's always concerns with the rod being brittle when coming into contact with foreign objects.
If you're like me, you will often reel the tip of the pole to the lure when it is caught on something underwater. This tip will not stand up to that kind of abuse to stay away from using the tip to unhook your lure.
The rod also comes with a protective semi-soft carrying case which is a bonus when it comes to added protection when on the move.
If you're looking for a baitcasting rod that performs like a one piece rod, but can be packed up into a 32-inch compact tube for travel, the Daiwa Ardito is the rod to go with!
Best Travel Rod and Reel Combo
Okuma Voyager Travel Combo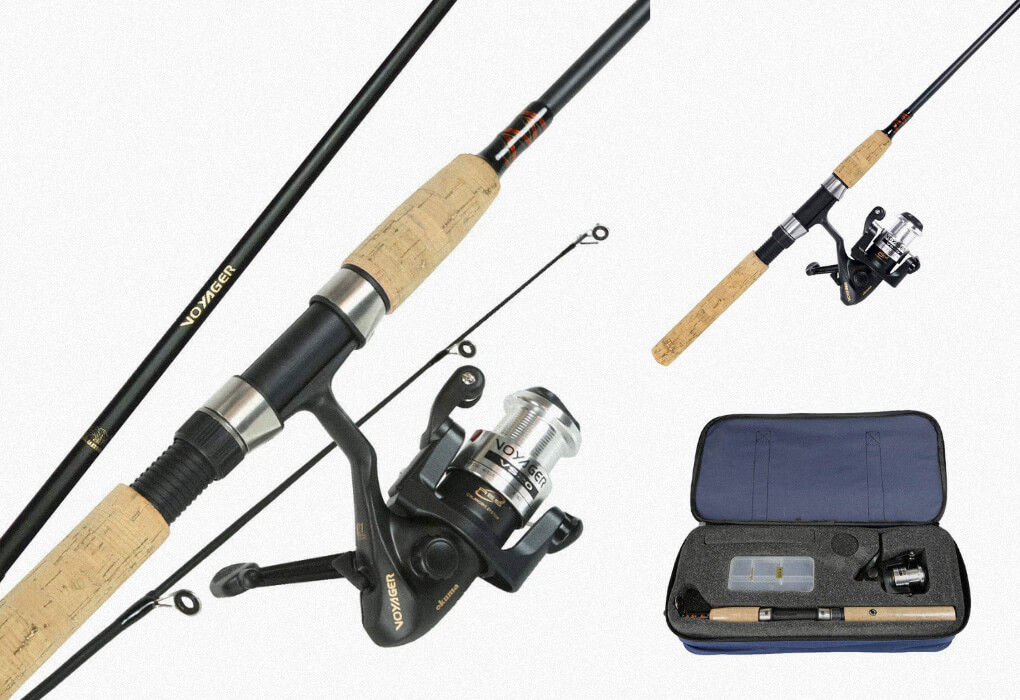 Specs
Packability: Length – 17.8"
Length: 6'
Rod Material: Composite
Type: Spinning
Power/Action: Medium
Pieces: 5
Why We Choose It
The Okuma Voyager Travel Combo is a 5-piece Voyager rod that measures 6 feet.
The reel is size 2000 series Voyager reel
It also comes with a small tackle box and a zip-up padded travel case. that is 17.8" long. This rod packs up nice and tight and is my go-to travel rod when space is tough to come by.
It's great if you're looking for a freshwater fishing rod for trout or bream
It's very durable as well. I've used this rod numerous times in the mountains where walking to a local stream from the hotel is an everyday thing.
It's a composite rod so the added fiberglass is a nice touch on behalf of Okuma as strength is much more important than sensitivity when it comes to travel rods.
Don't get me wrong now, the rod is sensitive, it's just not as sensitive as 100% graphite rods.
I found that the Okuma Voyager Combo was a perfectly matched rod to reel set-up and it packs up into its case with ease. If portability is important to you, then this is one of the best rods to get.
I highly recommend this to anyone looking for a rugged fishing rig that you can count on in the woods for extended periods of time
When comparing the Okuma Voyager Combo I found that it was in close comparison with the Ugly Stik GX2 Travel Combo for those Ugly Stik fans.
The reason I went with the Okuma is that it was cheaper and I found the reel was better than the GX2.
Overall, this combo is a solid set-up that is built to last. It packs well and can be toted around on hiking trails or long drives in a compact car.
If you're looking for a do it all travel combo that has a perfectly matched rod and reel, the Okuma Voyager Combo is the travel set-up for you!
Best Telescopic Rod
KastKing Blackhawk ll Telescopic Rod
Specs
Packability: Length – 27.5"
Length: 6.6, 6.8, 7, 7.1, 7.3, 7.4, 7.6, 8
Rod Material: Graphite
Type: Spinning and Casting
Power/Action: Med/Fast, Med Heavy/Fast, Med/Fast, Heavy/Mod Fast
Pieces: 1
Why We Choose It
The KastKing Blackhawk Telescopic Rod is a telescopic rod that is available in 14 different sizes ranging from 6.6 to 8 feet.
It is available in spinning or baitcasting and is built on a Toray 24-ton blank which is an overachievement based on all the other telescopic rods that I've tried.
When I ordered this rod I was pleasantly surprised at how many choices I was given.
It has 14 sizes to choose from with different action and power ratings, so I was able to choose this rod in a beefed up model for saltwater fishing on the coast.
Buying this rod for saltwater fishing panned out well for me when I noticed that the butt of the rod is longer than the average 9-inch rod butt. This one is 12 inches long.
It provided lots of leverage for fighting big fish like speckled trout and redfish.
I've paired this with an Abu Garcia Revo 5 X inshore at it honestly performed like a 1-piece rod.
The EVA handle is comfortable however I would prefer a trigger that is more curved for my fingers to fit. This one is a bit flat but it may be non-noticeable to you.
One of the best things about this rod is that you can literally leave the line inside and reel. As you reel it in, it collapses. When you're ready to use it you just open the bale and it extends for your first cast.
Overall, the KastKing Blackhawk Telescopic Rod was the best of the telescopic bunch and collapsed down to be able to fit into the smallest of spaces.
I would highly recommend this rod for those who are looking for specific sizes, action, and power because of the wide variety of choices! This is a real winner in my opinion!
Best Surf Travel Rod
St. Croix Triumph Surf Travel Spinning Rod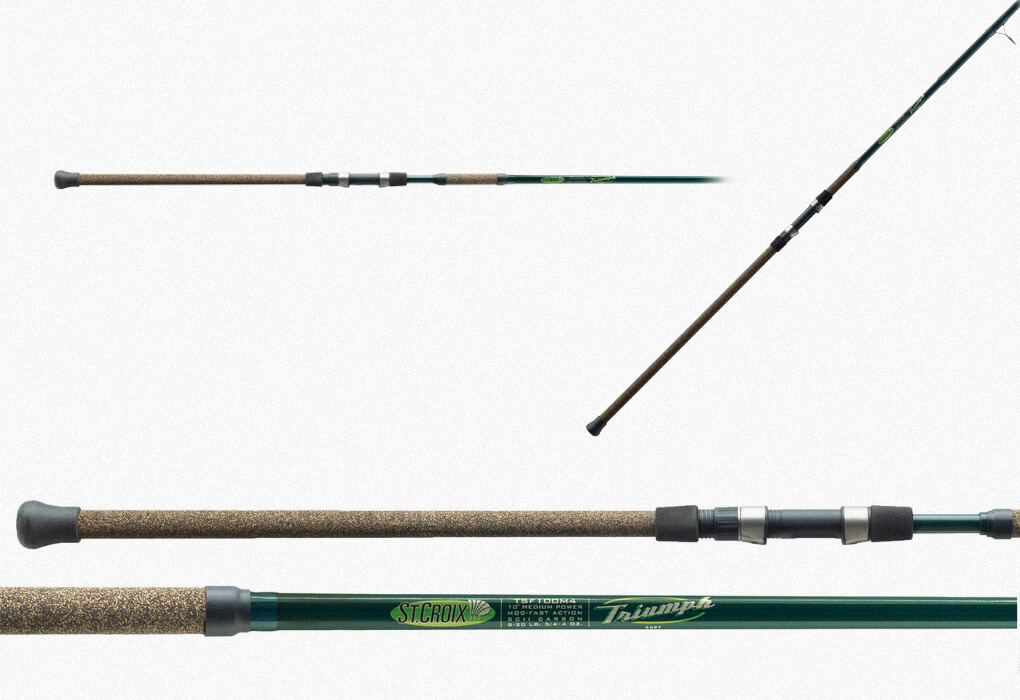 Specs
Packability: Length – 37.2"
Length: 5.6, 6, 6.6
Rod Material: Carbon Fiber
Type: Spinning
Power/Action: Medium/Fast
Pieces: 4
Why We Choose It
The St. Croix Triumph Surf Travel Rod is a 4-piece rod that is 9 feet long.
Leave it to St. Croix to create a travel rod specifically for surf fishing. Honestly there aren't many out there that are like this one!
Let's start with the material. It's built on a SCll carbon fiber blank which is considered a high modulus material.
Much like all their rods, St. Croix adds two extra coats of what they call Flex Coat which is a strengthening resin added to the outer surface of the blank.
While the rod is a travel rod and does come in four pieces, it fishes pretty much identical to the one-piece Triumph Series Spinning Rod only this rod is much beefier and pointed towards catching fish in the surf.
For a surf rod it's surprisingly sensitive. While I wasn't targeting white trout I was able to feel them tap and I set the hook on about a dozen 8-inch fish off the Carolina Coast.
The only downside is that it is a bit expensive coming in at over 200 bucks, but you get what you pay for huh?
Overall, this rod destroyed the competition when it comes to surf fishing rods. Add to it St. Croix's 5-year warranty and the St. Croix Triumph Surf Travel Rod is a no-brainer. It's a true beach warrior!
Best Overall Ultralight Travel Rod
Daiwa Spinmatic Travel Rod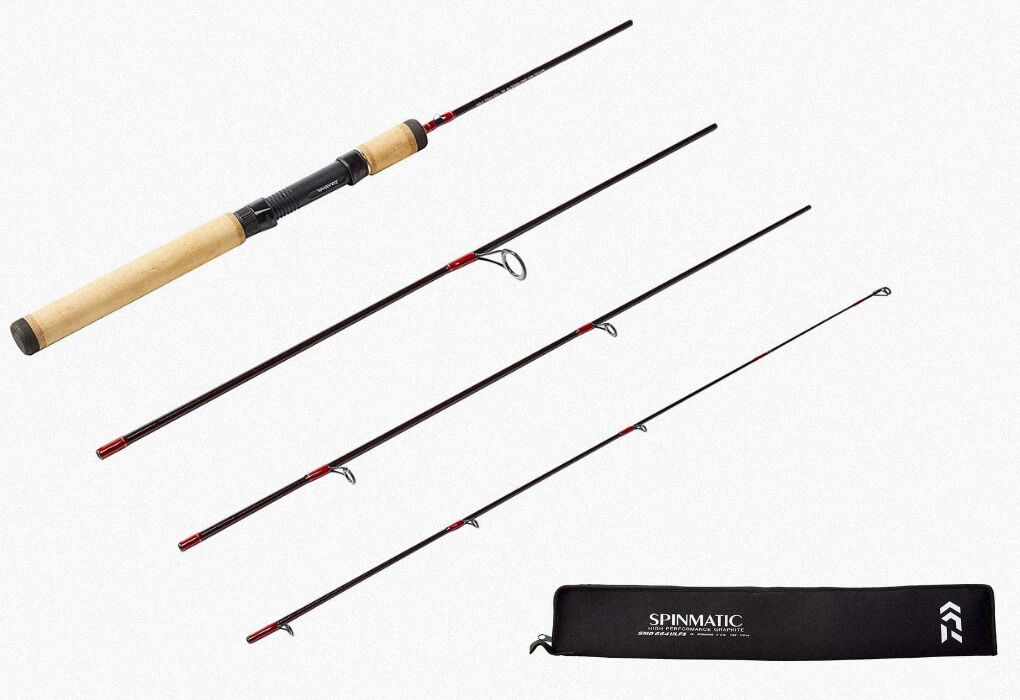 Specs
Packability: Length – 21.5"
Length: 5.6, 6, 6.6, 7
Rod Material: Graphite
Type: Spinning
Power/Action: Ultralight/Fast
Pieces: 4
Why We Choose It
The Daiwa Spinmatic Travel Rod is a 4-piece rod that comes in four sizes: 5.6, 6, 6.6, 7
Each piece is 17 ¾ inches long and attaches really fast with a snug fit.
The blank is made of graphite and it comes with a soft wrap-around travel case.
When I first picked up this rod I will say that it felt like a typical ultralight rod. Actually, I would have never known that it was a 4-piece travel rod.
It felt exactly like the non-travel version which is the Spinmatic Ultralight 2-piece rod.
However, this rod is slightly stiffer and a little heavier. I would guess the four ferrules add a little weight to the overall rod.
The rod breaks down fast and fits snug into the soft carrying case.
I actually used this rod to fish for bream and rock bass when we rented a cabin in Tennessee this past fall.
The hook-sets felt great and the rod was stiff enough to nail those quail little nibblers that like to steal your bait.
Overall, this rod is a fantastic ultralight travel rod to use when targeting smaller fish like bream, rockbass, and rainbows.
Best Travel Fly Rod
Moonshine Rod Co. The Drifter Fly Rod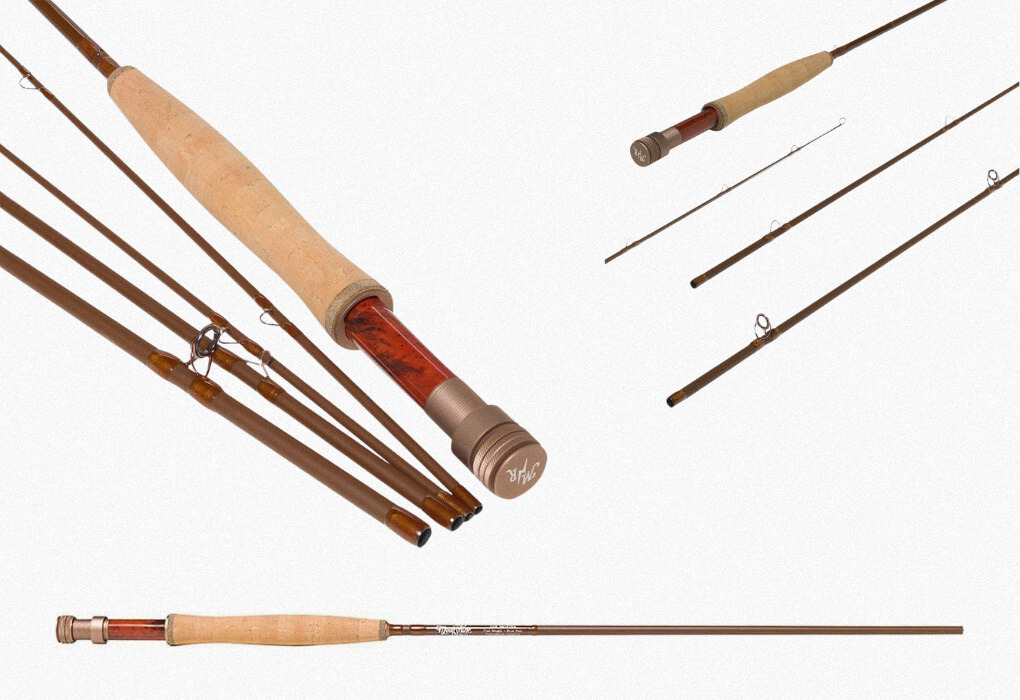 Specs
Packability: Length – 25.5"
Length: 7.6, 9, 10
Rod Material: Graphite
Type: Fly
Power/Action: Medium
Pieces: 4
Why We Chose It
The Drifter Travel Fly Rod is a 4-piece graphite rod that is available in three sizes: 7.6, 9, and 10.
It comes with a hard canvas rod tube that is perfect for fully protecting the rod. (I always worry about those lightweight roll-up bags)
Ok let's start off with a little about Moonshine Rod Co. This company bursted on to the fly rod scene in only a few short years.
Their mission is to create affordable, yet high-performing fly rods at a reasonable price and they have done just that!
It's a 4-piece rod, but when I received it, there were 5 sections.
It turns out all their rods come with a replaceable tip section to replace when and if the day comes when the tip breaks. NICE! This literally adds years on the life of the rod!
I used this rod in a small creek in Southern Tennessee.
The creek spilled out into a large lake where I had the opportunity to take this "sports car" for a drive.
All I can say is WOW! From the real wood handle wrapped in AAA cork, to the beautifully finished graphite blank, this rod was the best fly fishing rod that I have ever used.
I've owned Sage and Orvis rods, which are nice in their own right, but this rod is one that blows those rods away.
When I started casting it I noticed that I was using half the arm strength that I normally use with my other fly rods.
I also noticed that this rod has more line guides than most 9′ rods. I found that when I loaded the action up statically, the line followed the blank perfectly!
I was casting effortlessly up to 50-60 feet.
The only downside is that the rod pieces took a little longer to assemble because there were no guide dots.
Moonshine Rod Co. has definitely gotten my attention with this travel fly rod. The Drifter is going to be hard to beat even for a 2-piece fly rod.
How to Choose the Perfect Travel Fishing Rod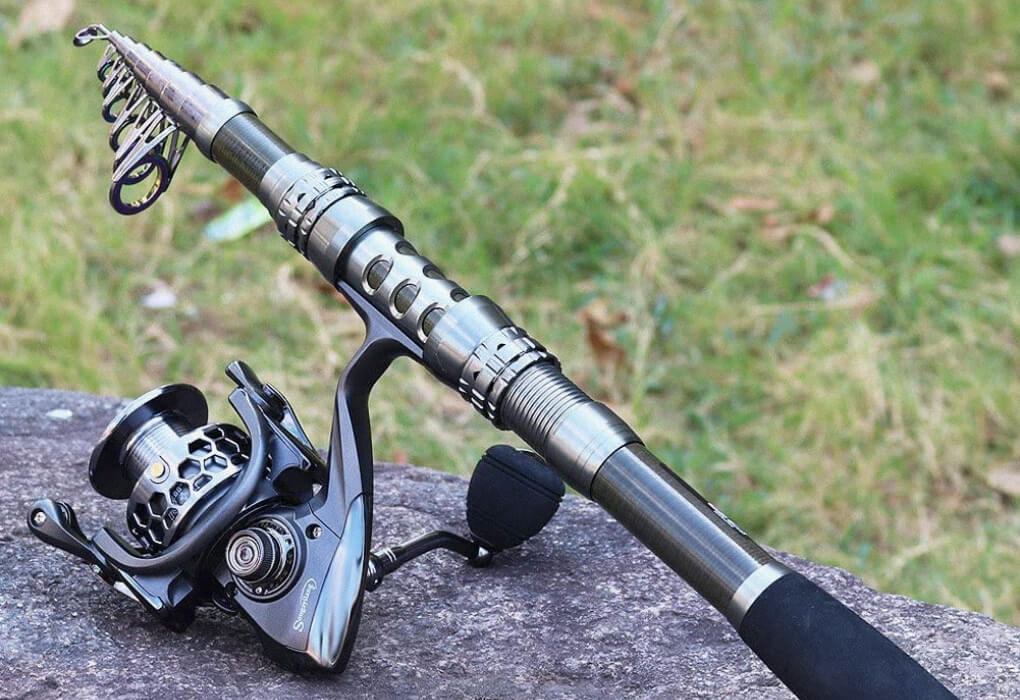 Just because you're choosing a rod for traveling, doesn't mean you should have to skimp on things like length, material, or action.
When selecting a travel rod you need to choose one exactly how you would choose any other rod that you buy.
Things like what types of fish you are targeting will affect what type of rod to buy. Below are a few things to consider when choosing a rod:
Length
Now-a-days rod manufacturers are scaling up their efforts to produce a wide variety of travel rod sizes.
Gone are the days where you would have to pick one size to fish everywhere. When selecting a travel rod, it's important to think about what species you are fishing for.
If you're targeting saltwater fish you'll want to select a rod that is over 7 feet.
On the opposite end of the spectrum, if you're targeting panfish, crappie and trout, you'll want to look at rods that are 5-7 feet in length.
Types of Cases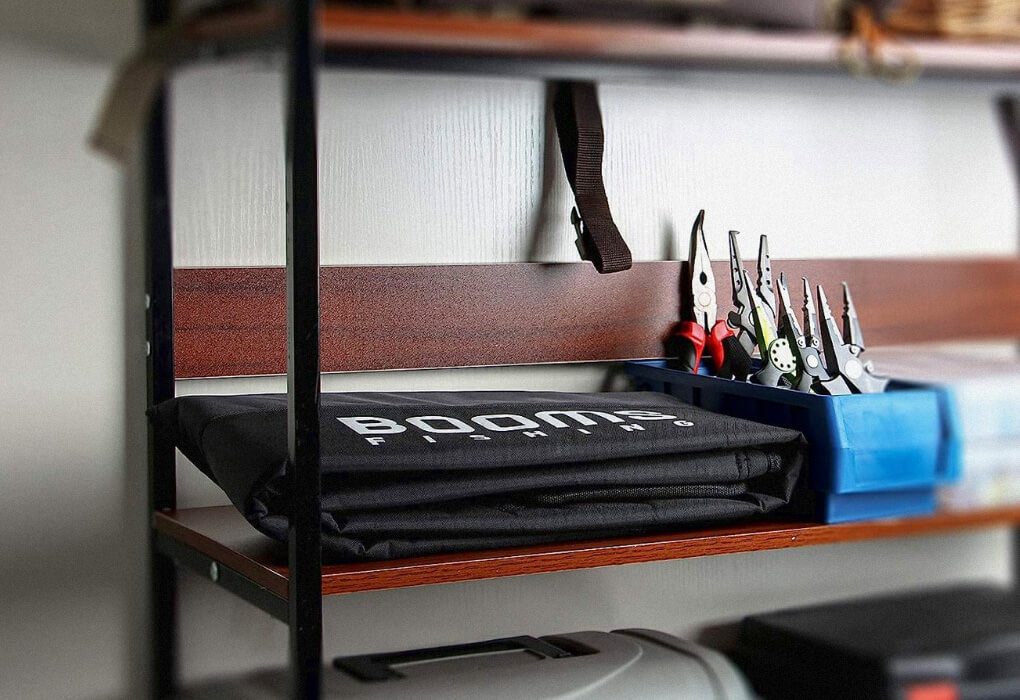 Most travel rods come with their own type of case. Below are the the two types of cases that are available:
Roll-up: Most travel rods come with a roll-up nylon case.
These cases fit the rod sections indies then roll up. After the punch is completely rolled up all that's left is to strap it shut with either a button strap or velcro.
Roll-up cases work but they still can bend with a lot of pressure like a car door or trunk being closed.
Rod Tube: Some travel rods come with a rod tube.
These are cylindrical tubes usually made of hard plastic that fit the rod pieces inside. Rod Tube are extremely durable and protect the rod pieces very well.
It's important to note that you'll want to make sure a rod tube comes with a carrying strap if you plan on hiking to your fishing spot.
Final Thoughts
It's taken me a few years to come to the realization that owning a quality travel rod will make my vacations a lot more enjoyable.
After many years of trying out different travel rods I was able to narrowed down my list of the top 7 rods that make up this buyer's guide.
So let's review our top pick!
For the category of Best Overall Travel Rod, I choose the St. Croix Triumph Travel Spinning Rod. The rod excelled in all the categories that define a great travel rod.
While the St. Croix won overall, you really can't go wrong with all the rods mentioned in this best travel fishing rod guide I've put together.
Give them a try and tell us what you think! We'd love to hear from you!