Having good gear makes bass fishing an enjoyable hobby.
While you might be tempted to skimp on some things, you shouldn't skimp on lures. The best bass lures will not only help you become a better angler, but you'll enjoy fishing more as well.
However, walking the aisles of your local sporting goods or fishing store can be an overwhelming experience, especially if you are new to bass fishing.
There are so many different types of lures, each with its own, specific purpose, so choosing can be a daunting task.
So, to make your life easier, and to help every bass angler, from the most experienced to the first timer, we've scoured the internet, done the research and wandered the fishing department at our local sporting goods store, and have found the best.
In this buying guide we'll offer our recommendations for the best lures for bass, and give you some helpful information to make shopping for lures a little bit easier.
---
Introduction To Bass Lures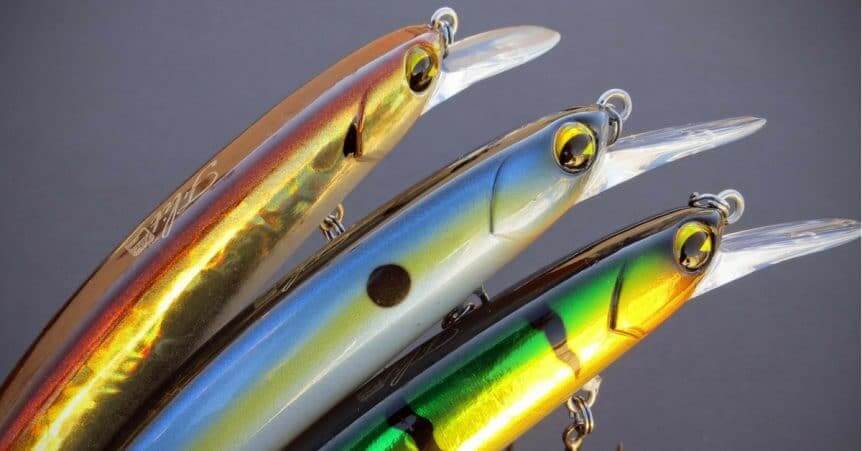 Most anglers will tell you that it is almost as fun to shop for lures as it is to actually fish.
For dedicated bass fishermen, the lure department at the local fishing store is like a candy store for grown-ups.
Bass lures come in so many different colors, styles, shapes and purposes, that it is hard to not want one of each.
Unless you are a professional, or you have tons and tons of storage space, the reality is that you probably don't need, or have the space for every lure that you come across. Ensuring that you grab the best bass lures is what's most important.
It's essential that you buy the right kinds of bait, for the waters that you'll be fishing most frequently, for the typical weather conditions of your area, and the size of bass that you are most interested in catching.
There are eight essential types of lures.
Each one has a specific purpose, and attracts fish in a certain set of conditions. Knowing which one to use means having a basic understanding of the lure and its purpose.
For simplicity sake, we've provided a bit of basic information about each and the lure we recommend in each category.
If you prefer video format then take a look at Anglers.com's very own Best Bass Fishing Lures video on Youtube where Wesley takes them out on the water and walks you through how, and where to use each lure.
Crankbaits
Crankbaits are designed to look like the food that bass would like to eat.
They are usually filled with BBs to create a ratting sound as they pass through the water.
This sound attracts bass to the bait making the fish think that they are chasing a small fish, amphibian or invertebrate.
Square bill crankbaits bang off the rocks and have a lifelike appearance. They're not as great as some other lures in heavy cover though. because of the dual treble hooks.
Crankbaits are great for turbid water, because of their bright colors and rattling sound, though there are some silent crankbaits that work great in clear water.
Our favorite crankbait is the Square Bill by Strike King (more below) but you can also check out our complete review of the best crankbaits here.
Strike King Square Bill Crankbait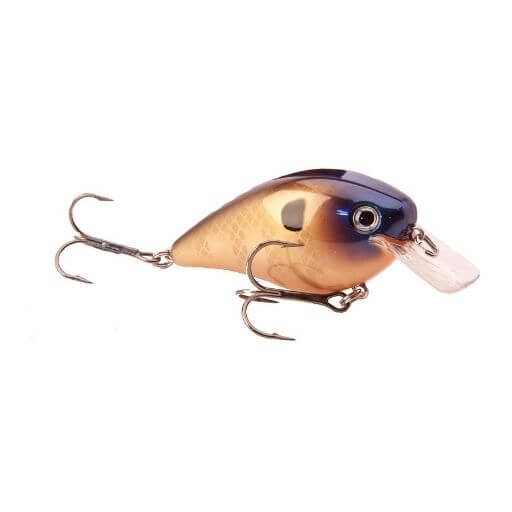 BEST CRANKBAIT
Specs
Type: Crank
Number of lures: One
Weight: 7/16oz, 5/8oz, 3/8oz 1.0oz, 1.5oz and 2.5oz
Material: Lead-free metals
FEATURED SPECS
The square lip prevents most snags
EXTRA FEATURES
These baits are designed with no internal rattles for a "silent" approach
BUYING ADVICE
At this price you can feel comfortable about picking up a few to play with
Pros
Baits have good quality hooks, very durable lips and good split rings and is really quiet
Cons
The eyes tend to fall off
This overbuilt chunk of a mouthwatering bass treat rumbles down to the ideal depth for a do-it-all cranker.
The key with this Strike King crank is to bump it off cover—the square lip prevents most snags and is perfect when the fish want that extra wiggle.
Topwaters
Topwaters are made in a way that when they are dragged through the water, they look like a scared or injured prey animal.
Anglers can make this action more pronounced by twitching and jerking the rod and reel.
Topwater baits sit on the water surface, just as their name suggests.
Check out our comprehensive review of the best topwater lures for bass.
Rebel Pop R Triple Threat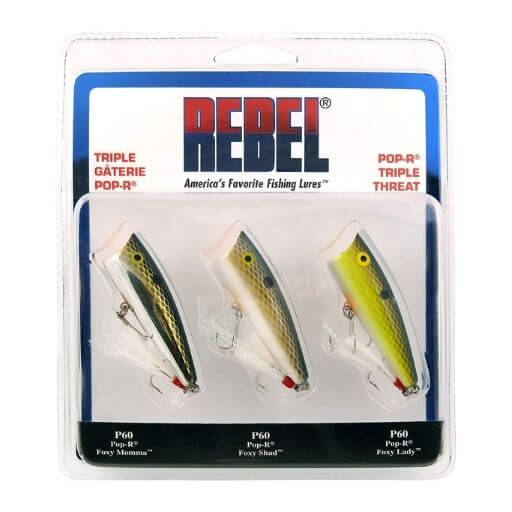 BEST TOPWATER
Specs
Type: Topwater popper
Number of lures: Three
Weight: 1/4oz
Material: Lead-free metal, plastic
FEATURED SPECS
All 3 lures are 2 1/2 inch, 1/4 ounce in size
EXTRA FEATURES
Pack includes one Foxy Mama, one Foxy Shad, and one Foxy Lady
BUYING ADVICE
These three topwater baitfish will cover just about any water color, weather condition, and fishing situation
Pros
Comes with 3 top selling color patterns, is effective on a fast or slow retrieve and produces some thrilling surface strikes.
Cons
Rebel lures can be brittle
The Rebel Pop-R has been the standard by which all top water poppers have been judged for more than three decades.
The profile and action of the Pop-R make it a favorite of anglers everywhere.
It can be worked quickly across the surface like a panicked baitfish or slowly twitched to mimic a meal that's almost dead, and every speed in between.
Spinnerbaits
These baits are essentially a metal blade that is attached to a hook and swivel arm.
These baits attract bass by creating a flash of light that resembles small, shiny fish, like quick moving minnows.
These baits are pulled through the water using the reel and are most attractive under a smooth reel action.
If you want to know more about spinnerbaits, we reviewed the top spinnerbaits here.
Strike King Finesse KVD Spinnerbait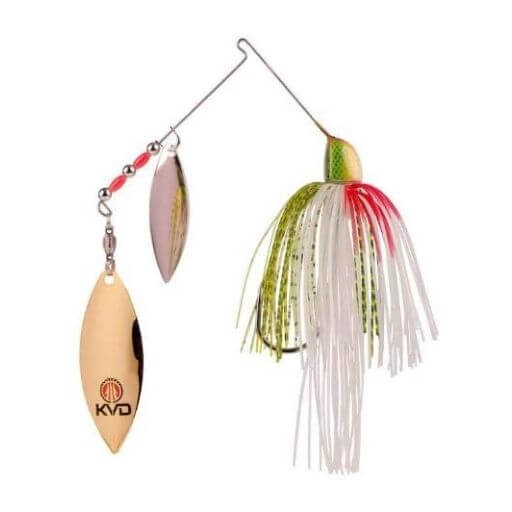 BEST SPINNERBAIT
Specs
Type: Double blade spinner perfect for all around spinner bait fishing
Number of lures: One
Material: Lead-free metals, hard plastic, soft plastic.
FEATURED SPECS
EXTRA FEATURES
2 blade options: Double Willow or Colorado Willow
BUYING ADVICE
Buy one of each blade, you never know which will work best in different settings
Pros
Smaller profile and lighter wire for less aggressive fish
Perfect skirt colors give them a realistic look​
Cons
Some of the skirt colors are common in the market
The KVD spinnerbait is curved on the base and sides and level at the top which blends well while fishing in most fishing positions.
The realistic look and smaller profile in the water create a perfect bait and it maneuvers and jumps over obstructions with ease.
Jigs
Jig were originally designed to mimic craws, one of a bass' favorite meals.
These lures are very versatile and are one of the essential for every tackle box.
These lures work well under a variety of reel and rod movements.
BICO BOX – BASS FISHING JIGS SET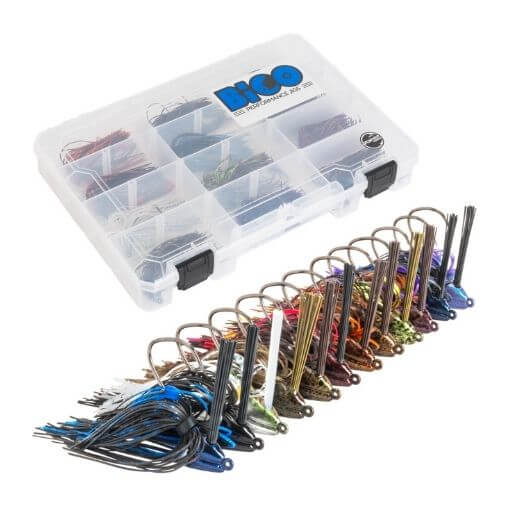 BEST BASS JIG
Specs
Type: Performance bass jigs
Number of lures: Six or Twelve
Weight: 3/8oz
Material: Lead-free metals and sent infused plastics
FEATURED SPECS
Versatile lead-free Made and hand assembled in the USA
EXTRA FEATURES
Comes in a durable Flambeau tackle box and owner hooks are a big plus
BUYING ADVICE
You can request the colors you want
Pros
Ideal jig for flipping and skipping, or fished as a swim jig
The skirt isn't flimsy, the sharpest hooks second to none
Cons
It does take some knowledge and skill to use correctly
BiCO Original Jigs are multipurpose 3/8 oz lead-free bass jig heads engineered to last, owing to their durability and exceptionally snag-resistant properties.
They come equipped with top-quality Owner hooks for strength, durability, and secure hooksets. Jigs are simple to fish and they work great in many applications. You can fish jigs in the fall, winter, spring, or summer – it doesn't matter.
Jerkbaits
These baits should mimic baitfish like minnows and shads that have become shocked by cold water and are struggling.
They entice bass by looking like minnows and mimicking their movements. These often have a paddle tail and moving appendages.
For best results, use quick jerking actions with your rod, combined with a fast reeling motion.
Click here to read our complete review of the best jerkbaits.
Swimbaits
These aren't as popular as other types of baits, but they are growing in popularity.
Swimbaits are jointed and hollow bodied which allow them to mimic the swimming motions of small fish and other prey animals. Swimbaits come in both hard and soft versions.
Check out our review of the best swimbaits for bass fishing right here.
Spoons
Spoons are not typically used for bass fishing, but can be effective in this arena, if you are willing to give them a shot and have patience.
These simple lures, consisting of a shiny metal "spoon" attached to a hook, work similarly to spinner baits. They work well in open water when there's a lot of sun.
Soft Plastics
These lures are intended to be added on to hooks, and imitate prey animals in shape, color and texture.
These baits often work well for enticing fish to hold on to a hook, giving you more time to set your hook. I'm a huge fan of Senko worms.
They also come in a variety of rigs including:
Texas Rig
Carolina Rig
Weedless Wacky Rig
Dropshot
And more
Check out our review of the best soft plastic worms here.
Yamamoto Senko Bait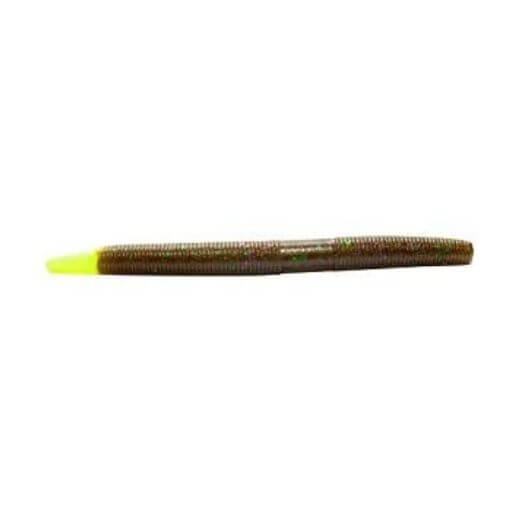 BEST PLASTIC WORM
Specs
Type: Worms
Number of lures: 10 to a pack
Weight: 0.96 ounces
Material: Soft, scent infused plastic
FEATURED SPECS
Comes in 3in 4in 5in and 6in
EXTRA FEATURES
Fall horizontally with side-to-side tail action when rigged weightless
BUYING ADVICE
Try a wacky rig or Texas rig and experience the versatility the Yamamoto Senko provides
Pros
Cons
They are soft and can break apart
The beauty of the Senko is in its simplicity. Senkos are one of the best bass lures for a reason. They're easy to fish and they work great in weedy situations if you rig them weedless.
These worms have been around forever and they're one of the most reliable lures on the market, year after year. If you're unsure about what to use you'll want to try a Yamamoto Senko.
How to Choose the Best Lure for Bass
There are some criteria to keep in mind when shopping around for bass lures. You want to make sure to factor all of these into your decision.
The Season
The time of year is a huge factor because bass breed in the Spring and they slow down during the Fall and Winter months. The Spring is a huge feeding time because there very active and if you fish in the morning and evening during the Summer, you'll find active bass as well.
These factors matter because they determine the size and color of your lure. It's not as simple as just picking a type of lure based on what you want to catch, you have to pay attention to how large it is and what color it is.
For example, during the late Spring, you might use a neon green 1/4 ounce spinnerbait and catch smallmouth bass all day long. That same bait wouldn't perform as well during the fall.
Water Conditions
Another important consideration is the water. Stick something down into the water and if you can't see it past one or two feet, you've got murky conditions and you need specific lures to work with in that situation.
The water is usually the murkiest during the Spring when there is a lot of rain or if there is snow runoff. When the snow melts, it drags a lot of dirt and mud into the water as it runs down. This causes low visibility which makes it harder for the bass to see your lures.
So, now is when you need something that makes a lot of noise, reflects light, or is bright enough to draw attention. In murky conditions I would use a bass popper or a chugger because they make a lot of noise.
Fishing Style
This last point has nothing to do with your lure and everything to do with you. How do you like to fish? Do you want something that requires a lot of attention? Like a stickbait or jig?
Or, would you prefer something like a frog or swimbait that does all the work for you? Are you using a spinning reel or casting reel? Do you prefer trolling, fishing the bottom, topwaters, or cranks?
There are many questions to ask yourself and that's why I believe you should have a lot of different tackle. If I could recommend anything, I would suggest getting one of each lure from this review so you have some options.
Live Bait vs Artificial Lures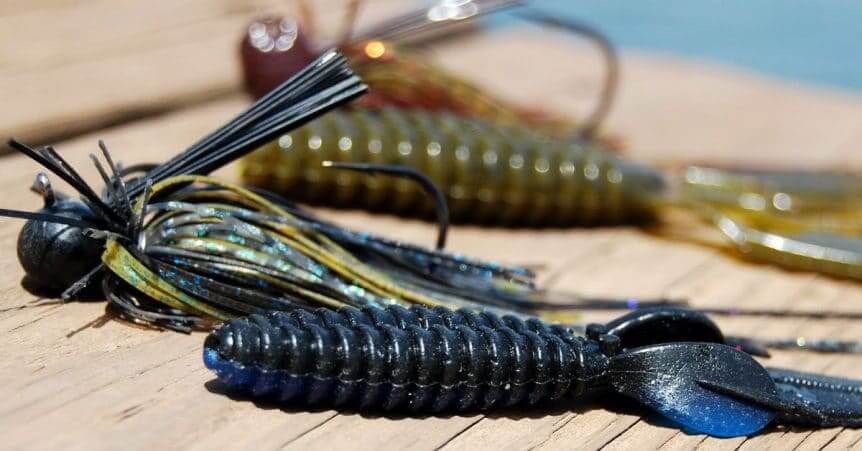 There are pros and cons to both of these options, but it really comes down to angler preference and skill.
For the most part, live bait is a great option for bass fishing, or for any game fish for that matter. Bass are carnivores and their natural prey are other small fish, worms, insects, reptiles, amphibians and invertebrates like crawfish, so naturally, the most effective bait is live bait.
Using live bait doesn't require any special rod or reel techniques, except having a slow reel action.
So, they are also good for beginners. The two biggest cons with live bait are the mess and making sure to get the bait to the right depth.
Artificial lures are also a good option for bass fishing.
They give you the results of live bait without the mess and the need to refrigerate and carry around living animals.
However, artificial lures like plastic worms, finesse worms, swim jigs, and craws require the angler to know how to "work" the lure to make it attractive to bass.
Each lure is intended to mimic a particular prey animal, so you need to use your rod and reel to create the movements of these living creatures in a metal or plastic lure.
If you are new to bass fishing, this can be a big con to artificial lures.
What is the best lure for shore fishing?
If you are shore fishing for bass, you are going to want to carefully select the type of lure you choose.
Select a lure that is going to be effective at attracting bass from a bit of a distance, but also one that is going to pull easily through mud and vegetation as you get closer to shore.
For the best results, you will want to have a variety of crankbaits, spinnerbaits and jigs.
Topwaters are also great especially if you want to keep your lures out of the weeds and mud.
Shore fishing is a lot like fishing in the fall, for best results, be prepared with a variety of lures, so that you can quickly adjust to shore conditions, dense vegetation and a varieties of water and weather conditions.
Best Bass Fishing Lures FAQ's
Conclusion
Shopping for the right lures doesn't have to be a daunting task.
We've given you our suggestions for this year's best lures, and some helpful suggestions for finding the right lures for a variety of conditions.
We hope that this buying guide and bass fishing tips have helped you navigate through the fishing section of your favorite sporting goods store, and will lead you to a season of success.