We independently research, test, and recommend the best products; you can learn more about our review process here.
I love kayak fishing, and having the option to sit or stand is a game-changer.
After testing out many fishing kayaks, I believe I have narrowed it down to the best stand-up fishing kayak, and that is the Ascend 128X because it has the stability and features of kayaks twice its price.
However, if you're looking for a kayak that's easier to transport, the Advanced Elements StraitEdge is the best inflatable stand-up fishing kayak.
Keep scrolling to see if your favorite kayak made the top fishing kayak list!
Comparison Table – Best Stand Up Fishing Kayak
---
Stand-Up Fishing Kayak Reviews
Ascend 128X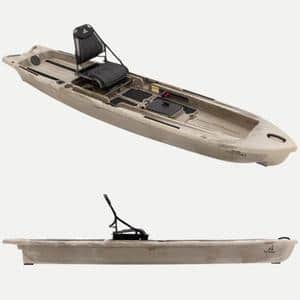 BEST STAND UP FISHING KAYAK OVERALL
Specs
Length: 12′ 8″
Width: 34″
Weight: 96 lbs
Maximum Weight Capacity: 450lbs
Pros
Stable
Comfortable seat
Non-slip cushioned flooring
Designed for fishing
Adjustable foot braces
Cons
Heavy
Not much dry storage
Why We Chose It
Ascend is a Bass Pro and Cabelas brand of outdoor products. They make affordable products for the everyday outdoor enthusiast.
The Ascend 128X comes loaded with fishing kayak features that other kayaks don't.
Specifically, Yak-Power, your kayak is ready for a battery, fish finder, and trolling motor with this feature. You don't have to drill holes and run the wiring yourself or pay someone to do it.
At 34″ wide, it's incredibly stable, so you can easily stand and fish.
Because it's designed for fishing, it has a few things other kayaks won't have, like flush mount rod holders, gear tracks, and a padded floor.
After an all-day fishing trip, the foam-padded floor will keep your feet and knees from aching.
The gear tracks make customizing your new kayak a breeze. You can quickly add and adjust fish finders, rod holders, and safety flags without drilling many holes in the Ascend 128X.
There is a ton of storage at the front and back of the boat, but there's not much dry storage. The dry storage hatch is at your feet, which means easy access, but it's not a large storage compartment.
The seat height is comfortable and makes it easier to stand because you're not sitting on the floor; this is one of the primary reasons the Ascend 128X is considered the best stand-up fishing kayak.
The Reel Yaks 11′ Fishing Kayak is an option that offers a lot drier storage hatches, and it's a pedal drive kayak.
It is a very stable fishing platform because of its "W" hull shape, making it stable enough to stand and fish from.
It's much lighter than the 128X. However, it is also more expensive.
Old Town Topwater 106 Kayak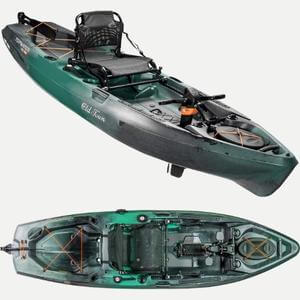 BEST STAND UP FISHING KAYAK UNDER $1000
Specs
Length: 10′ 6″
Width: 34.5″
Weight: 73lbs
Maximum Weight Capacity: 440lbs
Pros
Under $1000 MSRP
Stable
Comfortable seat
Bungee storage and dry storage
Designed for fishing
Adjustable foot pegs
Cons
Why We Chose It
Old Town is one of the most trusted names in watersports, especially kayaking and canoeing.
The Old Town Topwater 106 is expertly designed for fishing from a small kayak. I'm surprised that it's as cheap as it is because of its great features.
This kayak offers plenty of storage even though it's a short fishing kayak. With a bungee storage compartment in the tankwell (back) and a dry storage compartment at the bow (front), you'll have plenty of room for your tackle.
The built-in cup holder, fishing rod holders, and gear tracks give you more space to keep essential fishing gear.
This kayak is just under 35″ wide, so it will be plenty stable to stand and fish from plus the foam padding on the floor offers a little cushion for your feet.
The seat height is ideal for staying comfortable and standing up. It also comes with a little strap to grab and help pull yourself up.
When you're not standing, the adjustable foot braces offer support to remain comfortably seated. It might seem like a small thing now, but they will make a world of difference after a few hours on the water.
The biggest downfall of the Topwater 106 is its weight. It's very heavy for such a small kayak, but this should also mean it's well built, and that's why it's the best stand-up fishing kayak under 1000 dollars.
If you can afford to spend slightly more than $1000, the Perception Pescador Pro 12.0 might be a good option for you.
It's also designed for kayak fishing, but it's longer and lighter than the Topwater 106.
However, it has a small dry storage area, lacks a foam floor, and lower seat height.
I wish more kayaks had a replaceable skid plate on the bottom of the hull to increase durability as the Pescador Pro does.
Jackson Kayak Blue Sky Boatworks 360 Pro Kayak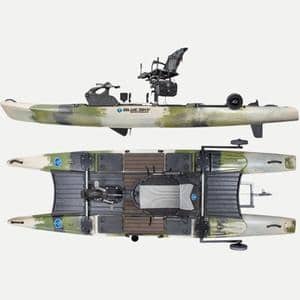 BEST STAND ON KAYAK
Specs
Length: 13′ 4″
Width: 48″
Weight: 140lbs
Maximum Weight Capacity: 500lbs
Pros
Integrated wiring system
Unbeatable stability
Comfortable seating system
Ample storage
Retractable wheel system
Cons
Heavy
Expensive
Difficult to paddle
Why We Chose It
Jackson Kayak manufactures high-end kayaks for various scenarios.
The Jackson Kayak Blue Sky Boatworks 360 Pro offers all the features you'll ever need as a kayak angler, which also comes at a high price.
The catamaran-style hull at 48 inches offers mind-blowing stability. You're basically getting a mini pontoon.
That also makes it difficult to paddle, so you'll probably want to add a trolling motor.
I especially like that the wiring is already done, so you don't have to drill holes in your new kayak to add a motor or fish finders.
There's plenty of storage for all your fishing tackle, plus you could add a kayak crate behind the seat if you needed to.
When you get tired of standing on the padded floor, you'll find the seat the most comfortable kayak seat ever, if we can call it a kayak seat.
You can adjust the seats' height, leg length, and backrest angle. You might end up falling asleep in this Lazyboy instead of fishing!
One major downfall is the weight. Jackson Kayak tried to counteract this problem by providing retractable wheels to make it easier to get it in the water.
However, you'll need a trailer or truck to transport this beast.
The other con is the price. I have always been told, "you get what you pay for" well, you will get incredible stability if you're willing to spend $4,000 on one kayak.
You won't find a more stable kayak than the Jackson Kayak 360 Pro.
However, if you're like me and prefer a less expensive option, the Sea Eagle FishSUP 126 is worth checking out.
This inflatable craft was designed as a stand-up paddle board with a seat with anglers in mind.
The seat isn't as fancy as the 360 Pro seat, but it's $3,000 cheaper, so it's tough to complain about it plus, you'll be standing to fish most of the time anyway.
Advanced Elements StraitEdge Angler PRO Inflatable Kayak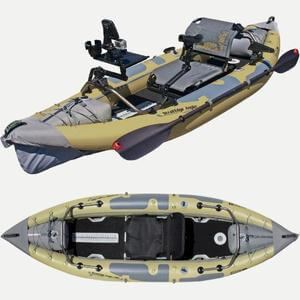 BEST INFLATABLE STAND-UP FISHING KAYAK
Specs
Length: 10′ 6″
Width: 38.5″
Weight: 45lbs
Maximum Weight Capacity: 400lbs
Pros
Lightweight
Stable
Easy to transport
Designed for kayak anglers
An open deck and drop-stitch floor
Cons
Low seat height
Lack of dry storage area
No gear tracks
Pump not included
Why We Chose It
Advanced Elements designed the StraitEdge Angler Pro with fishing in mind, so it has a few features that other inflatable kayaks don't.
I must be honest and admit I'm not a fan of inflatable kayaks because of a perceived lack of durability and customizability.
However, I am pleasantly surprised that the StraitEdge uses durable materials that resist punctures, so you'll be able to use it on many fishing trips.
It isn't as customizable as some fishing kayaks, but for the price and the ease of transport, it's silly to complain about that.
The StraitEdge is light enough for one person to carry, but it has a maximum capacity of 400 pounds to bring all your gear with you.
It also comes with aluminum rails to mount a fish finder or spare rod holders, but it doesn't have the quick adjustment capabilities of the gear tracks.
I wouldn't recommend bringing anything that can't get wet unless you have a dry bag because there is no dry storage, but there are bungee storage areas.
I appreciate the drop-stitch flooring, making standing possible because it's more rigid than other inflatable kayak floors.
The adjustable seat is nice, but it sits a little low, so it might be challenging to get out of it to stand.
I was shocked that the Advanced Elements StraitEdge Angler Pro doesn't come with a pump or paddle. However, I shouldn't have been because most inflatable kayaks don't.
The Aquaglide Blackfoot Angler 130 also doesn't come with a pump and is similar to the StraitEdge Angler Pro, except that it doesn't have aluminum cross bars for accessories. It uses MOLLE plates and mesh pockets for accessory mounts.
Other than a few minor differences, these are very similar boats for a comparable price.
Ascend 133X Tournament Sit-On-Top Kayak with Yak-Power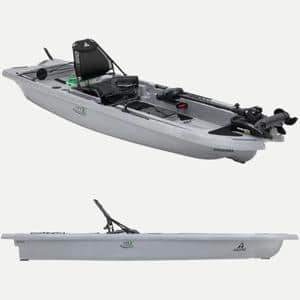 MOST STABLE STAND-UP FISHING KAYAK
Specs
Length: 13′
Width: 36.5″
Weight: 125lbs
Maximum Weight Capacity: 550lbs
Pros
Pre-rigged wiring (Yak-Power)
Stable
Padded floor
Comfortable adjustable seat
Adjustable footrests
Cons
Heavy
Limited dry storage
Why We Chose It
The Ascend 133X Tournament is a kayak that is ready to be rigged. Since it's prewired, you don't have to worry about drilling holes.
I can't believe the features available on this kayak for this low price. Some kayaks cost twice as much and don't have all the features of this kayak.
The kayak's width helps to ensure its stability, while the padded floor will keep you comfortable while standing.
The mesh chair is adjustable so that you can change it to the most comfortable position for you. It also sits off the floor, which is more comfortable and easier to stand, in my opinion.
The adjustable footrests will fit any height, so you stay relaxed while paddling or fishing.
The most significant disadvantage of this kayak is that it's heavy. It weighs well over 100lbs, so you'll want a trailer to haul it.
I definitely wouldn't want to car top this kayak!
The limited dry storage can be offset by bringing along a dry bag, but it is frustrating to purchase another item.
The Ascend 133X Tournament is for the serious kayak angler who wants to add a trolling motor, fish finder, or other electronics to their kayak.
If you're looking to save a little money and aren't as interested in putting a motor or fish finder on your kayak, the Ascend 12T is the place to begin.
It's a smaller kayak that weighs 40 pounds less than the 133X, yet it has plenty of storage options, an adjustable seat, and a padded floor.
Old Town Sportsman BigWater PDL 132 Sit-On-Top Pedal Kayak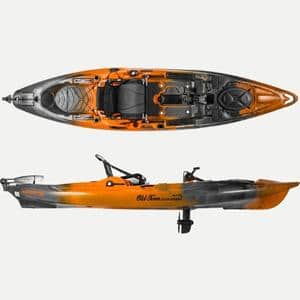 BEST PEDAL STAND-UP FISHING KAYAK
Specs
Length: 13′ 2″
Width: 36″
Weight: 122lbs
Maximum Weight Capacity: 500lbs
Pros
Pedal or paddle
Stable enough to stand
Designed for fishing
Plenty of rear storage
Comfortable chair
Cons
Why We Chose It
The Old Town Sportsman BigWater PDL 132 is a giant kayak that offers lots of storage space and the option to pedal or paddle.
If you've never used a pedal kayak, you're missing out. They're a game-changer for fishing because you can control your fishing boat hands-free without having to put the fishing rod down.
You can also pedal much quicker than you paddle, with less effort.
The best thing about the PDL is that it's instant reverse. Just begin to pedal backward to go in reverse. This is very handy when controlling your kayak in windy situations.
The width of this barge gives it more than enough stability to stand and fish, plus it has a padded floor for additional comfort.
The seat is adjustable, so whether you're short-legged like me or extra tall, you'll still be able to reach the pedals comfortably.
I really appreciate that it drains well. You're inevitably going to get water in the kayak, so it needs to drain out, so you're not lugging around extra unnecessary weight because it's already extremely heavy.
The Old Town Sportsman BigWater PDL 132 is expensive so I wouldn't recommend it for beginners; instead, it's for anyone looking to upgrade their kayak.
The Hobie Mirage Passport 10.5 Sit-On-Top Kayak is a smaller, lighter, less expensive option for a pedal drive system kayak.
However, the Hobie pedal system doesn't have instant reverse. You have to shift into reverse, it's not complicated, but it does take some time to get used to it.
After using both brands, Hobie's pedal drive is built for speed, while Old Town is built for convenience.
Jackson Kayak Bite Angler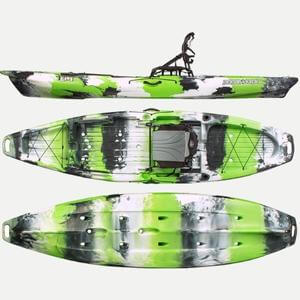 BEST SIT-ON-TOP STAND-UP FISHING KAYAK FOR BEGINNERS
Specs
Length: 11′ 6″
Width: 36″
Weight: 74lbs
Maximum Weight Capacity: 400lbs
Pros
Stable
Drains well
Lots of storage
Comfortable seat
Designed for fishing
Cons
No padded floor
Limited gear tracks
No dry storage
Why We Chose It
Jackson Kayak designed the Bite Angler for beginner kayak anglers. It's ridiculously stable and offers the features you need at a reasonable price.
Even though it lacks a padded floor, you can purchase aftermarket kits or stand on the plastic floor, as I've done for years.
The lack of dry storage compartments is frustrating, but there is plenty of bungee storage area, so throwing a dry bag into the kayak isn't a big deal.
When you get water in the Bite Angler, it quickly drains out because of the scupper holes.
I would like to see more gear tracks because I'm a gear junkie, but there are enough tracks for a spare rod holder and fish finder mount.
The padded seat is comfortable, but you might find it hot when the weather is warm. This isn't a big deal since all you have to do is take a quick swim to cool off, but you probably don't want to swim in your fishing hole.
The Jackson Kayak Bite Angler is the best stand-up fishing kayak for beginners because of its stability and reasonable price.
If you're willing to spend a little more for a pedal drive, check out the Jackson Kayak Bite FD.
It's more expensive, but you have the option of pedaling or paddling. It's one inch narrower but 20lbs heavier because of the pedals.
Wilderness Systems Atak 120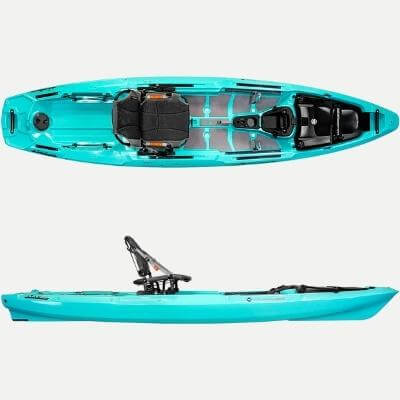 HONORABLE MENTION
Specs
Length: 12′ 3″
Width: 35″
Weight: 85lbs
Maximum Weight Capacity: 400lbs
Pros
Stable
Lots of storage
Padded floor
3-way adjustable AirPro seat
Designed for kayak fishing
FlexPod system removes to insert the Helix MD Motor Drive.
Cons
Why We Chose It
Wilderness Systems manufactures quality kayaks and kayaking accessories.
The Atak 120 is designed for anglers, so it has gear tracks and lots of storage options for all your fishing tackle, including a kayak crate.
It's 35″ wide, so it's plenty stable to stand and fish from without worrying about tipping.
The mesh seat is adjustable, and it doesn't sit too low, so you can easily stand up to fish.
I recently purchased a kayak with a padded floor, and I didn't realize what I was missing until now; thankfully, you won't ever know the difference because the Atak 120 has a foam cushion floor.
The FlexPod System is really neat because it can be used as a storage compartment, or you can remove it and put in the Helix Motor Drive (sold separately) when you don't feel like paddling.
The biggest drawback is no bungee storage to hold your gear in place.
However, you can purchase straps that lock into the gear tracks and will secure a kayak crate or battery box.
The Wilderness Systems Atak 120 won't disappoint the average kayak angler with its stability and storage options.
The Brooklyn Kayak Company UH-RA220 is a less expensive option with a few of the same features.
The BKC UH-RA220 offers three waterproof hatches and a comfortable chair, and it weighs less because it's shorter.
Yet, it's wide enough to stand and fish safely.
Jackson Kayak Kilroy HD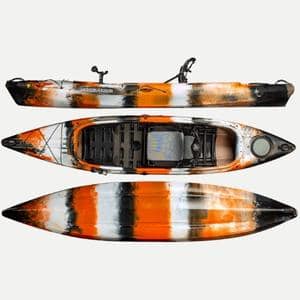 HONORABLE MENTION
Specs
Length: 12′ 10″
Width: 36″
Weight: 98lbs
Maximum Weight Capacity: 450lbs
Pros
Stern-to-bow track system
Shaped for maximum storage space and stability
Internal rod tubes
Comfortable seat
Cons
Low seat height
Expensive for a sit-inside kayak
Why We Chose It
Jackson Kayak designed the Kilroy HD for anglers. It's classified as a sit-in kayak, but I consider it a hybrid because of its stability compared to other sit-in kayaks.
I love that it has gear tracks the length of the kayak so you can place your accessories wherever is most convenient.
The shape provides more storage and stability. Though it lacks bungee storage, you can easily secure your gear with a strap.
Since it's a sit-inside kayak, it doesn't have dry storage, and you won't be able to drain the water from the kayak.
Jackson Kayak did a good job designing the seat, except that it sits low. This helps maintain a low center of gravity while paddling, but it's less comfortable and makes it difficult to stand.
Not many kayaks have internal rod tubes, which is a unique feature of this kayak. I like that because it keeps your rods secured and out of the way while you fish.
I think the Jackon Kayak Kilroy HD is a little expensive for a sit-inside kayak. However, it has features that others don't, which justifies the price increase.
If you're looking for a unique kayak, I recommend the BOTE Lono Aero. It's an inflatable kayak that doubles as a stand-up paddleboard.
The seat is removable and inflatable, probably making you sweat more. It also has a few features like rod holders to satisfy the occasional itch to wet a line.
Buyer's Guide for a Sit-On-Top Stand-Up Fishing Kayak
When purchasing a new kayak, I always keep the following things in mind. These help me make the best decision possible without breaking the bank.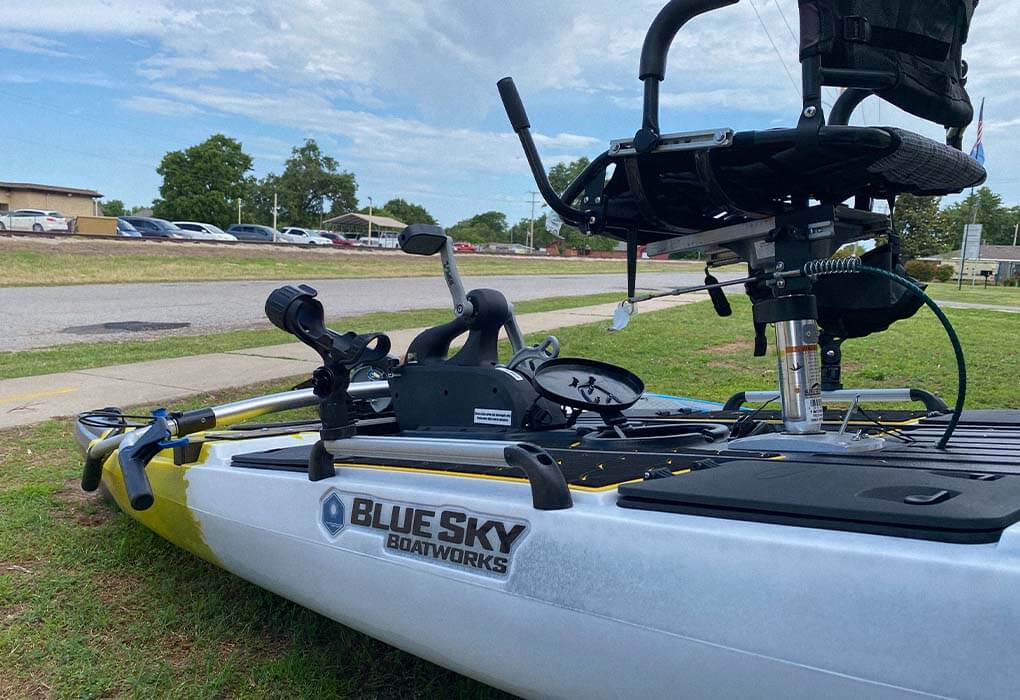 At first, I didn't consider all of these factors. Still, after years of kayaking, I have decided that stability, maneuverability, comfortability, customizability, and my budget all matter most when I buy a new kayak.
Your preferences might vary slightly from mine, but these will get you started in the right direction.
Stability
Unless you enjoy going overboard, it has to be stable if you plan to stand up and fish from a kayak.
The width and hull design contribute to the kayak's stability.
A rounded bottom will be less stable than a catamaran or "W" shaped hull.
There is a trade-off between stability and maneuverability.
Maneuverability
Maneuverability means how well it handles. Does it turn easy? Or do you need several paddle strokes before it turns?
The hull design also plays into this, so companies often have to compromise to favor stability or maneuverability.
For example, the Jackson Kayak 360 Pro is more stable than any kayak on the market, but it doesn't maneuver well.
A kayaks handling matters most in rivers and rough waters where you often need it to respond quickly while paddling.
If you fish flat water like lakes and ponds, this doesn't matter as much.
Comfortability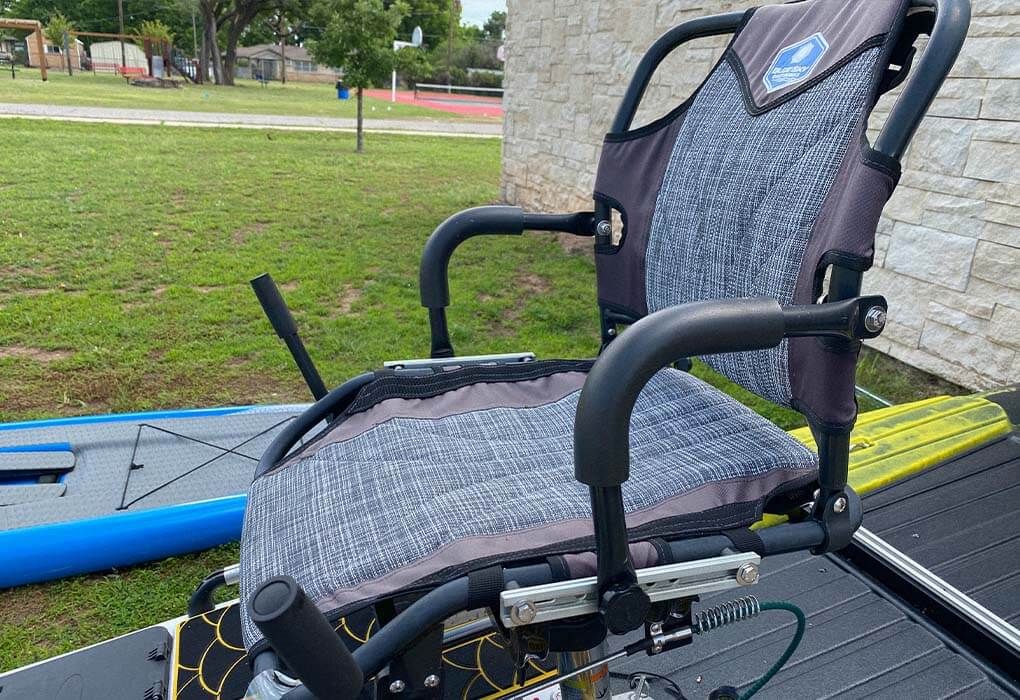 You're going to spend several hours in this watercraft, so it better be comfortable.
An adjustable seat that sits off the floor, adjustable footrests, and traction pads on the floor increases the comfort of a kayak.
This is important for me because when I'm having a less-than-ideal day of fishing, I can sit back in my chair and enjoy just being on the water.
Customizability
We all have different fishing styles. I fish entirely differently than my mom fishes, which is partly why we have unique kayaks.
I prefer a kayak that I can customize to match my style of fishing.
I enjoy catching several different species that all require a separate presentation. I need a kayak that can adapt to the species I'm chasing and then quickly change to another for the next day.
Customization is also called rigging a kayak, which means adding rod holders, a fish finder, a kayak trolling motor, or other fishing accessories.
Customizing your kayak can be addicting once you start.
Budget
The most significant factor I consider is if I can afford the kayak I want.
Your budget will determine the quality of the kayak you purchase.
I love that you can buy an inexpensive kayak and then purchase a few aftermarket accessories that will allow it to be as effective as an expensive kayak.
While the budget is the biggest factor, I don't skimp on stability or comfortability because the kayak's stability is a safety precaution, and I know I'm going to be fishing a lot, so I want my kayak to be comfortable.
I had to save for a while to afford my latest kayak because I wasn't willing to skimp on anything.
So if you've got your eye on the Jackson Kayak 360 Pro, maybe try eating peanut butter and jelly sandwiches for a while!
You'll Also Need
Sadly once you've bought your kayak, you'll quickly realize there are several other items you need. Most kayaks don't come with a paddle, which is silly.
Lifevest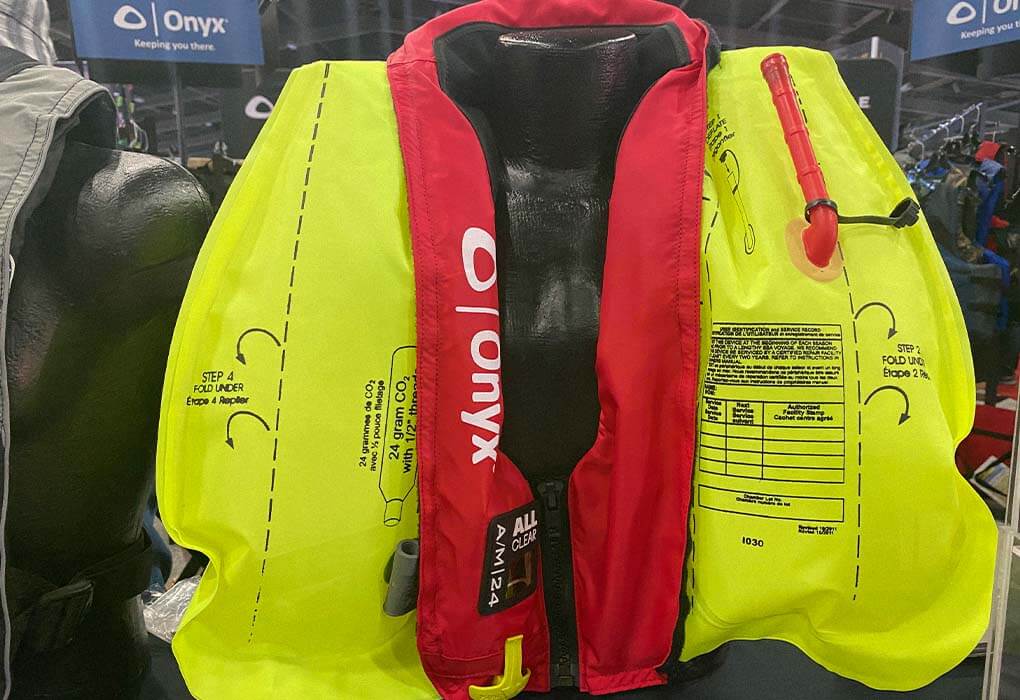 The one item I never leave the shore without putting it on is my kayak fishing PFD.
While I've never accidentally fallen into the water, I fish around a lot of stumps and rocks, and I could quickly lose my balance if I were to run into one unexpectedly.
Another reason I always wear my life jacket is because I often fish alone. There's usually not someone close by to throw me a preserver if I need it.
The best kayak fishing PFD is expensive, but you can always go with a less expensive one because any lifevest is better than no lifevest.
Kayak Fishing Paddle
You don't have to purchase a kayak paddle specifically for fishing, although the best kayak fishing paddle is always a nice addition if your budget will allow it.
The first time I bought a kayak, it surprised me that I had to also buy a paddle. I just assumed one came with it.
I was wrong, and a quality paddle isn't cheap.
High-quality paddles are lightweight and durable, often made from carbon fiber and break down into multiple pieces for easy transportation.
Fishing paddles will generally have a hook for grabbing fishing line or other things.
Kayak Tackle Box
I used a giant tackle box when I first started kayak fishing, and it was a nightmare.
I didn't have anywhere to keep it, that it wasn't in the way.
So I found the best kayak tackle box for my situation and haven't looked back.
My tackle management system is much better than when I started, but I'm always looking for ways to improve it, which often means buying another tackle box.
Kayak Fish Finder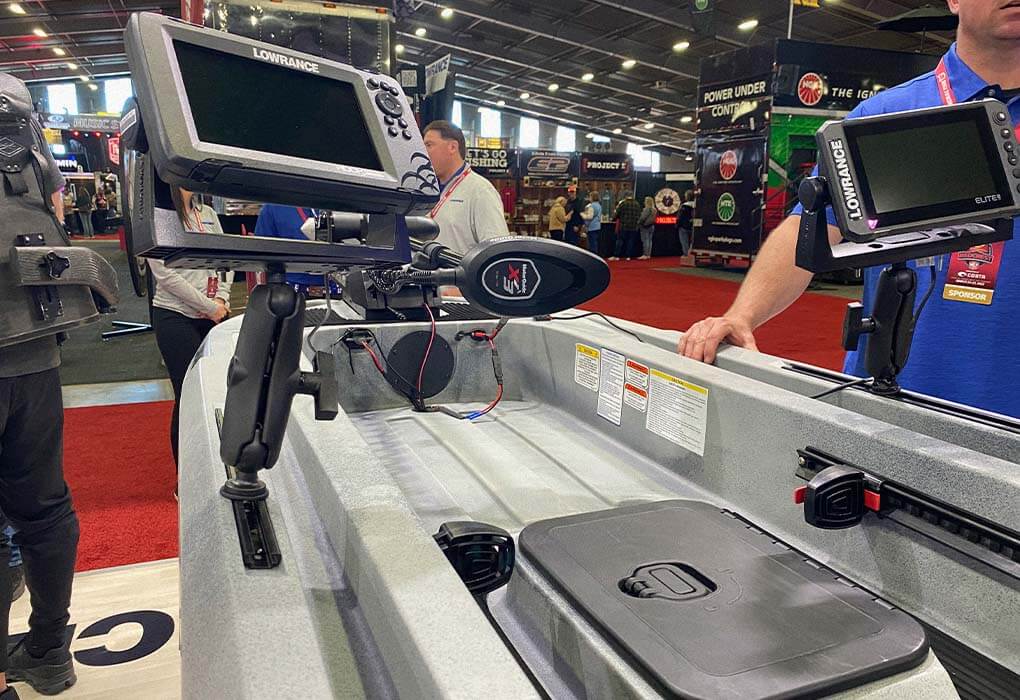 I recommend learning to fish without a fish finder because learning to read the shoreline and think how a fish thinks will benefit you, in the long run, more than any fish finder.
Once it's time to buy a fish finder, starting with something simple is best until you've learned the basics of sonar. Then you should step up to the high-quality fish finders if you plan on doing some serious fishing.
Choosing the best kayak fish finder can be confusing; thankfully, Coty broke it down in easy-to-understand language.
Kayak Trolling Motor
If you can, I highly suggest purchasing a trolling motor.
While it increases the kayak's weight, a trolling motor gives you more control over your kayak.
It will also help you get to your fishing spots much quicker with less effort than paddling.
If you don't have a flat transom, don't worry. There are many trolling motor brackets on the market for kayaks.
You can install a trolling motor on just about any kayak today.
Kayak Crate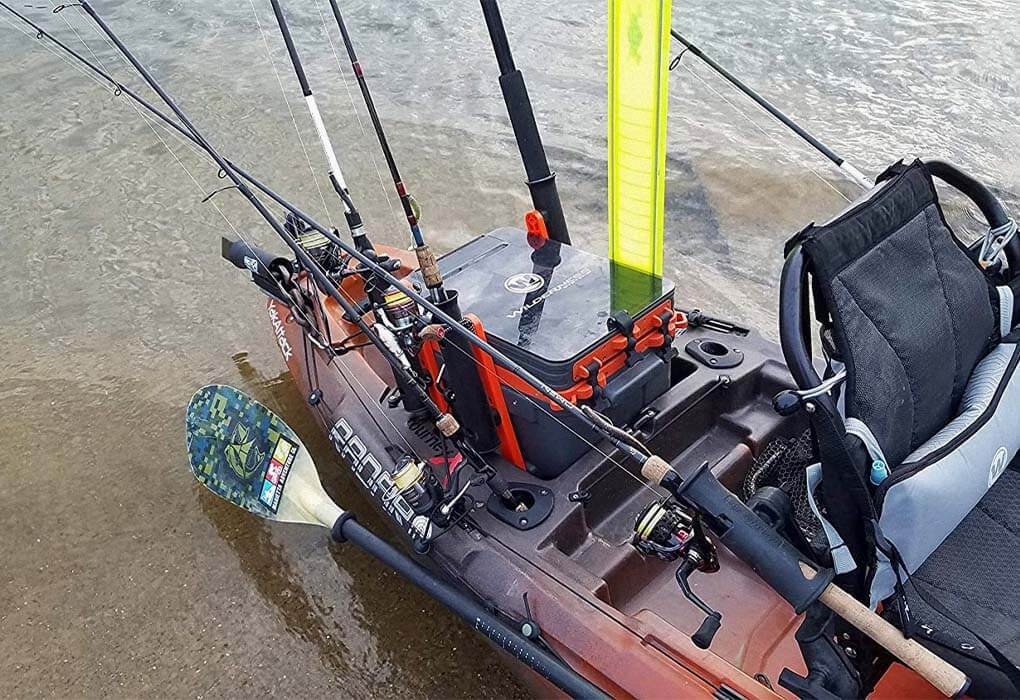 A kayak crate will improve your tackle management system. It's perfect for holding tackle boxes or attaching rod holders.
Most crates are easy to move from your vehicle to your kayak, making loading and unloading a lot easier.
It's simple but effective.
Final Thoughts
If you're looking for the best stand-up fishing kayak, the Ascend 128X will be your best choice because it's affordable yet very stable.
While not many can justify purchasing the Jackson Kayak Blue Sky Boatworks 360 Pro Angler, it's the most stable kayak fishing platform available; nothing else comes close.
If you have any questions regarding kayak fishing, feel free to leave them in the comments, and I will be happy to answer them!