---
We independently research, test, and recommend the best products; you can learn more about our review process here.
I love kayak fishing, and having the option to sit or stand is a game-changer. Whether you need to stand up to do a little sight fishing or stretch your legs, a stand-up fishing kayak is the only way to go for your fishing experience.
After testing out dozens of fishing kayaks, I've found the best stand-up fishing kayak is the Ascend 128X because it has the stability and fishability of kayaks twice its price.
Keep scrolling to see the other kayaks that made our best fishing kayaks list!
Our 3 Top Picks for Stable Fishing Kayaks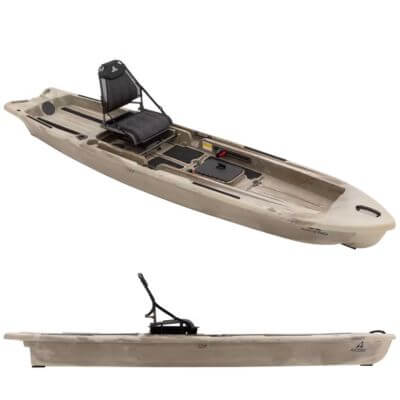 Ascend 128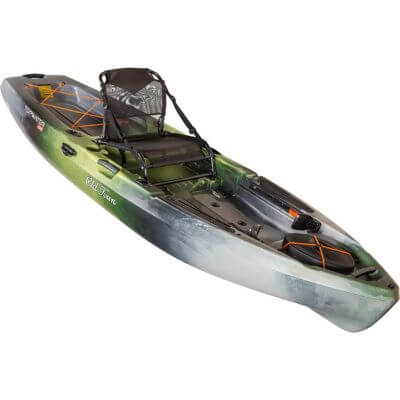 Old Town Topwater 106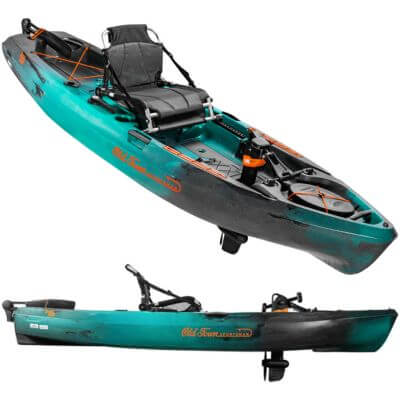 Old Town Sportsman BigWater PDL
---
Testing Procedures
While testing out the following kayaks, I looked for the characteristics that made my experience even more enjoyable.
However, I focused on the ability to stand up in it for this article, and I found that a kayak had to be stable, have a high-sitting seat, and have a foam cushion mat to be the best standing kayak. 
Here's a description of all the features I looked for while using the kayaks on our list-
Stability: How stable the kayak is directly affecting the ability of anglers to stand. Width and hull design are the two primary factors of a kayak's stability, which is why most fishing kayaks are wide and have a pontoon or flat hull.

Testing the stability was simple, could I stand, or was it too shaky to stand?
Seat Position: I've used sit-inside kayaks that were more than stable enough to stand up in, but the low seat height made it nearly impossible to get to a standing position.

This is why all the following kayaks are sit-on-top yaks and have higher sitting seats.
Kayak Floor: The yak's floor is important because it's where you'll be standing, after all. I prefer a flat deck with EVA foam padding. This is the most comfortable and easiest to stand on, plus it dries quickly when it gets wet.
Fishability: When I use "fishability," I'm really talking about the design of the kayak. Does it have features that make angling easier and more enjoyable, or is it a recreational kayak posing as a fishing yak? 
Price: The budget always factors into the equation for me since I'm not made of money, like Jeff Bezos or Bill Gates.

If you're like me and don't have multiple lake houses, then you'll be happy to know I left off many of the most expensive fishing kayaks simply because most people aren't willing to take out a second mortgage on their house to buy a yak.
BEST STAND UP FISHING KAYAK OVERALL
Ascend 128X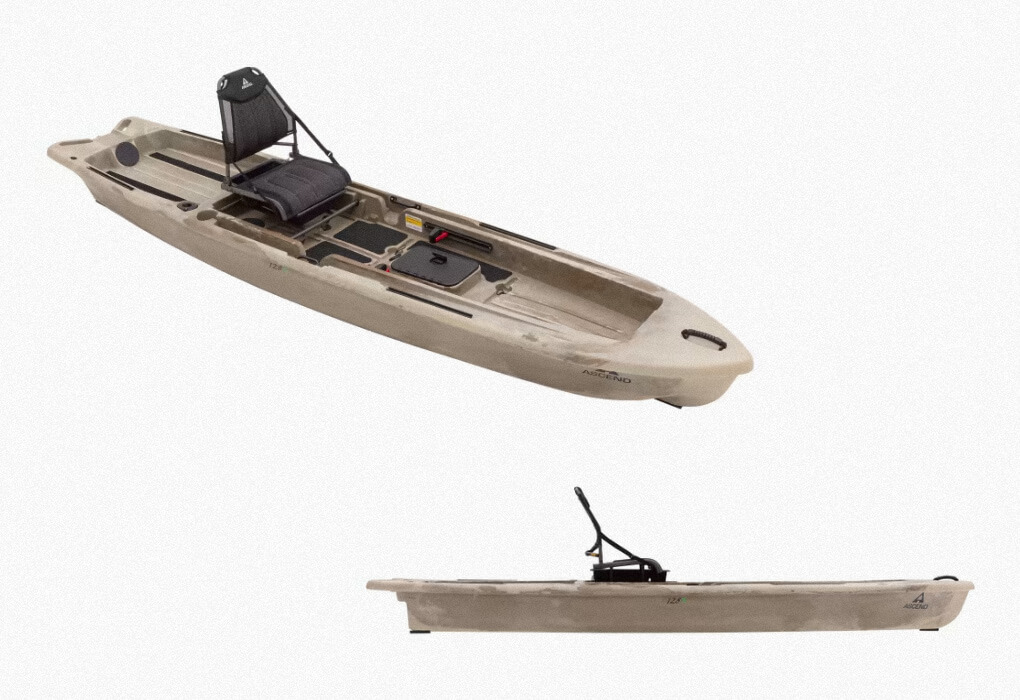 Specs
Length: 12′ 8″
Width: 34″
Weight: 96 lbs
Maximum Weight Capacity: 450lbs
Why We Chose It
The Ascend 128X is the best stand-up kayak overall because it's super stable, has a solid seat, and comes loaded with fishing features that other kayaks can't match at this price point.
Ascend is a Bass Pro and Cabelas brand of outdoor products. They make affordable products for the everyday outdoor enthusiast.
At 34″ wide, the Ascend 128X is incredibly stable, so you can easily stand and fish. The catamaran hull design means you'll fall out of the kayak before it capsizes.
So you might get a little wet if you lose your balance, but you won't be losing all your fishing gear! 
I found the seat height to be comfortable and made it easier to stand because I wasn't not sitting on the floor. But the higher seat also means you're more likely to fall out if you encounter rough waters
However, the adjustable foot braces help you stay in the boat and in a comfortable position while paddling.
Since this kayak is under $1,000, I wouldn't expect it to have wires pre-rigged for a fish finder or lights, but it does!
The Yak-Power makes your kayak ready for a battery, and you don't have to drill holes and run the wiring yourself or pay someone to do it.
The Ascend 133X Tournament Sit-On-Top Kayak with Yak-Power is a step up from the Ascend 128X in price and features, but it also comes pre-rigged with Yak-Power.
Because the Ascend 128X is designed for fishing, it has a few things other kayaks won't have, like flush mount rod holders behind the seat, gear tracks in front of and behind you, and a padded floor.
After an all-day fishing trip, the foam-padded floor will keep your feet and knees from aching.
I love having as many accessories rails as possible because they make customizing your new kayak a breeze. You can quickly add and adjust fish finders, rod holders, and safety flags without drilling many holes in the Ascend 128X.
You'll also find a ton of storage for all your gear at the front and back of the boat, but there's not much dry storage. The dry storage hatch is at your feet, which means easy access, but it's not a very large storage compartment.
With so many positive attributes, it's easy to see why the Ascend 128X is considered the best stand-up fishing kayak, but it also has some downfalls that you should be aware of. 
First, it's pretty stinking heavy, so you'll need a truck or kayak trailer to transport this kayak.
Secondly, the limited amount of dry storage means you can only bring the bare minimum of items that must stay dry.
The Reel Yaks 11′ Fishing Kayak is an Amazon option that offers a lot of storage hatches, and it's a pedal drive kayak.
I also found it to be a very stable fishing platform because of its "W" hull shape, making it stable enough to stand and fish from. I like that it's much lighter than the 128X. However, it is also much more expensive.
Lastly, while the yak I tested had all the parts, I saw several reviews where screws were missing, and the customer service was not helping the customer.
Despite the cons, the Ascend 128X is still the best fishing kayak for the price because of its seat height, stability, and fishability.
BEST STAND-UP FISHING KAYAK FOR INTERMEDIATE PADDLERS
Old Town Topwater 106 Kayak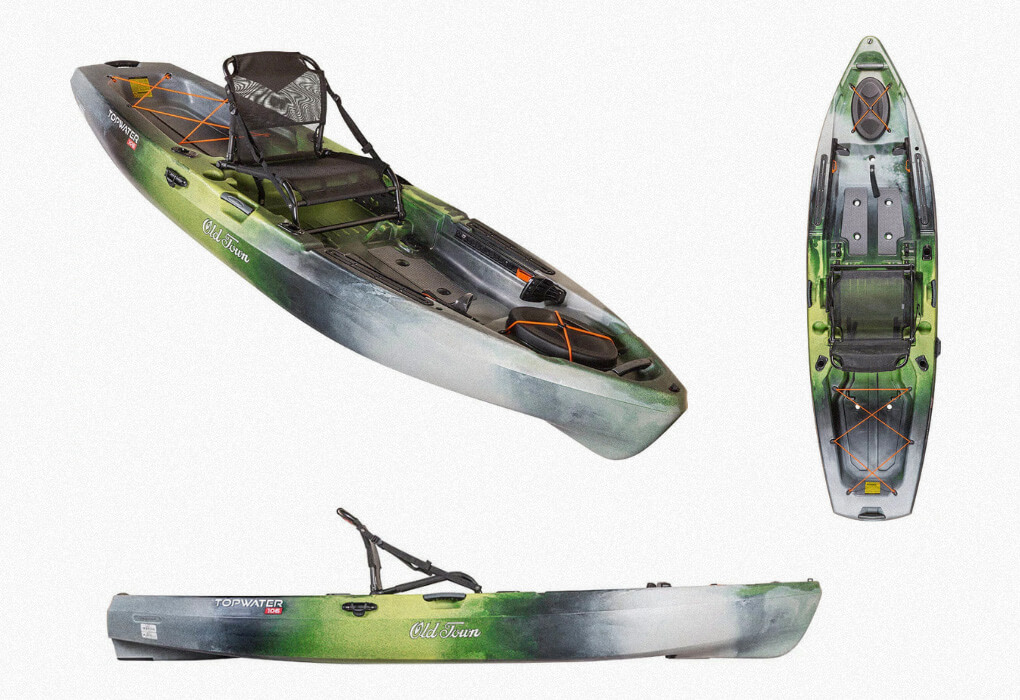 Specs
Length: 10′ 6″
Width: 34.5″
Weight: 73lbs
Maximum Weight Capacity: 440lbs
Why We Chose It
The Old Town Topwater 106 is expertly designed for fishing from a small kayak. I'm surprised that it's as inexpensive as it is because of all the features it has crammed into a 10' kayak.
Old Town is one of the most trusted names in watersports, especially kayaking and canoeing.
This kayak is just under 35″ wide, so it was plenty stable to stand and fish from, plus the foam padding on the floor offered a little cushion for my feet and knees while standing.
The seat height is ideal for staying comfortable and makes standing up much easier than a lower seat height. I thought the little strap to grab and help pull yourself up was a simple but genius touch.
When you're not standing, the adjustable foot braces offer support to remain comfortably seated. It might seem like a small thing now, but they will make a world of difference after a few hours on the water.
The Topwater 106 also offers plenty of storage, even though it's a short fishing kayak.
With a bungee storage compartment in the tankwell (back) and a dry storage compartment at the bow (front), you'll have plenty of room for your tackle.
The built-in cup holder, fishing rod holders, and gear tracks give you more space to keep your essential fishing gear organized, which makes it 1,000 times better than the Perception Pescador 12, which is essentially a cheap recreational kayak posing as a fishing kayak.
The biggest downfall of the Topwater 106 is its weight. It's very heavy for such a small kayak, but this also means it's well-built. 
I also think a kayak under 11' is small for big water kayak fishing. I just like to be as visible as possible, so a large kayak helps with that. But the small size also lends itself to fly fishing on rivers and creeks.
The Perception Outlaw 11.5 is priced similarly and has similar features, but it's a foot longer, so you'll be more visible when fishing on big bodies of water.
However, the Outlaw lacks dry storage, adjustable foot braces, and a pull strap to help you stand.
Overall, the Old Town Topwater 106 is the better option for most anglers looking to stand and fish from their kayak because it's crazy comfortable, superbly stable, and loaded with fishing features. 
BEST PEDAL STAND-UP FISHING KAYAK
Old Town Sportsman BigWater PDL Sit-On-Top Pedal Kayak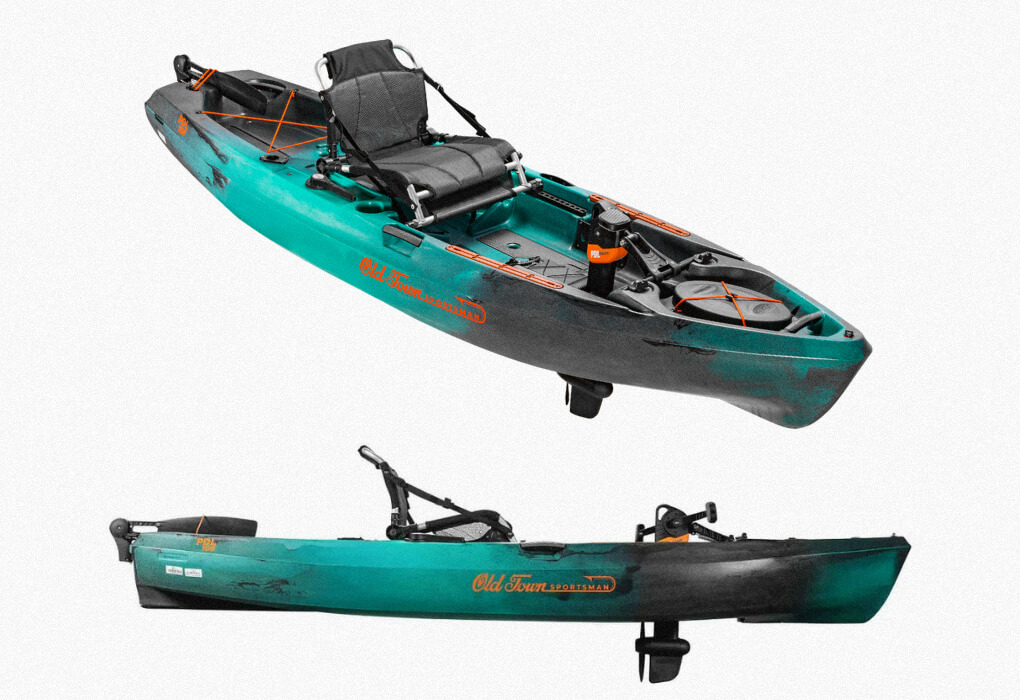 Specs
Length: 13′ 2″
Width: 36″
Weight: 122lbs
Maximum Weight Capacity: 500lbs
Why We Chose It
The Old Town Sportsman BigWater PDL is a giant kayak that offers lots of storage space and, more importantly, the option to pedal or paddle to your honey holes.
If you've never used a pedal kayak, you're missing out. They're a game-changer for fishing because you can control your plastic boat hands-free without having to put the fishing rod down.
You can also pedal much quicker than you paddle, with less effort. At least, that was my experience when testing out this Old Town kayak.
I think the best thing about the PDL is that it's instant reverse. Just begin to pedal backward to go in reverse. I found this to be very handy when controlling the kayak in windy situations.
The hull design and width of this barge give it more than enough stability to stand and fish, plus it has a padded floor to keep your feet and knees happy.
I like that the seat is adjustable, so whether you're short-legged like me or extra tall, you'll still be able to reach the pedals comfortably.
I also really appreciate how well it drains. You're inevitably going to get water in the kayak, so it needs to quickly drain out of the scupper holes to avoid lugging around unnecessary weight because it's already extremely heavy.
The weight and price are the two biggest reasons not to get this kayak, so let's talk about them for a second.
The weight is a ridiculous 120+ pounds, so you won't want to be cartopping this kayak.
The PDL and seat are removable to lower the weight by 30-ish pounds, but I'd definitely need a kayak cart to get it to the water and a trailer to transport it to and from my house. You're just gonna spend more money! 
Speaking of money, this kayak is already very expensive at well over $3,000. Now this isn't the most expensive kayak I've seen, but that doesn't give me much comfort because that is still a lot of money.
The Hobie Mirage Passport 10.5 Sit-On-Top Kayak is a smaller, lighter, less expensive option for a pedal-drive system kayak.
However, the Hobie pedal system doesn't have an instant reverse. You have to shift into reverse, it's not complicated, but it does take some time to get used to it.
After using both brands, Hobie's pedal drive is built for speed, while Old Town is built for convenience.
The Old Town Sportsman BigWater PDL 132 is expensive, so I wouldn't recommend it for beginners; instead, it's definitely for anyone looking to upgrade to the best stand-up pedal fishing kayak.
BEST INFLATABLE STAND-UP FISHING KAYAK
NRS Pike Pro Inflatable Kayak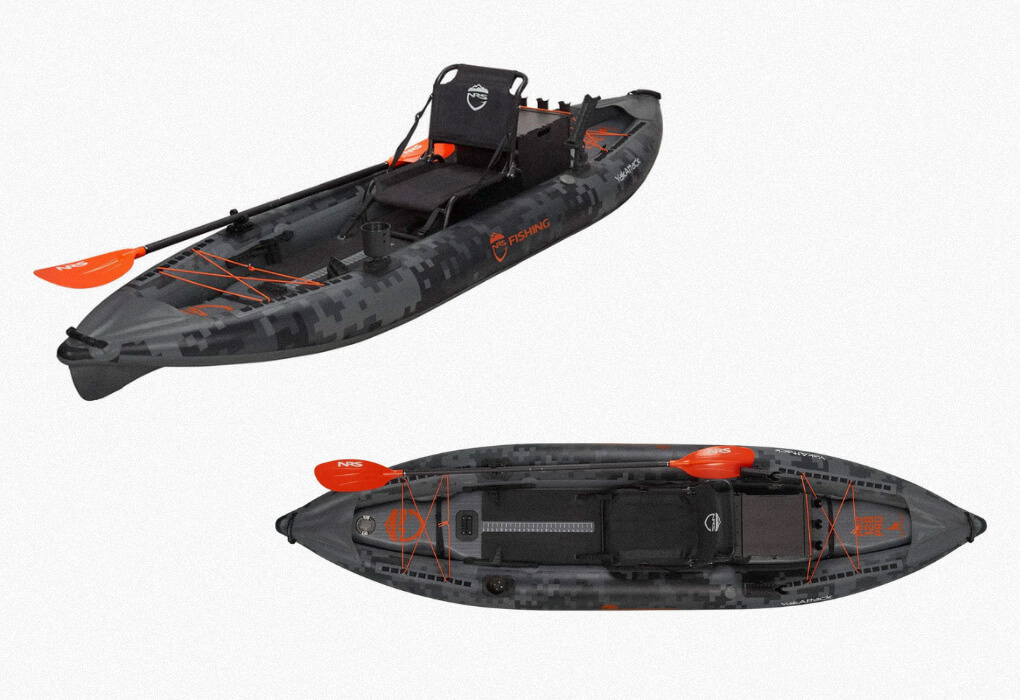 Specs
Length: 12' 8"
Width: 38"
Weight: 48 lbs
Maximum Weight Capacity: 375 lbs
Why We Chose It
The NRS Pike Pro is the best stand-up inflatable fishing kayak because is stable, lightweight, and ultra-durable. I was openly against inflatable kayaks until I researched them deeper and finally decided to test some. 
The NRS Pike Pro is one of the kayaks to change my mind after testing it.
First of all, the aluminum-framed seat elevates, which makes standing a breeze, and is much better than the StraitEdge Angler Pro seat that resembles a sit-in kayak.
Then you'll be walking on water with the EVA foam deck pad on the floor. 
I've grown fond of the lightweight nature of inflatable kayaks because they're SOOO much easier to transport than hard plastic kayaks. You might think, as I did not too long ago, that inflatable kayaks just aren't durable.
That's simply not true.
I can confidently say this kayak will handle hitting rocks in the river or getting stabbed by sticks in the lake; it's a very durable kayak.
Best of all, it was designed with anglers in mind. The seat is comfortable; there's plenty of room for your gear, and there are multiple accessory mounts for rod holds, cup holders, paddle holders, and fish finders.
While this kayak changed my mind about inflatable kayaks, it still has its shortcomings.
The nature of blow-up kayaks is that there's no dry storage, so you'll need to bring a dry bag if you plan on bringing valuables that can't get wet.
The next con is the lack of gear tracks. Yes, it has accessory mounts, but I'm fond of gear tracks because you can precisely place your gear where you want it.
With accessory mounts, you are stuck with where the manufacturer thinks the most amount of people will find it useful.
The last con is the price. Maybe it's because I still prefer my solid fishing kayak, but inflatable kayaks are now nearly as expensive as my high-end kayak.
I just think they should be significantly lower since you're likely to need another due to wear and tear.
The Aquaglide Blackfoot Angler 130 is another prime example of how expensive blow-up kayaks can get, but it does have a ridiculously high weight capacity.
All in all, the NRS Pike Pro is the best inflatable stand-up fishing kayak because it has many fishing features, you're not going to flip it when standing up, and the seat makes it easier to stand.
Check out this link to learn more about inflatable kayaks.
BEST SIT-ON-TOP FISHING KAYAK FOR BEGINNERS
Jackson Kayak Bite Angler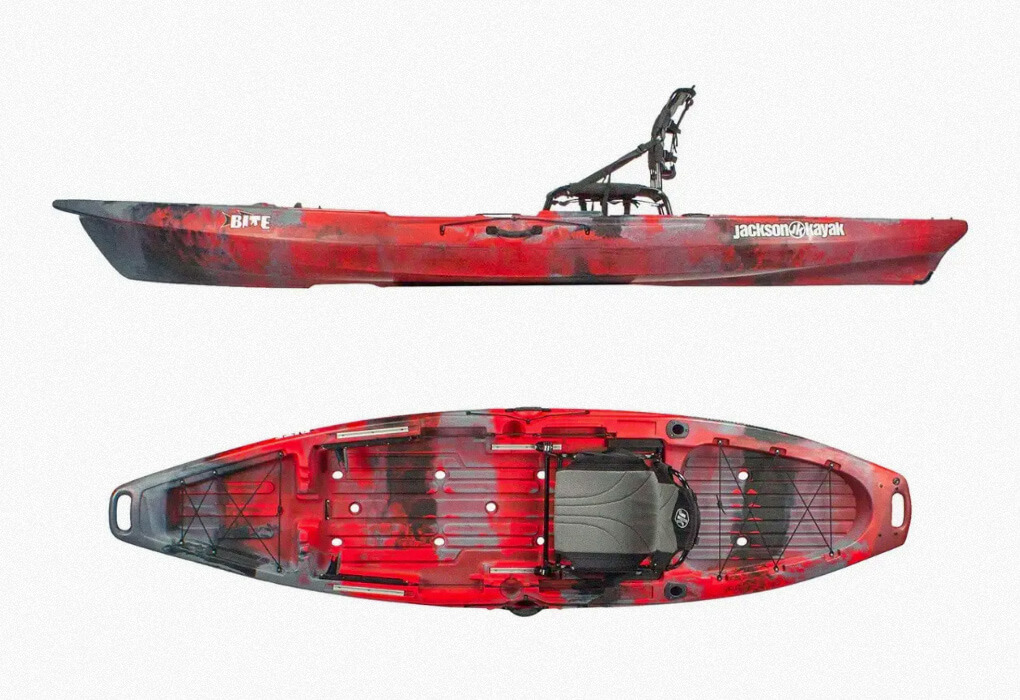 Specs
Length: 11′ 6″
Width: 36″
Weight: 74 lbs
Maximum Weight Capacity: 400 lbs
Why We Chose It
Jackson Kayak designed the Bite Angler for beginner kayak anglers. It's ridiculously stable and offers the features you need at a reasonable price.
Before I even pushed on the bank, I could tell this kayak is stable because it was 36" wide.
The open deck is nearly big enough to two-step across, and if you decided to do a little dance after catching a fish, you're not going to capsize the kayak. 
During my test, when I got water in the Bite Angler, it quickly drained out and kept me as dry as possible because of the well-designed scupper holes.
I stayed comfortable in the padded seat, but you might find it hot while sitting on it when the weather is warm.
This isn't a big deal since all you have to do is take a quick swim to cool off, but you probably don't want to swim in your fishing hole unless you're noodling for catfish.
I could tell Jackson Kayak was thinking about anglers while they designed the Bite Angler because they left plenty of room for gear storage, added built-in rod holders, tackle box compartments, and gear tracks for extra rod holders and a fish finder. 
I didn't rank this kayak higher because it had a few pitfalls that I just couldn't overlook.
The first is the lack of a padded floor, unlike with the Wilderness Systems Atak 120, which has padding, your feet will hurt faster while standing to fish. 
Now when I learned this kayak was right around $1,000, it made sense why it didn't have a padded floor, and even though it lacks a padded floor, you can purchase aftermarket kits or stand on the plastic floor, as I've done for years in one of my Nucanoe kayaks.
I would also like to see more gear tracks because I'm a gear junkie, but there are enough tracks for a spare rod holder and fish finder mount, which is great for keeping beginners from feeling overwhelmed that they need all this gear.
Because you don't. It's honestly best to keep things as simple as possible when you're first starting out.
Lastly, the lack of dry storage compartments is frustrating, but there is plenty of bungee storage area, so throwing a dry bag into the kayak isn't a big deal.
The Jackson Kayak Bite Angler is the best stand-up fishing kayak for beginners because of its stability, fishability, and reasonable price.
Buyer's Guide for a Stand-Up Fishing Kayak
When purchasing a new kayak, I always keep the following things in mind. These help me make the best decision possible without breaking the bank.
At first, I didn't consider all of these factors. Still, after years of kayaking, I have decided that stability, maneuverability, comfortability, customizability, and my budget all matter most when I buy a new kayak.
Your preferences might vary slightly from mine, but these will get you started in the right direction.
Stability
Unless you enjoy going overboard, it has to be stable if you plan to stand up and fish from a kayak.
The width and hull design contribute to the kayak's stability.
A rounded bottom will be less stable than a catamaran or "W" shaped hull.
There is a trade-off between stability and maneuverability.
Maneuverability
Maneuverability means how well it handles. Does it turn easily? Or do you need several paddle strokes before it turns?
The hull design also plays into this, so companies often have to compromise to favor stability or maneuverability.
For example, the Jackson Kayak 360 Pro is more stable than any kayak on the market, but it doesn't maneuver well.
A kayak's handling matters most in rivers and rough waters, where you often need it to respond quickly while paddling.
If you fish flat water like lakes and ponds, this doesn't matter as much.
Comfortability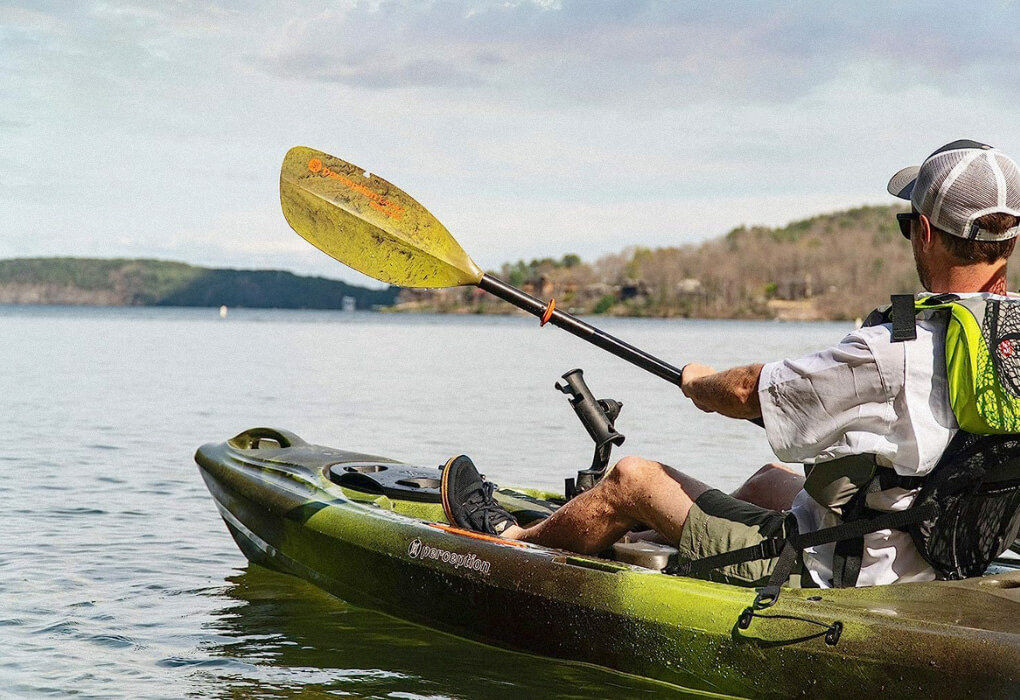 You're going to spend several hours in this watercraft, so it better be comfortable.
An adjustable seat that sits off the floor, adjustable footrests, and traction pads on the floor increase the comfort of a kayak.
This is important for me because when I'm having a less-than-ideal day of fishing, I can sit back in my chair and enjoy just being on the water.
Customizability
We all have different fishing styles. I fish entirely differently than my mom fishes, which is partly why we have unique kayaks.
I prefer a kayak that I can customize to match my style of fishing.
I enjoy catching several different species that all require a separate presentation. I need a kayak that can adapt to the species I'm chasing and then quickly change to another for the next day.
Customization is also called rigging a kayak, which means adding rod holders, a fish finder, a kayak trolling motor, or other fishing accessories.
Customizing your kayak is addicting once you start.
Budget
The most significant factor I consider is if I can afford the kayak I want.
Your budget will determine the quality of the kayak you purchase.
I love that you can buy an inexpensive kayak and then purchase a few aftermarket accessories that will allow it to be as effective as an expensive kayak.
While the budget is the biggest factor, I don't skimp on stability or comfortability because the kayak's stability is a safety precaution, and I know I'm going to be fishing a lot, so I want my kayak to be comfortable.
I had to save for a while to afford my latest kayak because I wasn't willing to skimp on anything.
So if you've got your eye on the Jackson Kayak 360 Pro, maybe try eating peanut butter and jelly sandwiches for a while!
You'll Also Need
Sadly once you've bought your kayak, you'll quickly realize there are several other items you need. Most kayaks don't come with a paddle, which is silly.
Lifevest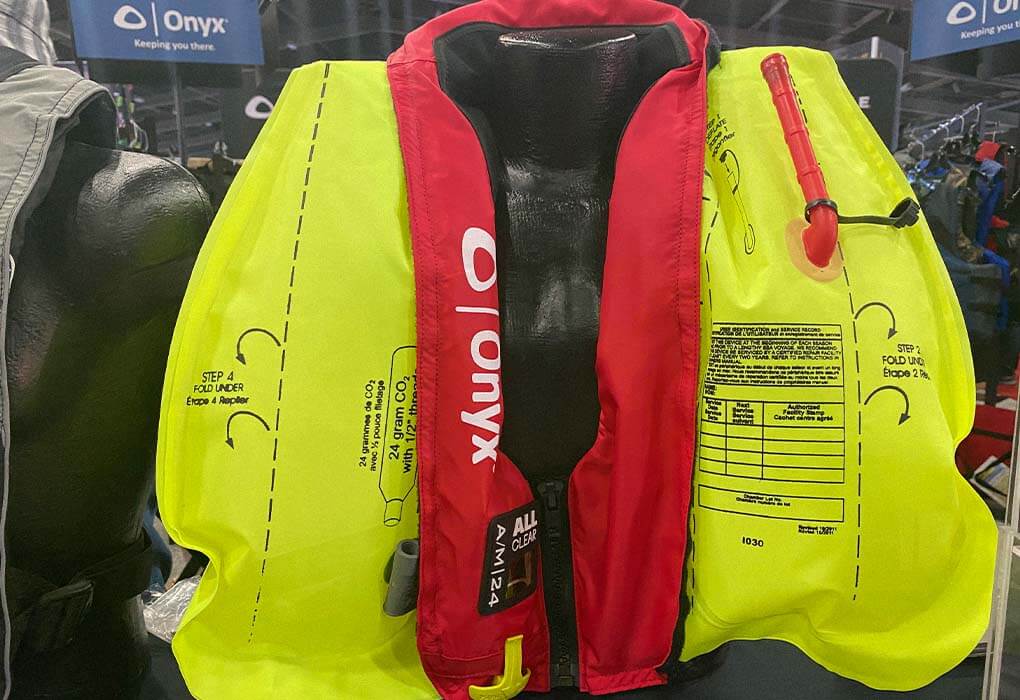 The one item I never leave the shore without putting on is my kayak fishing PFD.
While I've never accidentally fallen into the water, I fish around a lot of stumps and rocks, and I could quickly lose my balance if I were to run into one unexpectedly.
Another reason I always wear my life jacket is because I often fish alone. There's usually not someone close by to throw me a preserver if I need it.
The best kayak fishing PFD is expensive, but you can always go with a less expensive one because any life vest is better than no life vest.
Kayak Fishing Paddle
You don't have to purchase a kayak paddle specifically for fishing, although the best kayak fishing paddle is always a nice addition if your budget will allow it.
The first time I bought a kayak, it surprised me that I had to also buy a paddle. I just assumed one came with it.
I was wrong, and a quality paddle isn't cheap.
High-quality paddles are lightweight and durable, often made from carbon fiber, and break down into multiple pieces for easy transportation.
Fishing paddles will generally have a hook for grabbing fishing line or other things.
Kayak Tackle Box
I used a giant tackle box when I first started kayak fishing, and it was a nightmare.
I didn't have anywhere to keep it, that it wasn't in the way.
So I found the best kayak tackle box for my situation and haven't looked back.
My tackle management system is much better than when I started, but I'm always looking for ways to improve it, which often means buying another tackle box.
Kayak Fish Finder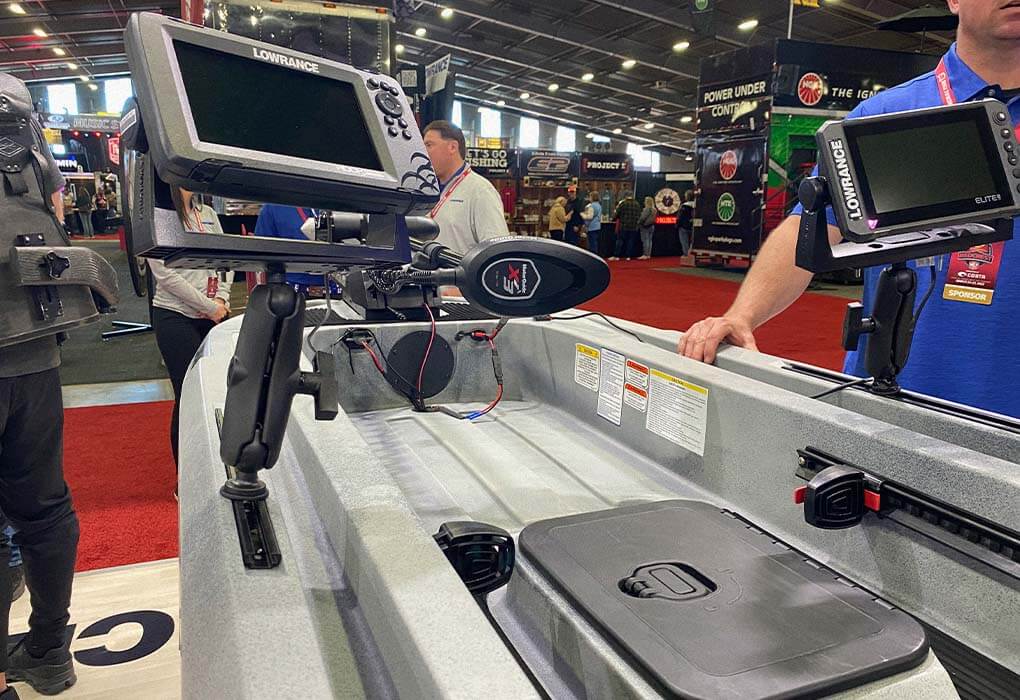 I recommend learning to fish without a fish finder because learning to read the shoreline and think how a fish thinks will benefit you, in the long run, more than any fish finder.
Once it's time to buy a fish finder, starting with something simple is best until you've learned the basics of sonar. Then you should step up to the high-quality fish finders if you plan on doing some serious fishing.
Choosing the best kayak fish finder can be confusing; thankfully, Coty broke it down in easy-to-understand language.
Kayak Trolling Motor
If you can, I highly suggest purchasing a kayak trolling motor.
While it increases the kayak's weight, a trolling motor gives you more control over your kayak.
It will also help you get to your fishing spots much quicker with less effort than paddling.
If you don't have a flat transom, don't worry. There are many trolling motor brackets on the market for kayaks.
You can install a trolling motor on just about any kayak today.
Kayak Crate
A kayak crate will improve your tackle management system. It's perfect for holding tackle boxes or attaching rod holders.
Most crates are easy to move from your vehicle to your kayak, making loading and unloading a lot easier.
It's simple but effective.
Frequently Asked Questions
Below you'll find some of the most commonly asked questions we receive at anglers.com about fishing kayaks.
What is the most stable kayak for fishing?
The most stable kayak for fishing is the Nucanoe Unlimited. I can stand in my Unlimited and fish all day long.
Can you stand up on a fishing kayak?
Yes, you can stand up on a fishing kayak most of the time. A majority of fishing kayaks are designed to stand on.
What kayak style is better for fishing?
A fishing kayak is the better style for fishing. You can fish out of a recreational kayak or tandem kayak, but it's easier to use a fishing kayak.
What are the benefits of standing on a fishing kayak?
The benefits of standing on a fishing kayak are being able to sight fish, see structures in the water, get a better hookset, and stretch your legs.
Last Cast
If you're looking for the best stand-up fishing kayak, the Ascend 128X will be your best choice because it's affordable yet very stable.
However, if you're looking for a pedal type of kayak that you can stand and fish in, the Old Town Sportsman BigWater PDL is what you're going to want for most bodies of water.
If you have any questions regarding kayak fishing and standing up in a kayak, feel free to leave them in the comments, and I will be happy to answer them!