---
We independently research, test, and recommend the best products; you can learn more about our review process here.
When I hear the word "cheap" all I hear is "sacrifice." At least that's what I expected when testing these fish finders because when you're shopping for something solely based on price, you never end up getting exactly what you want.
That might be the case much of the time, but it's not when it comes to the fish finders below.
During my testing I realized the best fish finder under $500 dollars doesn't require you to really give up much at all.
In fact, the Garmin Striker Vivid 7 offers everything you could want in a fish finder bundled up beautifully with GPS as the cherry on top.
Large color display, down imaging, side imaging, GPS, mapping; that's a lot to ask for in a fish finder under $500.
Let's see if it lives up to its promise.
Top 3 Fish Finders Under $500 on the Market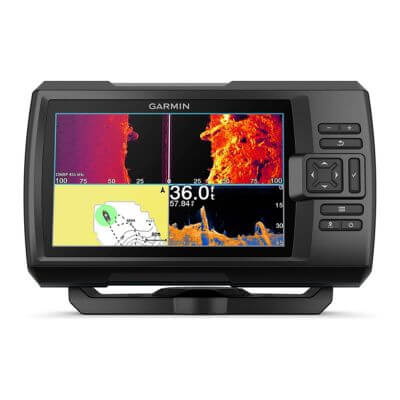 Garmin Striker Vivid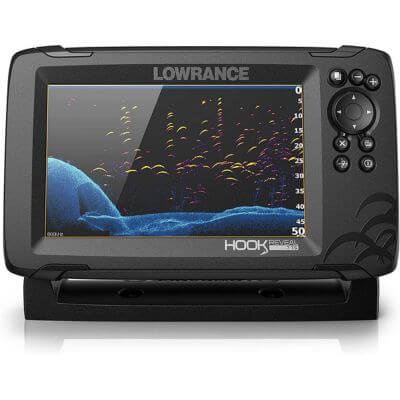 Lowrance Hook Reveal
Humminbird Helix 5 CHIRP GPS
---
Testing Procedure
These are the three primary considerations I kept in mind while testing these fish finders.
Price: All these fish finders had to be near or below $500. Generally, this price point is where you can start to get all the features you'll ever need.

You won't get the latest and greatest sonar, but only a handful of anglers actually need expensive fish finders.
User-friendliness: After testing many fish finders, there's some I just don't get excited about, because they're not easy to install, set up, or use.

If I'm going to spend $500 on something I want to be excited to use it, not frustrated by the entire process.
Features: I'm looking to get the most features for the least amount of money. These features include the widest variety of sonars, GPS, mapping, and chartplotting.

Why pay more for a fish finder that doesn't do as much as its competitors in the same price range?
The Best Fish Finders Under 500 Dollars: Our Favorite Options
Garmin Striker Vivid
BEST OVERALL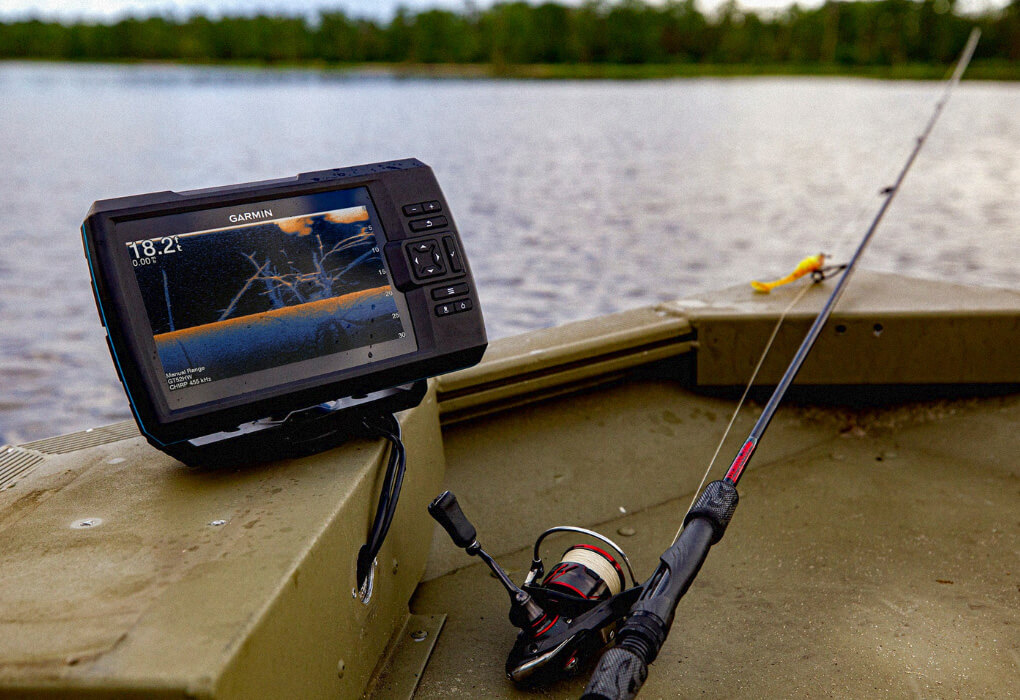 Specs
Size: 5- 9 inches
Imaging: ClearVU, SideVu
Main Feature: Affordable side imaging
Why We Chose It
You won't find a better fish finder under $500 than the Garmin Striker Vivid. Believe me, I tried. Garmin is the leader in fishing electronics, and yet they produce fish finders at prices all anglers can afford.
The Striker Vivid series perfectly fills the void between a Striker 4 and an Echomap UHD. It's similar to the Lowrance Hook Reveal, except it doesn't come preloaded with maps and it's slightly less expensive.
This fish finder has the option for everything from downscan (ClearVU), sidescan (SideVU), traditional CHIRP, GPS, and chartplotting, plus you can choose the best screen size for you from 5 to 9 inches.
Of course, the price goes up as you begin to increase the screen size and add more features. The 9" screen with SideVU is considerably more than $500.
Just because it doesn't come with preloaded maps doesn't mean you're out of luck. This model is great because you can create your own maps, and you can use the ActiveCaptain App to supplement the lack of maps.
This unit looks similar to an Echomap UHD, but it lacks preloaded maps, the latest sonar technology (Garmin Panoptix Livescope), the touchscreen, has a few more buttons to help with userfriendliness.
However, it's nearly $300 less than the UHD, so it's a steal of a deal in my book.
The Echomap UHD is the next step up.
The 7" or 9" screen is large enough to see even when you're using it in split screen mode between the mapping and three sonar options, but the 5" screen is difficult to see if you're trying to use everything at once, unless you're really close to it.
There is a world of difference between traditional CHIRP sonar and ClearVU and SideVu sonar. I prefer to use ClearVU and SideVU 9 out of 10 times when I'm fishing because of the clarity these sonars offer.
It's so much easier to tell the difference between a fish and a rock.
The biggest downside is the lack of an SD slot, so you can't add more memory to the unit to keep creating maps once you've reached capacity.
However, there's plenty of memory, and you can upload your maps to the Garmin community to save them so you never lose them.
Despite this small con, the Garmin Striker Vivid is the best choice for a fish finder under $500 because of the ridiculous amount of features you get, ClearVU and SideVU are more than worth it. Be sure to grab yours today.
Read our full review here: Garmin Striker Vivid review.
Lowrance HOOK Reveal
BEST FISH FINDER SCREEN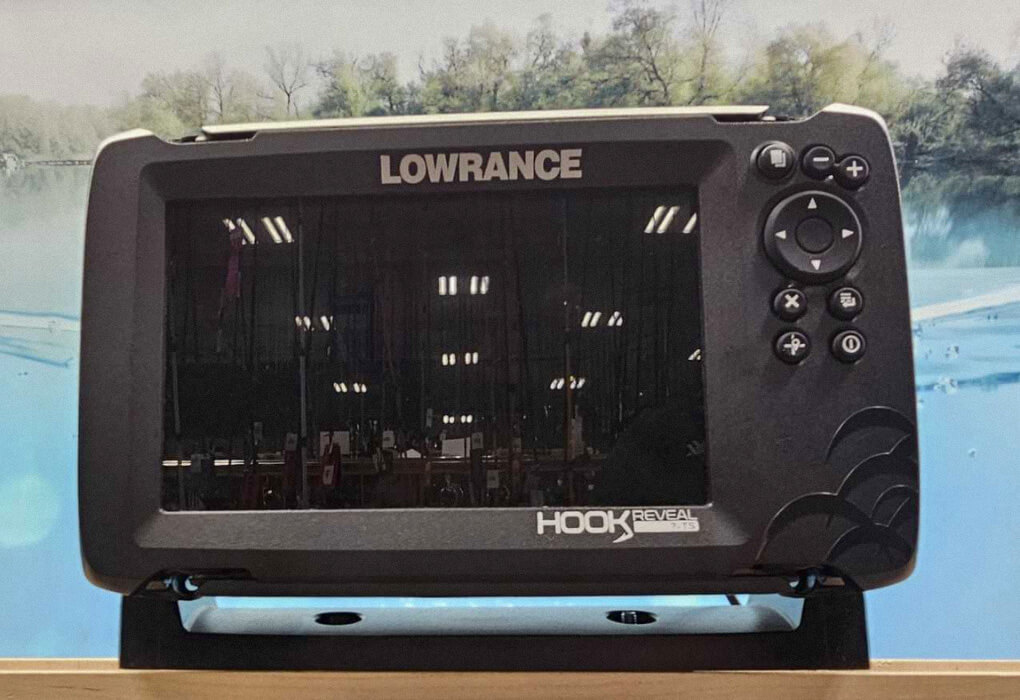 Specs
Size: 5 or 7 inches
Imaging: SplitShot or Tripleshot
Main Feature: FishReveal Technology
Why We Chose It
I have yet to test a fish finder in this price range that has a better screen than the Lowrance Hook Reveal. It's so easy to see on bright sunny days thanks to SolarMax and at night you can adjust it, so it doesn't blind you.
This fish finder is perfect for anglers who wear glasses (like me), or just have a hard time seeing screens.
SolarMAX is unique to Lowrance. It's a high resolution wide-angle screen that provides some of the best viewing in fish finding technology.
It's designed to prevent glare from impacting your view. It also ensures that you can clearly see the screen from any angle.
I could easily see the SolarMAX screen while standing or sitting from multiple angles in my boat. I didn't have to crouch down or cover part of the screen to see it.
The Hook Reveal also has FishReveal Technology. FishReveal is one of my favorite features from Lowrance.
It combines structurescan with fish arc technology, which means more detail about the structure while still displaying fish arches as you're moving through the water in realtime.
The feature helps you better understand why fish are holding to a certain area because you're better equipped to identify the structure in that area.
Last but not least, the number of color palettes. Gone are the days when fish finders had a white or black background with one-size fish arches with one color.
Lowrance has increased the number of color palettes making it easier to identify fish and their size. With the enhanced colors on the HOOK Reveal, you can get a better idea of what you're after and how big it is.
The reason this fish finder wasn't the top dog is because of its pricing. To get all three sonar types and the 7" screen it'll cost you slightly more than $500.
However, if you're willing to spend the extra $50 or so dollars, it's well worth it. My grandpa loves his that we mounted to his Bass Tracker.
The Lowrance Hook Reveal gives the average angler EVERYTHING they need to succeed, from incredible sonar, a clear screen, GPS, and mapping. Go ahead and order one today, so you can get it installed on your boat ASAP.
Read our full review here: Lowrance Hook Reveal review
Humminbird Helix 5 Chirp GPS
BEST DUAL BEAM CHIRP SONAR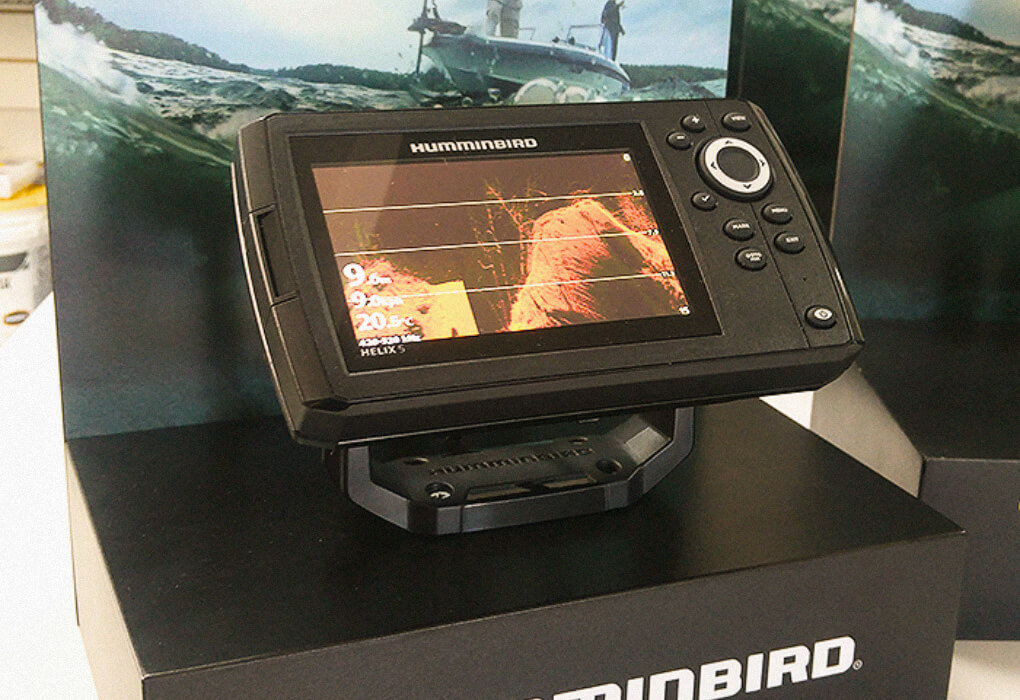 Specs
Size: 5-inches
Imaging: Dual Beam CHIRP Plus
Main Feature: Autochart Live
Why We Chose It
The Humminbird Helix 5 CHIRP GPS is for the anglers who pride themselves on getting by with as little help from sonar as possible.
It's incredibly simple to use because it's the base model Helix so it doesn't have all the new fangled sonar technology.
Instead it has Dual Beam Chirp which was at one time the most advanced technology.
Now, it's the most basic type of sonar. Granted, it's still more than enough to get the job done and if you are looking for something uncomplicated this is the unit for you.
With Dual Spectrum sonar, you can focus on an image to choose the angle of the sonar beam you want to send into the water.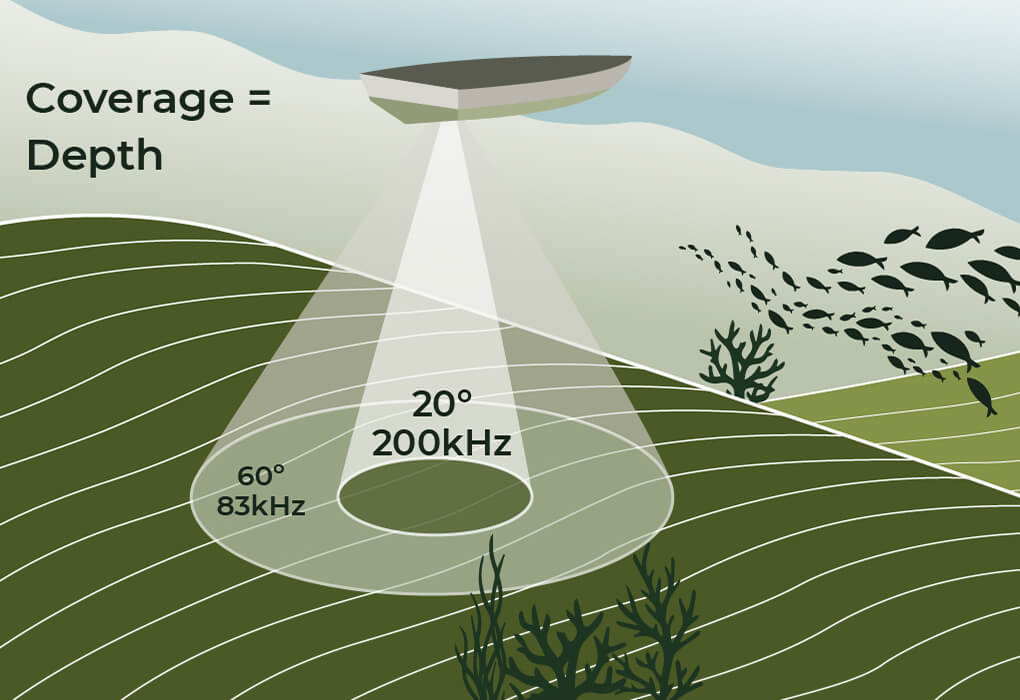 If you're scouting, you can spread the beam out wide to get an overall idea of what's happening below or if you're focusing on a specific target, you can narrow the beam to take a closer look.
I really liked how the buttons are well marked, so you know exactly what's going to happen when you press it, and the screens are pretty straightforward to navigate.
Setting up the unit is quick and easy, if you understand electricity 101 and are handy with power tools.
Another top notch feature is the GPS and Autochart Live.
When you purchase this unit, it comes with the Humminbird Base Maps and it's compatible with the premium charts, so all you have to do is buy and insert a microSD card into the unit to get more maps.
The microSD slot also allows you to save your maps and charts to an SD card and transfer them to another fish finder if you like.
Autochart Live is similar to Lowrance's Genesis Live which the Hook Reveal has, these features allow you to create a live map of the area you're fishing.
You can see the exact depth contours, bottom hardness, and vegetation below your boat.
It's pretty clear that this fish finder isn't up to par with the Garmin Striker Vivid because it doesn't offer down imaging, side imaging, and the GPS technology isn't quite as good as the legendary Garmin GPS capabilities.
While the GPS is plenty good for most anglers, the lack of downscan and sidescan is what steered me away from buying, but it's also less expensive than the Striker Vivid or Hook Reveal.
You could upgrade to the Helix 5 CHIRP DI (for down imaging) or the Humminbird Helix 7 if you're looking for more features but expect to fork over a few more dollars.
Considering it's well below $500, the Humminbird Helix 5 CHIRP GPS is perfect for the anglers looking for a simple, yet effective dual beam CHIRP sonar unit. If that's you, go ahead and get one ordered today.
Read our full review here: Humminbird Helix 5 review
Garmin ECHOMAP Plus 43cv
BEST FISH FINDER GPS COMBO UNDER $500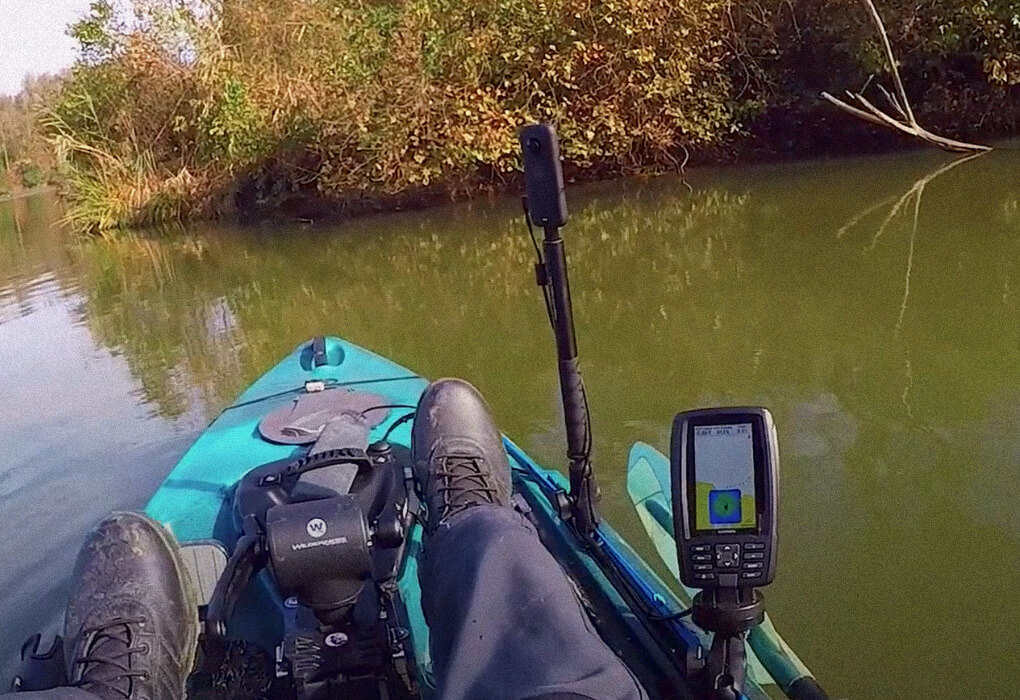 Specs
Size: 4.3-inches
Imaging: ClearVu
Main Feature: Quickdraw Contours and Mapping
Why We Chose It
The Garmin ECHOMAP Plus is a stupidly inexpensive chartplotter perfect for kayak and small boat anglers.
This is the unit you should get if you're looking for an easy to operate and loaded with features fish finder for well under $500.
ClearVU scanning is Garmin's top-of-the-line downscan technology, plus you have access to Garmin maps, or you can create your own with Quickdraw.
I use ClearVu all the time because it is an incredible downscan sonar which allows you to clearly see what's below the water, whether it's a wad of baitfish or a giant bass hiding in a brush pile.
The maps allow you to scout an area beforehand and if any this is inaccurate, QuickDraw allows you to update the contour lines where you're at instantly.
The limited number of preloaded maps means you won't have every body of water you want when you purchase it, but they're much better than a blank white screen, like the Garmin Striker 4 has.
The biggest downside to this unit is the small screen. This unit is nearly identical in size to the Striker 4.
So even though you're getting several features, they'll be a little tough to see, especially if you're running split screen on a large boat.
If you own a bigger boat, you can check our Echomap UHD review but be prepared to fork out a lot more of your hard-earned money, like three to four times more.
Despite the small screen, the Garmin Echomap Plus is a perfect fit, like Cinderella's slipper, if you need solid mapping and GPS in your small boat or kayak.
When mounted in your boat, you get the legendary Garmin mapping at a price that doesn't force you to choose between new sonar or feeding your family.
Simrad Cruise 7
BEST SALTWATER & CONTROLS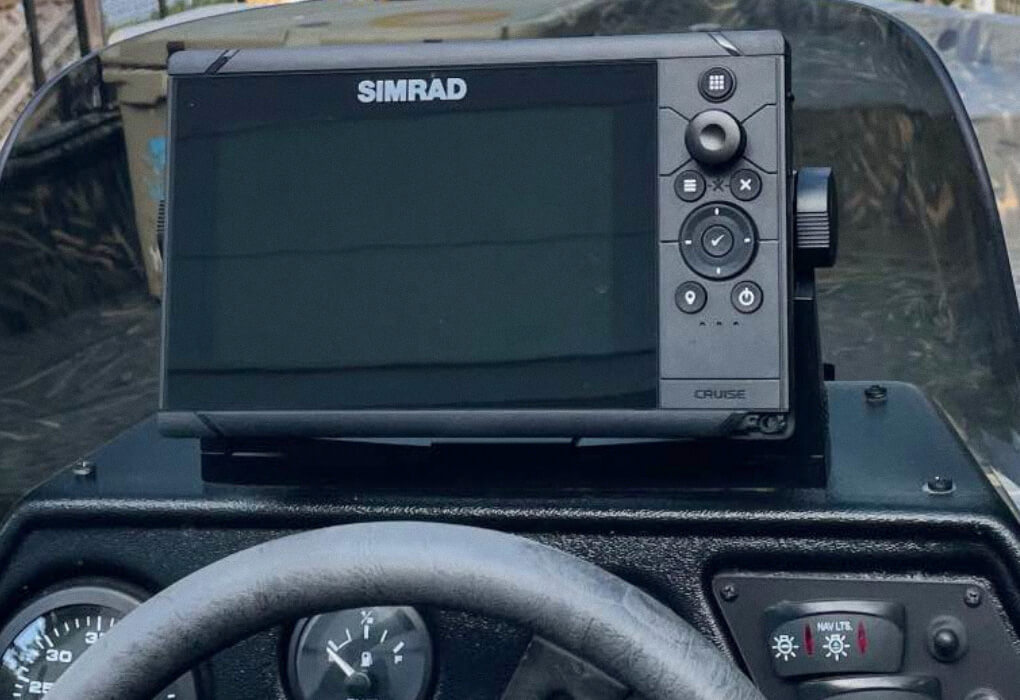 Specs
Size: 7-inch
Imaging: CHIRP
Main Feature: Ergonomic and easy to use controls
Why We Chose It
The Simrad Cruise 7 is the fish finder for saltwater anglers on a tight budget. Simrad is known for offering top of the line displays with the most crisp imaging and this one does not disappoint.
The standout feature is the simple operation of the fish finder. The Cruise 7 comes with a rotary dial and a variety of buttons on the right panel for you to control everything happening on the screen.
I'm a huge fan of this because I find that the fish finder operates better in cold or wet conditions when it's button-operated.
The Cruise 7 also features great mapping with C-Map and Worldwide Basemap. It comes with a 32GB MicroSD slot so you can use the preloaded maps or import other maps based on where you plan to fish.
Anglers who fish the coast and canals will benefit tremendously from these maps.
I have a problem with the accuracy of Simrad sonar though.
I find that the target separation (the minimum distance two objects can be from each other for the sonar to tell they are different objects) could use some improvement.
Meaning it's sometimes difficult to tell how many fish are under your boat or the difference between fish and structure because they're so close together.
I think this is because Simrad focuses on mapping more than the sonar aspects of this unit.
Another reason this unit didn't rank higher, is because it cost slightly more than $500, not much though.
Overall, the Simrad Cruise 7 is simple to use and offers coastal anglers a solid GPS option, at a much lower cost than most saltwater units. So if you fish along the coast, this is the unit you should order.
Guide to Choosing the Best Fish Finder Under $500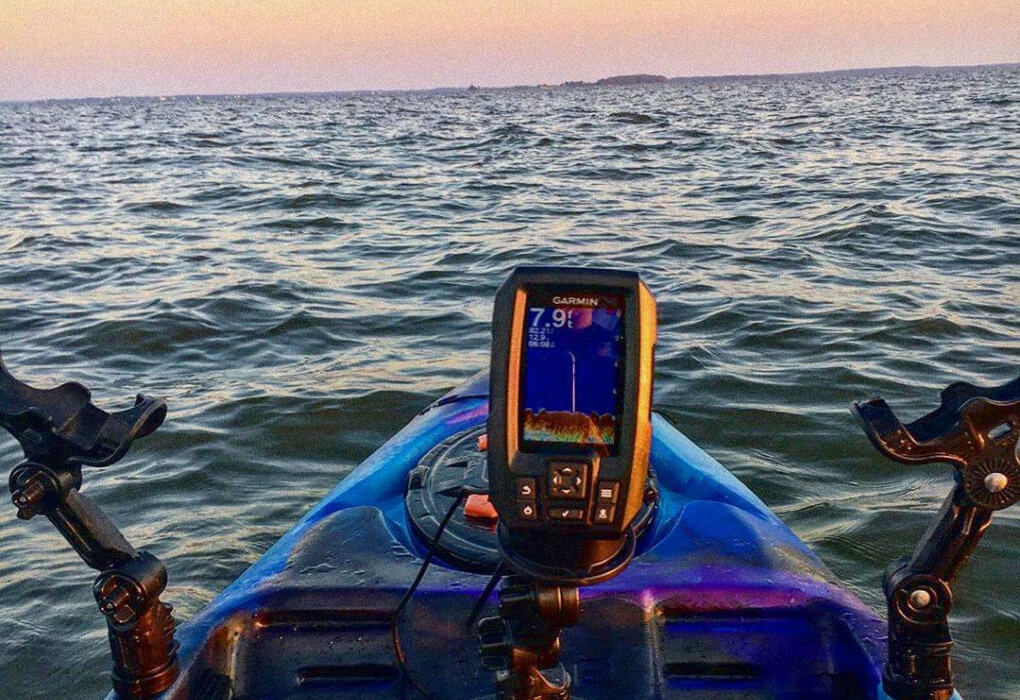 Cheap doesn't always have to be a bad thing. Manufacturers make low-cost fish finders for a reason and many of them are still rich with a ton of amazing features.
I also want you to keep in mind that scanning sonar isn't strictly business. It's here to improve the fishing experience, help you find more fishing spots, and to make it easier for beginners to get into the sport.
In the following sections, I want to outline some of the things to look for when buying the best fish finder under 500 dollars.
Let's get into it.
Sonar Types
Sonar isn't exactly an exciting thing to talk about but it's the most important feature because it directly impacts the way you view fish on the fish finder.
There are many different types of sonar but you'll find three most commonly in affordable fish finders.
CHIRP
CHIRP is incredibly common in most modern-day fish finders, yet a lot of people still don't understand what it is.
It stands for Compressed High-Intensity Radiated Pulse. CHIRP fish finders have a much longer sonar pulse which means more energy is sent through the water resulting in a clearer picture.
It's an upgrade from traditional sonar. This type of sonar also has variable frequencies meaning you can dial it up or down based on what type of image you're trying to create.
High frequencies work well in shallow water because they produce the highest quality image.
When you've narrowed down on a specific area that you want to target, you can use
high-frequency sonar to identify a precise location where fish are holding out.
If you're in deep water, low CHIRP sonar works best because the frequency is lower meaning it's providing a less precise image but a wider band of sonar.
You'll be able to cover more area and deeper water while producing a lower quality image.
When you're trying to get the best fish finder for the money, CHIRP is the standard in today's world. You don't have to settle for traditional 2D sonar because many CHIRP fish finders are priced as low as $200.
Down Imaging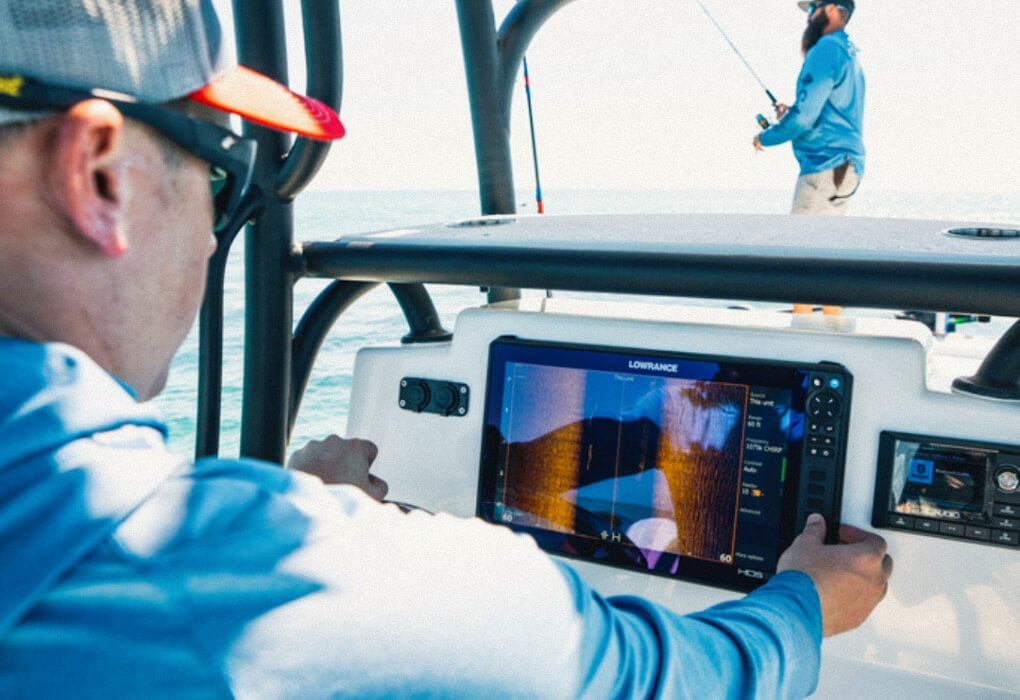 When you upgrade to down imaging sonar, you're going to increase the price a little but also provide yourself with a better chance of catching what you want.
Down imaging fish finders use a super narrow high-frequency band to create pictures of everything beneath the surface.
Down imaging or downscan imaging is used for identifying structure and school of fish. If you compare down imaging to CHIRP, the main difference is the detail of the images.
While CHIRP only provides an infrared color palette, down imaging technology offers literal images of everything beneath the water. It's as close as you can get to having an ice fishing camera under the water.
As mentioned, fish finders with this technology will increase in price and can easily run up to $1,000 or more if there are a lot of added features.
The good news is, most of the down imaging fish finders out there are less than $500 and nearly every single option in this review offers down imaging.
Side Imaging
Side imaging or sidescan is the cream of the crop when it comes to fish finding sonar. All the best fish finders out there offer side imaging.
Now you can take that thin beam that was sent vertically down and extend it outward on both sides. You're now scanning everything on each side of the boat instead of directly beneath you.
This feature offers a 180 degree view as far as 400 feet on the side of the boat.
The images you see are called "slices" and will indicate both the right and left side.
Sometimes these images can be difficult to interpret because it looks like you're viewing a fish lens but once you get the hang of it, you'll realize how powerful side imaging can be.
The main reason why side imaging is more valuable is because it enables you to scan the areas you are actually going to cast. Most bass anglers fish the shore so being able to scan 400 feet towards the shoreline from your boat is extremely powerful.
Plus, side scanning also allows you to identify structure as clear as day. Most fish finders that come with side imaging also feature down imaging via splitscreen.
This means that you can have both on your screen for the ultimate display.
You will notice that side imaging does push most fish finders over our $500 limit. Most of these will run between $500-750 but I can promise that it's worth the added cost.
GPS and Mapping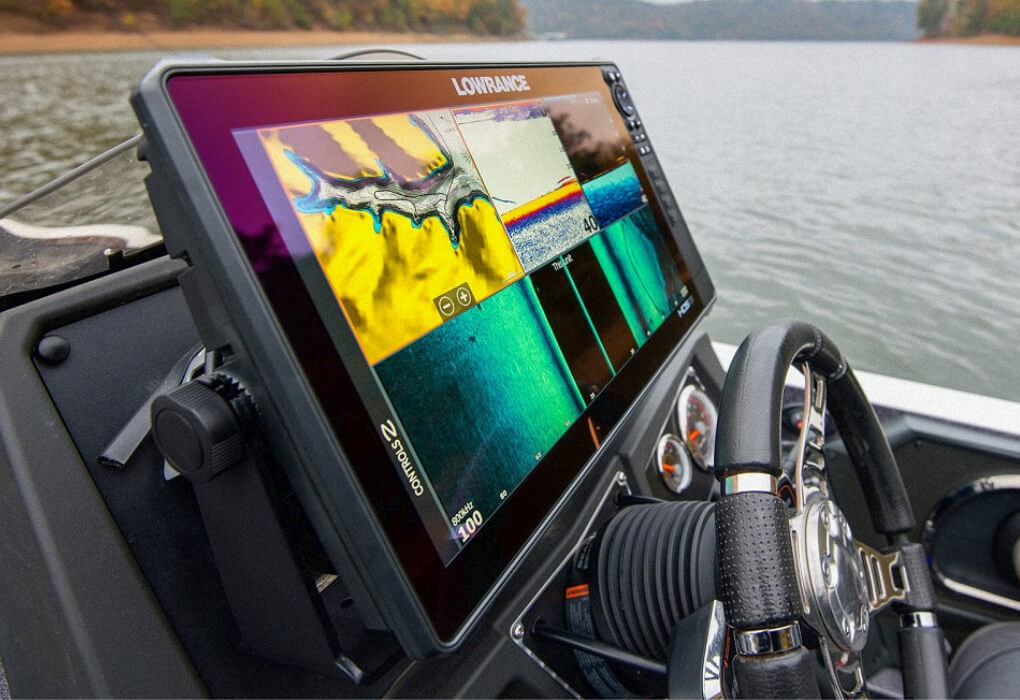 One thing that a lot of anglers don't think about when purchasing fish finders is GPS and mapping. This might be something you didn't even know fish finders could do.
Keep in mind that many of the companies that make fish finders also used to make GPS units.
Companies like Garmin and Humminbird have been doing this for decades.
There have been many times where GPS has come in handy on a fish finder whether it was helping me get back to the launch when I didn't have phone service or letting me mark down certain areas on the lake where I had success so I can go back there again.
The best GPS fish finders usually fit into one of the following three categories from the most popular brands. They each have their own type of GPS and here are some of the options.
Worldwide Basemap
This GPS and mapping technology is from Garmin and it comes with two different settings. The first option is Basemap Land.
This is your traditional GPS that covers roads, towns, and landmarks. You won't likely use this that much unless you don't have a phone that has maps or anything like that.
Where you'll benefit is from the Marine Basemap. It features all oceans and rivers down to 100 feet including creeks and streams.
You'll find any lakes in the United States larger than five square miles as well as airports, urban areas, and major interstates.
So, why is this important. Why do you need this to catch fish? Garmin uses this in conjunction with charplotting technology and Navionics. Think of it like adding a transparent piece of dry erase paper on top of the map.
Now, you can look at the map of the lake you're fishing and mark down where you're going, where you've been, and where you'll want to go again.
You can jot down waypoints you liked or places you caught a lot of fish. You can also mark areas where you struck out and might want to avoid for a while.
BlueChart
BlueChart G3 is an optional upgrade you can add to your fish finder that offers coastal mapping and charting. Many fish finders only come with "inland" lakes and waterways.
These are often included in the price of the fish finder or you can download them online.
Very few offer saltwater mapping and this is where BlueChart comes in. Keep in mind that this feature is extremely expensive and limited to specific areas.
For example, it costs around $300 just to add Southeast Florida to your fish finder. But, if you do a lot of offshore fishing, it could be a worthwhile investment for you.
LakeVu
Many anglers get confused about the difference between LakeVu and Worldwide Basemap. The basemap is the standard offering that doesn't give you anything extra.
Once you get LakeVu, now you've got maps, auto guidance, depth range shading, shallow water shading, and access to the ActiveCaptain app to save all your data.
LakeVu takes those 18,000 freshwater US lakes and kicks them into overdrive. You'll be able to identify contours so you can have a better idea of drop offs for finding fish.
It'll also display points of interest on the screen such as fish attractants, structure, or hazards.
Display and Screen
If you don't like the screen or you find it hard to read, what good is your fish finder? You need to make sure that the display on your fish finder is good enough to meet your needs.
Everyone has different needs. Some anglers may not mind a smaller screen if it means they get more features in a different area. Others might want a larger screen because they don't need a portable fish finder.
Let's break down some of the most important considerations for displays.
Screen Size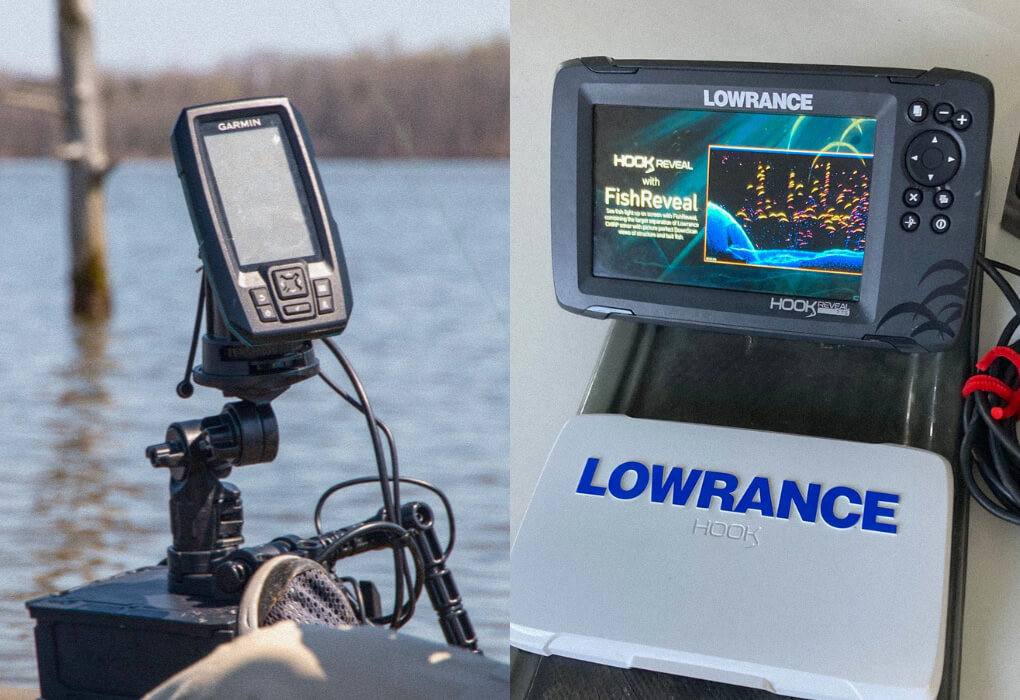 I don't think I need to tell you why screen size is important but let's talk specifically about how this pertains to the cost. You won't likely find a fish finder with a screen larger than seven inches for under $500.
The screen size you choose can also impact how many features you're able to get. If you elect to go with the bigger screen, you might sacrifice in other areas such as GPS or sonar type.
I wouldn't recommend going with a screen smaller than 4-5 inches though because it will become difficult to read, especially if the sun is shining.
Choosing a backlit fish finder can help compensate for a smaller screen. Most fish finders nowadays come with a backlight anyway.
Resolution
800×480 pixels is the standard in today's world so I wouldn't recommend going much lower than that.
For a fish finder under $500, that's quite good. The higher the resolution, the easier it is to pick up on whatever the transducer is sending back.
A high resolution fish finder will make it easier to identify structure and fish arches without having the images blend together or become fuzzy looking. I wouldn't worry too much about this though.
Last Cast
Finding the best fish finder under 500 dollars doesn't have to be complicated. You want to get the most bang for your buck but it's important to figure out what features are most important to you.
When you're shopping for a cheap fish finder, what stands out most?
Is it the type of sonar? A larger screen? Or advanced GPS and mapping? You'll likely have to sacrifice in one of these three areas and only you can decide which one it is.
I think the Garmin Striker Vivid 7 does a great job of limiting the amount of sacrifice necessary to get an affordable fish finder.
It's the cheapest side imaging fish finder and the only Garmin fish finder to offer both side and down imaging for less than $500.
Be sure to leave any questions you have about these fish finders in the comment section.