---
We independently research, test, and recommend the best products; you can learn more about our review process here.
After kayak fishing for many years, I can honestly say stability is one of the most important aspects of a fishing kayak, but you already know that; that's why you're here.
You want to know what the most stable fishing kayak is; lucky for you, I'll tell you upfront if you're on your lunch break and in a hurry.
It's the Ascend 133X Tournament.
If a pedal kayak is more your style, then the Old Town Sportsman BigWater PDL 132 is as stable as they come because of its width.
You'll have to keep reading for the rest of this rock-solid list!
Comparison Table – Most Stable Kayak
---
The Most Stable Kayak For Fishing
Ascend 133X Tournament Sit-On-Top Kayak with Yak-Power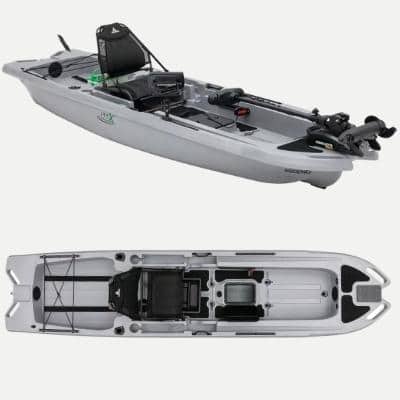 MOST STABLE FISHING KAYAK OVERALL
Specs
Length: 13′
Width: 36.5″
Weight: 125lbs
Max Capacity: 550lbs
Pros
The incredibly stable catamaran hull
Built for fishing
Lots of storage area
High maximum weight capacity
Built-in carrying handles at the front and back
Cons
Heavy
Only one dry storage compartment
Why We Chose It
Ascend is a Bass Pro and Cabelas brand, so their products are built with the outdoorsman and outdoorswoman in mind.
The Ascend 133X is a kayak designed for the tournament angler at a surprisingly reasonable price, considering all the great features that come standard.
This is one of the market's widest, most stable rotomolded kayaks at 36.5 inches. Which means you can stand up and fish from it without any trouble.
The adjustable seat is padded, so you stay comfortable. The only downside to padded seats is that they make you sweat more than mesh seats.
The foot braces are also adjustable, so if you're short like me, you can bring them close, or if you're tall, you can move them further away to stretch your legs.
I like that the wires for powering a fish finder or trolling motor have already been run, so you don't have to drill holes and try to plug them properly.
There are gear tracks to mount extra fishing rod holders or a fish finder, and there's a place for a trolling motor to be mounted at the front of the kayak.
If you're like me and bring more gear than you need, don't worry; with a 550-pound weight limit and plenty of storage, you can get as much fishing gear as you can cram onto this large fishing kayak.
It would be best to get an extra dry bag for storage because there's only one dry storage compartment, and it's small.
The Ascend 133X has all the features any angler needs, and it's ridiculously stable. However, if this kayak is too large, check out the slightly smaller Wilderness Systems Atak 120 Fishing kayak.
The Atak is nine inches shorter, one inch narrower, and holds 150 fewer pounds. It is also more expensive, but it only weighs 85 pounds instead of 125 pounds.
You will get a comfortable high-back seat with the Atak and a self-draining bungee storage area. The dry storage is also limited in this kayak, so that you might need a dry bag.
Old Town Sportsman BigWater PDL 132 Sit-On-Top Pedal Kayak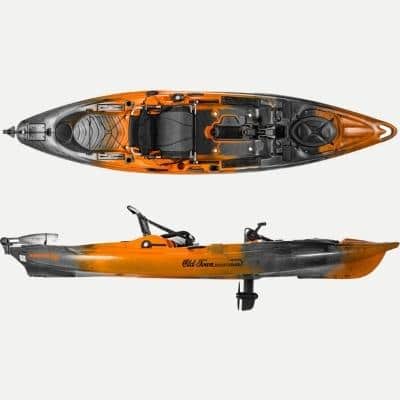 MOST STABLE PEDAL FISHING KAYAK
Specs
Length: 13′ 2″
Width: 36″
Weight: 122lbs
Max Capacity: 500lbs
Pros
Pedal or paddle
Stable enough to stand and fish
Good dry storage area
Large bungee storage compartment
Designed for fishing
Instant forward and reverse
Cons
Expensive
Heavy
Not a shallow water pedal drive
Why We Chose It
Old Town is a well-respected company in the watercraft industry. They're known for making high-quality kayaks that come at a steep price.
When you purchase an Old Town kayak, you know it will last you a lifetime, as long as you take care of it.
The Old Town Sportsman BigWater is no different. It's extremely wide, making standing to fish even more manageable, or if you're not comfortable standing, the extra stability will keep you feeling safe.
This large kayak has all the storage space you'll need for your fishing gear, including bungee and dry storage to keep it secure.
Since it was designed for anglers, it has all the features you'll need, like a comfortable seat, gear tracks, and flush-mount rod holders.
I love this pedal drive system because it has instant forward and reverse, so you can hold your position when working a bait or quickly get lined up to make the perfect cast.
It's also speedy because of how efficient it is. You can pedal at a relaxed pace much faster than you can paddle.
The one downside to this pedal drive is you can't pedal in anything two feet or shallower. You risk damaging the prop or getting stuck on the bottom if you try to.
Thankfully, Old Town made it simple to lift if you run into a shallow stretch.
The Old Town Sportsman BigWater is the most stable pedal fishing kayak.
However, if you're not willing to spend a month's mortgage on a kayak, the Perception Pescador Pilot 12 with Pedal Drive offers similar features and stability but for $1,000 less.
Perception kayaks are crafted from high-density polyethylene with a replaceable skid plate, so you don't have to worry about dragging them across the pavement or rocks.
The Pescador Pilot 12 has a comfortable seat that sits high enough to make pedaling enjoyable, and it's 33.5″ wide, so you'll be stable as you're pedaling and fishing.
Advanced Elements StraitEdge Angler PRO Inflatable Kayak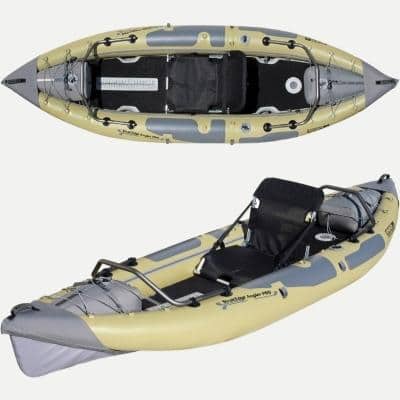 MOST STABLE INFLATABLE FISHING KAYAK
Specs
Length: 10′ 6″
Width: 38.5″
Weight: 45lbs
Max Capacity: 400lbs
Pros
Lightweight
Designed for fishing
Wide and stable
Easy to transport
Cons
Low seat height
No dry storage hatch
Why We Chose It
Inflatable kayaks are incredibly stable because of their design. The air chambers are along the sides, making tipping them very difficult.
The Advanced Elements StraitEgde Angler Pro is stable enough to stand and fish from because of the drop-stitch floor, and It's crafted from high-quality materials like PVC tarpaulin.
This kayak has an accessory frame system to customize your fishing rod holders, fishfinder, and other accessories using one-inch rail mounts.
I love how lightweight inflatable kayaks are, yet they have a high max weight capacity like this one at 400 pounds.
The nature of the StraightEdge Angler Pro also makes it easy to transport if you don't have a truck or SUV because it's small enough to pack into the trunk of a compact car.
I still prefer rotomolded-polyethylene kayaks or the beautiful handcrafted wooden kayaks, but I understand the need for an inflatable kayak.
The Advanced Elements StraitEdge is not only a stable fishing kayak; it easily made our list of best inflatable fishing kayaks.
However, if it still doesn't strike your fancy, I recommend the Elkton Outdoors Steelhead Inflatable Fishing Kayak.
I like this kayak because it has everything you need to start, unlike other inflatable kayaks.
It has a width of 39 inches and an incredible max weight capacity of 600 pounds. It's also cheaper and was designed with the angler in mind.
Aquaglide Blackfoot Angler 160 Tandem Inflatable Kayak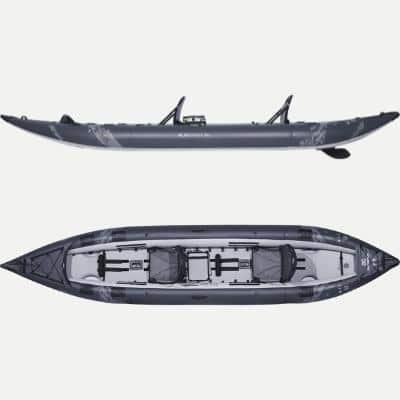 MOST STABLE TANDEM FISHING KAYAK
Specs
Length: 16′ 4″
Width: 38″
Weight: 50lbs
Max Capacity: 800lbs
Pros
Solo or tandem kayak
Lightweight but high weight capacity
Comfortable seats
Designed for fishing
Stable
Cons
Why We Chose It
The Aquaglide Blackfoot Angler 160 is huge!
There's plenty of room and stability for two people and all their gear since it's over 16 feet long and has a weight capacity of 800 pounds.
It does not have any dry storage, though there are plenty of storage areas. You'll find the covered bungee storage area at the bow and stern (front and back).
The inflatable design with a drop-stitch floor lends itself to improved stability. However, it might be challenging to stand because the seats sit low.
Even though the seats are low, they're probably the most comfortable seats you'll find in an inflatable kayak.
There are several locations to mount a fishfinder or additional rod holder around both seats.
I paddle a twelve-foot kayak, and it's cumbersome at times. I couldn't imagine adding another four feet to the length and then trying to paddle, but the Aquaglide Blackfoot Angler 160 is much lighter than my kayak.
I still think you would have to be determined to paddle it any distance by yourself because of the lack of maneuverability.
The Aquaglide Blackfoot Angler 160 is a stable two-person fishing platform. However, if an inflatable kayak doesn't work for you, I recommend looking into the BKC TK122U.
The Brooklyn Kayak Company TK122U is a polypropylene kayak so that it will be shorter, heavier, and not as wide, but it still has a 770-pound weight limit.
This kayak has dry storage and is also designed for angling, so it has all the features you'd expect from a fishing kayak.
Brooklyn Kayak Company FK184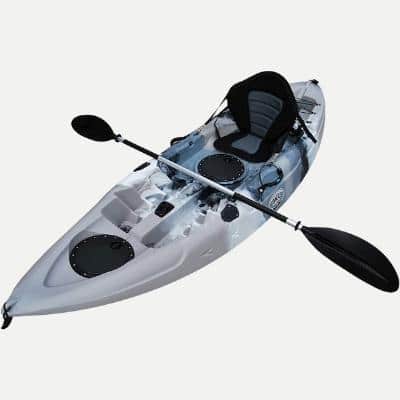 BUDGET-FRIENDLY STABLE FISHING KAYAK
Specs
Length: 9′
Width: 32″
Weight: 44lbs
Max Capacity: 330lbs
Pros
Inexpensive fishing kayak
Waterproof storage
Stable
Lightweight
Cons
Limited storage
Low seat height
Why We Chose It
In recent years BKC has proven to be a worthy contender in the rotomolded kayak market. They've created quality kayaks at reasonable prices.
Even though the BKC FK184 is not the cheapest kayak, it's the best value because it has many features that higher-end kayaks have but at a much lower price.
For instance, there are multiple flush-mount rod holders and an adapter for a fishfinder.
There are two dry storage areas and bungee storage in the tank well.
This kayak is stable, but I wouldn't recommend standing to fish unless you have excellent balance and calm water because it's not as wide as the other kayaks on this list.
The seat is adjustable to be more comfortable than some kayak seats, but it's not a premium seat, and it's very low sitting.
For the price, it's nearly impossible to find a better fishing kayak than the BKC FK184.
The shorter and narrower hull design of the BKC FK184 might be too big of a con to overcome for some. If that's you, then look into the Perception Outlaw 11.5.
The Outlaw is two-foot longer and three inches wider, so there's more room for gear, and it should be more stable.
It's designed as a fishing kayak, so it has gear tracks and a padded floor for when you want to stand.
I especially like how high the seat sits and the chair quality, considering the price.
Ascend 12T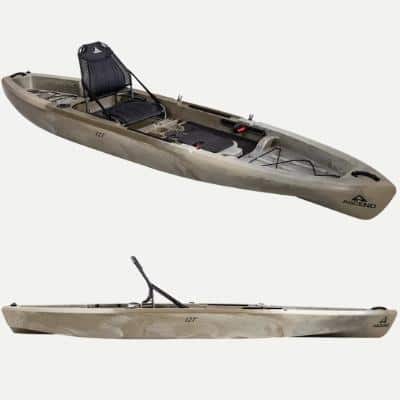 HONORABLE MENTION
Specs
Length: 12′
Width: 31″
Weight: 77lbs
Max Capacity: 350lbs
Pros
Designed with fishing features
Lots of storage
Comfortable seat
Cons
Low seat height
Almost too narrow to stand
Why We Chose It
The Ascend 12T continues to deliver outstanding performance at a reasonable price.
Its angling-minded design offers flush-mount rod holders, multiple gear tracks, and carry handles at the front and back, which you'll need to help load and unload this kayak.
It has adjustable footrests to adapt to your height, and I think you'll need them with the low seat height. They should make it more bearable.
The padded seat is comfortable and has a high backrest, so you'll get plenty of back support.
I like the amount of bungee storage offered. However, they limited the weathertight storage to a minimal amount. There might be enough space to place your keys, phone, and wallet inside.
The padded floor is ideal for standing to fish, but you better have good balance because this kayak is narrow, so that it won't be as stable as the others on the list.
With that said, you'll find it more than stable enough for sitting and fishing.
The Ascend 12T is a versatile and stable sit-on-top kayak, especially considering it's under $1000.
Perception Showdown 11.5 Pedal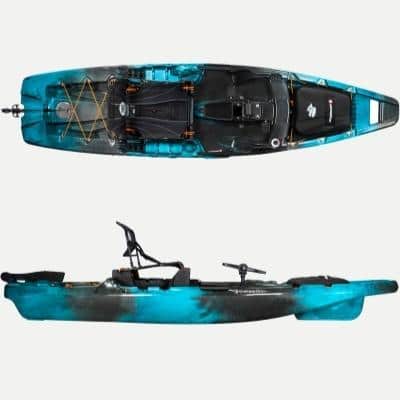 HONORABLE MENTION
Specs
Length: 11′ 6″
Width: 36″
Weight: 85lbs
Max Capacity: 450lbs
Pros
The wide flat deck platform
Designed for anglers
Paddle or pedal
Comfortable seat
Cons
Expensive
Cramped deck feel
Why We Chose It
Perception offers quality kayaks at a wide range of prices.
The Showdown 11.5 Pedal is an outstanding kayak for fishing. The pedals were designed with the shallow water angler in mind.
This is great because you can lock into a spot to fish without having to put your pole down to paddle, no matter the water depth.
I appreciate the wide deck; this adds stability to the kayak, making standing to fish easier. The silent traction pads on the deck also make standing more comfortable on your feet.
The elevated seat is genius; it's more comfortable and offers more storage space under the seat.
There's dry storage in the front and bungee storage in the back, so you'll be able to bring more than enough gear without maxing out the 450-pound weight capacity.
The deck can sometimes feel cramped with the pedals in place, especially when you've added a sonar unit and rod holder to the kayak using the gear tracks.
The Perception Showdown could have quickly snuck into one of our top spots because it is incredibly stable and a good kayak for a beginner or intermediate kayak angler.
Ocean Kayak Malibu II XL Angler Tandem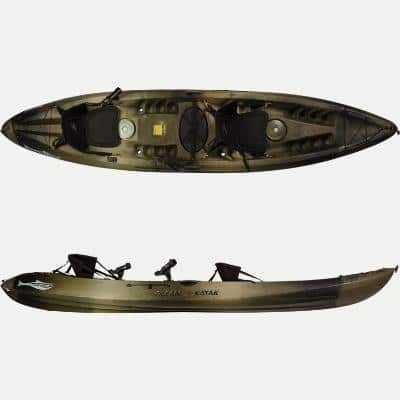 HONORABLE MENTION
Specs
Length: 13′ 4″
Width: 34″
Weight: 74lbs
Max Capacity: 450lbs
Pros
Tandem seating
Designed for fishing
Stable
Inexpensive for a tandem fishing kayak
Cons
Not designed for standing
Less than ideal seating
Less than ideal footrests
Why We Chose It
Since the Ocean Kayak Malibu XL Angler is designed for multiple anglers, it is an excellent choice for parents trying to get their kids in the outdoors more often.
I consider this a beginner kayak because it's limited on features and comfort, but it's not ridiculously priced.
As I mentioned, it's designed for angling, so it has flush-mount rod holders and a raised mount rod holder. There's enough room for a couple of paddlers and a tackle box or two, but that's about it.
The lack of dry storage might concern some people afraid of capsizing, so if that's you, I recommend moving onto another kayak with more dry storage or buying a dry bag.
At 34″ wide, it's plenty stable to fish from. However, I would stand and fish with two people in the kayak. You might end up swimming with the fish instead of catching them!
I'm not a fan of the seating system. While it offers some support, the padding isn't comfortable, and you're sitting on the deck instead of off it like other sit-on kayaks.
Sitting on the deck can get you wet if you don't plug the scupper holes because the water will come up through the holes if there's enough weight in the kayak.
The foot braces are molded into the kayak, so there's no adjusting them, and this is another reason why it's difficult to stand and fish in this kayak.
As I mentioned before, the Ocean Kayak Malibu II XL Angler is for beginners and families looking to save a little money.
Jackson Kayak 360 Pro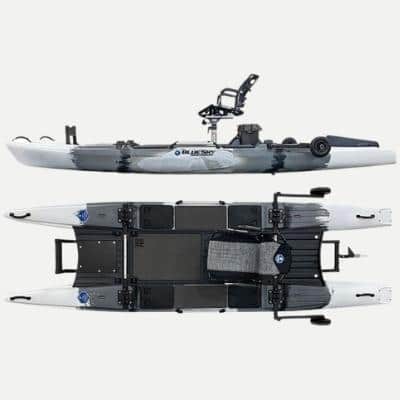 HONORABLE MENTION
Specs
Length: 13′ 4″
Width: 48″
Weight: 140lbs
Max Capacity: 500lbs
Pros
Unbeatable stability
Incredible seat
Designed for fishing
Cons
Expensive
Heavy
Cumbersome
Why We Chose It
Jackson Kayak has delivered another incredible kayak.
Well, if we can call it a kayak.
It's more like a small pontoon boat.
This odd-looking kayak was designed as a stand-up fishing kayak, but that doesn't mean they skimped on the seating.
They installed the best kayak seat ever. I have yet to find a better one. Nucanoe seats come close, though.
The stability is outstanding because of the design and width, so you won't worry about falling overboard.
You can add a trolling motor, fishfinder, and rod holders to the 360 Pro. Don't forget; you're adding more weight to the 140 pounds.
Thankfully, it has a built-in cart that makes loading and unloading easier.
It's clear that this kayak was not built for speed and maneuverability, but on flat water, this is an angler's dream.
If you're willing to drop almost $4,000 on a kayak, then the Jackson Kayak 360 Pro should be one of your first choices.
I wouldn't recommend it to beginners, simply because you don't want to spoil yourself right off the bat!
Buying Guide: The Best Fishing Kayaks
There is no such thing as the single greatest fishing kayak.
Let me clarify.
One angler may love one feature while another may hate it. That's why you often see kayak reviews drastically different regarding the same kayak.
To help ease the frustration and confusion, I keep a few factors in mind when purchasing a stand-up fishing kayak.
Kayak Stability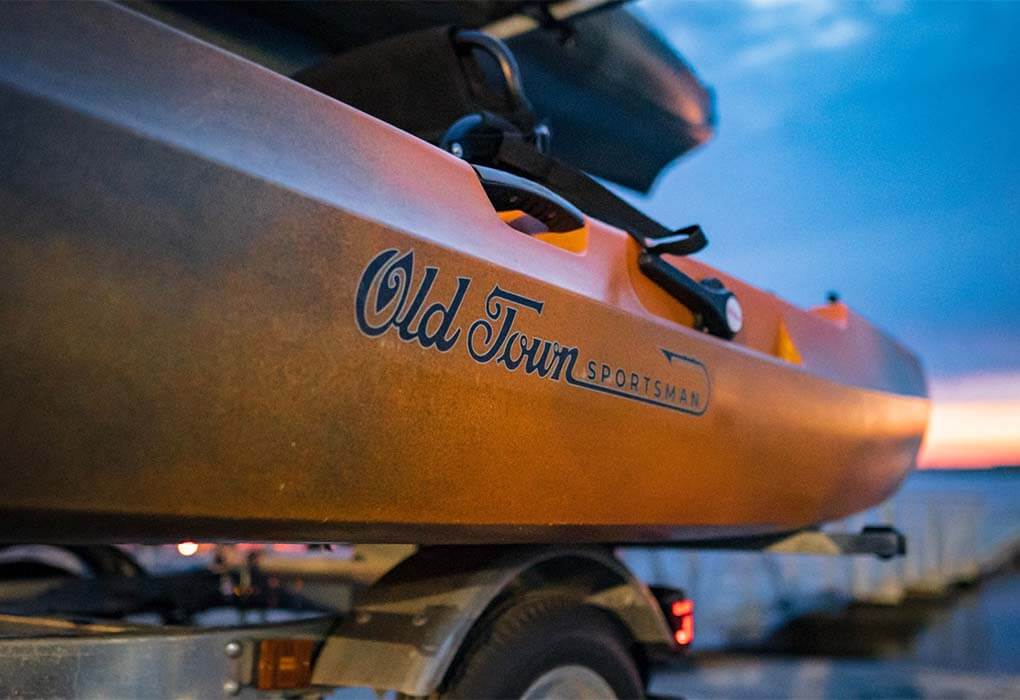 Kayak stability is the most important feature for safety.
You might have heard of primary stability and secondary stability.
Primary Stability- how stable the kayak feels in flat water.
Secondary Stability- how stable the kayak is on its side. As in the case when you're leaning over the edge to land a fish.
It's best to have primary and secondary stability as high as possible. This is primarily determined by the hull design.
A pontoon hull will be the most stable.
Kayak Maneuverability
If you're fishing open flat water, maneuverability won't matter as much as it does to someone who fishes rivers and creeks.
The length, width, and hull design all contribute to kayak maneuverability.
Often shorter and narrower kayaks maneuver better than longer, wider kayaks.
This means you'll need to compromise.
Kayak Fishability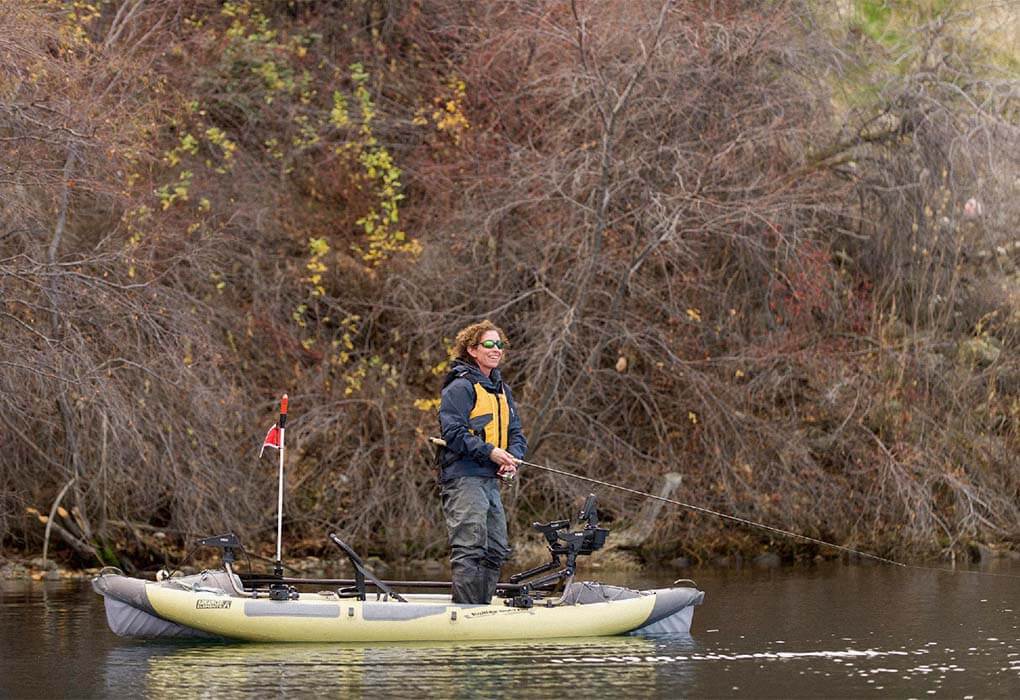 What the heck does that mean?
I simply mean, how easy is it to fish out of? Not all kayaks are designed as fishing kayaks.
Most sit-on kayaks are much easier to fish out of than sit-in kayaks.
Sit-on kayaks are also typically more stable than sit-in kayaks. That's why they're the first choice of many kayak anglers.
Fishability also includes the number of gear tracks and options to mount additional rod holders and fish finders.
Some kayaks have a hull designed to accept a transducer for sonar, which makes it easier to fish.
Kayak Customizability
If your fishing style is cookie-cutter, then a customizable kayak isn't that important.
However, if you're like most anglers, you have a unique way of fishing, and your kayak should reflect it.
My kayak is so customizable I can change it up depending on the species I'm targeting that day.
Kayak Price
Having options usually comes at a price. That also goes for stability, maneuverability, and fishability.
Higher-end kayaks will have better features like a more comfortable seat and multiple places for a depth finder.
However, you don't need one of the top fishing kayaks to catch fish and have a good day on the water. So don't get caught up believing you can't catch fish in a cheap kayak.
Stay within your budget. You can always upgrade later.
You'll Also Need
Now that you have your kayak picked out, you'll need a few other items to stay safe and have an enjoyable time.
There are too many to list in this section, but if you need some kayak rigging ideas to make your kayak more fishing-friendly, feel free to steal any of the ones mentioned in that article!
Paddle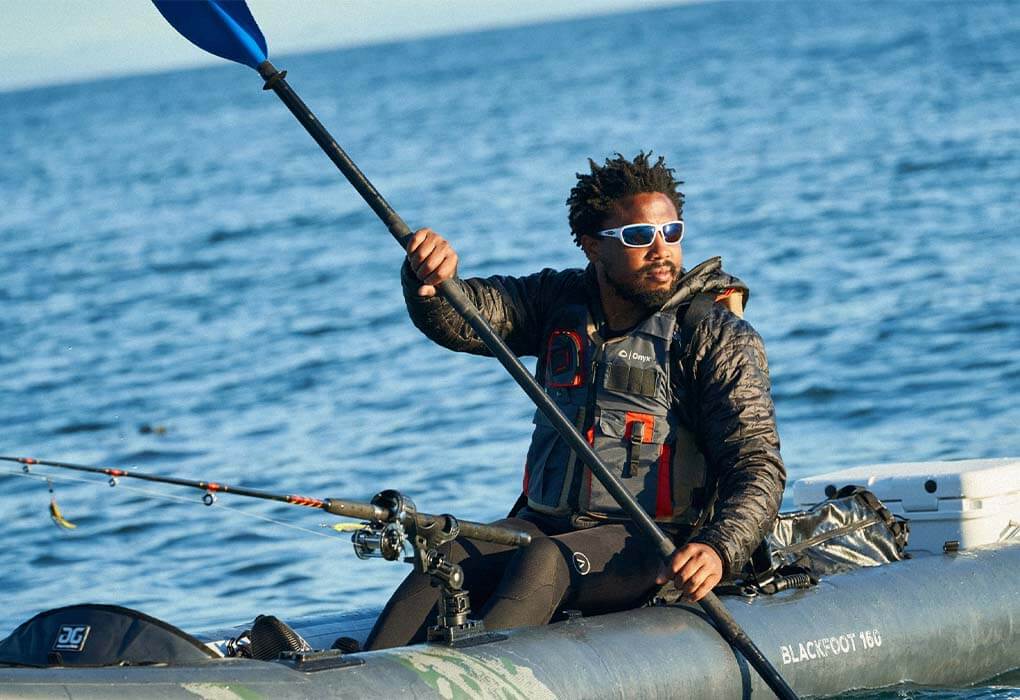 Your paddle is a critical piece of equipment. Even when I have my trolling motor mounted to my kayak, I still take my paddle, and it's paid off on several occasions.
Getting the correct paddle can make all the difference. That's why we wrote the article the best fishing kayak paddle.
I won't repeat it all here but just know that it's better to have a paddle a little too long than too short.
PFD
If you see me kayak fishing, I have my lifejacket on my person. I don't leave it sitting behind me or on the floor of my kayak.
I've heard too many horror stories of someone deciding not to wear their life vest, and then they don't make it home to their family.
If you're going to splurge anywhere, I recommend getting the best kayak fishing PFD because it's not that much money and could potentially save your life.
Tackle Box
I tried using my regular tackle box in my kayak, and it didn't work very well because I didn't have enough room for it.
That's when I decided the best kayak fishing tackle box is compact but holds enough for whatever the day might bring.
Thankfully, a decent tackle box isn't that expensive.
I believe having a quality tackle management system is the key to keeping organized in your kayak. Mine is never set in stone because I'm constantly finding ways to improve it.
Fishing Pole
Unlike a tackle box, you can use just about any fishing pole from a kayak. Fishing rods with long handles are more difficult to use, however.
That's why I recommend getting as short of a handle as you can stand.
I still prefer my handles to be long enough for both hands to have room when I'm casting, but any longer, and they only end up getting caught in my PFD.
One More Cast
I prefer to fish from a stable kayak rather than a fast kayak.
I would hesitate to fish from the Ascend Tournament Sit-On-Top Kayak with Yak-Power because it is the most stable fishing kayak.
If you're looking to keep your hobby budget-friendly, the Brooklyn Kayak Company FK184 is well under $1000 but still very stable.
If you enjoy being unique and want something few others on the water will have, don't miss the Jackson Kayak 360 Pro.
Be sure to let us know the kayak you choose in the comment section!