We independently research, test, and recommend the best products; you can learn more about our review process here.
It's true you can fish out of any kayak. However, many companies design kayaks with features specifically for fishing, but fishing kayaks are expensive.
That's why I rounded up the best fishing kayak under 1000 dollars. I'm not going to make you wait so you can get back to your hot date or find another way to avoid working.
The Brooklyn Kayak Company FK285 Angler 9'2″ Solo Sit-On-Top Kayak is the best fishing kayak under 1000 dollars because it's designed with anglers in mind and it's stable, which is great for beginners.
The best stand-up kayak is the Ascend 12T Sit-On-Top because of its stability and the padding on the deck.
Now for the rest of the list, I will make you keep scrolling, but I promise it's worth it!
Comparison Table – Best Fishing Kayaks Under 1000 Dollars
---
Best Budget Kayaks Under 1000 Dollars Reviews
BKC FK285 Angler 9'2″ Solo Sit-On-Top Kayak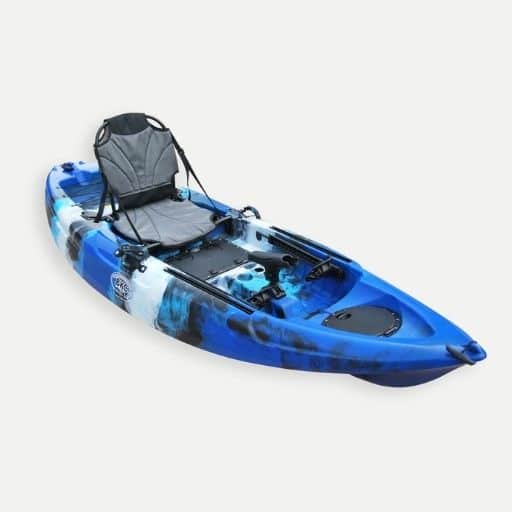 BEST FISHING KAYAK UNDER 1000 Dollars
Specs
Length- 9′ 2″
Width- 32″
Weight- 50lbs
Weight Capacity- 350lbs
Pros
Adjustable padded seat
Stable
Built-in rod holders
Dry storage
Cons
Low seat height
Need an aftermarket bracket to mount a trolling motor
Why We Chose It
Brooklyn Kayak Company manufactures excellent beginner-friendly fishing kayaks. The FK285 is one of the best ways to get introduced to kayak fishing. It has many features that high-end kayaks offer, but at a much lower price.
The adjustable padded seat might not be top of mind for some anglers, but you'll thank me for advising it after a long day of fishing. You can adjust it for easier paddling and casting while the padding will keep your butt from going numb!
It's stable enough to stand up and fish; however, the low seat height will make standing a challenge. There is plenty of storage for your fishing gear with built-in rod holders and a bungee tank well. You can easily access the dry storage compartments at the front of the kayak and below your feet.
The BKC FK285 is the best fishing kayak for under 1000 dollars because it has many of the features you will need to get started at an affordable price.
Ascend 12T Sit-On-Top Kayak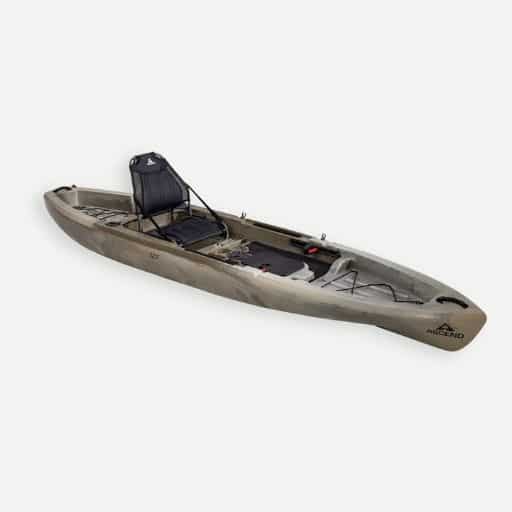 BEST STAND UP KAYAK UNDER $1000
Specs
Length- 12′
Width- 31″
Weight- 77 pounds
Weight Capacity- 350 pounds
Pros
Adjustable and removable seat
Adjustable footrests
Padded deck
Stable
Customizable
Rotomolded
Cons
Limited watertight storage
Heavy
Low seat height
Why We Chose It
The Ascend 12T Sit-On-Top Kayak was designed for fishing. It has all the features you need to get on the water even if you're on a tight budget.
The adjustable seat and footrests will keep you comfortable while seated, while the padded deck is easier on your knees and feet as you stand and fish.
The biggest design flaw is the low seat height, which makes standing a little more challenging than it needs to be; however, the kayak will be plenty stable to cast, reel, and set the hook once you're standing.
This kayak is customizable because of the gear tracks. You can add more rod holders or a fish finder to increase your chances of finding fish. There is limited dry storage, but bungee storage areas are abundant. When you get water in the kayak, the six scupper holes will quickly drain it.
The Ascend 12T is the best stand-up kayak for under $1000. Better kayaks exist, but they cost well over $1000. This is a great kayak for beginners.
Pelican Premium Getaway 110 HDII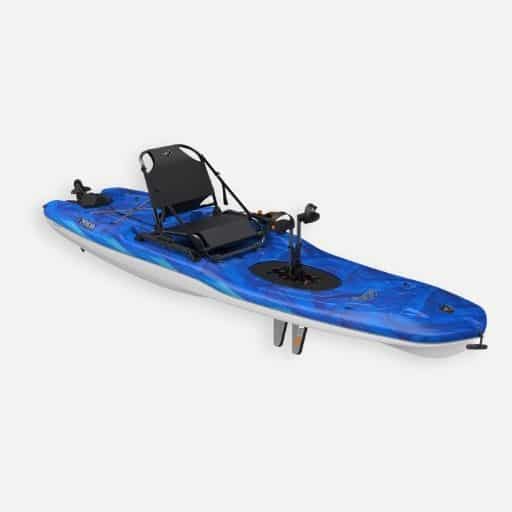 BEST PEDAL KAYAK UNDER $1000
Specs
Length- 10′ 5″
Width- 33″
Weight- 59 lbs
Weight Capacity- 300 lbs
Pros
Pedal or paddle power
Comfortable seat
Inexpensive for a pedal kayak
Cons
Not designed for fishing
No dry storage
Why We Chose It
It's nearly impossible to find pedal drive kayaks under $1000. The Pelican Premium Getaway 110 HDII is one of the few. While it's not designed primarily for fishing, you can fish from it.
I love having options, and having the option to paddle or pedal is a tremendous advantage while fishing. Instead of taking one or both hands off your fishing pole to paddle, you can begin pedaling to adjust your position. The rudder system is not only for pedaling. It will also aid you while you paddle by helping you stay straight.
Since you're getting the considerable advantage of pedal power, there are several disadvantages this kayak has when fishing. The first is the lack of rod holders or gear tracks to add rod holders. You'll have to drill holes to mount a rod holder, and I don't like drilling holes in my kayak.
The lack of dry storage is also a bummer, but most kayak anglers can do without it. The tank well offers a little storage space with a bungee to hold your gear in place.
While the Pelican Premium Getaway 110 HDII is less than ideal for fishing, it's tough to beat the pedal drive capabilities at this price point. If you're more interested in pedal kayaking than fishing, this kayak is perfect!
Old Town Sportsman 106 Kayak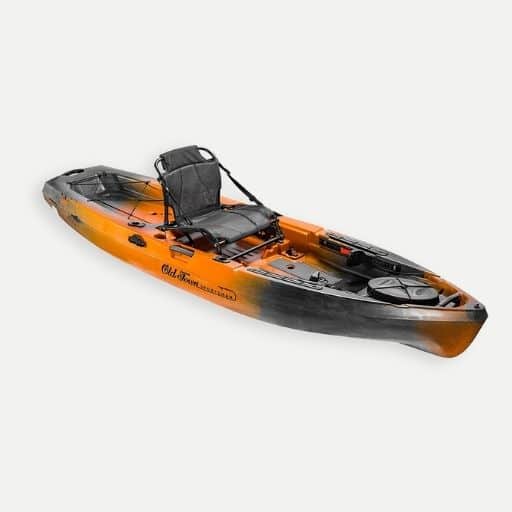 BEST SIT ON TOP FISHING KAYAK UNDER $1000
Specs
Length- 10 feet 6 inches
Width- 34.5 inches
Weight- 75 pounds
Weight Capacity- 440 pounds
Pros
Trusted brand
Non-slip EVA deck pads
Designed for fishing
Adjustable seat and backrest
Stable
Cons
Why We Chose It
Old Town is one of the most trusted names in the kayaking space. Many of their kayaks cost well over $1000, so it's well worth it when you can get your hands on one that costs less. The Old Town Sportsman 106 is the older model of the Old Town Topwater 106, but they're virtually the same kayak.
The Sportsman 106 or Topwater 106 were designed for kayak fishing. So it has flush-mounted rod holders, a padded deck for comfortable seating, and plenty of storage for an all-day-long fishing trip. The seat is padded and adjustable, so you will stay comfortable while paddling.
If, however, you need to stand, this kayak is more than stable enough to stand to stretch your legs and fish.
The worst part about this kayak is the weight. It's cumbersome for a kayak of this size which makes loading and unloading more difficult. It is manageable with one person but having an extra pair of hands to help load it on a roof rack is ideal.
While the Old Town Sportsman 106 is the older molder for the Topwater 106, they are nearly identical and made by one of the most trusted names in kayaks, so I wouldn't hesitate to buy the best sit-on-top kayak fishing kayak for under $1000.
Perception Pescador Pro 12 Kayak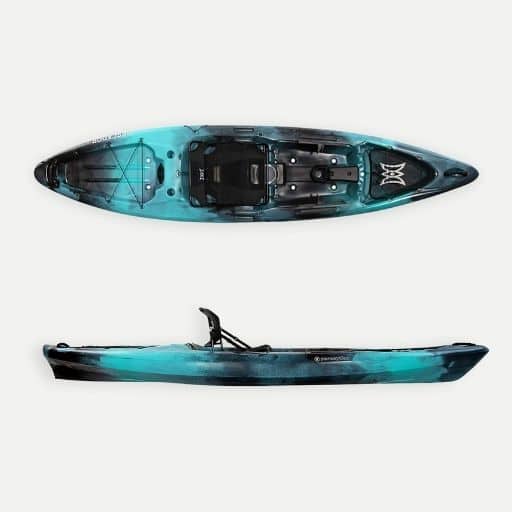 MOST STABLE FISHING KAYAK UNDER $1000
Specs
Length- 12ft
Width- 32.5in
Weight- 64lbs
Weight Capacity- 375lbs
Pros
Stable
Designed for kayak anglers
Dry storage hatch
Comfortable seat
Cons
Low seat height
Minimal gear tracks
Why We Chose It
The Perception Pescador Pro 12 is an excellent fishing kayak for beginners because of its stability. The ergonomic seat will keep you comfortable for hours of fishing and paddling, and there's enough storage for lots of tackles boxes.
Since this kayak is 12 feet long, you have plenty of room to stretch out and relax. That also means there's plenty of storage. Even with your tackle boxes held down by bungee cords, you should have plenty of room to enjoy a day of fishing. The seat might be a little low, but the adjustable foot braces should help counteract that problem.
This kayak has a paddle holder, which is nice while you're fishing because it helps keep your hands free during your fishing adventure, but it's easy to access when you need it. The short gear tracks don't give you many options to mount a fish finder or other kayak accessories, but it has flush-mounted fishing rod holders.
The flat hull design aids in the stability of the Perception Pescador Pro 12, which is one reason why I rated this as the most stable fishing kayak under $1000.
Buyer's Guide: Factors To Consider Before Buying The Best Kayak Under 1000 Dollars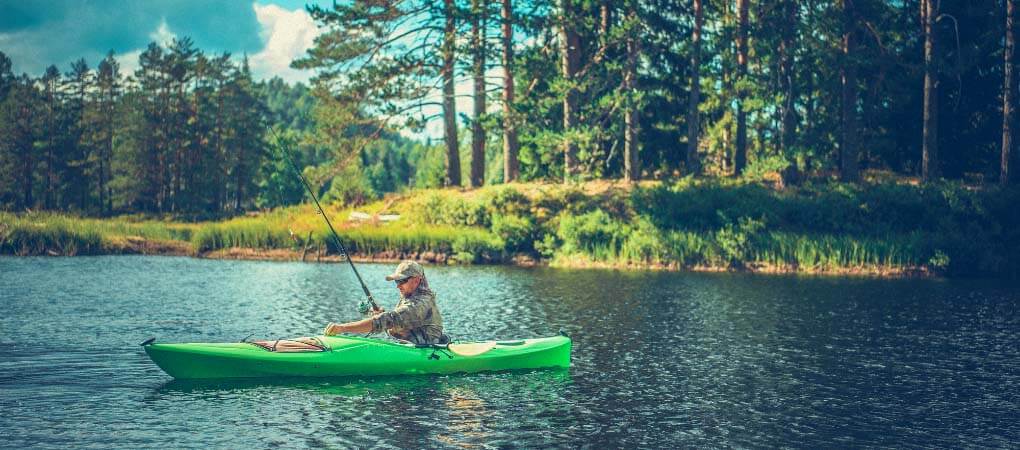 Kayaks have a wide price range. Fishing kayaks tend to be on the higher end of that spectrum. With many kayaks exceeding $2000, one might think there's no way a fishing kayak will cost less than $1000, but a few are sold below this price. However, you must be willing to compromise some kayak features.
Some features are necessary to improve your fishing experience, and others are nice luxuries. It's up to you to decide what matters most to you. I've taken the liberty to list several essential factors while on the water kayak fishing. Keeping these in mind while buying a kayak will help you make a better purchase:
Length
Weight Capacity
Stability
Customizability
Manufacturing process
And the type of kayak
Length
The length of the kayak not only determines the amount of storage you have on top but also factors into how well the kayak tracks. This means how well the kayak will go in a straight line when paddling. The length also factors into how you will transport the kayak and how well it handles different waterways.
A shorter kayak will turn quicker than a longer kayak, so a short kayak (9′-10′) is best for fishing in ponds, creeks, and rivers. A longer kayak (12'+) will track better, so they're best in lakes, rough waters, and the ocean. If you're a saltwater angler, check out my top pick for ocean fishing kayaks.
With that said, I use my 12′ kayak in local rivers, so this is a general rule.
Maximum Weight Capacity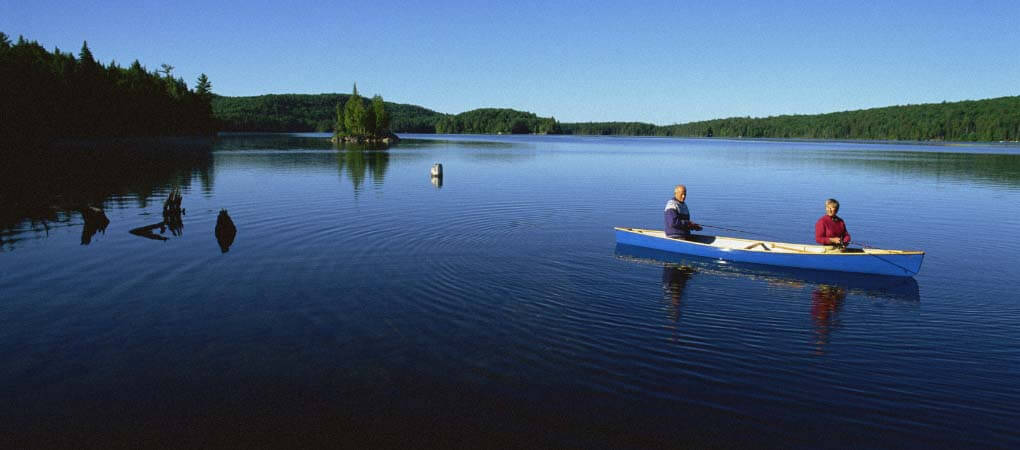 Every kayak has a different maximum weight capacity. Factor in your weight and the weight of the gear you want to bring and stay well below the maximum amount. The closer you get to the weight capacity, the less stable it becomes.
A tandem fishing kayak tends to have a higher weight capacity to compensate for two paddlers. However, these kayaks rarely cost less than $1000.
Stability
The most important feature of any fishing kayak is stability. I like to stand and fish from my kayak to stretch my legs and get a better look at what's in the water. I wouldn't be able to do this if I didn't have a stable kayak. I've found that most fishing kayaks are relatively stable because they are generally wider than recreational kayaks.
If you don't have a stable kayak, you can improve the stability with the best kayak outriggers. Stability is a safety issue, so don't overlook it.
Customization
Every angler has their unique style of fishing. It's nice to have a kayak that can adapt to your style instead of trying to adapt to the kayak because you already have to adjust to a new way of fishing. If you're having difficulty adapting to fishing from a kayak, here are 10 of my best kayak fishing tips for beginners.
I prefer to have a clear deck while other kayak anglers cram as much gear onto their kayak as possible. The gear tracks on a fishing kayak allow the angler to choose where rod holders and fish finders go. I like to have as many gear tracks as possible, so I have more options.
Manufacturing Process
The manufacturing process will determine the quality of your fishing kayak. A rotomolded kayak will be more durable than a thermoformed kayak. However, a thermoformed kayak will be less expensive.
A rotomolded kayak is one solid piece of plastic. The liquid plastic is poured into a mold and slowly rotated. Once it's cooled and hardened, the mold is removed. The handles and other hardware are then installed. This process eliminates seams in the plastic. Therefore, it's more durable.
A thermoformed kayak is two pieces of plastic "melted" together. A top and bottom mold are made, and the plastic is poured into each. Once it hardens, the top is placed on the bottom and combined and sealed. This process leaves a seam that is prone to eventually separate.
Sit-In Vs. Sit-On-Top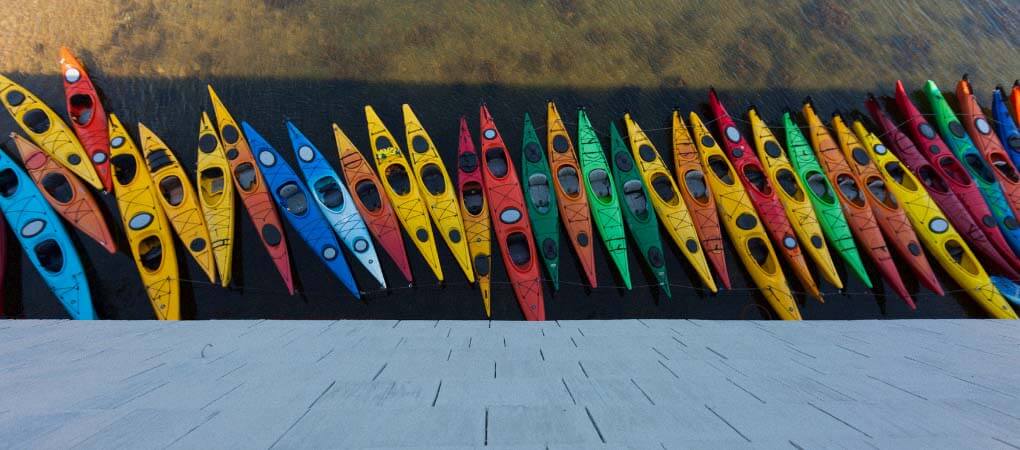 Most fishing kayaks are sit-on-top kayaks because they allow the angler more room for angling activities. That doesn't mean you can't find an excellent sit-in fishing kayak. My dad used a sit-in fishing kayak for years before upgrading to a sit-on-top.
A sit-on-top allows you to sit higher to see into the water better. It also makes getting to your storage and standing easier. The seats are typically more comfortable on a sit-on-top kayak. The list goes on and on as to why a sit-in kayak doesn't match up to a sit-on-top.
However, a sit-in kayak is cheaper than a sit-on-top kayak of the same quality. Unless you plan to become a tournament kayak angler, a sit-in fishing kayak is a good beginner's kayak.
Inflatable Fishing Kayak Vs. High-Density Polyethylene
I believe polyethylene kayaks are superior to inflatable kayaks. If you disagree, then answer me this, why do all professional kayak anglers use polyethylene kayaks?
With that being said, I know we're not all professional kayak anglers, so I understand sometimes inflatable fishing kayaks make more sense.
You should use an inflatable fishing kayak when you don't have a way to transport or store a plastic kayak, need a lightweight kayak, or the extra stability and weight capacity inflatable kayaks provide. Inflatable kayaks are often less expensive than plastic kayaks. However, they are also more work and require more maintenance.
Most polyethylene kayaks have minor features like cup holders and carrying handles that many inflatable kayaks don't have. They are also more abrasion-resistant. Both are typically UV-protected but shouldn't be stored in direct sunlight.
You'll Also Need
Buying a fishing kayak is only the first of many purchases you'll need to make to safely and effectively catch fish from your kayak. You will also need many of the following items. Not all of these items are necessary to begin kayak fishing, but some are vital:
PFD
Paddle
Tackle Boxes
Fishing rods and reels
The other less important but beneficial items are:
Fish finder
Trolling motor
Trolling motor battery
Kayak Fishing PFD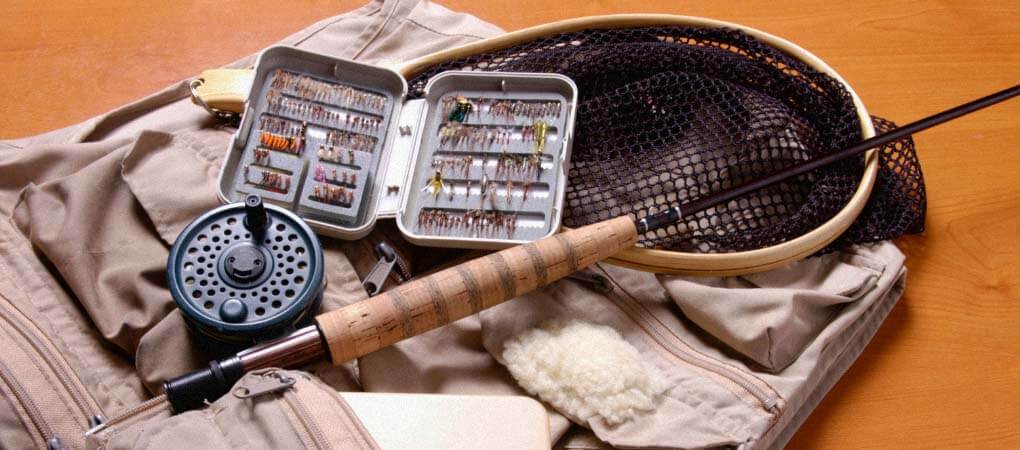 Honestly, you should buy a lifejacket before you purchase a kayak. A Personal Flotation Device will keep you floating in case of an accident. I've heard too many sad stories of anglers choosing not to wear a lifejacket who fall in and don't return home to their families.
ALWAYS wear a PFD.
I'm a reasonably strong swimmer, but I put my PFD on as I leave the shore and don't take it off until I'm back on land. If you need a kayak fishing lifejacket, you should check out my best kayak fishing PFD article so you can stay safe while fishing.
Kayak Paddle
I have two motors for my kayak, one trolling motor, and one small outboard motor. I ALWAYS have my paddle with me. It has saved me on more than one occasion. On one occasion, I ran out of battery in my trolling motor and had to paddle back to the ramp.
My outboard motor died and wouldn't start on another, so I had to paddle a few miles to my take-out spot.
I was thankful I had my paddle for both occasions. There are different sizes and styles of paddles. To determine the correct size, you'll need to factor in your height and the width of your kayak. The style is your choice. They make paddles specifically designed for fishing, but they're not necessary to be a successful kayak angler.
Kayak Fishing Tackle Boxes
It's true you can use any tackle box while kayak fishing, but some make fishing from a kayak much more enjoyable. You can find out which one is the best kayak tackle box by following the link. I prefer a compact box that can hold everything I should need for a day on the water.
I don't like making things any more complicated than they need to be, so my kayak tackle management is simple. I keep most of my gear in large boxes stored in a tote in my truck and then take a couple of boxes out on the water with only the lure's I think I'll need. Most of the time, this works perfectly for my fishing adventure.
Kayak Fishing Rods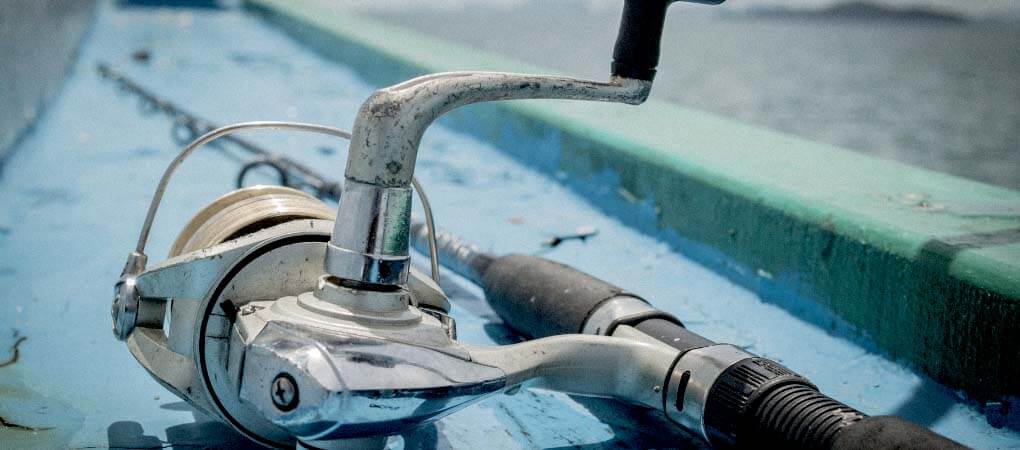 I still use the same rods for kayak fishing as I do for bank and bass boat fishing. However, I've slowly replaced these rods with more kayak-friendly rods as they break. You can see the best kayak fishing rod in my article but remember you don't have to go out and buy all new rods and reels.
Start with what you have and slowly upgrade over time.
Kayak Fish Finder
One of the best non-essential additions to my kayak was my fish finder. I went with the best value Garmin Striker 4, but any of the fish finders in our best kayak fish finder article will be adequate.
Having a fish finder lets you see the water temperature, contour of the bottom, and water depth; it also allows you to see fish, depending on the transducer you purchase.
Kayak Trolling Motor
Another intelligent purchase was my trolling motor. By installing my trolling motor on my kayak, I instantly gained more speed and control of my kayak. I was no longer worn-out from paddling to my favorite spots or against the wind.
You can see the 10 best kayak trolling motors on the market today to help you choose the one that best suits your needs.
Kayak Trolling Motor Battery
To operate sonar and a trolling motor, you'll need a battery. Thankfully, I made a list of the best kayak trolling motor batteries to help get you started in the right direction. I recommend Lithium-Ion batteries because they are longer-lasting, more powerful, and less heavy than Lead-Acid batteries.
One More Cast
While fishing kayaks are expensive, you can find a quality kayak on a small budget which leaves you more money to splurge on fishing tackle!
The BKC FK285 Angler 9'2″ kayak is the best fishing kayak under 1000 dollars because it's stable, designed for fishing, and costs less than $1000!
It's rare to find a pedal kayak for under $1000, but the Pelican Premium Getaway 110 HDII barely met the mark before tax. However, it's not designed for fishing.
If you're searching for the best fishing kayak under 1000 dollars, drop your questions in the comments!