---
We independently research, test, and recommend the best products; you can learn more about our review process here.
Baitcasting rods have certainly come a long way since the low profile reel hit the market in the 70s.
I remember buying my first baitcaster when I was 12 years old. It was an Abu Garcia USA1 (don't judge) and it took me forever to learn how to cast it properly.
Fast forward to the present day. I've owned over 70 baitcasting rods and have tried out three times as many via sportsmen shows, ICAST, and rod sponsorships.
Needless to say, I know how to choose the best baitcasting rods.
Now I want to help you!
By combining my personal experiences with owning different baitcasting rods and actually trying a few of them out during a week spent on the East Pearl River, I've come up with a guide to help you select the best casting rod for your style of bass fishing.
Top 3 Baitcasting Rods on the Market
As a quick summary, here are my top three choices for best baitcasting rods based on my research.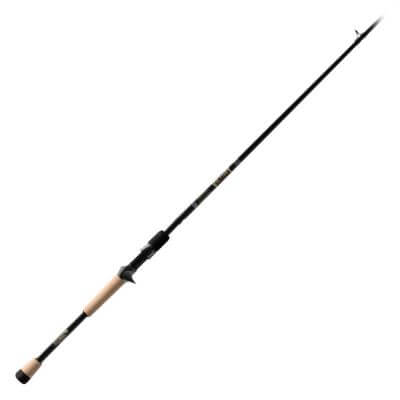 Best Baitcasting Rod Overall
St. Croix Victory Casting Rod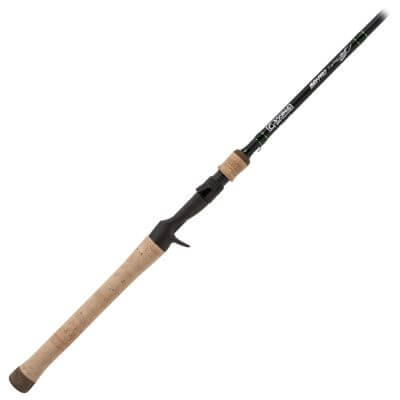 Best Tournament Grade Baitcasting Rod
G. Loomis IMX-Pro Casting Rod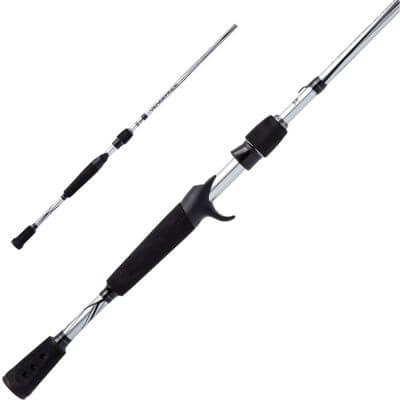 Best Budget Baitcasting Rod
Abu Garcia Vengeance
---
Testing Procedure
Building upon my past experience with numerous baitcasting rods I wanted to put a few to the test. The location I chose was a river that flows into Lake Pontchartrain in South Louisiana called the Pearl River.
It's there that I spent a week solely focused on testing baitcasting rods of all kinds. During my time on the water I specifically focused on these qualities that each rod possessed:
Casting Distance and Accuracy: It's great to be able to make long casts, but it's even better when those long casts hit the target. I tested a ton of rods and monitored how far I was able to cast the lure and how on target each cast was.
Lure Feedback: Like most anglers, I like to feel my bait underwater. It helps me understand what is going on with the lure beneath the surface. How sensitive is each rod? Was I able to feel the bass hit mid-retrieve, and was I able to feel the lure go through different types of structure.
Rod Action: The wrong rod can affect lure performance. I tested all the rods with different lures to see how the lures handled when ripped through structure, tightlined, and its ability to keep the fish on the hook.
Hookup Percentage: The goal of having a great rod and reel combo is to catch fish right? I tested all the combos and was able to tally how many fish were missed and how many hooksets landed!
Reel Seat Fit: I'm sure you've fished with a rod and reel that seemed like they were fighting each other. Maybe some were creaky or squeaking, while others had a reel that was too big or too small for the rod. I tested out all the combos and put them to the test to see which ones were a perfect match.
Handle Length & Comfort: While a rod handle may not be important when fishing with other lures, it is very important when throwing swimbaits. Having a long handle helps with casting distance. Also, handle comfort plays a huge role when working a swimbait because it's tough on your hands.
BEST BAITCASTING ROD OVERALL
St. Croix Victory Casting Rod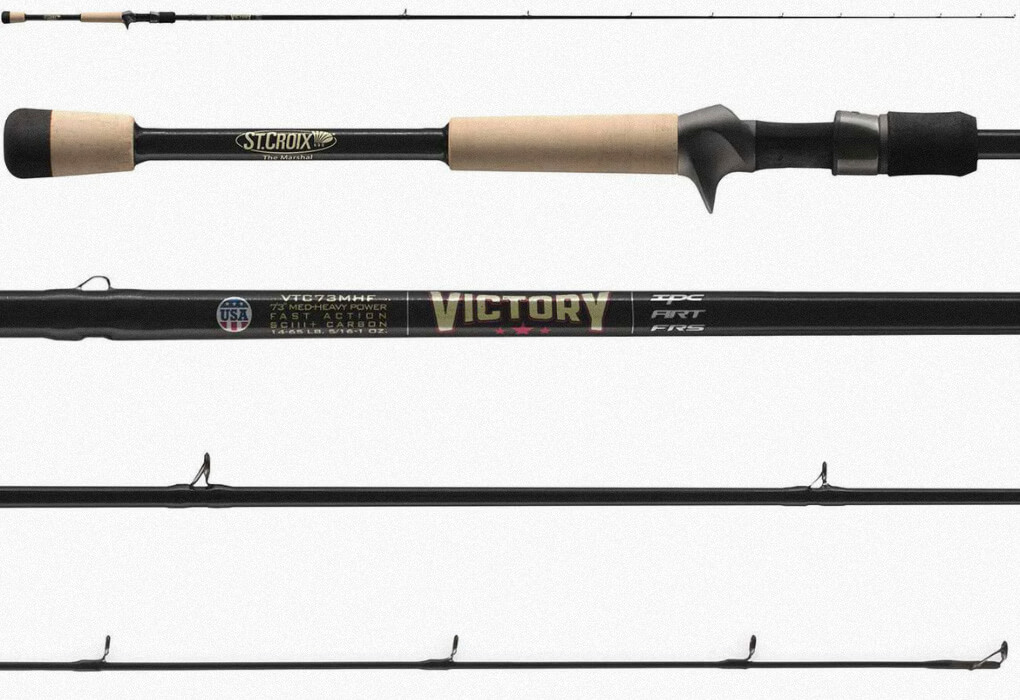 Specs
Rod Length: 7.1, 7.2, 7.3, 7.4, 7.5, 7.10
Rod Material: Carbon Fiber
Type: Casting
Power/Action: Med/Heavy Fast
Why We Chose It
The St. Croix Victory Casting Rod comes in a variety of lengths from 7'.1" to measures 7'.10".
The blank is made of SCIIl Carbon Fiber which makes the rod super strong but St. Croix has gone further by coating the rod with something called Fortified Resin which increases the rod strength even more.
I've fished with St. Croix rods my whole life and have really liked the material makeup of the rods. Those rods were SCll Mid-modulus graphite, the new Victory line of rods are made with SClll Carbon Fiber which is even stronger.
Another thing that I noticed was that these rods are slimmer than the older Croix Rods.
It seems as if St. Croix has figured out a way to pack backbone into a slim rod because this rod weighs 4.3 oz. which is worth its weight in gold for long days on the water.
While the rod has great backbone, the soft tip allows it to have some sensitivity. I'd say the top 12" of this rod is soft and then the backbone kicks in!
On my fishing trip on the East Pearl River I was able to fish all morning with this rod and put over a dozen bass in the boat including a 3.2-pound bass which I was able to boat-flip without a net.
It's a strong rod son!
This rod is comparable to the Dobyns Fury FR 7095B Rod, however I found that the Victory was more versatile and the Fury was catered to fishing with Jigs, Texas-rigs, Senkos and Shaky Heads.
St. Croix even puts their money where their mouth is with a 15-year warranty!
I thoroughly enjoyed using the St. Croix Victory Casting Rod on my trip and based on its versatility, strength, and comfort, we gave this rod top honors as Best Baitcasting Reel for Bass Fishing. Get this rod and don't look back!
BEST TOURNAMENT GRADE BAITCASTING ROD
G. Loomis IMX-Pro Casting Rod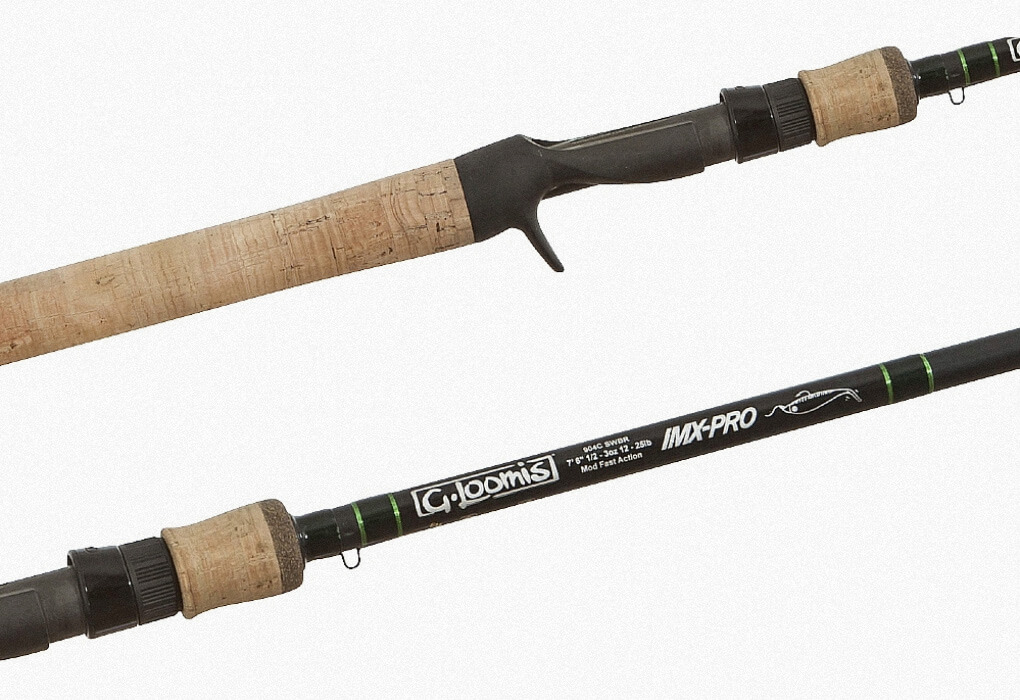 Specs
Rod Length: 6.6, 6.8, 6.9, 7, 7.1, 7.5
Rod Material: Graphite
Type: Casting
Power/Action: Medium Heavy/Fast
Why We Chose It
The G. Loomis IMX-Pro Casting Rod measures 7',6"
The rod is a one-piece rod that is made from a combination of graphite and resin, making it very strong and more than capable of throwing smaller lures all the way up to throwing A-Rigs and large swimbaits over 8 oz.
The first thing I noticed when I used this rod when using it on the East Pearl River was the weight.
It's probably the lightest rod I have ever picked up outside of an ultralight rod. The total weight comes in at 5.6 oz. which is crazy for such a strong casting rod.
Once again, this company has set itself apart as a superior rod manufacturer. G. Loomis seems to have discovered a method of enhancing strength without the need for additional materials.
This has allowed them to utilize 15% less material compared to their other rods, resulting in their lightest rod ever produced!
During my testing of this rod, I immediately noticed a distinct feature in the guides. There was a noticeable improvement in casting performance.
The line glided smoothly through the guides, significantly reducing any fluttering and creating a nearly silent cast.
After doing a little research I found that the guides are manufactured by FUJI which is a company known for crafting high-end K-frame SIC guides.
These guides incorporate Silicon Carbide, a highly polished ceramic material. This would explain the almost silent line whip when I casted.
As far as distance goes, I was able to cast the farthest with this rod over all the others using the same bait so it definitely checked the box in the distance category.
Another checked box it is the accuracy box. The rod was dead on as far as casting to the spot I intended.
I say this half jokingly, if you decide to try out this rod it will make all your other rods pale in comparison so beware!
At the end of the day the G. Loomis IMX-Pro Casting Rod shined and that's why we gave it the title of best tournament-grade baitcasting rod.
If you're looking for a baitcasting rod to fish tournaments or take your recreational bass fishing to a new level, the IMX-Pro is the rod to go with!
BEST BUDGET BAITCASTING ROD
Abu Garcia Vengeance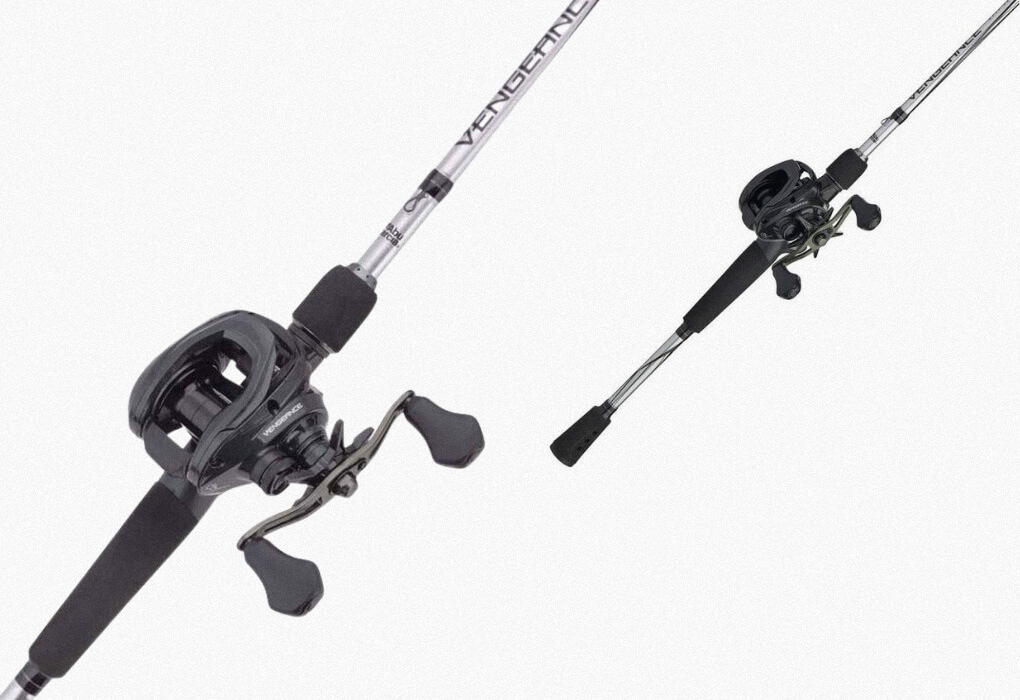 Length: 6.6, 6.9, 7, 7.6
Rod Material: Graphite
Type: Casting
Power/Action: Med/Heavy Fast
Why We Chose It
This rod was the shocker of the day as it performed phenomenally when throwing my spinnerbait and a few other crankbaits.
I have to admit that this rod was a shocker. I paid under 70 bucks for this rod and I didn't expect much but it proved me wrong in a bunch of categories.
For starters it's got a 24-ton graphite blank which provides a ton of sensitivity; probably more than I've ever experienced using a cheaper rod.
The sensitivity was amazing!
During my test I was using a spinnerbait and could distinctly feel the blade rolling which is an incredible advantage when the bass hit the lure.
Even though I didn't see the strike, I felt the blade stop spinning and that told me that a bass had inhaled it.
I set the hook numerous times by using that method and the sensitivity played a huge role in allowing me to do that.
Moving on to the handle. It's a split-grip design which made for some really long casts. The grip itself is made of top-notch foam material, providing a truly comfortable grip in my hand.
Another thing that stood out to me was the trigger on the handle. It fit perfectly between my index finger and middle finger.
In fact, it felt like a part of my hand when I was using it, which is a really good thing in terms of control. I find that great rod control leads to accurate casts.
One concern with this rod is that it seemed tip-heavy which might affect how larger, heavier baits perform when using them. I found that it performed best with lures under 3 oz.
For heavier baits take a look at the 13 Omen Black Swimbait Rod which handled heavy lures really well during my test.
If you're looking for a solid rod at an affordable price, the Abu Garcia Vengeance is the rod to go with.
It had a great hook-up percentage and felt great in my hand even after using it for four straight hours on the East Pearl.
BEST BAITCASTING ROD FOR SWIMBAITS
Dobyns Fury FR7095B Casting Rod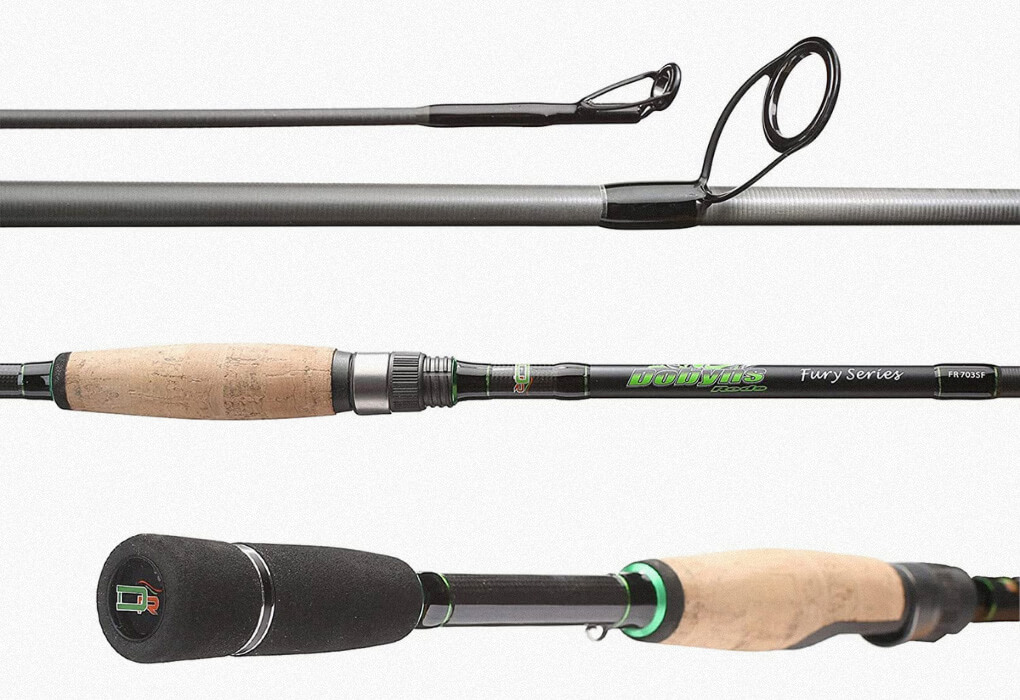 Specs
Rod Length: 7.9
Rod Material: Graphite
Type: Casting
Power/Action: Med/Heavy Fast
Why We Chose It
The Dobyns Fury FR7095B Casting Rod measures 7'.9"
The rod is a high modulus graphite, single-piece rod.
FYI…"High Modulus Graphite" has a higher fiber density which means the graphite is packed into the rod tighter than low modulus rods.
The payoff is more strength and sensitivity and believe you me, I noticed when throwing some of my favorite swimbaits.
In the casting department, my casts were smooth and very long which matters when throwing swimbaits.
I used a Storm Wildeye Shad that measured 4" and weighed 3oz to catch a total of four bass on four hits so it had a great hook-up rate.
So many things stood out for me with the Dobyns Fury FR 7095B Rod tht make it a great swimbait rod.
When I'm throwing swimbaits, I put a lot of energy into whipping that lure out there. I don't want to be struggling with a tip heavy rod tied to a heavy swimbait.
This rod was perfectly balanced to be slightly butt heavy which is great for swimbait fishermen..
Another thing. The rod was fast enough because of the backbone to drive the hook home.
The third thing that got my attention was the handle which is made of AA Portuguese Cork.
I was able to muscle my swimbait farther out for a longer retrieve because the handle was nice and long measuring 20.5"
Back to the rod strength. In addition to the High Modulus Graphite, Dobby's went an extra step by wrapping the rod in Kevlar.
Trust me, Kevlar is some really tough material! I have several soft plastic lures that just won't tear!
The highlight of my day came when I set the hook on a 3-pound bass and watched it jump twice. It was quite a show!
When I got it up to the boat I was able to boat-flip the bass because of the fortified Kevlar wrapping.
If this rod has any flaws it's that it struggles a bit with swimbaits over 8 oz. which may or may not matter much as some fisherman can go a lifetime without throwing a swimbait that heavy.
This rod was comparable with the St. Croix Victory Casting Rod which won Best Overall.
I felt the St. Croix Victory was a little more versatile than the Dobyns Fury, but if we're talking swimbaits, this rod is your ticket to many successful fishing trips throwing swimbaits!
BEST ULTRALIGHT BAITCASTING ROD
G. Loomis IMX-Pro Bass Casting Rod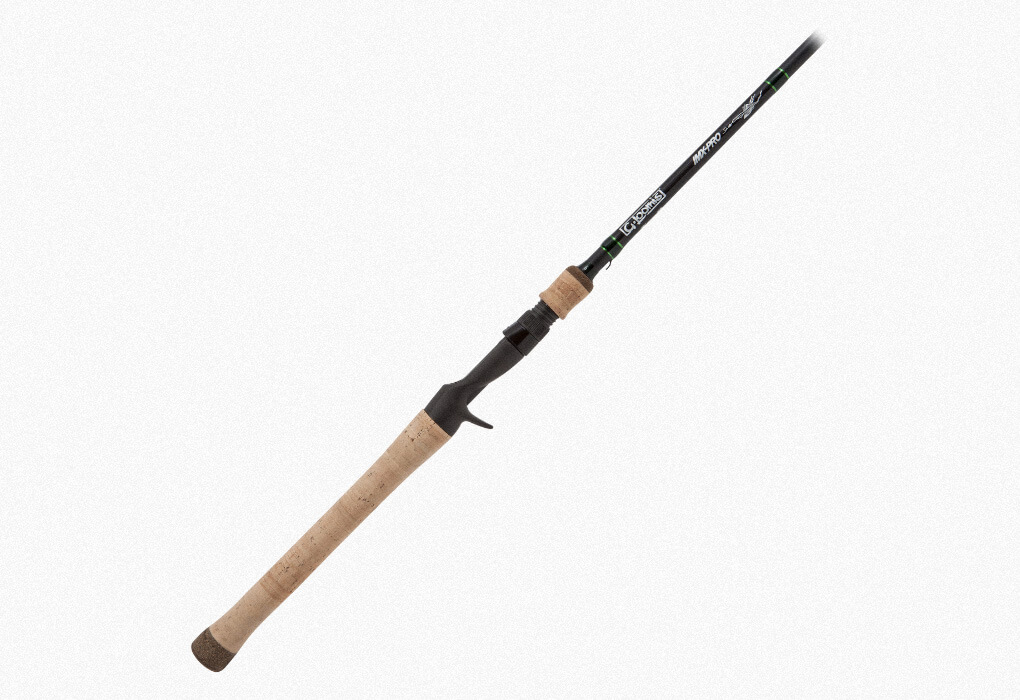 Specs
Rod Length: 6.6
Rod Material: Graphite
Type: Casting
Power/Action: Med/Fast
Why We Chose It
The G. Loomis IMX Casting Rod is 6.8 and weighs only 5.6 oz which fits the bill for an ultralight bass rod.
G.Loomis uses what they call IMX-Pro blank technology which translates to them packing more graphite into a thinner rod by adding resin to the mixture.
The first thing I noticed about this rod is the weight. The total weight comes in at 5.6 oz. which makes it a perfect ultralight rod for bass fishing.
The manufacturer boasts about this as being their lightest baitcasting rod ever made!
While testing the rod I noticed that it had great balance and I was able to finesse-fish a worm with a 1/16 oz. bullet weight.
The rod was incredibly sensitive and I was able to easily feel the bass pick up my worm on the bottom.
While the rod feels like an ultralight, it has the strength to deliver big fish in the boat.
In fact, I set the hook on a bass that pulled drag and the first thought that came into my head was "It's too big for this rod!" However, I lightened the drag and wore out the bass enough to bring him close and net him.
The bass weighed 3.6 pounds and it's the biggest bass I have ever caught on an ultralight rod.
This rod is so fun to fish with.
During my test I had six bites with a total of five bass brought to the boat so we're looking at a 100% hook-up rate.
One other thing about this rod. It has something called strategic scrim placement which means that the rod is tapered to certain parts of the rod that are prone to break.
The only downside to this rod is that you won't be able to fish with heavy swimbaits for crankbaits with it. You probably need to use lures that are lighter than 2 oz. with the IMX Pro.
Overall this rod is what it claims to be; a high-end tournament-grade ultralight rod that is ultra sensitive but can deliver the big one if needed.
If you're looking for an ultralight rod for bass fishing, the G. Loomis IMX Casting Rod is the rid that hits on all cylinders!
BEST BAITCASTING ROD AND REEL COMBO
Abu Garcia Revo X LTD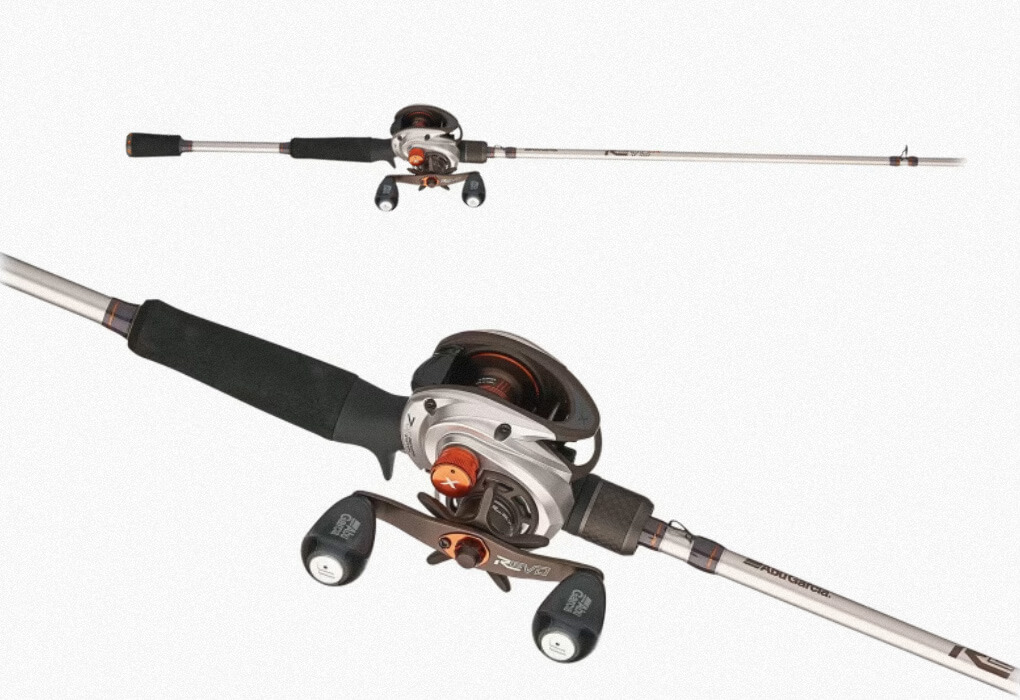 Specs
Rod Length: 7'
Rod Material: Aluminum
Power/Action: Med-Heavy/Fast
Bearings: 7+1
Reel Handle: Right
Why We Chose It
Abu Garcia has always provided great rods and reels. Now they've put the two together and knocked it out of the park with the RevoX LTD.
The rod is an aluminum rod that measures 7'.
Now take note, this rod is made of aluminum so it excels in the jigging or heavy cranking department. It is great for anglers who like to fish jigs in heavy cover or those who like to rip crankbaits through underwater debris.
One thing I enjoyed about using this rod is that it is virtually indestructible so you'll be able to go on the attack without worry of the rod breaking.
I found that the rod trigger was perfectly placed which provided me with great control of the rod. (I like to place the trigger in between my fingers with my entire hand cupping the reel)
While the rod is solid I believe the main player on this combo is the reel.
I consider a good real to have at least 4 ball bearings so when I saw that the Revo X Low Profile Baitcaster uses 7 stainless steel bearings I couldn't wait to throw it.
It was every bit of what I expected as the reel performed wonderfully making long, smooth, accurate casts.
Another great thing about this combo is its combined weight. Coming in at 7.9 oz. this combo is great for bass anglers who sling lures all day long.
The rod felt great in my hand with a firm but soft EVA rubber handle and I was even able to land a 4.6-pound bass without the handle slipping.
My hook-up rate was 80% as I landed eight out of ten bass on my trip to the East Pearl River.
The Abu Garcia Revo X LTD came out on top when testing but I will say it was comparable to the less expensive Abu Garcia Max X Combo that has a lesser quality rod.
The only downside is the reel only comes in one length which is 7' and the reel only comes with a handle on the right size.
Keep in mind that this combo is around 200 bucks and is well worth it, but if you're looking for a combo under 100 dollars, check out the Abu Garcia Max X Combo. It held up well during testing and overperformed its super cheap price.
If you're looking to save a few bucks by buying a baitcasting combo, instead of a separate rod and reel, the Abu Garcia Revo X LTD is the combo for you.
It's a perfectly matched setup which should provide many years of catching bass in the future.
How to Choose a Baitcasting Rod For Bass Fishing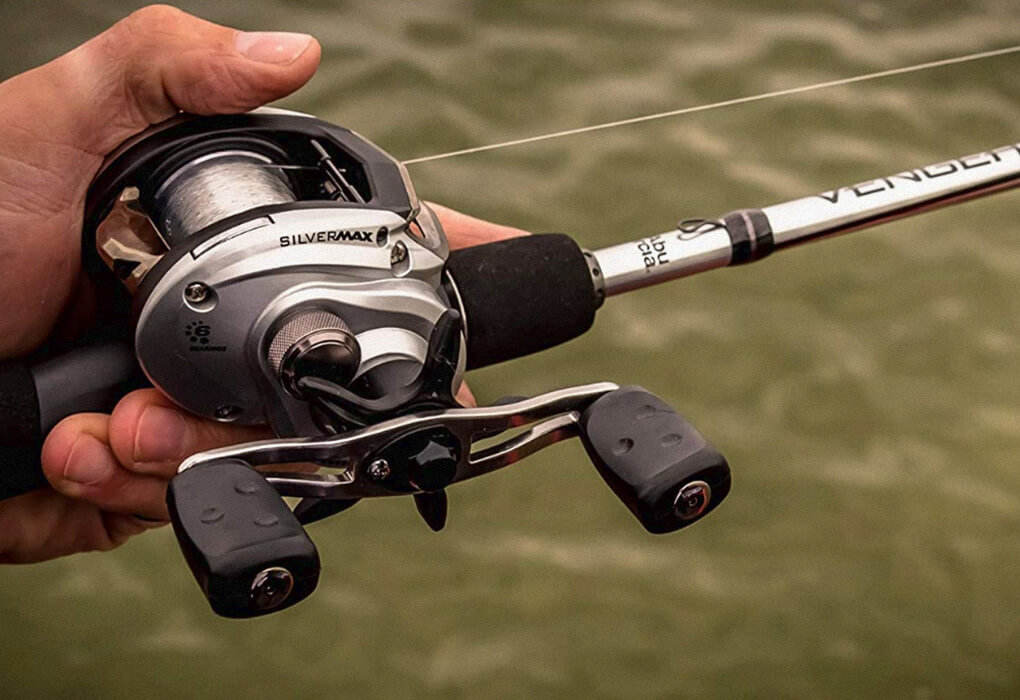 Here is a quick guide to help point you in the right direction when choosing the right baitcasting rod.
Remember, it's important to know what lures you're going to be throwing with your baitcasting rod so that you can choose what material it is made out of, the action and power, and also the length.
Material
The makeup of the rod blank is important when selecting a baitcasting rod.
Fiberglass
Fiberglass rods are going to be your strongest so you'll want to go that route when choosing a rod for jigging and throwing swimbaits. While glass rods excel with rod strength they are the least sensitive of all the rods.
Graphite
Graphite on the other hand, graphite rods are the most sensitive. This is the rod that you want when fishing worms on the bottom and finesse lures.
While graphite rods are very sensitive they are the most brittle so be careful not to put any uneven pressure on them or they will snap!
Rod Action & Power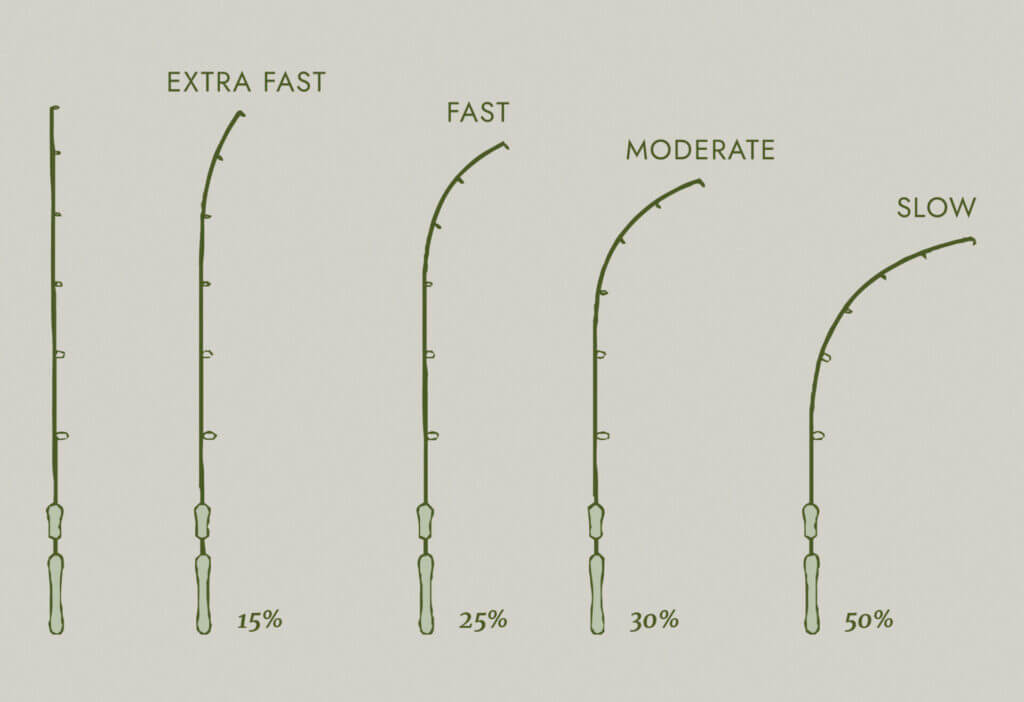 Action on a baitcasting rod refers to the location on the blank at which the rod bends. For example, a fast action rod will bend about 15% down the blank from the tip.
This makes the rod more sensitive for smaller fish but more liable to break for larger fish.
The amount of pressure you need to apply to make the rod bend is called "Power." So for example, a heavy power rod will require a lot of pressure from a heavy fish to bend the rod.
With that knowledge in mind. Fast action, medium power rods are ideal for bass in my opinion.
You don't need to get too carried away with the power of your rod but fast action is always a good way to go.
Length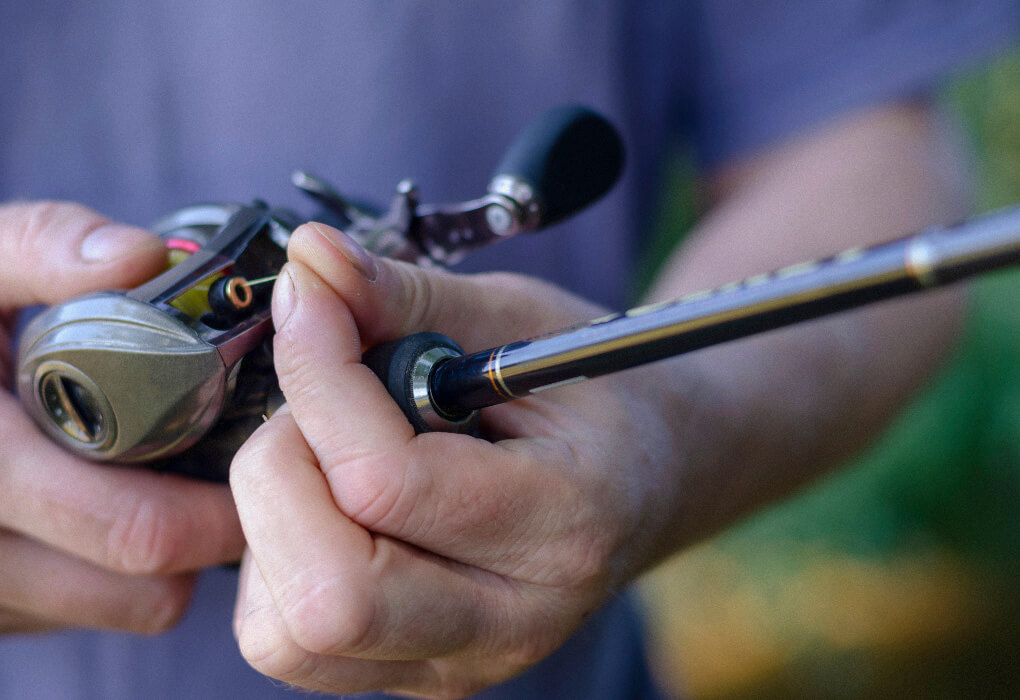 The length of your rod is important when determining what kind of lures you are throwing. If you are going to be using large baits like swimbaits and crankbaits you will need a long rod over 7'.
The reason for this is that the rod needs to do the work for you. A good arching bend can sling the lure out farther than a short rod.
Also a longer rod is helpful when catching bigger fish because the bend in the rod helps you with fighting the fish.
Shorter rods are used in situations where you need to make shorter casts with accuracy. Short rods are also better when throwing finesse and lightweight lures.
Short rods can add sensitivity as well by reducing the amount of rod between the tip and the handle.
Final Thoughts
Baitcasting reels have certainly come a long way. I don't know where bass fishermen would be without them.
During my test I learned a ton about some really good casting rods and can honestly say that there were some hard choices that I had to make.
So let's review our top pick!
For the best baitcasting rod overall, I choose the St. Croix Victory Casting Rod. It was a pure joy to fish and checked all the boxes that I look for when choosing a baitcasting rod!
While the St. Croix Victory won overall, you really can't go wrong with all the rods mentioned in this Best Crankbait Rods Guide that I've put together.
Give them a try and tell us what you think! We'd love to hear from you!