---
We independently research, test, and recommend the best products; you can learn more about our review process here.
A smart man once told me, "play smarter, not harder, stupid." While I felt pretty insulted at first, I realized that he was right, and being stubborn about fish finders wasn't helping my fishing.
Choosing a kayak fish finder is a bit more challenging than picking one for a bass boat because you don't have as much space, and mounting it can be difficult if you don't have the proper mounts.
I've put together this comprehensive guide to the best fish finders for kayaks after testing multiple models and hours of research.
After reading this, you will gain the following:
A complete understanding of the best kayak fish finders.
The ability to choose a fish finder based on fishing technique and style.
A thorough understanding of buying factors that go into making a purchase.
If you're in a hurry, my top pick is the Garmin ECHOMap UHD because you can get it in a compact 7″ or 9″ screen without giving up advanced features like the option for Livescope.
Let's get to finding fish!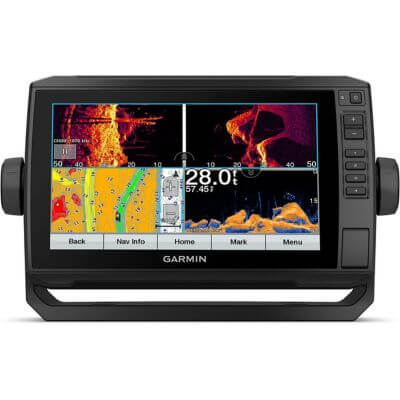 Garmin ECHOMAP UHD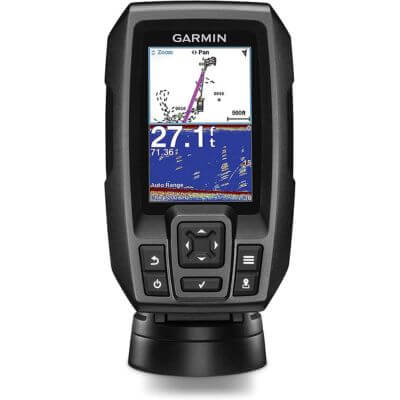 Garmin Striker 4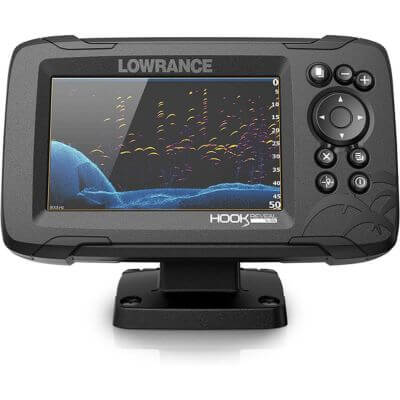 Lowrance Hook Reveal
Testing Procedure
If you prefer video format, click the video above which shows me with these fish finders in-hand.
Here are the features I looked for when testing these fish finders:
User Friendliness: Was the unit simple to install and setup or did I need lots of help?
Screen Size: This one is tricky because I want as large of a screen as possible, without it getting in the way while fishing or paddling.
Upgrade-ability: How easy is it to upgrade the unit or did I have to buy another fish finder to get the higher-end features?
I consider myself to be fairly handy so I didn't expect much trouble when installing and setting up these fish finders on my kayak.
However, some were more difficult than others, so if you're not a fan of rigging your kayak, you might want to avoid them.
Having a 12" screen on my Nucanoe Unlimited would be awesome until it made paddling difficult or caused me to lose a fish.
So I prefer models that have multiple screen sizes so I can find the perfect one. I generally use a 7" or 9" on my 12' fishing kayak, but on shorter kayaks, those screens would be overkill.
Because I'm competitive and like to challenge myself by fishing kayak tournaments at times, I need the option to upgrade to better sonar like live sonar.
However, this is not for everyone and I have caught lots of fish using a base model fish finder for years.
---
In-Depth Reviews of the Our Favorite Fish Finders for Kayaks
Garmin ECHOMAP UHD
BEST OVERALL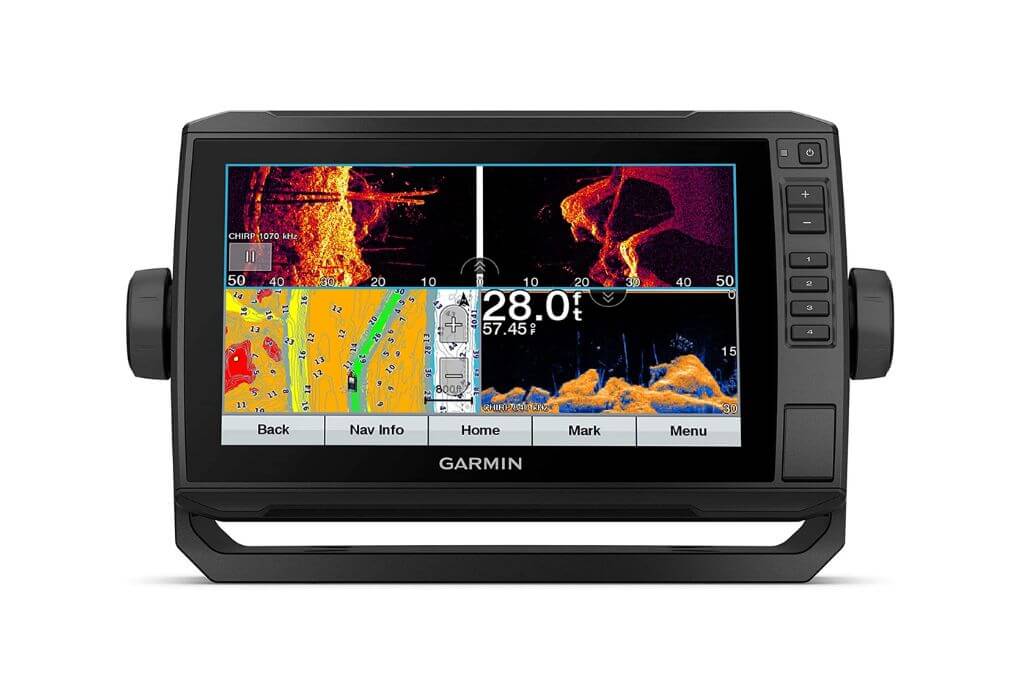 Specs
Type: ClearVu, SideVu, and CHIRP
Brand: Garmin
Display: 9″ touchscreen with keyed assist
GPS?: Yes
Why We Chose It
The Garmin EchoMap UHD is the best kayak fish finder I've ever used, and my #1 pick for experienced anglers. After I tested it, I immediately installed it on my kayak. It wasn't cheap, but dang is it good.
If you were born in a kayak with a fishing pole in your hand, you're going to love this.
This is the most advanced fish finder ever made by Garmin, the biggest name in bass fishing electronics (and I'm not just blowing smoke).
It's got the most detailed maps, the most accurate sonar, and the most advanced connectivity features I've seen before.
If the Scottish government were going to look for the Loch Ness Monster again, they'd get the Garmin EchoMap with Panoptix Livescope for sure.
I don't expect you to believe me just yet, so let me walk you through a few of my favorite features of this fish finder.
The main reason I put this on my kayak is because I wanted the best sonar technology, which is Panoptix Livescope.
Which is a fancy sonar that allows us to see exactly what's beneath our kayaks, and that's why I've rated this the best overall kayak fish finder.
With this new fangled technology I can see EXACTLY where the fish are around the brush pile, how many fish are there, and how they react to my presentation.
Idk about you but I find it very helpful to see how the fish react to my lure in real time!
Panoptix is a high-end sonar that gives you a live image of what's happening below your kayak.
It gives you a crystal clear live view of 200 feet in any direction you point the transducer (which is way better than traditional sonar).
Another feature I like is ECHOMAP UHD electronics have a quick-release bail mount which makes removing the unit while transporting your kayak very simple.
The last feature of the ECHOMAP UHD that stood out to me is the touchscreen with keyed assist.
Keyed assist is a fancy way of saying it has a touchscreen and buttons. So if your hands are wet and cold, you can still use the buttons (when the touchscreen is being difficult).
Personally, I like having both options unlike the Garmin Striker 4, which only has buttons, but I understand most anglers can live without a touchscreen.
A touchscreen fish finder is easier to navigate in my opinion; I can quickly switch between pages or sonar types. While I can also do this with buttons, it usually takes a little longer.
I don't know about you but I'd much rather be fishing instead of pushing buttons on my fish finder!
The biggest frustration is setting up the UHD and the customer service.
Setting it up is a little robust and took me about an hour on YouTube to figure out how to get everything correctly configured, especially when using Livescope.
You can try their customer service, but it's not always dependable for quickly fixing problems with Garmin fish finders.
I've talked with some of their support team at fishing expos about their products and they're happy to help but navigating their customer service is a different matter.
This Garmin kayak fish finder is excellent (once you get it set up), but I wish their customer service was a little more helpful after you've spent this much money on their product.
With that said, I'm willing to overlook those slight negatives in order to get the best sonar technology on my kayak.
So if you've got the budget and want the greatest sonar out there that shows EXACTLY what's below your kayak and NEVER breaks, this unit is for you.
It's the only Sonar I'll have on my kayak…until Garmin comes out with something better!
Read our full review here: Garmin Echomap UHD review.
Garmin Striker 4
BEST VALUE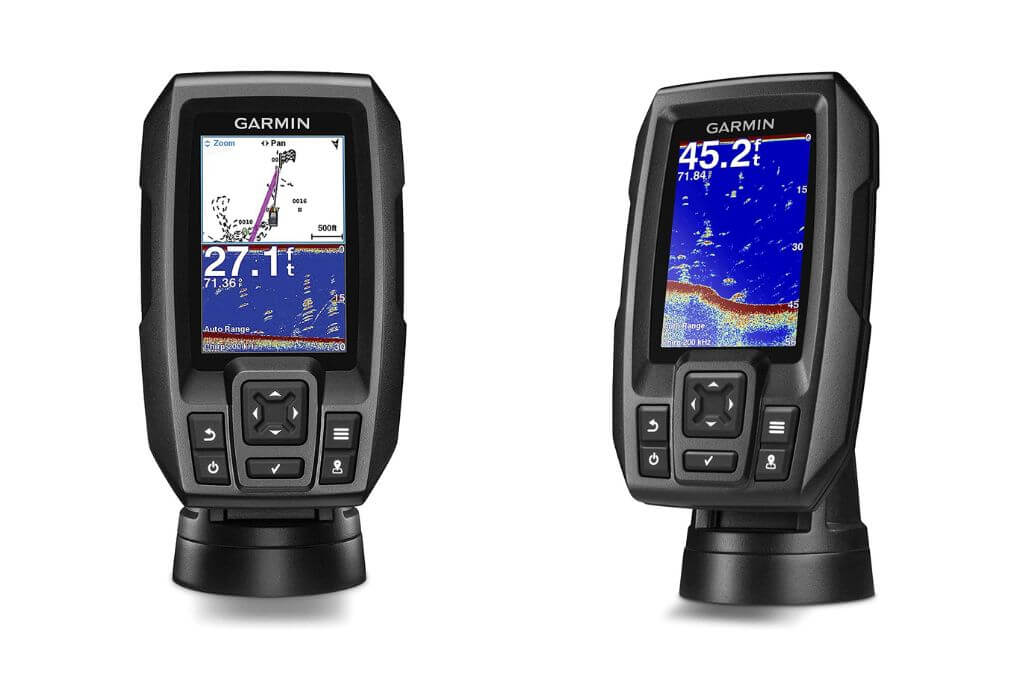 Specs
Type: ClearVu Scanning Sonar
Brand: Garmin
Display: LCD
GPS?: Yes
Why We Chose It
The Garmin Striker 4 is easily the best kayak fish finder for beginners because it's so easy to operate that the dang fish could use it to find each other.
It was the first one I ever bought… and if you're just getting started, you're gonna love it.
It's amazing because of its simplicity. It gets the job done of finding fish and structure without the hassle of learning a complicated interface or setting up additional transducers.
It's a good fish finder to learn on because it's inexpensive, simple to install and setup, and it doesn't have a ton of features to overwhelm a beginner, as I was at the time.
The buttons are pretty self explanatory and it's easy to navigate from one page to another.
However, I found the screen to be a little too small for my Nucanoe Frontier 12 but I think the 4-inch screen would work great on a 10' kayak because it's compact.
I was excited to test out the GPS features, thinking I would have a map of the lake, but it does not. It's a white screen that you drop GPS waypoints on, which is okay for marking your spots but that's about it.
As I became a more serious kayak angler I was quickly ready to upgrade but this unit is only capable of the basics, which is why it's so affordable.
After using this fish finder for years, I strongly recommend the Garmin Striker 4 for fun fishing and beginners because it's so easy to use and ridiculously affordable.
You can gamble your money on purchasing a fish finder from a lesser known company or you can choose to buy this one from Garmin the legendary fish finder brand for a similar price.
Not to mention, once you're ready to upgrade, you can sell this unit to get your money back and put it towards a higher-end unit. It's a no-brainer for me.
If you'd like to learn more about the best budget kayak fish finder, give our review a read.
Read our full review here: Garmin striker 4 review.
Lowrance Hook Reveal
BEST KAYAK GPS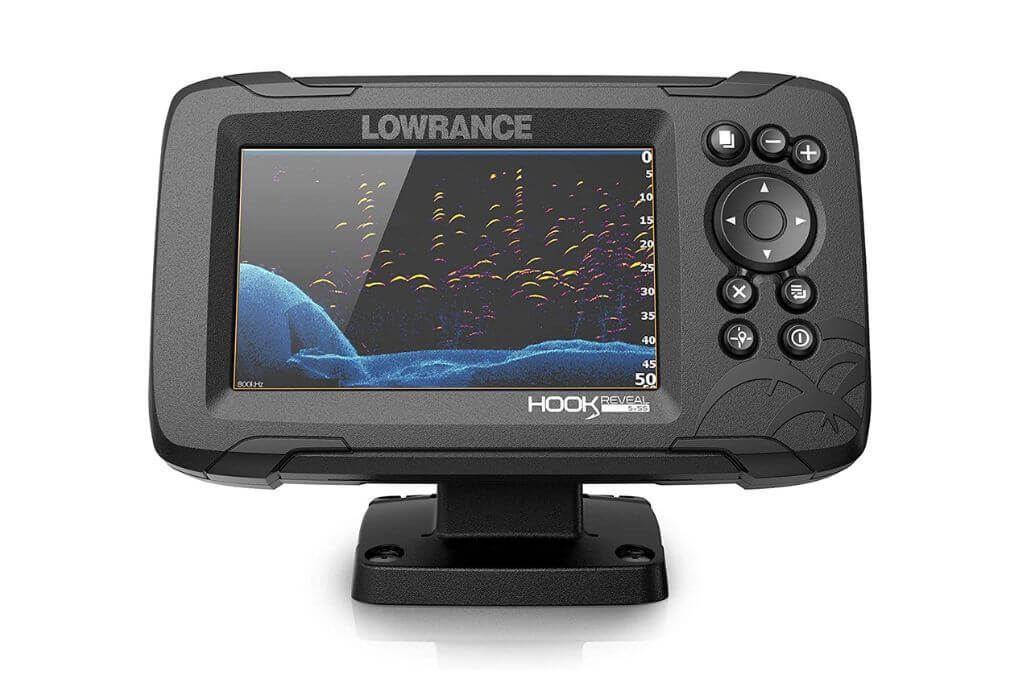 Specs
Type: Tripleshot (Downscan, Sidescan, and CHIRP)
Brand: Lowrance
Display: SolarMAX Display
GPS?: Yes
Why We Chose It
The Lowrance Hook Reveal is the best GPS and fish finder combo for kayak, Lewis and Clark would have spent way too much time fishing if they had these maps!
If you're someone who needs a little help with directions sometimes, but you don't like to ask anyone else, this is the fish finder to mount on your kayak.
You'll never have to ask directions again, at least while you're on your kayak.
This fish finder has many features (such as Genesis Live and SolarMAX Display) that you see offered in more expensive fish finders, but you don't typically see them in this price range.
The feature that stands out the most is Genesis Live, which allows you to map the depth contours of your current location if they are not preloaded into your unit.
This is great for the small bodies of water that we kayak anglers love to fish.
I was eager to test this feature out, and was pleasantly surprised by its accuracy when I fished a small lake that's not on most maps.
It was a bright sunny day when I visited this small lake, which doesn't make for great fishing and makes it difficult to see most fish finder screens, but that's not the case with the Lowrance Hook Reveal.
The SolarMAX Display was shockingly clear and easy to read, even when the sunlight hit the screen directly. I didn't have to crank the brightness all the way up to easily see the screen.
Another excellent feature for kayak anglers is the Tripleshot Transducer.
It keeps things simple by only requiring one transducer (the gadget that goes in the water to send and receive sonar signals) for three different types of sonar.
That's why it's one of the best side imaging fish finders for a kayak on the market!
The Tripleshot Transducer makes rigging the kayak much easier. Gone are the days of multiple transducers to get a good idea of what is below you, thank goodness!
With this transducer you can use downscan, sidescan, and traditional sonar at the same time. So you'll be able to see everything the fish are seeing from multiple angles.
My biggest frustration came from the product page and description because they are a little misleading, so be certain you are buying the unit described in the description when you're purchasing.
Otherwise, you might think you're buying one unit when in reality, you're purchasing a unit with entirely different features.
You're not going to find a better GPS/Fish Finder Combo at this price range than the Lowrance Hook Reveal.
Thanks to Genesis Live mapping and the clear SolarMAX screen you won't ever need another fish finder to mark your favorite honey holes.
Read our full review here: Lowrance Hook Reveal review.
Garmin Striker Cast
BEST CASTABLE FISH FINDER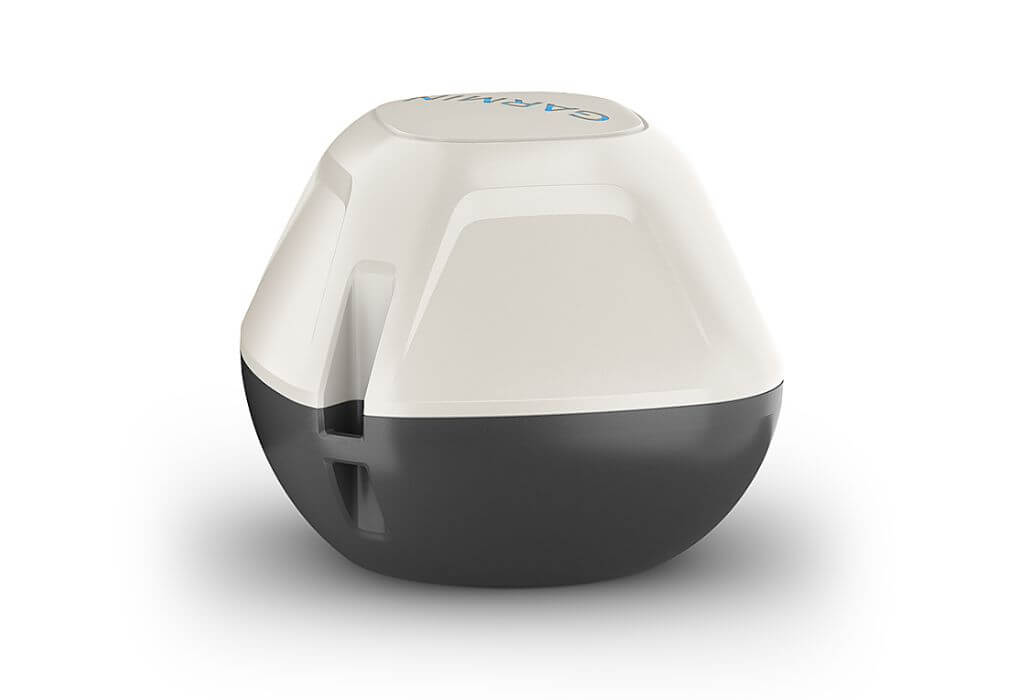 Specs
Type: traditional 2D sonar and ice-fishing flasher mode
Brand: Garmin
Display: Smartphone or Tablet
GPS?: Yes
Why We Chose It
The Garmin Striker Cast is the best castable fish finder, perfect for bank anglers who don't have a boat or those who can catch fish without all the new fangled technology these kids use nowadays.
It is highly portable because it has no wires and easily connects to your smartphone using a FREE app.
It's also a great asset to kayak anglers who like to mark waypoints but don't need to spend a mortgage payment on the latest sonar technology to find fish.
I admit it might seem a little gimmicky; however, the portable depth finder for a kayak concept is pretty cool and helps save a lot of space by using your smartphone or tablet as the screen, just make sure they're fully charged!
Had they had this technology when I was a kid, I would have spent more time looking at the phone and less time fishing… but I would have probably caught the same amount of fish. Not many!
Installation and operation is as simple as downloading the app, wirelessly connecting it to your device, and casting it out.
The GPS model is great if you want to mark waypoints indicating fish or underwater structures, though don't expect great maps.
If you don't need the GPS feature, purchase the less expensive portable fish finder for a kayak to save a little money.
The rechargeable battery lasts up to 10 hours, but to save battery, the Striker Cast automatically powers on while floating and powers off once you pick it up out of the water.
Garmin is always coming up with innovative ways to improve its products!
Side note: I think using the Striker Cast is another fun way to introduce kids to fishing and teach them how to read sonar as well.
That's one of my daughters favorite things to do when we're fishing together from a kayak or boat.
The biggest downfalls are that you will need to cast further than where you think the fish are and reel it to the spot to avoid spooking the fish you are trying to catch, and it uses your phone, so you will need to bring along a way to keep your phone charged.
Despite its downfalls, Garmin definitely made the best castable fish finder on the market.
Every bank angler with a smartphone should own a Striker Cast so they can see what's going on below the surface, mark their best fishing spots, and save a boatload of money compared to other fish finders.
Read our full review here: Garmin Striker Cast review.
Humminbird Helix 7
BEST KAYAK DEPTH FINDER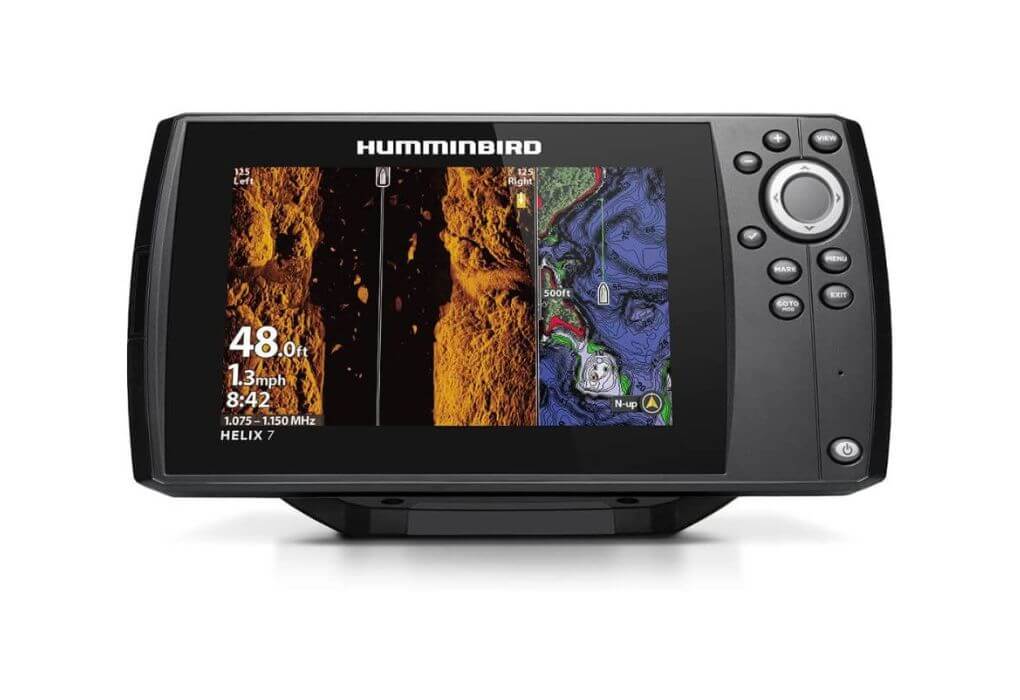 Specs
Type: MEGA Down Imaging, Dual Spectrum CHIRP
Brand: Humminbird
Display: Vivid 7″ Display
GPS?: Yes
Why We Chose It
The Humminbird Helix 7 is the best kayak depth finder, a top choice of kayak anglers who fish varying water depthers.
Humminbird updated the Helix 5 in a big way with the Helix 7.
For example, the U.S. Autochart Live helps you create real-time maps of where you are fishing so you can know the depth of where you're currently fishing and the depth of where you've recently been.
This feature alone is why we rated this the best kayak depth finder because it helps you figure out what depth the fish are hanging out at.
The built-in base maps give you a headstart when trying out a new fishing hole for the first time. I love that once you are at a new location, you can easily dial in your sonar with a push of a button to fit your needs for that day.
Another reason to purchase the Helix 7 is that Humminbird is a well-known brand in the fishing industry, and its customer service is top-notch, so if you have any problems, don't hesitate to give them a call.
The 7" screen is perfect for 10' or 12' fishing kayaks, as you can mount it far enough away that it's doesn't interfere with paddling or fishing but it's large enough to see.
You're also able to choose the transducer that will best fit your needs.
Read our full review here: Humminbird Helix 7 review.
Venterior Portable Fish Finder
BEST PORTABLE FISH FINDER FOR KAYAKS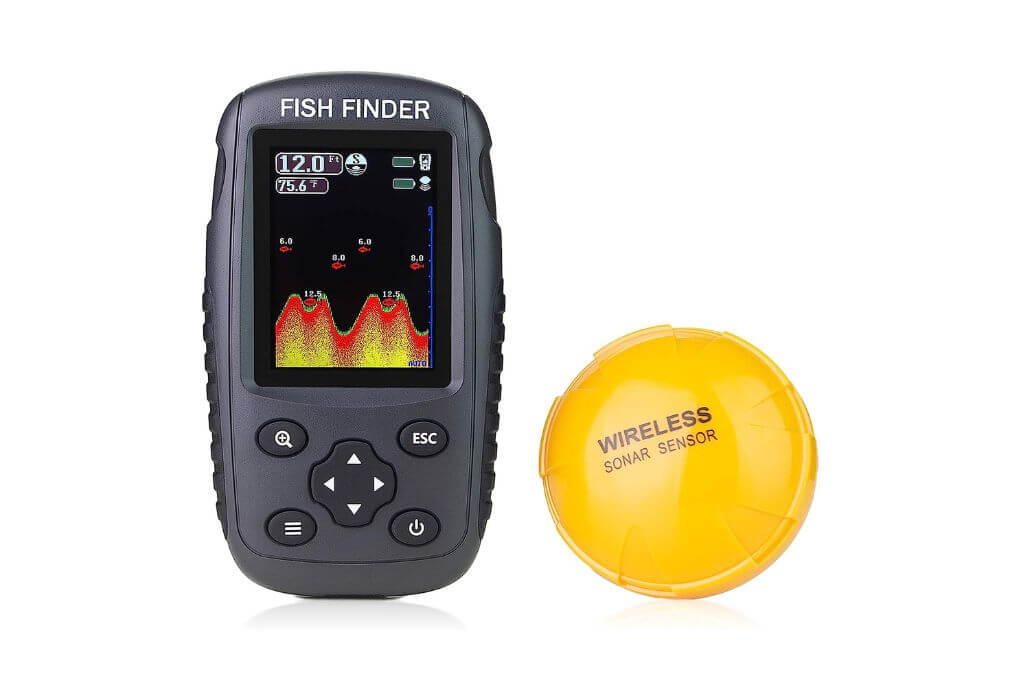 Specs
Type: Wireless Castable Down Imaging
Brand: Venterior
Display: LCD
GPS?: No
Why We Chose It
The Venterior fish finder is the best portable fish finder for kayak fishing.
This is THE fish finder for anglers who aren't looking to spend a lot of money.
These castable fish finders are great if you're trolling the water trying to learn about what's going on beneath the surface. It has a color screen with a bunch of different indicators, which is nice to see in this price range.
I tend to steer away from lesser-known fish finder brands, simply because they don't have the reputation of Garmin, Lowrance, Humminbird, or Raymarine.
However, one of my kayak fishing buddies swears by this fish finder, and it's hard to argue when he catches the amount of crappie he catches.
Overall, this is a solid choice for the price. Some people have issues with how long the battery takes to charge, and you'll have a hard time reading the screen in bright sunlight.
Vexilar SP200
BEST CANOE FISH FINDER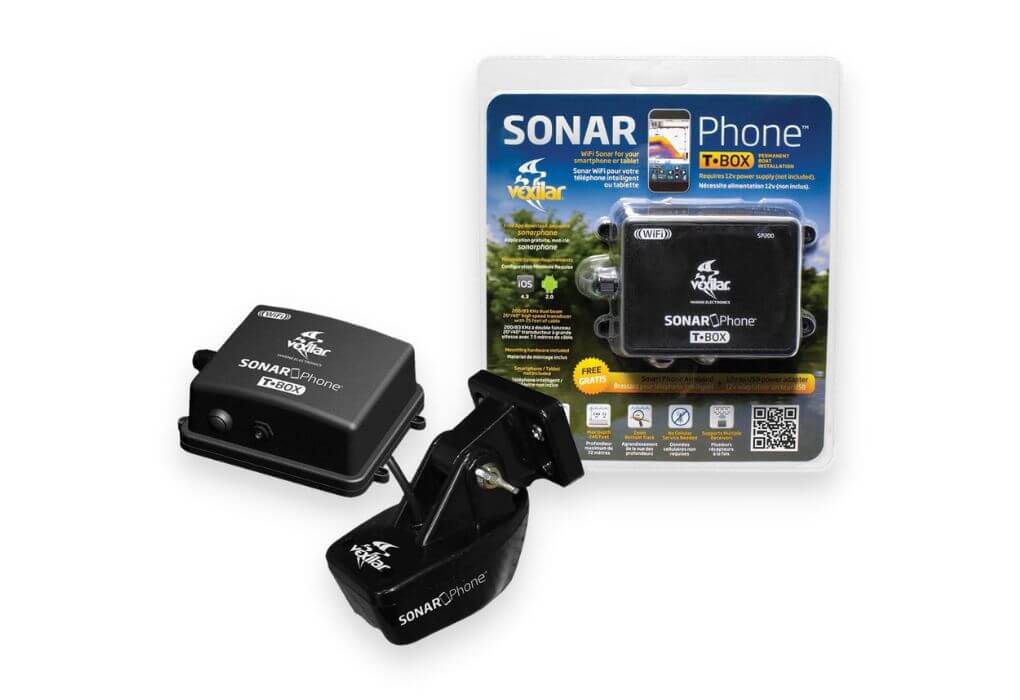 Specs
Type: Wifi Sonar Fish Finder
Brand: Vexilar
Display: iOS and Android App
GPS?: Yes
Why We Chose It
The Vexilar SP200 is the best canoe fish finder and is better than nothing because you're able to find structure that you wouldn't have been able to otherwise.
It's for canoe and kayak anglers with enough space for a battery but not enough for a screen.
The Vexilar SP200 wirelessly connects to your phone or tablet and you don't need cell phone coverage to use it.
While it wirelessly connects to the app on your phone, you still need a place to mount the transducer and connect it to a power source.
Let me be clear on this – you need a 12-volt power supply to power this using the 25-foot cord it comes with, which means you'll need a larger kayak or canoe to have enough space to store a 12-volt battery.
The lack of screen lowers the price and keeps everything out of your way, but it also limits your options for upgrading.
If I was choosing between this fish finder and the Garmin Striker Cast, I'd choose the Garmin Striker Cast everytime.
How to Choose the Best Kayak Fish Finder
You're in the market for the best fish finder for kayaks, great, so how do you choose?
What criteria should you keep in mind and you're shopping around?
Many of these options are similar, with only a few minor factors that separate them. On the other hand, some are completely different.
Here are some of the factors I keep in mind when shopping for a kayak fishing fish finder.
Display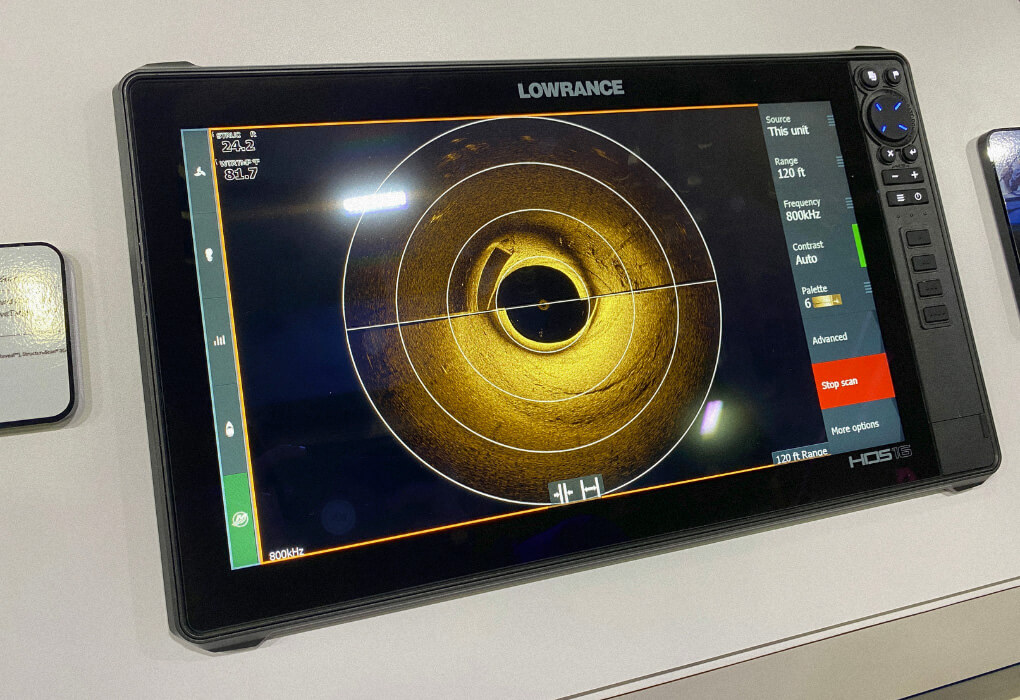 Technology has moved us forward from the old greyscale displays, so most have a color LCD display at this point.
Full color will offer a better picture, but does it really improve how you see the fish?
Not really. If you can save a few bucks and go with black and white, go for it.
That applies to basic sonar technology.
If you have a standard down or side imaging fish finder, you'll want a color display because you'll get a better idea of the structure and location of the fish based on that structure.
This will help you "feel around" as you retrieve your lure.
Method of Imaging
The types of imaging is probably the most important factor. I'm talking about what type of fish finder you have and how it translates sonar into images. 
You have three primary choices:
Down-imaging
Side-imaging
CHIRP sonar
Down imaging is when the sonar funnel shoots straight down from the transducer, offering you an image of what's happening directly beneath the kayak.
Side imaging will send sonar rays horizontally away from the transducer, which helps you pick up on upcoming changes in structure as well as fish, so you don't need to be as close to anticipate it.
CHIRP sonar is also referred to as FishID or FishARC technology. These are all essentially the same thing.
With this, the transducer sends out sonar bursts every so often, which results in an image rather than a real-time live picture.
Some fish finders offer all three of these, while others have combinations of the three. Down-imaging and CHIRP are more common and more affordable than side-imaging.
If you go with a higher-end fish finder like the Humminbird Helix 7 or Garmin UHD then you'll have the option for live sonar.
Live sonar is the latest sonar technology and reminds me of playing a fishing video game because you're seeing how the fish react to your lures.
With live sonar, there is not guessing if it's a fish or brush pile, you will see the fish swimming. It's really cool but every angler does not need it.
Depth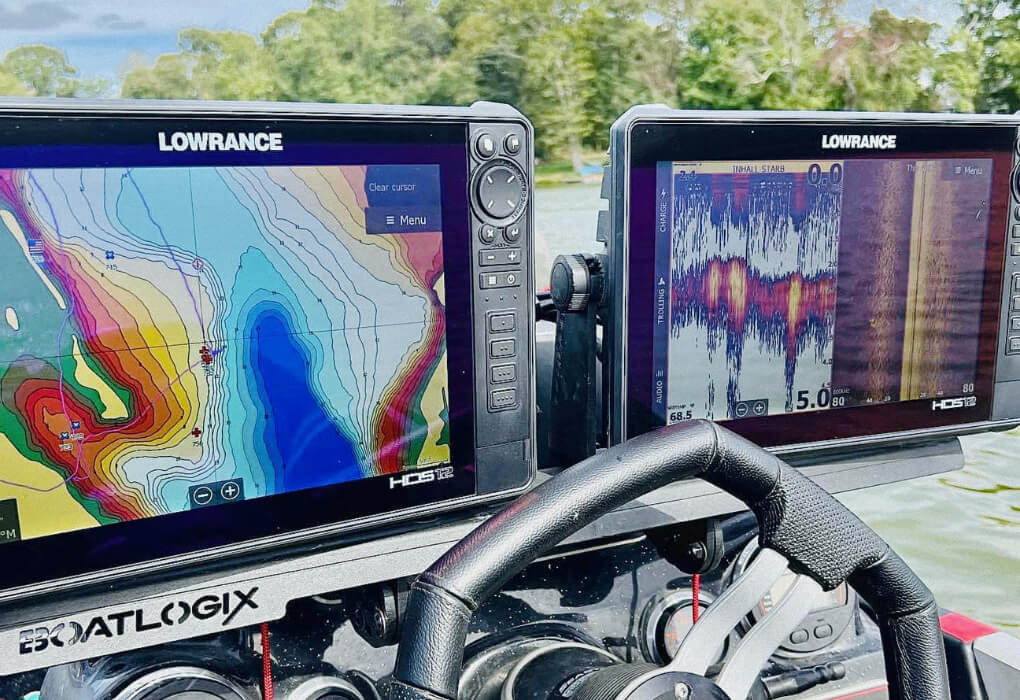 By depth, I'm referring to the maximum depth range of the fish finder. This will be important to those of you who are fishing deeper waters in your kayak.
Maybe it's a large river or even a deep inshore canal. Regardless, you'll need a fish finder with some range.
Keep in mind that even though the manufacturer states it's accurate up to 250 feet, the closer you get to that maximum, the less accurate it'll be.
I personally recommend taking 50-100 feet off of whatever they say, and that's the actual range. If your choice has a variable cone, you can customize how the transducer sends the sonar by shortening or widening the cone.
By shortening the cone, you increase max depth but reduce the range you can send sonar horizontally from the kayak.
I won't get too technical on you but, just make sure you keep in mind where you fish and how deep the water typically is.
Screen Size
What good is a fish finder if you can't see it? I tested some screens that are 3.5" and others that are 9", how do you choose?
Since we're focusing on portability and compact design, maybe you'll want to meet somewhere in the middle?
You don't want a fish finder that's so bulky that it gets in the way when it needs to fit inside a fishing backpack or carrying bag.
But, on the flip side, you need to be able to read it properly without having too much strain on your eyes.
I think all the fish finders for kayaks reviewed above have a large enough screen for most people to easily see without getting in the way of paddling and fishing.
Extra Features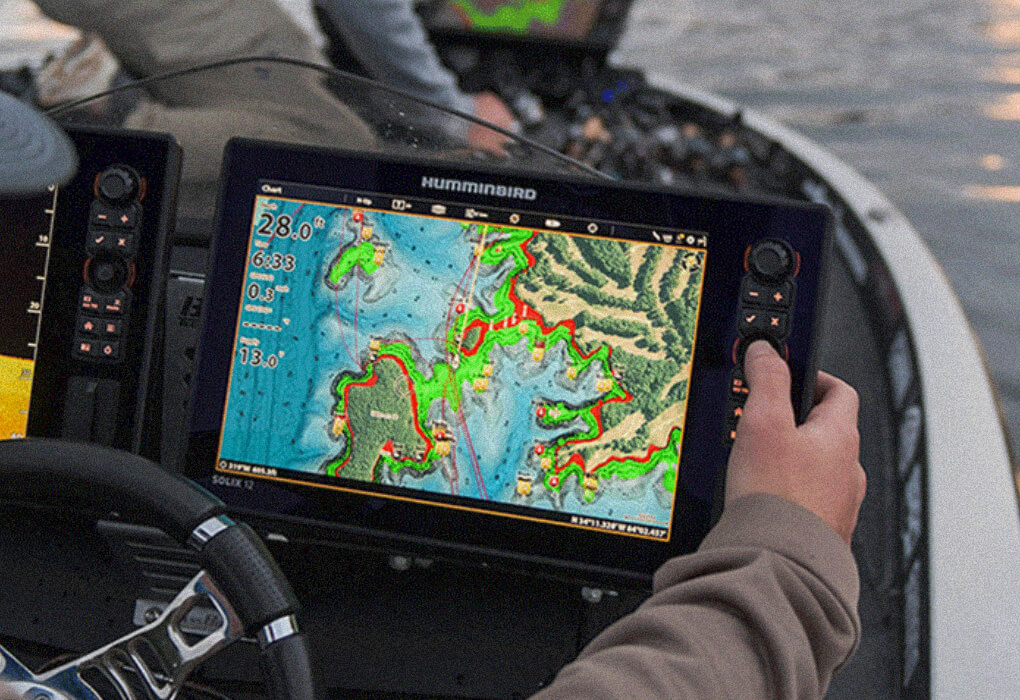 Features are good, right?
Some features you'll want to look for are GPS mapping, pre-loaded lakes, Bluetooth compatibility, mounting devices, castable transducers, and more.
There are tons of different features to look for, so don't be afraid to spend some time reading and searching.
Each of the fish finders reviewed above contains unique features that you might not find in every product on Amazon or at your local sporting goods store.
Take your time and always keep your fishing style in mind as you shop.
Don't waste your money on a bunch of features that you'll never use.
Budget
Your budget should also be an important factor because fish finders vary greatly in price. There are some for less than $100, and there are some for more than $1,000.
You need to have a budget in mind, but I also don't recommend going for the cheapest option on the market.
Overall, every one I tested and reviewed above offers features that are appropriate for the price tag. You get what you pay for, so just be sure to factor in all of these buying considerations before pulling out your wallet.
Transducer Compatibility and Space
Since you're fishing from a kayak, space is important, and installation is even more important. Many fish finder manufacturers are teaming up with kayak builders to make their products more compatible.
They realize that more and more people are fishing from kayaks, so space and portability are more of a factor than ever.
Look for fish finders with compatible scupper holes, mounting devices, and reviews from people who are using them on kayaks. Companies like Lowrance, Garmin, and Humminbird, and Raymarine specialize in this.
Power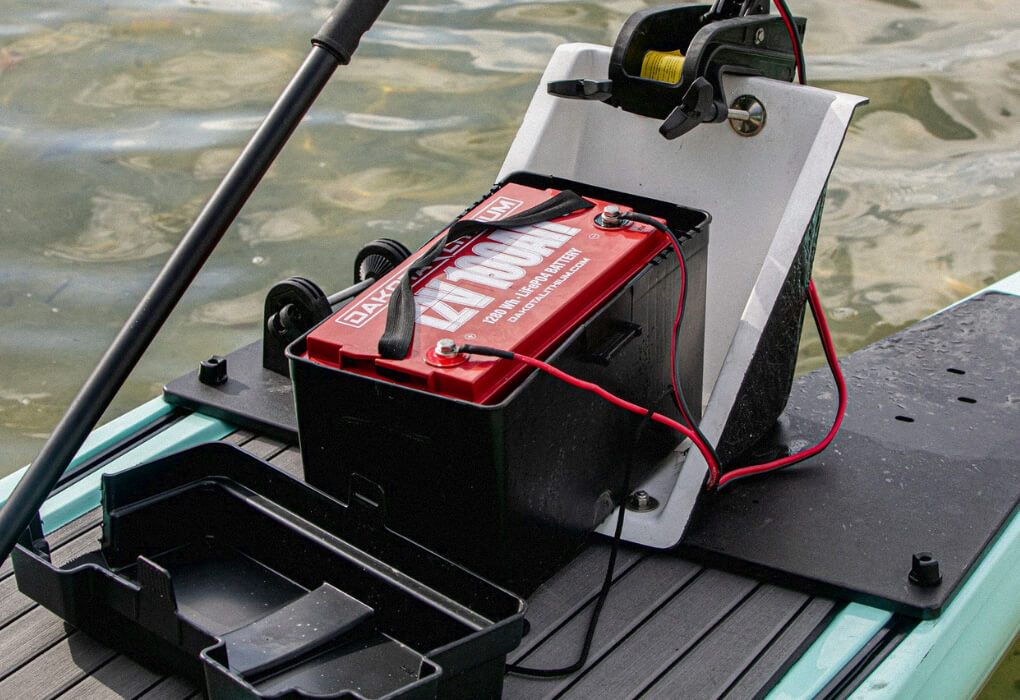 Knowing how you will power the fish finder is something most first time fish finder buyers overlook.
The majority of fish finders require you to have a 12-volt battery on your kayak, which adds weight and takes up space.
If you don't have room for the battery, I recommend choosing a portable fish finder.
However, there are many compact 12-volt batteries on the market that give kayak anglers plenty of power without adding too much weight.
I choose to run Dakota Lithium batteries with my electronics, they're expensive but haven't let me down, yet.
Waterproof
Having a waterproof fish finder for your kayak is important because you're much closer to that water than you would be in a bass boat or other type of boat.
There could be more splashing with paddling and ultimately, a higher chance of the fish finder getting wet.
As you're shopping around, make sure you're looking for fish finders that are either waterproof, water-resistant, or come with a cover that you can use to protect them. Most will offer at least one of these.
How to Choose the Best Fish Finder for Kayaks Based on Technique
Now I want to get a little more specific. In this section, I'm going to tell you which features you should look for based on what type of fishing you do.
Where, how, and even when you fish will require you to think differently about what fish finder you should purchase.
Deep Water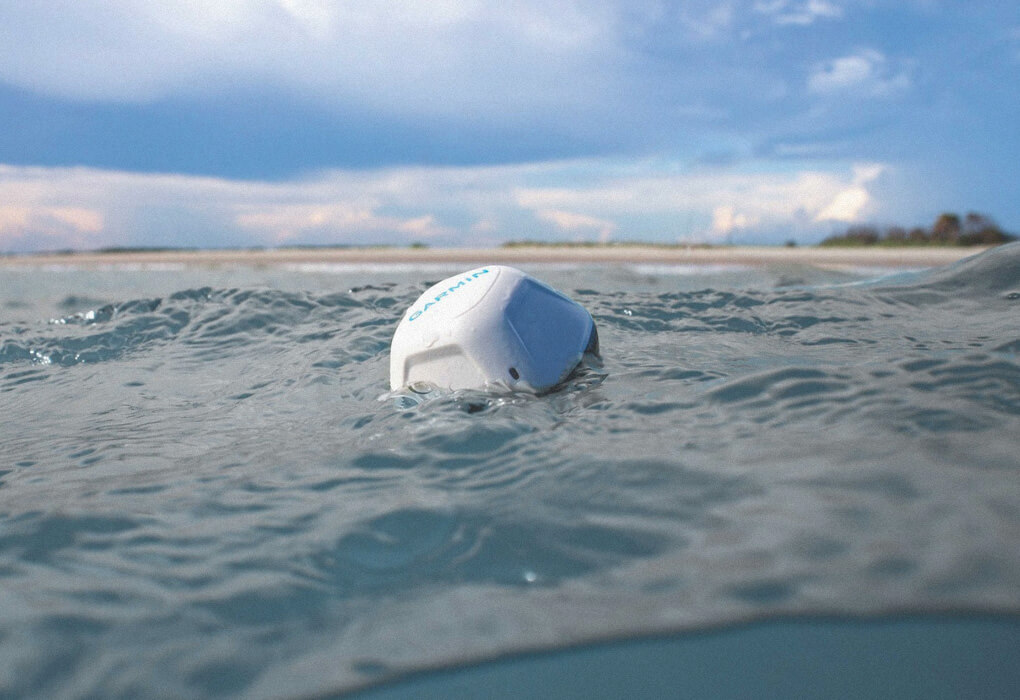 This goes out to all my offshore kayak anglers and deep river trollers. If you're fishing water deeper than 25 feet, you'll want to read this section.
Deep water anglers need a fish finder with accurate depth first and foremost. You'll want to look towards some of the more premium fish finders that will offer depth trackers up to 250+ feet.
Obviously, you're not fishing at these depths, but the deeper, the better because it will provide more accuracy at shallow depth.
GPS mapping is also an important feature that comes on for you because you're likely covering a lot of water in a short period of time. It would be nice to be able to keep track of where you went so you can revisit those spots later on.
Structure Fishing
Structure anglers like to fish around docks, wood pilings, stumps, weeds, and humps. If this sounds like you, you'll benefit from a triple-shot fish finder like the Lowrance HOOK2.
This one is the perfect choice because it offers side imaging, which will allow you to get an accurate representation of the structure and the fish around it without having to get too close.
Thankfully, when we're kayak fishing, we have a bit more flexibility as to where we can go, but that doesn't always mean we want to.
It's nice to see what's coming up before we're right on top of it, and this type of fish finder is the best choice for supplying that.
GPS is nice too in the event that you stray far away from where you started. GPS technology will help you find your way back to the ramp or to the honey hole.
Shallow Water Fishing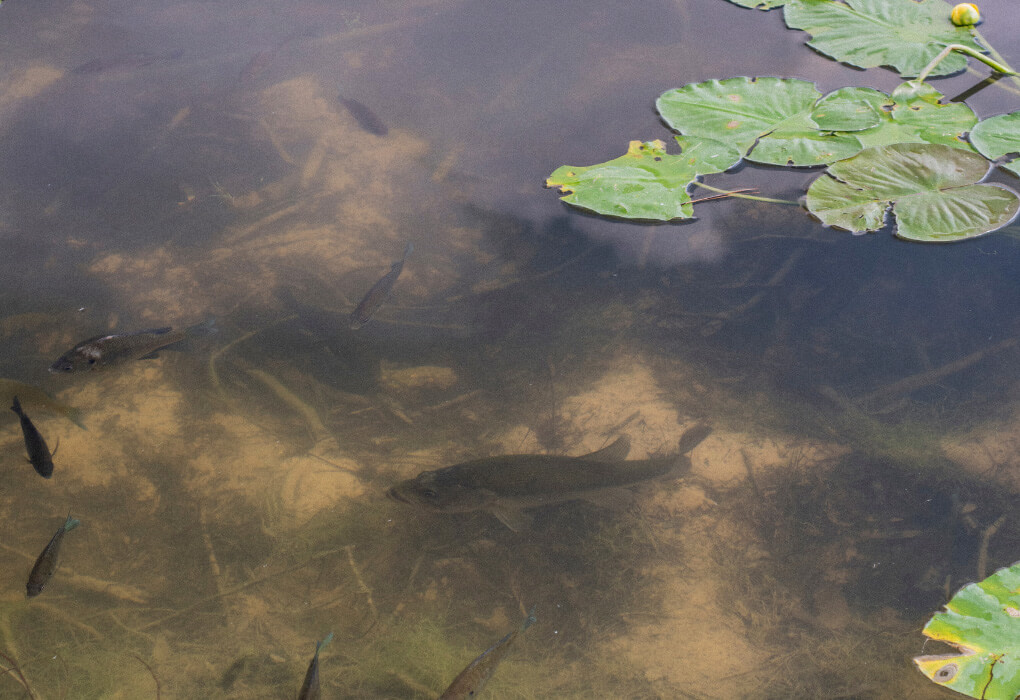 If you're fishing shallow waters, rivers, and creeks, going with a basic fish finder should get the job done.
You can save a little money because you don't need anything with crazy depths or GPS tracking since you're not venturing too far from civilization.
A castable fish finder is also an option in this case since you're right on top of your fishing spot.
Sometimes being able to stay put and cast the transducer out to your ideal location is better than having to go out there and spook the fish.
Saltwater vs. Freshwater
One last important consideration is to understand that not all fish finders will work in saltwater. Many of them will, but they also have different depth ranges and accuracy when you're fishing saltwater.
As you're doing your research and reading up on some of the products reviewed in this guide, make sure you read on how saltwater impacts the accuracy and depth of the fish finder.
Final Thoughts
You read the reviews, you read the buying guide, and now you see why I rated the Garmin ECHOMap UHD as the best kayak fishing finder.
Choosing a depth finder for a kayak doesn't have to be hard, but it's an investment, so you want to make sure you choose the one that works best for you.
Be sure to let me know which kayak you're floating and fishing from in the comment section.