Last Updated on June 23, 2022
You're after the best Lowrance fish finder and you need a little help picking one, huh?
I've used well over a dozen fish finders at this point and Lowrance is certainly one of my favorite brands.
They stand by their products, everything they put out is solid, and they offer a lot of options for different needs and budgets.
But, what's the best Lowrance fish finder?
My favorite is the Lowrance Elite FS which I stress throughout the guide.
It's a middle-ground in terms of price but it comes loaded with all the premium features you're looking for.
Stick around and decide for yourself which Lowrance fish finder works for you!
Compare Lowrance Fish Finders: Our Top Picks
Image
Features
Rating
Price

The Best Choice

Models: Elite FS 7,Elite FS 9

Pros

Comes with one of Lowrances best features, ActiveTarget Live Sonar
Loaded with mapping, chartplotters, and contour mapping
FishReveal technology
Choices between a seven and nine-inch screen

Cons

Only comes with two options

Elite FS 7Elite FS 9

The Premium One

Models: HDS Live 7,HDS Live 9,HDS Live 12

Pros

Comes with SolarMAX HD screen
Split Screen on larger models
3-in-1 transducer
Mapping with Navionics

Cons

Extremely pricey
Mounting could be challenging

HDS Live 7HDS Live 12

Best Bang For Your Buck

Hook Reveal 5Hook Reveal 9

The Old-Timer

Models: Hook 3X, Hook 4, Hook2 4X, Hook 5, Hook2 7X

Pros

Various sizes
Mapping, waypoint plotting
TripleShot transducer

Cons

Most models are unavailable

Bass ProCabela's

The Middle Ground

Elite TI 7Elite TI 9

A Shore Angler's Dream

Models: FishHunter Pro

Pros

Affordable
Simple to use
Portable, lightweight, and great for shore fishing

Cons

View Details
---
Understanding the Lowrance Brand
If you know absolutely anything about fish finders chances are, you're familiar with Lowrance.
This manufacturer has been around since 1957 and has paved the way for many other fish finder brands since then.
In fact, they're responsible for inventing the first ever piece of consumer sonar technology back then.
You'll also see features like Structure Scan HD that you can't find anywhere else.
Lowrance leads the industry with some of the most advanced sonar technology on the market.
One of my personal favorite things about the brand is the customer service.
Being in the fishing industry means that you need to cooperate with pro anglers, brands, and manufacturers.
Out of all the brands we work with, Lowrance is our favorite because it's so easy to reach a real person, talk to them, and they're very cooperative with everything we want to do.
In This Review
Before we dive into the Lowrance fishfinder review, I want to clear up a few things.
You'll see some interesting modifiers in this article such as "best of the best" and "the middle ground."
Keep in mind that these are subjective to the person and my goal is to provide you with an honest review of what I think about each of these fish finders.
What's affordable to one, might not be affordable to another.
What's considered great sonar to one, might not be considered great sonar to another.
The objective is to help you choose the right Lowrance fish finder for you.
This is an exhaustive guide containing nearly every Lowrance fish finder on the market today and yesterday so buckle up and dive in head first.
Lowrance Fish Finder Reviews
Lowrance Elite FS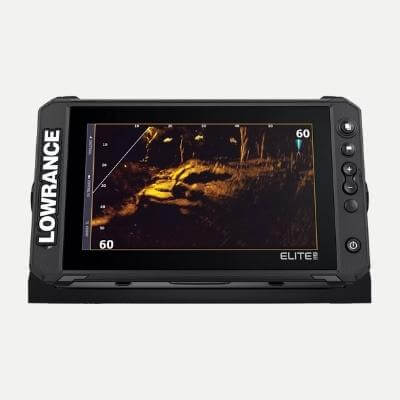 The Best Choice
Models: Elite FS 7, Elite FS 9
Pros
Comes with one of Lowrances best features, ActiveTarget Live Sonar
Loaded with mapping and contour charting
FishReveal technology
Choices between a seven and nine-inch screen
Cons
Only comes with two options
Standout Features
Where do I start?
In my full review of the Lowrance Elite FS, I said that this is one of the first fish finders to really impress me.
It's the every-angler's fish finder because it's not ridiculously priced, yet it comes with more features than you could beg for.
Screen/Display
It offers a high-resolution, responsive touchscreen which is easy to navigate due to the minimalistic design and lack of various screens.
There's only a few views to choose from which makes it simple for less tech-savvy folks.
Networking
The Elite FS is the first Ethernet networking fish finder ever which allows you to share data between local fish finders. This means you can share info without having to connect via Bluetooth or wired connection. You also don't need a MicroSD card to share info.
Sonar
Where the FS really takes the cake is with its sonar technology.
Active Imaging and FishReveal are two of the best sonar frequencies on the market and you get them both here.
The ActiveTarget feature is real time live imaging which is nearly unheard of in fish finders. All fish finders have at least a few second delay that can trip you up.
With the ActiveTarget feature, you can actually see fish coming after your lure in real time and react when you see them roll up on your bait.
Pair that with CHIRP, downscan, and sidescan all on the split screen view and you've really got a fish finder unlike any other.
Mapping/GPS
Hang on, I'm not done yet. Mapping and GPS comes included with the FS as well. It should stand for "full-service."
C-Map Contour+ comes standard which includes thousands of inland and coastal maps.
You can upgrade to C-Map Genesis with the purchase of an SD card and you'll get 1-foot contours and a bottom hardness map.
Lowrance HDS Live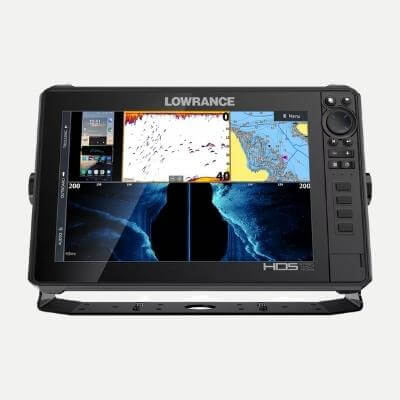 The Premium One
Models: HDS Live 7, HDS Live 9, HDS Live 12
Pros
Comes with SolarMAX HD screen
Split Screen on larger models
3-in-1 transducer
Mapping with Navionics
Cons
Extremely pricey
Mounting could be challenging
Standout Features
In my complete breakdown of the Lowrance HDS Live I call it "primo" for a reason.
This is the best money can buy when it comes to fish finding technology. If there's a feature you want, the HDS Live has it.
Screen/Display
You get one of the best high-resolution screens I've ever seen.
It comes with a wide viewing angle, super clear display, and design that uses a premium backlight to ensure you never have a hard time seeing the screen.
My favorite thing about this screen is the fact that it's a combination touchscreen/keypad because you all know how I feel about touchscreens.
There's also a 6-fold splitscreen on the 12-inch size which means you can see six different viewing options at one time. Six…
You can see downscan, sidescan, GPS, and live sonar all at the same time while also checking your texts with the Bluetooth connection to your phone.
Sonar
As we all know, Lowrance leads the pack when it comes to sonar and this premium fish finder is no exception.
You get the 3-in-1 Active Imaging transducer that comes with CHIRP, downscan, and sidescan sonar.
In addition to that, you also get FishReveal which improves the overall appearance of what you see on the high resolution screen.
So, if it wasn't good enough, now you're getting higher quality signals to improve the fish arches technology offering more accuracy and better imaging of vegetation and structure.
Hang on, you even get Structure Scan!
You have to add this as an optional feature but it's there for those who want it.
Structure Scan basically puts you under the water so you can see vegetation, rocks, stumps, and more to help identify ideal casting locations.
This optional upgrade will run you about $1,000 and you'll have to install it in addition to your existing transducer but it's so worth it for pro anglers and those fishing for numbers.
Mapping/GPS + Networking
I want to combine these into one section because they all work together.
HDS Live means that you have a network compatible fish finder. It integrates the radar and mapping with your smartphone and other fish finders nearby.
This means that you can sync everything together and access the C-Map Genesis feature via the live networking.
What does that mean?
It means that the maps other people create and information they input about a specific lake becomes accessible to anyone using an HDS Live.
Think of it like an exclusive club for those of you with the premium fish finders.
I think that just about covers it…
Lowrance Hook Reveal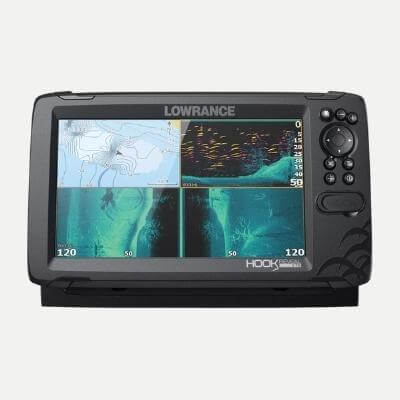 Best Bang For Your Buck
Models: Hook Reveal 5, Hook Reveal 7, Hook Reveal 9
Pros
FishReveal technology
Tripleshot transducer with dual-frequency sonar
SolarMAX display
Cons
Mapping is a premium upgrade
Standout Features
I did a complete review of the Lowrance Hook Reveal and talked a lot about what other anglers think of this unit.
The main takeaway is the budget-friendliness of the fish finder.
I'm always a fan of saving money and that's what intrigues me most about the Hook Reveal.
Screen/Display
The SolarMAX is here to stay folks and you even get it with this fish finder under $500.
It improves the overall quality of the image you see by using a backlight to reduce glare and make your whole life a lot easier.
Besides that you also get a splitscreen offering four different viewing options so you can have mapping, sidescan, downscan, and fish reveal all on the same screen at the same time.
Sonar
Tripleshot is the budget equivalent of the 3-in-1 Active Imaging sonar.
It means you get CHIRP, downscan imaging, and sidescan in the same unit.
Anymore this is kind of becoming the industry standard but I'm impressed that they're able to provide it with such a cheap fish finder.
This unit is seriously affordable compared to the rest in this Lowrance fishfinder review.
GPS/Mapping
Sometimes finding the best Lowrance fish finder is more about building the best one.
The greatest thing about purchasing a "base model" unit like this is that you can expand upon it later on.
GPS and mapping does not come with the Lowrance Hook Reveal so that means you need to upgrade to a new transducer if you want to get it in the future.
It's not a big deal and installing it is as simple as installing the one you already have.
When you do upgrade, you'll get to choose C-Map Contouring with Genesis Live just like the HDS Live fish finder.
Lowrance Hook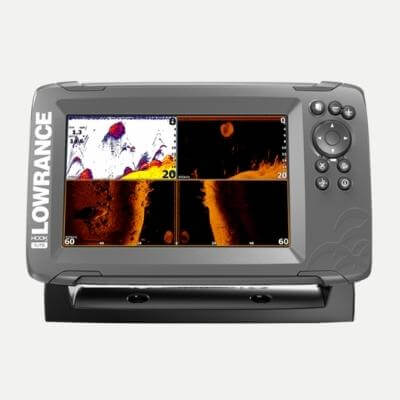 The Old-Timer
Models: Hook 3X, Hook 4, Hook2 4X, Hook 5, Hook2 7X
Pros
Various sizes
Mapping and chartplotting
TripleShot transducer
Cons
Most models are unavailable
Standout Features
Alright folks, so, unfortunately, you'll have a hard time finding the Lowrance Hook because most of the models are discontinued at this point.
I did a complete review on the Lowrance Hook so I figured it's still worth including a few sections about it so you can understand how far they've come.
Screen/Display
The display on the Hook models is very basic and uses the old infrared technology.
The sizes range from 3-5-inches which marks them a bit smaller than most of the other options.
That said, small is not always bad.
In fact, choosing fish finders for small boats means you'd rather a smaller unit most of the time.
They're easier to mount, more durable, and easier to use on the boat.
Mapping/GPS
As you make your way up to the Hook 5 model and above, you get access to Insight Genesis which is no longer active.
You can still access all 3,000 maps, but changes aren't being made since it's no longer connected to the network.
Sonar
The SplitShot transducer is the premium option and it's available with the 5 and 7 level models.
It offers both downscan and sidescan which, as I've said, is pretty much standard at this point in all newer models.
Looking for a Lowrance Hook?
What if you want one of these?
Finding them on sites like Bass Pro or Cabelas is pretty much out of the question so you'll need to find one on eBay or at local flea markets and sales.
Lowrance Elite TI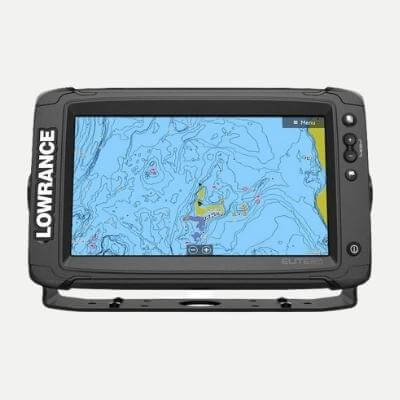 The Middle Ground
Models: Elite TI 7, Elite TI 9, Elite TI 12
Pros
Great high resolution for clear images
Pre-loaded maps
½-ft contours
Cons
Limited availability
Outdated model
Standout Features
Back at you again with another fish finder you may have a hard time finding.
When I did my complete Lowrance Elite TI review they weren't quite as obsolete as they are now but with Lowrance leaning on the Hook Reveal and HDS Live, these models don't get as much love.
Display/Screen
They all come with an LED backlit screen with various features and functionalities that most fish finders have.
The overall user-friendliness is pretty high on these models and they're designed to be easy and simple for those who aren't tech-savvy.
Apparently, there are some issues with enabling CHIRP and it requires you to flip through a bunch of menus and disable other features.
It's never something I've personally run into myself but a lot of other anglers complain about it.
Sonar
You get CHIRP, downscan, sidescan, and structurescan as an optional upgrade.
Unfortunately, you'll have a hard time finding the structurescan transducer for this fish finder since it's pretty much obsolete.
GPS
These models don't have your typical Navionics that you'd find in most Lowrance fish finders because of their outdated nature.
Instead, you get something called GoFree which enables a set of pre-loaded maps made by other anglers.
Lowrance Fish Hunter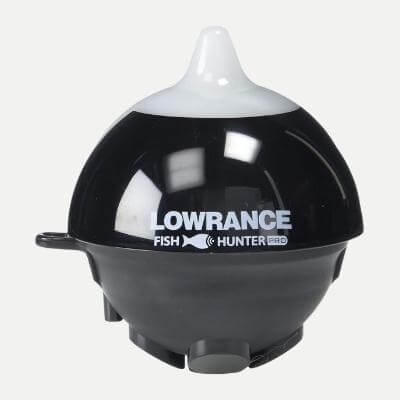 A Shore Angler's Dream
Models: FishHunter Pro
Pros
Affordable
Simple to use
Portable, lightweight, and great for shore fishing
Cons
Standout Features
Castable fish finders are awesome and I've always been a fan. I recently compared the Lowrance Fish Hunter to the Deeper Smart Sonar castable fish finder which is really a staple in the portable unit game.
While I think the Deeper Smart Sonar is the better of the two, it's still worth looking at the Fish Hunter.
Display
Unlike traditional fish finders, this one doesn't come with a display unit. You hook the bobber-like transducer up to your rod and cast it out into the water.
It then uses its own WiFi connection to connect to your smartphone and that serves as your display.
As a result, it doesn't offer the same level resolution and display quality as you would get with a full fish finder unit.
That doesn't mean it's a downside though.
It's one less thing you need to carry around and you can do everything directly from your smartphone.
Using the App
Here's where the downside comes in.
Since there's no display unit, your entire experience becomes dependent on how well the app works.
In this case, the app doesn't work very well so you're in for a bumpy ride.
The apps rating on the Google Play Store is poor and a lot of anglers have many complaints about it being buggy.
They also complain that you're unable to actually use the app unless connected and actively fishing with the bobber.
Portability
The main reason people buy a unit like this is because you can take it anywhere and it isn't cumbersome.
It's also an ideal choice for shore anglers.
Since you're fishing from the shore, you need something that you can cast out because fish finders won't work unless you have a transducer mounted to your boat.
In this case, the bobber is the transducer.
But that doesn't mean it's only for shore anglers. Boat anglers can benefit from a castable unit as well.
You can't reach everywhere you want to cast in a boat and you wouldn't want to anyway.
If you're trying to scope out a little alcove or area near the shore, toss this over there and let it work its magic.
Battery Life
Again, certain features you wouldn't normally think about become important when dealing with a castable unit.
Since all you're doing is casting it out and having it provide readings back to your phone, the battery life is pretty good on it.
You can cast it out as far as 160 feet and it'll read as deep as 150 feet.
Why Choose Lowrance?

This leaves us with a question, how do we choose the best Lowrance fish finder? Which option is the best and how do we make that determination?
In the following sections, we'll talk about the various aspects of Lowrance that make their fish finders great… or not so great.
Features
We love flashy and interesting features, that's for sure. Lowrance brings about a ton of unique features that you can't find everywhere.
Active Target, live imaging, FishReveal, and Structurescan are all flagship features that are unique to the Lowrance brand.
Of course, other brands like Humminbird and Garmin have similar features, but in my opinion, few of them can compare.
Quality vs. Price
Bang for your buck folks, that's where it's at. We only have so much money to spend and we want to get the most out of it.
If you don't choose carefully, you can find yourself with a fish finder that requires a ton of upgrades and purchases that you didn't plan for.
One thing I like about Lowrance is they have a lot of versatility in terms of the fish finders they offer.
The Hook Reveal is incredibly cheap but they also have premium options like the HDS Live.
There's something for everyone.
Plus, you can mix and match a lot of features with Lowrance fish finders.
If GPS isn't important to you, you can omit it. If a big high-resolution screen isn't important to you, you can omit it.
Being able to build your own fish finder to your needs is important and something I think Lowrance does very well for the consumer.
How to Identify the Right Lowrance Fish Finder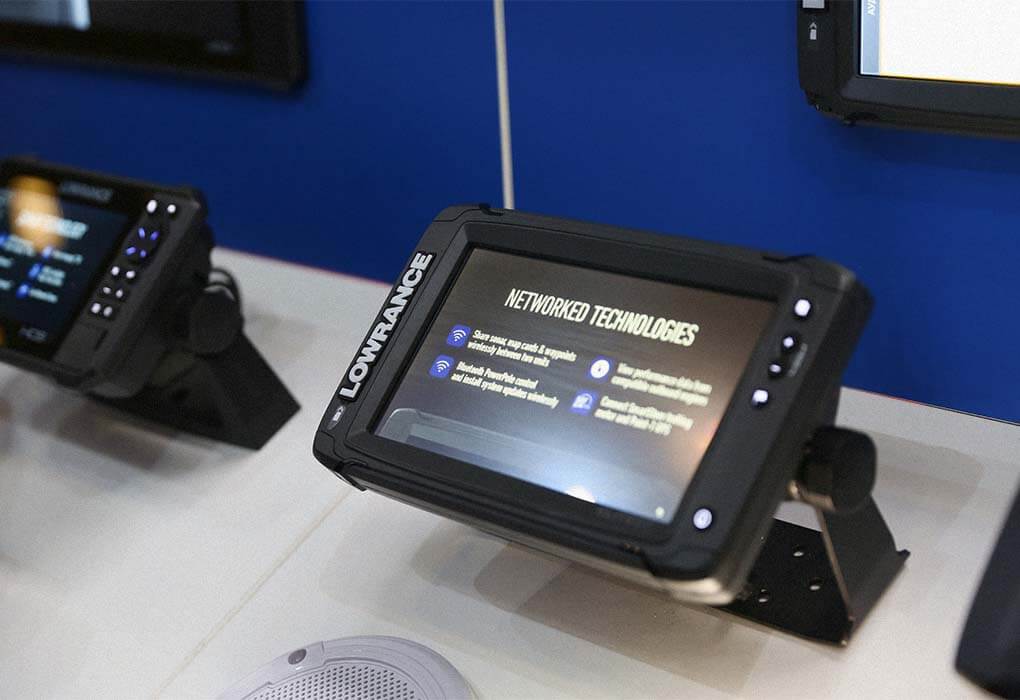 Understanding the features and components of a fish finder is one thing but do you know what they all mean for you?
Do you know how those features will actually impact your fishing?
Let's talk about it.
What Type of Angler Are You?
As you've gone through the Lowrance fish finder reviews, you should keep in mind what type of angler you are.
What do I mean exactly by that?
I mean, are you a weekend warrior? Do you only fish in the Summer? Are you retired? Do you only fish from the shore? Do you only fish by boat? Do you go ice fishing?
All of these are questions to ask yourself when deciding which fish finder is right for you. The various units above each meet the criteria of a specific angler.
For example, someone who only goes fishing twice a month, might not want to drop $1,500 on the HDS Live.
If you fish with a kayak, you also might not want a 12-inch display on a heavy and bulky unit.
You may benefit more from a dedicated kayak fish finder that's lightweight and portable.
Regardless of what type of angler you are, just keep it in mind as you shop around.
Display
The display on your fish finder unit is one of the most important features because it's what you'll look at the whole time you're using it.
For the most part, you don't have to think too hard about this.
If they're all Lowrance fish finders, chances are they all have similar displays and functionalities.
What's important is that you get the features you're looking for. Some people prefer a touchscreen while others prefer dialog buttons.
Some want a big screen while others want a small one.
Lowrance provides a lot of versatility in this department in terms of split screens, screen sizes, and mounting options.
Size
The size of your fish finder is important for two reasons. Number one is the fact that it's the true size of the screen and unit.
The larger it is, the bulkier it'll be, and the more difficult it can be to manage depending on the type of boat you're using.
Size is also important because it always directly impacts price.
If you want a premium unit like the HDS Live, you can cut the cost down by going with a 7-inch screen instead of a 12-inch.
Sonar Technology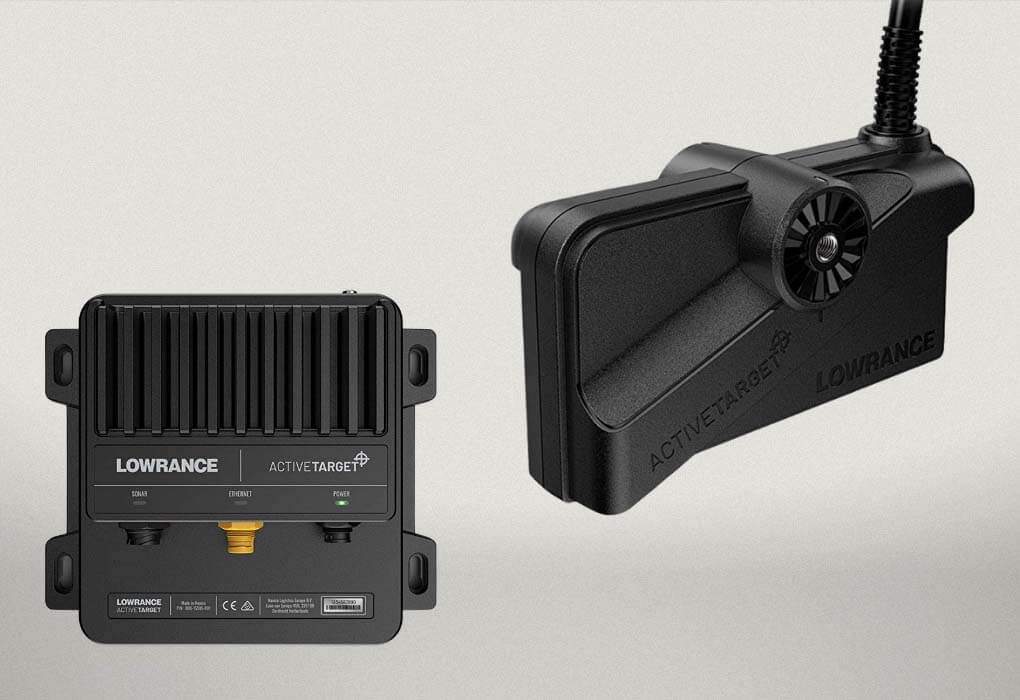 For me personally, this is the most important feature simply because it determines how well you'll be able to use the fish finder to actually…. find fish. That's why we buy these things, right?
Features like CHIRP, side imaging, down imaging, and structure scan are all talked about over and over and I've explained them a million times so I won't bore you with it.
Looking for added bonuses like autotuning sonar, see how many kHz the frequencies are, and look for the user-friendly nature of the sonar features.
The main thing to remember is that you need to read carefully when buying a fish finder from sites like Amazon, Bass Pro, or Cabela's because they don't always come with everything you think they do.
Options like structure scan are not always included even if it says they are.
It's an optional upgrade and you'll have to purchase a separate transducer from Lowrance to get it.
Final Thoughts
You made it, what's the verdict?
If I were you, I'd choose the Elite FS 7.
It offers the most features for a price that isn't outrageous.
For a couple of hundred bucks more, you could also step up to the Elite FS 9 if you want a larger screen or plan to mount it inside a bass boat.
Buying the best Lowrance fish finder should be a fun and exciting experience and honestly, no matter what you choose, you're getting an awesome unit that will work just fine.
Everything that comes from this brand is gold and you can trust it. Good luck out there!
About Post Author