After testing the best Lowrance fish finders, I helped my grandpa mount the Lowrance Hook Reveal to his boat. Now it's time to teach him how to use it!
However, the Hook Reveal is not the best in every situation.
In fact, my favorite is the Lowrance Elite FS because it's a middle-ground in terms of price, user-friendliness, and premium features that serious anglers are looking for.
Whether you're looking for the top-of-the-line or a beginner-friendly model, we have you covered.
Keep reading and decide for yourself which Lowrance fish finder works for you!
Lowrance Fish Finders: Our Top 3 Picks
For the busy angler, here are the three best Lowrance fish finders on the market: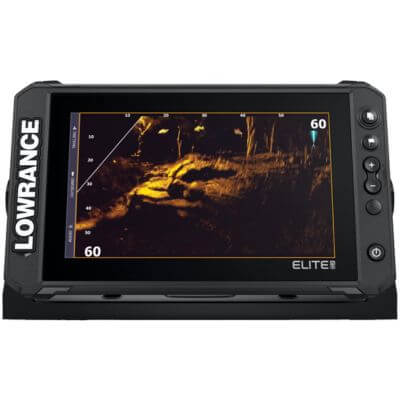 Lowrance Elite FS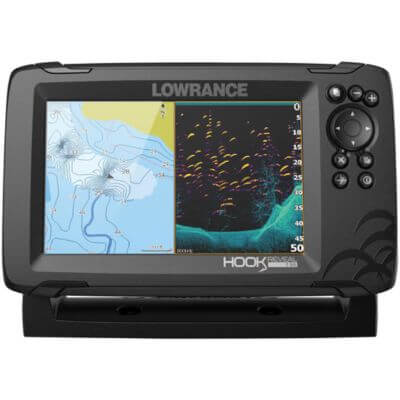 Lowrance Hook Reveal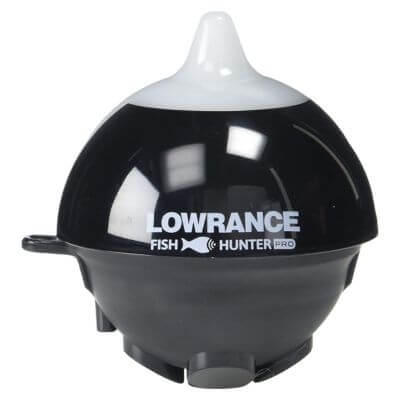 Lowrance Fish Hunter Pro
---
Testing Procedure
Price: Fish finders can quickly cost thousands of dollars, so during my tests, I made sure to include models from every price range to fit every budget.

Generally, when the price goes up, so do the number and quality of the features.
Features: I want to get the most amount of features for the best price possible, but I also don't want to pay for features that I'll never use.

This is a fine line to walk, which means if you just want one premium feature like Active Imaging, you'll have to pay for others like full touch screen control of PowerPoles and your Lowrance Ghost trolling motor.
User-Friendliness: I'm a huge believer in keeping things simple. Whether that's my fishing technique or my fish finder because if it's complicated, I'm less likely to use it.

Generally, as the price and features go up, user-friendliness goes down.

However, if you have a basic understanding of electronics today, none of the fish finders I tested were complicated. The worst part is often the setup and installation.
Lowrance Fish Finder Reviews
Lowrance Elite FS
BEST OVERALL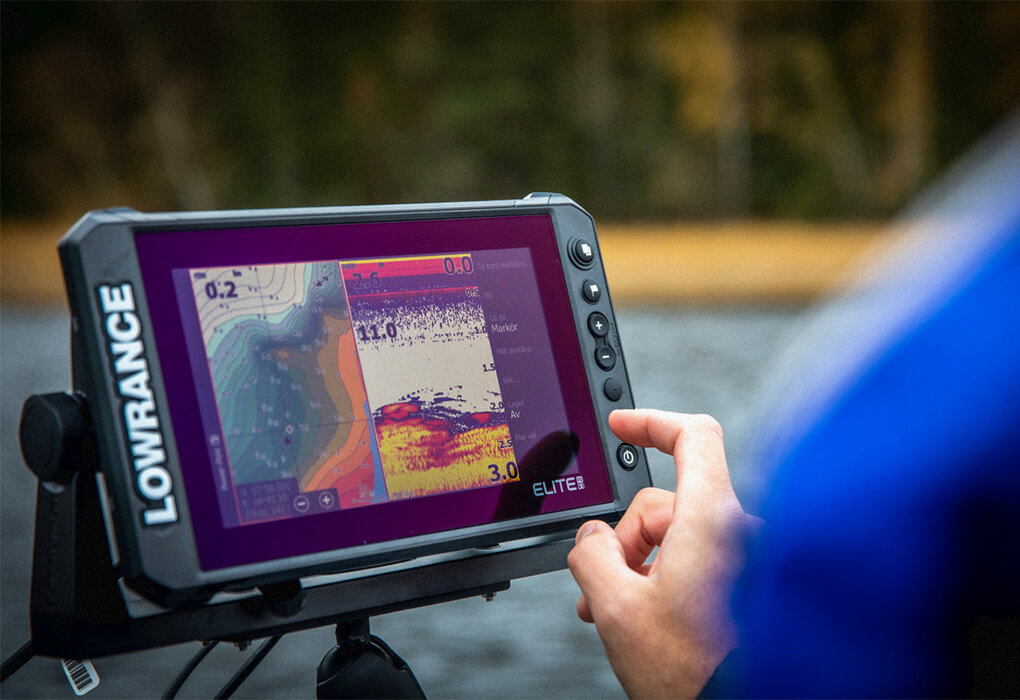 Specs
High-Resolution
Multitouch Display
FishReveal Technology
Preloaded C-MAP Contour+ with 1′ contours on 8,900 lakes
Models
Why We Chose It
The Lowrance Elite FS is the best Lowrance fish finder because it's compatible with high-end features like Active Imaging, which gave me one of the clearest sonar readings I've ever seen & Lowrance's Live Sonar, ActiveTarget, which basically turns fishing into a video game, yet the average angler can use it to find fish right out of the box.
FS should stand for "full-service."
Active Imaging and FishReveal are two of the best sonar features on the market, and they both come with this unit. However, if you're really looking to up your game, and the price isn't an issue, then you can upgrade the sonar and add on Active Target (the equivalent of Garmin Panoptix Livescope) for $1,600.
Another feature I was blown away by was the 800×480 high-resolution, responsive touchscreen. It was easy to see and navigate due to its minimalistic design. I also like the fact that it only had a few views to choose from – this made it a lot more simple for the less tech-savvy folks.
I was impressed to learn that the Elite FS was the first Ethernet networking fish finder ever, which allows you to share data between local fish finders.
This means you can share info without switching MicroSD cards. This is a great feature if you plan to use multiple units on your boat, but doesn't benefit you if you only plan to buy a single Lowrance unit.
Hang on, I'm not done yet. C-Map Contour+ comes standard which includes thousands of inland and coastal maps.
You can upgrade to C-Map Genesis with the purchase of an SD card, and you'll get 1-foot contours and a bottom hardness map.
While I found many upsides to the Elite FS during my tests, I also discovered a few downsides, such as setting it up, lack of screen size options, and it's expensive.
While installing it for testing, I found out it needed heavier gauge wire than I was using because it would turn on, and the screen would flicker.
Once I used larger wires, the problem was solved, and if you took this to a professional installer, they would have already known not to use small gauge wire.
I love the 7" screen for a kayak, but I know some anglers will want a 12" or larger screen, and the Elite FS does not offer any units larger than 9", but that's plenty big for the average angler.
The price reflects the features you get and the ones you can add on at a later date; while it's not anywhere near the most expensive Lowrance fish finder, it's not cheap either.
Even after nitpicking the Lowrance Elite FS, it's still one of the best units I have tested; though it might be overkill for beginner anglers, it's perfect for intermediate anglers who might want high-end features in the future.
Read here our full review: Lowrance Elite FS review.
Lowrance Hook Reveal
BEST FOR BEGINNER & INTERMEDIATE ANGLERS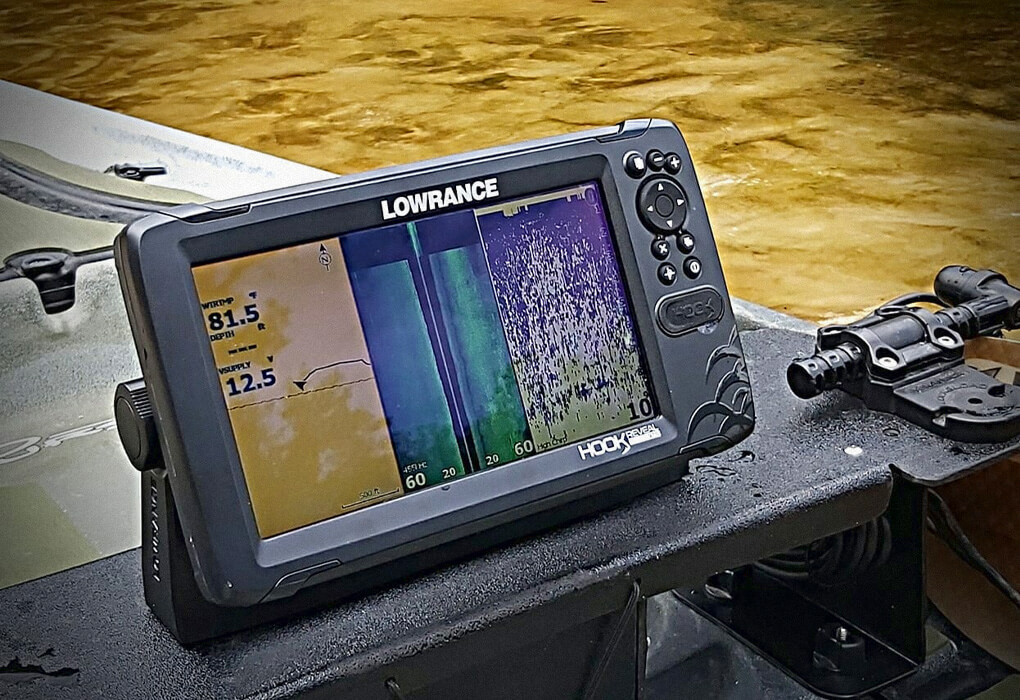 Specs
FishReveal
Genesis Live Real-Time Mapping
SolarMAX Display
Keypad Controlled
Models
Why We Chose It
The Lowrance Hook Reveal is the perfect fish finder for anglers wanting to improve their fishing game with a quality fish finder at an unbeatable price.
With the SolarMAX display, FishReveal Technology, and Tripleshot transducer, this is a no-brainer of a purchase for beginner and intermediate anglers.
After testing this fish finder and telling my grandpa about the features it offered at the ridiculously low price, he had to have one, and I'm glad we installed one on his Bass Tracker.
The screen is so easy to see, even in the sunlight, thanks to the SolarMAX display. Suppose you're learning how to read a fish finder.
In that case, you'll appreciate the FishReveal Technology, which the previous Lowrance Hook models didn't have, because it highlights the arches that are fish, making it easier to distinguish between a brush pile or a pile of fish.
During my tests, I found a few reasons to love the Tripleshot transducer; the biggest reason is it keeps the installation simple. Mount the transducer to your boat, run the cable to the unit, and plug it in, simple as that.
The next biggest reason is that you get three sonar types at the same time.
Yes, with this fish finder that costs around $500, you can run CHIRP, downscan, and sidescan all at the same time, so you get a complete picture of what it looks like under your boat.
I didn't buy a Hook Reveal and mount it to my fishing kayak because it's not compatible with ActiveTarget or Active Imaging, which I wanted the option to upgrade to in the future.
My grandpa, on the other hand, doesn't want all the new-fangled confusing technology, so this unit was perfect for him.
Overall, you'll be hard-pressed to find a better fish finder at this price range, considering you get FishReveal tech, a SolarMAX screen, and the Tripleshot transducer at a spectacular price.
This is the best Lowrance fish finder for beginners and intermediate anglers who want a fish finder they can depend on to find fish for years to come.
Read our full review here: Lowrance Hook Reveal review.
Lowrance HDS PRO
BEST FOR TOURNAMENT & SERIOUS ANGLERS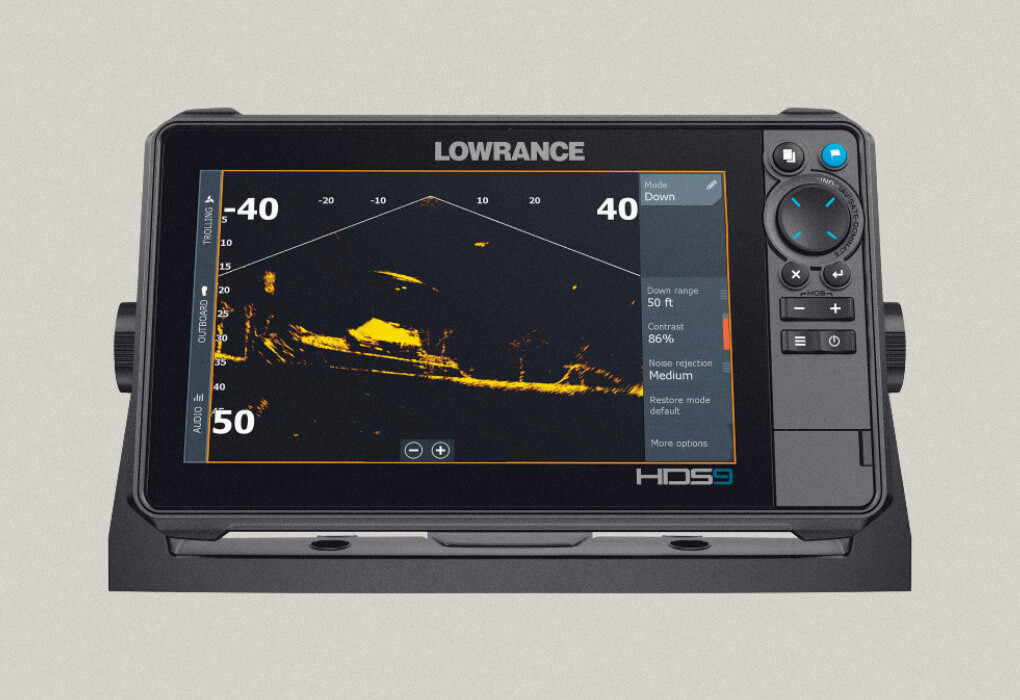 Specs
SolarMAX HD Touchscreen
Up to 1.2MHz Active Imaging HD-ready
High-resolution ActiveTarget 2 Live Sonar-ready
FishReveal compatible with SideScan and Downscan
Models
Why We Chose It
The Lowrance HDS PRO gives anglers the best sonar, mapping, and screens produced by Lowrance. There is no better combination, as this is an upgraded model of the Lowrance HDS Live.
If you're a tournament angler, this unit is a no-brainer. It can control your Lowrance Ghost trolling motor, Power Poles and send information to the other units on your boat, giving you ultimate control.
I've been very impressed with the advancements in sonar in recent years, and it keeps getting better with ActiveTarget 2, which lets you see a live view of the area where the transducer is pointing.
You can see exactly how the fish respond to your lure and adjust accordingly.
Sadly, the old HDS Live isn't compatible with ActiveTarget 2, so you'll have to upgrade from the HDS Live to get the most advanced sonar from Lowrance at your fingertips.
Gone are the days of fighting the sun's glare to see your fish finder screen. The SolarMAX HD display, which was also on the HDS Live, makes it easy to see the screen in any weather condition.
While this is the best Lowrance fish finder in terms of features, it has a couple of drawbacks, as to why I didn't rank it number one.
The first and most obvious is price. This unit will cost you at least $2,000; then you have to buy ActiveTarget 2, which is another $1,600+.
You'll have to win a couple of tournaments to pay for this unit!
The second drawback is that it's overkill for most anglers, so you'd be wasting your money on features you won't ever use; at least, that's how I felt testing the Lowrance HDS Live.
For instance, the total control of your boat only applies to anglers running a Ghost trolling motor and Power Poles, so if you have a different brand, you won't get all the benefits of this feature.
Because of those drawbacks, the Lowrance HDS PRO is primarily for tournament anglers, unless you have a giant tax refund burning a hole in your pocket, in which case I have yet to find a better Lowrance fish finder.
Read our full review here: Lowrance HDS Pro review.
Lowrance FishHunter Pro
BEST FOR BANK ANGLERS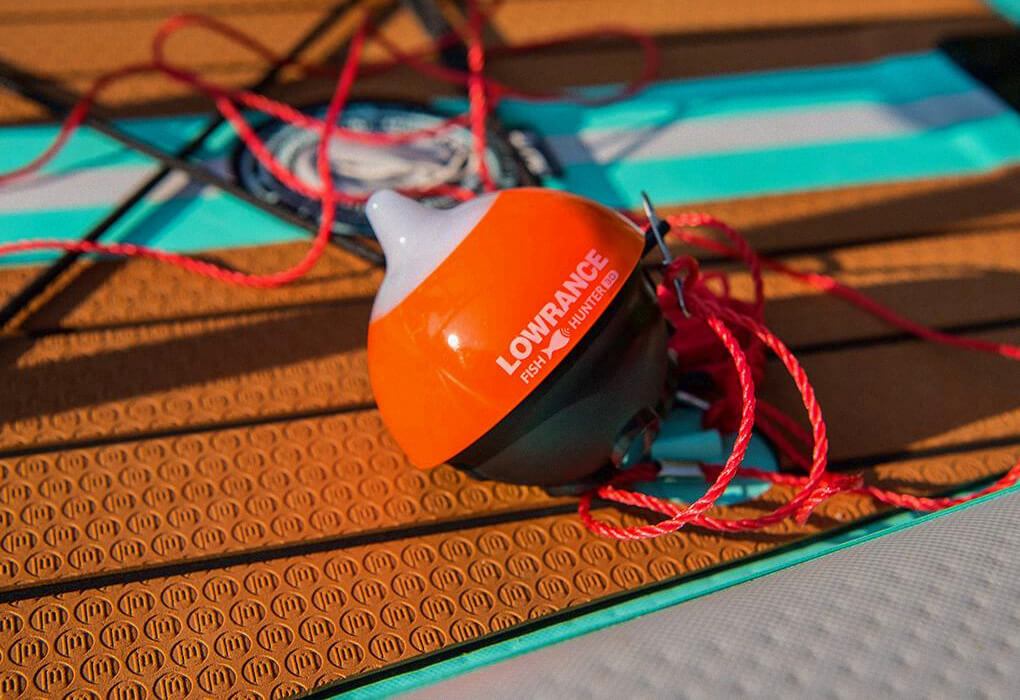 Specs
Wi-Fi range up to 150 ft or 200 ft
1.87 x 3.23 x 3.23 inches
No Data Connection
381kHz, 475kHz and 675kHz frequencies
Models
Why We Chose It
The Lowrance Fish Hunter castable fish finder is the only option for shore anglers looking to buy a Lowrance unit, but there are two models to choose from, so you've still got options.
I love how affordable both models are, each coming in under $100. This makes it a perfect gift for a young angler eager to learn how sonar works because it's also extremely simple to use and the size of a tennis ball.
When you buy the Fish Hunter Pro, you get features like CHIRP sonar, an ice flasher, and FishID. CHIRP sonar is traditional sonar with arches and multiple colors indicating the hardness of an object; it's been used to find fish for decades.
You can even use it during the winter! If you're an ice fisherman or woman, you'll appreciate that you don't have to put this unit up during the winter; you can use it while you're on the ice with the ice flasher feature to help you know where to drill your next hole.
Beginners can be certain they're seeing a fish when using fishID because simplifies the sonar view by replacing fish arches with pictures of fish.
I recommend going with FishHunter 3D because it offers extra features like 3D fishing, which gives you lifelike images of what's happening below the water's surface, 3D mapping, and bathymetric mapping.
As great as these units are, they're not for everyone. The downsides of these units are you have to have a smartphone or tablet, the app could use improvement, and the range isn't up to par with other castable fish finder brands, such as Deeper.
We all typically have our smartphones on us, so this isn't as big of a deal; I get it, but I feel like I stare at that stupid thing enough!
I think the app is a real con because it's buggy, and sometimes you're unable to use it unless you connect and actively use the transducer bobber.
The last drawback is the lack of range. With a range of 160' away from you, that's less than half of other castable fish finders on the market, now I doubt you'll ever need to know what's 160' away, but if you're gonna spend the same amount of money, you might as well get the one you can cast further.
Even with these cons, I can see why many shore anglers would want to purchase the Lowrance FishHunter.
Lowrance is a trusted company known for making quality products, and they've been a leader in the sonar space for decades.
Read our full review here: Lowrance FishHunter review.
Why Choose Lowrance?

This leaves us with a question, how do we choose the best Lowrance fish finder? Which option is the best, and how do we make that determination?
In the following sections, we'll talk about the various aspects of Lowrance that make their fish finders great… or not so great.
Features
We love flashy and interesting features, that's for sure. Lowrance brings about a ton of unique features that you can't find everywhere.
ActiveTarget, Active Imaging, FishReveal, and Structurescan are all flagship features that are unique to the Lowrance brand.
Of course, other brands like Humminbird and Garmin have similar features, but in my opinion, Lowrance tends to lead the way.
Related Articles:
Quality vs. Price
Bang for your buck, folks; that's where it's at. We only have so much money to spend, and we want to get the most out of it.
If you don't choose carefully, you can find yourself with a fish finder that requires a ton of upgrades and purchases that you didn't plan for.
One thing I like about Lowrance is they have a lot of versatility in terms of the fish finders they offer. The Hook Reveal is incredibly cheap, but they also have premium options like the HDS Live.
There's something for everyone.
Plus, you can mix and match a lot of features with Lowrance fish finders. If GPS isn't important to you, you can omit it. If a big, high-resolution screen isn't important to you, you can omit it.
Being able to build your own fish finder to your needs is important and something I think Lowrance does very well for the consumer.
How to Identify the Right Lowrance Fish Finder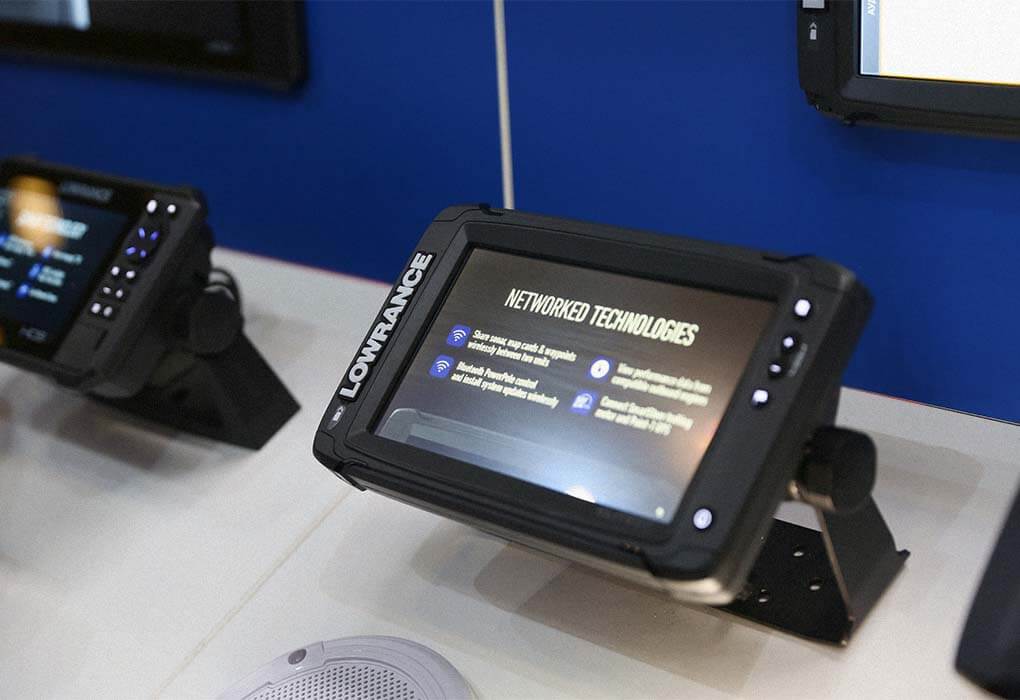 Understanding the features and components of a fish finder is one thing, but do you know what they all mean for you?
Do you know how those features will actually impact your fishing?
Let's talk about it.
What Type of Angler Are You?
As you've gone through the Lowrance fish finder reviews, you should keep in mind what type of angler you are.
What do I mean exactly by that?
I mean, are you a weekend warrior? Do you only fish in the Summer? Are you retired? Do you only fish from the shore? Do you only fish by boat? Do you go ice fishing?
All of these are questions to ask yourself when deciding which fish finder is right for you. The various units above each meet the criteria of a specific angler.
For example, someone who only goes fishing twice a month might not want to drop $2,000 on the HDS PRO.
If you fish with a kayak, you also might not want a 12-inch display on a heavy and bulky unit. You may benefit more from a dedicated kayak fish finder that's lightweight and portable.
Regardless of what type of angler you are, just keep it in mind as you shop around.
Display
The display on your fish finder unit is one of the most important features because it's what you'll look at the whole time you're using it.
For the most part, you don't have to think too hard about this. If they're all Lowrance fish finders, chances are they all have similar displays and functionalities.
What's important is that you get the features you're looking for. Some people prefer a touchscreen, while others prefer dialog buttons. Some want a big screen, while others want a small one.
Lowrance provides a lot of versatility in this department in terms of split screens, screen sizes, and mounting options.
Size
The size of your fish finder is important for two reasons. Number one is the fact that it's the true size of the screen and unit.
The larger it is, the bulkier it'll be, and the more difficult it can be to manage, depending on the type of boat you're using.
Size is also important because it always directly impacts price. If you want a premium unit like the HDS PRO, you can cut the cost down by going with a 9-inch screen instead of a 12-inch.
Sonar Technology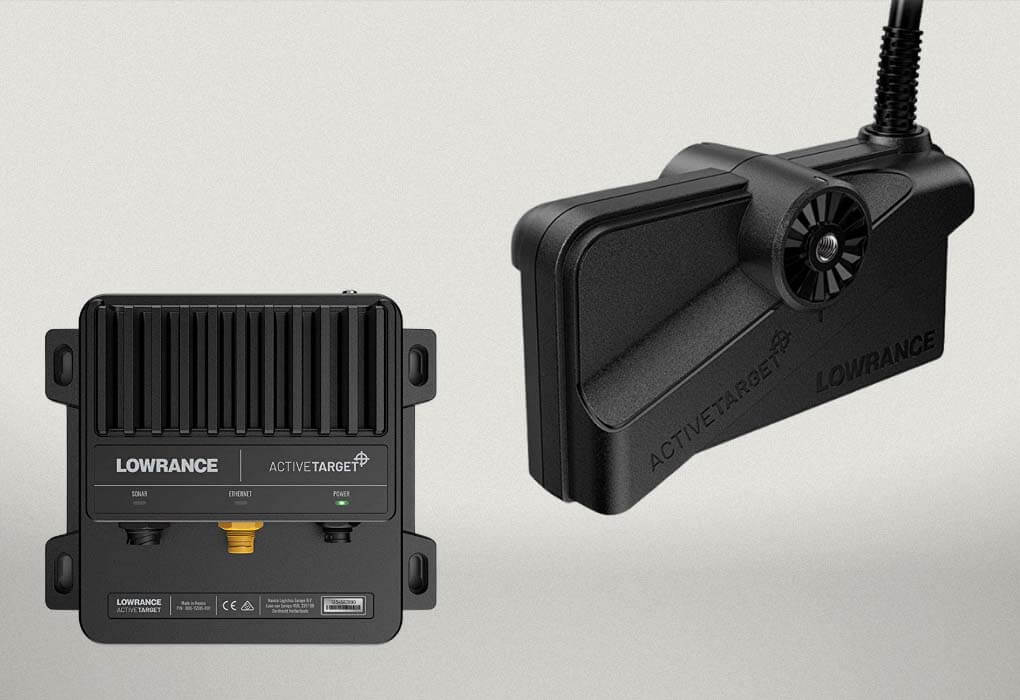 For me personally, this is the most important feature simply because it determines how well you'll be able to use the fish finder to actually…. find fish. That's why we buy these things, right?
Features like CHIRP, side imaging, down imaging, Active Imaging, and structure scan are all talked about over and over, and I've explained them a million times, so I won't bore you with it.
Looking for added bonuses like autotuning sonar, see how many kHz the frequencies are, and look for the user-friendly nature of the sonar features.
The main thing to remember is that you need to read carefully when buying a fish finder from sites like Amazon, Bass Pro, or Cabela's because they don't always come with everything you think they do.
Options like structure scan are not always included, even if it says they are in the description. It's an optional upgrade, and you'll have to purchase a separate transducer from Lowrance to get it.
Last Cast
You made it; what's the verdict?
If I were you, I'd choose the Elite FS 7. It offers the most features for a price that isn't outrageous. For a couple of hundred bucks more, you could also step up to the Elite FS 9 if you want a larger screen or plan to mount it inside a bass boat.
Buying the best Lowrance fish finder should be a fun and exciting experience, and honestly, no matter what you choose, you're getting an awesome unit that will help you find more fish than ever before.
Everything that comes from this brand is gold, and you can trust it.
Be sure to let us know which model you went with or any questions you have in the comment section!