---
We independently research, test, and recommend the best products; you can learn more about our review process here.
In the quest for the best topwater lures, you're looking for a few different features.
First, the lure needs to draw attention to itself.
Some do this with noise, others do it with visuals.
Second, topwater bass lures need to be able to cut through weeds and dense vegetation, so you're not getting hung up the whole time.
When you combine these two components together, you have yourself a recipe for success.
After decades of fishing and conversations with dozens of anglers over the years, I've been able to put together this list of the six best topwater bass lures known to mankind.
Let's dive right in.
Anglers.com, Community Coordinator, Wesley Littlefield, breaks down fishing with several topwater lures in this Youtube Video!
---
Our Top Picks For The Best Topwater Lures
Smithwick Devil's Horse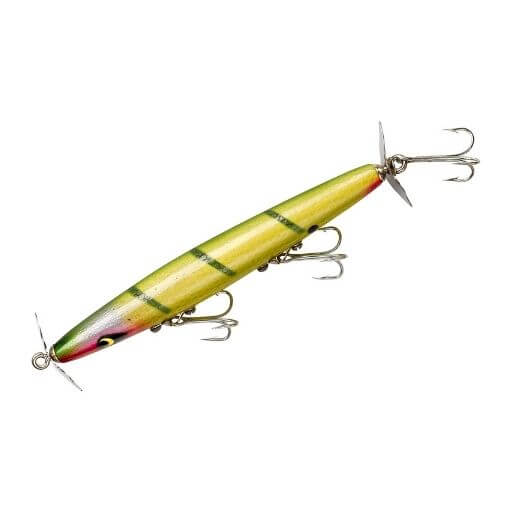 BEST TOPWATER LURE OVERALL
Specs
Type: Stickbait
Size: 4 ½ inches / ⅜ ounces
Color: 10 color variations
FEATURED SPECS
The main selling point here is the surface-churning propeller on the front
EXTRA FEATURES
Lure creates a lot of noise on the water imitating a fleeing shad or other baitfish
BUYING ADVICE
You can walk the dog or fish these with a steady retrieval
Pros
Best option for topwater fishing
Easy to use
Creates a lot of noise
Three treble hooks
Cons
This lure cleans house with topwater bass fishing because it's the perfect imitator of what bass want to eat. The only problem is keeping the weeds off of this thing. The three treble hooks are nice when you hook something, but they're a challenge to retrieve properly in the slop.
Booyah Pad Crasher Bullfrog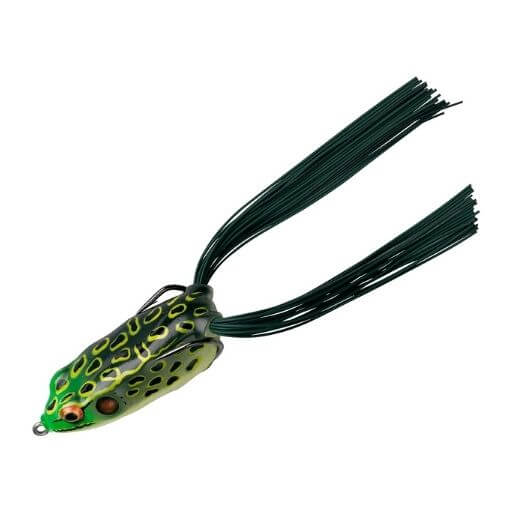 BEST TOPWATER FROG LURE
Specs
Type: Frog
Size: 0.64 ounces
Color: 7 color variations
FEATURED SPECS
100% weedless construction makes these the best choice for dense cover
EXTRA FEATURES
Creates a beautiful topwater frog appearance
BUYING ADVICE
Use these when fishing in heavily vegetated waters along the shoreline
Pros
Great in the weeds
Lifelike appearance
Comes with a strong and sharp dual hook
Cons
I'm a huge fan of topwater frogs because I think they're easy to fish, and they clean up well in the weeds. You'll want to take this to the muckiest waters in your local area and troll the shoreline. Fish using a stop and go method and watch what happens.
Arbogast Hula Popper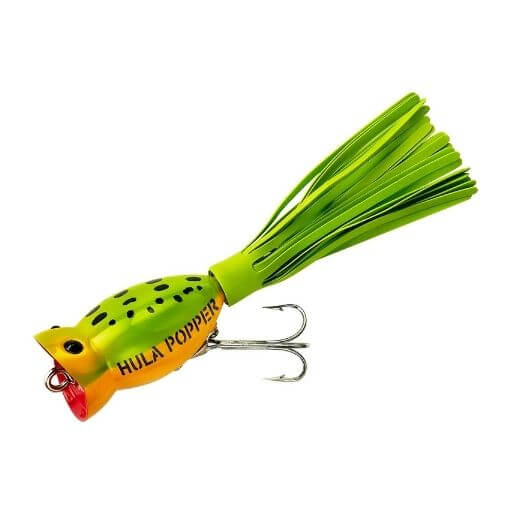 BEST TOPWATER POPPER LURE
Specs
Type: Topwater Popper
Size: ⅜ ounce
Color: 13 color variations
FEATURED SPECS
Creates a loud presentation in the water that stirs bass up and gets attention
EXTRA FEATURES
Hula Popper skirt pulsates to add extra action and noise to the equation
BUYING ADVICE
Cast these into weed beds and around grassy areas
Pros
Excellent choice around vegetation
Loud presentation
Sharp treble hook
Cons
Rusty hook
Too light (limits casting distance)
These lures are a lot of fun because they create an exciting presentation, they make a lot of noise, and they clean up in the water. If you're trying to find a topwater bass lure that you can fish almost anywhere, you'll want to give this one a more in-depth look.
I would recommend shying away from anything smaller than ⅜ ounce in weight because it'll make it difficult to cast, especially on windy days, and you can't use a weight or anything since it will mess up the presentation.
Arbogast Jitterbug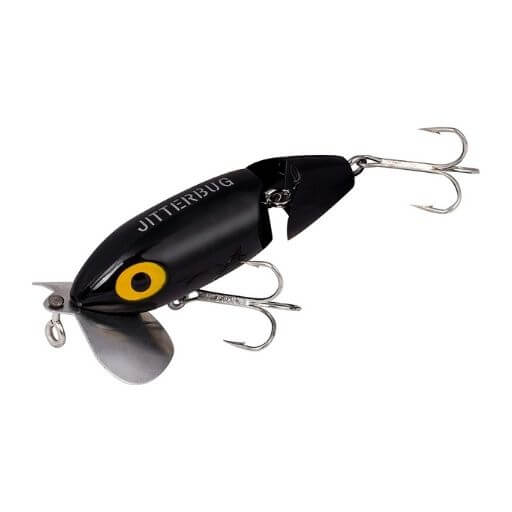 BEST JITTERBUG TOPWATER LURE
Specs
Type: Jitterbug
Size: Size
Color: 16 color variations
FEATURED SPECS
Double cupped lip creates a loud surface-busting sound that draws a lot of attention
EXTRA FEATURES
The double treble hook makes it easier to get a solid hook set
BUYING ADVICE
Pros
Many color variations
Great vibration in the water
Double treble hook
Cons
If there was ever a lure, I could say, "try it and you'll like it" – it's this one. If you've ever fished a jitterbug before, you'll know what I'm talking about. They have a signature sound, and the lures from Arbogast are exceptional quality, so you know you're getting that here as well.
Heddon Zara Spook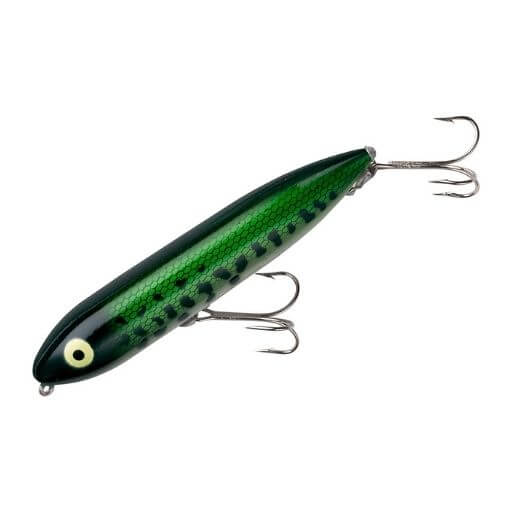 BEST SPOOK TOPWATER
Specs
Type: Spook
Size: ¾ ounce
Color: 17 color variations
FEATURED SPECS
Great for walking the dog
EXTRA FEATURES
These help you pull in bass from longer distances
BUYING ADVICE
Use a varying retrieval with these and base it on the weather around you. If it's warm and sunny, speed it up. Cold and cloudy, slow it down.
Pros
Strong reputation for success
Easy to fish
Great topwater action
Cons
Heddon Fishing Products has an exceptional reputation of producing only the highest-quality lures and gear out there. When you're unsure of what products to use, it always helps to go with a company that has a strong reputation.
In terms of the lure, it's a no-brainer. It works. Make sure you understand how to fish topwaters properly, keep in mind the time of day and year, and also use a variable retrieving strategy.
Booyah Buzz Buzzbait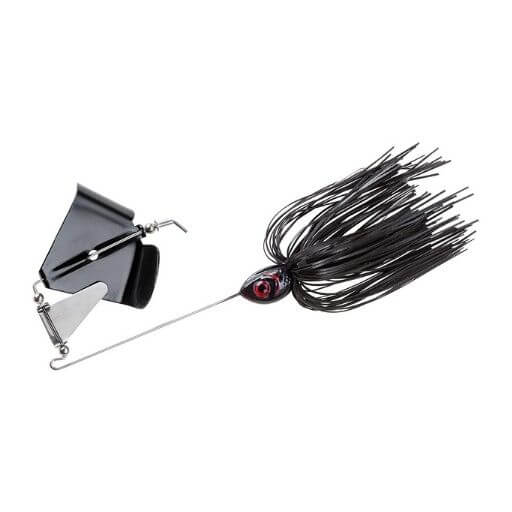 BEST TOPWATER BUZZBAIT
Specs
Type: Buzzbait
Size: ½ ounce
Color: Black
FEATURED SPECS
Features a clacker that wacks off of a blade to create a loud presentation
EXTRA FEATURES
Uses a durable 55-strand bio-flex silicone skirt
BUYING ADVICE
This lure is loud, and it's a great option if you're chasing down largemouth
Pros
Loud action
Easy to work
Great on hot and muggy days
Cons
Buzzbaits create a lot of noise, and Booyah is one of my favorite brands, regardless of what type of lure we're talking about. These act similar to our favorite spinnerbaits, but the main difference is the clacker on the wire. It spins around, creating a loud noise that the bass can't resist striking.
Heddon Super Spook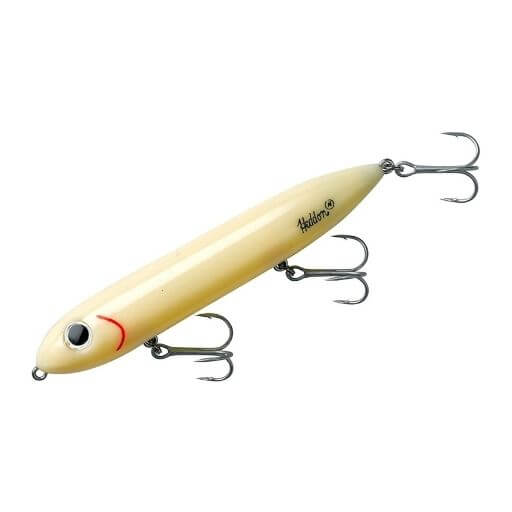 BEST SALTWATER TOPWATER LURE
Specs
Type: Spook
Size: ½ -1 ounce
Color: 39 color variations
FEATURED SPECS
Built with highly durable materials and three treble hooks that help withstand the wear and tear of saltwater
EXTRA FEATURES
With the proper presentation, this lure is meant to mimic an injured baitfish which drives bass crazy
BUYING ADVICE
Comes in a large assortment of colors and I would recommend going with something with some red on it to help with the injured presentation
Pros
Treble hooks make it harder for bass to spit them out
Easy to present
An exceptional choice for both saltwater and freshwater
Cons
An exceptional choice for both saltwater and freshwater
If you're looking for a lure to help clean up in offshore/inshore saltwater fishing, give this one a look. It works great with the walk the dog method because it's intended to mimic an injured baitfish. So, create a steady followed by erratic presentation, and the bass will not be able to resist it.
The treble hooks are durable and sharp, so they can hold up in the saltwater, and the design and build of the lure itself are meant to stand the test of time. Heddon lures last, and this one will drive the bass crazy.
How to Choose the Best Topwater Lure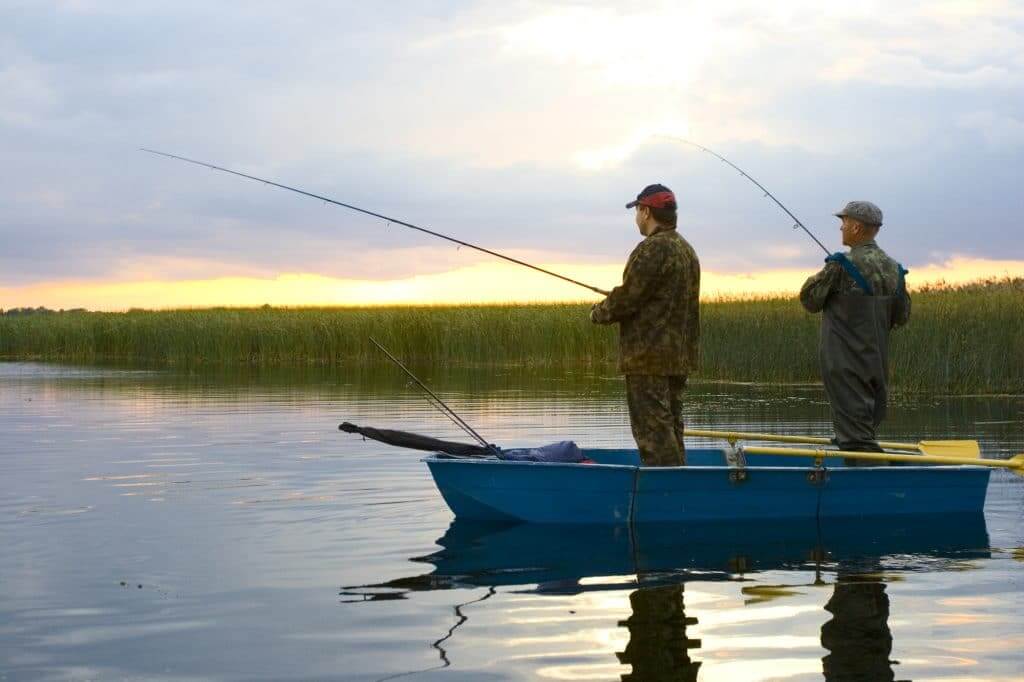 There are a few important factors to consider when choosing a topwater lure. Each one of the lures featured in this article has at least one of these components, so you'll soon understand why they impact the success of your fishing.
Noise
The first and most important thing to look for in your lure is something that makes noise. When we look at lures like poppers, jitterbugs, and buzz baits, they all have a noise component. In some way, shape, or form, they create a loud presentation in the water to attract attention.
It's impossible to say which one is the best because they're all good in their own way. For example, poppers make a lot of noise when they hit the water, whereas buzz baits only make noise when you retrieve them.
There are different strategies for fishing all of these lures, so you have to keep that in mind and find something that works best for your fishing style.
Weed Management
Now, when we look at a lot of these noisy lures, they don't offer much to protect you from building up weeds on the bait. This is where lures like the frog come in. This lure is meant to be fished in the weeds because that's where frogs hang out.
You need to have a way to control weeds when fishing topwaters because most of your best fishing moments will come around or inside weed beds. Bass are most likely to strike the surface in murky and mucky areas, so you'll want to keep the weeds off your lure; otherwise, you'll mess up your presentation and likely go home empty-handed.
Hooks
Having a high-quality hook on your topwater lure is critical to your success. Much of the time, stock hooks that come with the lure are low-quality, and you'll want to replace them with a better treble hook.
How to Use Topwater Lures: By Type
Now it's time to talk about the fun stuff. Once you have these lures in your hands, how do you plan on fishing them? These tips will help.
Poppers
When fishing poppers, it's important to have a target in mind. You need to know where you want to cast, and ideally, it should be around trees and timber.
Cast using a sharp motion down with the slackline to create as much airtime as possible. What this does is creates a louder pop when you hit the water. Using a heavier line helps with poppers because it creates more weight on end, which also results in a louder sound.
Stickbait (propbaits)
You'll want to cast these near weed beds but not in them because you have little protection from weeds. Stickbaits work better in open water. Work the lure fast, then slow and twitch it to maximize the amount of noise you make. You can fish these similar to swimbaits.
These types of lures have lost their popularity with the development of many new options, but I still find them to be an excellent topwater bass fishing lure.
Frogs
Topwater frogs are simple to fish because they're weedless, and they don't require an advanced presentation. All you need to do is cast them directly into the weed beds or lily pads and work them using a stop and go method. They usually have a bit of weight behind them, so it's not difficult to hit the water right where you want.
Spook
A spook is one of your standard hard baits. Some have joints in them that make it a bit more complicated, but if yours doesn't, you'll just fish it with tight slack using a consistent walk the dog method.
Buzz Baits
Buzz baits are a mix between spinnerbaits and jigs. They have a jig head with a skirt but the main difference is the clacker on the wire that makes all the noise. You should always have one of these in your tackle box to fish the water's surface.
Types of Topwater Lures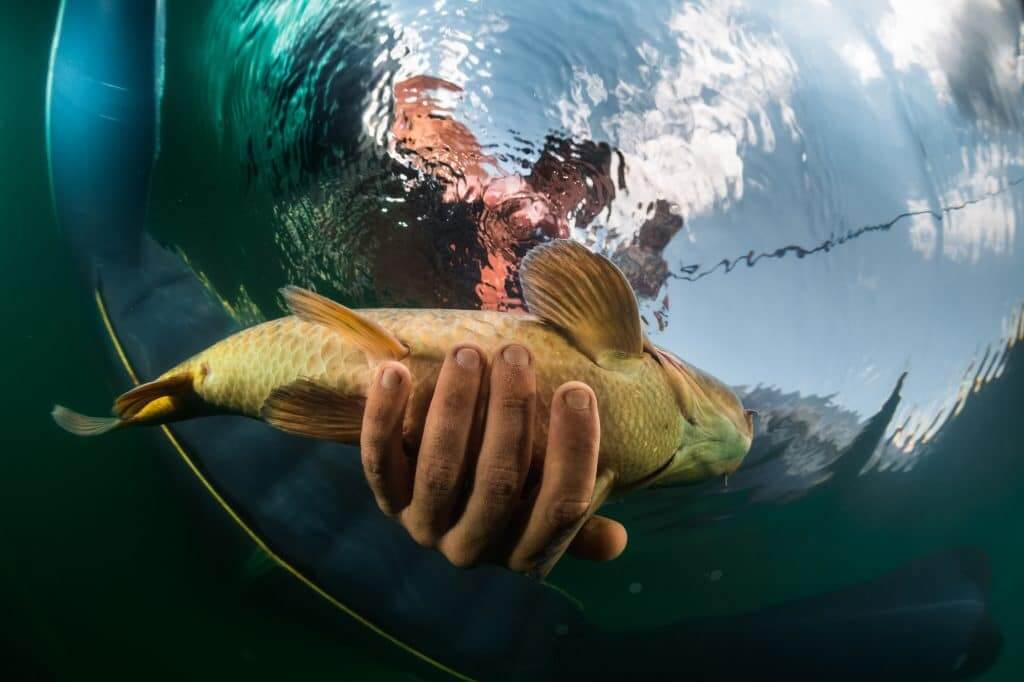 Topwaters are often misunderstood because many anglers don't know how to fish them. What they don't realize is that there are many different topwater baits that they've never tried. Consider giving some of these options a try.
Buzzbaits
Prop Baits
Jitterbugs
Spooks
Topwater Bass Fishing Tips
After decades of experience and talking with many other anglers, I've determined these to be the most important tips you need to know about mastering topwater angling.
1. Tie The Right Knot
I cannot stress this enough. Many anglers will overlook this because they don't think it's important, and you will pay for it as a result.
What most bass anglers don't realize is that your presentation has a lot to do with your knot-tying skills.
For example, stick baits move linearly, which requires a tight knot like a Palomar. Poppers are more relaxed, so you should use a loop knot. It's so important to understand how to tie knots and what line to use with these knots.
2. Mimic The Surroundings
When you're fishing any type of lure, topwaters included. You always want to take a look around and use that to help determine what type of lure you plan on using. When it's cold and dreary out, bass slow down, and their metabolism slows down. As a result, they might not bite something moving really fast or if it's brightly colored.
You want to slow your presentation, size down the lure, and maybe use something a bit more discreet.
Color plays an important role here, as well. When it's dark or overcast, you would want to use something that isn't as bright and flashy as you sometimes would prefer to use.
When the sun is shining, it's warm, and it's mid-summer, go ahead and use that neon-colored popper, and I guarantee you get a bite the second it hits the water. That's because the bass are actively feeding, so you created enough attention to get a bite right off the bat.
3. When Not How
Let's not forget how important it is to understand when to use certain lures. As I said, the current weather and conditions matter, but the time of year is crucial as well. Think about what's happening here.
Bass are leaving wherever they're hiding to expose themselves and come to the surface to bite your lure. When would that ever happen if you weren't fishing there?
When bugs and other insects land on the top of the water.
So, you want to keep that in mind at all times. The best time to fish topwaters is mid-summer when the mornings and evenings are hot. If it's really windy out, it's not a good time to fish topwater baits because there is already a lot of disturbance on the water, and the bugs are not there when the wind is blowing hard.
This factor could be a personal opinion, but I find it much more effective to fish topwater lures for bass in the evening versus the morning. I just find that bugs aren't as prevalent on the water at dawn as they are at dusk.
Final Thoughts
When you're searching for the best topwater lure for bass fishing, you'll want to keep a few things in mind.
First, it needs to have something to draw attention. Some lures use noise, while others require a specific presentation. Regardless of which option you get, you need one.
Second, you need a way to prevent weeds from building up on the lure. Some like frogs use weedless hooks while others have weed guards.
Lastly, you should have a deliberate presentation in mind. Whether you're walking the dog, popping it, or keeping it steady. Have something planned for the waters you intend to fish.
It's always important to understand that a lure will only get you as far as you push yourself. You can have the best lure in the world, but if you don't understand how to fish it properly, it doesn't matter how recommended the lure is.
Keep all of these tips, tricks, and recommendations in mind and get out on the water! Good luck!