One of the first mistakes I made as a new kayak angler was poor tackle management.
I brought way too big of a tackle box for my kayak, and I didn't have anywhere to put it.
After many years of kayak fishing, I've refined my approach and picked up several kayak tackle storage ideas along the way.
I don't recommend trying to implement all of these at once.
Try one at a time, and use the ones that work best for you.
---
Fishing Kayak Storage Ideas
Kayaks are known for their lack of fishing tackle storage. However, if you've ever looked at a tournament kayak anglers kayak, they have everything but the kitchen sink on their boat.
For a fun day on the water, tournament setups are overkill. However, we can implement some of what they show us into our kayak tackle management system.
Our Resident Kayak fishing expert, Wesley Littlefield, lets us in on his kayak tackle management system in this YouTube video.
Let's get into the weeds of these kayak storage solutions.
They all work for freshwater and saltwater kayaking. However, as I mentioned earlier, not every idea will work in your kayak or for your style of fishing, so feel free to focus on the solutions that best fit your situation.
Kayak Crate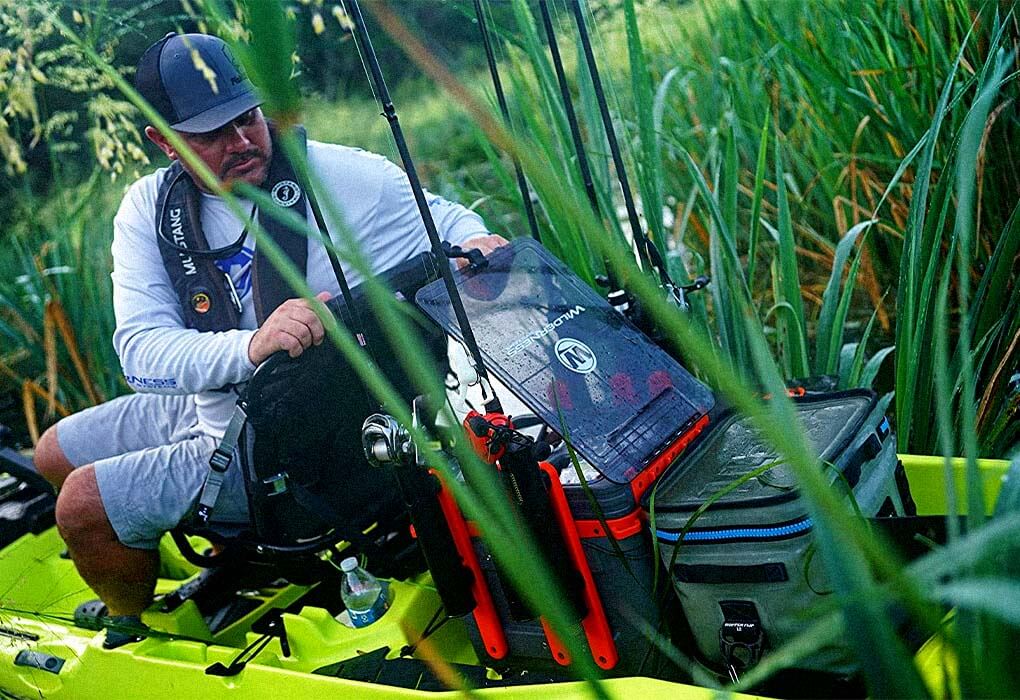 The kayak crate or milk crate has many variations.
You can buy the best kayak crate from a store, or you can choose to go the DIY milk crate route.
There are several excellent kayak crates on the market; the Wilderness Systems crate, Hobie H-Crate, and the Plano V-crate all have a unique approach to the time test kayak crate.
I wouldn't consider any of these options cheap, so I would recommend the DIY milk crate route if you're on a tight budget.
My parents went this route, and they love setting their milk crates in the tankwell (back) of their kayak and hitting the water.
One of the best things about a storage crate is the addition of rod holders.
Rod Holders
I prefer to bring several rods with me; that way, I'm not changing lures every five minutes, or in case one of my rods or reels breaks, I have a couple of back-ups.
Built-in rod holders are nice, but I like having the freedom to choose where to place my rods, so I bought rod holders that attach with gear tracks.
This allows me to move them wherever I want without drilling holes in my kayak.
Fishing rod holders can also hold your fishing net out of the way yet keep it quickly accessible.
Bungee Storage
Let's take advantage of your kayak's bungee storage area.
This is perfect for holding things that can get wet, like a dry box or dry bag.
If you have a waterproof tackle box, the bungee storage is a great place to keep it out of the way.
If it absolutely can't get wet, like a phone or key fob, keep it in the dry storage hatch.
Dry Storage Hatch
Most fishing kayaks will have a dry storage compartment at the bow (front) or under your feet.
I store everything that can't get wet in these compartments. I also keep my anchor and other items that will sink.
If I'm in a hurry, I throw the lures I used and trash into these water-resistant areas until I get home.
Dry Box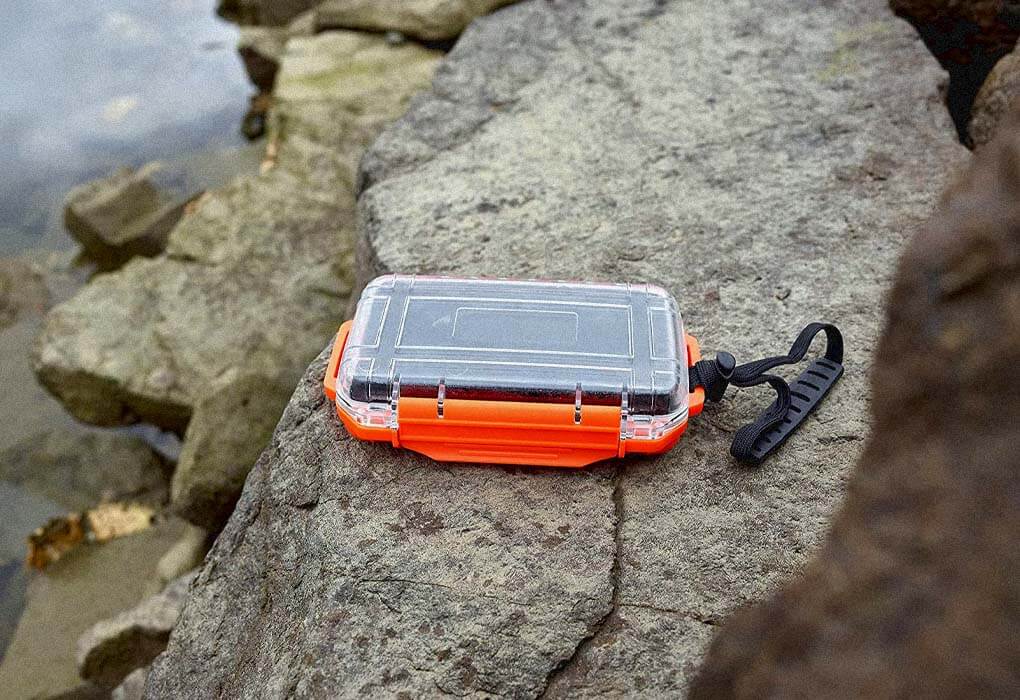 My dad uses a small waterproof storage box to keep his valuables while kayaking. It easily fits in his PFD pockets or in his kayak crate.
One of the best additions to my kayak was a dry bag.
I have a small dry bag strapped to the back of my seat that holds my keys, wallet, and phone.
There's plenty of room for other items that can't get wet.
I'll throw most of my camping gear in a large dry bag on kayak camping trips. I don't recommend this for day fishing trips, but if you plan to camp and fish for a few days, a large dry bag is necessary.
Kayak Fishing Tackle Box
I mentioned earlier that I made the mistake of having too big of a tackle box on my kayak.
That quickly changed after a few fishing trips.
I now carry several small tackle boxes and rotate the gear I'm going to need.
I prefer to keep my terminal tackle and my favorite lures in different fishing tackle boxes.
Figuring out the best kayak tackle box for you will go a long way toward helping you stay organized while kayak fishing.
Plano Boxes are some of the best you can buy. They make all different sizes, so get the best dimensions for you.
Under the Seat Tackle Storage
I intentionally bought tackle boxes that fit underneath my kayak seat.
They're easy to access, out of the way, and stay secure until I need one.
Storing a fishing tackle box under the seat doesn't work if you have a seat that sits on the kayak floor.
Some kayaks come with storage systems under the seat. They'll have a catch-all tray with or without dividers and an area for small utility boxes.
Along the Sides
If your kayak doesn't have storage under the seat, it might have it along the sides.
These little pouches are a handy place to keep your pliers, a bag of soft plastic lures, or other small fishing gear.
Many kayaks will have gear tracks along the sides designed to attach fishing rod holders, fish finders, safety lights, safety flags, and cup holders without drilling holes into your kayak.
Gear tracks make rigging a kayak quick and straightforward, which is why I'm such a fan.
Depending on how your kayak is designed, the gear tracks should keep everything out of the way but easy to access.
Another great thing about gear tracks is adjusting your fishing gear on the fly. So if you don't like where a rod holder is, you can quickly change it.
Fish Finder Mounts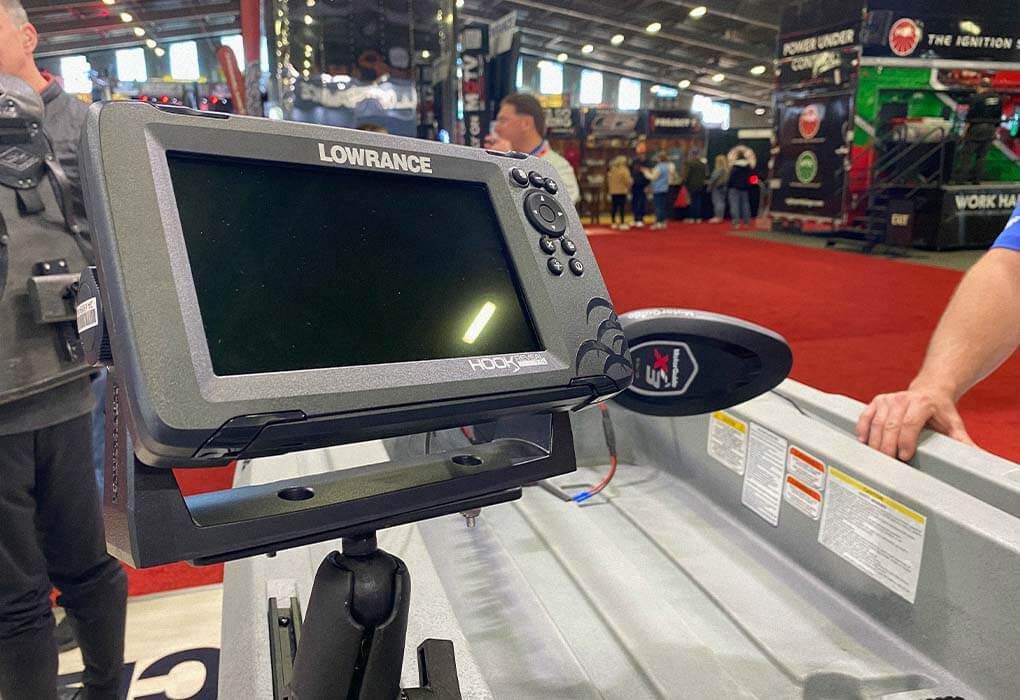 A less thought of kayak storage option is using fishfinder mounts.
While these mounts are not ideal for keeping tackle organized, they do an excellent job of keeping the fish finder, cables, and battery out of the way while you're fishing.
I prefer to use the gear tracks to mount my kayak fish finder, but I have used screws to secure the bracket that came with the unit to my kayak.
Don't overlook ways to maximize the space in your kayak.
Cooler Seat
Another storage option we have is to bring along a cooler and use it as a seat.
You'll be able to bring enough fishing gear along for the day, stay hydrated, and keep your fish fresh if you bring some home.
Your friends will thank you for bringing along the ice-cold beverages too.
A cooler seat works best if you have a way to strap the cooler to your kayak. Otherwise, it will feel unstable.
Cooler seats aren't as comfortable, but if you do a lot of sight-fishing and standing, the chair won't matter.
You can add a cushion to the lid for a little extra padding if you plan on sitting for a while.
I will bring along less fishing gear if I bring my cooler.
Lifejacket Pockets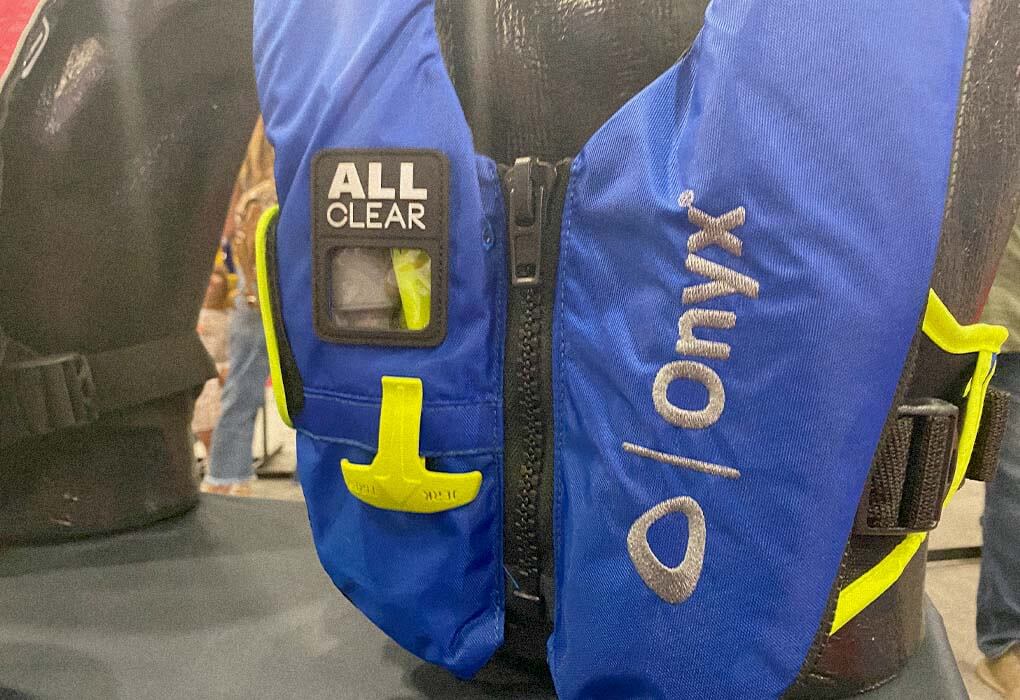 I always wear my lifevest and recommend you do the same. I've heard too many tragedies of people not making it home because they didn't wear a PFD.
Not only is a PFD a life-saving device, but it can also double as a storage option.
Many lifejackets have small pockets for pliers, phones, and utility boxes.
A few have a pocket that unzips to become a platform for you to place a jig or other lure on while you change lures.
It would help if you kept in mind that these pockets are not waterproof, so only keep items that can get wet in them.
I won't keep lures in my pockets because the hooks are a pain to get out of the fabric. Instead, I'll use the pockets for trash and spare fishing line.
Last Cast
There are many creative kayak tackle storage ideas. You should have no problem implementing these ideas to be the perfect kayak tackle storage solution for you.
I like several of these ideas because they're not set in stone. I can mold them into exactly what I need them to be to have the best fishing experience possible.
I'm always looking for ways to improve my kayak tackle management system, so if you have any suggestions or questions, please leave them in the comments below!