The best fish finder for small boats is both portable and functional. Isn't it great to live in a world where technology doesn't have to be huge to be efficient?
Even if you're fishing from a small jon boat or kayak, you too can have a high-quality fish finder with advanced technology.
I've tried over 25 fish finders in my life and I'll tell you one thing, they have more similarities than differences. That's why I had to dive deep into these six units to put together this buying guide.
By the end, you will have a firm understanding of which small fish finder is right for you.
Comparison Table – Best Fish Finders for Small Boats
---
In Depth Reviews of our Favorite Fish Finders for Small Boats
Lowrance Hook Reveal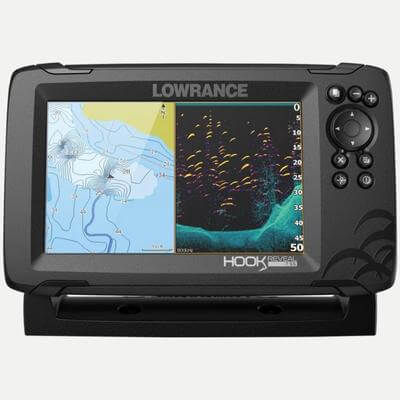 BEST OVERALL
Specs
Brand: Lowrance
Display: 5-9-inches
Type: Tripleshot
Pros
Features various small screen sizes ideal for small boats
1000 foot max depth
Top of the line FishReveal technology
Cons
Lowrance is notorious for subpar customer support
The Hook Reveal is one of the newer models from Lowrance and it brings a lot of cool new features to the table.
First of all, you get a variety of sonar options including downscan, sidescan, and triple shot with HDI high-definition imaging.
These features offer some of the highest quality imaging paired with the best range allowing you to get top notch imaging even on smaller screen sizes.
Speaking of smaller screens, this fish finder offers sizes ranging from 5-9 inches which allows you to choose what works best for your boat.
The only smaller option in this review is the Garmin Striker 4 which we'll talk about next.
FishReveal technology is what puts the "reveal" in the name of this fish finder. It combines 2D sonar with downscan to provide both high-quality fish arc images but structure scanning as well.
It's some of the best technology you can find in fish finders today.
Bass Pro (See Price)
Cabela's (See Price)
Tackle Direct (See Price)
Garmin Striker 4
BEST VALUE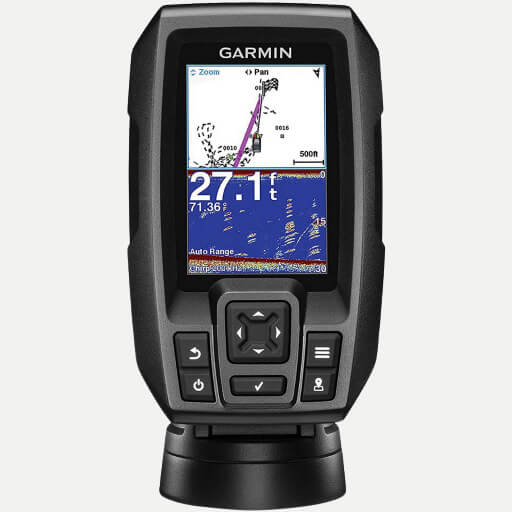 Specs
Brand: Garmin
Display: 3.5-inches
Type: CHIRP sonar
Featured specs
This one comes with navigation, built-in GPS, and CHIRP sonar scanning a maximum depth of 750 feet.
Extra features
The screen offers a 480 x 320 resolution in full color so you're able to clearly see what's happening no matter what the weather is like.
Buying advice
This one is a lot smaller than some of the other options that offer this many features so it's a great choice for small boats and kayaks.
Pros
Color display
Built-in GPS and navigation
Small and portable
Cons
Requires a 12V power source
If you're looking for something a little more portable and affordable the Garmin Striker 4 is very popular. I love the fact that it's so small yet it brings quite a few features to the table.
You get GPS navigation, waypoint mapping, and also information such as speed, temperature, and depth.
If you'd like to learn more about it, give my complete Garmin Striker 4 review a read.
Bass Pro (See Price)
Cabela's (See Price)
Tackle Direct (See Price)
Deeper Pro+ Smart Sonar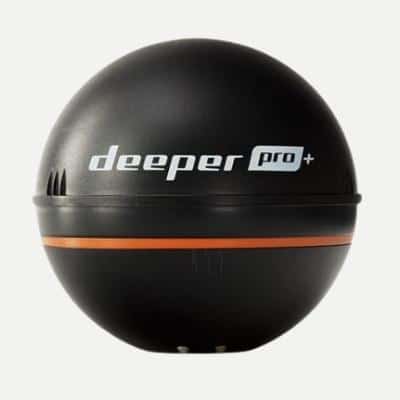 Brand: Deeper
Display: Smart Device
Type: Castable
Featured specs
This is the best small fish finder for casting because it works with your iOS and Android devices without an internet connection. It connects to your phone through wifi and doesn't require Bluetooth.
Extra features
The Deeper Pro+ reads up to 260 feet and sends out 15 scans every second so you're sure to reduce target separation and get the most accurate results possible.
Buying advice
I would suggest having some type of internet connection on the water because you can save all your results to the Cloud to create a record of every trip.
Pros
Connects with wifi for an improved connection
Lightweight and portable
Great for small boats; doesn't take up any room
Compatible with Android and iOS
Cons
Connection concerns
Probable casting issues
Let's address the drawbacks of the Deeper Pro+ first. Seems to me that whenever you're connecting anything through Wifi there's always going to be connectivity problems.
It's whether or not they become so intrusive that they ruin your experience.
If you have a short temper, I'd probably not pick this one up because the connection will drop on you from time to time. In my experience, it won't ruin a fishing trip though.
Just reel it in and reconnect.
The positives, it's accurate, easy to use, lightweight, and even fun to throw.
This is by far one of the best castable fish finders on the market and I personally love using it to introduce kids to fishing. They have blast with it.
Just be sure to play it safe with your casts and you'll be okay!
Garmin Echomap UHD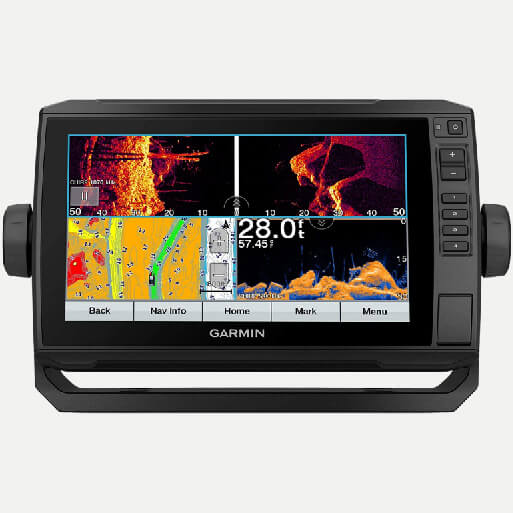 BEST GPS FISH FINDER
Specs
Brand: Garmin
Display: 4-9 inches
Type: Varies
Pros
As many as 14 different options
Industry leading mapping and plotting
Various imaging options
Cons
At some point, we all want a little more in life and when I think of a fish finder that offers a lot more, the Garmin Echomap comes to mind.
They have a large number of options which is what makes this such a great choice for small boats. This model ranges in size from a 4-inch to a 9-inch screen so you can choose whatever size works best for you.
Keep in mind that all the premium features don't come into play until you reach the 73sv which will run you around $800-1,000 depending on when you're shopping.
The 73sv has a 7-inch screen and it comes with Lakevu HD mapping with clear and sideVU sonar technology.
If you need something smaller for a kayak or simply for your budget, the Echomap Plus 43cv offers a 4.3-inchscreen, keypad, and all the same sonar technology you're looking for.
It's one of the only fish finders of this size that we find split-screen sonar and mapping technology.
It'll be a little difficult to see because each side will only be 2-inches, but… it works if you need something really small.
Bass Pro (See Price)
Cabela's (See Price)
Tackle Direct (See Price)
Lucky Handheld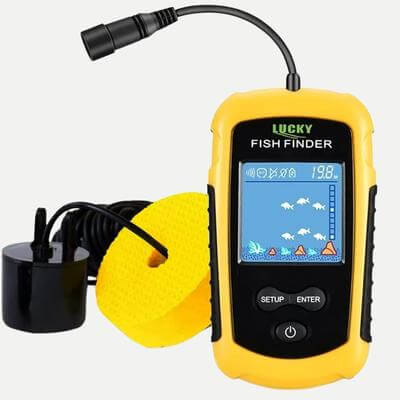 BEST PORTABLE FISH FINDER
Specs
Brand: Lucky
Display: 2-inches
Type: Down Imaging
Featured specs
This portable fish finder fits right in the palm of your hand and features a sonar transducer that you'll put in the water.
Extra features
The 45 degree cone viewing angle ranges as far as 328 feet. It comes with a 25 foot cable and removable transducer float.
Buying advice
These types of fish finders are great for kayaks because you can easily change position whenever you want to move somewhere else.
Pros
Small, portable, lightweight
Comes with multiple sensitivity modes
Great for kayak fishing
Easy and simple to operate
Cons
Lacks advanced features
Only reads in meters
This fish finder is a bit different than some of the other options because it comes with a transducer that you'll hook up to the receiver and drop into the water.
It uses meters only for depth which is a bit frustrating but the readings are accurate, it's affordable, and it's great for small boats and kayaks.
Garmin Striker Cast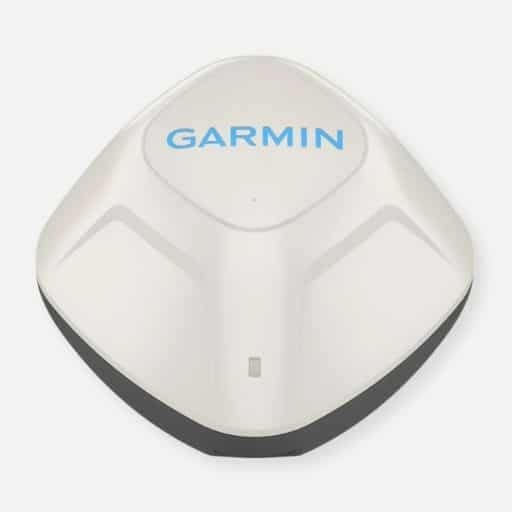 BEST WIRELESS
Specs
Brand: Garmin
Display: n/a
Type: Castable
Pros
Simple and easy to use app
Premium GPS on a casting unit
Connects well and maintains frequency
Cons
Can be limiting in poor conditions
If you know me, you know I love castable fish finders and I love finding ones that impress and exceed my expectations. That's the case with the Garmin Striker Cast.
This unit offers premium $1,000 fish finder features in a portable unit that you can take in any boat without having to mount anything.
This is all made possible through the smartphone app where you'll view your sonar readings after casting the bobber-like transducer out. It comes with two frequencies and a range of 200 feet.
The only downside is that poor weather or water conditions will immediately create limitations. The readings will become less accurate and it'll snap your range pretty much in half.
That said, if you're renting a small boat or simply don't want to mount anything too permanent, the Garmin Striker Cast is well worth a shot.
It holds its own easily against some of the other castable units in this review like the Deeper Smart Sonar.
Bass Pro (See Price)
Cabela's (See Price)
Tackle Direct (See Price)
How to Choose the Best Fish Finder for a Small Boat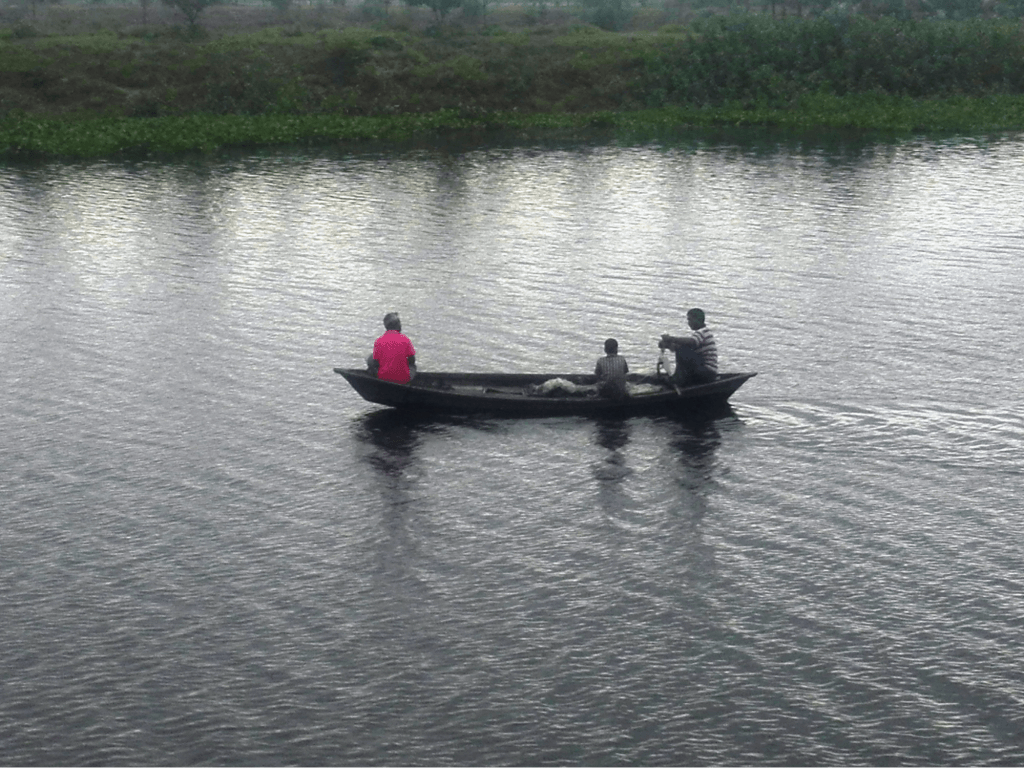 Knowing what these fish finders are is one thing but knowing how to pick one out of the crowd is another. There are a few different factors to consider as you do this.
Here are some of the most important things to keep in mind while you look for the best fishfinder for a small boat.
Screen/Display
When you're dealing with a smaller fish finder, you'll likely have to sacrifice a few things. The first area where most people sacrifice is their screen size, resolution, and pixels.
This doesn't always have to be the case. All the fish finders above with standard screen displays offer great picture quality and imaging.
Technology has come a long way and we can now look at a 2.5-inch screen that has the same picture quality as a 70-inch TV screen.
Just keep in mind that you can still find affordable fish finders with great picture quality, even in lower price ranges.
Also, remember that the quality of your images will help your fishing as well. If you're looking at a tiny screen and you can barely even make out what you're seeing, you're likely to struggle fishing as well.
Try to find a fish finder with a backlight so it can adjust based on the amount of sunlight.
Another factor is the number of features and functions on the display. Some fish finders will show things like water depth, temperature, time, travel distance, GPS coordinates, mapping, and more.
I recommend trying out a touchscreen fish finder versus a keypad one. A touchscreen might sound better but they can be clunky sometimes.
Just keep all of these aspects in mind as you choose because you want to make sure you're getting a good deal. All of the fish finders above contain at least the bare minimum features when it comes to the display.
Frequency
The frequency of your fish finder has to do with the transducer and sonar.
For example, when you see that a fish finder has a frequency of 200 kHz, that's the fish finder's ability to push through obstructions and resistance and send sonar waves into the water.
Many people think that having the highest frequency means you'll get the highest range and most accuracy. That's completely false.
High frequencies are more accurate in shallow water because they provide a more precise signal. You'll get a clearer image but as you start to go deeper in the water, the image will become less reliable.
If you're using something with a low frequency (less than 200khz), you'll have more range but decreased accuracy.
The best choice you can make is to choose a fish finder with dual frequency because you can choose what frequency you want to use based on where you're fishing.
Transducer/Sonar
I talk a lot in these fish finder reviews about transducers, sonar, and imaging so it's easy to get confused about what these are and how they impact your fishing.
The transducer is the part of the unit that goes in the water (or near it) that sends sonar waves into the lake. There are a few different types of these and each of them has its own set of pros and cons.
For example, if you see something that says transom mount transducer; it means that you mount it on the outside of the back of the boat near the trolling motor.
If it says internal transducer, it means that you can mount it inside the boat. Some transducers have cords that hook up to the receiver and you drop them in the water.
They come with a floatation device so they float around the water and you hold the unit in your hand. Some fish finders are castable and they go on your line like a bobber.
These are great for research but challenging if you don't have another person fishing with you.
As we talk about transducers, we also have to discuss the different types of sonar. You'll hear things like sidescan, downscan, clearvü, flasher, and CHIRP.
All of these words are types of sonar and they refer to the method the transducer uses to send sonar waves into the water.
Sidescan and downscan are the way the sonar waves penetrate the water. Sidescan fish finders send waves horizontally at an angle away from the boat.
Downscan sends a cone down into the water vertically. Some are combo deals and they do both while many just have downscan.
Mounting
If you're looking for the best fish finder for a jon boat or other small boat, you'll need something that's easy to mount. Most will mount around the base and they provide screw holes and hardware to make this possible.
I think your best bet with small boats is to have a portable mount or something that you can install and remove.
Keep in mind that many fish finders require a power source so you'll need to have that if you're fishing from a small boat. The rechargeable portable fish finders are always good for small boats as well.
Size and Portability
One of the most important things for anglers is portability. Whether you're fishing freshwater, saltwater, ice fishing, or kayak fishing, you need a fish finder that is small enough so it doesn't get in the way.
Thankfully, all of the options recommended in this article are small and portable enough to work with all smaller boats.
As you consider portability, you also want to factor in power. The power source of your fish finder will impact how portable it is. If it requires a 12V power source that really limits what you can do and where you can go.
But, if it uses batteries like some of the portable options above then you don't have to worry about it as much.
Water Resistance and Durability
The last thing you want to do is spend a bunch of money on a premium fish finder only to have it get damaged on one of your fishing trips.
Most depth finders are water resistant but there's a big difference between resistant and proof.
Very few fish finders are waterproof and they're very expensive. That means it's your responsibility to protect the device by ensuring it doesn't get too wet.
If you're looking for a kayak fish finder, water protection is likely important. Some companies sell covers for your fish finder and there are a variety of other products you can buy to protect them as well.
As for durability, you shouldn't have to worry too much about the fish finder getting banged around. Most of them use a hard plastic cover but just be careful with the screen and how much direct sunlight it gets.
Frequently Asked Questions
Final Thoughts
Choosing the best fish finder for a small boat isn't complicated but you need to keep a few things in mind. Size, portability, display, and value are important.
When you're dealing with limited space you can't have a fish finder that gets in the way and becomes a hazard.
But, you're also spending a decent chunk of change so you need to make sure you're getting enough bang for your buck.
All the fish finders in this buying guide are perfect choices for your small boat or kayak.
About Post Author