---
We independently research, test, and recommend the best products; you can learn more about our review process here.
As small boat anglers, we rarely have room for giant screens showcasing the latest sonar technologies but we can have great sonar without the 65-inch TV screen on the front of our boat.
Our unit can still be portable and functional.
I've tested lots of fish finders in my life (including most of these) and I'll tell you one thing, they have more similarities than differences.
However, the key variations will make a world of difference on price and functionality.
By the end, you will have a firm understanding of the best fish finder for small boats, determined by screen size, how easy it is to operate, and if you can easily upgrade the unit with advanced features.
Let's start by checking out my top picks.
Top 3 Best Fish Finders for Small Boats
For the anglers eager to get back fishing here are the top picks based on user-friendliness, screen size, and upgrade-ability.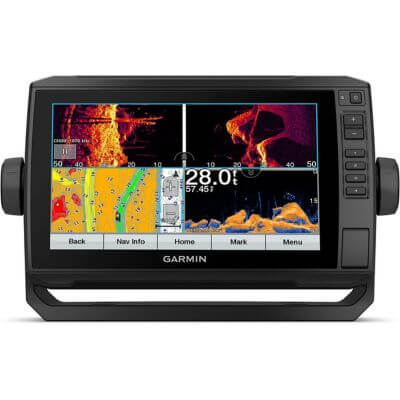 Garmin ECHOMAP UHD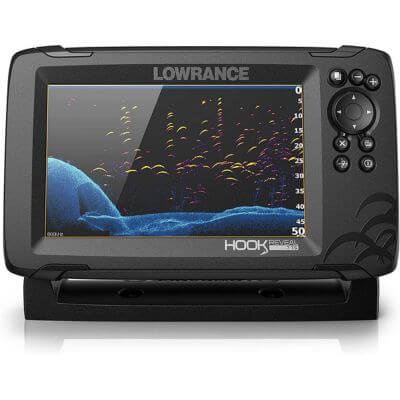 Lowrance Hook Reveal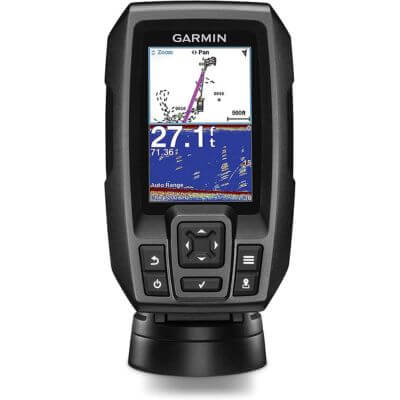 Garmin Striker 4
---
Testing Procedure
Below are the features I looked for while testing these fish finders on my small boat:
User Friendliness: Is the unit simple to install, setup, and navigate, or did I need help figuring it out? I consider myself to be fairly handy, so I didn't expect much trouble when installing and setting up these fish finders.

However, some were more difficult than others, so if you're not a fan of rigging your boat, you might want to take it somewhere willing to install your electronics.
Screen Size: This one is tricky because I want as large of a screen as possible, without it getting in the way while fishing in a small boat. Having a 16" screen mounted to a Jon boat would be awesome until it caused me to lose a fish.

Which is why I prefer models that have multiple screen sizes, so I can find the perfect one. I generally use a 9" or smaller screen in small boats.
Upgrade-ability: How easy is it to upgrade the unit or would I have to buy another fish finder to get the higher-end features?

I like the option to upgrade to better sonar, like live sonar, in-case I want to purchase it in the future. However, this is not for everyone and I have caught lots of fish using a base model fish finder for years.
In-Depth Reviews of our Favorite Fish Finders for Small Boats
Garmin EchoMap UHD
BEST OVERALL FISH FINDER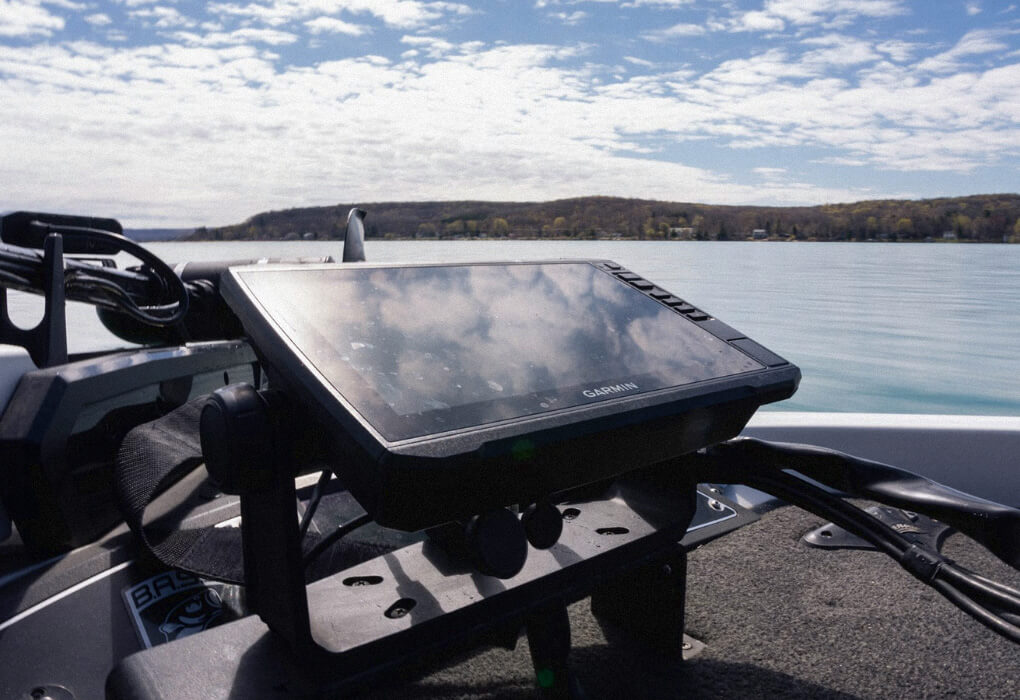 Specs
Type: ClearVu, SideVu, and CHIRP
Brand: Garmin
Display: 9″ touchscreen with keyed assist
GPS?: Yes
Why We Chose It
The Garmin EchoMap UHD is the best fish finder I've ever used, and my #1 pick for experienced anglers. After I tested it, I immediately installed it on my kayak, which is the equivalent of a 12' Jon boat.
If you're a fishing electronics junky, you're gonna love this.
This is capable of being the most advanced fish finder made by Garmin, the biggest name in fishing electronics.
It has several screen size options, the most accurate sonar, and the most advanced connectivity features I've seen before.
Whether you're chasing lunker largemouth or a mess of crappie, the Garmin EchoMap with Panoptix Livescope is a must.
I don't expect you to believe me (some random dude on the internet) just yet, so let's walk through a few of my favorite features.
The main reason I put this on a small boat is because I wanted the option for the best sonar technology, Panoptix Livescope, without having to buy a huge screen.
Which is a fancy sonar that allows us to see exactly what's beneath our boats as if we were swimming with the fish, and that's why I've rated this the best overall fish finder for small boats.
Panoptix is a high-end sonar that gives you a live image of what's happening below your boat, similar to having a live camera in the water.
It gives you a crystal clear live view of 200 feet in any direction you point the transducer (which is way better than traditional CHIRP sonar, sidescan and downscan like the Lowrance Hook Reveal has).
With this underwater technology I can see EXACTLY where the fish are around the brush pile, how many fish are there, and how they react to my bait. I sure find it very helpful to see how the fish react to my lure in real time!
Another feature I love is the mapping capabilities. Whether I was looking for a detailed contour map to find the perfect fishing spot or map out a route ahead of time the UHD handled it flawlessly.
You will need to have an SD card if you want to save your waypoints or your own maps, but the unit comes with THOUSANDS of pre-downloaded maps.
The exact unit you choose will determine if you get coastal mapping or lake mapping, so saltwater and freshwater anglers are covered.
The last feature of the ECHOMAP UHD that stood out to me is the touchscreen with keyed assist.
Keyed assist is a fancy way of saying it has a touchscreen and buttons. So if your hands are wet and cold, you can still use the buttons (when the touchscreen is being difficult).
Personally, I like having both options, unlike the Garmin Striker 4, which only has buttons, but I understand most anglers can live without a touchscreen. It's probably my millennial entitlement syndrome kicking in.
A touchscreen fish finder is easier to navigate in my opinion; I can quickly switch between pages or sonar types. While I can also do this with buttons, it usually takes a little longer.
I'd much rather fish instead of push buttons on my fish finder! At least I've never caught a fish by pushing the buttons on my fish finder.
Whether you get the 7", 9", or a bigger screen, the touchscreen is always a standard option.
My biggest frustrations with this unit are the price tag and the customer service.
The price didn't surprise me because it's a high-end unit, but not everyone can afford to refinance their house to pay for a fish finder.
You can try their customer service, but it's not always quick to fix problems with Garmin fish finders.
I've talked with some of their support team at fishing expos about their products and they're always happy to help but navigating their customer service is a different matter.
This Garmin fish finder is excellent (once you get it set up), but I wish their customer service was a little more helpful after you've spent this much money on their product.
With that said, I'm willing to overlook those slight negatives in order to get the best sonar technology on my small boat.
So if you've got the spare change and want the greatest sonar out there that shows EXACTLY what's below your boat, this unit is for you.
It's the only Sonar I'll have on my small plastic boat…until Garmin releases something better!
Read our full review here: Garmin Echomap UHD review.
Lowrance Hook Reveal
BEST SMALL BOAT GPS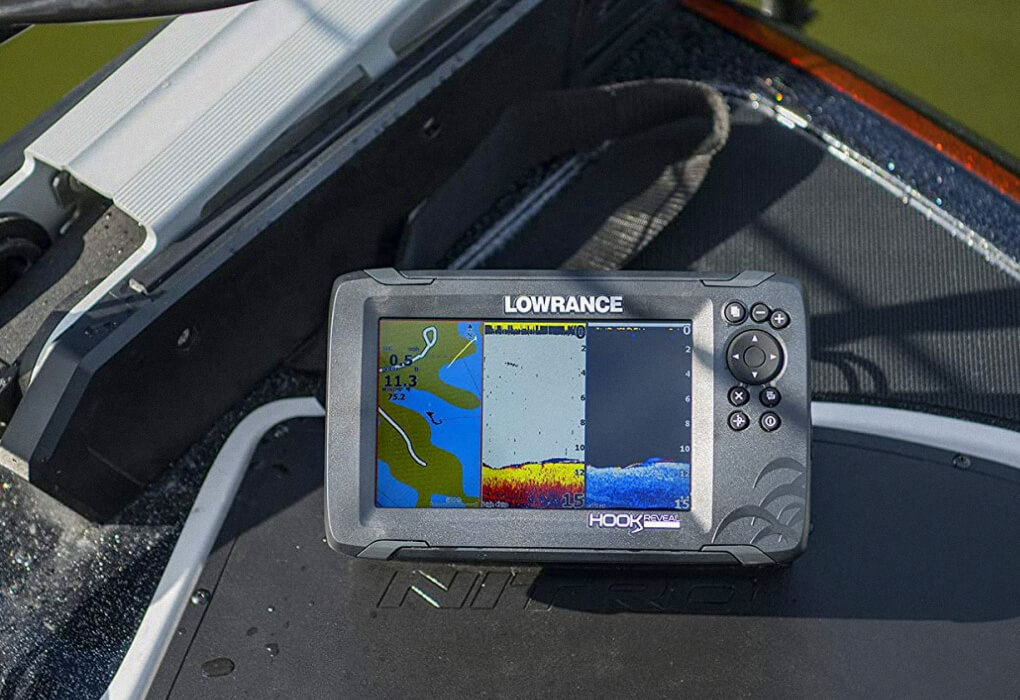 Specs
Type: Tripleshot (Downscan, Sidescan, and CHIRP)
Brand: Lowrance
Display: SolarMAX Display
GPS?: Yes
Why We Chose It
The Lowrance Hook Reveal is the best small boat GPS/fish finder combo!
If you get turned around on the water, but you don't like to ask for directions, this is the fish finder to mount on your boat. My dad will be happy to hear he'll never have to ask for directions again, at least while he's on the water.
This fish finder has a boatload of features (such as Genesis Live and the SolarMAX Display) that are typically offered in more expensive fish finders, but you don't usually see them anywhere near this price point.
The feature that stands out the most for small boat anglers is Genesis Live, which allows you to map the depth contours of your location.
This is great for the small bodies of water that aren't usually on a map but small boats can get in, such as big ponds.
I was pleasantly surprised by its accuracy while I was fishing a large pond that's rarely on most maps, during my testing.
It was a bright sunny day when I visited this public pond, which doesn't make for great fishing or seeing most fish finder screens, but that's not the case with the Lowrance Hook Reveal.
The SolarMAX Display was ridiculously clear and easy to read, even when the sunlight directly hit the screen. I didn't have to crank the brightness up to see the screen, which helps save battery.
Another excellent feature for small boat anglers is the Tripleshot Transducer.
It keeps things simple by only requiring one transducer (the contraption that goes in the water to send and receive sonar signals) for three different types of sonar.
The Tripleshot Transducer makes rigging your boat much easier. Gone are the days of installing multiple transducers to see what is below the water, thank goodness!
You can use downscan, sidescan, and traditional sonar at the same time with this transducer. So you'll be able to see everything the fish are seeing from multiple angles.
My biggest frustration came from the product page and description because they are not clear about which model they're talking about, so be certain you are buying the unit described in the description when you're purchasing.
Otherwise, you might think you're buying one unit when in reality, you're purchasing a unit with entirely different features.
You'll be hard pressed to find a better GPS/Fish Finder Combo at this price range than the Lowrance Hook Reveal.
Thanks to Genesis Live mapping and the clear SolarMAX screen you won't ever need another fish finder to mark your favorite honey holes.
So go ahead and grab one of the best Lowrance fish finders today, so you won't get lost on your next trip.
Read our full review here: Lowrance Hook Reveal review.
Garmin Striker 4
BEST VALUE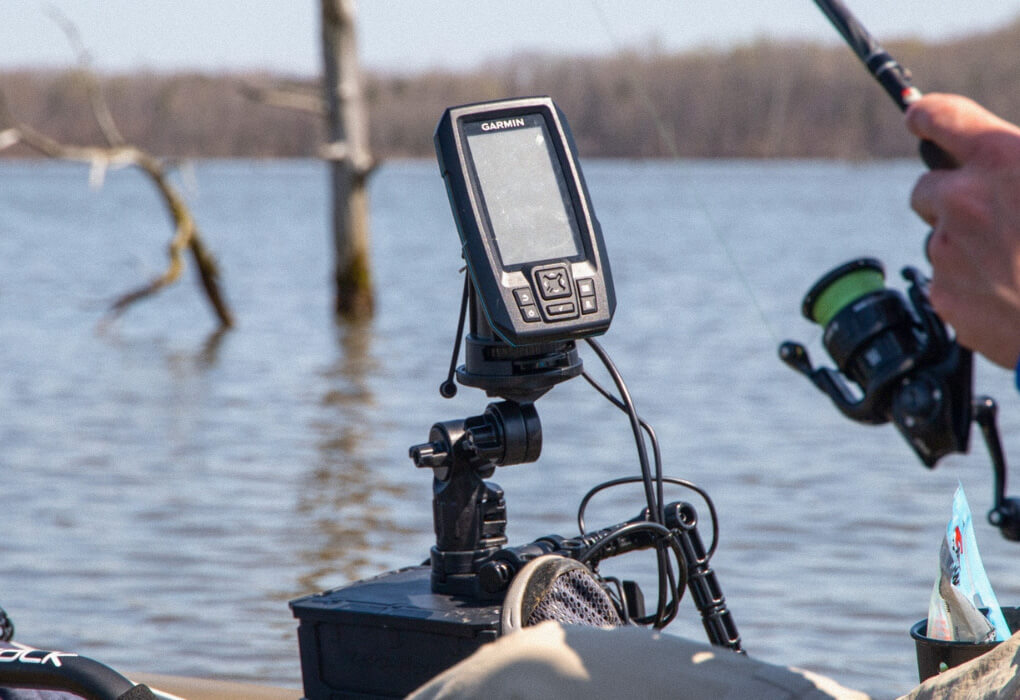 Specs
Type: ClearVu Scanning Sonar
Brand: Garmin
Display: LCD
GPS?: Yes
Why We Chose It
The Garmin Striker 4 is easily the best small boat fish finder for beginners because it doesn't cost much and it's so dang easy to operate that the fish could find each other with it.
It was the first depth finder I bought… and if you're just getting started fishing from a small boat, you'll love it.
It's amazing because of its simplicity. It finds fish and structure without learning a complicated interface or setting up additional transducers with overly fancy features.
For me, it was the perfect fish finder to learn on because it's inexpensive, simple to install and operate, and it doesn't have a bunch of overwhelming features.
I like that the buttons are pretty self explanatory and it's easy to navigate from one page to another.
However, I found the screen to be a little too small for my 12' boat but I think the 4-inch screen would work great on a shorter boat.
The GPS feature was a little disappointing because I was thinking it would have a map of the lake, but it does not.
It's a white screen that you drop GPS waypoints on, which is okay for marking your spots but it sucks for navigating.
A couple of years into using this unit, I was ready to upgrade but it's only capable of the basics, which is why it's so affordable.
After using this fish finder for years, I strongly recommend the Garmin Striker 4 for fun fishing and beginners because it's so easy to use and ridiculously affordable.
You can choose to buy this unit from Garmin, the legendary fish finder brand, or gamble your money on purchasing a fish finder from a lesser known company for a similar price.
It was a no-brainer, I've already bought one!
Read our full review here: Garmin Striker 4 review.
Garmin Striker Cast
BEST CASTABLE FISH FINDER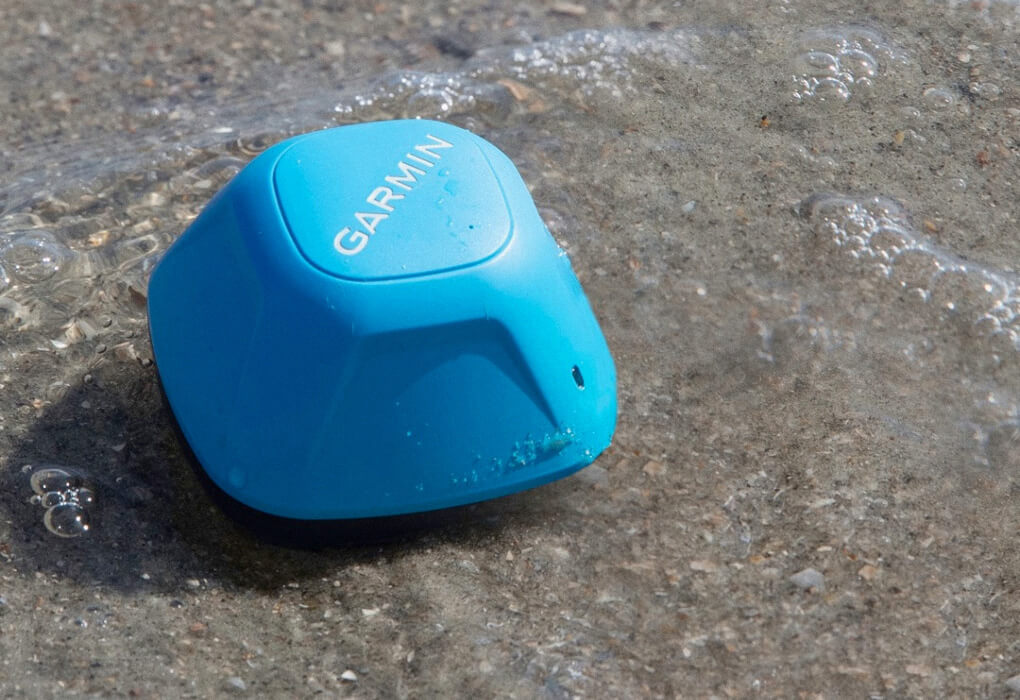 Specs
Type: Castable CHIRP
Brand: Garmin
Display: Smartphone
GPS?: Yes
Why We Chose It
The Garmin STRIKER Cast has excellent battery life and is the best castable sonar so if you don't want to drill holes in your boat, this is the unit for you.
The 10-hour battery life is sure to last you a FULL day of fishing; Garmin does this by only scanning when it's in the water.
As soon as it's removed from the water, the sonar stops running automatically, so you don't have to remember to turn the unit off when you're not using it.
The second standout feature of this unit is the access to world-famous Garmin mapping.
When you buy this unit you get access to the Quickdraw community containing a boatload of maps with 1-inch bottom contours and preloaded charts showing the best fishing locations at any spot.
The maps and Quickdraw make this unit more than worth the price.
The downsides of the Garmin STRIKER Cast are you'll have to use your phone as a screen and the GPS model is not standard, so you will pay extra.
I don't like using my phone as a screen because it quickly runs my battery down. You also have to figure out a way to mount it to the fishing rod (which there are specials mounts you can buy) or keeping taking it out of your pocket.
You also won't get as far of range with the Garmin STRIKER Cast compared to the Deeper models (which we will discuss below). However, I think Garmin is more reasonable with their range estimates.
It's ideal for the small boat angler because it doesn't take up much space and you don't have to lug around a 12v battery to use it.
I recommend buying the Garmin STRIKER Cast if you're looking to save space, have a smartphone, and need to create your own maps using one of the most trusted fishing electronic companies out there.
Read our full review here: Garmin Striker Cast review.
Deeper Smart Sonar CHIRP 2
BEST WIRELESS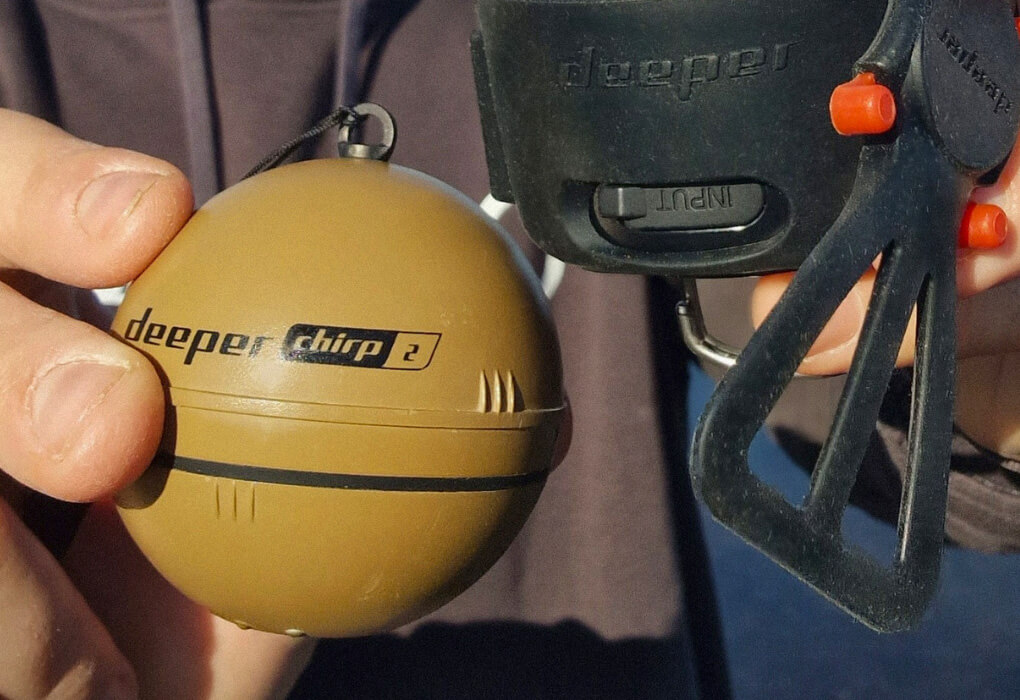 Specs
Type: Castable CHIRP
Brand: Deeper
Display: Smartphone
GPS?: Yes
Why We Chose It
The Deeper Smart Sonar CHIRP 2 is the best wireless fish finder because it has a ridiculously long range, can be fully charged in 120 minutes, it's accurate, and it has GPS & mapping, making it an excellent addition to any small boat anglers arsenal.
You'll be hard-pressed to find a wireless fish finder with more range and capabilities, like GPS & mapping, than this one. It has almost double the range of the Garmin STRIKER Cast.
It's just as important in a small boat as it is in a big boat to have a unit that will provide accurate results. The three-frequency CHIRP sonar and 0.4" target separation means this unit is incredibly accurate.
You'll easily be able to distinguish between a brush pile and fish.
Deeper Sonar has been around since 2012, so they have enough experience in the industry to make a fish finder that holds up to the abuses of anglers. I wouldn't hesitate to toss this one in the tackle bag.
However, this fish finder has a few drawbacks.
Honestly, I was on the fence on whether or not having to use your phone for the screen is a con, because it gives you more room in the boat and you're already likely to have a phone on you.
BUT it is a small screen and more difficult to see than other depth finders like the Lowrance Hook Reveal with the SolarMAX screen.
The Deeper CHIRP 2 fish finder claims to have a range of 394 feet, but based on my testing, it's more like 350 feet because the conditions are rarely perfect.
So you'll have to stay within 350ft of the transducer to see it on your smartphone.
I'm also not a fan of the lack of upgrades, there are no options to get fancy sonar, like sidescan or live sonar. While the price is high for castable fish finders, it's still much cheaper than other units because you're only buying a transducer, instead of a screen and transducer.
That said, these factors do not mean that this is an awful fish finder.
The Deeper Smart Sonar CHIRP 2 is great for small boat anglers because of the GPS & mapping, three frequency chirp, its portability, and mind-blowing 0.4" target separation.
If you own a smartphone, and let's be honest, who doesn't nowadays, and you want a compact fish finder built to last grab a Deeper CHIRP 2.
Venterior Portable Fish Finder
BEST HANDHELD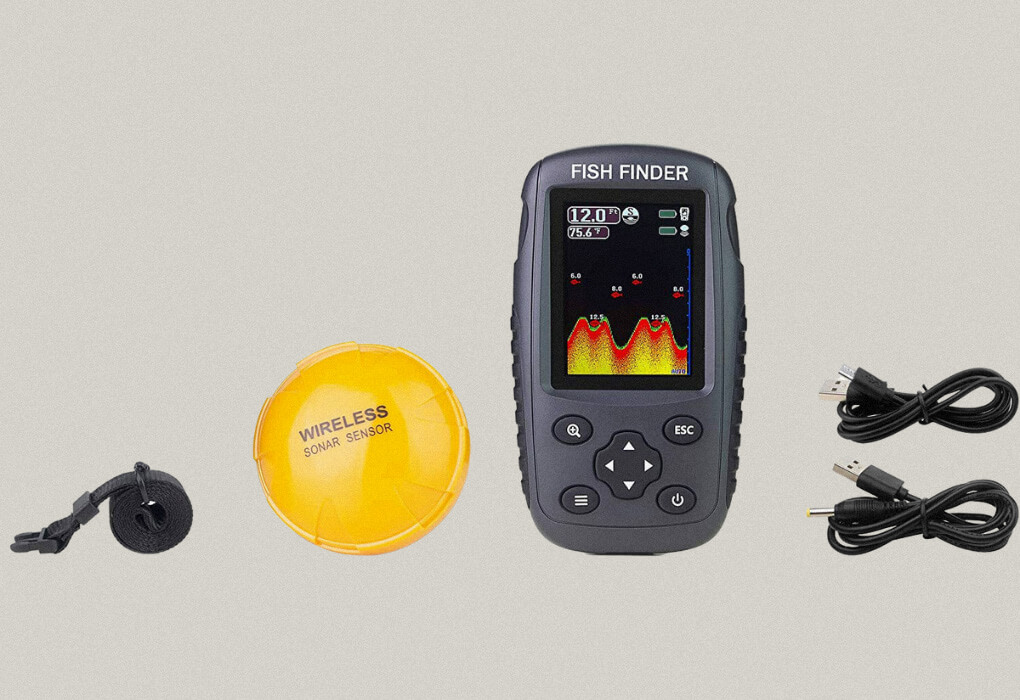 Specs
Type: Single beam
Brand: Venterior
Display: 2.6"
GPS?: No
Why We Chose It
The Venterior fish finder is a good handheld fish finder for anglers who need a highly portable fish finder on a tight budget.
No need for a smartphone or anything to use this unit. Everything is wireless, handheld, and stupidly portable.
This also mean you don't have to drill holes in your boat to mount a transducer or the screen.
I appreciate the easy to operate interface, so even if you've never used a sonar unit before, you'll be able to quickly pick up using this unit.
You won't have to learn multiple screens or different types of sonar, but that also means you'll be limited to one type of sonar.
The main drawbacks are that it's a budget unit and not very durable. To keep it so cheap it lacks many of the features anglers love to use, like GPS.
Another downside is the durability. There are several warnings that tell you to avoid hitting the transducer on rocks and other hard surfaces.
While it lacks most of the features I love to use, the Venterior Portable fish finder is great if you're not into all the new-fangled technology and you just need something to tell you the depth and help you locate some structure near your boat.
Overall, it's an inexpensive unit that will help improve your fishing, but only slightly.
How to Choose the Best Fish Finder for a Small Boat
Knowing what these fish finders are is one thing but knowing how to pick a fish finder out of the crowd is another. There are a few different factors to consider as you do this.
Here are some of the most important things to keep in mind while you look for the best fishfinder for a small boat.
Screen/Display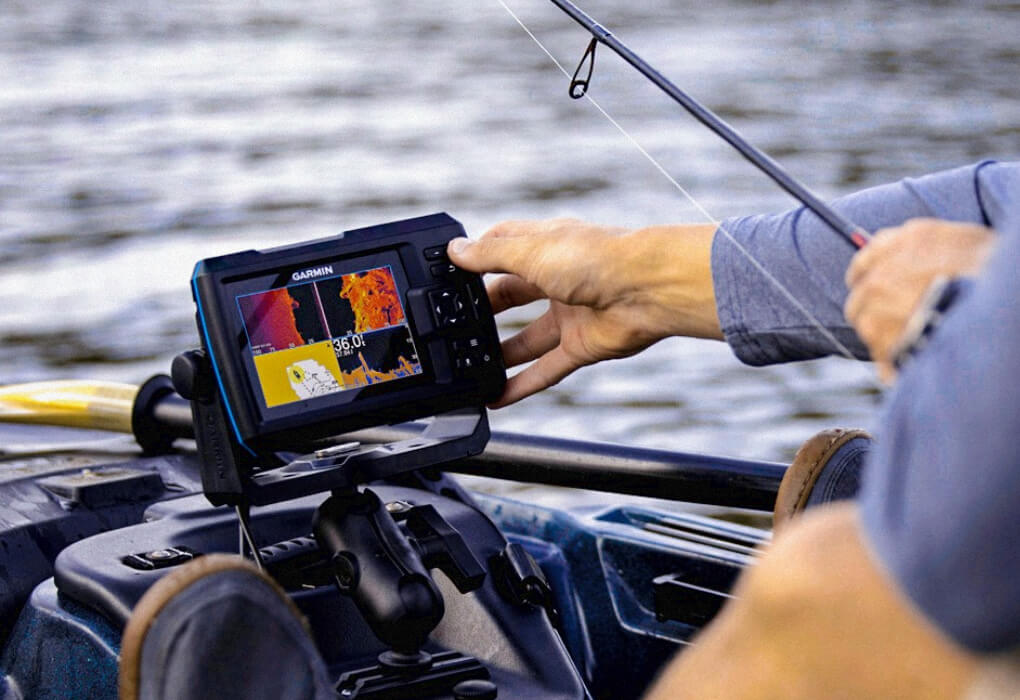 When you're dealing with a smaller fish finder, you'll likely have to sacrifice a few things. The first area where most people sacrifice is their screen size, resolution, and pixels.
This doesn't always have to be the case. All the fish finders above with standard screen displays offer great picture quality and imaging.
Technology has come a long way and we can now look at a 2.5-inch screen (like our smartphones) that has the same picture quality as a 70-inch TV screen.
Just keep in mind that you can still find affordable fish finders with great picture quality, even in lower price ranges, the Lowrance Hook Reveal is a prime example of this.
Also, remember that the quality of your images will help your fishing as well. If you're looking at a tiny screen and you can barely even make out what you're seeing, you're likely to get frustrated and discouraged from fishing.
Try to find a fish finder with a backlight so it can adjust based on the amount of sunlight.
Another factor is the number of features and functions on the display. Some fish finders will show things like water depth, temperature, time, travel distance, GPS coordinates, mapping, and more.
I recommend trying out a touchscreen fish finder versus a keypad one. A touchscreen might sound better but they can be clunky sometimes.
Or you can always compromise and get a unit that has both, like the Garmin ECHOMAP UHD.
Just keep all of these aspects in mind as you choose because you want to make sure you're getting a good deal. All of the fish finders above contain at least the bare minimum features when it comes to the display.
Frequency
The frequency of your fish finder has to do with the transducer and sonar.
For example, when you see that a fish finder has a frequency of 200 kHz, that's the fish finder's ability to push through obstructions and resistance and send sonar waves into the water.
Many people think that having the highest frequency means you'll get the highest range and most accuracy. That's completely false.
High frequencies are more accurate in shallow water because they provide a more precise signal. You'll get a clearer image but as you start to go deeper in the water, the image will become less reliable.
If you're using something with a low frequency (less than 200khz), you'll have more range but decreased accuracy.
The best choice you can make is to choose a fish finder with dual frequency because you can choose what frequency you want to use based on where you're fishing.
Transducer/Sonar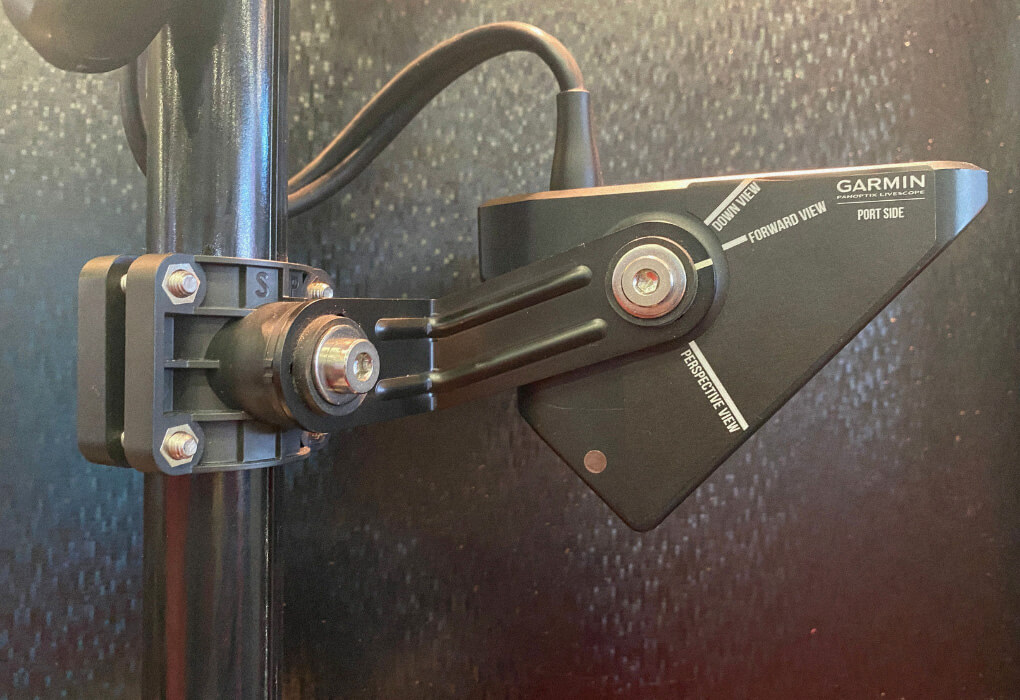 I talk a lot in these fish finder reviews about transducers, sonar, and imaging so it's easy to get confused about what these are and how they impact your fishing.
The transducer is the part of the unit that goes in the water (or near it) that sends sonar waves into the lake. There are a few different types of these and each of them has its own set of pros and cons.
For example, if you see something that says transom mount transducer; it means that you mount it on the outside of the back of the boat near the trolling motor.
If it says internal transducer, it means that you can mount it inside the boat. Some transducers have cords that hook up to the receiver and you drop them in the water.
They come with a floatation device so they float around the water and you hold the unit in your hand. Some fish finders are castable and they go on your line like a bobber.
These are great for research but challenging if you don't have another person fishing with you.
As we talk about transducers, we also have to discuss the different types of sonar. You'll hear things like sidescan, downscan, clearvü, live, flasher, and CHIRP.
All of these words are types of sonar and they refer to the method the transducer uses to send sonar waves into the water.
Sidescan and downscan are the way the sonar waves penetrate the water. Sidescan fish finders send waves horizontally at an angle away from the boat.
Downscan sends a cone down into the water vertically. Some are combo deals and they do both while many just have downscan.
Mounting
When you're looking for the best fish finder for a jon boat or other small boat, you'll need something that's easy to mount. Most will mount around the base and they provide screw holes and hardware to make this possible.
Your best bet with small boats is to have a portable mount or something that you can install and remove, at least that's what I prefer.
Keep in mind that many fish finders require a power 12v source so you'll need to have that if you're fishing from a small boat.
The rechargeable portable fish finders, like the Garmin STRIKER Cast and Deeper CHIRP 2 are always good for small boats as well.
Size and Portability
One of the most important things for anglers is portability. Whether you're fishing freshwater, saltwater, ice fishing, or kayak fishing, you need a fish finder that is small enough so it doesn't get in the way.
Thankfully, all of the options recommended in this article are small and portable enough to work with all smaller boats.
As you consider portability, you also want to factor in power. The power source of your fish finder will impact how portable it is. If it requires a 12V power source that really limits what you can do and where you can go.
But, if it uses batteries like some of the portable options above then you don't have to worry about it as much.
Water Resistance and Durability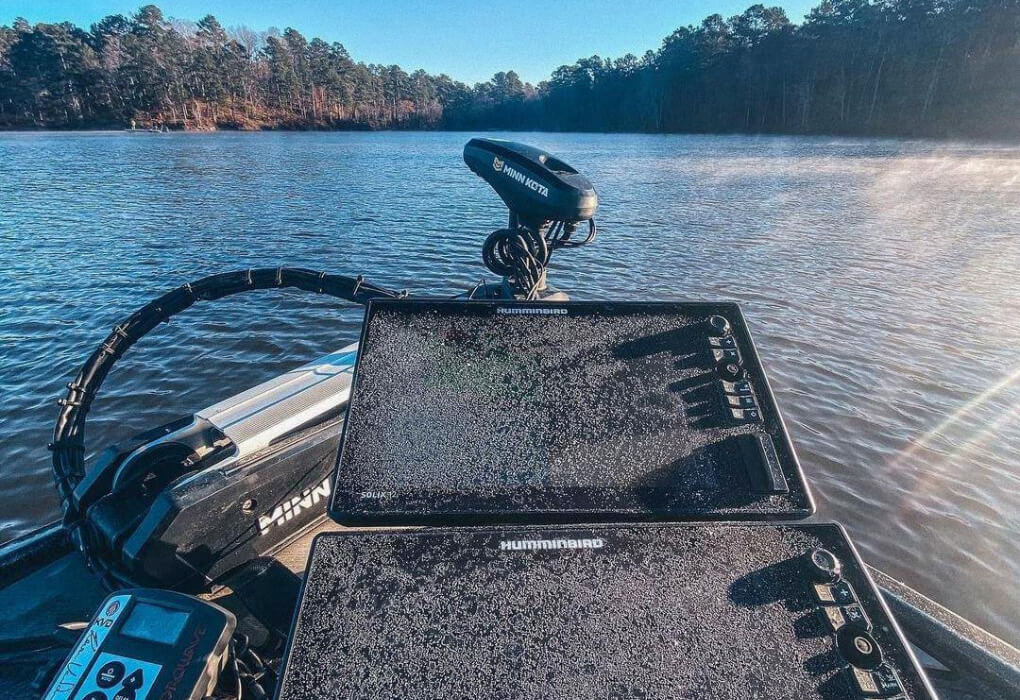 The last thing you want to do is spend a bunch of money on a premium fish finder only to have it get damaged on one of your fishing trips.
Most depth finders are water resistant but there's a big difference between resistant and proof.
Only some of the best fish finders are waterproof and they're very expensive. That means it's your responsibility to protect the device by ensuring it doesn't get too wet.
If you're looking for a kayak fish finder, water protection is likely important. Some companies sell covers for your fish finder and there are a variety of other products you can buy to protect them as well.
As for durability, you shouldn't have to worry too much about the fish finder getting banged around. Most of them use a hard plastic cover but just be careful with the screen and how much direct sunlight it gets.
Frequently Asked Questions
Is GPS and navigation necessary on fish finders?
No, GPS and navigation is not necessary on fish finders. It's only necessary if you're going to use it as a chartplotter!
The best GPS fish finder combos come with chartplotter technology that allows you to build your own maps and keep track of your favorite fishing spots.
Look for the Garmin EchoMap and other similar units.
What are the best fish finder brands?
The best fish finder brands are Garmin, Lowrance, Humminbird, Raymarine, and Deeper. 
Brand is an important buying factor for me when I spend a lot of money.
By sticking with highly recommended brands you guarantee yourself improved customer service and a better overall experience.
Last Cast
Choosing the best fish finder for a small boat isn't complicated but you need to keep a few things in mind. Size, portability, display, and value are important.
When dealing with limited space you can't have a fish finder that gets in the way and becomes a hazard.
But, you're also spending a decent chunk of change so you need to make sure you're getting enough bang for your buck.
All the fish finders in this buying guide are perfect choices for various situations in your small boat but the Garmin ECHOMAP UHD is my top pick because it's reasonably priced and you can easily upgrade it.
If you have any questions about the fish finders above, or think I missed something, be sure to let me know in the comment section.