---
We independently research, test, and recommend the best products; you can learn more about our review process here.
I've used many different paddles for kayak fishing, from budget-friendly paddles to the more expensive kayaking paddles.
One thing I've learned is using the right paddle can make or break your kayak fishing experience.
I rated the Bending Branches Angler Pro Versa-Lok Carbon as the best overall because it's made from durable lightweight materials, has multiple length options, and it's designed for kayak anglers.
There are several other paddles on our best fishing kayak paddle list, so if this isn't what you're looking for, keep scrolling to find one that's your perfect match!
Top 3 Picks for Fishing Kayak Paddles
After testing many different kayak fishing paddles on the market, here are my top three picks: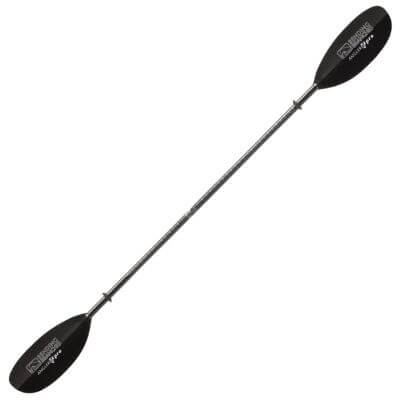 Bending Branches Angler Pro Versa-Lok Carbon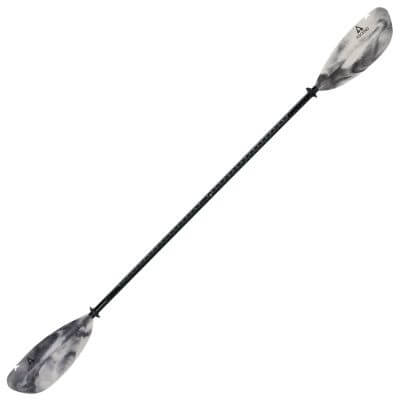 Ascend Tournament Kayak Paddle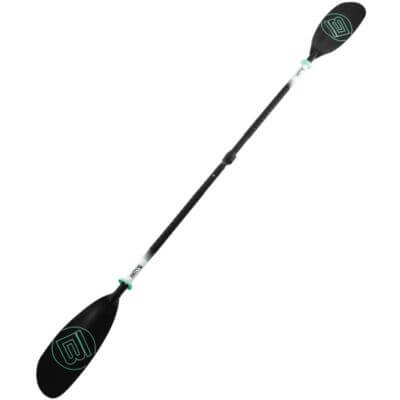 BOTE 5-Piece Adjustable Kayak Paddle
---
Testing Procedures
As a fellow kayak fishing fanatic, I look for several key features when I'm buying a new paddle. It must be lightweight but constructed from quality materials, fit me well, and help me catch more fishing.
Construction: I'd like my paddle to last as long as possible, so I opt for high-quality materials. The best paddles are made from carbon fiber, but fiberglass is another good material.

I tend to shy away from aluminum and plastic paddles as much as possible.
Adjustability: Using a paddle that's too small will ruin a great day, so I highly recommend buying a paddle that fits you and your kayak. This is most easily done by getting a paddle that adjusts length and blade angle-wise.
Fishing Features: Huh? Kayak paddles can have fishing features? Yes! While they might seem small, having a hook retrieval notch on the blade and a measuring tape on the shaft is super handy.
Price: Kayak fishing paddles can cost as much as some kayaks; if you don't have a high-end kayak, chances are you don't want to spend as much on a paddle as you did your kayak.

However, I recommend spending in the $150-$200 range on a paddle to get as many of the benefits as possible listed above.
BEST KAYAK PADDLE FOR FISHING OVERALL
Bending Branches Angler Pro Versa-Lok Carbon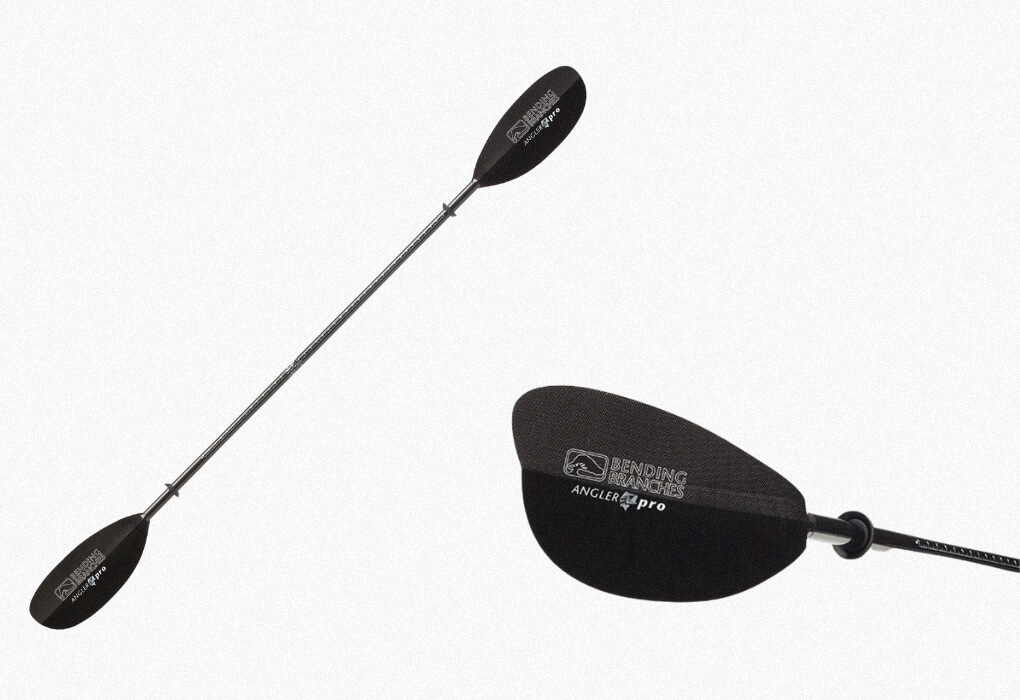 Specs
Lengths: 240cm-255cm, 250cm-265cm, and 260cm-275cm
Pieces: Two
Material: Carbon
Shaft: Straight
Why We Chose It
The Bending Branches Angler Pro Versa-Lok Carbon is the best fishing kayak paddle overall because it's incredibly lightweight, super comfortable, and designed to be used with fishing kayaks.
This paddle is basically the F1 Formula Car of kayak fishing paddles.
Bending Branches is known for its high-quality paddles. The Angler Pro Versa-Lok Carbon was designed and hand-crafted for kayak fishing, so it has several features that benefit kayak anglers.
I loved how lightweight the paddle was. I nearly forgot I was holding it since it weighed just under 2 pounds. So you won't have to worry about getting tired from holding the paddle.
The oversized blades make your paddling more efficient to counteract the extra weight of your fishing kayak, once again reducing your fatigue.
An overlooked feature is the ovalization of the shaft, which the Bending Branches Angler Ace also has at a lower price. This helps to reduce blisters from a long day of paddling.
Getting blisters on your hands will ruin a good day of kayak fishing every single time. I did not have any blisters after paddling and fishing for about 2 hours!
While the oval shaft might be overlooked, one thing that I couldn't overlook was the crazy amount of adjustability this paddle has.
You can extend the length of the paddle by 15cm and adjust the blade angle so your paddling is even more efficient.
I'm a short guy, but my kayak seat sits high. Despite my unique circumstance, I quickly had the paddle adjusted to my preferences and didn't think about it the rest of the time I was paddling with the Angler Pro Versa-Lok Carbon.
The biggest downsides to this paddle are that it's expensive and lacks a lure retriever notch.
Carbon paddles are known for being very expensive, and since this paddle is made by hand in Osceola, Wisconsin, that also ups the price.
I've used other paddles that don't have the lure notch, like the Wilderness Systems Apex Angler Carbon Paddle, and successfully gotten my lures back, so it's not a make-or-break thing, but the notch helps you guide the paddle blade along the line until you reach the lure, so for the price I would like to see that feature added.
Even though it's not perfect, the Bending Branches Angler Pro Versa-Lok Carbon is hands down the best fishing kayak paddle overall, thanks to its high-quality materials, comfortability, and thoughtful fishing design.
This paddle is for all the dedicated kayak anglers needing the best paddle, so if that's you, go ahead and order one; you'll be happy you did when you feel how light it is.
BEST FISHING KAYAK PADDLE FOR BEGINNERS
Ascend Tournament Kayak Paddle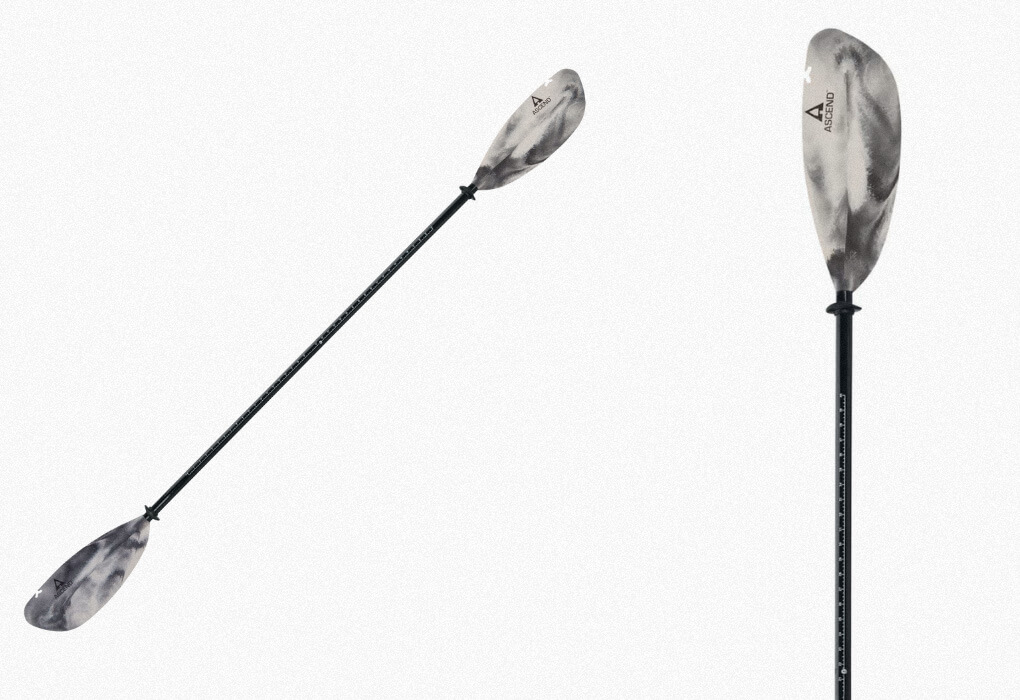 Specs
Lengths: 230cm, 240cm, and 250cm
Pieces: Two
Material: Fiberglass shaft and fiberglass-reinforced nylon blades
Shaft: Straight
Why We Chose It
The Ascend Tournament Kayak Paddle is the best kayak fishing paddle for beginners because it's so dang inexpensive.
Yet, it's 100X better than the aluminum shaft paddles that are typically in this price range because it's durable, has multiple length options, and has fishing-related features.
Ascend is Bass Pro Shops' affordable line of outdoor gear, and I have yet to have any problems with any of these items, including the Ascend Tournament Kayak Paddle.
I've decided that this paddle is unbeatable at this price after testing it for a couple of hours.
I had to use the 250cm length due to my kayak's seat height, but I was able to adjust the blade angle or feather angle to 15 degrees, which is where I'm most efficient when paddling.
I also liked the lure recovery hook on both blades. Most paddles, like the Bending Branches Angler Ace Carbon, only have the retrieval system on one blade, which costs $100 more than this paddle.
The measuring sticker on the shaft is a nice touch as well, so you can quickly see how your fish stacks up against your friends' fish, but don't trust it to measure your fish against the legal length limit because they're not always super accurate.
While it's not made of carbon, it's still constructed of fiberglass, which is the next best material in my opinion, because it's still lighter than aluminum and more durable.
I have yet to break a fiberglass paddle, but I've broken multiple aluminum and plastic paddles.
As great as this paddle is for beginners, there are a couple of things I didn't like about it when testing it. The first was the set length.
After being spoiled by more expensive paddles, I think it's really nice to adjust the length to perfectly fit my needs.
The other downside was that this paddle is well over 2 pounds, which doesn't sound like much, but if you plan on paddling all day, you'll get more of a workout than you bargained for.
It's nearly double the weight of the Angler Pro Versa-Lok Carbon.
Even though it has a couple of cons, the Ascend Tournament Kayak Paddle is the best fishing kayak paddle for beginners because it's reasonably priced, made from solid materials, and has a unique fishing feature.
If you're a beginner kayak angler looking for a good paddle, grab one today, you won't regret it. My first paddle was the Werner Skagit Hooked 2, which is $100 more expensive yet is also made from fiberglass.
BEST BUDGET-FRIENDLY KAYAK PADDLE FOR FISHING
Bending Branches Whisper Paddle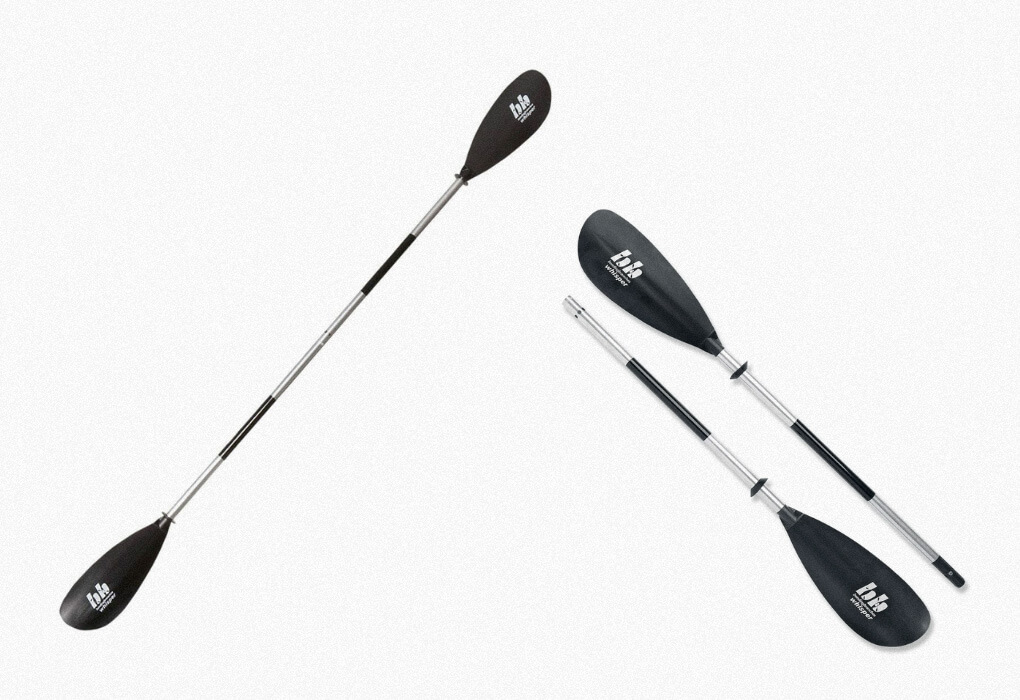 Specs
Lengths: 220cm, 230cm, and 240cm
Pieces: Two
Material: Aluminum shaft and fiberglass-reinforced polypropylene blades
Shaft: Straight
Why We Chose It
The Bending Branches Whisper Paddle is my choice for a budget-friendly kayak paddle for fishing because it's inexpensive yet still made from quality materials by a trustworthy company.
A pretty unique feature, especially for such a cheap paddle, is that the blade design disturbs the water as little as possible when entering and exiting.
This is perfect for fishing because the less you disturb the water, the less likely you will scare the fish and the more likely you will catch them.
I also liked the oval-shaped grip. It made holding the paddle more comfortable, and I didn't get any blisters.
However, the black 3M Versafit over the aluminum got a little hot on the summer day I was testing this paddle, but that was easily fixed by dunking the paddle in the water to cool it off.
This paddle is $100 cheaper than the YakGear Backwater Assassin Carbon-Fiber Hybrid Kayak Paddle, which is the next step up as far as fishing features and price range.
The inexpensive nature of this paddle explains why it has the cons that it does. The biggest drawback, in my opinion, is the design.
It's not made for kayak fishing, so it'll probably be too short for most fishing kayaks, even if you get the longest paddle at 240cm.
The recreational design also means there's no measuring tape or hook retriever notch; this shouldn't be a deal breaker since you won't get hung up as often as I do.
Lastly, I've mentioned that I'm not a fan of aluminum shaft paddles like some of the Pelican paddles I've used in the past, but you'll struggle to find anything else for less than $75.
Despite the Bending Branches Whisper Paddle not being explicitly designed as a kayak fishing paddle, it will get the job done because it's inexpensive and a great option for learning how to kayak fish or young paddlers that might lose an expensive paddle.
BEST FISHING KAYAK PADDLE FOR TRAVELING
BOTE 5-Piece Adjustable Kayak Paddle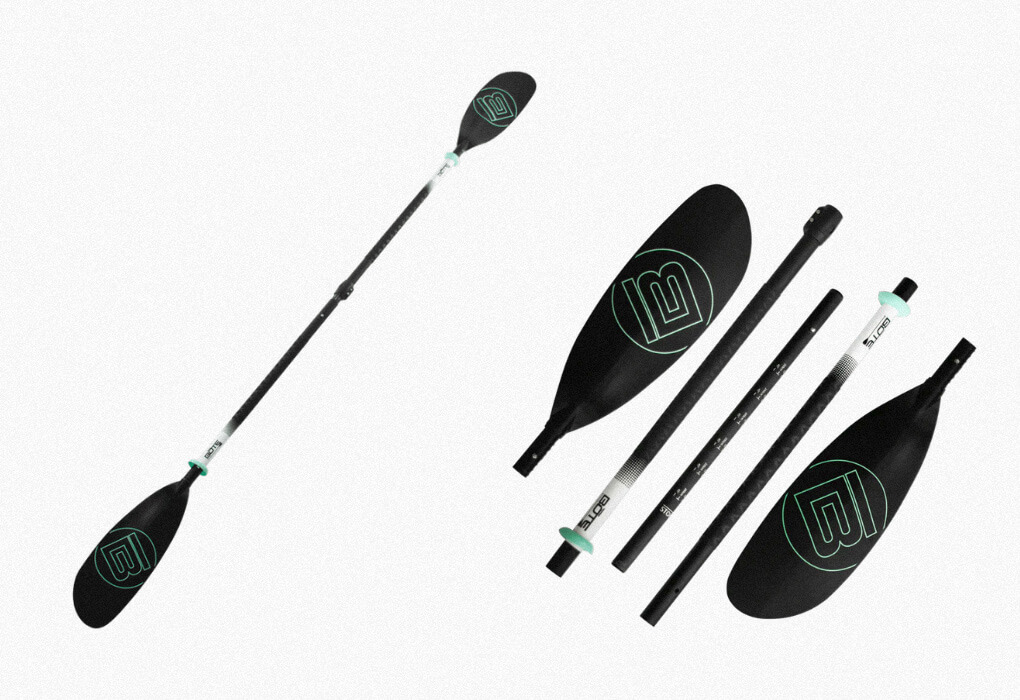 Specs
Lengths: 235cm–260cm
Pieces: Five
Material: Fiberglass
Shaft: Straight
Why We Chose It
The BOTE 5-Piece Adjustable Kayak Paddle is best for kayak anglers who love to travel because it's compact, very adjustable, and made from quality materials.
Whether you're floating in one of BOTE's inflatable kayaks or a traditional Old Town fishing kayak, this paddle is sure to fit all your needs.
I love how easily this paddle broke down without compromising on build quality. The fiberglass held strong as I paddled against the wind, and when I was ready to head home, I had it quickly taken apart and ready for transport.
The wide range of adjustability means you'll be able to use it in pretty much any kayak you paddle, so if you're not a fan of buying multiple paddles, and who is, this one should do the trick.
I've mentioned that I'd prefer a carbon fiber shaft and blades, but fiberglass is my next choice.
Unless you wanna pay more than twice the price for the Aqua-Bound Whiskey Fiberglass 4-Piece Posi-Lok Paddle, I'd say you'll hardly notice the weight and durability difference but your bank account sure will!
The primary downside to this kayak paddle is that it's a recreational paddle not designed for fishing. So you won't have a hook retrieval system or a measuring tape. However, it will be plenty long for most fishing kayaks.
Considering the one small con, if you're a traveling kayak angler that needs to save as much space as possible, the BOTE 5-Piece Adjustable Kayak Paddle is the paddle you've been needing your entire life because it's compact, adjustable, and constructed on high-quality materials.
Go ahead and grab one today.
HONORABLE MENTION
YakGear Backwater Assassin Carbon-Fiber Hybrid Kayak Paddle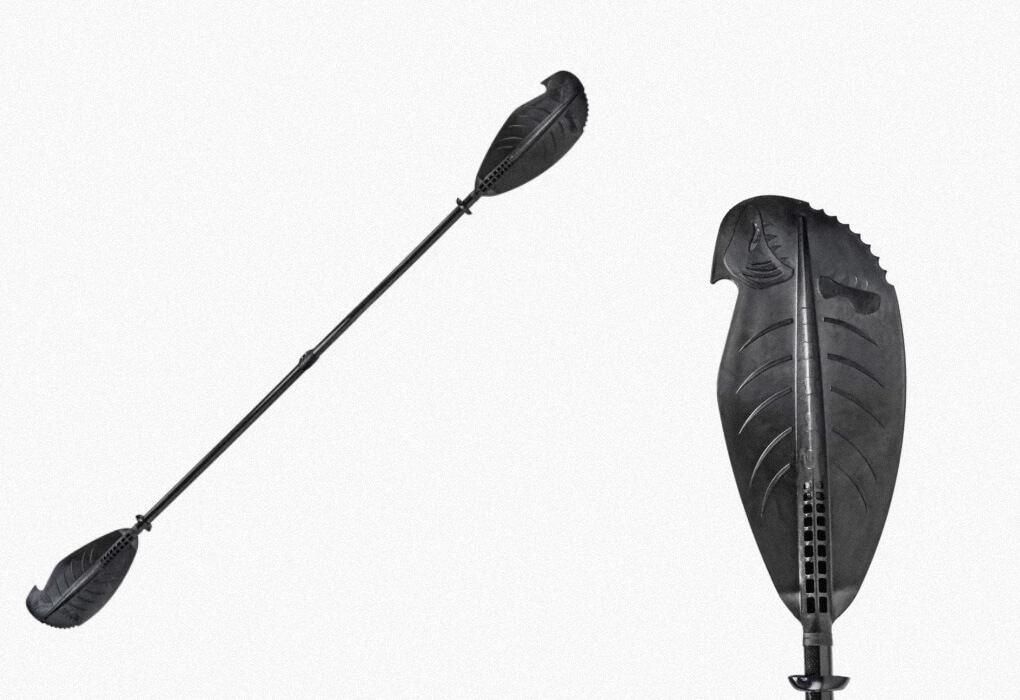 Specs
Lengths: 230-240cm and 250-260cm
Pieces: Two
Material: Carbon fiber hybrid shaft and ABS-injected nylon blades
Shaft: Straight
Why We Chose It
The YakGear Backwater Assassin was designed with kayak anglers in mind with a hook and serrated toothed edge from its predecessor, the Backwater Assault Hand Paddle.
It is great for paddling short or long distances, but the unique blade features also help you cautiously maneuver along the bank while you fish.
The hook and serrated teeth of Backwater paddles help you grab and push off docks, rocks, and brush much easier than a traditional paddle. The hook can also help retrieve a lure stuck in a tree, speaking from experience…
Despite a portion of each blade being cut out for the hook, you don't lose much surface area, so you still have plenty of power for paddling long distances.
I liked that this paddle was easy to adjust the length of on the fly. So if you feel like it's too short, you can extend it to the size you need; just be sure to purchase the best paddle length range for you and your kayak.
Whether you're sitting close to or high off the water, this paddle will adjust to fit an angle paddling.
Honestly, I struggled to find much wrong with this paddle, but it did get really hot when I set it down and fished for a while, which the others did as well, so it's hard for me to hold that against it.
Unless you're a kayak angler that requires a 270cm kayak paddle, the YakGear Backwater Assassin Kayak Paddle is the most versatile kayak fishing paddle on the market and one of the best kayak paddles for fishing.
The next time I'm considering buying a paddle, this will be one of my top picks.
Buyer's Guide: Factors to Consider Before Buying An Angler Kayak Paddle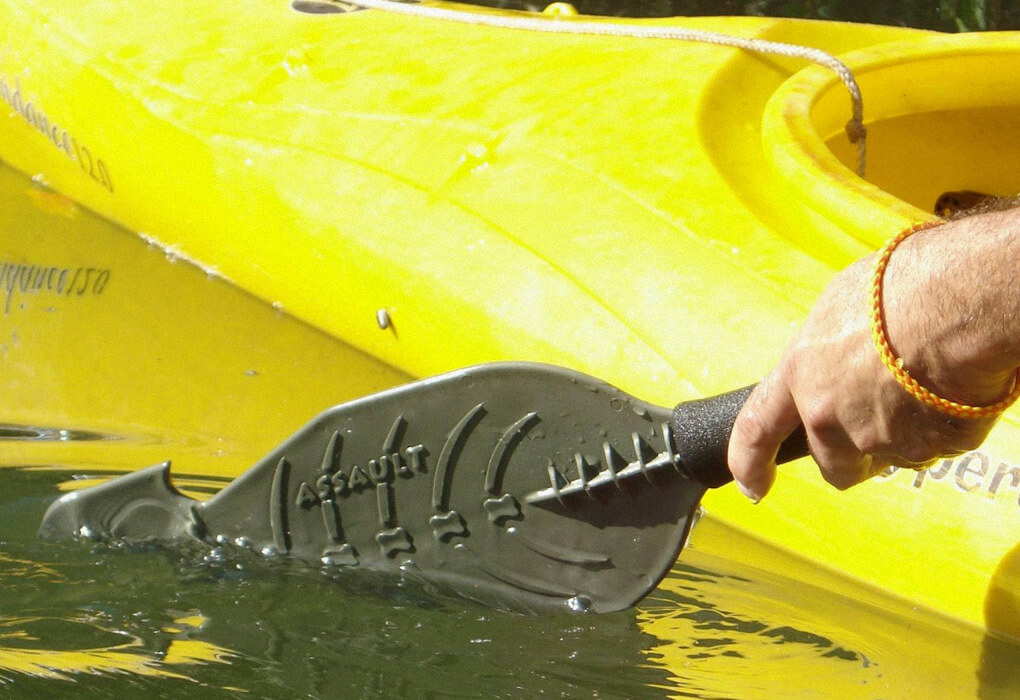 Buying a lightweight paddle that is comfortable to hold and efficient to paddle will give you the greatest success on the water. Buying one of the best kayak paddles for fishing will require you to keep several factors in mind:
Your height
Kayak seat height
Kayak width
Shaft type
Price
And material.
If you determine what factors matter most to you ahead of time, then the decision will be simple.
Your Height
A few things determine the length of the angler paddle you need, the first being your height. The paddle will need to be longer as your height increases. The paddle will be further away from the water in a seated position.
Having a paddle with the correct length will keep you from bending too far and help you get a powerful stroke to paddle more efficiently.
Seat Height
Just as your height matters, so does the seat height of your kayak. If you have a sit-in kayak, your paddle won't need to be as long as someone with a sit-on-top because they will naturally be further from the water.
Kayak Width
The last factor that directly influences paddle length is the width of your kayak. Wider kayaks require a longer paddle.
A fishing kayak is typically wider than a recreational kayak, so it often needs a longer-than-average paddle.
Shaft Type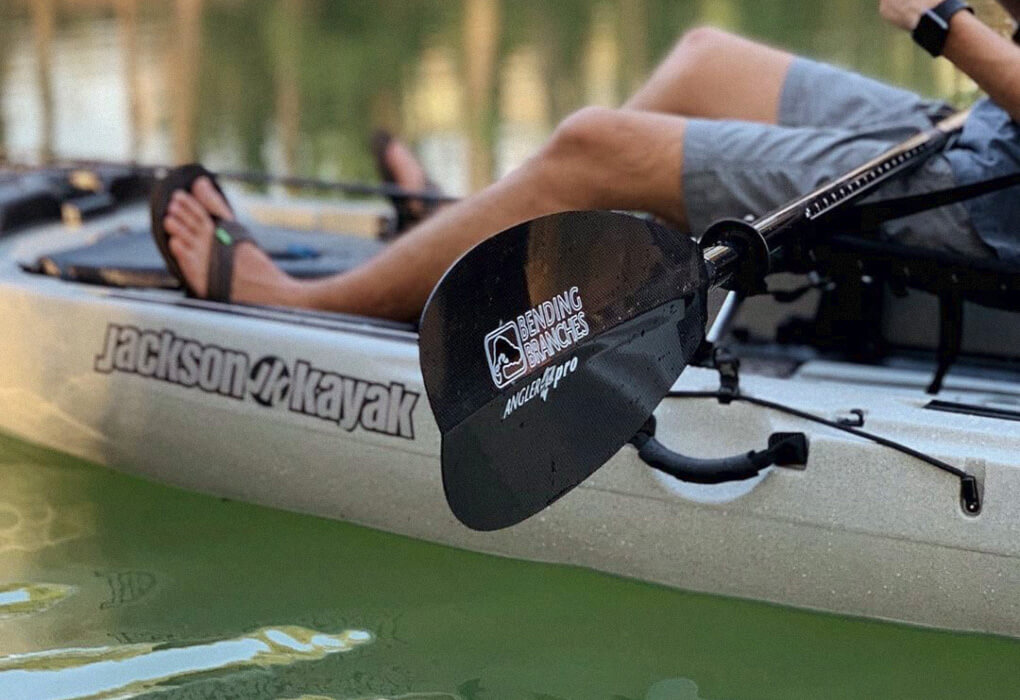 There are a few different shaft types. Straight vs. bent and adjustable vs. fixed are the ones we will focus on in this article.
A straight paddle shaft is the most commonly used and requires very little explanation. A bent shaft is often found on high-end paddles and allows paddlers a more comfortable hand position as they paddle.
A fixed shaft doesn't have an adjustable ferrule, so you're stuck with the length and angle of the blade, whereas an adjustable shaft can be customized to fit your paddling style.
Of course, adjustable shafts come on high-end paddles with a higher price tag.
Price
If you're on a tight budget, as most of us are, you will likely have to sacrifice some features to keep within your budget. However, most kayak angler paddles are reasonably priced and are within the same price range.
A good fishing paddle will cost you around $150+. The best paddles will cost $400 or more, but a cheap paddle is better than no paddle! I'd rather be kayak fishing with a cheap Amazon paddle than not kayak fishing.
Material
The price of a paddle is often determined by the material from which it's made. Paddles with plastic blades will be less expensive than fiberglass blades or a carbon blend blade material.
An all-carbon fiber paddle is more durable, lightweight, and more costly than a paddle with a fiberglass shaft.
Aluminum and wood are also used to construct paddles. However, they are the heaviest materials used to make a kayak fishing paddle and are relatively uncommon.
You'll Also Need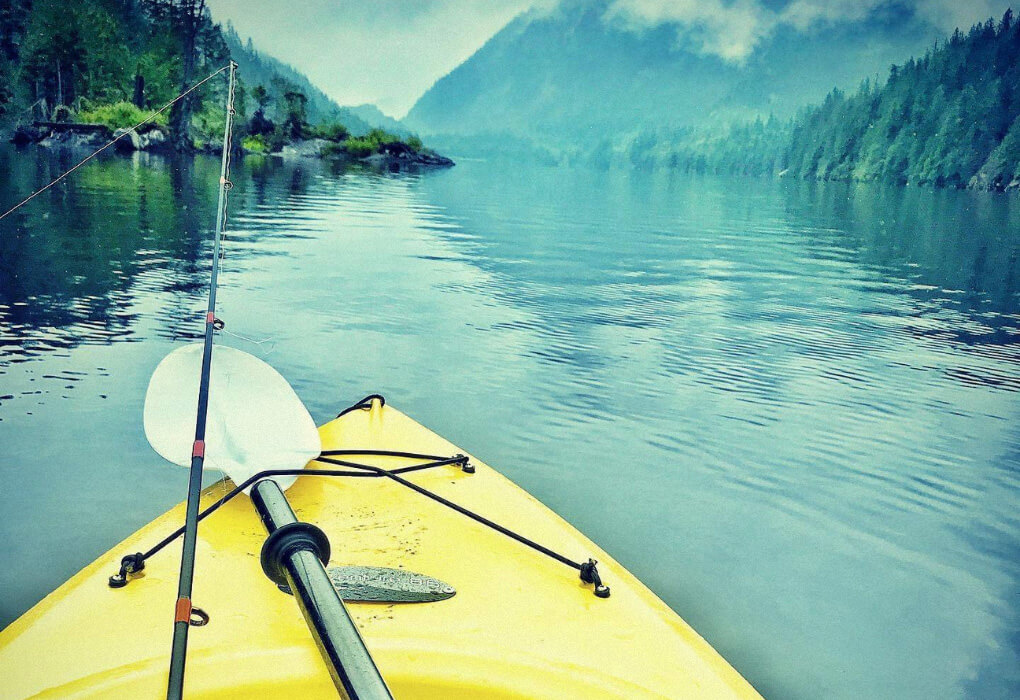 Now that you have your paddle ordered, you'll need a few other items to make your kayak fishing experience as enjoyable as possible.
A few of the following things are must-haves. You shouldn't leave the shore without them. Others are simply nice to have and make kayak fishing a little easier.
Fishing Kayak
If you're searching for a kayak fishing paddle, you've likely already purchased a fishing kayak.
If not, you should check out my best fishing kayaks under $1000 article to understand what qualities a good fishing kayak typically has.
We also have an article for the best fishing kayaks on the market worth looking into! Remember, a fishing kayak should be more stable than a recreational kayak, but any kayak can be used to fish.
Kayak Fishing PFD
The essential piece of kayak fishing equipment you can purchase is a lifejacket. I rated the NRS Chinook as the best kayak fishing PFD, but any life jacket is better than no life jacket.
You never know when an accident will happen; that's why it's best to keep your PFD on at all times.
Don't be one of the awful drowning statistics because you refuse to wear a lifevest. I know it's hot and awkward sometimes, but that's better than not coming home to your family.
Kayak Fishing Rod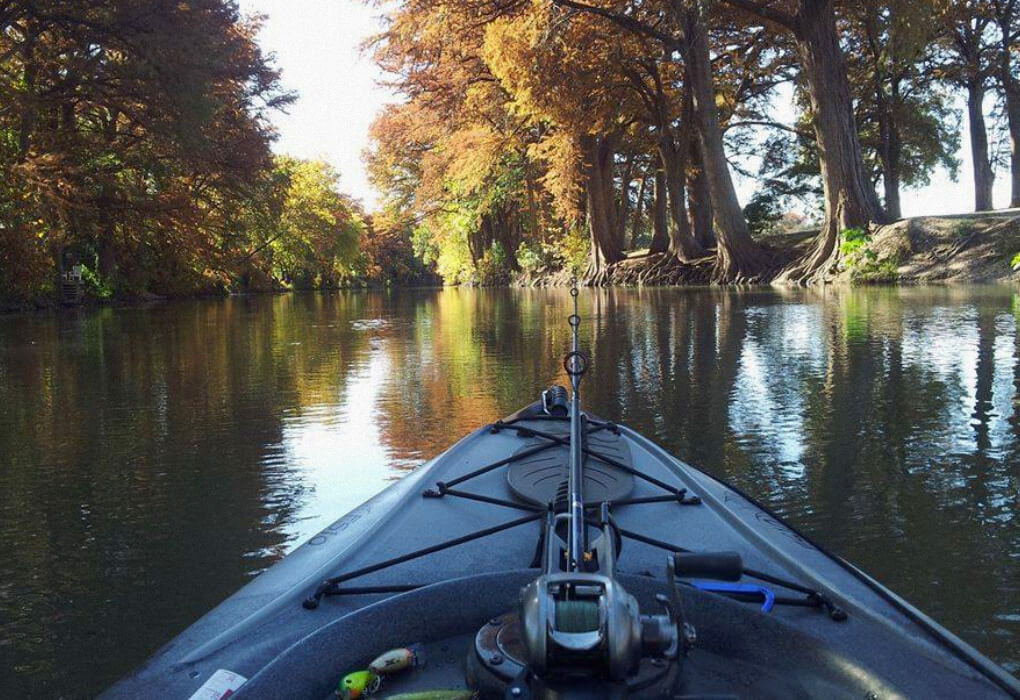 If you're going to fish, you'll need a fishing pole! Any pole will work, but some are designed for kayak fishing. The best kayak fishing rods have slightly shorter handles that are less prone to snag in the limited space of a kayak.
Kayak Fishing Tackle Box
A kayak tackle box is another tool you will need while fishing. They help you stay organized so you don't lose your favorite lure!
When buying a new kayak-specific tackle box, it needs to be compact but large enough to hold your tackle for a day.
Thinking about your kayak tackle management will help you purchase the best kayak tackle box for your situation.
For more tips, check out my beginners' kayak fishing tips, where I give away my best advice.
Kayak Fish Finder
A kayak fish finder will help you understand what lies below the waters' surface and other valuable information, but it won't guarantee that you catch more fish. The best kayak fish finder is a great bonus, but it's not a necessity.
I recommend learning to fish without one. That way, you know to think like a fish instead of depending on the electronics. Then you can learn to read your fish finder to catch more fish.
Kayak Trolling Motor
Once you've used your paddle on a windy day or tried paddling against a strong current, you'll understand the benefit that a kayak trolling motor brings to the table.
This is another tool you don't have to have, but it's nice to have in certain situations.
Some kayaks need a special bracket to mount the trolling motor to the kayak, while others are simple to install a trolling motor.
Kayak Trolling Motor Battery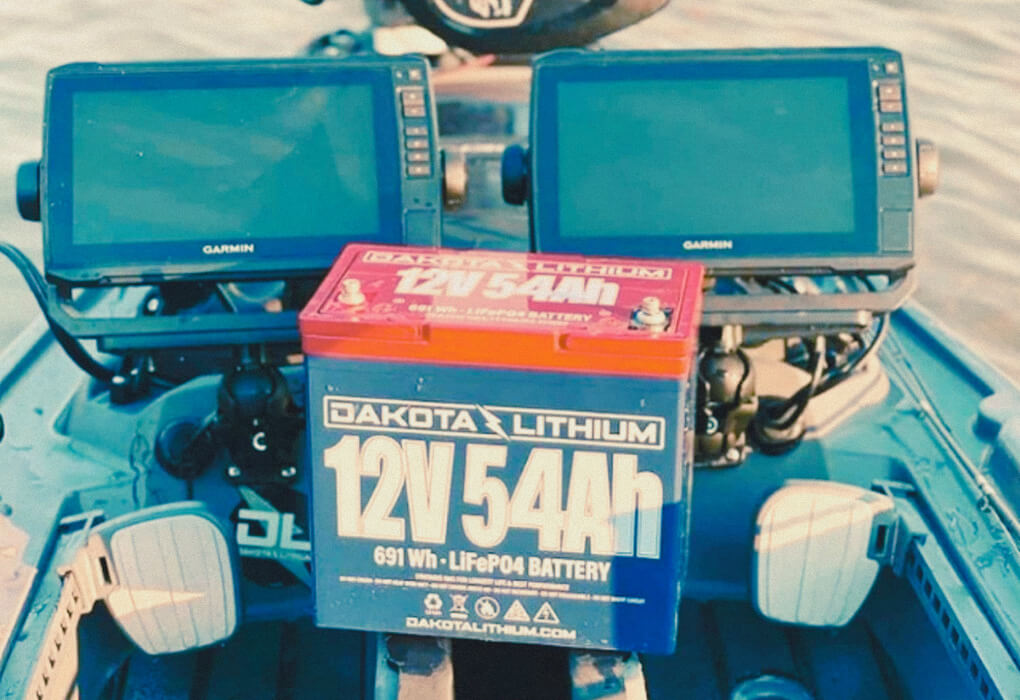 If you have a fish finder and a trolling motor, you need a power source. I have found the best kayak trolling motor battery is a Lithium-Ion battery.
Lithium-Ion batteries are more powerful and efficient and weigh less than Lead-Acid batteries. However, they are much more expensive.
Frequently Asked Questions
I've gathered and answered some of the most commonly asked questions about kayak fishing paddles we receive:
What kind of paddle for a fishing kayak?
The best kind of paddle for a fishing kayak is a long paddle with oversized blades to increase your paddling efficiency, that's lost to the increase in width and weight most fishing kayaks have.
Is aluminum or carbon fiber better for kayak paddles?
Carbon fiber is better for kayak paddles than aluminum.
However, aluminum paddles are much cheaper, so if you don't want to spend a bunch of money on a kayak paddle, aluminum is the way to go.
What is the best shape for a kayak paddle?
The best shape for a kayak paddle is oval. The blades should have an oval shape to them, and the shaft or handle should be oval for maximum comfort. 
What is the best paddle length for a fishing kayak?
The best paddle length for a fishing kayak depends on your height and the kayak's width and seat height. On average, a good length will be 250cm-265cm.
Are paddles for fishing kayaks different from paddles for regular kayaks?
Yes, paddles for fishing kayaks are different from paddles for regular kayaks.
They are generally longer, have a hook retrieval notch, a tape measure on the handle, or a mix of all three characteristics.
However, you can use a regular kayak paddle if that's all you have.
One More Cast
Not all paddles are created equal, as we have discovered.
The best paddle for your situation might not be the best paddle for my situation. However, I'm confident that the Bending Branches Angler Pro Versa-Lok Carbon is the best on the market today. I know you won't be disappointed when you buy one.
Remember, any paddle can be used to kayak fish, but the best fishing kayak paddle is designed for comfortable kayak fishing all day, every day.
If you have any comments or questions, I'd love to hear from you in the comment section below!