---
We independently research, test, and recommend the best products; you can learn more about our review process here.
I've never met anyone who enjoys wasting money, especially on a fish finder. While some fish finders are ridiculously priced, there are many that I would happily fork over a few hundred dollars to purchase.
Choosing the best fish finder for the money is about pairing price with features. You need to figure out where you draw the line in terms of what you need versus what you can go without.
Based on my research and personally testing these fish finders, I discovered you can get an incredible fish finder for an affordable price.
Let's get into it!
The 3 Best Fish Finders for the Money
Below are the top 3 fish finders for anglers on a tight budget. You won't be disappointed going with one of these.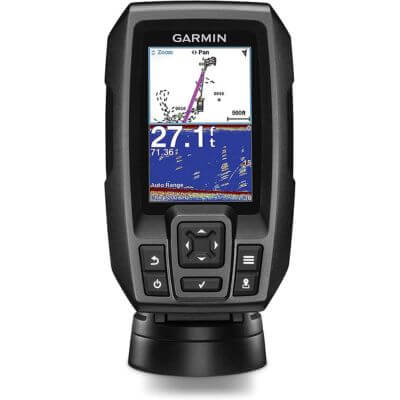 Garmin Striker 4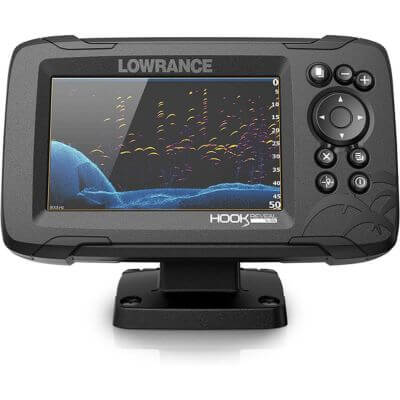 Lowrance Hook Reveal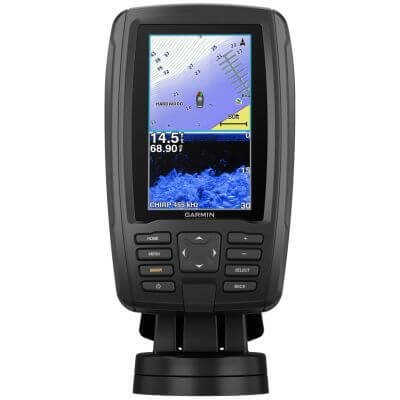 Garmin Echomap Plus
---
Testing Procedure
Below you'll find the factors I consider critical when testing the fish finders for this review.
Cost: I think factoring in how budget-friendly the fish finder is, is pretty obvious when we're talking about the best fish finder for the money.

However, I didn't choose the cheapest depth finder either since most (not all) fish finders under $100 will quickly break or give off inaccurate readings.
Functionality: I've found that if a fish finder is difficult to install, set up, or use, I'm much less likely to recommend or use it myself. We have advanced enough as a civilization that these fishing electronics don't have to be overly complicated.
Features: While my primary concern is price, I want to get the most bang for my buck. So if I can get double the features without paying double the price, I'm more likely to purchase the fish finder with more features.

I typically look for multiple types of sonar, CHIRP, downscan, and sidescan, and GPS/mapping.
Our Favorite Fish Finders For The Money
Garmin Striker 4
BEST OVERALL FOR THE MONEY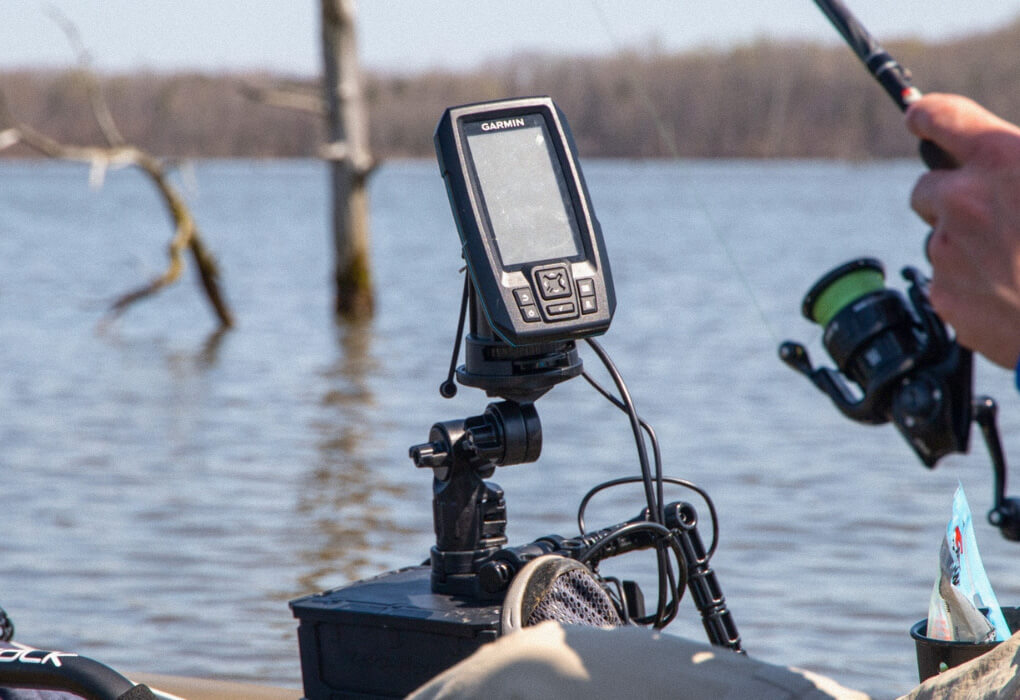 Specs
Brand: Garmin
Display: 4.3 inches
Type: ClearVü CHIRP
Why We Chose It
The Garmin Striker 4 is the best fish finder for the money because it's ridiculously affordable, accurate, and straightforward to use. It should be a mandated purchase for every fish finder newbie.
This was the first fish finder I bought while in college to install on my kayak, and I wouldn't hesitate to buy it again.
Even though I had never used a Garmin fish finder, I quickly figured out how to install and use the Striker 4 to get accurate depth and structure readings.
It's so simple to use; rumor has it Bigfoot installed one on his boat to find the Lochness Monster.
If you're willing to spend a bit more for a better sonar reading and a mapping feature, the Striker Plus 4 with Dual Beam sonar is a slight upgrade because it has the option to choose between a wide beam or narrow beam and the beloved QuickDraw feature.
After using the Striker 4 for years, I wish that it had additional upgrades I could add on, but it's understandable why it doesn't at this low price point.
The GPS is nice, but don't expect to have a map of your lake; it's a white screen where you can drop waypoints.
While this is not equivalent to the Echomap Ultra, and I would love to have the option to upgrade the unit instead of buying a new model, the Garmin Striker 4 is at an unbeatable price, considering you get GPS and accurate sonar readings.
It's perfect for beginner anglers and those on a small budget who still want a product that will show them where the depth changes and structure are located.
Read our full review here: Garmin Striker 4 review
Lowrance Hook Reveal
BEST SONAR TECHNOLOGY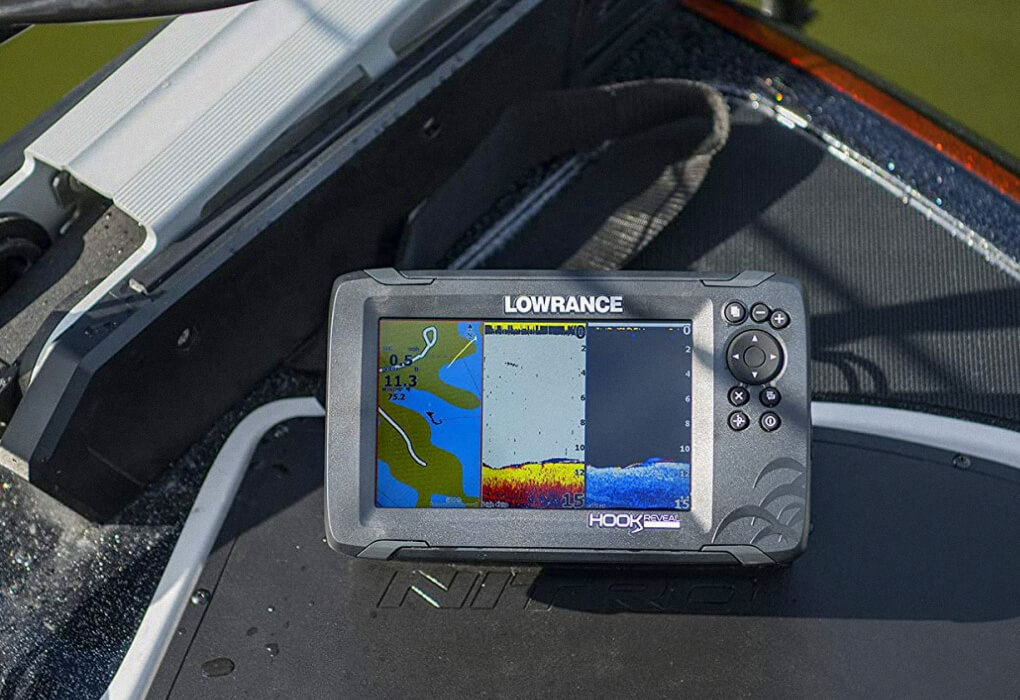 Specs
Brand: Lowrance
Display: 5-9 inches
Type: Tripleshot
Why We Chose It
The Lowrance Hook Reveal offers the best sonar at a price for anglers of all skill levels. I love that it's not overly confusing for beginners, and it has enough advanced features to keep most anglers catching fish for years.
The Tripleshot Transducer is what makes this unit so spectacular.
Instead of having multiple transducers for different types of sonar, the Tripleshot Transducer allows you to use downscan, sidescan, and traditional CHIRP sonar all at the same time.
This means you can see what's below your boat from multiple angles and develop the best approach to get bites where you're fishing.
The Genesis Live mapping is another feature that's hard to believe is this affordable we first saw while performing Lowrance Hook Reveal Review. While testing it, I was able to create accurate contour maps of the small lake I was fishing using Genesis Live.
I was honestly shocked I didn't have any trouble seeing the screen on a bright sunny day because of the SolarMax Display, even though this is a mid-range fish finder.
My biggest frustration comes from poor customer service. It seems like as companies get bigger, their customer service gets worse.
I've had excellent service in the past from Lowrance, but I've also been left desiring more at other times.
Because I doubt you'll need to contact customer service, I still think this unit is underpriced, considering you get some of the best sonar on the market and live mapping features.
If you're a weekend angler, you won't be disappointed when you buy the Lowrance Hook Reveal.
Read our full review here: Lowrance Hook Reveal review.
Garmin Echomap Plus
BEST GPS UNIT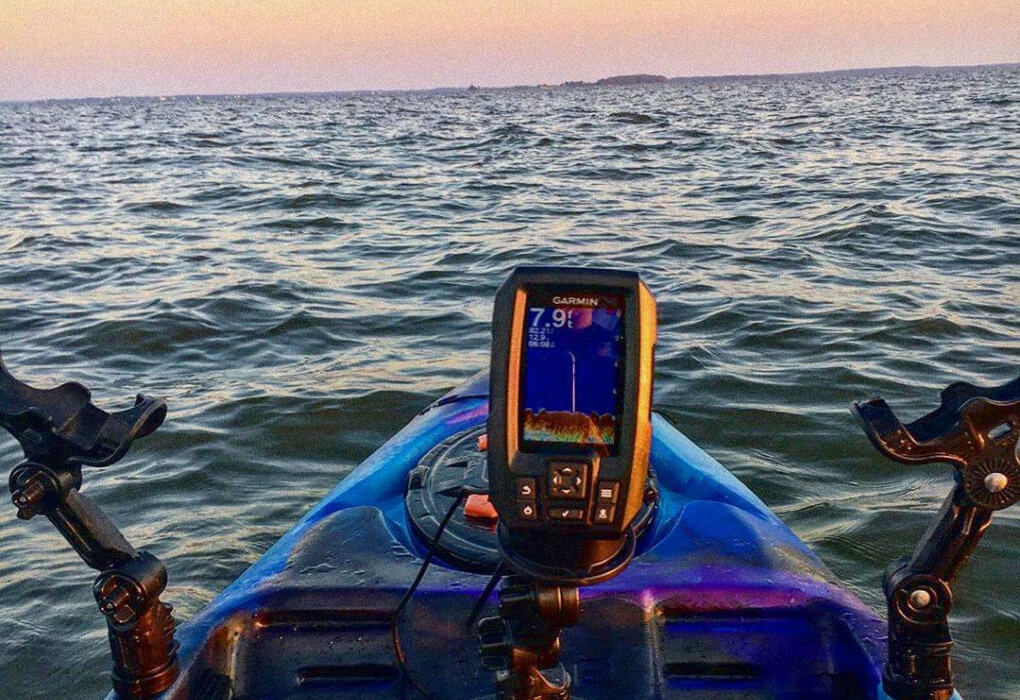 Specs
Brand: Garmin
Display: 4.3-inches
Type: ClearVU
Why We Chose It
The Garmin Echomap Plus is the perfect balance between price and high-end Chartplotter.
This is the unit for anglers that need quality mapping and GPS capabilities. Though it's a step up in price from the Garmin Striker 4, it also has more features that make it worth the extra cost.
The Echomap Plus has real maps, QuickDraw, ClearVu, and CHIRP sonar. What's so special, you ask?
Now to be fair, there is a limited number of preloaded maps for you to mark up based on places you have or want to fish, and you have to pick which ones you want when you purchase it, but they're much better than a blank white screen, like the Striker 4 offers.
ClearVu is a much better downscan sonar, so you can clearly see what's below your boat, whether it's a juicy brush pile or a wad of baitfish. CHIRP sonar is the sonar that shows arcs and distortions for fish and structure.
The biggest downside to this unit is the small screen at a higher price.
This unit looks eerily similar to the Striker 4, with a few additional buttons to take you to the home or menu screens, mark a waypoint, or zoom in and out, but the screen is not any bigger.
So even though you're getting more features, they'll be a little tough to see, especially if you're running it splitscreen.
You can always upgrade to the Echomap UHD if that's a problem but be prepared to fork out even more moolah.
Despite the small screen, if you need solid mapping and GPS capabilities without spending thousands of dollars, the Garmin Echomap Plus is the unit you should pick up.
You get Garmin's legendary mapping technology at a price that won't force you to take out a second mortgage on your house.
Garmin Striker Vivid sv
BEST SIDE IMAGING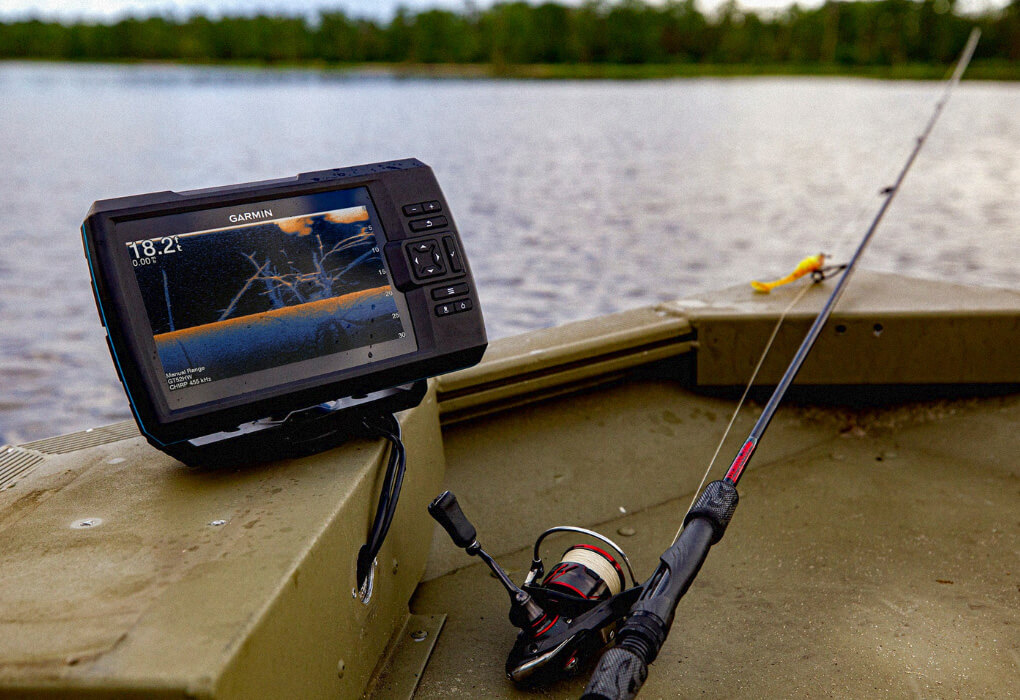 Specs
Brand: Garmin
Display: 7 or 9 inches
Type: SideVU
Why We Chose It
The Garmin Striker Vivid sv series offers the best sidescan technology at a middle-of-the-road price point. You won't have to beg your banker for any more money to purchase this unit.
I believe the Striker Vivid perfectly fills the void between a Striker 4 and an Echomap UHD. It's similar to the Lowrance Hook Reveal, except it doesn't come preloaded with maps.
If side-imaging is a must for your fishing and you don't need preloaded maps, you've found your match.
Just because it doesn't come with preloaded maps doesn't mean you're out of luck. I love this model because you can create your own maps, and you can use the ActiveCaptain App to supplement the lack of maps.
This unit looks very similar to an Echomap UHD, but it lacks the touchscreen and maps. However, it's nearly $300 less than the UHD, so it's very affordably priced.
The 7" or 9" screen is large enough to see even when you're using it in split screen mode between the mapping and three sonar options.
I regularly use Garmin SideVu when fishing, and I've never had problems with it. It's clear and easy to find structure with, so you can bet I'll continue to use Garmin side scanning while I'm on the water.
The biggest downside is the lack of an SD slot, so you can't add more memory to the unit to keep creating maps once you've reached capacity.
However, there's plenty of memory, and you can upload your maps to the Garmin community to save them so you never lose them.
All in all, the Garmin Striker Vivid is the best choice for sidescan technology at a price most anglers can afford. Be sure to grab yours today.
Read our full review here: Garmin Striker Vivid review.
Deeper Smart Sonar CHIRP 2
BEST CASTABLE UNIT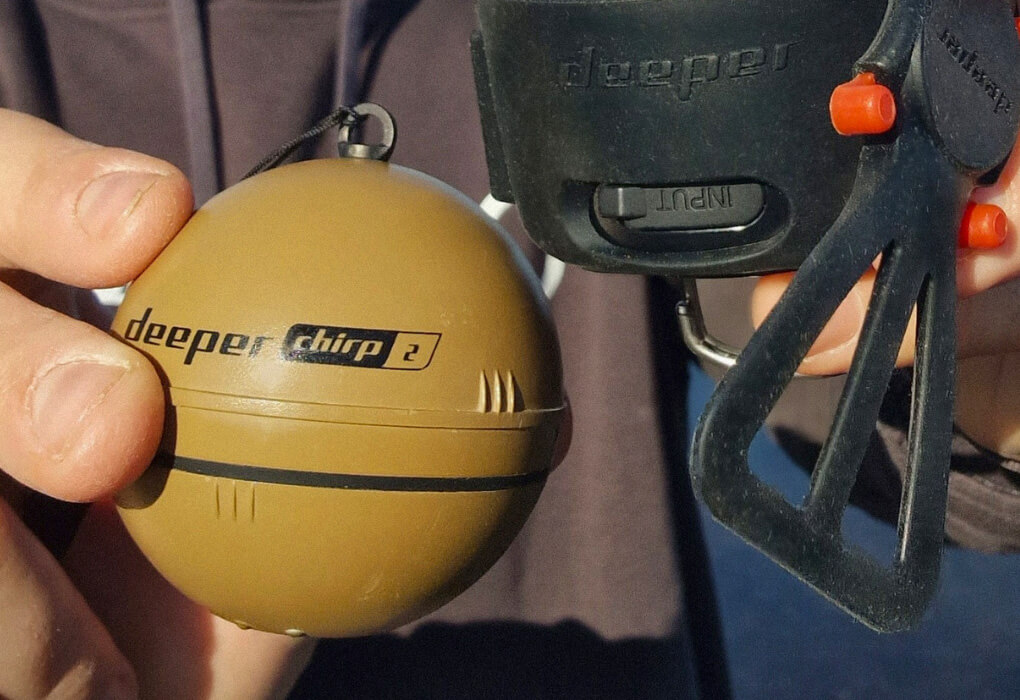 Specs
Brand: Deeper
Display: Smartphone
Type: Castable sonar
Why We Chose It
The Deeper Smart Sonar CHIRP 2 is the best fish finder for bank anglers. It doesn't require a big 12v battery or cost thousands of dollars, and it's simple to use.
This unit can be taken with you anywhere because of its small size and easy connectivity to your smartphone using WiFi.
I like the 394ft range it offers because that means I can cast it past where I think the fish are and slowly bring it back over them without spooking them with a giant splash above them.
The app is pretty user-friendly, even for beginners who know nothing about sonar.
The downside to this type of unit is that it won't perform as well in windy conditions because the unit bobs up and down in the waves and could cause it to disconnect, especially the further away it gets.
One would also think that since it doesn't have a screen, it would be the cheapest option on the list, but it's not.
In my testing, I found that the 394ft maximum range was a stretch, but I also didn't have perfect conditions to test it in, so on a regular day, I'd expect closer to 350ft, which is still really good for this type of unit.
The CHIRP 2 blows the Deeper Pro+ out of the water when comparing the range.
The lack of a screen makes it much more portable as long as you carry your smartphone with you, and let's be honest, we always have our phones on us.
Even though it has a couple of cons, the Deeper Smart Sonar CHIRP 2 is still the best option for bank anglers and if you're needing something very portable in your boat.
While it's not the cheapest unit, the quality, and user-friendliness speak for themselves in why you should pick one up.
How to Choose the Best Fish Finder for the Money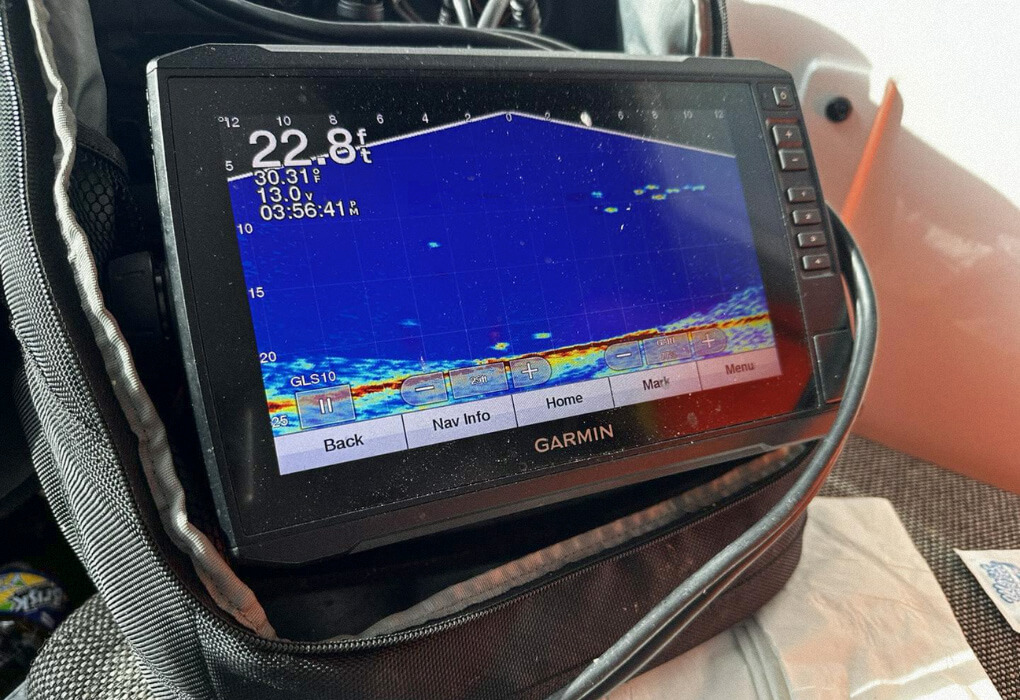 We've done a lot of fish finder reviews. I mean A LOT. I don't usually like to promote something specifically because of the price because it usually means you're sacrificing something in exchange.
After going through a lot of these products, I realize that's not the case.
These fish finders are still high-quality, and they offer everything you would need, but they just don't have as many bells and whistles. For most anglers, that's okay.
That said, you need to settle on one, and this section will help you determine the features you need and the ones you can live without.
Display
The display is one of the most important parts of your fish finder because you need to be able to read the information your unit is collecting for you; otherwise, what good is it?
Let's start with screen size. When you're choosing the best budget fish finder, you're likely picking one that doesn't come with an incredibly advanced touchscreen display, but that doesn't mean you won't be able to read it.
Most of the fish finders above offer something between two and four inches which isn't the best, but it's good enough, especially for smaller vessels.
Pixels are another important aspect of your display. The more pixels, the higher the resolution.
The high resolution won't always matter if you're using FishID technology because the images will get converted into fish icons anyway. Still, it helps with identifying structure and differentiating the two.
Choosing between color or grayscale display is the last factor you'll want to consider. Color is better because it's what you'll use to tell the size, and it's easier to see in high and low light.
Of course, the color will usually cost more, but I do believe that all the fish finders recommended above are color displays.
Transducer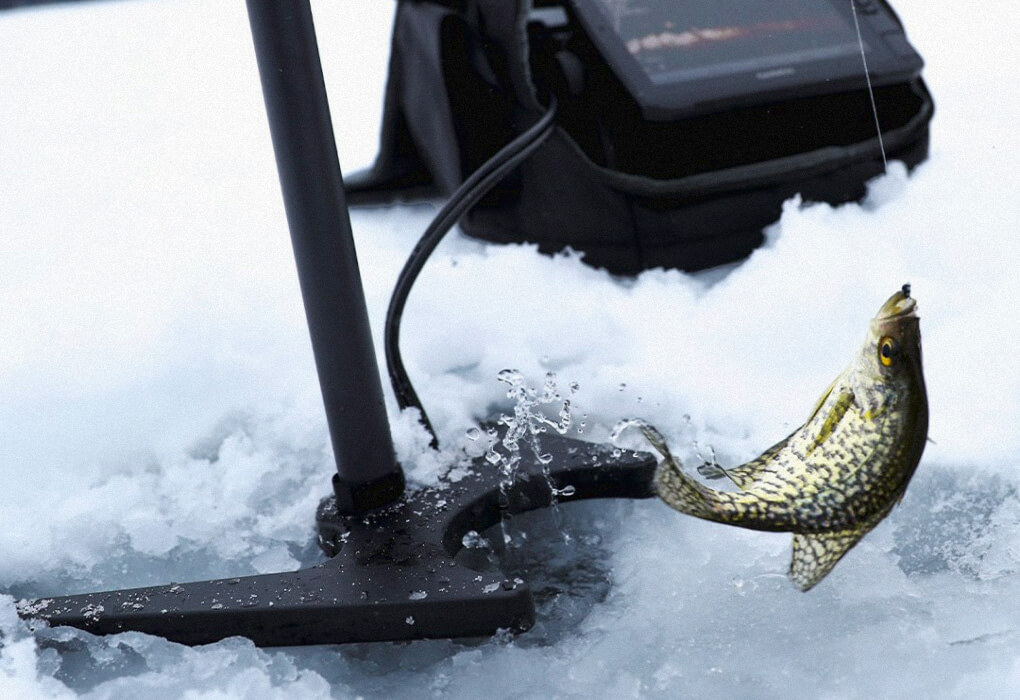 For me, the transducer and sonar type are the most important features.
This is the bread and butter of your fish finder. You can have the most beautiful unit on the planet, but that doesn't mean jack if you can't get an accurate reading.
The power of your transducer is measured in RMS, or root mean squared. It's essentially the same thing as watts. Most fish finders have a range between 200 and 500 watts which is more than enough.
The majority of budget fish finders that you see will be around 200 simply because they're not priced high enough for additional power.
Your fish finders frequency is the next thing we want to look at. The lower the frequency, the deeper the range you'll have.
I find that most budget fish finders are around 400kHz, which is geared towards shallow waters but should still grant a max depth of around 150ft, so it's good enough for most freshwater anglers.
Lastly, let's look at the type of sonar. You've got a million different options and variations based on brand and the specific unit, but the best of the best is CHIRP sonar.
CHIRP stands for compressed high-intensity radar pulse, and it's basically broadband sound waves that transmit a continuous flow of sonar into the water.
This is a solid type of sonar, so you'll usually only find it on major brands like Garmin, Humminbird, and Lowrance, but they've found ways to make it affordable for most budgets.
Viewing Angle
The viewing angle refers to how the sonar waves are transmitted into the water.
A low-frequency transducer will offer a wide-angle view which allows you to detect fish on the sides of the boat.
A high-frequency transducer will send powerful waves down into the water so you can see much deeper beneath the boat, but you won't be able to see anything in the surrounding water.
You always hear me talk about "dual beam" sonar. This is the best option and something you should strive to get because it's not that expensive.
These fish finders will offer both types of sonar, and you can toggle between them.
By doing this, you can choose between deep and narrow or wide and shallow based on the water you're fishing and what type of application you're using.
It's also important to pay attention to whether the fish finder is a downscan or sidescan unit.
Even the best cheap fish finders won't offer side-scanning, so you'll likely have to settle for downscan unless you're willing to pay up to $300 for your unit.
Mounting
Mounting is a crucial consideration based on your level of experience and handiness. Believe me; you don't want to make a mistake when mounting your fish finder transducer.
Please, trust me on that! (Flexseal doesn't work like the commercials say it does.)
Anyway, you've got a few different options here.
Thru-Hull mounts actually require you to mount everything internally with the transducer mounted externally. This requires you to drill through the boat, and it's a pretty involved process.
You'll find these mounts on professional bass boats where the units are built into the boat.
They offer the most accurate reading, but of course, they come at a premium price, and you won't find them on this list.
Transom-mount fish finders are more common and more affordable. You'll mount these to the rear of the boat by the trolling motor so the transducer hangs below the boat into the water.
These are sometimes considered the least accurate because the constant water penetration causes negative side effects.
In-hull is the last mounting method, and for this, you'll mount the entire unit inside the boat. It will penetrate through the metal without having to touch the water.
Some fish finders don't require mounting at all.
Many of the affordable recommendations above are portable fish finders that come with corded transducers that you throw into the water or suction cup to the side of the boat.
Of course, they don't possess the same level of accuracy as mounted options, but they're more affordable and logical for beginners and occasional anglers.
GPS/Waypoint Mapping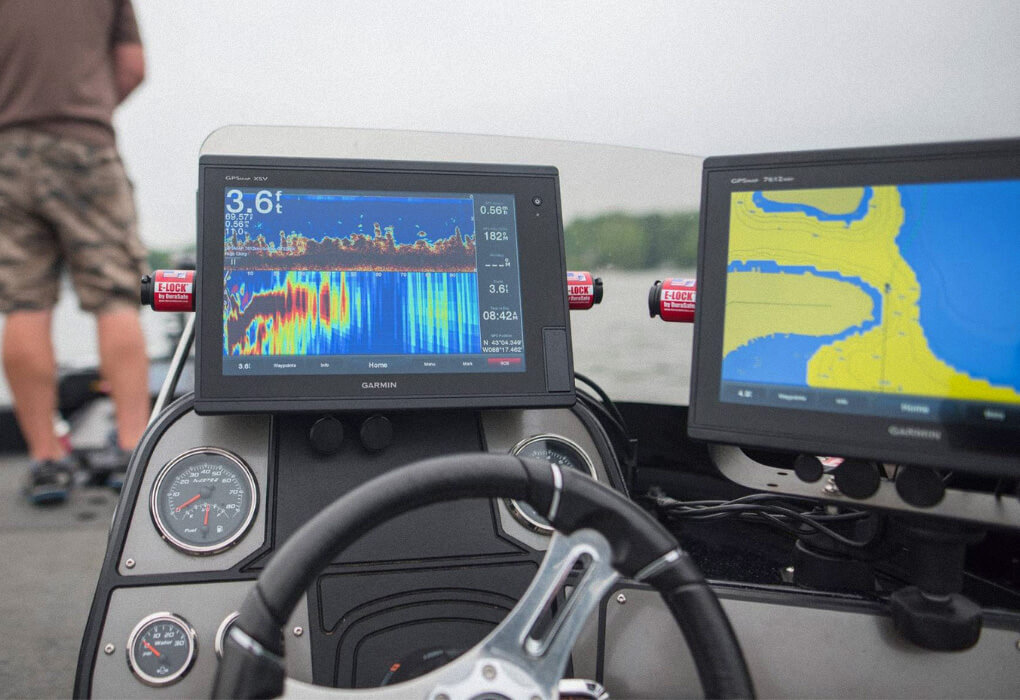 The best GPS fish finders will cost thousands of dollars, but I was pleasantly surprised to see that even affordable units come with GPS and chartplotter options.
The GPS technology will help you navigate the water, keep track of your location, and chart points along the way where you caught something or would like to revisit.
This feature is nice because it really puts the fish finder to use for something other than locating fish. Just make sure that you choose one with a MicroUSB card slot because you'll need the extra space for chart plotting.
Portability
If you're shopping for a budget-friendly fish finder, chances are you want something that is portable.
If you're fishing from the shore, portability is a big factor because you can't mount the unit, and you don't want something super bulky that's difficult to walk around with.
The best portable fish finders will fit in the palm of your hand, and they'll still offer accuracy and high-quality imaging. You don't have to sacrifice anything in exchange for portability and price anymore.
Price (Are you losing out on features in a budget model?)
I bet you were wondering when we'd get to this! Yes, of course, price is an important buying factor when looking for the best fish finder for the money.
The good news is you don't have to sacrifice much other than fancy upgrades that you don't really need anyway.
In my experience, you can get a solid fish finder for less than $200 without having to feel like you're missing out on something.
You may not get the latest sonar technology, a brilliant display, side imaging, or waterproofing, but you'll still get a unit that won't require you to refinance your house.
That said, be realistic. You're not going to get as accurate of a reading, and there might be some discrepancies at times, but it will only affect some anglers.
Other Factors to Consider
In addition to the unit itself, you'll want to factor in a few other things about your fishing habits, how you fish, where you fish, and so on. Let's take a look!
Boat Size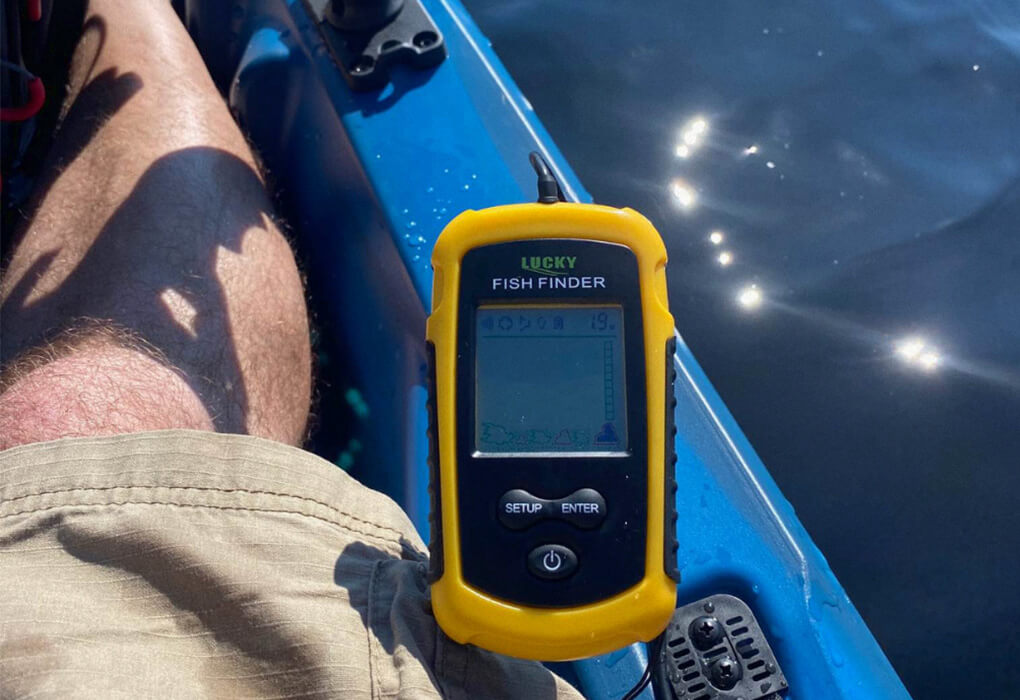 The size and type of your boat is important depending on the type of fish finder you choose, how you plan to mount it, and what you intend on doing with it. If you're fishing from a kayak, you should check out kayak fish finders, or bank fishing fish finder if you like to stick to the shore.
Ultimately, you want to choose something that works best for your needs, so if you have a decent-sized bass or Jon boat, going with a transom mount fish finder will likely be the best choice.
If you only fish occasionally, you're not too serious about fish finders, or you fish from a kayak, you'll need a portable unit that you can attach and remove as you, please.
Saltwater vs. Freshwater
Fishing saltwater requires a premium fish finder because the salt, debris, and additional living organisms will always throw off your reading.
Most CHIRP models will get the job done here, but that will typically require you to buy a premium brand transom mount fish finder.
If you only fish freshwater, you can handle a more affordable unit. Keep in mind that many fish finders also come with adjustable settings that allow you to choose between salt and freshwater.
Brand
Lastly, let's talk about brands. As I mention in many of my reviews, I am loyal to brands when it comes to fish products. I find that sticking with reputable suppliers results in a better experience.
Even in the event that you get a bum product, a great manufacturer will always back you up and provide excellent customer service to make it right.
Even some of the more affordable brands, like Venterior, offer great customer service. Some of the most reputable fish finder brands are Garmin, Humminbird, Lowrance, Deeper, and Raymarine.
Last Cast
Now that it's clear to you that the Garmin Striker 4 is the best fish finder for the money. It's time to get one ordered, I promise you will be shocked by the quality of this fish finder.
I've had mine for several years, and it's still going strong.
While the other inexpensive finders won't break the bank, they still carry their weight in terms of features and benefits. Which made ranking them very difficult.
If you think I missed one, be sure to let me know in the comment section!