Last Updated on July 25, 2022
We independently research, test, and recommend the best products; you can learn more about our review process here.
Choosing the best fish finder for the money is about pairing budget-friendliness with features. You need to figure out where you draw the line in terms of what you need versus what you can go without.
Based on my research and experience, you can get a lot for an affordable price. Here are the best-rated fish finders that won't drain your bank account.
Comparison Table – 10 Best Fish Finders for the Money
---
Breakdown of Our Favorite Fish Finders For The Money
Garmin Striker 4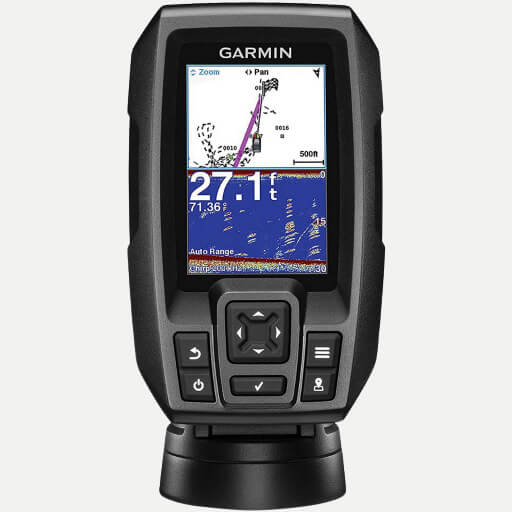 BEST OVERALL FOR THE MONEY
Specs
Brand: Garmin
Display: 3.5 inches
Type: ClearVü CHIRP
Featured Specs
The Striker 4 offers Garmin CHIRP technology which provides a continuous flow of sonar to offer improved visibility from a single frequency.
Extra features
This fish finder also boasts a GPS waypoint map to help track your position, map hotspots, and even check your speed.
Buying Advice
For a fish finder of this price, you really can't beat the number of features and sheer reliability.
Pros
Great split screen display
Simple to use
Affordable
Accurate sonar
Cons
Requires a 12v battery
Down imaging only
The Garmin Striker 4 always stands atop most fish finder reviews and the same applies to this one. You can choose between a modern and traditional flasher view, it offers a simple to use button system, and it's highly accurate.
You also get the benefit of GPS navigation and real-time waypoint tracking for mapping hotspots and checking your location. 
If you'd like to learn more about it, give my complete Garmin Striker 4 review a read.
Cabela's (See Price)
Walmart (See Price)
Scheels (See Price)
Garmin Striker Vivid 7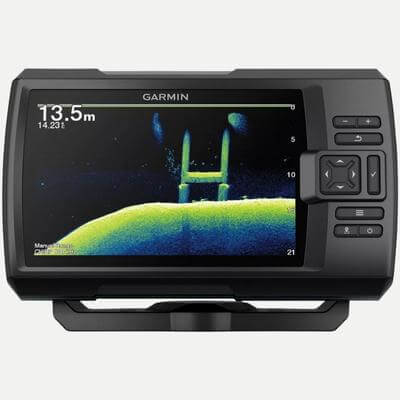 BEST SIDE IMAGING
Specs
Brand: Garmin
Display: 7-inches
Type: ClearVU
Pros
Loaded with top of the line sonar technology
Best side imaging in this price range
Features chartplotting and GPS too
Cons
If you're looking for a stiff upgrade from the Garmin Striker 4 and aren't afraid to pay a little more money, this is the fish finder you want.
It offers everything but the kitchen sink in an amazing 800 x 480 pixel seven-inch screen. 
The fish finder boasts industry leading sonar technology with clearVU and sideVU technology.
These features offer some of the clearest and most crisp sonar pictures on the planet.
The only true downside to this fish finder is that it doesn't come with a MicroSD slot.
This means that the mapping and GPS technology that you get is a bit limited because you can only store what will fit on the unit itself.
Bass Pro (See Price)
Cabela's (See Price)
Garmin Echomap Plus 44cv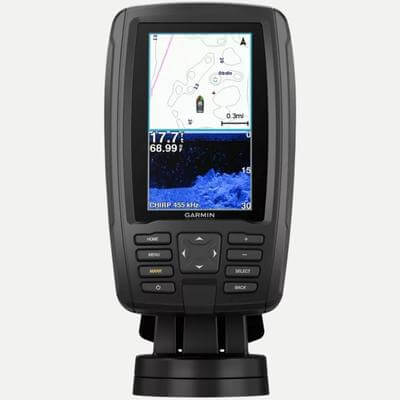 BEST GPS UNIT
Specs
Brand: Garmin
Display: 4.3-inches
Type: ClearVU
Pros
Great ClearVU scanning
Bluetooth and wifi sharing for mapping data
Simple to mount, lightweight, and small
Cons
Small screen can be a little annoying after a while
You might feel a bit of deja vu later on in the review when you read about the Echomap Plus 43cv but the main difference is that this is the newer model from the brand.
The features are almost identical but this one also does offer both lakes/rivers with offshore mapping as well. 
The 4.3-inch screen size is a bit of a downside in today's world but it's a great way to cut the budget down and still get a great fish finder.
This unit boasts ClearVU scanning with mapping, chartplotting, and easy mounting. You can mount this fish finder to pretty much anything including kayaks and canoes too.
The Bluetooth and wifi capabilities are nice and compared to the Striker Vivid, the wifi tech will allow you the flexibility to share and transfer mapping data without having to stockpile it on the unit itself.
Bass Pro (See Price)
Cabela's (See Price)
Garmin Striker Plus 4 with Dual Beam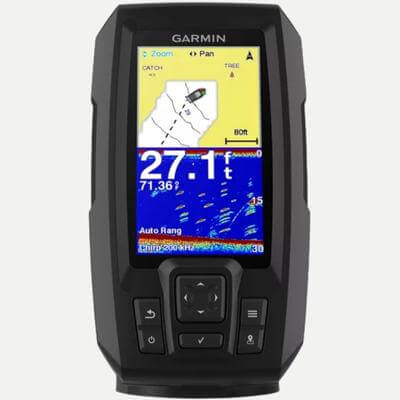 Specs
Brand: Garmin
Display: 4.3 inch display
Type: Dual Beam sonar
Featured specs
This Garmin fish finder offers dual beam sonar which allows you to choose between a wide viewing angle with less accuracy or a precise viewing angle with improved accuracy.
Extra features
Garmin QuickDraw allows you to create and store maps up to two million acres.
Buying advice
This is a minor upgrade to the more affordable Garmin Striker 4. The main feature that separates the two is the dual-beam sonar for a more customizable experience.
Pros
Dual-beam transducer
Quickdraw mapping with GPS
Great display
Cons
This unit is durable, reliable, stable, and reputable. You can't go wrong with a Garmin Striker 4 so why not upgrade it with Dual Beam sonar?
This one will allow you to customize your sonar so you can choose if you need a wide viewing angle or a narrow-angle with more accuracy.
The Quickdraw mapping software is a nice addition but I just wish they'd throw the cover in with the purchase. 
Bass Pro (See Price)
Cabela's (See Price)
Garmin ECHOMAP Plus 43cv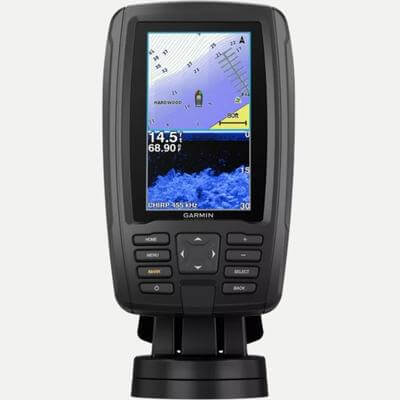 Specs
Brand: Garmin
Display: 4.3 inches
Type: ClearVü CHIRP
Featured specs
This Garmin fish finder features incredibly clear imaging on a 4.3-inch color display with ClearVü sonar imaging.
Extra features
It comes with a 5kHz GPS receiver and QuickDraw contour mapping that helps you track your location, map waypoints, and pin fishing spots so you can come back later.
Buying advice
I recommend this unit if you travel a lot and fish uncharted territory. It comes with a lot of preloaded waters and the mapping technology is top-notch.
Pros
Great mountable unit for this price range
Highly accurate and clear imaging
GPS and mapping with 17,000 preloaded rivers and lakes
Cons
If you're looking for a fish finder that gets the job done without all the smoke and mirrors, this is the one. The reason for this is because we're dealing with a Garmin product and they always pump out the best quality units.
You get a GPS receiver, 4.3-inch color display, great imaging, and Quickdraw contour mapping.
It has everything you need, packaged into a durable and affordable fish finder for under $500.
Bass Pro (See Price)
Cabela's (See Price)
HawkEye Fishtrax 1C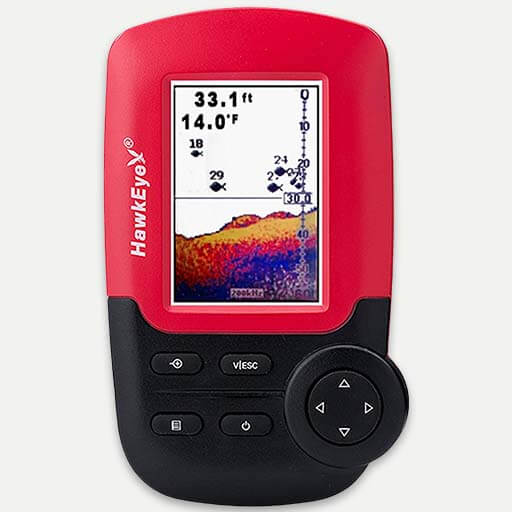 Specs
Brand: HawkEye
Display: 2-inches
Type: Dual-beam sonar
Featured specs
This portable fish finder comes with dual-beam sonar which helps customize your experience and allows you to choose between a wide or narrow viewing angle.
Extra features
Comes with fisharch and fishID technology so you can choose between arcs and fish icons depending on your level of experience.
Buying advice
This might be the best value fish finder because it's so simple to use and it offers everything you need in a portable device.
Pros
Dual-beam sonar
Portable depth finder
Affordable
Loaded with features
Cons
I think I would call this fish finder a "high-risk – high-reward" purchase.
It seems like it's loaded with features and everything you could want, packaged into a fish finder that's a fraction of the cost and size of some of the major brands.
That said, many anglers have issues with it performing on some of its promises.  
Bass Pro (See Price)
Cabela's (See Price)
Deeper Pro Plus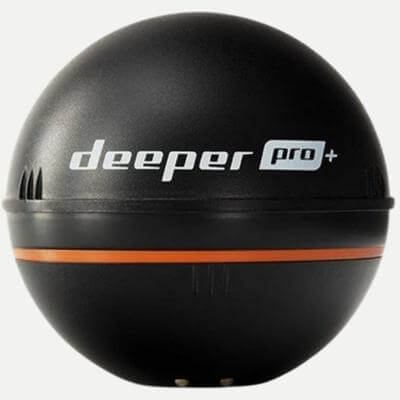 BEST CASTABLE UNIT
Specs
Brand: Deeper
Display: n/a
Type: Castable sonar 
Pros
260 feet depth range
Simple and easy to use mobile app
Best option for shore fishing
Cons
Limiting in bad conditions
The Deeper Pro Plus features dual-beam sonar with both a 15 and 55 degree cone angle.
This means you get a wide-range sonar and a narrow beam for zeroing in on a target once you've found what you want. 
The sonar device delivers 15 scans per second which is a great choice for shallow water because it updates frequently and allows you to find fish quickly when casting from the shore.
In terms of affordability, all castable fish finders are relatively affordable so this one is no outstanding exception.
Still, it features everything you'd look for in an ideal fish finder including top notch mapping and great sonar with a range of over 150 feet. 
The only downside is that castable units tend to struggle during poor conditions if it's windy or rainy.
If the water is murky you'll also have a more difficult time getting an accurate reading which will result in a shorter range as well. 
Amazon (See Price)
Walmart (See Price)
LUCKY Handheld Fish Finder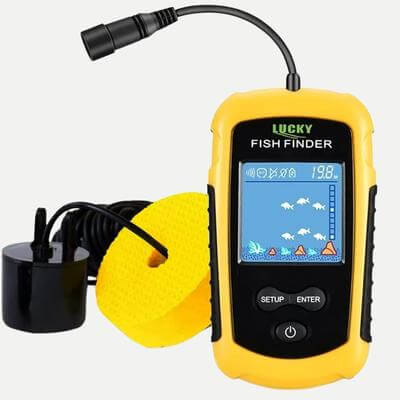 BEST PORTABLE FOR THE MONEY
Specs
Brand: LUCKY
Display: 2-inches
Type: Portable down imaging
Featured specs
The LUCKY fish finder is highly affordable and it displays information such as water depth, fish location, weeds, and bottom contour.
Extra features
It uses fish ID technology which doesn't provide the most accurate or precise reading but it's doable for a fish finder of this price range.
Buying advice
I recommend this one for kayak fishing because it's lightweight, portable, and can fit in the palm of your hand.
Pros
Lightweight and portable
Easy to use
Highly affordable
Cons
Not the most accurate
Not the most advanced
This portable and easy-to-use fish finder comes with five different sensitivity modes based on where you're fishing.
It runs for up to five continuous hours on three AAA batteries and the transducer is easy to mount or throw directly into the water.
I recommend it for kayak fishing or ice fishing because of its portability.
Amazon (See Price)
Walmart (See Price)
Lowrance Hook Reveal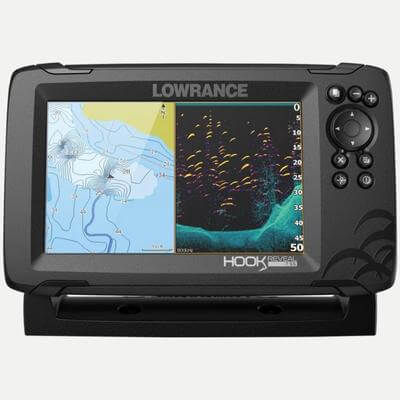 BEST SONAR TECHNOLOGY
Specs
Brand: Lowrance
Display: 5-9 inches
Type: Tripleshot
Pros
Top of the line sonar technology
Max depth of 1000 feet
Great chartplotting and mapping
Cons
Known for low-quality tech support
When it comes to affordable fish finders, this isn't one that usually rings a bell but if you can "max out" your cheap budget and go for something nice with a lot of long-term potential, this is the fish finder you want.
The Lowrance Hook Reveal offers everything you could want from an affordable unit with some of the best sonar technology in the FishReveal technology.
This combines traditional tripleshot sonar and pairs it with structurescan as well. 
The screen ranges in size from 5-9 inches and also offers mapping and chartplotting technology using Genesis Live and C-Map.
To sum it up, the Hook Reveal and the Echomap are the best premium options for affordability on this list but I'd say the Hook Reveal offers the better sonar technology in comparison.
Bass Pro (See Price)
Cabela's (See Price)
Scheels (See Price)
Venterior Portable Fish Finder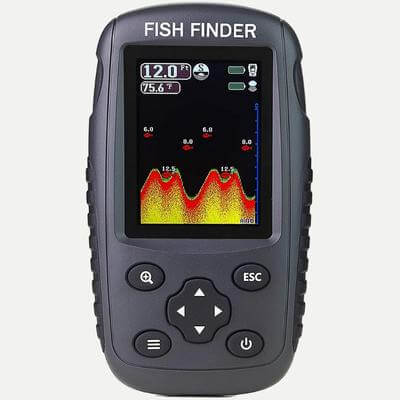 Specs
Brand: Venterior
Display: 2.5 inches
Type: Wireless and Castable
Featured specs
This portable and highly affordable fish finder fits in the palm of your hand and the transducer can either get casted out or thrown into the water beside the boat.
Extra features
It offers a 105-degree viewing angle ranging between 2.6 and 131 feet in depth.
Buying advice
Installation and use is very simple with this fish finder so it's a great beginner unit for someone just diving into fishing technology.
Pros
Two-color modes for increased visibility
Easy to use
Affordable
Portable and simple to install
Cons
Lacking advanced features
Right away you can tell this isn't a Garmin, Humminbird, or Lowrance but it still has it's uses.
If you're looking for something simple to help you identify fish locations then this will get the job done.
It's also highly portable and lightweight which is ideal for kayaks and canoes. 
How to Choose the Best Fish Finder for the Money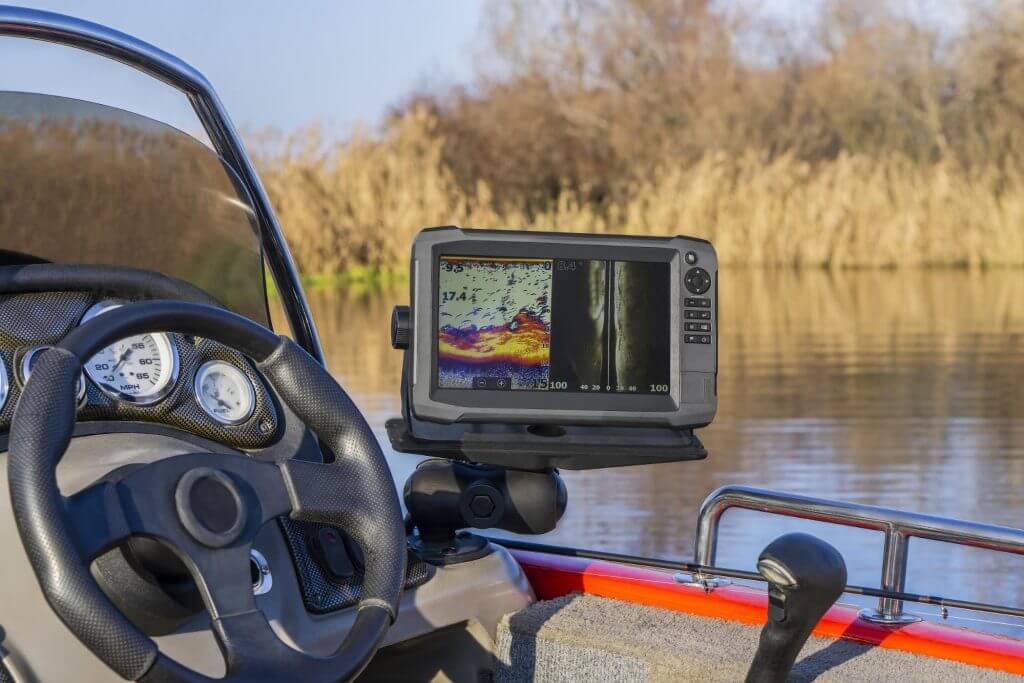 We've done a lot of fish finder reviews. I mean A LOT. I don't usually like to promote something specifically because of the price because it usually means you're sacrificing something in exchange.
After going through a lot of these products, I realize, that's not the case.
These fish finders are still high-quality and they offer everything you would need but they just don't have as many bells and whistles. For many people, that's okay. 
That said, you need to settle on one and this section will help you determine the features you need and the ones you can live without.
Display
The display is one of the most important parts of your fish finder because you need to be able to read the information your unit is collecting for you, otherwise, what good is it?
Let's start with screen size. When you're choosing the best budget fish finder, you're likely picking one that doesn't come with an incredibly advanced touchscreen display but that doesn't mean you won't be able to read it.
Most of the fish finders above offer something between two and four inches which isn't the best but it's good enough.  
Pixels are another important aspect of your display. The more pixels, the higher the resolution.
High resolution won't always matter if you're using FishID technology because the images will get converted into fish icons anyway, but it helps with identifying structure and differentiating the two. 
Choosing between color or grayscale display is the last factor you'll want to consider. Color is better because it's what you'll use to tell the size and it's easier to see in high and low light.
Of course, color will usually cost more but I do believe that all the fish finders recommended above are color displays. 
Transducer
For me, the transducer and sonar type are the most important features.
This is the bread and butter of your fish finder. You can have the most beautiful unit on the planet but that doesn't mean jack if you can't get an accurate reading. 
The power of your transducer is measured in RMS or root mean squared. It's essentially the same thing as watts. Most fish finders have a range between 200 and 500-watts which is more than enough.
The majority of budget fish finders that you see will be around 200 simply because they're not priced high enough for additional power. 
Your fish finders frequency is the next thing we want to look at. The lower the frequency, the deeper the range you'll have.
I find that most budget fish finders are around 400kHz which is geared towards shallow waters but should still grant a max depth of around 150ft so it's good enough for most freshwater anglers. 
Lastly, let's look at the type of sonar. You've got a million different options and variations based on brand and specific unit but the best of the best is CHIRP sonar.
CHIRP stands for compressed high-intensity radar pulse and it's basically broadband sound waves that transmit a continuous flow of sonar into the water. 
This is the most expensive type of sonar so you'll usually only find it on the major brands like Garmin, Humminbird, and Lowrance but they've found ways to make it affordable for most budgets.
Viewing Angle
The viewing angle refers to the way the sonar waves are transmitted into the water.
A low-frequency transducer will offer a wide-angle view which allows you to detect fish on the sides of the boat.
A high-frequency transducer will send powerful waves down into the water so you can see much deeper beneath the boat but you won't be able to see anything in the surrounding water. 
You always hear me talk about "dual beam" sonar. This is the best option and something you should strive to get because it's not that expensive.
These fish finders will offer both types of sonar and you can toggle between them. 
By doing this, you can choose between deep and narrow or wide and shallow based on the water you're fishing and what type of application you're using.
It's also important to pay attention to whether the fish finder is a down or side scan unit.
Even the best cheap fish finders won't offer side-scanning so you'll likely have to settle for down scan unless you're willing to pay up to $300 for your unit. 
Mounting
Mounting is a crucial consideration based on your level of experience and handiness. Believe me, you don't want to make a mistake when mounting your fish finder transducer.
Please, trust me on that! (Flexseal doesn't work like the commercials say it does.) 
Anyway, you've got a few different options here.
Thru-Hull mounts actually require you to mount everything internally with the transducer mounted externally. This requires you to drill through the boat and it's a pretty involved process.
You'll find these mounts on professional bass boats where the units are built into the boat. 
They offer the most accurate reading but of course, they come at a premium price and you won't find them on this list.
Transom-mount fish finders are more common and more affordable. You'll mount these to the rear of the boat by the trolling motor so the transducer hangs below the boat into the water.
These are sometimes considered the least accurate because the constant water penetration causes negative side effects. 
In-hull is the last mounting method and for this, you'll mount the entire unit inside the boat. It will penetrate through the metal without having to touch the water.
Some fish finders don't require mounting at all.
Many of the affordable recommendations above are portable fish finders that come with corded transducers that you throw into the water or suction cup to the side of the boat. 
Of course, they don't possess the same level of accuracy as mounted options but they're more affordable and logical for beginners and occasional anglers.
GPS/Waypoint Mapping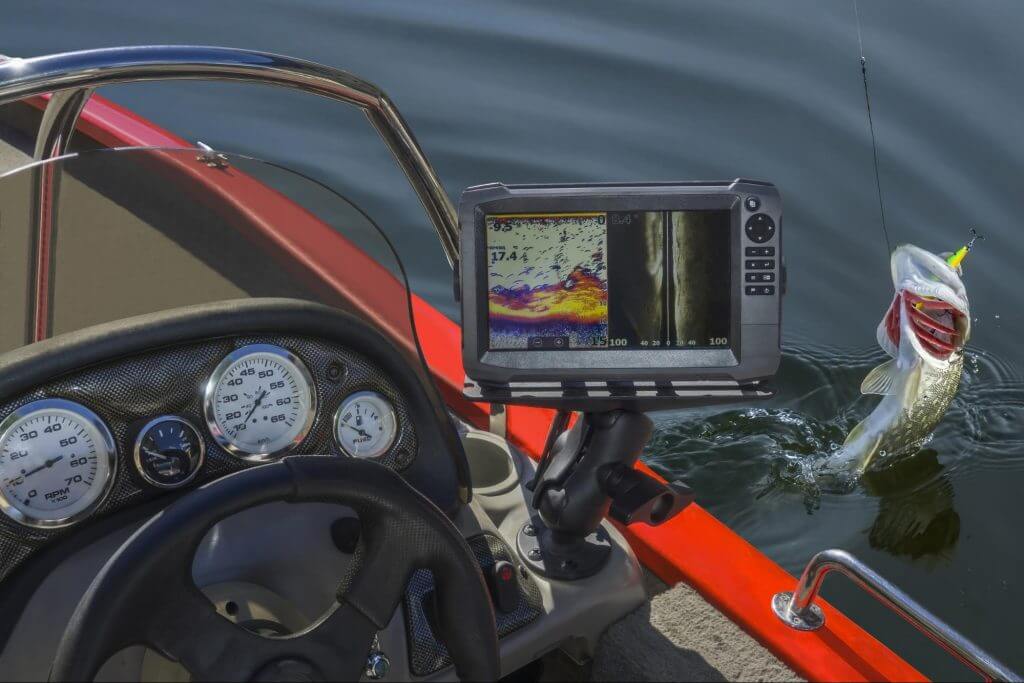 The best GPS fish finders will cost a lot of money but I was pleasantly surprised to see that even affordable units come with GPS and chartplotters.
The GPS technology will help you navigate the water, keep track of your location, and chart points along the way where you caught something or would like to revisit. 
This feature is nice because it really puts the fish finder to use for something other than locating fish. Just make sure that you choose one with a MicroUSB card slot because you'll need the extra space for chart plotting.
Portability
If you're shopping for a budget-friendly fish finder, chances are you want something that is portable.
If you're fishing from the shore, portability is a big factor because you can't mount the unit and you don't want something super bulky that's difficult to walk around with. 
The best portable fish finders will fit in the palm of your hand and they'll still offer accuracy and high-quality imaging. You don't have to sacrifice anything in exchange for portability and price anymore.
Price (Are you losing out on features in a budget model?)
I bet you were wondering when we'd get to this! Yes, of course, price is an important buying factor when looking for the best fish finder for the money.
The good news is, you don't have to sacrifice much other than fancy upgrades that you don't really need anyway. 
I've found while doing this review that you can get some of the best fish finders on the market for less than $200 without having to feel like you're missing out on something.
You may not get a brilliant display, side imaging, or waterproofing but you'll still get a unit that won't require you to refinance your house.
That said, you need to be realistic. You're not going to get as accurate of a reading and there might be some discrepancies at times but it's something that will only affect some people.
Other Factors to Consider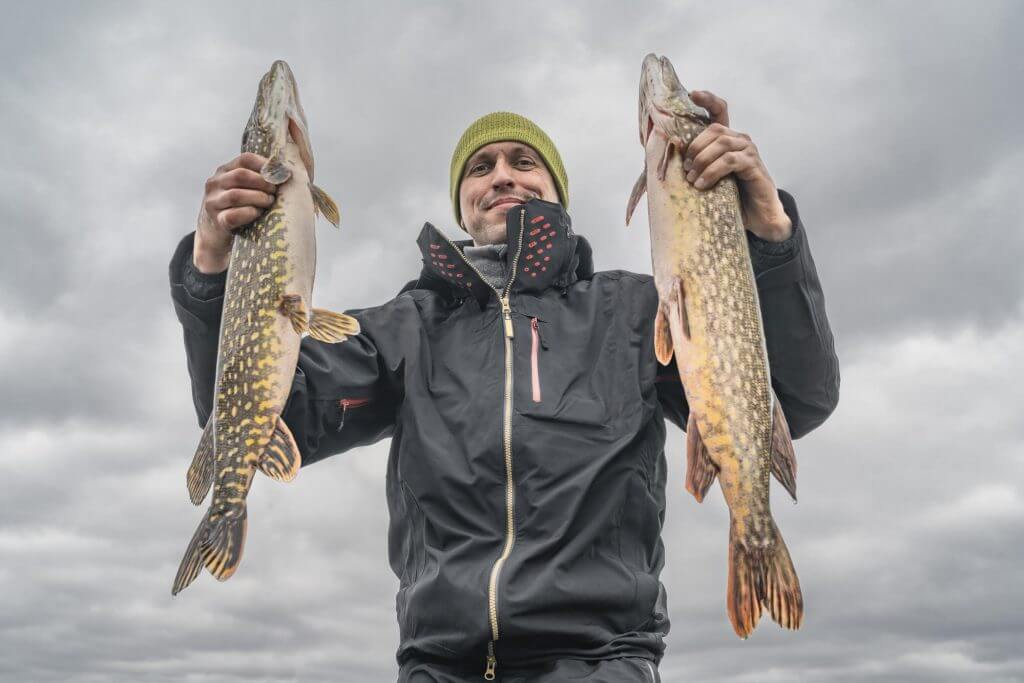 In addition to the unit itself, you'll want to factor in a few other things about your fishing habits, how you fish, where you fish, and so on. Let's take a look!
Boat Size
The size and type of your boat is important depending on the type of fish finder you choose, how you plan to mount it, and what you intend on doing with it. If you're fishing from a kayak or the shore this is even more important.
Keep in mind that transom-mount transducers are usually geared for boats of 30-feet or larger. They'll create too much drag on anything shorter which can compromise the handling and safety of the boat.
If you use a trailer, a transom-mount fish finder is risky because they're highly sensitive and you can damage them if you're not careful.
Ultimately, you want to choose something that works best for your needs so if you have a decent-sized bass or Jon boat, going with a transom mount fish finder will likely be the best choice.
If you only fish occasionally, you're not too serious about fish finders, or you fish from a kayak, you'll need a portable unit that you can attach and remove as you please.
Saltwater vs Freshwater
Fishing saltwater requires a premium fish finder because the salt, debris, and additional living organisms will always throw off your reading.
Most CHIRP models will get the job done here but that will typically require you to buy a premium brand transom mount fish finder. 
If you only fish freshwater you can handle a more affordable unit. Keep in mind that many fish finders also come with adjustable settings that allow you to choose between salt and freshwater.
Brand
Lastly, let's talk about brands. As I mention in many of my reviews, I am loyal to brands when it comes to fish products. I find that sticking with reputable suppliers results in a better experience.
Even in the event that you get a bum product, a great manufacturer will always back you up and provide excellent customer service to make it right. 
Even some of the more affordable brands like Venterior offer great customer service. Some of the most reputable brands are Garmin, Humminbird, Lowrance, Dragonfly, and Raymarine.
Final Thoughts
I hope you are now able to make a clear choice on the best fish finder for the money.
While these cheap finders won't break the bank, they're still carrying their weight in terms of features and benefits.
I am pleasantly surprised with the number of great things Amazon has to say about budget fish finders and I'm sure you'll be able to find one that works for you. 
About Post Author