---
We independently research, test, and recommend the best products; you can learn more about our review process here.
I always feel at home on a river in my Nucanoe, no matter what state I'm in currently.
River fishing is the best way to catch a wide variety of fish. On one half-day float trip, I caught multiples of five different species. On another river trip, my mom caught the biggest bass of her life from her Old Town Sportsman.
Without our yaks, fishing would have been impossible on those trips. There's no way we would have been able to do it in a boat.
It's wise to get the best river fishing kayak you can afford to get to your prime fishing locations.
That's the Old Town Sportsman 106 because it's maneuverable, comfortable, stable, and packed with all the fishing features you need for a successful trip to the river.
If this isn't the kayak for you, don't worry I tested plenty more that are well worth buying. Grab your favorite river beverage, and let's check 'em out!
Top 3 River Fishing Kayaks
After testing numerous kayaks, here are my top picks for the three best river fishing kayaks: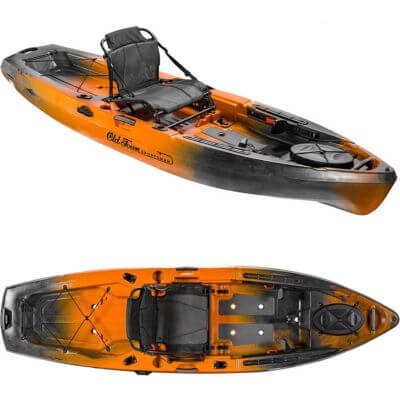 Old Town Sportsman 106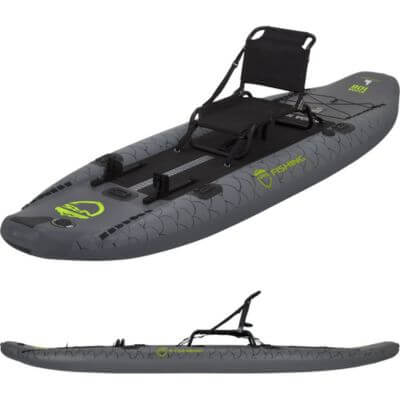 NRS Kuda 106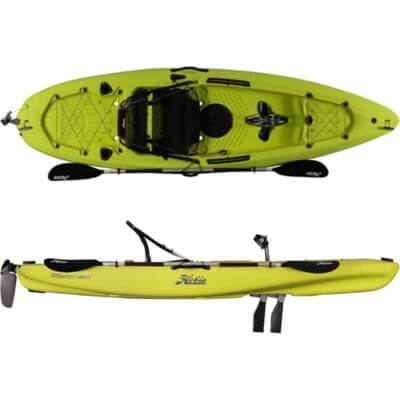 Hobie Mirage Passport 10.5 R
---
Testing Procedures
Armed with years of river kayak fishing experience, I tested many of the leading fishing kayaks on flatwater and on a local river, ensuring they handled just as well in the current as they did on a lake.
A fishing kayak also has to be comfortable, stable, and have features that help anglers during their long hours on the water.
Maneuverability: How well a kayak maneuvers is often a matter of safety on the river. Sometimes I had to make hard cuts to avoid getting pinned against logs and rocks, yet I also needed it to track straight when having to paddle long distances.

Shorter yaks maneuver better, but longer kayaks track better and have more storage, so there has to be a little compromise.
Stability: Another safety factor is how stable the kayak is; if it flips easily when you lean over the edge, it's not a good fishing kayak.

Most fishing kayaks are stable enough to stand on because they're wide and have a uniquely designed hull compared to recreational kayaks.
Comfortability: If I'm catching fish, I can endure being uncomfortable for a much longer period. But for those times when the bite is slow, I want to be comfortable, and that primarily depends on the seat and seat height.

Other features like an EVA foam deck pad and footrests also help.
Fishability: I made this word up as a catch-all to mean how easy is it to fish out of the kayak. Does it have built-in rod holders, gear tracks, and an adjustable seat, and is it stable enough to catch fish in?

Or is it a recreational kayak pretending to be a fishing kayak?
Affordability: We all have a budget, and the best kayaks cost thousands of dollars, so I also tried to find reasonably priced kayaks to go along with the high-end river fishing kayaks. 
BEST RIVER FISHING KAYAK OVERALL
Old Town Sportsman 106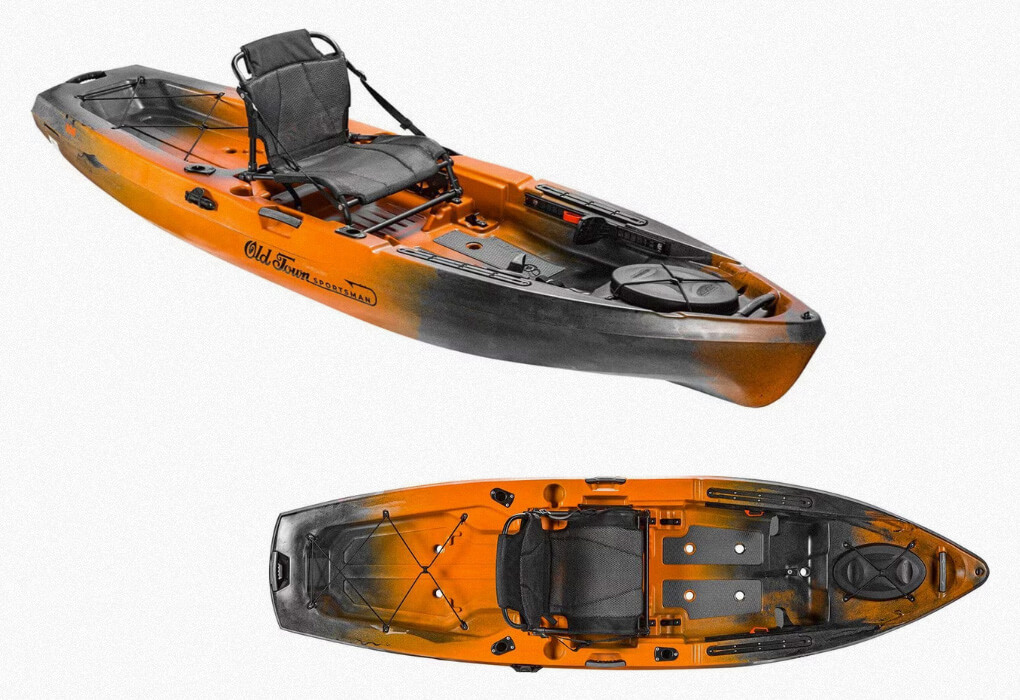 Specs
Length: 10' 6"
Width: 34.5"
Weight: 73 lbs
Max Capacity: 440 lbs
Why We Chose It
The Old Town Sportsman 106 is the best river fishing kayak because it's reasonably priced, handles unbelievably well, and is packed with features that make kayak fishing even more enjoyable if that's even possible!
The Old Town Topwater 106 is the same kayak, with the only difference being that it has a mesh seat instead of a padded seat.
My parents love their Old Town Sportsman kayaks and have successfully completed multiple river trips with me in them.
Even when the dam upstream unexpectedly began releasing water on one trip, the Old Town Sportsman had no trouble avoiding rocks and trees in the heavy current.
I also found the padded seat to be very comfortable; after four hours of sitting and fishing, I had no desire to stop. Plus, the adjustable footrests helped me stay in a comfortable position.
The gear tracks, built-in rod holders, and EVA padded deck are all features I found very helpful while angling from this kayak.
My parents tend to keep theirs uncustomized, but they have added a couple of rod holders. My dad keeps talking about getting a fish finder too. We shall see if he ever pulls the trigger on it!
Another feature that makes this an excellent fishing kayak is the stability due to the width and DoubleU hull design. I can stand up and fish, but my mom doesn't like to since she doesn't have the best balance.
However, she's never felt like she's going to flip it. You'd have to try really hard to get it to capsize.
As much as I've been impressed with the Old Town Sportsman, it has a weight problem.
It's 10 pounds heavier than the Vibe Kayaks Sea Ghost 110 11-Foot Angler, which is longer than the Sportsman 106. However, it's not as heavy as the 12 ft Jackson Kayak Coosa X, which is almost 100 pounds.
My dad can load and unload their kayaks by himself, as long as they're close to the water, but my mom struggles because they're that heavy, especially once all their fishing gear is packed into the yak.
Overall, the Old Town Sportsman 106 is the best river fishing kayak because of its maneuverability, stability, and comfort, all in a reasonably priced kayak.
BEST INFLATABLE RIVER FISHING KAYAK
NRS Kuda 106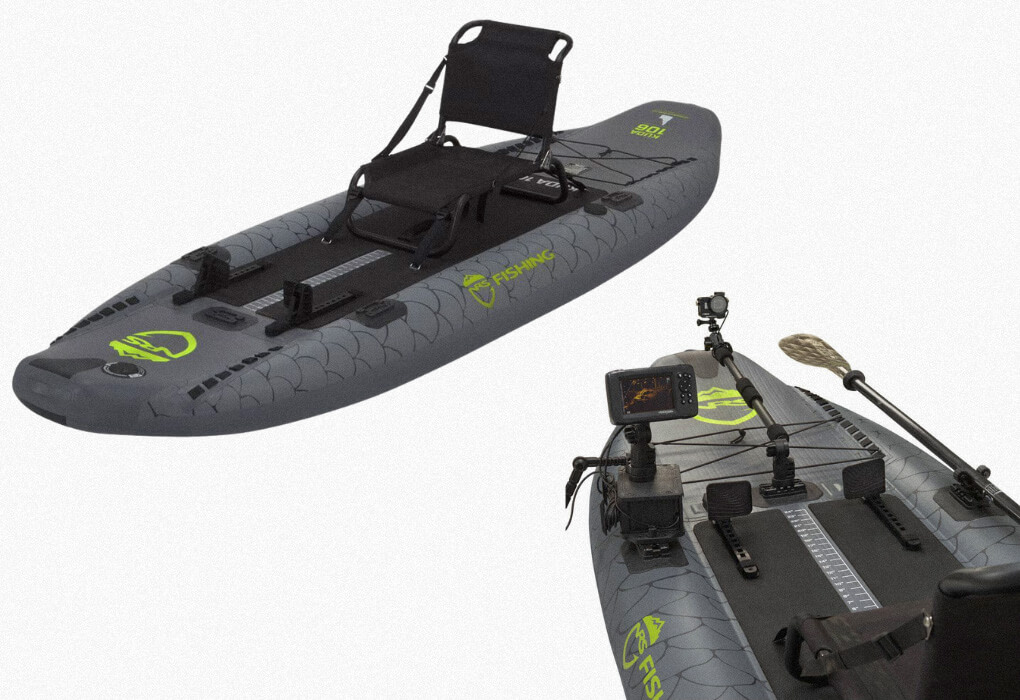 Specs
Length: 10' 8"
Width: 38"
Weight: 27 lbs
Max Capacity: 275 lbs
Why We Chose It
The NRS Kuda 106 is the best inflatable river fishing kayak because it's lightweight, durable, comfortable, and crafted with angling features.
I was skeptical of inflatable kayaks until I tested the NRS Pike, which is the NRS Kuda 106's big brother. 
So I had to test the Kuda too, and it was no surprise that it paddles very well since it's so lightweight. It also makes transporting it a breeze compared to my 12' Nucanoe Unlimited. 
Even though it's lightweight, that doesn't detract from its stability; if anything, I think it increases the stability because it's a very similar design to a paddleboard.
However, just because it resembles a paddleboard, don't think for a second that the seat position is uncomfortable. The mesh adjustable seat sits high enough to make standing easy, and you'll stay in a comfortable position while paddling.
Since NRS makes all sorts of watercraft accessories and gear, they intentionally thought about anglers when designing the Kuda 106 because though it lacks gear tracks, it has accessory mounts from YakAttack that you can use to install rod holders, a fish finder, camera mount, and a paddle holder.
With all the pros, there are bound to be a couple of cons, and the two that stood out to me were the low weight capacity and the lack of storage compartments.
The low weight capacity of 275 pounds means it's not the best kayak for big paddlers, and you can't bring a ton of gear with you because the closer you get to the weight capacity, the less stable and harder it is to control.
The Advanced Elements StraitEdge Angler has a slightly higher max weight cap at 300 lbs, but it's also heavier.
When I say no storage compartments, I'm not saying it doesn't have bungee storage because it does behind the seat.
Since it's an inflatable yak, there's no dry storage, and your gear can easily be lost if you don't strap or bungee it to the kayak since there are no "walls" to keep it in the kayak.
Even when you factor in these downsides, the NRS Kuda 106 is the best river fishing inflatable kayak because it's maneuverable, stable, and designed for angling.
BEST RIVER FISHING PEDAL KAYAK
Hobie Mirage Passport 10.5 R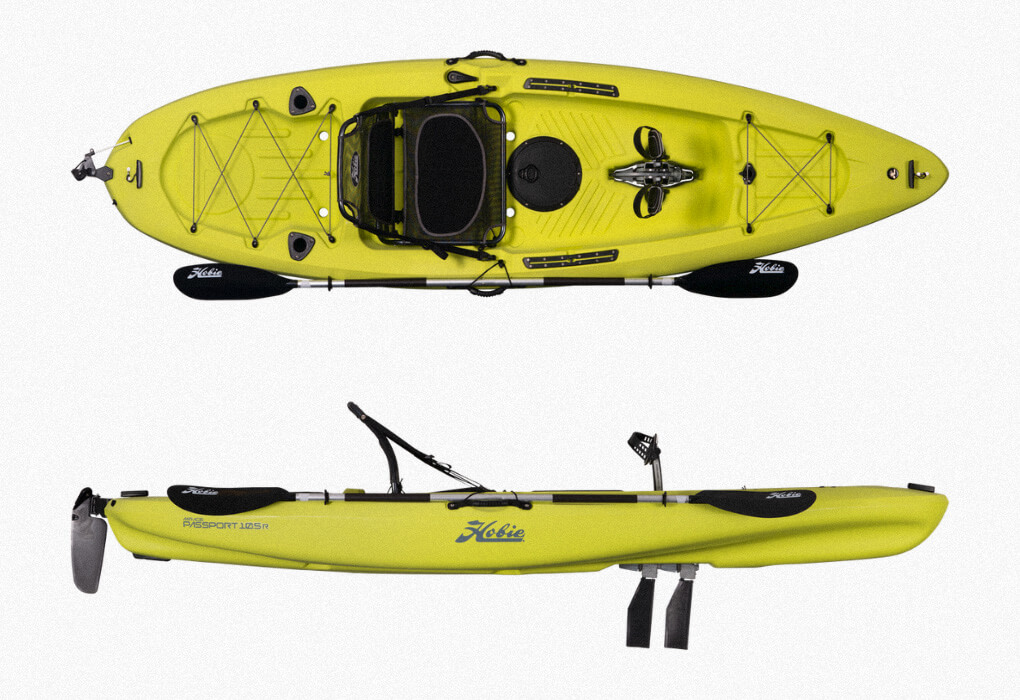 Specs
Length: 10' 6"
Width: 34"
Weight: 75 lbs
Max Capacity: 325 lbs
Why We Chose It
The Hobie Mirage Passport 10.5 R is the best pedal kayak for river fishing because of its unique Mirage drive pedal design, comfortable seat, and excellent stability. 
Hobie is the most renowned name in the kayak industry. They offer high-end kayaks at high-end prices. They've made a name for themselves by being a pioneer in the pedal kayak space.
As for the Mirage Passport, the Mirage pedal drive system is great for rivers because the fins kick up instead of breaking if you hit anything. And I always seem to hit a log, rock, or the bottom while fishing a river.
I also liked how smooth the Mirage drive is; pedaling takes very little effort compared to the Old Tow Sportsman PDL 106. 
Even though it's a wide yak, it's also a short kayak with excellent handling, so you can handle the turns of the river with ease, even if there's a slight current.
The built-in rod holders and gear tracks make the Mirage Passport fishing ready and customizable to your standards. I found the gear tracks to be large enough for a fish finder and another rod holder.
As much fun as I had while testing out the Hobie Mirage Passport, I found a few things I wasn't too fond of and would like to see Hobie change.
In my opinion, they could have offered better handles and storage for the price.
This is a very expensive kayak, but there are bungee storage areas at the front and back, plus a dry storage hatch under your feet, and the handles are capable of carrying the kayak.
I also feel like the bungee paddle holder could get snagged on a passing tree limb and break easily or twist you around weirdly in the river. At least, that would be my luck.
I'm also not a huge fan of pedal kayaks in the river because they end up getting snagged, dragged along the bottom, and are a bit of a hassle while fishing in shallow rivers.
Though the Mirage drive is designed for shallow water use, it doesn't have instant reverse, which is a needed feature while river fishing.
Despite the cons, Hobie kayaks are known for comfortable seating, crazy stability, and high quality, and the Mirage Passport 10.5 is no different. That's why it's rated as the best pedal fishing kayak for rivers.
BEST BUDGET-FRIENDLY RIVER FISHING KAYAK
Perception Outlaw 11.5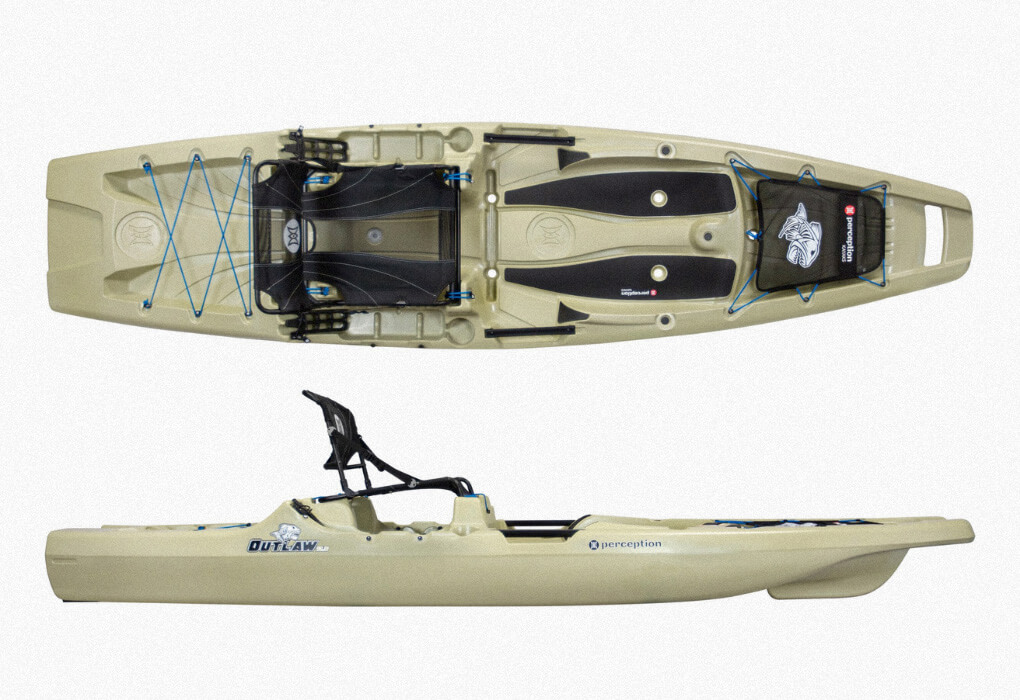 Specs
Length: 11' 6"
Width: 35"
Weight: 77 lbs
Max Capacity: 425 lbs
Why We Chose It
The Perception Outlaw 11.5 is less than $1,000, maneuvers well, is cozy and comfortable and is stable, which is why it's the most budget-friendly fishing kayak for rivers.
I still can't believe this kayak costs less than $1,000. While testing it, I was sure it was at least a $1,200 kayak. So Perception did a great job of offering high-end fishing features at an affordable price.
While the Pelican Catch Mode 110 might be slightly less expensive and a little shorter, it's not as durable, and the river is unforgiving, so you'll need a durable kayak.
I loved the solid carrying handles; the kayak didn't sway or anything while I carried it to the water, which was much better than the Hobie Mirage Passport 10.5 handles.
I was also surprised at how well this inexpensive river yak was designed for anglers.
With gear tracks, rod holders, a stable standing platform, and plenty of storage space, this yak will suit most anglers, whether they're bass fishing or fly fishing.
I like this seat so much more than the Perception Pescador Pro 10 because it sits higher, but you might feel safer sitting closer to the kayak floor when you encounter some rapids on the river.
After all the positives I've mentioned, you know there's gotta be a couple of negatives, and here they are, it's a little long and heavy for small rivers and creeks, which makes handling a little more strenuous, and it lacks dry storage so you'll have to purchase a dry bag or dry box.
I don't mind a longer kayak; in fact, mine is 12' long, and I take it on small rivers all the time; however, there are many occasions I've wished I was in a shorter, lighter kayak on the river.
There's always a balance you have to walk. 
The extra length of the Perception Outlaw means you have more storage space in the tank well, with bungee cords than shorter kayaks, so you can bring more gear.
The lack of dry storage compartments isn't a huge problem as long as you're not bringing items that can't get wet or you bring along a different way to keep them dry.
Overall, I was blown away by the Perception Outlaw 11.5's stability, comfortability, price, and fishability, which is why it's rated as the best budget-friendly river fishing kayak.
BEST SIT-IN RIVER FISHING KAYAK
Old Town Loon 106 Angler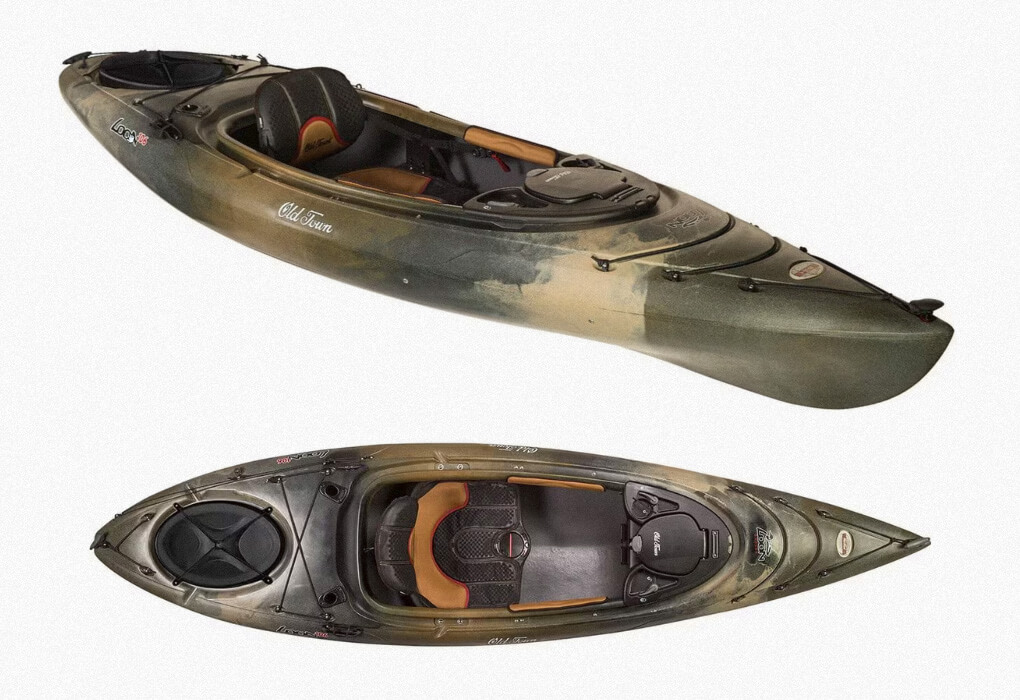 Specs
Length: 10' 6"
Width: 31"
Weight: 54 lbs
Max Capacity: 325 lbs
Why We Chose It
The Old Town Loon 106 Angler is the best sit-inside river fishing kayak because it's lightweight, handles well, is stable, and has a reasonably comfortable seat.
Old Town is another staple in the kayaking industry, so it's no surprise they've claimed two spots on our list. Their quality more than makes up for the price of their kayaks.
At 54 pounds, the Old Town Loon 106 Angler is lightweight compared to sit-on-top kayaks.
Which also makes it easier to paddle, load, and transport.
With two dry storage areas, you shouldn't have a problem keeping your valuables protected from the water. There's even a USB charge port to keep your phone charged and ready for that next big fish.
The built-in fishing rod holders mean you won't have to purchase and mount them separately so that you can get to fishing right away.
But there aren't many other fishing features besides the anchor trolley, and I didn't have an anchor to test it, but it's basically the same concept as others that I have used in the past.
Even though Old Town used a comfortable seat in the Loon 106 Angler, I don't think sit-in-kayaks are as comfortable as sit-on-top-kayaks because the seats are too low to the ground.
The Ascend H10 Sit-In Hybrid helped combat this a little but still has a very low seat.
I found the Loon 106 Angler to be as stable as a sit-in kayak can get, so I wouldn't be concerned with tipping. I never felt unsafe while paddling it.
The cons of the Old Town Loon 106 Angler are when you get water in it there are no drain holes for the water to run out of, so you're sitting in it all day, which is fine during hot summer days but not so much on cooler days.
It does have a specially designed rim to keep as much water out of the kayak as possible.
I also thought it was very expensive for a sit-inside fishing kayak. It doesn't have all the comforts of the Perception Outlaw, yet it's more expensive.
Despite the minor flaws of the Old Town Loon 106 Angler it is an excellent for a river fishing kayak for those needing a lightweight sit-inside kayak option.
HONORABLE MENTION
Bonafide RVR 119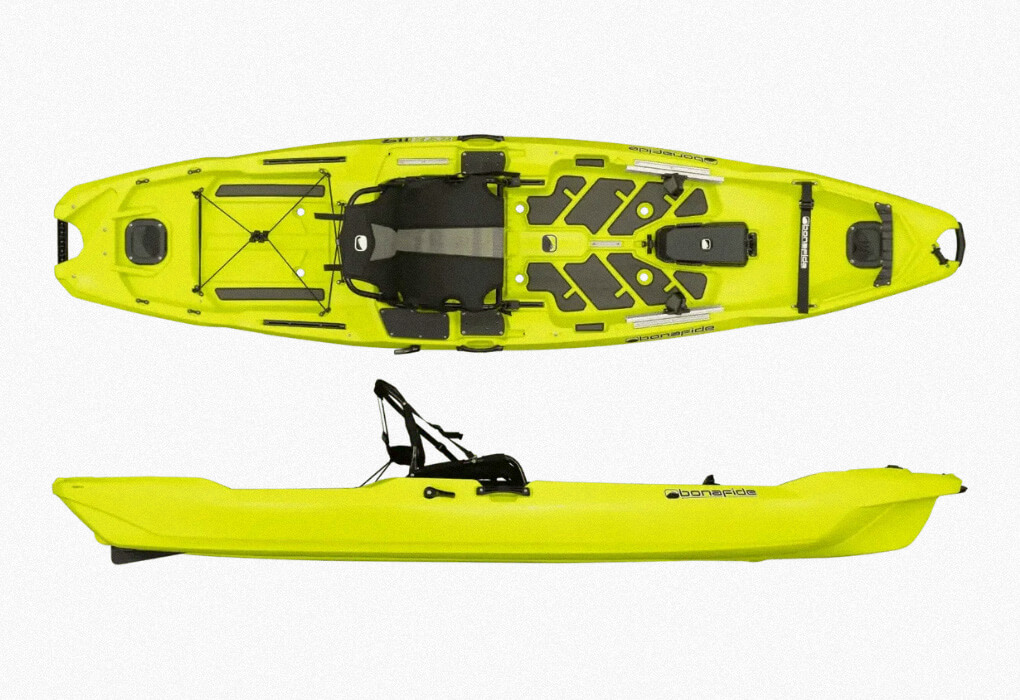 Specs
Length: 11' 9"
Width: 35" 
Weight: 85 lbs
Max Capacity: 425 lbs
Why We Chose It
The Bonafide RVR 119 is worth briefly mentioning because it was designed for river fishing, so it's loaded with top-level features like a ridiculously comfortable seat, a superbly stable platform, the ability to add fully integrated dual Anchor Wizards, adjustable foot pegs, and fishing rod holders, just to name a few.
I've sat and paddled in multiple Bonafide kayaks, and the seats are always comfortable. They have excellent seat height, and the seat design adds to the comfort.
I'm currently pinching my pennies to save up to buy this yak because it's very expensive.
You can try the Wilderness Systems Radar 115 to get a similar kayak for less money, but once you've been spoiled by the Bonafide RVR 119, you won't want to go back.
I was also surprised with the length of this kayak; I thought it was a touch too long for small rivers, but since it was designed specifically for rivers, it won't pose that much of an issue.
The Bonafide RVR 119 could easily have made a run for the best river fishing kayak; however, I haven't had a chance to test it out on the water; I've only seen it at trade shows, like in the video below. 
Buying Guide: Best Fishing Kayaks for Rivers
When purchasing a kayak for river fishing, you'll need to keep in mind a few special considerations.
A river kayak needs to be lighter and smaller for better handling and to make it easier to carry if needed.
The following are several of the most important factors; however, you might have another that is important to you, so don't think this is an all-encompassing list.
Stability
The stability of a kayak is important no matter what body of water you're on because it's a safety factor.
The more stable a kayak is, the less likely you'll end up in the water while fishing or paddling.
Wide kayaks are more stable than narrow ones, but a wide yak doesn't handle as well as a narrow yak.
So we must find a good balance between the two.
Typically this balance is found between 31 to 34 inches.
The hull design also plays a role in stability. A flat-bottom kayak will be more stable than a round-bottom kayak.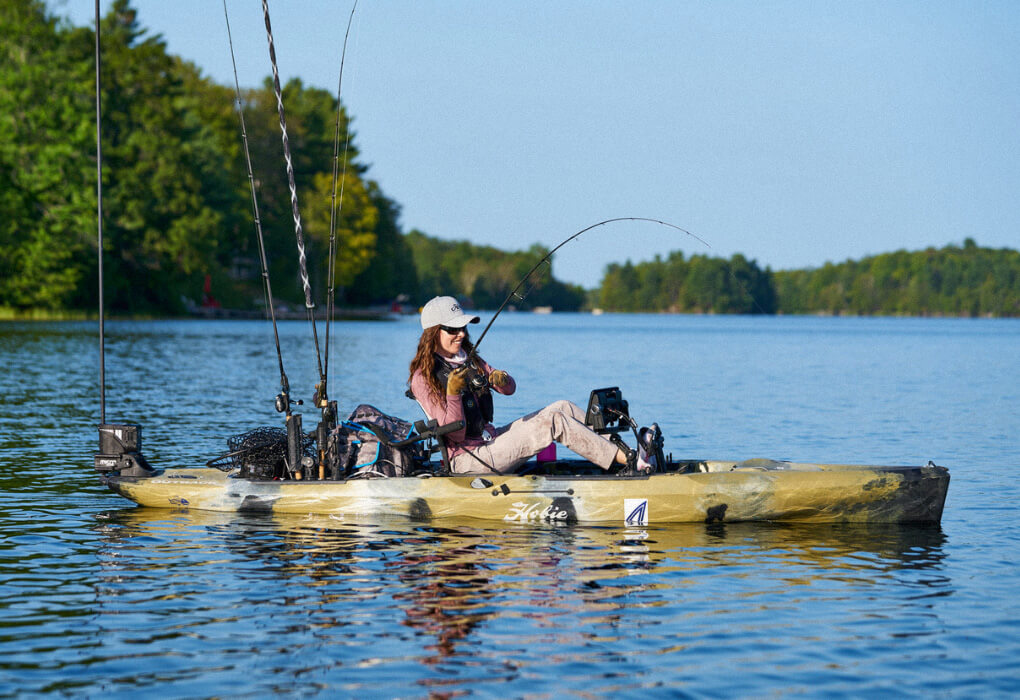 Handling
Handling or tracking is affected by the kayak's hull design, width, and length.
The hull design will determine the tracking or how well the kayak tracks a straight line.
The width and length will determine how well it turns.
When you're in moving water, like in a river, you need to turn quickly and be able to paddle in a straight line to avoid obstacles.
Length
The length determines handling and if there's ample storage, but it also contributes to the max capacity.
So once again, we're forced to find the middle ground, which is usually around ten feet long.
A ten-foot kayak will have ample storage for fishing, good handling, and a decent maximum weight capacity.
Storage Options
While on the river, you'll get water in your kayak, so having multiple storage options, especially dry storage, is preferred.
Bungee storage is good for when you hit a rock or log because it will hold everything in place, but if you have gear that can't get wet and don't have dry storage on your kayak, you need to buy a dry bag.
There are all kinds of kayak rigging ideas that will help increase the gear and rod storage on any yak.
You'll Also Need
Once you've purchased a kayak, a few other pieces of equipment are vital for river fishing.
Kayak PFD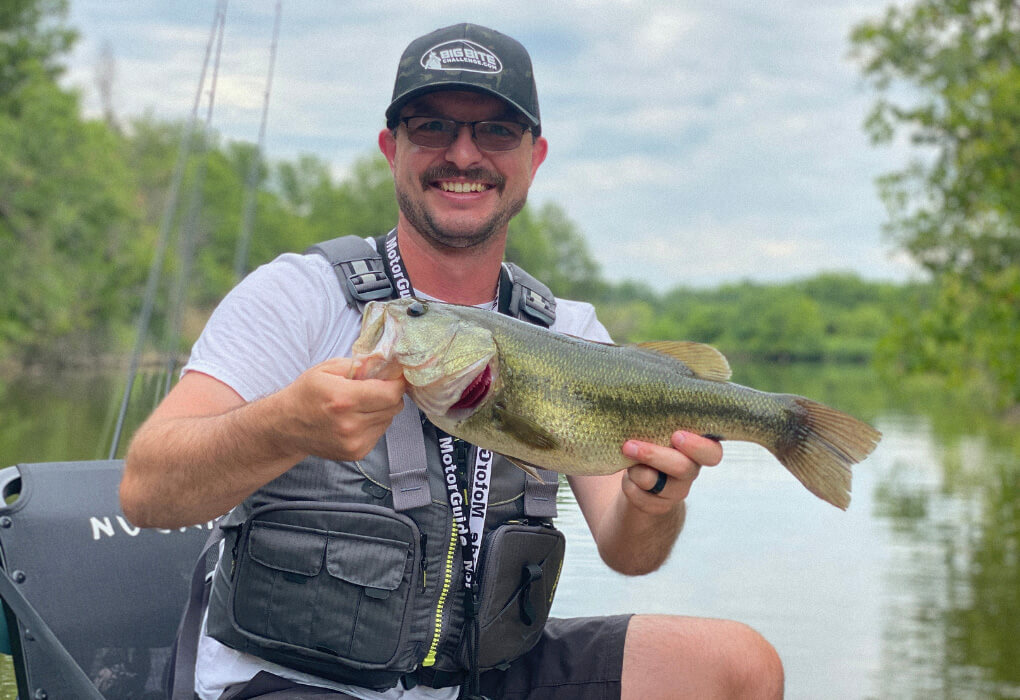 Always wear a lifejacket when kayak fishing. The lifevest won't do you any good if it's sitting in your kayak.
I've heard too many stories of people drowning because they weren't wearing it when they needed it most.
Rivers can be dangerous, especially while fishing.
If you need a cool PFD, check out the best kayak fishing PFD.
Water Pump
As I mentioned earlier, you will get water in your kayak, and if you don't have good scupper holes, you'll be sitting in it the entire trip.
That's where a hand pump comes in handy. You can quickly pump the water out of your kayak, so it's not slowing you down.
A super absorbent squeegee also works!
Air Pump (Inflatables Only)
Believe it or not, some inflatable kayaks don't come with an air pump, so you'll need to buy one.
I suggest buying both an electric pump and a hand pump.
Paddle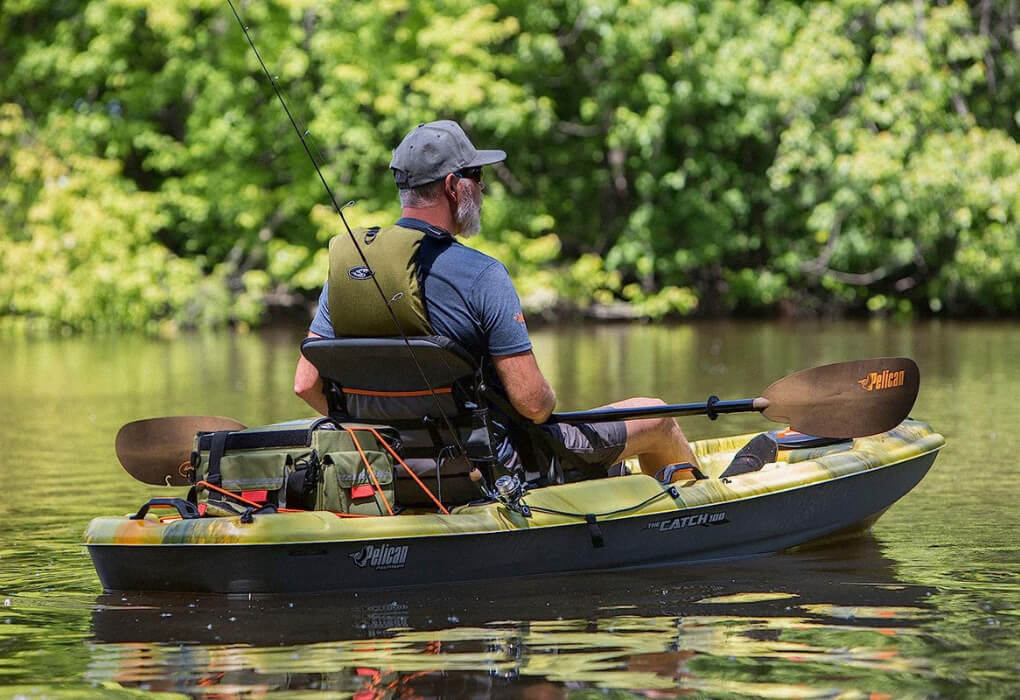 Another shocker for most beginner kayakers is that most kayaks don't come with a paddle.
Lucky for you, we narrowed down the best fishing kayak paddles so you don't have to waste your time searching.
Kayak Fishing Rod
Honestly, any fishing pole will work for kayak fishing.
I still use the same fishing rods that I use for bank fishing.
However, owning a couple of kayak fishing rods makes it a little more hassle-free and enjoyable.
Frequently Asked Questions
I rounded up some of the most commonly asked questions we get about river fishing yaks; you'll find the answers below.
What is the best size river fishing kayak?
The best size river fishing kayak is 10 feet to 11 feet long. 
How big of a kayak do I need for fishing?
A kayak that is 10 feet long is plenty big for fishing.
Can a fishing kayak handle rapids?
Yes, a fishing kayak can handle small rapids. However, fishing kayaks are not designed for whitewater, so use caution.
What is the difference between a river kayak and a creek kayak?
There is no difference between a river kayak and a creek kayak. You can use the same kayak on both bodies of water.
Are sit-on-top kayaks good for rivers?
Yes, sit-on-top kayaks are good for rivers. I use mine all the time on slow-moving rivers.
Last Cast
There is nothing like river fishing in a kayak. It's my favorite way to fish because I'm much more connected to the water and nature itself.
That's partly due to the yak I use while fishing in the river. However, there are times I wish I had a smaller, more maneuverable kayak like the Old Town Sportsman 106, which is why I rated it as the best river fishing kayak on the market.
If you have any questions about river fishing in a kayak or kayak fishing in general, feel free to drop them in the comment section, and I'll reply ASAP!