---
We independently research, test, and recommend the best products; you can learn more about our review process here.
Fishing with the wrong rod in a kayak sucks.
Most rods are either too cumbersome, making them nearly impossible to fish with, or low-quality, and they snap when you hook a big fish or get hung up on a brush pile (in my case).
That's why I decided to test several of the latest kayak fishing rods on the market.
I found the right rod for kayak fishing has a versatility that others don't because it's designed to be used in a cramped space, yet it will hold up to the abuses of kayak anglers without pawning your wedding ring to afford it.
After testing many rods, I concluded the St. Croix Mojo Yak Casting Rod is the best kayak fishing rod because it has a short butt and it's versatile enough to be used from the bank or a boat.
The Offshore Angler Inshore Extreme Spinning Rod is an excellent choice if you're chasing saltwater species because the shorter models have a short handle that's less likely to get caught up in your life jacket or clothing.
If neither of these rods fits your style, don't fret; plenty of other kayak fishing rods are listed below.
Let's get started!
Top 3 Rods For Kayak Fishing
For the kayak anglers in a rush to get on the water, here are our three of the best kayak fishing rods based on design, price, and durability.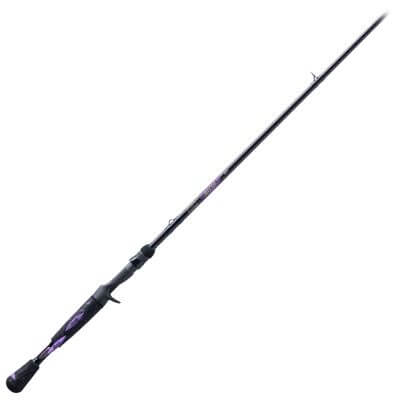 Best Kayak Baitcasting Rod
St. Croix Mojo Yak Casting Rod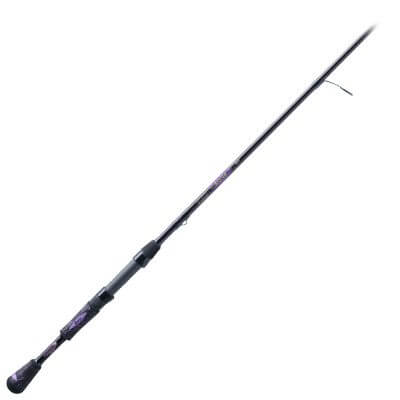 St. Croix Mojo Yak Spinning Rod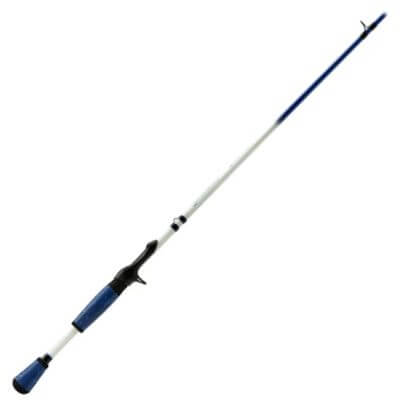 Lew's Inshore Speed Stick Casting Rod
---
Testing Procedures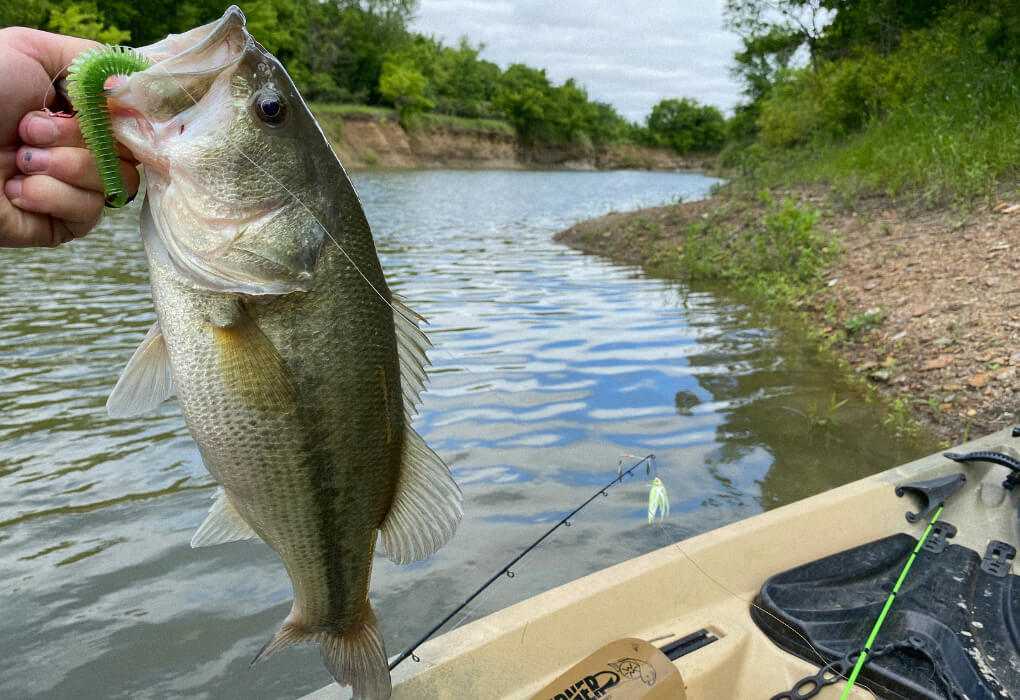 Below you'll find the factors I considered while testing these rods and why these are what you should also consider when buying a kayak fishing pole.
Design: The rod design matters for two reasons. The first being is it designed for kayak fishing or fishing in general. Some rods are designed for kayak fishing, making them much easier to handle in a small space.

The second reason design is important is based on where you fish. Rods designed for freshwater won't hold up to the abuses of saltwater fishing.

So if you plan to fish both, it's best to go with a rod that's designed to resist the corrosiveness of saltwater.
Price: This one is pretty straightforward; we all have a budget we have to stick to. I look for a quality rod in a reasonable price range. I don't want the cheapest rod, but I also can't afford the most expensive rod.
Build Quality: I think this is most often overlooked because there is a lot of confusing jargon used to describe the durability of a fishing rod. I'm notoriously tough on gear, so my rods gotta be built well, or they won't last.
BEST KAYAK FISHING ROD OVERALL
St. Croix Mojo Yak Casting Rod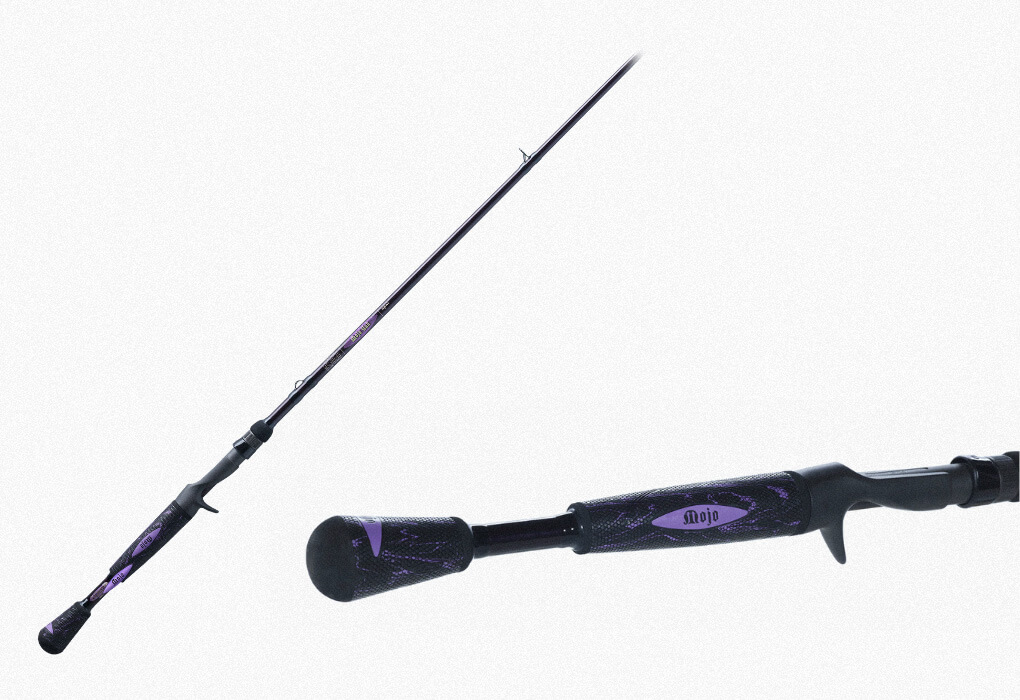 Specs
Length – 7′ or 7′ 6″
Action – Fast
Power – Medium or Medium-Heavy
Why We Chose It
The St. Croix Mojo Yak Casting Rod is the best kayak fishing rod because it's reasonably priced and one of the only rods to be designed for kayak fishing.
St. Croix is a well-respected brand in the fishing industry and has manufactured high-quality fishing rods for years.
This rod is perfect for the dedicated kayak angler who fishes from the shore or a boat from time to time, thanks to the shortened handle, multiple rod lengths, and power options.
St. Croix shortened the split grip handle to make it easier to use while fishing from a kayak. I love this because my other rod handles are often too long for the rod holders and catch on my life jacket while casting or fighting a fish.
Kayak anglers don't need the extra long handles that are found on most rods today, but they still need multiple rod lengths and powers for specific techniques.
You can purchase the Mojo Yak Casting Rod in a couple of different lengths and power options to pick the one that perfectly fits your fishing preferences.
I generally go with a 7' medium-heavy fast action rod because it covers the widest spectrum of techniques.
Owning a rod that can fish multiple lures is essential for kayak fishing since we're extremely limited on the number of poles we can bring with us.
Unlike bass boat anglers, kayak anglers can only bring a max of 8 rods, and that's the professionals. Most of the weekend anglers like you and me carry a maximum of 4 rods.
I love having different rod lengths and power because I can choose what suits my needs the best.
As great as this rod is, it still has a couple of drawbacks that I must make you aware of; first, it's only a fast-action rod, and second, the durability of the rod is inconsistent.
I prefer fast-action rods for most applications in a kayak, so this isn't a major con for me, but it did make fishing a crankbait (one of my favorite lures) a little more difficult.
I would like to see another option for the action of the rod tip.
The most alarming con is the lack of consistency in durability. I have yet to have any problems while getting my hands on this rod, but during my research, I stumbled across other customers who weren't happy with the rod's quality.
But they offer a great manufacturer's 5-year warranty if you run into problems.
Despite the cons, the St. Croix Mojo Yak Casting Rod is an excellent all-around kayak rod.
It's not ridiculously priced, and the comfortable, shortened handle will keep it from getting caught up in your clothes and life vest while fishing.
BEST KAYAK SPINNING ROD
St. Croix Mojo Yak Spinning Fishing Rod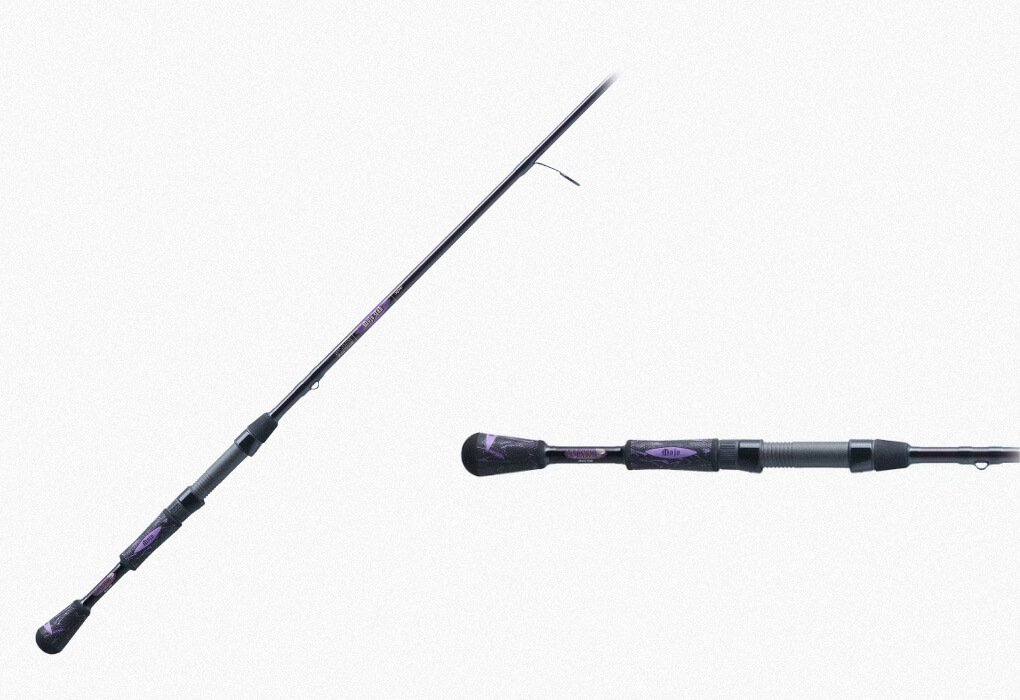 Specs
Length – 7′ or 7′ 6″
Action – Fast
Power – Medium-Light, Medium, or Medium-Heavy
Why We Chose It
If the St. Croix Mojo Yak Casting rod was the best overall, it only makes sense to have the Mojo Yak Spinning Rod as the best kayak spinning rod because it has the same features as the casting rod, shortened handled, multiple rod lengths and powers, but in a spinning rod that's easier for less experienced anglers to fish with.
St. Croix considered all the fishing limitations of a kayak when designing the Mojo Yak series specifically for kayak anglers, which makes me feel special, just like my momma always said.
I love having options, and knowing that you can choose between different rod lengths and powers means you can choose the best combination for your style of fishing, whether you're a power or finesse fisherman or woman.
I love using this rod and my Daiwa reel for finesse fishing because it's easy to cast the lighter lures, but it still has the strength to haul in big bass.
A spinning rod and reel are also easier to cast than a baitcasting setup for beginners, so whether you're a dedicated angler or a newbie, you'll be able to use this rod.
I also respect how St. Croix stands behind its products. If you happen to purchase a rod with a manufacturer defect, then you can count on the five-year warranty of St. Croix to take care of your problem.
The graphite blanks used in the Mojo Yak spinning rod make solid-quality rods. They're better than cheap fiberglass blanks but a step below carbon fiber blanks in terms of durability and sensitivity.
Most anglers use graphite blanks because they're less expensive than carbon fiber but have excellent strength and sensitivity.
The cons of the Mojo Yak Spinning rod are similar to the casting rod in that this rod is just as expensive as the casting rod, and only fast-action rods are offered. Let's start with the fast-action-only dilemma.
St. Croix only offers a fast action for this spinning rod which will hamper some of your fishing techniques, such as when using heavier lures, but it is still a good all-around fishing pole.
The other con is that this spinning rod is just as expensive as the casting rod. Most of the time, spinning rods are less expensive.
However, you're still getting a fishing pole that was engineered for kayak fishing, so the price is justifiable.
The St. Croix Mojo Yak Spinning Rod is the best kayak spinning rod because it's one of the only spinning rods specifically designed for kayak fishing. This is an excellent mid-range fishing rod for the price and design.
BEST SALTWATER KAYAK FISHING ROD
Lew's Inshore Speed Stick Casting Rod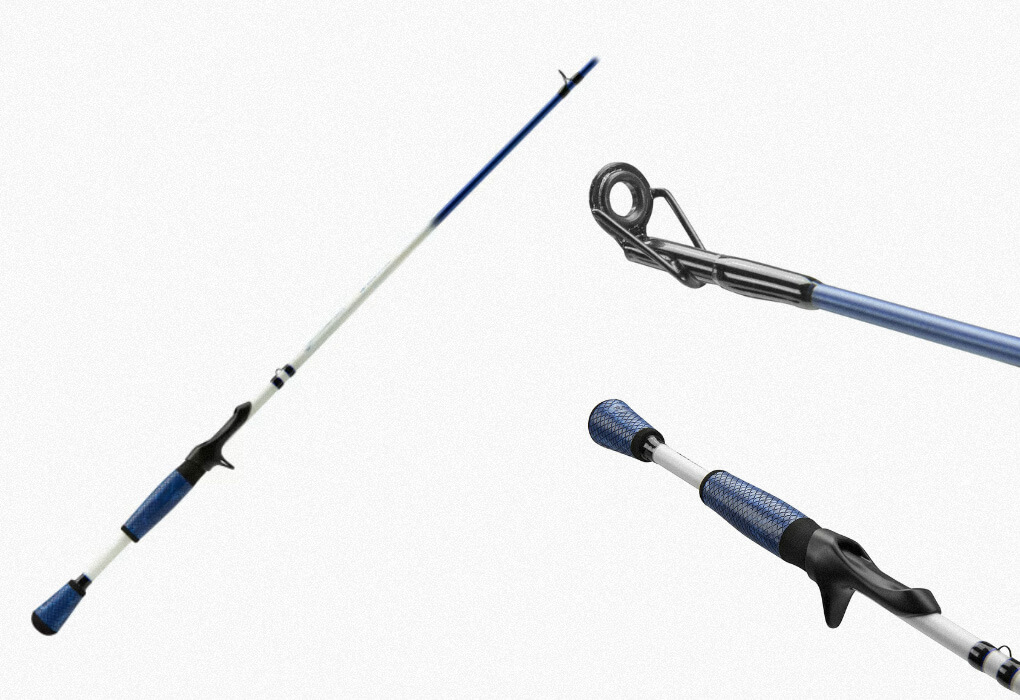 Specs
Length – 6′ 9″, 7′, or 7′ 6″
Action – Fast
Power – Medium Light or Medium
Why We Chose It
The Lew's Inshore Speed Stick is the best saltwater kayak fishing pole because it's designed to handle the abusive nature of saltwater, has a comfortable handle, and is made from quality materials.
If you kayak fish inshore and in freshwater, you're going to want this rod. I absolutely love my Lew's rods.
With stainless steel guides and hard aluminum oxide inserts, you won't have to worry much about corrosion, which means this rod will last you for many years thanks to its durable construction.
Speaking of durable construction, the materials used for the handle are so comfortable, you'll forget you're holding a rod until you get a bite.
The high-quality Advanced G Clutch reel seat also ensures this rod is sensitive enough to feel the lightest bites and secure enough not to come loose while fighting a big fish.
What I don't like about the Inshore Speed Stick is that it only goes up to medium power and fast action. So you won't be able to take it offshore if you have an ocean fishing kayak and battle larger fish.
Nor is it great for jigging with the fast action tip, so you'll have to buy another rod for that technique.
As the name suggests, the Lew's Inshore Speed Stick is primarily for inshore kayak anglers, and it does an excellent job of giving inshore kayak anglers everything they need in a quality rod without being ridiculously priced.
BEST SALTWATER SPINNING KAYAK ROD
Offshore Angler Inshore Extreme Spinning Rod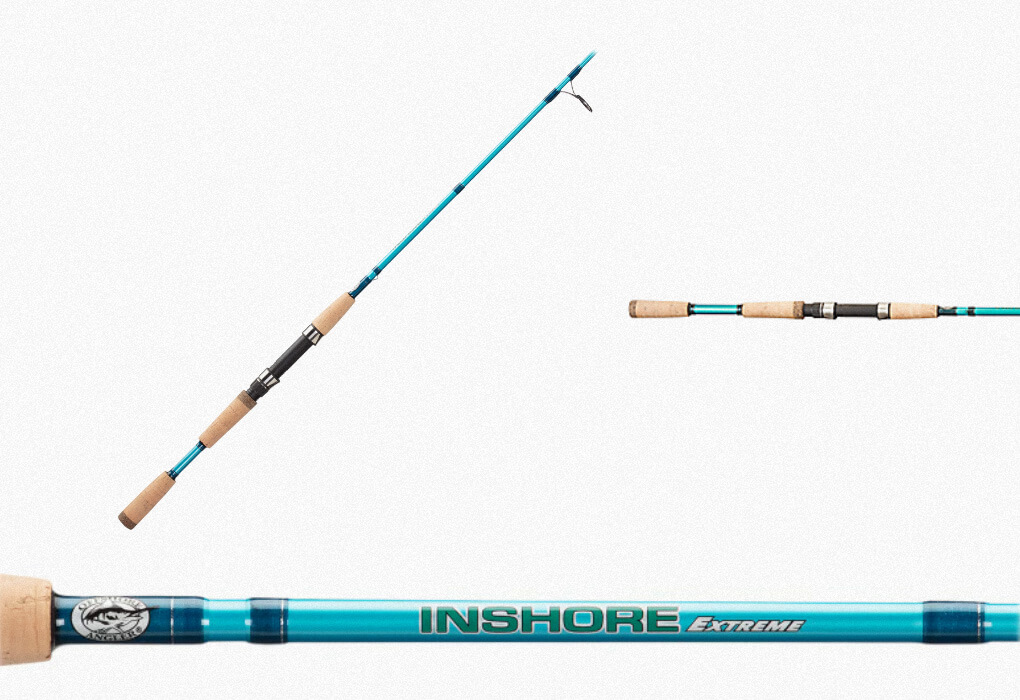 Specs
Length – 6'6″- 8″
Action – Fast
Power – Medium or Medium-Heavy
Why We Chose It
The Offshore Angler Inshore Extreme Spinning Rod covers most brackish water fishing. You can trust it's corrosion-resistant since it's been designed for inshore fishing with aluminum oxide guides and graphite reel seat.
Anglers of all skill levels are able to find the size that fits their needs with multiple lengths and power options to choose from with the Extreme Spinning Rod.
I would stay with the 6'6″ and 7′ rod because the handles are a little shorter and less likely to get in the way while fishing; however, it's helpful to have a larger rod when battling big fish and to make long casts.
This is why I recommend getting only as long of a rod as you need.
The Inshore Extreme Spinning Rod is a graphite fiberglass hybrid, so you get the sensitivity of graphite and the power of the fiberglass, but you also get some of the downfalls of both materials.
A few customers complained of broken rods.
While the customer could have shipped it off and possibly gotten it replaced, the return process was more complicated than the rod was worth, so they gave the rod away and bought another inshore fishing rod.
I know all products have defects now and then, but I would like to see a simple return procedure when it happens.
Another con I found with this rod is the cork handles. I've fished with foam EVA and cork handles, and I prefer the EVA foam because they're more durable and easier to grip.
My hands are naturally sweating, and the cork can get slick, making it harder to hold onto the rod.
Even with the flaws, the Offshore Angler Inshore Extreme Spinning Rod is worth checking out for anglers using a 4000-4500 sized spinning reel because it's reasonably priced and has the option for shorter handles.
BEST KAYAK BASS JIGGING ROD
H2OX EVO Casting Rod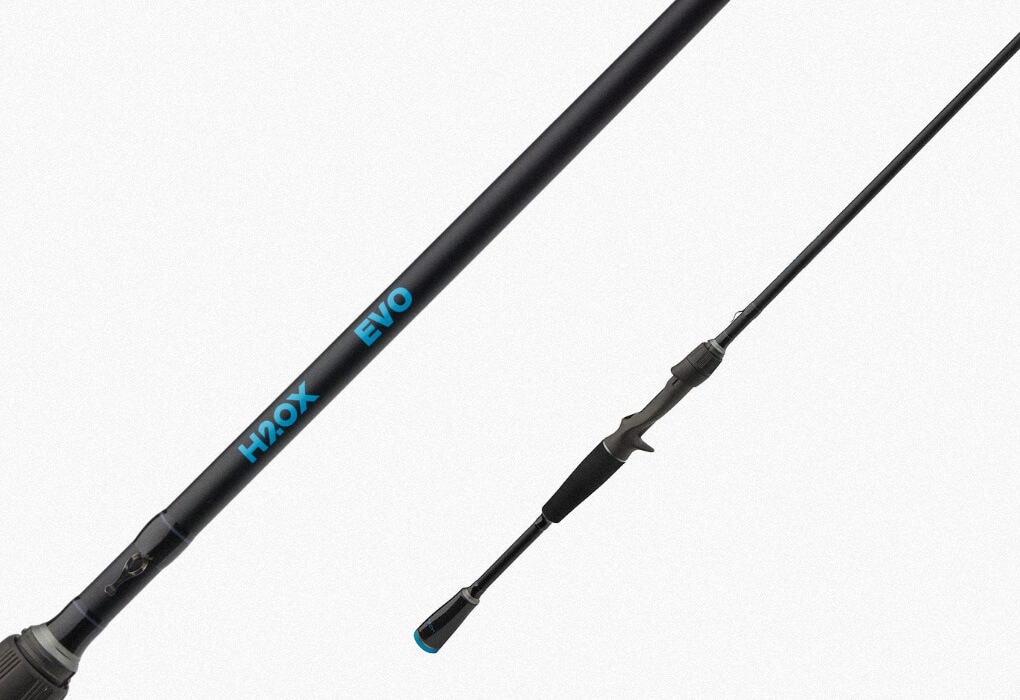 Specs
Length – 6' 9"- 7' 11"
Action – Moderate, Moderate Fast, Fast, Extra Fast
Power – Medium, Medium-Heavy, Heavy, Extra Heavy
Why We Chose It
The H2OX EVO Casting 7' 11" heavy, extra-fast action rod is the best bass jig rod for kayak fishing I've ever used. It's incredibly sensitive, strong, and surprisingly inexpensive.
This truly is a premium quality rod at a middle-of-the-road price.
This series offers multiple lengths, powers, and actions so you can get the rod that fits your needs. I use mine for jig fishing or anything with a thick hook that requires some strength to get a good hookset.
I can count the rocks and sticks as my jig hits them because this rod is so sensitive, and the EVA grips don't hurt my hands after a long day of fishing.
I had to get really nitpicky to find anything negative to say about the H2OX EVO rod, but here's what I wouldn't mind seeing changed.
Since it was designed by a professional bass angler, these rods are for freshwater fishing only, so if you're a brackish or saltwater angler, don't get these rods.
While I like the design of the hook keeper, it's in a bad place when I put a rod sleeve on while transporting it in my rod box. I would love to see it moved a little lower. However, most hook keepers are in this spot, so it's not like other rods won't have the same issue.
The last con has more to do with the drawbacks of a long rod. Long rods, like the one I use for jig fishing and swimbaits, are not as accurate as shorter rods, but I can launch a cast a long way thanks to the extra length.
As I said, I had to get creative to find the cons, so these are by no means keeping me from using my H2OX EVO Casting Rod, and if you're in the market for a high-quality rod at an affordable price, this is the one.
I use it in my kayak and fish with it from the shore without any problems.
BEST KAYAK FISHING ROD AND REEL COMBO
Shakespeare Ugly Stik GX2 Spinning Combo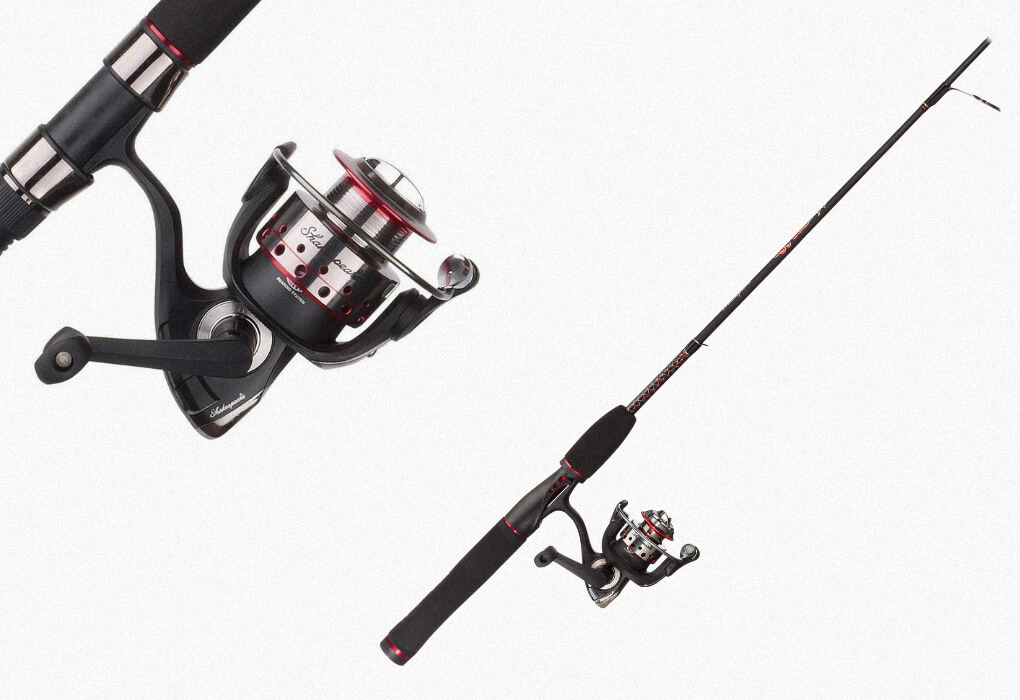 Specs
Length – 4' 8"- 7'
Action – N/A
Power – Ultralight, Light, Medium, or Medium-Heavy
Retrieve – Right or Left
Gear Ratio – 5.1:1 or 5.2:1
Why We Chose It
The Shakespeare Ugly Stik GX2 Spinning Combo is my pick if you're looking for a spinning rod and reel combo. It's absurdly tough and inexpensive, making it perfect for kids or anglers like me who are known to break rods.
Shakespeare is known for making entry-level fishing equipment at an affordable price, and the Ugly Stik GX2 Spinning Combo is no different.
Ugly Stik is synonymous with being nearly impossible to break. I've folded these rods in half, and they still won't snap. I've also watched them get shut in tailgates and ran over by trucks without breaking.
I also like that you can choose which length and power works best for you, so whether you're chasing crappie or bass in a plastic boat, there's a power and length to fit your needs.
The last benefit I'll touch on is the short handle. This is great for sit-in and sit-on-top kayaks because you're less likely to get it caught on your PFD.
The biggest downside to the Ugly Stik GX2 Combo is that it's not a high-quality rod, so it'll lack sensitivity and be a little heavy compared to more expensive rods. The reel is by no means a high-end reel either.
However, if you're looking to get your kids a rod and reel combo or need one that's inexpensive and indestructible, the Shakespeare Ugly Stik GX2 Spinning Combo is the answer to your prayers.
BEST KAYAK FISHING TRAVEL ROD
Kingswell Telescopic Rod and Reel Combo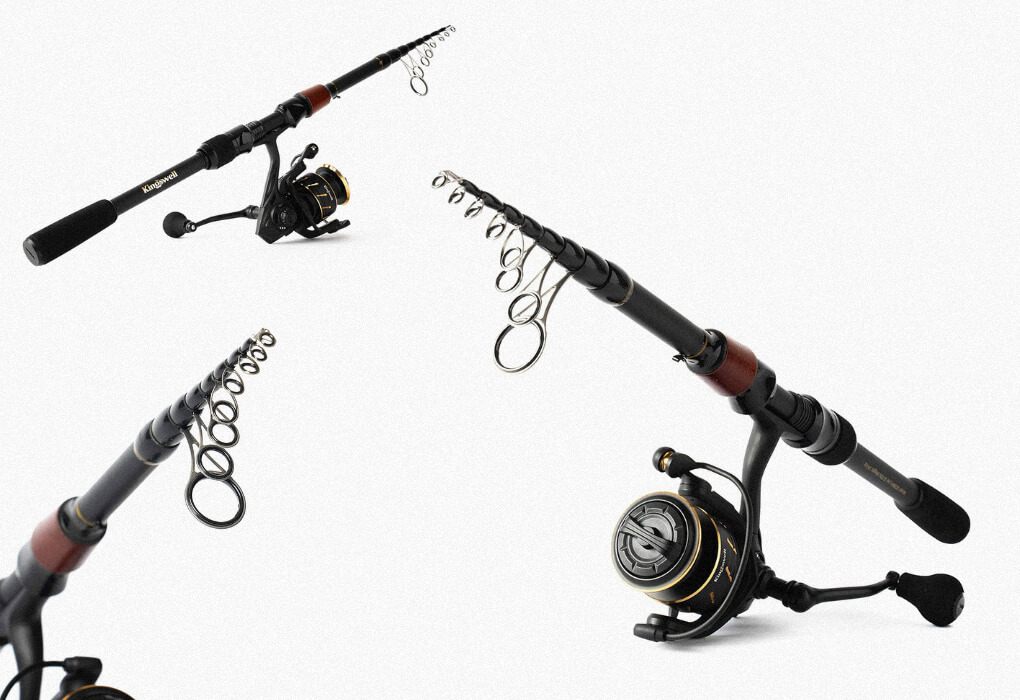 Specs
Length – 1′ 10″ to 6′ 9″
Action – Moderate Fast
Power – Medium-Heavy
Why We Chose It
The Kingswell Telescopic Rod & Reel is the best telescopic rod I've ever fished with!
Normally, I don't recommend traveling rods because I find them very frustrating to fish with, but I have very few frustrations with the Kingswell combo.
I love that this 6' 9" rod collapses to 1' 10", making it super compact. I store it under the back seat in my truck instead of always carrying a one piece rod with me.
It's also super easy to assemble. There are lines that help ensure the eyes or guides are straight, which other travel rods rarely have, especially in this price range.
I have yet to have a problem with the handle getting in the way because it's fairly short, making it perfect for kayak fishing.
As I mentioned, I have stored this rod and reel under my backseat for over a year now, and it still hasn't broken after being used on countless fishing trips, with kids and dogs getting in and out of the truck kicking and stepping on it.
I'd say it's pretty tough!
I really struggled to find many negatives about it, so I went with the obvious. It's a telescopic rod, I still prefer to fish with a 1-piece rod, but I find myself reaching for this one quite often since it's super handy in my truck.
The Kingswell Telescopic Rod & Reel Combo truly surprised me as an Amazon purchase.
I didn't expect much out of this rod, but it sure has delivered durability, easy assembly, and a compact travel rod, all at a ridiculously affordable price.
BEST BUDGET-FRIENDLY KAYAK FISHING ROD
Berkley Lightning Casting Rod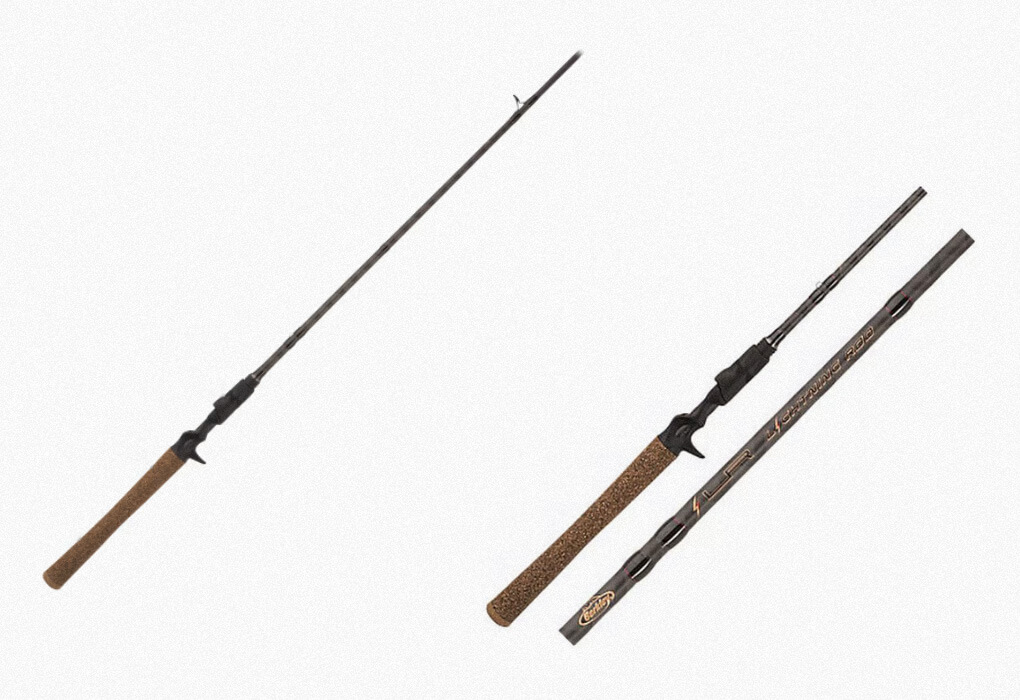 Specs
Length – 6′ 6″, 7′, or 8'
Action – Moderate, moderate-fast, or fast
Power – Ultralight, medium, medium-heavy
Why We Chose It
Berkley is known for its fishing baits and for making budget-friendly fishing poles. Berkley lures are trusted by professional and weekend anglers alike across the country.
The Berkley Lightning Casting Rod is very inexpensive compared to other rods, especially since it's a graphite blank.
Because it's graphite, you will get better strength and sensitivity than a fiberglass rod, which is what budget-friendly rods are usually made from.
So you can still get a quality rod for anglers on a tight budget.
I like that this rod is a multi-purpose rod for kayak fishing because that means you don't have to try and cram several rods onto your kayak; instead, you can use this rod for multiple applications.
Another feature I like is the double-locking reel seat. Few things are more frustrating than fishing with a rod that allows your reel to become loose throughout the day.
You can easily avoid that frustration with the Berkley Lightning Rod.
However, I'm not a massive fan of the rubberized cork handle. For one, I'm not too fond of the feel, and two, I don't think it is as durable as EVA foam. It chips out really bad, and then it's uncomfortable to hold.
But for the price, that's an inconvenience I can manage.
The Berkely Lightning Casting Rod and Lightening Spinning Rod are the best budget-friendly kayak fishing rods because they're multi-purpose and inexpensive.
Anglers.com content creator Wes Littlefield tested out H2OX EVO rods in his kayak and from the bank in the YouTube Video above.
Considerations Before Buying The Best Kayak Fishing Pole
Whether you're shopping for an ultralight pole, trolling rod, or fly fishing rod, there are several factors to consider because you're fishing from a kayak, and yes, you can fly fish from a kayak!
Choosing a kayak fishing pole is similar to purchasing any other fishing pole.
However, there are a few special considerations you have to keep in mind because of the limited space a kayak offers. Factors like:
Rod/handle length
The Species you plan to catch
Power and action
Reel preference
And Price
While there are other factors to consider, these are the most important.
Ideal Rod Length For Kayak Fishing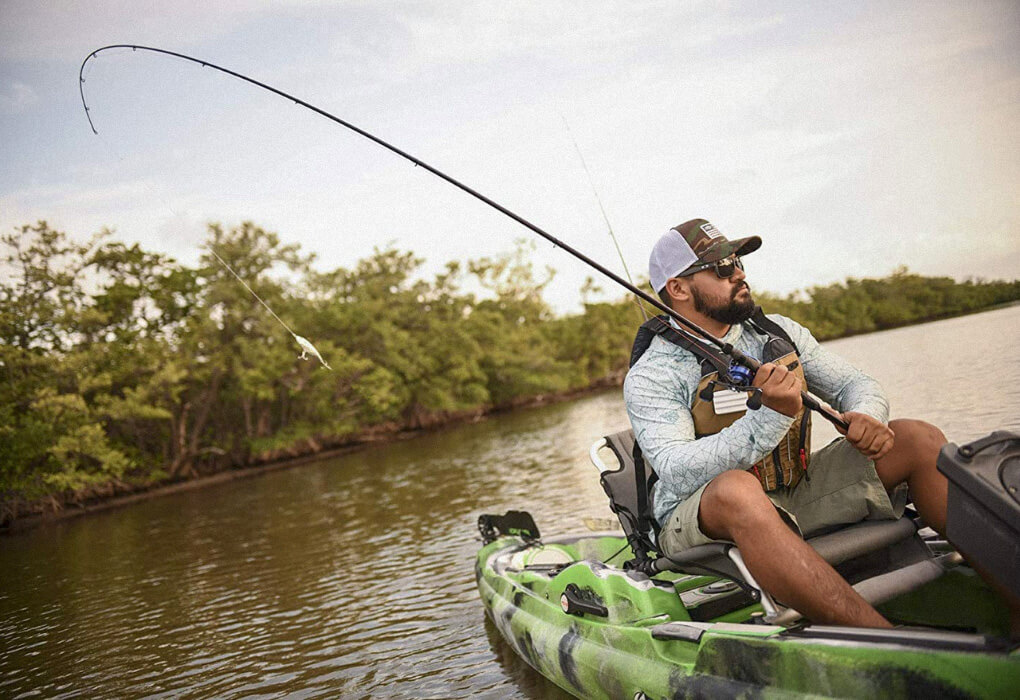 The best rod length for kayak fishing depends on the species of fish you're trying to catch and the presentation you're using.
It would be best if you were most concerned with the size of the handle.
A handle that's six to eight inches long will be long enough to give you leverage for fighting big fish but short enough that it won't constantly be getting in your way.
An overall rod length of seven-foot is great for most fishing scenarios.
Even when fishing for giant catfish with live bait, I only use an eight-foot rod because it becomes too cumbersome to operate effectively in a kayak around eight and a half feet long.
What Species Are You Targeting?
If you're targeting crappie or other panfish, then you'll likely be using an ultralight rod, whereas when you're bass fishing, you'll want a casting or spinning rod that can handle the heavier fishing line.
Some freshwater species and most saltwater species will require heavy-duty fishing poles. That's why it's important to know what species you plan to catch so you can buy the proper rod.
I own several different rods based on the species I am targeting, and I use them all while fishing from my kayak.
Power And Action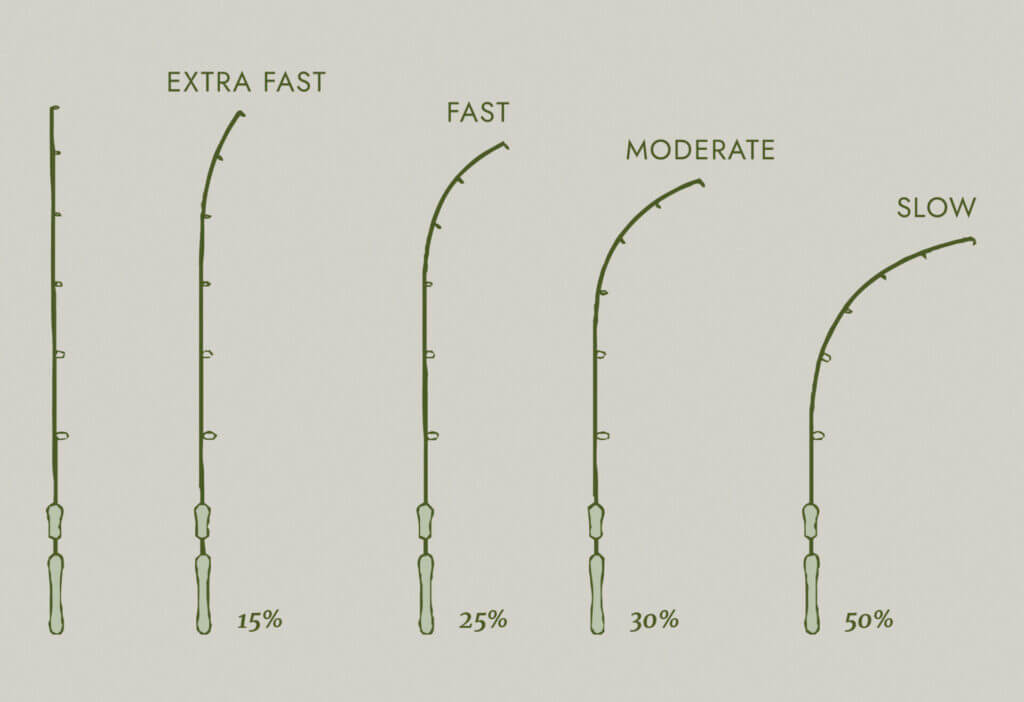 I believe the power and action of the rod are essential to consider if you want the best chance of catching fish.
Once again, determining what power and action you need depends on several other factors, like the species you're targeting and the lure you're using.
In my opinion, the best all-around power and action is a fast-action, medium-heavy rod. You can cover a wide variety of techniques and species.
However, it won't be ideal for all scenarios, but that's the power and action I use most often when fishing out of my kayak.
Reel Preference
Your fishing reel preference will partially determine the type of rod you choose. If you like using a spinning reel, then don't buy a casting rod because it won't work with a spinning reel.
That's why purchasing a rod and reel combo is helpful because you know you're buying the correct rod and reel.
There are a few ways to tell the difference, the main one being the eyes of a spinning rod are larger than the eyes on a casting rod. Most brands should make it clear on the packaging.
I use both depending on my technique because casting rods and reels can generally handle heavier lines, while spinning rods and reels work best with lighter tackle.
Price
The price of the rod often determines the quality of the rod. Cheap rods are constructed from fiberglass. They're typically not as sensitive or strong as graphite rods.
Graphite rods are considered the middle of the road and are what most anglers use because they are pretty sensitive and strong.
High-end rods are made from different materials, including carbon fiber. These rods are the most sensitive while maintaining their strength.
A good rod will cost you between $100-$200, while the best rods cost $200-$500+.
I've bought cheap rods that work just as well as my middle-of-the-road rods, but I've also had some budget rods that couldn't hold up to the rigors of kayak fishing.
You'll Also Need
Now that you have your kayak fishing pole, you'll also need to purchase other fishing accessories for kayaks. Some of these accessories are essential, while others are convenient to own.
You can see which fishing gear is vital in our kayak fishing tips and tricks article, where we list several tips that will help your kayak fishing experience.
Kayak Fishing PFD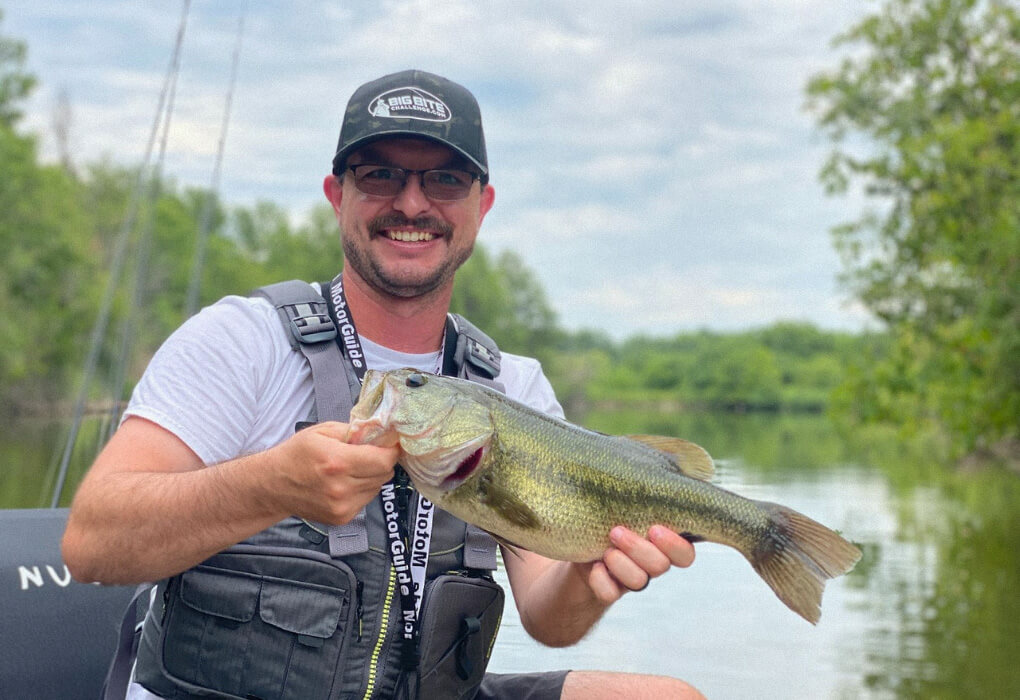 A kayak fishing life jacket is a must; if you need one, I highly recommend checking out my best kayak fishing PFD article, where you'll discover five of the best kayak fishing life vests on the market.
If you're in a kayak, always wear your PFD. I know it can be hot and make fishing a little more complicated, but the minor inconvenience is worth it if an accident happens.
I put mine on when I step into my kayak, and I don't take it off until I'm back where I launched.
It's a cliche for a reason, but it's better to be safe than sorry. Don't ruin a good day of kayak fishing because you refuse to wear your PFD.
Kayak Fishing Net
Several kayak fishing nets on the market will help you land more fish. I've netted countless fish just in the nick of time before they spit the hook.
Having a net on my kayak has helped me land my personal best largemouth and numerous other fish.
I highly recommend purchasing a net that floats!
Kayak Fish Finder
Adding a fish finder to my kayak has helped me locate and catch more fish. I love having the ability to see the depth I'm sitting in and the contour of the bottom.
While it's not a necessary fishing accessory, it's useful. In our article, you can find some of the best kayak fish finders on the market.
Kayak Trolling Motor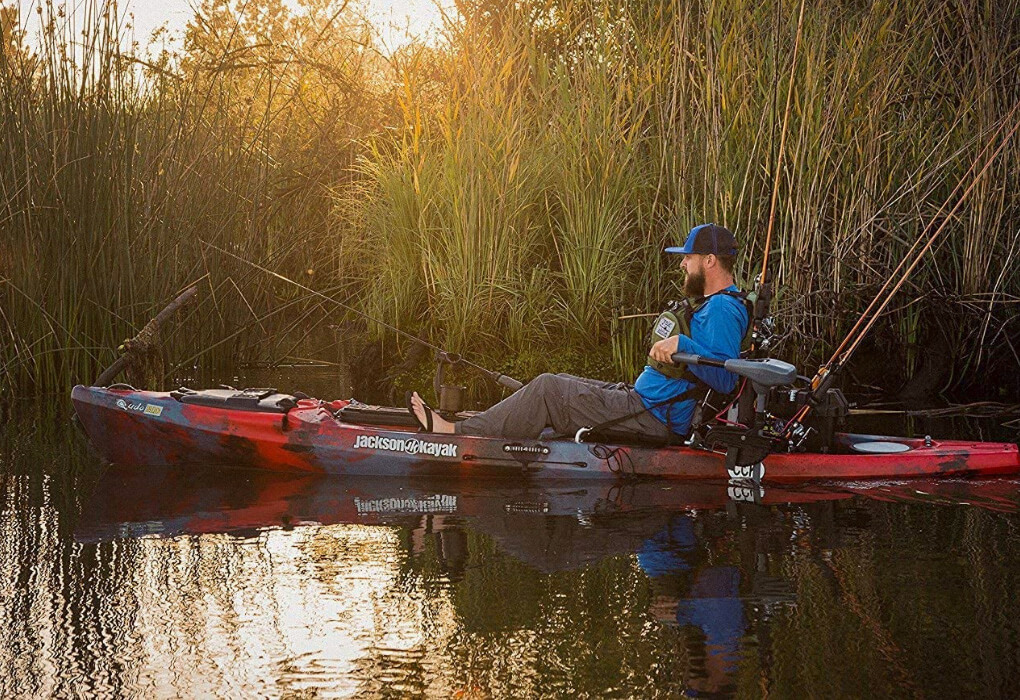 I love having a trolling motor on my kayak. I can get to places quicker and less tired than when I'm paddling, which means more time fishing.
If you are interested in adding a trolling motor to your kayak, read my best kayak trolling motor article.
Kayak Trolling Motor Battery
If you install a trolling motor or a fish finder, you'll need a power source. Lithium-Ion batteries are the way to go.
However, in my best kayak trolling motor battery article, you'll see I also recommend a few lead-acid batteries because some trolling motors still require a lead-acid battery.
Frequently Asked Questions
What type of rod is best for kayak fishing?
A casting rod is the best type of rod for kayak fishing because it's stronger, and you can cast further with it.
How many rods do you take kayak fishing?
I take four rods kayak fishing on most trips. Sometimes I take one, and other times I'll take six if I have the room.
What is the best length for a casting rod?
The best length for a casting rod is 7' because that's a good all-around length. However, it also depends on the type of fishing you're doing.
Last Cast
The rod you choose should ultimately come down to the type of fishing you plan to do.
So when I rate the St. Croix Mojo Yak Casting Rod as the best kayak fishing rod, it's because I know that it is an excellent all-around bass fishing rod that is designed for kayak angling.
However, all the rods listed above will catch fish from a kayak, including the budget-friendly Berkley Lightning Casting Rod.
If you have any questions about the best kayak fishing rod or kayak fishing in general, I'd love to hear from you in the comments below! I'm always down to talk fishing.