Last Updated on October 25, 2022
We independently research, test, and recommend the best products; you can learn more about our review process here.
If you spend a lot of time on the ice, you probably think about buying an ice fishing fish finder. We all spend a lot of money on gear, but how much of it actually helps us catch more fish? I'll answer that for you, very little.
However, this is an investment that will pay off in one trip. Just be sure you understand what you're looking for and you know how to choose. The best ice fishing fish finder will be:
Accurate
Weather-resistant
Portable
Versatile
I've got a few that should check all these boxes so let's get right to it!
Comparison Table – Of the Best Ice Fishing Fish Finders
---
In Depth Reviews of Our Picks For The Top 10 Fish Finders for Ice Fishing
Garmin Striker 4 with Portable Kit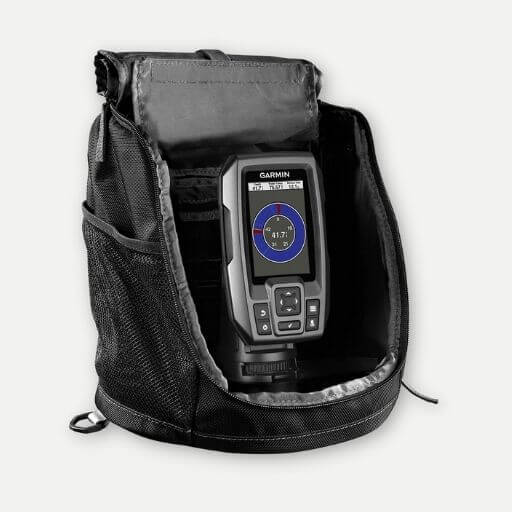 Specs
Type: Garmin
Display: 3.5-7-inches
Type: Flashing Chirp Sonar
FEATURED SPECS
This Garmin fish finder focuses on the basics by offering an easy to use device, decent display, and accurate Chirp sonar.
EXTRA FEATURES
While this isn't a dedicated ice fishing GPS fish finder, it works for ice fishing because it has a powerful transducer that limits the need for a cold-weather one.
BUYING ADVICE
Keep in mind that using this fish finder in the ice will shorten the life of the transducer so you can upgrade to the ice fishing transducer if you like.
Pros
Great for use in all weather
Works for ice fishing
Dual-beam Chirp sonar
Carrying bag protects the unit from the cold
Cons
Decreased accuracy in cold water
I don't know about you but we're not all made of money. If I'm going to spend some money on a fish finder, I want one that will work all year.
I ice fish but I also fish a lot more in the spring and summer so I need a fish finder that will work for all of these occasions.
This one keeps it simple. It's reliable, durable, long-lasting, well-respected, and the regular transducer will work for ice fishing.
If you'd like to learn more about it, give my complete Garmin Striker 4 review a read.
Lowrance Hook Reveal 7 Ice Pack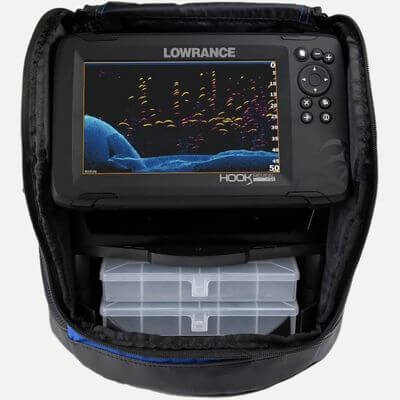 BEST MULTI-USE FISH FINDER
Specs
Display: 7-inches
Type: Splitshot
Pros
Larger screen
Variable sonar options
Incredible SolarMAX display for enhanced visibility
Cons
Typically poor Lowrance customer service
Stock issues
Why We Chose It
The Lowrance Hook Reveal is flat out one of the best fish finder models to date. This unit is specifically designed for ice fishing by bundling in a few unique features that make it a great choice on the hardwater.
First, it comes with an ice pack carrying case that will protect the unit against cold frigid temperatures and wind gusts that blow the snow around.
It also provides you with some room to store your tackle underneath the fish finder to prevent you from having to drag too much out onto the ice.
As for the general features, you get a splitshot transducer which offers both down and side scanning which is nice and versatile for fishing during warm weather as well.
The Hook Reveal 7 also comes with SolarMAX which is great for bright sunny days when the sun is beating down on the ice and making it hard to read the display.
Genesis Live is also another great option to help you explore the water, chart, and map down all your favorite spots.
If you'd like to learn more about the Lowrance Hook Reveal, I wrote a complete review of all their models in my full Lowrance Hook Reveal review.
Humminbird ICE-35 Six Color Flasher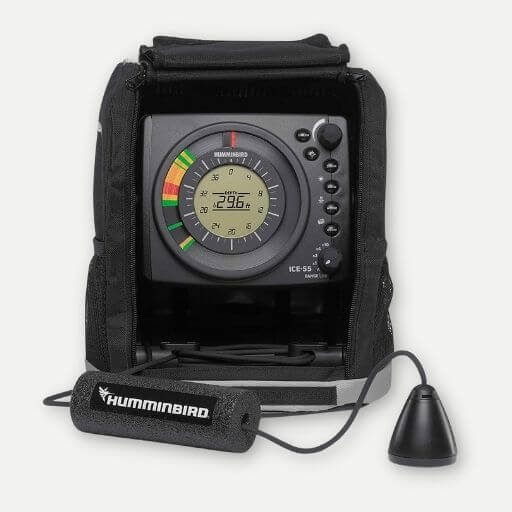 BEST COLD WEATHER FLASHER
Specs
Type: Humminbird
Display: 1 Inch LCD
Type: Dual Beam Sonar
Pros
Easy to transport
Comes with everything you need to get started
Built for extreme cold
Cons
Small display screen
Has problems picking up small jigs
Why We Chose It
Ice fishing is not for the faint of heart, neither is the Humminbird ICE-55 Flasher.
Designed to function at temperatures as cold as -20 degrees, means you can rely on your flasher to inform you of fish in nearly any condition you choose to fish.
It's small enough to carry in a 5-gallon bucket so you can worry about your other gear being too clunky to carry instead of the ICE-55 Flasher.
The Humminbird ICE series is for the serious ice fishing angler. If you choose to fish in the most extreme of conditions then you will need the gear that holds up in those same weather conditions.
Garmin LiveScope Ice Fishing Bundle
BEST FEATURE-RICH ICE FISHING FISH FINDER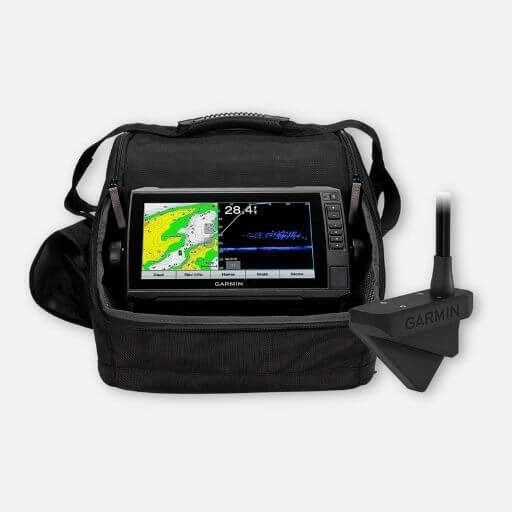 Specs
Type: Garmin
Display: 9-Inches
Type: Panoptix LiveScope Sonar
Pros
Giant Display
Two modes from one transducer
The ability to see the fish on the screen
Cons
High price
Ice fishing only
Heavy
Why We Chose It
Garmin is known for making some of the best fishing electronics on the market. More than that they are bringing LiveScope to ice fishing.
With the ability to see where the fish are located from your hole, you can confidently know where to drill the next one.
Although it is heavy, the carry case was designed with gloves in mind so you can keep your hands warm during transport.
Or make your buddy carry so you have the energy to reel in the fish. The unit is keypad and touchscreen operated which means you can keep your gloves on and still use it.
The dual-mode transducer means you don't have to purchase a separate transducer to experience all of the benefits the Garmin LiveScope Ice Fishing Bundle has to offer; such as LiveScope forward and down scanning.
With customizable screens, sonar, and GPS mapping, you are in control of exactly what you see and how you want to see it while on the ice.
If you want to dive deeper, check out our Garmin Panoptix Livescope Review.
Vexilar GP1812 FL18 Genz Pack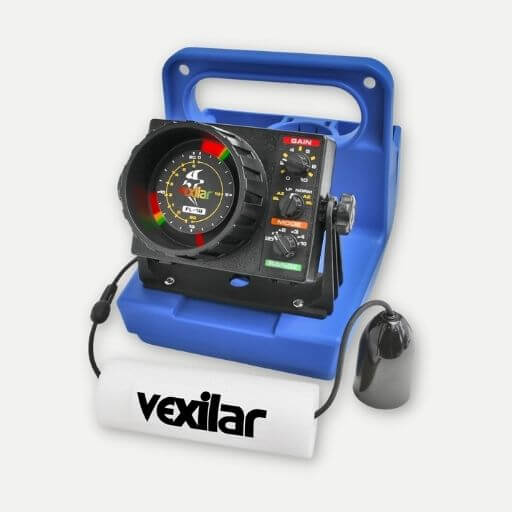 Specs
Type: Vexilar
Display: LED Pixels
Type: Flashing Ice Ducer
FEATURED SPECS
This ice-fishing fish finder uses flasher technology to help locate the fish.
It has six depth ranges to provide a more accurate response based on the total necessary depth.
EXTRA FEATURES
It features a 12V 7amp charger which means you can charge it anywhere that offers a power source.
BUYING ADVICE
This one uses a three-color sonar ice fishing flasher that helps you identify the location of fish based on the color on the display. This is extremely reliable but a bit harder to read for beginners.
Pros
The most accurate fish finder on the market
Weatherproof
Long battery life
Cons
Accuracy and reliability are factors to consider with ice fish finders because the cold temperature can mess up a reading on a regular fish finder.
That's not the case here. This one is built for ice fishing, it's durable, and it's incredibly reliable in cold temperatures.
The display is ideal for this type of fishing but it does take some getting used to if you've never used one like this before.
Garmin Striker Plus 5 Ice Fishing Bundle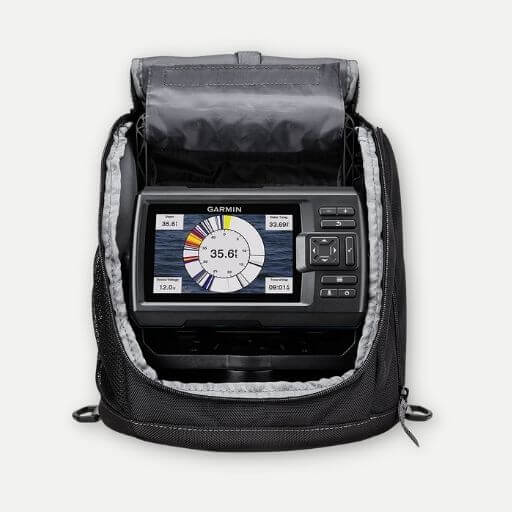 Specs
Type: Garmin
Display: 5-inches
Type: DownVu and Chirp Sonar
FEATURED SPECS
This fish finder offers up to 5,000 waypoints on it's GPS receiver. You can mark favorite locations or fishing spots to avoid.
EXTRA FEATURES
It boasts both DownVu and 2D Chirp technology.
The DownVu gives you a real-time idea of what the structure and bottom of the water look like while the Chirp technology will show arches.
BUYING ADVICE
This is a great option if you're looking for a versatile fish finder that can do a lot of things and offer a lot of information.
Pros
Split-screen
Fish alarm
Water temperature sensors
Dual-frequency sonar
Cons
Does not come with a microSD card reader
This fish finder really does it all and it comes in an ice fishing bundle that's designed to work best for cold weather applications.
This one also has both Chirp and DownVu which is an advantage over some of their other products.
Lowrance Hook 2 Ice Fishing and All-Season Pack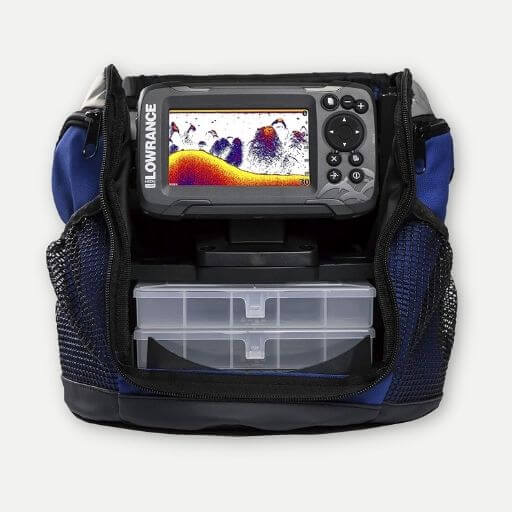 Specs
Type: Lowrance
Display: 5-inches
Type: 2-in-1 Chirp Sonar
FEATURED SPECS
This dedicated ice fishing fish finder comes with a whole setup that helps protect the unit while ensuring you get an accurate reading.
It features an accessory-zipped pocket with a waterproof pack.
EXTRA FEATURES
The Lowrance Hook 2 also comes with a waypoint mapping system and GPS functionality that allows you to store up to 3,000 waypoints.
BUYING ADVICE
This is a Split-Shot 2-in-1 fish finder offering moth downscan and sidescan so you'll get precise imaging out of this one.
Pros
Great imaging technology
Waypoint Mapping and GPS
Ice fishing approved
Weatherproof and durable
Cons
A bit heavy
Instructions are worthless for ice
This fish finder from Lowrance offers a five-inch color display offering great visibility of everything happening beneath you.
It's also a dedicated ice fishing device so you get the weatherproof bag with zippered pouches for your gear.
Plus, it comes with a downscan and sidescan setting so you can see what's happening all around you which is important when you can't just slide your boat 100 feet to the left and fish there.
Deeper PRO+ Smart Sonar GPS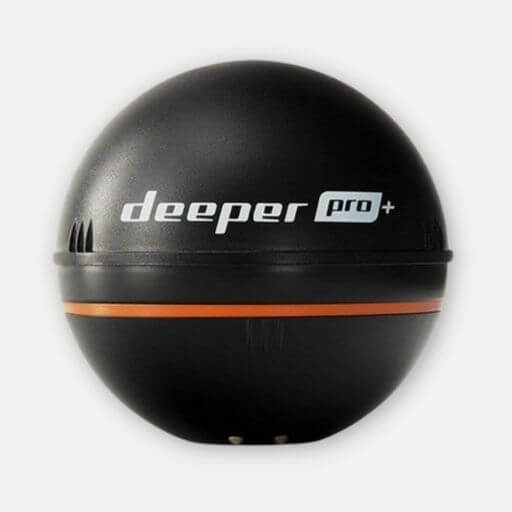 BEST PORTABLE
Specs
Type: Deeper
Display: SmartPhone
Type: Dual Beam Casting Sonar
FEATURED SPECS
This fish finder allows you to connect it to your smart device via Bluetooth wi-fi which makes carrying it, transporting it, and using it that much simpler.
EXTRA FEATURES
Features dual-frequency sonar up to 130 feet of depth and you can monitor everything directly from your smartphone.
BUYING ADVICE
Portability is important on the ice because it's cold and you never know what you'll run into. You'll be thankful you went with this one.
Pros
Track fish from your phone
Built-in GPS
Perfect for all fishing styles
For use in saltwater
Cons
Transportation is a big factor when you're ice fishing. Sometimes you can drive your truck right onto the ice, other times it's a mile-long walk in the cold blustery wind.
If the latter is the case, having a castable fish finder is a great option.
Not having to lug around a big fish finder is a great advantage and the Deeper Pro+ one doesn't sacrifice anything in terms of features.
Venterior VT-FF001 Fish Finder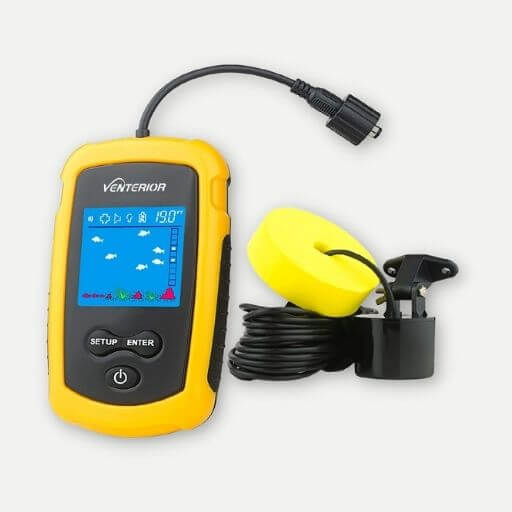 BEST FOR THE MONEY
Specs
Type: Venterior
Display: Approx. 2.5-inches
Type: Portable Sonar Cord
FEATURED SPECS
If you're in need of something affordable and easy to use, this is the fish finder for you.

It has a depth range of 3-328 feet, you can use it at any temperature, and it's simple to operate.
EXTRA FEATURES
All you need to do is toss the transducer into the hole so it's much easier to use than some of the other ice fishing fish finder options.
BUYING ADVICE
I'd recommend this if you're a casual ice angler because the fish finder is multi-purpose. You can use it during warm weather fishing as well.
Pros
Can be used anywhere
Simple to operate
Transducer wire floats
Cons
The receiver is not waterproof or stormproof
Since we're not dealing with a dedicated ice fishing fish finder, you're bound to run into some problems. This one is great for budget-conscious people and it's highly portable as well.
The big problem I see is that the receiver is not weatherproof so the cold may get to it on long trips.
You'll want to find a way to keep it warm when you're on the ice.
Humminbird ICE Helix 7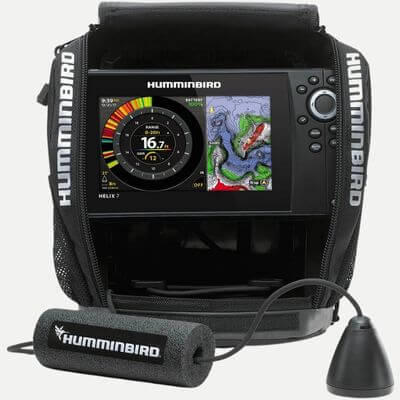 BEST PREMIUM ICE FISHING FISH FINDER
Specs
Display: 7-inches
Type: Dual Spectrum CHIRP
Pros
3/4 target separation for super accurate readings
Lakemaster and Autochart are standard
Comes with "jig charge" mode designed specifically for ice fishing
Cons
Why We Chose It
The Humminbird ICE Helix is a one of a kind model designed specifically for those who like Humminbird but are looking for an ice fishing model.
It comes with a built-in ice fishing flasher and you can split screen the flasher and chartplotter to navigate around the frozen lake and identify the best spo to drill your hole.
It features Dual Spectrum CHIRP sonar and 3/4 inch target separation which is solid and can help ensure that what you're seeing is actually a fish and not a patch of weeds.
There is also an adjustable zoom feature that allows you to zoom in on a specific target up to 16 times which is quite impressive.
As for mapping and GPS, you get pretty much anything you want. It comes with GPS tracking, Basemap for the pre-loaded maps, and AutoChart Live ICE with one-foot contours to help you identify the bottom you're trying to chase.
Jig Charge mode is a really unique feature I had actually never heard of. It's specific to their ice models and it allows you to light up your glow-painted reflective lures when using the flasher mode.
How to Choose the Best Ice Fishing Fish Finder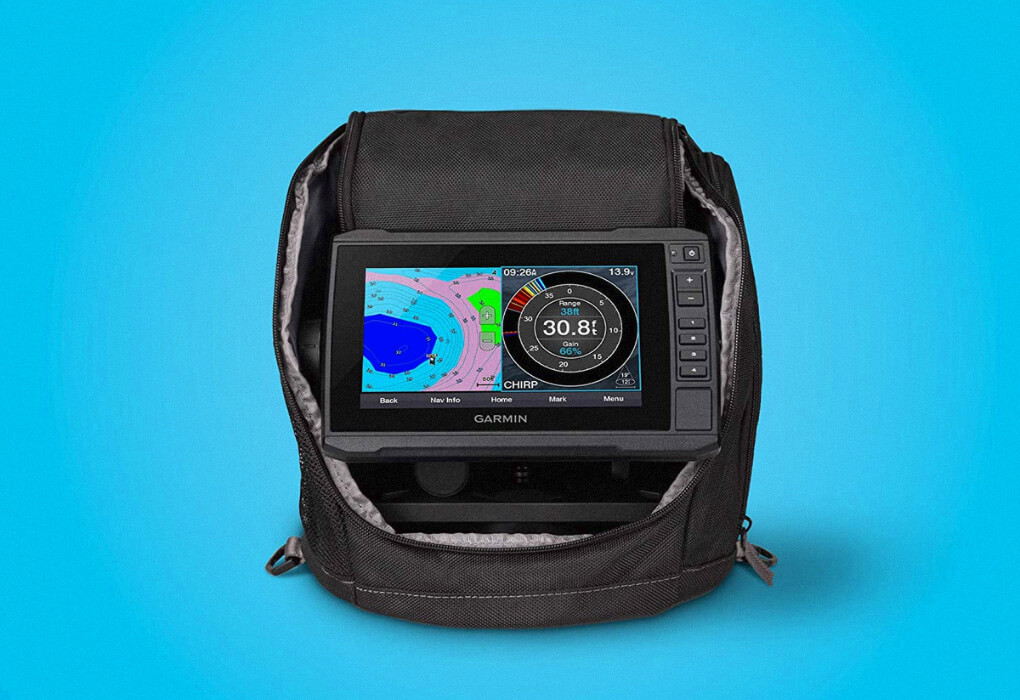 When choosing an ice fishing fish finder, there are many factors to consider. First of all, many people don't understand the differences between a regular fish finder and one for ice fishing.
Let alone the difference between a fish finder and a flasher.
There aren't that many differences but if you don't understand them, you'll likely end up with a device that isn't functional, breaks early, or won't work at all. Here are the most important buying factors to consider as you shop.
Frequency
Frequency (khz) is a word a lot of people see but they don't understand. Even more, people think it doesn't apply to them but it's something you'll want to think about.
Fish finders with high frequencies work best in shallow water while low frequencies are better in deeper water. This isn't as important as knowing what kind of frequency your fish finder has.
Some have single frequencies while others have dual frequencies. Going for a dual-frequency fish finder allows you more flexibility over where you use the device because you'll be able to adjust the settings for the situation.
For example, if you frequently fish different locations, you'll want a fish finder that's flexible enough so you can customize the settings based on the individual scenario.
If you have a single frequency fish finder, you're limited to fishing one particular depth.
Method of Imaging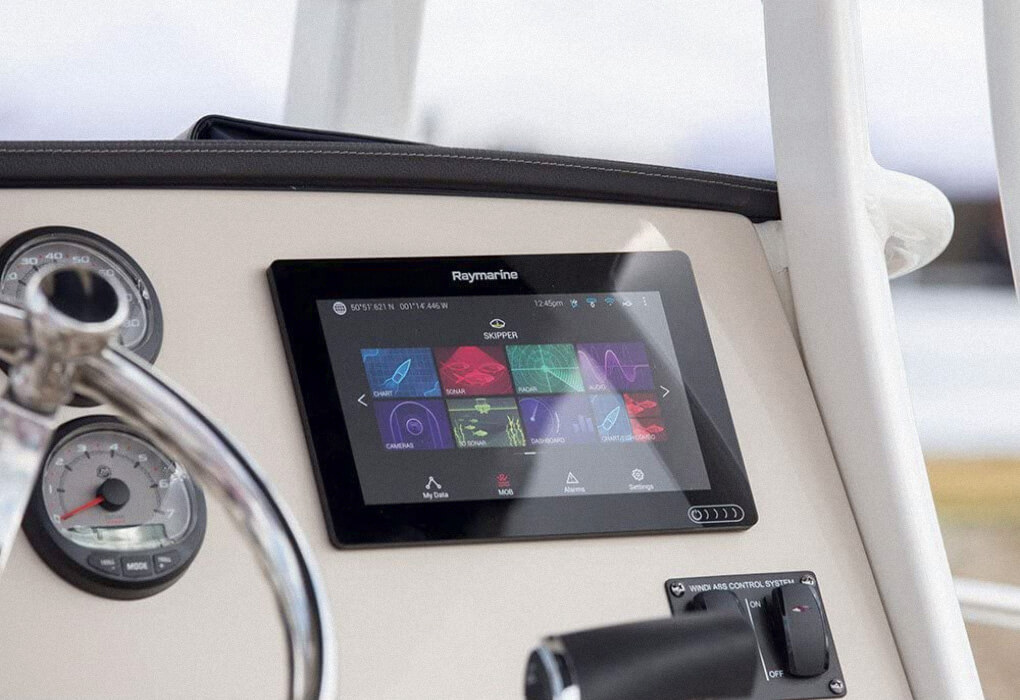 The method of imaging depends on the type of transducer you have. Many of the fish finders for ice fishing use Chirp sonar.
This means that the fish finder is sending sonar down into the water on a continuous "chirping" basis and that's what is providing you with the images.
You'll also hear terms like DownVu, SideVu, sidescan, downscan, and other similar phrases. These refer to sonar that goes directly down vertically or horizontally away from you in all directions.
These are all important for a few reasons.
First, with ice fishing, you can't adjust your location by simply moving your boat a few hundred feet in another direction.
So, having a side-scanning fish finder is nice but these are harder to come by and they're not as popular with ice fishing because the technology hasn't been developed yet.
Down scanning is much more popular and it gives you a picture of everything that is happening beneath you at a certain radius.
For most ice anglers, this will do the trick. Most Chirp sonar functions like this as well.
Beyond the transducer, you have the way the fish finder interprets the sonar into the image on the screen. Some fish finders use fishID technology which is the easiest to read.
It'll show you arcs of variable sizes on the screen and that will tell you where the fish are located and where you might run into some structure.
Other ice fish finders use a color-based technology that will simply offer a red, yellow, or green color telling you whether or not you should fish here.
This is useful prior to drilling because you'll be able to identify ideal locations before drilling the hole.
If you don't have an ice transducer you'll have to wait until after the hole is drilled so you can get the transducer into the water.
Power Source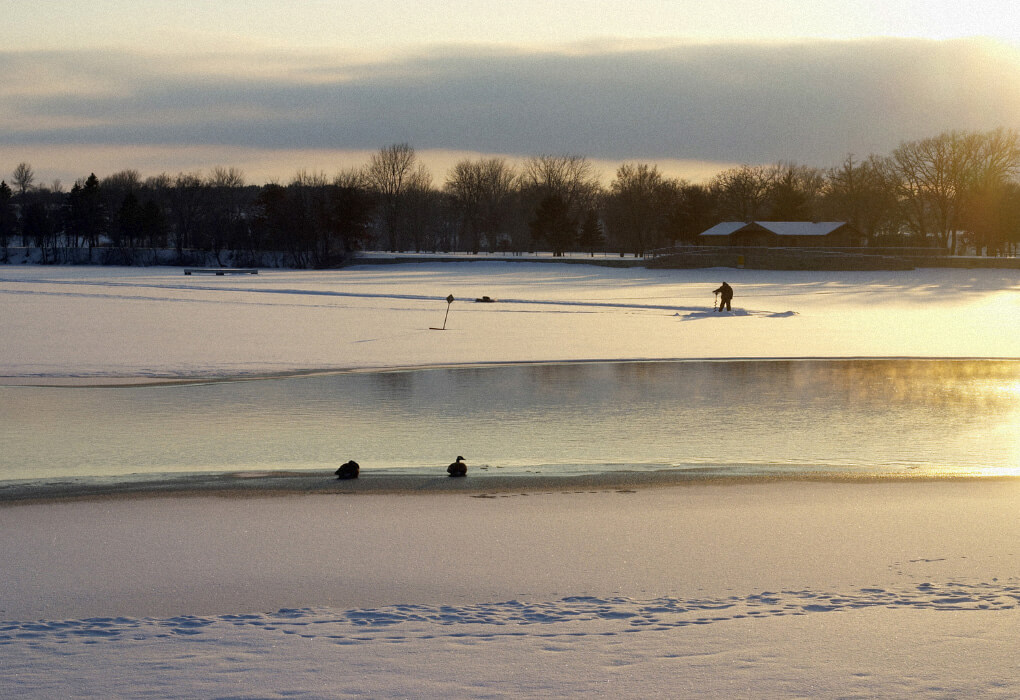 Power translates into speed with fish finders. If you have a high-powered fish finder, you'll get a faster image so you won't have to wait around as long.
These fish finders will also use more power which can drain batteries faster and require more charges.
When you're out on the ice, I doubt you have a ton of readily available power sources so you'll want to make sure you understand how long the fish finder will operate, how many uses you get, what drains it, what sustains it, and so on.
Display
You need a high-resolution screen for a few reasons. First, you need to be able to read it to tell what's going on under the ice.
If your screen is hard to read, has a heavy glare, or is challenging to operate, it won't help you that much.
Keep the type of display in mind as well. You'll notice that some of the ice fishing fish finders have unique displays that are different from many fish finders you'll see on boats.
That's because they read the water through the ice so they don't provide an elaborate picture of everything going on but they provide you with a simple yes (fish here) or not (don't fish here).
These fish finders are much better for use as ice fishing locators but they can take some getting used to if you've never used one before.
Lastly, what does the screen tell you? Some fish finders have built-in depth finders that provide information such as total water depth, temperature, and more.
These are all valuable pieces of information and you should factor in how much you get for your money before pulling out your wallet.
Most decent fish finders will offer a lot of on-screen information.
Portability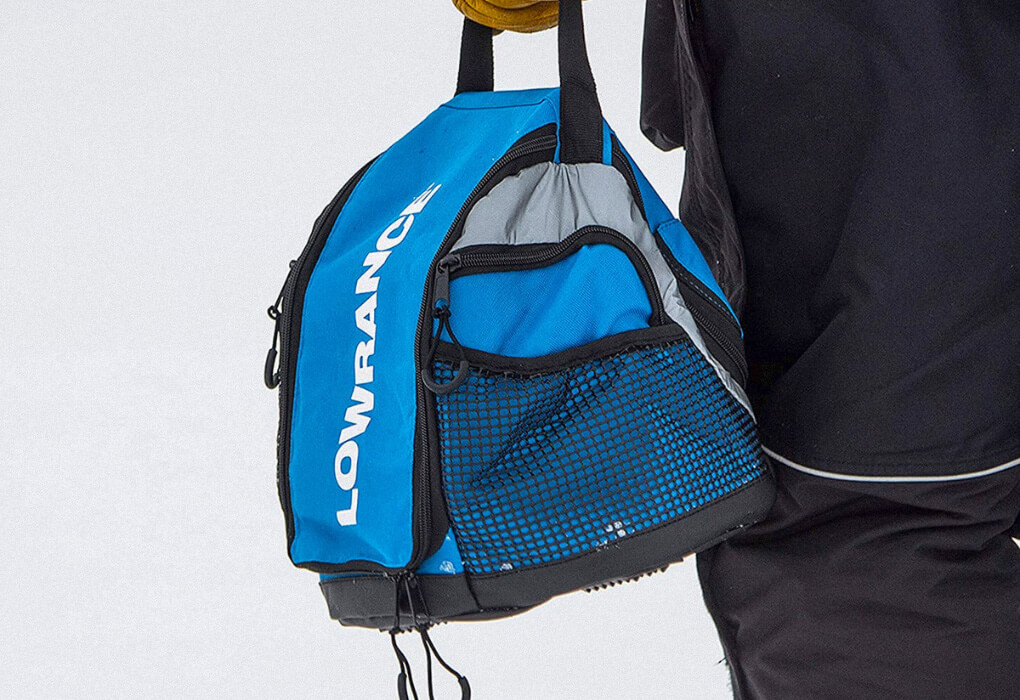 Portability is a huge factor in ice fishing and I'll tell you why. You never know how far you'll be from the spot. It could be a few feet or as long as a mile or two.
When you have to walk that long on a nice summer morning, no big deal. When you have to walk that long in the middle of January with the wind blowing around you, big deal.
You don't need any more ice fishing gear to carry and having a portable fish finder for ice fishing is always the way to go.
Most of the options recommended above are portable and if they're not, they come with carrying cases. Just make sure that the carrying case is waterproof.
Multi-Purpose Use
Ideally, you want to get a fish finder that you can use all year. Many of the options available on Amazon work for both cold and warm water except the ones with the dedicated ice fishing transducer.
Those are for hardcore ice anglers who go out multiple times per week for ice jigging. If that sounds like you, go for it, get yourself the best ice fishing fish finder money can buy.
If you're someone more like myself who likes ice fishing and goes a few times a year but still would rather a fish finder that he can use in the summer, then you'll want to deploy a different attitude.
Keep in mind that you can buy an ice fishing transducer for almost any fish finder. So, it might be beneficial to get a standard fish finder and try to fit it for ice fishing.
Just keep in mind how that may impact the accuracy of the device.
Ease of Use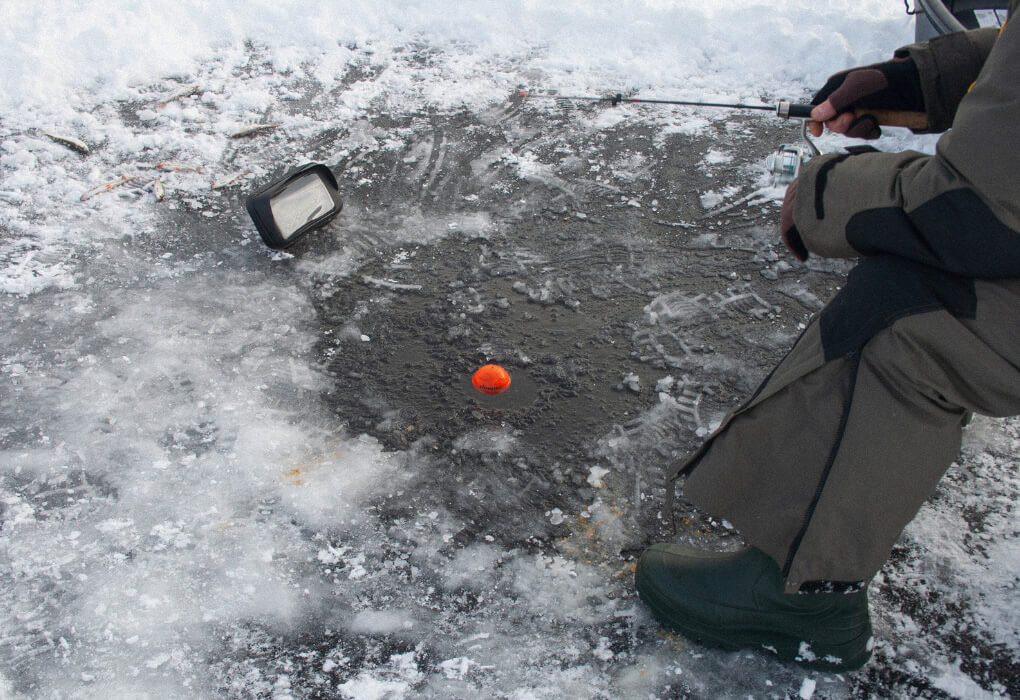 Ease of use is always a factor because I realize that everyone isn't up to date on the latest technology and they continue to make things more complicated.
Using a fish finder shouldn't be difficult and it's not but that's why I prefer to shop from major brands.
By shopping Garmin, Humminbird, Lowrance, and some of the other major companies you know you're getting a product that is clearly instructed and likely backed up by decent customer service and a warranty.
Setting up your fish finder shouldn't take longer than a few minutes and learning how to operate it should happen as you go.
We've also written articles that can help you learn how to read a fish finder if that's where you get tripped up.
Frequently Asked Questions
What's the difference between an ice fish finder and a regular fish finder?
There are two main factors to consider.
First, the device itself, and second, the transducer. The main difference between the two devices is the fact that the receiver isn't built to withstand cold temperatures.
So, many times you'll see regular fish finders with containment sleeves and things like that to help with the temperature.
The transducers are much different because ice fishing transducers can actually provide readings right through the ice.
Now, you don't necessarily need one that can do that but they're convenient. 
Does the ice fish finder need to be waterproof?
The device does not need to be waterproof because you'll have to protect it anyway. Many ice fishing receivers come with containments made of waterproof plastic or some type of material.
So, the unit itself is not waterproof but it's inside something that is. As long as you have that, you have nothing to worry about.
Can I use any fish finder for ice fishing?
This answer is a bit more complicated. Yes, you can use any fish finder for ice fishing but only the high-quality ones will actually work.
The cold temperature ruins the transducer on a lot of cheap fish finders. As a result, they're not designed for the cold weather.
But, some of the options recommended above are rated for temperatures as low as -10 and you can also use them in warm water.
It all depends on the individual situation and that's another reason I recommend staying with brands you trust.
Final Thoughts
I hope that by reading this article you're able to make a choice on the best ice fishing fish finder. These are a solid investment so make sure you choose wisely.
As I've said, I recommend going with something versatile if you're not a hardcore ice angler. Go for something that you can use all year long like some of the Garmin and Humminbird models.
While having a fish finder won't teach you how to ice fish, whatever choice you make should help improve your fishing game and make finding fish under the ice that much easier.
Good luck and be safe out there!
About Post Author