---
We independently research, test, and recommend the best products; you can learn more about our review process here.
Spending a lot of time on the hard water makes you consider buying an ice-fishing fish finder. We all spend a lot of money on fishing gear, but how much of it actually helps us catch more fish?
Honestly, it's very little.
However, a fish finder is an investment that will pay off in one trip. Just be sure you understand what you're looking for, and you know how to choose. The best ice fishing fish finder will be:
Accurate
Weather-resistant
Portable
Versatile
I've found several that meet my rigorous testing standards, so let's see what they are!
Top 3 Best Ice Fishing Fish Finders
For the anglers in a hurry, here are our top three choices for ice-fishing fish finders: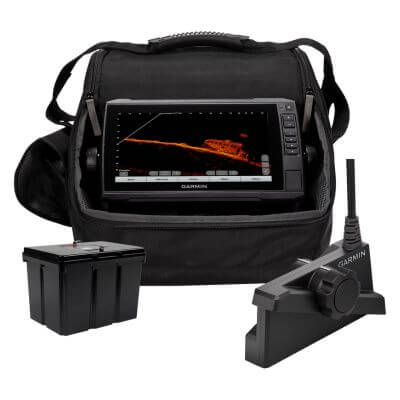 Best Ice Fishing Fish Finder
Garmin LiveScope Plus Ice Fishing Bundle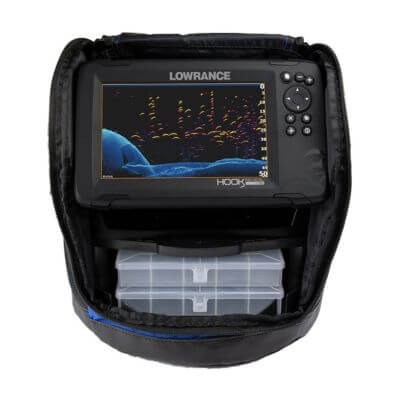 Best Multi-Use Fish Finder
Lowrance Hook Reveal 7 Ice Pack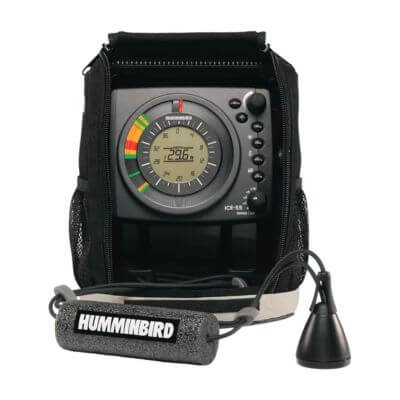 Best Cold Weather Flasher
Humminbird ICE-55 Six Color Flasher
---
Testing Procedure
Below you'll find a quick rundown of what I look for when testing and ranking the fish finders in this article.
User-Friendliness: While testing these fish finders, I wanted to know how easy they were to operate. I like to keep things as simple as possible.

If it's complicated or not user-friendly, I'm much less likely to use it. So the best ice fish finder had to be reasonably easy to use.
Price: The budget is something we all must keep in mind when buying anything, especially gear for our favorite hobby. While researching and testing the following fish finders, I kept the price versus the number of features received in mind.

Less expensive fish finders have fewer features, while more expensive fish finders have more features (or more advanced features). At least, that's how it should be.
Durability: Fishing is tough on equipment. Now add below-freezing temps on top of the already tough conditions, and you have a recipe for broken or malfunctioning equipment.

The units below will be able to handle the harshest of environments.
Portability: When ice fishing, it's important to stay mobile. Owning a fish finder that is packable makes all the difference in the world when you're lugging it in your sled or carrying it by hand to your next hole.

During my tests, I ensured they were easy to carry.
In-Depth Reviews of the Best Fish Finders for Ice Fishing
BEST ICE FISHING FISH FINDER
Garmin LiveScope Plus Ice Fishing Bundle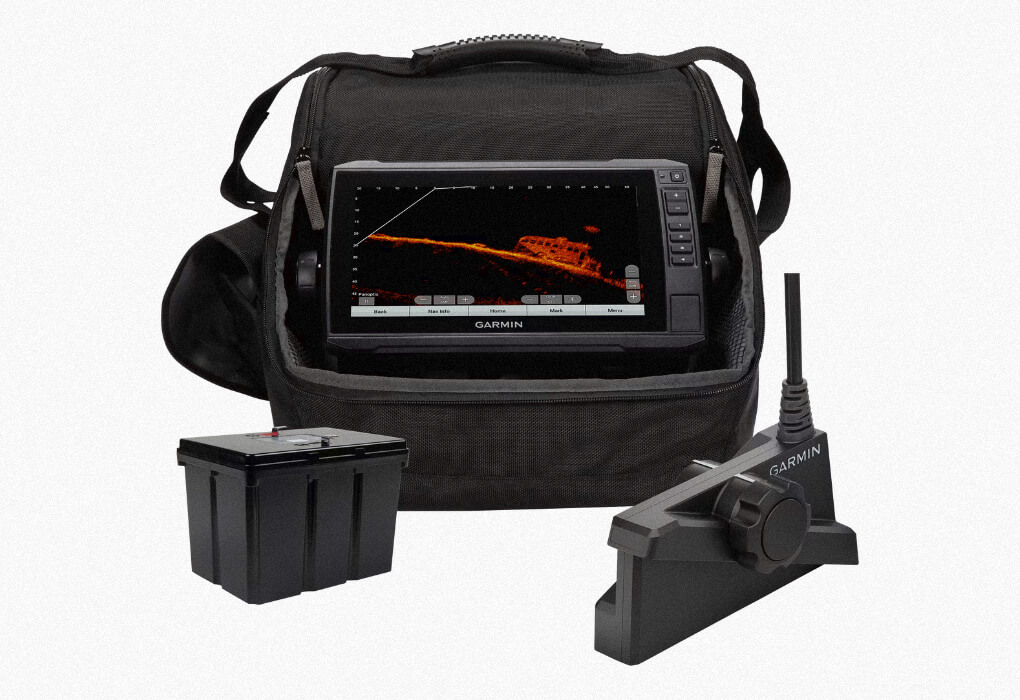 Specs
Brand: Garmin
Display: 9-Inches
Sonar: Panoptix LiveScope Forward and Down
Why We Chose It
If you want the best, look no further than the Garmin Livescope Plus Ice Fishing Bundle. It's like putting on a dry suit and slipping under the water to see what's around you below the ice.
You'll never again have to guess where to drill the next hole.
Of all the things to love about this unit, the sonar stands out the most. Panoptix Livescope Plus is the best of the best live sonar. It basically turns fishing into a video game.
I was seeing fish nearly 200' away and how they reacted to my bait which allowed me to quickly make adjustments and catch more fish.
Not to mention the large 9" screen means I didn't struggle to see the crystal clear screen of the Garmin UHD when using forward-facing sonar to see the fish around me or downward-facing sonar to see fish directly below the hole.
Another great thing about the sonar is how simple it is to switch between the two modes, real-time sonar and flasher mode.
You only have to press a couple of on screen buttons on the touchscreen to switch from real-time sonar, which is gives you a live image of what's below the water and flasher mode which requires you to interpret various colors to tell the difference between the bottom, fish, and your lure.
I love that it's very easy to transport in the carrying case, which holds everything from the Echomap UHD, transducer, and the lightweight lithium-ion battery.
As great as this unit is, I still found a few cons while testing it. The most obvious is price; if you want the latest and greatest, you'll have to pay a steep price. Spending over $3,000 on fishing electronics is rough on the wallet.
I know the average angler can't afford that high of a price for a unit you can really only use during the winter, so don't worry; there are other much cheaper options to come!
Another downside is that this is a touchscreen with keyed assist, which means it's nearly impossible to operate wearing gloves, and it doesn't respond well when your hands are cold or wet.
Other than the high cost and minor touchscreen struggles, the Garmin Livescope Plus Ice-Fishing Bundle is perfect for the dedicated ice fisherman and woman.
The portability and top-of-the-line sonar ensure your money is well spent on a high-quality ice-fishing fish finder.
If you want to dive deeper into the realm of real-time sonar, check out our Garmin Panoptix Livescope Review.
BEST MULTI-USE FISH FINDER
Lowrance Hook Reveal 7 Ice Pack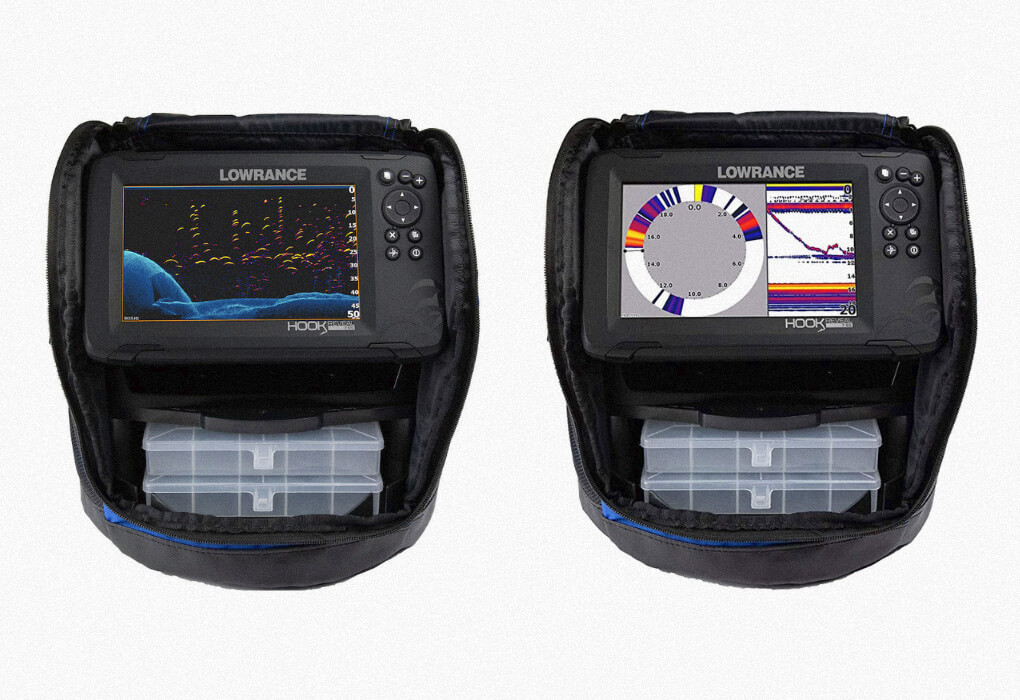 Specs
Brand: Lowrance
Display: 7-inches
Sonar: Splitshot, CHIRP & Downscan
Why We Chose It
The Lowrance Hook Reveal 7 Split Shot Ice Pack is flat-out one of the best fish finder models to date for the price you pay versus the features you receive.
This unit is specifically designed for ice fishing by bundling in a few unique features, like the carrying case, multiple sonar options, and SolarMAX display, that make it a great choice on hard water for all anglers.
First, it comes with an ice pack carrying case that will protect the unit against cold frigid temperatures and wind gusts that whip the snow around.
It also provides you with some room to store your tackle underneath the fish finder to prevent you from having to drag too much out onto the ice.
Next, the downscan and CHIRP sonar (which come standard with the splitshot transducer) are great for seeing what's below the water, and I love how simple it is to switch between the two or switch to split screen mode to use them at the same time.
Don't worry; the 7" screen is still plenty big enough to see in when you use a split screen or even add the map to split the screen into three sections.
It's also super easy to see in all conditions because of the SolarMAX display. Whether the sunlight is reflecting off of the ice or it's a cloudy winter day, you'll have no problem seeing the screen.
Another feature I like about the Lowrance Hook Reveal is how easy it is to use. Whether your hands are cold, wet, or in gloves, the keypad works very well, and the menus are simple to navigate.
I was not a Lowrance owner until I tested this unit when I saw how easy it was to use; I bought one for my grandpa, who's not known for being up-to-date on technology, and he even finds it easy to use.
Though I think this is a spectacular fish finder, there is a downside to buying this unit.
The Lowrance customer service bugs me the most. They make a great product, but when something inevitably breaks or messes up, they're slow to respond or very unhelpful.
I've had many people tell me they've had poor experiences with Lowrance's customer service, which is sad because this is a solid unit otherwise.
If you're willing to overlook the possibility of getting subpar customer service, then I strongly encourage you to snatch up the Lowrance Hook Reveal 7 Ice Pack because it's priced well for all the features you receive.
Check out our all-encompassing Lowrance Hook Reveal review if you'd like to learn more about the Lowrance Hook Reveal.
BEST COLD WEATHER FLASHER
Humminbird ICE-55 Six-Color Flasher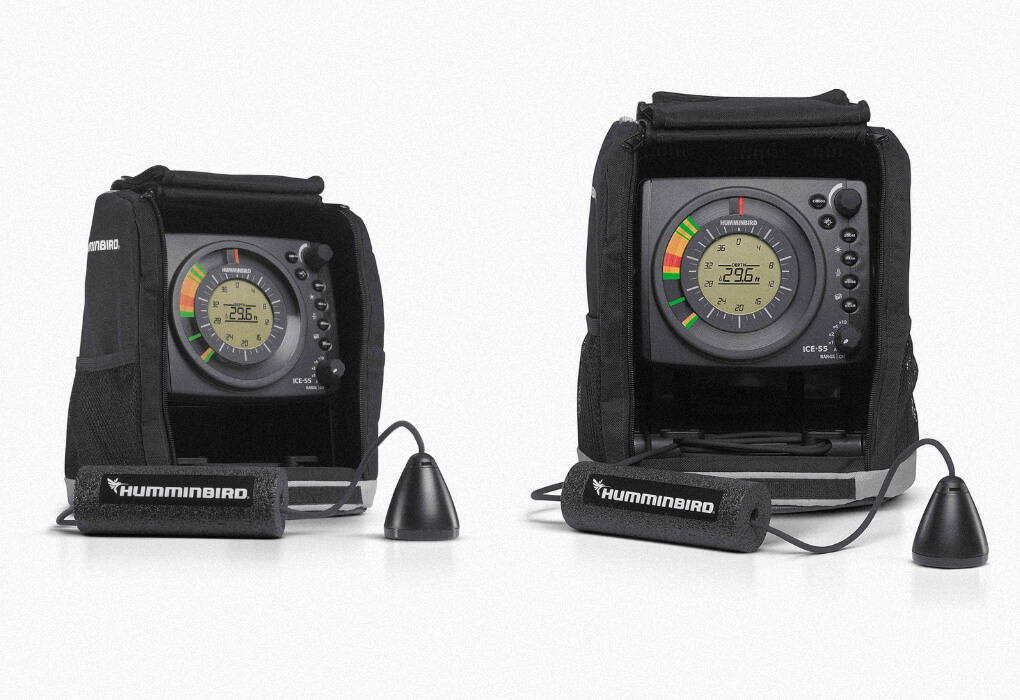 Specs
Brand: Humminbird
Display: 1 Inch LCD
Sonar: Dual Beam Sonar
Why We Chose It
Ice fishing is not for the faint of heart; neither is the Humminbird ICE-55 Flasher.
Designed to function at temperatures as cold as -20 degrees, which means you can rely on it to inform you of fish in nearly any fishable condition for years to come.
This is one tough machine.
It's also very portable, thanks to the carrying case that holds and protects the transducer, battery, and flasher.
In all fairness, the Humminbird ICE-55 Flasher has some downfalls you should be aware of too.
The small display means you'll need to keep it close by to be able to read the LCD screen, which isn't a huge problem, especially in an ice shanty.
The other con has to do with the sensitivity of the transducer. It will pick up small jigs near the surface, but as you fish deeper water, you'll have a tough time picking up small jigs.
If you fish 10-20ft' of water, this isn't such a big deal, but when you begin to fish 20'+, it gets frustrating.
Even with the drawbacks, the Humminbird ICE-55 Flasher series is for the serious ice-fishing angler. If you choose to fish in the most extreme of conditions, then you will need gear that holds up in those same weather conditions.
Garmin Striker Plus 4 with Portable Kit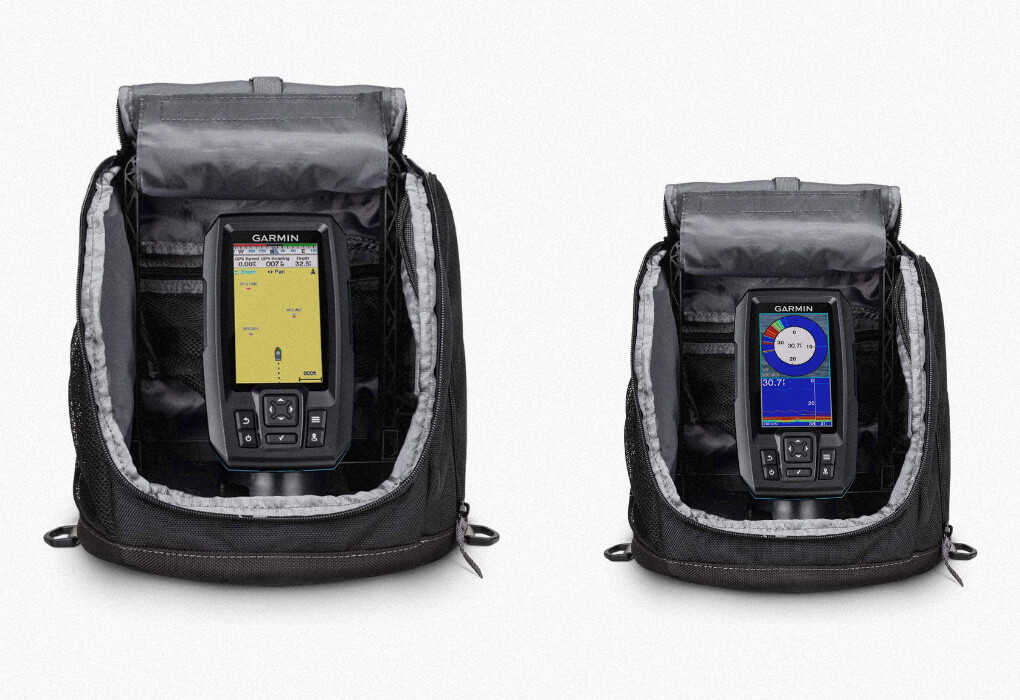 Specs
Brand: Garmin
Display: 4.3-inches
Sonar: Flashing Chirp Sonar
Multi-weather use
Highly portable with a carrying bag protects the unit from the cold
Dual-beam CHIRP sonar
Reasonably priced
Cons
Decreased accuracy in cold water
Limited features
Small screen
Why We Chose It
I don't know about you, but we're not all made of money. If I'm going to spend some money on a fish finder, I want one that will work all year, like the Garmin Striker Plus 4. It's simple, reliable, and durable.
This perfectly priced fish finder has Dual-beam CHIRP, which has an excellent target separation of 1", so you can know the readings are a fish instead of trying to guess, but the cold water does decrease the accuracy a tad.
The carrying case protects the unit and the other accessories you buy, like a battery. It's a small unit so, on top of coming in a carrying case, it's very portable due to its size.
I like that you don't have to put this away during the summer because you can purchase an open-water transducer and easily switch it out.
Though there's a lot to love about this unit, there are also some cons.
The lower price means it also has fewer features. So don't expect to get the latest and greatest sonar technology for under $500.
The lower price is also due to the smaller screen, which can be difficult to read if you wear glasses like I do.
I don't believe these cons should stop a beginner from buying the Garmin Striker Plus 4 Ice Fishing Bundle because it's an excellent fish finder to learn on, and you can always upgrade later after you understand how to read a depth finder or flasher.
For the features it has, it's tough to beat this price; grab one today!
If you'd like to learn more about it, give our complete Garmin Striker 4 review a read.
Deeper CHIRP 2 WiFi Fish Finder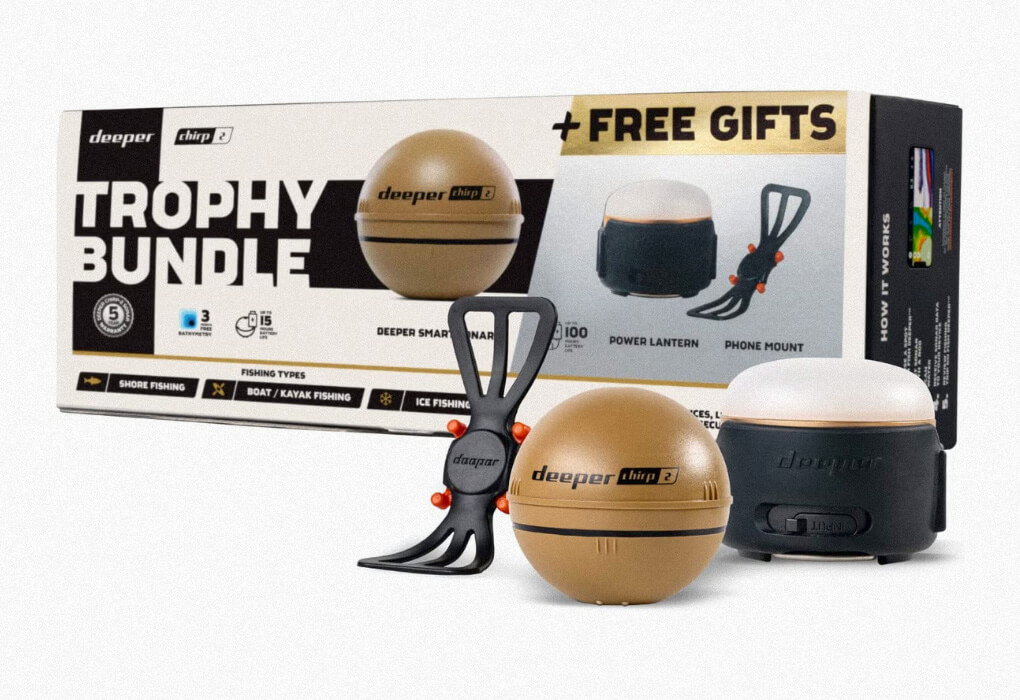 Specs
Brand: Deeper
Display: Your SmartPhone
Sonar: Castable Three Beam
Why We Chose It
The Deeper Smart Sonar CHIRP 2 is the most portable ice-fishing fish finder because it is incredibly compact, it's accurate, and is tough enough to handle icy conditions.
You'll be hard-pressed to find a fish finder more packable than this one because you connect your phone to it to use as a screen and it's only 2.5" in diameter, so it can easily fit in a coat pocket or large tackle box.
Despite its small size, this unit is incredibly accurate. With the three-frequency CHIRP sonar and 0.4" target separation, I had no problem telling multiple fish apart.
I was able to tell if there were fish below or if I should drill another hole.
When the ice thaws it's a great fish finder for bank anglers, especially when fishing in a pond, so you won't have to worry about it sitting around all summer while you wait for the ice to come back.
However, this portable fish finder has a couple of drawbacks for ice fishing. The biggest is it's not as accurate in cold water, which is kinda hard to get away from while ice fishing!
The other con is you have to drill holes in order to see if there are fish there. It's not capable of reading through the ice like some of the other fish finders are.
That said, these factors do not mean that this is an awful ice fish finder. The Deeper Smart Sonar CHIRP 2 makes a great choice for young ice anglers because of the three-frequency CHIRP, impressive 0.4" target separation, durability, and portability.
Garmin Striker Vivid 5 Ice Fishing Bundle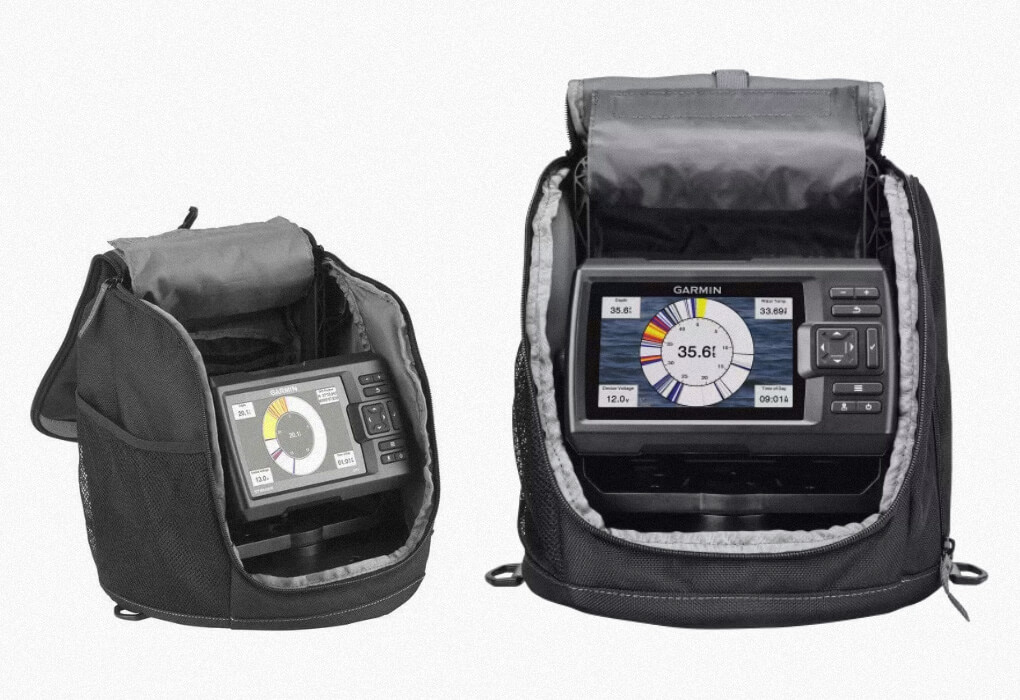 Specs
Brand: Garmin
Display: 5-inches
Sonar: DownVu and CHIRP
Fish alarm makes you aware of nearby fish
Dual-frequency sonar is reasonably accurate
Comes in a portable case to make it easy to carry onto the ice
Price is right for the features you get
Cons
Does not come with a microSD card reader
Heavy lead-acid battery
Why We Chose It
The Garmin Striker Vivid 5 is not to be confused with the Garmin Striker Plus 4 because it's a slight step above by offering DownVu sonar and a larger screen for another $150 more.
This is a great option if you're looking for a versatile, affordable fish finder. It does it all, and it comes in an ice fishing bundle that's designed to work best for cold weather applications.
This fish finder has features like DownVu, to last you for years, so you won't have to upgrade your unit to get excellent sonar. DownVu gives you a real-time idea of what the structure and bottom look like, while the CHIRP sonar technology shows fish arches.
Set a fish alarm to alert you when a fish is detected on screen so you can get ready to set the hook, instead of hoping the arch on the screen is a fish.
The fish alarm replaces arches with fish symbols and beeps each time another fish appears on the screen. This helps reduce the number of arches and makes the fish finder much easier to read.
Despite the increase in features, they don't cover up all the shortcomings of this model. The biggest one for me was the lead-acid battery.
Lead-acid batteries are double or more the weight of a lithium battery, but they're cheaper. IDK about you, but I'll gladly pay more so I don't have to lug around the extra weight all the time.
You also can't add more storage to the Vivid because it doesn't have a microSD card slot.
This isn't a huge deal because you can step up to the Garmin Echomap UHD to get this and many other features, but you're gonna pay a lot more.
Overall, the Garmin Striker Vivd 5 Ice Fishing Bundle is a solid fish finder for ice fishing if you're willing to carry a little extra weight around on each trip.
Read our Garmin Striker Vivid review to learn more about this Garmin model.
How to Choose the Best Ice Fishing Fish Finder
When choosing an ice fishing fish finder, there are many factors to consider. First of all, many people don't understand the differences between a regular fish finder and one for ice fishing.
Let alone the difference between a fish finder and a flasher.
There aren't that many differences, but if you don't understand them, you'll likely end up with a device that isn't functional, breaks early, or won't work at all. Here are the most important buying factors to consider as you shop.
Frequency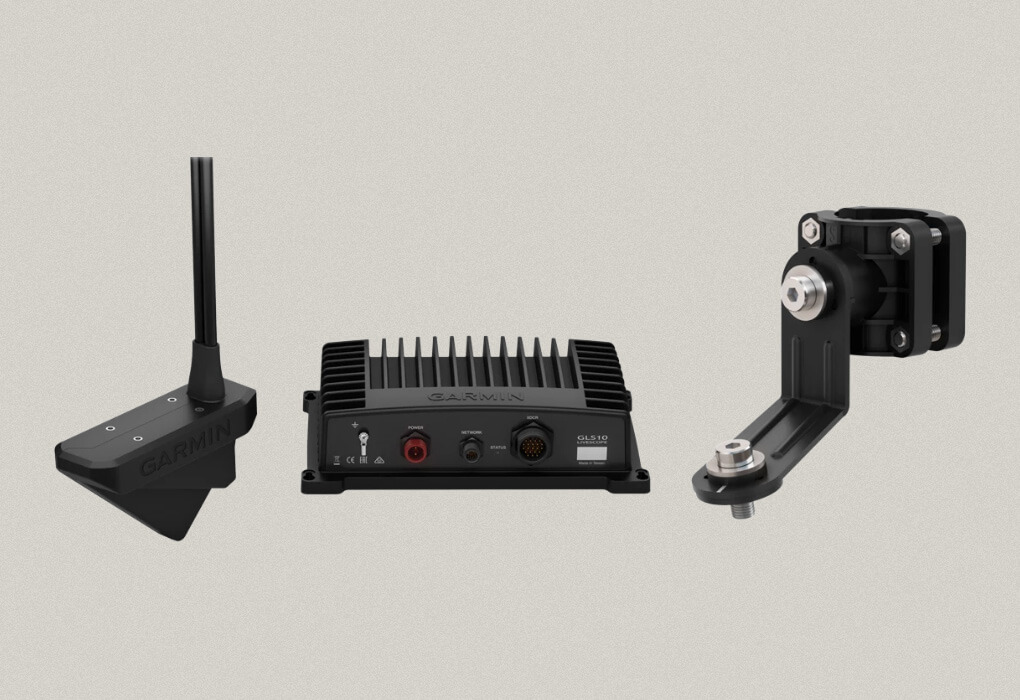 Frequency (kHz) is a word a lot of people see but don't understand. Even more, people think it doesn't apply to them, but it's something you'll want to think about.
Fish finders with high frequencies work best in shallow water, while low frequencies are better in deeper water. This isn't as important as knowing what kind of frequency your fish finder has.
Some have single frequencies, while others have dual frequencies. Going for a dual-frequency fish finder allows you more flexibility over where you use the device because you'll be able to adjust the settings for the situation.
For example, if you frequently fish in different locations, you'll want a fish finder that's flexible enough so you can customize the settings based on the individual scenario.
If you have a single-frequency fish finder, you're limited to fishing one particular depth.
Method of Imaging
The method of imaging depends on the type of transducer you have. Many of the fish finders for ice fishing use Chirp sonar.
This means that the fish finder is sending sonar down into the water on a continuous "chirping" basis, and that's what is providing you with the images.
You'll also hear terms like DownVu, SideVu, sidescan, downscan, and other similar phrases. These refer to sonar that goes directly down vertically or horizontally away from you in all directions.
These are all important for a few reasons.
First, with ice fishing, you can't adjust your location by simply moving your boat a few hundred feet in another direction.
So, having a side-scanning fish finder is nice, but these are harder to come by, and they're not as popular with ice fishing because the technology hasn't been developed yet.
Down scanning is much more popular, and it gives you a picture of everything that is happening beneath you at a certain radius.
For most ice anglers, this will do the trick. Most CHIRP sonar functions like this as well.
Beyond the transducer, you have the way the fish finder interprets the sonar into the image on the screen. Some fish finders use fishID technology, which is the easiest to read.
It'll show you arcs of variable sizes on the screen, and that will tell you where the fish are located and where you might run into some structure.
Other ice fish finders use a color-based technology that will simply offer a red, yellow, or green color telling you whether or not you should fish here.
This is useful prior to drilling because you'll be able to identify ideal locations before drilling the hole.
If you don't have an ice transducer, you'll have to wait until after the hole is drilled so you can get the transducer into the water.
Power Source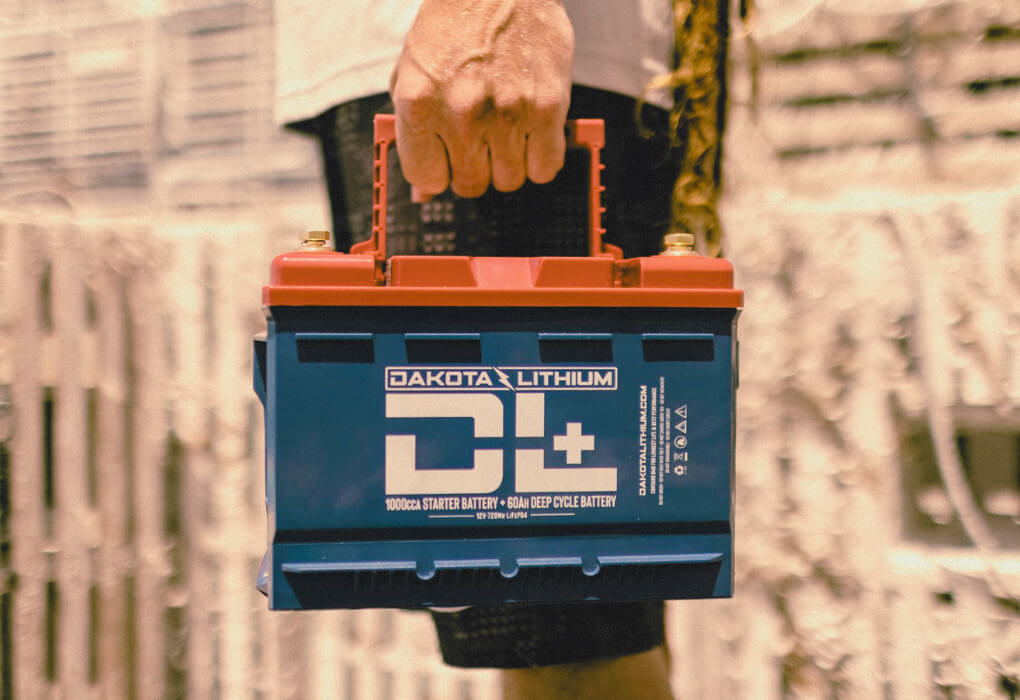 Power translates into speed with fish finders. If you have a high-powered fish finder, you'll get a faster image, so you won't have to wait around as long.
These fish finders will also use more power which can drain batteries faster and require more charges.
When you're out on the ice, I doubt you have a ton of readily available power sources, so you'll want to make sure you understand how long the fish finder will operate, how many uses you get, what drains it, what sustains it, and so on.
Display
You need a high-resolution screen for a few reasons. First, you need to be able to read it to tell what's going on under the ice.
If your screen is hard to read, has a heavy glare, or is challenging to operate, it won't help you that much.
Keep the type of display in mind as well. You'll notice that some of the ice-fishing fish finders have unique displays that are different from the many fish finders you'll see on boats.
That's because they read the water through the ice, so they don't provide an elaborate picture of everything going on, but they provide you with a simple yes (fish here) or no (don't fish here).
These fish finders are much better for use as ice fishing locators, but they can take some getting used to if you've never used one before.
Lastly, what does the screen tell you? Some fish finders have built-in depth finders that provide information such as total water depth, temperature, and more.
These are all valuable pieces of information, and you should factor in how much you get for your money before pulling out your wallet.
Most decent fish finders will offer a lot of on-screen information.
Portability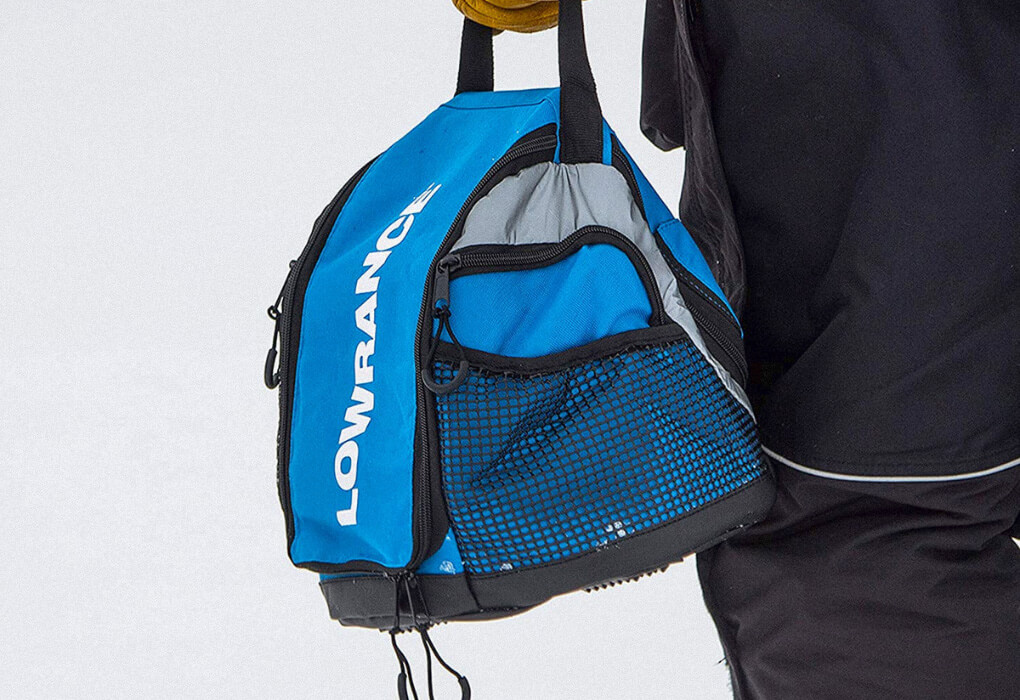 Portability is a huge factor in ice fishing, and I'll tell you why. You never know how far you'll be from the spot. It could be a few feet or as long as a mile or two.
When you have to walk that long on a nice cool summer morning, no big deal. When you have to walk that long in the middle of January with the frigid wind blowing around you, big deal.
You don't need any more ice fishing gear to carry, and having a portable fish finder for ice fishing is always the way to go.
Most of the options recommended above are portable, and if they're not, they come with carrying cases. Just make sure that the carrying case is waterproof.
Multi-Purpose Use
Ideally, you want to get a fish finder that you can use all year. Many of the options available on Amazon work for both cold and warm water, except the ones with the dedicated ice fishing transducer.
Those are for hardcore ice anglers who go out multiple times per week for ice jigging. If that sounds like you, go for it; get yourself the best ice-fishing fish finder money can buy.
If you're someone more like myself who likes ice fishing and goes a few times a year but still would rather have a fish finder that he can use in the summer, then you'll want to deploy a different attitude.
Keep in mind that you can buy an ice fishing transducer for almost any fish finder. So, it might be beneficial to get a standard fish finder and try to fit it for ice fishing.
Just keep in mind how that may impact the accuracy of the device.
Ease of Use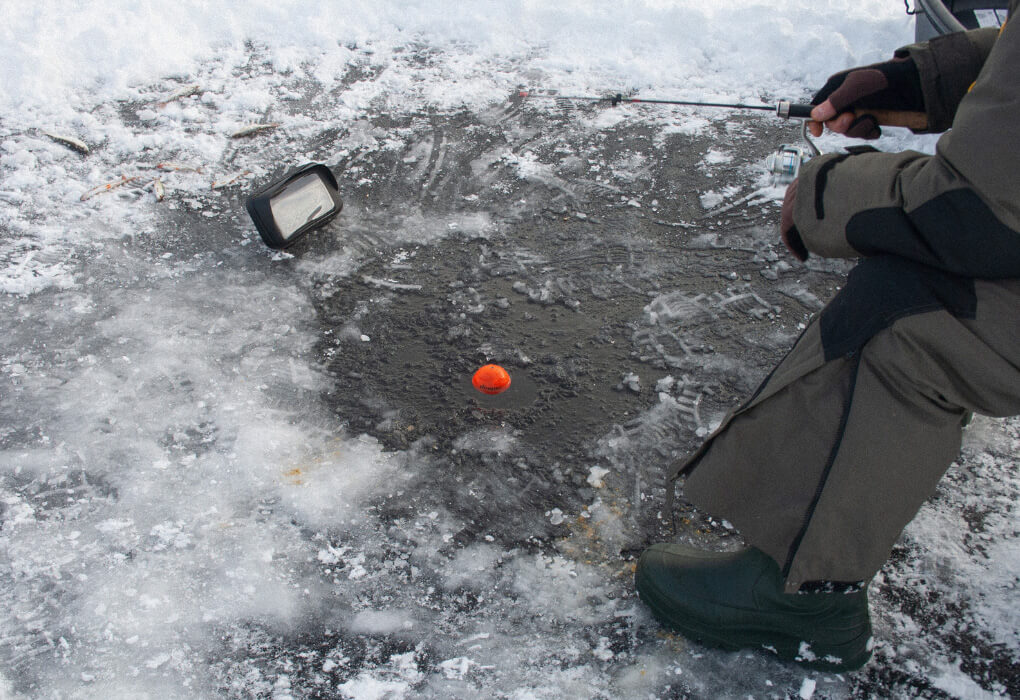 Ease of use is always a factor because I realize that everyone isn't up to date on the latest technology, and they continue to make things more complicated.
Using a fish finder shouldn't be difficult, and it's not, but that's why I prefer to shop from major brands.
By shopping Garmin, Humminbird, Lowrance, and some of the other major companies, you know you're getting a product that is clearly instructed and likely backed up by decent customer service and a warranty.
Setting up your fish finder shouldn't take longer than a few minutes, and learning how to operate it should happen as you go.
We've also written articles that can help you learn how to read a fish finder if that's where you get tripped up.
Frequently Asked Questions
What's the difference between an ice fish finder and a regular fish finder?
The difference between an ice fish finder and a regular fish finder is that the transducer isn't built to withstand cold temperatures.
The transducers are also much different because ice fishing transducers can actually provide readings right through the ice.
Now, you don't necessarily need one that can do that, but they're convenient. 
Does the ice fish finder need to be waterproof?
Yes, the ice fish finder needs to be waterproof. This will help keep water from ruining your unit. 
Can I use any fish finder for ice fishing?
Yes, you can use any fish finder for ice fishing, but the cold temperature ruins the transducer on a lot of cheap fish finders because they're not designed for the cold weather.
It's still best to use a fish finder designed for ice fishing.
Final Thoughts
I hope that by reading this article, you're able to make a choice on the best ice fishing fish finder. These are solid investments, so make sure you choose wisely.
As I've said, I recommend going with something versatile if you're not a hardcore ice angler.
Go for something that you can use all year long, like the Garmin Livescope Plus Ice-Fishing Bundle or Lowrance Hook Reveal 7 Ice Pack models.
While having a fish finder won't teach you how to ice fish, whatever choice you make should help improve your fishing game and make finding fish under the ice that much easier.
If we left out your favorite ice-fishing fish finder, be sure to tell us in the comments!