---
We independently research, test, and recommend the best products; you can learn more about our review process here.
For the longest time, bank anglers were at a major disadvantage because we couldn't use sonar to see the fish and structure below the water's surface.
Castable fish finders have helped even the playing field.
When you buy the best castable fish finder, you'll be able to find a honey hole that may otherwise go unnoticed. They're a great (and sometimes the only) option for shore anglers.
If you don't have a boat or kayak and think that fish-finding technology is out of the question, you're in for a treat.
After hours of research and testing several in my pond, I sure wish these were around when I was a kid!
I ranked each castable fish finder based on ease of use, range, battery life, and accuracy.
In this guide, you'll find the best castable fish finders for all types of anglers. These are the six most popular and well-recommended options out there!
Top 3 Castable Fish Finders on the Market
If you're in a hurry, here are my top three choices for castable fish finders based on my research and testing.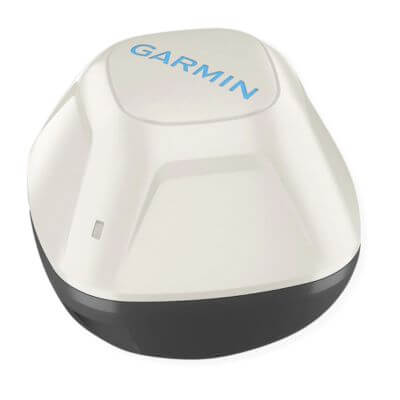 Garmin STRIKER Cast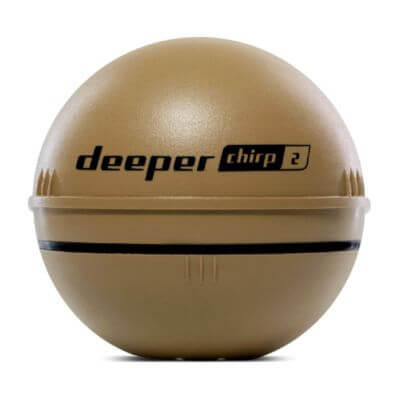 Deeper Smart Sonar CHIRP 2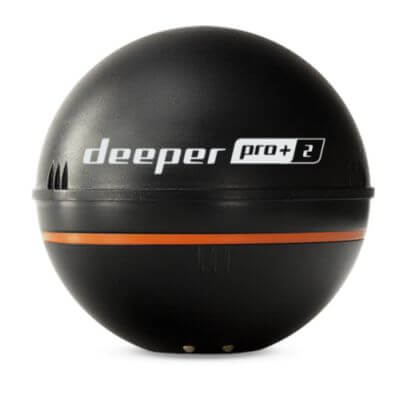 Best For Intermediate Anglers
Deeper PRO+ 2 Smart Sonar Castable Fish Finder
---
Testing Procedure
Growing up as a bank angler, I knew I was less likely to catch fish than someone in a boat, but that didn't stop me from trying. Had I had the technology available today, I think I would have caught more fish!
Or spent more time staring at a screen…
Ease of Use – The fish finder had to be easy to connect to our phone and easy to use once it was connected. When testing these products for this review, I used an iPhone, but most of the models have an app for Android as well.

Range – We needed the transducer to stay connected when we launched it as far as we could into the water.

While I can rarely make a 300' cast, I think it's critical to have the option of launching the sonar farther than you typically cast, so you can sneakily bring it back over the fish, which is why a greater range is so valuable to me.
Battery Life – Idk about you, but I like to fish for most of the day, so I need a battery that's going to last me an entire trip. If the battery dies on your sonar, you're back to square one.

Most castable fish finders come with rechargeable batteries, but how are you going to recharge it while you're fishing? I tested to see which ones ran the longest, which means I could fish with them longer.
Accuracy – If I can't trust what the fish finder is saying, then why the heck would I use it? I wouldn't! So these had to give off accurate readings.

There's already a degree of interpretation when reading a fish finder, so I better be getting an accurate reading on my phone.

When testing these in my pond, where I know where the brush piles are, I could determine if what the transducer was telling was accurate.
Reviews of the Best Castable Fish Finders
Garmin STRIKER Cast
BEST CASTABLE FISH FINDER OVERALL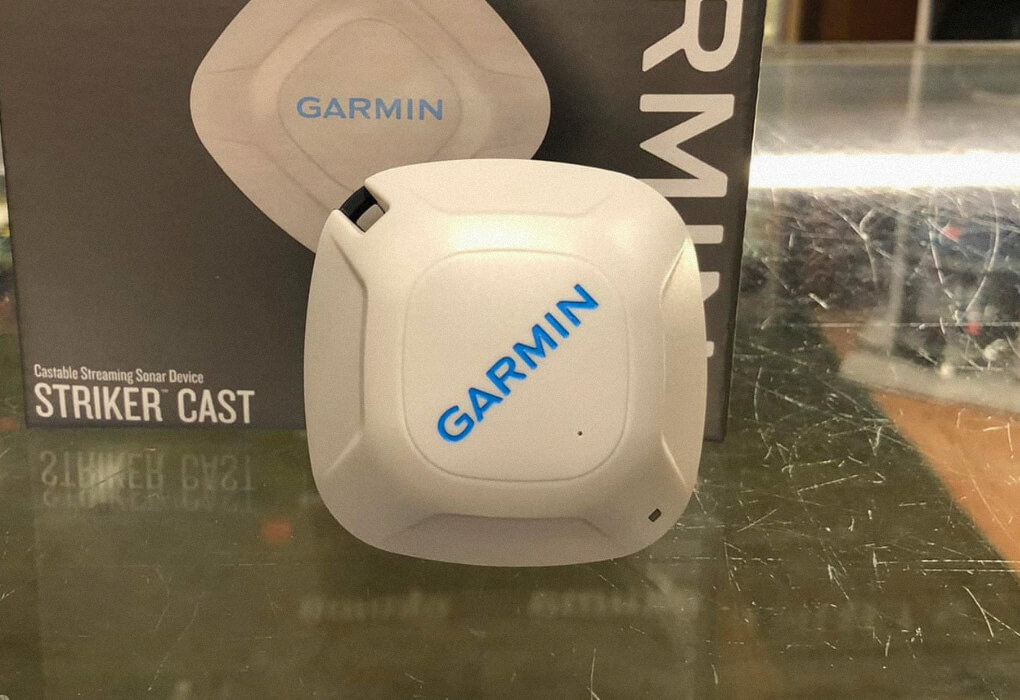 Specs
Size: 3" / 2.6oz
Range: 200'
Battery Life: 10-hrs
Why We Chose It
The Garmin STRIKER Cast has excellent battery life and is the best castable sonar. PERIOD.
So if you're an angler like me, who loves to spend ALL DAY on the water, and prefers to have the best equipment possible, you have to pick one up.
The 10-hour battery life is sure to last you ALL day; Garmin does this by only scanning when it's in the water. As soon as it's removed from the water, the sonar stops running automatically.
The second standout feature of this unit is the access to world-famous Garmin technology.
While the Deeper brand may own a big share of the castable fish finder world, Garmin simply owns the fish finding world and many other technologies.
Since you're deploying Garmin fish-finding technology, you now get access to the Quickdraw community containing a ton of maps with 1-inch bottom contours as well as preloaded charts displaying the best fishing locations at any given lake or pond.
The maps alone are worth the price of this fish finder.
This fish finder also comes with a flasher as well that displays directly on your smartphone screen. You can use the flasher for ice fishing as a great way to scout the water to determine the best locations to set your tip-ups and jigs.
The downsides of the Garmin STRIKER Cast are the GPS model is not standard, so you will pay extra.
You also won't get as good of range with the Garmin STRIKER Cast as you do with the Deeper models, but I think Garmin is being more reasonable with their range estimates.
Overall, it's the best castable fish finder from a brand we all know and trust. The battery will last your entire fishing trip, the sonar is solid, accurate, and effective, and the transducer is durable.
It's perfect for the dedicated angler and the best of the best; any bank angler would have a hard time arguing otherwise.
Some might argue for the Deeper Smart CHIRP 2, because it has a longer range and battery life; however, it's nearly twice the price for the same features. Which makes it an easier choice for me.
Only buy the Garmin STRIKER Cast if you want sonar from the most trusted fishing electronics brands on the market.
Read our full review here: Garmin Striker Cast review.
Deeper Smart Sonar CHIRP 2
RUNNER-UP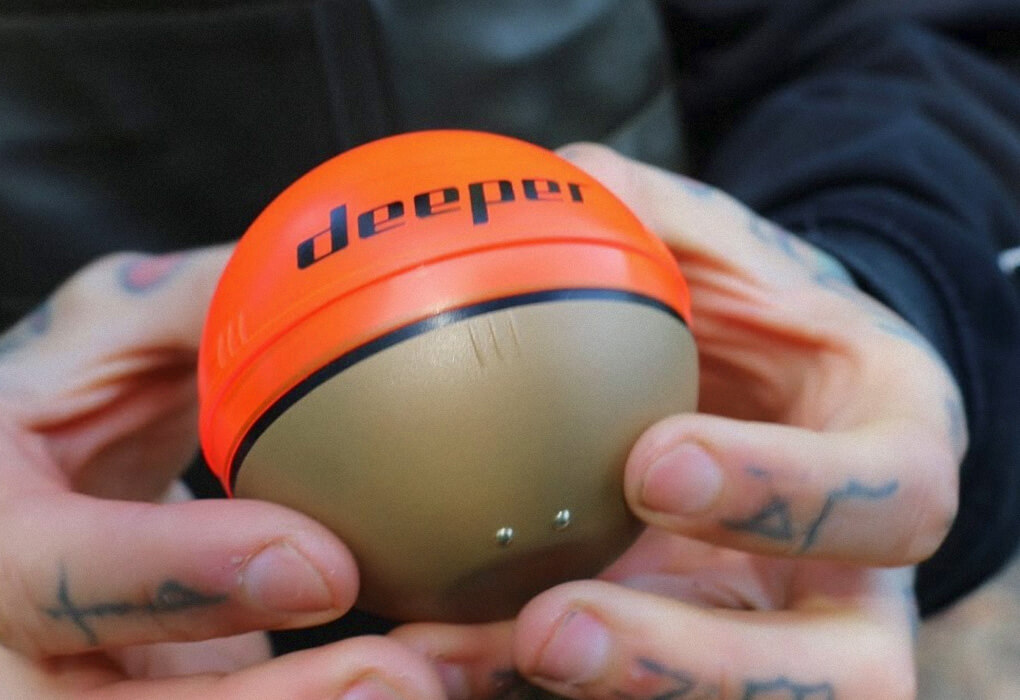 Specs
Size: 2.5" /3.2oz
Range: 394'
Battery Life: Up to 15 hours
Why We Chose It
The Deeper Smart Sonar CHIRP 2 is the next best overall castable fish finder because it can be fully charged in 120 minutes, it's accurate, and it has GPS & mapping.
Making it perfect for all the bank beaters looking to add sonar to their gear.
You'll be hard-pressed to find a castable fish finder with more range and capabilities, like GPS & mapping, than this one.
When choosing the best castable fish finder, we're looking for a few things. First, we want something that operates properly and is easy to use. This one checks that box.
Next, we need a unit that will provide accurate results. The three-frequency CHIRP sonar and 0.4" target separation means this unit is incredibly accurate.
I was able to tell where the brush pile was and where I should cast to get a bite.
Another thing I tested for was durability because the castable transducers will take a beating when you're bouncing them off rocks and stumps all day.
While I don't recommend intentionally slamming it into rocks, it can handle the occasional accident.
Deeper has enough experience in the industry to make a fish finder that holds up to the abuses of bank anglers. Plus, I fished with it for about six hours and fully recharged it in about an hour.
However, this fish finder has a few drawbacks.
Casting fish finders are notoriously known for bending the truth and describing one-percent situations that won't exist for most anglers.
For example, the Deeper CHIRP 2 fish finder claims to have a range of 394 feet, but I think we all know that very few of us will ever experience that range. Based on my testing, it's more like 350 feet when all is said and done.
This is because they're describing absolutely perfect situations where you're fishing right in the middle of the city, have a perfect connection on your phone, and the water is totally still with no chop at all.
These conditions are less than common, so expect to dumb it all down a little.
That said, these factors do not mean that this is a bad fish finder. The Deeper Smart Sonar CHIRP is the top Deeper choice because of the three frequency chirp, mapping, GPS, durability, and impressive 0.4" target separation.
If you want a castable fish finder that will give the Garmin STRIKER Cast a run for it's money, and you're willing to pay a little extra to do so, grab a Deeper CHIRP 2.
Deeper PRO+ 2 Smart Sonar Castable Fish Finder
BEST FOR INTERMEDIATE ANGLERS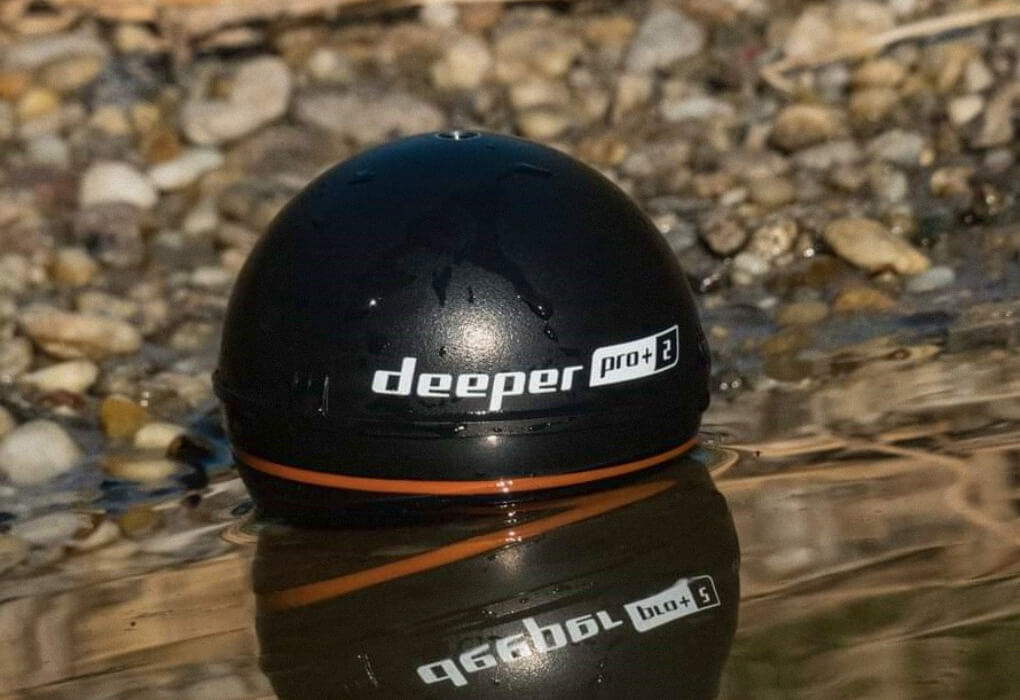 Specs
Size: 5" / 3.5oz
Range: 330'
Battery Life: 9-hours
Why We Chose It
The Deeper Pro+2 is the perfect compromise between price, durability, and GPS mapping from Deeper Smart Sonar transducers, which makes it perfect for knowledgable anglers looking to invest in quality gear.
This fish finder is a great way to introduce kids to fishing electronics from the shore. It's almost as good as strapping on a life jacket, giving them a pair of goggles, and throwing them into the water!
No, you're not having deja vu, but you're right about the Deeper PRO+2 and Deeper CHIRP 2 being very similar.
However, there are a few key differences that make this fish finder more budget-friendly than the one mentioned above.
The most notable differences between these two is the range and battery life.
The CHIRP 2 has more range which means you can cast it further away; however, not many anglers make a 300ft cast, so the PRO+ 2 has more than enough range, in my opinion.
I love staying all day on the water, so having a battery that will last me all day and then some is what I prefer. While the PRO+ 2 lasts 9 hours, it's less than the 15 hours of the CHIRP 2.
You still get the great Deeper bathymetric mapping with contours and GPS, so you can still mark your spots and better understand the depth changes.
I think the main deciding factor here will come down to the price tag.
You can get the PRO+ 2 for a bit cheaper than the CHIRP 2. Without extensive experience, you will barely notice the difference between the two, so if you're trying to save a few bucks, I give the Deeper PRO+ 2 preference.
ReelSonar iBobber Bluetooth Castable Fish Finder
BEST BLUETOOTH FISH FINDER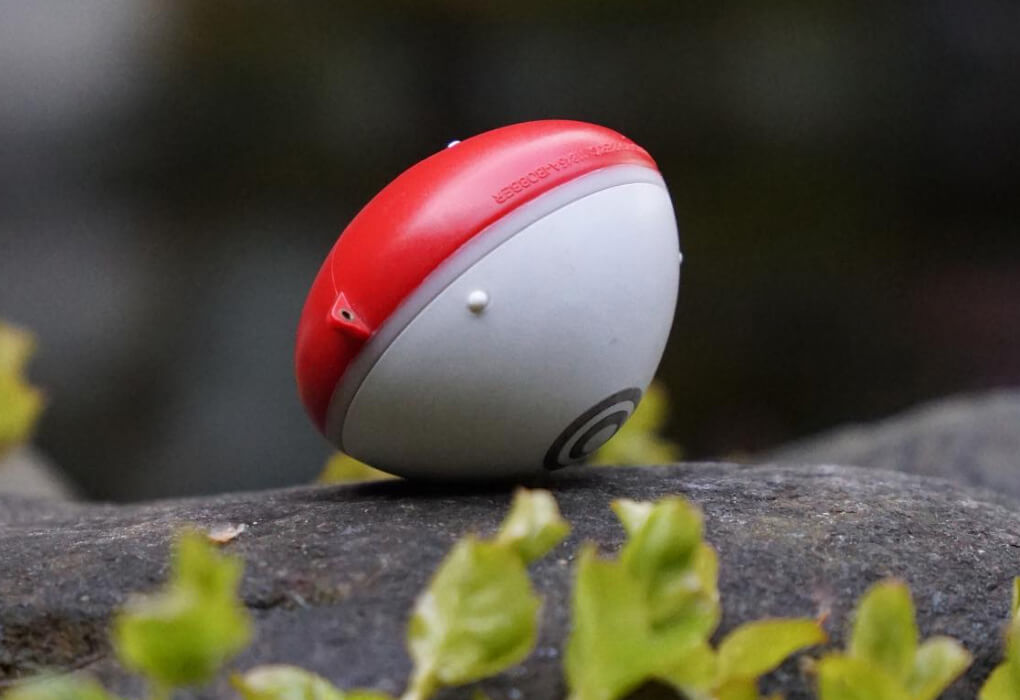 Specs
Size: 3.2oz
Range: 100'
Battery Life: 10-hrs
Why We Chose It
The ReelSonar iBobber is the best Bluetooth castable fish finder.
It only requires you to set up a Bluetooth connection with your phone, which means that you'll have a more reliable connection to your phone, resulting in less choppiness.
This fish finder is another one that competed for the best battery life slot because it also lasts up to 10 hours, perfect for those long days of getting a sunburn and fishing.
Another thing I like about this fish finder is all the tech it comes with.
In addition to simply scanning for fish, you get waterbed mapping, weather info, trip logs, GPS tracking, water temperature gauges, fish alarms, and strike alarms.
I found the strike alarms to be great for waking you up from a nap on the water's edge. But seriously, other fish finders don't offer those features, especially at this price.
I also like the fact that it looks like a regular bobber, but that could get confusing, so be sure you're watching the right bobber.
While I think this is a decent choice, it has some real drawbacks. The biggest downside is that you'll have less range than the Garmin STRIKER CAST.
Castable fish finders that use Wifi, such as the Deeper castable fish finders have a much better range than ones that use Bluetooth. So you won't be able to cast this one as far, and stay connected.
Also, it doesn't meet some of the expectations set by the other best castable fish finders, such as the Garmin STRIKER CAST.
It can be hard to connect to your phone; a slight chop in the water results in lost connections, and the range is generally less than advertised.
The price is right, though!
The ReelSonar iBobber is ideal for beginners and anglers tired of burning through their data using other castable fish finders.
I love that it connects to Android and Apple devices and has a ton of features at an unexpectedly low price.
Read our full review here: iBobber Fish Finder review.
Deeper START Smart Fish Finder
BEST FOR BEGINNERS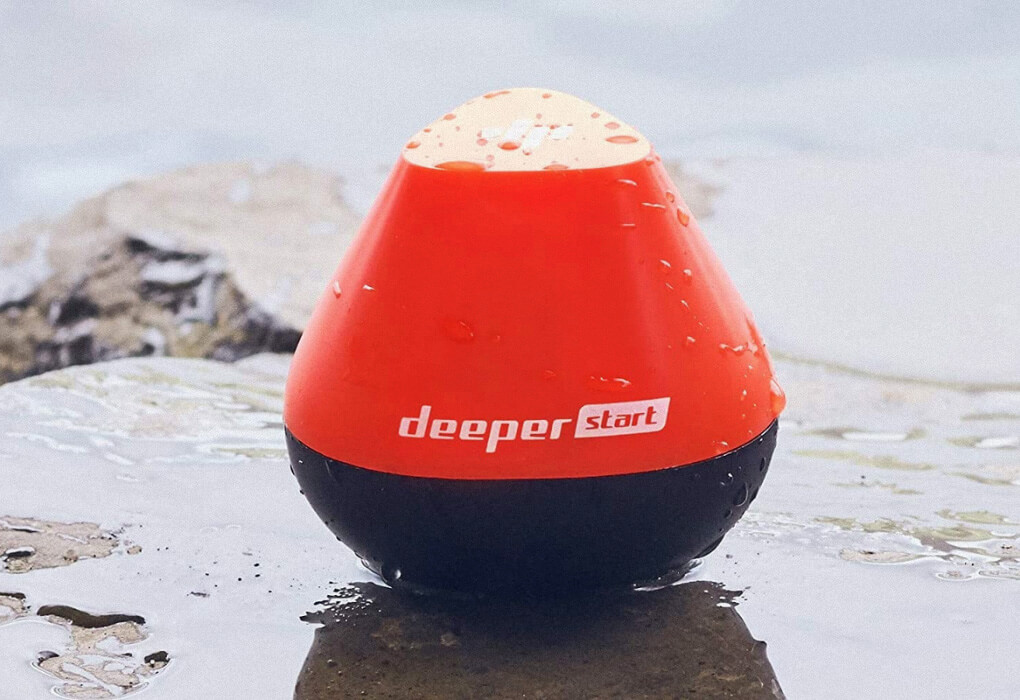 Specs
Size: 4" / 2.3oz
Range: 165'
Battery Life: 6-hours
Why We Chose It
The Deeper Start is best for beginners because it's simple and ridiculously affordable.
The simplicity of this fish finder means it doesn't come with any confusing features, but it also limits the abilities of this casting fish finder.
The lightweight and simple design is easy to rig and cast while also reeling in effectively and shedding any debris along the way.
The Deeper Smart Sonar Pro has a 165-foot range which isn't as good as the more expensive models, but I seriously doubt you'll use it that far away very often.
I sure can't cast that far with my Tweety bird pole…
All sonar scans are automatically saved to the app so you can check back and review them later.
That way, you can prove to your friends that the Lochness Monster did, in fact, move into your neighborhood.
The battery life on this guy isn't as good as some of the other options. It only lasts for six hours, and it takes two and a half hours to charge, so once it dies, you're likely done with it for the day.
One thing I found to be incredibly interesting about this casting fish finder is the issues that anglers are having casting it from the shore.
It's advertised as a shoreline fish finder, but a lot of anglers complain that it won't work in water 10 feet deep or less. This is interesting.
I think it could simply be a user error in a lot of cases. According to the manufacturer, it works in any water deeper than two feet. This shouldn't be an issue for most anglers unless you're trying to fish in a puddle.
Either way, I think the Deeper Start is the best option for beginners compared to other Deeper fish finder models because of its simplicity and overall ease of use.
If you want to learn or teach your kids how to read sonar, this is a great way to do so on a small budget.
Venterior Portable Fish Finder
BEST HANDHELD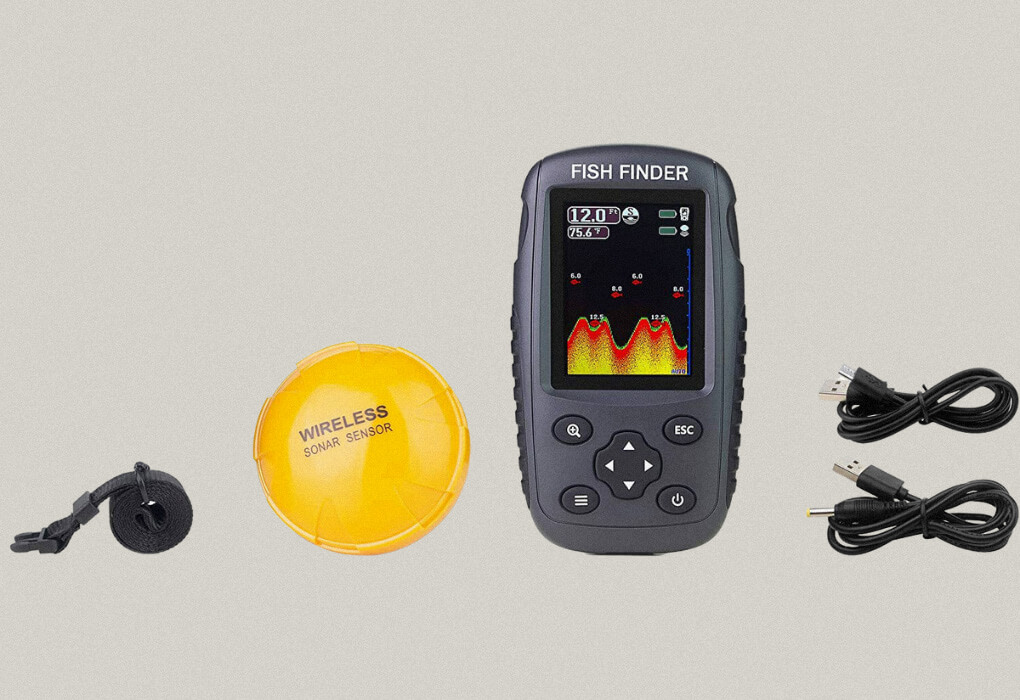 Specs
Size: 3"
Range: 262'
Battery Life: 3-6-hours
Why We Chose It
The Venterior fish finder is a great example of "you get what you pay for" because it's a cheap handheld fish finder.
The main thing that stands out about this one is the fact that it comes with its own unit for you to read on.
No need for a smartphone or anything to use this castable fish finder. Plus, there are no wires. Everything is handheld, lightweight, small, and stupidly portable.
However, it's a budget unit. Because it doesn't use CHIRP or any advanced sonar, don't expect it to be all that accurate.
The Venterior Portable fish finder only has one sonar beam, where CHIRP is three beams. Having more beams means the unit can offer more accurate readings and help distinguish between fish and underwater structure.
If you've never used a fish finder before, this will improve your game. If you're used to expensive units, you definitely want to pass on the Venterior.
The Venterior Portable fish finder is great if you're not into all the new-fangled technology and you just need something to tell you the depth.
Choosing the Best Castable Fish Finder: Here's What You Need To Know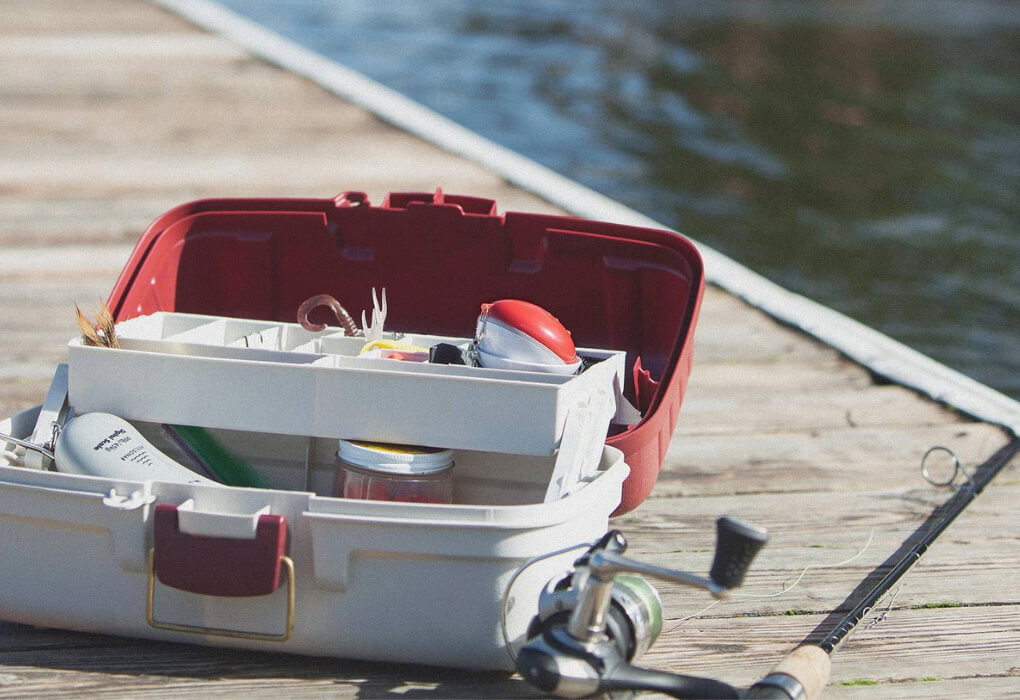 As you made your way through the castable fish finder reviews, you may have realized a few things.
These units are simple and easy to use but effective when used in the right context. While they might not be as expensive as top-of-the-line Garmin Echomaps or Humminbird Helix 10 units, they have something to offer. 
In the following sections, I want to break down some of the factors I considered when choosing the best castable fish finders.
Related Article:
Performance and Accuracy
The most important factor to consider when choosing a fish finder is accuracy. Without an accurate reading, what's the point, right?
The accuracy of the unit you choose will depend on the quality of manufacturing paired with the type of sonar and sonar cone. For example, if we compare the Deeper CHIRP sonar against the iBobber, there's no comparison.
CHIRP sonar will be more accurate, it will provide more readings, and you'll get much more effective target separation.
This means that the fish finder will have less chance of confusing fish with vegetation, stumps, or whatever else is floating around.
Another consideration is overall performance. If the sales page says it has a total range of 300', does it actually have that long of a range? In my tests, I find that a lot of castable fish finders exaggerate this claim.
It's like when you buy a "four-person" tent to realize that it barely fits two people comfortably.
My goal for this guide was to choose the fish finders that I feel best represent accuracy, performance, and honesty in their descriptions.
Range and Scan Depth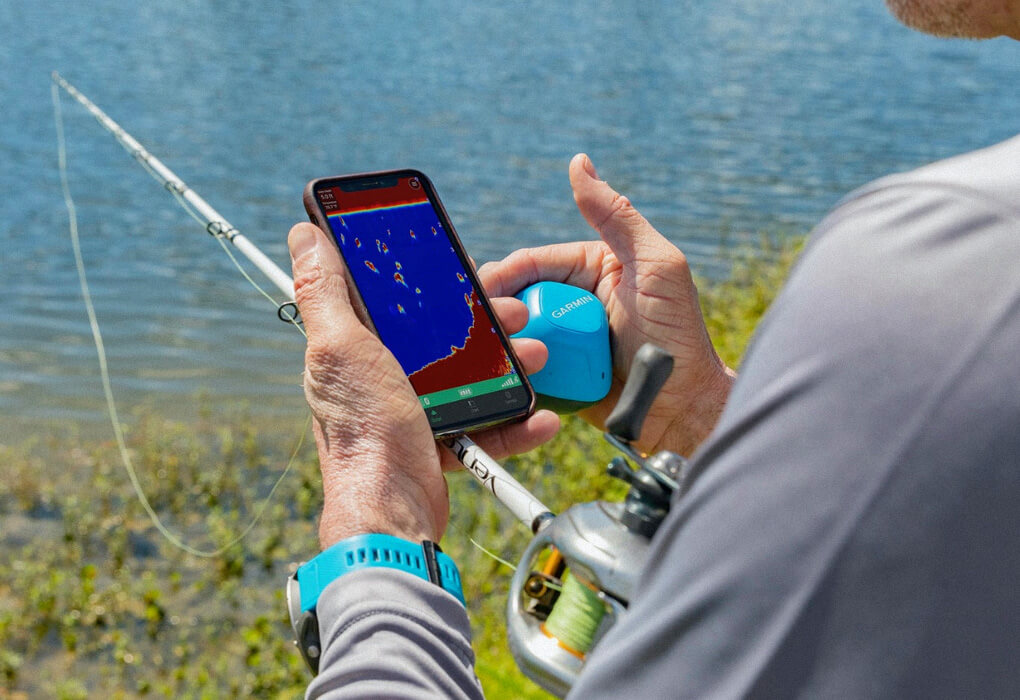 Range refers to how far you can cast it and receive accurate readings. Scan depth is how far it will scan down into the water once you've cast it. These are important for a variety of reasons.
The longer the range, the more flexibility you'll have in terms of where you can put it. If the casting fish finder you choose has a short range, you'll have to get closer to the fishing spot you want.
The further you can stay away from the fish, the better.
Scan depth is an important consideration because it determines how deep the fish finder will read. The essential thing to remember here is accuracy.
While the manufacturer may say the fish finder has a scan depth of 150', will it be accurate at that depth or not? In most cases, the max scan depth will yield a poor result, so there's no point in going that deep anyway.
All of the units chosen for this guide combine optimal range with depth and accuracy. You should have more than enough of both to make the fish finder highly functional.
While the Garmin STRIKER Cast doesn't have the longest range or deepest scan depth, it is more than enough to cover any bank anglers needs.
While the Deeper models offer ridiculous range, it's a bit overkill as most anglers won't cast that far anyways.
Durability
While it's not always possible to gauge the durability of something by looking at it online, it's one of the most important features of a castable fish finder.
These things can take a beating if you're not an accurate caster. If you bang them around too much, they can become damaged and inaccurate.
Thankfully, most portable fish finders contain a hard shell covering all the internals. These shells are waterproof and well-sealed to prevent anything from leaking through.
While this might be true, I still recommend being extra careful with where you cast. Try not to bang it off docks, stumps, or rocks.
It will increase the overall lifespan of your fish finder while ensuring it stays accurate along the way.
Ease of Use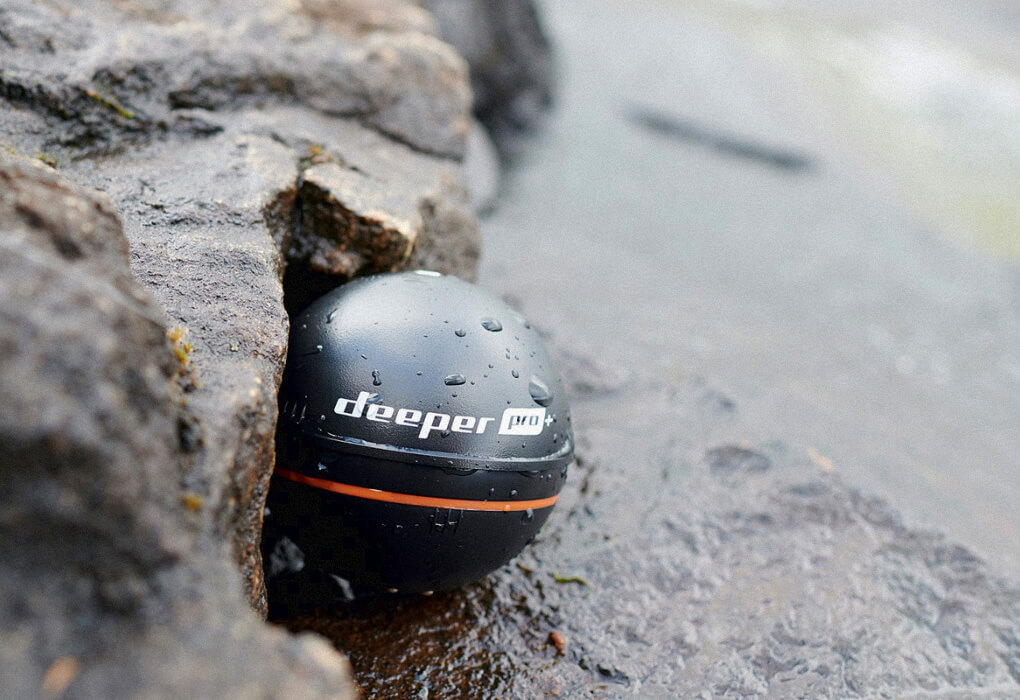 When it comes to ease of use, we're looking for simple operation, limited steps, and basic controls.
The best thing about castable fish finders is they work in familiar territory. Since you're using your smartphone as a way of controlling and reading the unit, you'll have a smaller learning curve.
Most of these fish finders are relatively simple too. They're not loaded with complicated features, mapping, or GPS technology.
Even the ones that have GPS and mapping are simple to use because the dashboard is on your smartphone.
One of the most important considerations is set up. A lot of anglers have a hard time getting fish finders set up properly, and it's what leads to bad reviews on a unit that works just fine when set up correctly.
Thorough user manuals and instructions can help with this; I tend to head straight to YouTube to get this help.
Overall, I think castable fish finders are the easiest to use. Just make sure you're downloading the proper app to go along with the unit, and you shouldn't have anything to worry about.
Charging Time and Battery Life
The battery life on your fish finder is important because it will determine how long you can fish before you need to recharge it or change the batteries.
Most of the units reviewed in this guide will have enough battery life to last an average day of fishing.
That said, if you're the kind of person that goes hard when you go fishing, then you might want to put a little more thought into the battery life of your unit.
Some options, like the Garmin STRIKER Cast, have a 10-hour lifespan, and the Deeper CHIRP 2 has a whopping 15-hour battery, while others like the Venterior Portable are closer to three or four hours.
From my personal experience, I prefer to have at least 6 hours of battery to get a full day of fishing in.
Keep in mind the "exaggeration factor" here as well. You'll find that most fish finders that claim to last six hours will only last four. They'll blame it on the backlight or the fact that you exceeded its range or something.
Don't expect them to last as long as advertised. Having some type of charging station or backup batteries is always recommended on fishing trips.
Bonus Features (GPS, Mapping, etc)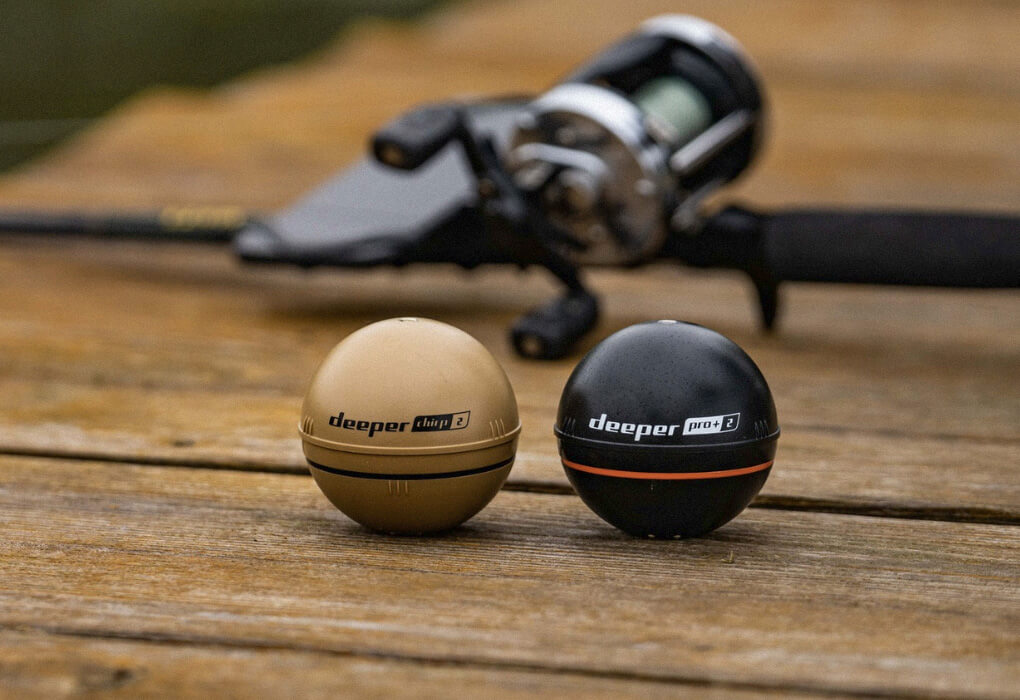 Castable fish finders are relatively basic in their technology compared to GPS fish finders. That doesn't mean that they don't boast some cool features, though.
Both the Garmin and Deeper Pro fish finders have GPS, mapping, and chartplotting.
Having these features directly on your smartphone is great. You'll have the ability to share data between various smartphones and even with other fish finders in some cases.
Besides technology, look for things such as charging cords, adapters, mounting hardware, replacement parts, and storage.
All of these items are important, and the premium manufacturers will include or at least offer many of these.
Compatibility
Lastly, you need to make sure that the wireless fish finder you choose is compatible with your Android or Apple iOS devices.
Sometimes, the sonar technology only works with one or the other, so you need to make sure that your sonar fish finder works with whatever smartphone you plan to use.
You'll Also Need
If you've decided on the best castable fish finder, why stop there? Here are a few other items that I think you'll like.
Premium Fish Finder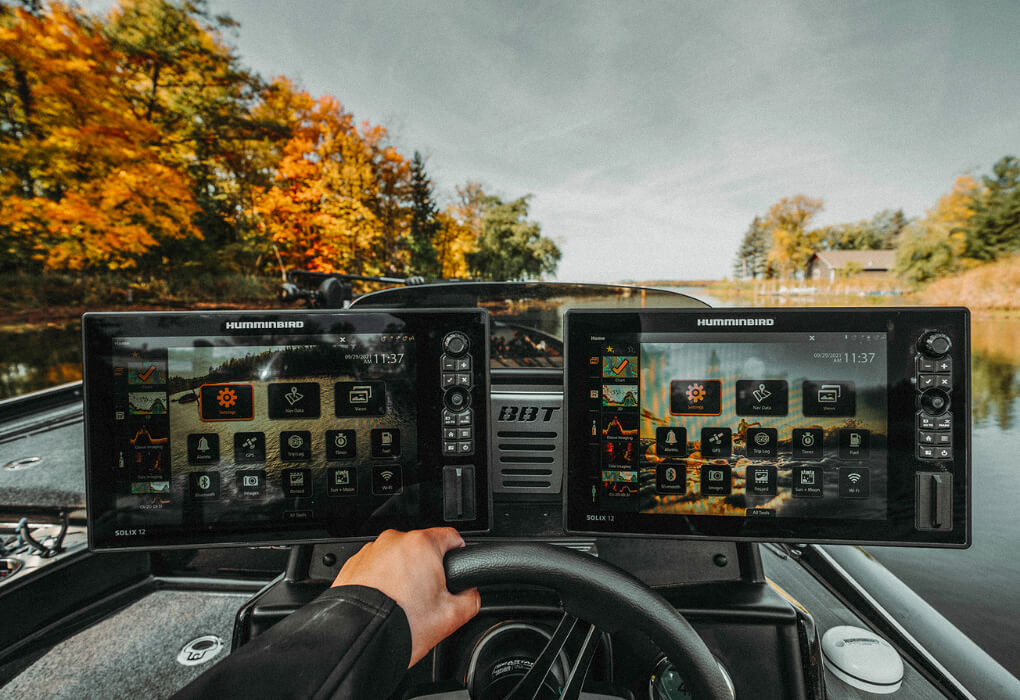 Have you gone through this guide and felt like, "Man, I'm just not thrilled or excited about these fish finders." I understand your pain.
There are so many incredible fish finders on the market, and sometimes you just feel like you deserve to splurge a little.
If you're thinking that, check out our review of the best fish finders to find options from companies like Lowrance, Humminbird, and Garmin.
Trolling Motor
Navigating around the water with a paddle gets old, doesn't it? Since you're saving so much money by getting a castable fish finder, why not invest in something else along the way?
How about something like a trolling motor? The best trolling motor will make your life a lot easier by allowing you to focus more on the fish and less on the rowing.
Castable Fish Finder FAQs
 Garmin STRIKER Cast vs Deeper Smart Sonar: What's the better choice?
The Garmin STRIKER Cast is the better choice because it has a long lasting battery, great sonar and the unbeatable GPS and mapping of Garmin.
The main advantages of the Deeper Smart Sonar is the more affordable pricing and longer range. 
What is a castable fish finder? 
A castable fish finder is one that hooks up to your rod and allows you to cast it out into the water like you would a bobber.
Doing so allows you to get a more accurate idea of what is happening where you plan on casting.
Since you don't have to actually go over there to read the water, there's less of a chance of you spooking the fish as well. 
How do you use a castable fish finder? 
You use a castable fish finder by first getting everything set up on your phone. Once you've done that, you'll rig it to your fishing line and cast it out.
You should be able to see the current readings on your phone, and it should adjust as you wait and move the fish finder around. 
Last Cast
I know this guide on the best castable fish finder has helped you identify one you might want to purchase.
I recommend the Garmin STRIKER Cast as the best overall option, while the Deeper Smart Sonar CHIRP is just a hair below it.
Keep in mind your own individual fishing techniques and plans. Perhaps you don't want a castable fish finder at all. Maybe you're just looking for a portable fish finder?
Regardless of what you decide on, a fish finder will have a dramatic impact on your fishing game, so be sure to settle on one.
We love answering your questions on castable fish finders in the comment section, so don't hesitate to ask away.
Good luck out there!