---
We independently research, test, and recommend the best products; you can learn more about our review process here.
The best trolling motor for every fishing scenario is the Garmin Force. It's the dominating trolling motor on the market today and for many good reasons, which we'll explore further below.
The Force is simply a technological marvel and a powerhouse on the water.
We've tested the best trolling motors and, honestly, I don't know why I bothered with paddles before, especially with the level of technology built into these things.
Whether on kayaks or bass boats, we've broken down the essentials for each one and what makes it the best.
To be labeled the best, it takes a rare combination of incredible features, efficiency, power, and the all-important price. I believe you get what you pay for, and that's why I rated the Garmin Force the best overall.
That's not the only trolling motor to make the list, and another nearly beat out the Force!
Let's find out which trolling motor challenges the Force.
Top 3 Trolling Motors on the Market
Every one of these trolling motors has more to offer than just a propeller propulsion system.
We chose the best trolling motors on a number of factors, including connectivity, compatibility with certain fishfinders, and versatility.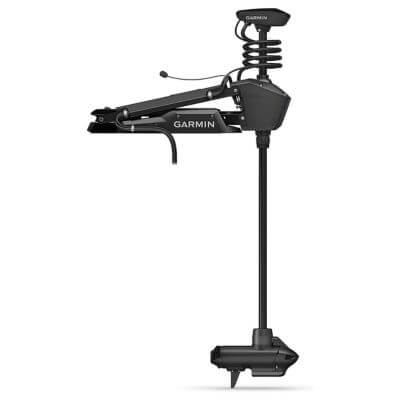 Best Overall Trolling Motor
Garmin Force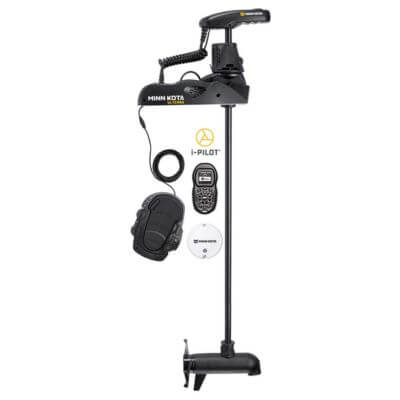 Minn Kota Ulterra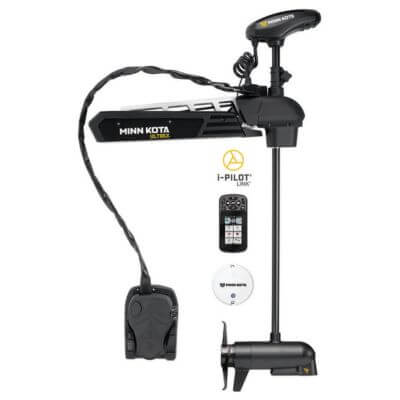 Best Trolling Motor For Bass Boat
Minn Kota Ultrex
---
How We Selected Our Favorite Trolling Motors
As I mentioned above, there is more to these trolling motors than meets the eye. These are sophisticated pieces of technology on more than a singular level.

Mounting Options: We don't look at trolling motor mounting options in terms of our own biases. For instance, I prefer a transom mount but I'm not going to artificially prop up a trolling motor that only has a transom mount.

What we're looking at is convenience—how easy is it to set up and how simple is the operation when using it?
Power: There are typically three types of power systems for trolling motors— 12v, 24v, and 36v. Everything else is a matter of how much power a particular trolling motor uses.

We test these trolling motors and go to the professionals to answer the most important questions about power consumption.
Shaft Length: Again, like the mounting options, we don't have a preference. Only what we observe, in terms of the type of watercraft a certain shaft is long enough for, as it applies.

Don't worry, we'll let you know the shaft length and if there are alternative options.
Interaction and Connectivity: Gone are the days when you simply guided the lever on a horizontal plane to direct your craft. Nowadays, there are LCD displays involved, along with Spot-Lock technology, automated guidance systems, built-in transducers, built-in GPS systems, and Bluetooth connectivity.

How does all of its work and is it a seamless experience? Those are the questions we're answering.
Durability: A trolling motor is only as good as how well it stands up to the elements. It needs to have a durable protective casing to withstand soft and moderate impacts.

It should be relatively water resistant. In other words, it needs to be the kind of trolling motor that's built to last or it doesn't go on our list.
Reviews on the Best Trolling Motor for Every Fishing Scenario
Best Trolling Motor Overall
Garmin Force
According to Professional Angler, Fred Roumbanis, "I can't tell you how excited I am about the Force trolling motor. The speed on this motor, it's faster than anything I've ever used and not only that, it's also quieter than any other motor out there."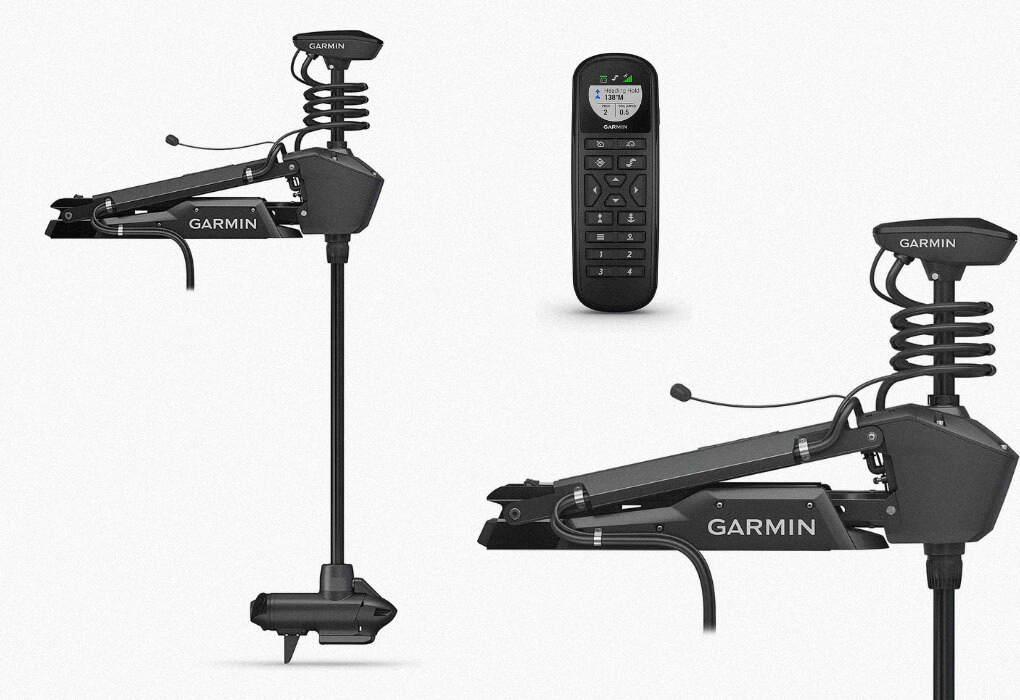 Key Features
50 and 57-inch shaft lengths
24v or 36v
100 or 120lbs of thrust
Brushless motor
Why We Chose It
Garmin has been a leader in fishing electronics for years. However, it wasn't until recently that they introduced a trolling motor.
When they released the Force, they didn't hold back, this electric motor is easily the best trolling motor, but it comes with a high price tag.
The Force is corrosion-resistant so it can be used in fresh or saltwater. However, it's still wise to clean it after each saltwater fishing trip.
The fish will never hear you coming with the silent brushless motor, which is more powerful and efficient than traditional motors.
The Force was named correctly because of the futuristic features like gesture steering, which allows you to steer the motor by pressing a button and pointing the remote in the direction you wish to go.
The Garmin Force is a serious, do-it-all machine and it even comes with a premium, built-in transducer, along with GPS and chart plotting.
It's basically a fishfinder without the display. It is compatible with the Garmin Echomap UHD 7Xsv and 9Xsv, the Ultra Series, and the UHD2 Series, which makes the price more palatable.
The more it can do on its own, the less you have to pay for elsewhere.
These integrated systems all include something I don't have to buy separately. I can get a barebones fish finder display from Garmin and I'm set.
Chartplotter lets you create a course for the trolling motor to follow automatically. You can focus on fishing instead of running the trolling motor. It also includes a wireless foot pedal and Bluetooth.
Garmin used corrosion-resistant materials in the construction and the Force is fairly water-resistant. However, salt will eventually get to anything so be sure to keep it rinsed off after each outing.
This is one of the most powerful trolling motors on the market, especially if you get the 100 lb-thrust version. The 100 lb thrust requires 24v while the 120 lb version requires 36v.
Brushless motors are really moving in the market today. If you have any doubt about the efficacy of brushless motors, look to the drone industry, where brushless motors are the pinnacle of lift design.
Garmin's inclusion of this technology allows for longevity, durability, and a smooth, quiet ride.
Its two shaft lengths narrow down the customer base the Force is targeting because depth is an issue depending on what kind of boat you have.
Also, it's only compatible with Garmin products, which makes sense from a business standpoint, but gets way too expensive for most consumers.
Read our full review here: Garmin Force Trolling Motor review.
Best Runner Up
Minn Kota Ulterra
Professional bass angler Matt Herren: "For all you guys that like to offshore fish, elderly folks who have a little bit of trouble getting their motors up and down, this is the product for you."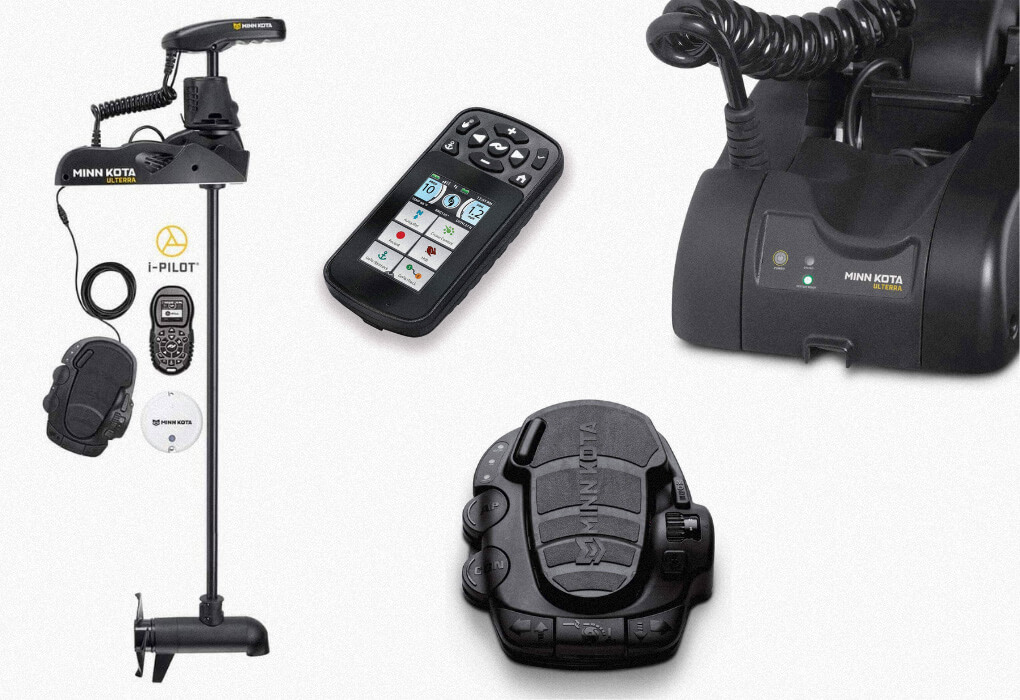 Key Features
45″ and 60″ shafts
24-volts
80 pounds of thrust
Digital-Maximizer
Why We Chose It
Minn Kota was a leader in the trolling motor market for decades. It wasn't until recently, when the Lowrance Ghost and Garmin Force debuted, that they were knocked off their pedestal.
It's an 80-lb thrust machine that keeps on giving and I love the versatility, connectivity, and networking features it has to offer.
The Minn Kota Ulterra is slightly more affordable than the Force. However, it's not cheap by any means.
The Ulterra may have pulled up just shy of Garmin's Force but it's still a fully loaded trolling motor with plenty to offer even the most enthusiastically high-tech anglers.
The Ulterra has two features that no other trolling motor has, and they're the reason it's the best electric trolling motor.
The first unique feature is the auto-stow and deploy. With the press of a button, you can automatically deploy or stow the trolling motor.
Other trolling motors only have lift assist; the Ulterra does it all for you. However, sometimes it gets stuck, so be sure to read my deep dive review into the Minn Kota Ulterra to know how to avoid the problems.
The other unique feature is similar, and that's power trim. You can set the depth of your motor using a button on your remote. So you can quickly adjust the lower unit depth.
The motor is not brushless, but Minn Kota developed Digital-Maximizer to help increase battery life.
Spot lock is probably the one feature that really makes Minn Kota trolling motors special, at least the ones that have it.
With Spot-Lock, you can zero in on your position and the trolling motor will automatically keep you in that position until you're ready to leave, regardless of current.
The Minn Kota Ulterra includes Universal Sonar 2 and a built-in Mega-Imaging transducer. Like the Garmin Force, that makes it expensive.
Also, like the Garmin Force, the inclusion of the built-in features negates the necessity to buy those things separately.
The best part is, the sonar is universal, meaning you can use a number of different brand fish finders with it.
The Ulterra also comes with iPilot, iPilot Link (Bluetooth), which integrates with the iPilot app, and the wireless remote that comes with the motor.
The only thing that holds the Ultrex back is the lack of adjustable shaft length options, which narrows the potential customer base, depending on boat size and depth needs.
But the thing that sets it behind the Force is the fact that you have to purchase the Riptide model if you want to head into brackish or saltwater environments, where the Force can do both.
Read our full review here: Minn Kota Ulterra Trolling Motor review.
Best Trolling Motor for a Bass Boat
Minn Kota Ultrex
The 2021 Bassmaster of the Year Winner, Seth Feider, had this to say about the Ultrex: "My Minn Kota Ultrex® is a beast. I burned the bank many times this year and my Ultrex was key to doing that efficiently and quietly."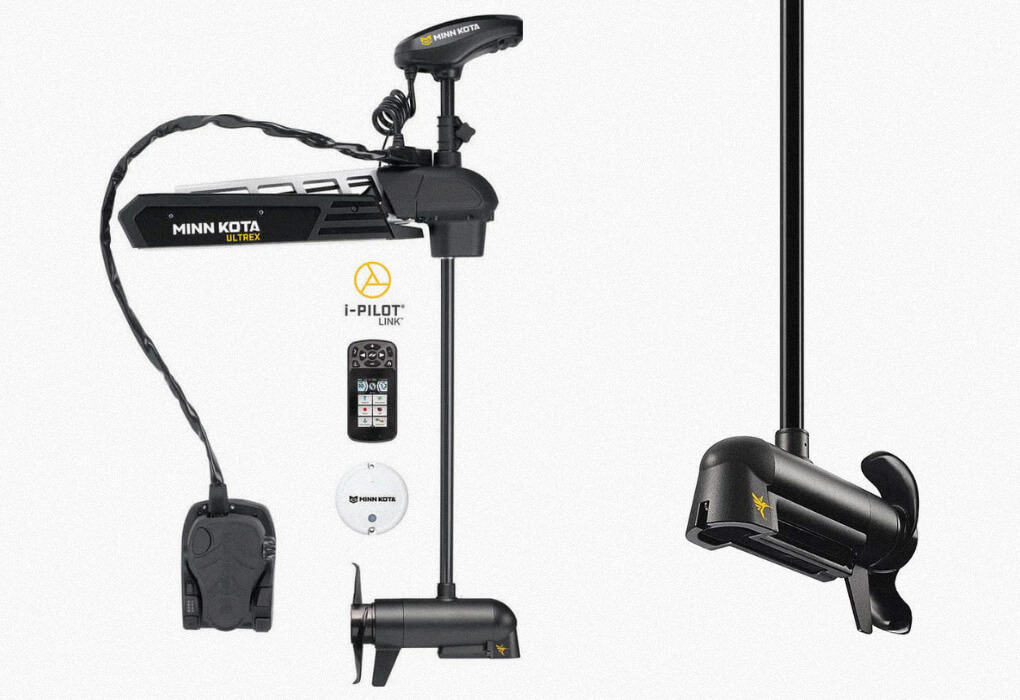 Key Features
45″, 52″, and 60″ shafts
24-volts or 36-volts
80lbs or 112lbs of thrust
Why We Chose It
The Minn Kota Ultrex is the best trolling motor for bass boats because it offers many of the features that bass anglers need, like power steering, so you don't get tired while operating your trolling motor.
Minn Kota has proven that they're dedicated to improving their products year after year, and this includes Ultrex. They've added features that will catch any angler's eye. My personal favorite is Universal Sonar 2.
The Ultrex is a fantastic addition to bass boats and larger but it's overkill for a small kayak or a jon boat.
I like its sleek, quiet, and powerful aesthetic vibe and, even though it was released a few years ago, it's still a heavy competitor on the market today.
US2 allows the angler to use any sonar system they desire with the integrated transducer in the lower unit of a Minn Kota trolling motor. You no longer have to strap and tape a transducer onto the bottom of your motor.
i-Pilot enables you to use GPS functions like spot-lock with the wireless remote, smartphone app, or Humminbird electronics. So you can control your boat from anywhere in the boat. You're no longer stuck on the front deck.
Spot-Lock is one of those features that once you use it, you don't know how you ever got along without it. Single-button activation is all it takes to put Spot-Lock in action and its accuracy is bar none.
The Lift Assist feature is one of those little add-ons that makes a huge difference. Lift Assist is nothing more than a steel spring with a nitrogen charge behind it so you can lift it up with very little effort.
The Minn Kota Ultrex is the best trolling motor for bass boats because it offers many of the features that bass anglers need, like power steering, so you don't get tired while operating your trolling motor.
However, like the Ulterra, anglers that live on the coast and have access to fresh and saltwater will have to purchase the Riptide model.
Considering the number of trolling motors on the market that are compatible with both fresh and salt, you would think some of the bigger manufacturers could put together something compatible with both.
Read our full review here: Minn Kota Ultrex Trolling Motor review.
Best Budget Buy
Newport Vessels X-Series
Verified Buyer Customer Review: "So far, I've noticed my new X series motor is very quiet and smooth. I really like the low speed which allows me to stand in my wooden drift boat and cast. The highest speed gives plenty of power to get back upstream."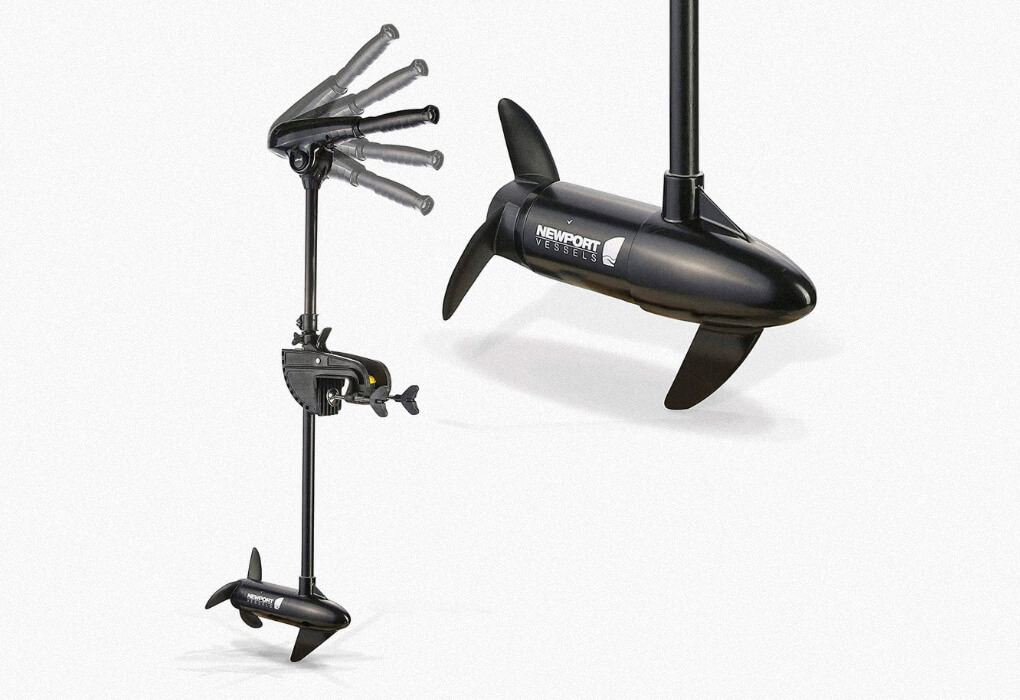 Key Features
36-inch shaft length
12-volt
55lb thrust trolling motor
Transom mount
Why We Chose It
Newport Vessels stands behind its products with excellent customer service. The X-Series for the price is unbeatable. Yes, there are cheaper trolling motors, but they don't offer the quality or adaptability of the X-Series.
The X-Series features all of the physical capabilities of many of its more expensive peers, such as telescoping handles, adjustable heads, and easy stow and deployment.
It's more affordable because it lacks the wireless functionality and sonar capabilities that are an integral part of the Force and Ghost trolling motors.
Newport Vessels makes all its trolling motors from corrosion-resistant materials so that you can use them in saltwater or freshwater.
I love that the X-Series has a telescoping tiller handle and tilt adjustments so you can find the most comfortable position to operate it.
Newport Vessels has been around for longer than most people realize. The existence of Garmin, Lowrance, and Minn Kota trolling motors often overshadow what Newport Vessels has to offer.
But, if you're in the market for a great trolling motor and don't want to pay for a brand, there are a lot of reasons to love the X-Series.
The ten LED battery meter lets you know exactly how much juice you have left in your trolling motor battery. Still, Newport suggests only using Lead-Acid batteries with it instead of Lithium-Ion.
So you will have some additional weight from the Lead-Acid battery.
I often wonder why there aren't more salt and freshwater trolling motors out there, considering how many anglers live in coastal areas.
Fortunately, the X-series is one such trolling motor. Just be sure to rinse it after each outing. Salt is a relentless and unforgiving foe.
One of the primary features I always look for has little to do with technology and everything to do with comfort and ease of use.
The telescoping handle, combined with the tilting head, makes everything so much easier and more comfortable.
Newport Vessels doesn't mess around with quality and durability. The telescoping, fiberglass shaft is heavy-duty without the weight and will stand up to years of hard use and low to moderate impacts.
For the price, the Newport Vessels X-Series is virtually unbeatable. It's an excellent choice for any angler looking for a versatile rear-mount trolling motor. That's why I named it the best budget trolling motor.
Not because it's the cheapest but because it offers the most features at a reasonable price. It does force anglers to stick with a lead-acid battery, which isn't in the same ballpark as a lithium-ion.
It also has short battery cables, which might be an issue on longer boats.
Read our full review here: Newport Vessels Trolling Motor review.
Best 12v Trolling Motor
MotorGuide Xi3
Professional Walleye Angler and host of The Next Bite TV, Chase Parsons, had this to say about the Motorguide Xi3: "The GPS in the Xi3 is the same as the Xi5. So, you're gonna have the most precise anchor mode on the market. That Xi3 is gonna keep you exactly where you need to be to catch more fish."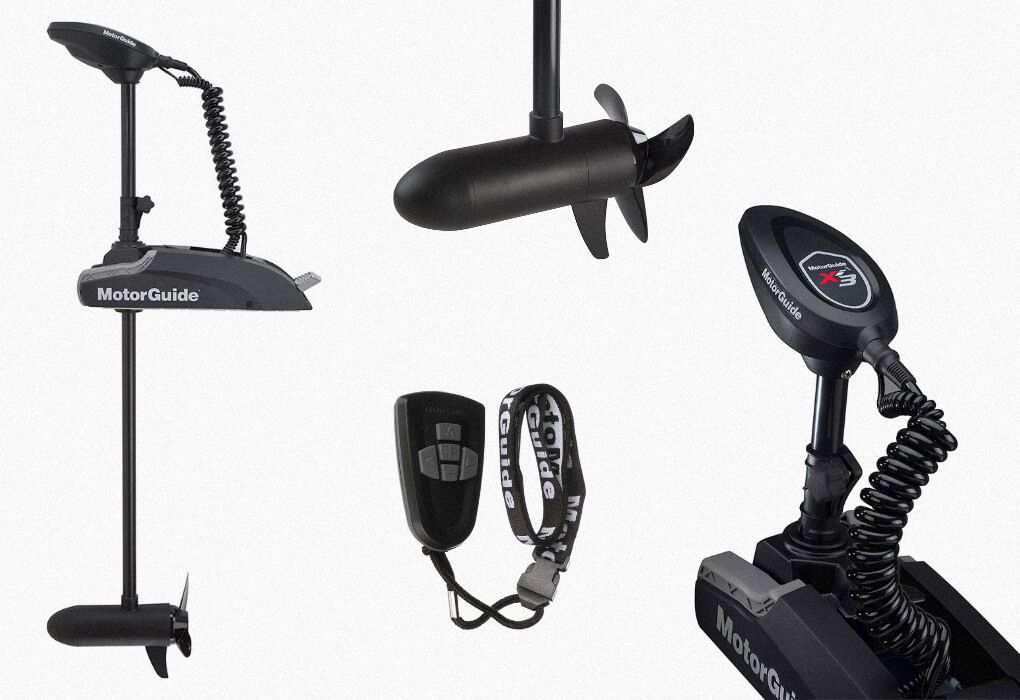 Key Features
36″ or 54″ composite shaft
12-volt trolling motor
55 lb thrust
Wireless operation
Why We Chose It
MotorGuide is a brand that has been around for decades, and you'll be hard-pressed to find a more feature-rich trolling motor at this price than the MotorGuide Xi3.
Most trolling motors with this many features require 24 volts to function correctly.
The Xi3 is a 12-volt 55lb thrust bow-mount trolling motor, which makes it perfect for fishing kayaks. You can read why I rated the Xi3 as the best kayak trolling motor here.
I especially like the wireless remote control operation to avoid fighting with a foot pedal in small spaces.
At this price, it's tough to find a trolling motor with GPS capabilities, especially a trusted name brand. The MotorGuide Xi3 is primarily for kayak anglers or other small fishing boats.
While it has enough power to propel a bass boat, the large boat will quickly drain the 12-volt battery. If you're stuck on MotorGuide, check out the MotorGuide X5.
The built-in GPS features excellent accuracy and, since the MotorGuide Xi3 is compatible with many of the best sonar brands out there, you can utilize it with your favorite fish finder.
An 83/200 kHz, built-in transducer combines with most of the industry-leading fish finders out there.
Since the MotorGuide Xi3 isn't as expensive as the Force or Ultrex, you can offset some of your gear costs and have a solid transducer to boot.
To me, this is the stand-out feature. The Xi3 comes with a built-in transducer, an LED dashboard, a handheld remote, a wireless foot pedal, and best-in-class GPS, all of which run at 12v.
On top of that, a battery at full charge will last for hours.
You can never say enough about the positives of convenience. The quick-release lever works for stowing or deploying and it makes the trolling motor much easier to handle.
The Motorguide Xi3 is one of those hidden gems, often overshadowed by bigger, more expensive brands out there. But, for the number of features and capabilities it offers, it's hard to deny the appeal of the Xi3.
Read our full review here: Motorguide Trolling Motor review.
Best Power
Lowrance Ghost
Edwin Evers won the 2019 Bass Pro Tour REDCREST and he was the only one of thirty anglers running a Lowrance Ghost. He had this to say: "I am very impressed with how much power it had. I was fishing in heavy currents and could easily get where I needed to. It was 'boom,' and you are right where you wanted to go."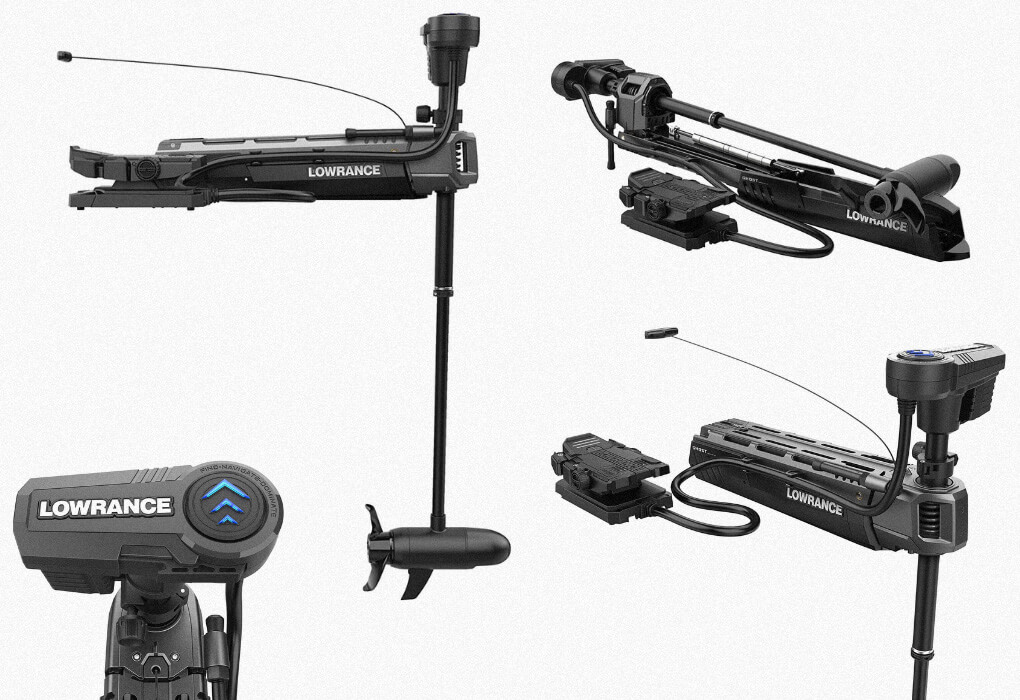 Key Features
47″, 52″, and 60″ shaft
24v or 36v
97lbs or 120lbs of thrust
Brushless motor
Why We Chose It
Lowrance might be a newcomer to the trolling motor market but they're learned from years of manufacturing fishing electronics and created the only bow mount trolling motor comparable to the Garmin Force.
You can see just how similar they are in my Lowrance Ghost Vs. Garmin Force review.
The Lowrance Ghost is deadly silent, so you can sneak up on the fish but that silence doesn't negate the power the Ghost has; Lowrance claims 120lbs of thrust from this brushless motor.
So you can quickly get to your favorite fishing spot.
If you're like me and fish a lot of shallow areas, you will enjoy the 360-degree breakaway mount and automatic realignment because when you hit a rock or stump you don't have to worry about damaging the trolling motor and it will "fix" itself back into the correct position.
The Lowrance Ghost is for the serious angler who loves having the newest gadgets installed on their boat. The features of the Ghost are world-class but they also come with a world-class price tag.
Besides its extensive technology, the Lowrance Ghost is an absolute beast. Twenty-four volts of power translates into 97 lbs of thrust.
If you build a battery bank to provide 36v, you get a maximum of 120 lbs of thrust, which is more than any of the others on this list.
Raw power is nothing without efficiency and I wouldn't like the Ghost if all it had to offer was 120 lbs of thrust. However, it also comes with a brushless motor for longevity and quiet running.
Lowrance designed this thing to go all out while barely touching the battery.
Like the Force, the Ghost comes with a built-in transducer that connects to certain Lowrance fish finders. You can offset costs this way, which is only one of many advantages.
It also supports Lowrance's Active-Imaging 3-in-1. The Ghost also includes a foot pedal and a wireless remote, as well as Power Poles, spot-lock, and waypoints.
The aforementioned pedal, anchor-lock, remote-controlled speed and direction, automations, programmable buttons, and some of the best navigation options in the industry really up the ante in terms of ease of use.
You can purchase a Ghost with a 47", 52", or 60" shaft and the entire motor is designed with durability in mind.
It includes a solid stabilizer bar to keep the boat steady in heavy chop, along with a 360° breakaway mount, which significantly reduces the severity of impacts.
Read our full review here: Lowrance Ghost Trolling Motor review.
Buying Guide: Factors To Consider Before Buying A Trolling Motor
Whether you're buying a trolling motor for a small boat or a pontoon, there are several factors you need to keep in mind.
The importance of each element will vary from situation to situation, but in general, you should keep a running checklist in your head of these:
Power
Efficiency
Quietness
Standard features
Price
Ease Of Use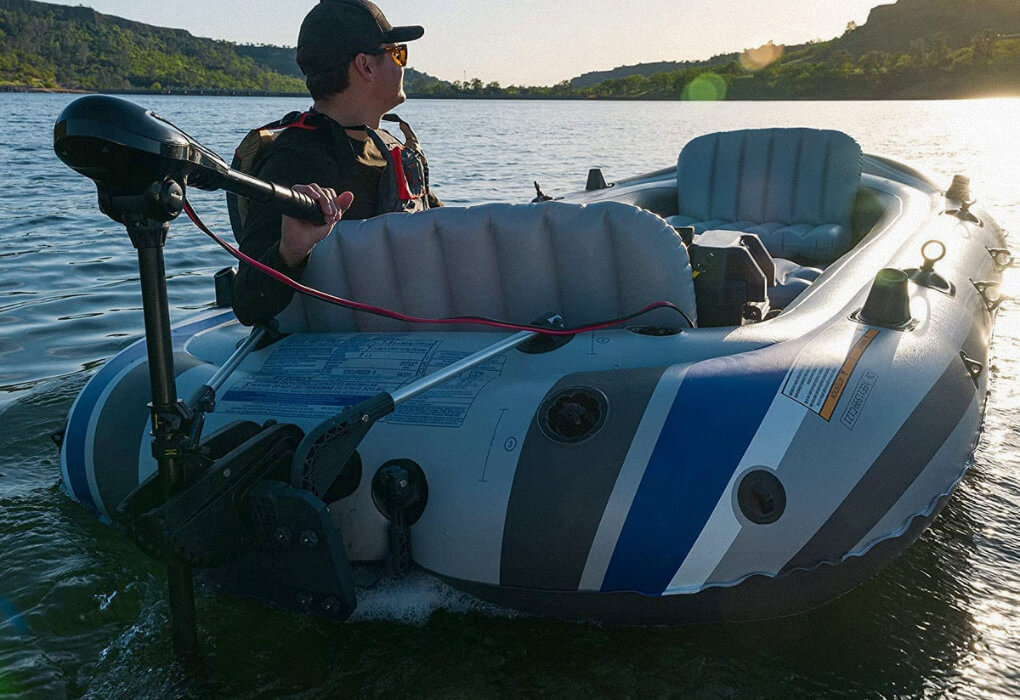 I prefer my trolling motor to be simple to use.
Sometimes this means it is a basic transom mount trolling motor for an inflatable boat, while other times, it is a high-quality bow mount trolling motor with lots of easy-to-use features.
I look at it this way; even if the trolling motor has the best features if they're challenging to use, I'm unlikely to use them because they'll only complicate my day of fishing.
Power
A deep-cycle battery most often powers trolling motors. However, in theory, some trolling motors have multiple power options—the more voltage, the more powerful the trolling motor.
However, brushless motors have changed the game and can produce nearly as much power as traditional electric motors using fewer volts.
The most powerful trolling motors will have a brushless motor connected to 36 volts.
However, if you're fishing from a Jon boat, you won't need that much power to propel you, so a 12-volt 55lb thrust trolling motor will have plenty of power.
Efficiency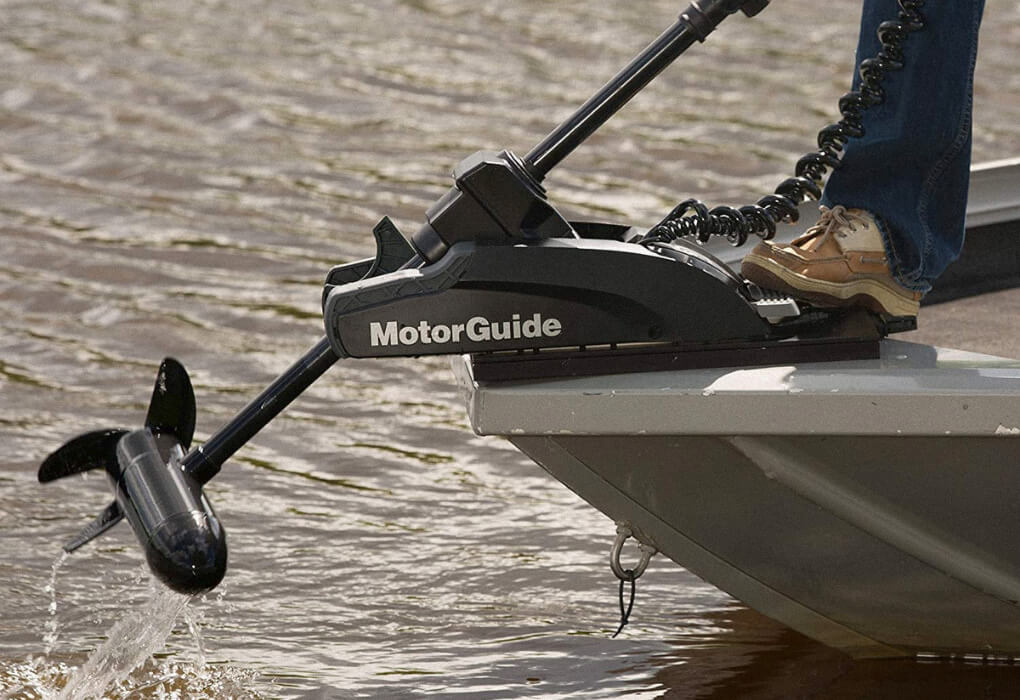 Nothing ruins a good day of fishing quicker than the trolling motor batteries dying. I've tried paddling and fishing from a boat, and it's not the same as paddling a kayak. I spent more time paddling than I did fishing.
So now, when I go buy another trolling motor, I check how efficient it is. This usually means once again going with a brushless motor.
Some companies, like Minn Kota, try to get around using a brushless motor by using a Digital-Maximizer, which only uses the exact amount of power the trolling motor needs at that time.
These programs help increase efficiency, but Minn Kota will have to get on board with brushless motors sooner or later if they want to stay relevant.
Efficiency also has to do with the batteries you choose. A Lithium-ion marine battery is more efficient than a Lead-Acid battery.
Quietness
Have you ever swam at the lake and heard a boat passing? It might have sounded much closer than it was; this is because water amplifies sound. That's why having a trolling motor that's virtually silent is so essential.
Even electric motors make enough sound that will spook fish.
I know I'm beating a dead horse, but brushless motors are once again superior in this regard.
They are the quietest motor on the market. Brushless motors are relatively new to trolling motors, but the technology has been proven in power tools for years now.
Standard Features
The standard features range widely, as you'd expect, from high-quality to low-quality trolling motors. This is where you have to look at your style of fishing and determine which features you will use the most.
If you're just looking for a trolling motor to place on the back of your Jon boat to get from point A to point B, then your needs will be vastly different than the tournament bass angler.
Price
Price goes hand in hand with standard features. The more features a trolling motor offers, the higher the price.
You can find a good transom mount trolling motor for under $300, but a high-quality bow mount trolling motor will cost you more than $3,000.
You'll Also Need
If you're a gear guy or gal, there's always something else you need! Well, this is true when buying a trolling motor. There are a couple of other items you need to purchase to protect your trolling motor and power it.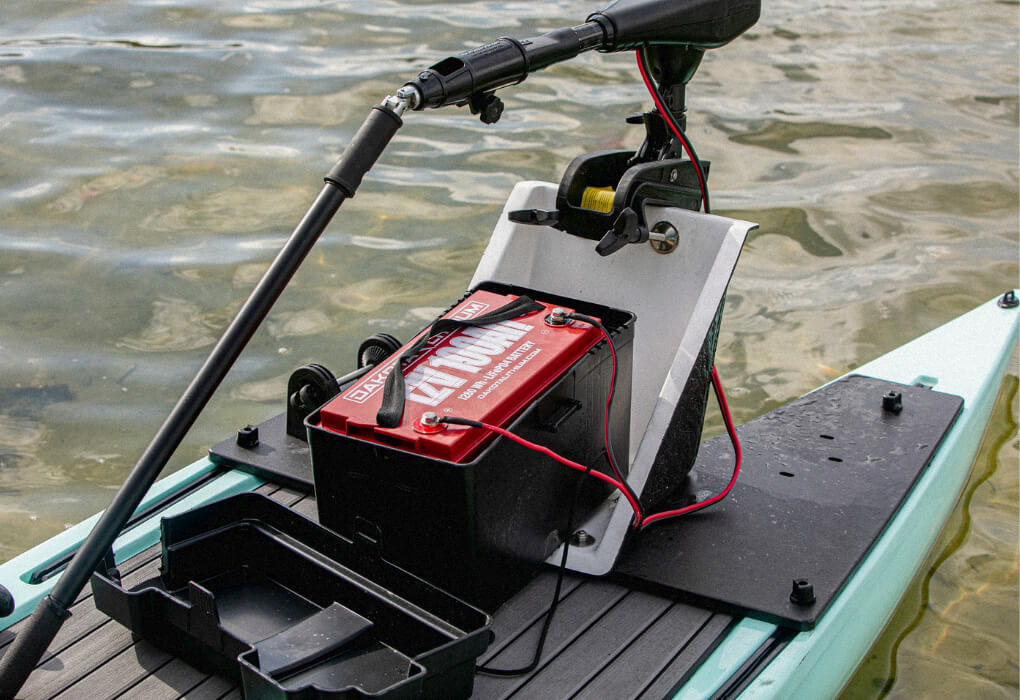 Circuit-Breaker
Unless you like seeing your money go up in smoke, literally, I highly recommend buying and installing a circuit breaker. It will protect your electric motor from power surges when something gets tangled around the prop.
A 50 or 60 amp circuit-breaker should do the trick but see what your specific trolling motor recommends installing.
Trolling Motor Battery
Purchasing the best trolling motor battery is almost as important as buying the best trolling motor. There are many things you need to know to buy the correct marine battery, but the quick explanation is this:
Deep cycle batteries' power is measured in volts, most are 12v, but some are 24v. The Ampere Hour Rating is how long that battery will last, drawing that many amps.
So a 15aH battery will last one hour when 15 amps are being used.
There are primarily two relevant types of trolling motor batteries, Lead-Acid and Lithium-ion.
Lead-Acid batteries are heavier but cheaper than Lithium-ion. Just like with brushless motors, Lithium-ion batteries are the latest and greatest.
One Last Cast
You now know the Garmin Force is the best trolling motor. However, the Lowrance Ghost is right there with it if you're willing to spend over $3,000 for a trolling motor.
If your price range is around $500 or less, the Newport Vessels X-Series is an excellent electric motor, especially for inflatable boats.
Did your favorite trolling motor not make the list? Let me know in the comments below why I should add it to the best trolling motor list!