---
We independently research, test, and recommend the best products; you can learn more about our review process here.
The best Humminbird fish finder varies depending on how often you fish, your goals (features you need), and how much you want to spend.
After decades of fishing, with and without a depth finder, I've come to appreciate the benefits even the simplest model offers, such as finding depth changes and where the structure is located.
When testing fish finders, I look for an easy-to-operate, affordable sonar unit that can grow with me as an angler and adapt to my specific needs.
Below you'll find my favorite Humminbird electronics for finding fish depending on specific situations.
Top 3 Humminbird Fish Finders on the Market
For the angler in a hurry, here are the three best Humminbird finders: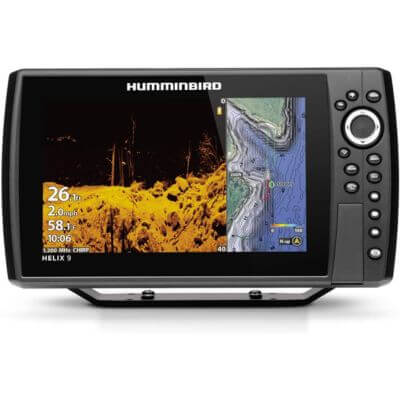 Humminbird Helix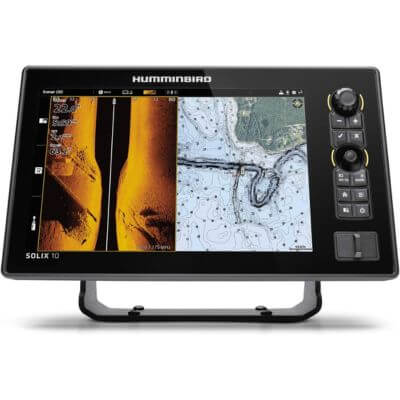 Best for Advanced Anglers
Humminbird Solix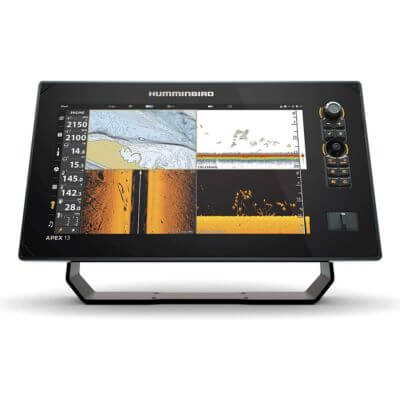 Humminbird Apex
---
Testing Procedure
Price: Most anglers, myself included, can't justify spending thousands of dollars on a fish finder, but I need a dependable unit that will hold up to the tough conditions for several years.

So I've ranked these products based on how much it costs compared to the features you get.
Features: The price and features of the units are directly connected. If you want more features, then you're going to pay more money. However, every angler doesn't need all the features offered by the top-of-the-line fish finder.

In fact, most anglers won't be able to take advantage of all the features. If that's you, then you'd be wasting your money on features you'll never use. So I'm looking for the perfect balance of price vs. features.
User-Friendliness: When testing fish finders, including some of the ones listed below, I always focus on how easy it is to operate.
Can I install and set it up quickly (in an hour or less)? Are the menus and buttons intuitive, or do I have to spend hours on YouTube trying to figure everything out?
Generally, the fewer features a fish finder has, the more user-friendly it is, but most fish finders today keep the angler in mind during the design process.
Humminbird Depth Finder Reviews
Humminbird Helix Series
BEST HUMMINBIRD FISH FINDER OVERALL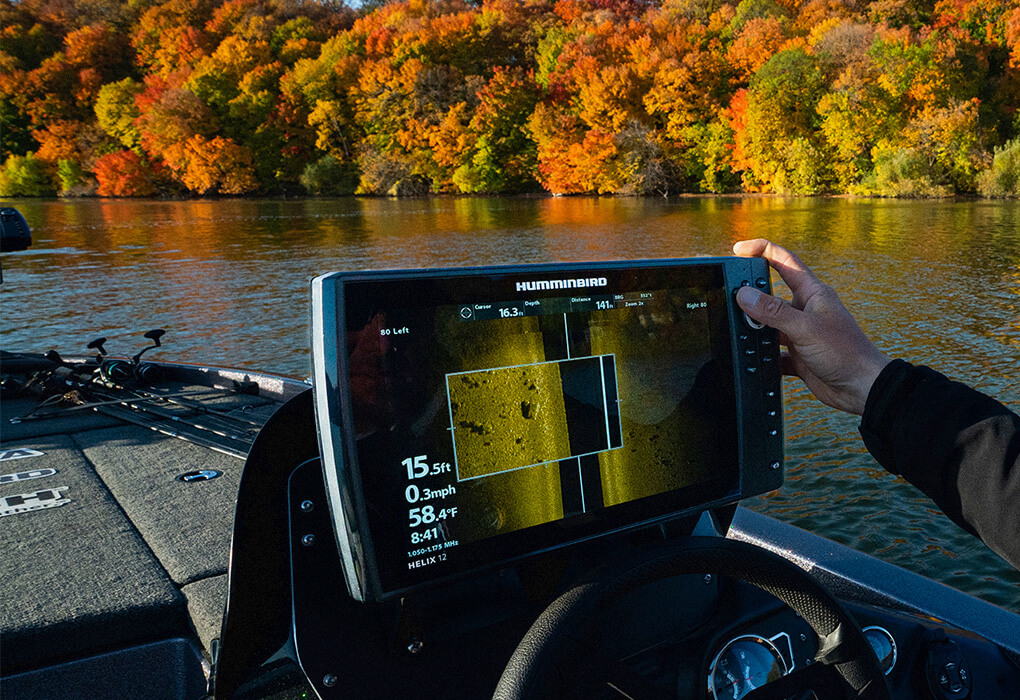 Specs
Dual Spectrum CHIRP
User-Friendly Menus
Built-in Mapping
Models
Why We Chose It
The Humminbird Helix Series is the best Humminbird fish finder because it gives the average angler all the features they need at an affordable price.
It's pretty sweet that you're able to get down imaging, side imaging, and Dual Beam Plus Sonar in the Helix series, and select models are a part of the One-Boat Network system so that you can control EVERYTHING with your Helix fish finder.
I think the best thing about the Helix models is the number of screen options you get; you can select the perfect size screen for your boat.
Screen size also determines some of the features your unit will have, so you'll have to choose a 7" screen or larger if you want the higher-end features, like the One-Boat Networking system.
Another factor that I love about this model is the sonar options.
You can choose a model and transducer that has all the sonar options, such as down imaging, side imaging, and Dual Spectrum CHIRP, or you can choose only the ones you'll use the most.
The larger screen models are even compatible with MEGA Imaging, MEGA 360 Imaging, and MEGA Live Imaging, which are Humminbirds professional-level sonar upgrades.
You'll be able to see what other anglers miss when using the Humminbird Helix, and you probably won't have paid as much as they did for their unit!
The Helix also doesn't leave out ice fishermen and women. There are several Humminbird Ice Fish Finders to choose from, so you can get the perfect one to see what's under the ice.
While this is a solid unit, I wouldn't be being honest if I didn't mention the downsides of it.
First, some of the Helix models don't offer the greatest maps.
So if you're a tournament angler dependent on finding the best places to fish by scouring your maps, you'll probably want to upgrade to the Solix or Apex series because both have better mapping and GPS features.
The second con is that it's confusing which model you're actually buying.
For instance, there's the:
HELIX 9 CHIRP MEGA SI+ GPS G4N
HELIX 9 CHIRP MEGA SI+ GPS G4N CHO
HELIX 9 CHIRP MEGA DI+ GPS G4N
Yeah, if your eyes glossed over from trying to decipher that, rest easy mine did too.
All three of the units mentioned above look the same because they have the same screen size, but each one offers different sonar options, and it's left for us to figure out what the abbreviations mean without much help from Humminbird.
Because it's not overly complicated to figure out the meaning of their abbreviations, and the built-in mapping of many Helix models can be upgraded with LakeMaster and CoastMaster maps, the Humminbird Helix Series fish finder is the best all-around fish finder made by Humminbird.
If you're an average angler looking to gain an edge over the fish, be sure to purchase a Helix fish finder today.
Read our full reviews on Helix Series here:
Humminbird Solix Series
BEST HUMMINBIRD FISH FINDER FOR ADVANCED ANGLERS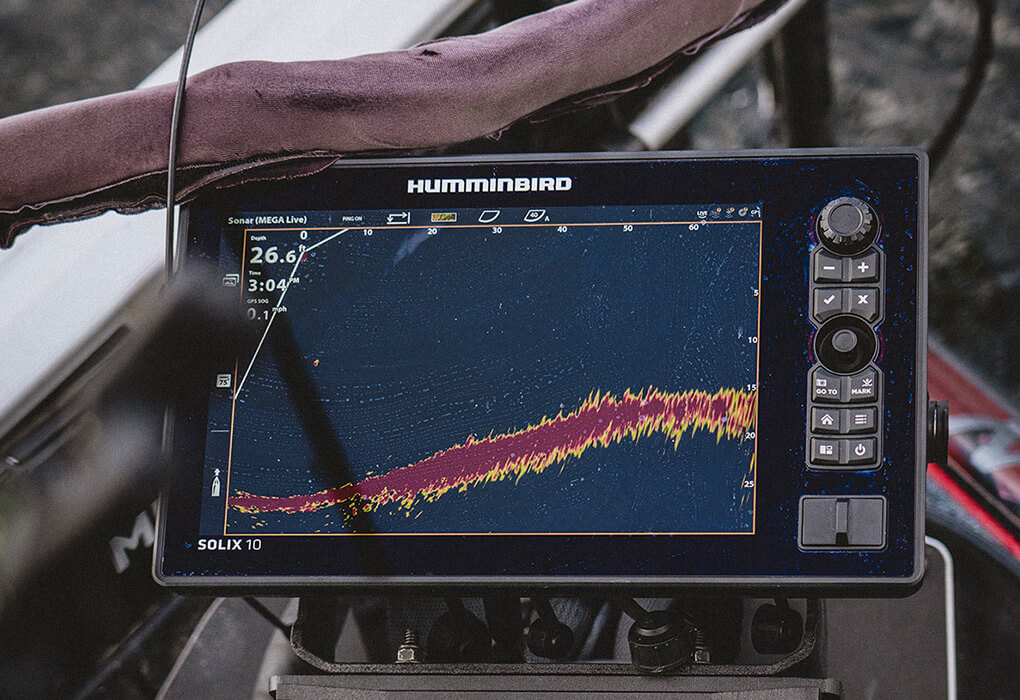 Specs
Touchscreen or Keypad
Built-In AutoChart Live
Bluetooth Connectivity
NMEA 2000 Networking Capability
Models
Why We Chose It
The Humminbird Solix is the best fish finder for dedicated anglers because it was designed with tournament anglers in mind.
This unit has some of Humminbird's latest features available, but you'll pay a high price for that privilege.
The built-in GPS is excellent with the AutoChart Live mapping feature, so if your lake isn't one of the 10,000 lakes on Hummibird basemap, you can still have an accurate depiction of your favorite spots in a relatively short amount of time.
Another option is to get CoastMaster or Navionics mapping, and the Solix G3N Series has built-in NMEA 2000 support to stay connected to your engine, navigation, and environmental conditions, whether you're in freshwater or saltwater.
I like that the Solix models are touchscreen and have a keypad, whereas the Helix models only have a keypad. This makes it very simple to use in any weather condition.
If the touchscreen is finicky because of the cold weather or wet hands, you can always resort back to the keypads.
The interface is also easy to use because you can customize the settings and viewing experience to fit your preferences.
Another thing that the Solix can do, that only select Helix models are capable of, is communicate with other Humminbird electronics using Bluetooth via the One-boat Network.
This is a significant advantage for Minn Kota and Humminbird users as they can control all their equipment using one screen and share data such as waypoints.
There are a couple of drawbacks to the Solix Series, which are the price tag and the limited number of screen sizes.
The high price of the Solix models is expected because of all the advanced features you get, and it's compatible with such as MEGA Imaging, MEGA 360 Imaging, and MEGA Live Imaging.
You can check our Humminbird 360 vs Mega 360 article where we analyze the key differences between Humminbird 360 and Mega 360, including their scanning capabilities, range, imaging quality, and user interface, shedding light on which option may be the best fit for your specific fishing needs.
But I understand most weekend anglers don't want to spend $3,000 on a single fish finder.
I would like also like to see a couple more screen options from Humminbird in this series, I think they're leaving the kayak anglers completely out.
Now granted, kayak anglers wouldn't be able to take advantage of several features, so maybe that's why the smallest screen is 10".
Despite the price being difficult to swing for the weekend angler and a limited number of screen sizes, the best Humminbird GPS fish finder is the Solix Series, perfect for the advanced angler.
Read our full review here: Humminbird Solix Review.
Humminbird Apex Series
BEST HUMMINBIRD FISH FINDER FOR TOURNAMENT & SALTWATER ANGLERS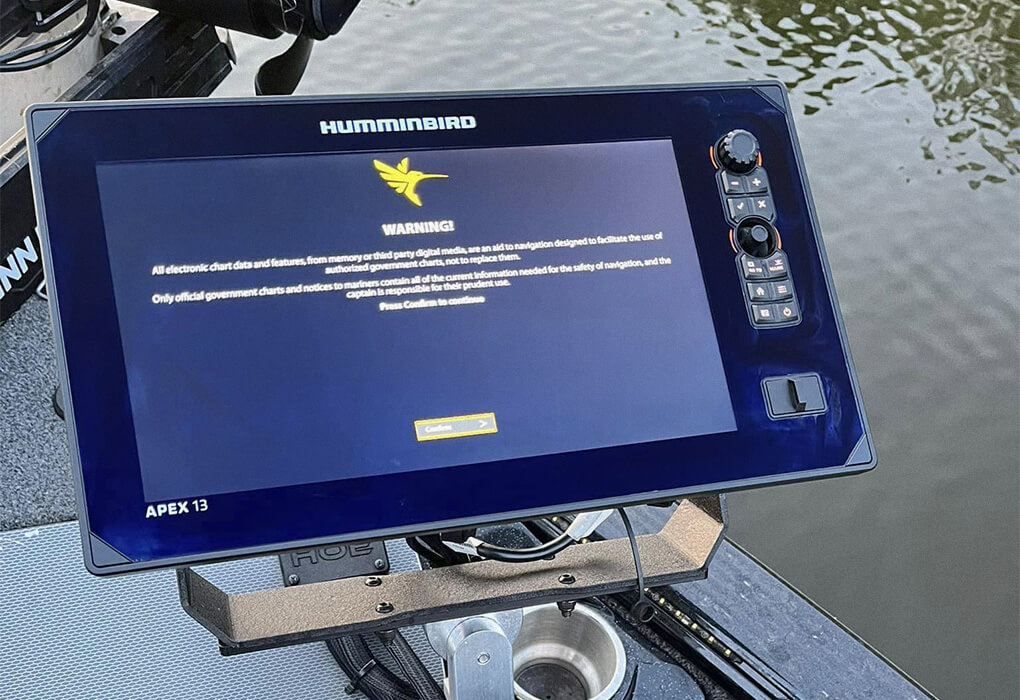 Specs
Full-HD Display
Touchscreen or Keypad
Internal GPS
NMEA 2000 Networking Capability
Models
Why We Chose It
I'm still not convinced you can't watch the game on this unit. The Humminbird APEX 19 is the ultimate when it comes to Humminbird electronics. It has all the latest features needed to make the cut in your next tournament.
Humminbird got it right when they made this touchscreen and keypad controlled, so no matter the weather conditions, you'll be able to operate this unit.
You'll also be able to clearly see the screen in the bright sun thanks to the Full-HD screen; no more looking like a goober trying to block the sun so you can read your fish finder.
When you connect the Apex and your other Humminbird electronics to the One-boat network using Bluetooth, you can control them with the APEX fish finder.
You'll have total control of your boat, from the Minn Kota trolling motor and Talons to the Cannon downriggers.
I could easily identify fish, rocks, brush piles, and every other piece of structure in the area I was fishing with this unit using the MEGA Imaging+ features.
This is the best sonar that Humminbird has to offer, and it's what many professional anglers that I've talked to use it every day on the water.
A couple of cons to these models are that they are not priced for the average weekend angler. Most of the features are overkill unless you're tournament fishing or guiding on the ocean.
However, that doesn't mean it wouldn't be nice to have it installed on the front of your bass boat.
With everything the Apex Series is capable of, it's easily the best Hummingbird fish finder for professional anglers, so if that's you, go ahead and pick one up.
Read our full review here: Humminbird Apex review.
Humminbird PiranhaMAX Series
BEST HUMMINBIRD BEGINNER FISH FINDER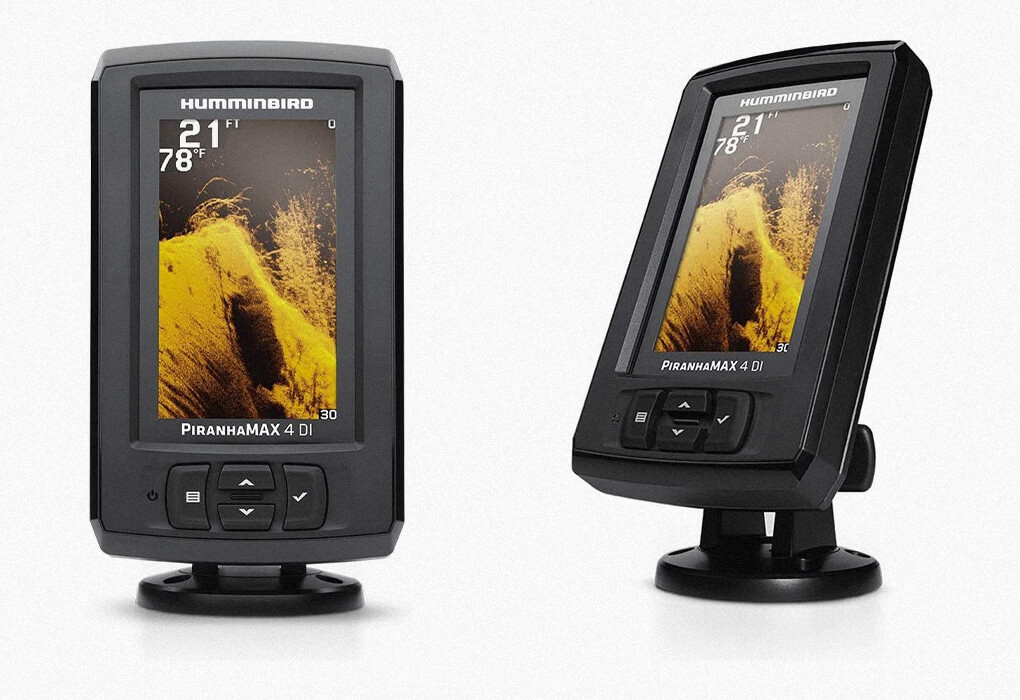 Specs
4.3″ Screen
480×272 Resolution
256-Color Screen
Dual Frequency
Models
Why We Chose It
The PiranhaMAX 4 Series is perfect for beginners, ice anglers, and kayak anglers because you won't get confused by unnecessary features, and the screen doesn't take up too much space.
Though we want them, most kayak and ice anglers don't need all the features that tournament boat anglers need. We're also constrained on space, so having a compact, portable, and simple-to-operate fish finder is essential.
The PiranhaMAX 4 fish finders are simple to operate because they have a limited number of features. However, the PiranhaMAX 4 DI has Down Imagaing and is the one I suggest as the best fish finder for kayaks.
The DI stands for "down imaging" and is rare to find with entry-level fish finders.
This added feature does cost a little extra compared to the PiranahMAX 4, but it's nice to have, considering the jump in price to the Helix 5 or Helix 7 for similar features.
The Fish ID+ and Fish Alarms help beginners identify the differences between multiple fish and structures, speeding up the learning curve when you're trying to figure out what all the colors and arches mean.
While I think this is a solid fish finder, there are a couple of downsides we have to consider.
The small 4.3" screen is more difficult to see than larger screens; however, it's less likely to get in the way of your fishing or paddling, plus you can't expect a 65" screen when the unit is under $200.
The other downside is that you'll likely grow out of this model due to the limited number of features. If you're a gear junkie like me, you'll learn how to use this fish finder and then realize that it'd be cool to have
The simplicity and compactness of the PiranhaMAX 4 DI make it the perfect option for kayak anglers looking to add a Humminbird depth finder to their kayak.
While the portability of the PiranhaMAX 4 PT makes it a steal for Ice fishermen and women everywhere.
Read our full review here: Humminbird PiranahMAX 4 review.
Buying Guide: What to Consider Before Buying the Best Humminbird Fish Finder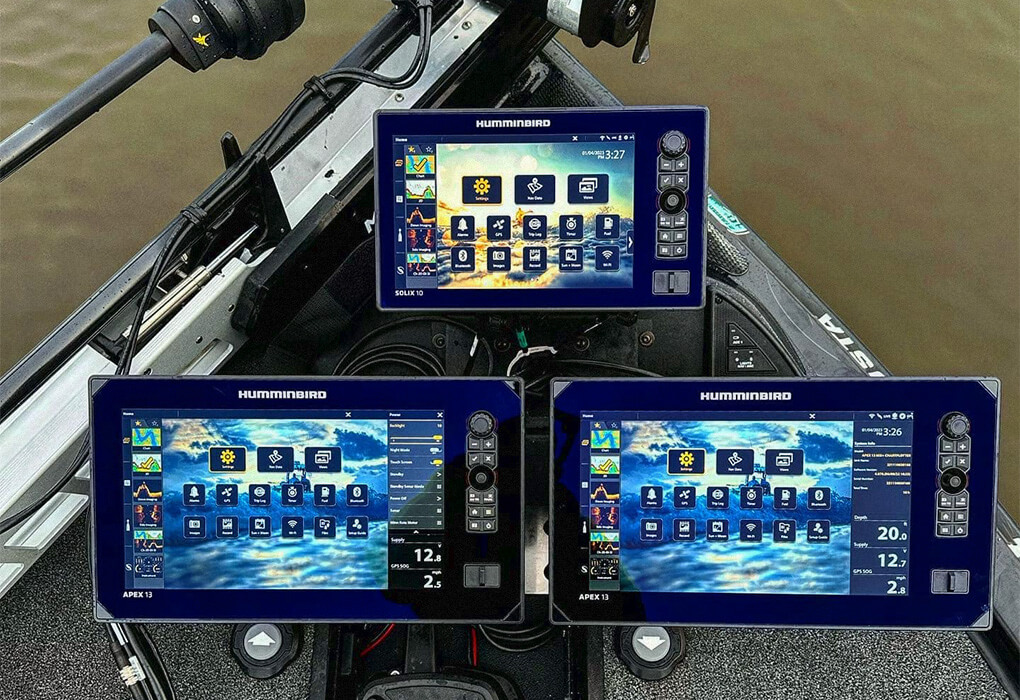 Purchasing a depth finder can be confusing because of all the specialized jargon used by each company and the never-ending amount of features available.
So what should you consider when buying a fish finder?
The following features are what I use to help make my purchase decisions.
Sonar Options
There are several sonar types available, and they all do different things, but do you need all of them?
Most anglers don't need the latest and greatest sonar technologies. Having CHIRP, down imaging sonar, and side imaging sonar are often enough to help an angler find fish.
For beginners, I recommend sticking with CHIRP and learning to read a depth finder before spending thousands of dollars on a fish finder you don't know how to use.
For intermediate anglers, buying a Humminbird graph with Down Imaging and Side Imaging, as well as CHIRP, will give you a good understanding of the water below your boat.
If you plan to fish in tournaments, you'll need every advantage you can get, so you'll need everything Humminbird offers, including MEGA 360.
Screen Size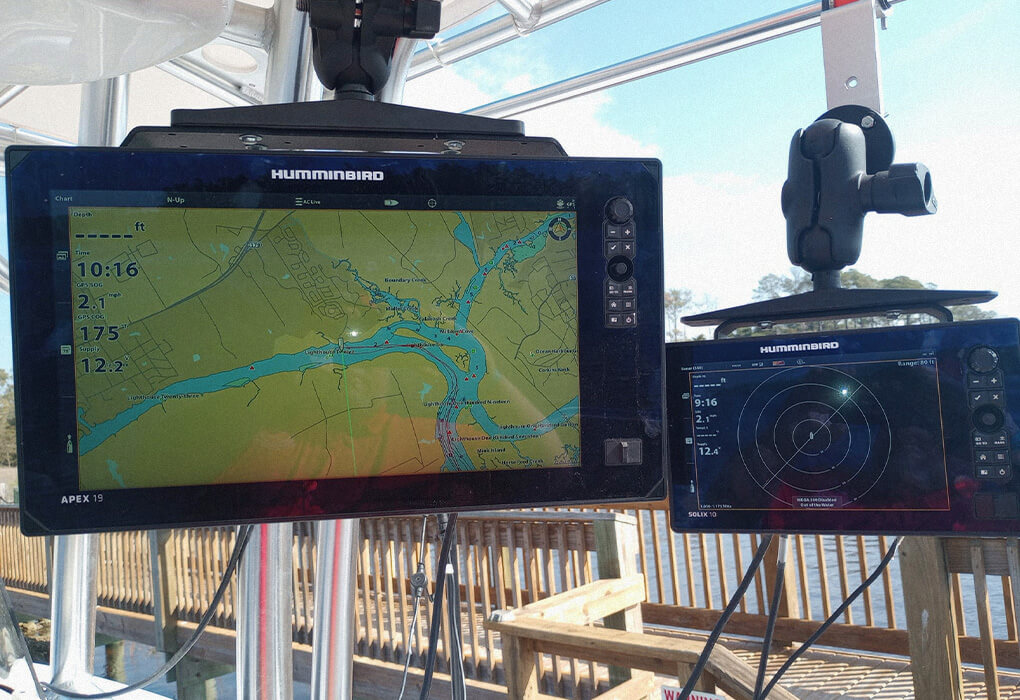 Whether you need glasses to see, like me, or don't want to strain your eyes while in split screen mode, I recommend going with as large of a screen as you can afford.
The only exception is for small vessels like a kayak. I recommend going with the biggest screen that doesn't interfere with your paddling and fishing.
Most fish finders are named depending on their screen size. So a Humminbird Helix 10 has a 10" screen, while a Helix 9 has a 9" screen.
Lowrance and Garmin also name their fish finders in this manner.
Touchscreen Vs. Keypad
Though a touchscreen doesn't aid your fishing skills, I believe they are generally easier to operate. So, in theory, you'll spend less time fiddling with the depth finder and more time fishing.
I understand this isn't always the case, and some people prefer to use a keypad.
As I mentioned earlier, I want both options for differing weather conditions. So when the touchscreen is acting up because there's water on it or it's cold, I can use the keypad.
Upgrade Options
Even the most basic fish finders allow you to mark waypoints and have decent-quality sonar. However, not all offer the ability to upgrade without buying a new unit.
That's typically why I try to buy a fish finder in the high-mid range.
They generally offer all the basic features you'd expect, with the option to upgrade to the high-end features by purchasing another transducer or other electronics. However, you can still use the same screen.
You'll Also Need
Now that you've purchased a Humminbird sonar unit, you'll need a few other items to ensure it works properly.
Battery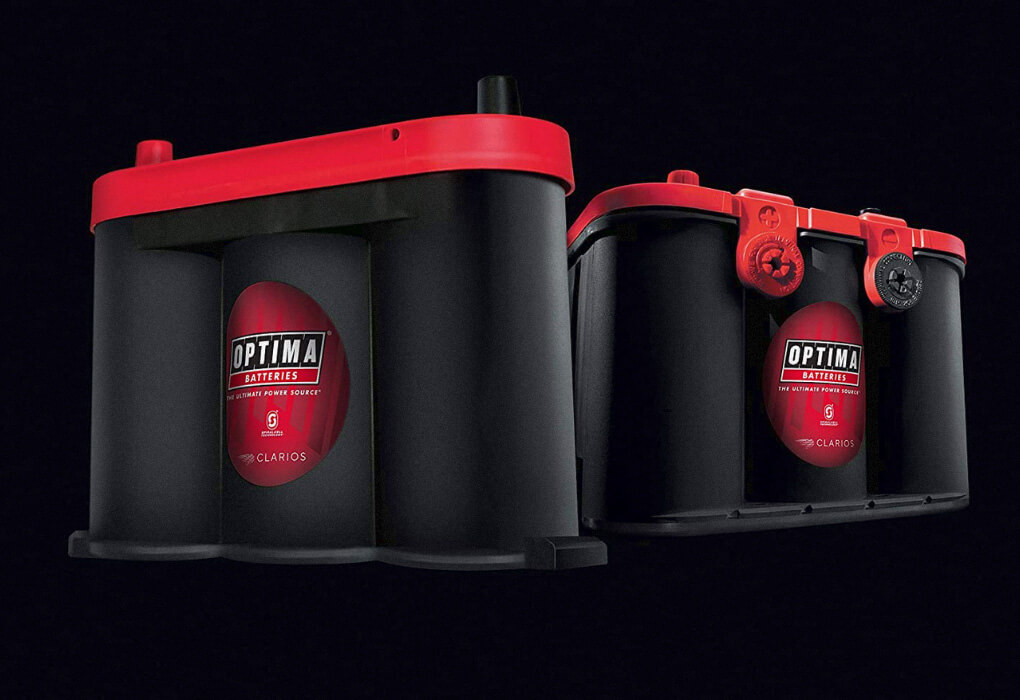 You'll need a high-quality battery. Fishing electronics today use a lot of power, whether you're fishing saltwater or freshwater.
A good battery is essential if you want a clear picture and your equipment to work correctly. I prefer lithium batteries; although they're more expensive, they have many benefits over traditional lead-acid batteries.
Heavy-Duty Battery Cable
I installed a brand new fish finder on my grandpa's boat a few weeks ago, only to have the screen flashing at us.
The problem was the power cables we were using weren't big enough to handle the amount of power it needed to function.
Don't skimp on the wires from your battery to the unit.
Trolling Motor
If you don't own a trolling motor, it's time to consider it because it makes fishing much more enjoyable!
Once I started using sonar, I quickly realized that a trolling motor was essential to consistently catching fish.
The trolling motor also gives you another location to mount the transducer.
Related Article: Solix vs Helix
Frequently Asked Questions
What is the top-of-the-line Humminbird fish finder? 
The Apex is the top-of-the-line Humminbird fish finder.
How long do fish finders last?
A fish finder will last over 10 years if you take care of it. However, if you're looking to stay on the cutting edge of technology, it will last 2-4 years tops.
Who makes Humminbird fish finders?
Johnson-Outdoors has owned Humminbird fish finders since 2004.
Last Cast
What you believe to be the best Humminbird fish finder will depend on your situation.
For the average angler, a Helix 7 will be the best.
That's not the case for tournament anglers; they need every advantage they can get over their competitors and the fish, so a Humminbird APEX 19 is the best fish finder for their situation.
I'd love to know which Humminbird depth finder you purchased; let me know in the comments below!