We independently research, test, and recommend the best products; you can learn more about our review process here.
Having the best kayak fishing net onboard can be the difference between landing the fish of a lifetime or only getting it to the side of the fishing kayak.
I've lost many fish because I didn't have a kayak landing net. Thankfully none of them were giants.
I use the Offshore Angler Wading Net because it floats, it's inexpensive, and is durable.
One day soon, I'll be upgrading to the Yakattack Leverage Landing Net because of the extra reach and leverage it provides.
If these two nets don't suit your needs, don't worry; several others are worth checking out below!
Keep scrolling for more options.
Comparison Table – Best Kayak Net
---
Best Kayak Fishing Net Reviews
YakAttack Leverage Landing Net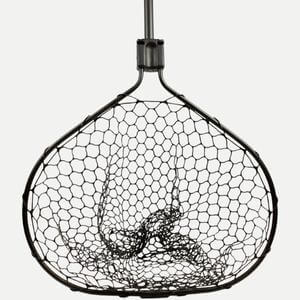 BEST KAYAK FISHING NET OVERALL
Specs
Hoop size: 20″ X 21″
Weight: 2lbs
Handle length: 26″
Net Material: Rubber coated net
Floating: No
Pros
Compact
Rubber netting
Forearm grip
Large opening
Lifetime guarantee
Cons
Expensive
Doesn't float
Not saltwater resistant
Why We Chose It
YakAttack started making gear designed for kayaks in 2009. Since then, they've developed some of the best products available for kayak anglers.
The YakAttack Leverage Landing Net is no exception. I love that they stand behind their products with a lifetime guarantee.
It has a large opening to fit nearly all freshwater species, but it folds to be compact, so it doesn't take up a lot of room on your kayak.
Two of my favorite features are the rubber net and forearm grip.
The rubber net helps protect the fish, and your hooks don't tangle in it. I was blown away by how easy the hooks came out when I started using a rubberized net.
The forearm grip is nice because it gives you additional leverage for hauling in big fish that you had to extend your arm to land.
As incredible as this net is, there are a few downfalls. The main one is that it's expensive but durable and has features that other nets don't, so it's well worth the price.
The biggest drawback is that it doesn't float, so you'll want to tether it to your kayak just in case you drop or knock it overboard.
The final con, in my opinion, is that it's only designed for freshwater, so if you're a saltwater angler, you'll probably deal with corrosion if you decide to purchase the YakAttack 20″ X 21″ Hoop Leverage Landing Net.
If this one is too large, try the YakAttack 12″ x 20″ Hoop Leverage Landing Net. It's the same net with a smaller, more compact hoop.
Magreel Fishing Net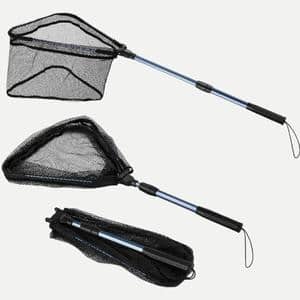 BEST BUDGET-FRIENDLY KAYAK FISHING NET
Specs
Hoop size: 15.75″ X 15.1″
Weight: Less than 1lb
Handle length: 16″ – 25″
Net Material: Nylon-mesh
Floating: No
Pros
Collapsible
Lightweight
Extendable aluminum handle
Inexpensive
Cons
Nylon-mesh tangles with hooks
Doesn't float
Lots of plastic parts/ Questionable durability
Not suitable for large fish
Why We Chose It
It's cheap! This budget-friendly option by Magreel isn't going to drain your wallet.
The Magreel Fishing Net is collapsible, making transporting and storing it a breeze; however, it also means it's not as sturdy as non-collapsible nets.
You won't have to worry about this net being too heavy to handle, even with a decent fish inside, because it weighs less than a pound.
I like the extendable handle so that you can adjust it to the length that works best for you.
There are a lot of plastic pieces that aren't durable, especially after sitting in the sun for hours at a time, but you're not going to find a cheaper collapsible net with an extending handle.
If you plan on catching catfish or other large fish, you'll quickly discover they have difficulty fitting into the net.
However, this net will be plenty big for crappie and trout fishing.
The Magreel Fishing Net is good if you're on a tight budget or are unsure how much fishing you'll be doing.
If you can spend a little bit more, the following net I talk about is worth the upgrade!
Offshore Angler Wading Net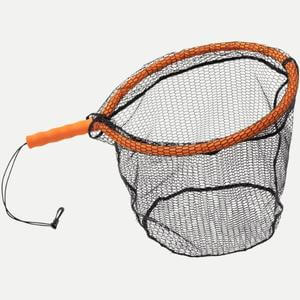 BEST KAYAK FISHING NET FOR BEGINNERS
Specs
Hoop size: 17″ X 19″
Weight: 1.5lbs
Handle length: 6.75″
Net Material: Non-snagging mesh
Floating: Yes
Pros
Designed for use in close quarters and skinny water
Compact
Inexpensive
Durable
Rubber mesh
Cons
Why We Chose It
The Offshore Angler Wading Net might have been designed for wade fishing, but those features lend perfectly to kayak fishing.
It's compact, so you don't have to worry about it taking up too much space in your kayak. Plus, the bungee cord clip can be used to secure it to your kayak so you won't ever lose it.
If you decide not to clip it to your kayak because you never know which side you'll need it on, don't worry if you knock it overboard, it floats!
My favorite feature is the rubberized mesh netting. This helps keep your hooks clear and the fish protected.
This durable net will last you years of fishing trips; at least it's withstood the abuses I've put it through the last few years.
The two downsides to the net are the handle is short, and the hoop isn't big enough for large catfish.
The short handle means you'll have to get the fish a little closer to the kayak before you land it, so it's not a terrible thing, but I would like a little longer handle.
The hoop is perfect for fish 10 pounds or less, so most fish will easily fit in this net.
The Offshore Angler Wading Net is the net I started with and still use while kayak fishing, which is why I think it's the best kayak fishing net for beginners.
ODDSPRO Fly Fishing Landing Net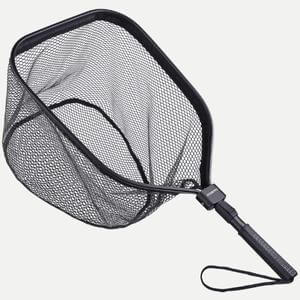 BEST FLY-FISHING KAYAK NET
Specs
Hoop size: 11.5″ X 15.5″
Weight: 0.75lbs
Handle length: 8.5″
Net Material: Nylon with rubber coating
Floating: No
Pros
Compact
Foldable handle
Rubber coated nylon
Durable
Inexpensive
Cons
Doesn't float
Short handle
Small hoop
Why We Chose It
The ODDSPRO B-net04 is perfect for the kayak fly fisherman or woman.
You might be thinking, "You're crazy! Who fly fishes out of a kayak?" I was surprised when I first saw someone fly fishing from a kayak, but it's no problem with the best stand-up fishing kayak!
The hoop size is expertly designed for trout, and the rubber-coated nylon will help protect their delicate skin.
It's compact with an 8.5-inch handle, so stowing it onboard won't be a problem.
The handle is also foldable with a solid locking mechanism. You won't find better durability than other nets in this price range.
The few cons to this net are the short handle, small hoop, and it doesn't float.
The short handle means you'll need to be a little more careful while fighting the fish; that way, you can get it as close to you as possible.
The small hoop means it'll be difficult to land a large fish but not impossible.
Since the net doesn't float, that means you can't drop it in the water unless it's shallow enough for you to retrieve it.
The ODDSPRO Fly Fishing net has multiple uses, which is another reason this inexpensive net is worth picking up.
Frabill Power Stow Net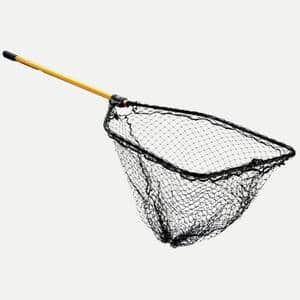 HONORABLE MENTION
Specs
Hoop size: 20 X 24″
Weight: N/A
Handle length: 36″
Net Material: Tangle-free micro netting
Floating: No
Pros
Collapsible
Long handle
Large hoop
Durable
Poly mesh
Cons
Big for a kayak
Expensive
Why We Chose It
Frabill makes quality fishing equipment at a reasonable price for the average angler.
The Power Stow Net is a strong and durable net that uses a sliding metal handle with poly mesh netting material that will help prevent your hooks from getting snagged in the net.
It's also corrosion-resistant, so that you can use it in saltwater.
Even though it has a long handle, you can collapse the hoop while you're not using it.
The 20″ X 24″ hoop is large enough to handle most fish, but you might find it a little big to use in a kayak once the 36″ handle is extended.
Keep a hold of it at all times because this net will sink if you drop it in the water; however, it might take a little bit for the air to escape from the hollow handle, which might give you enough time to grab it.
The Frabill Power Stow Net is also relatively expensive, considering you can spend a few more dollars and get the YakAttack Leverage Landing Net designed for kayak fishing.
PLUSINNO Floating Fishing Net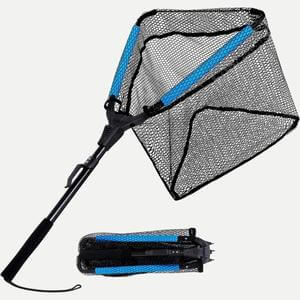 HONORABLE MENTION
Specs
Hoop size: 14″ X 15.7″
Weight: Less than 1lb
Handle length: 15.7″
Net Material: Snagless coated nylon
Floating: Yes
Pros
Lightweight
Foldable
Floats
Compact
Rubber coated net
Cons
Lots of plastic parts
Questionable durability
Small hoop
Why We Chose It
PLUSINNO makes inexpensive fishing equipment for anglers on a budget. Their unique designs help introduce people to the outdoors.
The PLUSINNO Fishing Net is lightweight and foldable, so storing it won't be a problem.
Even when it's extended, it won't take up too much space, but it gives you a handle long enough to reach out and dip the fish when the time comes.
The best feature of this net is that it floats, which means you won't lose it if you drop it into the water.
I love that this inexpensive net has a rubber coating to protect the fish and keep your hooks tangle-free.
It can also be used in fresh and saltwater, so you won't have to buy two separate nets if you plan to fish both types of water.
However, I am curious about how well the net will hold up after a few fishing trips. The design and plastic parts have me questioning the durability of this kayak fishing net.
The small hoop won't be good for catfish or sizeable speckled trout, but it's ideal for panfish and other small species.
The PLUSINNO Floating Fishing Net is a good entry-level net, but I suspect serious anglers will need something larger and more durable.
Ego Kryptek S1 Genesis Floating Fishing Net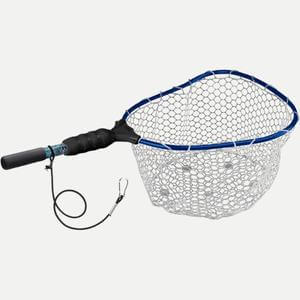 HONORABLE MENTION
Specs
Hoop size: 17″ X 19″
Weight: 1.5lbs
Handle length: 11″
Net Material: Rubber mesh net
Floating: Yes
Pros
Large hoop
Rubber netting
It floats
Compact
Quality construction
Cons
Expensive
The rubber grip can come off
Why We Chose It
EGO manufactures innovative and tactical fishing gear for the serious angler.
These quality products are designed to hold up to the abuses of fishing. However, their products come at a premium price.
The Kryptek S1 Genesis is a compact kayak net with a large hoop that can handle most fish.
My two favorite features are the rubber netting, and it floats.
Once you've used a rubber net, you won't ever want to return to a nylon net.
I've dropped a few nets into the water on accident, so I prefer a floating net. If it doesn't float, I'll modify it so that it does. Thankfully, there's no need to change this one.
The rubber grip tends to slip off, which could be a problem when trying to net the fish of a lifetime, but it's a simple fix with a bit of glue.
I appreciate that EGO didn't try to limit anglers to one body of water; instead, they designed this fishing net to be usable in any water.
So even though you're spending more money on this net, you can use it in more places than a less expensive net.
The EGO Kryptek S1 Genesis is an excellent choice for any serious kayak angler who can fit it into their budget.
Frabill Trophy Haul Bearclaw Landing Net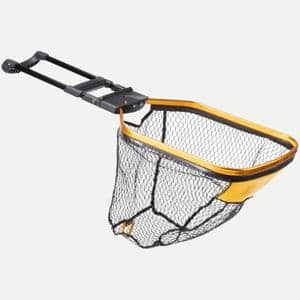 HONORABLE MENTION
Specs
Hoop size: 14″ X 18″
Weight: N/A
Handle length: 18″
Net Material: Conservation mesh
Floating: No
Pros
One-handed operation
Forearm support
Designed for kayak fishing
Compact
Foldable design
Cons
Why We Chose It
Frabill thought to make a kayak-specific fishing net. While it's nice that they thought of kayak anglers, the price is a little hard to swallow.
With that said, this net has a feature that no other net has, a built-in LED light. This is nice if you fish at night, but most of the time, I doubt you'll be using it in the dark.
The one-handed operation that makes this net stand out is similar to the YakAttack Leverage Landing Net.
The handle design with the forearm support allows you to securely grab the net with one hand while maintaining enough leverage to haul in your prized fish.
The foldable design means easy storage and compactness, so it won't get in your way while fishing.
If you drop this in the water, I'm afraid you'll likely never see it again because it will sink.
The conservation mesh is a rubber-coated micro-mesh, which protects the fish and won't tangle with your hooks.
The Frabill Trophy Haul Bearclaw is a unique kayak fishing net, but I would only recommend it to serious night anglers because they will get the most out of its amazing benefits.
Blue Billow Rubber Large Folding Fishing Net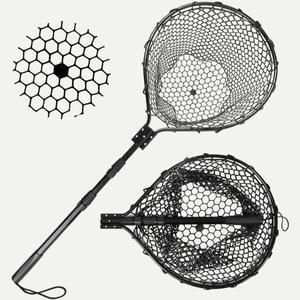 HONORABLE MENTION
Specs
Hoop size: 18.5″ x 23″
Weight: 1.5lbs
Handle length: 44″
Net Material: Rubber
Floating: No
Pros
Quality materials
Telescopic handle
Compact storage
Large hoop
Cons
A little cumbersome for a kayak
Why We Chose It
The Blue Billow Rudder Fishing Net is a high-quality net at a mid-range price.
Blue Billow used aluminum for the handle and hoop and a rubber netting, so you won't need to worry about the quality of this kayak landing net.
It will last you for many years as long as you take care of it.
The telescopic handle not only extends from 20″ to 44″, but it can also be inserted upside down for compact storage.
However, handling it in a kayak is a little awkward, especially if you have the handle fully extended.
The hoop is big enough to handle most freshwater species and several saltwater species safely.
The biggest drawback to this fishing net is that it will sink if you drop it in the water. The hollow handle will help it float for a bit, but don't count on it to save your net.
The Blue Billow Rubber Fishing Net is one of the best landing nets for kayak fishing at a mid-range price.
Buying Guide: For a Kayak Fishing Net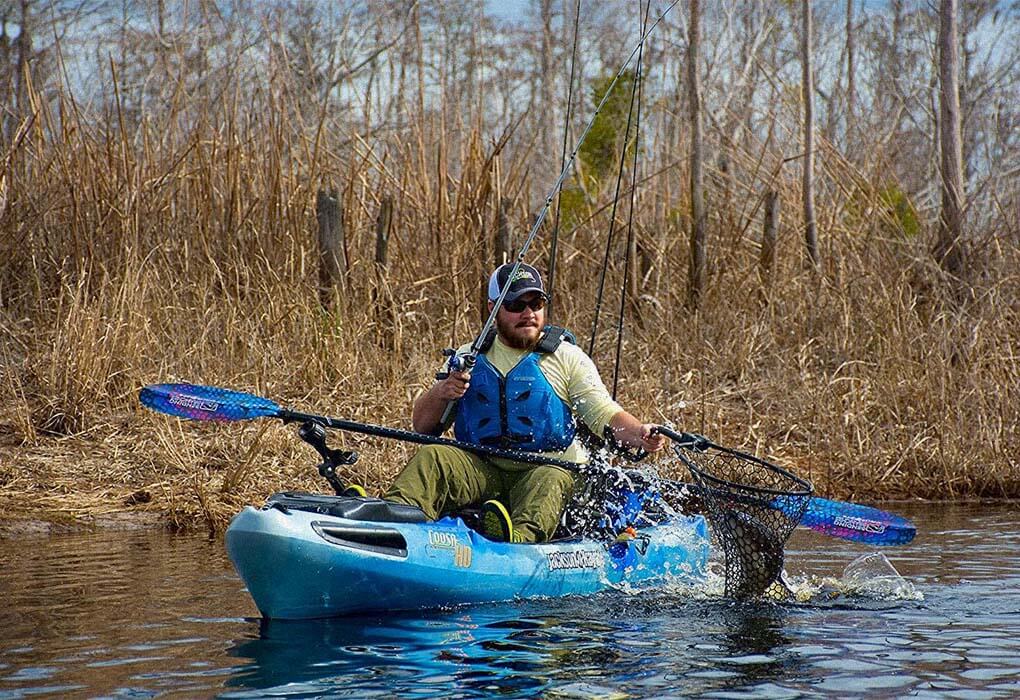 When buying a kayak landing net, I strive to keep the following factors in mind to make the best decision possible.
Length
The ideal length of the best landing net for kayak fishing will vary depending on your preferences.
I like a telescopic handle so that you can adjust it.
A longer net can be awkward to handle in a kayak, but you also don't want too short of a handle so that when you try to net a fish, you fall overboard or can't reach the fish.
My ideal net handle length is around 12″, and having a forearm grip is nice for getting extra leverage when hauling in a bigg'un!
Hoop Width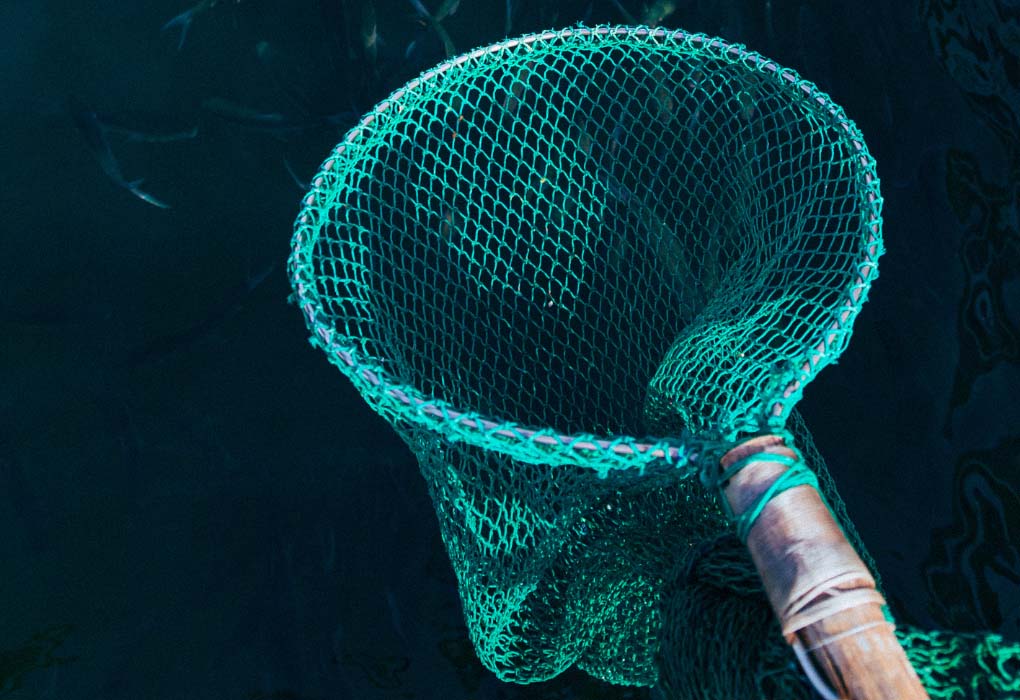 The hoop width is essential because some fish won't fit in your net if you get too small of a hoop.
However, if your net size is too big, it can get in the way and be difficult to store.
I prefer an ample hoop width, but I fish out of a large kayak with plenty of storage space, so I'm not overly concerned with it getting in my way.
Material
The material of the handle and the material of the netting is critical to the durability and functionality of the net.
Aluminum, carbon fiber, fiberglass, and plastic are used as handle and hoop materials.
I like carbon fiber and fiberglass the best, especially if they're wrapped in foam, so they float.
Nylon, plastic, and rubber are used for the netting material, with rubber or poly (plastic) being the most fish-friendly and best for catch and release.
Typically when a net has all of my preferred materials, it costs more than I want to spend.
Collapsibility
This isn't a feature that I think every net should have, but it makes storage much more manageable.
There is a significant drawback to a collapsible net, and that is durability.
In my experience, a folding net isn't as strong, so it's are easier to break.
However, if you purchase a net made from high-quality materials, that will help increase the durability.
Fish Species
Obviously, this isn't a kayak fishing net feature, but it's still an important consideration.
The kinds of fish you plan to target will determine the hoop size you need.
You'll Also Need
As you've learned by now, kayak fishing is an expensive hobby because there are always more fishing accessories to buy!
Here are a few things that I never go without while fishing.
Lifevest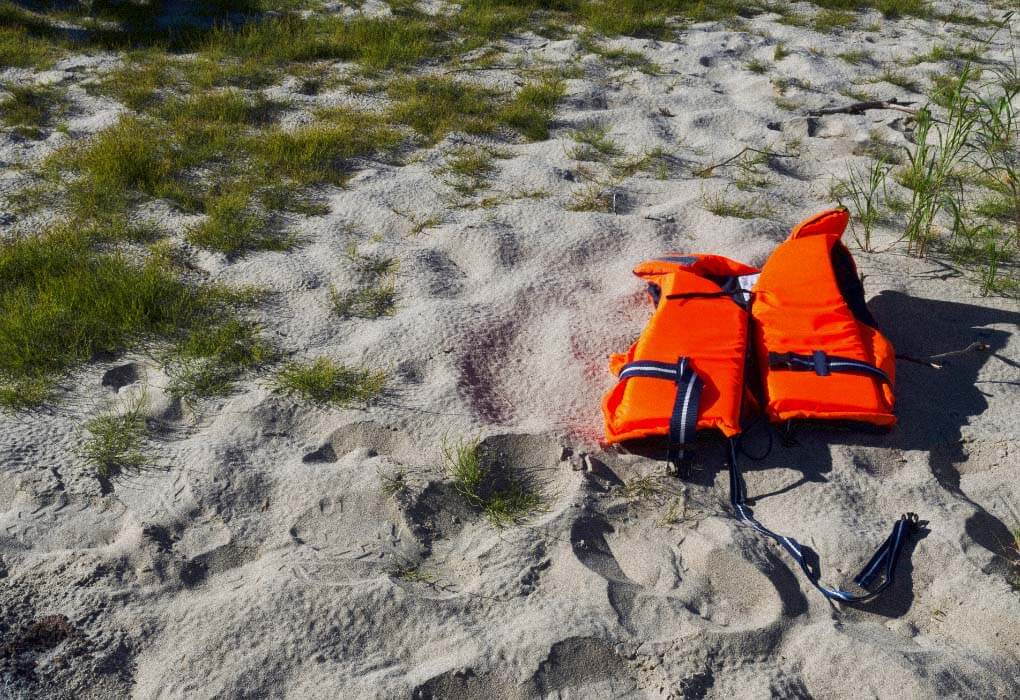 I've heard too many tragedies of people who chose not to wear a PFD only to not make it home to their families.
That's why I recently went out and purchased the best kayak fishing PFD, so I know I'm giving myself the best chance of returning home safely.
Don't forget a life jacket doesn't work unless you wear it!
Kayak Fishing Pole
You can use any fishing rod in a kayak, but the best kayak fishing poles are designed with shorter handles, making using them easier in the close quarters of a kayak.
Think of this purchase like a nice one; you don't have to have it right this second, but if you're planning to buy a new rod and reel, you might as well get one designed for kayak fishing!
Kayak Tackle Box
I started kayak fishing with a giant tackle box and quickly learned it wasn't doing me any favors. So through trial and error, I developed a better tackle management system.
It's still evolving every day but having a kayak-specific tackle box helps me stay organized on and off the water.
A kayak crate is another excellent way to keep your tackle boxes secured and handy.
Kayak Fish Finder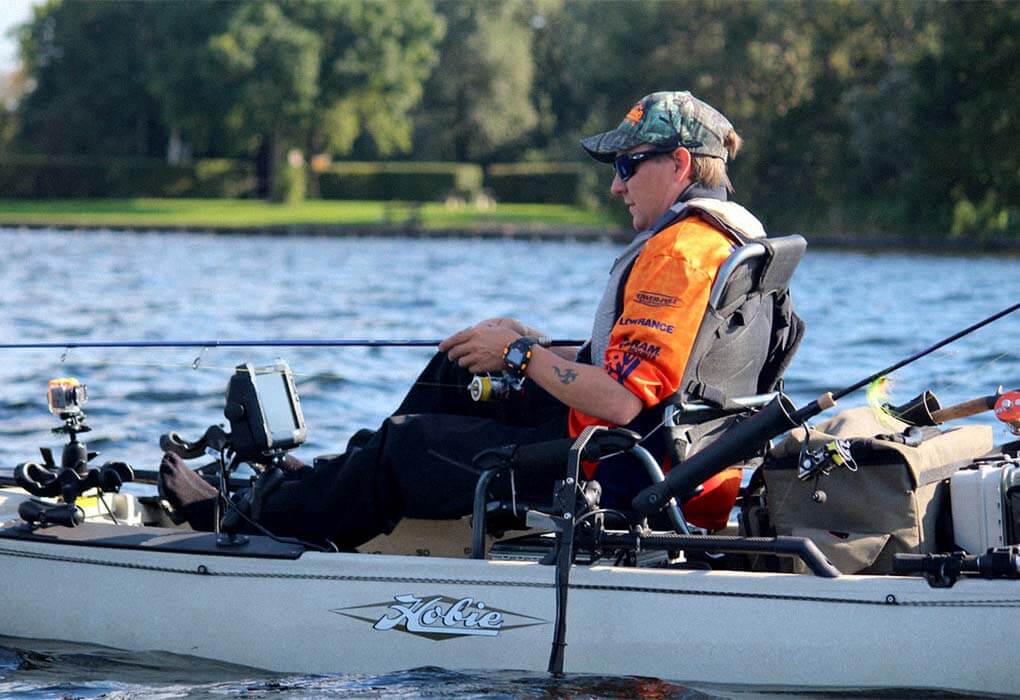 Call me old school, but I recommend learning to fish without a fish finder. That way, you learn to read the surroundings and think like a fish.
Once you've gained these skills, then it's time to begin to learn how to use a fish finder.
A good fish finder will help you see structure and fish. With some practice, the best fish finder can take a lousy angler and make them a good one.
You still have to know how to get the fish to bite, though!
Kayak Trolling Motor
If you were reluctant to get into kayak fishing because of the paddling, then adding a trolling motor to your setup is the perfect solution.
If your kayak doesn't have a spot to mount a trolling motor, there are aftermarket brackets that will attach to your kayak so you can have a kayak trolling motor.
Final Thoughts
After combing through the many options, it's easy to see why the YakAttack Leverage Landing Net is the best kayak fishing net on the market.
The only thing that could be improved is if it floated.
One of the best fishing nets for beginners is the Offshore Angler Wading Net because it's inexpensive, floats, and durable.
I want to know your crazy net landing story. Let's talk in the comments!