---
We independently research, test, and recommend the best products; you can learn more about our review process here.
Having the best kayak fishing net onboard can be the difference between landing the fish of a lifetime or forever telling stories about the one that got away.
As a kayak fisherman, I've lost many fish because I didn't have a net.
Thankfully none of them were giants but it's not fun to lose any fish, so I decided to test out several nets and see which one works best for us kayak anglers.
As a beginner, I used the Offshore Angler Wading Net because it floats, is inexpensive, and is durable.
After several years of fishing, I upgraded to the best kayak fishing net, the Yakattack Leverage Landing Net, because of the extra reach, leverage, and versatility it provides.
If these two nets don't suit your needs, don't worry; many others are worth checking out below.
Keep scrolling to find the best kayak fishing net for you!
Top 3 Kayak Fishing Landing Nets
Below are the three best kayak landing nets I found during my tests. They all met some of the specific requirements I have for different types of fishing: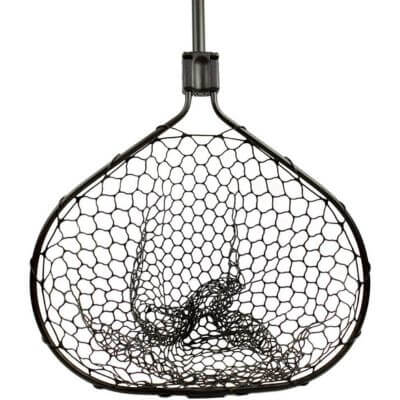 Best Kayak Fishing Net Overall
YakAttack Leverage Landing Net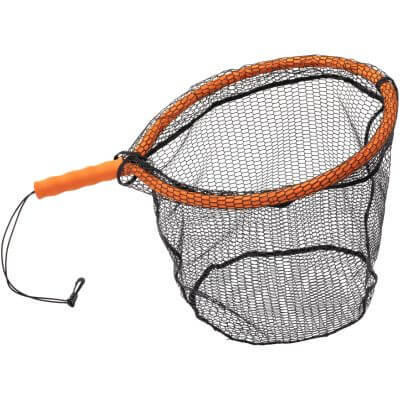 Offshore Angler Wading Net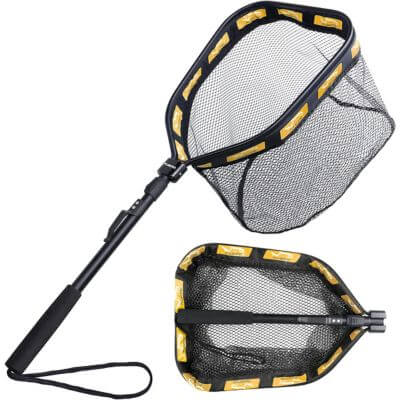 PLUSINNO Floating Fishing Net
---
Testing Procedures
As a kayak fisherman, I prefer to have a compact or foldable net to save space on my plastic boat. However, I need it to be durable and capable of handling larger fish like catfish.
Also, I want to spend more time fishing and less time getting lures out of the net.
I took the nets on multiple fishing trips to see which one was best, based on the following-
Compactness: Due to the very limited amount of space on a kayak, I've found it best to have a foldable or telescopic handle net.

The hoop size is also a very important part of how compact the net is, but I like having the option to use it for multiple species, so I favor a larger hoop than some.
Quality Materials: There are plenty of nets that are made from cheap materials and break after a few uses. I hate that.

Not only is it a waste of our time and money, it just adds to the ever-increasing landfills. So I can vouch that most of these products are durable and will help you catch fish for years to come.
Versatility: I chase many species of fish from my kayak. Trout, bass, crappie, and catfish are the main ones, but I don't snub my nose at walleye, white bass, or spoonbill.

I say all that to show you that I need a net that's versatile, and I tested these nets in multiple scenarios with different species.

So whether you are fly fishing or searching for a trophy catfish, there's a net on the list to suit your needs.
Price: I'm a big believer that you get what you pay for, but I also understand we all can't afford the latest and greatest.

So I covered the budget spectrum with my following choices. That way, all anglers can purchase a quality net.
BEST KAYAK FISHING NET OVERALL
YakAttack Leverage Landing Net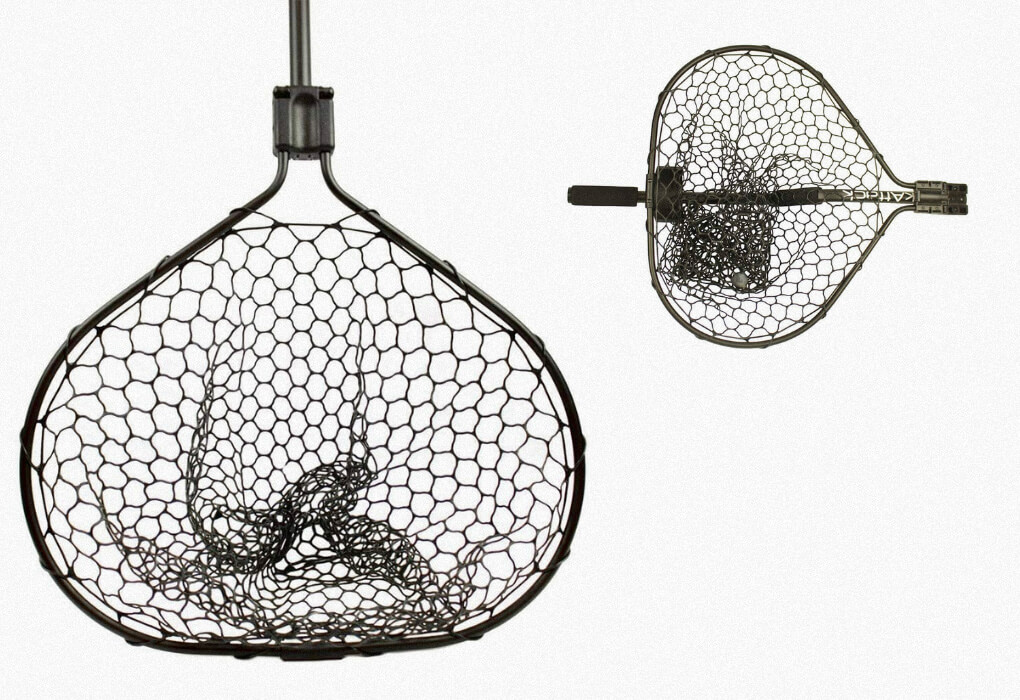 Specs
Hoop size: 20″ X 21″ or 12" X 20"
Weight: 2lbs
Handle length: 26″ or 40"
Net Material: Rubber-coated net
Floating: No
Why We Chose It
The YakAttack Leverage Landing Net is the best kayak landing net overall because it's versatile, durable, and reasonably compact. I also love that they stand behind their products with a lifetime guarantee.
YakAttack started making gear designed for kayaks in 2009. Since then, they've taken over the industry and developed some of the best products available for kayak anglers.
I use lots of their products, including this net, because they work.
There's so much I love about this net, so let's get to it.
I was skeptical of the YakAttack Leverage Landing Net because it's foldable. I thought it might break, but after using it for several months now, it's still as strong as ever.
I love that I don't have to worry about losing it when I fold it and place the foam handle in a rod holder because it's secure.
Plus, it's fast and easy to open up and lock in place with one hand. I simply reach back, grab the padded aluminum handle and flip it open as I'm scooping a fish.
YakAttack doesn't skip on the quality of the materials they use. I have no trouble getting my lures out of the rubberized net, but even better than that, it doesn't hurt fish like a nylon mesh net does.
The extra leverage comes from the forearm grip makes landing the big fish easier but doesn't mess with my ability to land smaller fish.
YakAttack was genius when they decided on multiple size options; you'll find the perfect one for you; I sure did with the 20"x 21" folding net:
The 20" X 21" hoop has a large opening to fit nearly all freshwater species, which is why I bought that one.
As incredible as this net is, there are a few downfalls.
The main one is that it's expensive, but it's durable and has features that other nets don't, so it's well worth the price because you'll only have to buy one unless you drop it in the water.
This brings me to the biggest drawback, which is that it doesn't float, so you'll want to tether it to your kayak with a lanyard just in case you drop or knock it overboard.
The final con, in my opinion, is that it's only designed for freshwater, unlike the Frabill Trophy Haul Bearclaw.
So if you're a saltwater angler, you'll probably deal with corrosion when you purchase the YakAttack Leverage Landing Net and don't clean it after every trip.
Even with these cons, this is the only net I use when fishing my kayak tournaments. The YakAttack Leverage Landing Net is the best kayak fishing net because it's versatile, well-made, and helps me land fish on every trip.
Anglers.com content creator Wes Littlefield discusses why he loves his YakAttack Leverage Landing Net in the YouTube video above.
BEST KAYAK FISHING NET FOR BEGINNERS
Offshore Angler Wading Net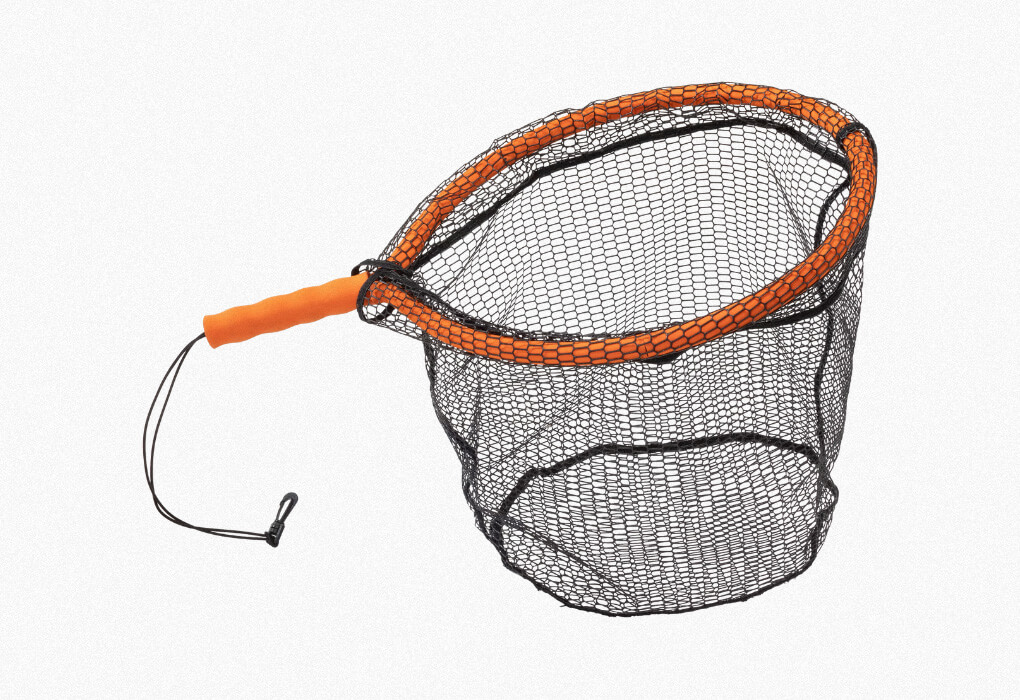 Specs
Hoop size: 17″ X 19″
Weight: 1.5lbs
Handle length: 6.75″
Net Material: Non-snagging mesh
Floating: Yes
Why We Chose It
The Offshore Angler Wading Net might have been designed for wade fishing, but those features lend perfectly to kayak fishing newbies.
I loved how compact it is, so I never worried about it taking up too much space in my kayak. Plus, the bungee cord clip kept it secured to my lifevest, so I never lost it.
If you decide not to clip it to your kayak because you never know which side you'll need it on, don't worry if you knock it overboard; this net floats!
I did have to chase it down the river one time when I dropped it in the water, but thankfully I got it back.
My favorite feature is the rubberized mesh netting. This helps keep your hooks clear and the fish's slime coat protected.
This durable net will last you years of fishing trips; at least it's withstood the abuses I've put it through the last few years.
The two downsides to the net are the short handle and the hoop isn't big enough for large catfish.
I struggled at times to get fish into the net because I could quite reach them, but I also have short arms, so that didn't help.
The hoop size is perfect for fish 10 pounds or less, so most fish will easily fit in this net. At least most of the fish I catch!
The ForEverlast G2 Pro Net is nearly identical to the Offshore Angler Wading Net, except the handle is a quarter inch longer, and the hoop is two inches smaller.
It's also a few dollars more, which is why I went with the Angler Wading Net.
The Offshore Angler Wading Net is the net I started with, and my mom still uses it while kayak fishing, which is why I think it's the best kayak fishing net for beginners despite the downsides.
You won't be disappointed when you buy this net.
BEST FOLDABLE BUDGET-FRIENDLY KAYAK FISHING NET
PLUSINNO Floating Fishing Net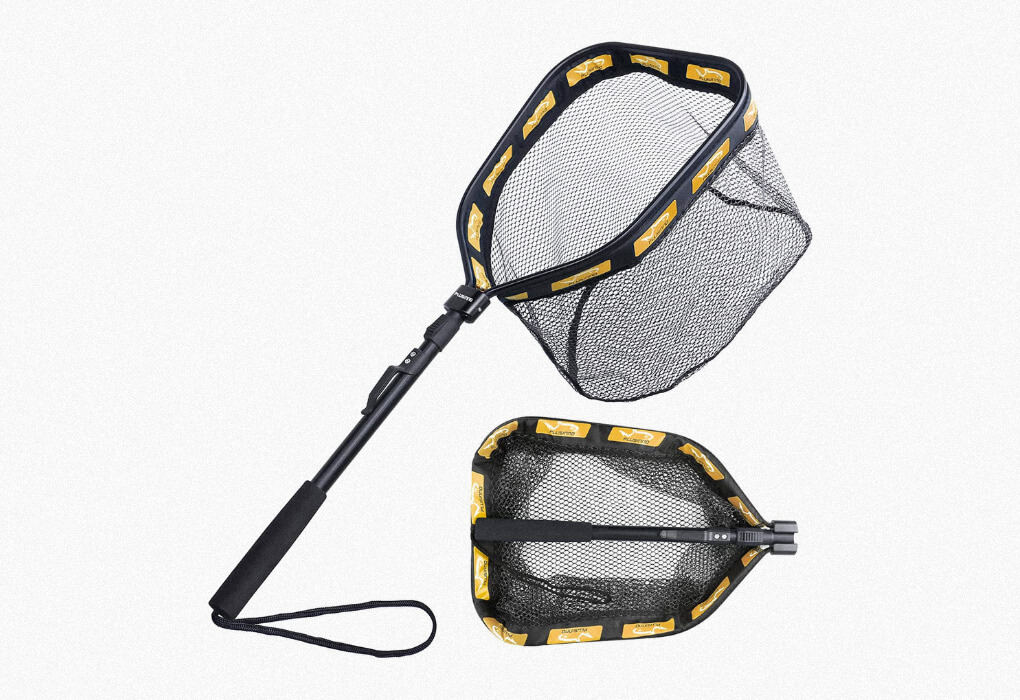 Specs
Hoop size: 14″ X 15.7″
Weight: Less than 1lb
Handle length: 15.7″
Net Material: Snagless coated nylon
Floating: Yes
Why We Chose It
The PLUSINNO Fishing Net is the best foldable budget-friendly kayak fishing net because it's lightweight, compact, and inexpensive.
PLUSINNO makes inexpensive fishing equipment for anglers on a budget. I love that their unique designs help introduce people to the outdoors.
The best feature of this net is that it floats, which means you won't watch in horror as it sinks to the bottom if you drop it into the water.
On top of that, it's very compact because it's foldable and has an extendable handle, similar to the KastKing Brutus Foldable Fishing Net.
All are qualities kayak anglers are looking for in a net. I like that even when it's extended, it doesn't take up too much space, but it gives you a handle long enough to reach out and dip the fish when the time comes.
I was also very impressed that this inexpensive net has a rubber coating to protect the fish and keep your hooks tangle-free.
Don't worry; I didn't leave the saltwater anglers out. It can also be used in fresh and saltwater, so you won't have to buy two separate nets if you plan to fish both types of water.
However, I found a couple of cons I found during my testing process. The design and plastic parts have me questioning the durability of this kayak fishing net.
It didn't break while I tested it, but I also didn't land any large fish with it.
Speaking of catching big fish, the small hoop won't be good for catfish or sizable speckled trout, but it's ideal for panfish and other small species.
The PLUSINNO Floating Fishing Net is a great entry-level inexpensive foldable net that perfectly fits in any kayak.
HONORABLE MENTION
EGO S2 Slider Landing Net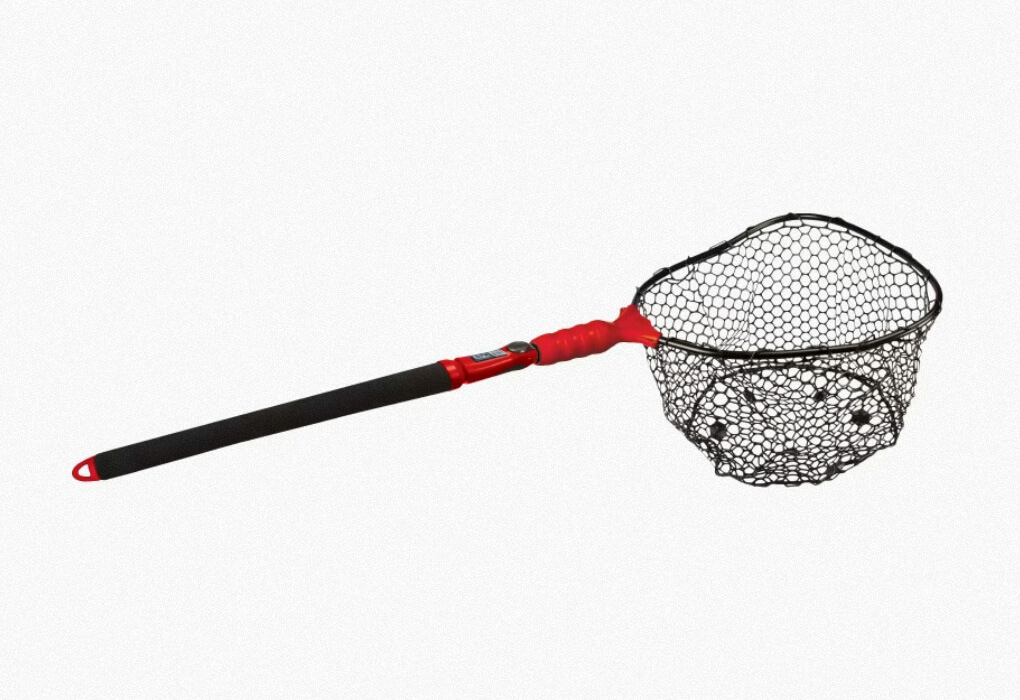 Specs
Hoop size: 17″ X 19″, 19" X 21", or 22" X 23"
Weight: 1.5lbs
Handle length: 29"-60″
Net Material: Rubber mesh net
Floating: Yes
Why We Chose It
You should be aware of the EGO S2 Slider Landing Net because it's great for inshore and freshwater anglers, and it also works from a boat, so if you plan to fish from a kayak and a boat, you can kill two birds with one stone.
EGO manufactures innovative and tactical fishing gear for the serious angler. Their high-quality products are designed to hold up to the abuses of fishing, so expect their products to come at a premium price.
My two favorite features are the rubber netting and that it floats. Once you've used a rubber net, you'll never return to a nylon net because it's safer for the fish, and your hooks don't get tangled up in it.
I've dropped a few nets into the water by accident, so I prefer a floating net, especially in a kayak. If it doesn't float, I'll modify it so that it does by using a pool noodle or something similar.
Thankfully, there's no need to modify the EGO S2 Slider.
I also appreciate that EGO didn't try to limit anglers to one body of water.
Instead, they designed this fishing net to be usable in any water, like the EGO Kryptek S2 Slider Compact Landing Net, which is the upgraded version of the Ego Kryptek S1 Genesis Floating Fishing Net freshwater and inshore anglers will find this net very handy!
There are also several hoop sizes to choose from, and the handle nearly doubles in length, so you won't be struggling to net the fish, no matter what size it is.
The main cons I found when testing and researching it are how expensive it is and that it's a little big for small kayaks.
Even though it is expensive, you're getting a high-quality net that you can use every time you go out fishing, so if you fish a lot, it's worth it.
The size is another issue; this net is best for vessels 11' and bigger. If you're in a small 10' kayak, the EGO S2 Slider Landing Net will get in the way more than it helps, so I'd recommend getting the Offshore Angler Wading Net in that instance.
Even with the cons, the EGO S2 Slider Landing Net is an excellent choice for any serious kayak angler who can fit it into their boat and budget. It'll definitely last you a lifetime of fishing.
HONORABLE MENTION
Frabill Trophy Haul Bearclaw Landing Net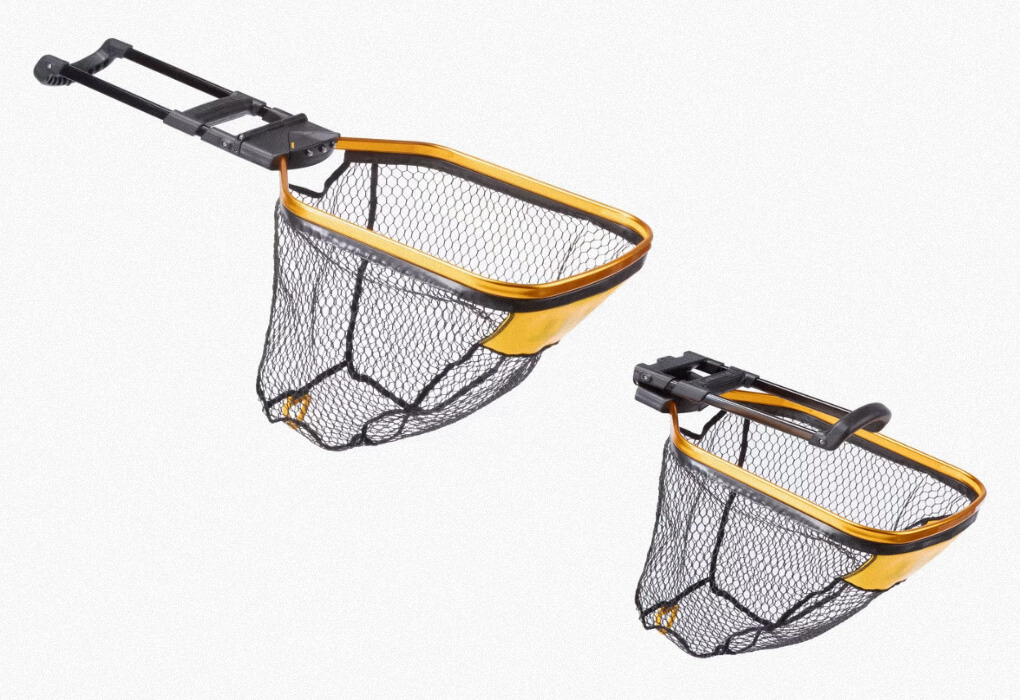 Specs
Hoop size: 14″ X 18″
Weight: 2lbs
Handle length: 18″
Net Material: Conservation mesh
Floating: No
Why We Chose It
The Frabill Trophy Haul Bearclaw has a feature that no other net has, a built-in LED light.
This is nice if you fish at night, but most of the time, I doubt you'll be using it in the dark, so there's also a version without the light that's slightly less expensive.
Frabill produces many different fishing products, from nets to minnow buckets and everything in between. So they understand what anglers are looking for.
The one-handed operation of the Frabill Trophy Haul Bearclaw is another feature that makes this net stand out, similar to the YakAttack Leverage Landing Net.
The handle design with the forearm support allows you to securely grab the net with one hand while maintaining enough leverage to land in your prized fish. Plus, you can get your curls for the girls while you're fishing!
I enjoyed the foldable design because it was easy to store and didn't get in my way while fishing, which is the main thing.
I was also glad to see the conservation mesh netting, which is a rubber-coated micro-mesh that protects the fish and won't tangle with your hooks.
However, if you drop it in the water, I'm afraid you'll likely never see it again because it will sink. And it's gonna hurt even worse with how much it'll cost to replace it.
So I recommend tethering it to your PFD or kayak to avoid the heartache of losing this net.
The Frabill Trophy Haul Bearclaw with light is a uniquely designed kayak fishing net, perfect for the dedicated night angler.
Buying Guide: For a Kayak Fishing Net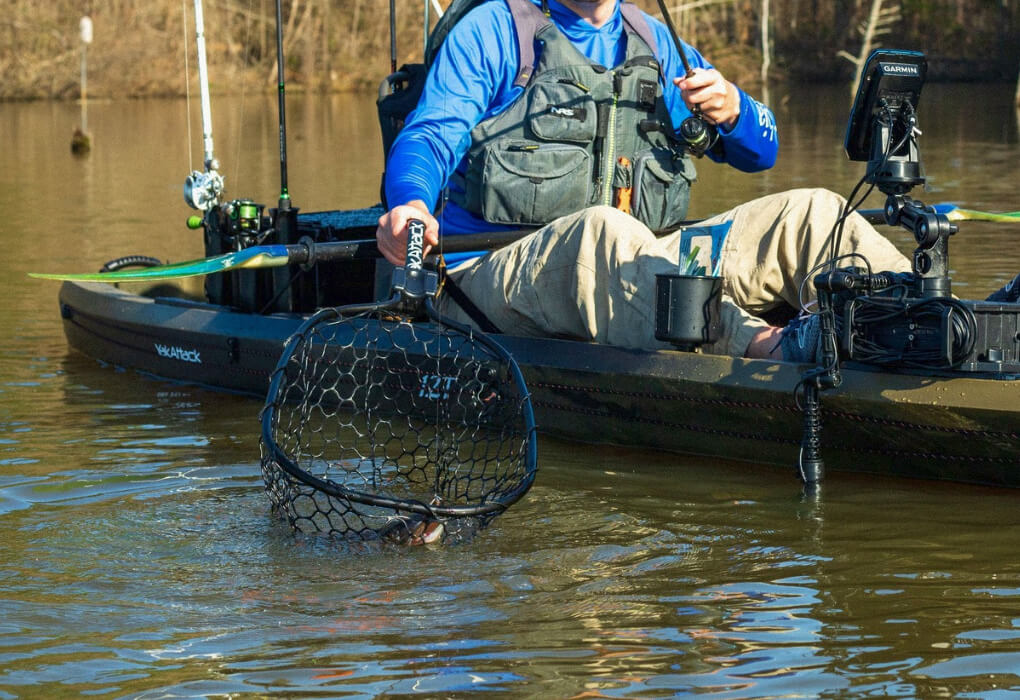 When buying a kayak landing net, I strive to keep the following factors in mind to make the best decision possible.
Length
The ideal length of the best landing net for kayak fishing will vary depending on your preferences.
I like a telescopic handle so that you can adjust it.
A longer net can be awkward to handle in a kayak, but you also don't want too short of a handle so that when you try to net a fish, you fall overboard or can't reach the fish.
My ideal net handle length is around 12″, and having a forearm grip is nice for getting extra leverage when hauling in a bigg'un!
Hoop Width
The hoop width is essential because some fish won't fit in your net if you get too small of a hoop.
However, if your net size is too big, it can get in the way and be difficult to store.
I prefer an ample hoop width, but I fish out of a large kayak with plenty of storage space, so I'm not overly concerned with it getting in my way.
Material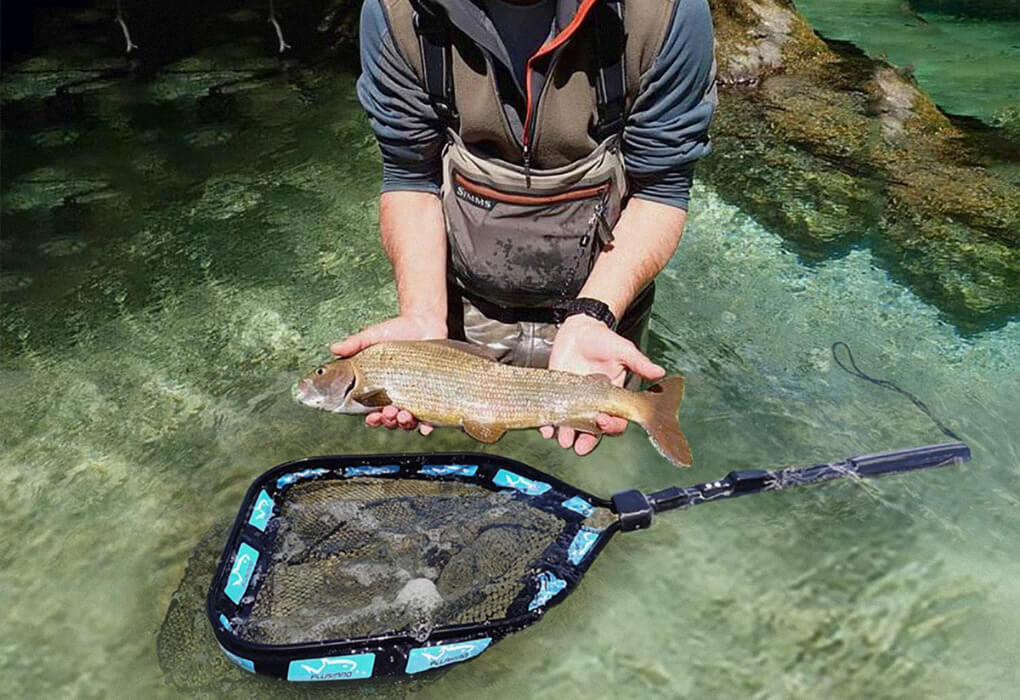 The material of the handle and the material of the netting is critical to the durability and functionality of the net.
Aluminum, carbon fiber, fiberglass, and plastic are used as handle and hoop materials.
I like carbon fiber and fiberglass the best, especially if they're wrapped in foam so they float.
Nylon, plastic, and rubber are used for the netting material, with rubber or poly (plastic) being the most fish-friendly and best for catch and release.
Typically when a net has all of my preferred materials, it costs more than I want to spend.
Collapsibility
This isn't a feature that I think every net should have, but it makes storage much more manageable.
There is a significant drawback to a collapsible net, and that is durability.
In my experience, a folding net isn't as strong, so it's easier to break.
However, if you purchase a net made from high-quality materials, that will help increase its durability.
Fish Species
Obviously, this isn't a kayak fishing net feature, but it's still an important consideration.
The kinds of fish you plan to target will determine the hoop size you need.
You'll Also Need
As you've learned by now, kayak fishing is an expensive hobby because there are always more fishing accessories to buy!
Here are a few things that I never go without while fishing.
Lifevest
I've heard too many tragedies of people who chose not to wear a PFD only to not make it home to their families.
That's why I recently went out and purchased the best kayak fishing PFD, so I know I'm giving myself the best chance of returning home safely.
Don't forget a life jacket doesn't work unless you wear it!
Kayak Fishing Rod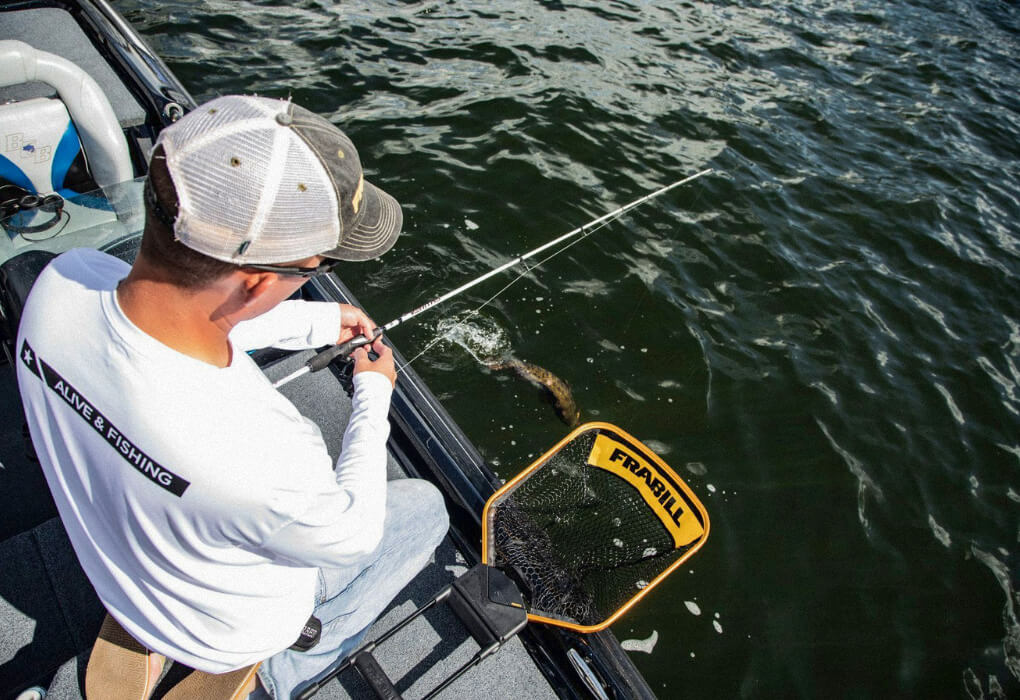 You can use any fishing rod in a kayak, but the best kayak fishing poles are designed with shorter handles, making using them easier in the close quarters of a kayak.
Think of this purchase like a nice one; you don't have to have it right this second, but if you're planning to buy a new rod and reel, you might as well get one designed for kayak fishing!
Kayak Tackle Box
I started kayak fishing with a giant tackle box and quickly learned it wasn't doing me any favors. So through trial and error, I developed a better tackle management system.
It's still evolving every day but having a kayak-specific tackle box helps me stay organized on and off the water.
A kayak crate is another excellent way to keep your tackle boxes secured and handy.
Kayak Fish Finder
Call me old school, but I recommend learning to fish without a fish finder. That way, you learn to read the surroundings and think like a fish.
Once you've gained these skills, then it's time to begin to learn how to read a fish finder.
A good fish finder will help you see structure and fish. With some practice, the best kayak fish finder can take a lousy angler and make them a good one.
You still have to know how to get the fish to bite, though!
You'll also need a kayak battery to power it.
Kayak Trolling Motor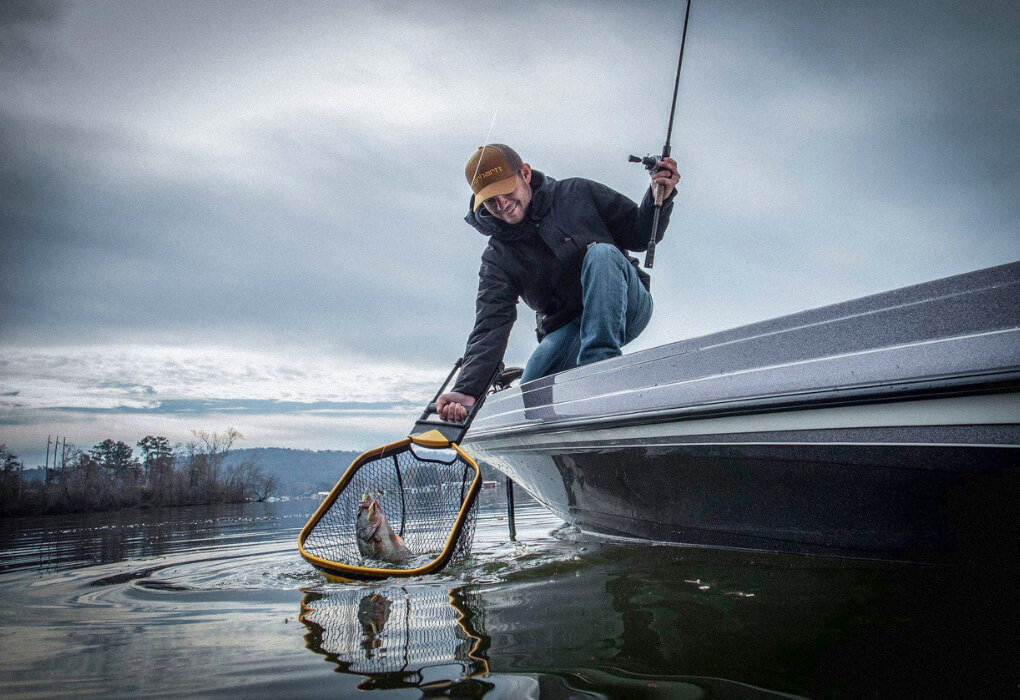 If you were reluctant to get into kayak fishing because of the paddling, then adding a trolling motor to your setup is the perfect solution.
If your kayak doesn't have a spot to mount a trolling motor, there are aftermarket brackets that will attach to your kayak so you can have a kayak trolling motor.
Frequently Asked Questions
Below you'll find the answers to some of the most commonly asked questions we receive at Anglers.com:
What is the best kayak fishing net?
What is the best way to clean a kayak fishing net?
The best way to clean a kayak fishing net is to hose it down outside, then scrub it with a sponge and dawn dish soap, and finally wash the soap off.
The process is similar to how you would do the dishes.
What is the approximate weight of a good kayak fishing net?
The approximate weight of a good kayak fishing net is 2 pounds or less. 
Last Cast
After combing through the many options, it's easy to see why the YakAttack Leverage Landing Net is the best kayak fishing net on the market. It's durable, reasonably compact, and versatile.
The only thing that could be improved is making it float.
One of the best fishing nets for beginners is the Offshore Angler Wading Net because it's inexpensive, floats, and durable. I used it for years without any problems
What are your questions regarding kayak fishing and the nets we use? Let's talk in the comments!