Last Updated on June 21, 2022
We independently research, test, and recommend the best products; you can learn more about our review process here.
I'm a huge believer in taking the easy way out whenever possible. When you're new to bass fishing, it's important that you have the right gear, but it's challenging to understand what you need for success.
One of the smartest choices I ever made in the beginning was investing in a solid bass fishing rod and reel combo.
When you buy a rod and reel together, your life is a lot easier because you don't have to worry about them being compatible since they both come from the same manufacturer and are crafted to work in perfect harmony.
In this guide, we're taking a look at the best rod and reel combos for bass fishing, and towards the end, I'll help you understand some of the "why" behind what makes them the best.
Make sure you stick around!
Comparison Table – The Best Rod and Reel Combos for Bass Fishing
---
In Depth Reviews Of Our Favorite Bass Fishing Rod and Reel Combos
Shakespeare Ugly Stik GX2 Fishing Rod and Reel Combo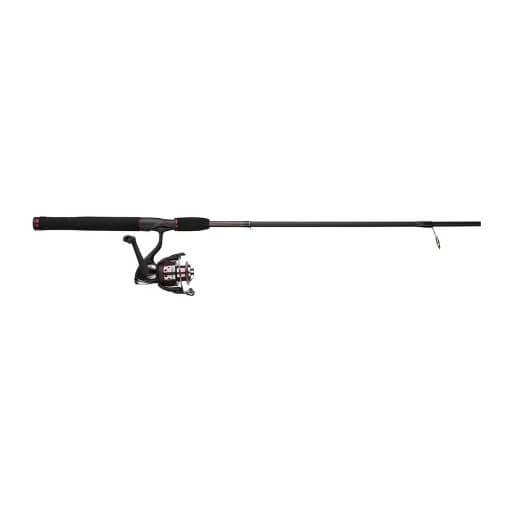 BEST OVERALL
Specs
Rod Type: Graphite Frame and Fiberglass Spinning Rod
Reel Type: Spinning Reel
Model: Ugly Stik GX2
Size: 4'8" to 7'
FEATURED SPECS
The body of the rod offers lightweight durability and sensitivity which is ideal for bass
EXTRA FEATURES
EVA grip on the handle adds comfort
BUYING ADVICE
This is a lightweight rod and reel combo so I wouldn't suggest line any larger than six to eight pounds
Pros
Great for bass fishing
Clear Tip design offers excellent sensitivity
Durable rod blank
Incredibly affordable
Cons
Good for beginners but not so much for experienced anglers
I'm a huge fan of this bass fishing combo because it's primarily geared towards beginners. If you're not sure about what to buy for your fishing needs, this is the rod and reel you want to have. It gets the job done, it's lightweight, and it's nice and comfortable for long trips.
If you're traveling to a smaller pond or lake in your local area, this Shakespeare Ugly Stik rod and reel combo is the right choice.
PENN Battle II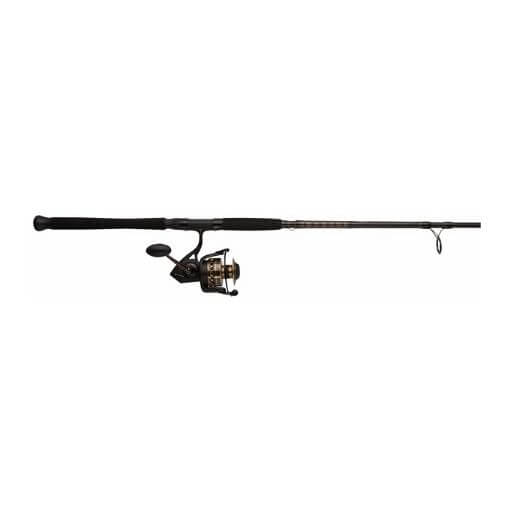 BEST SALTWATER SPINNING COMBO
Specs
Rod Type: Graphite Spinning Rod
Reel Type: Spinning Reel
Model: Battle II
Size: 2000 – 6'6" to 8000 10'
FEATURED SPECS
Graphite blank comes with aluminum oxide guides
EXTRA FEATURES
The reel uses a superline spool which helps create even line lay for better casting accuracy
BUYING ADVICE
Keep in mind that this is a saltwater reel, so it's heavy and built to hold up to the harsh salt conditions
Pros
Great for inshore and offshore fishing
Full metal body to prevent salt exposure
5+1 stainless steel bearing system for buttery smooth casting
Aluminum spool
Cons
A bit much for finesse anglers
We're stepping up our game right away and throwing you a saltwater fishing rod and reel. Is this the best bass rod and reel combo? Well, not exactly, but we can't ignore the fact that a lot of people fish for striped bass, and since they live in both salt and freshwater, it's nice to have a rod and reel combo that is compatible with both.
If you're looking for something that you can fish in both applications, the Penn Battle is the ultimate choice.
Penn Squall Levelwind Combo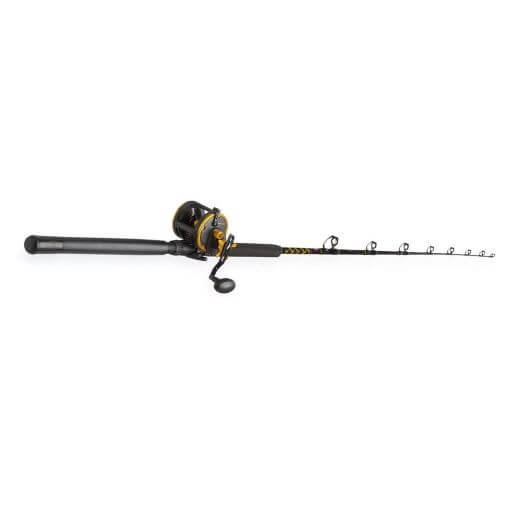 BEST BAITCASTING COMBO
Specs
Rod Type: Graphite Conventional Rod
Reel Type: Level Wind Trolling Reel
Model: Squall Level Wind
Size: 20 – 6' to 30 – 6'6"
FEATURED SPECS
Level Wind system prevents line build-up to help with casting distance and accuracy
EXTRA FEATURES
The star drag provides power without sacrificing smoothness and comfort
BUYING ADVICE
Like the previous option, this is a primarily geared saltwater rod and reel combo. You can use it in freshwater, but it's mainly for targeting much larger fish. It works well for striped bass, though.
Pros
Great saltwater reel
Lightweight but loaded with power
Marine-grade main gear
Solid construction and side plates
Cons
A slight design flaw that made the crank too close to the reel
Sticking with the saltwater trend, we have a trolling rod with a level wind reel here. What this means is that the rod is more so intended for offshore saltwater fishing where you let the lure do most of the work while the rod stays motionless.
This method is frequently deployed on fishing charters and large boats. The reason I recommend this rod and reel combo for bass is again due to striped bass fishing. You get a lot of power packed into this reel, and the level wind system helps with casting long distances for surf fishing as well.
FISHOAKY Carbon Fiber Telescopic Fishing Rod and Reel Combo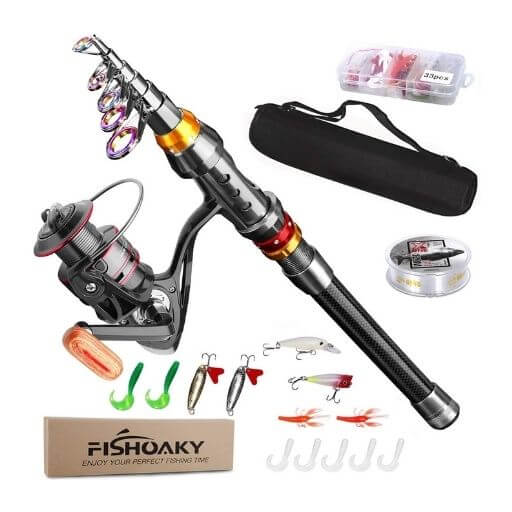 BEST TELESCOPIC
Specs
Rod Type: Telescopic Carbon Fiber
Reel Type: Spinning Reel
Model: High-Density Inshore and Offshore
Size: 6.89' when extended/5.90' when closed
FEATURED SPECS
Lightweight telescopic spinning rod and reel combo
EXTRA FEATURES
Comes with a fishing bag with assorted soft plastics, crankbaits, and line
BUYING ADVICE
Telescopic rods don't typically have as much sensitivity and flexibility as any other option. Keep that in mind when fishing for bass because your rod tip is what allows you to pick up on small nibbles.
Pros
Telescopic rods are easy to transport
Comes with a bunch of accessories
They offer a 12-month warranty
Cons
Geared more towards recreational "weekend" anglers
Telescopic rods have grown in popularity as fishing has become more of a mainstream rec sport. These rods are easy to transport, and they don't take up a lot of room in your trunk. The downside is that you don't get a lot of the sensitivity that you would from a straight one-piece blank.
The good news is, if you're starting your fishing journey, they throw in a lot of extra fishing gear to help you get the ball rolling.
Shakespeare Ugly Stik GX2 Ice Fishing combo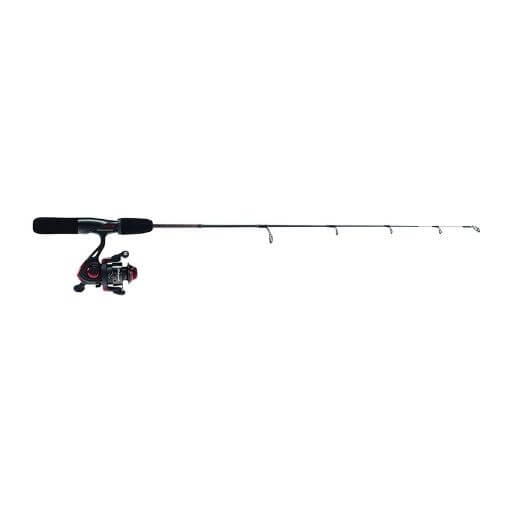 BEST FOR ICE FISHING
Specs
Rod Type: Graphite and Fiberglass Ice Spinning Rod
Reel Type: Spinning Reel
Model: Ugly Stik GX2
Size: 26" to 30"
FEATURED SPECS
This is a size 20 spinning reel which is intended for ice fishing
EXTRA FEATURES
Considered a middle of the road option, powerful enough for larger fish but light enough for panfish
BUYING ADVICE
Ugly Stik is a great model, and this one is an extension of the typical rod for ice fishing applications
BENEFITS
Optimal length rod
EVA handle is comfortable when out in the cold
One-piece guides help maintain durability when ice builds up
Great value
DRAWBACKS
Wouldn't recommend it for any fishing outside of the ice
Here we have a rod and reel combo that is essentially an extension of the Ugly Stik I talked about above. What makes this one different is its smaller size and less capable reel. Since you're using it for ice fishing, you don't need as much drag, and you won't need as much power either because the distance from the fish to the surface is much less.
The main benefit of this rod and reel combo for bass is its sensitivity. Shakespeare is known for having a nice sensitive rod, and that has always been an important buying factor for me. It should be for you as well.
Abu Garcia Jordan Lee Low Profile Baitcaster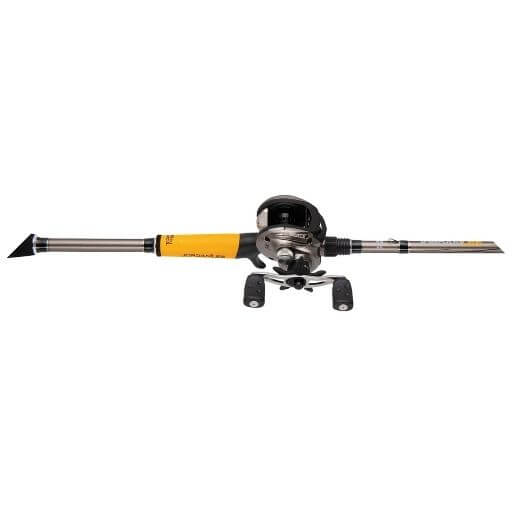 BEST LOW PROFILE COMBO
Specs
Rod Type: Graphite Conventional Rod Ice Spinning Rod
Reel Type: Low-Profile Baitcaster
Model: Jordan Lee
Size: 27'
FEATURED SPECS
MagTrax brake system helps with handling large fish
EXTRA FEATURES
Comes in a right or left-handed design
BUYING ADVICE
My favorite thing about this combo is the Polymer Dri-Tac grips. If you get caught in the rain, you won't have to worry about losing your grip on this rod.
Pros
Dri-Tac grips are excellent
Low profile increases comfort and performance
The brake system helps boost your casting distance and accuracy
Excellent price point on Amazon
Cons
The guides look a little fragile
The low-profile of this baitcast combo is what sells it to me. Much of the time, these types of reels get clunky and they get in the way but this one does a great job of fitting nicely into your hand with a smaller design while still having the power and strength you need to reel in the big fish.
Redington Fly Fishing Combo Kit 590-4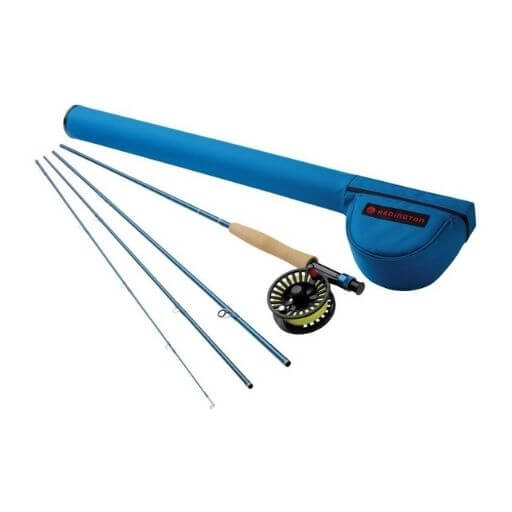 BEST FOR FLY FISHING
Rod Type: 4-Piece Fly Fishing Rod Spinning Rod
Reel Type: Crosswater Fly Reel
Model: Crosswater
Size: 4WT 7'6" to 9WT 9'0"
FEATURED SPECS
Comes with a pre-spooled reel with disc-drag system
EXTRA FEATURES
They throw in a rod tube to protect your gear
BUYING ADVICE
Overall, not many bad things you can say about this rig. For the price, they've thrown in a lot of bonuses, and I think you'll be happy with the results.
BENEFITS
Many size options
Accessories included
Dotted to make rigging easier
Smooth drag
DRAWBACKS
The reel is plastic, so you need to be careful with it
For my fly bass anglers out there, we have a rod and reel kit that takes the cake. This one looks great, it's relatively durable, and it comes packed with a bunch of accessories if you're dabbling with flies for the first time.
It's a composite blank with an adjustable drag, and it holds a load quite well. Let's be realistic, it's not the most high-quality fly rod you can buy, but the combos generally provide a starting point for you to expand upon with experience.
ODDSPRO Kids Fishing Pole Kit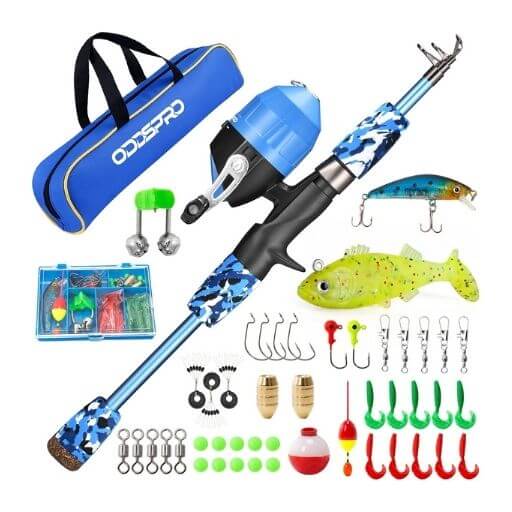 BEST COMBO FOR KIDS
Specs
Rod Type: Plastic Telescopic Rod
Reel Type: Push Button Casting Reel
Model: N/A
Size: 3.94' to 4.92'
FEATURED SPECS
Uses smaller EVA grips which are ideal for children's hands
EXTRA FEATURES
Comes loaded with bobbers, weights, jigs, and a carrying case
BUYING ADVICE
If you're taking your kids out fishing for the first time, I would highly recommend getting this kit. It comes with everything they'll need to get out there and catch their first fish.
Pros
Great for kids
Telescopic rod is easy to transport
Push-button reel is simple to learn
Loaded with accessories
Cons
Can't think of any reason not to buy this one
My final choice is something for the kids in your life. The best rod and reel combo for bass fishing combines elements of simplicity, lightweight design, and durability. You'll get all of that in this rod and reel combo for kids.
The push-button reel allows them to learn how to cast without having to worry about a bail. It comes with a carrying case so they can keep everything together and feel proud as they walk down to the water with all their gear. Overall, it's the best choice for young anglers.
How to Choose the Right Bass Fishing Combo for You?
Now let's break down some of the finer details of this article. We talked about a lot of different kinds of rods, but you might not know what type you should use for each situation. I want to help you understand what each rod is and how to catch bass with them.
Spinning Rod and Reel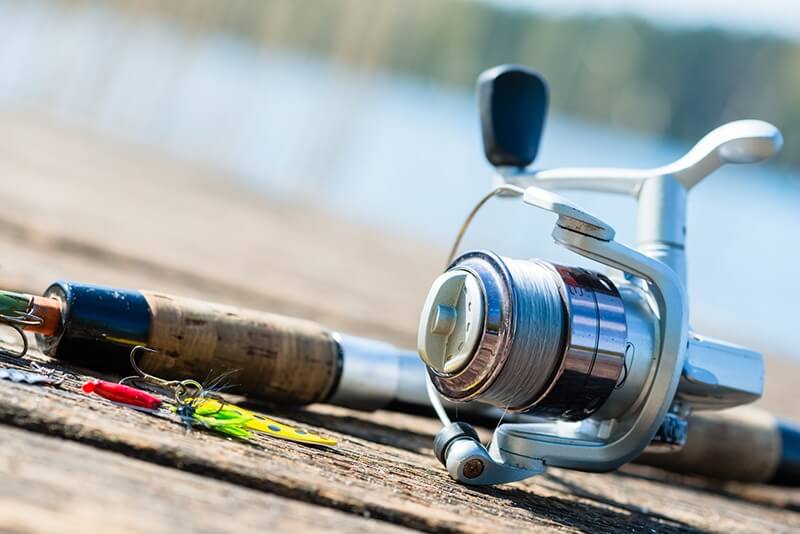 A spinning combo is signified by the reel sitting beneath the rod, and it has a bail that you need to open before you can cast. When you close the bail, you can start retrieving the lure.
Most people choose spinning rods for lightweight fishing applications like small backwater ponds, lakes, and rivers.
These reels typically work best for bass fishing because they provide the lightweight flexibility you need to feel each nibble on your lure.

Due to their reduced size, you can't use as heavy of a line as you would with a baitcaster, but in most situations, that's okay because you'll still be able to catch all the bass you want where you're fishing.
Baitcasting Combos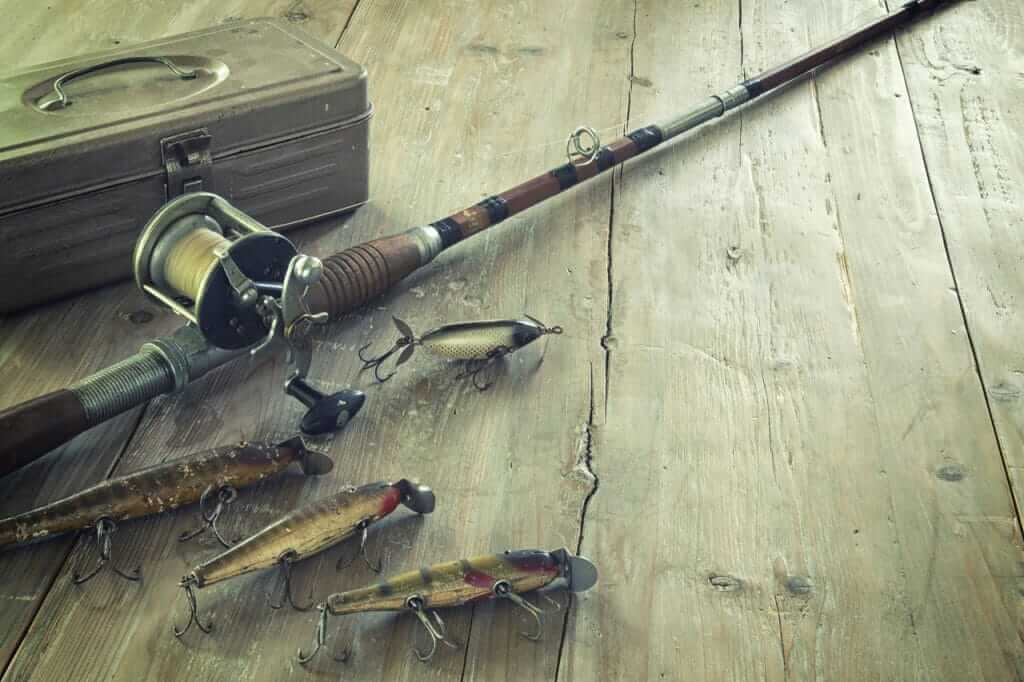 Baitcasting reels are sometimes called "conventional." These have the reel on top of the rod, and the reel has a few different components.
First, it has an exposed bail and usually some sort of leveling system that helps the line set easily on the spool. The main reason that someone would turn to a casting reel over a spinning reel is for sheer power and control over the fish you're battling.
Conventional reels provide a lot more cranking ability, and you can generally spool a lot more line on these reels, which allows for a longer drag. That's why you'll see most saltwater anglers always using casting reel and rod combos with medium heavy to heavy power.
How to Choose a Good Fishing Rod
Okay, let's put aside our spinning and casting differences and talk about the factors that make a good rod vs. a bad one.
Rod Material – The material of your rod will determine the sensitivity and the strength of it. Fiberglass is a cheaper material that is lightweight, but it also provides more sensitivity than composite. While composite is more expensive, it is also heavier, and it doesn't offer the level of sensitivity you need for ultralight finesse fishing.
For that reason, that's why you typically see conventional rods using composite because when you're battling larger fish, you don't need as much sensitivity or fast action.
Line Guides – The guides are the eyes or holes that your line runs through when you cast and retrieve. These are an important part of the design because you want them to hold up, and you don't want them causing friction on your line because it will reduce your casting distance.
Handles and Reel Seats – The handle of the rod is a purchasing factor because you want something comfortable and natural feeling in your hands. A lot of cheap rods will use cork, which is porous, so it collects water and cracks over time. Look for EVA material used in the handles because it is more comfortable and less slippery.
How to Choose a Good Fishing Reel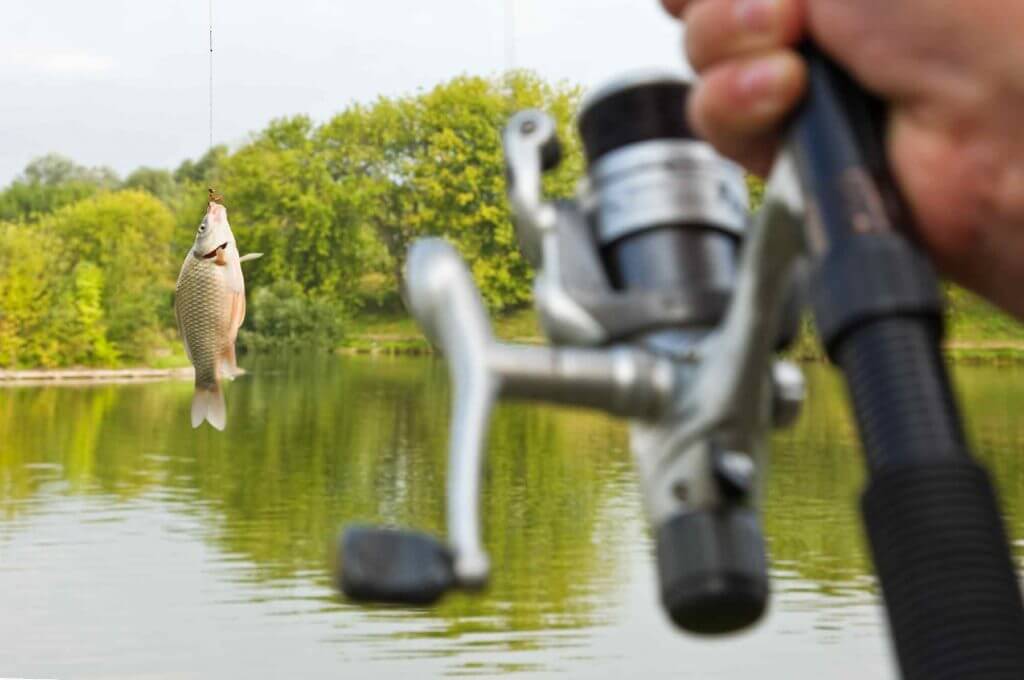 Now that you have the perfect rod picked out, you need a reel to pair with it. This is where the finer details will start to mean a lot more.
Drag Pressure – The drag pressure refers to how much "pulling power" you have on your reel before the fish starts pulling you right out of the boat. As you increase the model size of your reel, you're increasing the amount of drag you have. Most people can manage around 16-18 pounds of drag without feeling like you're going overboard.
Gear Ratio – When you see a reel that says it has a 6.2:1 gear ratio, it means that the gear inside the reel turns 6.2 times for every 360-degree crank you make on that reel. So, the higher the gear ratio, the less cranking you need to do to get that fish in your boat. Most reels will have a gear ratio within the 5-6:1 range.
Bearings – There is a lot of fluctuation in the number of bearings you'll find in a reel. Many will contain 5-6 stainless steel ball bearings with one anti-reverse bearing. Essentially, the more bearings you have inside the reel, the smoother the retrieval.
It's not quite that simple because the quality of the bearings plays a significant role as well, so I wouldn't worry too much about that.
Final Thoughts
Now that you've seen my picks for the best rod and reel combos for bass fishing, what do you think? All of the options recommended above are well-rated in the online community and well respected by anglers all over the country.
When all else fails, I always recommend going with a big name brand like Penn or Shakespeare because you know they have a strong reputation.
Regardless of what choice you make, keep in mind where you plan on fishing for bass and what type of bass you're looking to catch.
When you pair a little bit of knowledge with a little research, you'll find yourself on the fast track to fishing success!
About Post Author