---
We independently research, test, and recommend the best products; you can learn more about our review process here.
I remember it like it was yesterday. Running down the trail through the woods with my Daiwa 212 RL push-button reel with a Daiwa medium-heavy rod.
It was my best bass fishing rod and reel combo, but I just about used it for everything.
As the years passed, I started buying my reels separate from my rods until an old friend of mine, Ron Garner, told me that some of his best fishing set-ups have come from buying a rod and reel combination.
By combining my personal experiences with owning different bass fishing combos and actually trying a few of them out during a bass fishing weekend, I've chosen the Penn Battle III as the best rod and reel combo.
As a quick summary, here are my top three choices for rod & reel combos based on my research.
Top 3 Rod and Reel Combos on the Market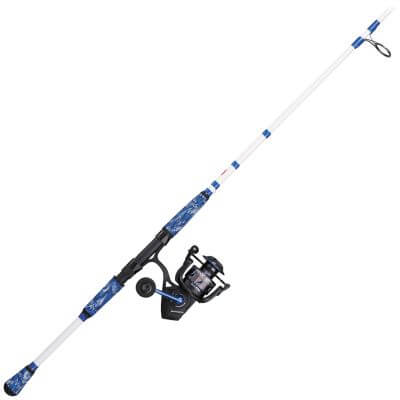 Best Rod and Reel Combo Overall
PENN Battle III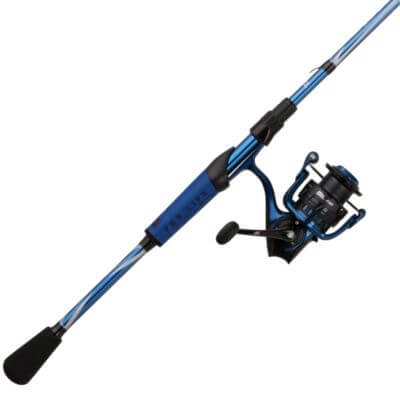 Best Baitcasting Rod and Reel Combo
Abu Garcia Revo X LTD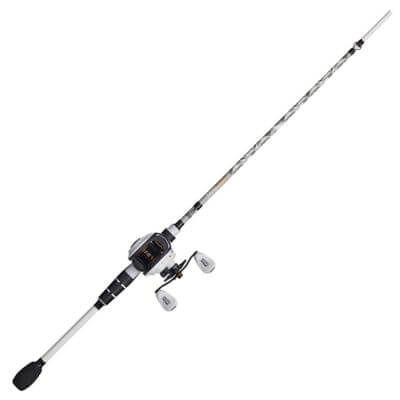 Best Rod for Flipping and Pitching
Abu Garcia Pro Max
---
Methodology
For the test, I made four separate trips and was able to catch over 100 bass easily which allowed me to rate each rod and reel combo for things like hookset, retrieve, and landing strength.
In addition, here are a few other factors that I considered while testing the combos:
Casting Distance and Accuracy: It's great to be able to make long casts, but it's even better when those long casts hit the target.

I tested all the combos with the same lure (a Texas-rigged Craw) and was able to rate them based on how far I was able to cast and how on target each cast was.
Rod Action: Confidence is a huge factor in bass fishing. The wrong rod can affect lure performance. I tested all the rods with different lures to see how the lures handled when ripped through structure, tightlined, and its ability to keep the fish on the hook.
Reel Performance: While the rod is important, I believe the most crucial part of the combo is the reel. Some manufacturers try to cut corners by pairing a cheap reel with an expensive rod and vice versa. I tried out all the combos and was able to find out which reels performed best.
Hookup Percentage: The goal of having a great rod and reel combo is to catch fish right? I tested all the combos and was able to tally how many fish were missed and how many hooksets landed! (Not all of them were the rod's fault)
Reel Seat Fit: I'm sure you've fished with a rod and reel that seemed like they were fighting each other. Maybe some were creaky or squeaking, while others had a reel that was too big or too small for the rod. I tested out all the combos and put them to the test to see which ones were a perfect match.
Best Rod and Reel Combo Overall
PENN Battle III Rod and Reel Combo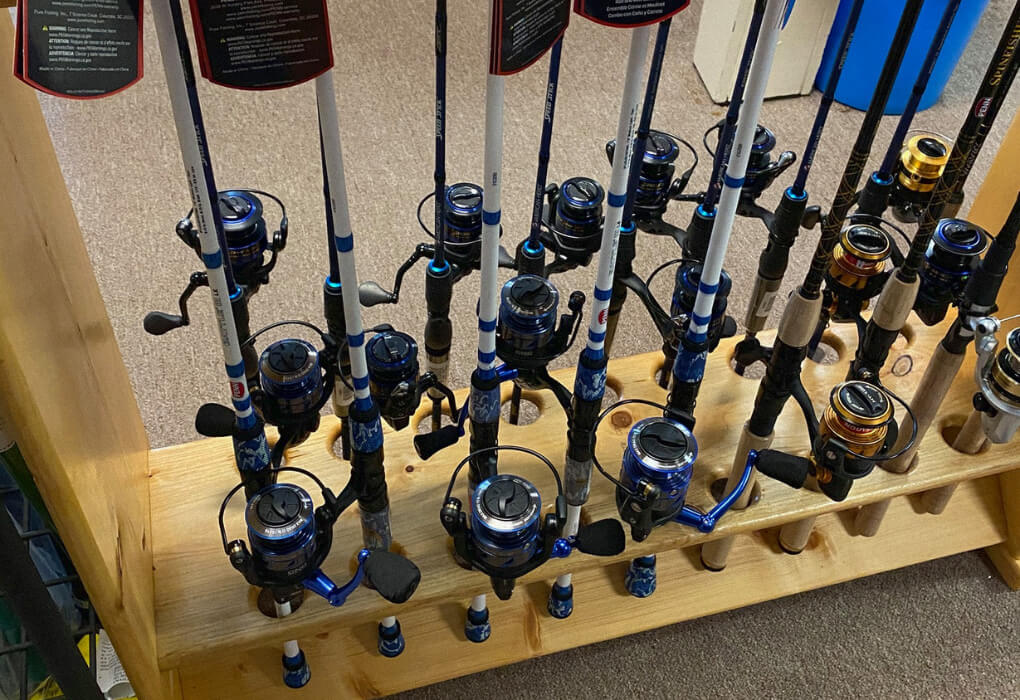 Specs
Rod Length: 6.6', 7', 8', 9', 10'
Rod Material: Composite
Gear Ratio: 6.2:1
Bearings: 5+1
Reel Handle: Ambidextrous
Why We Chose It
The Penn Battle lll Rod and Reel Combo combines a high-quality rod with a high-quality reel.
The rod is composite meaning it's a mixture of both graphite and fiberglass so you're getting durability with the fiberglass and sensitivity with the graphite.
Another great thing about the rod is that it has one-piece guides which means the guides are part of the rod instead of glued or woven on.
The PENN Battle lll reel has made significant strides since the PENN Battle ll.
The older PENN Battle ll has universal gears that were fit together which made for a relatively smooth retrieve but there were some vibrations that the reel would give off.
The new PENN Battle lll is CNC machined which means the gears are cut from one block of metal which makes for a PERFECT fit. And you can tell when you reel this thing!
It's got the smoothest retrieve of all the reels and it's because of its new CNC Gear Technology, (Which they make sure you know as it's printed all over the reel)
Another thing that sets the new PENN Battle lll reel apart is the HT-100 Carbon Fiber Drag System which makes the reel drag pull smooth without jerking.
This is important when hooking a big bass. You don't want the line being pulled out fast, in sudden spurts, as this adds more tension to the line.
I used the PENN Battle lll on my weekend bass retreat at a drop-off at the entrance of the duck pond.
The tide was falling and there were bass feeding on shad that were swimming out of the pond.
I was throwing a Texas-Rigged Matrix Craw; it was almost unfair and I hammered five bass in a row with my PENN Battle lll, with the biggest bass being 2.5 pounds.
The only downside that I can see is that the reel is slightly heavy but that's only due to the metal sides on the reel.
PENN did make an attempt to reduce the weight by carving out design holes in the reel that somewhat reduces the weight but it's still 9.7 oz which is heavier than a lot of other reels.
If you're a beginner this is a fantastic rod for bass fishing because it's durable and it is sensitive enough to feel a soft bite.
Plus, it can also be used for other fish like trout, redfish or walleye. The PENN Battle lll hits on all cylinders and has the potential to be a lifetime rod in the future.
Best Baitcasting Rod and Reel Combo
Abu Garcia Revo X LTD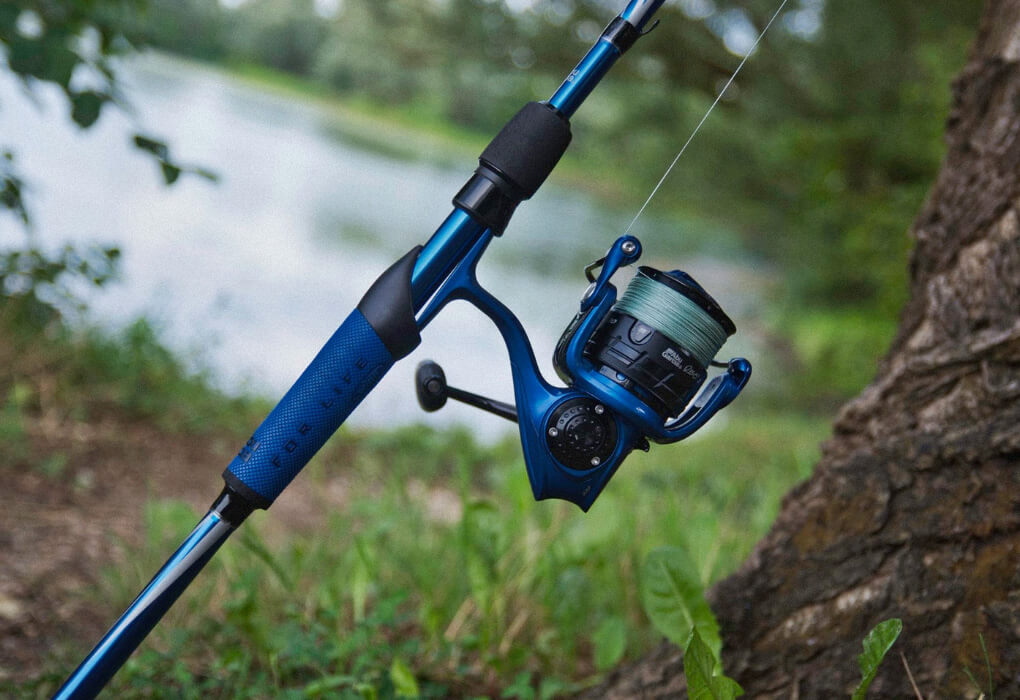 Specs
Rod Length: 7'
Rod Material: Aluminum
Gear Ratio: 6.75
Bearings: 7+1
Reel Handle: Right
Why We Chose It
Abu Garcia has always provided great rods and reels. Now they've put the two together and hit a home run with the Revo X LTD.
The rod is made of aluminum which is great for anglers who like to fish jigs in heavy cover or those who like to rip crankbaits through underwater debris.
The aluminum rod is virtually indestructible so you'll be able to go on the attack without worry of the rod breaking.
The rod trigger was perfectly placed which provided me with great control of the rod. (I like to place the trigger in between my fingers with my entire hand cupping the reel)
When I'm selecting a reel I always like to start with a reel that has at least 4 ball bearings.
Well, the Revo X Low Profile Baitcaster uses 8 stainless steal bearings which makes for a really smooth retrieve. (The more bearings the smother the retrieve)
Another great thing about this combo is its combined weight. Coming in at 7.9 oz. this combo is great for bass anglers who sling lures all day long.
My test of the Abu Garcia Revo X LTD rod & reel combo came while fishing the main channel of the Intercoastal Waterway.
I was throwing A Texas-rigged craw, bumping it along the bottom.
I was able to make long bomb casts with the Revo, much longer than any other setups that I used today.
The rod felt great in my hand with a firm but soft EVA rubber handle.
After casting toward the shoreline and bumping my craw on the bottom I was finally able to set the hook on a bass and it was SOLID! After a "THERE HE IS!" shout, I was able to manhandle that fish into the boat.
Being that the fish was over 3 pounds I second guessed boat flipping him but then remembered that this rod was made of 30-ton blanks so I went ahead and successfully flipped him onto the bow.
This is clearly a result of the rod being made of aluminum.
While fighting the fish it never slipped once and I thoroughly enjoyed the control I had over it even when I wasn't catching fish. It really is a great rod and reel to hold in your hand.
The Abu Garcia Revo X LTD came out on top when testing but I will say it was comparable to the less expensive Abu Garcia Max STX Low Profile Combo.
The only downside is the reel only comes in one length which is 7' and the reel only comes with a handle on the right size.
The reel definitely excels with making long casts even with lightweight lures, add to it the strong aluminum rod and you've got the perfect recipe for a go-to baitcasting combo that may top the list of your favorite rods!
This is a solid setup!
Best Spinning Rod and Reel Combo
St. Croix X-Trek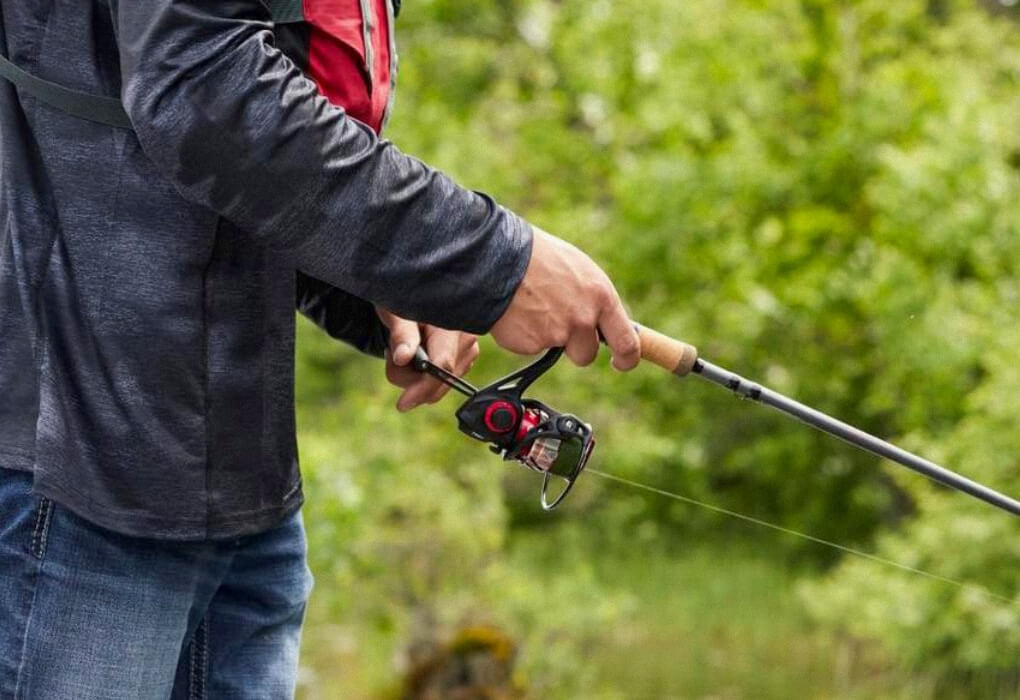 Specs
Rod Length: 6.6' and 7'
Rod Material: Carbon Fiber
Gear Ratio: 6. 2:1
Bearings: 5+1
Reel Handle: Ambidextrous
Why We Chose It
The St. Croix X-Trek Combo comes in either a 6.6' or 7' rod with an X-Trek spinning reel. It also comes pre loaded with 10-pound braided line.
The St. Croix rod is made of SCII Carbon Fiber blanks which makes the rod super strong but St. Croix has gone further by coating the rod with something called Fortified Resin which increases the rod strength even more.
The handle is a split-grip style and comes in a 2-piece model or a 1-piece.
This rod is perfect for bass fisherman who use drop-shot rigs for big bass. The reel is very light which is good for finesse fishing, especially on the bottom.
The X-Trek Reel has 5 stainless steel ball bearings which makes for a smooth retrieve. The reel handle is ambidextrous which should make the lefties happy.
One thing that I noticed about the reel is it is a bit on the heavy side weighing just under two pounds. I know quality made reels are often heavy so I'll give the X- Trek the benefit of the doubt.
I had my chance to try out the St. Croix X-Trek Combo on the last day of my marsh fishing test.
About 3 seconds into the retrieve and bass blew up on it but I missed on the hookset. (While I'd like to blame the rod I have to admit it was my fault)
Fortunately, the bass chased it down and hit my lure again.
This time I connected on a solid hookset. Whoooaaa man did that feel good! I hauled in a solid 2-pound bass and slung it into the boat.
Now, I've owned St. Croix Rods which are made of SCII Mid-modulus graphite, so I know how much they can bend without breaking.
It's actually my favorite thing about St. Croix Rods because I find that they have a higher strain rate than other rods made with other materials.
I can't say enough about these rods as far as being made with SClll Mid-modulus graphite.
I've used these rods for years and they catch not only bass, but saltwater fish as well.
Several times I've flipped redfish into the boat and I thought for sure that the rod was going to break but it bowed over and was able to help me beat the fish.
Overall, I think this combo is the one to go with if you're looking for a great blend of strength and sensitivity with smooth casting ability.
The St. Croix Triumph X-Trek covers all the bases when bass fishing and even can make that all important transition to saltwater fishing if that's an option for you.
The spinning reel matched perfectly to the rod and was a pleasure to use, even when I wasn't catching bass.
This setup hit on all cylinders and came close to beating out the versatile PENN Battle lll for the Best Overall Combo Category.
Best Budget Rod and Reel Combo
Shakespeare Ugly Stik GX2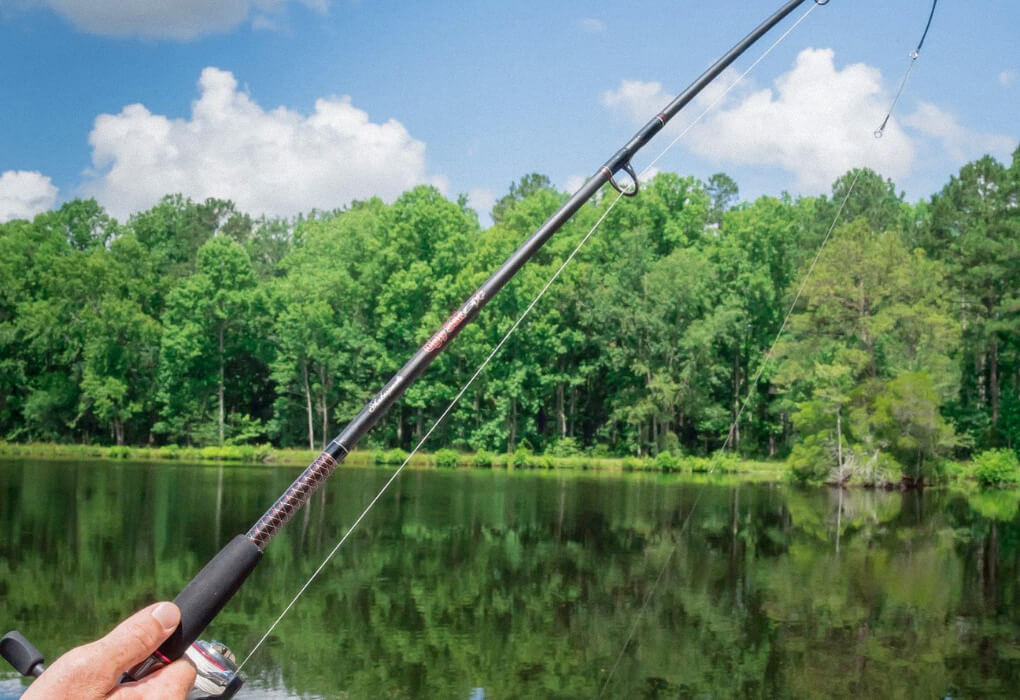 Specs
Rod Length: 4.6', 4.8', 5', 6', 6.6', 7'
Rod Material: Aluminum
Gear Ratio: 5.5:1
Bearings: 3+1
Reel Handle: Ambidextrous
Why We Chose It
The Shakespeare Ugly Stik GX2 Combo comes in 12 different models ranging from a 4.6' to 7' rod paired with a GX2 spinning reel.
The rod is made of aluminum which is great for anglers beginners because it can take a beating.
While you will be sacrificing sensitivity because of the aluminum makeup, the tip is still sensitive enough for bass fishing.
I would recommend this rod for those who plan on throwing reelable lure such as spinnerbaits and crankbaits over deep jigging or finesse style fishing because of its lack of sensitivity.
One thing that stood out to me about this combo was the variety of rod sizes. The shorter rods measure as short as 4.6' which can be used as a travel combo or an ultralight setup.
Now let's talk about the reel. The GX2 reel is an entry level spinning reel however it does hold its own and gets the job done.
There are three ball bearings inside which make for a relatively smooth retrieve.
I say "relatively" because there is a bit of vibration when reeling when compared to other more expensive reels that have 5 or more ball bearings.
The reel has an ambidextrous reel handle allowing it to be switched to right handed or left handed reeling.
I used the combo while fishing a small cut next to the camp I was staying in and actually was able to catch two small bass with it.
Now, keep in mind that this is an entry level set-up but it's very durable and gets the job done.
I found that it made decent casts and was relatively smooth when retrieving a spinnerbait. I was using a 10-pound monofilament line on the reel and had no problems at all.
I will say that the reel was a little on the rough side being that it only has 3 ball bearings but I can get past that for a combo that's under 50 bucks!
That's the main reason I chose it for the "best combo for the money." It's great for those who don't want to take out a loan just to go bass fishing.
Best Rod for Flipping and Pitching
Abu Garcia Pro Max & Max Pro Low Profile Baitcast Reel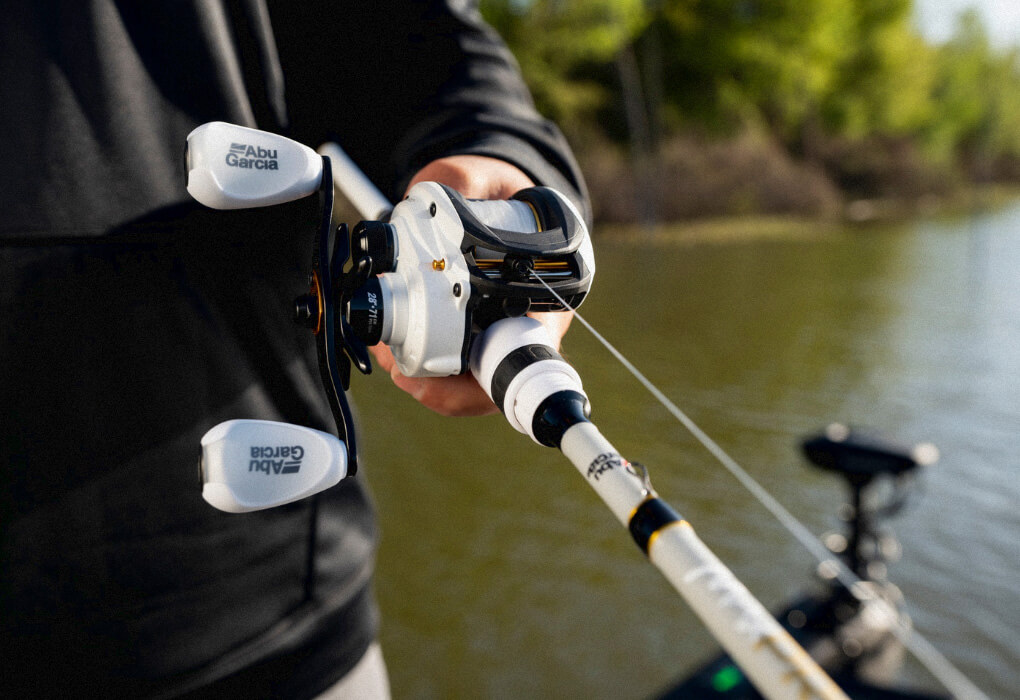 Specs
Rod Length: 6.6' and 7'
Rod Material: Aluminum
Gear Ratio: 5.5:1
Bearings: 7+1
Reel Handle: Left
Why We Chose It
The Abu Garcia Pro Max & Max Pro Low Profile Baitcast Reel and Fishing Rod Combo is available in two rod sizes, 6.6' and 7'. The rod has a Max Pro Low Profile baitcasting reel attached to it.
Let's talk about the rod. This rod is custom made for flipping and pitching in my opinion because it's made of aluminum which allows you to rip big bass out of vegetation and structure.
The rod handle is made from molded polymer which is perfect for underhanding the rod and reel.
The mold is perfectly carved to fit your hand and the rubber tongue or trigger is smooth and fits between your fingers for awesome rod control.
Let's move on to the reel. The reel that comes with the combo is a Max Pro Low Profile Baitcast Reel which is a high-end reel. The reel has 7 stainless steel ball bearings which makes for an ultra-smooth retrieve.
While the 7 bearings are a great feature, I believe the best feature of the reel is the Magtrax Magnetic Braking System. In my opinion it's this braking system that has made the Max Pro Reel so popular in recent years.
While it takes a little getting used to, the braking system helps to reduce backlashes which often result in wasted time out on the water.
The Magtrax system works by using a bunch of magnets that are located around the spool of the reel.
These magnets are adjustable, allowing the angler to choose the amount of braking force they want to apply to the spool as it spins during a cast.
As the spool spins faster and faster during a cast, the magnets will begin to slow it down, reducing the likelihood of backlash.
I caught several bass while using this combo to jig along a stretch of shoreline that was loaded with lilies and never popped the line once.
That's the great thing about a quality flipping pole, there's no hesitation about ripping the fish out of the water quickly. I was able to land a 2.2-pound largemouth bass all within five seconds.
To sum up, The Abu Garcia Pro Max & Max Pro Low Profile Combo is a fantastic flipping rod and is reasonably priced under 100 bucks.
Its aluminum makeup provides tons of backbone to rip bass out of lilies, grass, and brush. The reel is a solid reel that is smooth and reduces backlashes.
While I found that this combo isn't good for throwing crankbaits or spinnerbaits, it is the perfect combo for flipping and pitching for big bass in heavy cover.
If you are looking for a situation-specific combo for pitching and flipping, the Abu Garcia Pro Max & Max Pro Combo is the rod for you!
Best Ultralight Rod and Reel Combo
Daiwa Mini System Minispin Ultralight
Specs
Rod Length: 4.5'
Rod Material: Composite
Gear Ratio: 5.1:1
Bearings: 1
Reel Handle: Ambidextrous
Why We Chose It
The Daiwa Minispin System Minispin Ultralight Combo is only available in one rod size: 4.5'' The rod has a Daiwa Ultralight MS-S500T reel attached to it which does not come with a line.
Let's examine the rod. The Daiwa rod comes in five pieces which is great for breaking down and traveling.
It's made of a mixture of graphite and fiberglass like more ultralight rods. But what sets this rod apart is its stiffness.
It's a fast rod meaning it's great for anglers who are catching bass using spinnerbaits or any retrievable lure.
The rod also comes with a hard plastic case which is great for traveling.
The reel is a spinning reel with only one ball bearing.
On my trip I was able to compare this rod to two others: The South Bend Microlite Combo and the Shimano Solara Combo. I've used these rods for years for catching bream but have never fished for bass with them.
I will say that the reel on the South Bend leaves something to be desired as it just feels cheap to me. The Shimano Solara was a better fishing rod combo but not as good as the Daiwa.
I caught one bass that hit my Beetle Spin that I was throwing. (If you haven't tried throwing a Johnson's Beetle Spin on Ultralight, you're missing out).
My biggest concern when using ultralight for bass is the size of the bass but I was able to haul in a 1.5-pound bass on it and boy was it fun!
The drag was screaming at first but then the fish wore out and I was able to bring him in within 7-8 minutes.
The reel was smooth and seemed to be made of quality material.
Overall it beat out the two rods that I owned so it looks like I'll be looking for a sale on the Daiwa Mini System Minispin Ultralight Combo this Black Friday!
One of the great things about fishing with ultralight rods is the sensitivity and this rod delivered!
I did have a problem with the sections of the poles coming loose and sliding apart one time but that was quickly fixed by putting a little force into the inserts.
After reassembling it right
I never had that problem for the rest of the trip. I ended up catching three bass with it and had a blast doing it!
If you've never used an ultralight setup for bass fishing I'd highly recommend trying it. Get the Daiwa Mini System and don't look back!
Best Spinning Rod and Reel Combo
Redington Fly Fishing Combo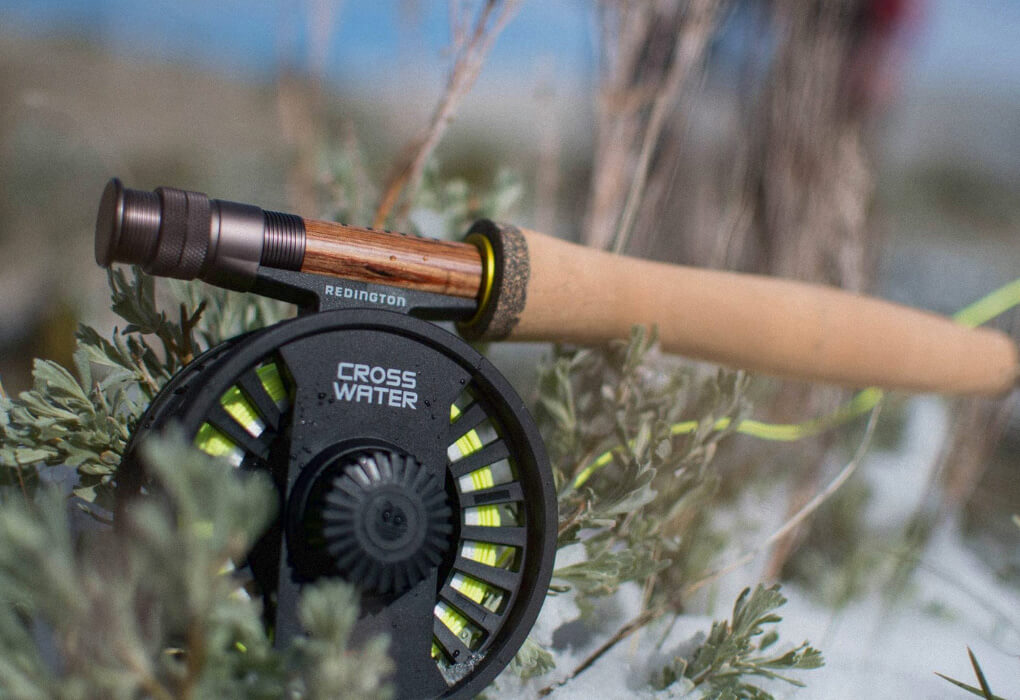 Specs
Rod Length: 9'
Rod Material: Composite
Bearings: 1
Reel Handle: Ambidextrous
Why We Chose It
The Redington Fly Fishing Combo comes with a 4-piece 9' composite rod. The reel is a Crosswater Fly Reel that is available in two different sizes: The Crosswater or Crosswater lX.
On my fishing trip I had the chance to try this combo out and I have to say it was the best feeling fly rod that I have ever fished with.
If I had to describe it it would be like owning a car without power steering and then driving one with power steering.
The line that came with the reel flowed seamlessly and layed down on the water smoothly. I got two hits while I was fishing with the Redington and caught both bass. (which is a great hookup percentage for a fly rod)
My biggest bass was a 2-pounder which was pure ecstasy while reeling in.
The reel performed fantastically during the battle and while I love the rod, I firmly think that the reel is the better product here.
Ideally, the thing you are looking for when selecting a rod and reel combo is a quality rod and a quality reel in the same purchase.
The Redington Fly Fishing Combo delivers on both! High-end rod. High-end reel. The only downside is the rod only comes in 9' so if you like a really long rod this isn't the rod for you.
I highly recommend the Redington combo if you are targeting bass with flies. It is now my go-to fly rod for bass fishing.
Benefits to Choosing a Rod and Reel Combo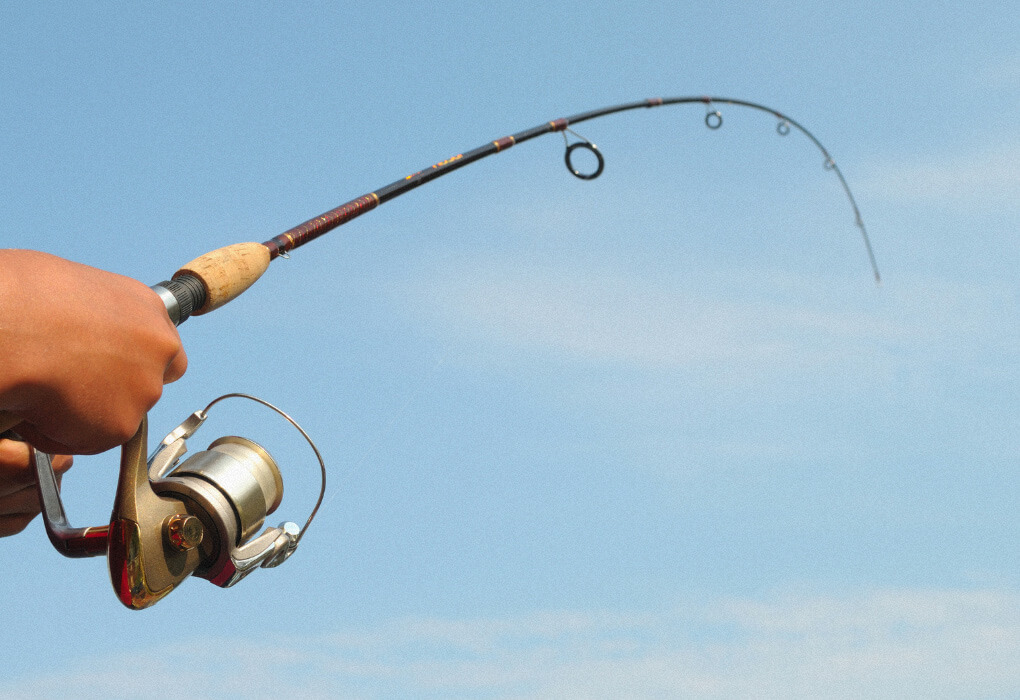 After decades of fishing and choosing rod and reel combos, I've come up with a few pointers to help you in your quest to choose the perfect combo.
First, let's take a look at the benefits to buying a combo instead of mixing and matching rods to reels.
Custom Match: The benefit when buying a combination rod and reel setup is undoubtedly the greatest benefit.
Typically, when a combo is created, the best reel is selected to match the rod. For instance, If you have a 1500 series reel, you don't want to join it to a 7.5' heavy rod with fast action.
Rod and reel companies understand their products so they are the best at deciding which rods should be used with which reels.
Better Price: Rod and reel combos are almost always cheaper than buying the rod reel individually. It's just good business.
Companies know that selling two products in one purchase is a great way to move merchandise, so if you find a rod that you like, make sure that it has a combo option. You may save a few bucks and score a setup of a lifetime!
How to Choose a Rod and Reel Combo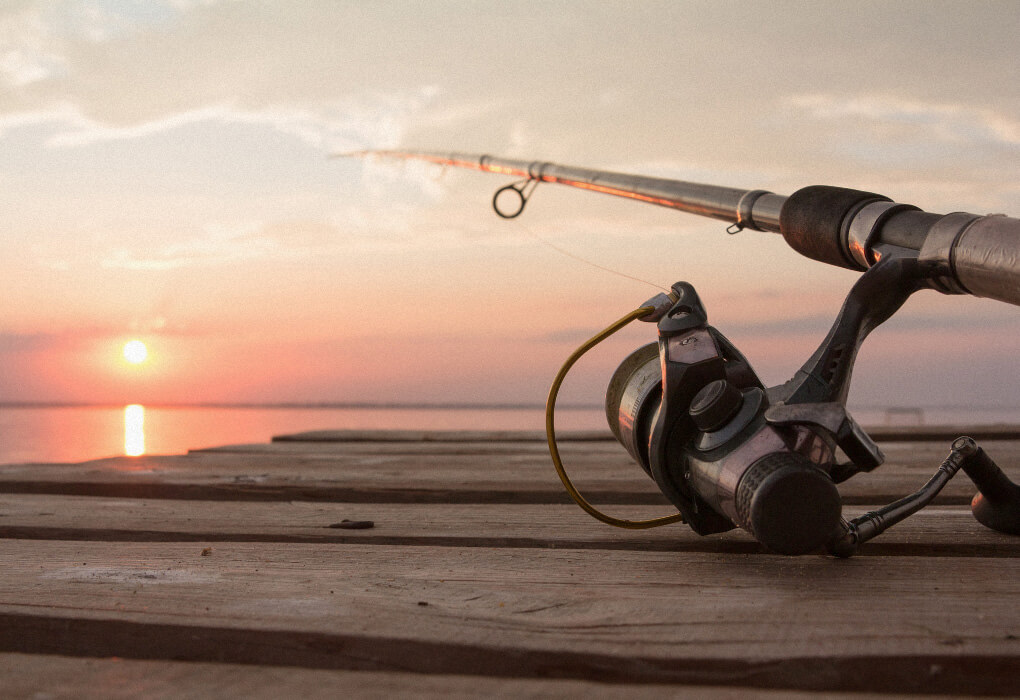 There's no one blueprint to selecting the perfect rod and reel combo however there are a few things to keep in mind when doing your research.
First, start with a favorite. I'm sure you have a favorite rod that comes to mind when I say that right. Take that rod and do some research to see if it has a combination option.
Nowadays combinations are becoming very popular and more companies are doing the hard work for you by matching combining products.
The same is true for a reel. If you have a favorite reel, do some research and see if a manufacturer has a combo that they sell with a rod that's attached to your favorite reel.
Final Thoughts
I certainly learned a lot by taking the different rod and reel combinations out on the water for a test.
The list that I've put together was based on my trip to the marsh, but is also a combined analysis of 40 years of fishing with rod and reel combos.
So let's review our top pick!
For the best rod and reel combo overall, I choose the PENN Battle III Rod and Reel Combo. It topped the list for casting accuracy, rod strength, reel quality, and rod sensitivity.
The 5+1 sealed stainless steel ball bearing system provides an ultra-smooth retrieve. The composite blank provides a great mix of sensitivity and strength.
The one-piece guides make the rod overall more durable, and the CNC Gear Technology takes the reel to the next level!
While the PENN Battle lll won overall, you really can't go wrong with all the combos mentioned in this best bass fishing rod and reel combo guide.
Give them a try and tell us what you think! We'd love to hear from you!