---
We independently research, test, and recommend the best products; you can learn more about our review process here.
After fishing for many years from a kayak, I have learned one never-changing rule; wearing a life jacket while kayak fishing is the single greatest thing you can do for your safety while on the water.
But after testing many different brands and styles, I rarely found one that was comfortable. So I went on a mission to find the best kayak fishing PFD.
I found the NRS Chinook to be the most comfortable kayak fishing life jacket I've ever worn.
Don't worry if this PFD isn't a right fit for you; there are several others that made the list.
Keep scrolling to find the perfect life jacket for you.
Our Top 3 Picks for Best Kayak Fishing Life Jacket
While I'm a firm believer that any PFD is better than no PFD, I've paddled and fished enough to know some life jackets are better than others. Here are my top three choices: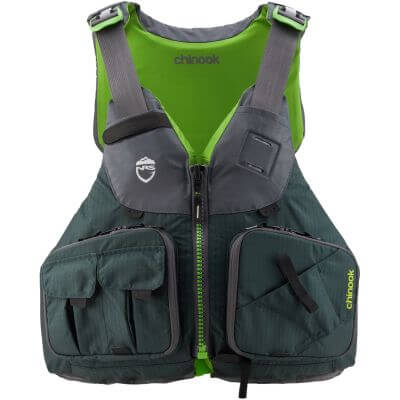 NRS Chinook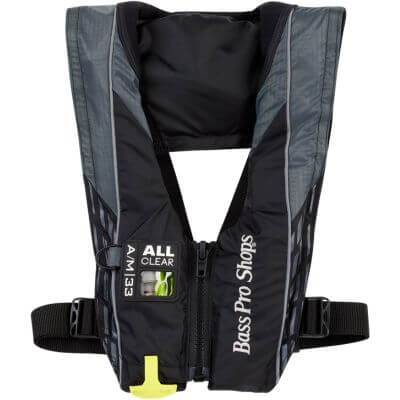 Bass Pro Shops AM33 AutoManual Inflatable Life Vest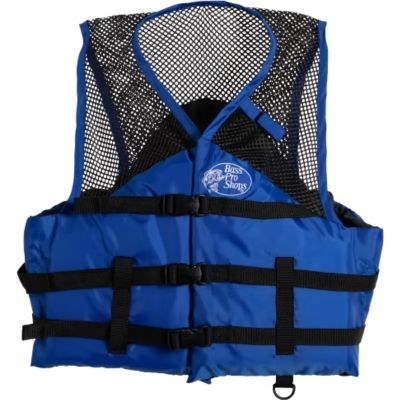 Bass Pro Shops Basic Mesh Fishing Life Jacket
---
Testing Procedures
While testing these life jackets, I tried to keep the following several things in mind-
Comfort: I've used life jackets that made me sweat a lot or caused me to sit in an uncomfortable position. This made me want to not wear it, even though I knew I should.

That's why I prefer a breathable design and high back foam padding.
Safety: I think this is an obvious one, but it's worth mentioning. The PFD should keep your head above water, even if you're knocked unconscious.

Getting approval from the US Coast Guard is always an added benefit to look for when buying a PFD.
Features: Yes, even life jackets have features. I'm primarily talking about the design. Does it have pockets? If so, how many, and was it designed for paddling, fishing, or only water safety?

The features also include if it's an inflatable PFD or the traditional foam life jacket.
Price: How much the cost affects my wallet is always near the front of my mind; however, when safety is involved, I don't mind spending a little extra.

This is why I've chosen what most consider to be expensive life jackets and mixed in a few much less costly options.
BEST KAYAK FISHING PFD OVERALL
NRS Chinook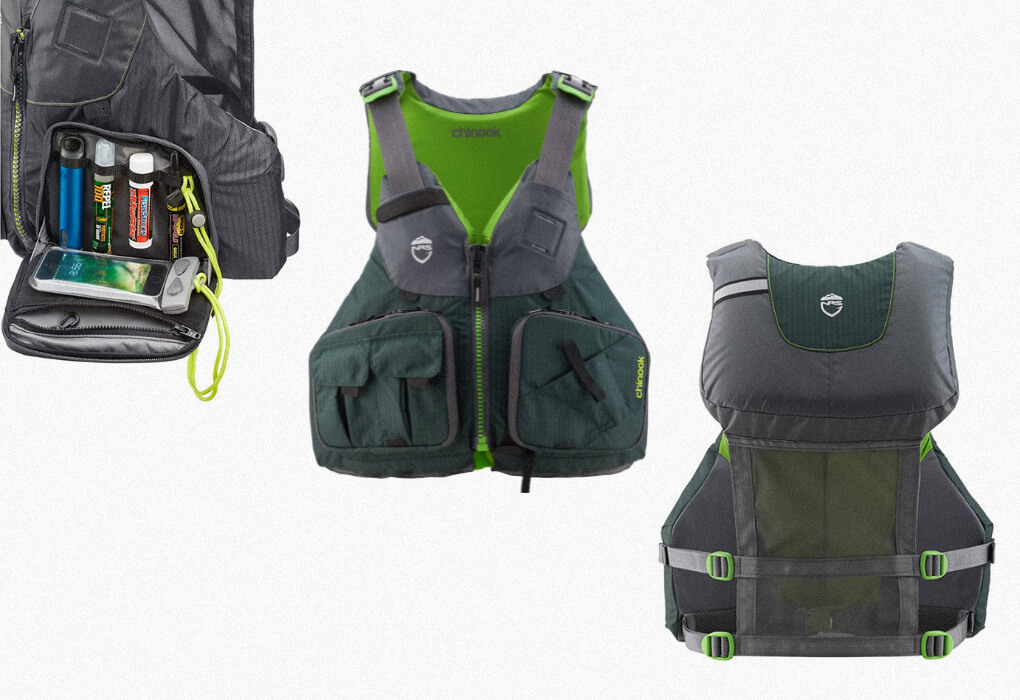 Specs
1.81 pounds
Multiple sizes
400-denier ripstop nylon
Multiple adjustment points
USCG-approved Type III
Why We Chose It
Guys, you won't find a better kayak fishing PFD; than the NRS Chinook fishing PFD; believe me, I've tried!
It's so lightweight I barely notice when I'm wearing it, whether I'm sitting or standing, and its top-notch design means the pockets are situated perfectly to reach any of the gear you store there.
Ladies, I didn't forget about you either; the NRS Shenook is the best women's kayak fishing PFD and should be your choice since it's designed to better fit the female torso.
It has all the benefits and functionality of the Chinook, so you can paddle and cast easily. You're also less likely to sweat while wearing it, unlike other life jackets that are very restrictive and don't breathe.
NRS has been a leader in the paddling and watersports world for years, so you know you're getting high-quality gear when you buy an NRS product, especially their life jackets.
I love that the Chinook and Shenook are lightweight because if you're like me, you'll load your PFD with tools and gear you have no other place for, so starting with a lightweight PFD is the best way to go unless you enjoy carrying a weighted vest all day.
I've grown fond of the large pockets because they're big enough for small tackle boxes and easy to access, so I don't fumble around awkwardly trying to get my tools or phone out. At least it's not the PFD's fault when I do!
As a smaller person, I also love the adjustability and high-back design. The adjustability ensures I find a comfortable and secure fit whether I'm in a T-shirt or a heavy winter coat.
At the same time, the high-back foam doesn't force me to uncomfortably lean forward the entire time I'm sitting in my kayak.
With all the adjustments the Shenook has, lady kayak anglers can make the PFD fit them instead of trying to fit into the life vest.
However, as much as I love this life jacket, it's not perfect.
I had to spend over $150 on this life jacket when I bought it, much like the Old Town Lure Angler PFD, and the Shenook is only slightly less costly.
But safety is the area you should splurge when kayak fishing. The NRS Chinook / Shenook seems expensive for a life jacket, but it's not the most expensive I've seen.
If price is a big concern, you might consider checking out the Tournament Fishing Mesh Life Jacket because it's much cheaper but still has some of the same benefits as the NRS Shenook/ Chinook.
I've also noticed the butt of my rod gets caught in the life jacket from time to time. Because the pockets stick out. I haven't missed any fish because of it, but I could see it being a bigger problem if I was using a sit-in fishing kayak.
Despite the minor flaws, the NRS Chinook & NRS Shenook are the best kayak fishing PFDs on the market because they're lightweight, comfortable, and, most importantly, keep you safe.
I know you can trust your life to the NRS Chinook because I do every time I'm on the water kayak fishing. What are you waiting for? Go ahead and order one today!
If you need further convincing, check the video by professional kayak angler Chad Hoover below.
In the video above, I discuss the things I like and don't like about my NRS Chinook life jacket.
BEST KAYAK LIFE JACKET FOR PADDLING
Ascend Paddling Fishing Life Jacket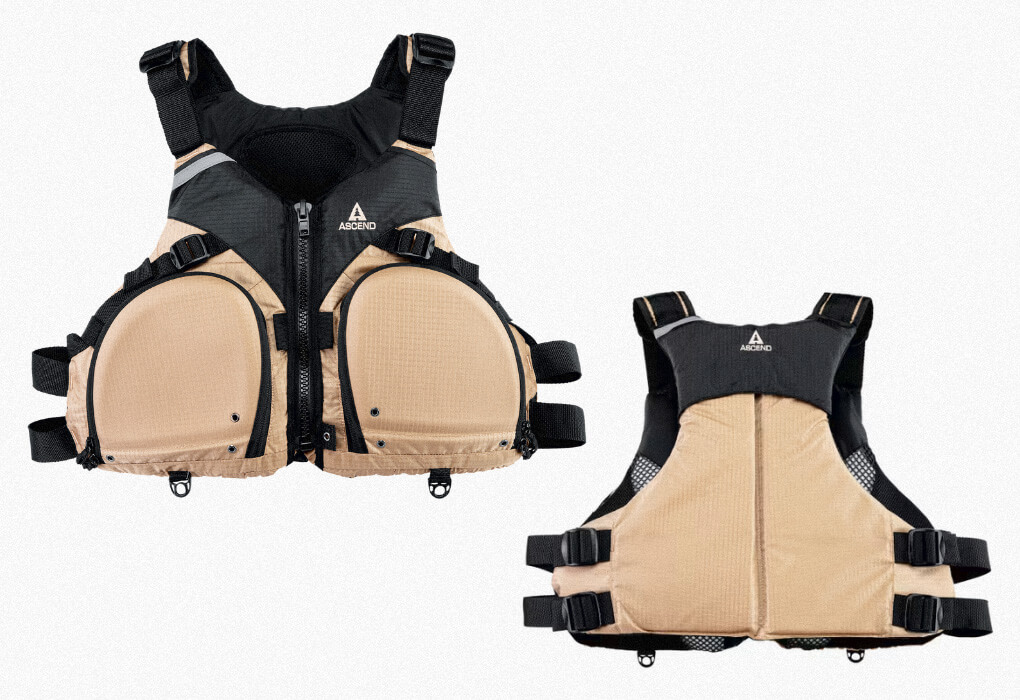 Specs
400×200-denier ripstop shell
210-denier Oxford liner
3M reflective material on the front and back
Eight adjustment points
No buckles, just a zipper
Why We Chose It
The Ascend Paddling and Fishing Life Jacket is an excellent Personal Flotation Device because it's durable, inexpensive, designed for paddling, and keeps you extra safe.
The Ascend Paddling Life Jacket is protected by a durable 400×200-denier ripstop nylon outer shell, so as long as you're not poking holes in it with hooks, it should last you for a lifetime. This means you can spend your money on new rods and reels or fishing lures!
I enjoy the eight adjustment points because I'm not forced to fit into the life jacket; it will adjust to fit me, making it more comfortable and more likely that I'll wear it regularly.
It also makes paddling so much easier when you're not fighting or getting chafed by the life jacket.
A little detail that I love is that Ascend thought to put reflective material on the front and back of the life jacket.
Many anglers, myself included, are out before sunrise and past sunset, so having another way to alert other boaters of our presence is comforting. It's also USCG-approved Type III, like the NRS Chinook but for half the price.
I like that the front pockets fold out to become a mini-workbench much like the Onyx Kayak Fishing Life Jacket does, so I'm not messing with hooks in my lap, where they always seem to get tangled in my pants.
Even though this is a solid life jacket, it has some room for improvement, such as the lower back padding.
While I know firsthand that kayak fishing with a life jacket that has lower back padding isn't the end of the world, it's just not as comfortable.
It makes me sweat more and lean forward awkwardly when I sit, which wears me out much faster.
Knowing this single con, the Ascend Paddling Fishing Life Jacket is for anglers and paddlers who are not comfortable spending so much money on a life jacket but still want the performance of a high-quality PFD.
If that sounds like you, don't be shy; pick one up today!
BEST INFLATABLE KAYAK FISHING LIFE VEST
Bass Pro Shops AM33 Auto/Manual Inflatable Life Vest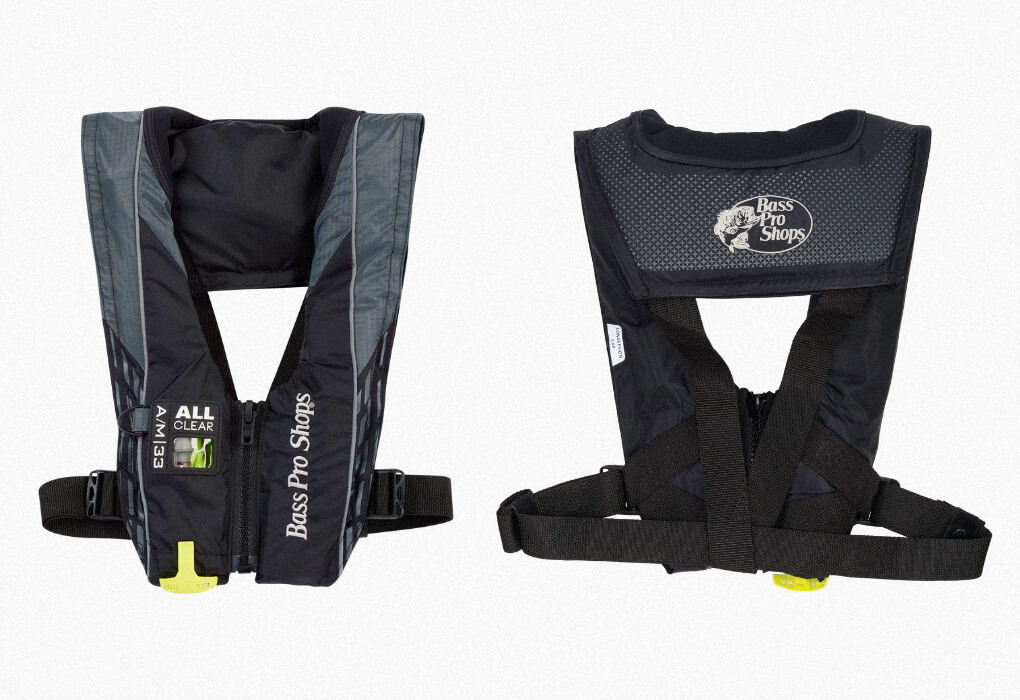 Specs
Why We Chose It
The Bass Pro Shops AM33 All-Clear Auto/Manual Deluxe Inflatable Life Vest is a go-to for many tournament anglers because it's unintrusive, more comfortable to wear for a long time, and doesn't interfere with paddling or casting.
I think inflatable life jackets are great because they aren't as bulky as traditional life jackets.
The AM33 is lightweight, and if you need it in an emergency, it will automatically fill up with air when submerged, or you can manually pull the pin to inflate it.
While it might look similar to a Kent Type II Life Vest, this type of PFD has a much better fit, is safer, and is adjustable for adults with a 30"- 65" chest.
As much as inflatable PFDs are loved, there are still some downsides to wearing one while on a kayak, such as how expensive they are.
Whether you get the AM33, AM24, or Mustang Survival with HIT, they all cost over $100 and, in some cases, more than double.
Yes, I said not to skimp on safety earlier, and I still stand by that; however, the difference here is that once it's been used, you have to purchase a $30+ rearming kit.
So this life jacket will cost you money for years, whereas a traditional PFD is a one-and-done purchase.
I only recommend the Bass Pro Shops AM33 Auto/Manual Deluxe Inflatable Life Vest for strong swimmers and kayak anglers who rarely get wet.
If you're prone to getting wet, then I highly recommend purchasing a different life jacket.
However, if you stay dry more often than not and want a life jacket you forget you're wearing; then it's perfectly fine for you to click that link and buy an AM33 Deluxe Inflatable PFD; in fact, it's encouraged.
BEST BREATHABLE KAYAK FISHING PFD
Astral V-Eight Fisher Life Jacket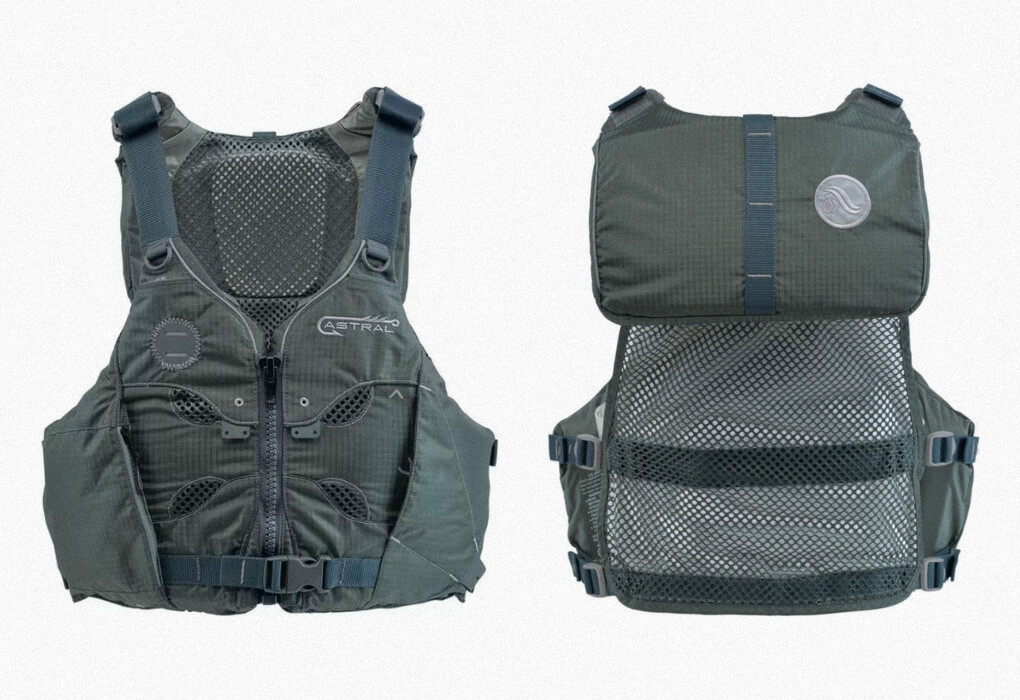 Specs
400-denier x 200-denier ripstop nylon shell
Breathable polyester mesh liner
PE and EVA foam insert
Polypro webbing
USCG-approved Type III PFD
Why We Chose It
The Astral V-Eight Fisher Life Jacket is stuffed with Polyethylene (PE) and Ethylene-Vinyl Acetate Copolymer (EVA) Foam which keeps it lightweight and ridiculously comfortable, while the patented Airescape Technology and breathable polyester mesh liner keep you cool as a cucumber.
I have yet to find a more breathable life jacket (that's not an inflatable), yet. It's perfect for kayak fishing on hot summer days. I didn't sweat nearly as much as I expected to while wearing it.
I try to be a minimalist when kayak fishing, so having a life jacket that helps me achieve this is awesome.
The minimalist design leaves enough room for the essentials without making the PFD so bulky it gets in the way while fishing.
If you want a little more storage, the Astral Sturgeon Life Vest is another minimalistic PFD. It has a large front pocket with lots of space, but I think it kinda makes you look pregnant while you're wearing it…
Another great thing about the Astral V-Eight is whether I was bone dry or just climbed out of the water, it was easy to take on and off because of the front zipper and buckle.
Which is great for float trips or days you feel like taking a quick swim when the fish aren't biting.
I appreciate the quality of materials used to make this life jacket. The 400-denier x 200-denier ripstop nylon shell ensures you can toss it around and not worry about it getting caught on something and ripping.
This life jacket is sure to last you until the next ice age!
However, this life jacket isn't the greatest ever because of a couple of cons. I think the biggest downside is the lack of adjustability.
Yes, you can purchase a specific size, but you'll have to return it if you get the wrong one instead of tightening or loosening a couple of adjustment straps. This also means it's more difficult to share.
The other con is that it's expensive, now it's no more expensive than the NRS Chinook, but it's also not as adjustable as the Chinook, but it is just as safe.
Even with the cons, the Astral V-Eight Fisher Life Jacket is a breathable fishing kayak PFD that is sure to make your summer fishing a tad cooler while keeping you as safe as possible.
BEST KAYAK FISHING LIFE JACKET ON A BUDGET
Bass Pro Shops Basic Mesh Fishing Life Jacket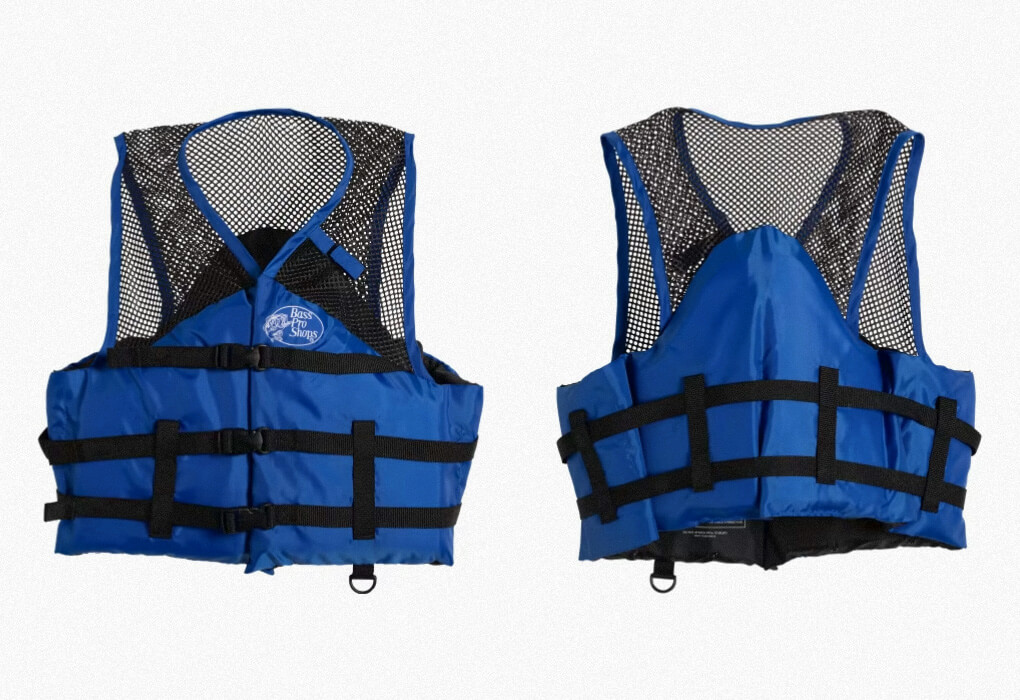 Specs
US Coast Guard approved
PE foam for buoyancy
Two 1″ belts and quick-release buckles
Mesh shoulder and back
Why We Chose It
The Bass Pro Shops Basic Mesh Fishing Life Jacket is ridiculously affordable compared to the others on the list, so this is the life jacket for you if you're on a tight budget.
On top of being inexpensive, it's lightweight, so you won't feel like you're wearing a weighted vest all day, while the mesh shoulders and back help keep you cool on hot days.
It's also USCG-approved, so you can feel safe while wearing it.
They keep it lightweight with PE foam, which goes all the way around the vest. The adjustment straps and buckles hold the foam close to your body and ensure it doesn't slip on when you're in the water.
The Fishing Life Vest for Kids is very similar, and if you have a little one that loves to be like mom and dad, you could get these two life jackets to match and get the same benefits from both for less than the cost of other PFDs on this list.
Because this is a budget option, it leaves kayak anglers wanting. For example, even though I'm a minimalist, I still like pockets to hold the gear I use the most, such as pliers, Line-Cutterz, and my phone.
This life jacket doesn't do that, though it does have a small strap to hold your pole while you're unhooking a fish.
The other feature I think is a downside is the foam on the lower back portion of the PFD. As I've mentioned, this makes sitting for a while uncomfortable, and kayak fishing requires a lot of sitting.
Despite the cons, the Bass Pro Shops Basic Mesh Fishing Life Jacket is an excellent budget-friendly option for kayak fishing because it's lightweight, safe, and comfortable.
Disclaimer: I didn't choose one of the cheapest options, the Kent Type II Life Vest, because there are many better PFDs out there.
However, a cheap life jacket is better than no life jacket, so if it's all you can afford, I'd much rather you wear it than not wear a life vest.
Buyer's Guide: Factors to Consider Before Buying The Best Kayak Fishing Life Vest
I recommend wearing your life jacket the entire time you are on the water in your kayak, so with that in mind, several considerations must be front of mind when purchasing the best kayak life jacket:
Comfort
Breathability
Does it restrict your movement?
Safety
And storage pockets
Comfort
You'll be wearing the PFD all day, so you want it to be a comfortable fit. This includes keeping you seated comfortably.
Some life jackets aren't designed for kayaks and will cause you to sit hunched over, making it difficult to paddle and fish.
Others will rub your arms as you paddle and cast, making for a miserably long day.
If you're not comfortable while you're on the water, chances are you won't enjoy your time, so choosing a comfortable PFD is an essential part of having a great day of kayak fishing.
If you think, "I'll just put it on when I need it." chances are, that's not going to be the case.
Accidents happen in a split second, and it's doubtful you will have the time to react quickly enough to put your life jacket on before you need it.
Breathability
This goes along with the comfort of a life jacket. Manufacturers use mesh back to help make a PFD as breathable as possible.
We use life jackets most often during the summer when it's scorching hot outside, and no one likes wearing a vest that's only going to amplify the heat.
So I recommend purchasing a life jacket that breaths well because it has a lot of mesh or openings, so it doesn't trap the heat and make you hotter.
Does it Restrict Your Freedom Of Movement?
PFDs designed for kayak fishing shouldn't restrict your natural movements. However, other styles of life jackets will interfere with your paddle stroke or cast.
That's why it's important to purchase a paddling/fishing-specific PFD.
If you feel like you're buddled up and unable to move, then kayak fishing won't be as fun as it should.
This is where inflatable life jackets are great, but you must keep them from getting wet and dissolve the plug so they auto-inflate.
Safety
If you have only to go off one factor, make it this one. It's pointless to wear a life jacket that doesn't keep you safe.
The reason you should wear one is to keep you safe, so buy one that you're not only comfortable in but is also safe.
A good life jacket is certified by the US Coast Guard. If a PFD is certified, there will be a sticker or tag stating it somewhere on the life jacket.
More than likely, it will also be in their advertisement so you can know before you purchase it if it's USCG certified.
Pockets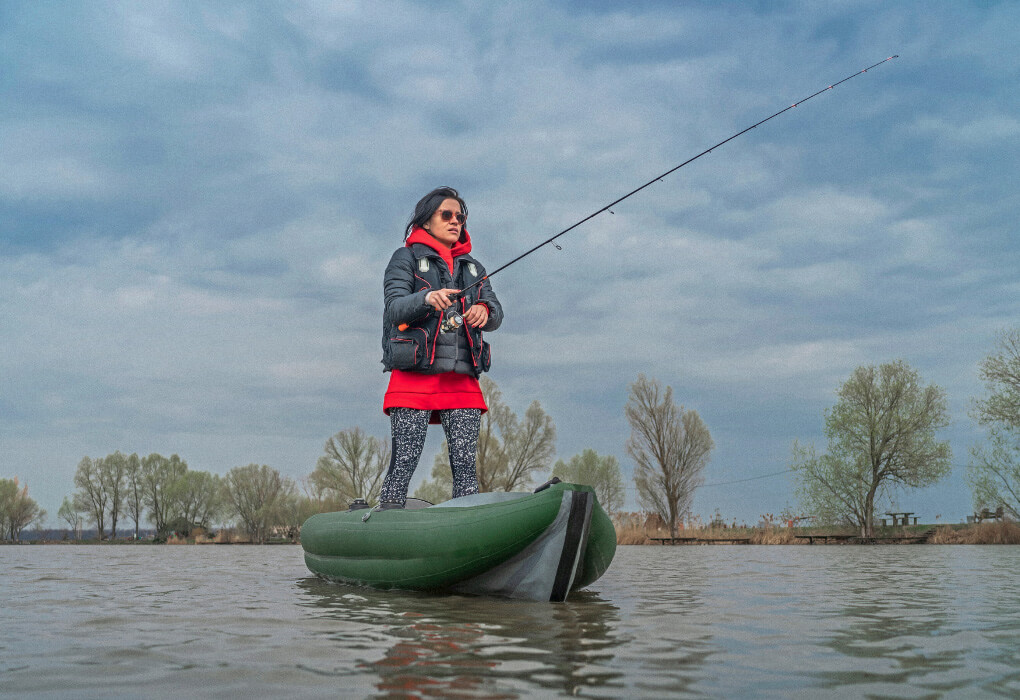 A good kayak fishing personal floatation device will have zippered pockets. Storage space is limited in a kayak, so making the most of every opportunity for space is important.
Only fill the large pockets with fishing gear you need, like pliers, small tackle boxes for lures, or a knife, so they keep a low profile.
Don't forget to leave room for your phone! Keeping your phone in your life jacket pocket might not keep it from getting wet, but it won't sink to the bottom of the lake, either!
I really like the Stohlquist Fisherman PFD for it's pocket design and D-rings.
Kayak Fishing Items You'll Also Need
If you're interested in the best kayak fishing PFD, then you'll need a few other items; more than likely, you have at least a couple of these already.
Fishing Kayak
Kayaks have become specialized for fishing. Many excellent fishing kayaks make fishing from a kayak so much easier.
Most fishing kayaks have built-in rod holders and are a little wider, so they're more stable than recreational kayaks.
I love my fishing kayak and use it more than my Bass Tracker.
Kayak Paddle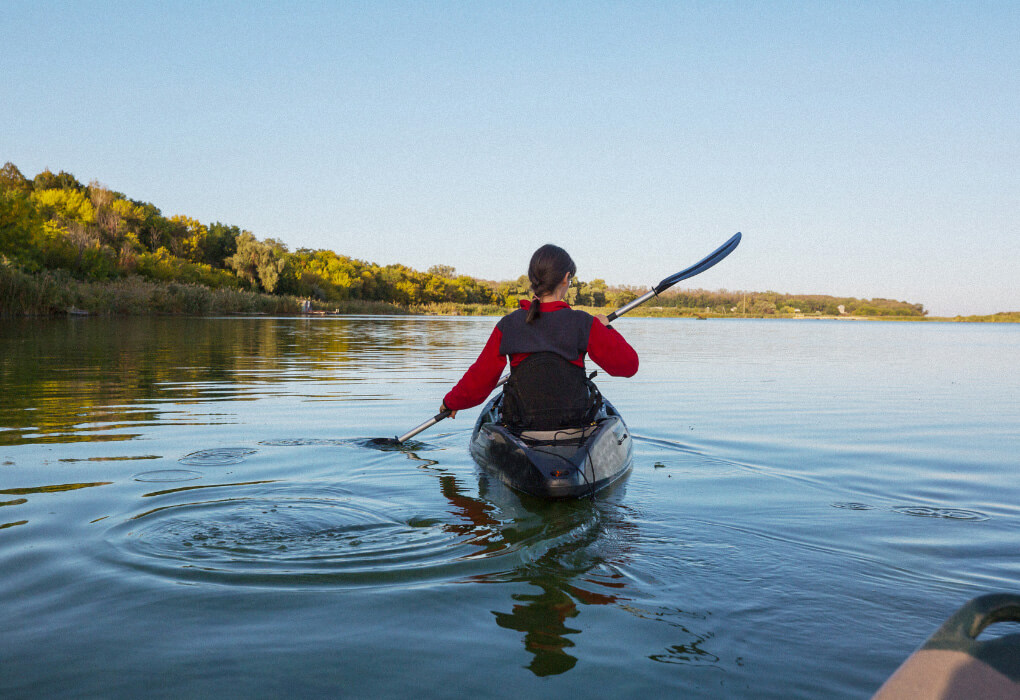 The best kayak fishing paddle will go a long way in how well you paddle.
A short paddle will cause you to shorten your stroke, so you won't get as much power, while too long of a paddle is cumbersome and makes paddling efficiently difficult.
Fishing Rod And Reel
You need a rod and reel to go fishing!
There are few rods designed for kayaks, but I have begun to see a couple of manufacturers see the value in specialized kayak fishing rods, especially for catfishing.
I use the same rods when I fish from the bank or a bass boat while fishing from my kayak.
Kayak Fishing Tackle Box
After using many different tackle boxes for kayak fishing, I've found compact boxes are best because they take up less space yet hold everything you need while on the water.
You can read my kayak tackle box round-up to learn what I use and why I've chosen to use them.
Frequently Asked Questions
Do you need a life jacket for kayak fishing?
Yes, you need a life jacket for kayak fishing. It's an essential part of kayak fishing safety!
What kind of life vest is best for kayak fishing?
The kind of life vest best for kayak fishing is one that's designed for paddling and fishing. These PFDs have accessory pockets, mesh or thin adjustable shoulder straps, and a high-back foam.
Are inflatable PFDs good for kayaking?
Yes, inflatable PFDs are good for kayaking in most instances. However, if you're whitewater kayaking, they are a terrible choice.
The best life jackets are kayak-specific like the NRS Chinook over an inflatable one.
Last Cast
PFDs are the single most important kayak fishing accessory you will buy. That's why I believe we shouldn't skimp when buying a PFD.
My top pick is the NRS Chinook. It's hands down the best kayak fishing PFD on the market. If you buy it, you won't be disappointed. The same rings true for the NRS Shenook, designed for women.
Remember you have to wear it for it to work!
As I said in my kayak fishing tips and tricks article, "Always wear a PFD while kayak fishing!" Be sure to let me know in the comments what life jacket you prefer while kayak fishing!