Last Updated on January 10, 2023
We independently research, test, and recommend the best products; you can learn more about our review process here.
Choosing the best Garmin fish finder isn't easy. There are so many incredible options and each of them only has slight differences that make one unique from the other.
I've used all of these fish finders and I've owned many of them as well. The Garmin Echomap UHD is the only one I still use regularly and it's the best Garmin fishfinder EVER if you ask me.
We recently had someone reach out via email and ask us:
"What is the best Garmin fish finder"?
I couldn't wait to put this together because in this review, I break down every single unit in extreme detail. No BS, straight answers, and honest opinions is all you'll get out of me.
Grab a coffee and dive right in.
---
Best Garmin Fish Finder Overall
Garmin Echomap UHD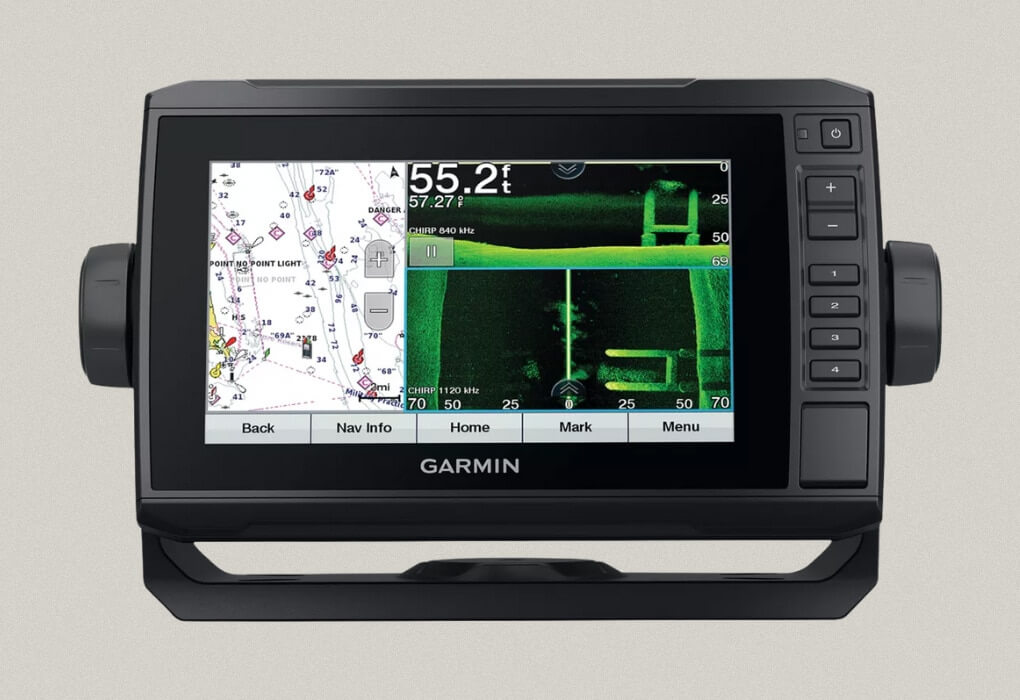 Pros:
LakeVu and ClearVu allows anglers of all types and styles to utilize this unit

Versatile options increase affordability

Reliable performance keeps you on the water

Touchscreen and keypad user interface provide options
Cons:
Features may be too premium for the weekend warrior

Some units are large and could require mounting
Model Breakdown
The Garmin Echomap UHD is really the cream of the crop when it comes to fish finders in general. I've reviewed probably 100 fish finders and I've tested at least 50 of them and this one of the best units I've ever used.
There are a number of options to choose from starting with the Echomap Plus 43. This is a small 4.3-inch screen that comes with a keypad.
The main thing I like about this unit is that it opens up the budget for those that can't afford to drop $1,000 on a fish finder while still giving you all the awesome features you want.
It still comes with lakevu, clearvu, and chirp imaging which is seen across all the units regardless of their size.
Of course, you might have a hard time seeing it on a small screen, but if you're all about the budget, then they're all about giving you a unit that works.
If we step up to the UHD 64cv, this is a saltwater unit that comes with BLuechart G3 which is an offshore mapping technology that includes thousands of maps of inshore canals, offshore coastlines, and various areas throughout the Gulf of Mexico.
Do you charter boats, fish inshore canals, or dredge around the swamps? If so, this is the unit you're looking for.
We'll end on the Echomap UHD 73sv because I think this is the model that appeals to most freshwater anglers.
It comes with Lakevu HD which is freshwater mapping containing thousands preloaded maps throughout the United States.
You can chart your location, document where you caught certain fish, and do all of this on a 7-inch touchscreen.
Here's a review we did of the unit if you'd like more information on one of Garmin's most popular units:
Features
Here's a quick breakdown of all the features you'll find in various Garmin Echomap models:
Sonar
Any of the models that have "cv" after the name are clearvu sonar. These are photographic images that allow you to see structure, vegetation, fish, and other obstructions.
It's more of your standard offering that you'd expect out of a fish finder like this.
Sidevu is present in any of the units that have "sv" after their name. This is side-scanning sonar that combines traditional sonar with structure scan.
Putting these two together offers you a birds-eye view of structures that may be around the boat when you're near the shoreline.
This is one of my favorite features because it allows me to see what is going on in areas where I might not be able to get with my boat.
Think about it this way, we don't cast where our boat is, we cast where the fish are. Sidevu will help you learn more about what's going on around the boat rather than right beneath it.
Mapping
Worldwide basemap, Bluechart, and Lakevu are all options available in various Echomap models. The model you choose will determine what you get.
Generally, it looks like Garmin offers every single model in either a Bluechart or Lakevu. This is an important distinction to make sure you get the right model.
Bluechart is for inshore and offshore saltwater fishing. It only has maps that are along the coastline. If you live in Missouri, you won't want that.
Lakevu is for freshwater fishing only and essentially does the opposite. If you're fishing South Florida, you won't want that.
They all come with Worldwide Basemap which is Garmin's GPS system. The only downside is that you can't chart on it so you'll have to use Lakevu or Bluechart for that.
Who is the Echomap UHD for?
The Echomap UHD is for the angler who wants a premium fish finder they can grow into. It's one of the newer models on this list so the technology is still growing and expanding.
It's also the only model offering such advanced mapping technology. If you travel and fish a lot, this is the fish finder you want.
Models:
Best Basic Garmin Fish Finder
Garmin Striker 4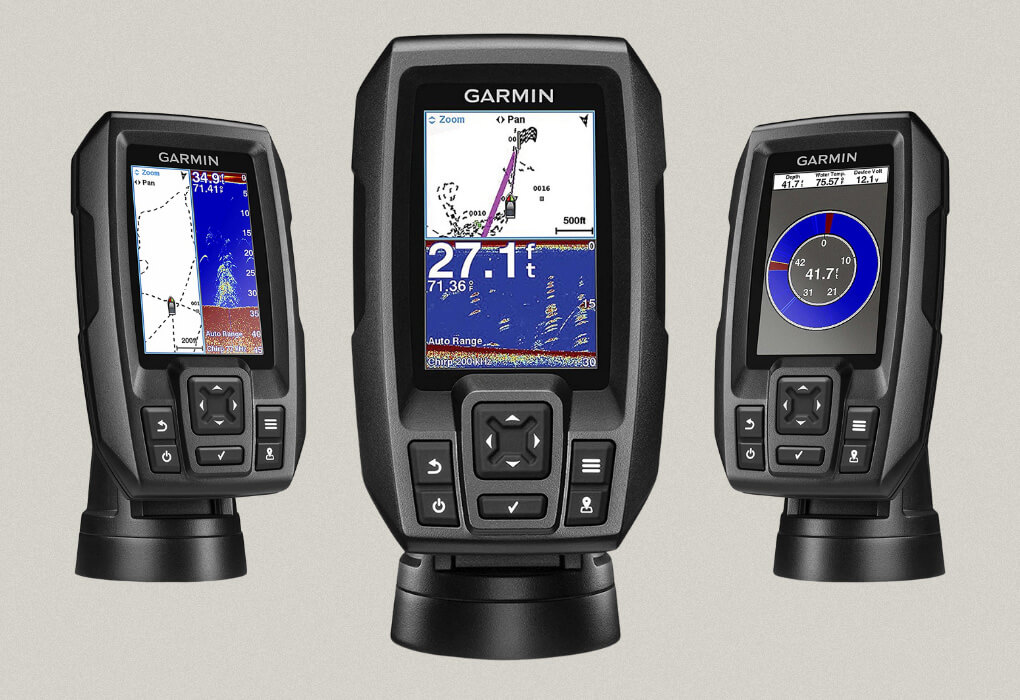 Pros:
Best budget unit

Easy to figure out for those not as tech-savvy

Portable, easy to mount on small boats
Cons:
Lacking premium features

Requires extra purchase for maps

Model Breakdown
The Garmin Striker 4 is the epitome of portable affordable fish finders and has been for quite some time.
Next to the Humminbird Helix 5, I can't think of another more popular fish finder of this price range and screen size.
The Striker 4 comes in a few different models with a traditional chirp option, the Striker Plus with dual beam sonar, and a portable kit that comes with a cover for ice fishing.
Traditional chirp is the only feature of the original Striker 4 and it offers your typical photographic sonar on a small screen using fish arches to determine where fish are located and infrared sensors to help you figure out their size.
If you step up to the Dual Beam sonar unit you get a dual-beam variable high-frequency sonar which allows you to adjust the transducer based on the where you're fishing.
For example, if you're fishing shallow water, you'll want to use a wide beam sonar because you don't need to see at extreme depths but instead, would rather spread the sonar out wide to get a good look at everything.
Lastly, the portable kit unit is the same as the rest but comes with a cover and carrying case that you can use for ice fishing. The Striker 4 is also a great ice fishing fish finder.
Features
The features are somewhat limited on this unit simply because of how affordable and basic it is. That said, here are some of the main features you'll want to know about before purchasing a Garmin Striker 4:
Variable Modes
We talked about this a little but there are a few different modes built into the Striker 4 and you can hop between them as you're fishing.
The first is traditional mode which is your standard sonar with fish arches like you're used to. This is available in all the models.
Next is actually an ice fishing flasher mode which is a great feature for those who plan to go ice fishing using this unit.
There's also a waypoint map feature which allows you to chart spots along the way and document where you've been, how fast you're going, and what time you'll arrive at your destination.
It uses proprietary Garmin technology to do this.
Lastly, the Striker 4 has an ultra scroll feature which allows you to scan the water even if you're moving at high speeds. Not a lot of fish finders can do this so it's impressive to find this on one that's so affordable.
Although, it's not always that accurate.
Simple Display
Not everyone wants a fancy fish finder with all kinds of features on it, I get that. Sometimes, reverting back to a simple unit that does nothing more than show you where fish are is the way to go.
That's what you'll get with the Garmin Striker 4. It works, it's reliable, and it's pretty darn accurate using Garmin's technology.
This unit has been around for a long time and it's made plenty of anglers happy over the years.
Budget-Friendly
You can get the Garmin Striker 4 for a fraction of the cost of the Echomap or many of the other options discussed in this guide.
It's less than $200 for a fish finder which fits into a lot of budgets and makes sense for people who don't fish that much.
If you're only going out on the water once a month, why drop $1,000 on a fish finder? Get something more affordable that still gets the job done!
Who is the Garmin Striker 4 for?
I've probably said it already but the Striker 4 is for weekend warriors that don't go fishing too much or simply don't have the money to spend it all on a fish finder.
This unit gets the job done, it does plenty for most people, and it's accurate enough to show you where the fish are.
The Striker series is also a great beginner choice if you're introducing someone to fish finders.
If you want to get your kid their own fish finder for a gift, this is a great option to get them started without having to invest too much.
Models:
Garmin Striker 4 Plus Dual Beam
Best Garmin Fish Finder GPS Combo
Garmin Striker Plus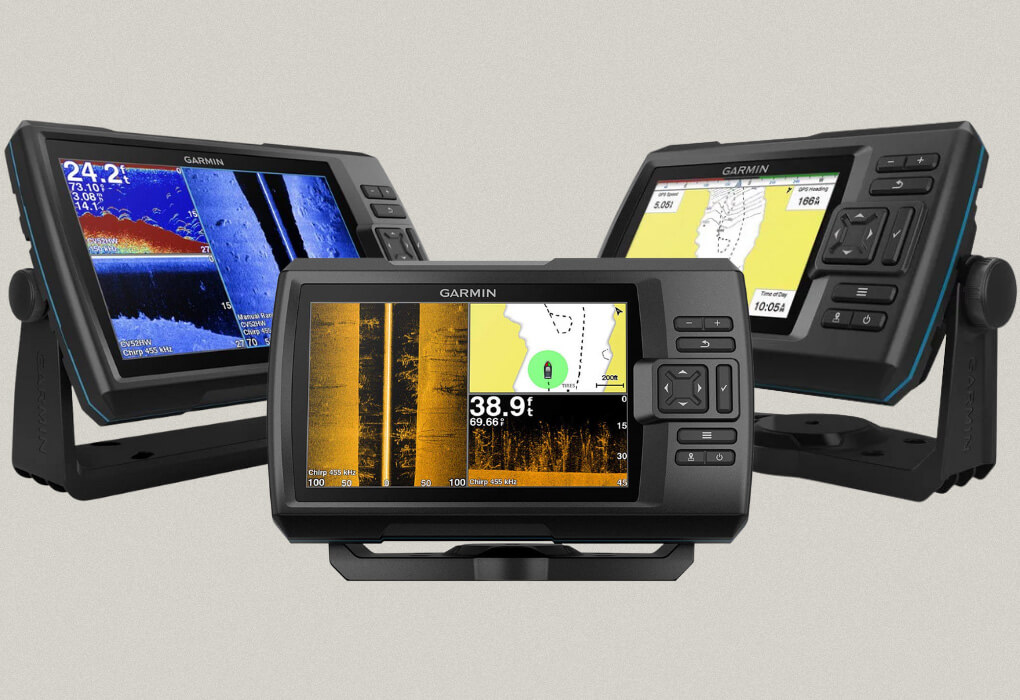 Pros:
Great mid-range unit pairing affordability and features

Quickdraw contour feature for enhanced mapping software

Garmin's proprietary GPS features
Cons:
Lacking any standout features

Not as good as the Echomap but not as cheap as the Striker
Model Breakdown
This is what I would call a "gray area" fish finder because it's not that different from the original Striker models but it's not nearly as loaded with features as the Echomap.
That said, the Striker Plus offers two primary models with a number of options that have been discontinued.
You might be able to find different sizes and mapping options out there, but these are the only two we were able to come up with.
The 5cv comes with a five-inch screen, built-in GPS, and traditional chirp sonar. It also features Clearvu scanning which we've talked about but basically just means it has an updated and enhanced chirp sonar technology.
The 9sv on the other hand is about double the size with a nine-inch screen and double the price with Sidevu sonar.
This is one of my favorite features because it allows you to see what's happening on the sides of the boat and I think it's a worthwhile investment if you plan on purchasing a fish finder you can grow into.
Features
Here are some of my favorite features you'll get with the purchase of a Garmin Striker Plus:
Variable Sonar
As stated, Clearvu and Sidevu are two of the options available in the Garmin Striker Plus.
I've talked about them enough at this point that I think you should get what each of them do but let's preach one more time for those in the back.
The Clearvu is an enhanced imaging chirp sonar that provides better quality pictures and a more accurate reading of what's happening beneath the boat.
The Sidevu is like Lowrance Structure Scan in the Hook Reveal and it allows you to scan out on the side of your boat as you're trolling the shoreline to see what's going on closer to shore.
Quickdraw Contour
My Garmin fishfinder GPS combo reviews wouldn't be complete without the Quickdraw feature that is exclusive to Garmin technology.
It features one-inch contours meaning that you'll be able to see differences in target separation and structure as small as one inch.
The built-in GPS that goes along with it allows you to mark waypoints, create routes, and check your speed as you're going along.
This is great if you're a frequent angler that likes to document experiences out on the water and make notes of where you want to go next time.
Quickdraw also gives you access to their community data that you can pull up directly on the screen.
So, you'll want to check the data every time you go out to see if anyone who fished there before you has anything to say or any pointers to provide.
Who is the Striker Plus for?
I think the Striker Plus is for indecisive people who can't decide between the Striker and the Echomap because it combines elements of both without doing either one perfectly.
The Striker is obviously your cheaper option and the Echomap is your premium choice. If I were you, I'd pick a side. If you can't pick a side, go with the Striker Plus.
Models:
Best Garmin Imaging Technology
Garmin Striker Vivid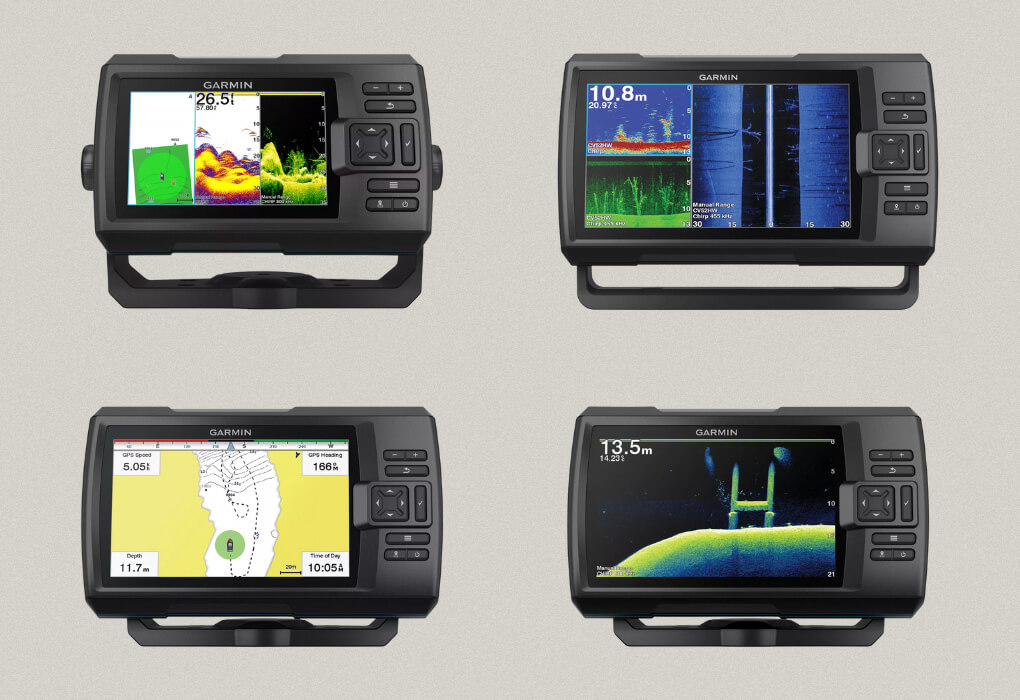 Pros:
Enhanced color palettes and high-definition imaging to make seeing fish easier

Built-in GPS for navigation

Access to Quickdraw Contour mapping and community
Cons:
Lacking anything truly unique
Model Breakdown
The Garmin Striker Vivid comes in a number of models ranging from five-inch to nine-inch screen. Many of the models allow you to choose between Sidevu and Clearvu technology as well.
As I mentioned in the pros and cons section above, it's a little frustrating to see how little differences there are between some of these models.
I mean, an enhanced color display is great and all, but how much of a difference does that actually make on your fishing experience?
Are you going to sit out on the boat and jump for joy over the fact that the green on your fish finder is greener than it is on the Striker 4 when you paid $500 more for the same unit?
I don't think I would. I think I'd be a little P.O'd.
That's about it folks, there's nothing different about the Vivid besides the fact that the colors are brighter which should make it easier to identify fishing opportunities but it just feels like they could have done a little more.
I call the Vivid the "best Garmin imaging technology" because it is, but it's a bit lackluster all-in-all.
Features
Let's take a look at some of the features that could possibly make purchasing this unit worth it for you.
High Contrast Colors
As I've said, the high contrast color palette is the main feature that makes this unit different from the rest.
Garmin does a nice job of talking it up when in reality, it doesn't make much of a difference at all and when you compare the imaging to the Echomap, it's actually the same for the same price.
But, the Echomap offers industry-leading mapping technology and variable sonar.
Mapping and GPS
You still get the Quickdraw contour mapping, waypoint charting, plotting, route building, and boat speed checking.
This unit is also compatible with the ActiveCaptain app but it requires additional purchases and we're not even sure if it's still up to date on the Vivid so it might not even be worth bothering.
Who is the Garmin Striker Vivid for?
Part of the reason why I do these Garmin fish finder reviews is so I can be honest about what I really think. I didn't hold anything back in this and I'm not holding back now.
Don't buy this one and let me tell you why.
The Striker Vivid 9sv for example is around $600-700 right now. You get a nine-inch screen and Sidevu which is about as premium as this unit gets.
For about $200 more, you can go out and get the Echomap 73sv and get a dramatically better fish finder that you'll be able to keep for a long time.
If you can spare the cost, I highly recommend it.
Models:
Best Garmin Transducer
Garmin Panoptix Livescope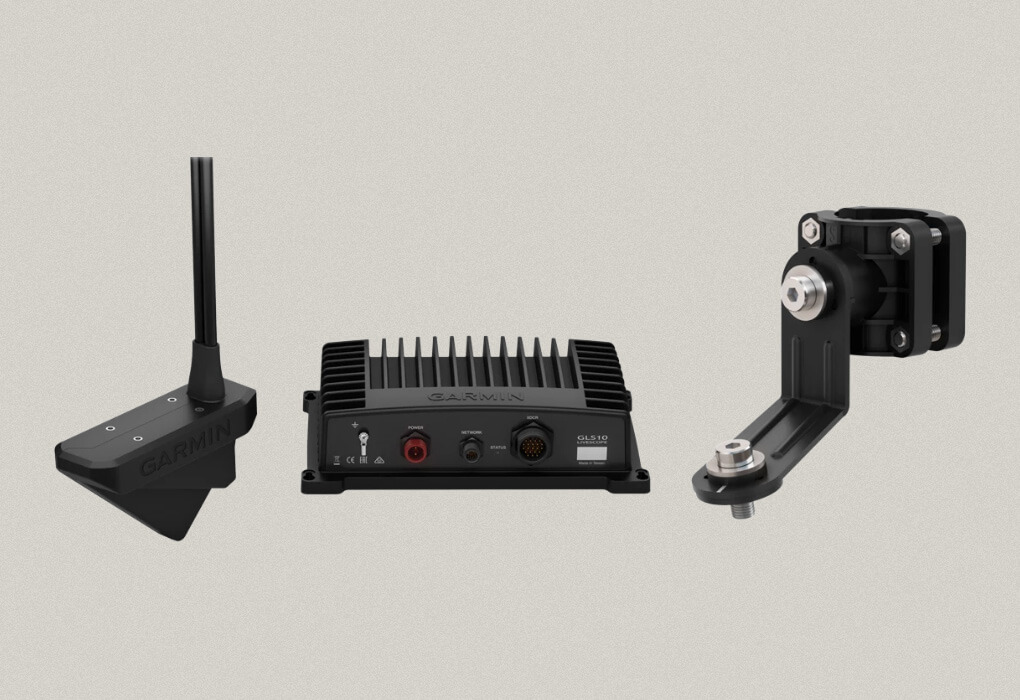 Pros:
Top-of-the-line imaging technology only available with Garmin

Loaded with futuristic features to make fishing more fun

Combines elements of all the other units in one
Cons:
Limited to certain models

This might be the best Garmin fish finder component without being a fish finder at all. The Panoptix Livescope is a transducer that requires you to have an existing Garmin unit.
It's only compatible with the Echomap, Echomap Plus, and GPSMap units so you'll need to already have a premium Garmin fish finder to pair it up with this transducer.
Features
That said, it offers a ton of amazing features, let's talk about it:
Live Imaging
The first and most prominent reason people go out and buy this is for the live imaging feature. It'll turn your Garmin into a Lowrance Elite FS or HDS Live once you install it.
The way most fish finders work is on a delay. The images that you see are just an image in time based on what was happening a few seconds ago.
It's a snapshot and not an actual video even though it looks like everything is moving in real-time.
With the Livescope, it is actually moving in real-time. You're seeing an actual video of structure, fish, and your bait moving beneath the surface.
This allows you to react to a strike as soon as you see a fish rolling up on your lure.
Three Modes
The modes included in the Livescope are similar to what we've seen in the rest of the reviews with the addition of a perspective mode.
The perspective mode requires an additional purchase of a trolling motor mount that changes the game entirely.
Now not only can you see everything happening beneath the boat in live action, you can see everything happening in the direction you're casting as well.
Think of it like combining sidevu, structure scan, and real-time live imaging in one.
This is one of the most advanced fish-finding technologies on the market today.
Great Range
The Livescope has a range of 200 feet but I would expect the quality of the imaging to drop dramatically after 100 feet.
You shouldn't need 200 feet but if you do, I wouldn't expect to get your hopes up and the readings will be pretty choppy especially if water visibility is poor.
Who is the Garmin Panoptix Livescope for?
First, it's important to clarify that compatibility is a factor with this unit. It DOES NOT come with a display, you need to have a compatible unit to go with it which you can find in our full Panoptix Livescope review.
This unit also isn't designed to be a "plug and play" option, it's better that someone with experience purchases this.
If you know how to mount your fish finder and play around with it, you'll have better luck setting this one up.
All-in-all, this takes fish finder technology to a whole new level and if you appreciate top-notch imaging and have deep pockets, you'll want to give this one a closer look.
Models:
Best Portable Fish Finder
Garmin Striker Cast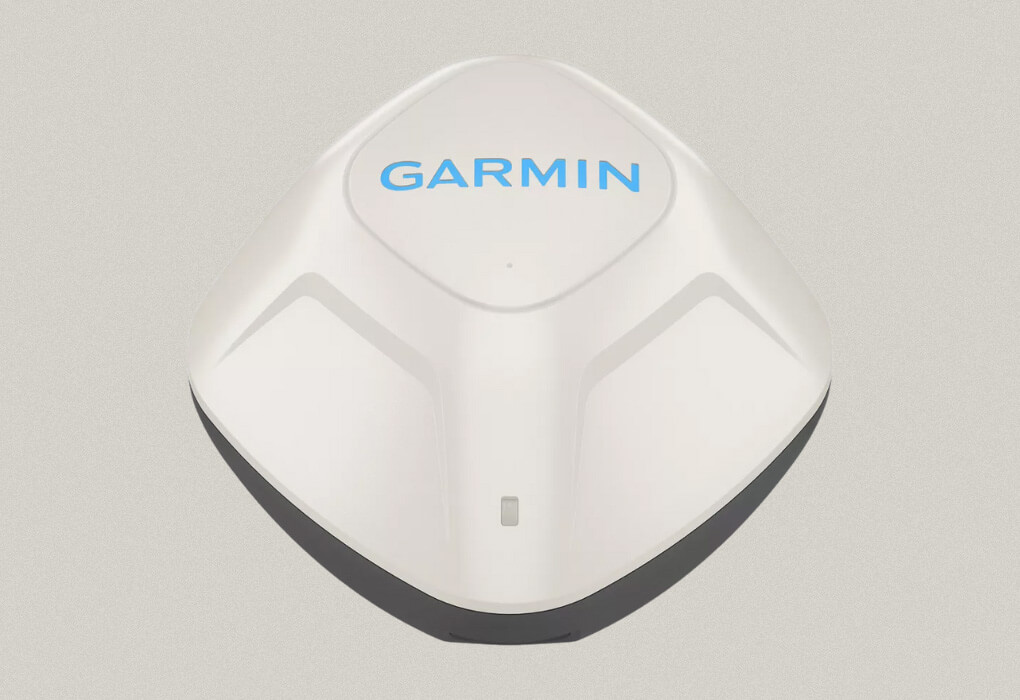 Pros:
Super simple to use for those looking to expand their technology

One-inch contours and GPS on a portable unit

Simple to connect and wire-free
Cons:
Unreliable in less than desirable conditions
First things first, this is a great castable fish finder. I'm a fan of these units because I think they provide more options for shore anglers.
I spent a lot of my time fishing from the shore and it can be tough sometimes, having the option to use technology is great.
There's only one model and it connects to your smartphone. You'll either love or hate that depending on whether or not you like using your phone.
Some of the veterans out there won't like the fact that you have to use your phone to look at your fish finder. Those who are comfortable with phone technology will approve of this.
Features
Let's talk about some of the cool features that might make you want to purchase a portable castable fish finder ike the Garmin Striker Cast:
Easy to Use App
If you can muster up the courage to use your phone as a fish finder, it's actually really easy to set up and use.
You'll connect everything through the Striker Cast app and connecting your phone to your fish finder is as simple as connecting something via Bluetooth and wi-fi.
Everything from there is about using your smartphone like you normally would. It's a touchscreen fish finder and the sonar readings take up the entire screen so the size of your phone will determine how easy it is to see.
This will drain your battery life as you can expect but the unit itself has a total battery life of 10-hours.
Sonar
Throughout this review, I've been breaking down what fish finders are disappointing and what units I think really excel.
The Striker Cast does a great job of doing what it needs to do and that's to be a simple and affordable fish finder. It's the reason why I don't complain about the Striker 4 being basic. I don't complain because it's supposed to be!
The Striker Cast is the same way.
You get variable frequency at 260 kHz and 455 kHz, chirp sonar, depth finder, and water temperature. The unit comes with a total range of 200 feet and a max depth of 150 feet.
Of course, take those measurements with a grain of salt because there's no way you'll ever accurately get readings at 200 feet away.
Mapping
Mapping and chartplotting are not even expected in my eyes for most castable fish finders but this one has a nice one-foot contour GPS feature.
It offers the Quickdraw contour community we're used to by this point and the only thing you can't do that you can do on the rest of the Garmin units is set routes but you can still map out waypoints.
As someone who has reviewed a lot of castable units, this and the Deeper Smart Sonar might be the two best units in this price range.
Who is the Striker Cast for?
The Striker Cast is for my shore anglers who might not have a boat or kayak.
It's also a great option if you don't fish that often because you don't have to transom mount anything or worry about tripping over wires.
All you need to do is cast the unit out with a secondary rod and let it do its thing.
It's important to understand that there are limitations with something like this.
Poor visibility in the water will impact your performance, rain, dense fog, and other weather factors will make it more difficult for the Cast to provide you with an accurate reading.
Nonetheless, if you're casting from the shore, you don't have too many choices. The Striker Cast is easily one of the best Garmin fish finders for shore anglers.
Models:
Final Thoughts
I really hope this Garmin fish finder comparison has helped you determine which Garmin fish finder is the right one for you.
I still stand by the fact that the Echomap UHD is one of the best fish finders on the market regardless of brand. I am a huge fan and owner of the unit as well so I truly stand by it.
If you simply can't afford it or don't believe that you need such a premium option, that's fine.
I'd go with the Striker 4 then. It gets the job done, provides you with what you need, and does so at a budget-friendly cost.
What do you think is the best Garmin fish finder? Let us know in the comments!
About Post Author