---
We independently research, test, and recommend the best products; you can learn more about our review process here.
My first ocean kayaking experience was a disaster. I was crying 30 seconds after getting into the yak. Now granted, I was only 10 years old, and I didn't know what I was doing, nor did I have the proper gear.
Thankfully, you don't have to make the same mistakes I did, and your saltwater kayak fishing experience can go much smoother than my first time.
The best experience begins with the best ocean fishing kayak, the Old Town Sportsman Big Water PDL.
It's the best because it's comfortable, absurdly stable, and very customizable, so you can form it to fit your style of fishing.
Don't worry if this ocean yak isn't for you; I've tested and offered my thoughts on many other saltwater fishing kayaks below.
Keep scrolling to see the rest of the offshore fishing kayaks!
Top 3 Ocean Fishing Kayaks
Here are three kayaks I would trust while fishing in the ocean: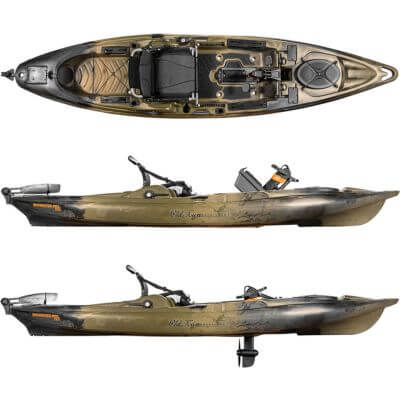 Best Overall Ocean Fishing Kayak
Old Town Sportsman Big Water PDL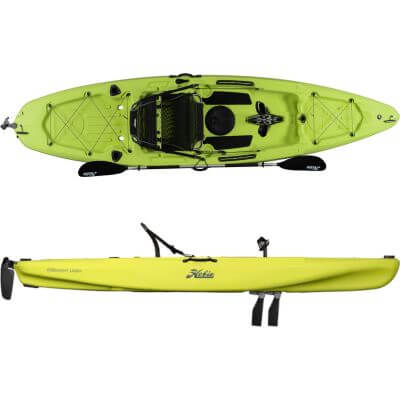 Best Sit-On-Top Ocean Kayak with Pedals
Hobie Mirage Passport 12 Sit-On-Top Kayak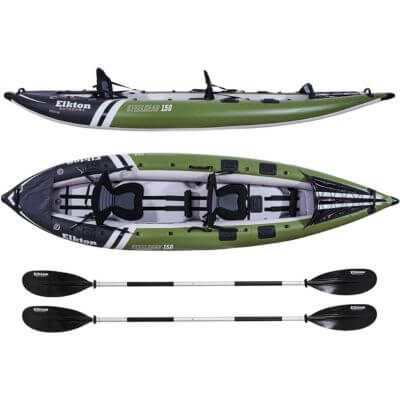 Best Inflatable Ocean Kayak for Beginners
Elkton Outdoors Steelhead Inflatable Fishing Kayak
---
Testing Procedure
While testing any kayak, especially ocean fishing kayaks, I look for several features, stability, storage options, customizability, comfortability, propulsion, handling, and transportability.
Stability: This has everything to do with safety. I've paddled and tried to fish from unstable kayaks, which was pointless. So I made sure these kayaks were stable and safe.
Storage: All fishing kayaks should have room for your tackle box, rods, snacks, and drinks. I also look for dry storage options because we often bring some items that shouldn't get wet and need a place to keep them dry.
Customization: No one fishes the same exact way. We all have unique styles and prefer our setup to be a specific way, so I prefer having a fishing kayak I can make my own, whether that's by adding more rod holders, a trolling motor, or a shallow water anchor or adjusting the seat to be more comfortable.
Comfort: I love kayak fishing, but if I'm uncomfortable, I'm miserable and can't wait to get off the water. I've fished from many kayaks that are cramped and have a stupidly uncomfortable seats; they did not make the list.

The more comfortable you are, the longer you'll be able to stay on the water.
Propulsion: Some kayak anglers believe true kayak fishing is when you paddle and nothing more. On the other hand, I have my kayak decked out with a trolling motor and other electronics.

After testings many different brands and styles, I would much rather fish with a pedal kayak or one with a trolling motor because this frees your hands up to fish.
Handling: You might hear some kayakers ask how well the yak tracks; this refers to how well it paddles and holds a straight line.

Zig-zagging wastes a lot of energy, so getting a kayak that tracks or handles well will make the experience much more enjoyable.
Transportability: One of the most overlooked factors when buying a fishing kayak is how you're going to transport it. Most fishing kayaks are heavy and difficult to get on the roof of an SUV or truck.

They're also bulky, making storing them when they're not in use difficult. So I tried to keep in mind if this kayak would need a truck or trailer to haul or if one could get by with an SUV or car.
BEST OCEAN FISHING KAYAK OVERALL
Old Town Sportsman Big Water PDL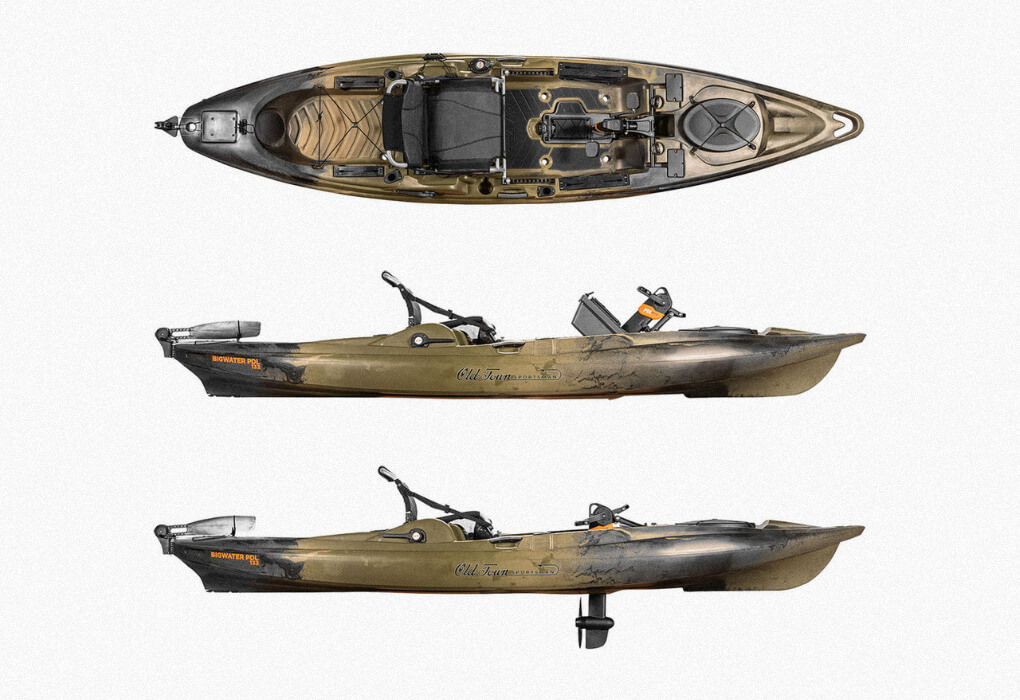 Specs
Length – 13′ 2″
Width – 34″
Weight – 86 pounds
Capacity – 425 pounds
Why We Chose It
The Old Town Sportsman Big Water PDL is the best ocean fishing kayak because it was designed for ocean fishing with stability, comfort, storage, and propulsion in mind.
You'll be able to battle the elements in this kayak whether you're a seasoned kayaker or a newbie. 
Old Town has manufactured kayaks and canoes for many decades, and it's clear they're a trusted kayak brand by many professional kayak anglers and the average weekend warrior like you and me.
My parents are obsessed with their Old Town kayaks, and after fishing from them, I can see why.
The Sportsman Big Water PDL is a customizable fishing kayak with built-in rod holders and mounting tracks that allow you to add other fishing accessories, like a kayak fish finder.
You can also choose the Sportsman Autopilot 136, an upgraded motorized kayak model with a trolling motor, if you don't like paddling or pedaling.
I love the ability to make the kayak suit your needs instead of forcing you to fit the kayak. The comfortable seat is adjustable, so whether you're short like me or tall, you can comfortably pedal this kayak on the ocean.
It's quick and easy to adjust. I only had to pull some pins to scoot it forward and then lock it in place.
It's pretty awesome that the Sportsman Big Water PDL doesn't limit you to one form of propulsion. You can lift the PDL drive and paddle while in shallow water or work on the prop if you get grass or line twisted in it.
The stability offered by the Sportsman Big Water PDL means you won't have to be concerned with flipping when you encounter large waves, and you can stand and fish when the water is calm!
I stood and fished my parents' kayak, but they prefer to sit down because there is a little bit of a wobble you have to deal with.
As great as this kayak is, there are a few downsides to it that I must mention. The first, as with most fishing kayaks, it's very expensive.
You can lower the price by opting out of the PDL and choosing the Sportsman Big Water 132, but you'll have to buy a new kayak if you want to add the pedal drive system later.
I'm not sure why so many kayaks don't come with a paddle, but it's very common to have to buy a paddle as well as a kayak, as is the case with this one.
Due to its large size, this kayak does not transport easily. You'll likely need a trailer because it's so wide, long, and heavy.
The size of the kayak also made it a little tough to pedal; it wasn't as effortless to pedal as the Hobie Mirage Passport.
The Old Town Sportsman Big Water PDL is the best ocean fishing kayak overall because it offers everything a kayak angler needs while braving the seas, stability, customizability, and good handling thanks to the rudder system.
BEST SIT-ON-TOP OCEAN FISHING KAYAK WITH PEDALS
Hobie Mirage Passport 12 Sit-On-Top Kayak with Paddle
Specs
Length – 12ft
Width – 34 inches
Weight – 83lbs
Capacity – 400lbs
Why We Chose It
The Hobie Mirage Passport 12.0 is the best pedal Sit-On-Top fishing kayak because Hobie has the best pedaling kayaks on the market. I have yet to find a smoother pedaling kayak than a Hobie. 
Hobie is a staple in the kayak industry. They make some of the best kayaks on the market today, so it's no surprise they made the top of our list.
The Hobie Mirage Passport 12 is their entry-level pedal kayak that beginners and advanced kayakers can get plenty of use out of.
Having the option to pedal or paddle is great for fishing because ultra-smooth pedaling keeps your hands free to fish, but if you need extra control, you can still paddle.
One of the things I loved the most while testing this kayak was the ability to pedal in shallow water. I pedaled in mere inches of water instead of having to paddle, as I did with the Sportsman Big Water.
This kayak has loads of bungee and dry storage for your gear as well as customizability with the mounting tracks, so you can add any fishing accessories you might need, like a Power-Pole Micro or fish finder.
I like the transducer cavity because you have a place for a transducer and don't have to try to find a place to put the transducer. It shows that Hobie is thinking of anglers, even in their entry-level kayaks.
As much as this kayak deserves to be loved, a couple of factors stopped it from being the best overall. They were the price and the lack of reverse on the pedal drive.
Hobie is the leader of kayaks, and they have a price that reflects this, so even though it's an "entry-level" kayak, the price is aimed at dedicated kayak anglers.
While the pedal system is excellent for shallow water, there's no reverse which I find super frustrating because the instant reverse of the Old Town PDL system has saved my butt many times.
However, Hobie does offer a pedal system with reverse, but you'll have to upgrade the Mirage drive pedal system to the Mirage 180, which the Hobie Mirage Revolution 13 has, or the Mirage 360.
The Hobie Mirage Passport 12 is the best sit-on-top ocean fishing pedal kayak because you can pedal it in super shallow water; plus, it has plenty of storage and customizability for your fishing gear.
BEST BUDGET-FRIENDLY OCEAN FISHING PEDAL KAYAK
Reel Yaks 11′ Fishing Pedal Kayak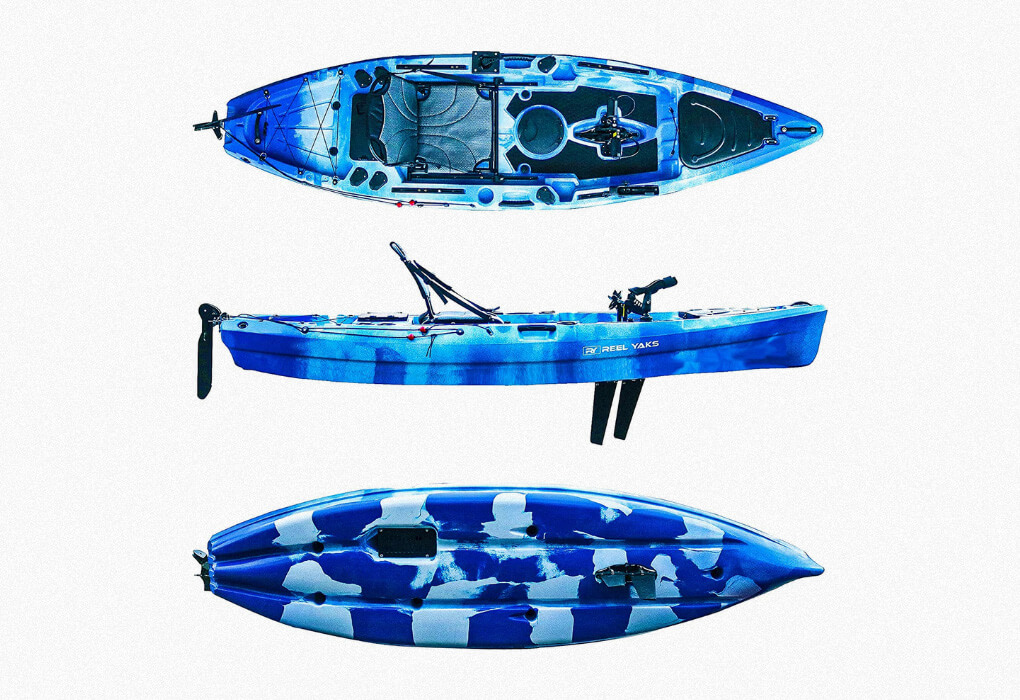 Specs
Length – 11 foot
Width – 34″
Weight – 62lbs
Capacity – 500lbs
Why We Chose It
The Reel Yaks 11′ Fishing Kayak is perfect for pedal or paddle kayak anglers who aren't willing to spend the money on a Hobie.
Pedal kayaks are great for getting to your fishing spot much faster, less fatigued, or traveling long distances on the water. 
I like that there's a spot to mount a trolling motor bracket off the side of the kayak so you can use all three types of power to propel your kayak. You get to choose which type of propulsion you like best.
Even though it's a foot less than I'd prefer, there is still plenty of storage on the kayak, so you can bring all your favorite lures, rods, and a fish finder along for the trip, utilizing the gear tracks and customizability they offer.
I was most surprised by how lightweight this kayak is at under 65 lbs (unloaded); it's much lighter than most other fishing kayaks, especially pedal kayaks such as the Hobie Mirage Outback, which weighs 85+ lbs.
While the 34" width means it doesn't steer as easily, it does make it much more stable than a narrower kayak. So if you want stability, you'll have to sacrifice a little handling.
Even though there's a lot to like about this kayak, there are a few cons I must make you aware of to be transparent.
Because it's a pedal drive, it's pretty expensive, but as pedal fishing kayaks go, it's still an entry-level pedal kayak.
So I know I said it's budget-friendly, but I must be clear, it's still a pedal fishing kayak, so it'll cost you much more than $1,000.
I also didn't like the low seat height because it makes it a little challenging to stand up, even though the kayak is stable and it's not as comfortable as my Nucanoe 360 Seat, but no kayak seat is that comfortable.
All facts considered, the Reel Yaks 11′ Pedal Fishing Kayak is an excellent way to get introduced to pedal kayaks for ocean fishing because it offers many of the higher-end features at a more affordable price.
BEST INFLATABLE OCEAN KAYAK FOR BEGINNERS
Elkton Outdoors Steelhead Inflatable Fishing Kayak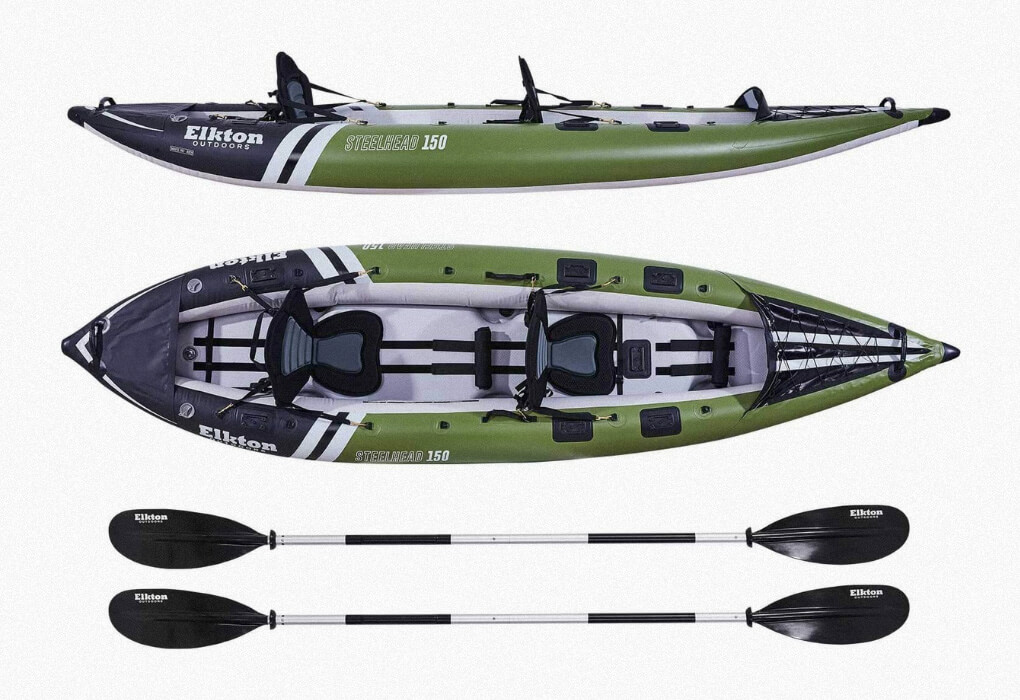 Specs
Length – 12′ 6″
Width – 3′ 3″
Weight – 44 pounds
Capacity – 600 pounds
Why We Chose It
The Elkton Outdoors Steelhead Inflatable Fishing Kayak is the best beginner inflatable ocean fishing kayak found on Amazon because it comes with everything you need to get started.
It's stable, lightweight, and has plenty of room.
In all honesty, I've been skeptical of inflatable fishing kayaks, but after testing several different ones, I've been pleasantly surprised at how durable and stable they are.
I like this kayak because it comes with an air pump to inflate it, two paddles, a travel bag for transporting it, and a removable skeg, which helps it track better. 
Since it's inflatable, you can transport it in any vehicle, even while on a bicycle. The several places to mount accessories mean you can kind of customize it.
However, they require a special adaptor, and they're set in one place. There is lots of storage space, but you'll have to purchase the fishing rod holders separately.
This is a great inflatable kayak to test the waters, but it's not perfect.
I'm not a fan of the low seat height for a couple of reasons. First, it's uncomfortable to sit that way for very long.
The second is it makes paddling more difficult and less efficient, especially in windy conditions when it catches a lot of wind and doesn't handle well.
While you do get a 1-year warranty on the materials, and it's much better than a pool floaty, it's still not as durable as the NRS Pike 126 or Aquaglide Blackfoot Angler 130, which are two kayaks I recommend for serious kayak anglers needing an inflatable kayak.
The Elkton Outdoors Steelhead Inflatable Fishing Kayak is great for those who don't have room to store and transport a hard plastic kayak.
BEST OCEAN FISHING KAYAK FOR BEGINNERS
Wilderness Systems Tarpon 120 Sit-On-Top Kayak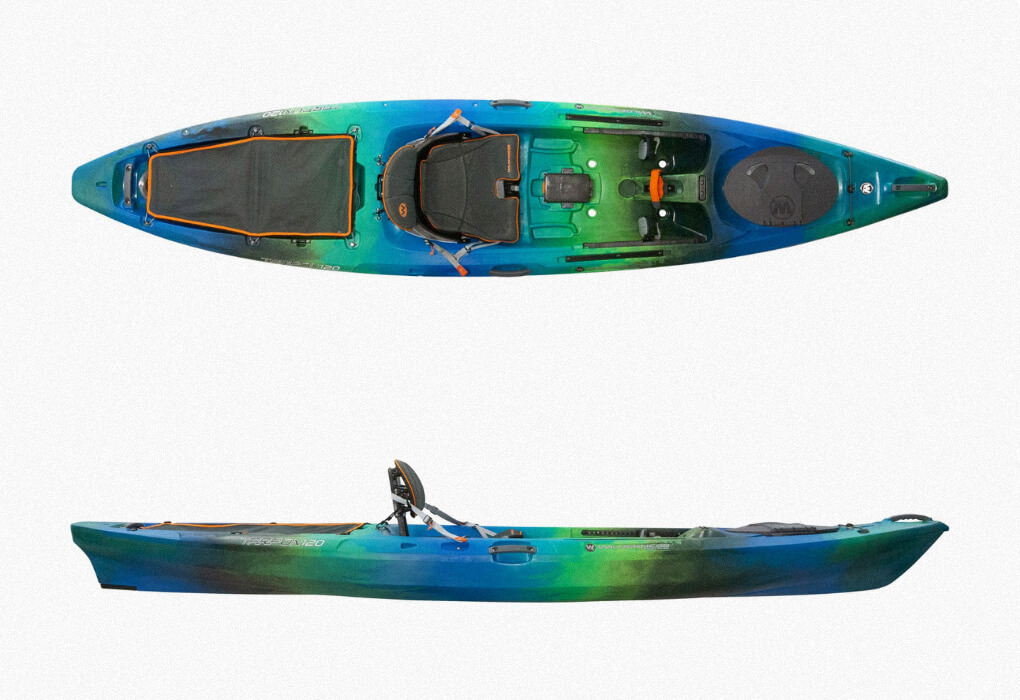 Specs
Length – 12 feet
Width – 30 inches
Weight – 63 pounds
Capacity – 350 pounds
Why We Chose It
The Wilderness Systems Tarpon 120 is the best beginner ocean fishing kayak because it's customizable, offers plenty of storage, excellent handling, and is reasonably priced.
Wilderness Systems makes solid kayaks and kayaking accessories. The Tarpon 120 Sit-on-Top Kayak is no different. While I think a few improvements could be made, this kayak is tough to beat for the price.
I like the AirPro seating system because it has 3-point adjustability, so the seat forms to your shape, while the honeycomb-vented fabric and ergonomic 3D foam provide maximum airflow to keep you from swimming in your own sweat.
I also like how much storage there is on this kayak. I could take this kayak to Home Depot, load it full of honey-do supplies, and still have leftover room! Well, as long as my wife wasn't with me and it had wheels…
I know many people love kayaking with their dogs.
I don't recommend kayak angling with your dog so that you don't accidentally hook them or they go jumping in after your fish, but this kayak is dog-friendly when you're not fishing, so feel free to bring along your four-legged friend!
Since Wilderness Systems makes kayak fishing accessories, their kayaks are often very customizable, which means you can fish how you want to instead of adjusting to the kayak.
The gear tracks allow you to mount a fish finder or rod holders, which you'll need because there is none built-in in the kayak.
Because this is an entry-level ocean fishing kayak, a few cons go along with the pros of the Tarpon 120.
During my tests, I discovered that the dry box has a design flaw and won't keep everything dry, so don't put anything in there that can't get wet, like your phone.
I also found that it's a little tippier than other fishing kayaks because it's narrower than others like a Bonafide fishing kayak. However, it's much more stable than any Pelican kayak I've paddled.
Lastly, even though the seat is fairly comfortable, the low seat height made my butt and legs hurt much quicker than in kayaks with higher seats.
That's pretty common in entry-level kayaks, though; the Perception Pescador 12 also has a seat that you're basically sitting on the floor of the kayak.
The Wilderness Systems Tarpon 120 is an excellent ocean kayak because of its size and amount of storage space.
If you need a kayak that has better seating and is designed with fishing features in mind, the Wilderness Systems Atak 120 is a great step up from the Tarpon 120.
BIG FISHING KAYAK FOR THE OCEAN
Ascend 133X Tournament Sit-On-Top Kayak with Yak-Power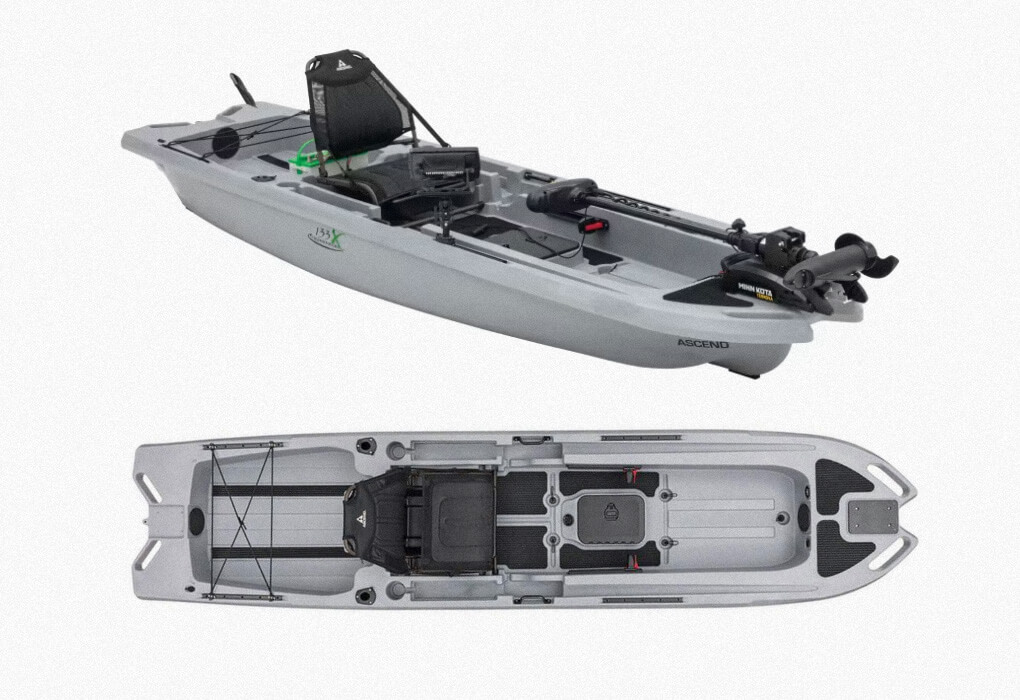 Specs
Length – 13′
Width – 36.5″
Weight – 125 pounds
Capacity – 550 pounds
Why We Chose It
The Ascend 133X Tournament Sit-On-Top Kayak is big enough to handle almost anything saltwater fishing has to offer.
Whether you're fishing inshore or offshore in open water, this extra-stable Catamaran-style hull design is sure to deliver a top-notch fishing trip.
I love how customizable this kayak is. You can add a Power-Pole Micro to the back and a bow mount trolling motor on the front, and still have room for your fish finder.
I thought it had plenty of gear tracks to mount other rod holders and kayaking accessories.
The seat was comfortable enough to sit in all day, and it has a "junk drawer" for storage which was great for throwing my lures and trash from snacks into while fishing.
I also found it more than stable enough to stand and fish from, but I wouldn't recommend it unless it's calm.
Even though it's a well-thought-out fishing kayak, I found a couple of problems while testing it.
The worst part about this kayak is its weight. It's cumbersome, especially when you have additional gear like a trolling motor and/or Power-Pole Micro.
I struggled to load it into the back of a truck by myself. So I definitely recommend getting a trailer to haul this behemoth around. 
The other downside is me being really picky, but it doesn't have much dry storage, now nothing is stopping you from bringing a dry bag to increase the dry storage, but if you don't want to spend the extra money, you're stuck with a small 10.9″L x 14.8″ space.
That's more than enough for your wallet, keys, phone, and small camera.
If you need a big fishing kayak, then the Ascend 133X Tournament Sit-On-Top Kayak offers the space and customizability for you!
Despite its bulkiness, you don't have to worry about tipping, and you'll have plenty of room for your fishing gear.
BEST TANDEM SALTWATER FISHING KAYAK
BKC TK122U 12′ 6″ Tandem SIt On Top Fishing Kayak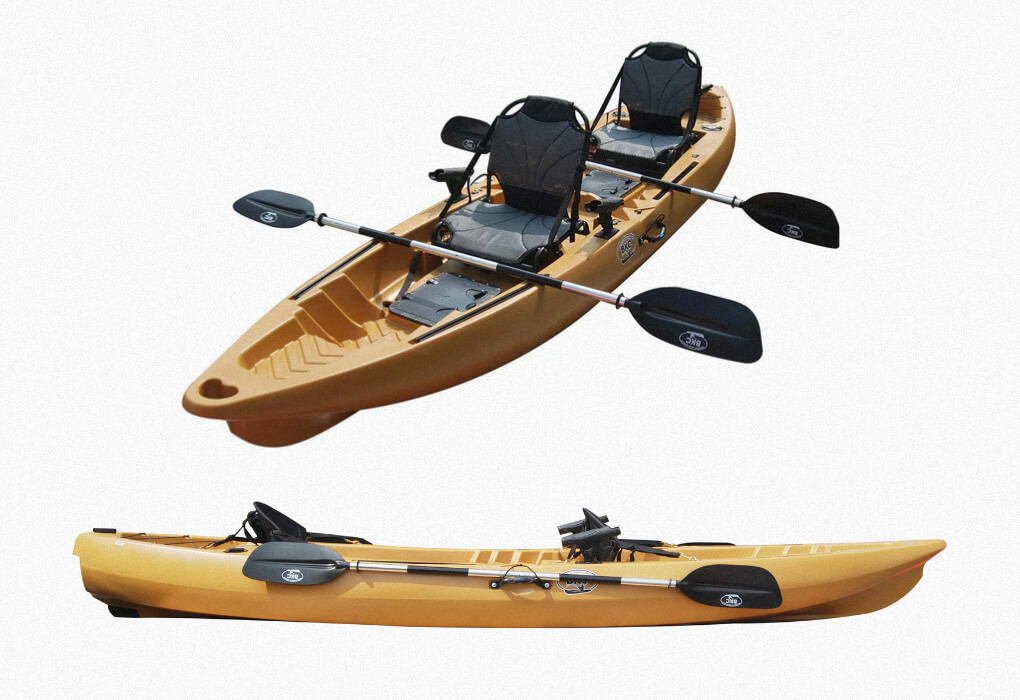 Specs
Length – 12′ 8″
Width – 34″
Weight – 74lbs
Capacity – 770lbs
Why We Chose It
The Brooklyn Kayak Company TK122U Sit-On-Top Tandem Fishing Kayak is the best tandem saltwater fishing kayak because it has multiple rod holders, gear tracks, and is spacious and very stable, so you and your fishing partner can comfortably fish from this kayak.
The TK122U is a large kayak with lots of weight capacity and room for storage, so you won't have to worry about running out of room or carrying too much gear.
The extra length helps the kayak track or paddle straight, on top of providing more storage.
While this isn't the most stable kayak I've ever used, it was still stable enough to stand and fish, but I would be hesitant to do it with another person in the kayak.
The worst things I found when testing this kayak are the low seats and the lack of propulsion options.
As I mentioned before, low kayak seats are uncomfortable to sit in for very long, so I always consider that a con.
I'm also a fan of having many options for propelling the kayak, and this one forces you to paddle, but the kayaking purists will love that about it.
The Brooklyn Kayak Company TK122U is the best tandem saltwater fishing kayak because it has more than enough room for two anglers and their gear, and it's designed for kayak fishing, not just kayaking.
BEST BUDGET-FRIENDLY TANDEM KAYAK FOR SEA FISHING
Ocean Kayak Malibu II XL Tandem Sit-On-Top Kayak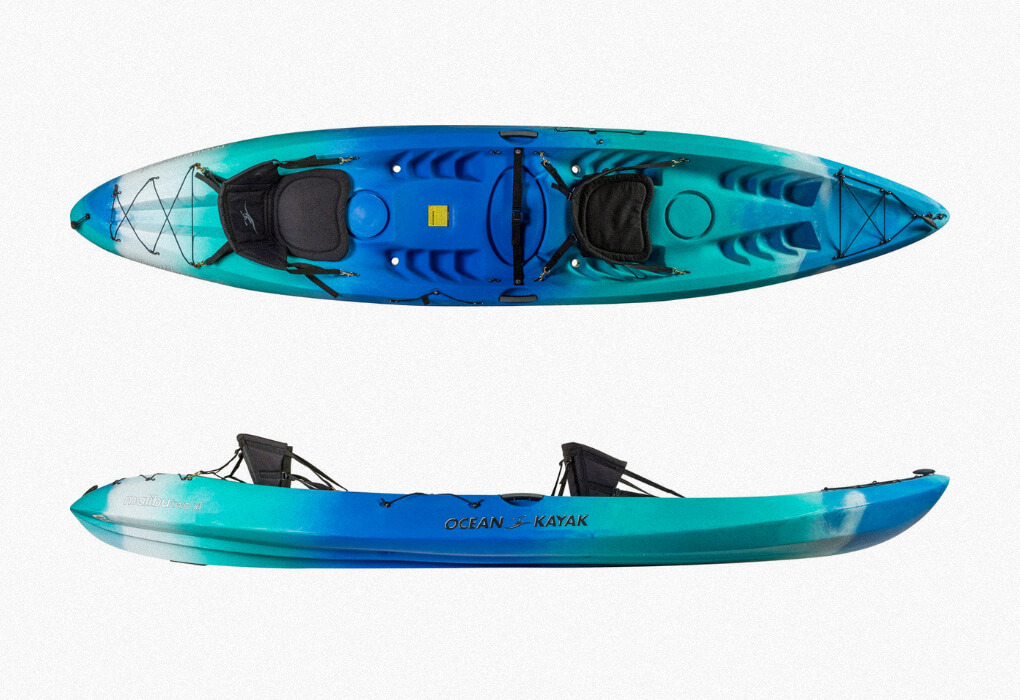 Specs
Length – 13′ 4″
Width – 34″
Weight – 74 pounds
Capacity – 450 pounds
Why We Chose It
The Ocean Kayak Malibu II XL is the best tandem kayak for sea fishing on a budget because it was designed for the ocean and is a recreational kayak that can be used for fishing.
This kayak has plenty of room for two people, so you won't have to worry about accidentally snagging the other person while fishing.
I found the Malibu II XL to be fairly stable, but I wouldn't recommend standing in it and fishing because the kayak floor is not flat because of the built-in foot braces, so standing is super awkward.
The stability was intended to keep it from tipping when you encounter medium-sized waves, and it does this well, as long as you're not getting near the 450-pound max weight.
Because this is a budget-minded kayak, there are a few cons you should be aware of before purchasing it.
I've already mentioned the inability to stand in it, so I won't beat that to death, but the low seat height is uncomfortable and makes standing even that much more difficult. 
The other downside is the lack of customization options. There are no gear tracks or rod holders, so you must improvise when you bring someone along.
The Ocean Kayak Malibu II XL is a budget-friendly tandem ocean kayak option that can be paddled solo, so if you have a regular fishing partner, then this kayak is worth checking out, considering it's half the price of some fishing kayaks!
Factors To Consider Before Buying The Best Sea Fishing Kayak: Buyer's Guide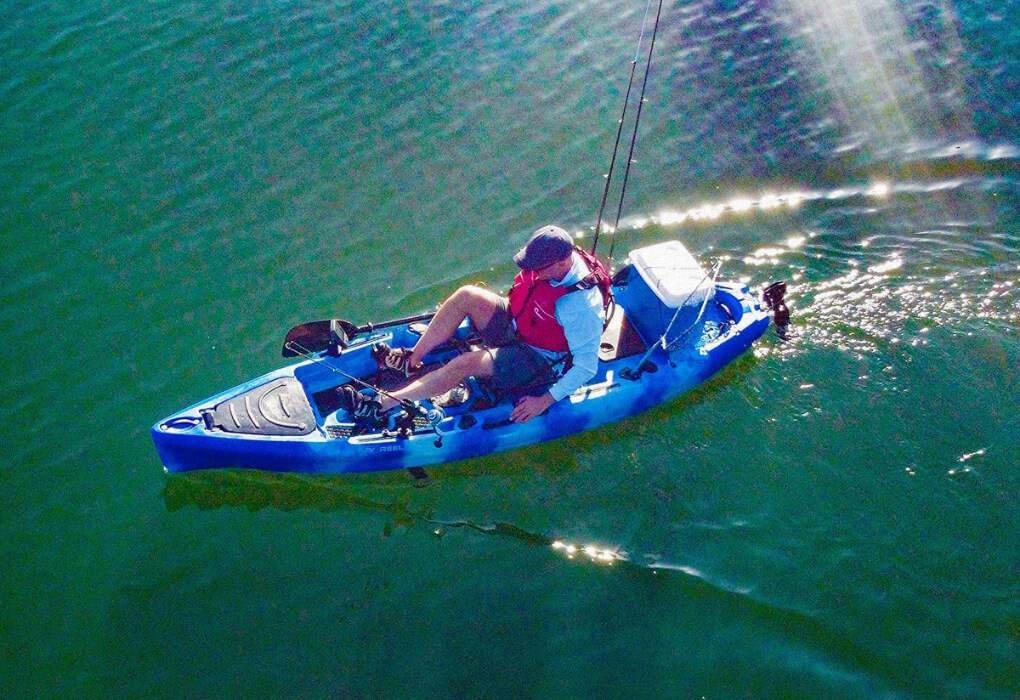 While there are many factors to consider, like price vs. features, there are three main factors you should keep in mind that will matter the most to you when you're out on the water. They are:
Stability
Comfort
And storage
Let's dive into these factors a little deeper!
Stability
Stability is essential because it's a safety concern. Even if you have good balance, you want a stable kayak.
Not only so you can stand and fish to stretch your legs, but it also helps in choppy or rough waters; you won't have to worry about flipping as much as you would with a less stable kayak.
The best fishing kayaks are incredibly stable.
Comfort
This is another crucial factor because you'll be in your kayak for countless hours, so you might as well be comfortable.
Otherwise, you probably won't enjoy it as much and won't experience the joys of kayak fishing as often as you should!
Fishing kayaks are stepping up their game with comfortable seats, but the chair's height is another way many could continue to improve the comfort of their kayak.
Today most kayaks are made from polyethylene, which is plastic, so they're not comfortable to sit in unless you have a well-padded seat with a backrest and footrests.
A sit-in Kayak is rarely as comfortable as a sit-on-top kayak because you're limited on your seating positions.
Storage
You like fishing gear if you're anything like me, so having ample storage options to bring along that gear is vital.
Many fishing kayaks on the market today offer watertight storage hatch and open-air/ bungee storage in the tank well.
There are also aftermarket products that you can purchase to help add more storage compartments to your kayak.
A few kayaks offer under-the-seat storage space, and I especially love this because it raises the seat height a little, and it doesn't waste the newly created space that's already limited on a kayak.
A few other factors that you should consider are:
Price
Features
And customizability
Price
As always, I'm going to recommend you stay within your budget, even if that means sacrificing some features.
Most fishing kayaks will cost $1,500+. However, you can find some that are around $1,000, but they won't be as comfortable or have many of the features of a true fishing kayak.
Features
The best fishing kayaks have several standard features that help them stand out from recreational kayaks.
Typically, fishing kayaks have more comfortable seating, rod holders, gear tracks, and places to mount your sonar. Some brands like Bonafide also have handy storage areas for your tackle boxes.
Customizability
Everyone has a unique fishing style, and your kayak should be able to reflect that.
You might prefer to fish with or without a trolling motor or change the location of your sonar or where your rod holders are located.
The best ocean fishing kayaks allow you to customize your kayak to exactly how you want everything fully. Nucanoe is one of the most customizable kayaks on the market.
You'll Also Need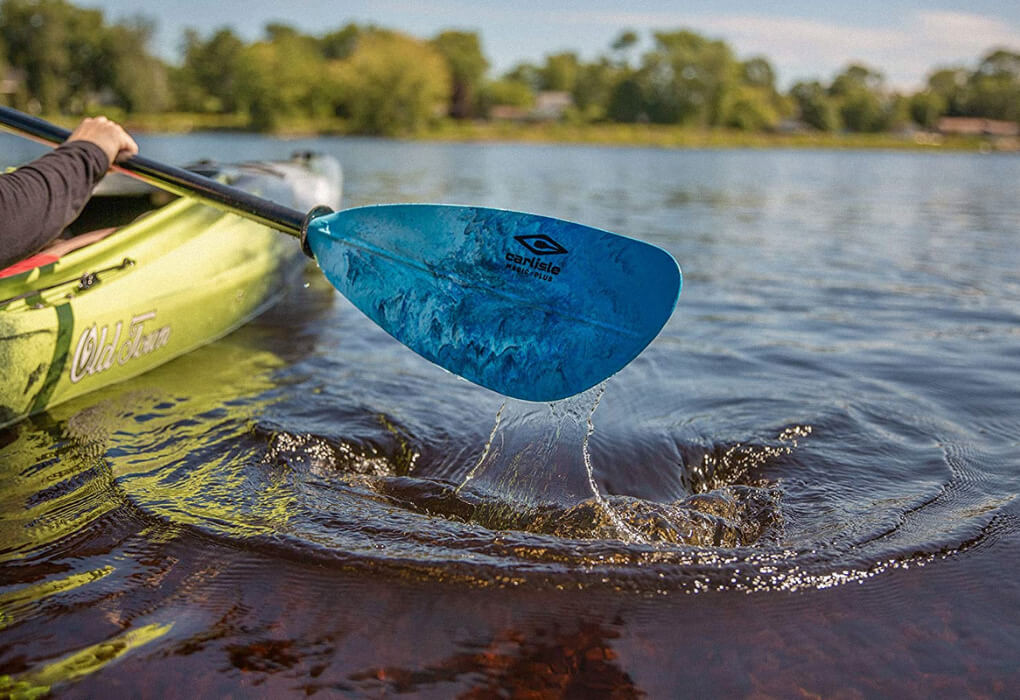 Once you get into kayak fishing, you'll soon realize there are an unlimited number of cool gadgets you can buy that all claim to make your kayak fishing experience better.
While some might, others are gimmicks. The following are items that will help your kayak fishing experience. I know this because they have helped me!
Paddle
Having a paddle should be evident while kayak fishing. I highly recommend having a fishing kayak paddle, even if you choose to run a motor on your kayak.
You never know when the batteries will die or if the motor doesn't want to run.
I run a trolling motor and a gas-powered outboard motor on my kayak at different times, and I always have my paddle with me. It has saved my butt several times when I ran out of battery or gas or couldn't get my motor to start.
Life Vest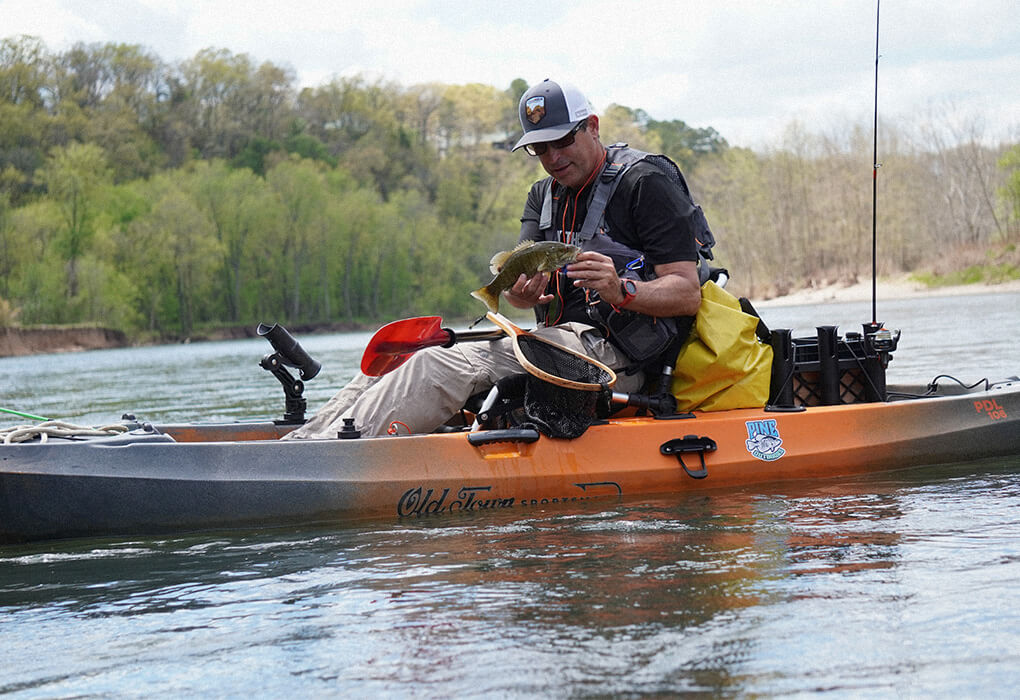 This is for your safety. I always wear my life jacket while I'm in my kayak. I often fish by myself, so I would be foolish not to wear one, and even when I fish with others, I wear one while in my kayak.
I wrote an article on the best kayak fishing PFD if you need a life vest.
Fishing Rod
It's difficult to fish without a rod, but not all rods are kayak friendly. Usually, rods with a longer butt, like a surf rod, are more difficult to fish with while seated in a kayak.
When buying a rod for ocean kayak fishing, it needs to be strong and easy to handle in a small space.
Fish Finder
A kayak fish finder is one of the best ways to up your fishing abilities. Unless you're a tournament kayak angler, you don't need the latest and greatest sonar.
Remember, sonar doesn't do you any good if you don't know how to use it properly, so spend some time learning the ins and outs of your fish finder.
Trolling Motor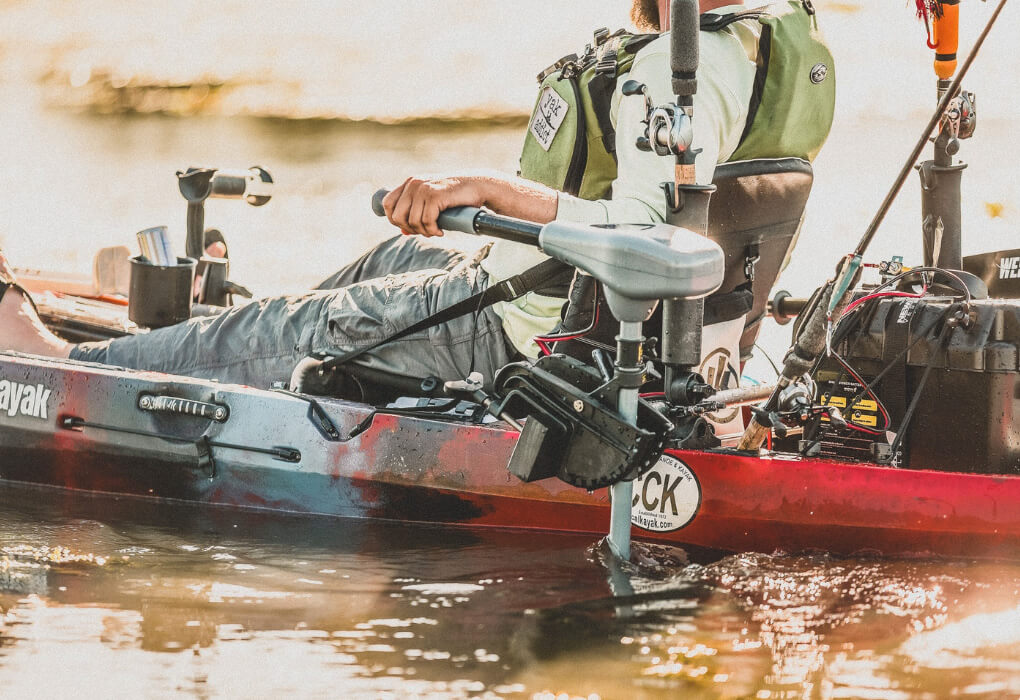 When I added a trolling motor to my kayak, it completely changed my fishing. I can now go further without getting tired, and I can control my kayak better while fishing.
You need a trolling motor rated for saltwater use while saltwater fishing, so keep that in mind as you check the best kayak trolling motors.
Trolling Motor Battery
If you're going to run a trolling motor or a fish finder, you'll need a way to power them.
Lithium batteries are currently the best batteries on the market because they're more powerful yet weigh less than lead-acid batteries. In another article, I help you choose the best trolling motor battery.
Fishing Net
I've lost several fish trying to boat flip them into my kayak, so I bought a net. That was one of the best decisions I made to help me land more fish.
There are several tremendous nets worth checking out explicitly designed for kayak fishing on the market.
Kayak Friendly Tackle Box
A kayak tackle box is a must. More than likely, you'll have several small boxes for different lures.
I like to have two boxes that I put everything in that I think I'll use throughout the day.
These boxes are small enough to sit under might seat but large enough to hold nearly everything I'll need for a day of fishing.
I keep the rest of my stuff in other boxes in my truck and switch out lures as needed. This keeps me from overloading my kayak, but I still have what I should need to catch fish.
Frequently Asked Questions
What type of kayak is best for ocean fishing?
The type of kayak that is best for ocean fishing is a large pedal kayak. This is because you have multiple options on how to propel it, and it will be stable enough so you won't tip.
What size kayak do you need for ocean fishing?
An 11-foot or larger size kayak is what you need for ocean fishing. Much smaller than that, and you run out of room for the gear you need, and it doesn't track as well when you're paddling long distances.
Can a fishing kayak be used in the ocean?
Yes, a fishing kayak can be used in the ocean or freshwater.
Which Old Town kayak is best for ocean fishing?
One More Cast
Ultimately the best ocean fishing kayak comes down to preference.
I prefer the Old Town Sportsman Big Water PDL as the best ocean kayak for fishing because it's large enough to handle the waves, and you can still easily paddle or pedal it.
However, I was impressed with many of the kayaks listed above and know they would make most ocean kayak anglers very happy.
We love hearing back from you, so if you have any questions, leave them in the comments below, and we will answer them!