We independently research, test, and recommend the best products; you can learn more about our review process here.
When I bought my first kayak battery, I quickly realized that purchasing the best kayak trolling motor battery is confusing and frustrating.
I spent hours trying to decipher the abbreviations and different types of batteries. That's why I wrote this article.
By the end, you will know which trolling motor battery for a kayak is best, why I think it's the best, and how to choose the best battery for your situation.
Don't worry if you're short on time. I rated the Dakota Lithium 12-volt 54Ah Battery as the best kayak trolling motor battery and the Mighty Max 12v 35Ah Battery is the most budget-friendly battery to make the list.
Keep reading to dive a little deeper into kayak trolling motor batteries!
Comparison Table – The Best Trolling Motor Battery For Kayaks
---
Reviews of Our Favorite Kayak Trolling Motor Batteries
Tracker Marine Lithium Deep Cycle Battery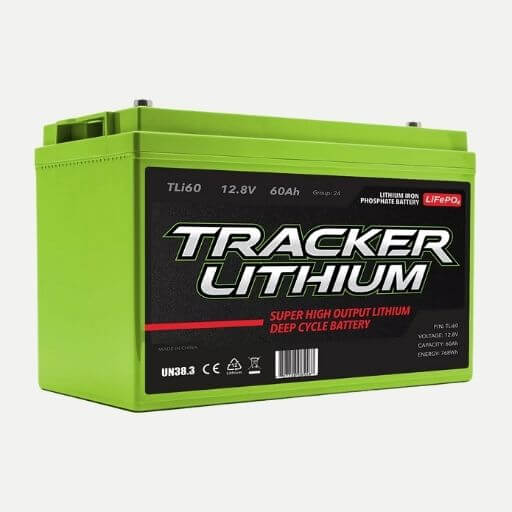 BEST LITHIUM BATTERY FOR KAYAK TROLLING MOTOR
Specs
12v
60Ah, 80Ah, or 100Ah
16lbs, 24lbs, or 30lbs
Lithium-Ion
Pros
Lightweight
Compact
Long battery life
5,000 charging cycles
Fast charge rate and slow discharge rate
Maintenance-free
Cons
Expensive
Not compatible with all trolling motors
Why We Chose It
Tracker Marine is a well-respected company in the boating industry. It's only natural that they've expanded into manufacturing marine batteries. They've taken their years of boating knowledge to craft an excellent lithium-iron-phosphate battery.
Lithium batteries are much lighter than traditional lead-acid batteries, so they are the best choice for kayak anglers who can afford to spend the extra money upfront.
The Tracker Marine Lithium Deep Cycle Battery has three ampere-hour rating options, so you can choose the 100Ah if you need a battery that's going to last all day and then some, or if you only need the smaller 60Ah to save space, weight, and a little money.
This battery charges faster than lead-acid batteries, and if you happen to leave it off the charger for a long time, the dormant discharge rate is much slower than traditional batteries. While it's not the best warranty I've seen for a battery, the five-year warranty is better than most warranties for batteries.
The Tracker Marine Lithium Battery will benefit kayak anglers whose trolling motor and electronics can properly function off of a lithium battery.
LOSSIGY 12v 100Ah Lithium Battery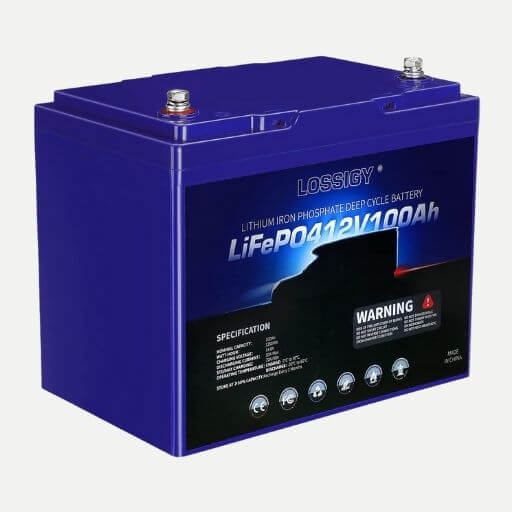 BEST 12V KAYAK TROLLING MOTOR BATTERY
Specs
12-volt
100Ah
25 pounds
Lithium (LiFePO4) battery
Pros
Lightweight
Long-lasting
Maintenance-free
4,000~7,000 cycles
Built-in Battery Management System (BMS)
Cons
Expensive
It isn't compatible with all trolling motors
Why We Chose It
When we're not dreaming of landing a monster fish, kayak anglers dream of a battery like the LOSSIGY Lithium 12-Volt 100Ah Battery. This 100Ah battery will keep you on the water for as long as you need without adding too much weight to your kayak.
The five-year warranty means you won't be paying to replace your kayak trolling motor battery as often as you would with other battery types like AGM. So when you factor in the cost long term, you might be saving money when buying the more expensive Lithium battery.
If only all trolling motors were compatible with lithium batteries.
From my review of Newport Vessels Trolling Motors, you can see that they don't recommend using lithium batteries with their kayak trolling motors; however, if your trolling motor is compatible with LiFePO4, batteries, I highly recommend purchasing them instead of AGM batteries.
As prices of lithium batteries are becoming more reasonable, we will see more kayak anglers switching to batteries like the LOSSIGY Lithium 12v 100Ah Battery because their benefits far exceed their drawbacks.
ECO-WORTHY 12V 10Ah Lithium Iron Phosphate Battery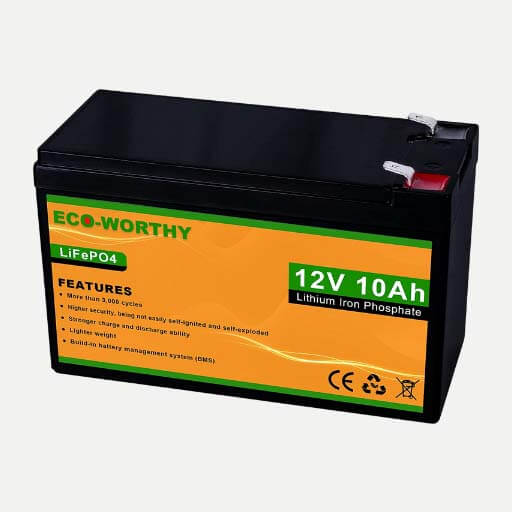 LIGHTEST TROLLING MOTOR BATTERY FOR KAYAK
Specs
12v
10Ah
2.5 pounds
Lithium-Ion battery
Pros
Super lightweight
Inexpensive
Long service life 3,000+ cycles
Fast charging
Cons
Short run time
It needs a special LiFePO4 battery charger.
Why We Chose It
At 2.5 pounds, the ECO-WORTHY 12v 10Ah is the lightest kayak trolling motor battery. It's compact and lightweight enough that you won't notice it while you're paddling. The price won't hurt your wallet either, so to counteract some of the cons, you could buy multiple batteries.
However, with the small size come significant downsides. It charges fast with the specialized lithium charger because there's not much battery to charge. So it won't power a trolling motor for very long. I recommend using it as a backup battery or solely for your sonar electronics.
Because it's a lithium-iron-phosphate battery, it should last you for several years and stand up to the abuse that kayak anglers tend to put their gear through. The maintenance-free and spill-proof nature of the battery ensures you won't have to worry about battery corrosion.
If you have limited space and weight because of a small boat, then the ECO-WORTHY 12v 10Ah LiFePO4 Deep-Cycle Battery is a good choice. Be sure not to use your trolling motor too much as it draws more amps than your fish-finder.
Dakota Lithium 12v 54Ah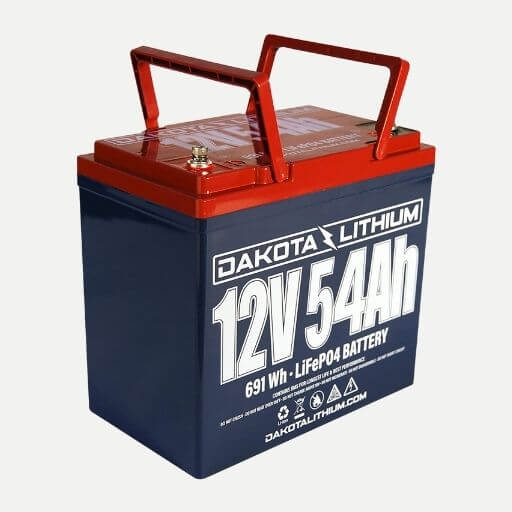 BEST OVERALL KAYAK TROLLING MOTOR BATTERY
Specs
12v
54Ah
18lbs
Lithium battery
Pros
Lightweight
Long lifespan
Best warranty
Charger included
Battery Management System (BMS)
Cons
Expensive
Shorter run time than the 100Ah
Why We Chose It
Dakota Lithium has become a respected name in the kayak fishing industry in the last several years. Not only are they backed by an incredible 11-year warranty, but their batteries also withstand 2,000+ charging and discharging cycles.
It isn't the lightest battery I have reviewed, but the weight shouldn't be an issue for most kayaks for the amount of power it delivers. What will be an issue for kayakers is the price. Dakota Lithium is proud of its products, as they should be, so they are not a budget-friendly battery.
If you need a battery with a longer run time, I recommend the Dakota Lithium 12v 100Ah Battery, but the 54Ah battery should last all day for most kayak anglers. The Battery Management System is another way to help protect the battery from overheating or exploding, which is great when you're on small boats like kayaks!
I know I don't want to be close to a battery if it explodes!
The Dakota Lithium 12v 54Ah Battery is for serious kayak anglers. It comes at a high price, but the cost doesn't seem bad when you factor in that you won't be buying another battery for over ten years.
Optima Batteries Blue Top Starting and Deep-Cycle Marine Battery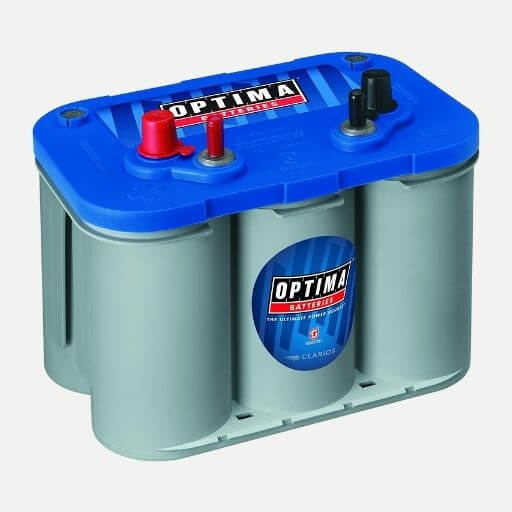 BEST AGM KAYAK TROLLING MOTOR BATTERY
Specs
12-volt
55 Amp Hours
44 pounds
Absorbed Glass Mat (AGM)
Pros
Trusted brand
Vibration-resistant
Compact
Maintenance-free
Spill-proof
Cons
Expensive for a sealed lead-acid battery
Heavy
Quality has been lacking the last couple of years
Why We Chose It
Optima Batteries is a brand trusted by professional anglers. Since the early 1990's they've manufactured over 100 million high-quality individual spiral cells. Spiral cell batteries are superior to flat plate AGM batteries because there is more surface area per plate in the same amount of space.
In theory, this means it will hold a charge longer than a battery of similar size.
The Optima BlueTop Deep-Cycle Battery is designed for durability and vibration resistance, which is great as your kayak bounces over waves or while it's vibrating during travel. Since it's spill-proof and maintenance-free, you don't have to worry about getting battery acid all over your kayak and ruining a day of fishing if it falls on its side.
The 55Ah rating should last most of the day, even while heavily using the trolling motor, but at this price, I would like to see a 12v 100Ah battery so I can be sure it'll last all day. It boasts 800 cold-cranking amps, but in a kayak, that doesn't matter, so this battery might be a little overkill.
The Optima Blue Top Marine Battery is for kayak anglers whose trolling motor isn't compatible with lithium-ion batteries. It is the most advanced deep-cycle AGM battery, which means it also comes at a high price.
VMAX Trolling Motor Battery AGM Marine Deep Cycle Group 31 12V 135Ah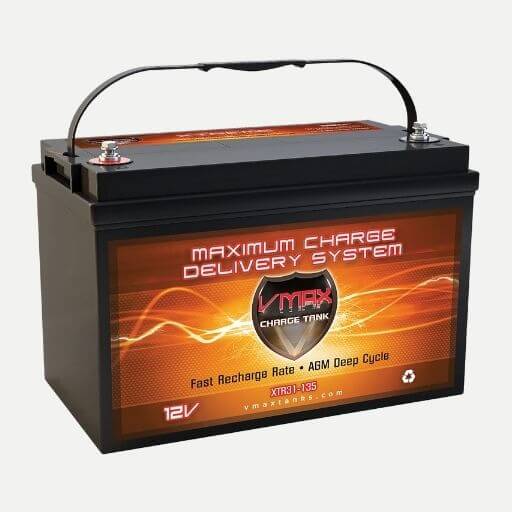 LONGEST LASTING KAYAK TROLLING MOTOR BATTERY
Specs
Pros
Extended run time – 135AH
Sealed battery
Resists shock and vibration
Maintenance-free
Spill-proof
Cons
Why We Chose It
The VMAX XRT31-135 is a heavy-duty trolling motor battery that can handle multiple kayak fishing trips. I like this battery because it's tough, and you don't have to be concerned with much battery maintenance.
You won't have to worry about battery corrosion because it's sealed and spill-proof even if you encounter rough roads or rough waters. The biggest downfall is the weight; at 77 pounds, it might be too heavy for some kayaks or, at the very least, make paddling much more difficult.
For kayaks that can handle the weight and bulkiness of the AGM battery, you will be able to run your electronics and trolling motor off of this battery all day and still have plenty of power left over for the next trip.
The VMAX XRT31-135 AGM Trolling Motor Battery is for the kayak angler who needs a long-lasting power source and isn't concerned about the size and weight of their battery. If you plan to go on multiple kayak trips and don't have a way to charge a battery to full charge, this battery will work for you.
Mighty Max 12v 35Ah Battery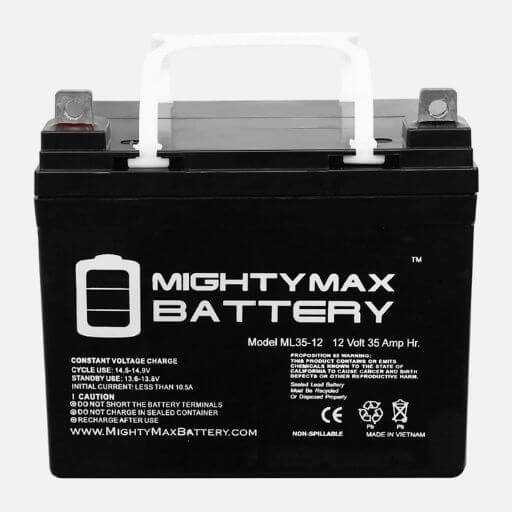 BEST BUDGET-FRIENDLY TROLLING MOTOR BATTERY FOR A KAYAK
Specs
12v
35Ah
23lbs
Sealed lead-acid
Pros
Inexpensive
Compact and relatively lightweight
Maintenance-free
Spill-proof
Vibration resistant
Cons
Shorter run time
Only a one year warranty
Why We Chose It
The Mighty Max Battery 12v 35Ah is excellent for kayak fishing because it's compact and reasonably lightweight for a lead-acid battery. A one-year warranty backs it, so that tells me the manufacturer doesn't expect this battery to be a power source you can depend on but keep in mind it's a cheap battery.
Since it's a sealed lead-acid battery, it's maintenance-free and spill-proof, but it is heavier than a lithium-ion battery of the same amperage hour rating. You can mount it in any position you need to fit in your kayak, but if you can, it's best practice to mount it upright.
As kayak anglers, we brave all kinds of weather conditions, and this battery claims it can handle them all and still deliver the power you need. The 35Ah rating means it won't last you a full day of running the trolling motor.
If you're on a budget and don't use your trolling motor at full speed for extended times, then the Mighty Max Battery 12v 35Ah will suit your needs! It's a great battery for beginners to get introduced to kayak fishing without breaking the bank!
The Best 12v Kayak Battery: Buying Guide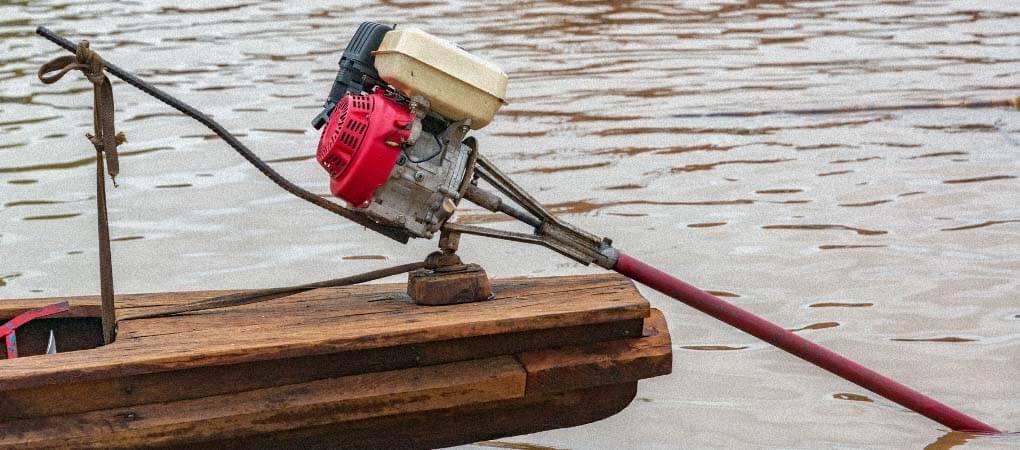 Because kayaks are relatively light compared to bass boats, they don't need 80lbs thrust trolling motors to propel them across the water quickly. 55lb thrust trolling motors are ideal for kayaks, and unlike bigger trolling motors, they only need a 12-volt battery to reach max thrust.
Side note…
If you're waiting to purchase the best kayak trolling motor, you should read my review, so you make the best decision possible.
One might think only needing a 12-volt battery makes purchasing a kayak trolling motor battery straightforward; sorry to burst your bubble, it's not as simple as we'd like to hope. Several factors are vitally important in determining how well your battery and trolling motor perform.
Add on a budget and the weight and size restraints of kayaks, and we have a much tougher decision than we initially thought.
Don't worry; I'm going to break down the confusing jargon and the most critical factors so you buy the best kayak trolling motor battery for your situation. Let's begin with the different types of batteries.
Deep-Cycle/ Marine Battery
Deep-Cycle or Marine batteries are designed to be fully charged and then slowly drained. That's why they're perfect for trolling motors and other boating electronics. Deep-Cycle batteries can be lead-acid wet-cell, AGM, or lithium which we will discuss in more detail.
Some batteries like the Optima Batteries are a hybrid between Marine and Starting batteries, but for the most part, batteries are one or the other.
Starting Battery
Starting batteries are designed to start engines and stay at a sustained charge by using an alternator. A car battery is a starting battery; while it can be used as a trolling motor battery, it has a much short lifespan because it's not designed to be run down like a deep-cycle or marine battery.
Starting batteries are rechargeable; however, the more they are run down, the weaker they become and eventually won't hold a charge for long.
Lead-Acid Wet-Cell/ Flooded Lead-Acid (FLA)
The cheapest batteries, Wet-Cell or Flooded Lead-Acid batteries, have quickly become outdated technology. They are heavy and don't hold a charge as well as the other types of batteries. FLA batteries also need to be maintained by topping off the water level with distilled water.
While your grandpa might have gotten by using this battery style, there are better options on the market today. That's why I didn't include any in the list.
Absorbed Glass Mat (AGM)
An AGM battery is also a Lead-Acid battery; however, it is more efficient than a Wet-Cell battery. The Absorbed Glass Mat absorbs electrolytes and doesn't allow them to escape as easily.
AGM batteries are corrosion resistant, shock and vibration resistant, and maintenance-free. The downside is they are heavy and bulky. Lead-Acid AGM batteries are cheaper than Lithium-Ion batteries and are compatible with nearly every trolling motor, but that's all they have on LiFePO4 batteries.
Lithium-Ion (LiFePO4)
The best batteries available on the market today are Lithium-Iron-Phosphate batteries. They are more powerful, longer-lasting, have a longer run time, and more lightweight than AGM batteries.
The worst thing about Lithium-Ion batteries is their price and that not all trolling motors work properly when powered by a LiFePO4 battery. They require a special battery charger, but some batteries come with a charger.
As Lithium batteries are becoming more popular, it won't take long for the prices to drop slightly and be more competitive with the price of AGM batteries.
However, when you focus on the long-term cost of batteries since lithium batteries last much longer than AGM batteries, they are cheaper in the long run than buying multiple AGM batteries over the years.
Charging Time
Charging time is a critical aspect to keep in mind because you want your battery to be fully charged before every use. If you have a slow charging battery, you might not have time to get it to full charge if you have a couple of days of fishing in a row.
Lithium batteries charge much faster than Lead-Acid batteries, just another reason why Lithium-Ion batteries are the best battery available on the market.
Weight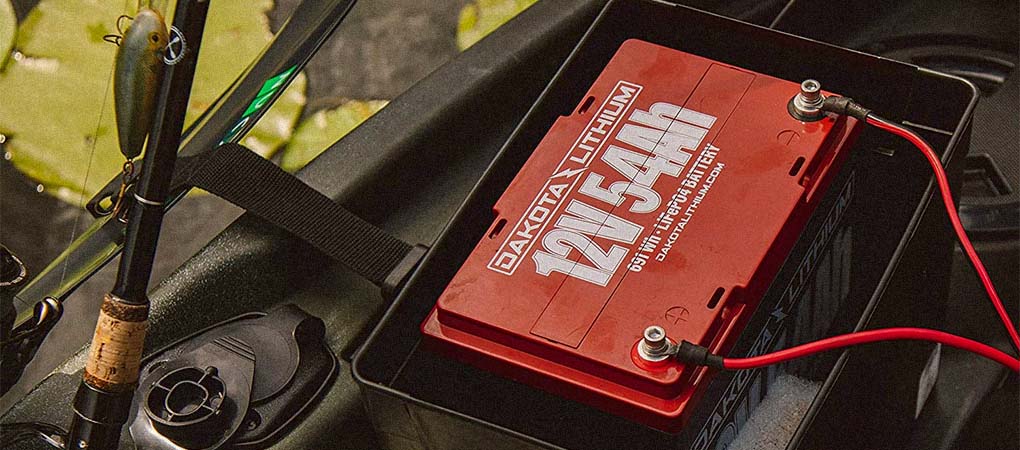 Kayaks are small boats with small weight capacities; as kayak anglers, we need to be shedding pounds when possible. A quick way to shed weight is by changing batteries.
Lithium batteries are the lightest and most powerful batteries available; that's why I recommend so many of them. However, they are also the most expensive, but when it comes to safety, price is one of my last concerns and having a kayak that's too heavy is a significant safety concern.
So purchase the lightest, most powerful battery you can afford. It's typically a compromise between the two, but even a 100Ah lithium battery weighs less than a 55Ah AGM battery.
Dimensions
If weight matters because kayaks are small, then the dimensions of a battery will matter. Many fishing kayaks have designed an area for a trolling motor battery, but they can only develop it so big before it begins taking up an unnecessary amount of space.
Measure the dimensions of the area you plan to place your battery and ensure it fits before you purchase!
Amperage Hour Rating
The ampere-hour rating is the measure of how long your battery will last. If your trolling motor draws ten amps, a 100Ah battery will last for 10 hours. If your kayak trolling motor draws more than ten amps, then your battery won't last as long, or if it draws fewer than ten amps, it will last longer.
Lightweight batteries tend to have a lower amp-hour rating than heavier batteries, so keep this in mind as you purchase your kayak trolling motor battery.
You'll Also Need These Accessories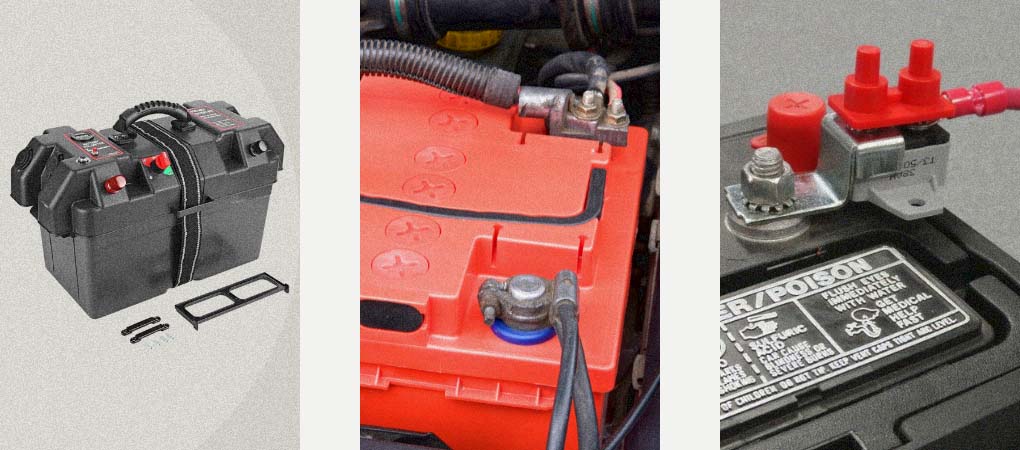 Assuming you've already bought your kayak trolling motor, if not, I'll remind you again of my Best Trolling Motors For Kayaks Review; there are a few other accessories that you're going to need. Every situation doesn't require all of the following accessories; however, most do or are at least a good idea.
Battery Box
Purchasing a battery box to store your battery while it's in your kayak helps keep things organized and strapped down. There are simple battery boxes that only hold your battery, and there are more sophisticated battery boxes with a USB port and battery level indicator. Choose whichever one best fits your situation.
Battery Cables
If you need to mount your trolling motor and battery at opposite ends of your kayak, you will need longer battery cables. Different batteries have different terminal styles, which might require you to purchase special connectors for your battery cables.
Circuit Breaker
Even if your battery has a Battery Management System, you should have a circuit breaker installed because the circuit breaker will protect your kayak trolling motor, not just your battery.
Even though it is more expensive, I prefer a circuit breaker over a fuse because a circuit breaker resets with the push of a button, whereas you must replace a fuse, which means you must carry replacements with you at all times.
Tiller Handle Extension
My trolling motor mounts to the transom of my kayak, and I need to sit towards the middle, but the tiller handle on my trolling motor doesn't extend far enough for me to reach. So I bought a tiller handle extension, and it's a game-changer! Now I exclusively use the extension when I'm on the water.
Unless you have a bow mount trolling motor, I recommend getting a tiller extension.
Paddle
Don't forget your paddle, especially if you purchase a small battery. Even though your battery might last the entire time you're fishing, I highly recommend having your paddle as a backup plan. I've lost count of the times I've had to use my paddle to help maneuver out of a spot or because my battery died.
I will not go anywhere without my kayak paddle.
Final Thoughts
Choosing the correct kayak battery is vitally important. While it's not the end of the world if you buy a subpar battery, I hope you take this information and purchase the best kayak trolling motor battery for you.
That might mean you should purchase the Dakota Lithium 12v 54Ah, which I rated as the best overall kayak trolling motor battery. Or if you're on a budget, then the Mighty Max Battery 12v 35Ah is the battery you should buy.
No matter your budget, you should be able to find a kayak battery that suits your needs.