---
We independently research, test, and recommend the best products; you can learn more about our review process here.
We've all witnessed videos of people capsizing a canoe or kayak and going for a swim.
A few years back, this happened to me when I tried paddling and fishing from a kayak, in which I exceeded the weight limit.
Thankfully, I was in shallow water, and my daughter was the only one to see it happen.
She had a good laugh, and I learned a valuable lesson that day; use a stable kayak with more than enough weight capacity and room!
The Ascend 128X is the best fishing kayak for big guys and gals. It has a 450 lb capacity and is much more stable than the kayak I was in that day!
One of the following fishing kayaks is sure to be the right kayak for you to make your time on the water more enjoyable!
Top 3 Fishing Kayaks for Big Guys and Girls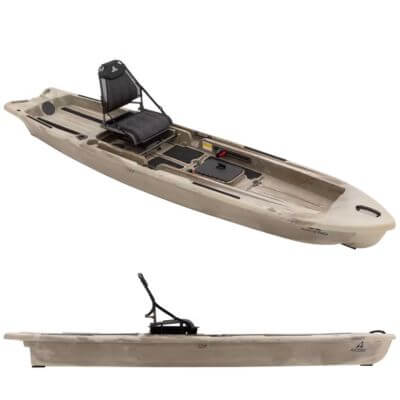 Ascend 128X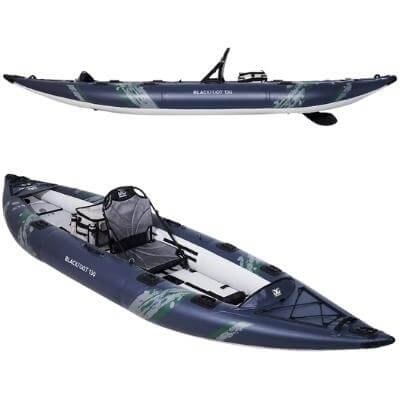 Aquaglide Blackfoot Angler 130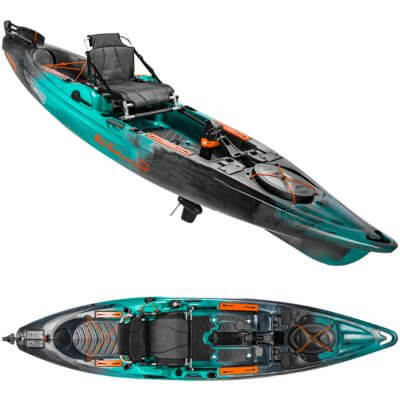 Old Town Sportsman Big Water PDL
---
Testing Procedure
In all fairness, I'm not a big guy, so to research and test the following kayaks, I asked some of the biggest guys I know, one of which was a collegiate offensive lineman, what they look for in a fishing kayak.
I then added their responses to the knowledge I've gained from years of kayak fishing and came to my conclusions.
Here's what I was looking for while testing some of the kayaks listed below-
Stability: Even if you don't plan to stand and fish, you still want a stable kayak. To test this, I would stand up, if I was able, and see how much weight I could put on one side of the kayak without it flipping.

If I was able to flip it, then I knew it wasn't stable enough for a larger person than I. As you get closer to the limits of the weight capacity, the kayak will become more unstable.
Maximum Weight Capacity: This is a quick and easy check, just look at what the manufacturers say and move on, right? Well, not exactly…

There is no standard way to measure this in the industry, so just because it says it has a 450lb max capacity doesn't mean that's what it actually is.

I usually take off 25-50 lbs just to ensure I'll never get close to hitting the max weight.
Fishability: Was the kayak designed for fishing, or is it a recreational kayak being passed off as a fishing kayak? I look for features that will actually help you as an angler while testing any type of kayak.
Comfortability: I want to be comfortable while I'm paddling and angling. That means I look for an adjustable seat, plenty of legroom, and adjustable foot pegs.

If I got uncomfortable in the short amount of time that I was testing the kayak, then it didn't make this list.
Price: I always try to keep the budget in mind, so some kayaks were left off the list simply because they're very expensive.
BEST FISHING KAYAK FOR BIG GUYS & GALS OVERALL
Ascend 128X Sit-on-Top Kayak with Yak-Power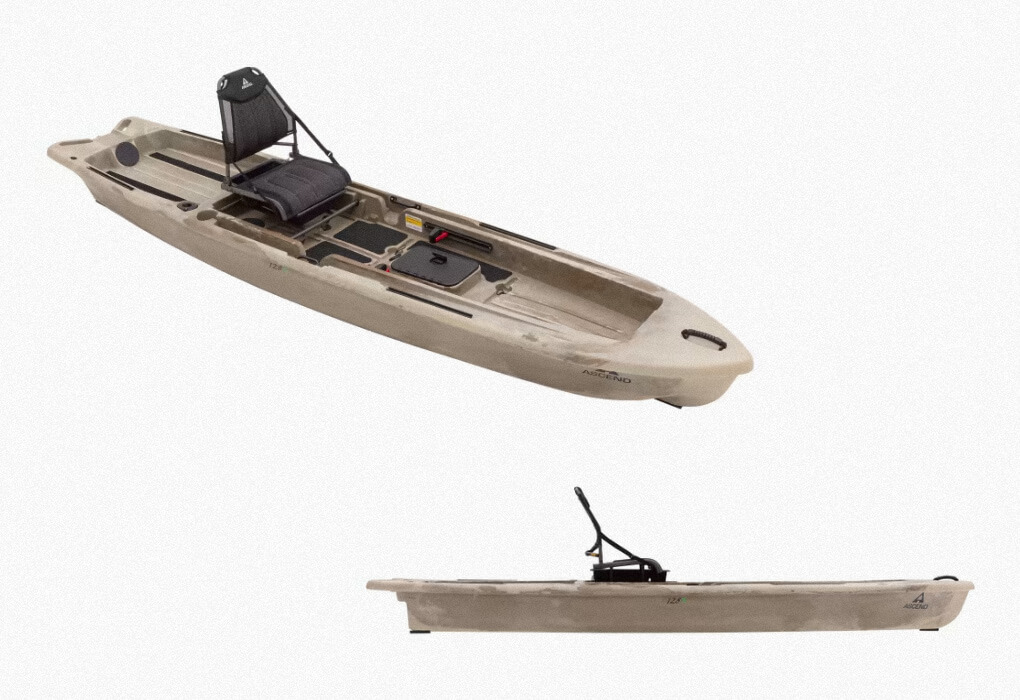 Specs
Length: 12′ 8″
Width: 34″
Weight: 96lbs
Weight Capacity: 450lbs
Why We Chose It
The Ascend 128X is the best sit-on-top fishing kayak overall because it's inexpensive, pre-rigged with wires for your electronics, and it's a large stable kayak.
Most kayaks in this price range are smaller, less stable, don't come pre-rigged, and aren't designed for fishing.
I was blown away by the comfortable features while testing this kayak.
I found there to be plenty of space in the front to stretch my legs during a long day of fishing, and the adjustable footrests will also help you stay comfortable while paddling.
Speaking of paddling, you won't mind sitting in the mesh and foam seat for multiple hours because the padding won't hurt your butt.
The hull design and wide base of the kayak means you won't have to worry about tipping because it is very stable. I stood up in this kayak a couple of different times while at the lake with it.
The length of the kayak provides plenty of storage for your fishing gear behind the seat.
I really like the two built-in rod holders because you won't have to purchase aftermarket ones to place on the gear tracks with your fishfinder and other electronics.
The weight capacity is also very high for a kayak in this price range, they are generally less than 400 pounds, but the Ascend 128X is 450 pounds max capacity.
As much fun as I had while testing this kayak, I found a few things I didn't like about it, such as how heavy it is and the lack of bungee storage.
The weight is an issue because it makes it harder to transport, but you're probably much stronger than I am, so that's a huge deal, especially if you have a kayak trailer.
I also wouldn't want to paddle in whitewater with this kayak because it doesn't have bungee storage, so you'll have to tie your gear to this kayak or risk losing it.
The Ascend 128X is the best kayak for big guys and gals because it is incredibly stable, there's plenty of room for you and your gear, and it's more than reasonably priced.
If I was in the market for a new kayak, this is one that would be at the top of the list.
The Brooklyn Kayak Company PK12 Angler Sit On Top w Trolling Motor is an Amazon kayak that's very stable and worth checking out if you plan to put a trolling motor on your fishing kayak.
The BKC PK12 Angler has bungee storage, unlike the Ascend 128X, but it's not as stable.
BEST FISHING KAYAK FOR HEAVY PERSON
Aquaglide Blackfoot Angler 130 Sit-on-Top Inflatable Kayak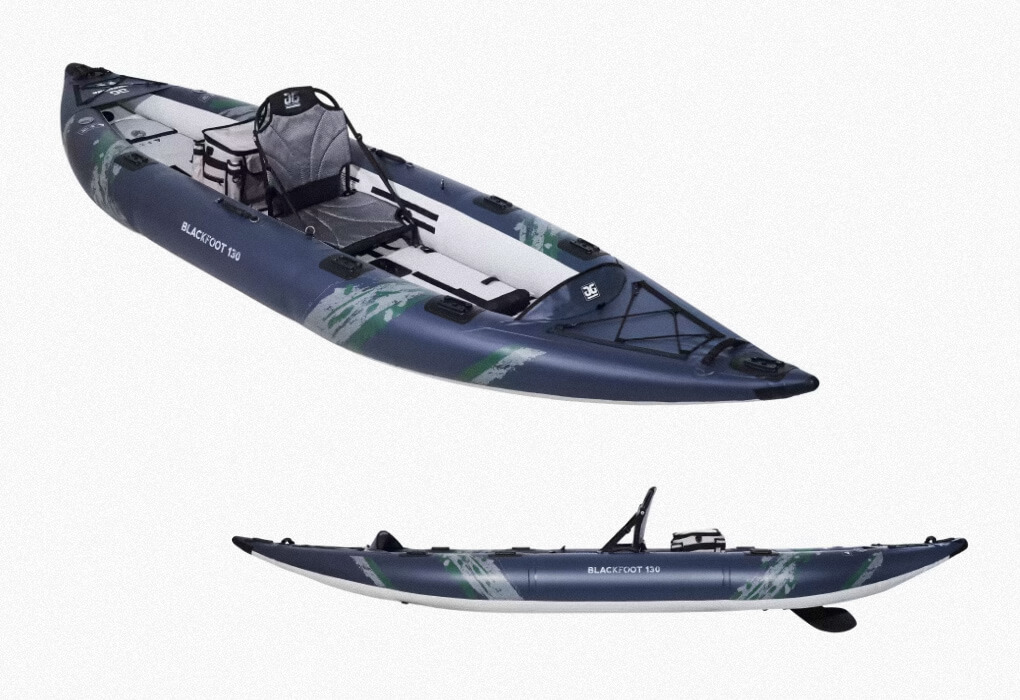 Specs
Length: 13′
Width: 38″
Weight: 41lbs
Weight Capacity: 650lbs
Why We Chose It
The Aquaglide Blackfoot Angler 130 is the best fishing kayak for a heavy person because it has the highest weight capacity of any kayak and was designed with anglers in mind.
I like it even though it's an inflatable kayak; because it has some of the features of rigid kayaks that are beneficial to anglers.
Even though I'm not a huge fan of inflatable kayaks, I still see the need for them because they're much easier to transport, and many can be flat water or whitewater kayaks.
They're very lightweight; the Blackfoot Angler 130 is half the weight of a comparable hardshell kayak, so you don't need a trailer or have to lift a heavy kayak onto the roof of your vehicle.
Another great thing about the Blackfoot Angler 130 is its stability. I tried to flip it, and there was just no way I was going to capsize this raft because of how wide it is and how it was designed to hold the air on the sides of the kayak.
As I mentioned, this kayak has an incredibly high weight capacity of 650 lbs, so you won't have to worry about reaching the weight limit with you and your gear inside.
I appreciate that Aquaglide thought of some features that anglers need and tried to incorporate them into this kayak.
The universal accessory mounts will hold an action camera, extra rod holders, or a fish finder. There's also plenty of room behind the seat for your extra gear.
As great as this inflatable kayak is, I found a few things I wouldn't mind seeing changed, such as the low seat height, lack of dry storage, and durability issues.
Inflatable kayaks are not as durable as hard kayaks, so you'll need to avoid sharp rocks and sticks more than you would with another kayak.
That said, if you properly maintain an inflatable kayak by storing it dry and out of direct sunlight, it will last you several years.
However, I don't believe it will last as long as a properly maintained polyethylene kayak, but you can't always have your cake and eat it too.
The lack of dry storage isn't a huge issue for me because you can always bring along a dry bag to keep all your valuables in so you don't lose or get them wet. But it's nice to have that option built into the kayak.
The last con is the biggest because low seats are less comfortable, and they make getting out of the kayak and fishing much more difficult.
If that's a deal breaker for you, the NRS Pike Pro has a higher sitting seat, but it has a much lower weight capacity.
The Aquaglide Blackfoot Angler 130 is the best fishing kayak for a heavy person because of its high weight limit and spectacular stability.
BEST PEDAL KAYAK FOR BIG GUYS & GALS
Old Town Sportsman Big Water Pedal Kayak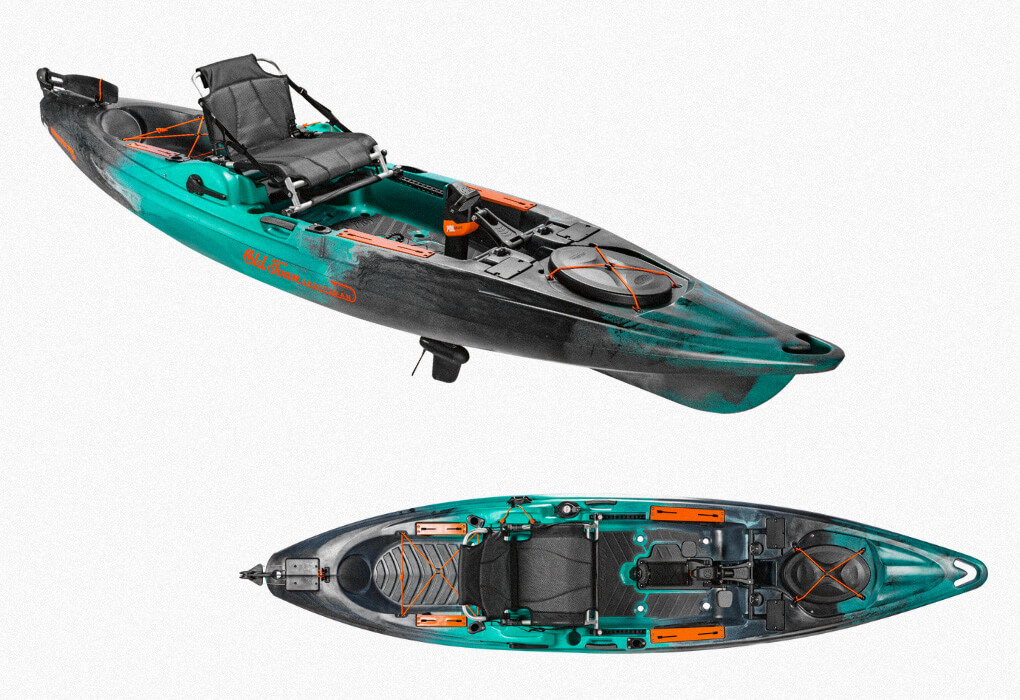 Specs
Length: 13′ 2″
Width: 36″
Weight: 122lbs
Weight Capacity: 500lbs
Why We Chose It
The Sportsman Big Water Pedal Drive is the best pedal kayak for a bigger guy because it's stable, has a comfortable seat, and has lots of storage.
Old Town has been a staple in the kayaking industry for decades. They're known for manufacturing high-quality kayaks.
I've come to love the Old Town PDL Drive for fishing deeper than three feet because I can keep my hands free to fish while maintaining control of my kayak.
The pedaling is a little stiffer than I expected, but I quickly got used to it while testing it out.
The best part of the PDL system is that I can instantly pedal forward or backward; this is a massive help in keeping your kayak in the perfect position. Boat position is critical to fishing.
The Sportsman Big Water is designed for kayak fishing. Hence, it has a comfortable seat for long hours of sitting, gear tracks to add a fish finder or other fishing accessories, and plenty of room for your tackle, including the dry storage and rear storage areas.
This kayak is incredibly wide, which means it is very stable. The Wilderness Systems Atak 120 is almost as wide as this boat but still falls an inch short.
However, the Bluesky Boatworks Jackson 360 Angler is the widest "kayak" I've ever seen. If you can even call that pontoon boat a kayak.
Due to its enormous size, the Sportsman Big Water PDL has a couple of downsides.
The biggest is that you'll definitely want a trailer to transport this kayak because it is incredibly heavy at 122 lbs, but the load can be lightened by 30 lbs by taking out the pedal drive system and removable seat.
You should also be prepared to drop a pretty penny on this kayak though it's still not as expensive as the Hobie Mirage Revolution 13 or the Jackson Knarr, which are comparable fishing kayaks.
If price is the main determining factor, check out the more budget-friendly Reel Yaks 11′ Pedal Fishing Kayak.
Old Town Sportsman Big Water Pedal Kayak is the best pedal kayak for big guys and girls because of the tremendous amount of room and stability offered.
MOST STABLE FISHING KAYAK FOR BIG GUYS AND GALS
Wilderness Systems Atak 120 Fishing Kayak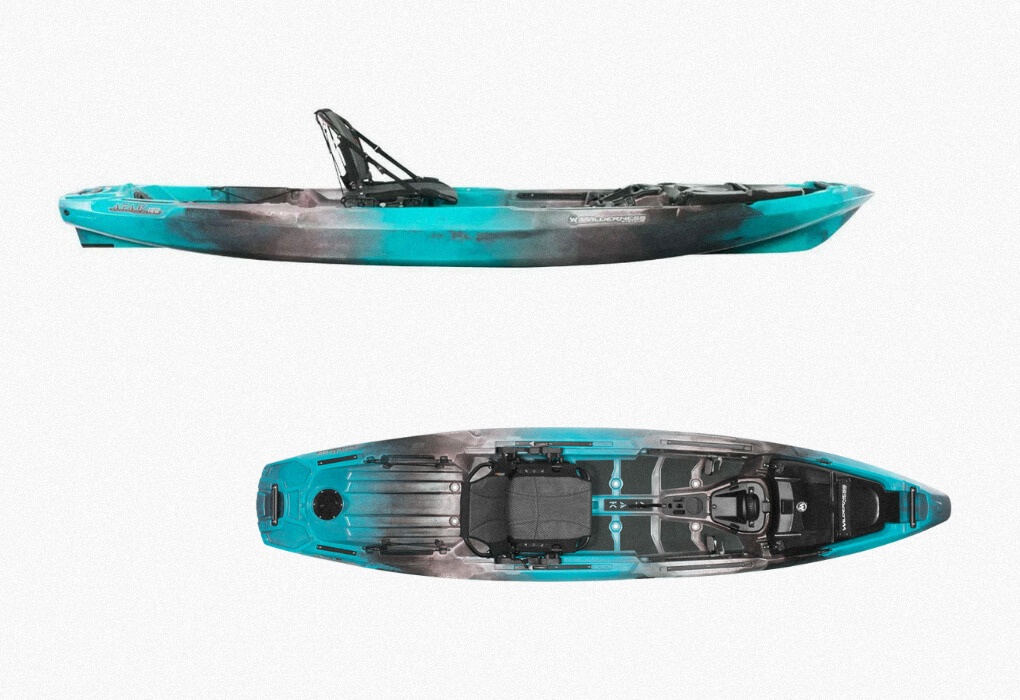 Specs
Length: 12ft 3in
Width: 35in
Weight: 85lbs
Weight Capacity: 400lbs
Why We Chose It
The Wilderness Systems Atak 120 is a great kayak for a large person to purchase because it is wide and super stable with a 400-pound weight limit.
I also like it because you can upgrade to a kayak motor in the future if you remove the FlexPod system and drop a Helix MD in its place.
Then you can rest your feet against the padded footrests and relax as you head to your next fishing spot.
Wilderness Systems designed this kayak to be a fishing kayak, so it has its beloved AirPro comfortable seat and XL adjustable padded foot braces to fit you.
It also has plenty of gear tracks for rod holders and a fish finder, so you can customize the kayak to your preferences.
When fishing lakes and or other large bodies of water, I prefer to have a large kayak, and the 12 feet 3 inches of length ensures there's plenty of room for yourself and all your fishing gear.
The three watertight storage hatches keep your nonwaterproof items dry, and a large area behind the seat holds gear that can get wet.
The bungee tank wells have self-draining scupper holes, so if you take on a lot of water, it will quickly drain out of your kayak.
Since it's 35 inches wide, stability won't ever be a problem for the Atak 120. I don't have the greatest balance anymore, and I still managed to stand up in this kayak and the Ascend 128X, which is only 34" wide.
Though the stability of this kayak does overshadow some of the cons, they're still there, and you should know about them.
As with most fishing kayaks, this one is heavy, topping out at 85 pounds, without any of your gear in it, so you'll need to be super strong or have a kayak trailer to transport it.
The other con that's common amongst fishing kayaks is how expensive it is. This is a significant investment, but I've seen MUCH more expensive fishing kayaks than the Atak 120.
The Wilderness Systems Atak 120 is the most stable fishing kayak for big guys and gals because it is 35 inches wide. You can definitely stand and fish in this kayak, even if you have average balancing skills.
BUDGET-FRIENDLY LARGE FISHING KAYAK
Perception Outlaw 11.5 Sit-On-Top Kayak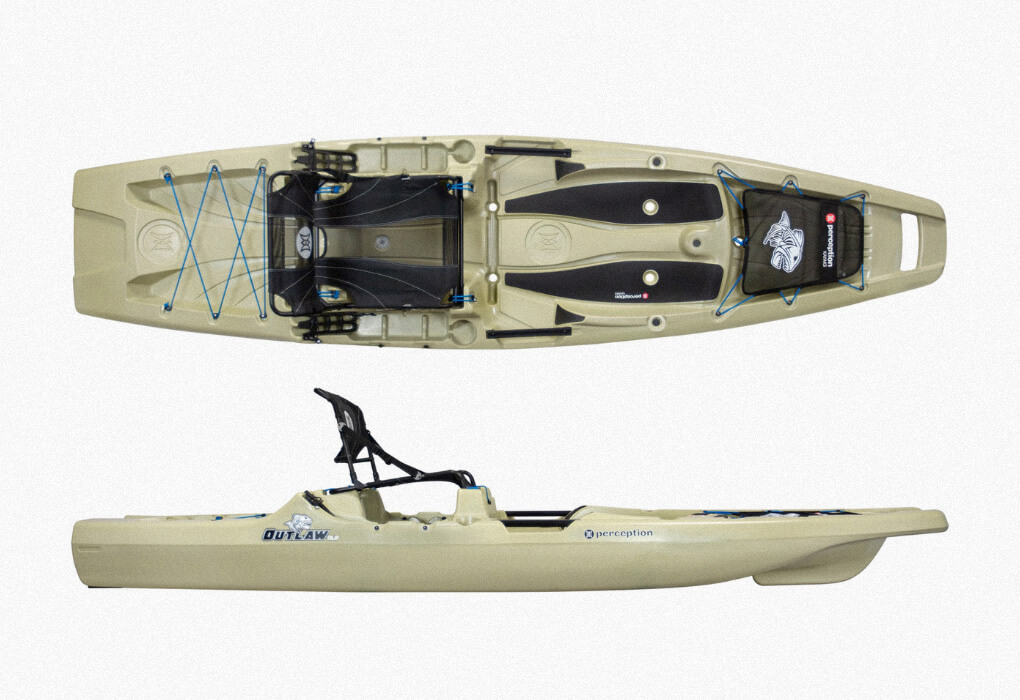 Specs
Length: 11.5 feet
Width: 35 inches
Weight: 77 pounds
Weight Capacity: 425 pounds
Why We Chose It
The Perception Outlaw 11.5 is the best budget-friendly large fishing kayak because it's big enough to hold all your gear and still has room left over without breaking the bank.
The Outlaw 11.5 is stable because it's 35″ wide; this might make maneuvering the kayak a little more difficult, but the stability is well worth it.
It's tough to find a fishing kayak at this price, so seeing gear tracks on this kayak makes me happy. The gear tracks provide you with a location to put a fish finder or another rod holder without having to drill holes in your kayak.
The mesh seat is comfortable because it sits up high, and the backrest is adjustable. However, the chair is only secured to the kayak by small bungee cords, so you'll need to watch them if they become frayed or break.
You can also remove the seat to create enough room for a 35L cooler to keep your beverages in, but you'll have to use the cooler as a seat.
Even though it's several inches shorter than I'd prefer, it is still long enough to have plenty of room to stretch out and have space left over for your fishing tackle with two bungee storage areas.
I'm undecided on whether or not I like the rod holders. They aren't in the best place for paddling; I'm worried I'd end up hooking my arm or, at the very least, keep hitting them.
I'm also not fond of using the gear tracks as carrying handles; the screws and plastic don't seem strong enough for this.
Lastly, the seat doesn't adjust a lot, so you might not be able to find the perfect position, but it's a lot better than the Perception Pescador seat, which is very uncomfortable because you're sitting on the floor of the kayak and the backrest doesn't adjust much.
Despite these cons, the Perception Outlaw 11.5 is the most budget-friendly large fishing kayak because it's a kayak under $1,000, but it's still stable and has plenty of storage space.
The Lifetime Fishing Kayak Yukon Angler 116 is even cheaper, but you'll be sacrificing a few inches in width, so it won't be as stable, and the seat also sits lower, so it won't be as comfortable.
Buying Guide: Factors To Consider Before Buying A Big Fishing Kayak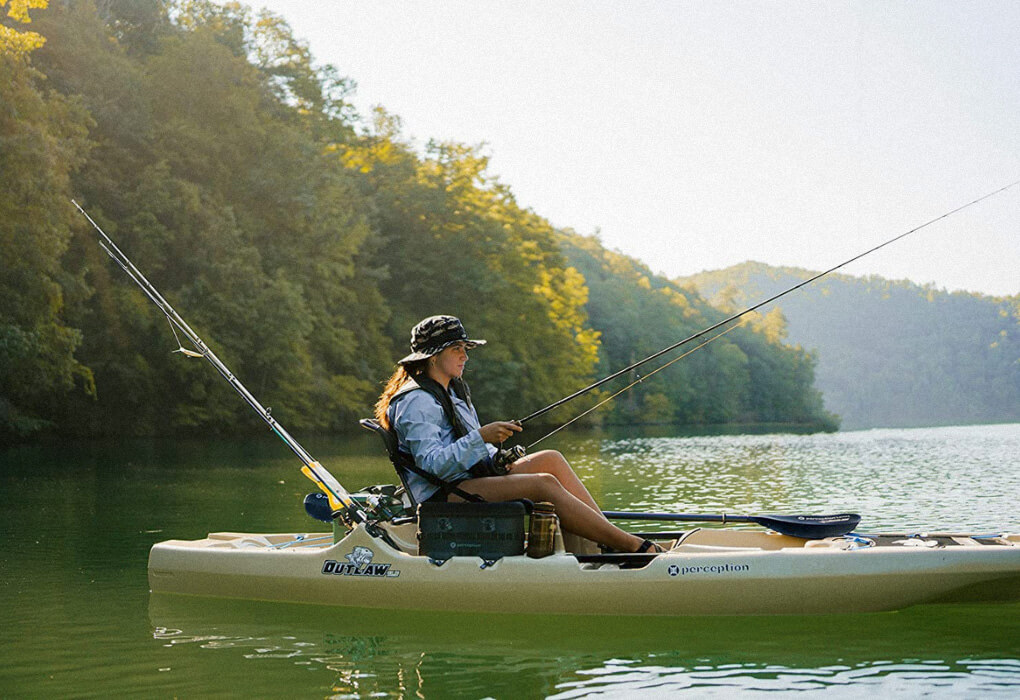 Though kayaks are simple plastic boats, many factors need to be considered when purchasing a large fishing kayak. Thankfully, some matter more than others.
The following is a non-exhaustive list that I try to keep in mind when buying a new fishing kayak.
Kayak Length
A fishing kayak less than 11 1/2 feet long tends to get cramped once you've added all your fishing gear.
That's why most of the kayaks I recommended above were 12 feet or longer. The extra length also gives you more max weight capacity and room to stretch your legs.
Kayak Width
The wider the kayak, the more stable it will be; however, the wider the kayak, the harder it is to maneuver.
Tall people with long arms and legs will enjoy a wider kayak more than short paddlers because short people will find it difficult to paddle efficiently.
Kayak Weight
The kayak's weight matters most when you're transporting it and while you're paddling. A heavy kayak is difficult to load on your vehicle's roof rack, so you might have to purchase a premade kayak trailer or a DIY kayak trailer.
Heavy kayaks also take more energy to paddle. This is one area inflatable PVC fishing kayaks have an advantage over high-density polyethylene kayaks.
Kayak Weight Capacity
It's essential to pay attention to the weight capacity of your kayak. The closer you get to the maximum weight limit, the more unstable the kayak will become; that's why you should get as high of a weight limit as possible.
You'd be surprised how much a trolling motor battery, trolling motor, fish finders, and tackle weighs!
Kayak Customizability
Everyone fishes a little bit differently. Your fishing kayak will reflect how you fish, so you want to purchase a kayak that will customize to your style instead of adapting to the kayak.
You'll Also Need
When buying a large fishing kayak for the first time, these essentials are easily overlooked. However, I wouldn't dare leave the shore without them!
Kayak Paddle
Shockingly, most kayaks don't come with a paddle! Luckily, we narrowed down your decision in our best fishing kayak paddle article.
You'll see the Bending Branches Angler Ace was the best kayak fishing paddle overall.
Kayak PFD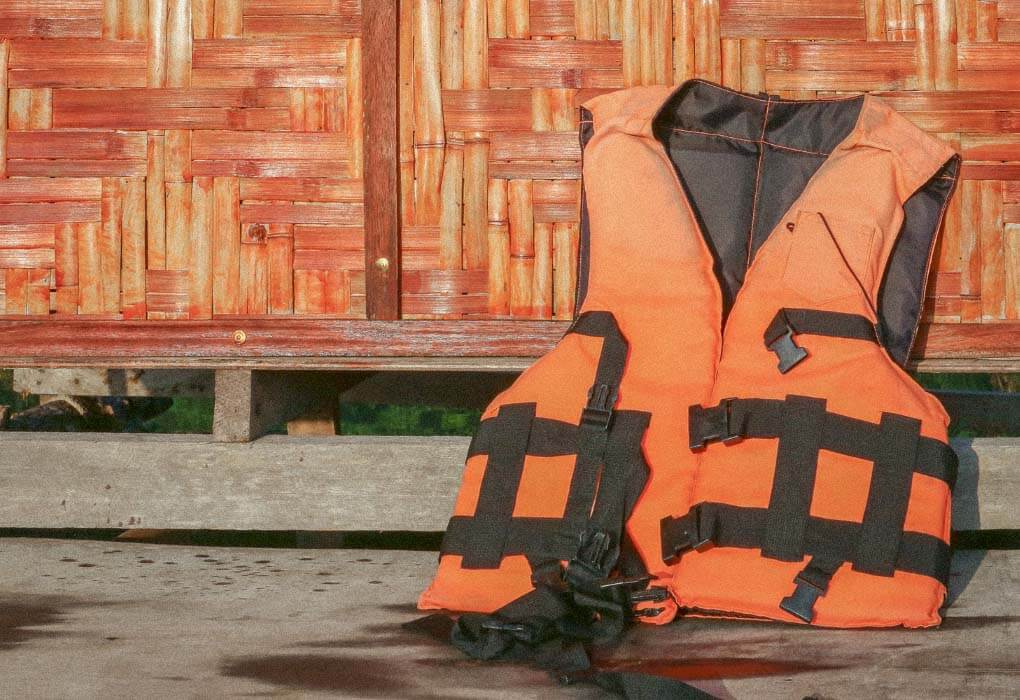 Never leave the shore without a PFD, especially when floating in a kayak. A personal floatation device like the NRS Chinook can save your life in an accident.
Feel free to check out the other kayak fishing lifejackets in our round-up if it's too expensive.
Kayak Fishing Poles
You'll likely need a fishing pole unless you're really good at snagging fish with your bare hands. Any fishing rod will work, but the best kayak fishing rods are designed with the needs of kayak anglers in mind.
Frequently Asked Questions
Here are some of the most commonly asked questions we're asked at Anglers.com about kayaks for bigger people:
Which is the best fishing kayak for a big man?
The Ascend 128X is the best fishing kayak for a big man because it's room, stable, and has a higher weight capacity.
Can a 300lb man kayak?
Yes, a 300lb man can kayak; he will need a kayak with a 400lb+ weight capacity; otherwise, it will be tippy.
Do they make kayaks for big guys?
Yes, they make kayaks for big guys. We have many listed above.
What is the weight limit for fishing kayaks?
The weight limit for fishing kayaks depends on the kayak you purchase. It's generally between 275- 400 pounds.
What fishing kayak has the highest weight capacity?
Last Cast
Determining the best fishing kayak for big guys and gals is primarily dependent on the length and width of the kayak.
Purchasing a kayak that has enough room for you and your gear, like the Ascend 128X, which is also highly stable, is your best bet.
Look no further than the Old Town Sportsman Bigwater Pedal Kayak for a large pedal kayak. It's 13′ long, so you won't run out of space, and incredibly stable at 36″ wide.
Large fishing kayaks are more expensive than small sit-in kayaks used for recreation. However, they're more versatile and safer because of their enhanced stability and features.
Let us answer your questions about fishing kayaks in the comments below!