---
We independently research, test, and recommend the best products; you can learn more about our review process here.
We've all witnessed the videos of people tipping a canoe or kayak and going for a swim.
A few years back, this happened to me when I tried paddling a kayak in which I exceeded the weight limit.
Thankfully, I was in shallow water, and my daughter was the only one to see it happen.
She had a good laugh, and I learned a valuable lesson that day; purchase a kayak with extra weight capacity!
The Ascend 128x is the best fishing kayak for big guys and gals. It has a max capacity of 450lbs, and it's much more stable than the kayak I was in that day!
The Perception Outlaw 11.5 is my budget-friendly pick. It's not easy finding a stable fishing kayak for under $1000, but the Outlaw is one.
One of the following nine kayaks is sure to meet your needs so that you can enjoy a day of kayak fishing!
Comparison Table – Fishing Kayak For Big Guys And Gals
---
Large Fishing Kayak Reviews
Ascend 128X Sit-on-Top Kayak with Yak-Power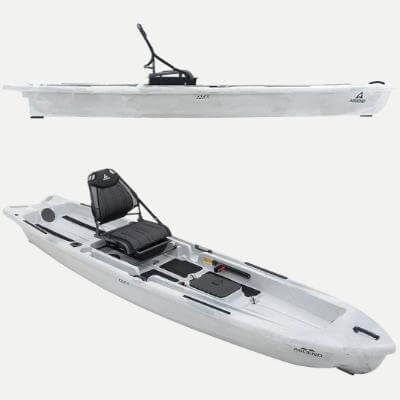 BEST FISHING KAYAK FOR BIG GUYS & GALS OVERALL
Specs
Length: 12′ 8″
Width: 34″
Weight: 96lbs
Weight Capacity: 450lbs
Pros
Spacious open floor plan
Comfortable kayak seat
Stable
It comes with pre-rigged wiring for electronics
Plenty of storage
Cons
Why We Chose It
The Ascend 128X is an inexpensive fishing kayak, considering it's already rigged with the wires for your electronics, and it's a large stable kayak.
Most kayaks in this price range are smaller and don't come pre-rigged.
The Ascend is heavy, so transporting it is difficult if you don't have a trailer.
The low seat height can be uncomfortable for some; however, there is plenty of space in the front to stretch your legs during a long day of fishing, and the adjustable footrests will also help even though the seat is low, its mesh and foam, which makes it more comfortable to sit in for multiple hours.
The wide base of the kayak means you won't have to worry about tipping because it is very stable. The length of the kayak provides plenty of storage for your fishing gear behind the seat.
The two built-in rod holders are nice because you won't have to purchase aftermarket ones to place on the gear tracks with your fishfinder and other electronics.
The Ascend 128X is the best kayak for big guys and gals because it is incredibly stable, there's plenty of room for you and your gear, and it's reasonably priced.
A similar option is the Ascend 12T.
The 12T is a little shorter, lighter, less wide, and doesn't come with the PowerYAk feature, but it's also cheaper. Either one will get you on the water fishing!
Perception Pescador Pro 12.0 Sit-On-Top Kayak
BEST SIT-ON-TOP FISHING KAYAK FOR BIG GUYS & GALS
Specs
Length: 12ft
Width: 32.5 in
Weight: 64 Pounds
Weight Capacity: 375 Pounds
Pros
Adjustable seat
Bungee storage
Lightweight for its size
Plenty of room
Customizable gear tracks
Cons
No dry storage
It feels a little cramped.
Why We Chose It
Even though the Pescador Pro 12 feels a little cramped because it's more narrow than some of the other kayaks, it still has plenty of room for storage in the bow and the rear of the kayak.
There is a small hatch in the kayak floor that appears to be dry storage; however, I would not trust it with my nonwaterproof valuables in case a wave crashes over the side of the Pescador Pro 12.
I like the bungee storage for items that can get wet because it will help keep your gear secure if you were to flip. This kayak is reasonably priced, considering it's designed for kayak fishing.
Hence, it has features that other recreational kayaks won't, like built-in rod holders and gear tracks for additional customizability of your sonar.
The Pescador Pro 12 weighs 64 pounds, which is light considering other kayaks this size easily exceed 80 pounds. With the weight limit of 375 pounds, you'll be able to bring along all the fishing gear you'll need for a fun day on the water.
The Perception Pescador Pro 12 is the best sit-on-top fishing kayak for big guys and girls because there's plenty of room to store your gear and stretch out. Though it might not be as stable as some others, the 32.5″ width offers plenty of stability to feel comfortable.
The Ocean Kayak Malibu II XL Angler Tandem is another kayak worth checking out if the Pescador Pro 12 is too small. I don't think the Malibu I XL Angler Tandem is as comfortable as the Pescador, but it has a lot more weight capacity and is a foot longer.
Old Town Sportsman Big Water Pedal Kayak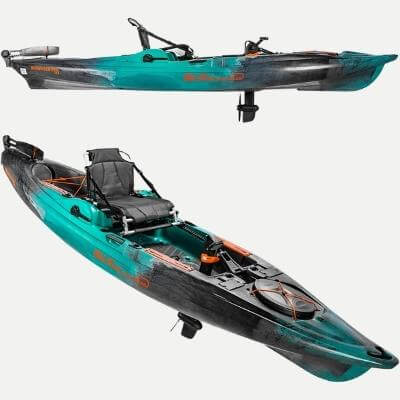 BEST PEDAL KAYAK FOR BIG GUYS & GALS
Specs
Length: 13′ 2″
Width: 36″
Weight: 122lbs
Weight Capacity: 500lbs
Pros
Pedal Drive
Comfortable seat
Flush-mounted rod holders
Dry storage and bungee storage
Designed for fishing
Cons
Why We Chose It
Old Town has been a staple in the kayaking industry for years. They're known for manufacturing high-quality kayaks.
Their kayaks, including the Sportsman Big Water Pedal Drive, are expensive but worth it.
You'll definitely want a trailer to transport this kayak because it is incredibly heavy at 122lbs, but the load can be lightened by 30lbs when you remove the pedal drive system and the seat.
The Old Town PDL Drive is great for fishing deeper than three feet. You can keep your hands free to fish while maintaining control of your kayak.
The pedaling is a little stiffer than I expected, but I quickly got used to it while testing it out.
I love that you can instantly pedal forward or backward; this is a massive help in keeping your kayak in the perfect position.
The Sportsman Big Water is designed for kayak fishing. Hence, it has a comfortable seat for long hours of sitting, gear tracks to add a fish finder or other fishing accessories, and plenty of room for your tackle, including dry storage.
This kayak is incredibly wide, which means it is very stable.
Old Town Sportsman Big Water Pedal Kayak is the best pedal kayak for big guys and girls because of the tremendous amount of room and stability offered.
If the Sportsman Big Water is too expensive, then I would suggest checking out the Perception Showdown 11.5 Pedal Sit-On-Top Kayak. It's shorter but just as wide and nearly $1,000 less expensive.
Wilderness Systems Atak 120 Fishing Kayak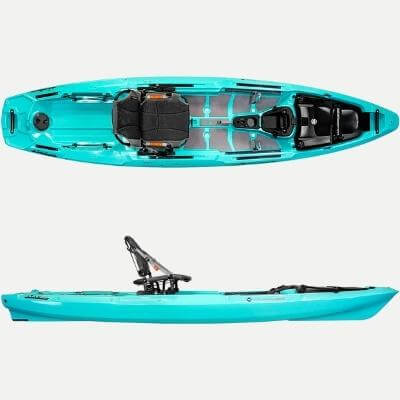 MOST STABLE FISHING KAYAK FOR BIG GUYS AND GALS
Specs
Length: 12ft 3in
Width: 35in
Weight: 85lbs
Weight Capacity: 400lbs
Pros
Designed for kayak fishing
FlexPod system removes to accommodate the Helix MD Motor Drive (sold separately)
XL adjustable padded foot braces
3-way adjustable AirPro seat
Cons
Why We Chose It
The Wilderness Systems Atak 120 is an excellent kayak to purchase if you think you might upgrade to a kayak motor in the future because you can remove the FlexPod system and drop a Helix MD in its place.
Then you can rest your feet against the padded footrests and relax as you head to your next fishing spot.
Wilderness Systems designed this kayak to be a fishing kayak, so it has a comfortable seat and plenty of gear tracks for rod holders and a fish finder.
The 12 feet 3 inches of length ensure there's plenty of room for yourself and your fishing gear, and since it's 35 inches wide, stability won't ever be a problem for the Atak 120.
It has three dry storage hatches for nonwaterproof items and a large area behind the seat for gear that can get wet. The bungee tank wells are self-draining, so if you take on a lot of water, it will quickly drain out of your kayak.
The Wilderness Systems Atak 120 is the most stable fishing kayak for big guys and gals because it is wide. You can stand and fish in this kayak if you have average balancing skills.
If you're looking for extreme stability at any price, then check out the Jackson Kayak 360. It's more like a kayak pontoon than a traditional fishing kayak, but at 48in wide, it's incredibly stable and expensive.
Aquaglide Blackfoot Angler 130 Sit-on-Top Inflatable Kayak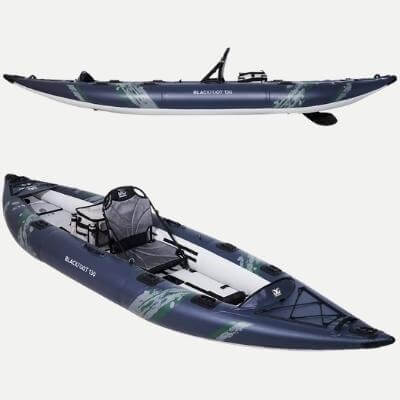 BEST FISHING KAYAK FOR HEAVY PERSON
Specs
Length: 13′
Width: 38″
Weight: 41lbs
Weight Capacity: 650lbs
Pros
Lightweight
Easy to transport
High weight limit
Universal accessory mounts
Designed for fishing
Cons
Not as durable as a polyethylene hardshell kayak
No dry storage
Low seat height
More difficult to fish out of
Why We Chose It
The Aquaglide Blackfoot Angler 130 was designed with anglers in mind. Even though it's an inflatable kayak, it still has some of the features of rigid kayaks that are beneficial to anglers.
Even though I'm not a fan of inflatable kayaks, as I mentioned in our best inflatable fishing kayaks review, I still see their benefits.
They're very lightweight; this one is half the weight of comparable hardshell kayaks and easy to transport. You don't need a trailer or have to lift a heavy kayak onto the roof of your vehicle.
If you properly maintain an inflatable kayak, it will last you several years. However, I don't believe they will last as long as a properly maintained polyethylene kayak, but it's also less expensive.
Another great thing about the Blackfoot Angler 130 is its stability.
It's challenging to flip or tip an inflatable kayak because of how wide they are and how they're designed to hold the air on the sides of the kayak.
This kayak has an incredibly high weight capacity of 650lbs, so you won't have to worry about reaching the weight limit with you and your gear inside.
The Aquaglide Blackfoot Angler 130 is the best fishing kayak for a heavy person because of its high weight limit and spectacular stability.
If you're looking for something slightly smaller, the Aquaglide Chinook 120 is an excellent place to start.
It's designed as a tandem kayak, which means it's a two-person kayak, but one seat can be removed for single paddler use. It has a 550lb weight limit which is slightly less.
Perception Outlaw 11.5 Sit-On-Top Kayak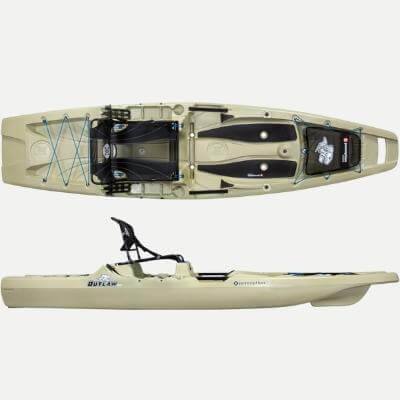 BUDGET-FRIENDLY LARGE FISHING KAYAK
Specs
Length: 11.5 feet
Width: 35 inches
Weight: 77 pounds
Weight Capacity: 425 pounds
Pros
Inexpensive
Designed for kayak fishing
Built-in fishing rod holders
Stable
Plenty of storage
Cons
Shorter than what's ideal
Limited seat adjustability
Limited gear tracks
Not sure the rod holders will securely hold four rods
Why We Chose It
Even though the Perception Outlaw is several inches shorter than I'd prefer, it is still long enough to have plenty of room to stretch out and have space left over for your fishing tackle.
I'm undecided on whether or not I like the rod holders. They aren't in the best place for paddling, and I'm not convinced they will hold four rods as they claim.
The Outlaw 11.5 will be stable because it's 35″ wide, this might make maneuvering the kayak a little more difficult, but the stability is well worth it.
I like that Perception made the side handles into gear tracks as well; that's a unique feature. The gear tracks provide you with a location to put a fish finder or another rod holder without having to drill holes in your kayak.
The mesh seat is comfortable because it sits up high, and the backrest is adjustable.
However, the chair is only secured by small bungee cords, so you'll need to watch them if they become frayed or break.
If you remove the seat, there is enough room for a 35L cooler to keep your beverages in; you'll have to use the cooler as a seat.
The Perception Outlaw 11.5 is the most budget-friendly large fishing kayak because it's a kayak under $1,000, but it's still stable and has plenty of storage space.
The Lifetime Kayaks Kenai Angler is even cheaper, but you'll be sacrificing a foot in length and six inches in width so that it won't be as stable.
Brooklyn Kayak Company PK12 Angler Sit On Top w Trolling Motor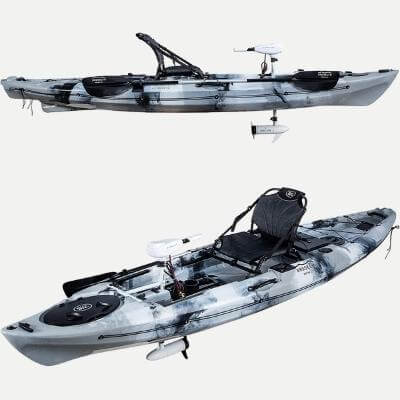 HONORABLE MENTION
Specs
Length: 12′
Width: 33″
Weight: 78lbs
Weight Capacity: 460lbs
Pros
Designed for kayak fishing
Comes with a trolling motor, paddle, and anchor trolley.
Comfortable seat
Plenty of storage, including dry storage
Cons
Expensive
Not as wide as other models
Why We Chose It
The BKC PK12 comes with nearly everything you need to get on the water. However, you'll still need to buy a trolling motor battery and a kayak lifevest.
This kayak has three dry storage compartments and a bungee rear storage area. There's enough legroom to stretch and stay comfortable even with the motor.
The seat sits up off of the floor with adjustable back support so you can comfortably fish. I like that the anchor trolley is already installed. That's one less thing you have to do when rigging it.
The motor can be removed and replaced with a pedal drive, or you can paddle. I love that this kayak is versatile, so you're not limited to one option when kayak fishing.
The maximum weight capacity is 460lbs, so you can bring along all the fishing gear you'll need for the trip, even if you're a bigger guy or gal.
The BKC PK12 is narrower than other kayaks on the list, so it won't be as stable and is best in calm waters, but it will resist tipping and capsizing if you encounter rough waters.
The BKC PK12 Angler With Trolling Motor is a great kayak for beginners or intermediate paddlers looking to upgrade.
This kayak will suit most kayak anglers' needs and the kayakers who just want to relax with a cold drink in the cupholder while cruising the lake!
Reel Yaks 11′ Pedal Fishing Kayak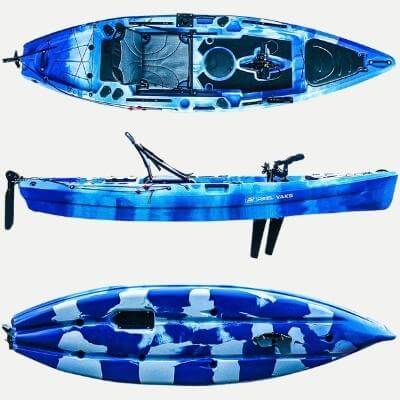 HONORABLE MENTION
Specs
Length: 11 feet
Width: 35 inches
Weight: 62 pounds
Weight Capacity: 500 pounds
Pros
Pedal or paddle
Padded seat
Dry stern storage
Multiple carrying handles
Designed for kayak fishing
Cons
Low seat height
Only 11′ long
Why We Chose It
The Reel Yaks 11″ Pedal Fishing Kayak is an excellent kayak for anglers who need many storage options. There's plenty of watertight stern storage and bungee storage in the tank well.
Even though it's only 11′, a large person will have enough room to comfortably fish and pedal with all their gear in the boat.
The padded seat means your butt will be comfortable all day. However, some might find the seat height to be a little low.
The kayak is easy to carry because it has carrying handles all around it. These handles also make it easier to reenter the kayak if you fall out or decide to go for a swim.
Because Reel Yaks designed this kayak for anglers, it has built-in rod holders and accessory tracks for a fish finder and other rod holders.
The paddle holder is great when you're pedaling to your destination. You don't have to worry about holding onto your paddle the entire time. I don't like that it blocks one of the built-in rod holders.
The Reel Yaks 11′ Pedal Fishing Kayak is designed for shallow water pedaling, but it doesn't have a reverse pedaling feature. So if you can look past the few downsides, this is an excellent mid-range pedal fishing kayak.
Brooklyn Kayak Company 11.5 Foot Angler Sit-On-Top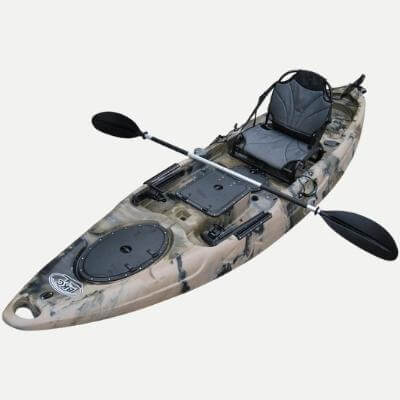 HONORABLE MENTION
Specs
Length: 11′ 6″
Width: 34″
Weight: 68lbs
Weight Capacity: 550lbs
Pros
Single piece rotomolded high-density polyethylene
Designed for kayak fishing
Stable
Comfortable padded seat
Lots of storage area
Cons
Why We Chose It
The BKC 11.5′ Angler Sit-On-Top is designed with the kayak angler in mind. Flushmount rod holders, watertight storage, and guides tracks ensure you can bring all the gear you'll need on your next fishing adventure.
The padded seat is adjustable so that you can find the perfect angle for the backrest. However, the seat height is low, which larger paddlers might find uncomfortable after long periods.
My favorite feature is the foot-controlled rudder. You can keep your hands free for fishing and steer your kayak with your feet.
This feature is a huge help when the wind gently blows you along the bank. You can keep the perfect distance without having to put your fishing rod down to paddle.
The BKC 11.5′ Angler has a high weight capacity considering it's less than 12,' but the most impressive thing is its stability at 34″ wide.
If you have a decent balance, you can stand and fish. The tricky part will be standing from the low seat. If you don't have good balance, this kayak will be plenty stable to sit and fish.
You won't have to worry about tipping when leaning over to land your fish.
The Brooklyn Kayak Company 11.5′ Angler is an incredible kayak for beginners. It has many features that more expensive kayaks don't and will last a lifetime if it's taken care of properly.
Buying Guide: Factors To Consider Before Buying A Big Fishing Kayak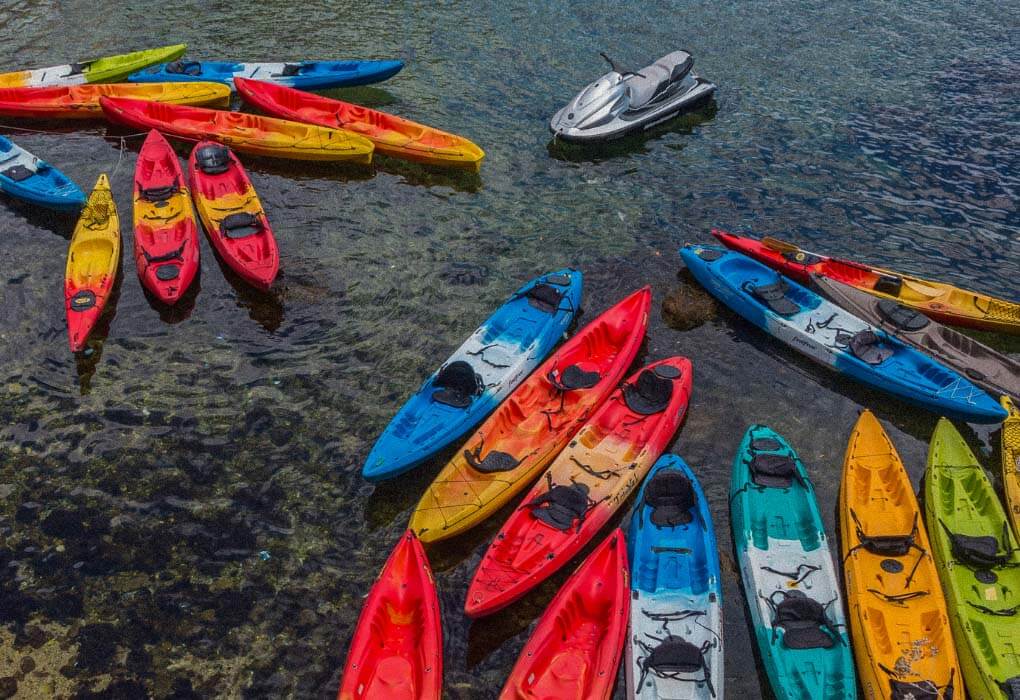 Though kayaks are simple plastic boats, many factors need to be considered when purchasing a large fishing kayak. Thankfully, some matter more than others.
The following is a non-exhaustive list that I try to keep in mind when buying a new fishing kayak.
Kayak Length
A fishing kayak less than 11 1/2 feet long tends to get cramped once you've added all your fishing gear.
That's why most of the kayaks I recommended above were 12 feet or longer. The extra length also gives you more max weight capacity.
Kayak Width
The wider the kayak, the more stable it will be; however, the wider the kayak, the harder it is to maneuver.
Tall people with long arms and legs will enjoy a wider kayak more than short paddlers because short people will find it difficult to paddle efficiently.
Kayak Weight
The kayak's weight matters most when you're transporting it and while you're paddling. A heavy kayak is difficult to load on your vehicle's roof rack, so you might have to purchase a premade kayak trailer or a DIY kayak trailer.
Heavy kayaks also take more energy to paddle. This is one area inflatable PVC fishing kayaks have an advantage over high-density polyethylene kayaks.
Kayak Weight Capacity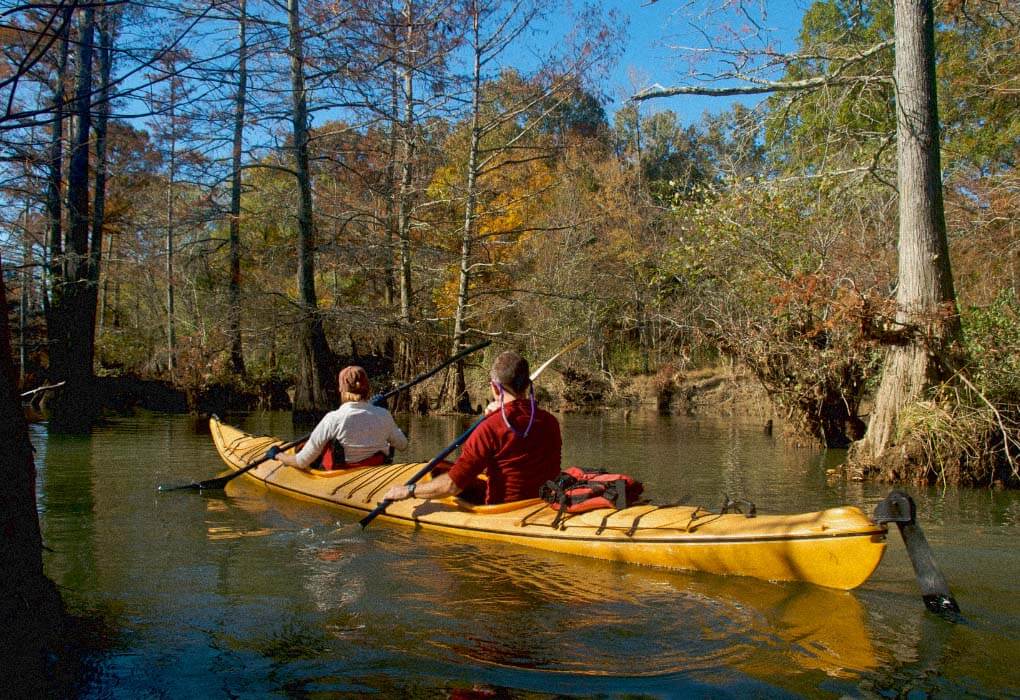 It's essential to pay attention to the weight capacity of your kayak. The closer you get to the maximum weight limit, the more unstable the kayak will become; that's why you should get as much of a weight limit as possible.
You'd be surprised how much a trolling motor battery, trolling motor, fish finders, and tackle weighs!
Kayak Customizability
Everyone fishes a little bit differently. Your fishing kayak will reflect how you fish, so you want to purchase a kayak that will customize to your style instead of adapting to the kayak.
You'll Also Need
When buying a large fishing kayak for the first time, these essentials are easily overlooked. However, I wouldn't dare leave the shore without them!
Kayak Paddle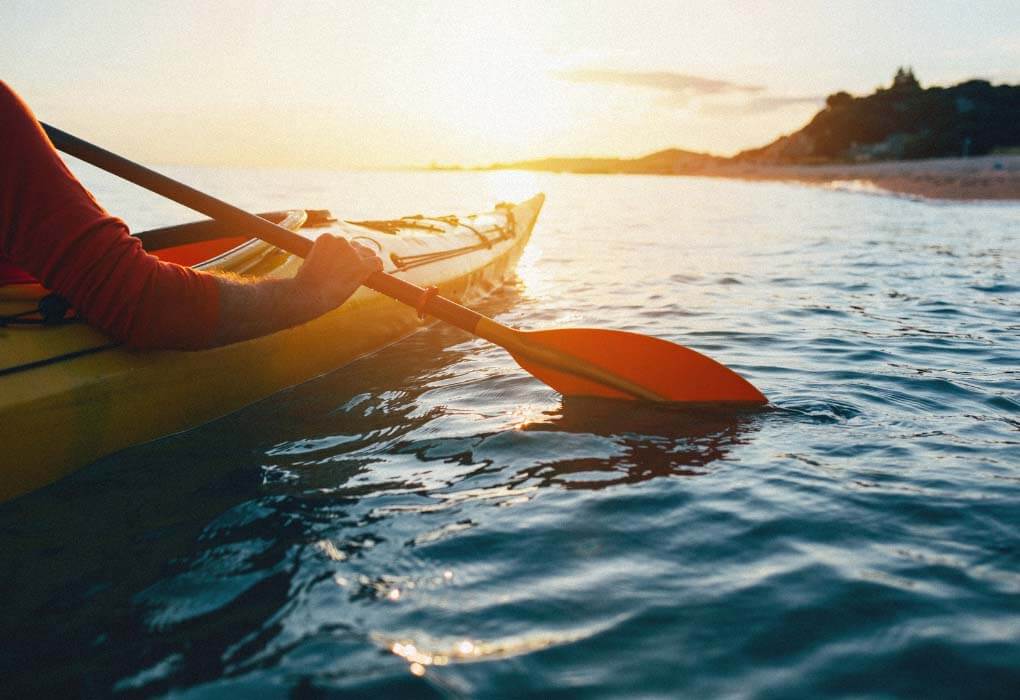 Shockingly, most kayaks don't come with a paddle! Luckily, we narrowed down your decision in our best fishing kayak paddle article.
You'll see the Bending Branches Angler Ace was the best kayak fishing paddle overall.
Kayak PFD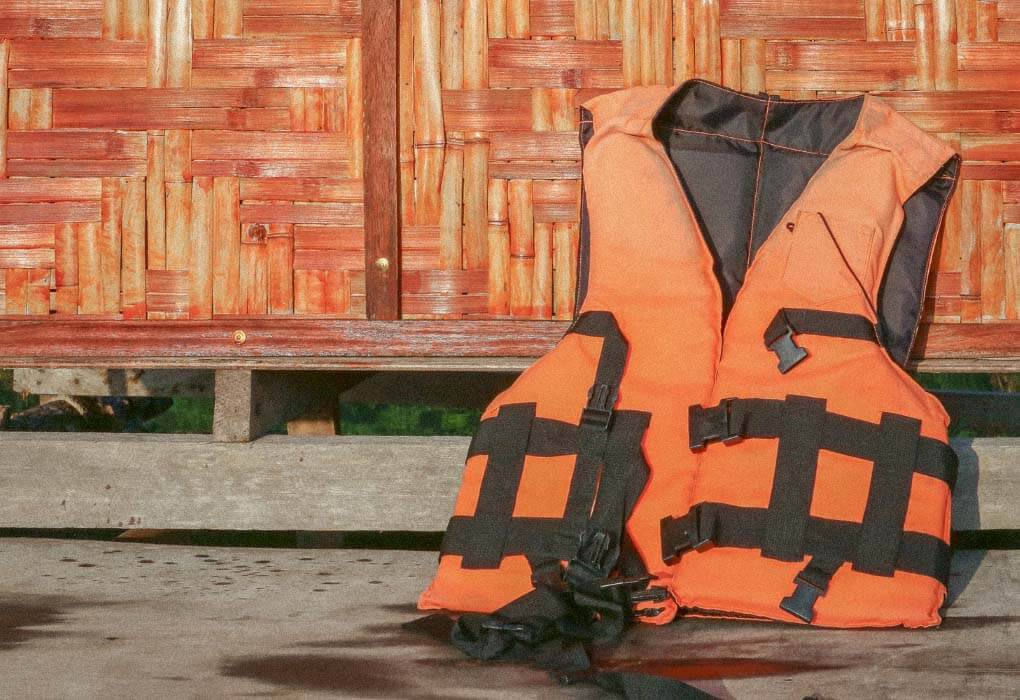 Never leave the shore without a PFD, especially when floating in a kayak. A personal floatation device like the NRS Chinook can save your life in an accident.
Feel free to check out the other kayak fishing lifejackets in our round-up if it's too expensive.
Kayak Fishing Poles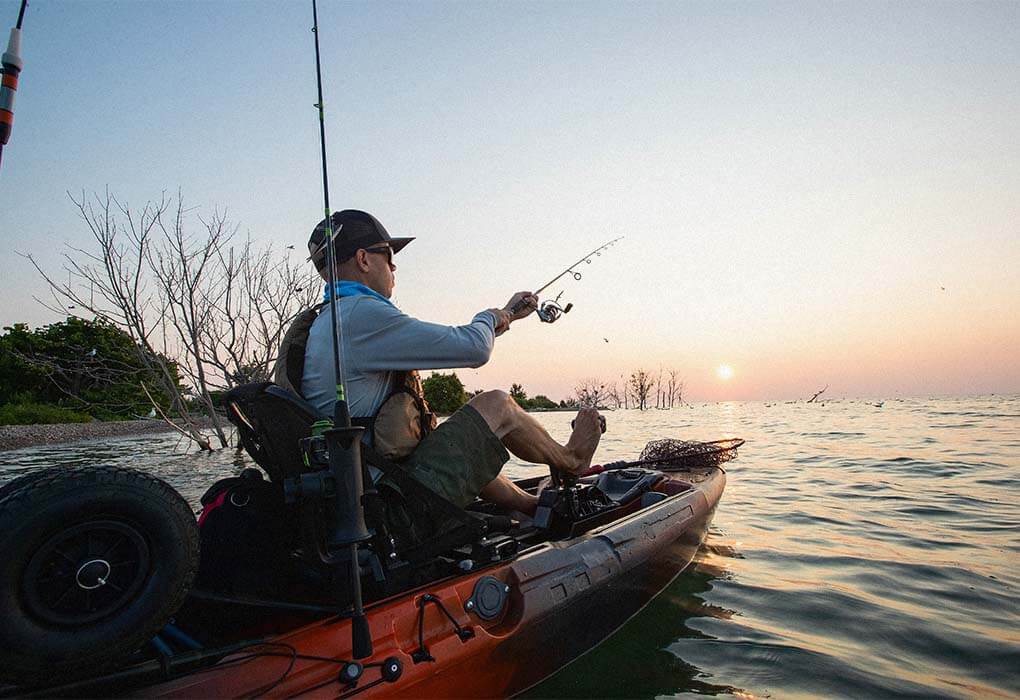 You'll likely need a fishing pole unless you're really good at snagging fish with your bare hands. Any fishing rod will work, but the best kayak fishing rods are designed with the needs of kayak anglers in mind.
Final Thoughts
Determining the best fishing kayak for big guys and gals is primarily dependent on the length and width of the kayak.
Purchasing a kayak that has enough room for you and your gear, like the Ascend 128X, which is also highly stable.
If you're having trouble finding a large pedal fishing kayak, look no further than the Old Town Sportsman Bigwater Pedal Kayak. It's 13′ long, so you won't run out of space, and 36″ wide, so it's incredibly stable.
Large fishing kayaks are more expensive than small sit-in kayaks used for recreation. However, they're more versatile and safer because of their enhanced stability and features.
We'd love to answer any questions or comments you have about kayak fishing in the comments below!