As a kayak angler, I love outfitting a kayak for fishing.
Maybe it's because I'm a gear junkie, looking for the best way to trick a fish into biting my hook.
Or it might be because it takes me back to working on similar projects with my grandpa. Either way, I'm always on the lookout for the best kayak fishing tips.
Here's my list of the 21 best kayak rigging ideas and gear for beginner, intermediate, and expert kayak anglers.
---
Beginner Kayak Rigging Ideas
These beginner-friendly kayak rigging ideas are inexpensive ways to convert a recreational kayak into a fishing kayak.
Kayak Rod Holders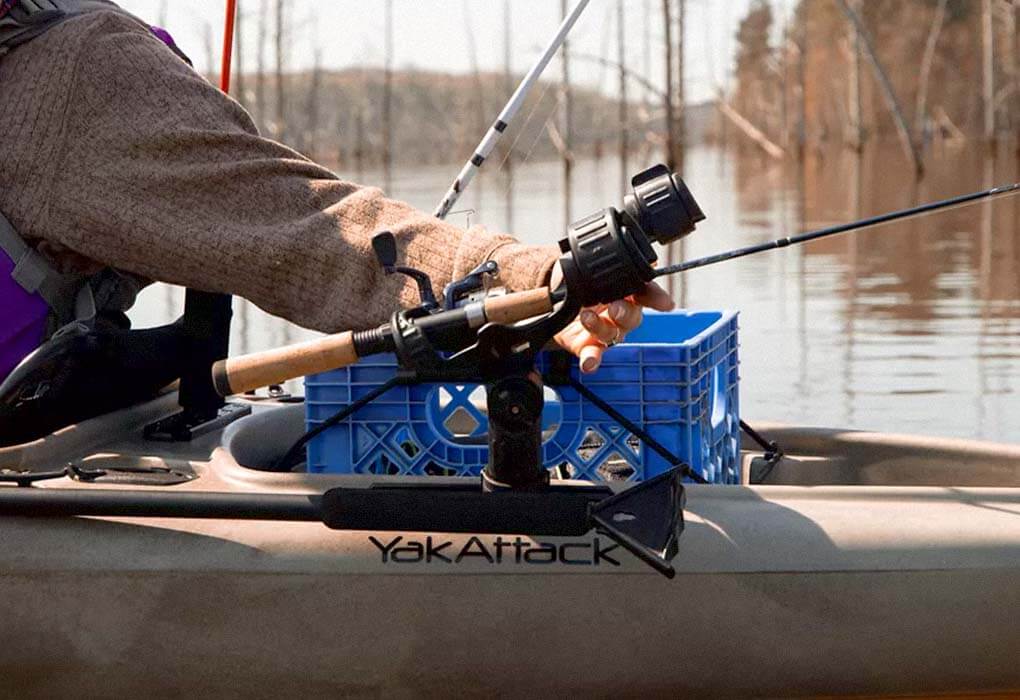 When you're first getting started, you can lay the fishing pole between your legs to paddle, but eventually, you'll want a rod holder or two, so you can bring along a spare fishing rod.
Fishing rod holders are usually simple to install, and some don't require you to drill holes in your kayak, like the YakAttack Omega Rod Holders.
While others, like a flush mount rod holder, will require holes to be drilled.
Milk Crate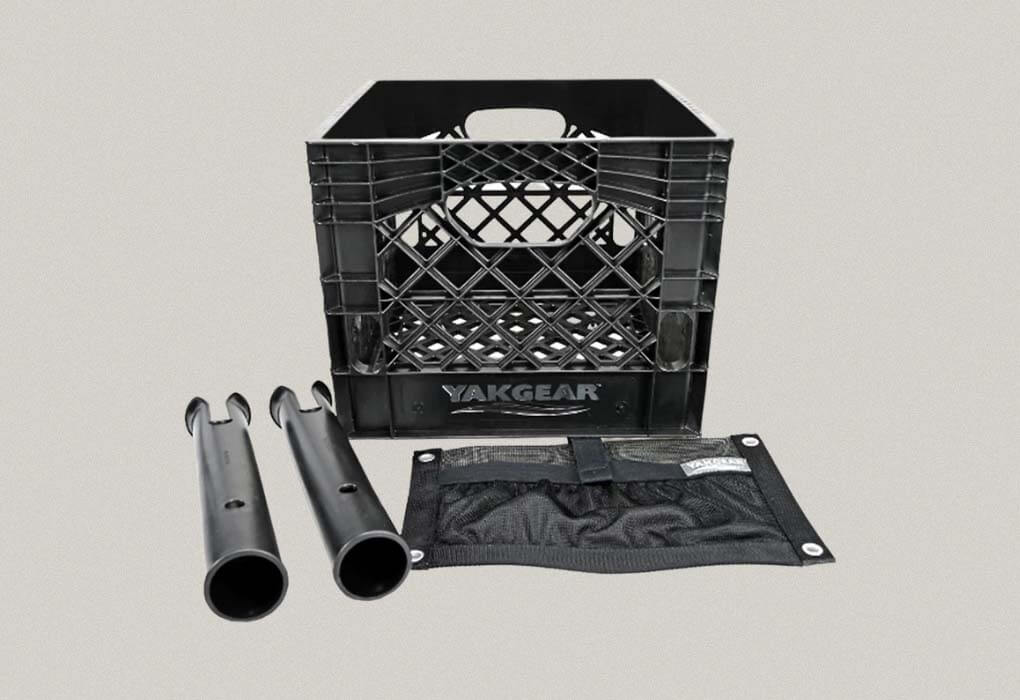 If you've fished from a kayak just once, you've realized they are extremely limited in storage space.
Adding a milk crate to the tank well will help keep your fishing gear more organized.
Instead of drilling holes in your new kayak, you can add rod holders to the milk crate.
Kayak crates are relatively inexpensive, and some companies sell kits, like the YakGear Anglers Crate Starter Kit, so you get everything you need to start!
Safety Flag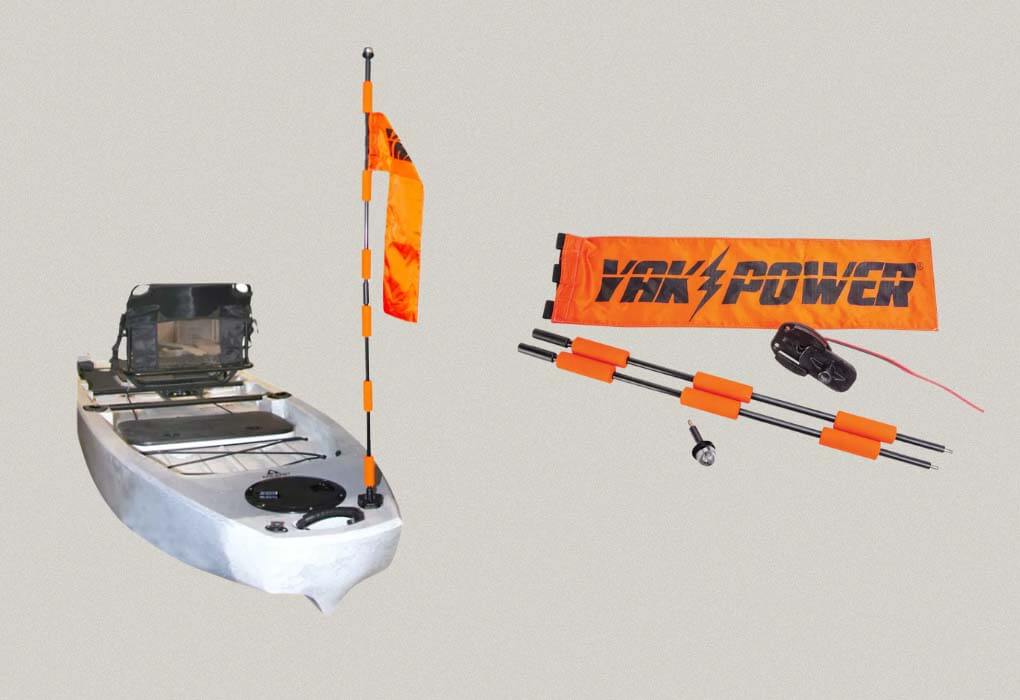 A safety flag might be unnecessary if you only kayak fish in ponds or kayak only lakes.
However, when I'm fishing in a location where I can encounter other fishing boats, I use a kayak flag as a precaution.
It doesn't guarantee that the larger boats will see you and not run you over, but it does help us kayak anglers be more visible while we're on the water.
I zip-tied a cheap kids' bike safety flag to my kayak crate when I first began kayak fishing.
You can check out the Yak-Power Safety Light and Flag if you want something more professional.
Kayak Tackle Box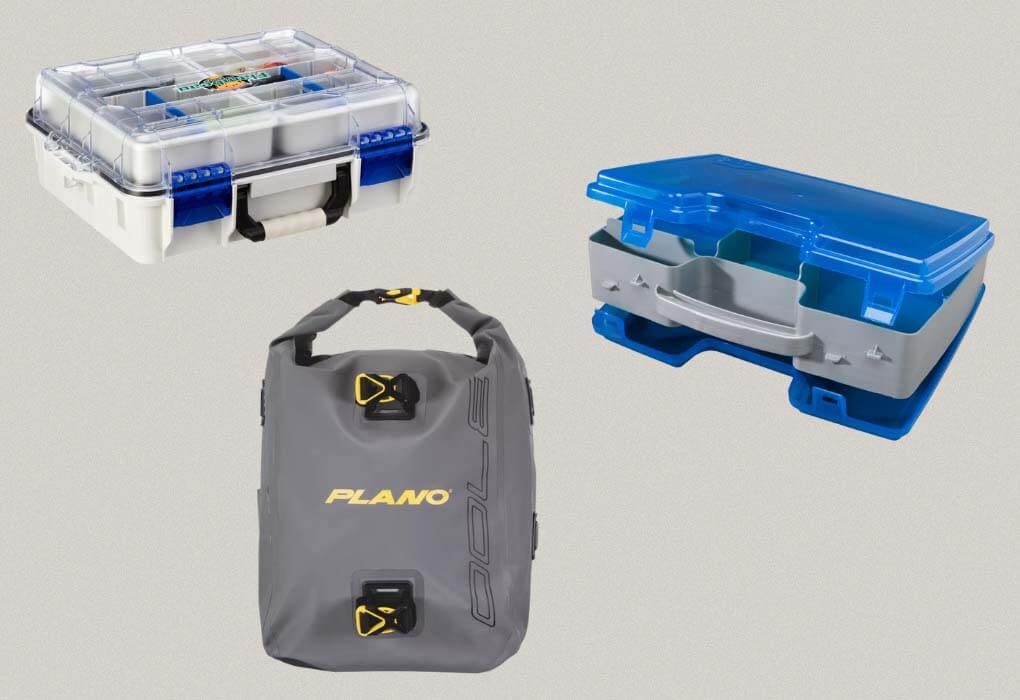 When I started kayak fishing, I tried to use my regular tackle box and immediately realized it was too big and cumbersome.
So I downsized to a tackle box that's easier to store but still holds all the gear I'll need for the day.
Check out our best kayak tackle box article if you need a new one!
Kayak Outriggers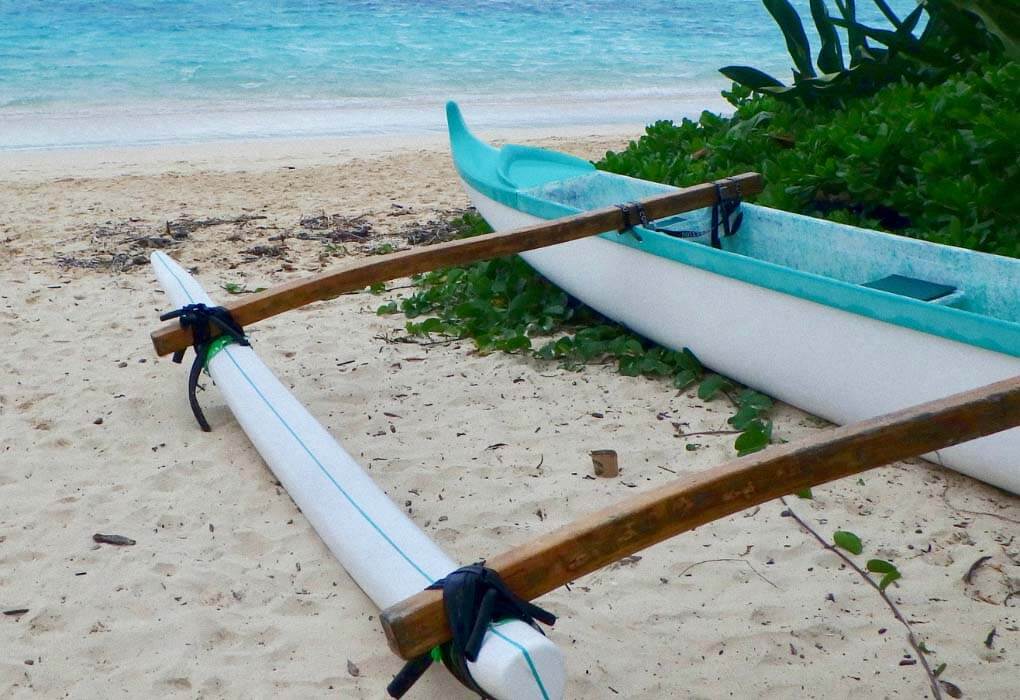 Installing kayak outriggers is an excellent way to convert a regular kayak into a fishing kayak.
They add enough stability that you can often stand and fish from a recreational kayak.
However, there are a couple of drawbacks to kayak stabilizers.
If you already have a stable fishing kayak adding outriggers is unnecessary because it adds weight to your kayak making it more challenging to paddle.
Fishing around them adds another layer of difficulty because you must keep the fish from getting tangled in the stabilizers.
With that said, the best kayak outriggers can also be a life and money saver if you're kayak is prone to tipping.
Kayak Fishing Rods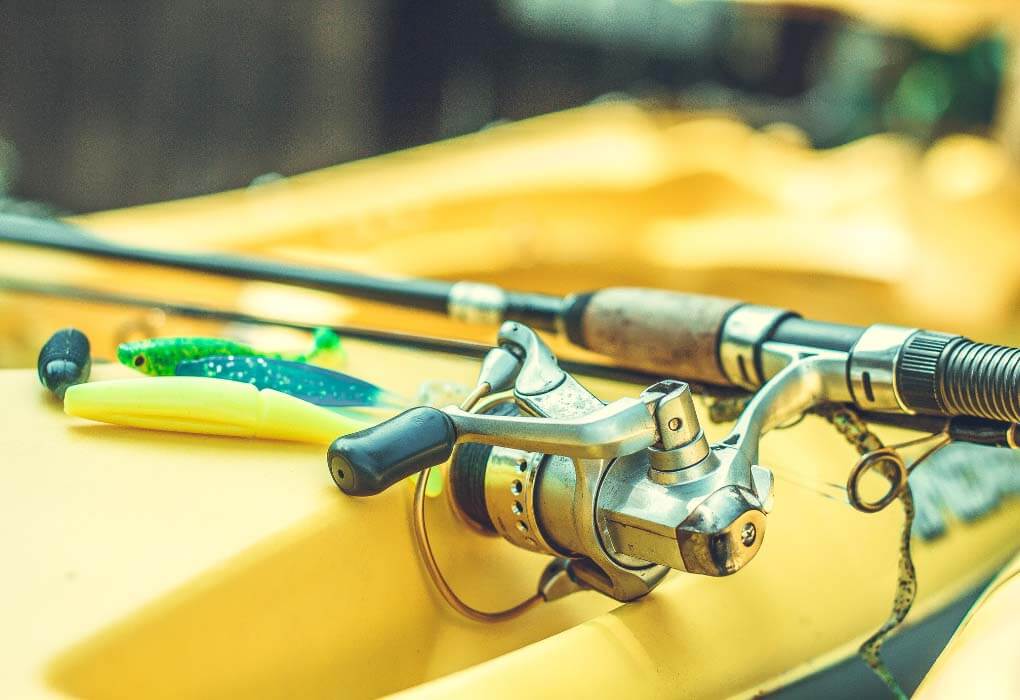 Don't think you can't fish from a kayak with any old fishing pole because you can; I've done it for years.
Using a fishing rod designed explicitly for kayak fishing makes fishing more manageable and enjoyable.
The best kayak fishing poles are designed with shorter handles. That way they don't get caught in your PFD and clothing while fishing.
Everything else about the rod is the same. That's why I don't believe you have to purchase new rods and reels to begin kayak fishing.
Kayak Anchor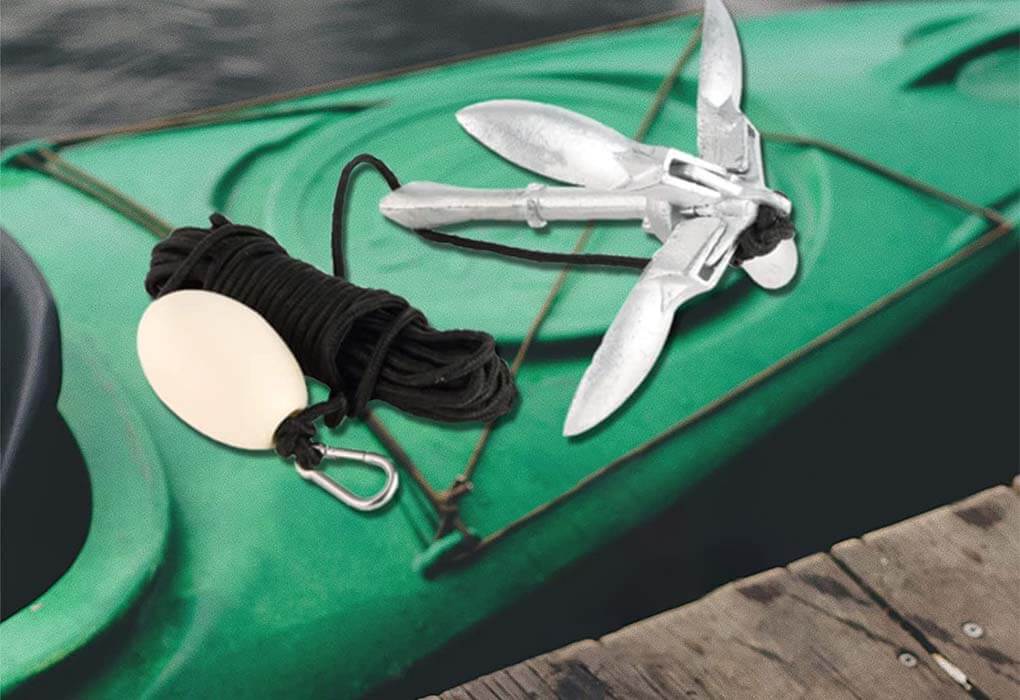 Buying an anchor is a must.
I know I've caught more fish because I dropped anchor in a prime location.
An anchor allows kayak anglers to focus on fishing instead of paddling to stay in position.
For small 10′ kayaks, a one-pound grapple anchor will suffice in most situations.
For large 11'+ kayaks, I recommend a three-pound grapple anchor. As the weight of the kayak increases, so should the size of the anchor.
I use a carabiner to clip the rope to my kayak but using an anchor trolley, which we talk about in the intermediate section, is even better!
Intermediate Kayak Rigging Ideas
The following kayak rigging tips are geared towards the kayak angler who's been kayak fishing for a while and wants to upgrade.
Paddle Holder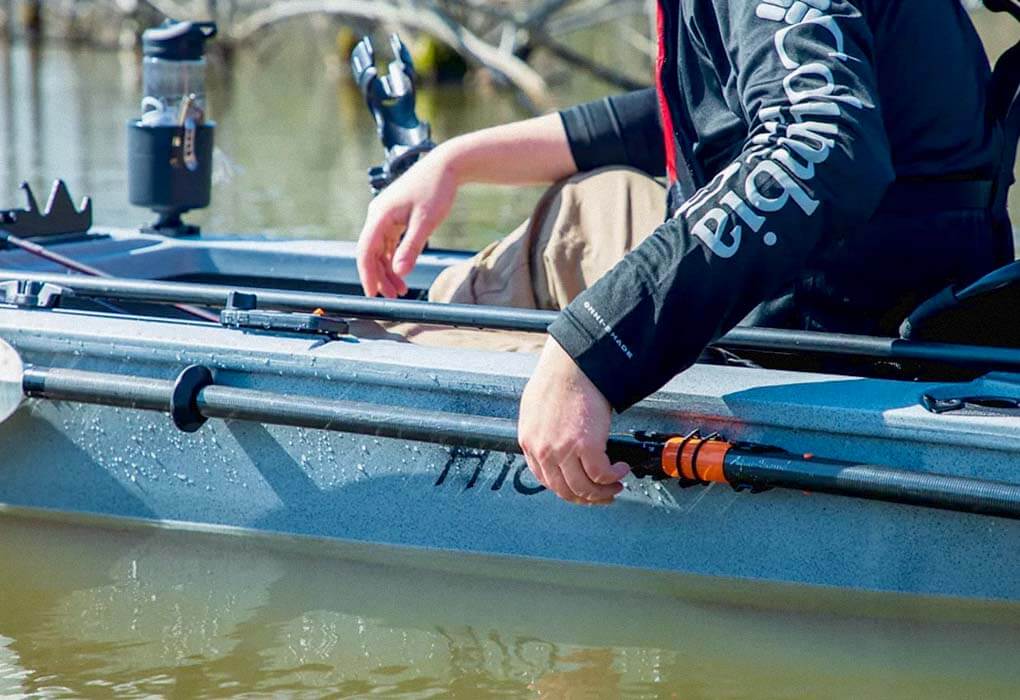 My fishing kayak came with straps to hold my paddle when I'm not using it, and they've been a tremendous help.
Instead of my paddle rocking in the wind and making noise while I'm anchored, I can strap it in place and don't have to worry about knocking it overboard and floating away.
I also use the paddle holder straps to secure my push pole when I'm not using it. Doing this keeps it out of the way but easy to access when I'm ready to use it.
Paddle holders are inexpensive and will save you from using your hands to paddle, or worse, having to swim to get your paddle back.
Kayak Anchor Trolley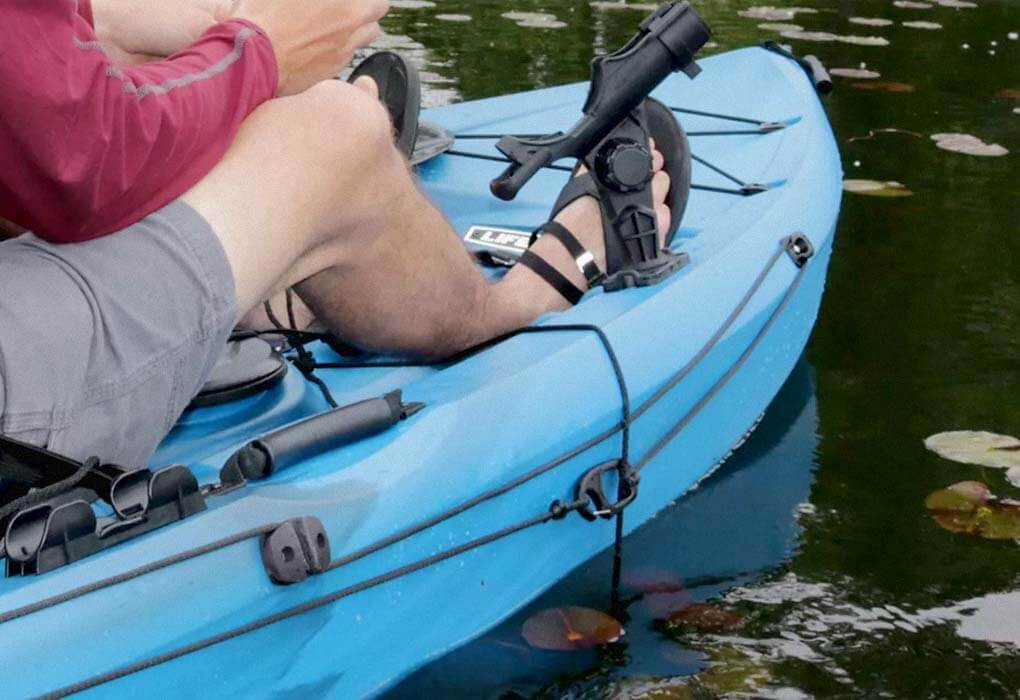 As I mentioned earlier, an anchor trolley is the best way to secure an anchor to your kayak because it allows you to adjust where the anchor is attached quickly.
Anchor trolleys are a great DIY project, but you need to drill holes in your kayak.
Some fishing kayaks come with an anchor trolley preinstalled, so you don't have to worry about it; just clip the anchor to it and get to fishing.
Push Pole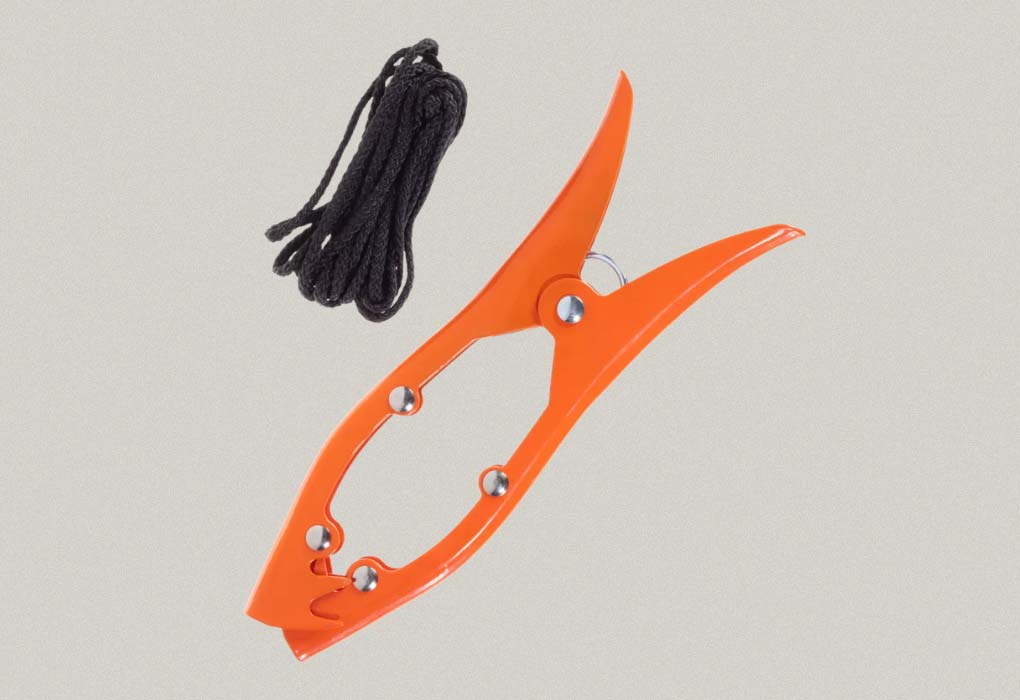 If I had to attribute one kayak accessory to single-handedly being the reason I caught more fish, it would be my shallow water anchor.
I use a push pole or stake-out pole for sitting in water eight feet or less.
I will also use it to propel myself along instead of my paddle when trying to sneak up on fish.
The bottom must be soft enough to push the point into the mud, so it doesn't work well with rocky bottoms.
You might try some brush/rock grippers or use a regular anchor if you fish rocky areas.
Using it in too deep of water is also a problem because it will break loose if enough leverage is applied.
Depending on your kayak brand, a push pole works best in two-eight feet of water.
Upgraded Kayak Crate
As you buy more kayak fishing gear, it's only natural to need more storage space.
Several companies offer excellent kayak crates that are much better than a DIY milk crate.
These upgraded crates often have a lid and built-in rod holders, and they're easier to secure to your kayak.
However, they are much more expensive than the starter kit.
Entry Level Kayak Fish Finder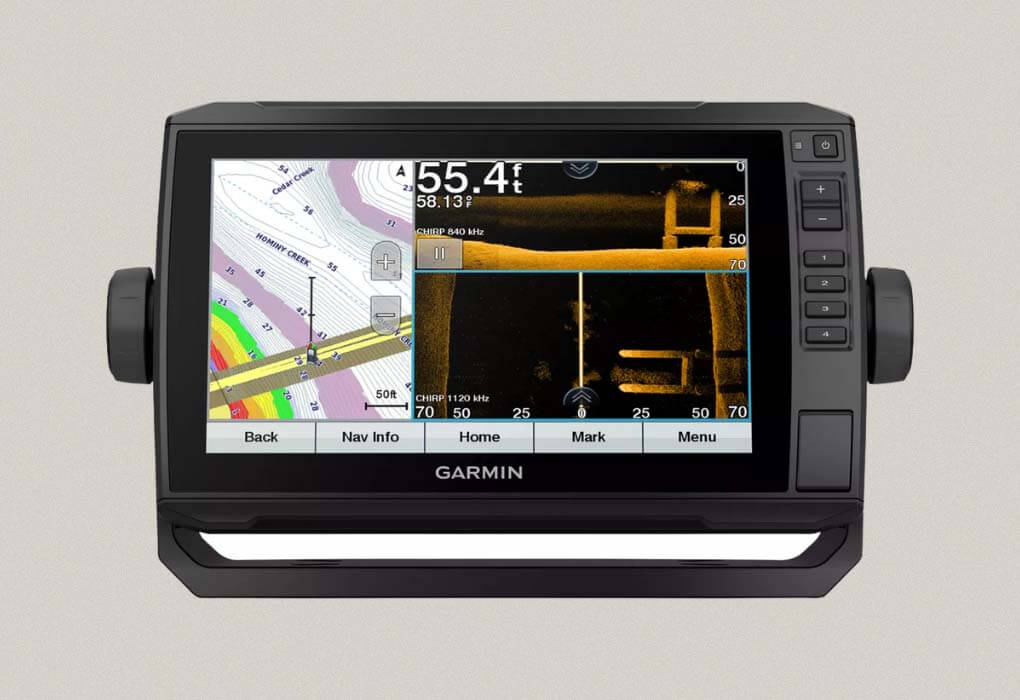 Adding sonar to your kayak doesn't guarantee that you will catch more fish, but it gives you a better idea of where the fish are and what structure they're relating to at the moment.
Fishfinders are offered at a variety of prices. If you're new to fishing, I recommend learning to use your lures to understand what's below the water's surface.
Then you can start with an entry-level fish finder to learn how to read sonar and upgrade later to more advanced features.
We compiled the list of the best kayak fish finders when you're ready for further research.
Fish Keeper
There are only a few things in life I love more than catching a few fish for dinner. However, it isn't easy in a kayak to keep fish.
My parents use a five-gallon bucket to keep them alive until they head home, while I prefer using a basket with a spring-loaded lid.
The basket makes it difficult to paddle, so I set it in my kayak while paddling.
I occasionally enter kayak bass fishing tournaments, requiring anglers to take a picture of the fish on a measuring board.
I have a fish gripper that is similar to a stringer, but it only clips onto the fish's lip so I can keep the fish in the water while I get my phone and measuring board ready.
Gear Tracks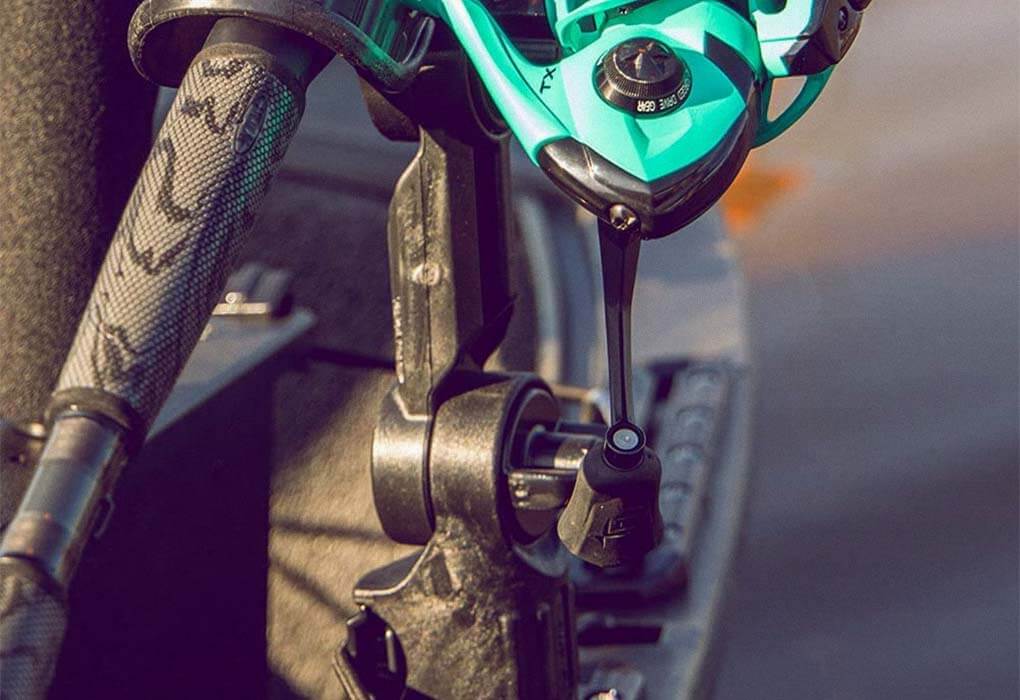 Installing aftermarket kayak gear tracks will give you more options on locations to mount rod holders, electronics, and other fishing accessories.
They require you to drill holes in your boat, which is a downer, but if you're running out of space, they can help.
Most gear tracks are universal, but make sure your gear will mount to them as a precaution.
If you've never used a gear track, they're great because you can quickly adjust your things and don't have to keep drilling holes.
Most fishing kayaks now come will them installed.
Expert Kayak Rigging Ideas
The expert kayak angler generally has these upgrades on their kayak.
Pedal Drive System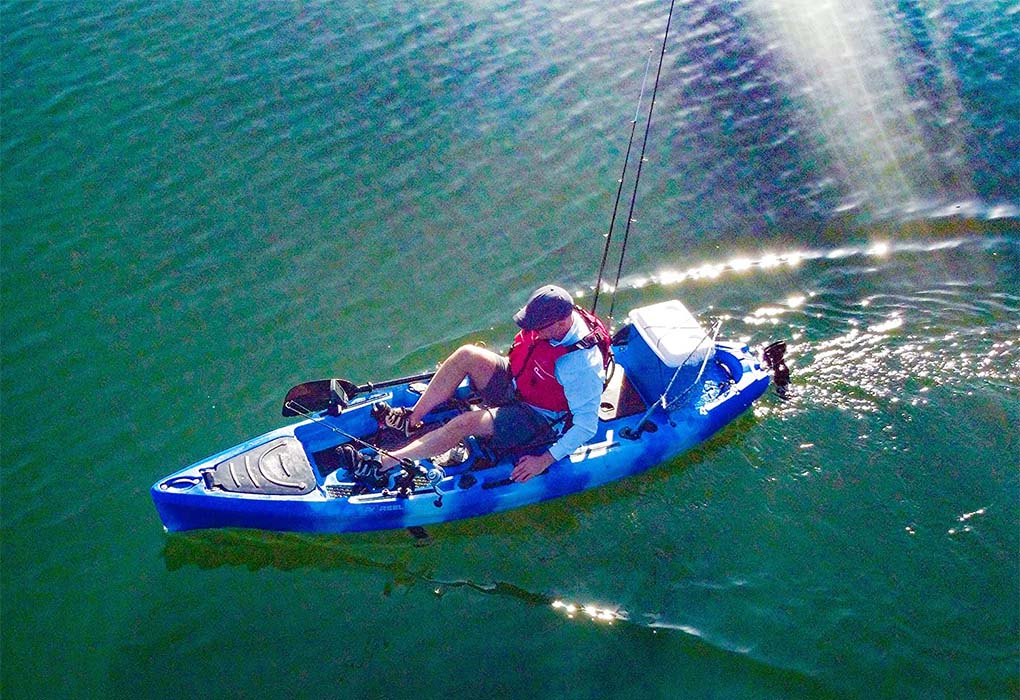 Installing a pedal drive onto your kayak will make traveling farther distances in your kayak much less of a workout.
My parents love their pedal kayaks, and I admit that I'm a little jealous at times of how easy they can propel themselves.
Generally, anglers can sustain a faster past when pedaling than when paddling, which is one reason why so many kayak tournament anglers use a pedal drive system.
Depending on the kayak company, you might have to purchase a pedal-specific kayak; they're typically not cheap.
Trolling Motor
I can cover more water when using a trolling motor, making controlling my kayak while fishing simple.
If you can, I highly recommend installing a trolling motor onto your kayak.
Read your local and state laws because some states require you to register any motorized watercraft.
The Motorguide Xi3 is the best kayak trolling motor, but several others are worth checking out if you don't want to spend a bunch of money.
Here's a video where I do a walkthrough of my fishing kayak setup.
Lights
You'll need lights if you plan on night-fishing or getting on the water pre-sunrise.
I installed LEDs on my kayak with the help of my grandpa, but some companies will do the entire installation for you.
Lights are another safety factor no kayak angler should overlook.
Noise Reducing Foam
Dropping a weight or pliers on the floor of your kayak is loud and will spook fish.
Many kayak companies offer noise reduction foam to install on the kayak floor.
It also makes it more comfortable while you stand and fish.
Upgraded Sonar
Companies are always eager to take your money, but upgrading your fish finder mount and transducer can be a massive benefit if you know how to read sonar.
I recently checked out some of the best electronics on the market, and I was impressed. I didn't realize how much I was missing when using my cheap sonar instead of upgrading.
If you're a tournament angler, Livescope or Livesight is a must, even when fishing from a kayak.
Power-Pole Micro
A Power-Pole Micro is the best way to upgrade your push pole.
The Micro allows you to press a button to initiate the shallow water anchor. Many fishing kayaks have a set place for them, making installation incredibly simple.
The Power-Pole Micro is a self-contained battery-powered shallow water anchor. So you won't have to use up your trolling motor or electronics battery.
It's also lightweight enough that you barely notice it while paddling.
GoPro Mounts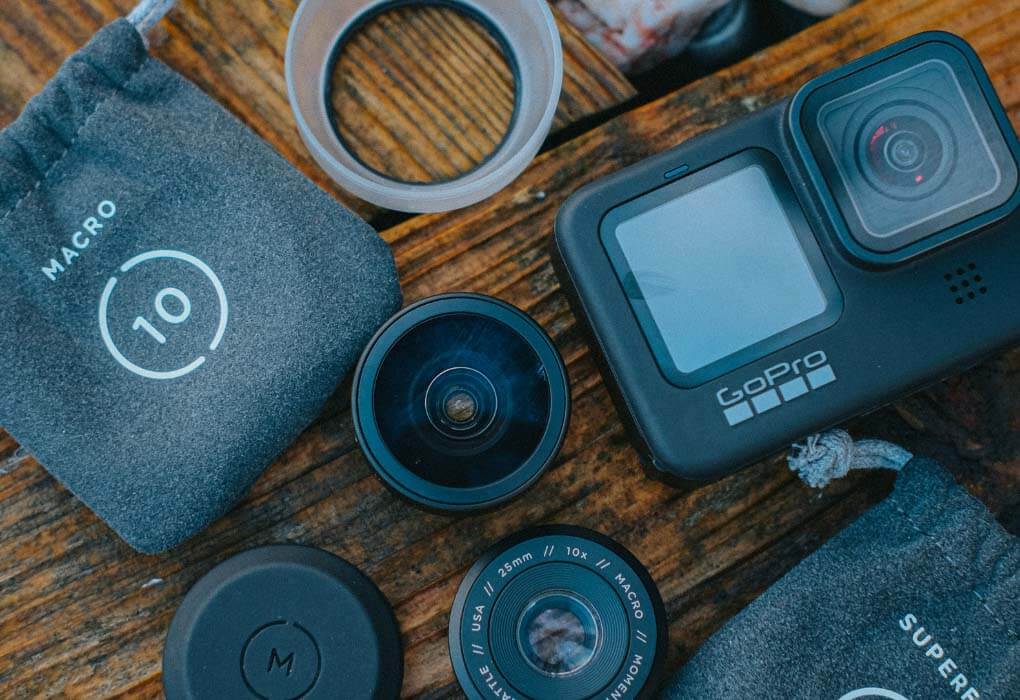 If you plan to film your fishing trips, a couple of GoPro/action camera mounts are needed.
Since you've already installed gear tracks, installing most camera mounts is as easy as sliding them into the tracks and tightening them down.
Last Cast
There are countless mods and ways to rig your kayak. These were some of my favorites.
When rigging a fishing kayak, I recommend testing it out before permanently installing anything. That way, you can find the perfect location to place your gear, and you won't drill unnecessary holes.
I'd love to hear about your kayak rigging ideas in the comments!