---
We independently research, test, and recommend the best products; you can learn more about our review process here.
Buying a trolling motor battery can be very confusing with all the different types and abbreviations on the market today.
It's taken me a while to grasp all the ins and outs of batteries, but I'm happy to pass all this knowledge onto you in this article to decide what the best trolling motor battery is for your circumstance.
I've selected seven of the best batteries for trolling motors to help make your decision easier!
If you're in a hurry, I chose the VMAX 12V 120Ah AGM Battery as the overall best deep cycle battery for a trolling motor and the Mighty Max Battery 12 35Ah as the best budget trolling motor battery.
If you've got a minute let's find what other batteries made the list so you choose the right one for your situation.
Top 3 Best Trolling Motor Batteries
The performance, the construction materials that went into the battery, and the overall cost are the driving forces behind what makes a fantastic trolling motor. Budget buys, of course, have to make some concessions.
Fortunately, the budget-buy choices I go with minimize those concessions and create real value for their consumers.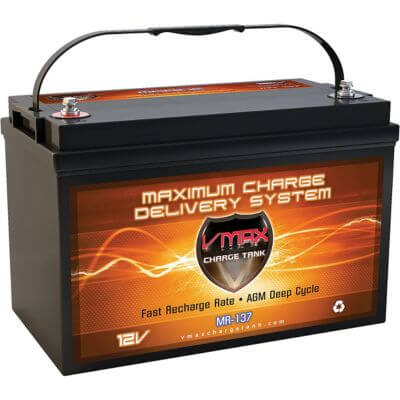 Best Overall Trolling Motor Battery
VMAX 12V 120Ah AGM Deep Cycle Marine Battery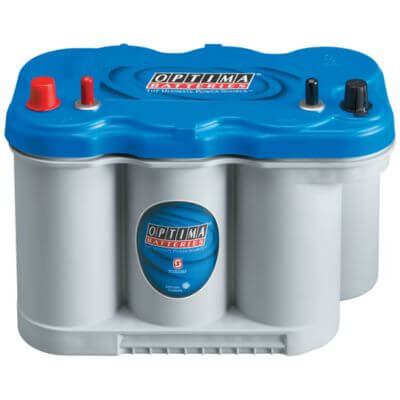 Best 12v Trolling Motor Battery
Optima 12v 55Ah Blue Top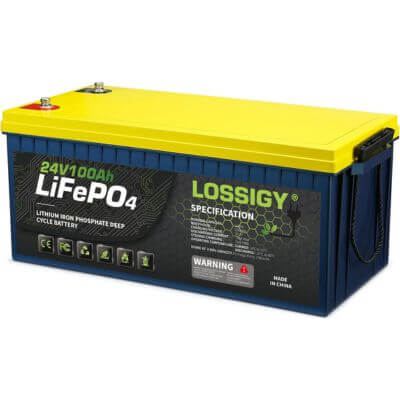 Best 24v Trolling Motor Battery
Lossigy 24v 100Ah Lithium-Ion Battery
---
How We Selected Our Favorites
Batteries are a dime a dozen and one of the most difficult aspects of creating a list of the best trolling motor batteries on the market is the massive disparity in boats, boat sizes, batteries, and battery sizes.
For instance, 24v and 36v batteries that drive an 80 to 100 lb thrust trolling motor are overkill with kayaks and small jon boats. 
At the same time, you shouldn't need to stack a three-battery series together just to get around on a small bass boat without engaging the primary motor.
On top of all that, a good battery needs to be immensely reliable, durable enough to withstand the elements, long-lasting, and as lightweight as it can get while still accomplishing all of the above. 
Weight: The weight of the batteries we test and use has to be reasonable. Unless you're rocking a pontoon boat for your fishing needs, space, and weight are crucial.

You need plenty of space for the rest of your gear while also avoiding sitting low in the water. 
Amperage Hour Rating: This is especially true when a trolling motor is the only method of locomotion. Reaching your favorite fishing spot is one thing but no one wants to paddle home, upriver no less, because the battery won't last. 
Value: You shouldn't have to refinance your home just so you can take out a new line of credit to afford a battery. Some of these lithium batteries are up there in terms of price.

It's important to find that fine line between expense and the value the battery brings to the table. 
Depth of Discharge: We want the flattest curve possible when it comes to discharge. In other words, the battery should be able to supply the same level of power at 35% remaining charge as it does at 95% remaining charge. 
Durability: Marine batteries take a beating out on the water. We look at how the battery is constructed. Is it sealed and spill-proof? Does it feature a spiral design or does it feature anti-vibration technology?
Longevity: Batteries with an 80% depth of discharge or more are the best of the best but they should also offer a solid number of cycles before it's time to swap for a new battery. 
BEST 12V TROLLING MOTOR BATTERY
Optima 12v 55Ah Blue Top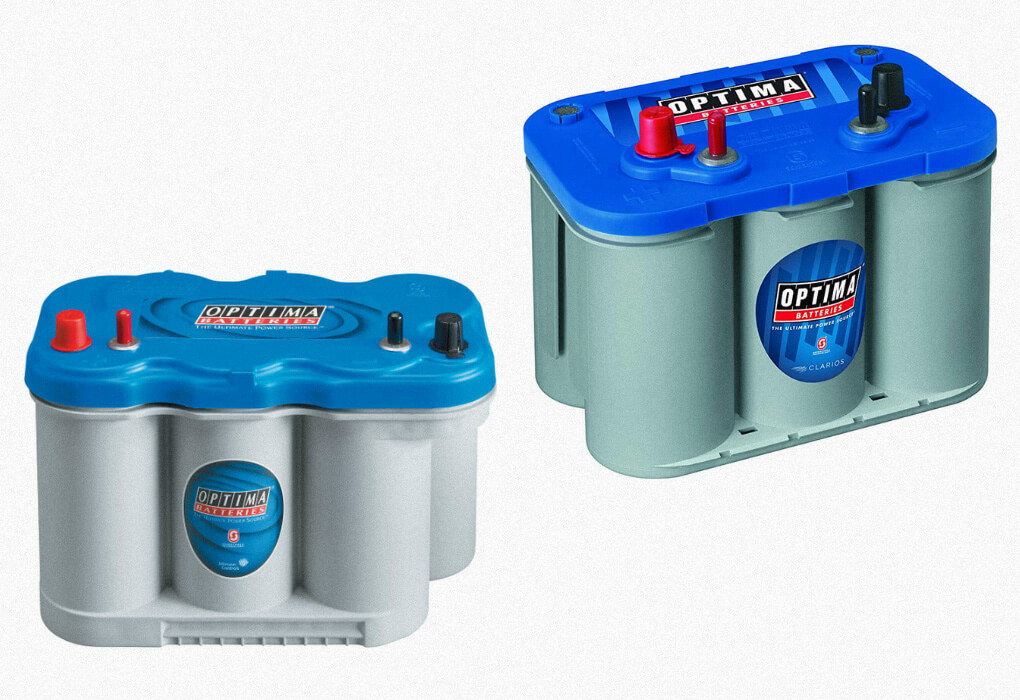 Key Features
12-Volt batteries
55Ah
43.5 Pounds
Lead-Acid
Why We Chose It
Optima Batteries is a well-respected brand in the battery industry. They are highly trusted by many professional anglers, who demand the most from their trolling motor batteries.
The Blue Top is designed to be a boat or RV battery, so it's sealed, and you can mount it nearly any way you need to, besides upside-down.
I like this battery. After all, it can double as a starting battery if other batteries fail because it has 870 cold-cranking amps.
The downside to this battery is that it's only 55Ah, so it won't last for a long time if your trolling motor pulls a lot of amps, which most do when moving a bass boat.
However, the heavy-duty battery is maintenance-free, so you only have to be concerned with keeping it charged and ready for a fun day of fishing.
The SpiralCell technology is the most unique part of the battery because it does two important things. The first is that it massively reduces vibrational effects on the battery. The second is the nature of the spiral wound cells.
The plates in each cell are 99.99% lead and coated with lead oxide. This construction generates more stability and power in terms of performance.
The Optima 12v 55Ah Blue Top is the best 12-volt trolling motor dual-purpose battery because it doubles as a starting and deep cycle battery.
If you own a brushless trolling motor, buying two or three of these batteries will give you the maximum power you need.
Don't let a weak battery hinder your angling adventures any longer.
The Optima 12v 55Ah Blue Top battery is specifically designed to provide reliable, long-lasting power to keep you on the water and in control of your trolling motor.
BEST OVERALL TROLLING MOTOR BATTERY
VMAX 12V 120Ah AGM Deep Cycle Marine Battery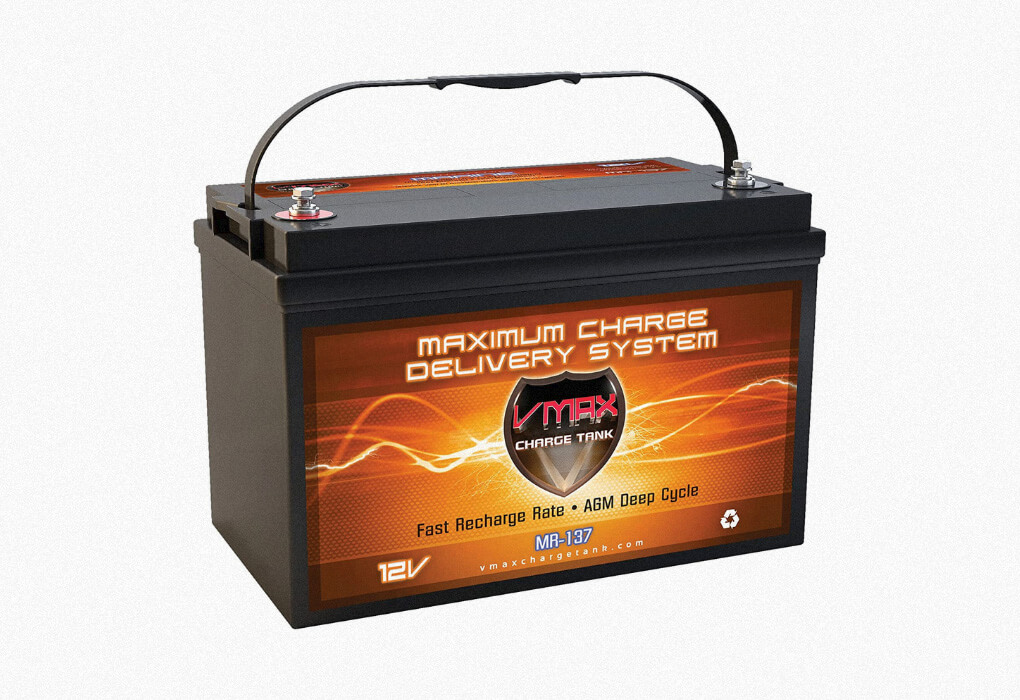 Key Features
12-Volts
120Ah
75 pounds
Lead-Acid AGM
Why We Chose It
The VMAX AGM Deep Cycle Marine Battery offers any angler long-lasting power. I love the fact that it's maintenance-free. That's one less thing to worry about!
The weight of the battery is less than ideal, especially if you need two or three to power your trolling motor. However, they can be mounted in any position so that you can maximize the space in your boat.
The Absorbed Glass Mat (AGM) in the VMAX makes it superior to Wet Lead-Acid Batteries, like the Centennial 12V Flooded Marine Deep Cycle because it is more resistant to shock and vibrations, which happens a lot in a boat bouncing across the top of waves.
The VMAX AGM Deep Cycle Marine Battery is for anglers who need a long-lasting trolling motor battery.
So if you like to use your trolling motor constantly, then you should at least one up, and maybe two or three depending on the voltage of your trolling motor.
If you're in search of a reliable and high-performance deep-cycle marine battery, look no further than the VMAX 12V 120Ah AGM Deep Cycle Marine Battery.
With its exceptional capacity, superior build quality, and long-lasting power, it's the perfect choice for all your marine adventures.
BEST 24V TROLLING MOTOR BATTERY
Lossigy 24v 100Ah Lithium-Ion Battery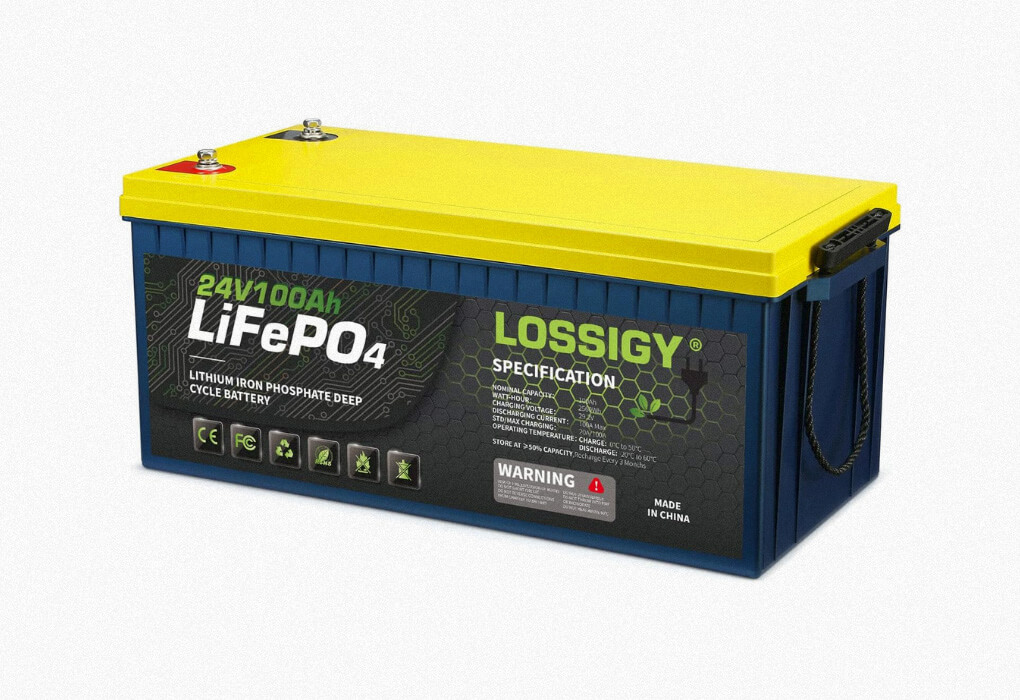 Key Features
24v
100 amp hour
50lbs
Lithium-Phosphate
Why We Chose It
The Lossigy 24v trolling battery is surprisingly lighter than 24v lead-acid batteries or two 12v batteries. 
This means you can add more tackle to your boat instead of worrying about going over the weight limit because your batteries are so heavy.
When running a trolling motor that requires at least 24 volts, I prefer one battery to keep things simple. 
However, this means I could run out of juice and cut my trip short. That's why the 100Ah is excellent; you're very unlikely to run the battery down in a single trip if it's fully charged.
Some trolling motors are not compatible with lithium-ion batteries, so check your trolling motor recommendations to be safe.
The Lossigy 24v 100Ah Lithium-Ion Battery is for anglers who own a trolling motor that requires at least 24 volts to power it and is compatible with lithium-ion batteries.
With its impressive capacity, lightweight design, and long-lasting power, it's the perfect choice for those who value efficiency and reliability.
Say goodbye to heavy, bulky batteries and embrace the future of power storage. Upgrade to the Lossigy 24v 100Ah Lithium-Ion Battery today and experience the freedom and convenience it brings to your energy needs.
Tracker Marine Lithium Deep Cycle Battery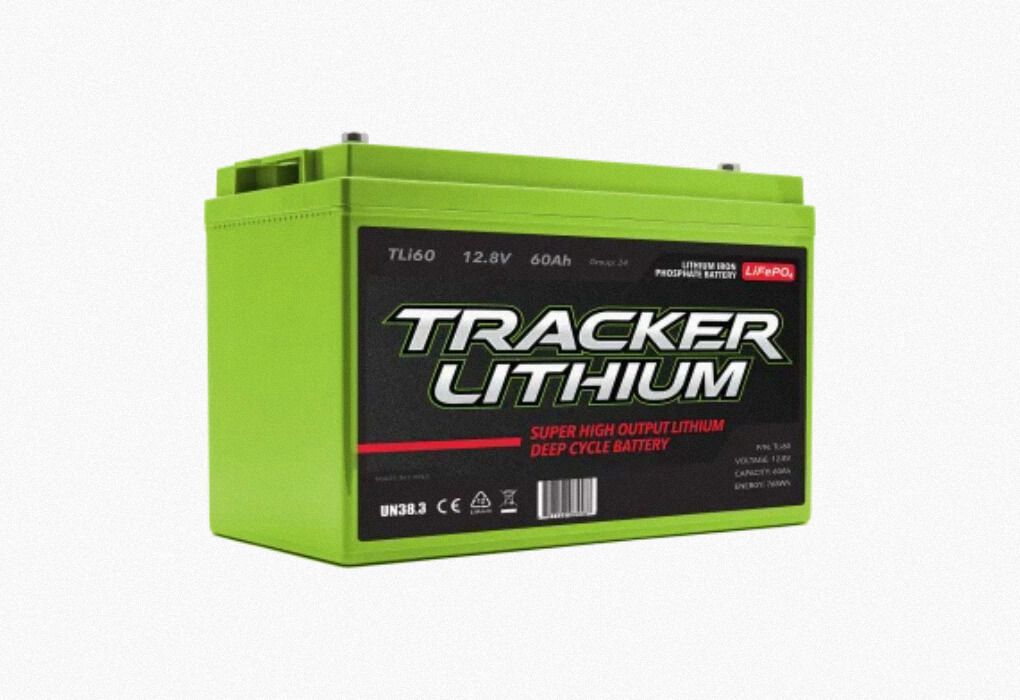 Key Features
12-volt
60Ah, 80Ah, 100Ah
20 to 28 lbs
Lithium-iron phospahte
Why We Chose It
Lithium batteries are slowly taking over because they are lighter and longer-lasting than lead-acid batteries. The Tracker Marine Lithium Deep Cycle Battery is no different.
They claim you can eliminate 200 lbs from your boat with a four-battery system by switching to this battery.
I love that you have options in which group size of batteries you want. Group 24 is 60Ah, Group 27 is 80Ah, and Group 31 is 100Ah, so you can pick exactly how long you need to stay on the water.
Because some trolling motors aren't compatible with lithium-ion batteries, as I discussed in my Newport Vessels Trolling Motor review, you must check to ensure your trolling motor is compatible with this battery.
Otherwise, it won't function properly.
I recommend the Tracker Marine Deep Cycle Lithium Battery to any boater looking to save weight and have a powerful, long-lasting battery. It is the best 12v 100ah lithium battery for a trolling motor.
Don't let outdated batteries hold you back—upgrade to the Tracker Marine Lithium Deep Cycle Battery today and experience the reliability, efficiency, and extended runtime it offers.
Say goodbye to frequent recharging and hello to more time enjoying the water. 
Mighty Max Battery 12V 35AH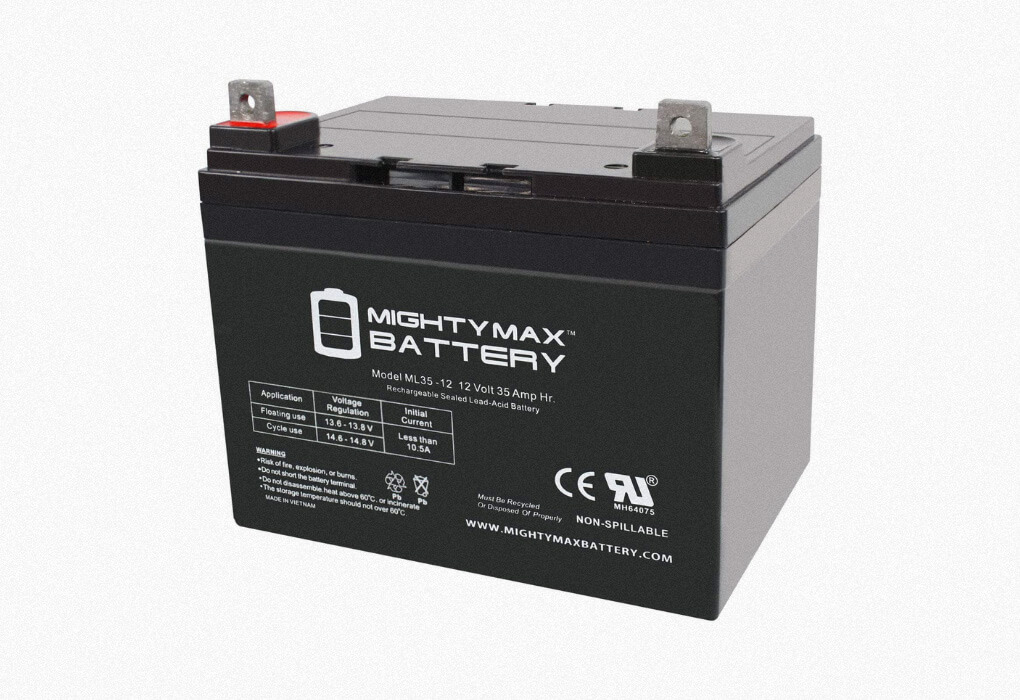 Key Features
Why We Chose It
The Mighty Max Battery 12v 35Ah is the best budget-friendly trolling motor battery. It's very inexpensive compared to other deep-cycle batteries. However, that means there are some drawbacks.
The battery won't last long if you're continuously running the trolling motor, so you might need to purchase another for a backup.
Still, if you're going to do that, you might as well spend the extra on a higher-quality and longer-lasting battery.
Because it is spill-proof, you can mount it just about anywhere you need it, and you won't have to worry about getting to it for maintenance purposes.
The Mighty Max 12 35Ah Battery is for anglers and boaters on a budget. It's also a decent option to power a kayak, though it is a little heavy, which is why it's not the best kayak trolling motor battery; it is excellent for small boats.
If you're in need of a dependable and affordable battery for trolling motors, the Mighty Max Battery 12V 35AH is a perfect choice.
With its compact size, impressive capacity, and reliable performance, it's a versatile power solution that won't break the bank.
Dakota Lithium 12V 54Ah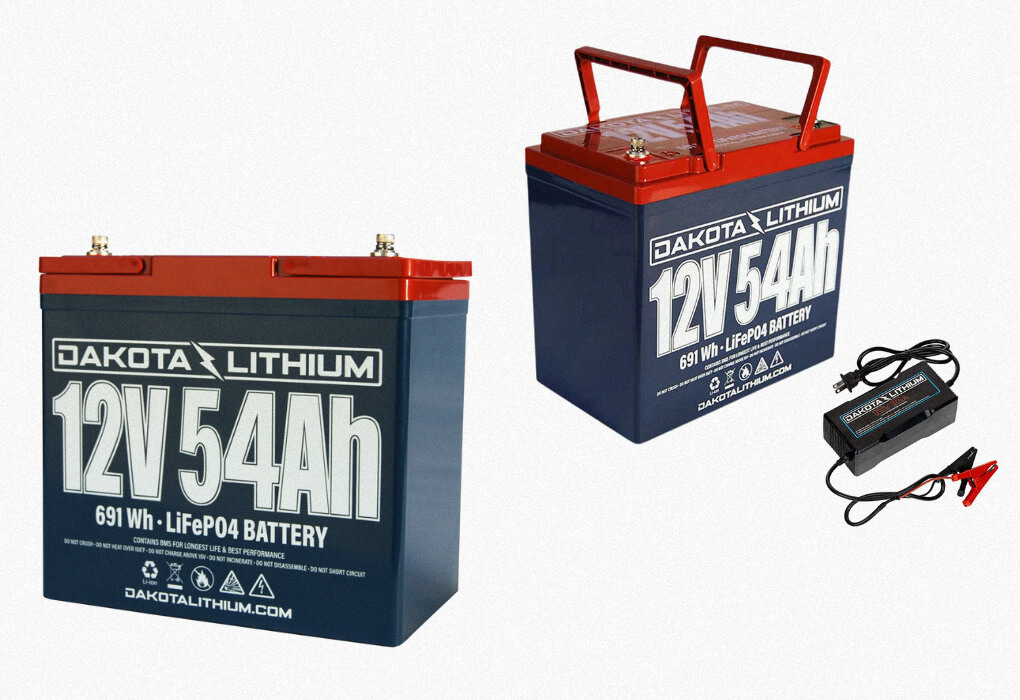 Key Features
Why We Chose It
The Dakota Lithium 12v 54Ah battery is excellent for kayak anglers because it's lightweight and compact. 
We're limited on space and weight as kayak anglers, so we must maximize both when given the opportunity because of our smaller boats.
The Battery Management System protects the battery from high temperatures, short-circuiting, and low/high voltage cutoff. It's just another feature that helps protect your battery so you can focus on fishing.
Contrary to popular opinion, most trolling motors will work just fine with a lithium battery. All you need to keep in mind is that lithium, like the Dakota, typically pushes 2 to 3v more than what's advertised.
In this case, roughly 14 to 15v. It's a good idea to pay attention to the voltage rating on your trolling motor. 
Even if your trolling motor is lower than the lithium battery's output, you can still use the battery, so long as you keep the speed 20% below the top speed. If you max it out, you risk burning out your motor.
Dakota recommends their LiFePO4 charger to avoid harming the battery. Using a traditional lead-acid battery charger could reduce the life of the lithium battery.
The Dakota Lithium 12v 54Ah Battery is for any kayak angler who owns a small trolling motor compatible with LiFePO4 batteries.
Engineered for the most demanding applications, this battery provides unrivaled performance and longevity, allowing you to take your adventures to new heights.
Say goodbye to heavy and unreliable batteries, and embrace the lightweight and robust design of the Dakota Lithium.
Weize 12V 100AH Deep Cycle AGM Battery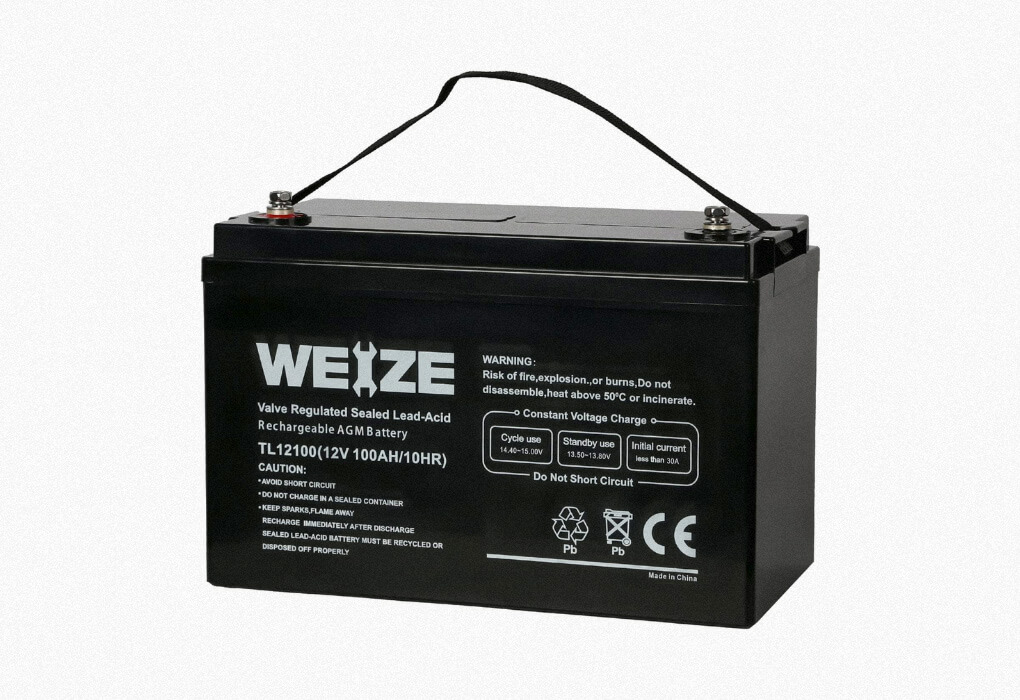 Key Features
12-volt batteries
100Ah
25.74 lbs
Sealed lead-acid
Why We Chose It
For the price, the Weize 12v 100Ah AGM Deep Cycle Battery is tough to beat even though it's heavy and doesn't last as long as the description claims. 
It's a sealed lead-acid battery, so it's spill-proof and maintenance-free, so that's two fewer things to worry about for your boat maintenance.
Because it is a lead-acid AGM battery, it's heavier than lithium batteries of equal power, but it's also cheaper.
The Absorbed Glass Mat is a step up from traditional Wet Cell Lead-Acid batteries, but it's not the latest technology on the market.
After testing it, some reviewers concluded it was closer to a 50Ah battery than a 100Ah so it won't last as long as other 100Ah batteries.
The Weize 12 100Ah AGM Deep Cycle Battery is for the angler still skeptical of lithium batteries or can't afford to spend a fortune on trolling motor batteries.
The Weize battery delivers consistent and efficient performance. Don't compromise on quality or settle for subpar batteries.
Upgrade to the Weize 12V 100AH Deep Cycle AGM Battery today and experience the peace of mind that comes with a reliable power source.
Buying Guide: Factors to Consider Before Buying a Trolling Motor Battery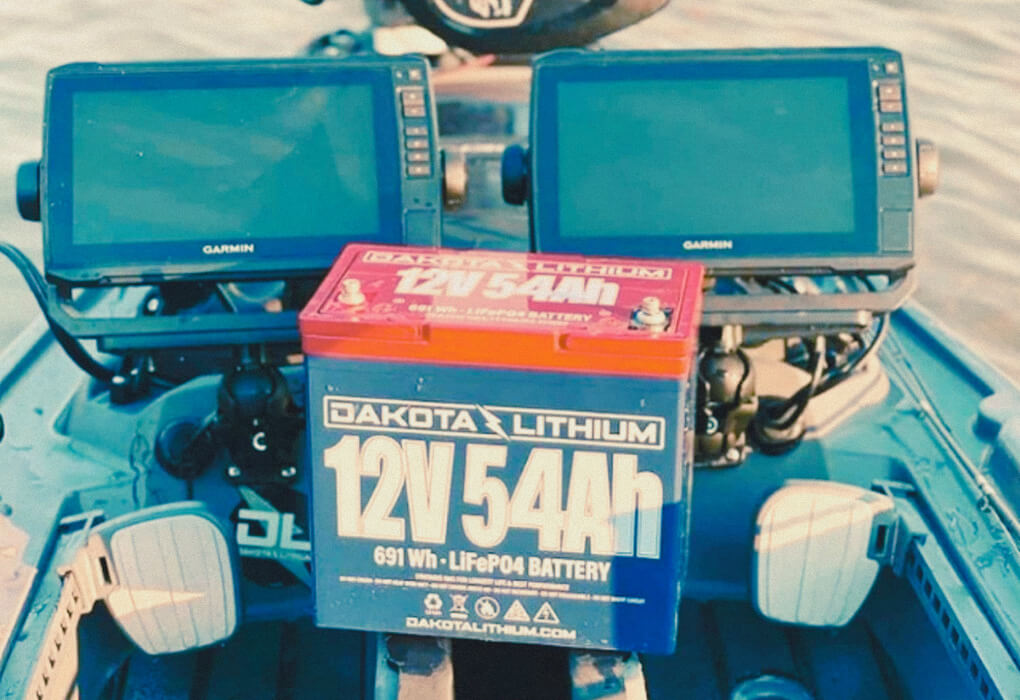 One might think that buying a trolling motor battery is straightforward. Oh, how I wish that were the case. Several considerations must be taken to ensure you purchase the best trolling motor battery for your circumstance.
Understanding some of the terminology used will go a long way to helping you make the best decision.
Let's start with the different types of trolling motor batteries available.
Lead-Acid Wet-Cell
Lead-acid wet-cell batteries are what your grandpa and dad probably used. They are generally cheaper, but they have some significant drawbacks, including weight, maintenance, and spillage.
Wet-cell batteries are heavy, and you must mount them upright to keep them from leaking all over your boat.
They also require a little maintenance, meaning you need to top off the water and keep them free of corrosion.
Wet-cell batteries rarely last longer than four years, so that you will replace them more often than a Lead-Acid AGM battery.
Lead-Acid AGM
Your father and grandfather probably currently use a Lead-Acid AGM battery; at least mine do. The AGM stands for Absorbed Glass Mat.
The AGM coats the lead plates inside the battery, making these batteries more efficient and having longer lifespans than Wet-Cell batteries.
AGM batteries are just as heavy as Wet-Cell batteries, but they last longer, don't require maintenance, and are spill-proof. This means you can mount them any way you might need (except upside down) to make them fit into your boat.
Though AGM batteries are a step up from Wet-Cell batteries in many areas, they still fall short of Lithium-Ion batteries in nearly every way.
Lithium-Ion (LiFePO4)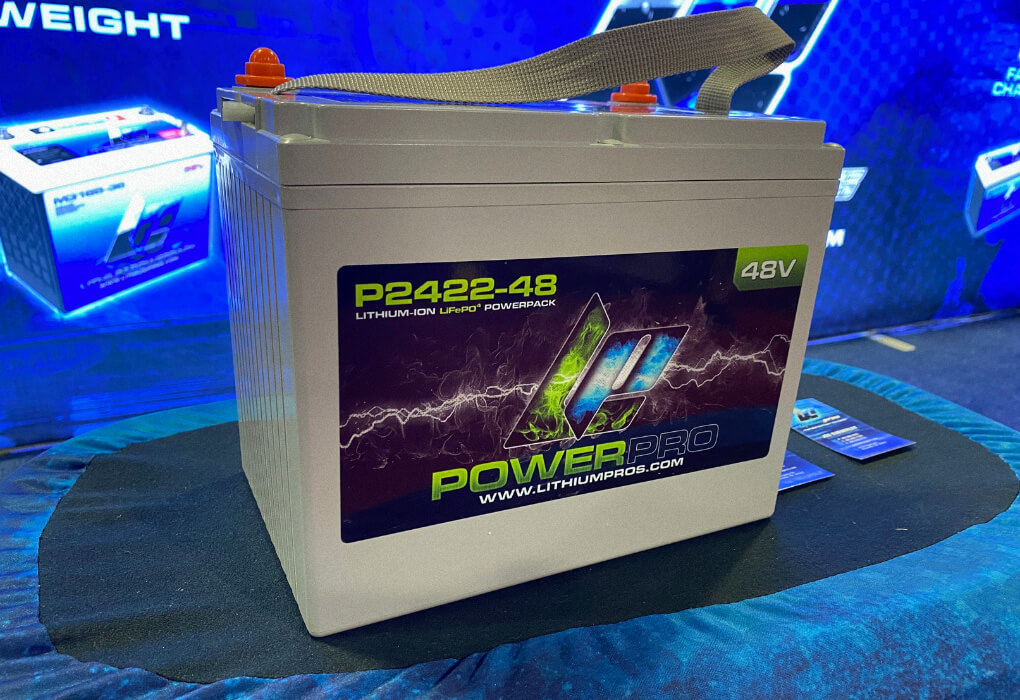 The best trolling motor batteries on the market today are Lithium-Ion batteries. They are usually half the weight of Lead-Acid batteries and have a battery life twice as long due to their durability.
Lithium batteries don't need to be maintained and can be mounted in nearly any position. The one con for LiFePO4 batteries is the price.
The price is hard to swallow because it's often double the price of AGM or Wet-Cell batteries.
If you're just getting into fishing and using a trolling motor, it's probably best to buy a different type until you figure out precisely what you need from your trolling motor battery.
While Lithium-Ion trolling motor batteries are the best, they are not the most popular because they cannot be run alongside Lead-Acid batteries, and they need a special LiFePO4 battery charger.
So the old-timers are reluctant to switch over but more and more realize the significant benefits Lithium batteries offer.
Ampere Hour (Ah)
The Ampere Hour is the amount of energy stored in the battery. So the larger the Ah the longer the runtime you will get out of the battery.
Let's imagine your trolling motor draws 10amps, it will run for 10 hours on a 100Ah battery but if it draws 50amps it will only run for 2 hours on the same battery.
It's crucial to the amperage your trolling motor will draw so you can purchase your trolling motor batteries' amp hour rating accordingly.
Maintenance-Free
When buying a trolling motor battery I prefer it to be maintenance-free.
Maybe because I'm a little lazy but mostly because I'm forgetful and would rather focus on other priorities than topping off my trolling motor battery water levels.
I want to charge it and use it. Keep it simple!
Weight
Your boat has a weight limit, and you want to stay as far below that limit as possible. However, batteries are heavy and necessary so the best way to cut weight is to purchase lightweight batteries.
More weight no longer equals better battery performance. When boaters switched from Wet-Cell and AGM batteries to high-quality Lithium-Ion batteries, they saved 100-200 pounds by switching four batteries.
You'll Also Need
Assuming you've already purchased a trolling motor, there are a few other accessories you will need to purchase.
Battery Charger
Some batteries come with a battery charger, however, most do not. The best practice is to fully charge your battery before your initial use.
Buying a trickle charger is another wise investment to ensure your battery is always topped off without overcharging it.
Lead-Acid batteries require a different charger than Lithium-Ion batteries. I use a charger that will charge either as long as the settings are selected for the type of battery you're about to charge.
Battery Box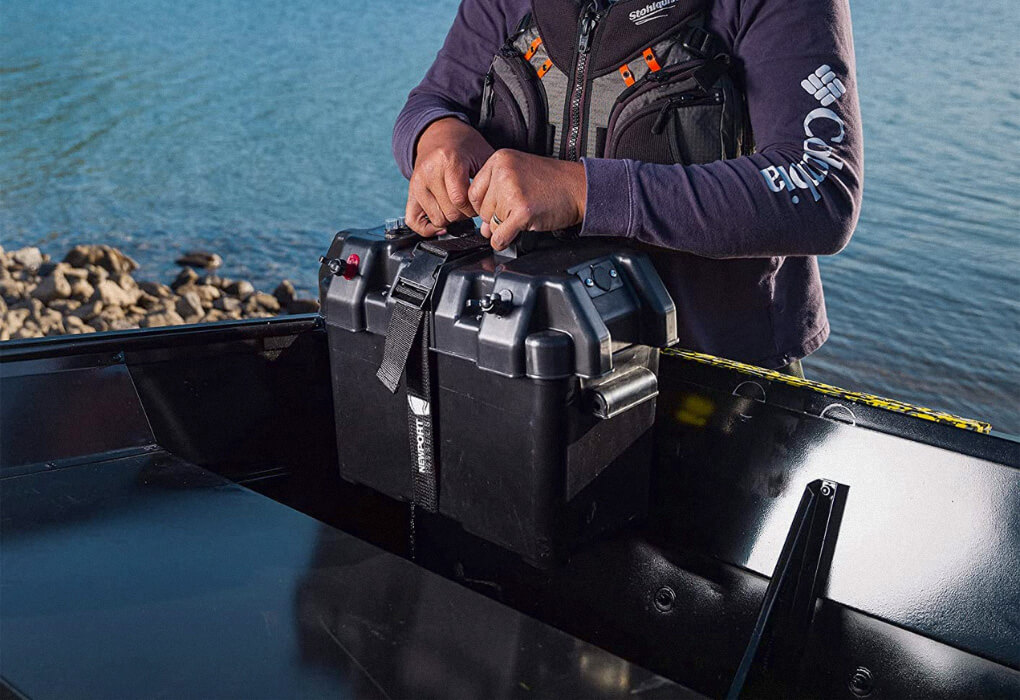 If your boat doesn't have an area designed to hold your trolling motor batteries buying a battery box for each battery can help keep the batteries secure.
You will still need to secure the battery box but it offers another layer of protection for your battery.
Battery Cables
Depending on where you place your batteries and if you're running multiple batteries in series to boost the power you might need battery cables.
Having spare cables is always a good idea if a wire begins to short out.
Battery Leads/Connectors
You need a way to connect the battery cables to the battery, that's where battery leads or connectors come into play.
Battery leads won't be as secure,e but they will quickly connect or disconnect the battery.
Circuit Breaker/Fuse
A circuit breaker is a must to protect your trolling motor. If you get a power surge the breaker will trip instead of burning up your motor. I'd much rather flip a switch or press a button than replace a trolling motor!
Heck, replacing a fuse is much better than replacing a motor so at least use a fuse to protect your trolling motor.
Final Thoughts
No matter your price range you can find the best trolling motor battery for your situation. I recommend the VMAX MR137-120 12V 120Ah AGM Deep Cycle Marine Battery if you need the best overall.
However, if you're like me and stick to a budget I would go with the Mighty Max Battery 12V 35AH it's a great battery unless you're heavy on the trolling motor.
Upgrade your power solutions today with industry-leading batteries that will revolutionize your experience.
From the powerful VMAX 12V 120Ah and Optima 12V 55Ah, to the advanced Lossigy 24V 100Ah and Tracker Marine Lithium, to the versatile Mighty Max 12V Battery, Dakota Lithium 12V, and Weize 12V 100Ah, we've experienced or tested the perfect battery for your specific needs.
Don't settle for less when it comes to performance, reliability, and durability.
Visit our website for the latest information and reviews or your nearest authorized retailer now and take advantage of the cutting-edge technology and unmatched power these batteries deliver.
If you think we didn't mention the best trolling motor battery, then leave us a comment below telling us what it is!