When you think of the best bass fishing locations, what do you think? Pennsylvania, Georgia, and Michigan might come to mind.
Do not sleep on California, though, because the consistently warm temperatures and dense vegetation along shorelines allow the bass population here to grow and prosper.
These factors lead to trophy-sized bass everywhere.
California bass fishing is serious business, and after hours of research, I've put together this California bass fishing guide to help you get the most out of your next fishing trip.
Going fishing in California? Then give a read to our California Fishing License guide.
---
15 Top Places for California Bass Fishing
If you're fishing for bass in California, the following 15 lakes will be sure to impress and excite you.
1. Castaic Lake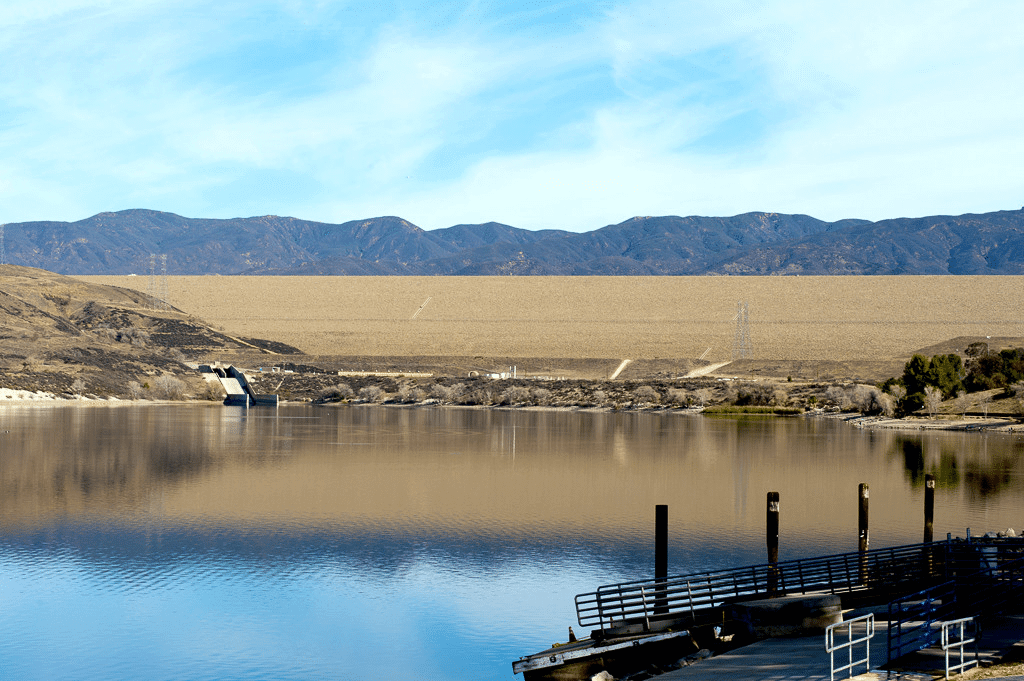 Our first choice is a reservoir formed from Castaic Dam and Castaic Creek.
You'll find this lake in the Sierra Pelona Mountains Northwest of Los Angeles County.
Here you can expect to find plentiful largemouth bass, channel cats, bluegill, striped bass, and rainbow trout.
In fact, this lake boasts a large assortment of largemouth bass records, with one of those being a few ounces below the world record for Largemouth.
The recommended lures of choice here are Texas and drop shot rigs around 20-30 feet deep and in the shallow areas near the shorelines.
Locals also suggest plastic worms between 3-7 inches. Keep them short in the spring and increase their length as the temperature increases.
They recommend working the plastic worms near drop-offs and gravel slides.
2. Clear Lake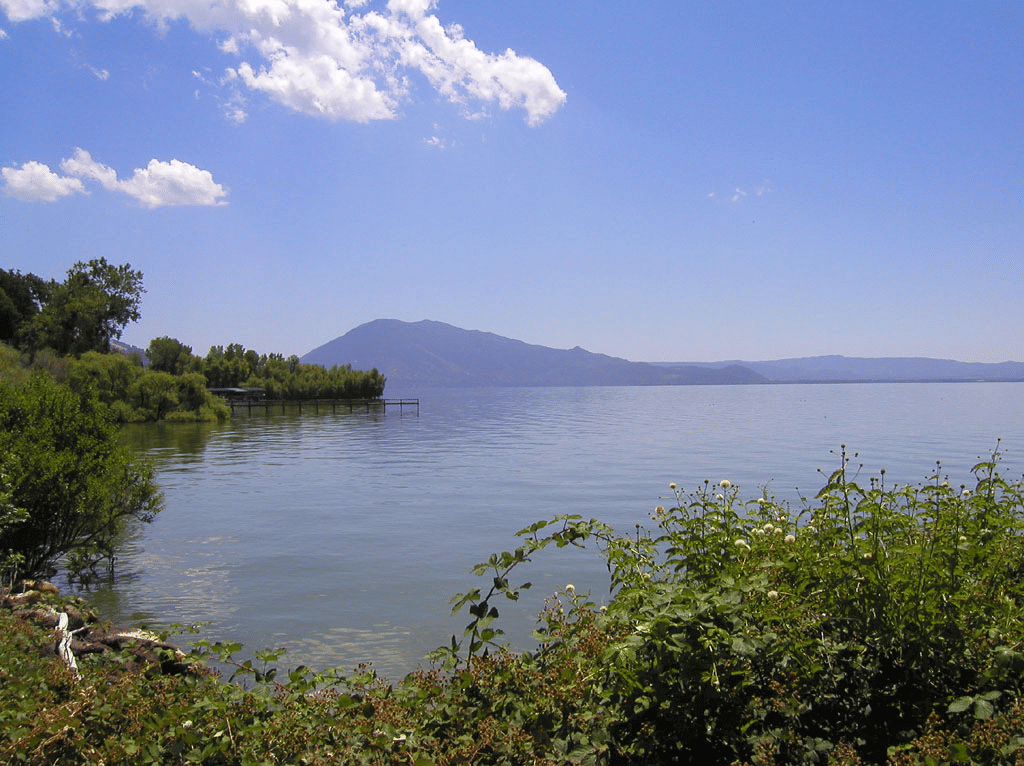 Next up is bass fishing in Northern California. We have a freshwater lake in Lake County, California.
This lake is located north of Napa County and San Francisco.
It's actually the largest natural freshwater lake in the state and one of the oldest in the country.
Locals here know Clear Lake bass fishing as the "bass capital of the west" because it houses high populations of largemouth bass and an assortment of panfish.
Two-thirds of the fish caught here are largemouth bass, and there are plenty of records to go along with that.
If you look near the shoreline, you'll find plenty of vegetation and cover, which makes landing a record-setting largemouth bass much easier.
Locals recommend tossing a Rapala near the weed beds and ripping it through there somewhat quickly.
There are also instances where anglers had success with topwater frogs and flipping rods.
When we interviewed Professional Bass Angler Cody Meyer this is what he had to say.
"I love topwater frogging and flipping," Meyer said. "And both the Delta and Clear Lake have lots of good cover to throw to."
3. Casitas Lake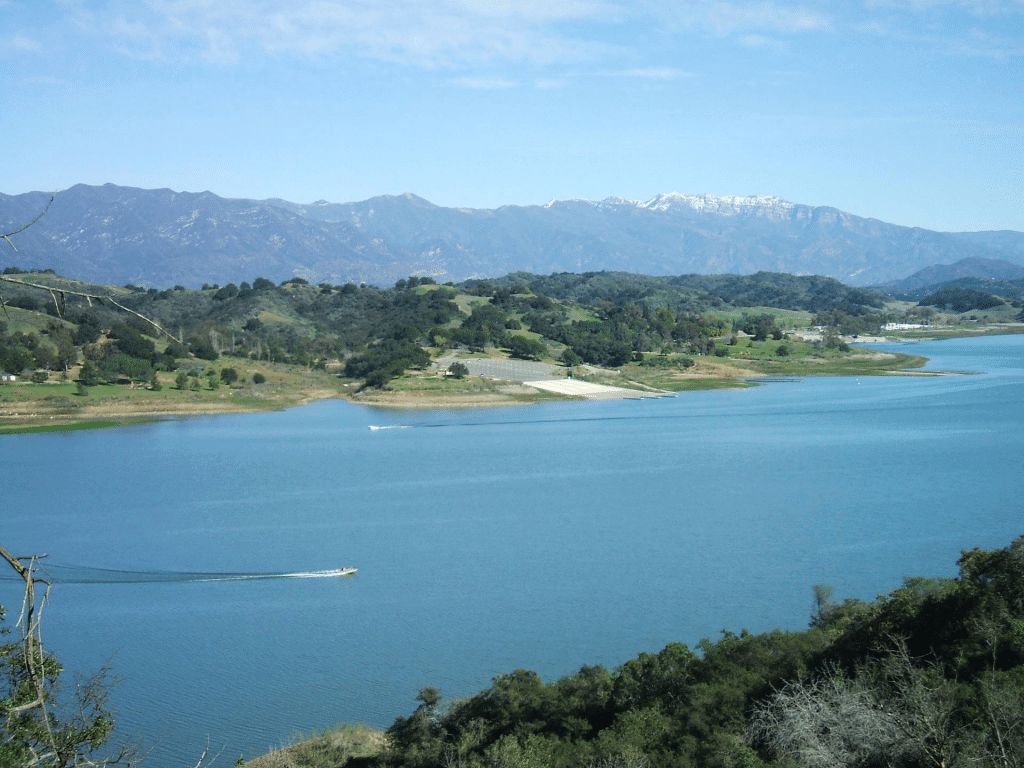 Lake Casitas is a reservoir in Ventura County. This body of water is a manmade structure built in 1959, and it supplies drinking water and flood control for all of the residents in the area.
The lake is known for exceptionally large bass because they feed on stocked rainbow trout and the lack of fishing going on here allows them to grow to larger than normal levels. There's a lot of protein-rich forage here as well, so plan to bring your heavy tackle if you're fishing Lake Casitas.

Locals recommend mimicking what they eat the most here, and that's rainbow trout. You could fish a plug or crankbait near the shallow areas of the water and try to find the path that the trout are traveling most frequently. If you can do that, you're in for a treat.
4. Lake Murray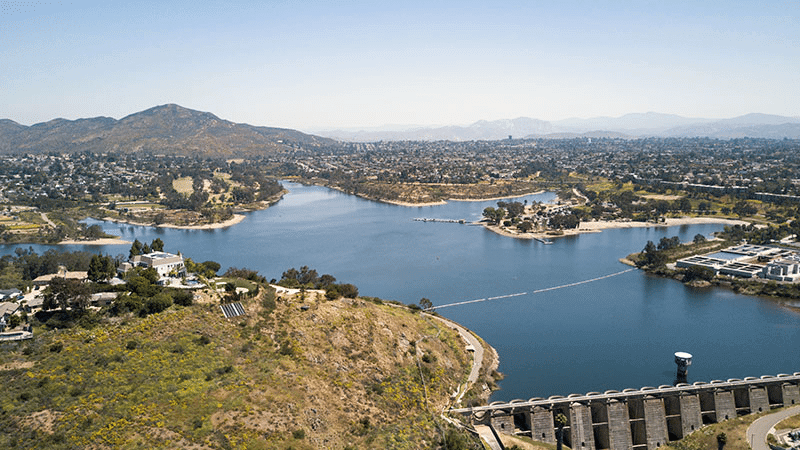 Lake Murray is a local favorite near San Diego, California. This reservoir is operated by the San Diego Public Utilities Department, and it's located on the Mission Trails Regional Park. It spans 171.1 acres and has a maximum depth of 95 feet. This is a small lake and is well known for a strong largemouth population with channel cats and white perch as well.
The lake is featureless, which means there isn't a lot of vegetation and not much in terms of structure, so you'll have to get creative here. Instead of working the features of the lake, you'll want to cover as much water as possible.

Locals recommend dragging jigs and rolling swimbaits to imitate rainbow trout. If you're fishing from the shore, you'll benefit most from using live bait like nightcrawlers and shiners.
5. Lake Isabella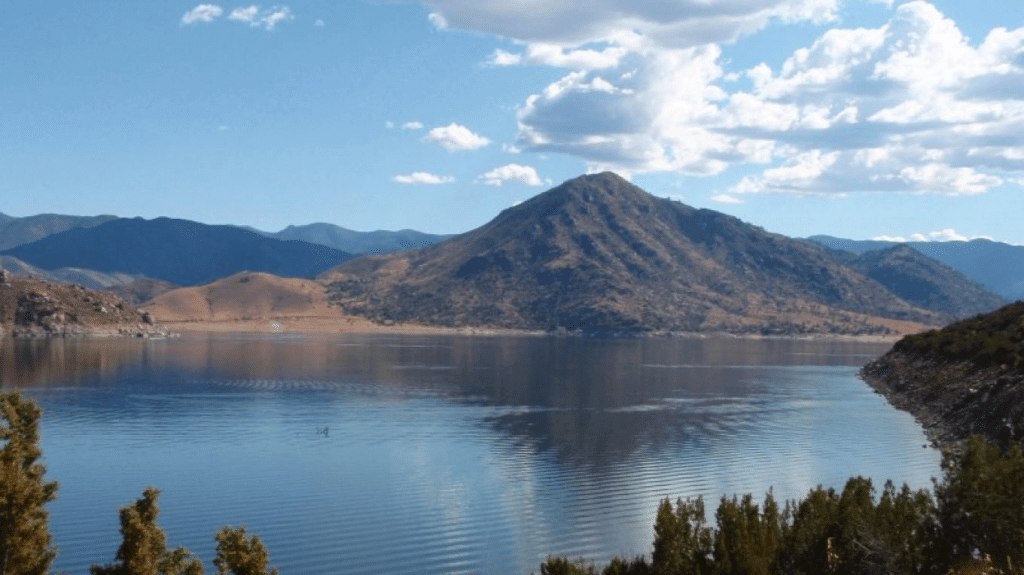 Here we have a lake located in the Southern Sierra Nevada section of the state.
It's in Kern County and named after the reservoir located at the southwestern part of the lake.
The one trend we see with Lake Isabella is that anglers have a hard time fishing it.
While they agree that there are some monster bass here, it seems that the thick cover and ridiculous amount of low hanging brush make it difficult to get to the bass.
That said, any self-respecting angler knows that these are all prime signs of great bass fishing, and if you know what you're doing, you should be able to make your way in.
Grab a weedless rig like a Texas rigged worm or swimbait and throw it right into the vegetation. That's where the big bass are hiding.
6. Lake Camanche

Next up is a manmade lake located in the San Joaquin Valley in California.
The lake offers great fishing for largemouth bass, rainbow trout, and spotted bass.
Plus, there are many other local activities you can do here.

As for fishing, the lake has experienced severe drought, which has stimulated vegetation under the water and has drawn a great population of bass to these waters. Locals recommend fishing here during the pre-spawn season in late February and early March.

Use spinnerbaits with willow leaf blades and work them slowly.
7. Bullards Bar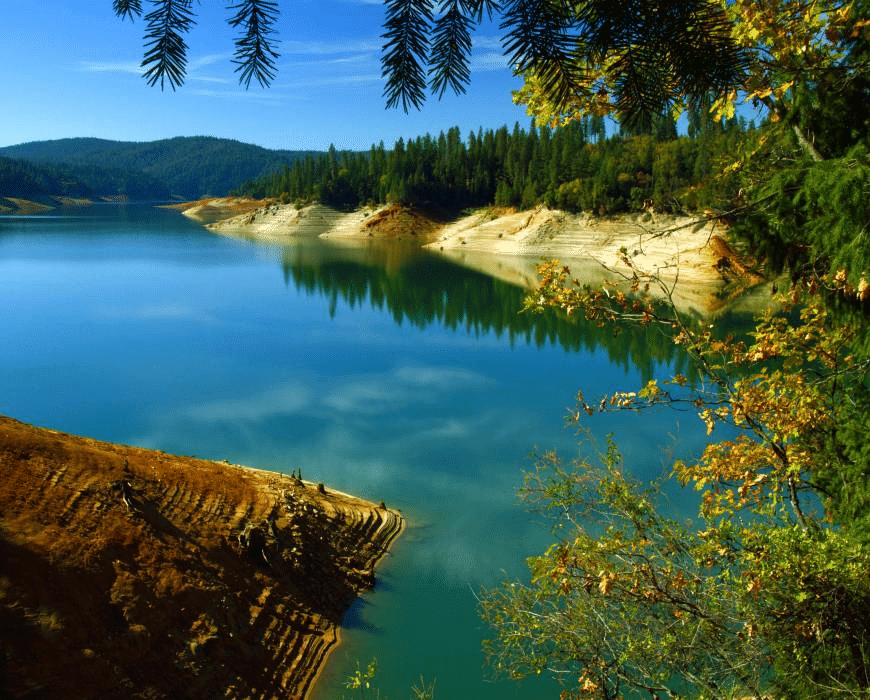 The Bullards Bar Reservoir is a large lake in Yuba County, California. It's located in the Tahoe National Forest, and it's approximately 30 miles northeast of Yuba City.

In addition to fishing, the lake offers a vast assortment of activities, including party boats, houseboats, camping, jet skis, and a variety of different rentals.

Fishing here is world-class, and spotted bass are the target. The record is 10.8lbs, and locals highly recommend using a great fish finder if you plan on catching anything here. There isn't a lot of vegetation, so you have to rely on the best fishing electronics.
8. Folsom Lake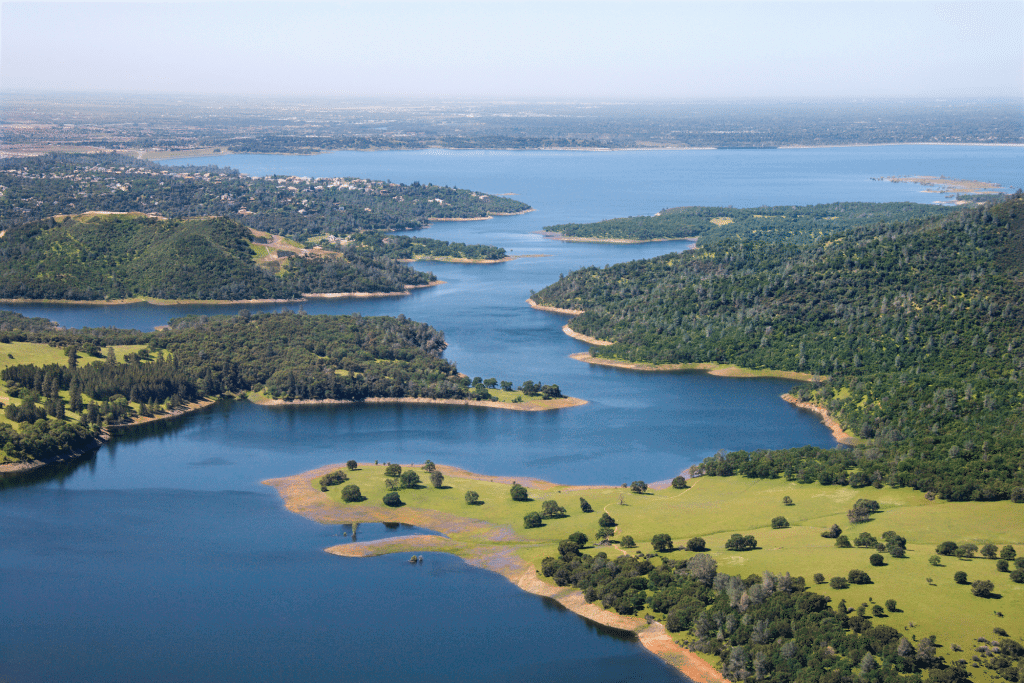 Folsom is an 11,400-acre lake near El Dorado and Sacramento County. It has nine boat launches, making it easy for people to launch their boat or find a place to access the water. It's known for its bass fishing but also offers great catfish and trout fishing.
Like a lot of the other lakes in this location, there isn't a lot of greenery, so you'll need to play a different strategy than you're used to. Either use electronics to guide your search or simply cover as much of the water as possible with loud lures like chuggers and poppers.
9. Lake Berryessa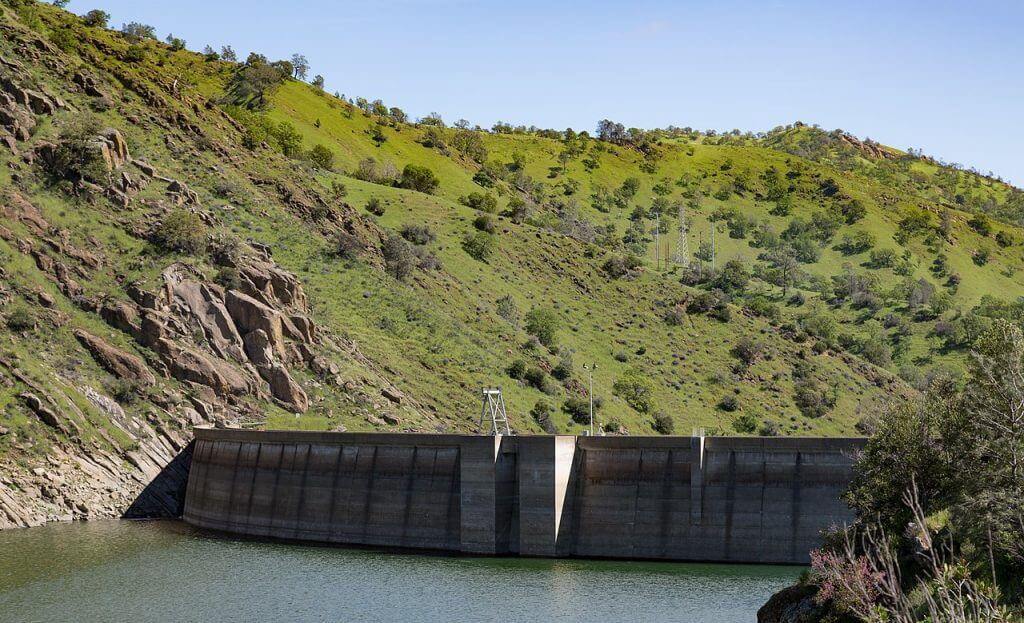 Next, we're looking at the largest lake in Napa County. Fishing is plentiful here with a vast assortment of species, including both largemouth and smallmouth bass.
Locals say bass are an easy catch here, and they recommend fishing towards dusk around structures that would normally attract minnows. They also like the rocky points and any docks or coves that you might come across.
Lake Berryessa offers a little more in terms of structure and vegetation than some of the other California lakes we've covered, so that's why it might be an easier spot for casual anglers.
10. Bass Lake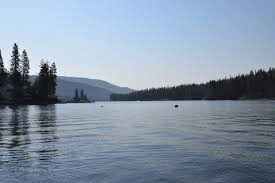 Bass fishing central California will take you to Bass Lake, CA. Don't think that you'll only find bass here, though, because there are plenty of species, including catfish, crappie, trout, and even salmon. The lake offers exceptional views, and fishing from the shoreline while camping or spending time with family is common practice.
Locals here recommend fishing in some portions of the lake where it thins out, and you can walk right up to the shore and fish from the rocks. Consider banging some lipped crankbaits off here.
11. Lake Don Pedro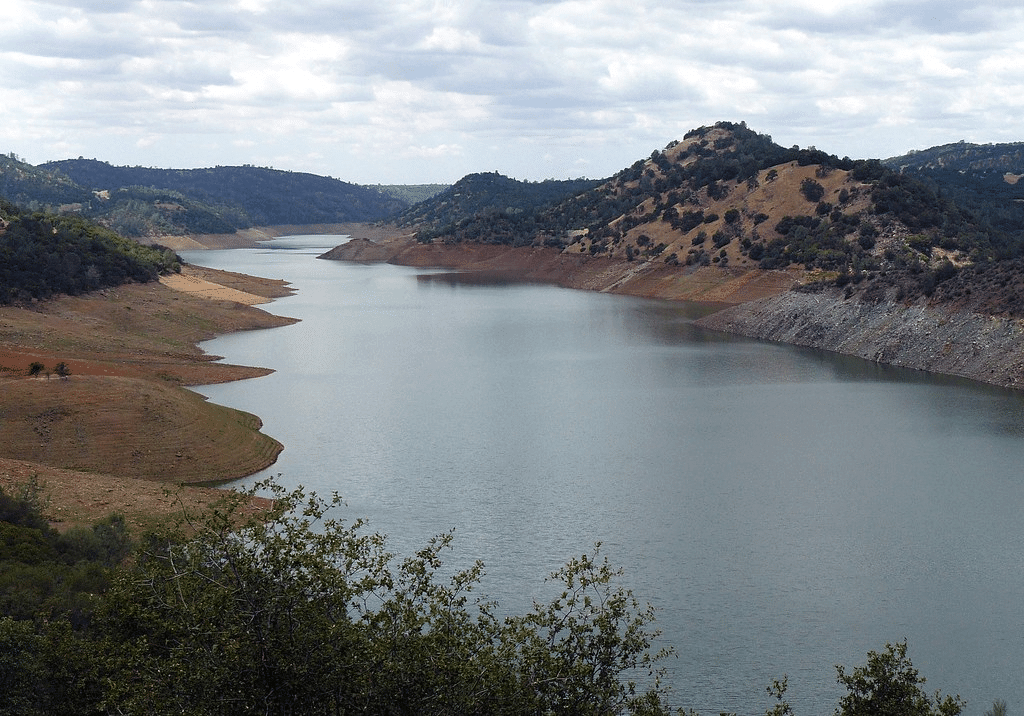 Fishing is a year-long event at Lake Don Pedro, and the locals suggest checking out the tributary creeks east of highway 49. These rivers are closed from November through April, so you'll have to get there during the hot weather months.
Black bass seems to be the game here, and while they're not as abundant as spotted and smallmouth, that is what most anglers are chasing.
As with a lot of California bass fishing, locals say that seasonal changes bring upon different species in the water, and they recommend contacting the local marina at Moccasin Point or Fleming Meadows to get a current report on what bait and tackle to use.
12. Lake Havasu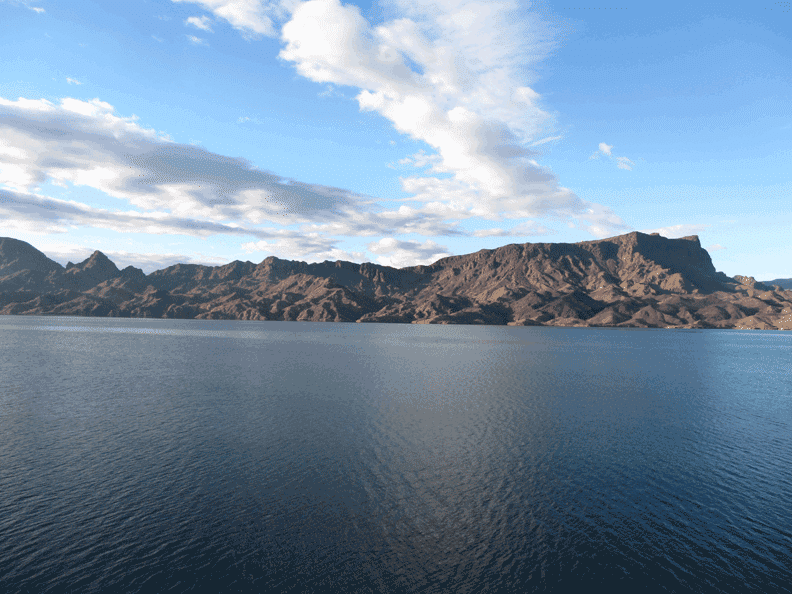 If bass fishing in southern California is what you're after then, Lake Havasu is right up your alley.
This lake is well known by locals as an excellent spot for largemouth bass, but it actually boasts a strong smallmouth population as well. There are more than 30 tournaments here each year. The lake is located between Arizona and California and is 25 miles long, with plenty of shoreline to fish.
With miles and miles of shoreline and tons of free public access, casting from the shore is possible almost anywhere. Expect to find an abundance of rainbow trout, largemouth bass, smallmouth bass, sunfish, striped bass, carp, and catfish.
Lake Havasu offers a variety of different biomes as well. There are areas of the lake that are weedy and grassy with small outlets for you to navigate through with your boat. Other areas mimic the rest of southern California's lakes with a more rocky and arid appearance. Make sure to bring plenty of lures to cater to your surroundings.
13. Lake Perris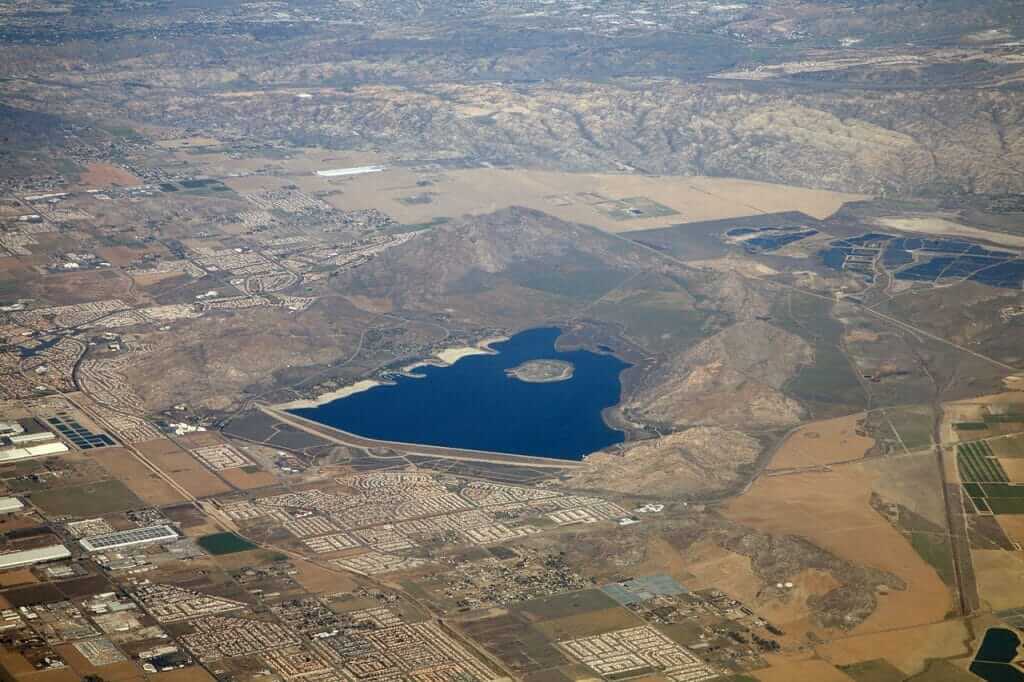 You'll find Perris Lake between Moreno Valley, CA, and Perris, CA. It has 2,250 surface acres and more than ten miles of shoreline. It's an artificial reservoir with average water temperatures staying around 70 degrees throughout the year. The creators of the lake actually made the bottom of it out of old tires, which has contributed to an artificial reef that provides a great environment for fish.
As with most places in California, there's a wide variety of fish to catch here. You can find largemouth bass, rainbow trout, bluegill, channel cats, and sunfish. Rainbow trout are stocked through the fall and winter and the best time to fish here is from February through June.
14. Lake Oroville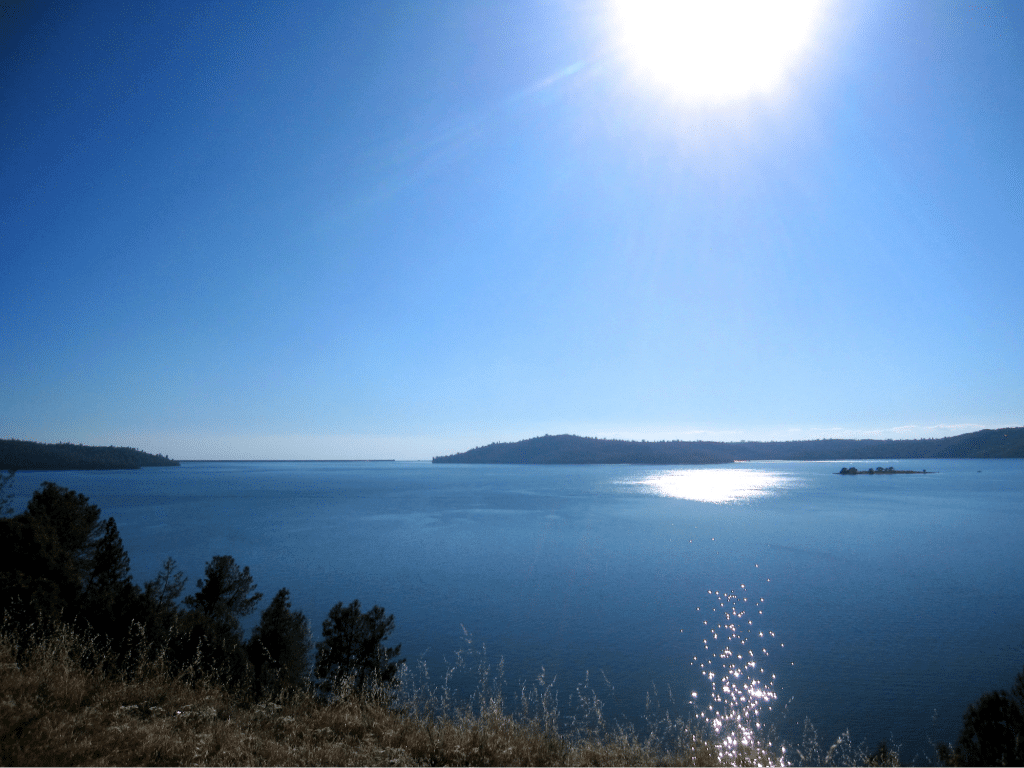 We might call it Lake Oroville, but the locals recognize it as the best bass fishing in California. This lake is host to several bass tournaments per year, but anglers of all skill levels can have a fun time catching fish here. There is a marina where you can rent boats of all sizes, and there are plenty of species to catch here as well. In addition to bass, you can find catfish, chinook salmon, sturgeon, mackinaw, and several types of bass.
They take their fishing seriously here. In fact, they even have floating restrooms that you can ride your boat up to and get out of if you need to make a quick pitstop.
15. Pyramid Lake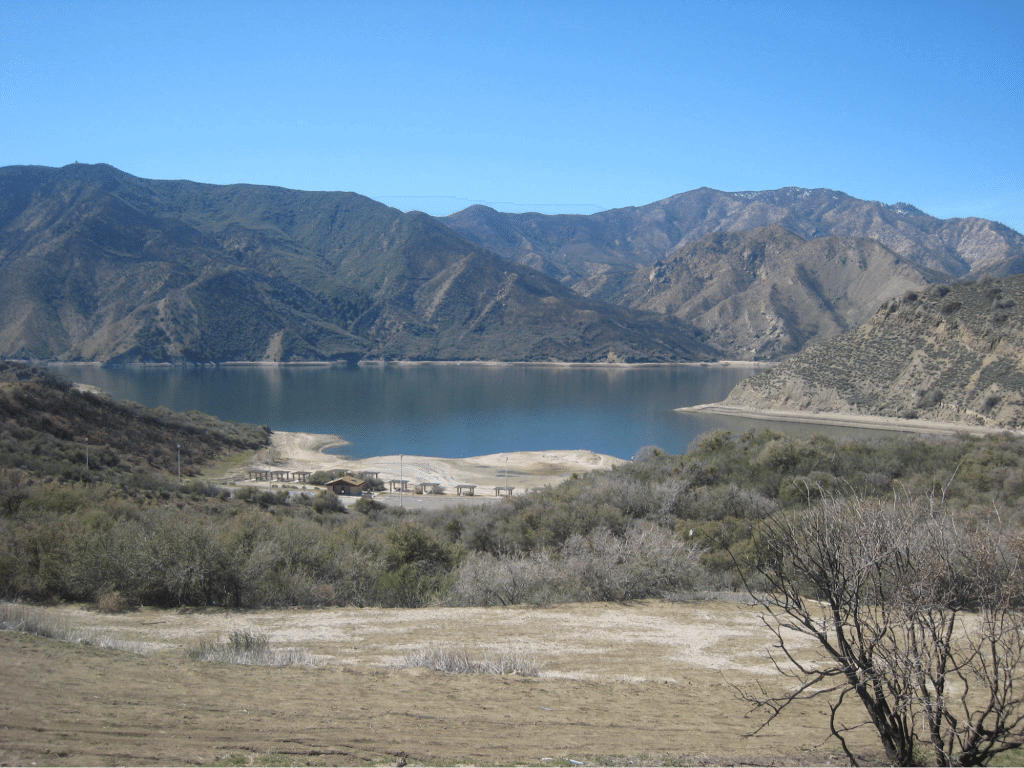 Our last choice is Pyramid Lake. This lake is located in the Angeles and Los Padres National Forest. It's a reservoir which is a hotspot for outdoor recreation and, of course, fishing. Thousands of people visit here each year for fishing, camping, picnicking, boating, and swimming.
Visit Emigrant Landing to find the marina with boat rentals and an eight-lane boat launching ramp. There are no limits on where you can fish, and the lake is consistently stocked with largemouth and smallmouth bass. You can also find striped bass, trout, catfish, crappie, and bluegill.
There are many different sections of the lake to fish, and each provides its own unique experience. Locals recommend stocking up on a variety of lures to ensure you have the right one for the situation.
Final Thoughts
California bass fishing is nothing short of amazing. I always thought I was so spoiled by living in the northeast part of the country.

I have to admit, bass fishing is pretty amazing here, but the consistently warm temperatures in California are clearly leading to a breed of bass that I've never seen before.
If you're in the game to catch some seriously large bass, you'll want to give California a shot.