---
We independently research, test, and recommend the best products; you can learn more about our review process here.
The best bass poppers make a lot of noise on the water, and that is what makes them so effective. They're one of the oldest lures, but over time, testing has lended them quite a nice hand. Now we have poppers of all different shapes and sizes that work better than ever before.
Through my personal experience and other anglers' knowledge and expertise, I've put together this list of the best poppers for bass fishing. These topwater lures will help you clean house on any freshwater pond or lake, so keep reading.
---
Our Picks For The Best Bass Poppers
Rebel Lures Pop-R Topwater Popper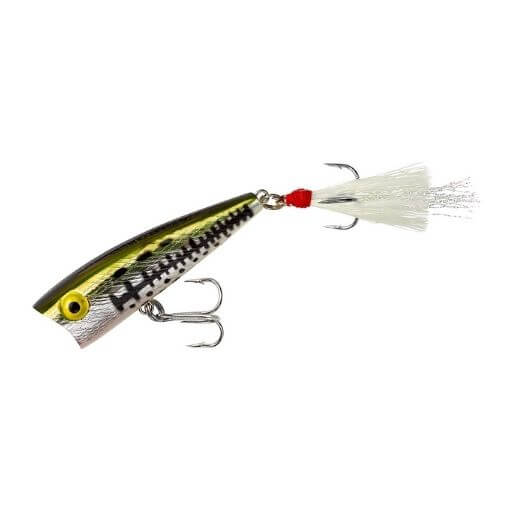 BEST BASS POPPER OVERALL
Type: Teeny Popper
Size: ⅛ ounce
Color: Ol' Bass
FEATURED SPECS
Design of the mouth spits water which creates a loud noise and vibration to attract ornery bass
EXTRA FEATURES
Comes with two treble hooks and a feather-like tail which improves the action and natural appearance
BUYING ADVICE
You can use both a straight retrieval or erratic jerking to imitate an injured baitfish
Pros
Strong company reputation
Great topwater action
Versatility
Cons
Many anglers recommend swapping the hooks
It's a no-brainer that the Rebel Pop-R is the best topwater popper for bass fishing. If you've ever watched a bass fishing tournament or attended one, I can guarantee you've seen this lure used many times. It's won hundreds of thousands of dollars in tournament money for many professional anglers.
When you cast it out, and it hits the water, you'll hear the pop. Then, as you're retrieving it, the lure spits water out using the concave mouth, which creates a lot of disturbance to attract the bass.
Arbogast Hula Popper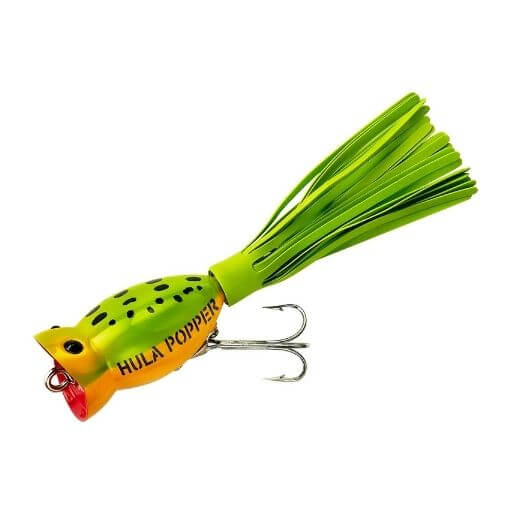 RUNNER-UP BASS POPPER
Specs
Type: Hula Popper
Size: 1 ¼ – 2 ¼
Color: Yellow Belly
FEATURED SPECS
Features an extra-strong and sharp treble hook to make it easier to set the hook
EXTRA FEATURES
The hula popper creates a loud popping sound when it hits the water, and it bubbles as you retrieve
BUYING ADVICE
Locate some grass beds and cast this right in there because it's meant to imitate a jumping frog
Pros
Great loud presentation
Large lure catches big bass
Works well at night too
Cons
The lure is a bit large for some
Here we have another legendary lure with a long-standing history of creating successful anglers out of newbies. The skirt on this one pulsates, so it creates a clicking noise as you retrieve it. You can pair that with the concave mouth that creates a bubble trail.
Arbogast Jitterbug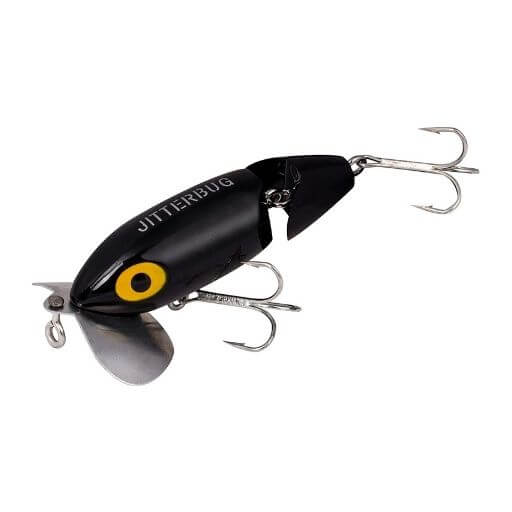 BEST JITTERBBUG
Specs
Type: Jitterbug
Size: 2 ½ inches and ⅜ ounce
Color: 16 color variations
FEATURED SPECS
The double cupped lip creates an extremely loud presentation when it hits the water
EXTRA FEATURES
This lure is small, so it's great for casting large distances
BUYING ADVICE
Make sure to choose your color to mimic your surroundings. They offer a wide assortment of colors.
Pros
Loud presentation
Great casting distance
Exceptional night time lure
Cons
It's not often that I would say having too many lure options is a bad thing, but it is when they're confusing. I find this lure to have too many size variations where some are jointed, and some aren't, it makes it confusing.
If I were you, I'd go with a non-jointed small lure option and purchase a couple of them in different colors, so you have one for each situation. I highly recommend getting a black one because this lure creates such a loud presentation; you don't need the bass to see it for night fishing.
Heddon Chug'N Spook Popper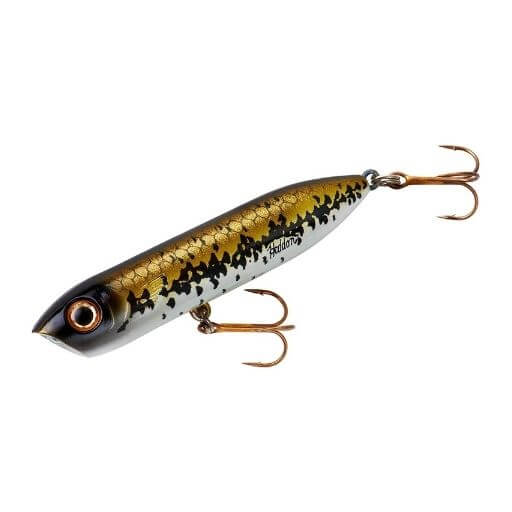 BEST SPOOK
Specs
Type: Popping Spook
Size: ½ ounce
Color: Black Shiner
FEATURED SPECS
Thin profile allows this lure to move through the water quickly while chugging and spitting
EXTRA FEATURES
Also comes with a loud rattle inside to add to the already loud presentation
BUYING ADVICE
These come in both fresh and saltwater options. That makes this one of the best poppers for striped bass as well.
Pros
Simple and effective
Comes with a wide range of colors and sizes
Torpedo movement through the water
Cons
Don't get confused by this lure. We're not talking about the standard Heddon spook here; the company also makes a popper with a similar design. The only difference between this and the original spook is the concave mouth.
While it does a great job of creating noise from its mouth, the ticker on this lure is the internal rattle paired with the mouth.
Rapala X-Rap Pop 07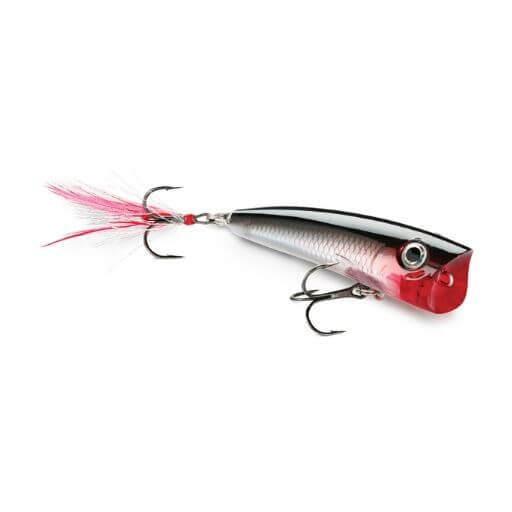 BEST SPITTER
Specs
Type: Spitter
Size: 2 ¾ inches
Color: Silver/Red
FEATURED SPECS
Incredibly lifelike appearance meant to mimic an injured shad or minnow
EXTRA FEATURES
Deep cupped mouth with extended top lip spits water as you retrieve it
BUYING ADVICE
These work great near docks or low hanging trees because they have a long casting system that provides pinpoint accuracy on your cast.
Pros
Rapala reputation is always good
Tail-down design improves the presentation
Great spitting action
Lifelike appearance
Cons
If you've read any of my other reviews, you know I like to stick with a great company. Rapala bass lures are some of the best on the market, and the design of this one really proves that to us.
Whether you're looking at the arched back to create a better presentation or the precisely cupped mouth which spits water and makes noise, this lure is designed perfectly for its intended purpose.
What Are Poppers?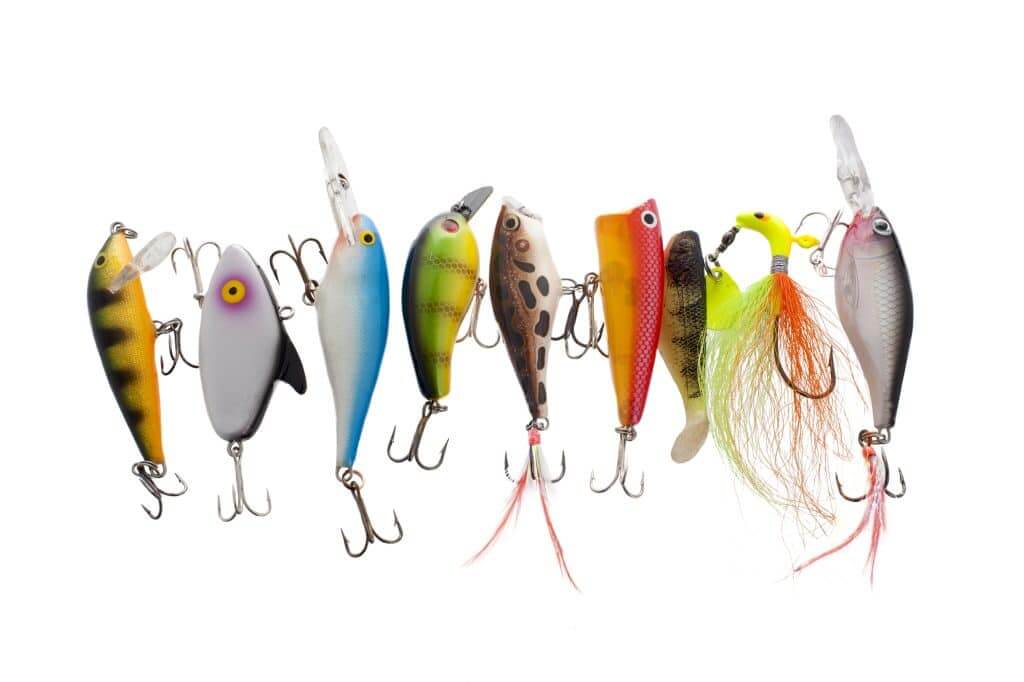 Poppers are a topwater lure that make a loud popping and spitting sound when they hit the water and retreat. They come in a few different designs and styles, but the selling point is the design and shape of their mouth.
These are not weedless lures because they often come with two treble hooks. You'll want to fish these near the weeds, but not necessarily in them. Having a bit of clear water allows the design to work it's magic.
The topwater nature of these make them a great lure for smallmouth bass but certain options like the spook also dive a little so they work well for largemouth bass too.
Types of Bass Poppers
You've got a large assortment of bass fishing lures that claim to be poppers, but overall, we're sticking to two main types. You have chuggers and spitters. They're both very similar, but the presentation they create in the water is what makes them a little different.
Chuggers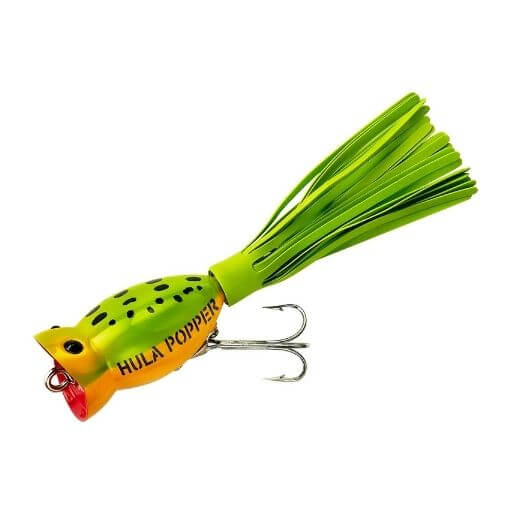 The chugger is a lot like the Arbogast Hula Popper we reviewed above. These create a loud pop sound when they hit the water, and then they bubble when you retrieve them. As you pull them in, they almost shroud themselves in bubbles, and when they pop, that's when you get the loud noise you're looking for.
Spitters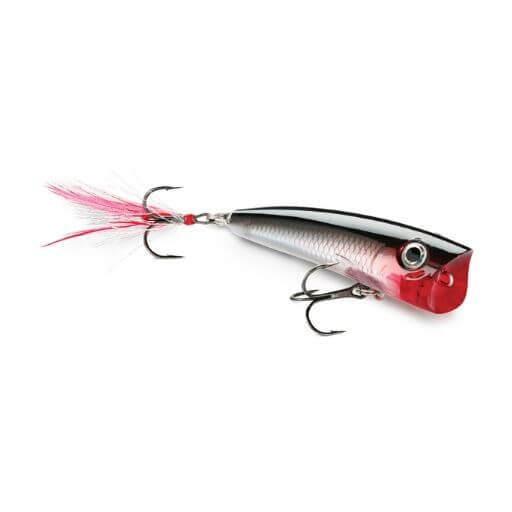 The main difference between these two is in the shape of their mouth. When you look at a spitter closely, you'll notice that the top lip of the concave mouth sticks out a little further than the bottom lip. As a result, these lures don't create that bubble shroud and trail; instead, they spit the water back out somewhat like a water wheel.
It makes a softer sound, but I've found that the noise is more consistent, which is what drives bass crazy. Our top pick above is a perfect example of a high-quality spitter.
Features to Look For in the Best Poppers
Popper bass fishing is pretty basic, and most of the lures operate in the same fashion. When you're shopping around, make sure to look for the following features to determine you have the right lure in your hand.
Concave Mouth – The main feature that makes this lure tick is the design of its mouth. The mouth either spits or chugs, and both of these create a loud noise when they hit the water and when you retrieve them. One sure-fire way of knowing you have a popper is by looking at the design of the mouth.
Treble Hooks – Topwater poppers for bass fishing always come with at least one treble hook. This is because you need to be able to set the hook when a bass comes at you from a variety of different directions. Many of the stock hooks that come with lures are low-quality, so be sure to pay attention to that.
Color Variations – Color is an important buying factor because it will impact your success. I always suggest mimicking the color of your lure to match the surroundings where you're fishing. Most popular companies like Rapala or Rebel offer an assortment of colors, so you don't have to worry about that.
How to Fish Poppers for Bass
Interestingly enough, there aren't too many bass fishing tips I can give you on fishing poppers. They're one of the simplest lures to fish, which makes them great for beginner bass fishing. You have two options for retrieving.
You can play it safe and follow a steady retrieval. You'll do this by casting out and retrieving by cranking the reel at a normal pace. The popper will spit and chug as you do this at a natural pace.
If you're looking to make things a little more interesting, you can cast out, leave the rod tip down and use the tip to jerk the lure in an erratic motion. For this, I suggest getting a lure with a little red on it. Some of the options recommended above have red bellies.
For this, to work best, you'll keep the line tight, lift the rod tip up quickly, reel in the slack, and repeat this process. The bass will think your lure is injured, and they'll be more likely to strike it.
Best Time to Use Poppers for Bass
While there isn't a "wrong" time to fish poppers, any self-respecting bass angler would tell you that night time, overcast, or dusk is the best time to use these. When it's dark, bass can't see the lure as well, so they rely on what they hear.
For this situation, having a loud lure that draws a lot of attention is the key to success. Again, be sure to keep everything else in mind as well. Choose a color that relates to the time of day. If it's pitch black out with very little moonlight, go with a completely black lure.
If you've got some moonlight, choose something that might reflect some of that light. Go with a silver shad color or something like that.
Also, keep in mind how your presentation needs to change based on the time of day and year. When it's a cooler, overcast day – you need to slow it down. When it's hot, and the sun is still beaming down at 9 pm, you can afford to pick up the pace a little.
Final Thoughts
The best bass poppers aren't hard to find because so many of the most popular lure brands make a ton of them. I suggest sticking with the Pop-R, Heddon, and Rapala when it comes to these. Even if you have to pay an extra buck or two, you know you're getting the highest quality lures.
The best thing about poppers is that they're easy to fish. If you have a kid or a friend who is looking to get into fishing, get them hooked by rigging a topwater popper and showing them how easy it is to catch bass with the right lure and the proper strategy.
We love talking to our community here at Anglers.com, so be sure to drop us a comment with your favorite popper story and tell us more about how you like to fish these lures.
Good luck out there!