---
We independently research, test, and recommend the best products; you can learn more about our review process here.
Fishing swimbaits for bass is a unique experience and one that requires a bit of expertise and finesse.
These are big fishing lures, and they're known for bringing in trophy bass, but you do have a good chance of catching smaller bass as well.
The big thing to remember about swimbait fishing is that you need to stay consistent, follow a travel path, and commit to them, so you don't fly right by a significant opportunity on the water.
Swimbaits come in a few different styles.
They're soft plastic or rubber glide baits, solid hard pieces, jointed hard, or multi-jointed hard lures.
In this article, we're giving you an inside look into the best swimbaits for bass, and some details for how you'll want to fish these big baits.
If you'd rather watch a YouTube video, Wesley Littlefield, the resident Youbassguy.com Community Coordinator, gives us his favorite swimbaits to use.
---
In Depth Reviews of our Favorite Swimbaits For Bass Fishing
Berkley PowerBait Power Swimmer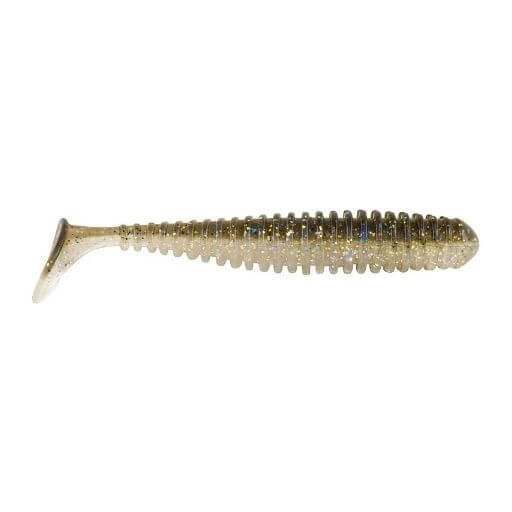 BEST OVERALL SWIMBAITS FOR BASS
Specs
Size: 3.8" to 4.3"
Type: PowerBait Soft Plastic
Color: Rainbow Shad
FEATURED SPECS
The ribbed body produces a lot of vibration in the water, which attracts bass better.
EXTRA FEATURES
All of these lures smell and taste like real baitfish to it entices and attracts bass to strike.
BUYING ADVICE
They have a large assortment of different styles, colors, and shapes, so you're sure to find something that works for your fishing style.
Pros
Makes a lot of noise in the water
Highly respected and recommended by anglers
Natural movement through the water
Cons
Can't think of a single drawback with these
These swimbaits have a ribbed body that helps them to glide through the water naturally and present themselves with more noise to aggravate the bass enough to strike.
Another reason why these are so successful is that they're coated in a special material that causes them to smell and taste like actual fish. Bass can smell this from yards away, and they will come by to investigate what they're smelling.
Rose Kuli Multi-Jointed Bass Swimbait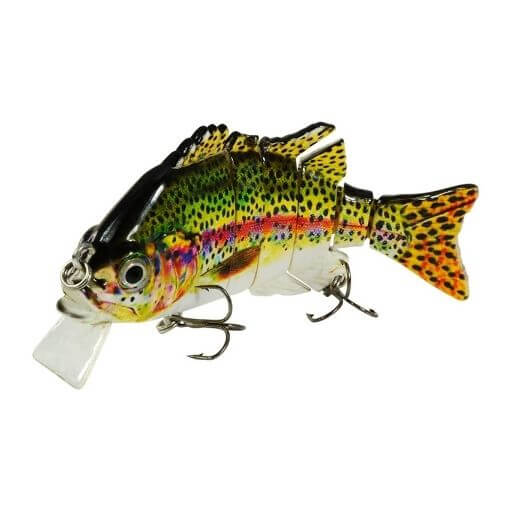 BEST HARD SWIMBAITS FOR BASS
Specs
Size: 4.1 inches
Type: Multi-Jointed Hard Swimbait
Color: Many Natural Color Variations
FEATURED SPECS
These hard body lures create an S shape swimming action in the water that forces the two treble hooks out to the side as it swims.
EXTRA FEATURES
The 3D eyes and realistic colors make it look like a real fish that attracts bass to bite.
BUYING ADVICE
These are a bit large at over four inches, so you'll want to keep that in mind. When you're fishing, you'll want to use these at the peak bass fishing hours of the day in the early morning and late evening during warm summer days.
Pros
Realistic body
Natural movement in the water
Two super-sharp hooks
Cons
A little large for smaller bass
These guys are a bit big for the little one-pound bass you'll find in the weeds of your backyard pond, but if you're serious about bagging some big fish, this will get the job done.
They make a beautiful S motion in the water that mimics the natural wiggle of a fish, and the treble hooks pop out of the side while this is happening to make them readily accessible to incoming bass.
Fastestever Jig Head Swimbait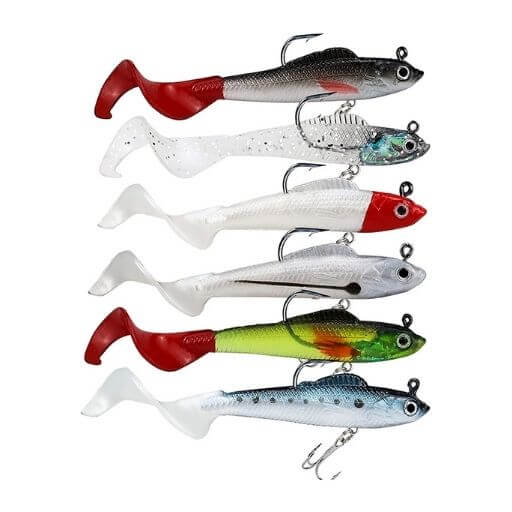 BEST SOFT SWIMBAITS FOR BASS
Specs
Size: 3.54 inches
Type: Soft Plastic Swimbait
Color: Six Different Colors
FEATURED SPECS
These swimbaits mimic a jig set up with a jig hook sticking out of the top of the lure and a treble hook hanging beneath.
EXTRA FEATURES
The lures are incredibly lifelike and balanced for long-distance casting.
BUYING ADVICE
With the two hook setup like this, you run the risk of getting hung up in weedy areas, so I would suggest using these among dams and rocky areas where you might not bring in a lot of vegetation.
Pros
Lifelike appearance
Two hook setup increases the chances of setting the hook
Comes in six different colors and styles
Cons
These soft swimbaits work well for both largemouth and smallmouth bass because you have total control over how you fish them. The tail gives them a nice natural motion in the water, and they're so lifelike that you don't have to worry about spooking the bass.
These lures contain high-quality materials that smell and taste like fish, so it attracts the bass. In addition to catching bass, you can also draw an assortment of panfish, trout, walleye, and more.
Calissa Offshore Multi-Jointed Swimbait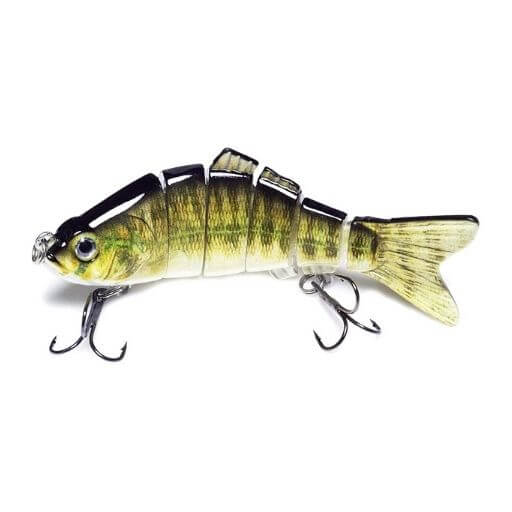 BEST SWIMBAITS FOR LARGEMOUTH BASS
Specs
Size: 4 inches
Type: Multi-Jointed Swimbait
Color: Seven Different Colors
FEATURED SPECS
The jointed body creates a lifelike motion in the water that attracts bass.
EXTRA FEATURES
The color of these lures is about as perfect as you can get. It's incredibly realistic, which is excellent for getting the attention and building trust with bass in the water.
BUYING ADVICE
I'd recommend getting the baby largemouth bass color and fish it along the shore while trolling along with your boat.
Pros
Multi-jointed swimbaits create a nice motion
Beautifully painted and realistic
Two treble hooks
Cons
A bit too large for some bass
These are similar to the other multi-jointed option that I recommended, but the reason these work so well for largemouth bass is that they are slowly sinking. Largemouth bass doesn't strike as hard, and they're not as prone to chasing after lures for long distances, so you want something with a slower approach.
Goture Minnow Big Tail Swimbaits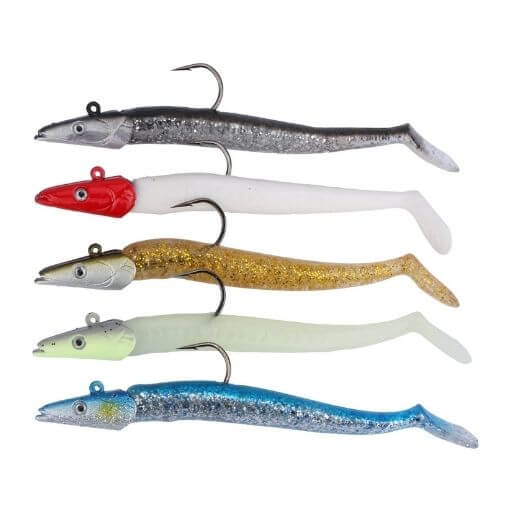 BEST SWIMBAITS FOR SMALLMOUTH BASS
Specs
Size: Four inches
Type: Jig Head Swimbait
Color: Five Color Options
FEATURED SPECS
These swimbaits contain a soft body with a hard jig head and hook inside. They're black nickel, which is said to increase the chances of setting the hook.
EXTRA FEATURES
It comes in five different color options, and they're all very vivid and bright, but I wouldn't say they're the most natural ever.
BUYING ADVICE
These lures create a great presentation in the water, but the durability and longevity aren't there. The paint and eyes chip a lot, so you might want to fish these in more open water.
Pros
Good presentation
Comes in many colors
Decent swimbait for striped bass and smallmouth
Cons
Not the most lifelike appearing lure
Paint and eyes chip
When searching for a soft plastic swimbait that works for smallmouth bass, you want to keep in mind the fact that they'll bite a lot of quick-moving lures, and the presentation is important if you expect to get them on your hook.
Is this the most beautiful lure you've ever seen? No. Does it get the job done if you retrieve it quickly and try not to bang it off the rocks too much? Yes.
Types of Swimbaits and How to Use Them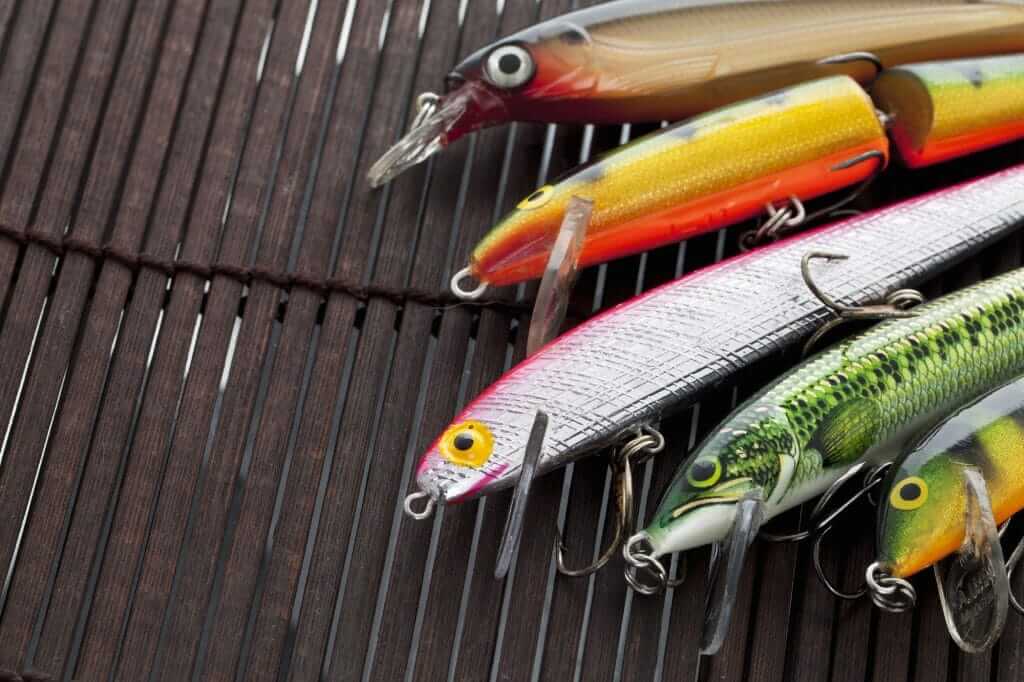 Let's focus on three different types of swimbaits because those are the ones you'll encounter the most. You have a hard body, soft body, and paddle tail. I've reviewed all three of these options above, so the following information will help you learn how to catch bass with them.
Hard Body Swimbaits
Hard body swimbaits are exactly what they sound like. These are usually very lifelike, and they have a large profile that sometimes exceeds four or five inches. Since they're so realistic looking and large, they also come at a higher cost. In some situations, anglers may even pay as much as $100 for a single lure.
These lures almost always have treble hooks hanging from the bottom, and they sometimes come in jointed or multi-jointed designs.
The bonus of having a multi-jointed hard swimbait is the presentation in the water. Since they have four or five different joints, they can move in an S motion, which enhances the appearance of the lure. I've reviewed a few of these above.
Largemouth bass prefer these over a jerkbait, topwater spinner, or something similar because of the slower retrieve and overall action of the lure.
Soft Body Swimbaits
I typically prefer soft body swimbaits for a few different reasons. I think they have a more realistic feel and appearance, which entices the bass to strike it rather than investigating it. When the bass are unsure about something, they won't come from four yards away with a punishing strike, and instead, they'll nibble or swim around it for a while.
Something else nice about soft body swimbaits is they have more realistic 3D eyes as well. With these, you can find variations of the type of hook as well. Some will have treble hooks, while others will have a jig hook.
Paddle Tail Swimbaits
These are smaller soft swimbaits that do not usually come rigged with hooks. For these, you'll have to insert a hook on your own, and some may require a jig head as well. Hollow body swimbaits are generally very soft because the hook does not stick out much. This requires the bass to bite down harder to set the hook. It works well for appearance, but many anglers have a hard time getting the hook to set here.
Solid-body paddle tail swimbaits are more durable, and you have much more control over the type of hook you use because they'll stay together and won't get ripped apart.
How to Fish a Swimbait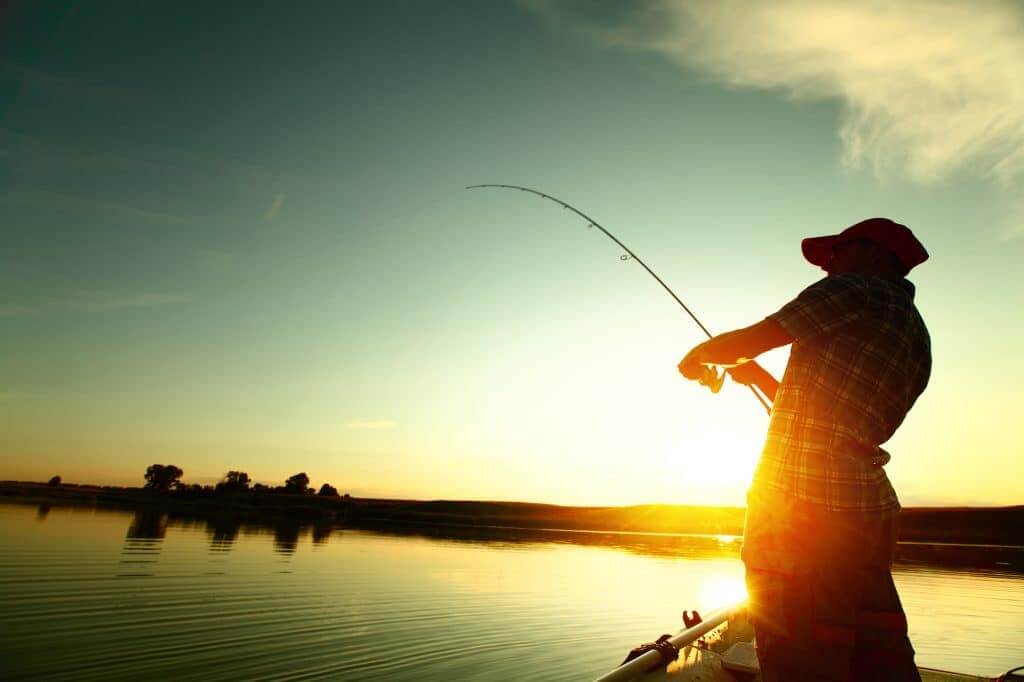 Swimbaits are easy to use because the lure itself is what creates the presentation. These fish the same as a crankbait, but the main difference you need to understand is the size and speed of your retrieve. Swimbaits will sink to four or five feet below the surface before retrieving, and many of them sink very slowly, so you need to have patience.
What most people have taught me over the years is that you want to find the slowest you can retrieve these without messing up the presentation. If you reel it in too slow or fast, you won't get the proper wiggle and will not catch anything.
Suggested read – find the best swimbait rod here.
Where to Fish with a Swimbait
Many anglers consider swimbaits as a clear water lure because much of your success weighs on how well you can get the presentation down. Swimbaits are not weedless. If you're moving through murky water surrounded by weeds and your lure is covered in vegetation, you don't stand a chance.
As a result, you want to stay in open water, fish along rocky ledges, dams, and around stumpy areas. Structure is your friend too, but stay away from dense cover, lily pads, and low hanging trees. In some cases, your swimbait could have as many as seven hook edges, which could be the end of your lure if you cast in the wrong place.
How to Choose a Swimbait Color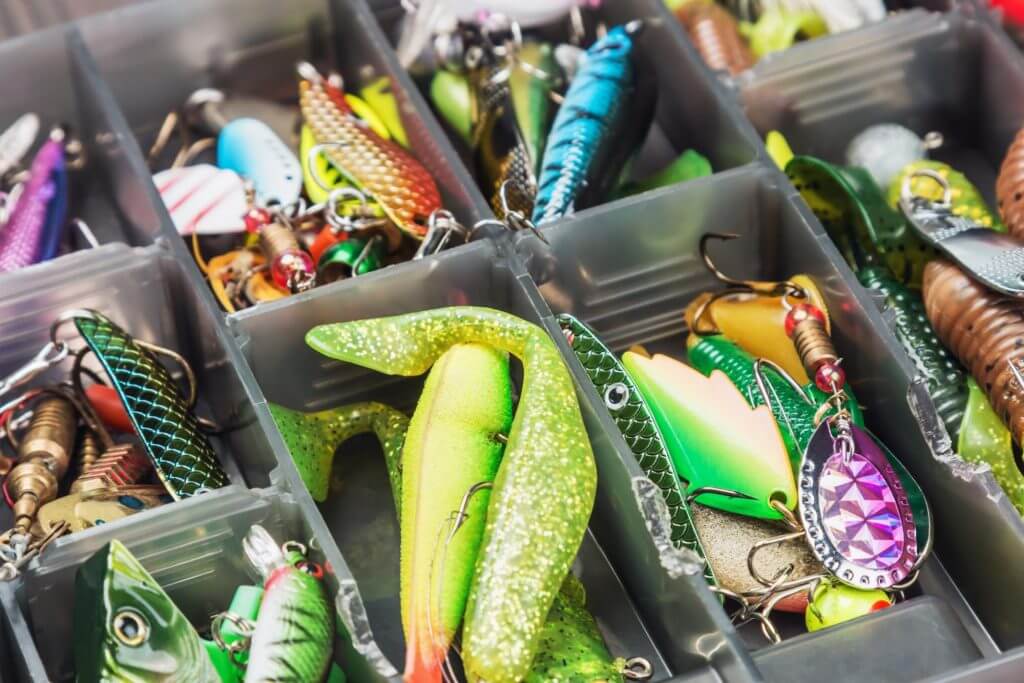 A lot of fishing strategies are common sense that people overcomplicate. There are two primary factors to keep in mind when deciding on the color of any lure.
Water clarity
Natural prey
If you're fishing in early spring, the water will almost always be cloudy and murky from snow runoff. You'll want to go with a brightly colored lure during this time to get the attention you need.
When fishing after a long dry period, there isn't any water running into the lake, so the water tends to stay much more clear. During this time, you want to mimic the baitfish that the bass eat. If you fish this pond a lot and you catch a lot of bluegill, you might want to choose that as you color.
Final Thoughts
Swimbaits are popular for catching big bass and for a good reason. Many of them provide a lifelike appearance, a great presentation, and the opportunity to catch something worth mentioning to your friends.
I'd recommend checking out any of the options above, but make sure to keep the different types, applications, and colors in mind when making your decision. Happy fishing!