Forget the images of traffic jams, skyscrapers, crowds, and crime. That's not the California Cody Meyer knows.
He grew up in the northern part of the state, a world away from big-city life and home to some of the best bass fishing in the nation.
"Northern California is a beautiful place–lots of mountains, beautiful reservoirs, and great fishing and hunting," said Meyer, who competes on the Major League Fishing Bass Pro Tour.
"For a bass fisherman, it's a great place to live."
Especially if you're looking to catch a world-class spotted bass, Meyer caught a world-record spot there in 2016, a mark that has since been broken.
And every year, he catches other trophy bass out of the small reservoirs that dot the map.
But that's only half the story. Some of the nation's best largemouth waters, Clear Lake and the California Delta, await just a few hours away.
That setting provided Meyer with a unique training ground for bass fishing, which has led him to a successful career in the sport's big time.
"California has so much diversity for bass fishing," he said. "One minute, you could be fishing Lake Shasta, which is gin clear and has 70-foot-deep water, with spinning tackle for suspended bass. "Then you drive a couple of hours, and you're using a flipping stick and braided line for shallow largemouths on the Delta.
"I can't think of many places that offer that kind of opportunity."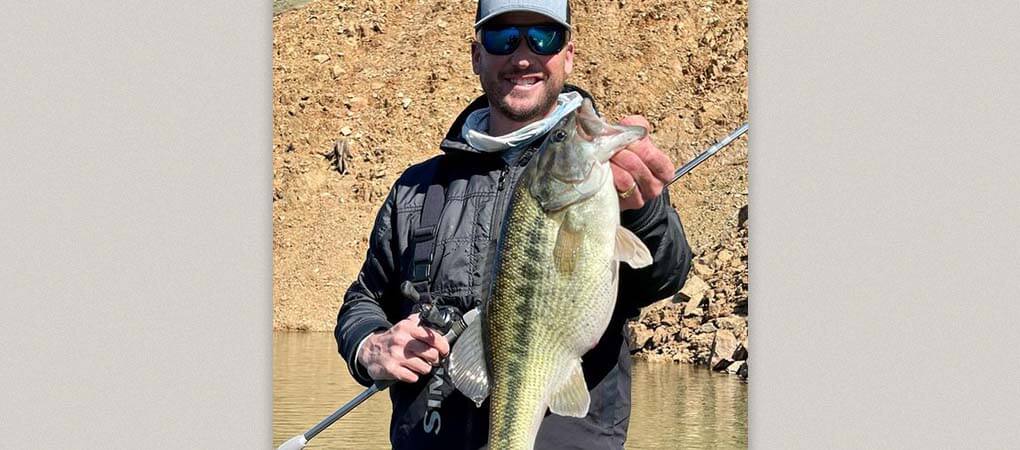 Cody Meyer is at home in northern California, where big spotted bass abound. (Photo courtesy of Cody Meyer.)
---
Spotted Bass or Largemouth?
Some fishermen have a hard time telling a spotted bass vs a largemouth. At first glance, they look alike. But there are differences:
Spotted bass have jaws that don't extend past the eyes. Largemouths are aptly named, with big jaws that extend.

Spotted bass also are aptly named, with a dark line of horizontal spots. Largemouths don't have that distinguishable characteristic.

Spotted bass have a coarse, sandpaper-like patch on their tongues. Largemouth bass have smooth tongues.

Spotted bass have lines of dark spots that extend to their bellies. Largemouths don't.

Size also is a giveaway. Spotted bass don't grow as big as largemouths. A 4-pound spot is a trophy catch. In the largemouth world, a fish that size is nothing special.
The two species also are different in behavior. Spotted bass like to suspend in open water and tolerate cooler water temperatures.
Largemouth bass are usually cover-oriented, ambushing prey while hiding in brush, timber, rocks, or weeds.
Spots thrive in clear water and like to roam with their food source. Largemouths will do that, too, but they are more tolerant of murky water, especially if it has lots of structure.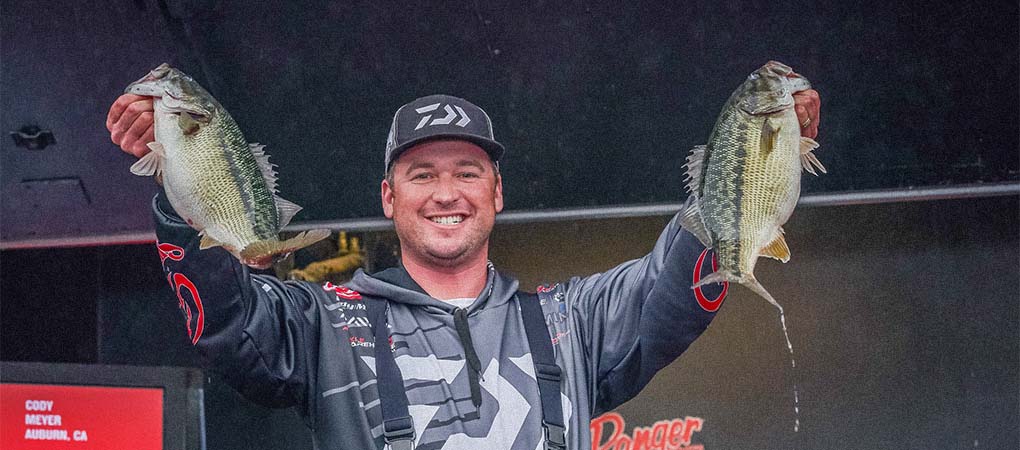 Cody Meyer has spent a lifetime catching big spotted bass. (Photo by Andy Hagedon/Major League Fishing.)
The Spotted-Bass King
When Meyer was just 15, he realized what a special place he was living in. Born in Grass Valley and later moving to Auburn, Calif, he learned to fish in some of the best spotted bass fisheries in the country.
"When I was 15, my mom would drive me to a lake, back me into the water at first light and pick me up at dark," Meyer said. "That's what really got me started."
"The sheer numbers were great. It was nothing for me to catch 40, 50 spots in a day. I just became addicted to catching these fish."
He definitely wasn't lacking places to catch the spots. He estimated that 90 percent of the reservoirs in northern California had the hard-fighting bass.
The species weren't stocked in northern California until 1974, but the bass quickly adapted to the clear, open bodies of water, sometimes to the detriment of largemouths.
"The water level in these reservoirs will fluctuate quite a lot," Meyer said. "The spots do better in that situation because they spawn deeper than largemouths will.
"Plus, spots are so much more aggressive on bait than largemouths are. They eventually just took over."
That was fine with Meyer. He quickly learned the behavior of the spotted bass and how to catch them on spinning tackle.
"Spots like to suspend in open water. They roam," Meyer said.
"They seldom go to the bottom. They don't have a set home.""You might catch them in one place one day and go back the next day and not catch a thing."
But there were also advantages to that wanderlust behavior. The spots often school in that open water, meaning where you would find one, you would find plenty.
Meyer adapted to those characteristics by casting plastic baits such as Senkos, rigged wacky style, and letting them sink until they would reach the depth at which the fish were holding. He uses long Daiwa medium action spinning rods and light line (6-pound-test fluorocarbon) to make a stealthy presentation in the clear water.
He also uses drop-shot rigs and shaky head rigs with Gary Yamamoto soft-plastic baits.
"What's fun is how hard these spots fight," he said. "They rarely jump, but they pull like crazy. Pound for pound, a spot will whip up on a largemouth."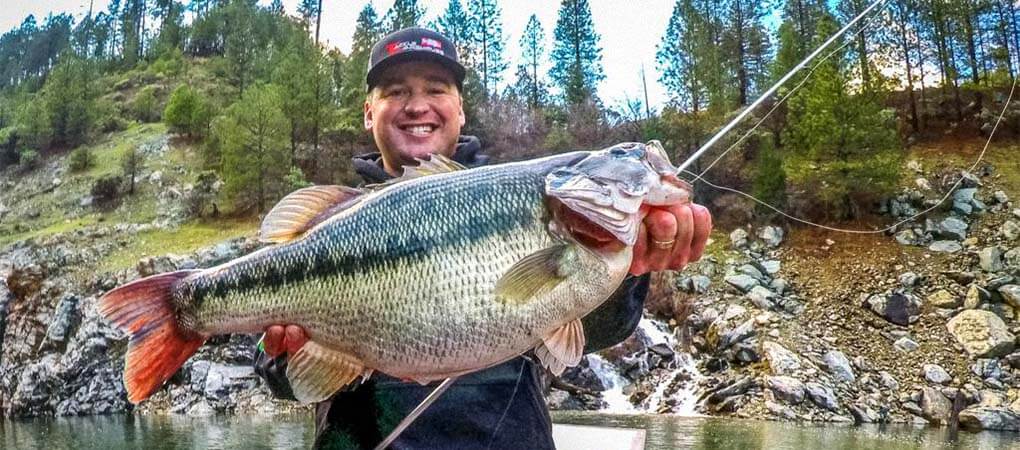 A 10-pound largemouth is a toad. But a 10-pound spotted bass? That's a word record. Cody Meyer caught that 10.80-pound spot in 2016 in northern California. (Photo courtesy of Cody Meyer.)
A Spotted Bass For The Record Books
December is the off-season for most bass fishermen. But it is prime time when Cody Meyer chases big spotted bass in California.
The biggest spots of the year bite in the wintertime in California," Meyer said. "They like the cold water. And their feeding period is longer."
The biggest spot of all certainly followed that pattern on a cool December morning in 2016 when Meyer visited Bullard's Bar Reservoir. As he scanned a deep point with his Garmin Panoptix electronics, he picked up a big mark suspended 25 feet down in 100 feet of water.
He cast out a weightless Yamamoto Senko rigged wacky style and patiently waited for the soft-plastic bait to flutter down. When it finally reached the zone, he could see the big fish streak up to hit.
If you're expecting details of an epic fight on light tackle and 6-pound-test line, you're going to be disappointed.
"It didn't pull as hard as you would think," Meyer said. "I think it was just too fat to do much."A 4- or 5-pound spot will fight so much harder because it is so much more athletic. When a fish like the one I caught gets that big, they're so round that they don't have a lot of energy."
Finding a spot of that size at Bullard's Bar didn't come as a complete surprise to Meyer. The reservoir had a good population of small kokanee salmon, ideal forage for the hungry spots.
The state stocked the kokanees as an additional species for fishermen but in lakes such as Bullard's Bar, where the salmon overpopulated, the 10- to 12-inch fish became bass food.
The day was especially memorable for Meyer because he was using a prototype of the Tatula Elite spinning rod he helped design for Daiwa.
"It didn't even have the logos on it yet," Meyer said. "It was really cool to try out that rod for the first time and catch a fish like that."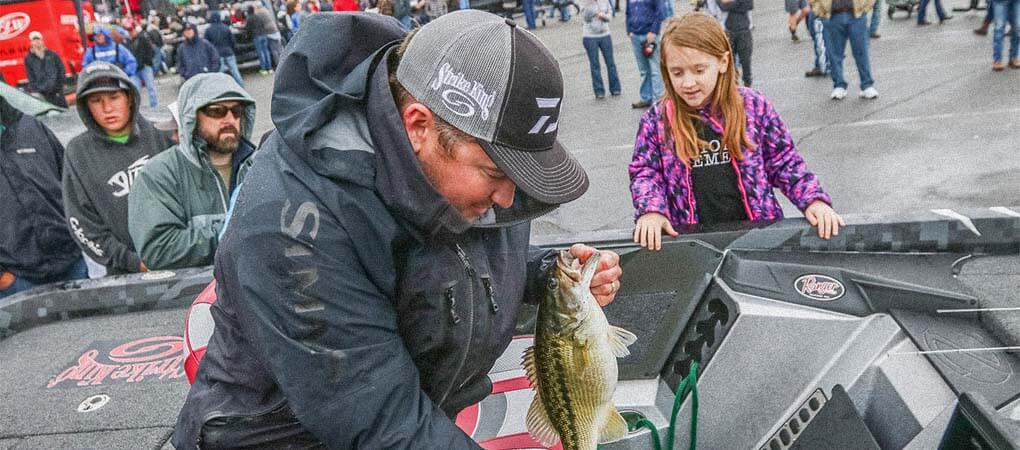 Cody Meyer pulled a spotted bass out of his live well during an FLW tournament as fans looked on. (Photo by Kyle Wood/Major League Fishing.)
Since Then
Much has changed since Meyer caught that huge spotted bass in 2016.
His world record was broken several months later at the same lake where he caught his trophy bass. And though there are still big spots in Bullard's Bar, Whiskeytown, and other California reservoirs that were stocked with kokanee salmon, the huge catches aren't as frequent as they once were, Meyer said.
"There was a stretch of five or six years where there was a class of fish with amazing genetics," Meyer said. "I think some of those fish have died off now, and we just don't see as many huge fish caught.
"You see lakes go through cycles, and some of these places are definitely in a downturn right now."Still, Meyer continues to catch big spots in the reservoirs. And places such as Shasta, Whiskeytown, Berryessa, Pine Flat, and Oroville still produce impressive numbers of 2- to 3-pound fish.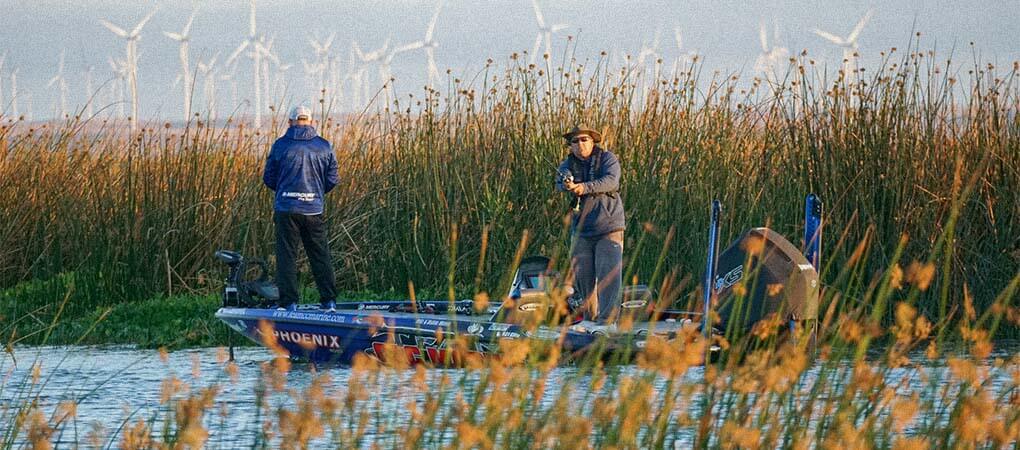 California waters such as the Delta (shown here) are still among the nation's best largemouth bass fisheries. (Photo by Tyler Brinks/Major League Fishing.)
Pick Up The Flipping Stick
OK, let's put down the spinning tackle for a while and talk about power fishing.
We're talking flipping rods, shallow largemouths, and thick cover.
That's what you'll find at the California Delta and Clear Lake, consistently rated as two of the nation's top bass fisheries.
In its 2021 ratings, Bassmaster ranked the Delta, which covers 1,100 miles, as the second-best bass water in the nation. It trailed only Lake Fork in Texas. Clear Lake, which covers 43,785 acres, ranked fifth.
That was nothing new. The two California bodies of water have consistently ranked in the top 10 in recent years.
Why? Lots and lots of shallow cover–everything from thick vegetation to brush to rocks.
"I love topwater frogging and flipping," Meyer said. "And both the Delta and Clear Lake have lots of good cover to throw to."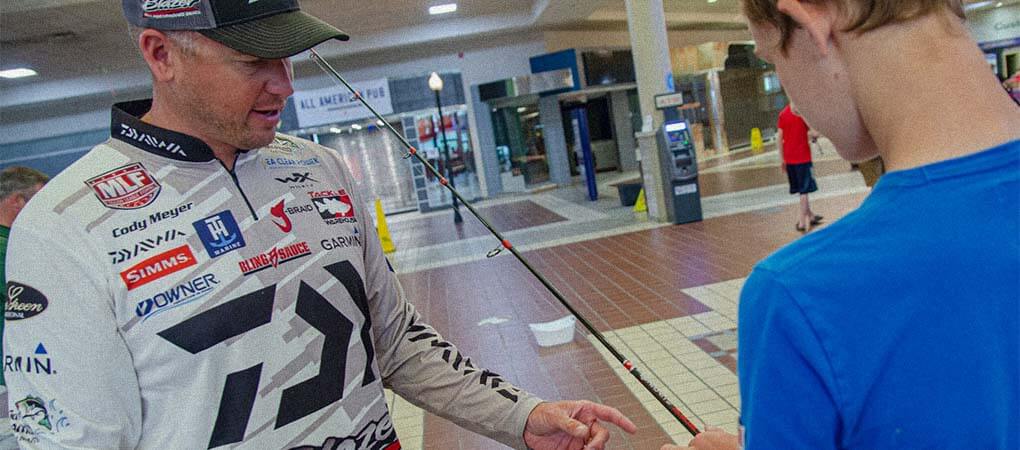 Cody Meyer is a pro at getting youngsters started in bass fishing. (Photo by Rachel Dubrovin/Major League Fishing.)
Fishing Tips From A Pro
So, you're new to bass fishing, and you just want to catch a few fish. What do you throw?
Meyer advises newbies to start with either a drop-shot rig or a shaky head. Those finesse tactics feature downsized plastic baits and will entice bites even in tough situations, he said.
"In the past, not a lot of people used those finesse techniques," Meyer said. "But Aaron Martens (late pro fishing legend) really made them popular.
"They're just a good way to catch some numbers and get a feel for bites."
A drop-shot rig features a weight tied below the hook so that fishermen can suspend a plastic bait off the bottom.
A shaky head is a lightweight jig head with a small plastic worm, or other finesse bait often fished on or near the bottom.
Conclusion
Using light spinning tackle for big spotted bass in open water is something new for many bass fishermen, who are accustomed to using a big stick, baitcasting equipment, and heavy line.
Hopefully, Meyer's tutorial will turn you on to some new tricks. One last tip: Meyer's open-water tactics for suspended bass have been enhanced by the use of forward-facing sonar that shows the real-time movement of fish. The technology allows him to locate schools of spots and cast to them before the boat spooks them.
So flip the switch on that unit and go hunt them down, especially if you're fishing in northern California. You may catch the bass of a lifetime.
Tell us what you think. Comment below and give a few tips of your own!