Last Updated on March 16, 2023
We independently research, test, and recommend the best products; you can learn more about our review process here.
As bass anglers, there's one thing that we love, and that's weedy, mucky, sloppy backroad ponds in the middle of nowhere. This is where the best bass fishing is, and to fish this type of water, you need the best bass frog lure.
Frog type baits work great on weed mats because they don't have an exposed hook, and they glide right over the weeds and work their way through the slop with a beautiful presentation. These are towards the top when it comes to the best topwater lures when fishing in vegetated water, but that doesn't mean you're only limited to that. You can lure the best frog baits in deep water and around structure as well. Below are our best frogs for bass fishing.
Check out this frog fishing basics Youtube video by Yourbassguy.com writer Wesley Littlefield.
---
Dive Deeper: Reviews of Our Favorite Best Frog Lures For Bass
Livetarget Hollow Body Frog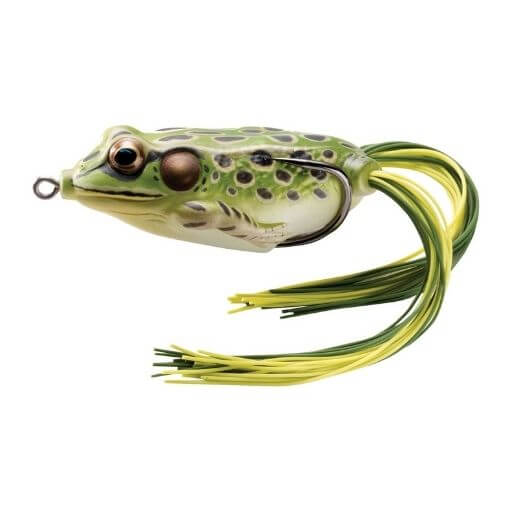 BEST OVERALL
Specs
Size/Weight: 1.75 / 2 ⅝ / 2.25 inches
Color: 10 different color variations
FEATURED SPECS
The hollow design allows these to easily skim across the water, which makes them an ideal frog for bass in the weeds.
EXTRA FEATURES
They have a soft body construction that not only hides the hooks, but it allows for a natural feel when bass bite down on them.
BUYING ADVICE
I think these are the best frog lure on the market because they combine many elements that you want and wrap it all up in one.
Pros
The hollow body moves through cover
Soft body to hide hooks and provide a natural feel
Many different colors and sizes
Cons
Some customers report the paint chipping
The most important thing you're looking for in the best frog lure is the fact that it can glide through the weeds and jump around the lily pads, and you'll have no problem doing that with this one.
BOOYAH Poppin' Pad Crasher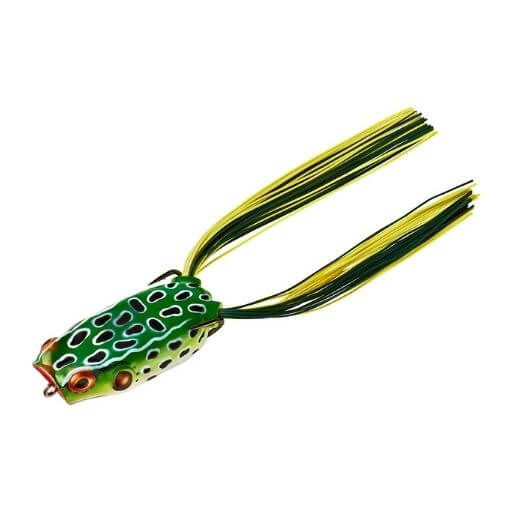 BEST TOPWATER FROG
Specs
Size/Weight: 1.75 inches
Color: 8 different color variations
FEATURED SPECS
The design of these frog baits is incredible. They make it look super realistic as it slides through the slop.
EXTRA FEATURES
It comes with spinnerbait like legs to create vibration in the water and dry attention as you cruise around.
BUYING ADVICE
These come in many different colors, so I would recommend picking up a few so you can appeal to each unique situation. Pay attention to the frogs you see on the water around you and mimic that.
Pros
Many different colors with realistic patterns
Excellent choice in the slop
Great for big bass
Cons
Potential durability issues
One of my favorite things about frog lures for bass is how realistic they look as they move through the water. These are about as real as it gets, the patterns, the colors, and the presentation are just about perfect.
Lunkerhunt Lunker Frog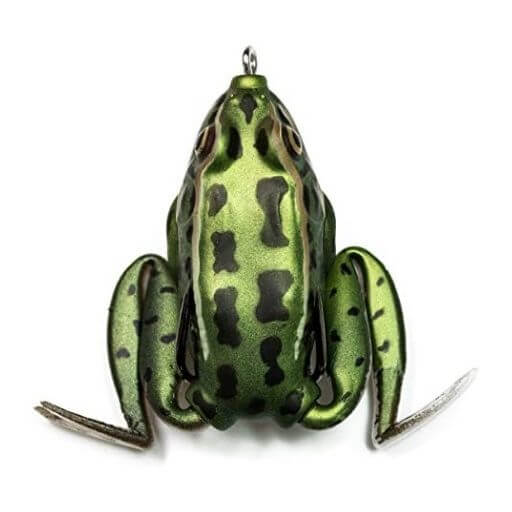 BEST LIFELIKE FROG
Specs
Size/Weight: 2.25 inches and 0.5 ounces
Color: 10 different color variations
FEATURED SPECS
These frog baits come with realistic legs that move naturally as you retrieve and pause your line.
EXTRA FEATURES
The Lunkerhunt lures have a super soft hollow body of the frog with soft rubber to create a better hook set
BUYING ADVICE
I'd suggest fishing these with a stop and go motion and read up on how to do that properly. We'll get into it further down in the article.
Pros
Lifelike appearance and presentation
Looks like a real frog
The soft body causes bass to strike harder
Cons
There's a bit of a learning curve
If you thought it couldn't get any more real than some of the frog baits we've shared so far, you're wrong. This one is incredibly realistic, and my favorite thing about it is the legs. I've never seen a fishing lure move with such accurate precision, so these are the cream of the crop in terms of appearance.
River2Sea Spittin Wa Frog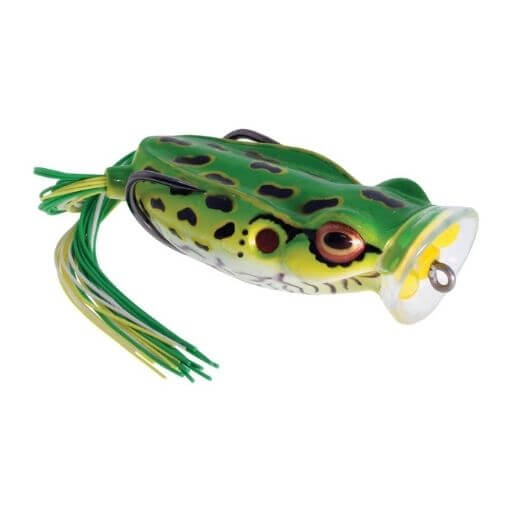 BEST TOPWATER POPPER
Specs
Size/Weight: 1.6 ounces (some say it runs a bit small)
Color 5 different color variations
FEATURED SPECS
Comes with a popper on the front, which creates a bubble trail in the water and makes a lot of noise.
EXTRA FEATURES
It comes with two hooks on the rear of the frog, which makes it easy to set the hook.
BUYING ADVICE
I would keep this as a nice action lure to draw attention to a certain area. These make a lot of noise when they hit the water, so they work better in open water.
Pros
Great for open water topwater fishing
Makes a lot of noise
Realistic appearance
Cons
The main difference between this lure and the rest is the cup on the front. When you cast this into the water, it makes a loud pop sound, and it continues to do that as you retrieve it. As a result, you wouldn't fish this in the slop because you wouldn't get the sound you want.
Croch Hollow Frog 18 Pack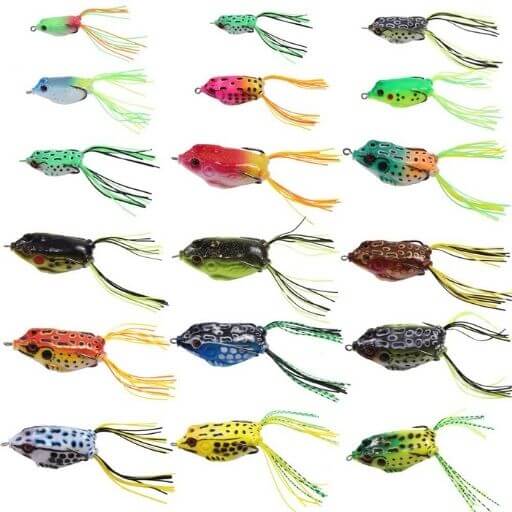 BEST FROG MULTI-PACK
Specs
Size/Weight: 3.8 / 4 / 4.5 inch
Color 18 different colors included with purchase
FEATURED SPECS
These guys come with strong and durable dual barbed hooks on the rear of the frog.
EXTRA FEATURES
The super silicone design provides a better hook set up ratio because the bass will continue to bite rather than spook and swim away.
BUYING ADVICE
These have a great weedless design because the hooks are nearly hidden in the back, so you can move great through heavy vegetation.
Pros
Comes with 18 different colors and sizes
Weedless design
Dual barbed hooks
Cons
The biggest problem I have with these is their appearance. I find that they look a bit too shiny, which gives them the appearance of being cheap soft plastic, but that's a sacrifice you make when you buy an 18 pack of lures. Overall, not bad, though, and worth the purchase!
Berkley PowerBait Tree Frog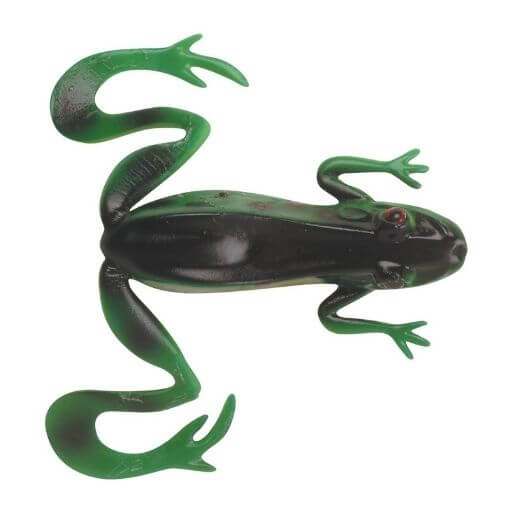 BEST SOFT FROG FOR BASS
Specs
Size/Weight: 4 inches
Color Green
FEATURED SPECS
EXTRA FEATURES
These are molded specifically to look like frogs and move through the water like them. The only downside is they don't possess a lifelike appearance.
BUYING ADVICE
I added these to the list because I find that the scent does a great job of making up for a poor appearance.
Pros
Powerbait scent
Great brand
Natural movement in the water
Cons
You need to rig it yourself
I'm a big fan of powerbait, and these frogs do a great job of scouting the water and seeing what is out there. I would suggest taking one these and rigging it down the rear and simply moving through the vegetation and see what happens.
Different Types of Frog Lures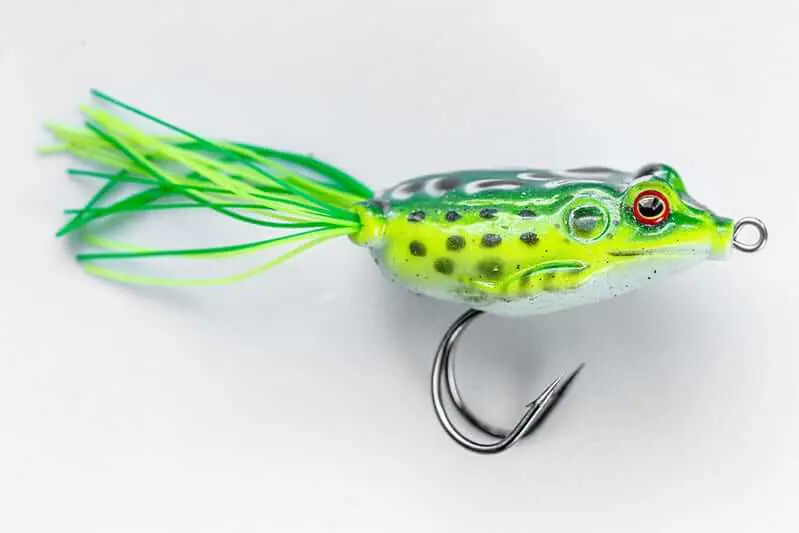 When it comes to fishing frogs for bass, you're limited to two different types. You've got standard skirting frogs that will navigate through the weediest bodies of water, and these come in both hollow bodies and soft bodies. You also have poppers that you'll want to reserve more for open topwater fishing.
Let's break down each style, so you understand them.
These don't have a bend at the top, and they work well for heavy cover conditions because they don't have that snag area where you'll take weeds with you.
Hollow Body Frogs
These frogs are essentially what they sound like. These frogs have a soft rubber mold made into the shape of a frog, and they usually have two hooks wrapped around the rear of the lure, pointing towards the front.
They're designed this way because they're meant to be weedless. This means you can run through the sloppiest of water without catching and bringing a ton of weeds with you.
When you try to fish other types of lures like spinnerbaits, crankbaits, or jigs in heavy vegetation, you grab a ton of slop and pull it. This not only makes you wonder if there's a fish at the end, but it completely screws up your presentation and ensures that a fish will never bite.
Much of the time, hollow body frogs will also come with realistic lifelike legs like some of the ones we looked at previously. These are great because they provide a natural motion and look exactly like a frog would if it was moving through the water.
Soft Body Frogs
These are usually weedless as well, but instead of realistic legs, they come with two skirts at the end, which intend on mimicking the legs. They look more like a tail, and they create a lot of noise in the water, which is what entices the bass to bite. You'll find that a lot of crankbaits and topwater poppers will also take on this appearance, so you want to make sure you have the right lure.
One way you can always tell a soft body frog from a crankbait is by the weight. These are topwater lures that rely entirely on you to create the presentation, so they're always light. Most frog lures won't even weigh in at one ounce, and crankbaits are much heavier so they can dive into the water.
Frog Poppers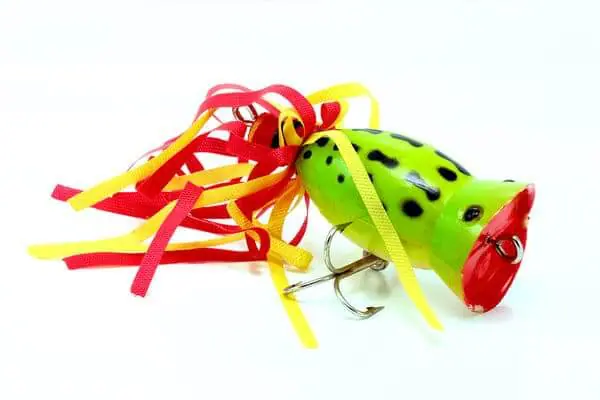 If you want to diversify your tackle box, you'll want to keep a few of these in there as well. You might find that the once weed-ridden lake you like to fish has cleared up a bit, or the water levels have risen, and now you're not dealing with as much heavy cover. When this happens, you can switch over to your poppers and enjoy a feeding frenzy.
The big difference between poppers and traditional frogs is the noise they make and the fishing application. These are not weedless, and they usually have a hook that sticks right out, so you don't want to fish them in sloppy water.
Instead, you'll want to fish frog poppers in open water because they make a loud pop sound when they hit the water, and they create a bubble trail behind as you retrieve them. If you're rolling through a ton of pads and other green, you won't be able to develop the right presentation, and chances are you'll come back with nothing more than a hook full of crap.
Best Bass Frog Lure Colors
Choosing the right frog color for bass is simple, and I always stick to the same story no matter what type of lure you're using. First, you want to mimic your surroundings. If you can see some frogs around or if you're familiar with the area, you want to choose colors that look like the frogs around you.
Second, pay attention to the season and remember that these types of lures work best in the dead of summer when it's hot. Fall and winter fishing require some different strategies. That said, choose a color that mimics the day around you. If it's cloudy and overcast, the bass are probably feeling "cloudy" as well, so they're not into striking hard and chasing the lure very far. Go with something a bit smaller and more neutral in color.
If it's a hot July morning and it's already 75-80 degrees, and the sun is beating down on you, chances are the bass are feeding heavily. When this happens, you want to entice them as much as you can. Use a bright color and make as much noise as you can with the lure to get them going.
How to Fish a Frog Bait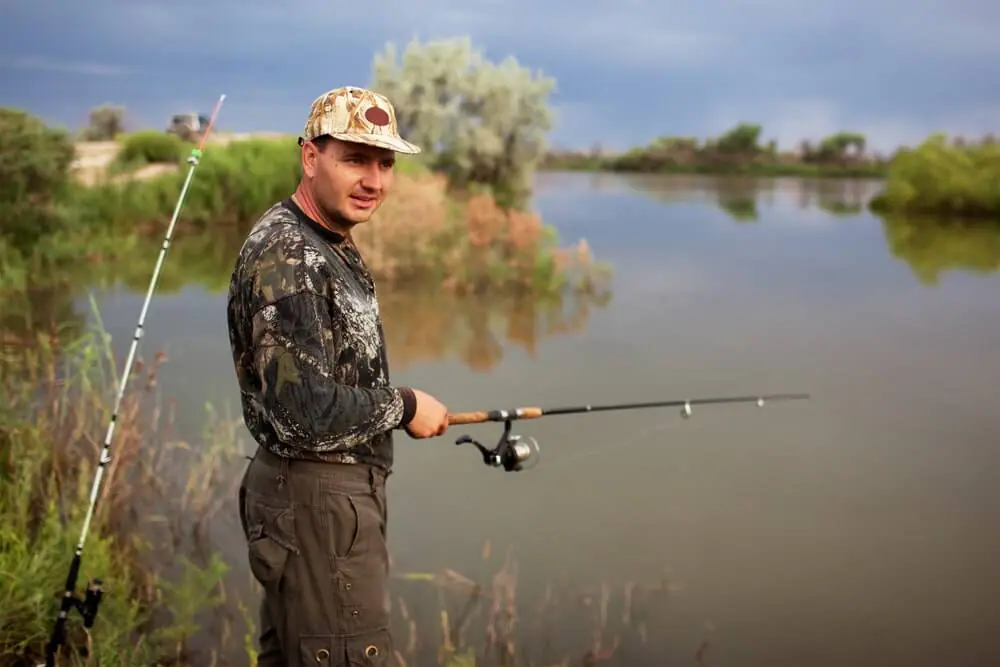 Let's recap for a quick second. Now you know what frog lures to choose, how to decide between the options, and what colors to pick. Finally, we need to talk about some of the actionable things you can do on the water to have success.
The Muckier The Better
Bass feed on slimy stuff in mucky areas, so this is where you want to go with frog fishing. One thing that takes a bit of time to get used to is the fact that you're fishing with an entirely weedless lure. I always have a bit of skepticism in my mind when I cast directly into the areas I would normally avoid. Just do it with these because you'll be glad you did!
If you've ever been kayak fishing, you likely carry a few frogs with you. Kayaks help you get into the places where you might not reach with a boat.
Once you cast, give it a few seconds to sit there, but don't wait too long because the bass will inspect it too much. You may even get a strike the second it hits the water if you put the lure in the right location.
Remember that frogs move in burst motions, so you want to create the same presentation with your lure. Retrieve in with one or two full revolutions of the reel, then pause. Repeat this process over and over, and you'll have no problem finding bass in the slop. Having a smooth reel helps with this.
Wood Works Too
Another popular area I like fishing with topwater frog lures is around fallen logs and trees. I will cast perpendicular and retrieve right along the log, and this works almost every time. You can also do this with a popper as long as the water is somewhat clear, and you'll have the same impact as you would with a buzzbait. This works like a charm.
The main advantage you have with a frog is the fact that they don't sink. A buzzbait will continue dropping, so you'll have to consistently retrieve it, but a frog will stay in place until you do something with it.
Final Thoughts
It's easy to choose the best frogs for bass when you put in your research and understand what you're looking at. A lot of people see lures like this and think they're unnecessary or they don't work, but the problem is, they don't understand how to use them. Implement the various bass fishing tips for this guide and you'll increase your chances of catching more bass with frogs.
These lures are the best in heavy vegetation, and there isn't anything out there that can compare. If you're looking to have something in your back pocket for those hot summer mornings when the bass are feeding in the slop, this is the route to go! Thanks for reading!
About Post Author