We independently research, test, and recommend the best products; you can learn more about our review process here.
The best flipping rod will combine elements of strength, power, length, and design. These rods are designed to help you fish dense cover along the shoreline that would normally be inaccessible with any other rod. I've spent decades fishing the murkiest and muckiest waters throughout the country, and I've used this strategy more times than I can count.
Through hours of research and years of experience, I put together this comprehensive guide on the best flipping rods on the market.
Comparison Table – The Best Flipping Rods
---
Our Top Picks For The Best Flipping Rods For Bass Fishing
Dobyns Rods 766FLIP Champion Series Flipping Rod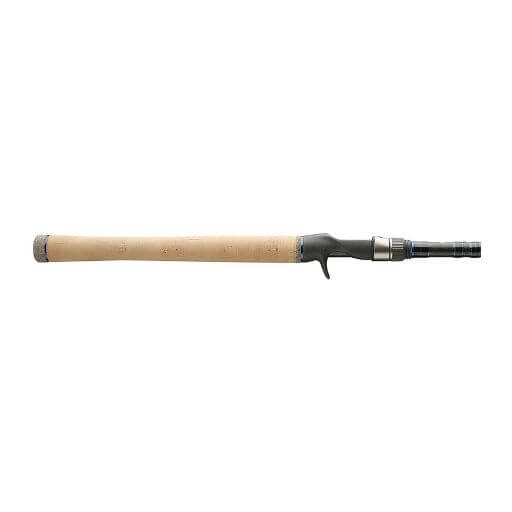 BEST OVERALL
Specs
Length: 7'6"
Power: Heavy
Material: High Modulus Graphite
FEATURED SPECS
The high modulus graphite used to make this rod helps it maintain ultimate sensitivity, which is necessary when flipping for bass.
EXTRA FEATURES
Comes with zero tangle kigan guides with sic inserts. These help reduce friction on the line to get a more accurate pitch.
BUYING ADVICE
I would recommend pairing this with an ardent flipping reel to create the perfect combination.
Pros
Long enough to keep your shadow off the water
Lightweight
Best rod materials on the market
Cons
This rod from Dobyns is hands down the best flipping rod on the market. This dedicated rod is 7'6" long, which is ideal when you're flipping, and it's made with the best possible materials. Sensitivity is important when flipping, and you'll get that with the high modulus graphite blank.
Catfish Sumo Store Championship Catfishing Rod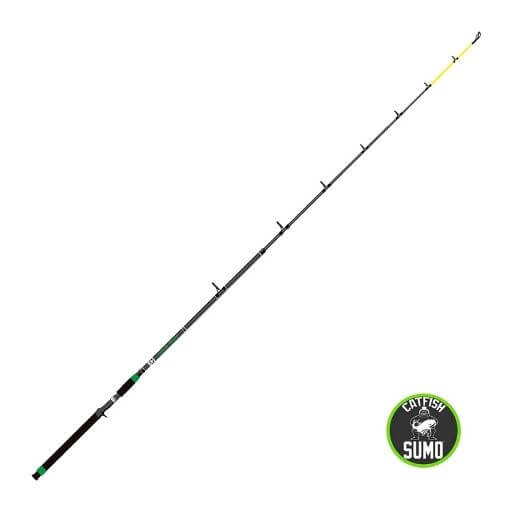 RUNNER-UP
Specs
Length: 7'6"
Power: Medium-Heavy
Material: Fiberglass
FEATURED SPECS
The rod features low profile stainless steel guides that don't get in the way when flipping.
EXTRA FEATURES
It has a heavy backbone paired with a sensitive tip, which is the perfect combination.
BUYING ADVICE
You have a lot of choices with this rod, and that's what I love so much about it. You can fish the bottom for catfish or flip it along the shore in dense cover.
Pros
Medium-Heavy is perfect for smaller bass
Fiberglass is lightweight
Perfect length for a bass flipping rod
Cons
Not as strong as other options
I was a little concerned about recommending a fiberglass rod for flipping because they're not known for their durability, but this one has enough power to hold its own. It's actually a catfishing rod, which means it's designed for trolling the bottom, but it also has many great features that work for flipping and pitching.
KastKing Perigee II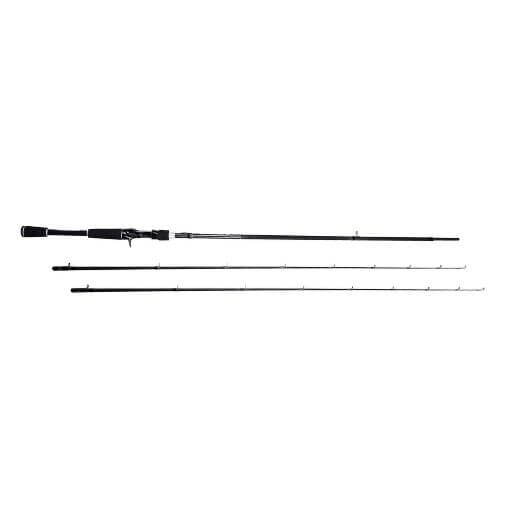 BUDGET-FRIENDLY
Specs
Length: 6'6"
Power: Medium-Heavy
Material: Carbon Fiber
FEATURED SPECS
This two-piece rod is constructed of 24-ton carbon matrix KastFlex technology, which is ideal for both strength and sensitivity.
EXTRA FEATURES
All the materials of this rod are high-quality. You get Fuji guides, graphite high-strength Fuji reel seats, and high-density EVA grips.
BUYING ADVICE
I'm truly amazed that they're able to sell this rod in this price range. Get it because you can use it for a variety of purposes outside of flipping and pitching for bass as well.
Pros
Two-piece rod doesn't decrease performance
High-quality blanks
Great butt and reel seat
Cons
Issues with the tip breaking off
Abu Garcia Vengeance Casting Rod
Specs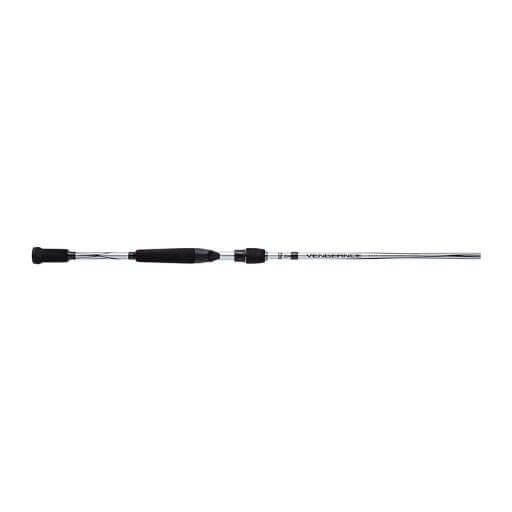 Length: 7'6"
Power: Heavy
Material: Graphite
FEATURED SPECS
The rod is made with 24-ton graphite for lightweight handling and balanced design.
EXTRA FEATURES
Uses stainless steel guides with titanium oxide inserts that maximize strength without generating friction.
BUYING ADVICE
I recommend going with the 7'6" option, but they have a few smaller rods as well. Keep in mind this is a one-piece rod, so it's quite large and bulky to travel with.
Pros
Lightweight and well balanced
Easy to flip and pitch
Ideal length
Cons
Abu Garcia is a name I know and respect, and I'm surprised to see how many people had issues with their rod tips breaking. I'm not sure if they're cranking too hard or improperly storing them during the winter months.
Either way, I find this rod to be durable and strong with its graphite construction, and the EVA handles are comfortable and help you dig in when you have a big fish on the hook.
St Croix Mojo Bass Casting Rods
Specs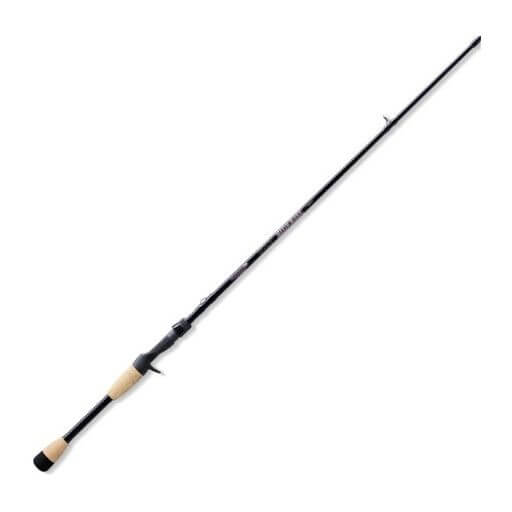 Length: 6'8"
Power: Medium-Heavy/Fast
Material: SCIII Graphite
FEATURED SPECS
The rod comes with integrated poly curve technology that eliminates transitional points to provide smoother action and increased strength.
EXTRA FEATURES
St Croix brings all the features you want with slim ferrules, 3D kigan guides, split-grip cork handles, and high performance, high-modulus graphite material.
BUYING ADVICE
The rod comes with a five-year warranty, so I recommend getting it and testing it out for yourself.
Pros
Highly sensitive
Plenty of size and power options
Smooth flipping and pitching
Cons
While this isn't a flipping rod, it contains all the features and components of one that you want. It's sensitive, long enough, and the two-piece nature of the rod doesn't seem to impact its performance.
Enigma Fishing IPPON Pro Tournament Series Rod
Specs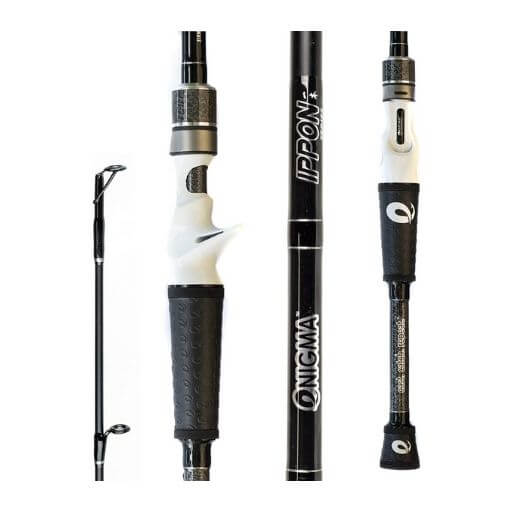 Length: 7'6"
Power: Heavy
Material: Japanese Toray Graphite
FEATURED SPECS
If durability and strength are what you're concerned about, this is the right rod for you. It uses an incredibly strong 50-ton X-tape Japanese graphite that's both strong and lightweight.
EXTRA FEATURES
Enigma stitches the material onto the handles to help them hold up better over time compared to gluing them like most manufacturers.
BUYING ADVICE
Go with the 7'6" heavy fast action rod because you'll get the power and sensitivity you need for flipping and pitching.
Pros
Durable and strong
Lightweight
Great technology put into the manufacturing
Cons
Issues with the rod tip breaking
I love this rod. I think it's incredibly sensitive, which is important when you're flipping for bass. You need a rod that allows you to feel even the smallest nibble because you're dropping your lure in dense cover and shallow water.
The IPPON is a highly respected rod, and it pairs great sensitivity with a lightweight design and the durability you need to handle large bass that are hiding out.
What is Flipping?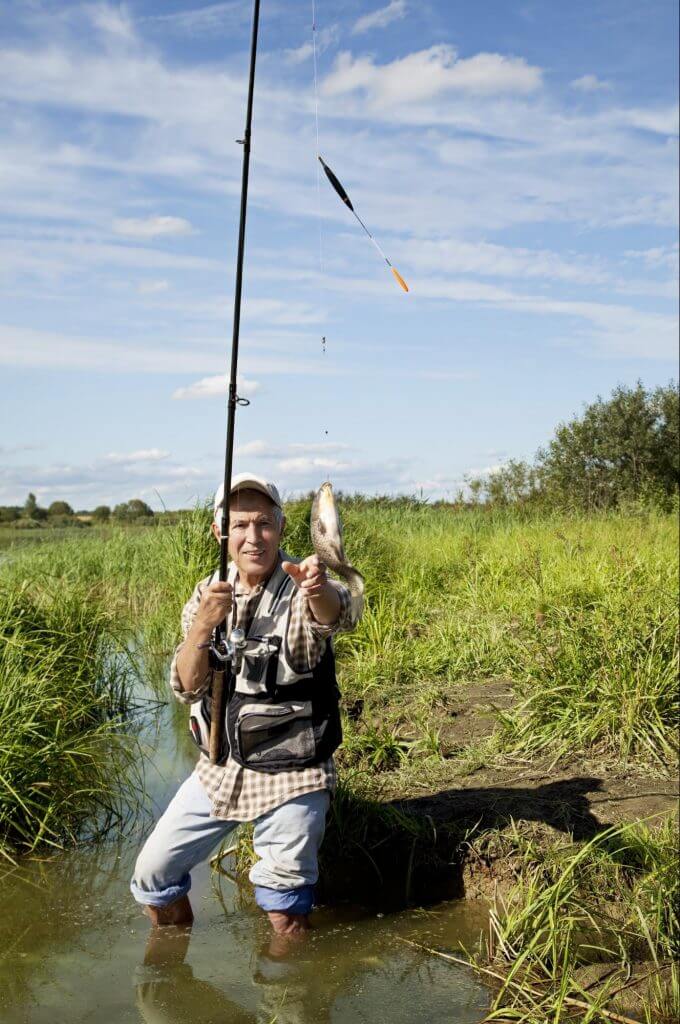 You can find bass in the water at any depth ranging from a few feet of water to over a hundred feet. The technique you use will change depending on the depth, and a strategy that many bass anglers use to catch fish in shallow water is called flipping.
How many times have you looked towards the shoreline at the overgrown grass, trees, and bushes inhabiting the water and think to yourself, "I know there are bass in there, but I just can't get at them?"
Flipping is the strategy you'll use to get your lure directly into that heavy cover because it allows you to work precise locations in shallow water without having to cast long distances and hopes you hit the right spot.
What is a Flipping Rod?
For this strategy to work, you need the right rod. As Professional Angler Greg Hackney said in an interview we did with him "When you fish the thickest cover you can find, you need good equipment to pull the bass out of there."
The first and most important feature of a flipping rod is its length. When you're approaching the area where the bass are hiding, you'll end up getting really close, which will spook the bass if you're not careful. 
Having a longer rod will help prevent this because you'll be able to keep your distance. Most flipping rods are at least seven feet in length, so you don't cast a shadow on the water.
Another factor of a flipping rod is its strength. These rods are very durable, and they can handle up to a 30lb test. This strength helps you get a faster hookset, but it's also important because you're working in heavy cover, so you need a line that won't snap if you get hung up on something.
How to Choose a Flipping Rod
Now that you understand a little about bass flipping rods let's talk about some of the specific criteria you should look for when making a purchase. Consider some of the factors we've discussed thus far, and we'll go into more detail about them here.
Length
I know we've talked about it a little, but let's dive into some further details about the length of your rod and why it's so important when flipping for bass. Flipping is done really close to where the bass are hiding, so you'll be in shallow water, and you won't have much room to play.
To prevent scaring the bass away, you need to make sure your rod is long enough, so you don't cast a shadow on the water. This tip is bass fishing 101.
When you combine that feature with the added strength from having a longer rod, you'll be able to reel in even the largest bass because you'll have the power, line strength, and length you need to get close to the fish.
I also recommend shying away from two-piece rods if you can. I know many of the ones recommended above are two-piece, but if you can get a one-piece, I suggest going with that. Many times, two-piece rods sacrifice a lot in durability and sensitivity because the two blanks don't fit perfectly, so you lose a little performance.
Power
The next most important factor to consider is the power of the rod. The power refers to how much backbone the rod has and, ultimately, what size fish you'll be able to handle with that rod. You want to look in the medium-heavy to heavy range.
When you have a rod that exceeds seven feet, you won't likely be able to find anything other than medium to heavy power anyway. This factor will help you set the hook faster and lift a large fish into the boat without having to worry about snapping the rod.
Even though heavy power will almost always prevent your rod from breaking, there are plenty of instances where we see rods snapping due to poor care. Make sure you're storing your rod in a place that is free from moisture.
If possible, always use a net to pull your bass into the boat. It's never a good idea to pull the fish up by the line, especially if you're talking anything over three pounds.
Action
The action of the rod is always important because it will help you set the hook faster and ensure you feel all the little nibbles on end. The trend remains true even when pitching and flipping because you need a fast action rod that bends at the top of the blank so you can feel smaller nibbles.
When you're fishing in dense cover, you don't want to waste too much time letting the bass nibble on your lure, and you may only get one shot to hook them. If you're reacting too much to all the nibbles without hooking something, you'll end up spooking the bass, and you'll have to move somewhere else.
Line Weight
It's not so much the weight of the line that you're using but the range of weight that your rod can accommodate. You want to make sure you're fishing around a 20lb test when flipping for bass because the heavy line will help you work through dense cover, but it will ensure you have enough strength when you do land a big bass.
Keep in mind that most of the biggest bass in the water will hide out in grassy areas along the shoreline. This factor is especially true in the spring during the spawn.
Durability/Material
Many anglers won't talk about the material used in the rod blank because they don't understand it, but I think this is an incredibly important factor to consider. Always look for graphite materials whenever possible in a bass fishing rod because they're stronger and fiercely sensitive.
The material will ensure that you can rely a little less on your touch and a little more on the rod itself. This is incredibly important when fishing a technique that relies so heavily on you feeling every little nibble.
Best Lures for Flipping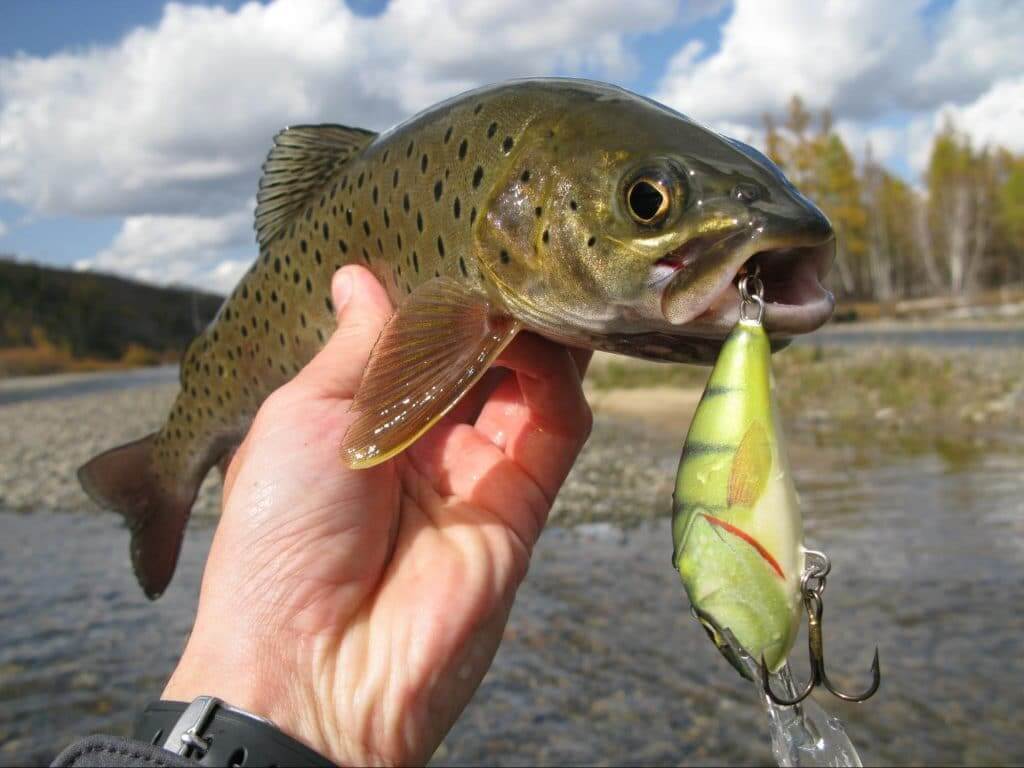 It's hard to give you a "best" lure because you can use a large assortment of lures for flipping, but here are some of my personal favorites. Make sure to increase your lure weight if you're trying to catch larger fishing too by the way.
Jigs – Jigs are the most common lure used when flipping. You want to specifically use a flipping jig with a weed guard because that will help your presentation, and they don't get hung up easily.
Topwater Frogs – I love fishing frogs whenever I'm flipping because the presentation is so perfect, and they're totally weedless.
Worms – Any soft plastic worm is another solid choice when you're flipping for bass. Toss them right into the dense cover and let them work their magic. You won't be able to create as much of a presentation as a frog, but they're still a solid choice.
FAQs
What kind of rod is the best bass flippin' rod?
Any rod that is longer than seven feet and has enough power to work through dense vegetation and pull the bass into the boat. Shorter rods have a shorter length which isn't the best rod for flippin'. It doesn't have to say it's a "flipping" rod because most manufacturers don't make dedicated flipping rods.
What line do you use for flipping?
I would always suggest using a high-quality fluorocarbon line for flipping. You don't need a lot of it (it's expensive), it has low visibility, and it doesn't have any strength, making it easier to set the hook. Braided line is also a good choice because of its strength but it's more visible.
When should you use a flipping jig?
You should use a flipping jig when flipping for bass, of course! Flipping jigs have a lead head, weed guard, and a weed skirt to help hide the hook. These are an ideal choice when fishing in dense cover.
Final Thoughts
Having the best flipping rod is important if you plan to really milk this fishing strategy. If you're fishing small backwater ponds and really murky waters, this is a strategy you'll want to try out. I know I've used it more times than I can count, and it's always produced amazing results for me.
Take my tips, strategies, and recommendations and put them to work. When you get yourself a flipping rod, be sure to leave a comment and let me know which one you got and how it's working out for you!
Good luck out there!