---
We independently research, test, and recommend the best products; you can learn more about our review process here.
In the world of bass fishing, knowing how to flip lures can make a huge difference. This underhand style of casting has propelled numerous pro anglers into championship contenders.
Through the years, learning how to flip baits into cover has allowed me to experience tons of flipping rods.
Along with that experience, I've learned a lot from industry insiders and other professional bass fishermen.
Now I've taken my quest to find the best flipping rod even further by putting them through a hands-on test.
I've taken over 30 rods on a weekend fishing trip to the East Pearl River where I punch, flip, and pitch some of the heaviest cover in South Louisiana!
During my weekend fishing to "The Pearl" I looked at important qualities like strength, feedback, rod material, grip, and sensitivity, to come up with this guide to help you choose the best flipping rod.
Top 3 Flipping Rods on the Market
If you're in a hurry you can take a look at my top three choices for the best flipping rods.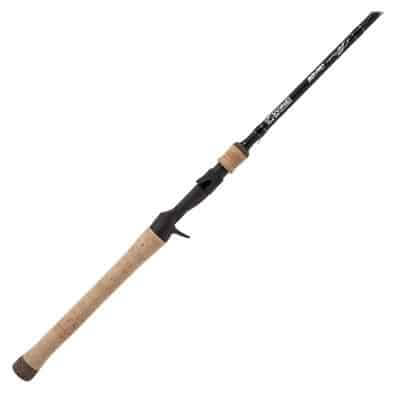 Best Overall Flipping Rod
G. Loomis IMX-Pro Bass Casting Rod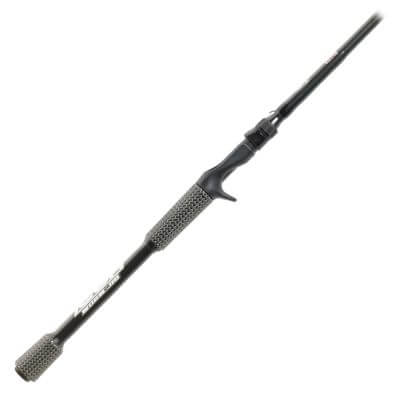 Cashion ICON Casting Rod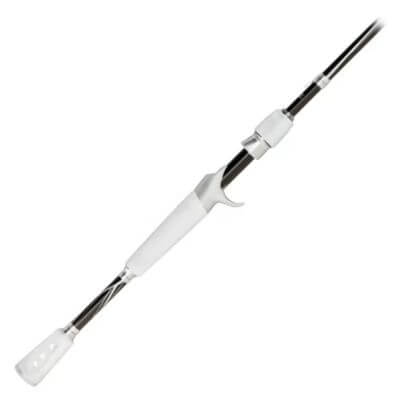 Abu Garcia Vengeance
---
Methodology 
It's taken much trial and error over my fishing career to be able to know what to look for in a flipping rod.
I've taken that knowledge and experience, and combined it with a weekend's worth of rod testing in the southern section of the East Pearl River.
During the two days of flipping lures in alligator grass, hydrilla, and lily pads, I pitched various types of jigs and painstakingly looked at several rod qualities that make a great flipping rod.
Here are some parameters that we used to come up with our guide to choosing the best flipping rods:
Sensitivity: Let's face it, flipping isn't exactly a sight specific way of catching bass. Most of the time your lure is buried underneath a 4-inch grass mat.

For this reason, rod sensitivity plays a huge role in letting you know when a bass picks up your jig. 
Action: Rod action is crucial when it comes to flipping. Does it have enough load to sling flip heavy jigs? Is it fast enough to set the hook quickly on a subtle bite?

In my years of flipping for bass, I've learned that fishing with a rod with the wrong action can severely hurt your chances of catching bass.
Guide Quality: While guides don't rise to the top on the list of importance in other bass fishing styles, when flipping it's very important that the guides are made of high quality material because of the physical nature of flipping for bass. 
Casting Accuracy: Great pitching control is a plus when flipping for bass. That 4-inch opening in a grass mat is the perfect opportunity to drop your jig down into the perfect spot. 

It's important to choose a rod that excels in flipping jigs into the exact spot needed.  
Hookup Percentage: When flipping for bass, setting the hook is only half the battle. It's often the case that you'll have to rip the fish out of heavy cover in order to land it.

Having a rod that keeps the fish hooked is one of the most important features to look at when deciding on what rod to choose for a flipping rod. 
BEST OVERALL FLIPPING ROD
G. Loomis IMX-Pro Bass Casting Rod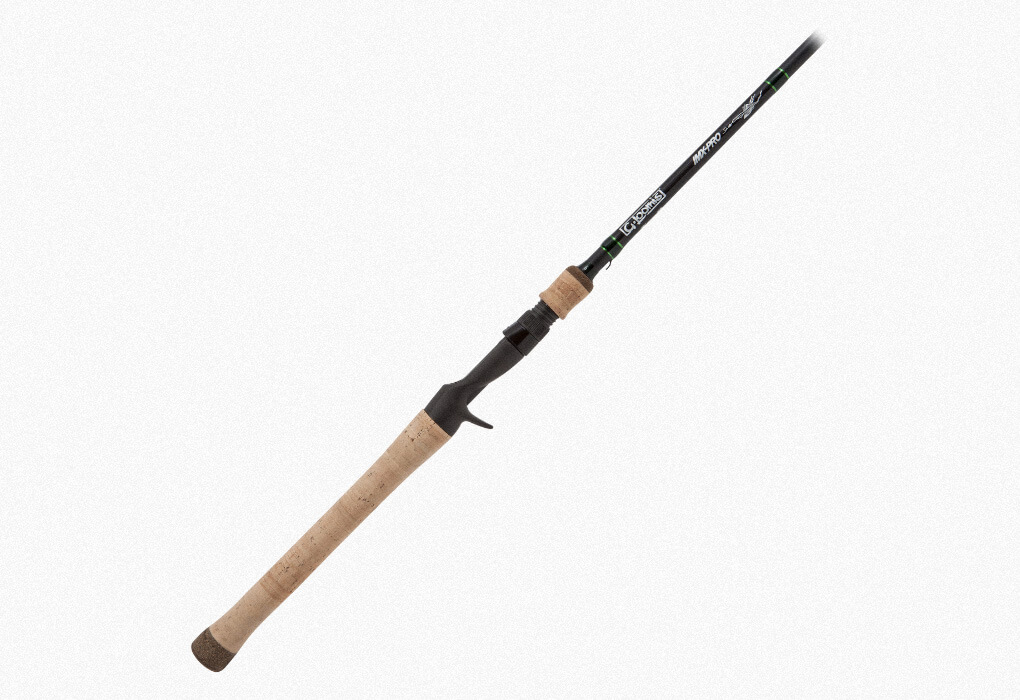 Specs
Rod Length: 7.5
Rod Material: Blend
Type: Casting
Power/Action: Heavy/Fast
Why We Chose It
The  G. Loomis IMX Casting Rod is 7.5 and is specifically made for flipping lures. 
G.Loomis uses what they call IMX-Pro blank technology which translates to them packing more graphite into a thinner rod by adding resin to the mixture.
The first thing I noticed about this rod is the weight. The total weight comes in at 6 oz. which is refreshing when compared to the weight of other standard flipping rods.
While testing the rod I noticed that it had great balance and I was able to finesse-fish a weedless craw on a 3/8oz bullet weight without the tip diving down.
This rod is so fun to fish with.
The rod was incredibly sensitive and I was able to easily feel the bass pick up my craw on the bottom even through the grass mat that it was underneath.
This rod actually feels like an ultralight when flipping but has the strength to deliver big fish in the boat.
Once again, this company has set itself apart as a superior rod manufacturer. G. Loomis seems to have discovered a method of enhancing strength without the need for additional materials.
This has allowed them to utilize 15% less material compared to their other rods, resulting in their lightest rod ever produced!
During my testing of this rod, I immediately noticed a distinct feature in the guides. There was a noticeable improvement in casting performance.
The line glided smoothly through the guides, significantly reducing any fluttering and creating nearly silent flips.
Everything was just a bit sharper with this rod than when using the others.
I felt the ticks and bumps in addition to feeling the type of bottom you're hitting – especially with braid-to-leader line.
I was able to distinguish grass, shells and hydrilla, it all has a distinct feel on the IMX-PRO.
Another checked box is the accuracy. The rod was dead on as far as flipping to the spot I intended.
At the end of the day the G. Loomis IMX-Pro Casting Rod shined and that's why we gave it the title of Best Overall Flipping Rod. 
If you're looking for a flipping rod to help perfect the art of flipping for bass, the IMX-Pro is the rod to go with! 
Best Budget Flipping Rod
Abu Garcia Vengeance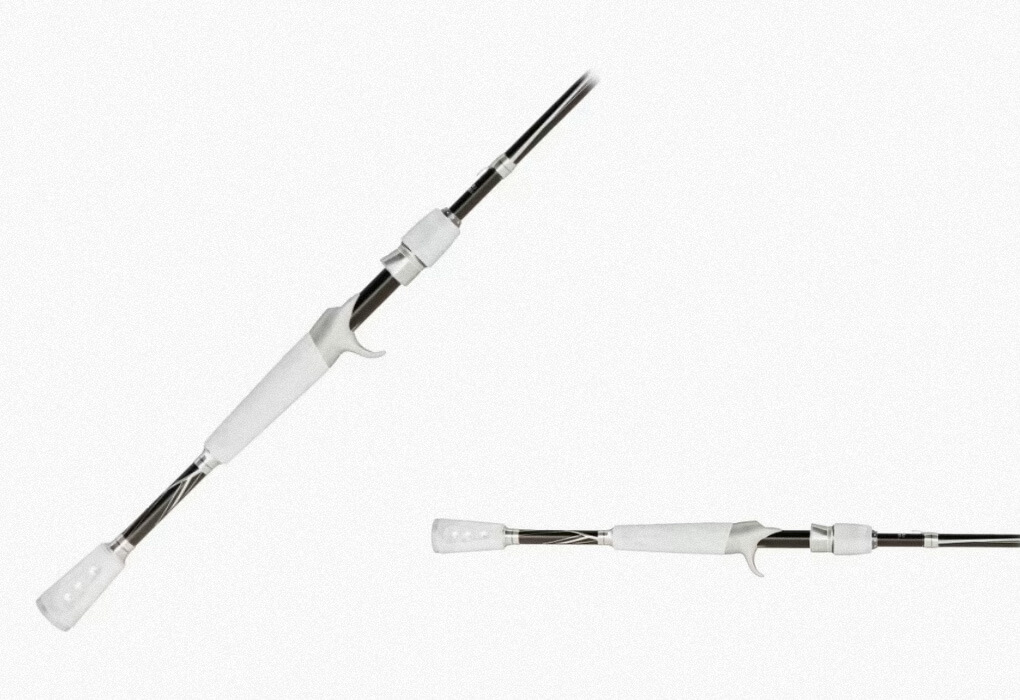 Specs
Rod Length: 6.6, 6.9, 7, 7.6
Rod Material: Graphite 
Type: Casting
Power/Action: Heavy/Fast
Why We Chose It
The  Abu Garcia Vengeance Casting Rod comes in four sizes: 6.6, 6.9, 7 & 7.6.
The rod is a one-piece rod built on a 24-ton graphite blank.
I have to admit that this rod caught me off guard when it comes to flipping.
I've owned many Vengeance rods in my life and have never had the Med-heavy/Fast rod that is made for flipping but this rod overachieved and performed outstanding for a rod under $100.
It has a 24-ton graphite blank which provides a ton of sensitivity.
24-ton graphite is a high tonnage. The higher the tonnage is, the stiffer the graphite is. This enables vibrations to be transmitted readily through your rod.
On my trip I was using the Vengeance and caught my largest bass of the day; a 5.3-pound fish that smashed my Baby Brushhog underneath a dock.
The rod was nice and stiff and I was able to set the hook and rip it from underneath the wood before it got tangled in the pilings.
Let's move on to the handle. It's a split grip handle which is great for flipping. The grip was a high quality EVA foam which felt really good in my hand.
The trigger was smooth and fit in between my fingers perfectly.
The only negative would be that the guides were a bit larger than the rings on most flipping rods. This allowed the line to whip more but hey, it's a budget rod, you have to give something to get something!
On a side note; this rod performed almost identical to the Abu Garcia Vendetta which is about 20 bucks more and has a 30-ton blank instead of 24-ton so that's an option for you if you want to step up in rod strength. 
Overall, this rod delivered the goods and clearly over achieved in strength, comfort, and sensitivity. 
If you're looking for an affordable flipping rod that can hang with the big dogs, the Vengeance is the rod to go with!
Best Tournament Grade Flipping Rod
G. Loomis GLX Jig & Worm Series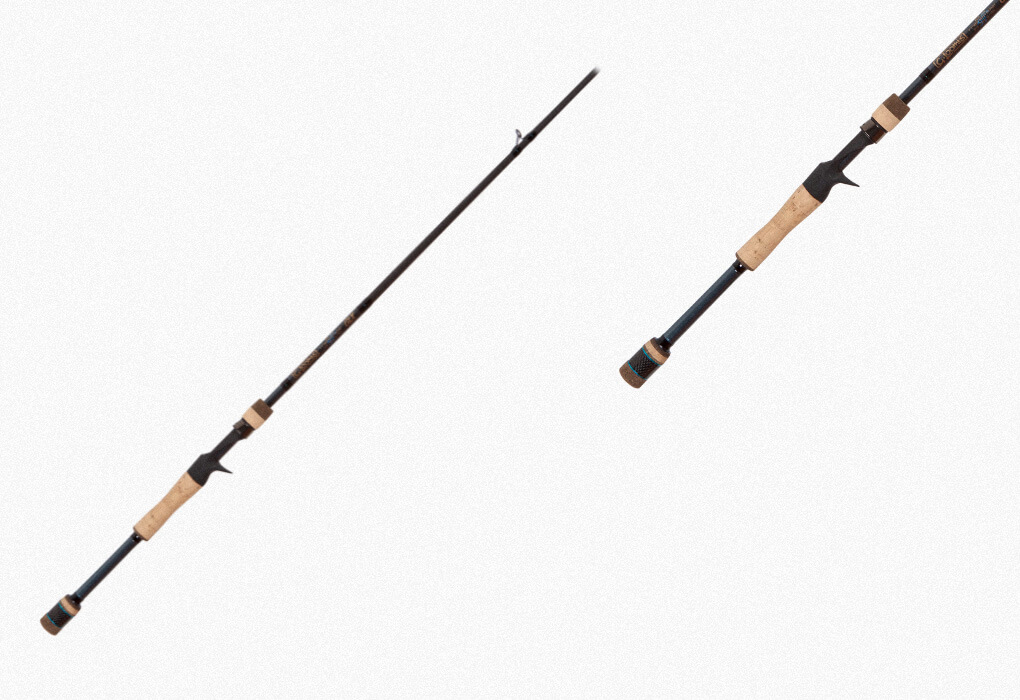 Specs
Rod Length: 6.8, 7.1 & 7.5
Rod Material: Graphite
Type: Casting
Power/Action: Heavy/Fast
Why We Chose It
The  G. Loomis GLX Rod comes in three sizes: 6.8, 7.1 & 7.5.
The rod is a one-piece rod that is made of what G. Loomis calls "GLX Proprietary Blank Materials" which simply means "Graphite Luxury."
Now I know the word "luxury" isn't the first thing that comes to mind when flipping in heavy cover but here me out on this one.
G. Loomis boasts that these rods are 20% lighter than their competitors and I believe it. This was the lightest rod that I fished with all weekend.
It even beat out the IMX-Pro Bass Casting Rod which won Best Overall for Flipping Rod. 
While testing the rod I noticed that it had great balance. This made a real difference for me as rod balance is an important factor when I am flipping baits into cover.
The folks at G. Loomis have tapered this rod perfectly for flipping with what they call "Micro-tapers" which simply means more rod material added to potential breaking points.
Another thing I noticed while testing this rod is the guides. There was a smooth flow to my underhand casts.
The line didn't seem to flutter inside the guides as much and was virtually silent when I flipped.
The guides are made by FUJI which makes high end K-frame SIC guides which is basically Silicon Carbide; a really slick ceramic material.
During my test I had four thumps with a total of three bass brought to the boat so we're looking at a great hook-up rate especially for flipping.
If there is one downside to using this rod it's that it spoiled me.
When I went back to using lower quality rods they felt mediocre at best, so if you decide to get this rod, be prepared to sell all the other flipping rods!
Overall, this rod is what it claims to be; a high-end tournament-grade rod that tops all other rods. 
If you've never experienced flipping with this rod you are missing out on something special. It will bring your flipping experience to a new level! 
Best Heavy Flipping Rod
Cashion ICON Casting Rod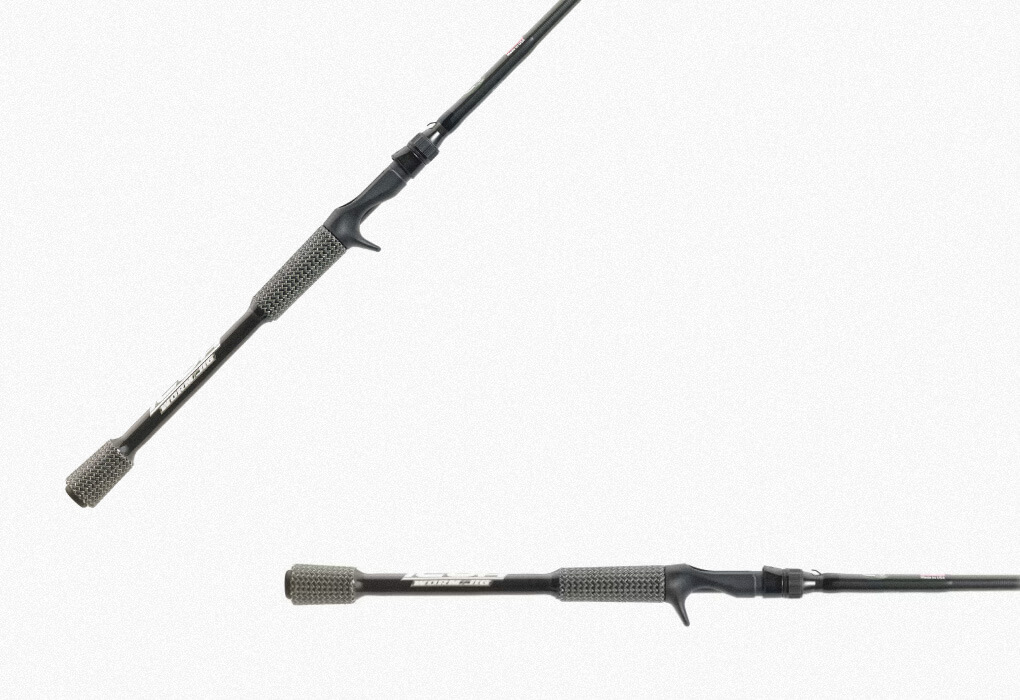 Specs
Rod Length: 7'
Rod Material: Carbon Fiber
Type: Casting
Power/Action: Med Heavy/Fast
Why We Chose It
The  Cashion ICON Casting Rod is a 7' one-piece casting rod specifically designed to flip baits. 
It's made with a strong blank made with carbon fiber which is a ribbon-like form of graphite which is stronger than a 100% graphite blank.
While testing the rod I noticed that it was the stiffest of all the rods which is what I wanted in a heavy flipping rod, however the tip loaded perfectly which allowed for accurate casts when I was flipping into small holes in the alligator grass.
I found that this rod excelled in accurate flips using punch rigs and Texas rigged plastics under 1oz.
This rod was comparable to the Abu Garcia Vengeance Rod in sensitivity but was more suitable for heavy cover in my opinion. 
One thing that stood out to me was the Micro-guides on this rod.
They were probably some of the smallest ones that I've ever fished with which made for really smooth flips, however they are so small that you won't be able to use a fluoro or mono leader-to-line knot so you'll have to go braid all the way!
The handle also stood out to me as it was highly sensitive being wrapped in Kevlar which is highly durable.
Flipping rods take a lot of abuse to the handle and I've had many rod handles tear apart through the years so the Kevlar-wrapped handle is a bonus for sure!
At the end of the day the Cashion ICON Casting Rod shined in heavy cover and is the perfect rod to use when flipping into heavy cover for big bass! 
Best Flipping Rod and Reel Combo 
Abu Garcia Revo X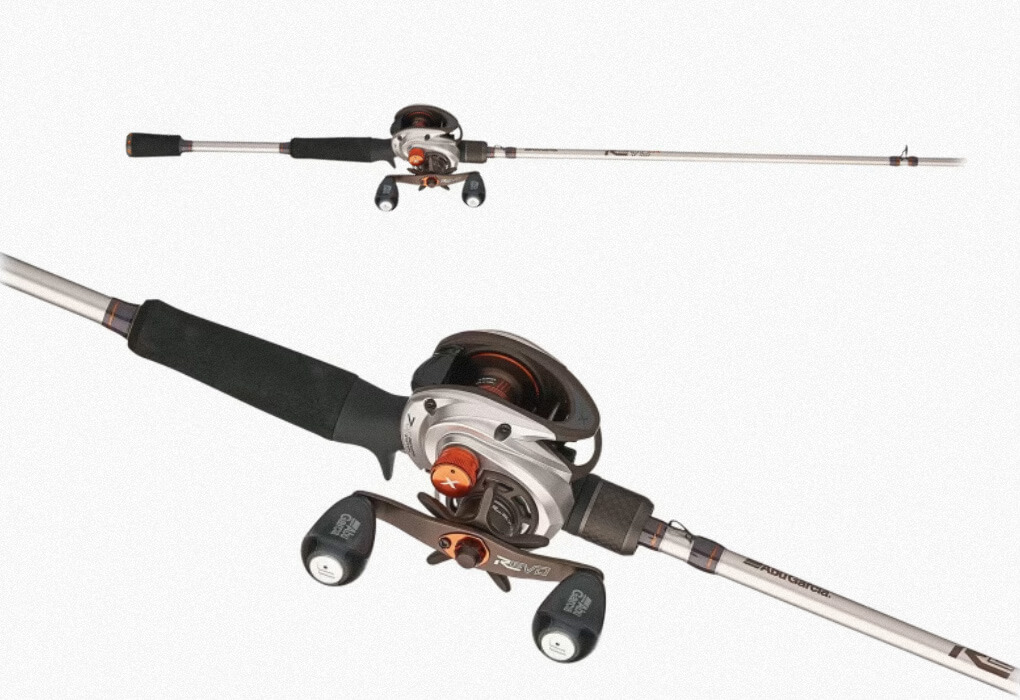 Specs
Rod Length: 7', 4"
Rod Material: Graphite
Type: Casting 
Power/Action: Med-Heavy/ Fast
Why We Chose It
The Abu Garcia Revo X Combo comes with your choice of two sizes: 7 and 7.4
The rod steps into flipping territory with its 30-ton graphite blank that provides strength and backbone to flip into heavy cover and rip big fish out.
The rod trigger was perfectly placed which provided me with great control of the rod while allowing one finger to remain on the blank where the grip splits.
Moving on to the reel, which is the main star of the show in my opinion. The Revo X Low Profile Baitcaster uses 7 stainless steel bearings which makes for a really smooth retrieve. (The more bearings the smoother the retrieve) 
Another great thing about this combo is its combined weight. Coming in at 7.9 oz. This combo is great for bass anglers who are flipping lures all day long.
I fished for over three hours with this rod and reel like I could go all day using it even with the 1oz. jig that I was using.
The rod felt great in my hand with a firm but soft EVA rubber handle.
As far as hook-up percentage, I landed four fish on three strikes with the biggest fish being a 2.6-pound bass which was no match for this rod!
It really is a great rod and reel to hold in your hand. While fighting the fish it never slipped once and I thoroughly enjoyed the control I had over it when flipping my jig into tight cover.
The Abu Garcia Revo X LTD came out on top when testing but I will say it was comparable to the less expensive Abu Garcia Max STX Low Profile Combo.
The only downside on this rod was that the guides were a little out of line. The first two being set slightly to the left of the rest of them. Probably a manufacturer's defect, but still.
In the end, the Abu Garcia Revo X LTD was a great rod and reel match for flipping. If you're looking to save a little money by purchasing a combo instead of individual rod and reel purchases, this is the flipping combo to go with!
How to Choose a Flipping Rod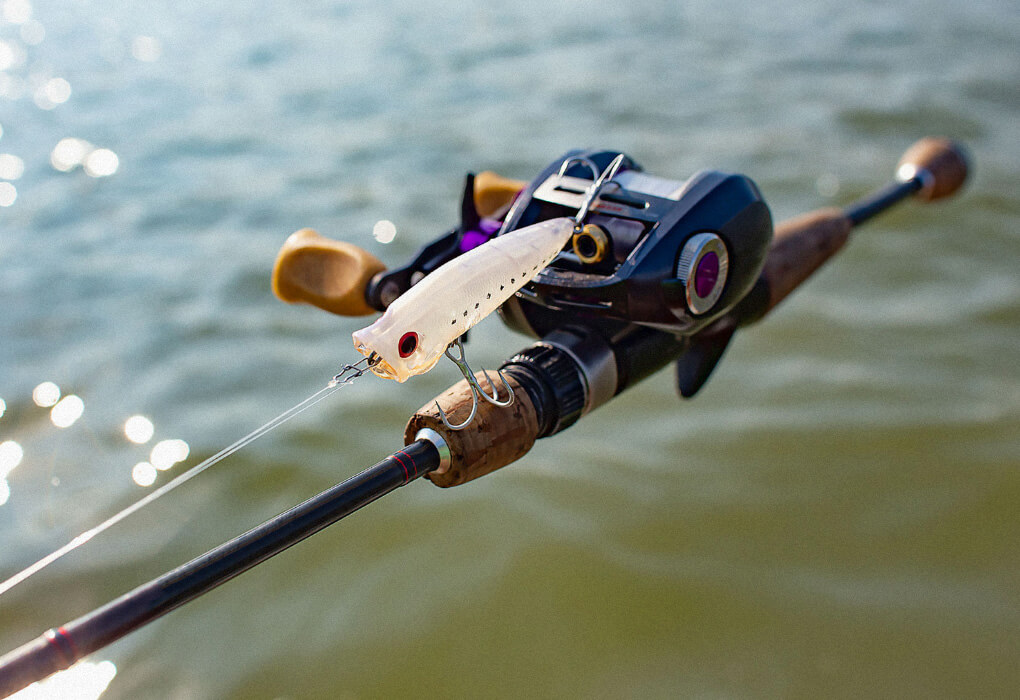 The art of flipping for bass is probably the last skill that bass anglers develop but it's what separates the great ones from the mediocre fishermen.
Flipping allows you to reach certain spots that are impossible to get to by using an overhand cast. Graduating to a flipping rod is a big step but it's not that complicated if you know what to look for in a rod.
Length
Flipping is usually done in close distance to the shoreline or wharfs so rod length isn't as important. There's no need for a really long rod to whip that lure out there, so you'll want to look at rods that are in the 6.9 to 7.4 range.
A good tip to keep in mind with flipping rods, and all rods for that matter, is the shorter the rod, the more accurate the cast!
Power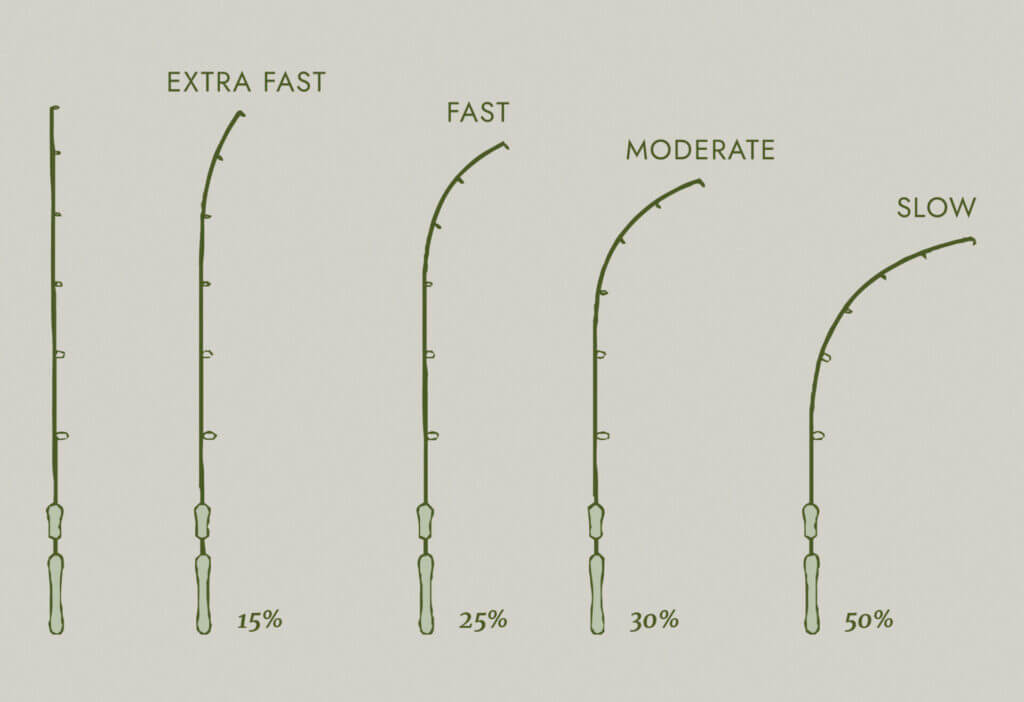 Probably the most important factor to consider is the power of the rod. The power refers to how much backbone the rod has and, ultimately, what size fish you'll be able to handle with that rod.
You want to look in the medium-heavy to heavy range. 
You have to remember one thing with flipping; it's very physical even when you don't hook a fish. You're going to get snagged on structure so having a workhorse rod is very important.
Action
Rod action is important in the flipping world as well. You'll want a fast action rod because it will help you set the hook quicker.
Another reason to use a fast action rod is the speed at which you're going to need to get that big fish out of the grass or wood.
In my experience, if you let that fish swim around for more than three or four seconds when fishing structure, your chances of landing him drop big time!
Line Weight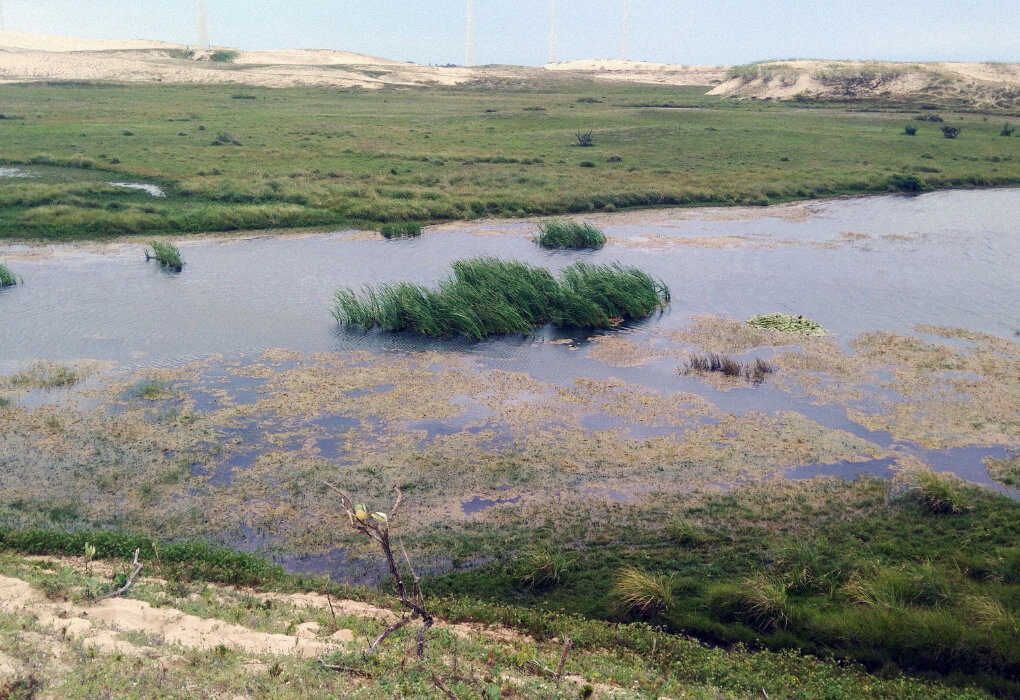 You want to make sure you're fishing around a 20lb test when flipping for bass because the heavy line will help you work through dense cover, but it will ensure you have enough strength when you do land a big bass.
There's no sense in underestimating what line to use when there's always a chance of hooking a 5+ pound fish underneath some lilies or floating grass.
Final Thoughts
Flipping to catch bass can be very productive as far as numbers, but more importantly, size.
There are some really big bass caught every day by anglers who are flipping structure close to the boat.
During my test on the East Pearl River I was able to try out plenty of different rods and have come up with a list that I'm sure will help you select your next flipping rod.
So let's review our top pick!
For the category of Best Overall Flipping Rod, I choose the G. Loomis IMX-Pro Bass Casting Rod.
The rod excelled in all the categories that define a legendary flipping rod including, strength, sensitivity, and handle quality.
While the IMX-Pro won overall, you really can't go wrong with all the rods mentioned in this best flipping rod guide I've put together.
Give them a try and tell us what you think! We'd love to hear from you!