---
We independently research, test, and recommend the best products; you can learn more about our review process here.
Rapala Bass Fishing Lures hit the market in 1936, and they've built a strong reputation for crafting high-quality lures that catch fish.
The first lures were made using cork, and soon after, producers of the lures realized that larger fish eat smaller fish, so they should mimic the appearance of baitfish.
Rapala lures are a great choice when fishing for bass, and I've experienced a lot of success with these myself.
When it comes to these lures, I like to keep it simple.
After fishing these for a number of years and talking with some of my fishing buddies, we managed to put together a list of the eight best Rapala lures for bass fishing.
---
In Depth Reviews Of Our Favorite Rapalas
Rapala Original Floater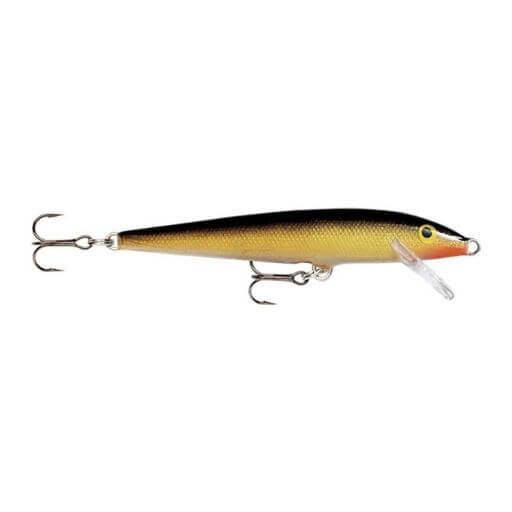 BEST RAPALA FOR SMALLMOUTH BASS
Specs
Size: 3.52 ounces
Presentation: Topwater
Color: Gold
FEATURED SPECS
Constructed with balsa wood and hand-tuned
EXTRA FEATURES
Comes with a natural minnow profile that is meant to attract attention and cause bass to strike
BUYING ADVICE
Toss it out around weed beds and along the shoreline and just give it a twitch every now and then. Following the twitch, retrieve it slowly for a little and then stop. At the next twitch, you'll get a bite.
Pros
Simple to fish with
Great for panfish too
Well constructed
Cons
Occasional issues with counterfeit products
If you're looking for a "run of the mill" lure that's anything but "run of the mill", then this is the one. The Rapala Original Floater is one of the first lures created by the company, and it's constructed using the basic principles and philosophies the company has held forever.
It uses the balsa wood construction meant to mimic a natural minnow. It also comes with VMC black nickel hooks that are sharp and durable. Overall, this is a solid topwater lure with plenty of proof that it works well.
Rapala Husky Jerk 10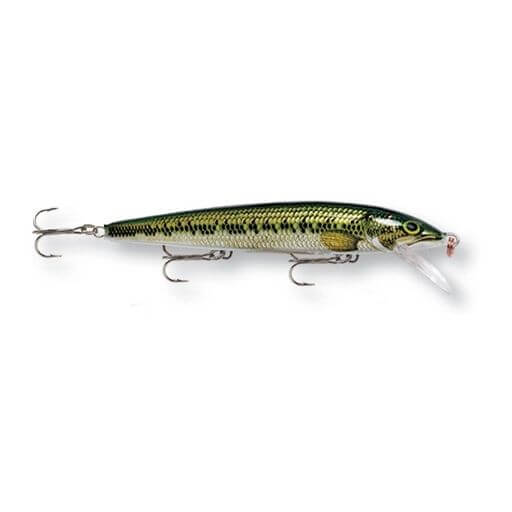 BEST RAPALA FOR LARGEMOUTH BASS
Specs
Size: 0.32 ounces
Presentation: Suspending
Color: Natural Bass
FEATURED SPECS
Lure comes with a loud rattle that draws attention to it
EXTRA FEATURES
It's a suspending or neutral buoyancy lure meaning it will float underneath the surface making it an ideal choice for largemouth bass
BUYING ADVICE
I'd suggest using a standard cast and retrieve on this. It doesn't have a strong presentation, but instead you're relying on the rattle and casting location to catch bass.
Pros
Comes in a 10-pack
Suspending
Easy to fish
Comes with a rattle
Cons
You really can't go wrong. I couldn't find a single bad thing to say about this lure because it's just solid all-around. The jerkbait comes with a rattle chamber that emits a sound wave through the way to grab the attention of the bass. Then they come over, scope things out, and see that it's a baitfish, then they strike. It's as simple as that!
Rapala X-Rap Saltwater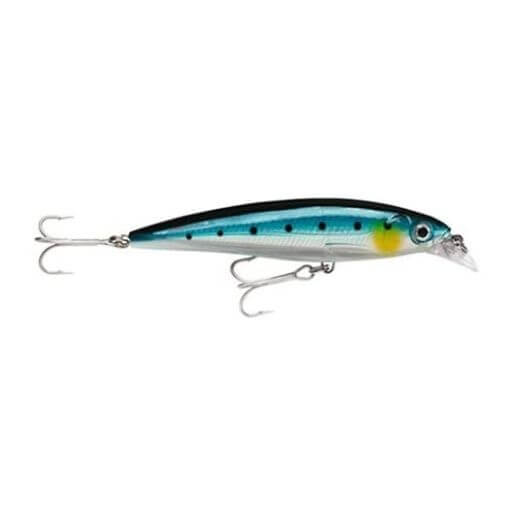 BEST RAPALA FOR STRIPED BASS
Specs
Size: 0.48 ounces
Presentation: Suspending
Color: Mackerel
FEATURED SPECS
This hand-tuned and tank-tested lure offers a long casting system that makes it easier to reach your desired destination
EXTRA FEATURES
Comes with an internal rattle that makes this lure irresistible to bass
BUYING ADVICE
Pros
Great appearance
Internal rattle system
Two strong hooks
Works with a lot of fish
Cons
A little light and small for saltwater
If saltwater bass fishing is what you're after, then this lure is a must in your tackle box. It's durable, has a great appearance, and best of all – it cleans house with striped bass. I've also heard of many people catching things like tarpon, ladyfish, and grouper with this one, so you're not limiting yourself even though it's a bit small.
Rapala Original Floater 11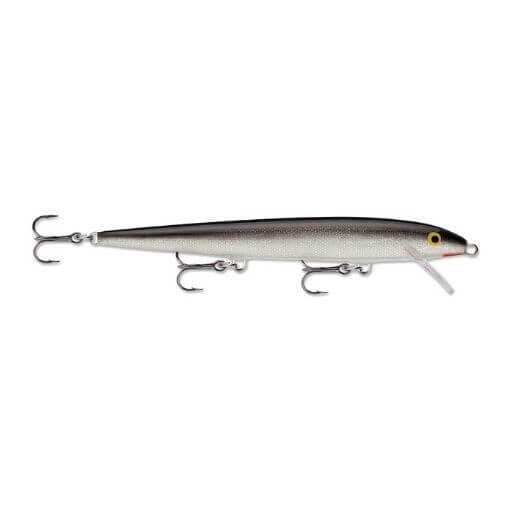 BEST TOPWATER
Specs
Size: 0.6 ounces
Presentation: Topwater
Color: Silver
FEATURED SPECS
Comes with a bleeding pattern to help draw attention by mimicking an injured baitfish
EXTRA FEATURES
Comes with three treble hooks and it's a great topwater lure for smallmouth bass that like to jump out on the rivers
BUYING ADVICE
I'd suggest taking this to your local river or lake and trolling it to see what happens. It needs a nice even presentation without any bizarre jerks.
Pros
Simple to fish
Well recommended
Durable construction
Cons
Issues with the lip breaking off
This lure is similar to the best overall choice, but we decided to throw another one in here because they are the best Rapala lures for topwater fishing. If you're the kind of angler who likes to scope out around the weediest areas of the water, you'll want to give this one a try.
Rapala Balsa Brat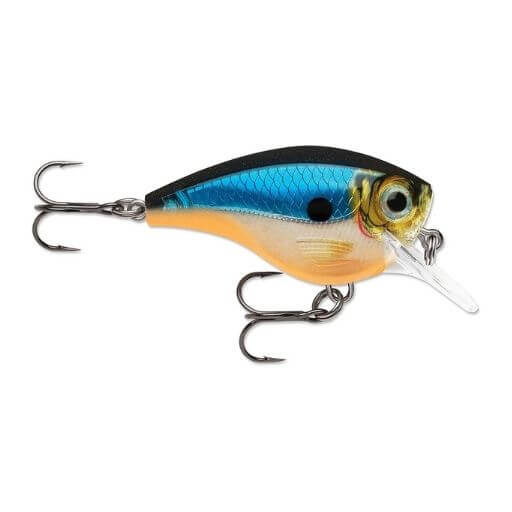 BEST SQUAREBILL
Specs
Size: ⅜ ounces
Presentation: Diving
Color: Blue
FEATURED SPECS
Features a balsa core with copolymer outer shell for durability on the rocks
EXTRA FEATURES
The exterior of the lure creates a bright flash that draws a lot of attention on sunny days
BUYING ADVICE
I always recommend this lure to people who fish rocky areas. If you're fishing around dams, you need something that will stand up against the abuse.
Pros
Great action in the water
Bright flash
Durable
Cons
A rattle would make it even better
This little guy doesn't always make my best-of lists because I haven't personally had a lot of success here. That said, a good friend of mine who fishes the great lakes a lot said that he kills it up there with this tiny little diving crankbait. I didn't believe him either, but he told me I needed to put it in the review so, here you go, Chris!
Rapala Dives-to 10 Smallmouth Bass Lure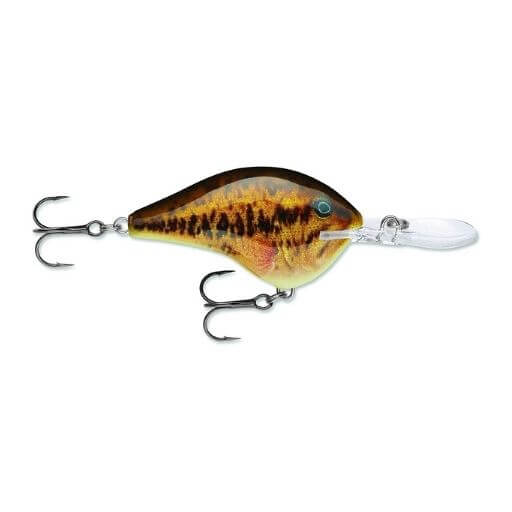 BEST DIVING
Specs
Size: 1.12 ounces
Presentation: Diving
Color: Orange/Black
FEATURED SPECS
This lure uses sharp movements and action to create attention using a specialized bill
EXTRA FEATURES
It dives to ten feet and then remains there suspended while you jerk it back and forth
BUYING ADVICE
I highly recommend using this when you're fishing open, deep water. It's a little larger than some of the other recommendations, but you need to know how to present it properly.
Pros
Great for deeper water
Excellent reputation
Lifelike appearance
Cons
Here we have an unknown lure that I'm surprised isn't as popular as I thought. I actually got this for free at a trade show a few years ago, and the Rapala rep was showing us how it moves in the water. So, you'll jerk the rod tip up, which causes the lure to retrieve in a scattered motion moving back and forth. Then you'll tighten up your line and repeat that process.
These lures are great when you have a lot of open water to work with, but they'll get caught on any weeds pretty easily and screw up the presentation.
Rapala Shad Rap 07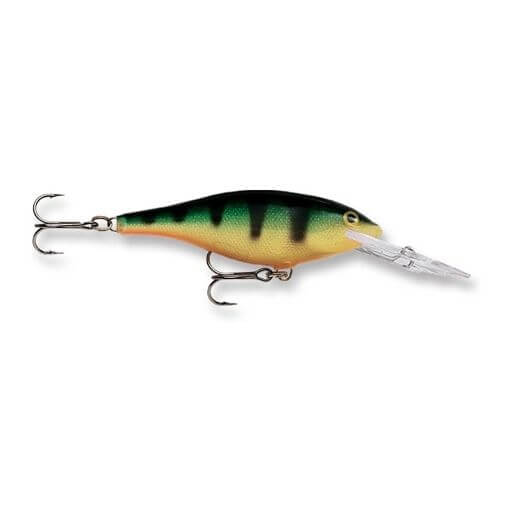 BEST TROLLING
Specs
Size: 1.6 ounces
Presentation: Trolling
Color: Perch
FEATURED SPECS
You can't go wrong with a lure that has a strong reputation for success like this one
EXTRA FEATURES
Standard balsa wood construction, natural baitfish appearance, great for trolling
BUYING ADVICE
Turn that motor on low, and work this lure nice and slowly along the shoreline, so you don't create too much of a disturbance. This works great in clear water.
Pros
Great trolling lure
Solid overall Rapala lure
Baitfish profile
Cons
Need to control your speed
This lure isn't the easiest to fish, but when you troll, it makes it a bit easier. You have two options, you can either present this lure really quickly or slowly, but there aren't any in-betweens. I recommend going slow by trolling so you can create a natural presentation. If you go too fast, you'll make too much noise and scare the fish away.
Rapala Jointed Minnow J11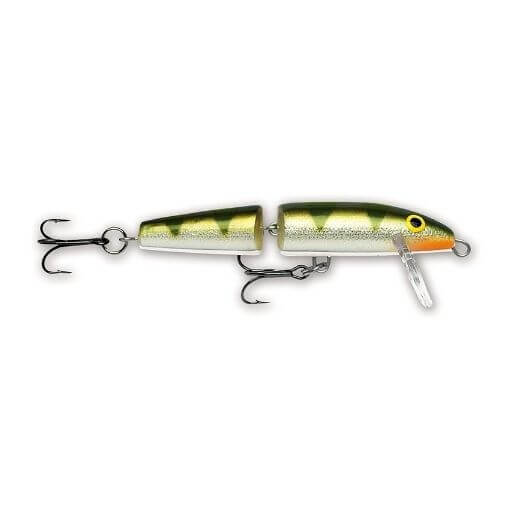 BEST JOINTED
Specs
Size: 5/16 ounces
Presentation: Suspending
Color: Silver
FEATURED SPECS
The jointed body helps create an attention-grabbing presentation
EXTRA FEATURES
Red on the bottom to make the bass feel that this baitfish is injured, that's made even more true during the erratic presentation
BUYING ADVICE
This suspending lure is a bit different from some others. It will sink when you retrieve it, so you need to keep the movement going. When you stop, it floats to the top.
Pros
Jointed lures offer a unique presentation
Imitates an injured baitfish
Contains a loud rattle
Cons
Requires constant attention
Jointed body hard baits are popular because many anglers think it helps the presentation, which is somewhat true but also false. It only helps you present the lure if you know what you're doing. You can easily make it look ridiculous if you're going too fast or too slow, so it's important to stay consistent with this.
Choosing The Best Rapala Bass Lure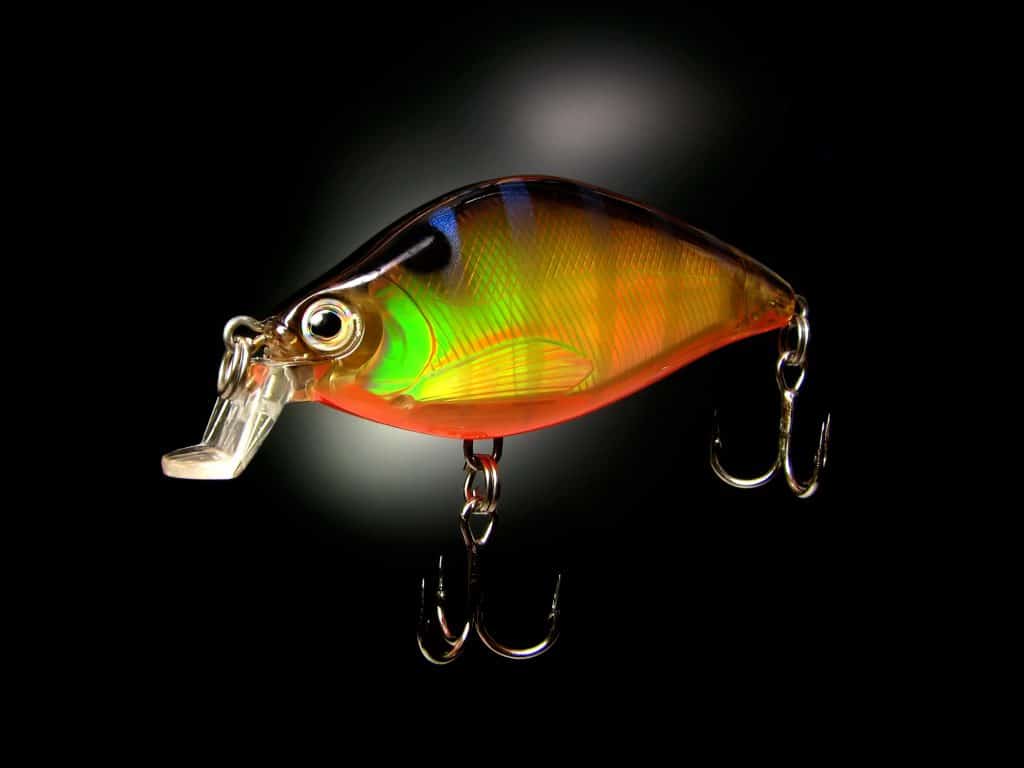 So, how do we choose the best lures and what components are we looking for when we call one the "best." There are a few things to keep in mind when you're looking for any lure, not just Rapala.
Material
All of Rapala's hard baits are made using balsa wood, and they're painted to mimic the appearance of different baitfish depending on what you're targeting and where you're fishing.
It's important to understand how certain materials will impact the presentation of the lure. None of Rapala's balsa wood lures will sink as much as some other cranks and jerks would. Since it's balsa wood, they always remain suspended and even floating until you start to retrieve them.
This presentation is referred to as a suspending topwater, which requires a steady and even presentation to draw the attention you want.
Action
Similar to the presentation is the swimming action of the lure. These words are almost interchangeable, but the overall impact of the way a lure behaves can be determined before you even buy it. Some of these lures will dive deep down to ten feet and then slowly make their way back up on the retrieval.
Some will float until you start bringing them in. Each of these types of presentations will draw attention from a different type of bass, and you can use them in different applications. It's important to understand which is which and in what situations would you want to use one over the other.
Color
I've always stressed the importance of choosing the right color for each situation. You want to keep a bunch of different colored lures with your fishing gear because fishing at night, for example, will require a darker colored lure. If you have a lot of moonlight, you'll want to use something shiny that may reflect the moonlight.
When you're fishing in the heat of summer on an overcast day, you'll need to mimic those surroundings by using a more neutral color because the bass's metabolism might be down a little that day.
On the flip side, when you have a day where the sun is shining, and there's a slight breeze cooling down the air, the bass is most active. At this time, you can use a bright and vibrant colored Rapala that will generate a lot of attention and make plenty of noise.
Fishing Strategies for Rapala Lures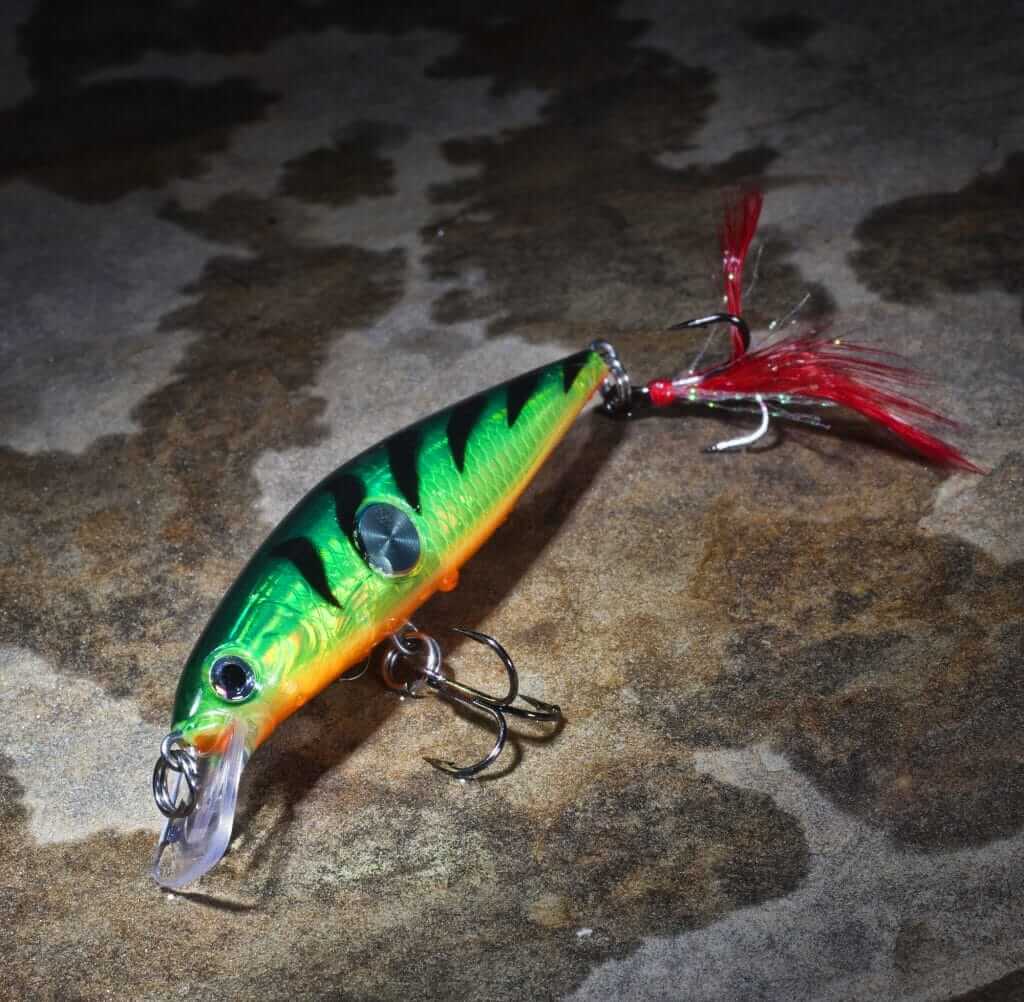 You have one of these in your hands, but you're not sure about how you will fish it—no need to worry because I've got all the best strategies right here for you. Let's break each of them down.
Topwaters
If you're using a Rapala topwater like some of the original lure options recommended above, you have two simple options. You can cast and retrieve it or troll it.
When casting, you'll want to cast to your ideal location, let it sit for a few seconds so any neighboring bass can sniff it out, and then start retrieving it using a very stagnant and slow retrieval.
If you decide to use a trolling method, all you need to do is turn on your outboard motor to the lowest power and let the boat create the presentation for you. Keep in mind that you could be passing honey holes as you're doing this, so I only recommend this strategy if you have no idea where to fish the water.
Suspended Rapalas
If you're using a suspending lure, chances are it will sink a little when you cast and then rise to the top until you start to retrieve it. For these, you want to fish them using a more erratic motion. Create a jerking presentation that helps mimic an injured fish, and bass will see this as a great opportunity to take advantage of their prey.
Sinkers
When you find a sinking Rapala, you want to slow down the presentation and give it some time to work. These will sink to around ten feet and stay there until you start retrieving them. If you go too fast, you'll end up pulling them up to the surface, and that will mess up the presentation.
Many of these lures have square bills on them, which gives them a somewhat erratic action similar to a jig. If you can, find one with red on the bottom to imitate blood, and you'll likely clean up whatever waterway you're fishing.
Final Thoughts
Rapala lures have been around for a long time, and after putting in a few hours of research, we can understand why. These lures have a strong history of creating success for bass anglers all over the country, and it doesn't matter where you fish either. Whether you're fishing small ponds or saltwater, you're sure to find a Rapala bass lure that works for you.
I highly recommend taking a look at some of the options recommended above. These are all the best Rapala lure choices for largemouth, smallmouth, and striped bass available on Amazon. Be sure to pick up some for your tackle box and keep them for a rainy day. (or sunny day)
Good luck out there!