When looking for the nation's best bass fishing, North Carolina is high on our list.
From Lake Phelps' incredible largemouth population to spring's striped bass spawning run in the Roanoke River, there is some astonishing fishing here and stories just waiting to be told.
I have gathered research from game and resource commissions, personal stories, record books, and friend's experiences to bring you the best bass fishing in North Carolina.
Going fishing in North Carolina? Then give a read to our North Carolina Fishing License guide.
---
Required Gear for Bass Fishing in North Carolina
Before heading out to any of the best bass fishing lakes in NC, you'll need to get your gear in order first. To have the best luck, I highly recommend bringing the following along:
Spinning Rod: this will allow you to throw lighter lures further across these lakes and rivers, allowing you to focus your energy where it counts.
Spinning Reel: a lightweight reel will keep you out on the lake longer, giving you more time to catch a huge bass.
Lure: Choosing your bait will depend on the time of day, location, and weather. But, bringing along some finesse worms, crankbaits, and a few jigs will help you find those fish.
Jig: These small lures will sail far across the lake to help you outfish anyone nearby.
Fish Finder: Especially if you're visiting a lake for the first time, a fish finder will help you locate where the big bass are and keep you safe if you stray a little bit off course.
Sunglasses: North Carolina is warm and sunny three of the four seasons of the year. Sunglasses will protect your eyes from reflective light and keep you more energized throughout the day.
15 Best Bass Fishing Lakes in North Carolina
High Rock Lake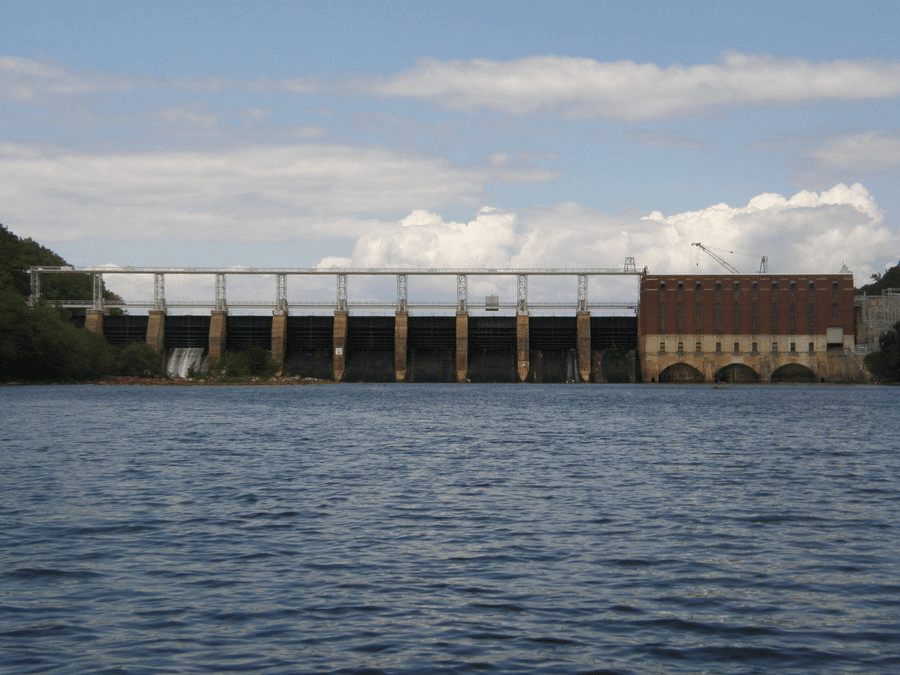 The second largest lake in North Carolina, High Rock Lake, has been around for over 100 years. Covering over 15,000 acres with 365 miles of shoreline, there is ample space for every bass angler to come fishing. The reservoir provides hydroelectric power to the surrounding community and an adequate amount of largemouth, white, and striped bass.
With many docks, channels, and drop-off in this stained lake, bring your flashy lures and make this one of your new favorite fishing spots in NC.
Fontana Lake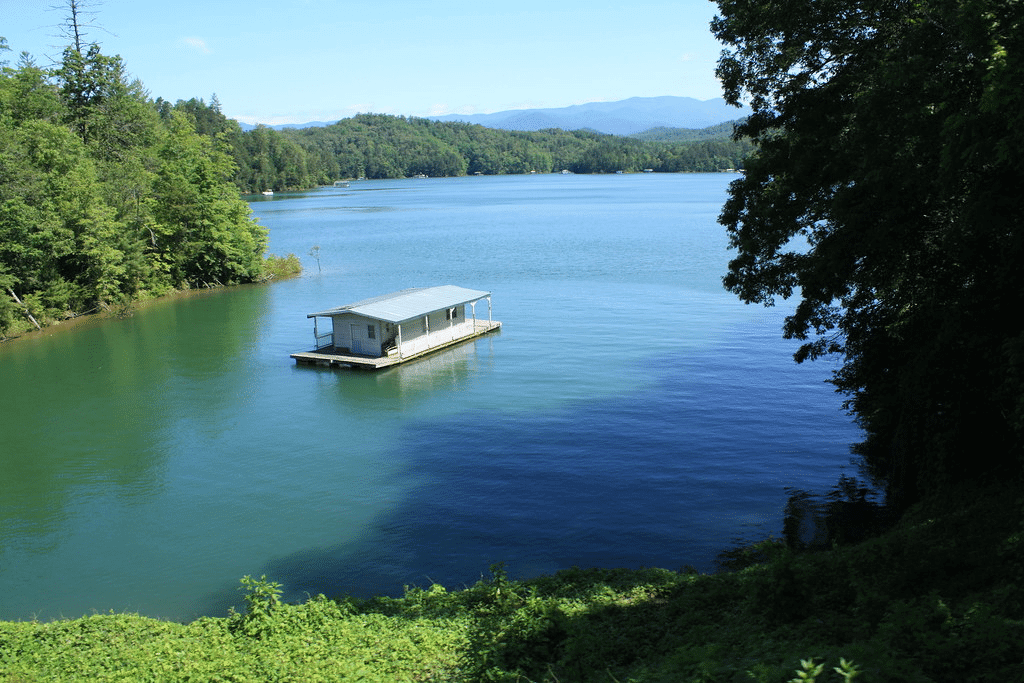 Fontana Lake is home to largemouth, spotted, and smallmouth bass in its 111,700-acre reservoir. Over 230 miles of shoreline allow plenty of space for fishing in or out of a boat. Tucked in the Great Smoky Mountains of the western part of the state with a view of Clingmans Dome, this lake has a stunning view to match its large bass.
The Appalachian Trail crosses over the Fontana Dam, making this lake a great family destination if you have hikers in your midst. Over 90 percent of the surrounding land is taken care of by the National Park Service or the US Forest Service, making it a delightfully secluded spot to go as well.
Lake Phelps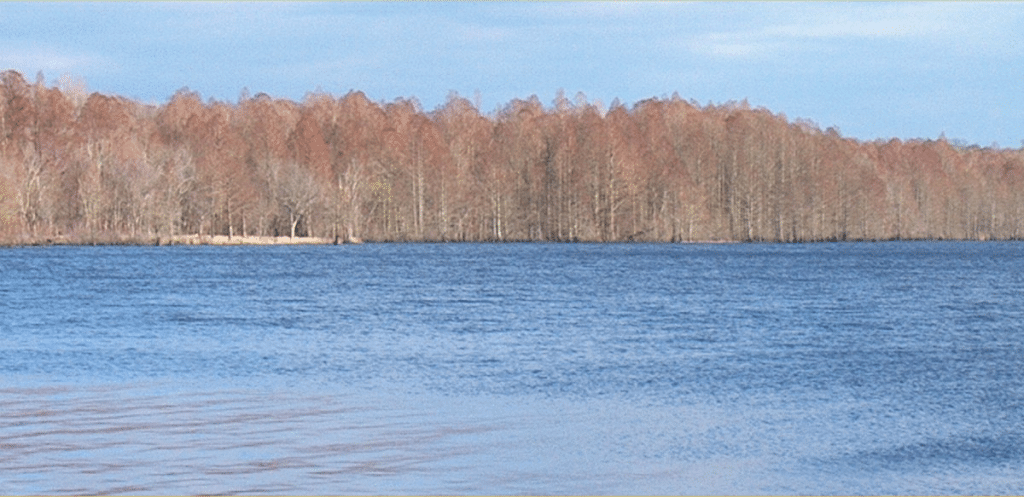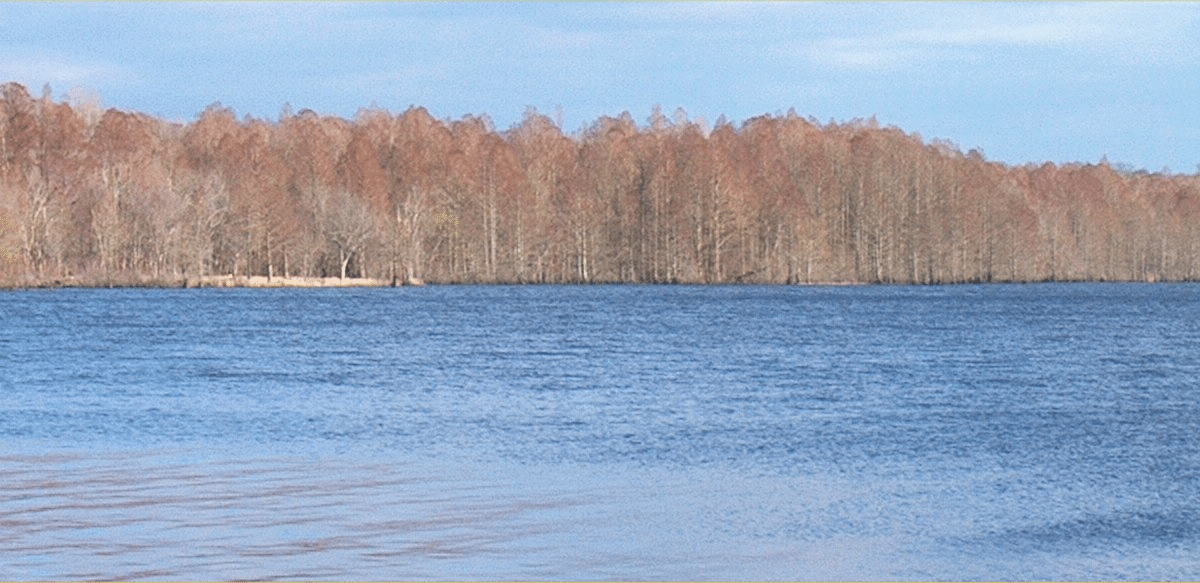 Nestled in Pettigrew State Park is the 16,000-acre Lake Phelps. Believed to be over 38,000 years old, Lake Phelps has had plenty of time to build up its award-winning largemouth population. Lake Phelps boasts some of the most transparent water in the state, perfect for seeking out those large fish.
With an average depth of 4.5 feet and a maximum depth of 9 feet, they're never too far away.
Starting in 2002, Lake Phelps in NC has had a minimum length limit on largemouth bass of 14 inches, and a protective slot limit between 16 and 20 inches. Make sure to check the current regulations before you go.
Shearon Harris Reservoir
The Shearon Harris Reservoir, also known as Harris Lake, is 4,151-acres of stunning waters just 20 miles southwest of Raleigh. With two boat ramps and the nearby city, Shearon Harris Lake in NC is well worth visiting. Largemouth bass is the most commonly sought fish by anglers.
The lake is undergoing enhancement by the North Carolina Wildlife Resouces Commission to keep the native species thriving while providing a more artificial and natural structure for the local fish.
Lake Sutton
Sutton Lake is a 1,100-acre reservoir fed by the Cape Fear River. Made up of eight lakes, the reservoir is a cooling station for the nearby Duke Energy Plant. The smaller lakes are better for late spring fishing, while the large, central two lakes are better in early spring.
Within the lake, anglers will find mainly spotted bass, with a decent amount of largemouth splashed in. A few smallmouths also swim around, although they are rarer. While Lake Sutton is an incredible place to fish, consider sticking to a simple catch and release pattern.
The lake and its fish have tested high for pollutants such as selenium, arsenic, and thallium.
Lake Waccamaw
When looking for the best bass fishing in NC, Lake Waccamaw should be on your list. At the southeastern tip of the state, this 8.900-acre lake has some of the best fishing around and a renowned aquatic phenomenon. It is home to over 52 species of fish, including white bass and largemouth.
While powerboats and sailboats are allowed on the lake, the pristine natural surroundings and primitive camping and hiking trails make it an excellent place for a more relaxed day on the water.
Jordan Lake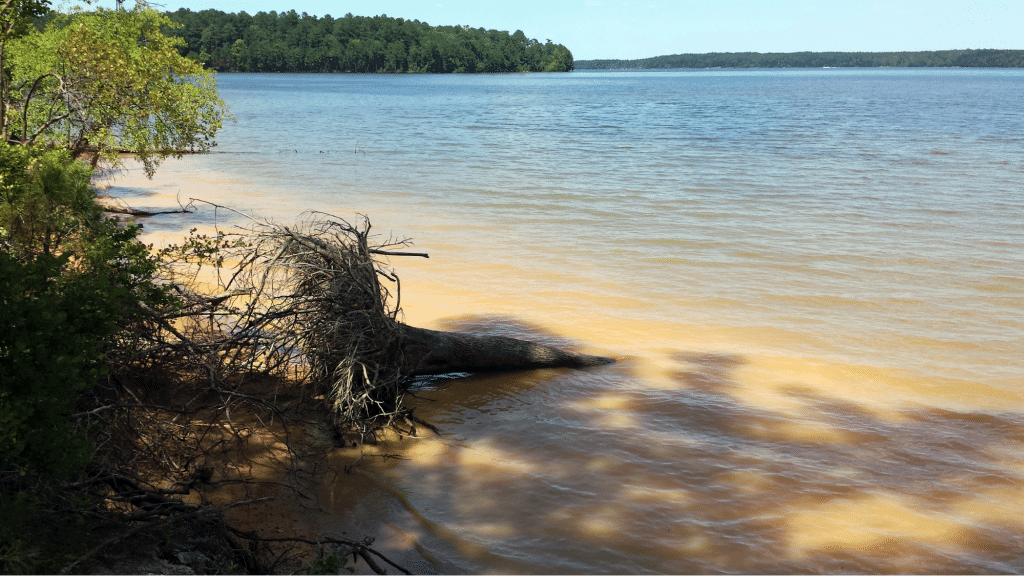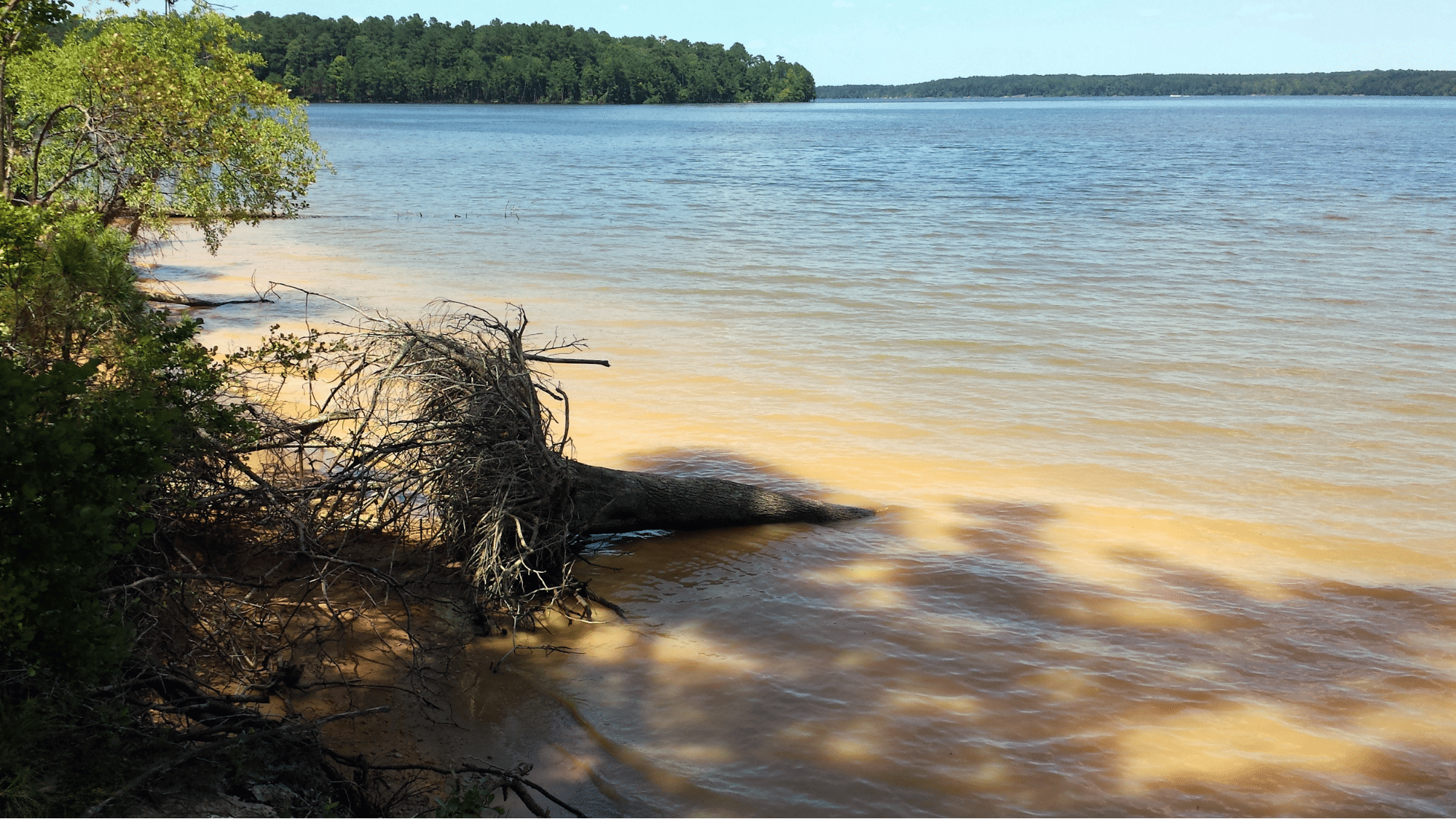 Jordan Lake is home to largemouth, smallmouth, striped, and white bass – although it also has an abundance of crappie and a decent amount of sunfish. With nearly 14,000-acres of water and 180 miles of shoreline, there is room for everyone here. It is a newer lake, built by the US Army Corp of Engineers in 1981.
Centrally located in the state, it is a huge vacation destination with over 1,000 campsites and plenty of beaches and local attractions.
As expected, make sure to have a state fishing license and follow the rules posted at the lake.
Lake Norman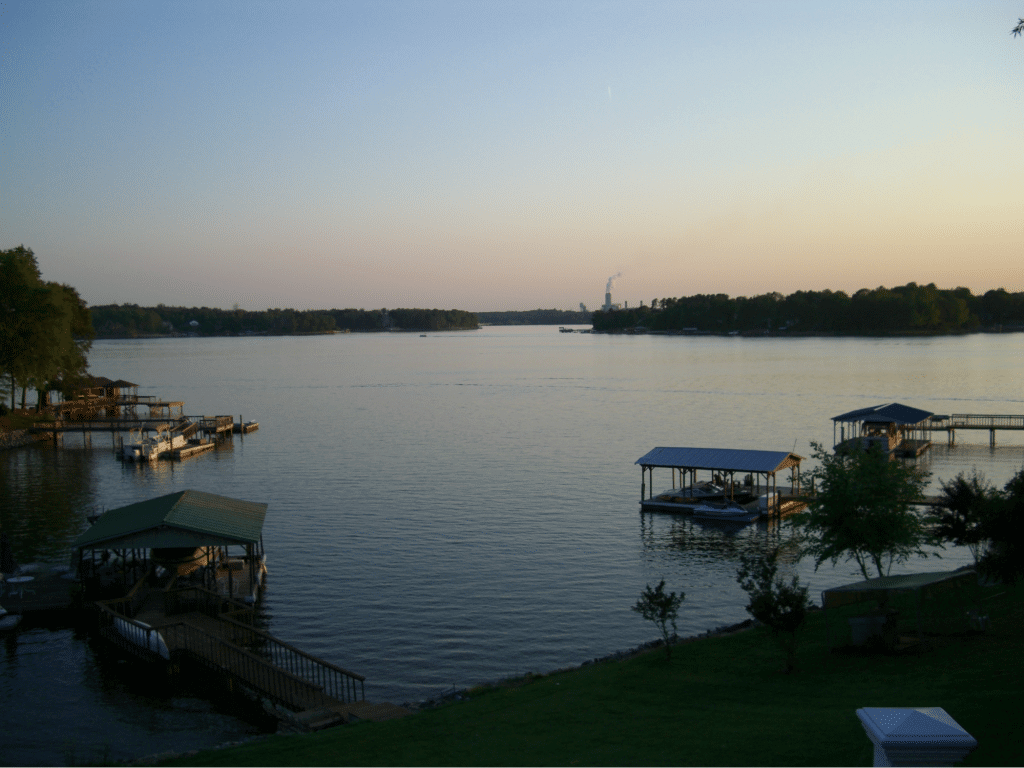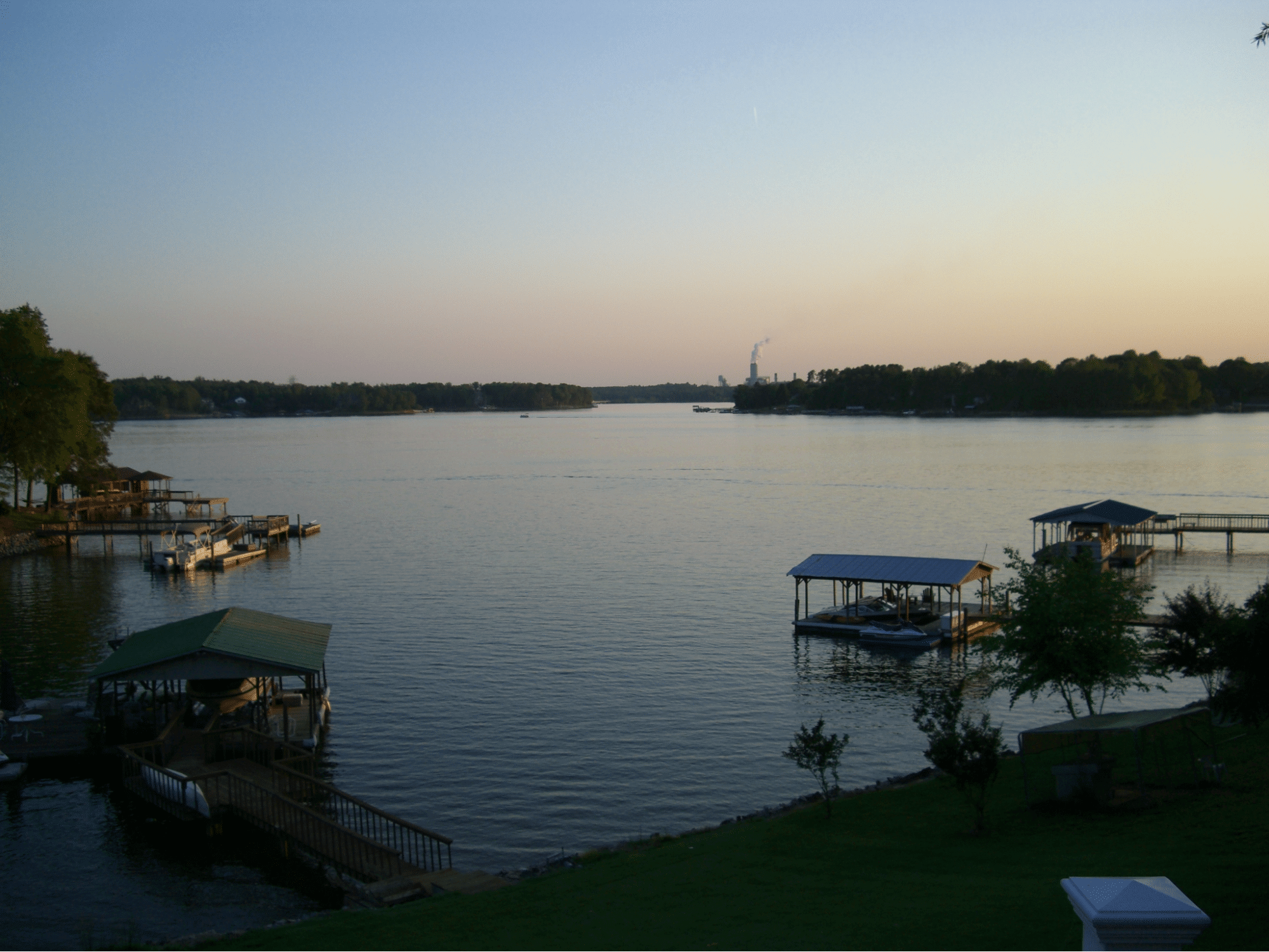 Lake Norman is the largest human-made lake in the state at 32,000-acres. It is found just north of Charlotte. With over 520 miles of shoreline, it is an excellent spot for both largemouth and spotted bass.
When looking for the bass here, most anglers recommend sticking near the channel markings and bridge pilings. Many fishers also hang out near the water discharge spots from the local steam and nuclear plants.
Apalachia Lake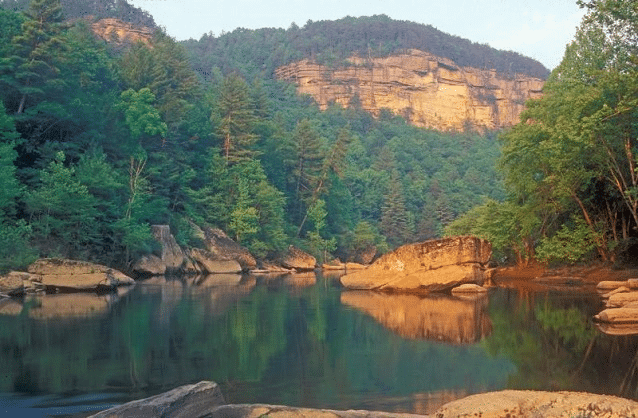 If you're looking for a more secluded spot to go fishing, check out Apalachia Lake in the Nantahala National Forest. Located in the western part of the state, It is a small, cool-water reservoir on the Hiwassee River.
While its primary purpose is to produce hydroelectric power, it is a private and secluded spot to find smallmouth, spotted, largemouth, and white bass.
Badin Lake
Tucked into the Uwharrie National Forest in Montgomery County, Badin Lake is home to almost every variety of bass: largemouth, smallmouth, white, striped, and spotted.
This lake is a bit smaller than many of the best places to fish in NC, taking up just 5,000 acres. But, with over 100 miles of shoreline, it is still worth a visit. Plenty of brush, rocks, reefs, and ledges make delightful homes for fish to hang out in, making it easy to spread out around the lake.
Belews Lake
Belews Lake is tucked into the northwest corner of the state, providing 3,860-acres of water for anglers to enjoy. It is connected to a power plant, so the water temperatures run slightly higher than usual from the runoff. This lake has largemouth, white, smallmouth, and spotted bass.
Kerr Lake
Kerr Lake straddles the state line between North Carolina and Virginia and was once home to the Occoneechee Indians. The 50,000-acre reservoir has seven access points, plenty of boating ramps, and even two private marinas. Home to the annual Kerr Lake BassMasters Tournament, there are trophy largemouth bass waiting here.
Lake Wylie
Lake Wylie stretches from North Carolina to South Carolina and takes up 13,400 acres while racking up 325 miles of shoreline. This lake was formerly known as Lake Catawba when created in 1905 to be used for hydroelectric power. As its influence and dam grew, it was changed to Lake Wylie in 1960.
This excellent bass lake in NC is home to largemouth and white bass.
Lake Nantahala
While Lake Nantahala is known for having kokanee salmon, it is also a great spot for largemouth, smallmouth, and striped bass. The 1,600-acre lake is regulated by the Duke Power Company and has two boat launches.
While there are a few homes on the lake, most of the 30 miles of shoreline is protected by the US Forest Service and North Carolina Wildlife Resources Commission.
Perched at 3,000 feet elevation, Lake Nantahala can be a more refreshing retreat for those who still fish on sunny days.
Lake James
Lake James is set apart from many of the best North Carolina bass fishing lakes because its a deep, cold-water lake reaching depths of 120 feet. On the western edge of the state, this is a family-friendly destination with an abundance of mountain biking trails and campsites.
White bass and striped bass are popular to catch here, although largemouth and smallmouth are around.
Best Bass Fishing Coastal Rivers in North Carolina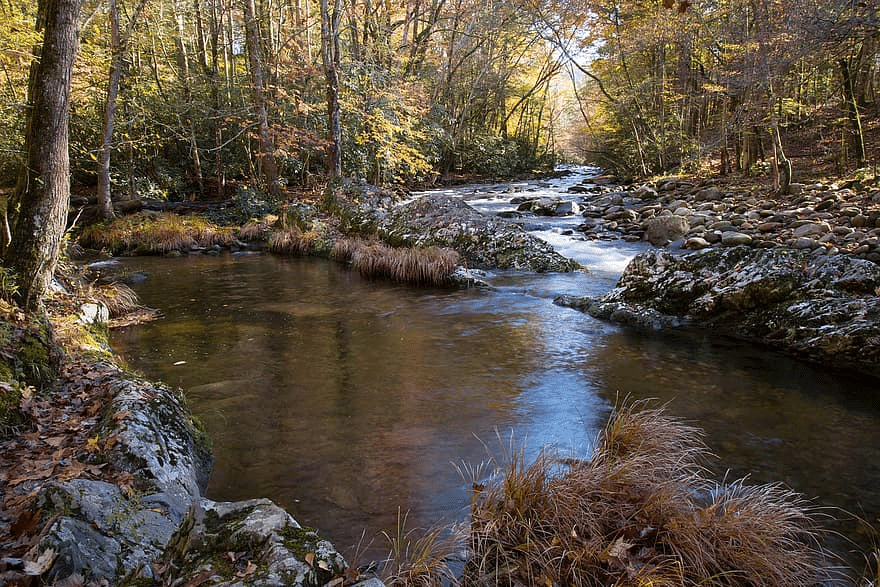 When looking for the best places to fish in NC, don't look just at the lakes, ponds, and reservoirs. Pull out your favorite bass fishing techniques in some of the greatest streams and rivers in the country.
Cape Fear River
The Cape Fear River stretches from north of Wilmington down through the very tip of the state. There are plenty of popular parks in Wilmington with fishing piers, although coastal state parks where the river is wider are more common for fishing.
Largemouth bass are the predominant species here, and usually weigh between 1.5 to 3 pounds.
Neuse & Trent Rivers
The Neuse and Trent River and estuary is an incredible spot to catch both largemouth and striped bass. It hosts an annual bass tournament every summer. It is the state's longest river, heading 242 miles from the Falls Lake Dam to Pamlico sound.
Most anglers will notice a distinct change in fish species and behavior as the salinity begins to change around New Bern. Striped bass fishing is most common here in fall or early spring.
White Oak River
The White Oak River winds down from Maysville to Emerald Isle. Home to largemouth and striped bass, it is a spectacular spot for those wanting to fish with no one else around. The bass population here has been on the rise in the last ten years, so this spot is worth a trip before the secret gets out.
New River
The stunning and winding New River wanders through the mountains in the western part of the state. The slow and steady river is excellent for small boats and has four access areas. The North and South Forks of the river are well known for catching smallmouth or redeye bass.
As this river is a bit more secluded than many, it could be a great time to reach out to one of the North Carolina bass fishing guides.
Roanoke & Pamlico Rivers
The Roanoke River is well known for its annual spring-striped bass spawning run. Anglers flock here for incredible, award-winning fish and the joy of catching fish together. You'll find this fun flowing from the northern center of the state out to the sea.
Nearby, the Pamlico River has some incredible largemouth bass, although most locals fish upstream of Whichard's Beach to find them. These two rivers are at a slower pace most of the time, but they are quickly some of the best places to fish in NC.
Final Thoughts
Whether you're hoping for a secluded canoe ride for a few stripers on a quiet river or after the state's sassiest largemouth, there are a myriad of places to fish here. Do you have a favorite spot in NC for bass fishing? We'd love to hear about it below in the comments!