For outdoor lovers, Colorado is all about jaw-dropping mountain views and outdoor lifestyle.
But let's not forget that the Rocky Mountain State has more than 1500 publicly owned lakes and miles of fishable streams. What does this mean for you?
It means plenty of fishing opportunities!
However, unlike states like Georgia or California with a high bass population, the cold water of some Colorado lakes isn't the best choice for bass fishing.
Popular angling destinations like the Blue Mesa reservoir or the Grand lake are great for rainbow and brown trout fishing, but not bass.
Even so, there are multiple locations that offer excellent opportunities for bass fishing.
That means you need to pick the right spot before planning a fishing trip to Colorado.
Based on personal experience and consulting with a bunch of local anglers, here's some of the best bass fishing in Colorado.
Going fishing in Colorado? Then give a read to our Colorado Fishing License guide.
---
12 Spots for the Best Bass Fishing in Colorado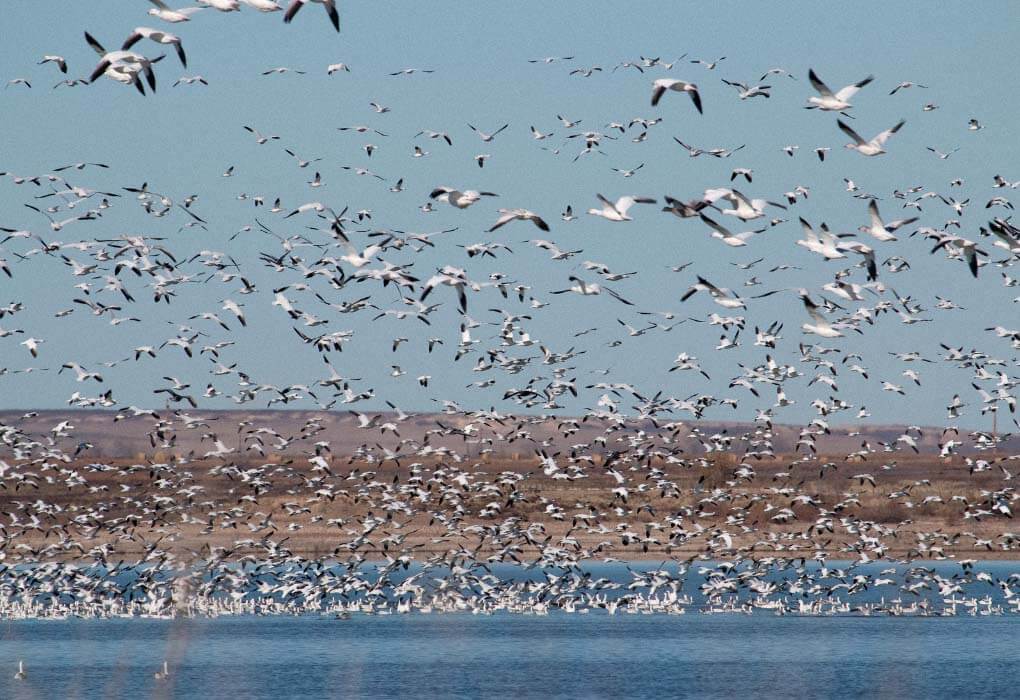 Our first preference is this 11,658- acre lake located on the southeast corner of Colorado, around 18 miles from Las Animas.
While it doesn't have the alpine beauty of some of the other lakes in the state, the reservoir has warm waters that are great for bass fishing.
In fact, the reservoir holds the state record for the largest striped bass caught.
That was a massive 39 inches long monster caught in 2017.
Besides, the reservoir also has a large population of gizzard shad which is the perfect forage food for bass.
Other than bass, crappie, carp, and bluegill are also abundant. You can fish from a boat or try shore fishing in the reservoir.
As per locals, using plastic worms like nightcrawlers and wigglers will deliver good results.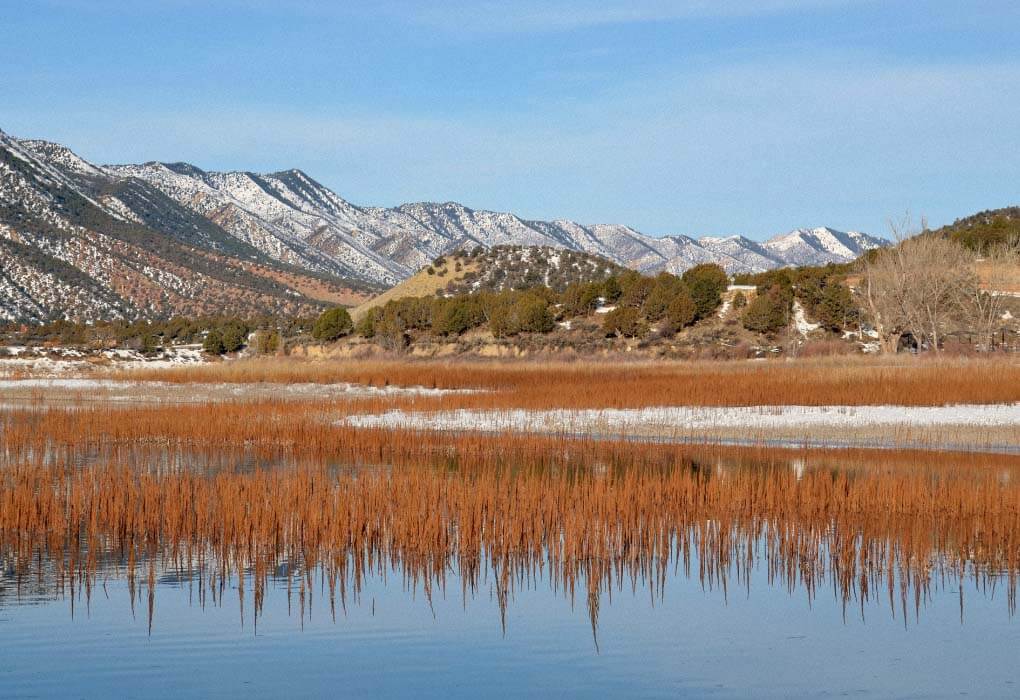 The Rifle Gap Reservoir is about 3.5-hour away from Denver. Or you can reach it from Grand Junction while heading towards Glenwood Springs.
The 350 acres of clear water makes it one of the best spots for catching largemouth and smallmouth bass in the state.
Located 6000 feet above sea level, the lake is open year-round for fishing and other recreational activities.
Apart from bass, the reservoir also holds other species of fish like pike, walleye, and brown trout.
Spring is the best season for fishing here as the fish will be in spawn mode.
Rifle Gap is also a hot spot for fly fishing and fishing during the after-hours. During the winters, you can try ice fishing as well.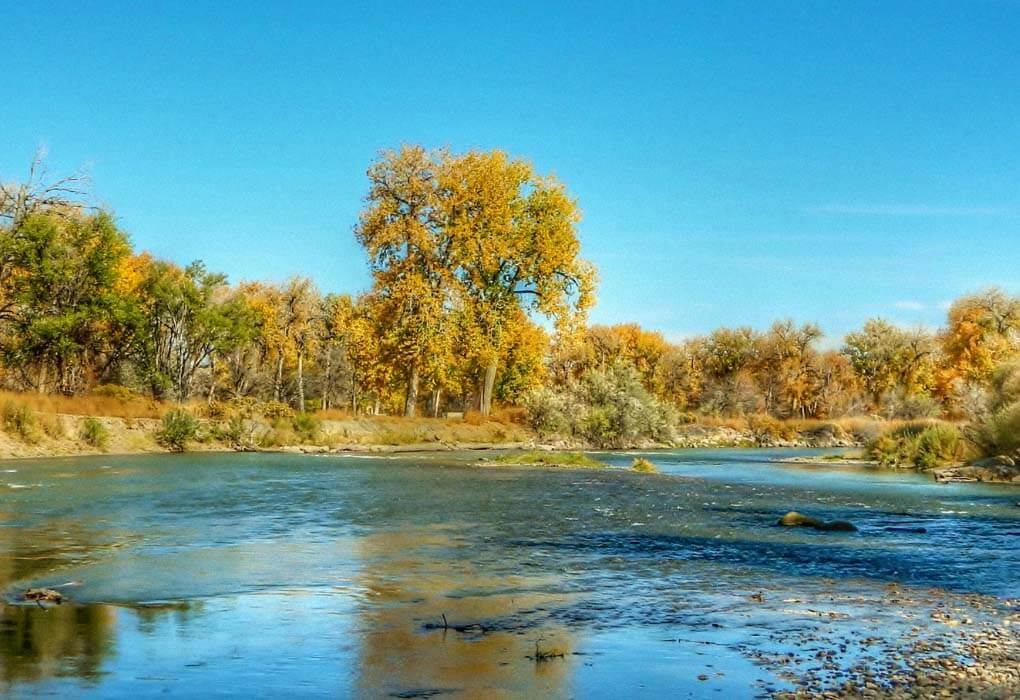 Without a doubt, this is one of the best fishing destinations in Pueblo County for warm water species like bass.
It has around 4,600 acres of water surface and 60 miles of shoreline.
Overall, a perfect destination for an angling vacation.
Locals with spinning reels tackle smallies, largemouth bass, spotted bass, crappie, walleye, bluegill, and catfish.
Late spring and summer are the best seasons for catching trophy bass. It also has various side ponds that are great for shoreline fishing.
Moreover, the Pueblo reservoir is a family-friendly spot with all facilities and various on-site activities.
If you want to spend a few days discovering the fishing opportunities, it's best to make an early reservation.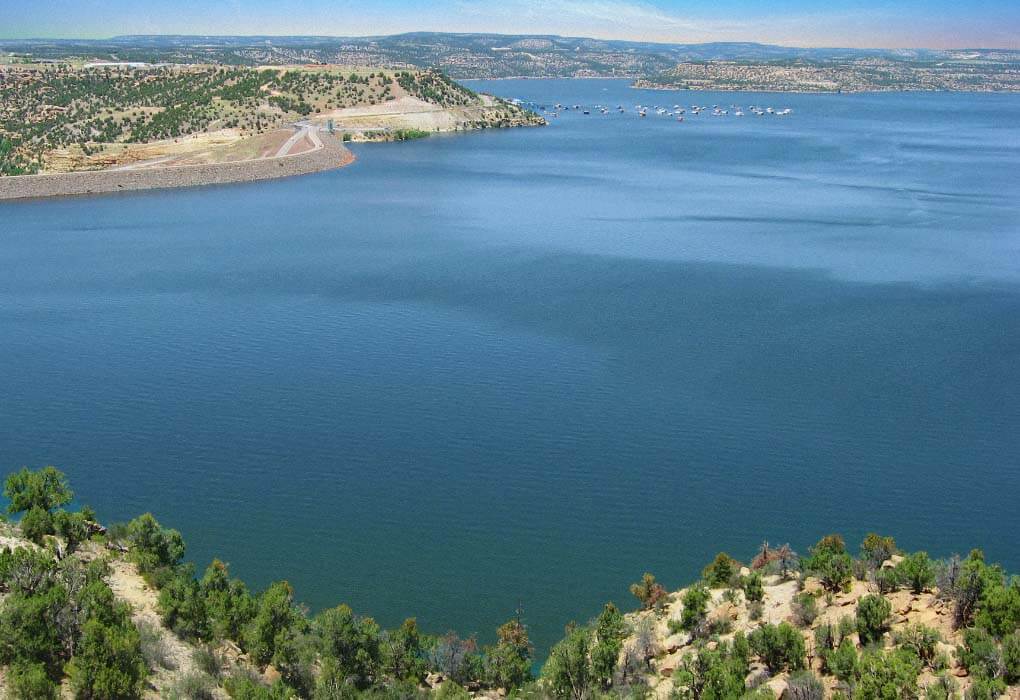 Straddling the border between Colorado and New Mexico, this lake is one of the best destinations for catching smallmouth bass.
About 3000 acres of the surface area of the lake is on the Colorado side.
The warm waters of the lake are perfect for bass and crappie to thrive.
You can also find largemouth bass in deeper corners lurking under the submerged trees and rocks.
The late summer months between May to August are great for fishing medium size smallmouth along with some larger fish as well.
The early mornings are best for heading out on a boat as bass action slows down by midday.
Beyond that, fall can also be one of the best seasons for catching big bass in the Navajo reservoir.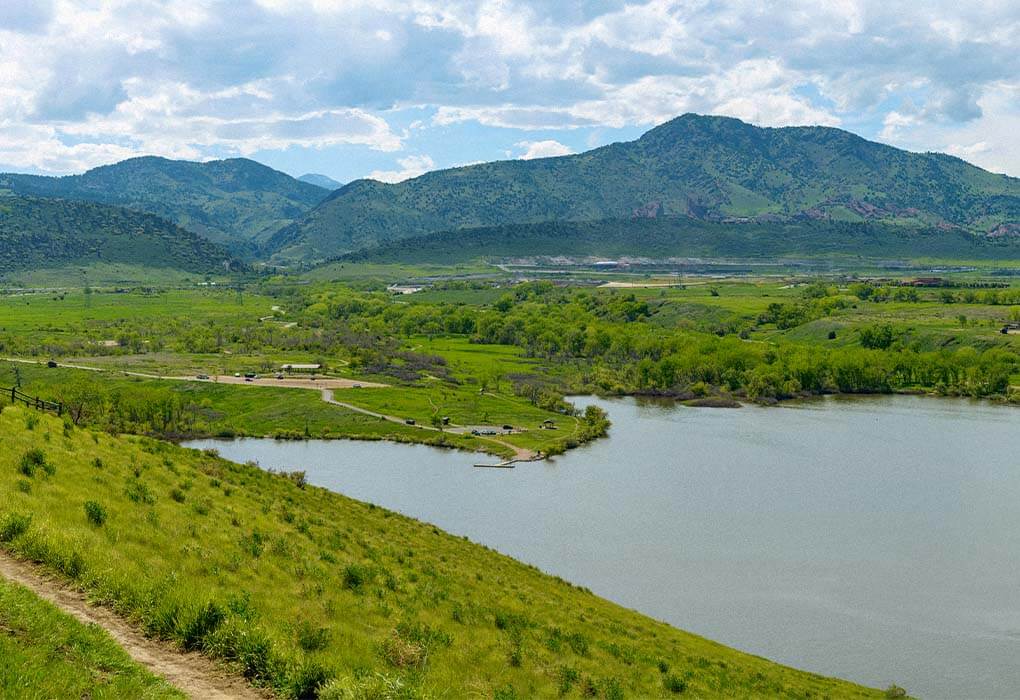 Around 20 miles away from downtown Denver, Bear Creek Lake Park is a favorite destination for anglers looking for smallmouth bass and rainbow trout.
Apart from Bear Creek Lake, the park also has two other lakes- Big Soda Lake and Little Soda Lake.
All three lakes are some of the best bass fishing spots in Denver.
And the best part is, you don't have to look hard to find the right spot. The lake is stocked with fish that are easy to find.
Due to the terrain, I wouldn't recommend Bear Creek for long-term camping though. It's best as a weekend destination and for day trips.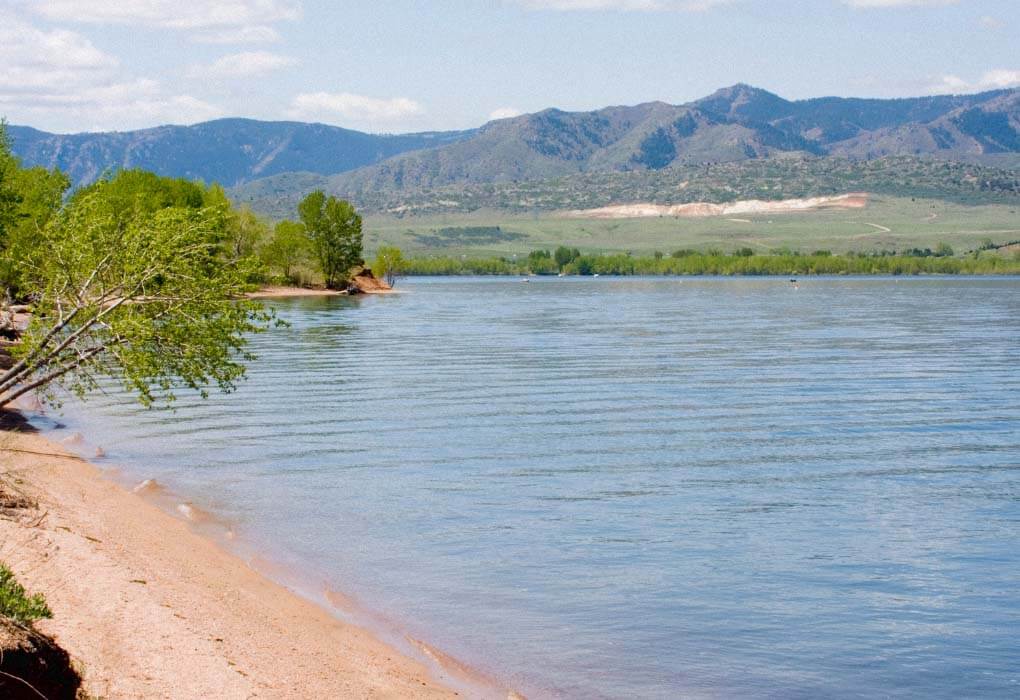 With 1355 acres of reservoir area and more than 25 miles of shoreline, Chatfield reservoir is one of the best spots for fishing smallmouth bass, rainbow trout, and walleye.
Plus, it's just 23 miles away from the Denver metro area.
The reservoir also has species like the gizzard shad which are an important food source for the bass.
The campground around the lake is open all four seasons. So, you can combine your fishing trip with a camping trip for the family.
During my visit to this reservoir last year, I used a soft plastic bait with a Carolina rig. That turned out to be an effective technique for the smallmouth.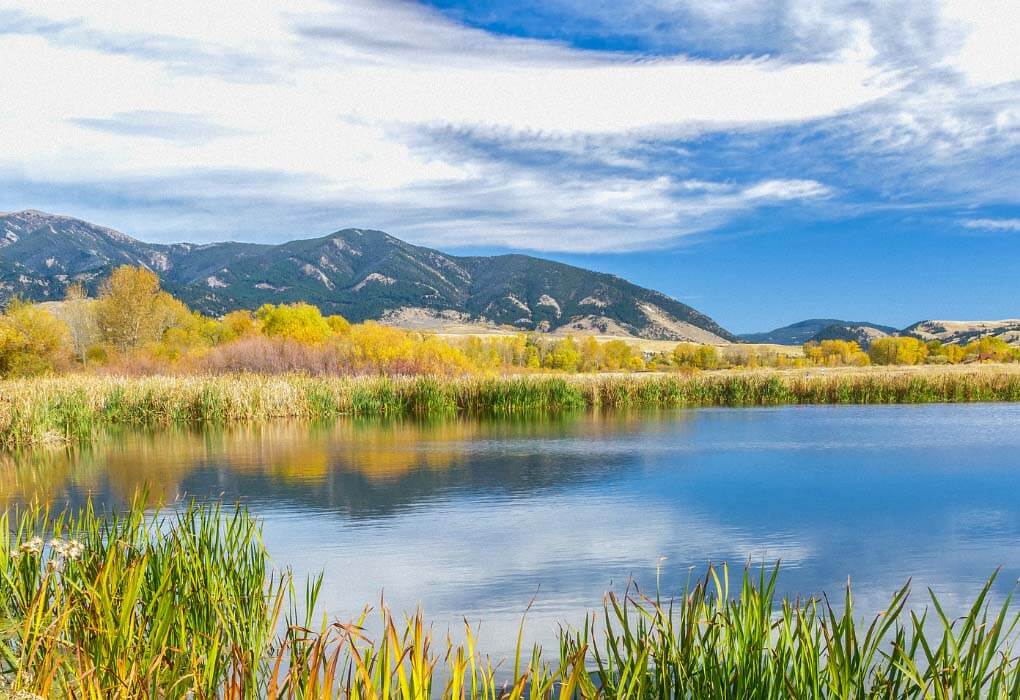 The reservoir with its beautiful prairie landscape is located close to Denver and is a great spot for boat or bank fishing.
This popular warm-water fishery contains more than two dozen fish species.
The 880-acre lake has a wide variety of fish like largemouth bass, striped bass, walleye, crappie, and trout.
In fact, it's one of the most popular spots for bass fishing in Colorado for producing trophy-size fish.
Since the area is a great family destination for hiking and camping, it's often crowded with tourists.
However, with plenty of shorelines to explore, finding a quiet spot for angling shouldn't be a problem.
Arguably, the Quincey reservoir is often considered the best bass fishing lake in Denver.
Located around 20 miles from Denver, the 160-acre lake is a favorite choice for metro-area anglers.
Veteran anglers mentioned that it's a good spot for catching both largemouth and smallmouth bass.
While 3 to 4-pound catches are common, I have heard anglers fishing out 8 to 10-pound bass from the waters of the lake.
Other than bass, it also has species like trout, perch, and crappie.
There are plenty of weedy areas in the lake where the largemouth lurks.
Find the greenest section of the vegetation and use spinnerbaits and buzzbaits for the best results.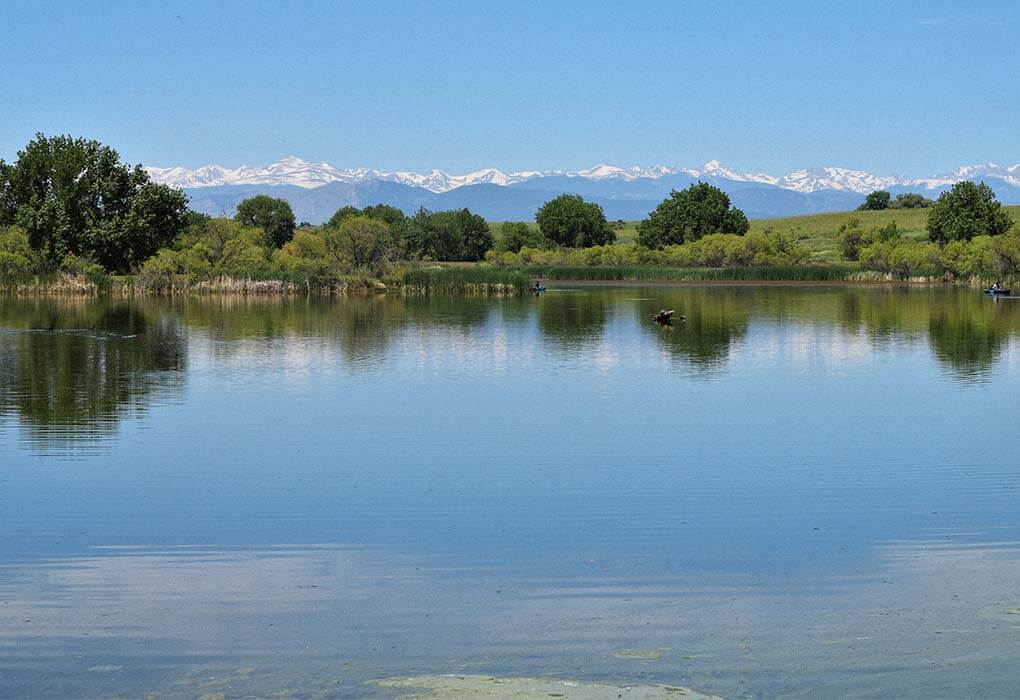 This park is an easy drive from Fort Collins or Denver and has around 300 acres of water surface.
The fish population includes largemouth bass, rainbow trout, catfish, and bluegill. If you're looking for trophy bass ponds you've found it.
The park has two of them- the Great Blue Heron Reservoir and Bald Eagle Pond. The thing is, fishing in these unassuming ponds can be tricky.
You can suddenly come across a pocket where you least expect the bass to be present. So, if you're not catching fish in one spot, move ahead to the next.
One of the best features of the park is the flat and easy trails. This makes it a great spot for teaching children how to fish.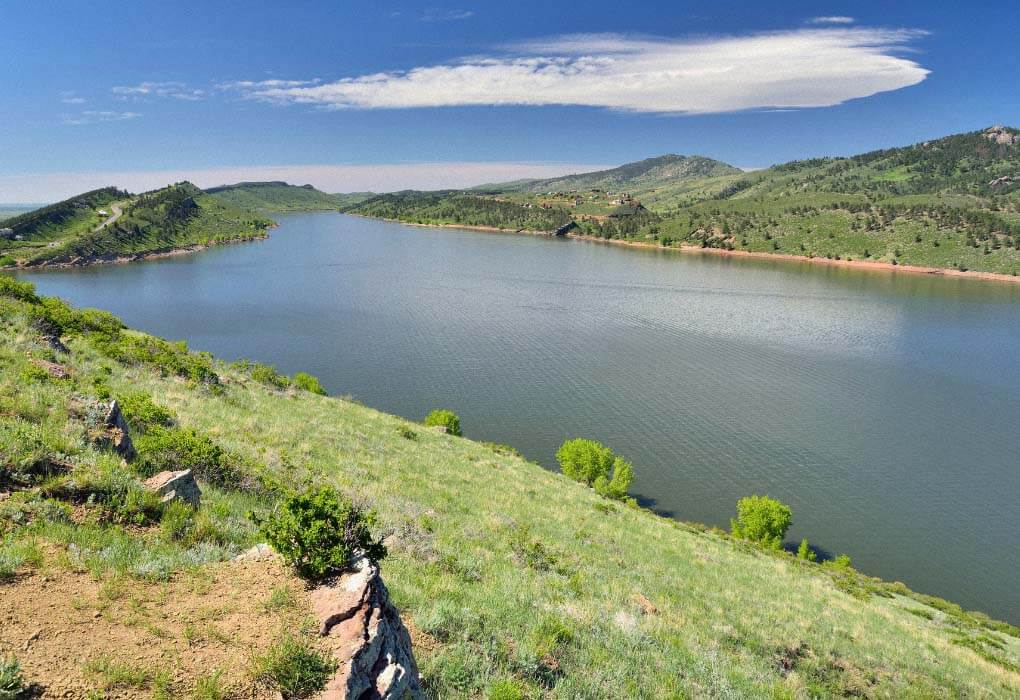 Just 8 miles away from Fort Collins, the Horsetooth reservoir is a popular destination for catching smallmouth bass.
Other than that, it also has a wide range of fish species including trout, crappie, and bluegill.
As per veterans, fall is the best time for bass fishing on the lake.
With a length of over six miles, the lake offers plenty of spots to cast your bait.
There are shallow areas as well as creeks around that lake that are great spots for luring bass.
Both in-boat fishing and shore fishing are popular in the Horsetooth reservoir. These little inlets also make for great kayak fishing opportunities.
Besides, the campgrounds around the lake are open all through the year. That makes it a great spot for a multi-day fishing trip.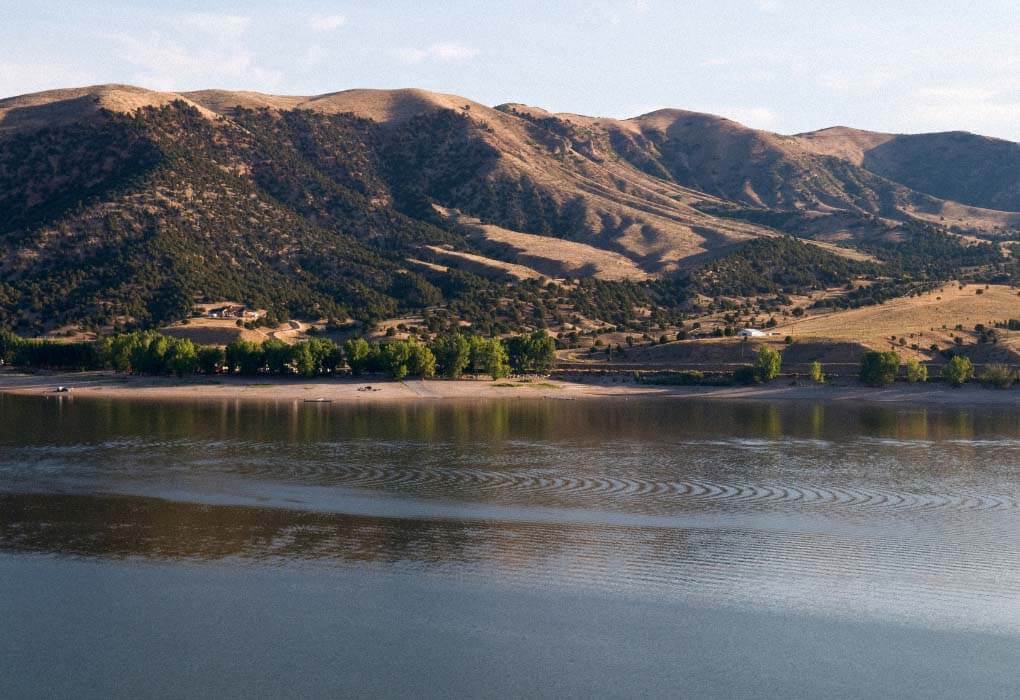 This reservoir is located south of Pagosa Springs, within Echo Canyon State Park. The surface area of the water body is 70 acres and it is open all through the year.
The common fish species that are found include largemouth bass, yellow perch, rainbow trout, white crappie, and black bullhead.
While the lake is around 50 feet deep at some points, there are plenty of shallow areas covered by vegetation.
This makes it the right spot for launching a boat as well as shore fishing.
The average size of bass that anglers catch here is around 9 inches. Larger sizes are also found occasionally.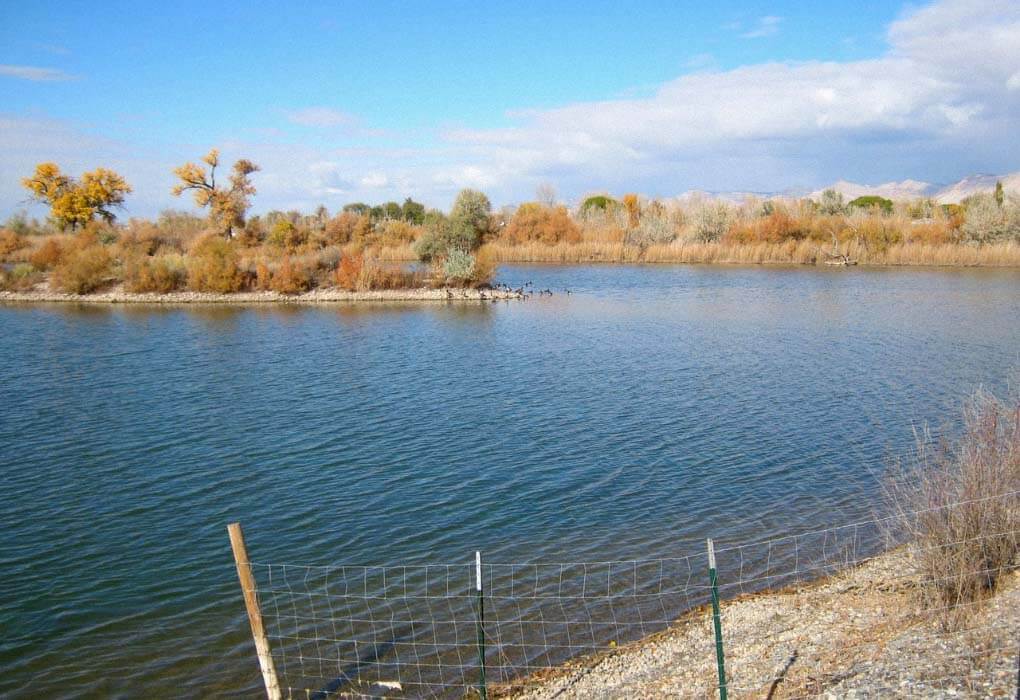 No Colorado bass fishing trip is complete without a visit to Grand Junction.
And one of the most popular fishing spots in the area is Corn lake. Basically, the lake is an extension of the James M. Robb Colorado River State Park.
Apart from bass, the lake also has a healthy population of carp, bluegill, and crappie. Besides, there are plenty of fishing spots to choose from.
It's also a family-friendly location and the perfect weekend destination for parents with small kids.
Final Thoughts
That concludes it. Our suggestions for the top 12 spots for the best bass fishing in Colorado.
The good news is, you don't need tons of gear to enjoy angling in these spots.
A basic rod and reel, along with a few lures or jigs should be good enough to enjoy some quality time.
Keep in mind, no matter the body of water you choose to fish, make sure to learn about the local regulations.
Do you have any suggestions about other top spots for bass fishing in Colorado?
Feel free to mention them in the comments.