Bass fishing in Georgia is about as common as catfishing in Louisiana.
Everywhere you go, people are talking about their favorite lakes and rivers.
One thing I noticed right away about fishing in Georgia is that every lake has an abundance of bass.
You can throw your line out almost anywhere and come up with bass, which is not common practice in the North.
We usually have to fight off the pickerel to get to the bass!
Anyway, after hours of research and networking with locals – here's our comprehensive list of the best bass fishing lakes and rivers in Georgia.
Going fishing in Georgia? Then give a read to our Georgia Fishing License guide.
---
17 Best Places for Bass Fishing in Georgia
Lake Allatoona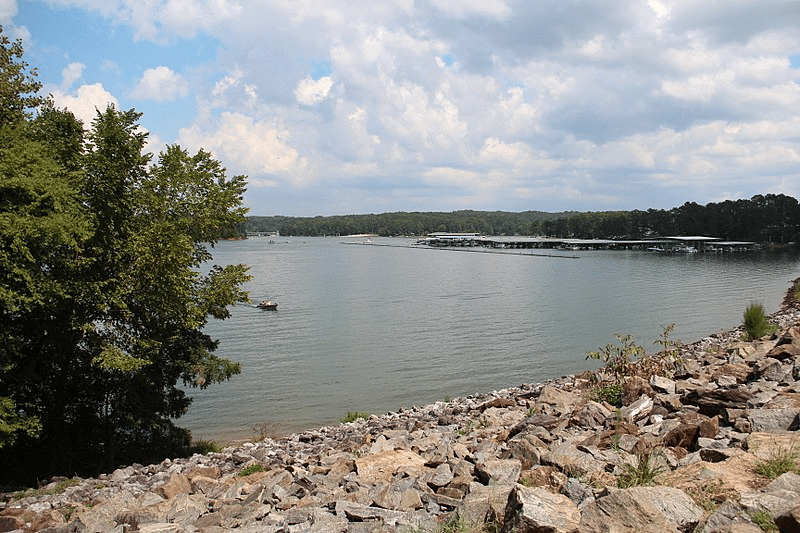 Allatoona Bass are known for being big, and this lake North of Atlanta holds plenty of spotted bass. At one time, they called it "the dead sea" because anglers had some of the worst luck fishing it, but it's seen a revitalization over the past decade.
Today, Lake Allatoona has one of the highest catch rates per hour in Georgia. Don't expect to find anything huge, but if you're looking for a fun day fishing for bass, this is the place you want to go.
Try your luck early in the morning or later in the evening from the bank with some topwater poppers. During the spring, there's a lot of brush along the shore, so you'll need something weedless.
Lake Seminole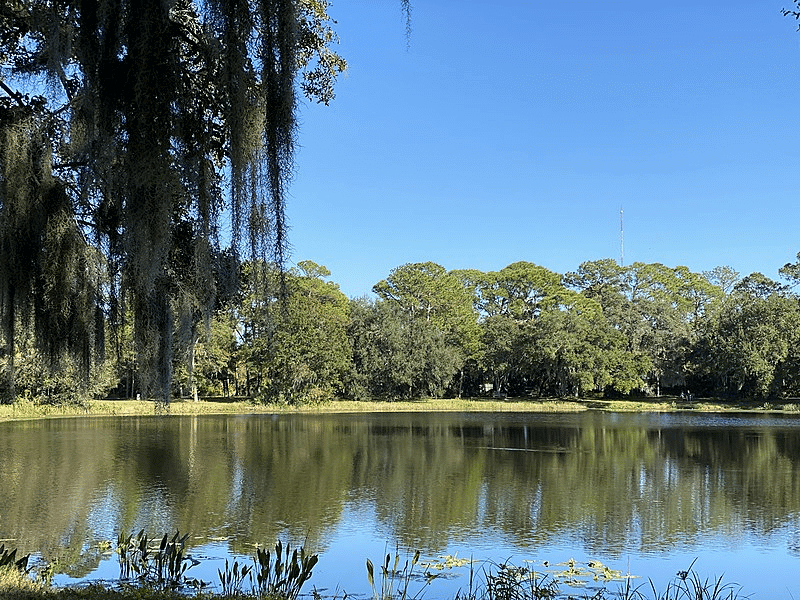 Lake Seminole bass fishing is exclusively Georgia, and it's something that most people remember when they travel here for fishing. It has the Flint and Chattahoochee rivers, plenty of grass flats, great channel drops, and a ton of big largemouth ready for you.
Your chances of catching a big bass are high here, and there's been plenty of tournaments bringing in bass weighing 25 pounds or more.
The lure of choice here is the topwater frogs around the grassy flats and channels, and you could easily get away with throwing some soft jerkbaits that look like shad around the deeper waters.
Personally, after taking a look at this river, it screams soft plastic to me. Go ahead and use your topwater frogs, but I'd throw a Senko worm Carolina rig right along the shore if I could find a rocky or stumpy area.
Lake Hartwell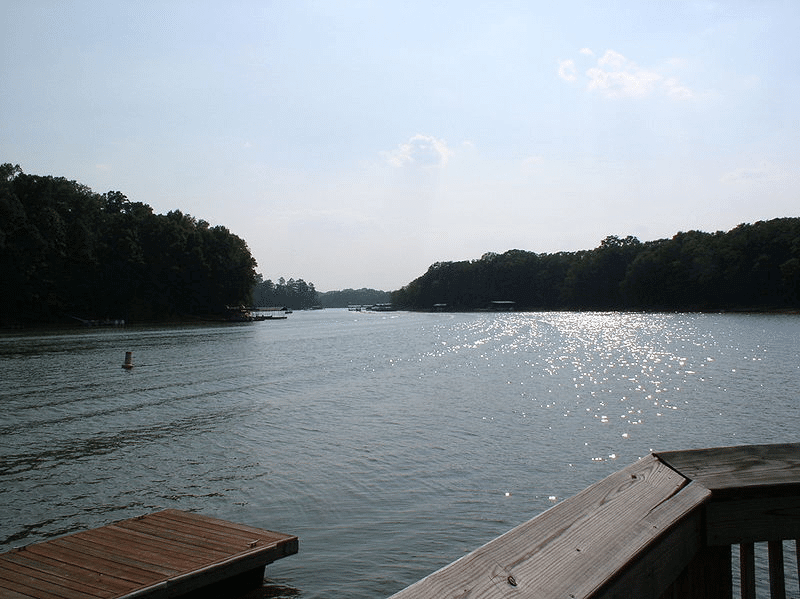 Lake Hartwell is one of the best fishing lakes in Georgia because of its population. It attracts anglers from Georgia, South Carolina, and North Carolina all year long.
It's also a great place to go winter bass fishing as this Georgia location is known for it's spotted bass which prefer cooler water temperatures.
Clarks Hill Lake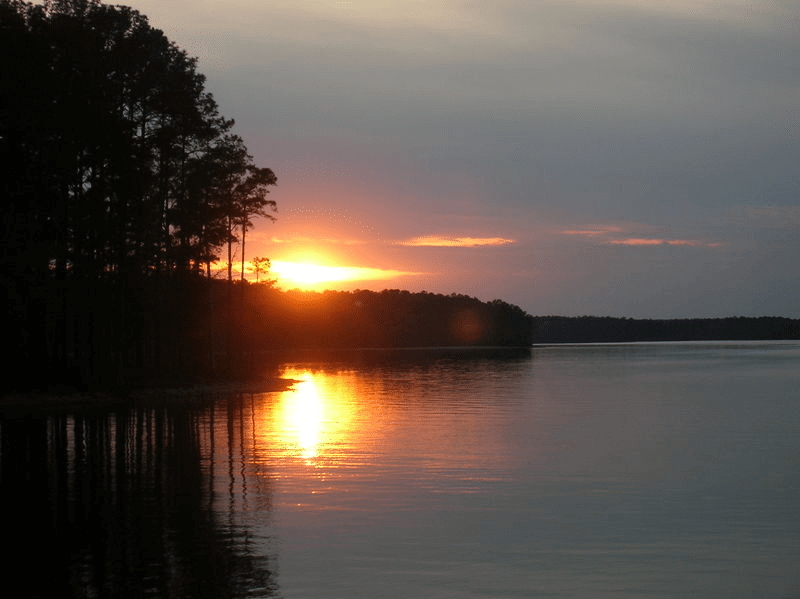 This 71,000-acre lake is the largest in Georgia. Clark Hill bass fishing is a religion in Georgia, but the blueback herring make it a little difficult.
The population makes it tough to catch largemouth or smallmouth, but the striped bass fishing here is some of the best on the east coast. Expect to find an abundance of them over 20 pounds, with some reaching as much as 40 pounds.
Lake Oconee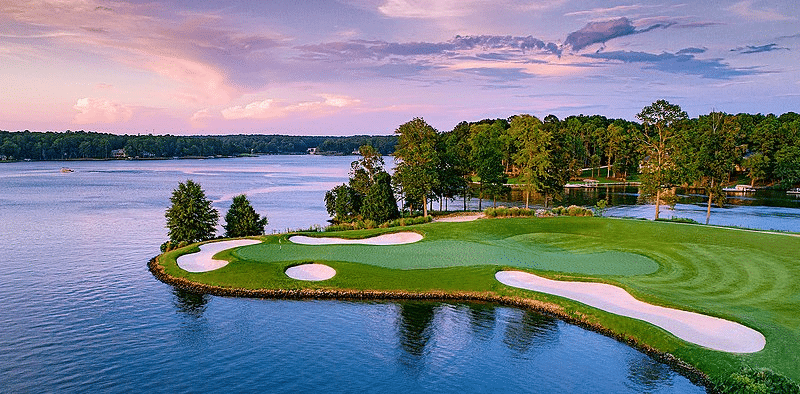 If you're not afraid to travel to a place that might be the home of mostly tourists, then Lake Oconee is the spot. This lake is the most popular in the state, but that doesn't mean that you can't catch a lot of bass here. You can expect to find trophy-sized largemouth and striped bass during the morning.
Once the sun comes up, you can trade-in your fishing gear for a golf shirt and some clubs and hit the course or take a nice walk along the many paths and trails running along the lakes shore.
Chattahoochee River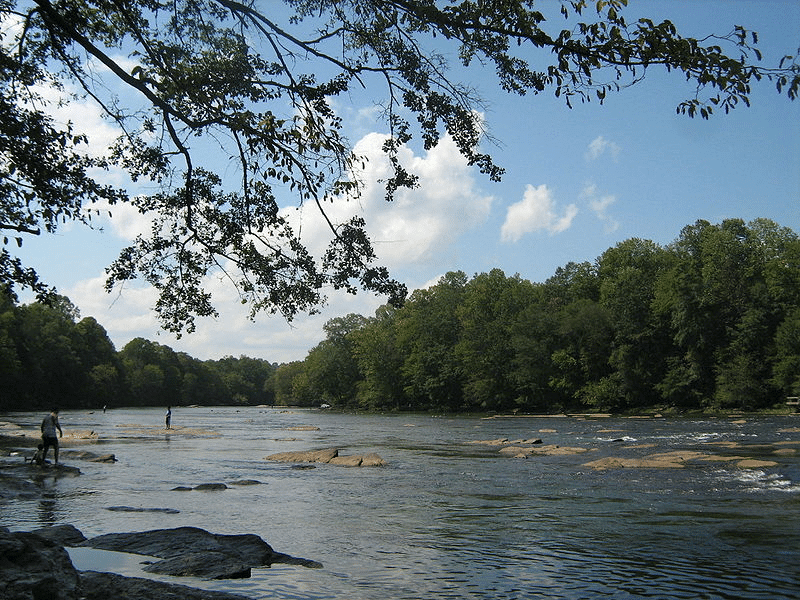 Brown trout are the game here, but Chattahoochee bass aren't too hard to find.
I recommend fly fishing for bass here because it's what the fish are used to seeing, and bass will bite flies as well.
This river is notorious for bringing in some of the biggest trout in the country, and there are many areas on the river that you can take with a kayak. If you can bring, rent, or borrow one – I recommend it.
Lake Lanier
Lake Lanier bass fishing offers a sport quality experience for largemouth and spotted bass fishing.
Lanier hosts hundreds of tournaments each year and offers even more recreational fishing opportunities.
With all this attention comes problems, though.
Many locals believe that the number of tourists traveling to this lake have hurt its population, making it tougher to catch bass, but there is a 20-pound limit which helps drive away some of the people seeking out bigger bass.
High Falls Lake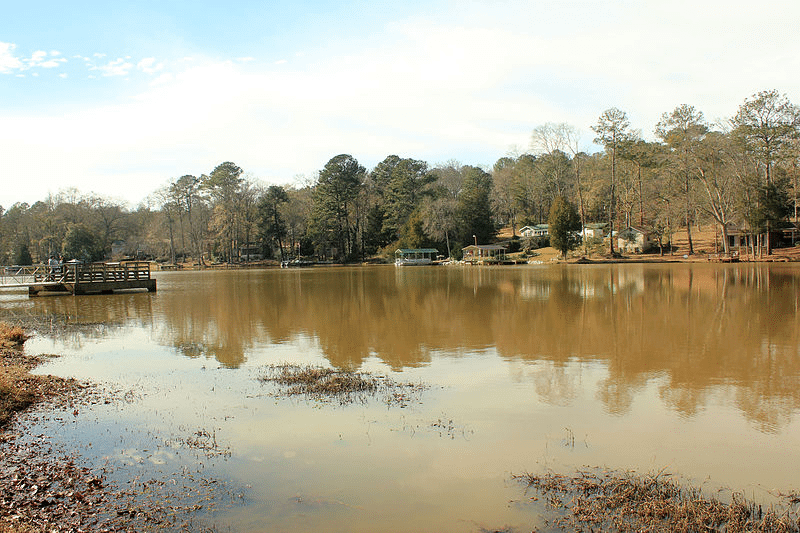 Take I-75 west of Jackson, and you'll run into a huge 660-acre lake called High Falls. This is a state park with the highest population of 15 inches or larger largemouth bass compared to any other lake in the country.
If you're looking for the best largemouth bass fishing in Georgia, congratulations because you found it.
The lake is a ton of natural and man-made wood cover with docks and brush all along the shoreline. This factor makes it a bit difficult to fish from the shore, but you can walk along Buck Creek and the Towaliga River.
Get out there early before the heat and fish topwaters around the wood cover near places where the rivers feed into the lake.
Flint River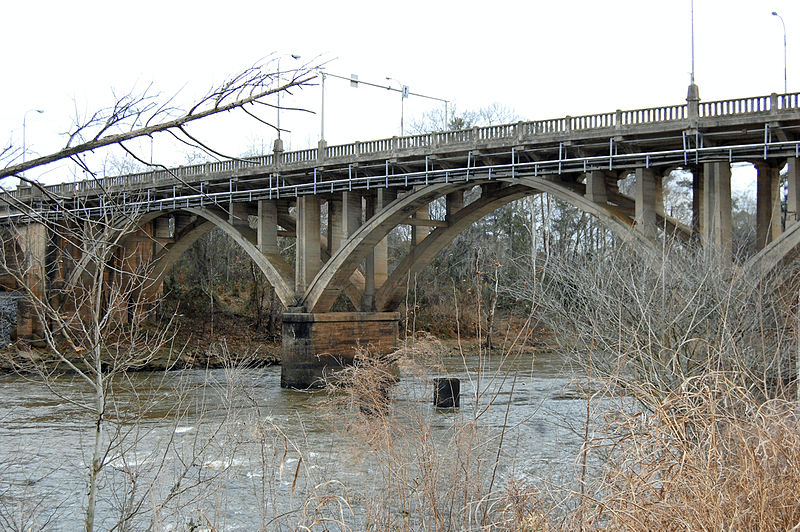 Flint River fishing is truly Georgia, and you'll find the start of this river near the Atlanta airport, due South. It moves through Lake Blackshear, which we'll get to. The Flint River runs all the way down into Lake Seminole, and it's known for great shoal bass fishing, which is similar to smallmouth if you're from the North.
Canoe fishing is most popular here, but a kayak or Jon boat will do just fine as well. Right around Blackshear Dam is where you'll find the Route 32 bridge. You can make a full day out of fishing this small part of the river.
Lake Jackson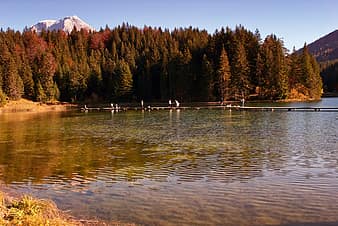 Take a trip to north-central Georgia, and you'll find Lake Jackson. This lake offers great bass fishing in Georgia, no matter what time of year it is. Many people flock here for the winter bass fishing because there is a small reservoir nearby that has a power plant. That power plant releases energy that keeps the water warmer here than the rest even in the winter.
While this might not seem like the best conditions for bass, it doesn't appear to harm the population, and the weather certainly drives a lot of people here when the temperature starts to dip down.
Lake Walter F. George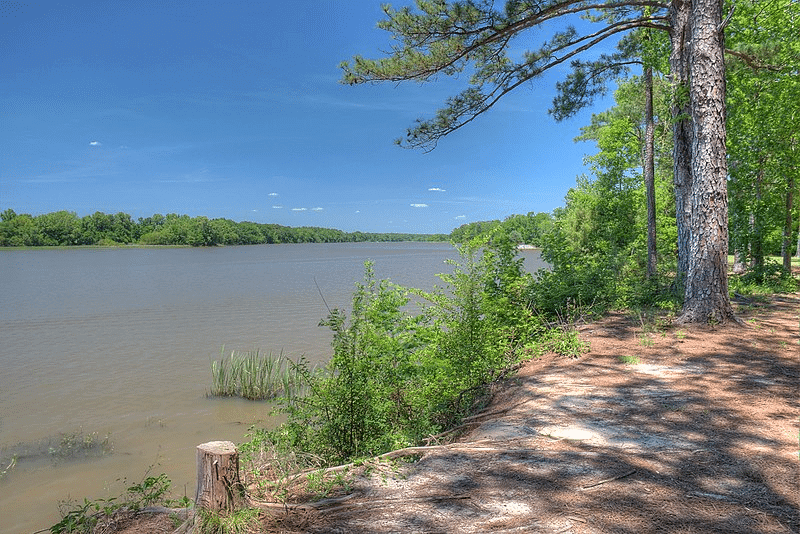 This lake is a reservoir that feeds into the Chattahoochee River. It covers 45,180 acres and 640 miles of Georgia and Alabama shoreline. Research over the years shows the lake has an abundance of largemouth bass.
The only downside is they charge you to launch a boat here. The good news is it's only $3.00 to launch, and they have a 14-inch minimum on taking. If you plan on taking the trip here, fish near Lake Point Resort and Chewalla Maria with soft plastics.
Lake Sinclair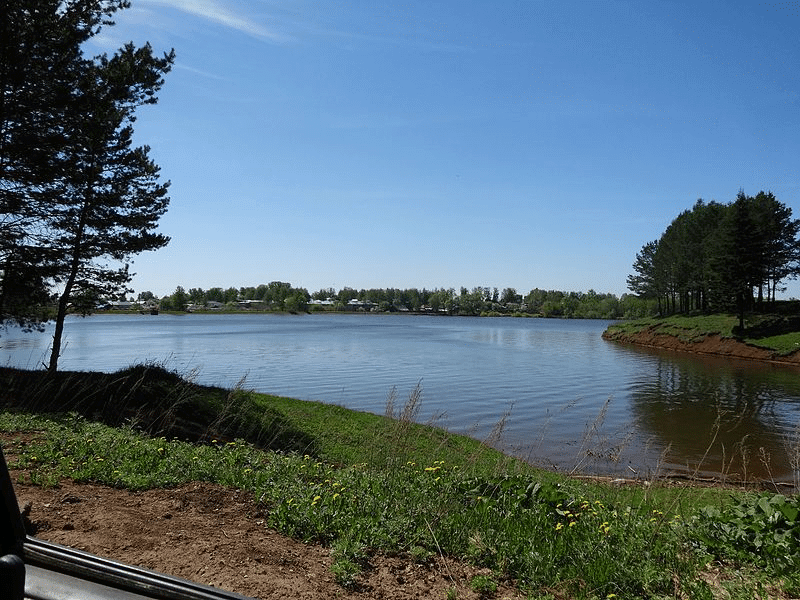 Lake Sinclair is located in the center of the state near the town of Milledgeville. It's downstream from Lake Oconee on the river and spans across 15,330 acres. The lake is operated by Georgia Power like many of the others, and it's home to some great bass and pan fishing.
This lake also benefits from the heat emitted from the power plant near highway 441, and while you can expect to catch a decent amount of bass here, don't expect to break any records. No one has caught a bass larger than 12 pounds since 1990.
That said, if you're interested in catfish – someone caught a 54-pound blue catfish in 2020.
Lake Eufaula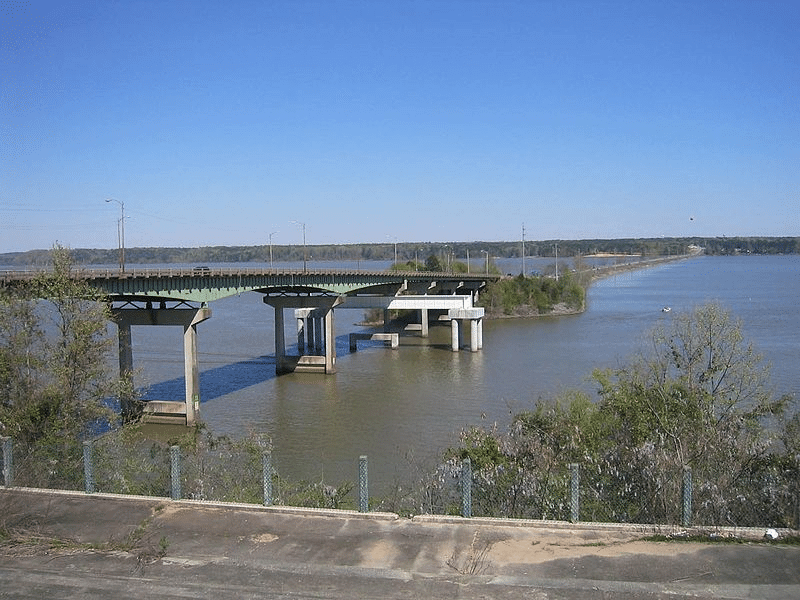 Right on the border of Georgia and southeast Alabama is Lake Eufaula. It's a 45,181-acre reservoir sharing the land with the Chattahoochee River. Here you'll find the Walter F. George Dam, which is operated by the United States Army Corps of Engineers.
Largemouth bass aren't as abundant here as we'd like, but the ones that people did catch we're large and healthy. We're seeing a trend that as you get further south in Georgia, the bass population dies down, and the catfish population heats up. That's the same here in Lake Eufaula.
West Point Lake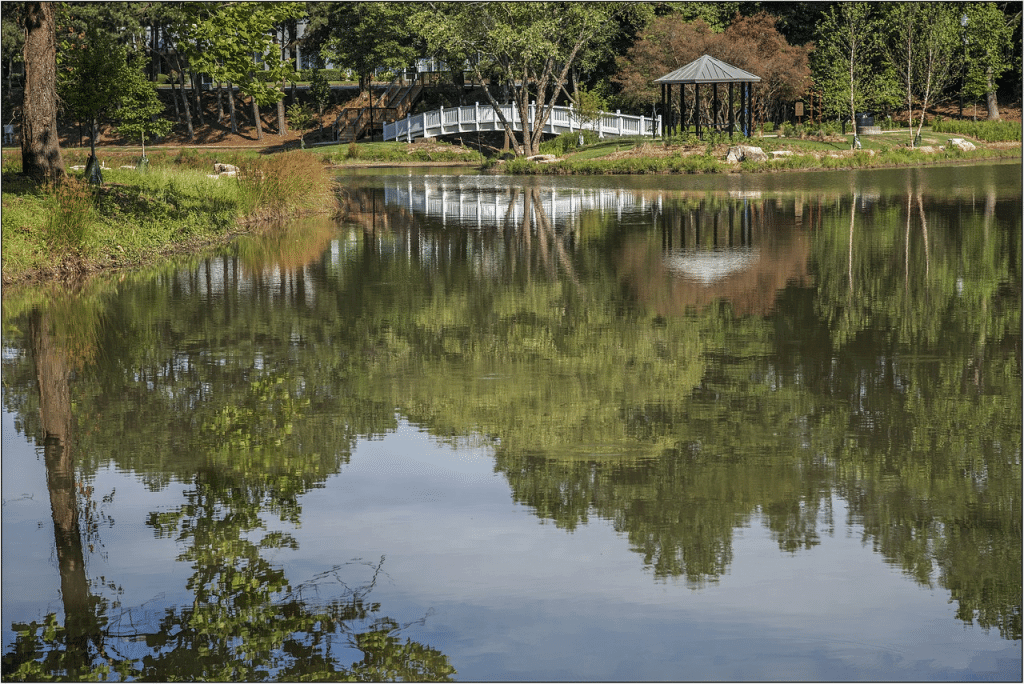 Next up is a 26,000-acre reservoir called West Point Lake. This lake offers a vast assortment of fishing options that makes it a great tourist attraction. If you're traveling from out of state, you'll choose either fishing from the shore, dock, or boat. The lake carries a healthy population of largemouth bass, but there's also plenty of stripers, catfish, and crappie.
Local anglers consider this lake one of the best winter fishing lakes in Georgia as long as you hit it early enough. Other than that, fishing in the spring and fall along the shoreline is also a great way to catch largemouth bass. The locals recommend fishing weedy banks with topwater frogs and weedless rigged soft plastics.
Lake Blackshear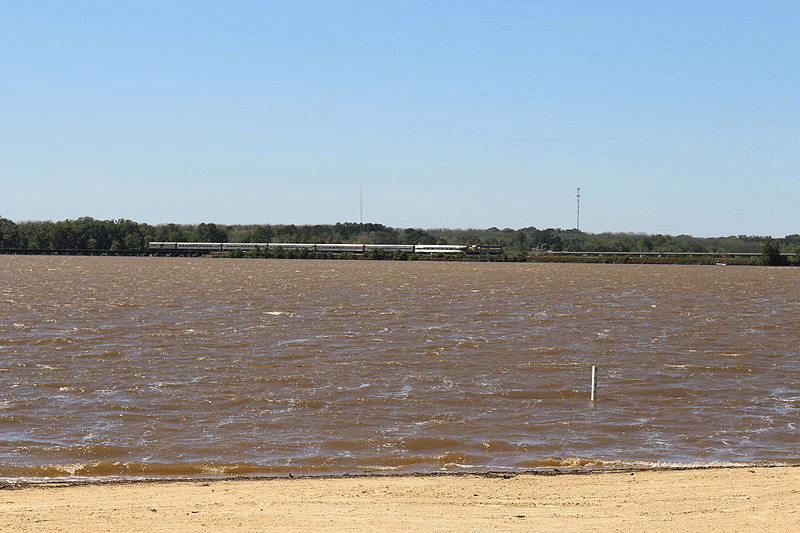 Take a trip to southwest Georgia, and eventually, you'll run into Lake Blackshear. This lake is located in the Georgia Veterans State Park, and it operates two boat ramps, a marina, and overnight fishing facilities.
Expect to find plenty of largemouth bass here between the months of March and June. This is likely when the fish are spawning, and it's also recommended that you fish early morning top waters and follow it up with worms and crankbaits as the day goes on. The locals suggest fishing along Limestone Creek, Gum Creek, and Collins Branch.
Take a trip to southwest Georgia, and eventually, you'll run into Lake Blackshear. This lake is located in the Georgia Veterans State Park, and it operates two boat ramps, a marina, and overnight fishing facilities.
Savannah River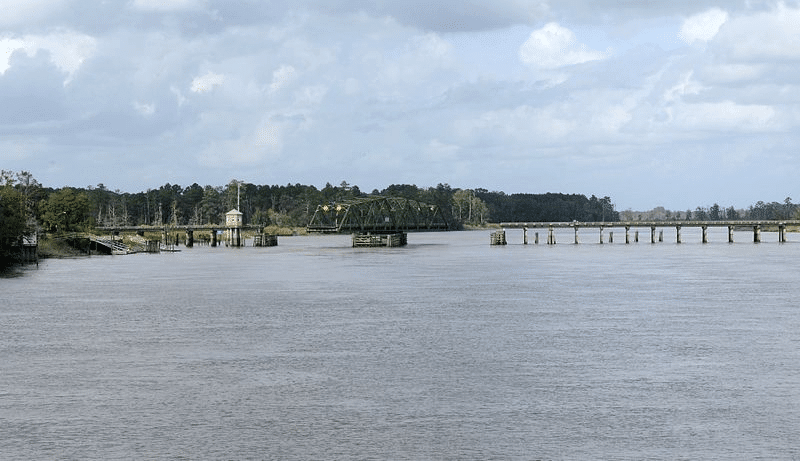 Smack dab between South Carolina and Georgia is some of the best largemouth fishing on the East Coast. You've got Millstone Landing where the current is so strong you can forget about paddling, and even small trolling motors won't cut it.
Make your way through the small creeks branching off from the river, and you'll find some great Georgia bass fishing. Around here, I would recommend taking a spinnerbait or buzzbait and fish around the cypress knees.
You'll want to get on the water before the heat of day hits during the hot spring and summer months, so be sure to get out there right as the sun is coming up.
Vogel State Park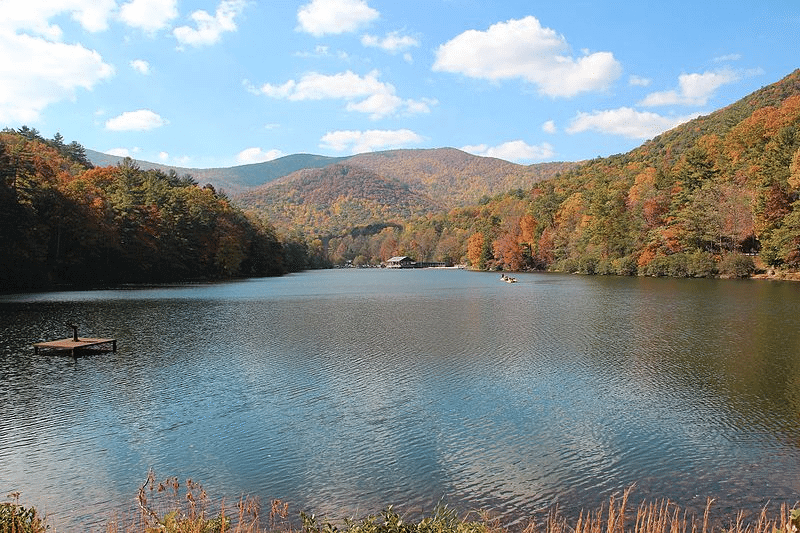 All the locals rave about Georgia State Parks, and from our research here, we're seeing why. In the North and specifically, Pennsylvania, I've found that state parks offer the worst fishing because they're usually over attracted, dirty, and not the best environment for a healthy bass population. It seems like Georgia has done a great job of maintaining its state parks, and that applies to Vogel State Park as well.
This park offers unspoiled environments with plenty of warm water streams leading into the lake. You'll want to get here early in the spring when the water is starting to warm back up and fish those areas where the rivers feed into the lake. They bring oxygen into the water, which speeds up the bass's metabolism.
Final Thoughts
Whether it's self-proclaimed or awarded, Georgia is in the running for "bass capital of the world." There are a TON of lakes here housing extremely high bass populations and not to mention all the rivers. It seems like they're all connected, and that's what makes bass fishing in Georgia so successful.