Today we're talking about the versatile bass spinning reel.
I've always been a fan of fishing with spinning reels because I find that you can use them in most situations, they're affordable, and they allow you to provide the right presentation using the correct tackle for catching bass.
To find the best spinning reel for bass, you need to understand gear ratios, spool capacity, drags, sizes, and brands.
In this buying guide, I'm going to break all of that down for you so you'll know more than you ever thought possible about spinning reels and all the components that go along with them.
By the end of the guide, you should be able to comfortably make a decision on the best spinning reel for your needs, budget, and fishing style.
Comparison Table – The Best Spinning Reel For Bass
---
Our Top Picks For The Best Spinning Reel For Bass
Shimano Stradic FK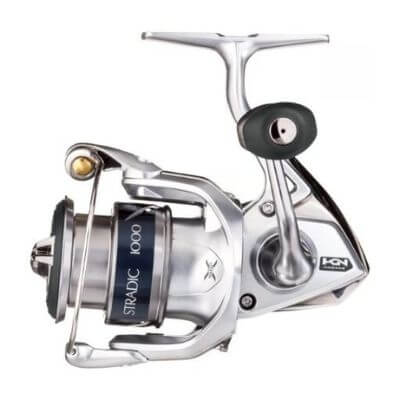 BEST OVERALL
Specs
Gear Ratio: 6.0:1
Ball Bearings: 6+1
Max Drag: 20 lbs
Reel Weight: 8.3 ounces
FEATURED SPECS
It comes with the X-Ship gear support system that makes the retrieval of this reel super smooth.
EXTRA FEATURES
All of Shimano's premium reels come with a G-Free Hagane body and Hagane cold forged gear, which not only supports the durability of the reel, but they also increase the quality of your cast and retrieval.
BUYING ADVICE
Each component of this reel exists to prevent friction and increase cast distance and control. Just get it, and you'll be pleased!
Pros
Ultra-smooth cast and retrieval
Works for both saltwater and freshwater
Reduces line twist and eliminates vibration
Cons
Does not feature an anti-reverse switch
Many people turn to Shimano when they're looking to try out some higher-end reels. This one offers a buttery smooth retrieval, pinpoint casting accuracy, and a durable and closed body that also accommodates saltwater fishing.
Shimano Baitrunner D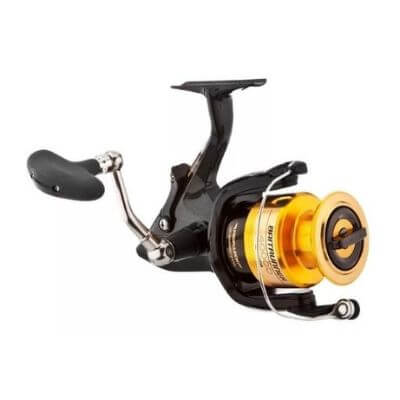 BEST SALTWATER SPINNING REEL
Specs
Gear Ratio: 4.8:1
Ball Bearings: 3+1
Max Drag: 15 lbs
Reel Weight: 13.5 ounces
FEATURED SPECS
It comes with a secondary drag system that allows free spooling even when the bail is closed.
EXTRA FEATURES
Utilizes the Super Stopper Instant Anti-Reverse switch.
BUYING ADVICE
This reel is a bit heavier than some, but it does accommodate a lot of line, and you're using it in the salt, so keep that in mind.
Pros
Secondary drag system
Line management system
Anti-reverse switch
Cons
Weight
Lacking smoothness
This reel is a bull, and it gets the job done on those hard fights offshore and inshore with striped bass. The drag system is brilliant and allows you to have a lot more control over your bait. The line management system is also important to prevent nesting and tangling when fishing in windy conditions.
Pflueger Trion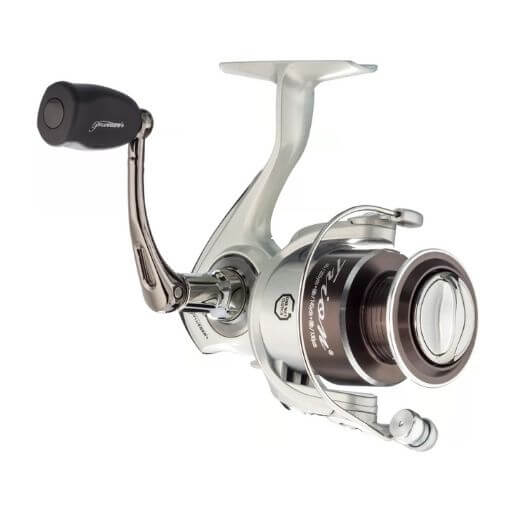 BEST BUDGET SPINNING REEL
Specs
Gear Ratio: 5.2:1
Ball Bearings: 6+1
Max Drag: 10 lbs
Reel Weight: 10.4 ounces
FEATURED SPECS
Smooth multi-disc drag system with stainless steel oil felt washers for great casting deliverability.
EXTRA FEATURES
Sure-click bail provides a signal when you're ready to cast.
BUYING ADVICE
This is the best bass spinning reel for beginners who are trying out fishing.
Pros
Smooth with a 6+1 bearing system
Allows for a smooth cast from the aluminum spool
Anti-reverse bearing with switch
Budget-friendly
Cons
If you're just starting out or you're looking to add a nice budget-friendly reel to your arsenal, this is a great option. The reel is a bit heavier than I would like from a "finesse" reel, but it does feature a multi-disc drag system and anti-twist roller, which makes it very easy for beginners to grasp.
Offshore Angler Sea Lion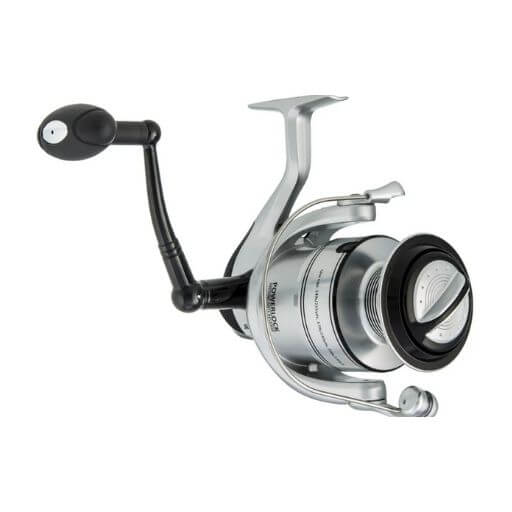 BEST BUDGET SALTWATER SPINNING REEL
Specs
Gear Ratio: 4.9:1
Ball Bearings: 4+1
Max Drag:: 35 lbs
Reel Weight: 14.5 ounces
FEATURED SPECS
Corrosion-resistant carbon composite frame and rotor for saltwater fishing.
EXTRA FEATURES
It comes with a powerful 10 disc drag system that makes it easier to manage larger saltwater fish.
BUYING ADVICE
In addition to being a great saltwater budget option, I also like this one for beginners because of the anti-reverse and disc system.
Pros
Excellent performance for a budget reel
Smooth retrieval
Drag is great for beginners to manage larger fish
Cons
If you're in the market for one of the Bass Pro saltwater spinning reels, this is a great beginner option at an affordable price. It comes with a graphite rotor, frame, and side cover, which makes it durable even in the salt.
Shimano Stradic CI4+ Bass Pro Shops Johnny Morris CarbonLite 2.0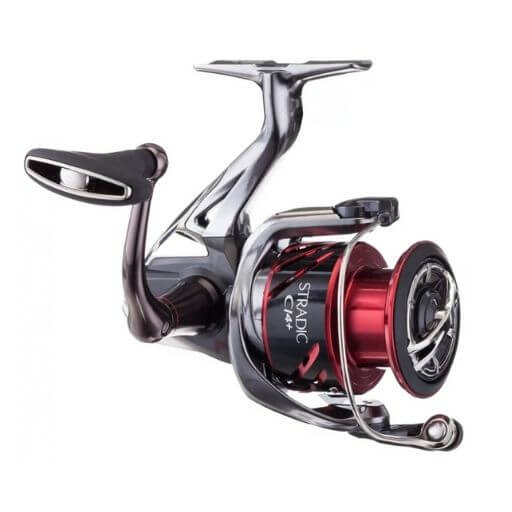 BEST SPINNING ROD AND REEL COMBO FOR BASS FISHING
Specs
Gear Ratio: 6.0:1
Ball Bearings: 6+1
Max Drag: 7 lbs
Reel Weight: 5.6 ounces
FEATURED SPECS
This rod and reel combo comes with a ton of different sizing options that offer variable drags, weights, and gear ratios, so check the link for further information.
EXTRA FEATURES
The Stradic reels come with the G-Free body, which is lightweight and durable.
BUYING ADVICE
You get a 7 bearing reel, with a 6:1 gear ratio, so you're getting some of the smoothest casting and retrievals in the business. Use it to your advantage.
Pros
Extremely lightweight reel
Perfect for small water finesse angling
Hagane cold forged drive gear
Cons
Low drag at small finesse sizes
This is by far one of the best bass fishing rod and reel setups, in my opinion. I'm a huge fan of the Stradic CI4+ because of it's lightweight design and carbon body. Plus, you're getting a high-quality rod with a graphite blank and Fuji guides thrown in as well. You can't go wrong.
Penn Slammer III and Offshore Angler Ocean Master Spinning Rod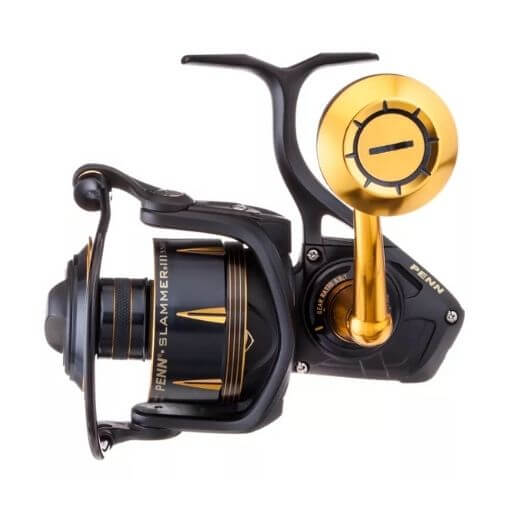 BEST SALTWATER SPINNING ROD AND REEL COMBO
Specs
Gear Ratio: 6.2:1
Ball Bearings: 6+1
Max Drag: 30 lbs
Reel Weight: 14.7 ounces
FEATURED SPECS
There are many different variations and sizes of this rod and reel combo, so be sure to click the link and find the one that is right for you. The specifications will vary based on the model you choose.
EXTRA FEATURES
Incredible strength and power to handle larger fish in the salt.
BUYING ADVICE
Grab a 30-50 lb braid, line it up, and get out on the water!
Pros
Sealed Slammer Drag System
Full metal body offers maximum durability in saltwater
Comes with a comfortable grip on the rod
Cons
When you need power, you turn to Penn. This rod and reel combo offers exceptional strength and durability that will last you a lifetime if you take care of the reel. You also get the smoothness of Dura-Drag coated washers, and the CNC gear technology in here makes cranking a large fish simple.
How to Choose the Best Spinning Reel For Bass?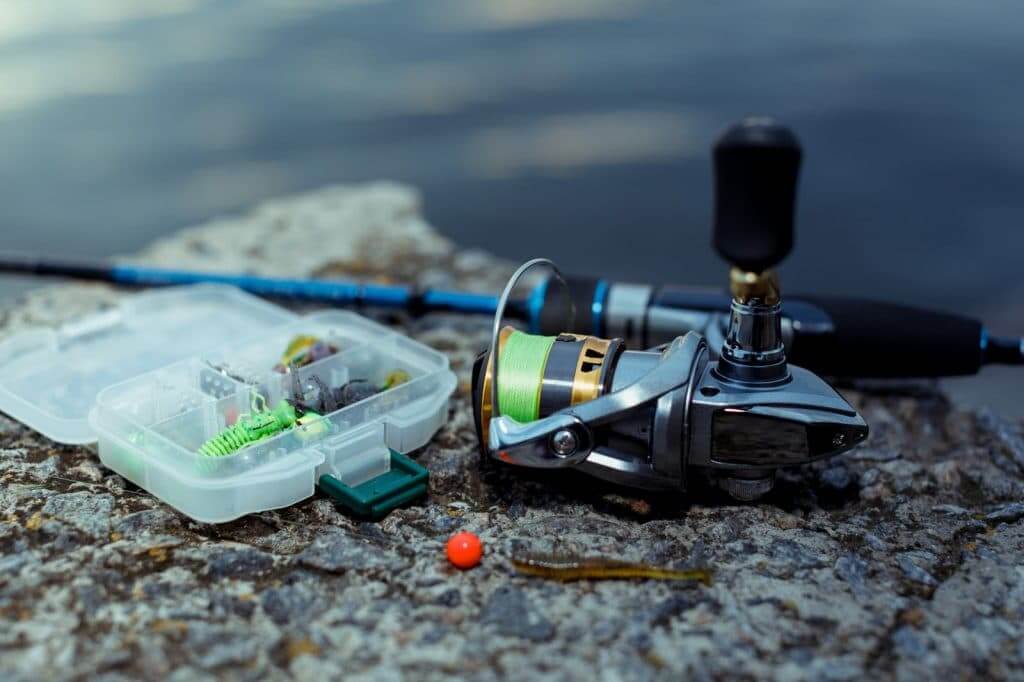 Choosing the best spinning reel for bass fishing is much simpler than you think, but there are a few points you need to understand.
You don't want to go to your local tackle or pro shop and look around aimlessly expecting to find the right reel. You need to know what all the terminology means and why it matters.
It's most important that you understand how these points will impact the way the reel feels and fishes on the water.
Size/Weight
The ideal spinning reel size for bass fishing is hard to choose. It's important because it will impact the way it feels in your hands. If your reel is too large, you might not feel comfortable, and it could weigh you down.
While this might not have a tremendous impact on the way it fishes, it will have an impact on the way you fish.
If you're not comfortable with the reel, it means that you might get fatigued after a couple hours of fishing, which will impact how well you react when you get a nibble. Overall, what I'm trying to say is weight is important because you might end up missing opportunities if you're not feeling great about the reel.
Another reason why weight is important is on the other side of the spectrum. If you get a reel that's too light or too small, you won't have enough power to manage larger fish. As you increase in model size, you will also increase the drag output as well as the spool capacity.
These two components are critical when targeting big bass. If you don't have enough line on the spool and the drag doesn't have enough power, you might as well just cut your line and consider it a loss before the bass takes all your line out into the water.
For this reason, many people turn to baitcasting reels when targeting larger fish.
Construction
You obviously want a reel that is well constructed with durable components in a way that prevents too much debris or water from getting in and around the reel. The best spinning reels for bass will feature a mostly if not all-metal construction including a side plate and anodized gear that protects you against saltwater.
You'll also see a lot of reel manufacturers use phrases like "Hagane body" or "G-Free Body." These are basically fancy and trademarked ways for them to say that they're body is made using all metal, it's locked tight, so nothing gets in, and it won't flex or bend when you put excess pressure on it. These are all important factors to consider.
In addition to the body design, you also want to look at some of the lesser components like the bail, handle, and reel foot. The bail is the part of the reel that you flip open to release the brakes and allow the line to flow freely off the spool.
Make sure that the bail wire is made of aluminum or something equivalent. When you're getting frustrated on the water, it's easy to break the bail (like I have many times) when you're flipping it open in an angry rage after you just missed a fish.
The handle is important as well because you'll be cranking on it and spinning it all day long. Make sure it's a comfortable material, and it has a knob that seems durable and well put together. Some reel manufacturers use an oversized EVA handle, which they claim makes it easier to crank. I've never used that kind of grip, but I could see why someone would want that.
The foot of the reel is the part you'll insert into the seat on the rod, and there isn't too much to worry about here, but just make sure that your rod and reel are compatible. If you're buying the two separately, you need to ensure that the reel will fit onto the rod, so the sizes and styles need to make sense.
Gear Ratio
The gear ratio is something that a lot of people who fish for years don't understand, but it's rather simple. If we look at a 6:1 gear ratio, that would mean you get six revolutions of the rotor per one turn of the handle. With that in mind, you would think that the higher the gear ratio, the better, but that's not always true.
Most people see a 6:1 gear ratio as the standard benchmark for bass fishing, and you'll find that it usually applies as well. Where we see changes are when you venture into saltwater fishing because the size of the fish naturally sizes up.
If you go back up to the reel reviews, you'll notice that the offshore reels automatically have a lower gear ratio typically between 4 and 5. Why is that?
The reels themselves are larger, and they're intended to capture bigger fish, so they have a lower gear ratio and more drag capacity. All of these components together allow the reel to handle more pressure without snapping the line or damaging the reel.
If you're the type of angler who sticks to a few pound bass and light tackle in the backwoods pond by your house, you won't have to worry too much about gear ratio because the standard spinning reel will be more than enough to accommodate you. For finesse angling, you want to look for a 6:1 gear ratio at all times.
Line Capacity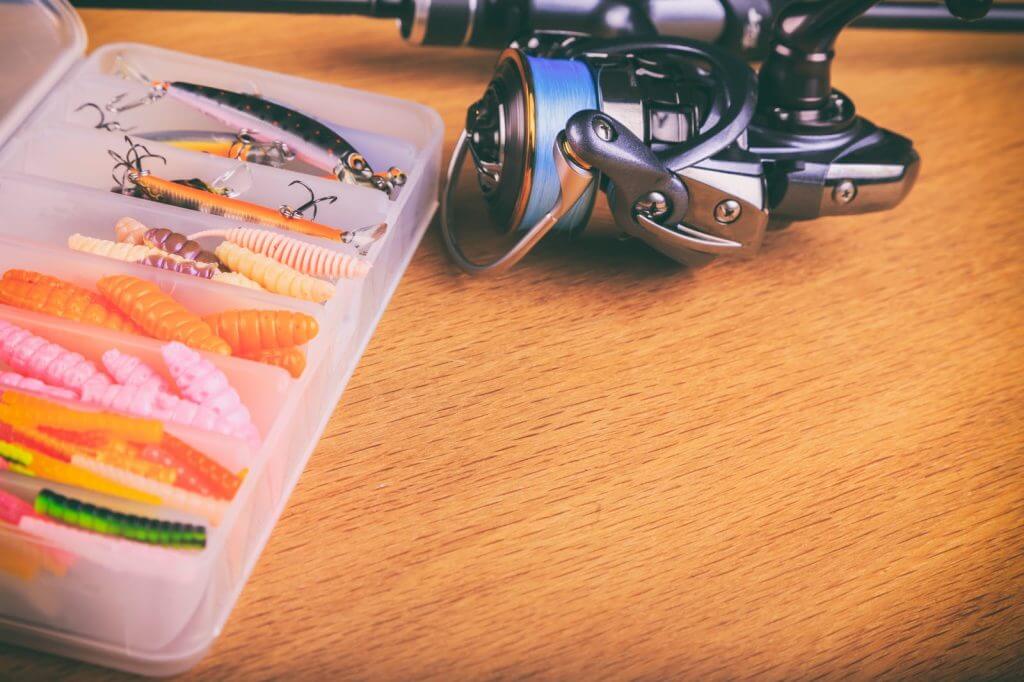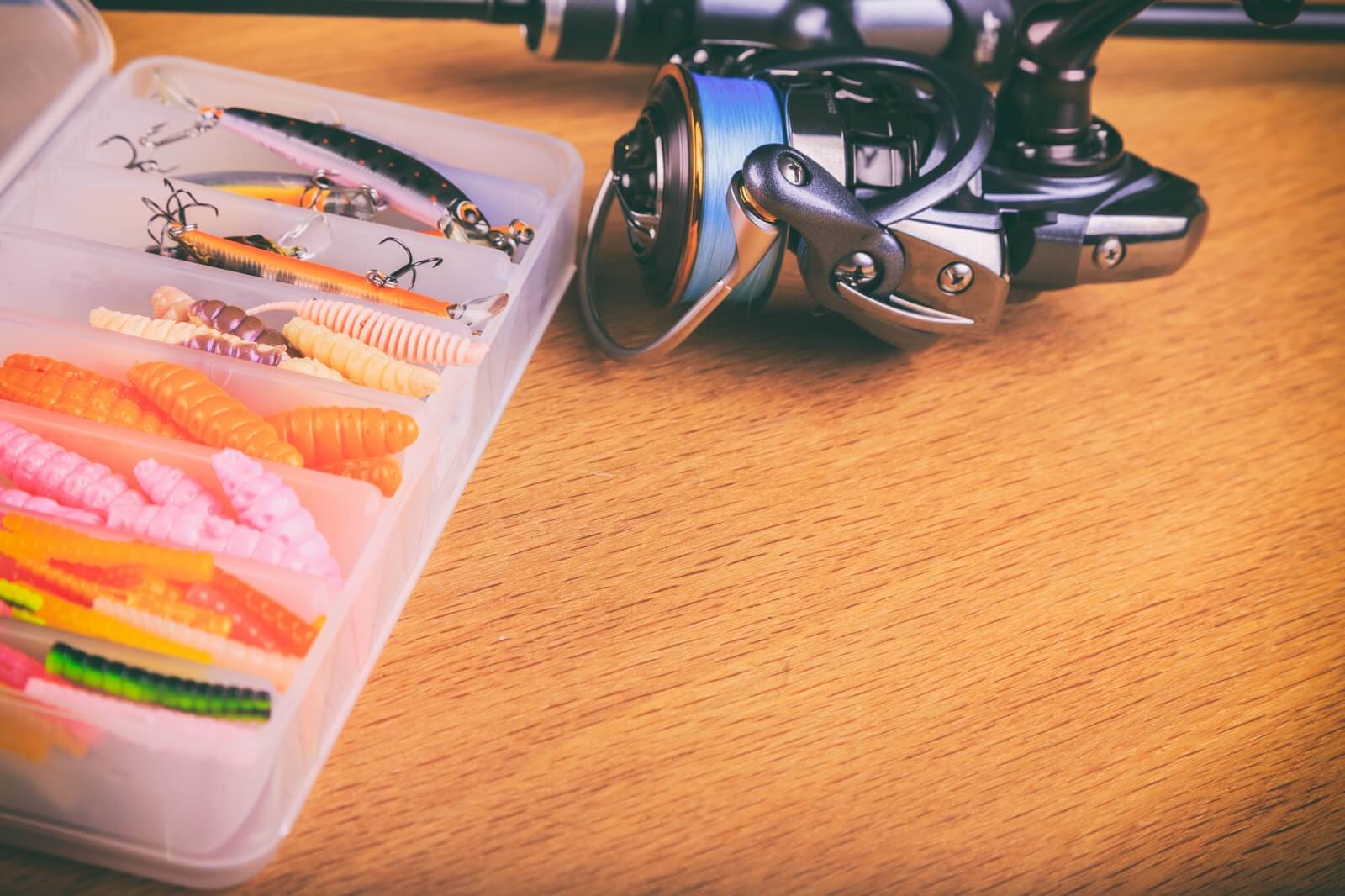 The spool capacity is the amount of line in yards that you can fit on the spool. When fishing for bass, you don't typically need to worry much about this either because few bass will be able to put up a big enough fight to run down too low.
That said, if you're taking the fishing to saltwater, here is where spool capacity comes into play. Keep in mind that if you're using a monofilament line, you can fit a lot more onto the spool than if you're using braid. Braided line is thicker, so it will run down faster.
If you want the best fishing line for bass spinning reels, it might get expensive. A trick I've always used is to use a cheap monofilament line as a backing for my line because the first few dozen yards of the line never get touched because the bass I catch aren't big enough to take me down that far.
Drag System
The main thing I can say about drag is that you want something versatile enough to apply to varying situations. I don't like to have a ton of rods and reels around, so I like to have one that works well enough for all fishing situations for me.
Drag is difficult to understand, and you never know how it will affect you until it's too late. Basically, drag applies counter pressure to the line when you have a fish hooked, so it doesn't swim too far away from the boat, making it harder to get it back.
The drag system should apply ample pressure throughout the entire fight. If you don't have enough drag, the bass will take your bait really far out, which will drain your line from the spool and make it that much more difficult to get it back.
If you have too much pressure, you'll snap your line because the bass will pull too hard. Most anglers would suggest that 12 pounds is enough for most bass while still offering a smooth drag.
There are also some features you can look for in more premium reels. Some have adjustable drag systems that adjust automatically as you're reeling based on how much pressure the bass applies. Some fishing reels have a low start-up drag that increases as the bass tires throughout the fight.
Bearings and Gear System
The bearings and gears will primarily impact how smooth the retrieval and cast is. The reason this matters is because of friction. If you have a lot of friction when you cast, it will impact the distance and accuracy of your cast. When you're trying to reach a specific location and the reel holds you up, it's frustrating and debilitating.
Also, keep in mind that the bearings and gears are put under a lot of pressure when you're cranking a fish in. If there is any flex at all, you'll hear grinding, and all the friction will make it that much more difficult to get the bass into the boat.
The best reels for bass fishing will typically provide at least six or seven bearings with an anti-reverse roller bearing that locks everything in place when the bail is closed.
Sensitivity
The sensitivity of your reel is highly important with bass fishing because most people are using finesse angling techniques, so you need to be able to feel everything. The best way to impact the sensitivity of your reel is by choosing a high-quality reel made from graphite and a great sensitive rod to pair with it.
FAQ's
Final Thoughts
By this point, you should understand everything about spinning reels. When you have a roadmap to success, it's much easier to make a purchase because you can see all the components that go into choosing the best spinning reel for bass fishing.
I highly recommend using any of the bass spinning reels above because they are all exceptional choices from highly respected brands in the fishing community. Be sure to pair them with the best bass fishing techniques.